This post is part of a paid collaboration with Lowe's Home Improvement. All opinions are my own.
Oh happy day, one more room at the Riverside Retreat is officially in the bag!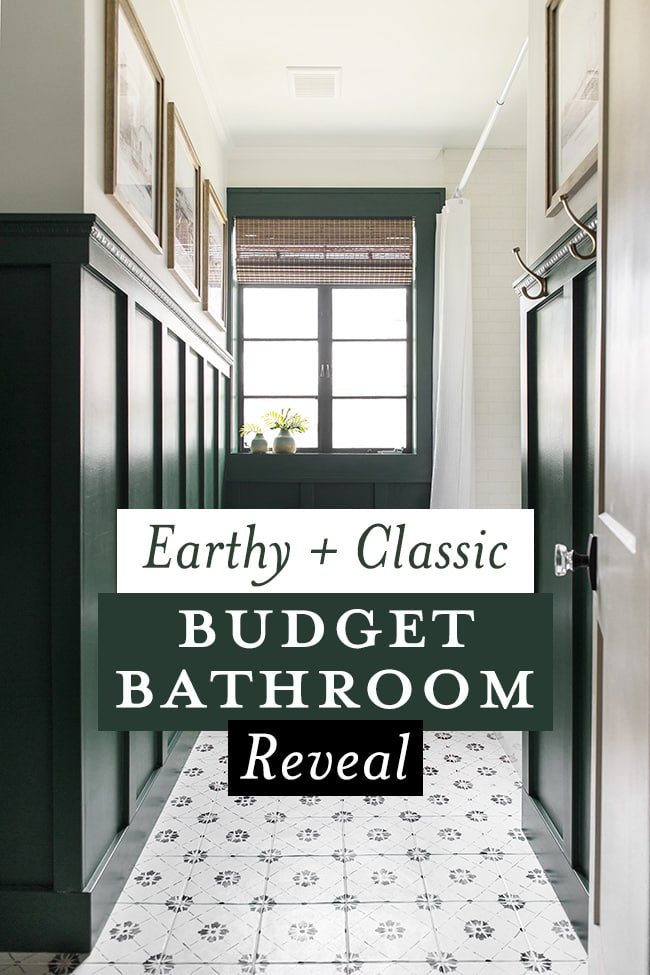 This project has been over two months in the making—starting with a few setbacks and stalled progress, and ending with a mad dash to the finish line over the past few weeks.  Make sure to go back and check out the Design Plan/demo kickoff post along with my DIY Board and Batten tutorial to see the progression if you haven't yet.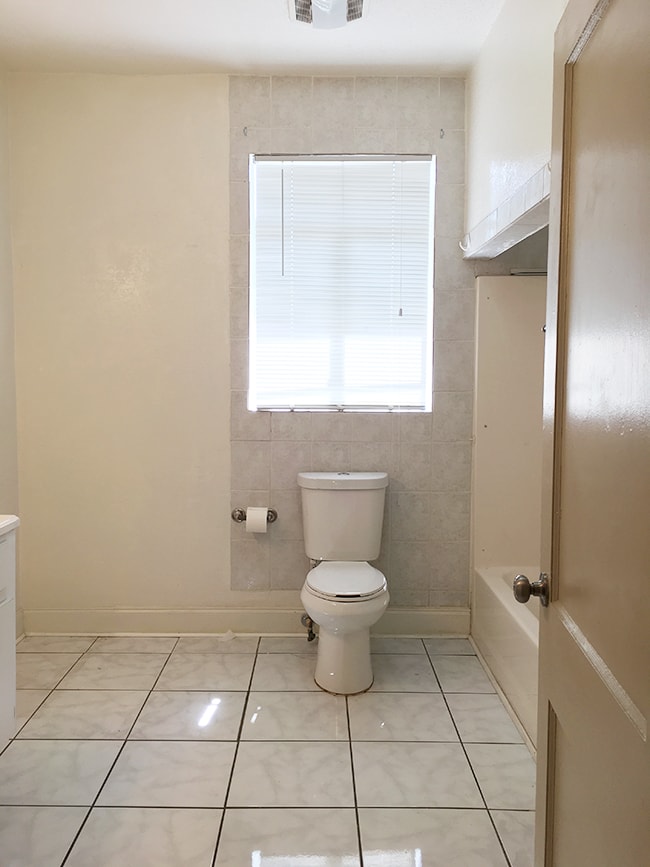 Meet the "50 Shades of White" Before…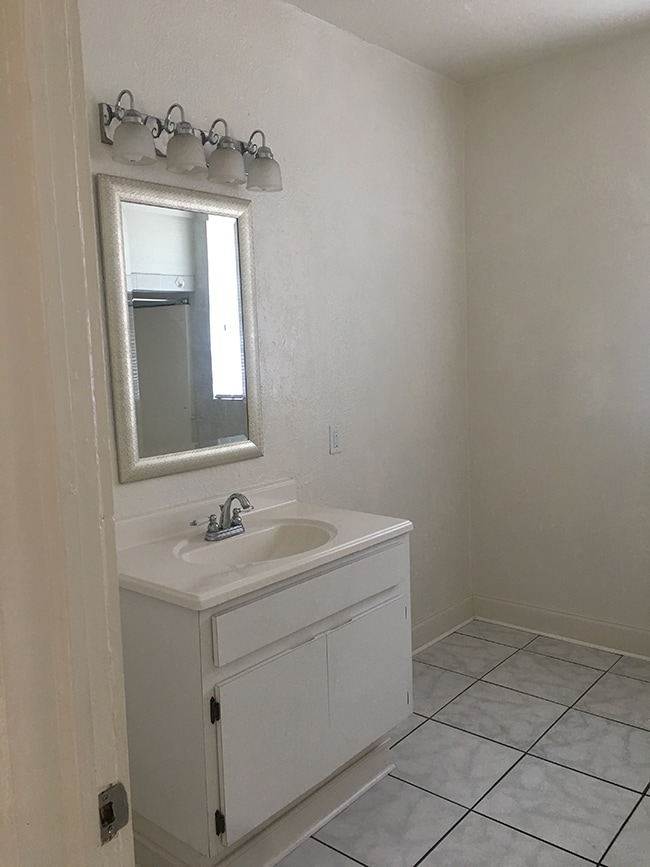 Seriously. Every inch was some shade of mismatched white.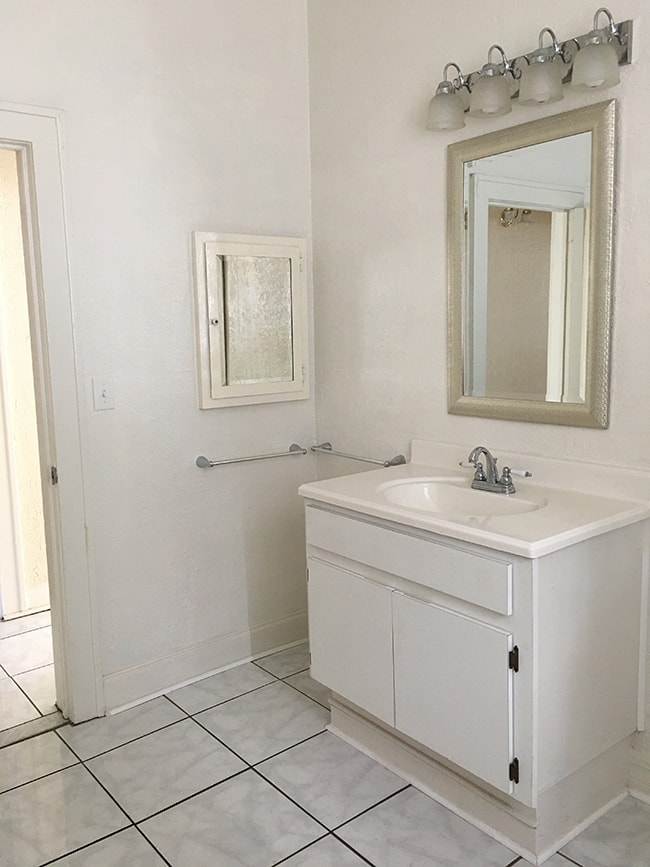 The room was a decent size but we had to reconfigure it and take away space to add a second bathroom, as this house only had one (not gonna cut it with 10 guests in a vacation rental!)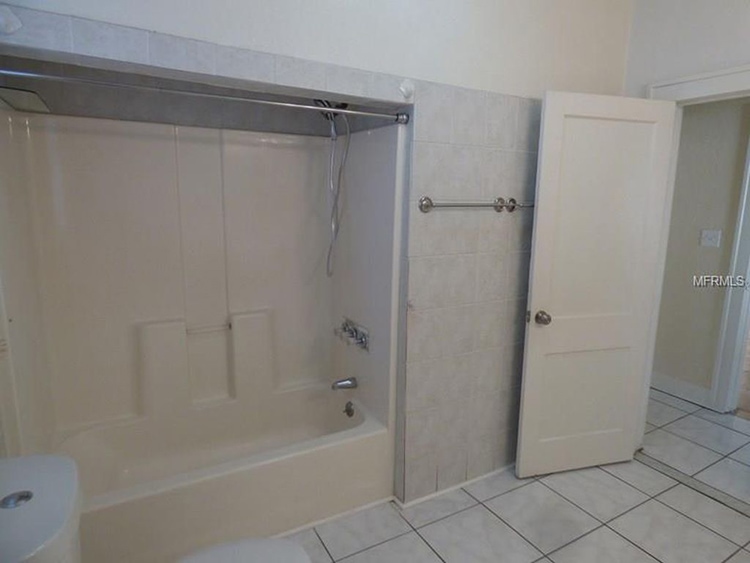 We added two walls to create a master bathroom, as you can see in the new floor plan below (labeled Main Bathroom):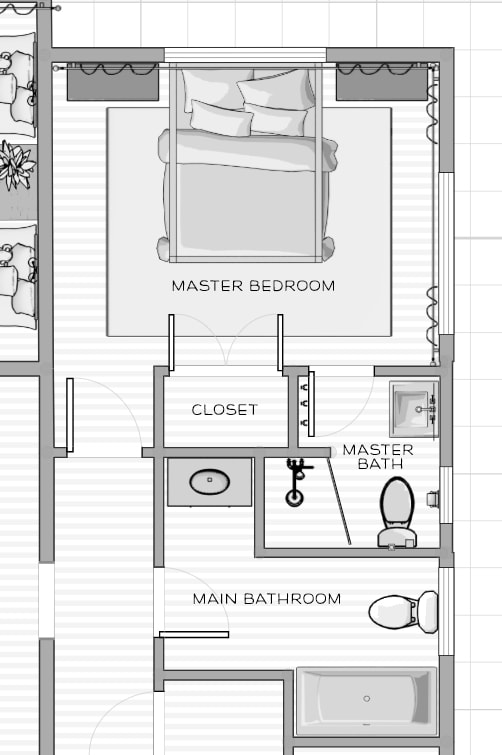 Demo promptly began, and (no surprise) there were quite a bit of plumbing and foundation issues to fix.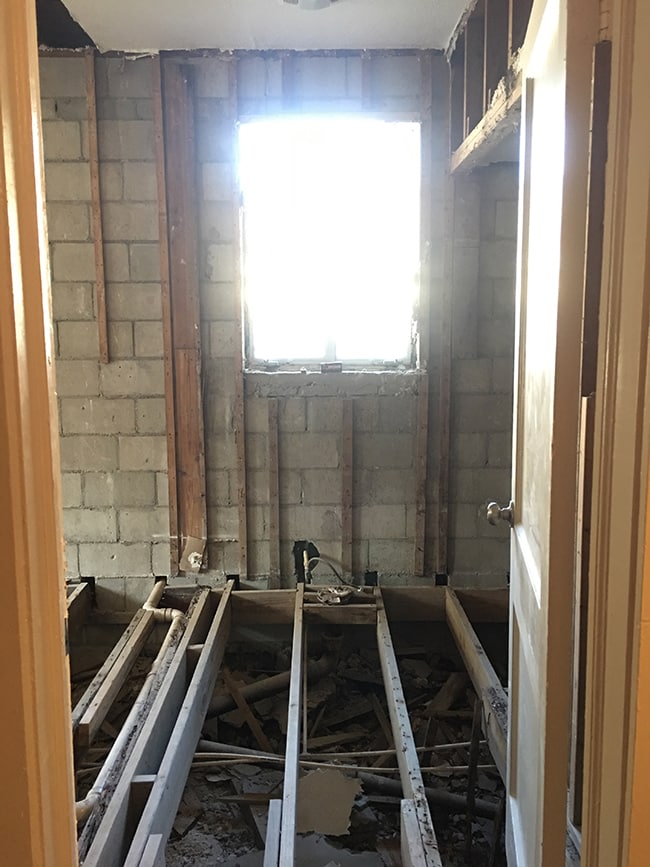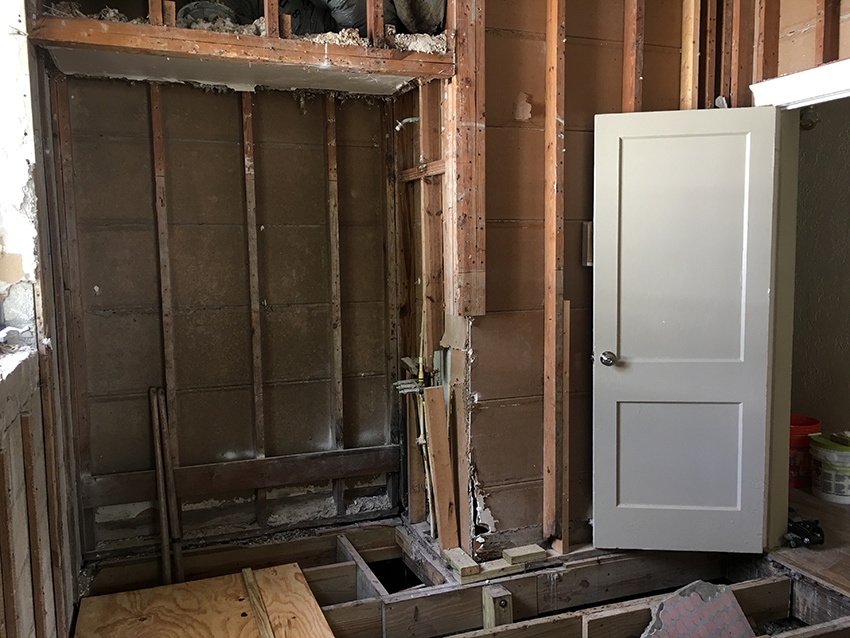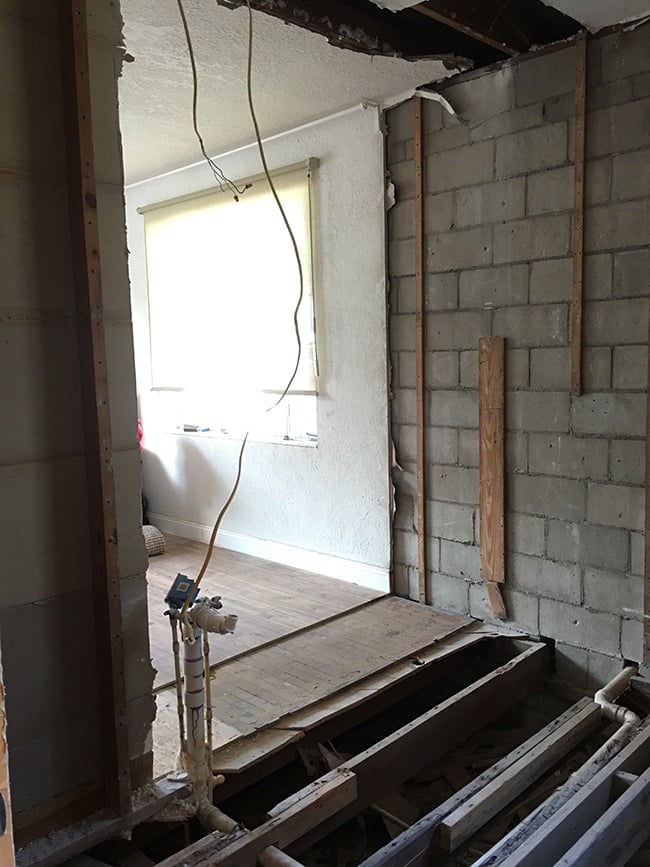 We ended up bringing in a second contractor a few weeks ago  to get things moving quicker. Finally, some progress!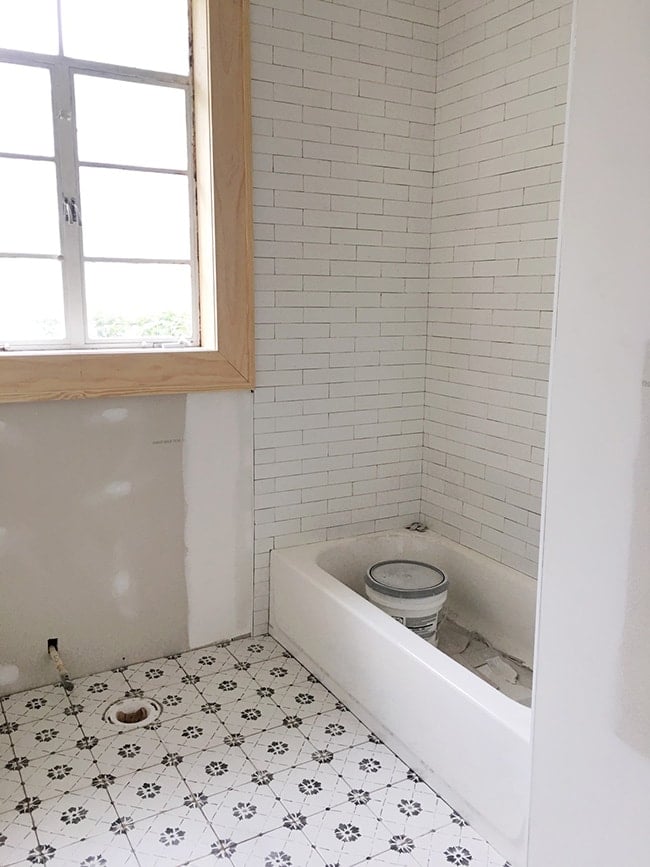 And we've put in long hours over the last couple weeks installing DIY board and batten, painting, and adding the finishing touches. Finally, our earthy + classic budget bathroom is ready for its debut!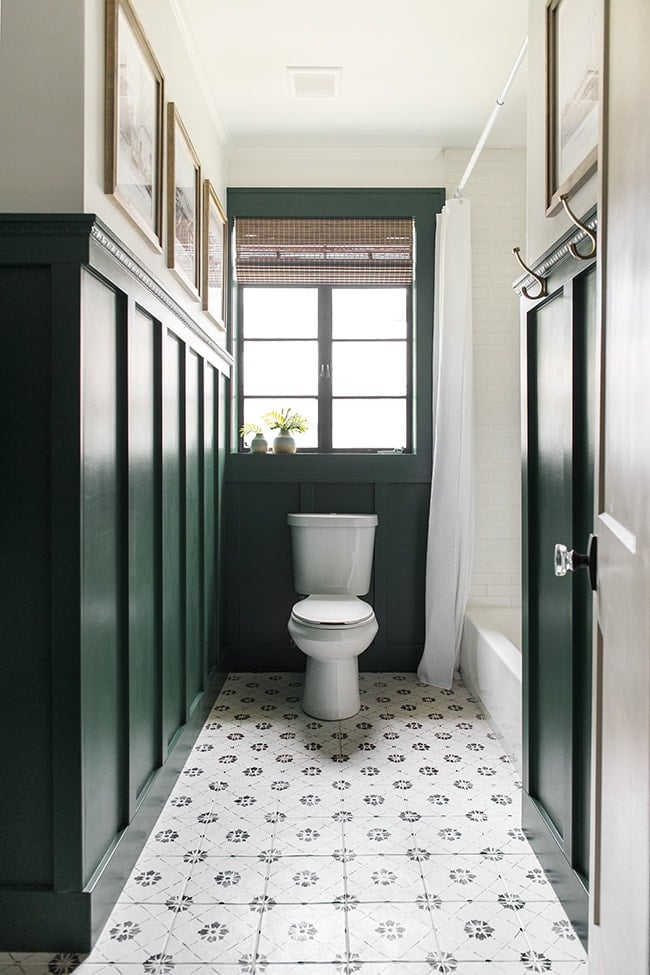 The real MVP here is the gorgeous green, Valspar's Wilderness.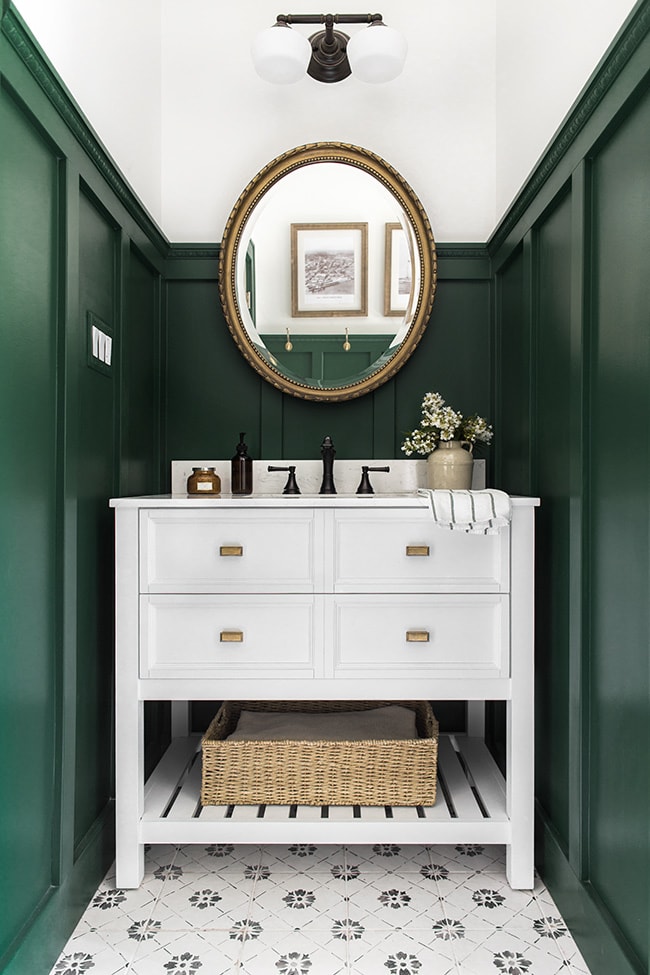 I love going bold in smaller spaces—making a statement is what design is all about!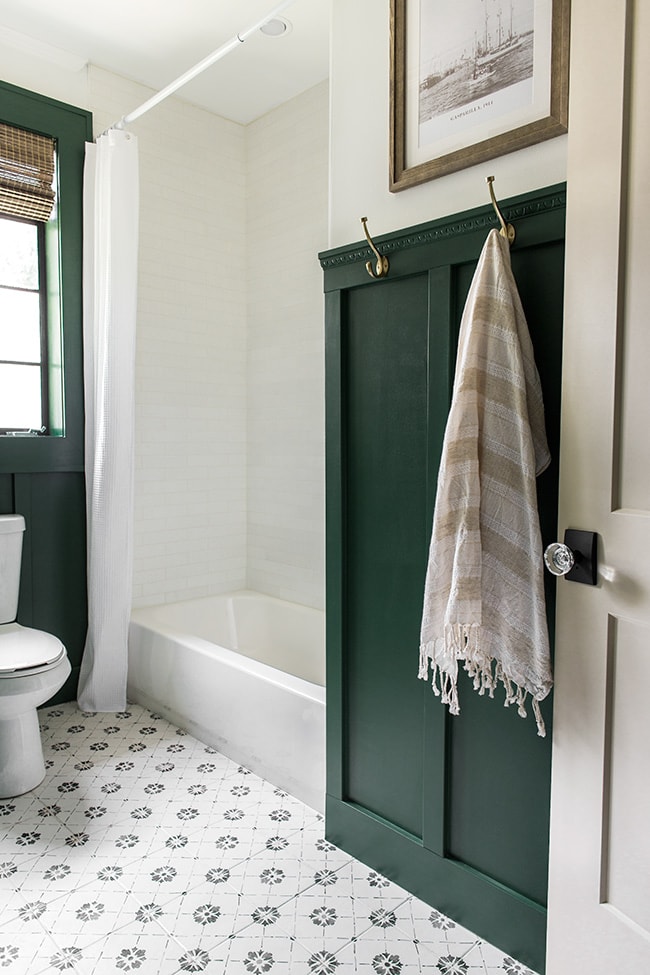 My second favorite player is this charming vintage style floor tile. It's just the right amount of pattern to balance the bold walls and fits in well with our 1940's home (our installer used a generic white for both the floor and shower tile grout).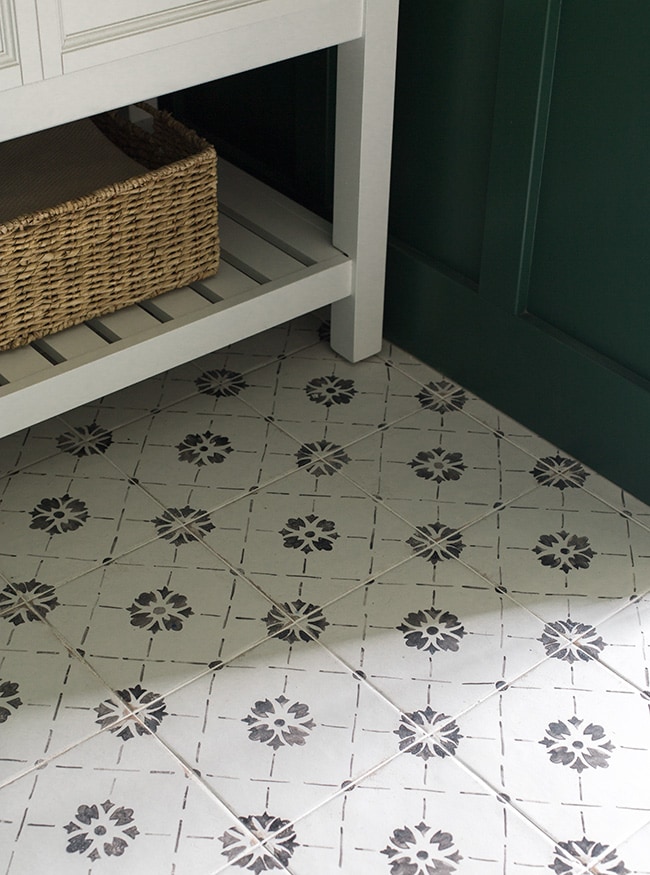 There was a big debate on Instagram around what color to paint the new Jeld-Wen door. I couldn't decide between green or white, and at the last minute I opted to make it same color as all the other doors in the house (SW Loggia). I think it was the right move because it breaks up the green/white and ties in with the other neutral warm accents in the room.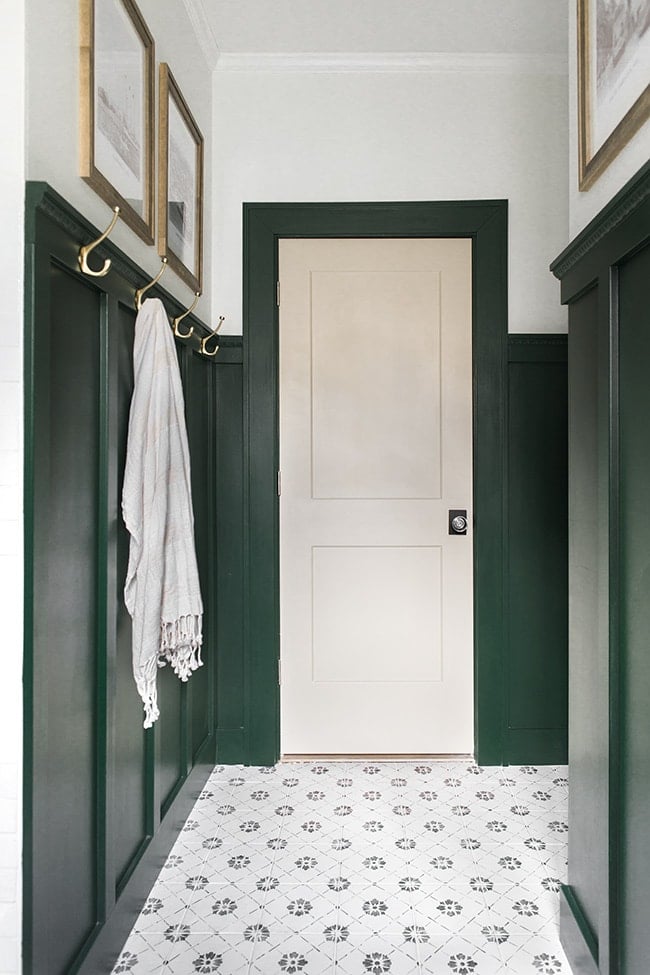 We're also swapping out all the original door handles with these gorgeous Schlage glass knobs: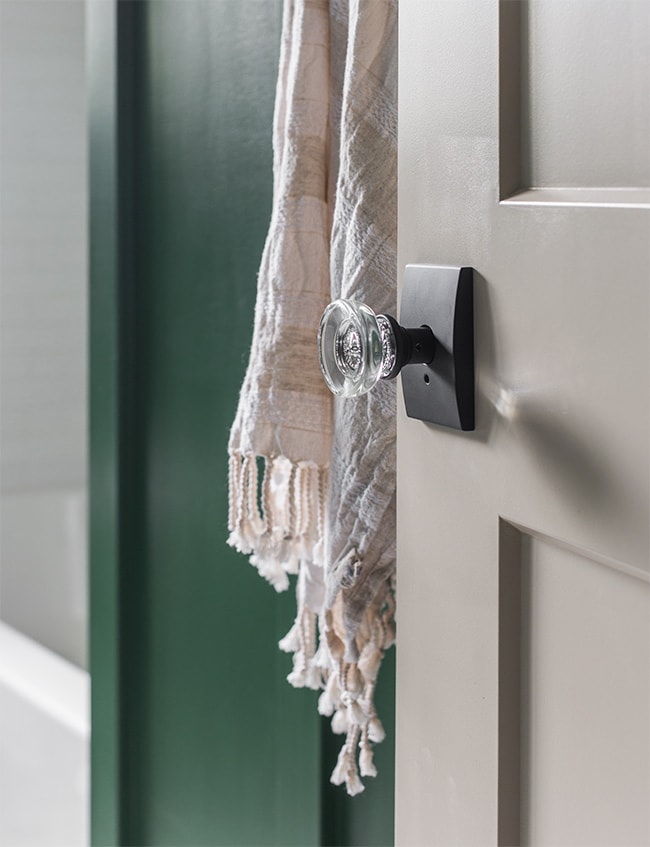 But this view? This has to be my favorite.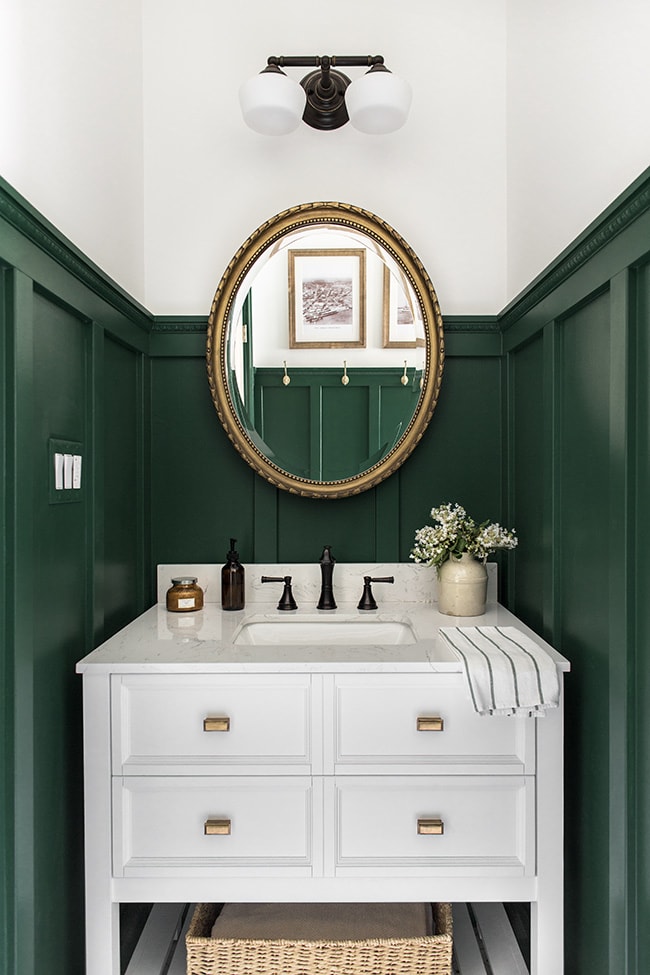 I scored this schoolhouse vanity light on sale for $76 (it's still a killer deal even at full price) and the mirror was a $30 secondhand Facebook Marketplace find (it actually came from a Disneyworld hotel).
The Delta Venetian Bronze faucet was another budget-friendly find with great ratings and a simple, classic style.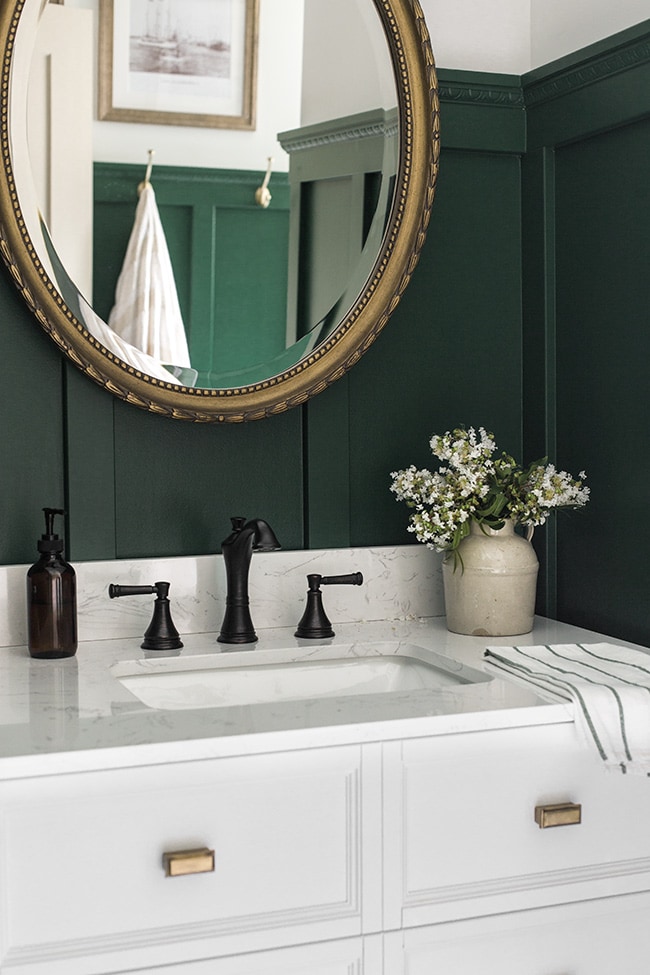 Recognize this vanity? It's the same one I used in our Heights House Guest Bathroom but in the 36″ size.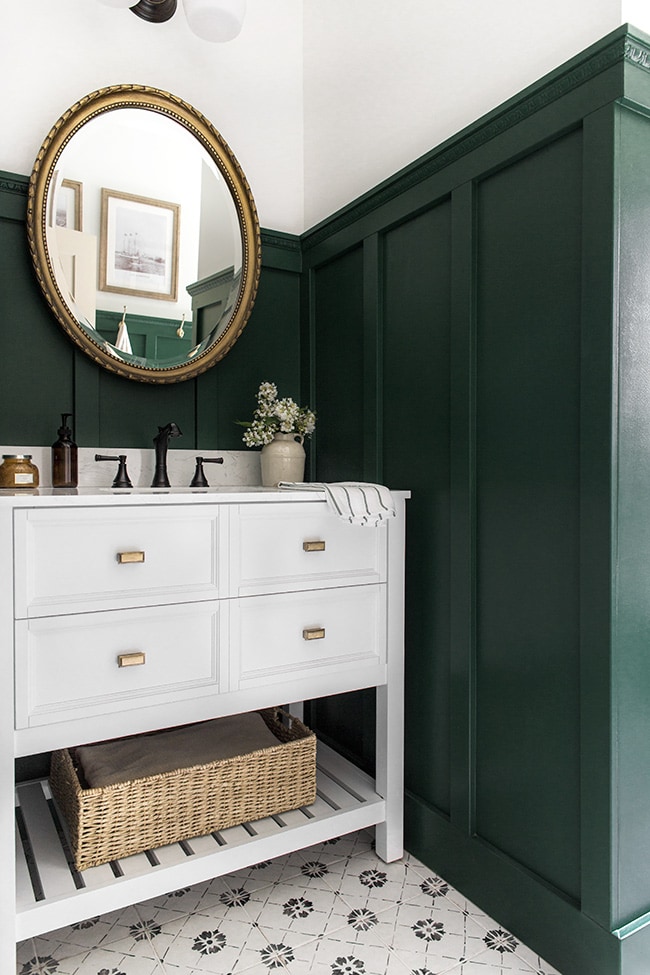 I love this vanity because there's lots of drawer storage, and you can choose from several colors/sizes/stone tops (I went with the Carrara engineered marble top). FYI—it's now $100 less than when I purchased it! If you've been considering this vanity (or any new vanity), now's the time to jump on it.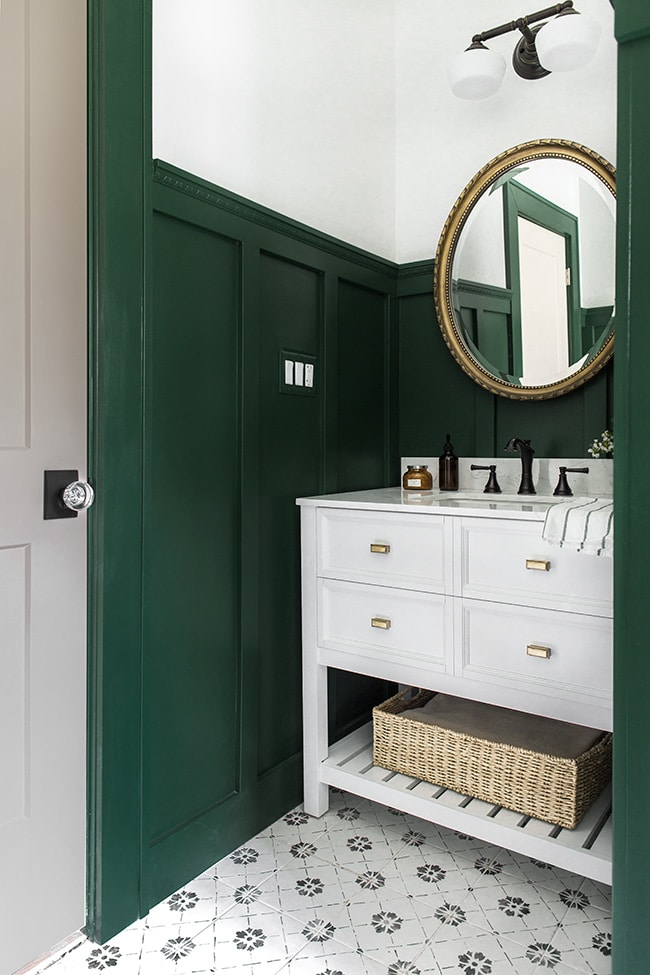 The only modification I made was painting the chrome handles gold (I used black spray paint and gold Rub 'N Buff to give it an aged patina).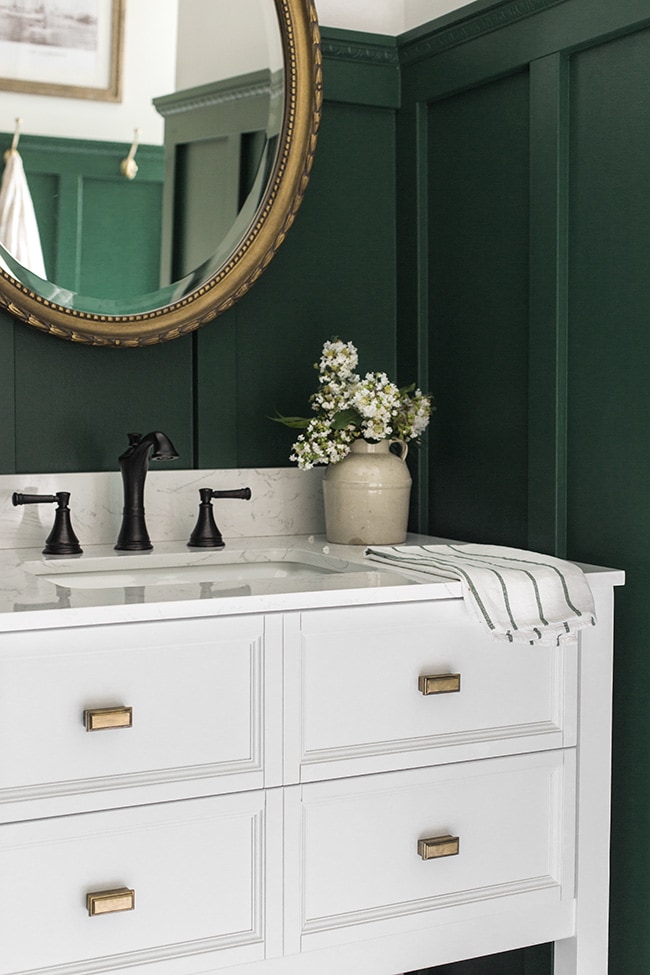 For the shower, I used one of Delta's most affordable faucets in a matching Venetian Bronze finish (only $130 but it's low in stock!) and replaced the one-piece tub with a budget-friendly model.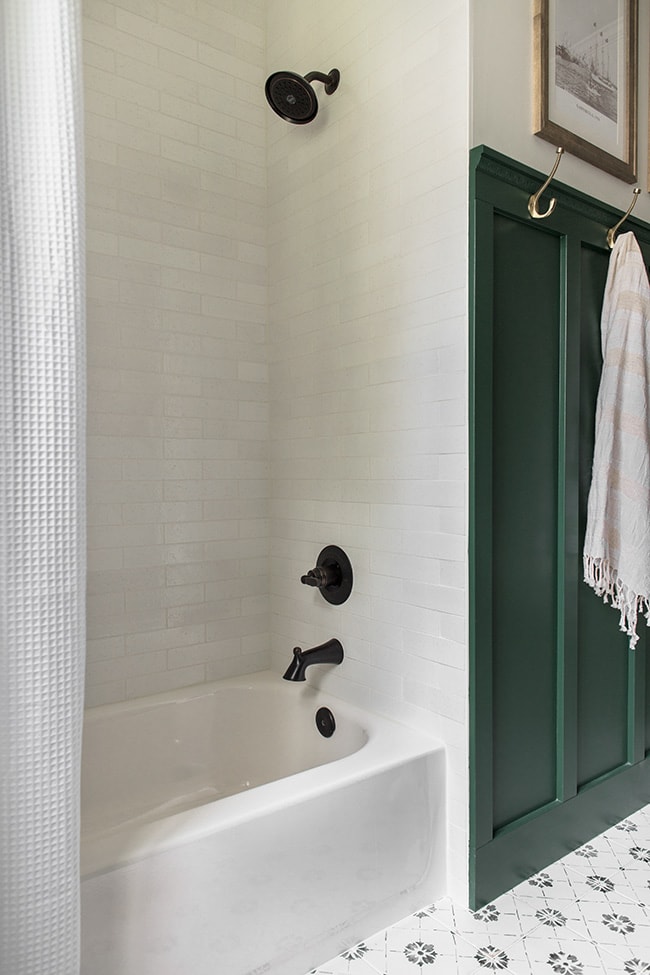 And how lovely is the shower tile? It has a slight color variation and is porous/textured to look like brick. Difficult to capture in photos, but it looks amazing in person and I think it fits in nicely with the earthy/classic style of the room.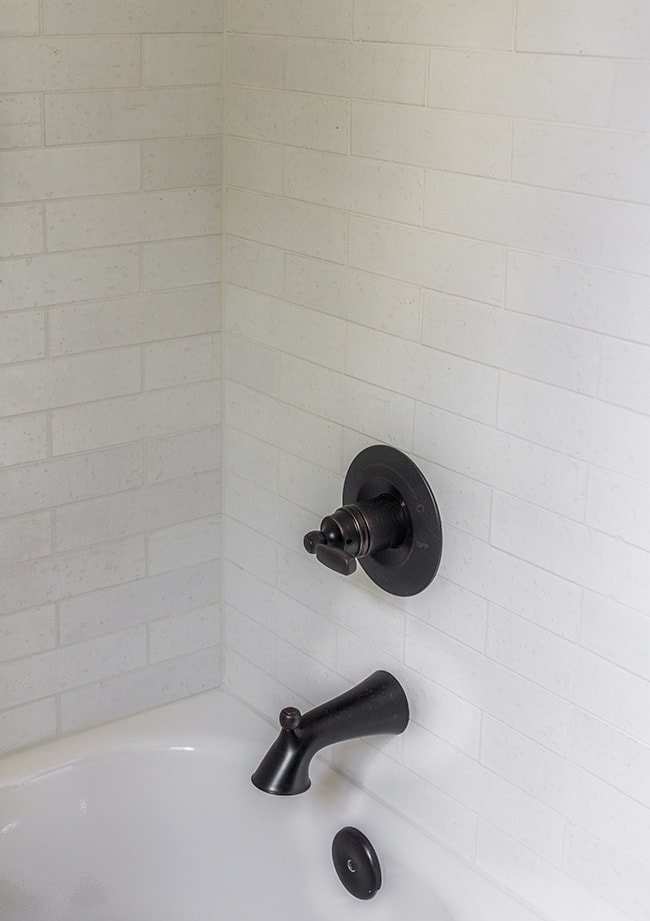 One neat addition are these vintage photos of our city.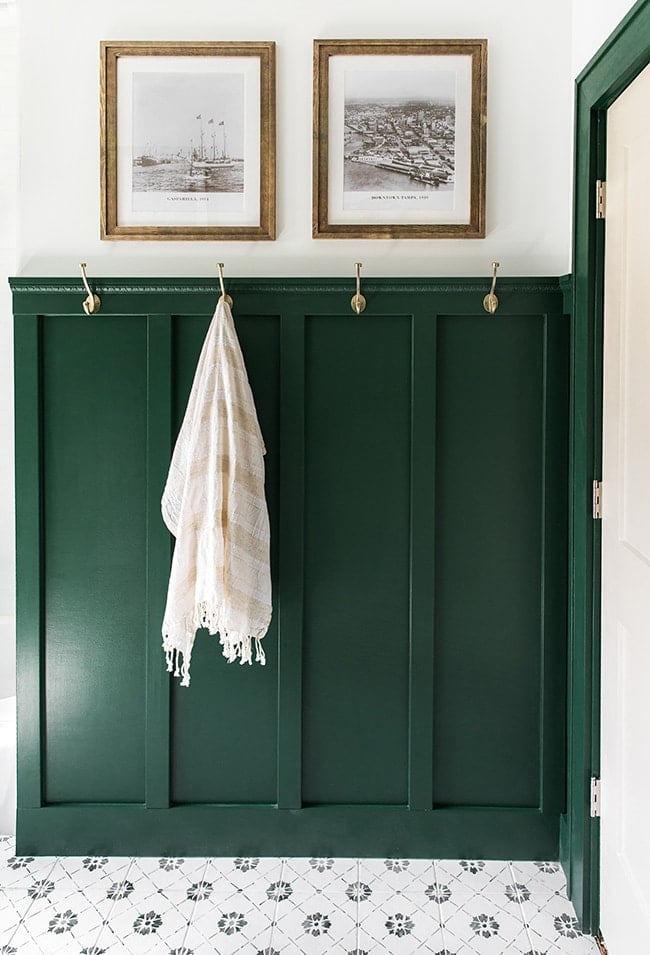 I Googled local archives of old photos and found our county library website with a huge collection of free downloadable images.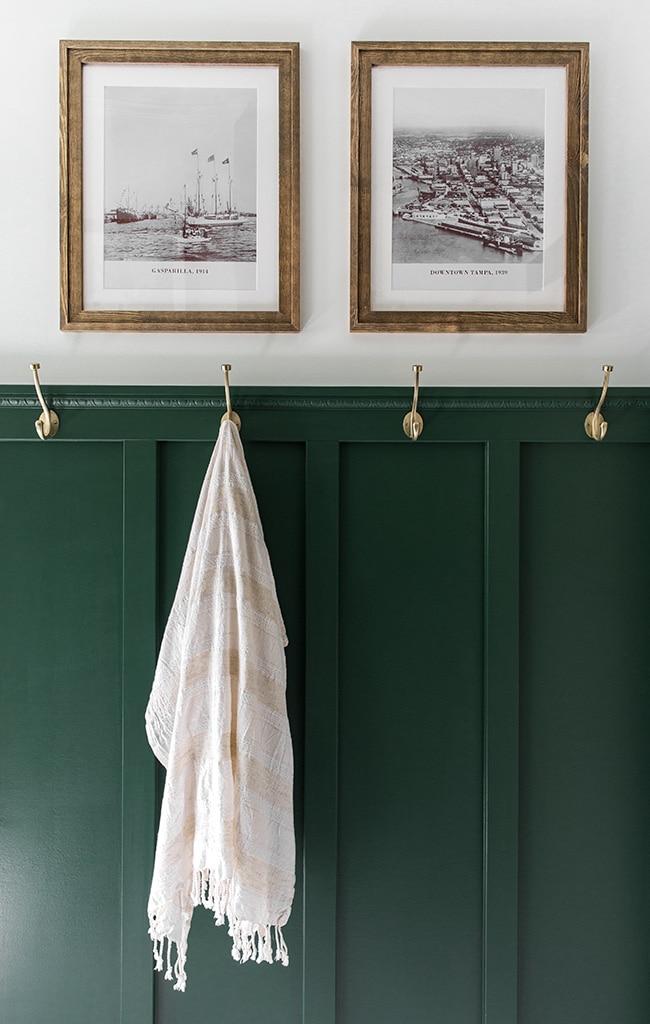 Then a little photoshop manipulation to make them sepia toned, add my own text, and print them out (these are 12×16″ prints in 16×20″ Ikea frames). I think these will be a fun touch for out-of-towners to see a little history of the area.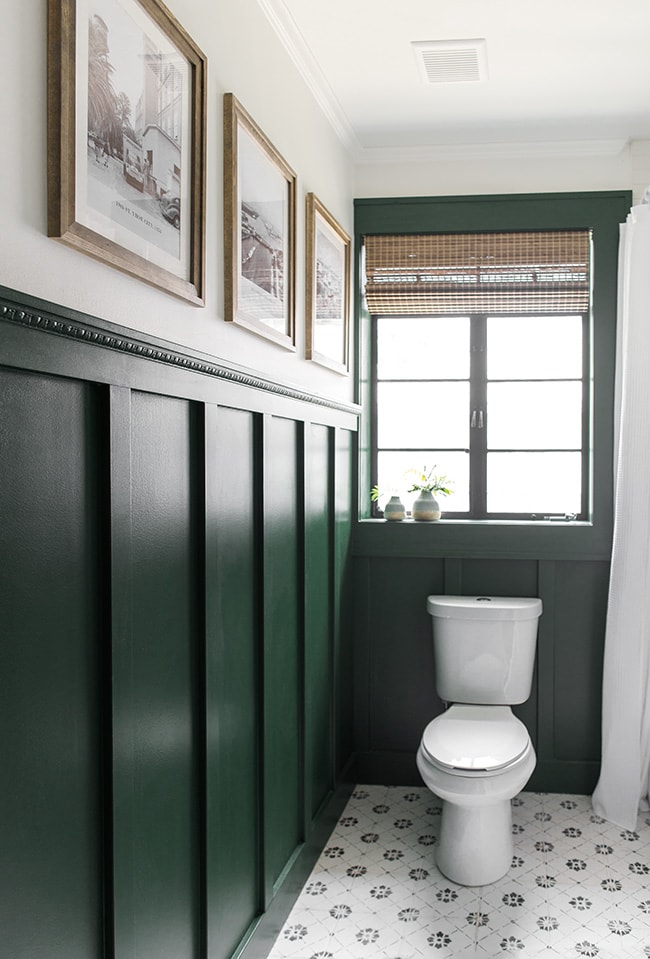 And the $5 gold hooks that have become a staple in almost every room these days! Can't beat the price and style.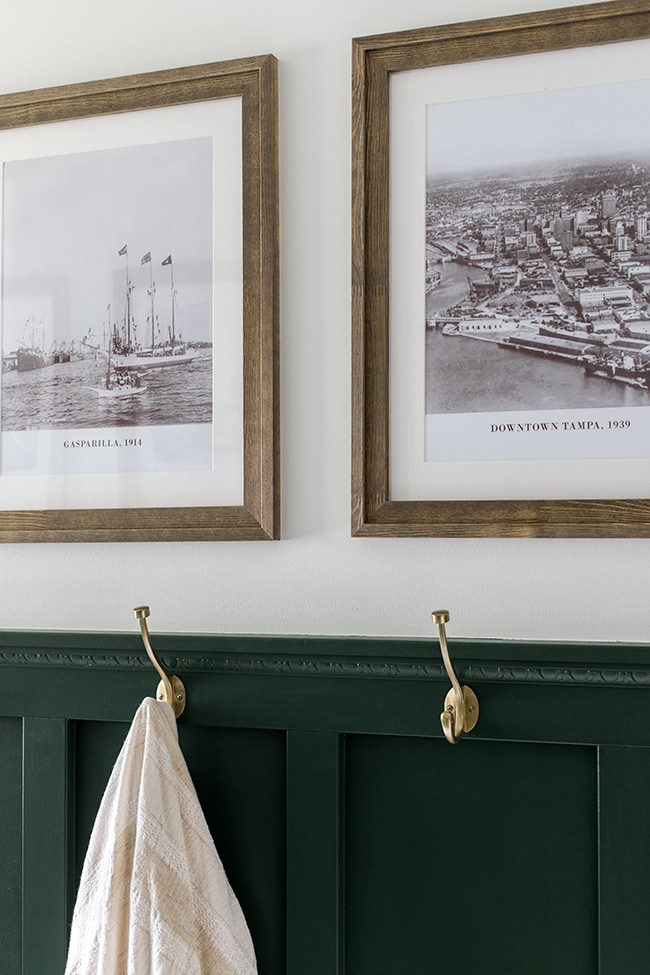 The only thing we kept from the original bathroom was the toilet (nothing wrong with it) and window, which I painted black. I hung a ready-made bamboo shade and simple 96″ waffle weave shower curtain (new favorite long shower curtain, by the way!)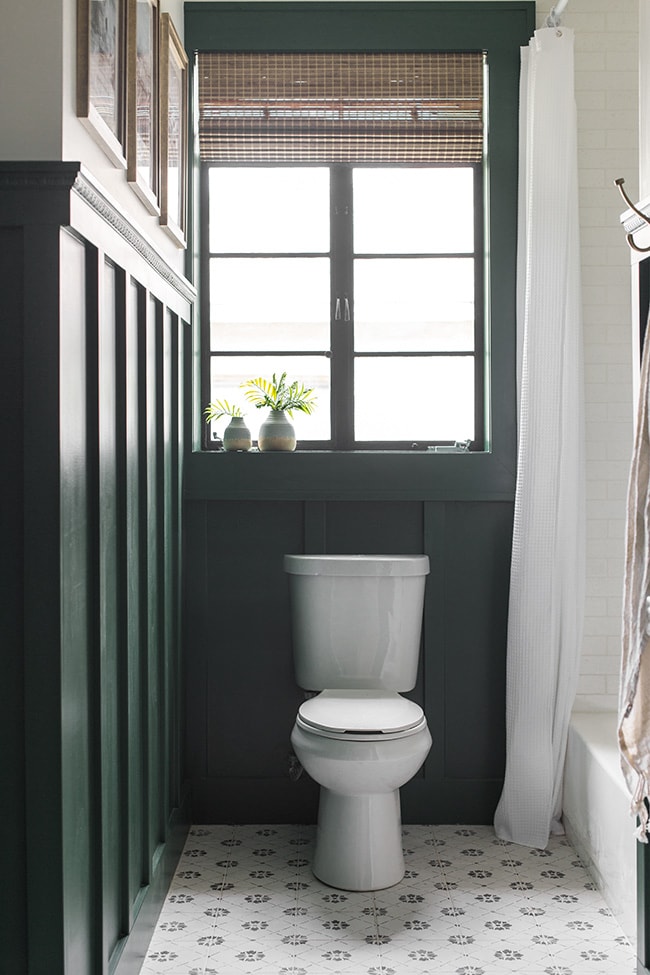 On the day of the shoot I realized I forgot to order a toilet paper & hand towel holder—oops! Those will be added next 🙂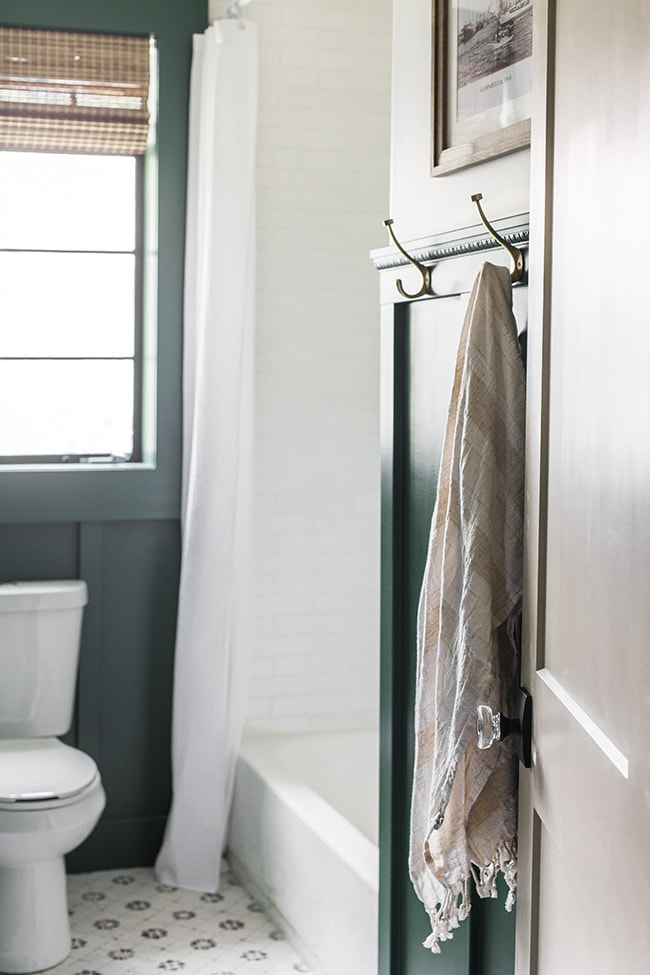 And that wraps up the Earthy + Classic Budget Bathroom Tour! I'm happy to say that this one turned out pretty much exactly as I had imagined/hoped.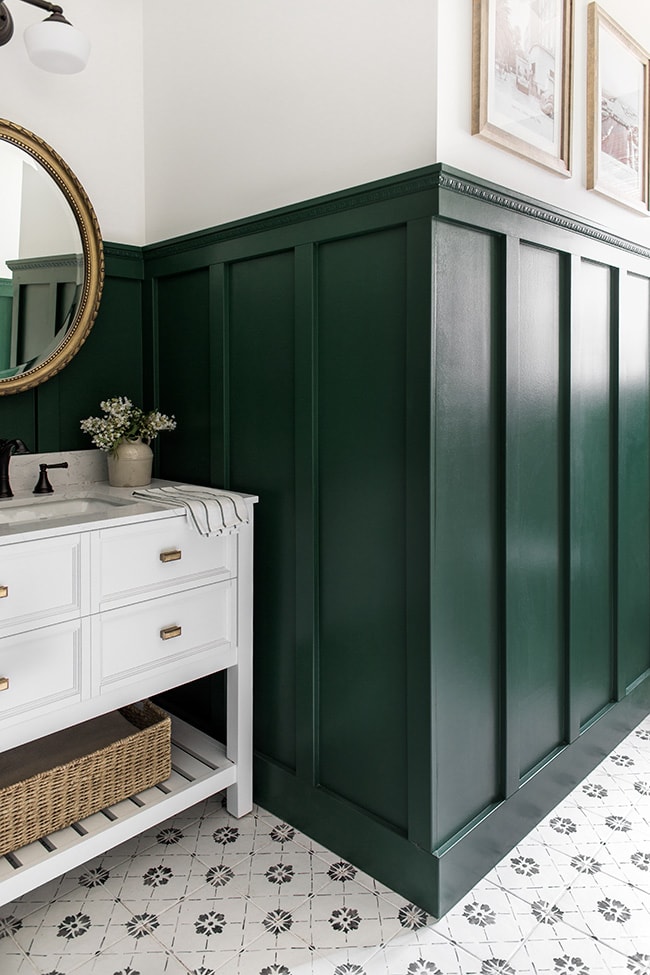 I hope our guests love it just as much as we do!
Sources + Budget Breakdown
Paint: Valspar Wilderness (satin), SW Pure White (eggshell), SW Loggia (semi-gloss)
Floor tile / $288
Shower tile / $730
Tub / $150
Shower faucet / $130
Vanity / $500
Vanity faucet / $160
Vanity light / $76
Mirror / $30
30″ Jeld-Wen door / $130
Door handle / $65
Towel hooks / $23
Picture frames / $85
Window shade / $45
Shower curtain / $27
Curtain rod / $23
Molding & trim / $250
Paint / $40
Total: $2729
Of course this doesn't take into account any labor costs or labor materials (those numbers unfortunately got convoluted between two different contractors). But if you aren't doing a complete gut remodel down to the foundation or hiring out the labor, you can easily recreate this bathroom for under $3k with some DIYing and a trip to Lowe's.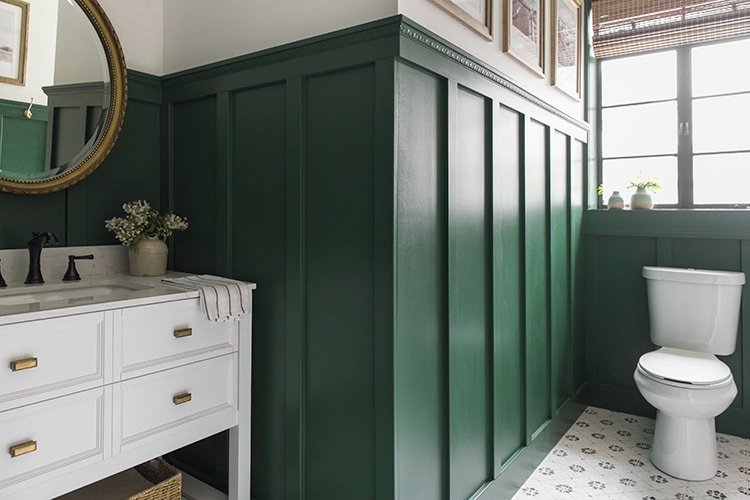 The best part is, you don't have to compromise on quality—and I'd say the end result is comparable to any $10k+ bathroom I've seen!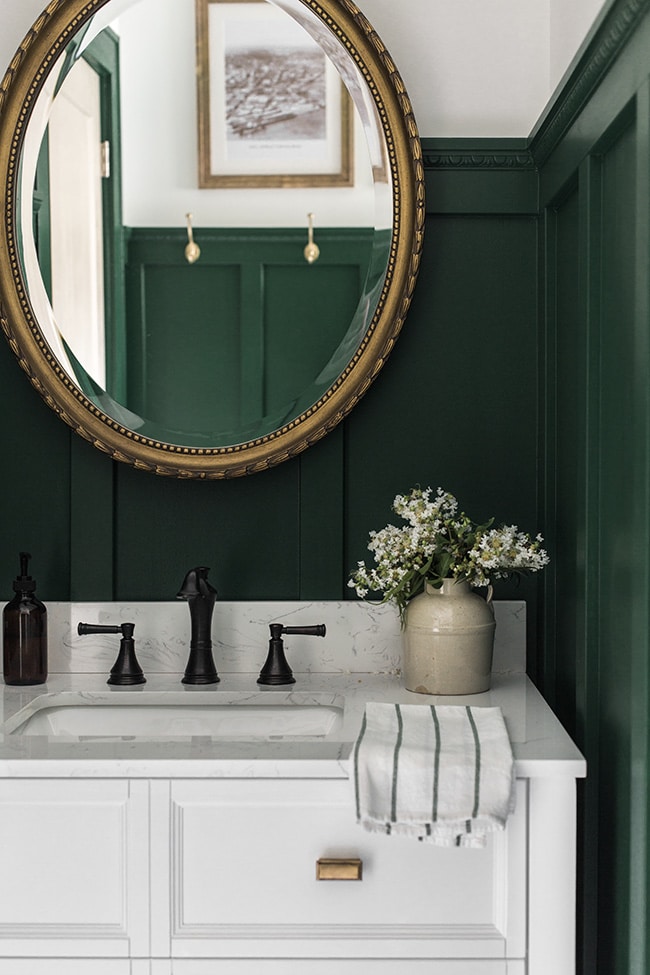 What do you think about the deep green? It's probably the boldest wall color I've ever used, but this is a vacation rental so I'm not trying to play it safe! Every room will have its own unique vibe—just wait until you see what we have planned for some of the other spaces 😉
Next up: a vlog update, kitchen rug fashion show and the nursery reveal… hopefully all before baby arrives!