We just conquered a huge milestone in the nursery and I couldn't wait to share our excitement! If you haven't been following the progress, make sure to get caught up first:
As a reminder, here's how the room looked a couple months ago: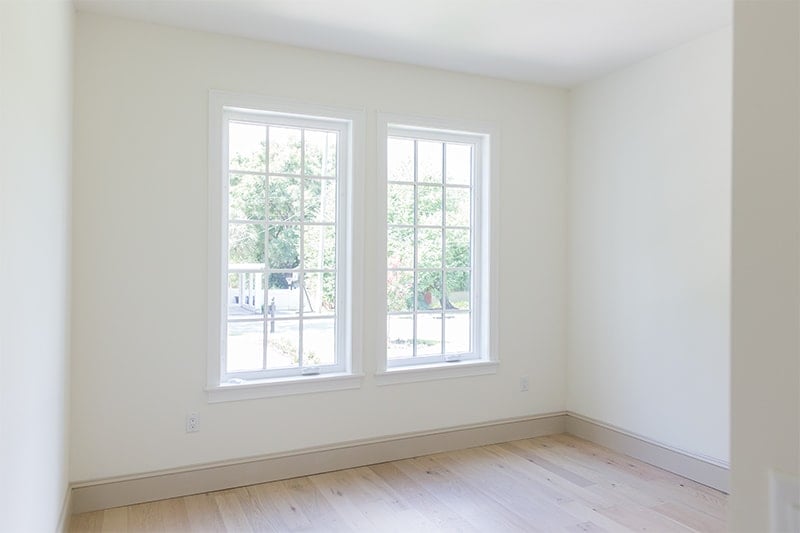 Pin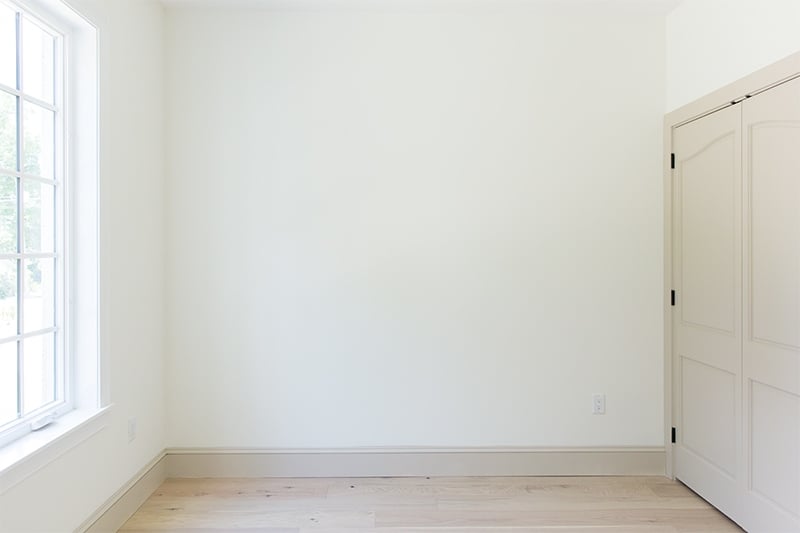 Pin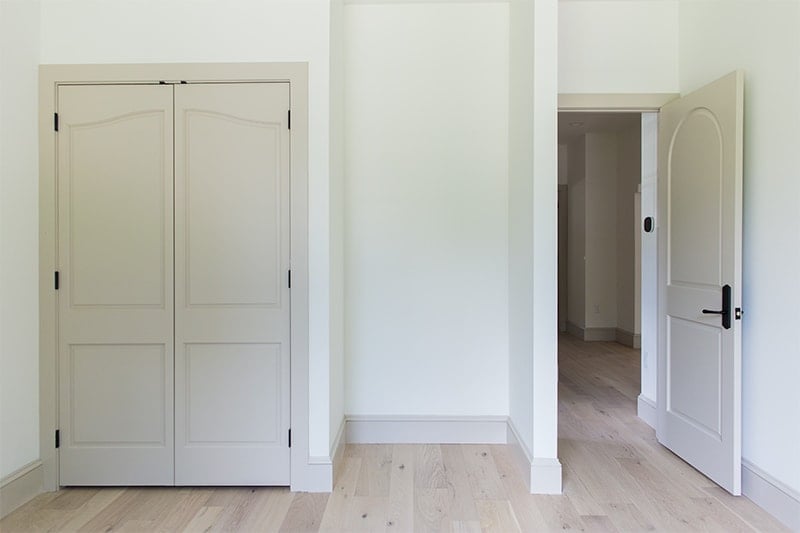 Pin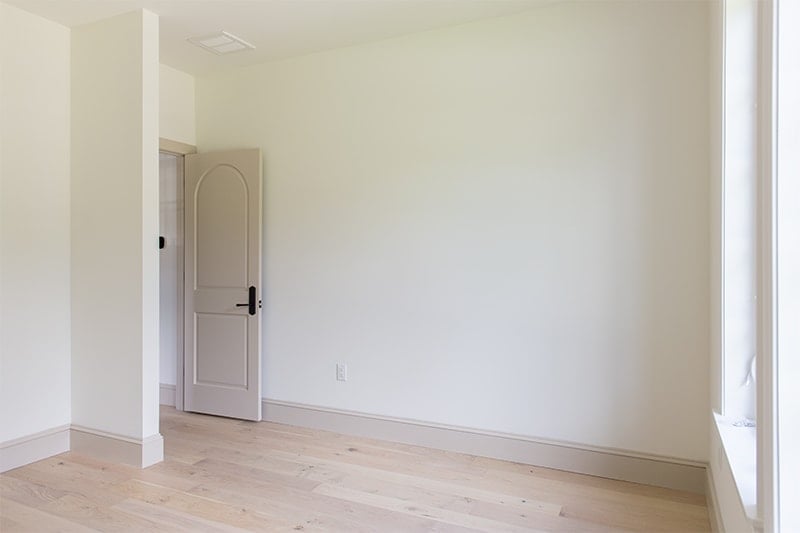 Pin
Shortly after completing the closet makeover, a truckload of boxes of fancy molding arrived from Ekena Millwork and we set aside a weekend to tackle as much as possible.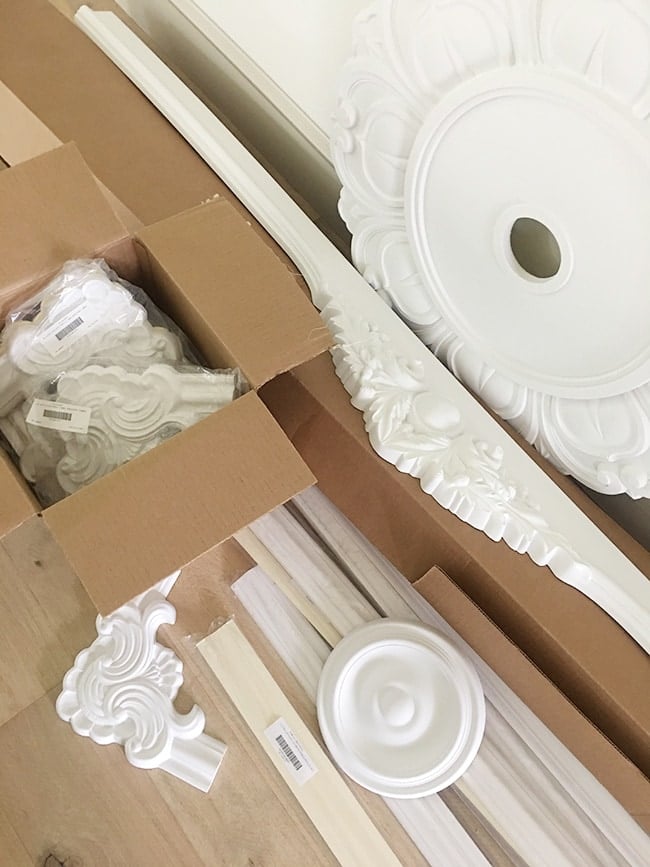 Pin
Spoiler alert: I'm not taking a minimalist approach here—I've been dreaming about designing this room for years and stockpiling ideas to make it extra special for this sweet girl I've waited so long for. Nurseries and kids rooms are one space you can have more creative freedom with and I'm taking full advantage—bring on the decadence!
Starting with the crown molding…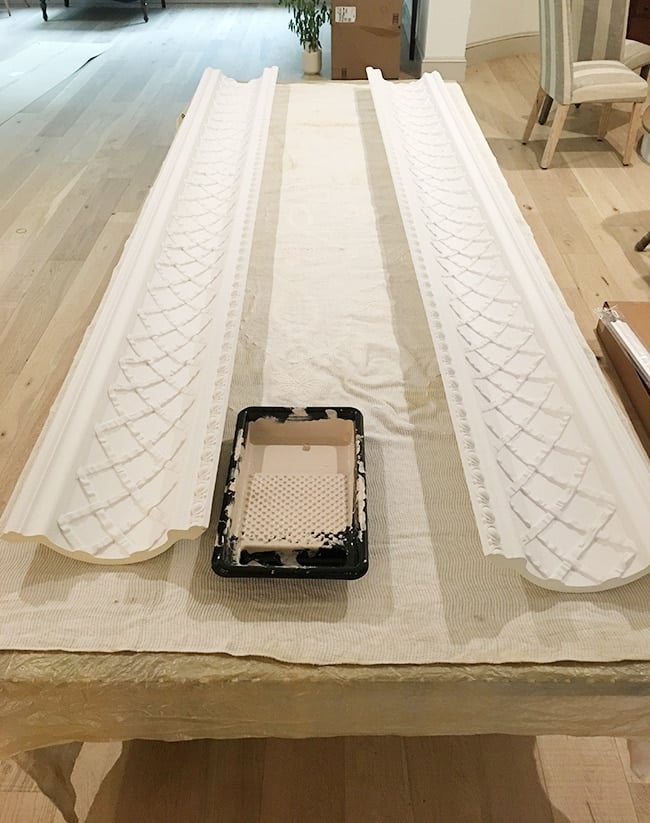 Pin
I used a tape measure to visualize the size before ordering, but even I was a little taken aback by just how large it was in person. 12″ crown is not something you see every day! Fortunately the size isn't too overpowering for our 9'4″ ceilings, and makes the room feel even taller.
Before installing, we painted all eight 8′ pieces (SW Malted Milk in satin) because it's easier to do on a table than above your head while standing on a ladder (especially with all those little details!)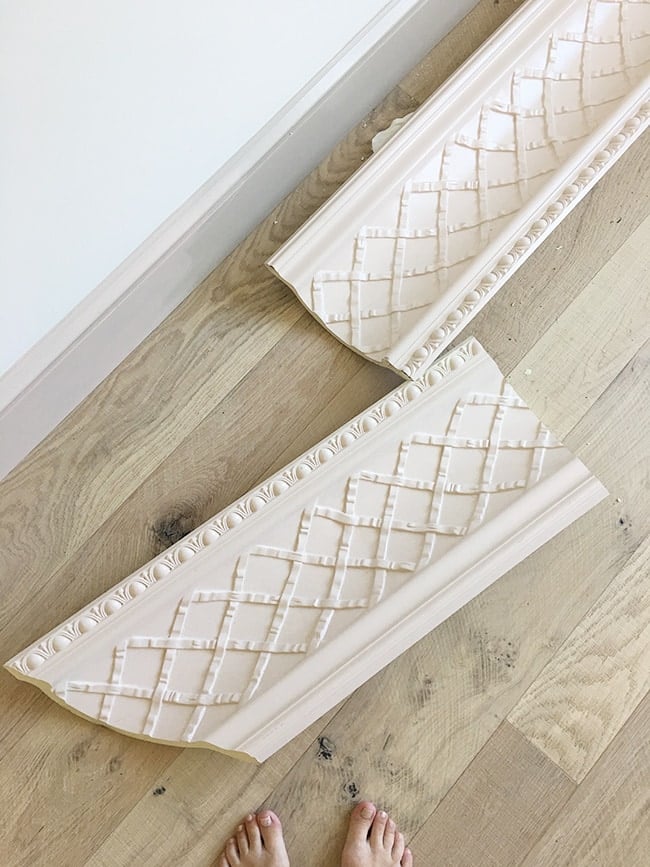 Pin
We set up our trusty 12″ Dewalt miter saw and attempted to make the first cut the same way we normally install crown molding… then quickly realized we were in over our heads. The crown was too big for the saw, and there's no way we could clamp or hold it perfectly still while cutting.
There may have been some hormone-induced tears immediately after this attempt, followed by calls to every local master carpenter I could find. Turns out there's not many qualified carpenters nearby who had the time or capability to do the job, and the one quote we received came in at over $1000. NOPE.
After wasting a week trying to figure out a Plan B, my sweet amazing talented husband said not to worry, and that he'd figure out a way to make it happen. He then spent nearly every evening after work for the next two weeks pulling off a modern day molding miracle.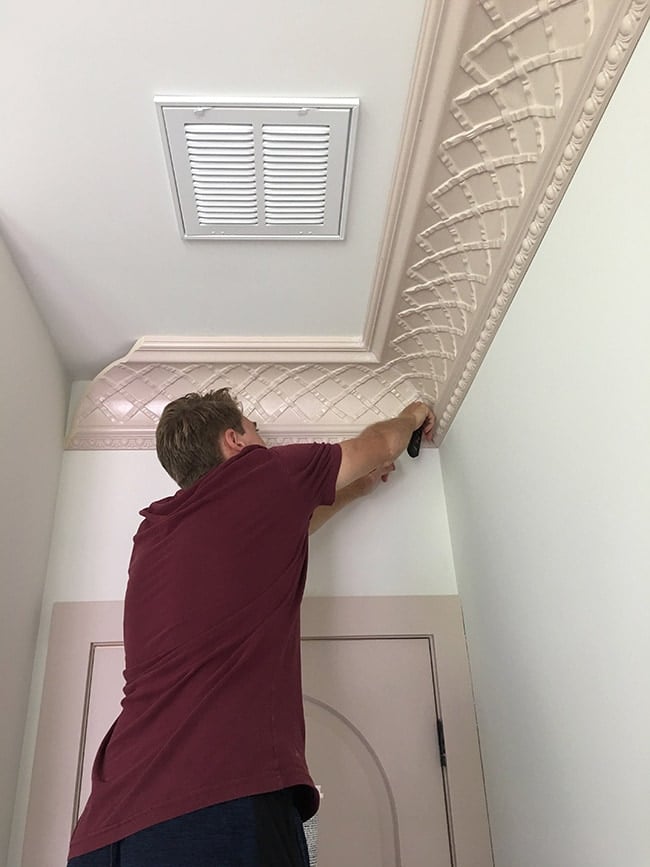 Pin
I can't even attempt to share a tutorial for this one (you can find my regular crown molding tutorial in this post). Lucas drew up plans and thought he had the angles figured out, but every corner and angle was different (yes, even with new construction walls!)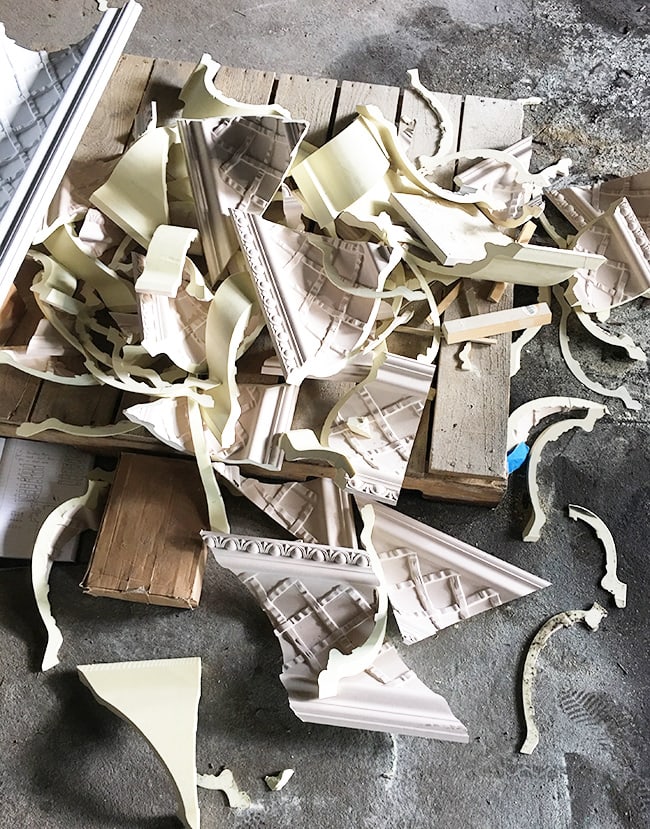 Pin
The bad cut graveyard says it all.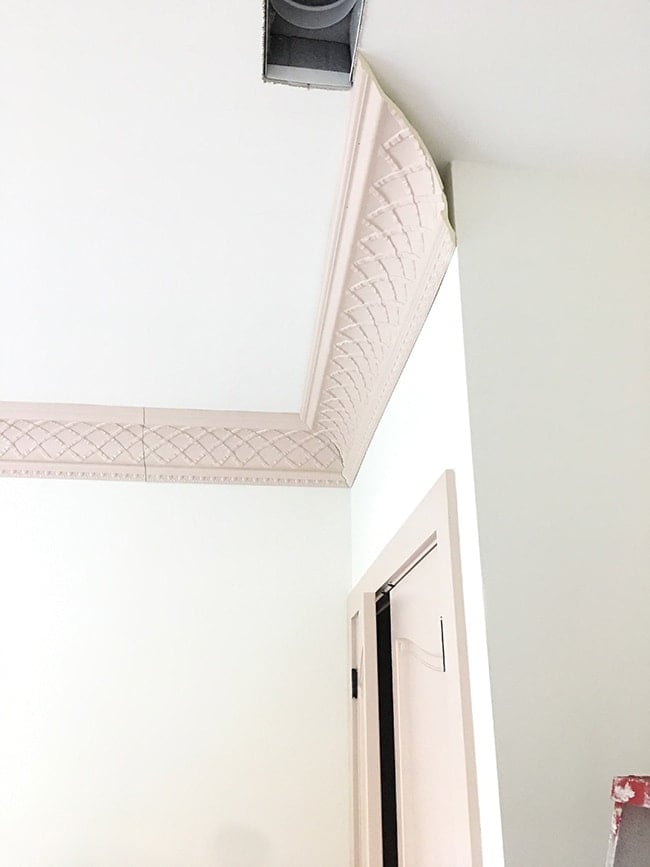 Pin
Apart from the challenge the sheer size presented, the pattern had to be matched up perfectly as well. This resulted in a good amount of waste, and we ran out at the end and needed to order two more pieces (shout out Ekena for being so prompt and understanding!)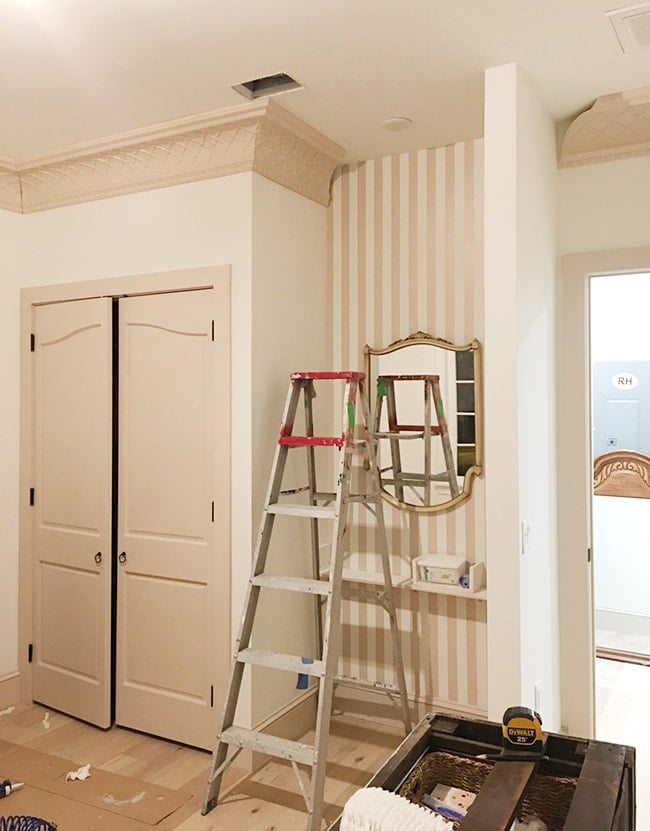 Pin
Thankfully, this urethane molding is super lightweight and so easy to work with—we've used it for tons of projects over the past year and it's hard to go back to MDF/wood.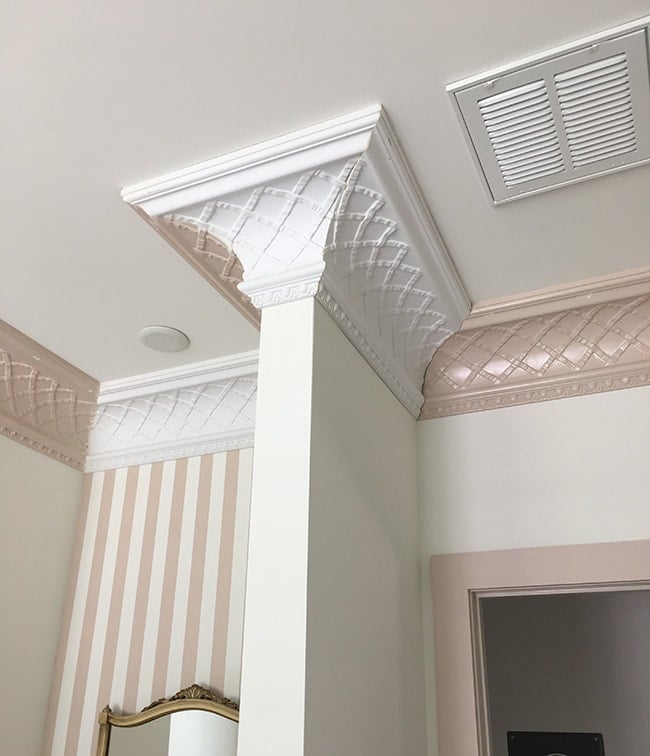 Pin
I mean… look at this work of art. These pieces didn't line up at the corners but Lucas was able to file down around the edges and now you can't even tell. Try doing that with wood!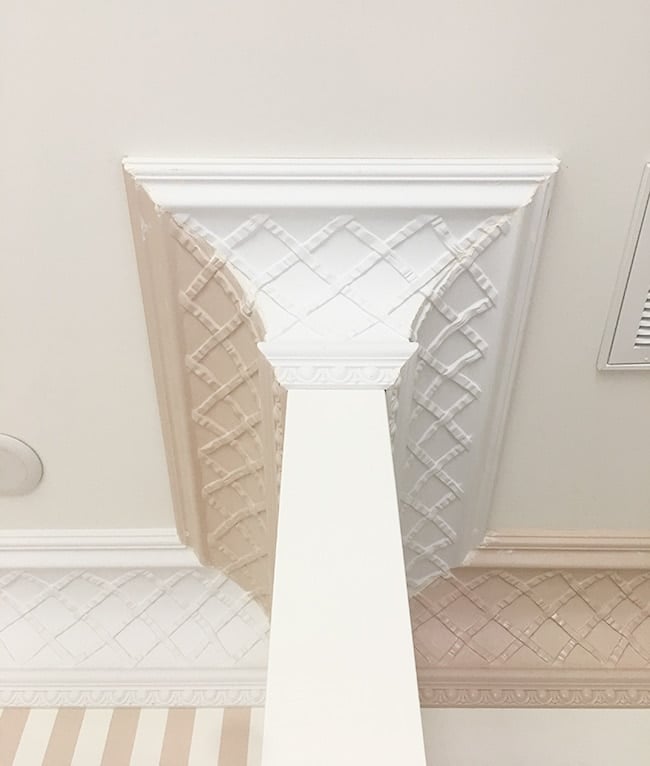 Pin
And any gaps disappear with a little spackle. Pro tip: wet your finger when you apply the spackle and it'll go on super smooth, making it much quicker and easier to sand later!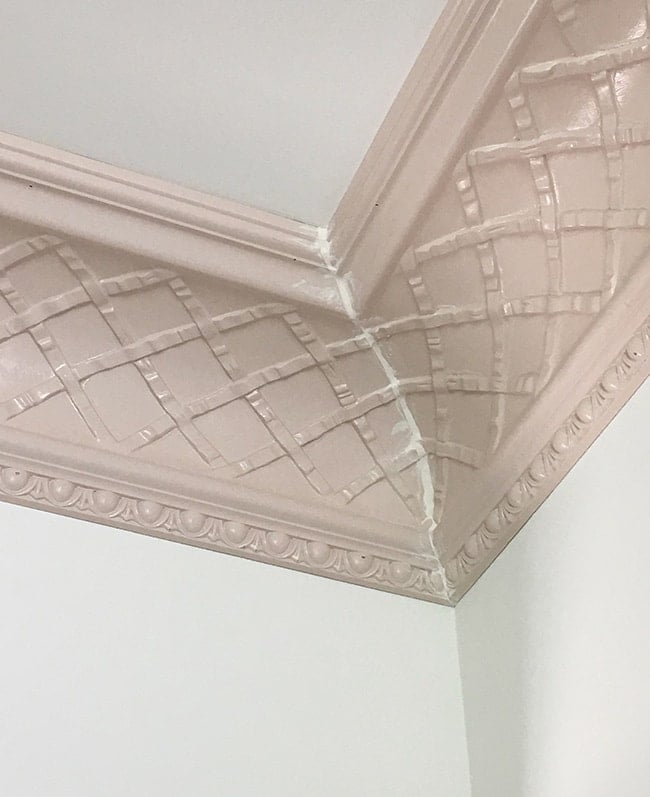 Pin
A bit of liquid nails on the back…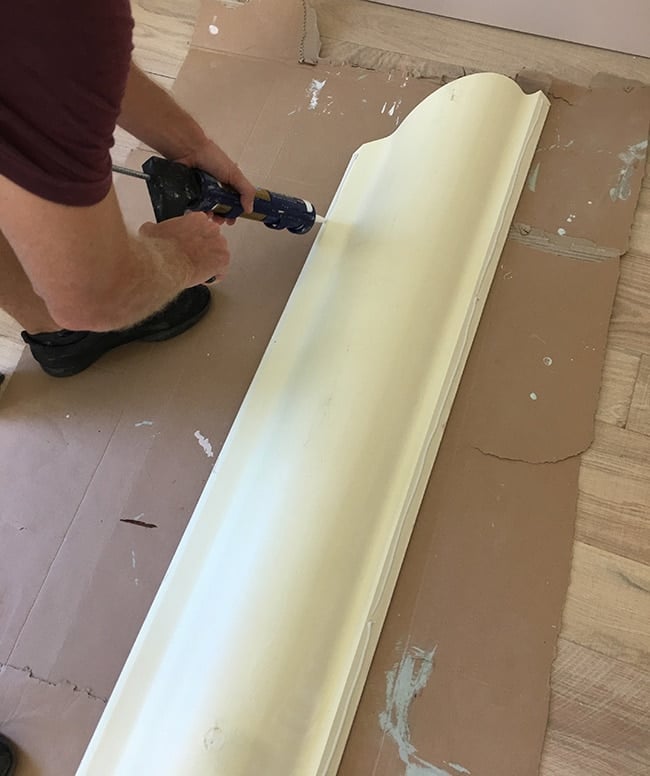 Pin
Followed by a few finish nails is all it takes to secure it.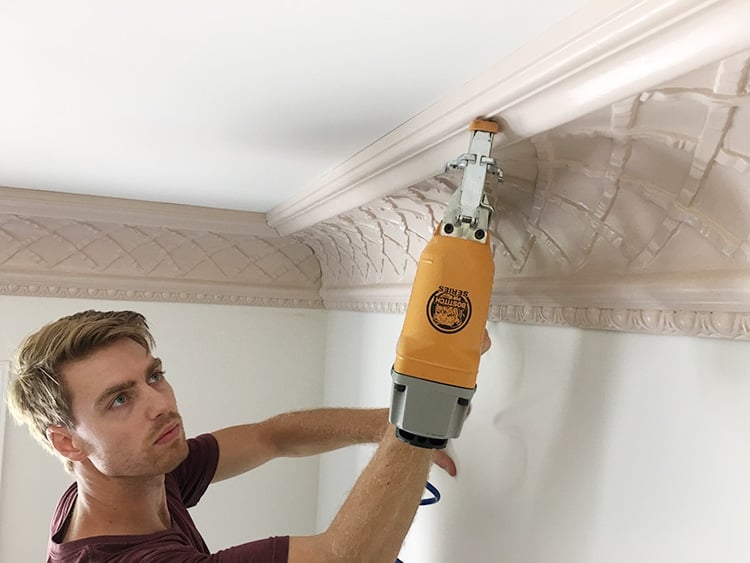 Pin
You can bet we were happy dancing all over the room once the last piece was in. Crown molding expert level status unlocked, VICTORY IS OURS!
Pin
With the biggest challenge out of the way, we moved onto the wall molding. I came up with the idea of transforming this wall with classic French inspired wainscoting using panel molding: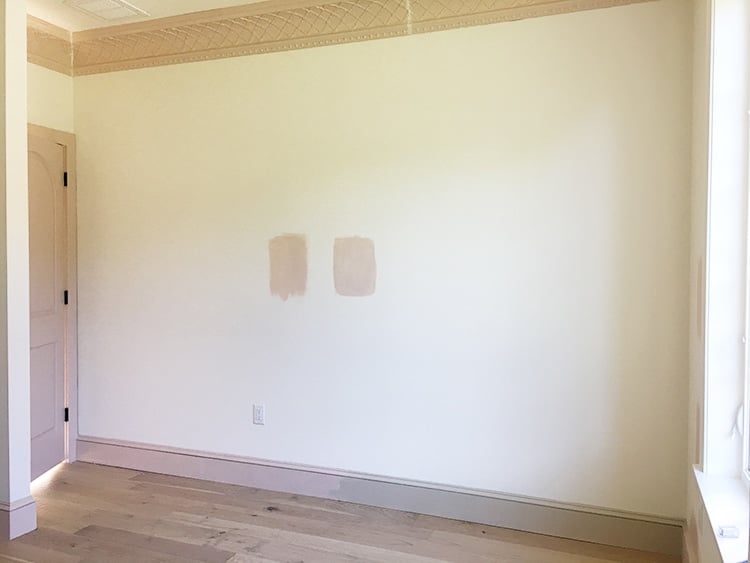 Pin
I love this option because it requires no modifications of your existing baseboard/trim, and the process is pretty straightforward! This is the same technique we used to frame our wall mural in the Riverside Retreat so I won't go into detail again as you can find that tutorial here.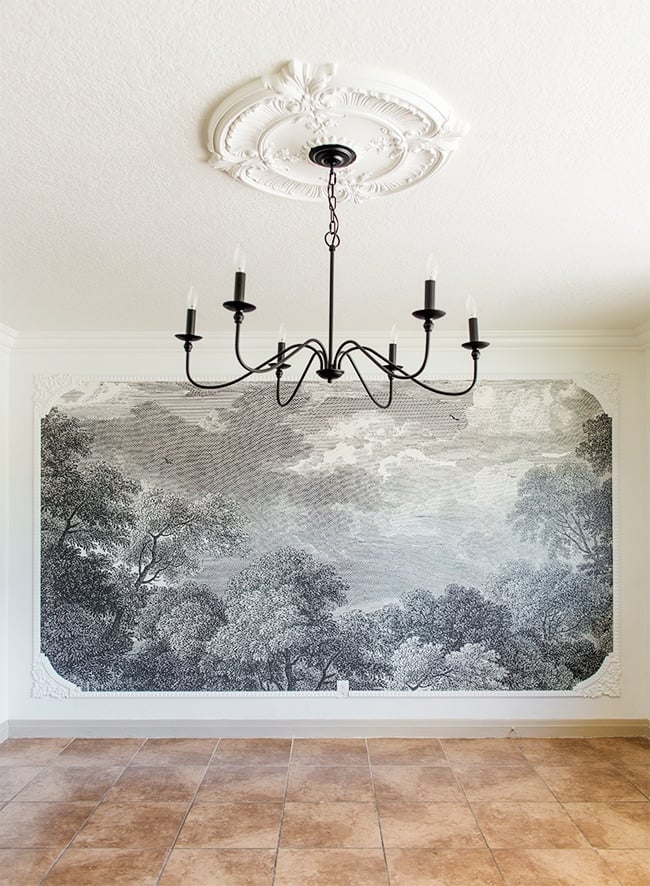 Pin
This time I chose a simpler trim style, using the Pompeii panel molding and matching corners.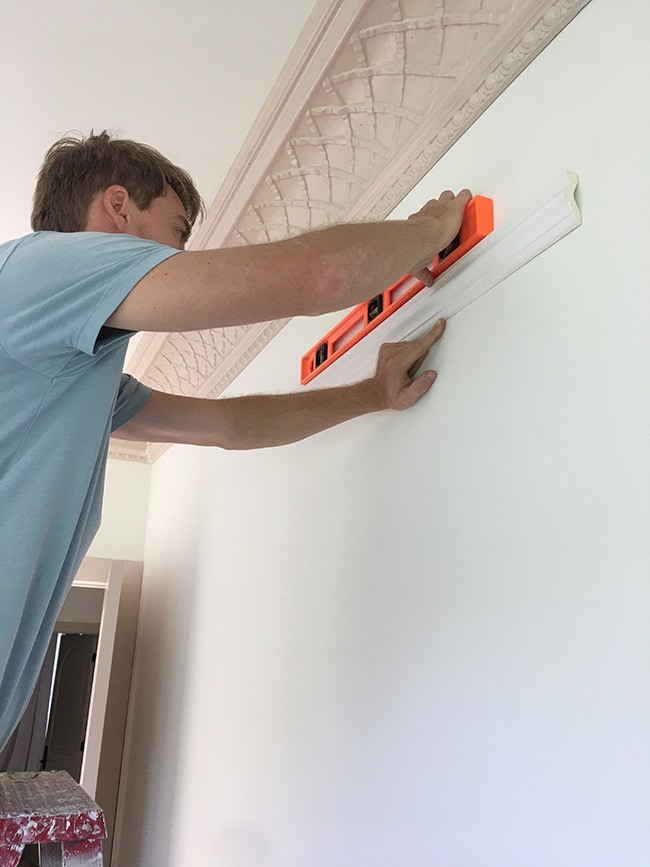 Pin
After drawing out the measurements and layout on the computer, we cut the molding to size and started with our center rectangle first.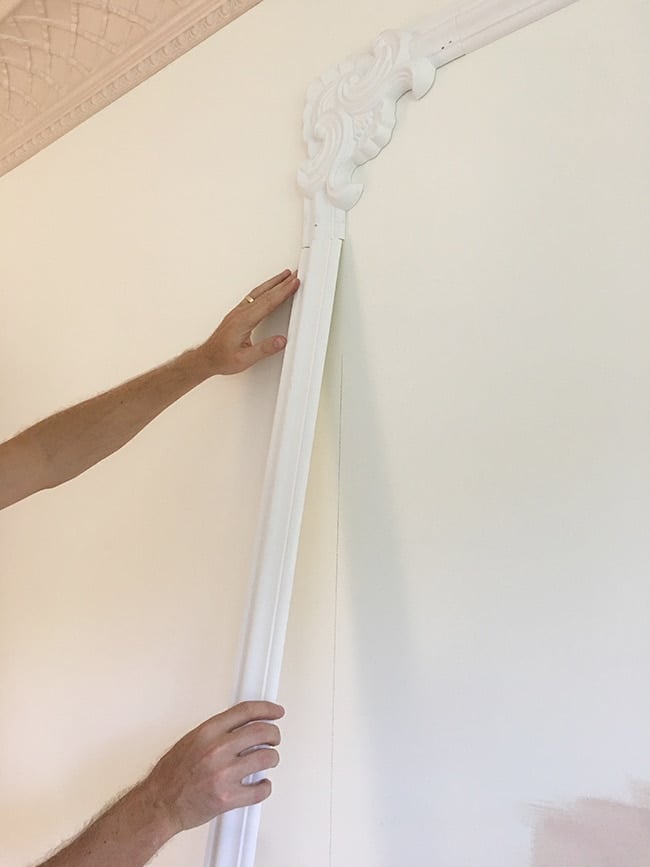 Pin
These pieces are the same lightweight urethane material and attach to the wall just as easy, with a bit of liquid nails and finish nails. The only tricky part is making sure they line up as seamlessly as possible, which means adding shims sometimes since the pattern doesn't always match up perfectly between pieces.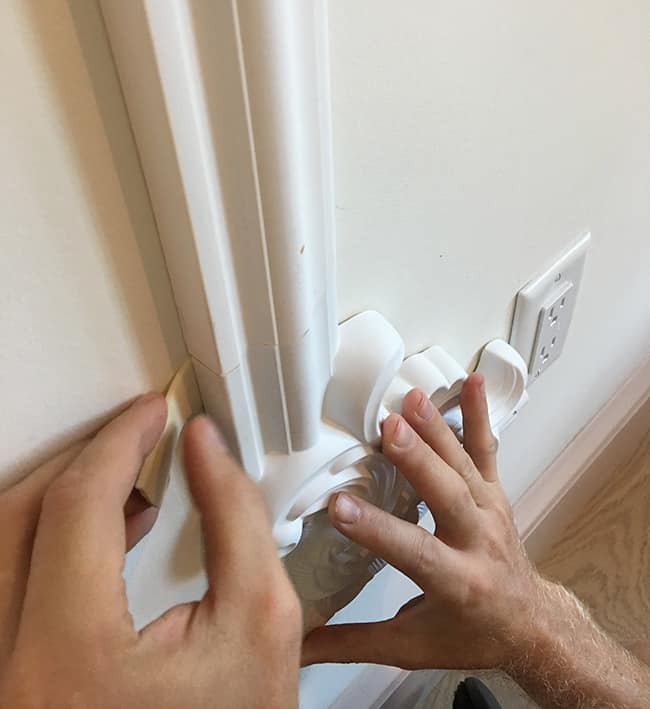 Pin
I really enjoyed this part of the molding process (especially after the crown!) and it didn't take us long to get our first panel up.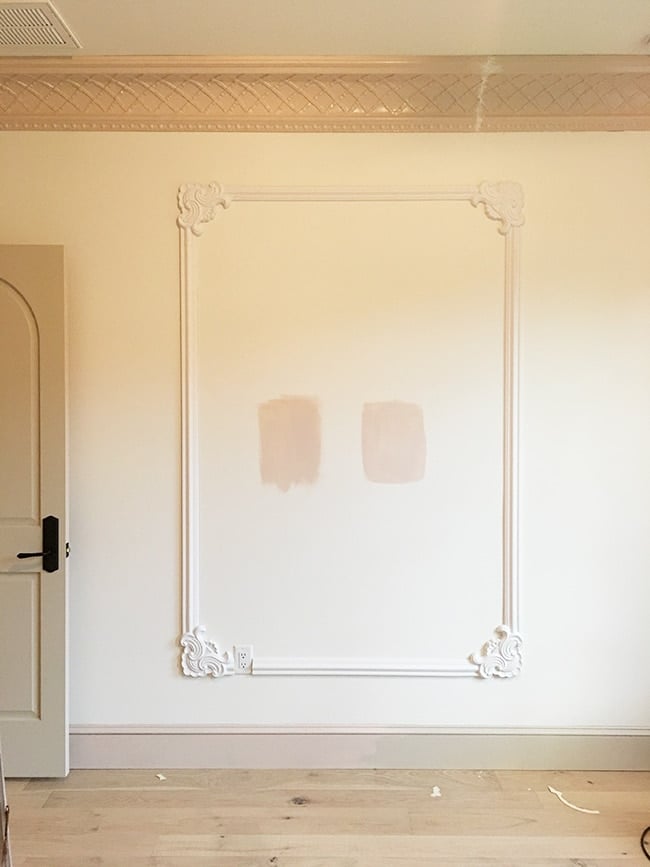 Pin
Next one up…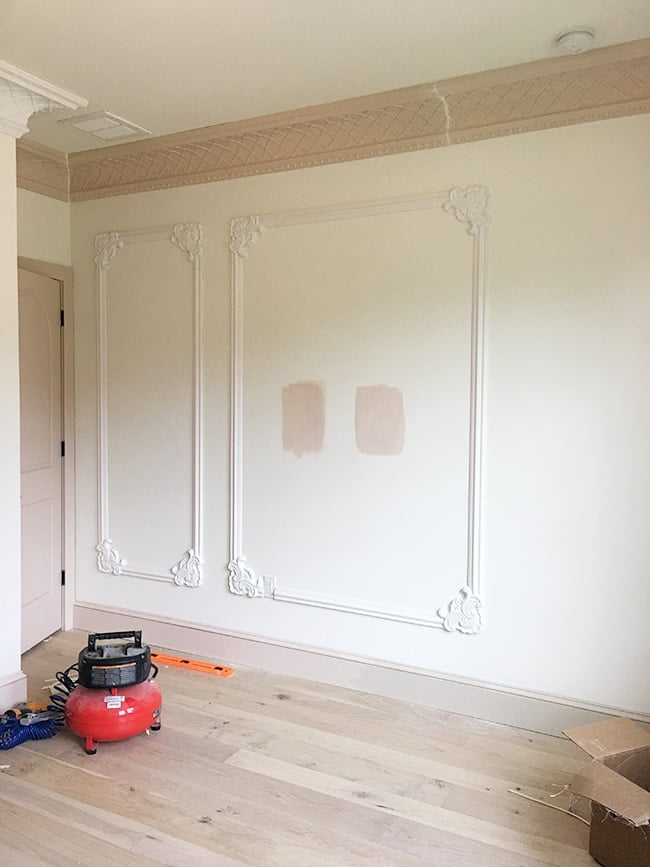 Pin
Last but not least!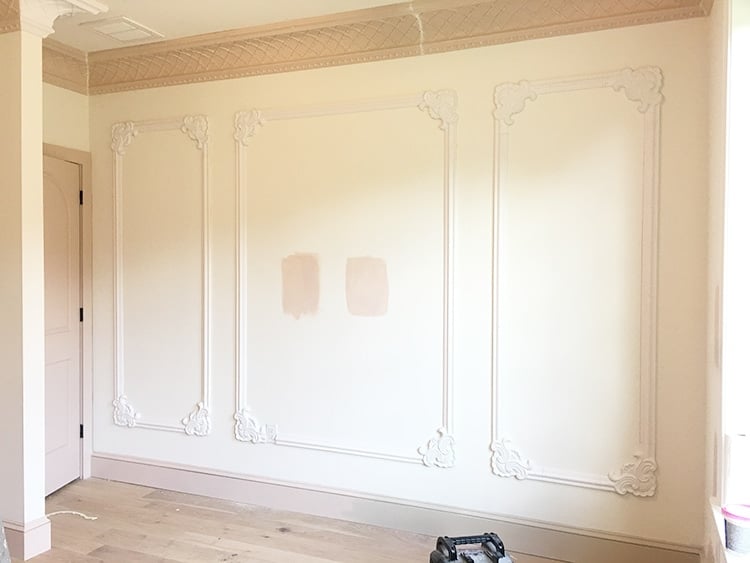 Pin
I spent all day Wednesday painting (whew, that's an exhausting job at 8.5 months pregnant) but well worth the effort…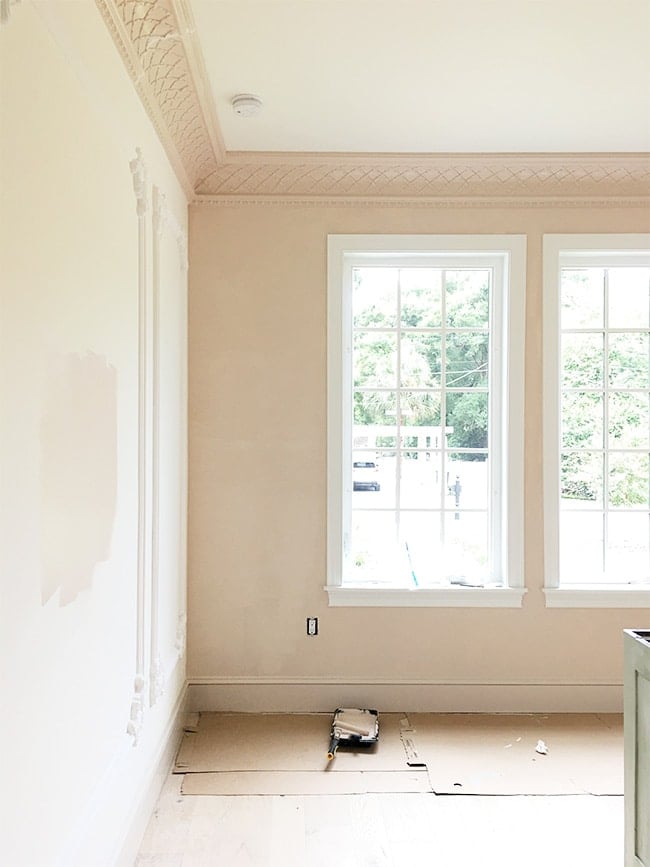 Pin
Isn't Malted Milk the dreamiest color?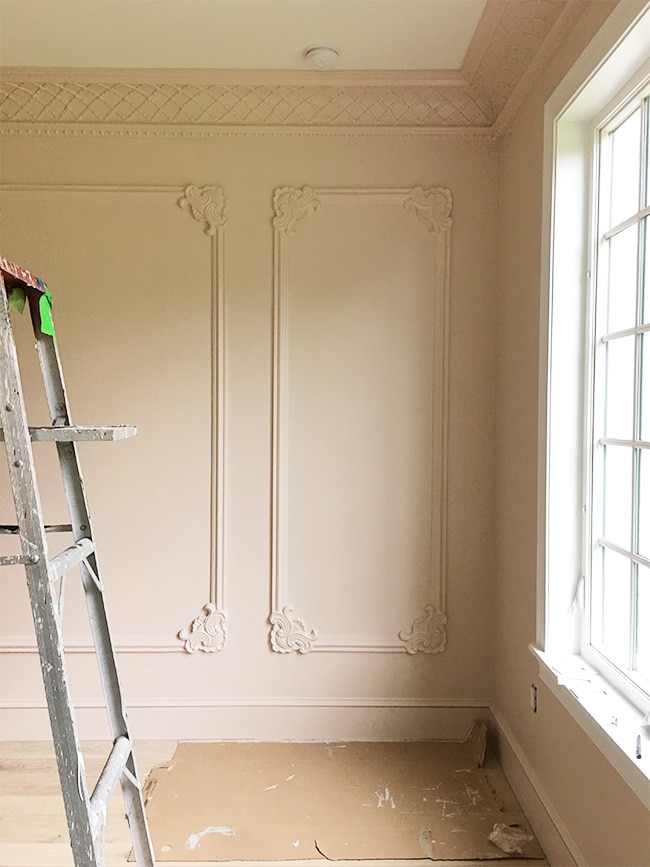 Pin
Moving right along… I wanted to do something fun above the nursery closet door, and found this gorgeous fascia in Ekena's catalog. I knew it'd be perfect…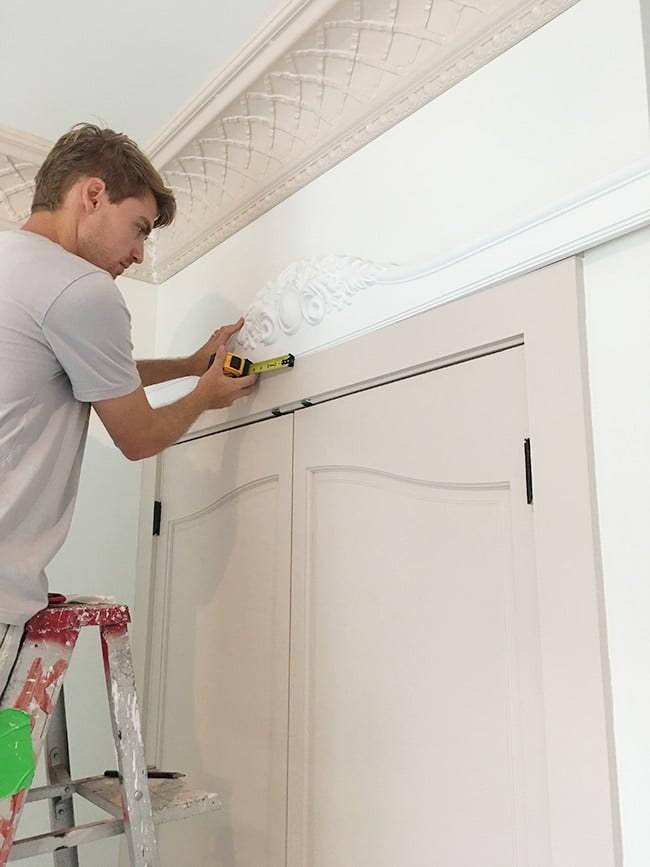 Pin
We cut it down to size, nailed it up and gave it a couple coats of paint…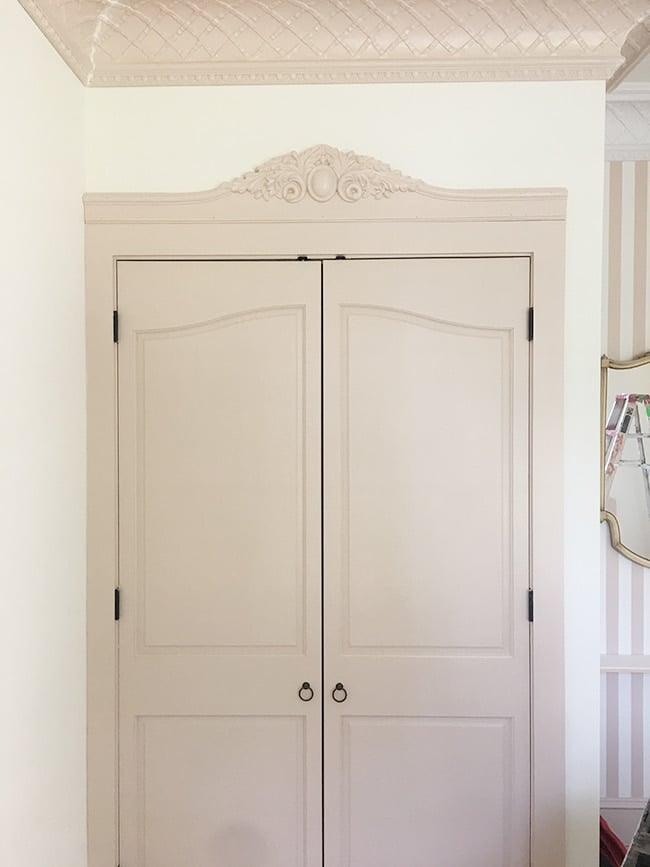 Pin
OBSESSED. Doesn't it make the closet look like an armoire? I knew it'd be good but this might be my favorite piece of trim in the whole room.
Finally, it was time for the crowning jewel—the ceiling medallion: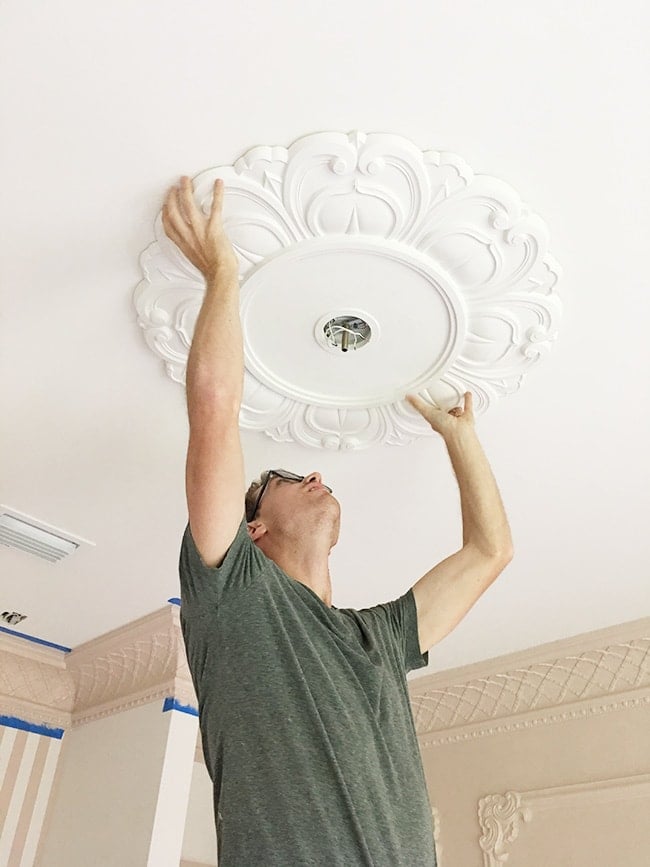 Pin
32″ of pure feminine gorgeousness! I painted it white to match the ceiling so it wouldn't compete with the wall molding. And next came the chandelier—I ended up choosing the budget-friendly Wayfair option after everyone's input in my Design Plans post!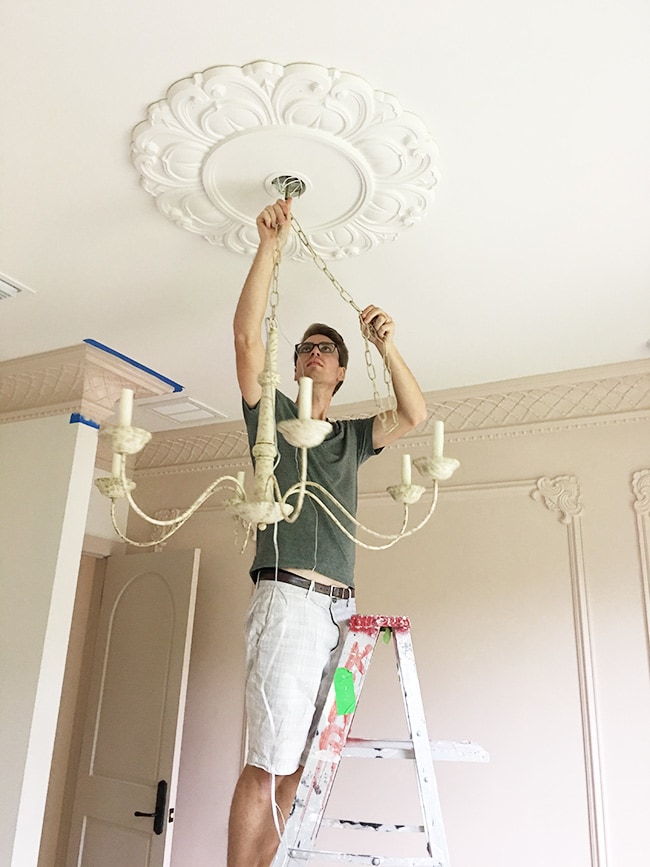 Pin
I like the rustic finish, but may coat it with a bit of gold paint to make it a little more glamorous. We'll see how it looks when the rest of the room comes together.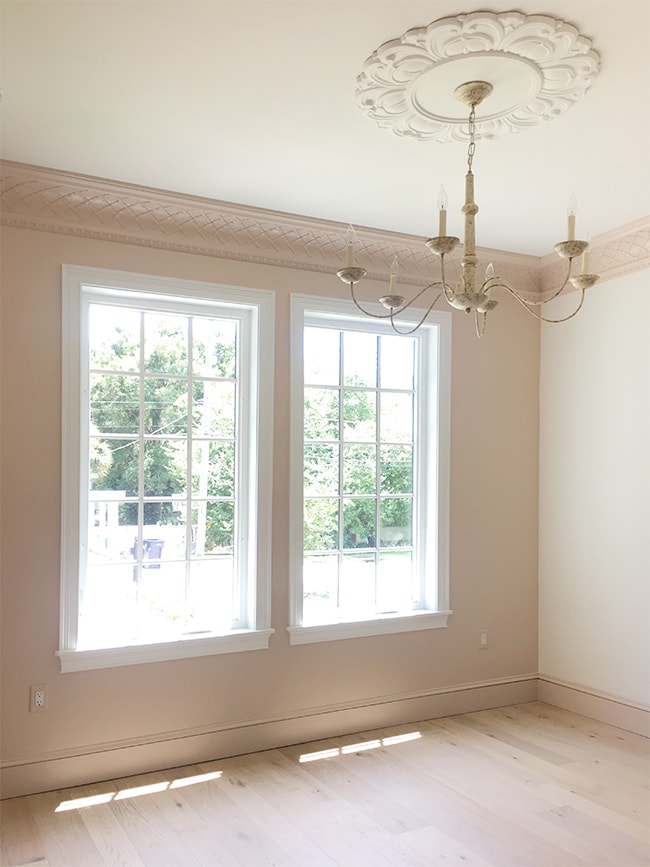 Pin
Here's how the room looks right this minute. We're 75% of the way there!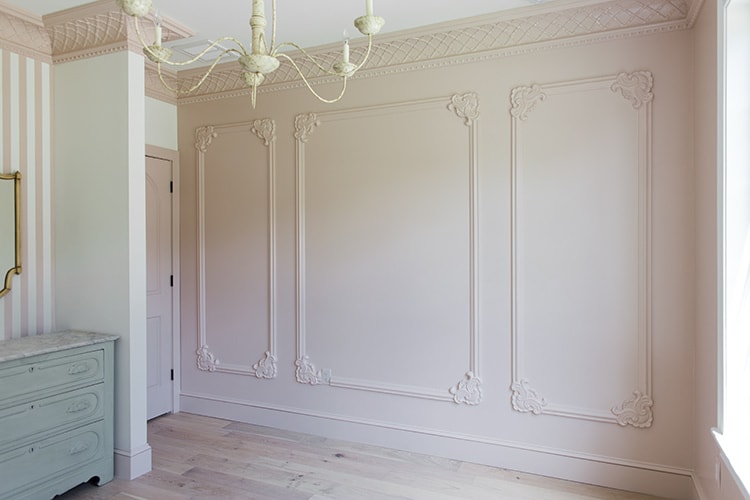 Pin
Our next big project is putting up a wall mural on the back wall, which will happen this weekend.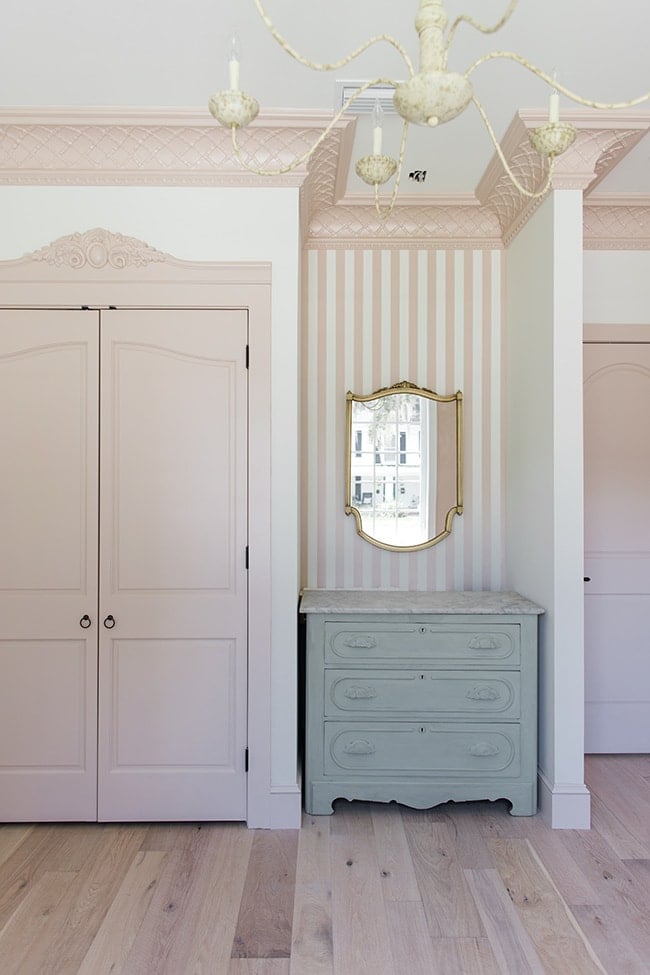 Pin
Then it's a matter of bringing in the bassinet, rug, glider, curtains, table, mobile, artwork and hooks.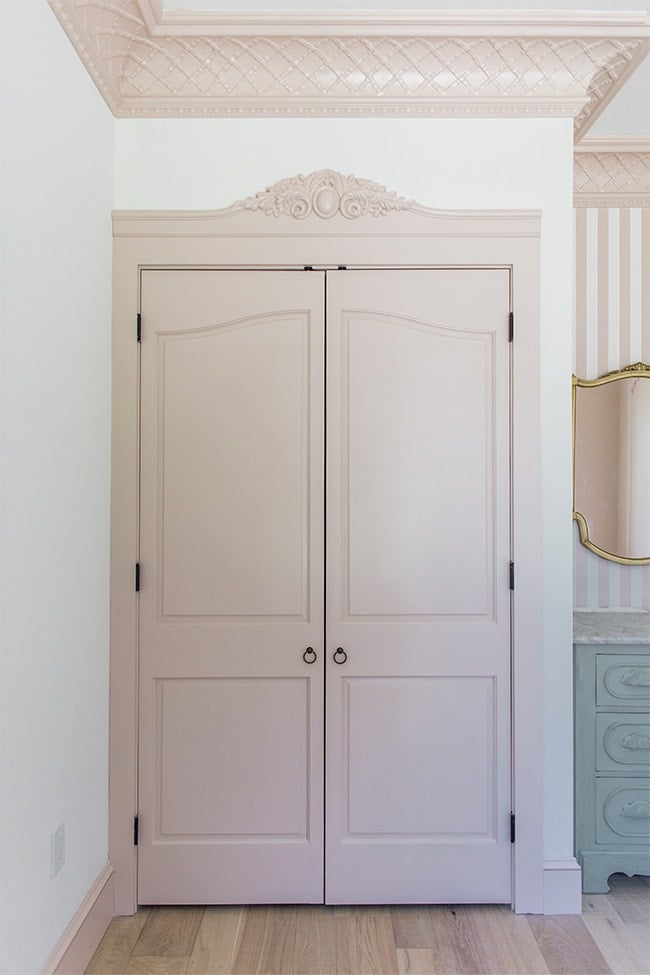 Pin
Pin
Hoping to get this room photo-ready by mid-next week!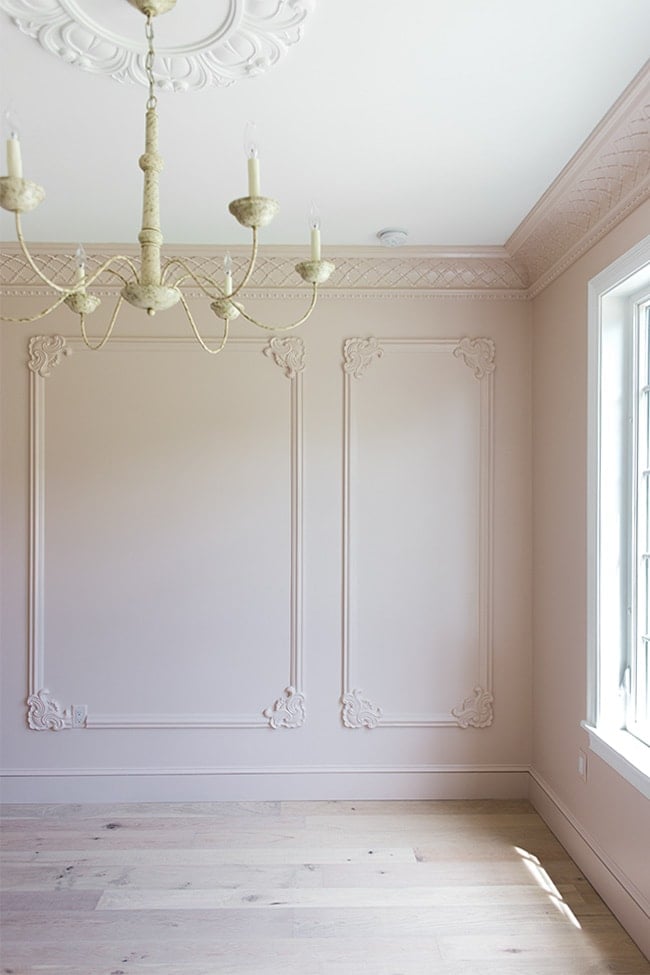 Pin
Really cutting it close with this due date here, but I have a feeling baby girl is in no hurry to arrive.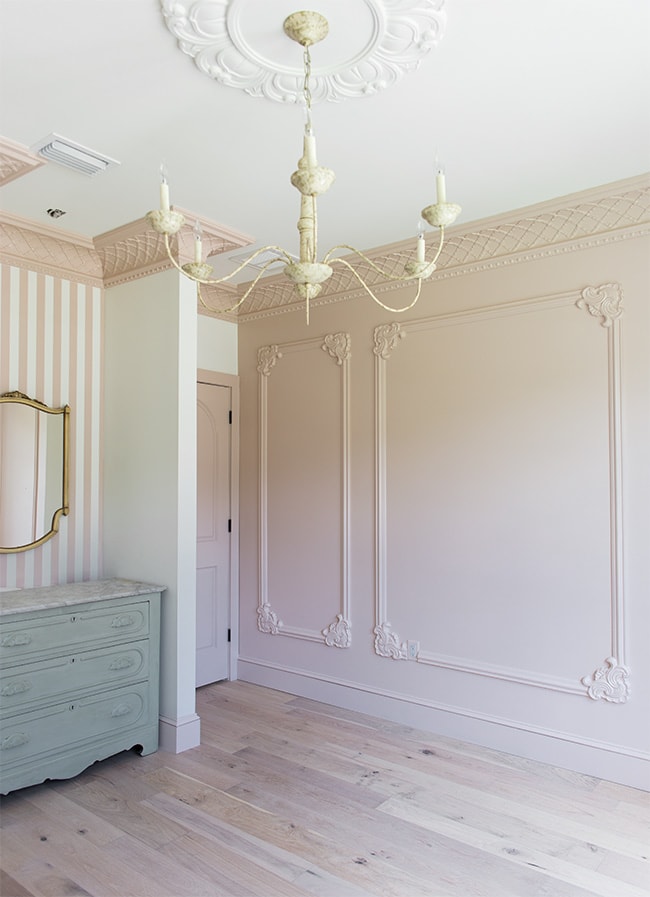 Pin
Fingers crossed she stays put two more weeks so we can wrap up a few more projects and maybe relax for a day before she gets here. One can only hope for the perfect timing, right?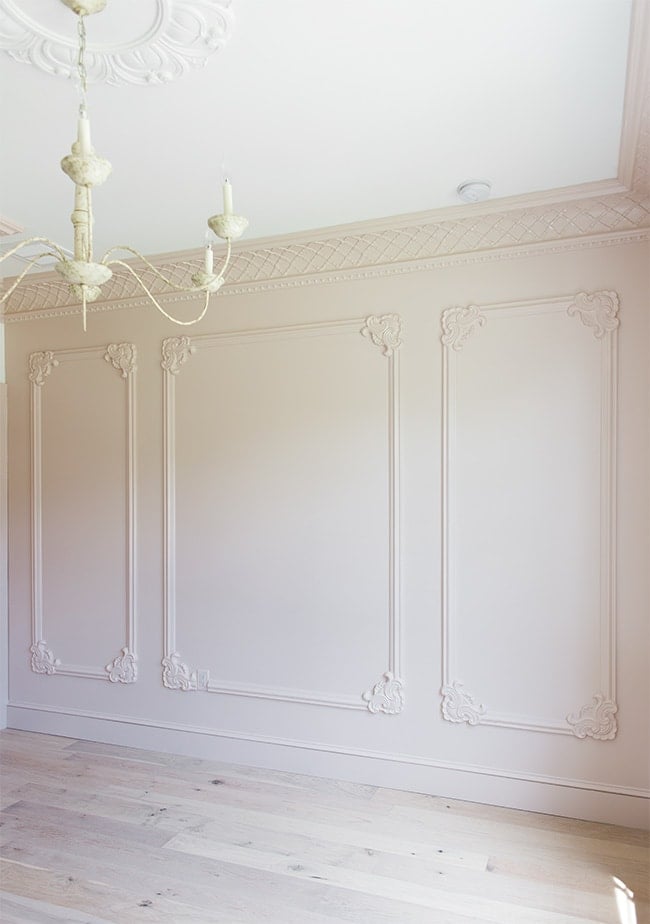 Pin
One day at a time… tune in next week for the Riverside Retreat bathroom reveal!