Before we get into today's post, we have a long overdue vlog update! Watch below to see what we've been up to since moving into the Heights House:
And now for the details on our first completed nursery project…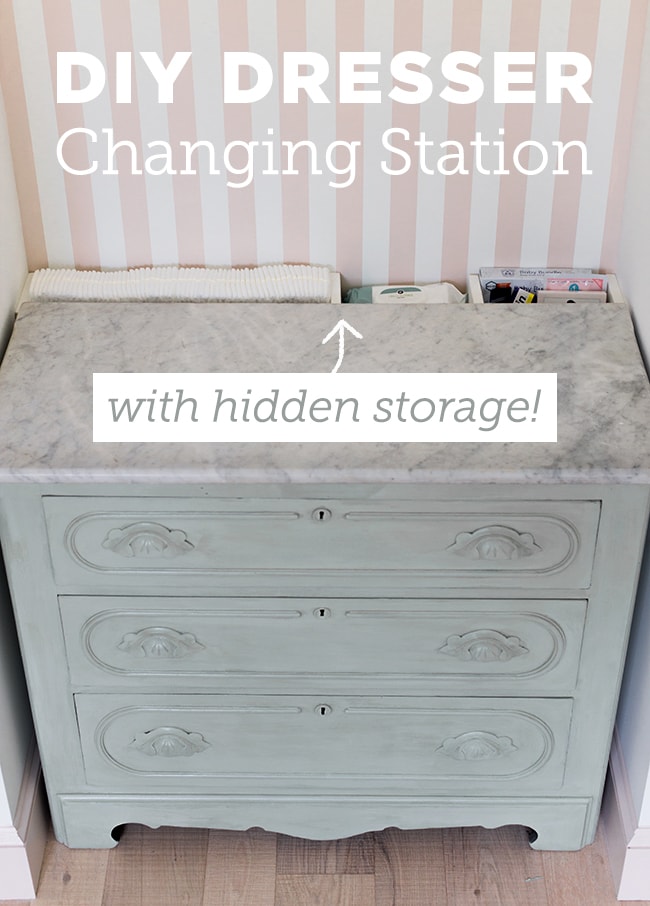 Pin
Last weekend I shared live updates in my Instagram stories of our progress, and my DM was flooded with hundreds of messages, so I figured I'd break down the details for you in a separate post.
We had this nook built with the intention of using it as a changing station for baby, and last month I found the perfect vintage dresser: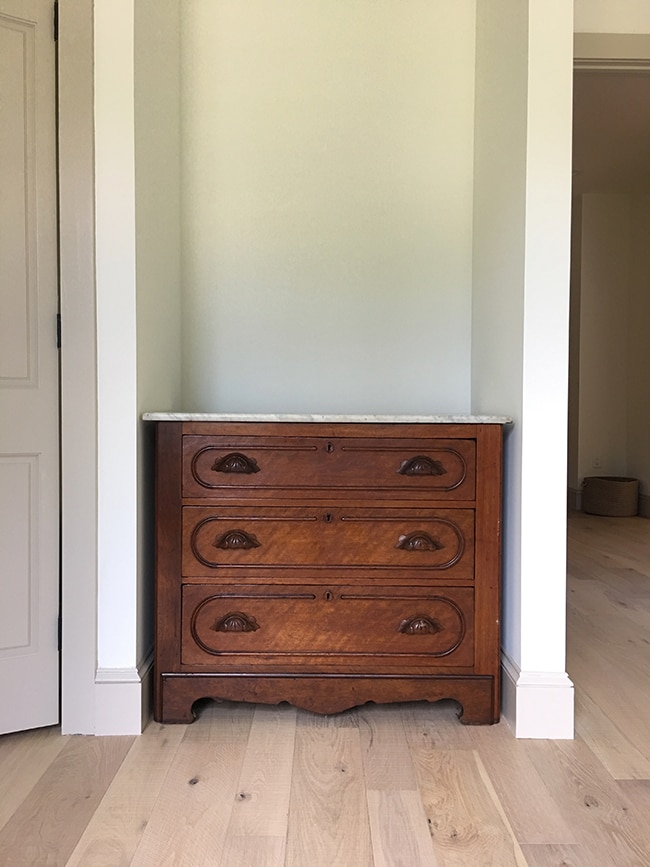 Pin
A couple weekends ago we painted the trim and stripes (using SW Malted Milk)—I'll share the simple method we used to get clean stripes in the next post this week: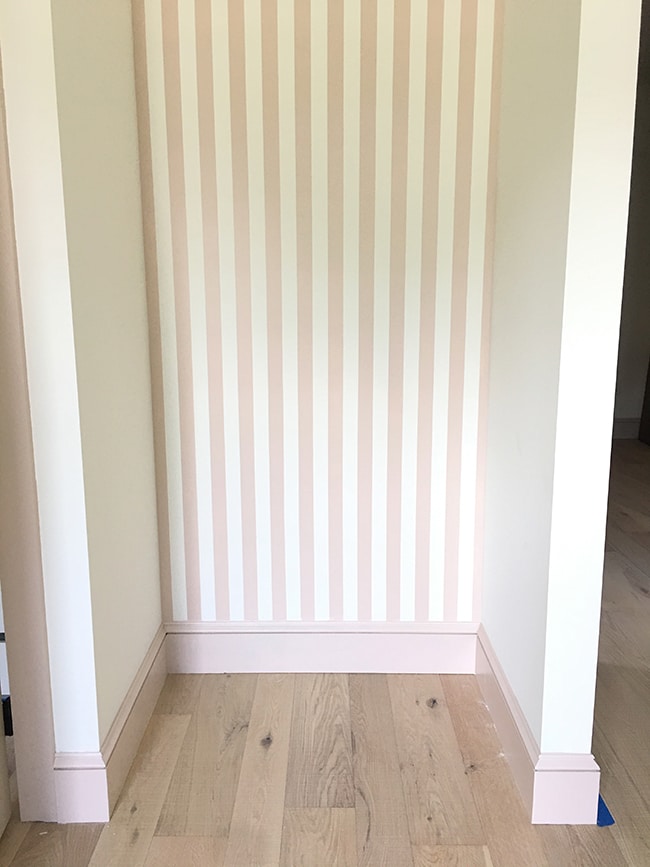 Pin
Although the dresser was a perfect fit, it didn't offer a ton of surface area and I didn't want to build shelves above it to put everything on display, or have to open the drawer to grab something every time. Somehow we came up with the idea to move the dresser forward and build a hidden cubby behind it—lightbulb moment! 
Our materials list was simple—a 1x6x8′ pine board from Lowe's and a couple brackets. We measured the width of our nook and cut two long boards for the bottom and side, and two short pieces for the ends.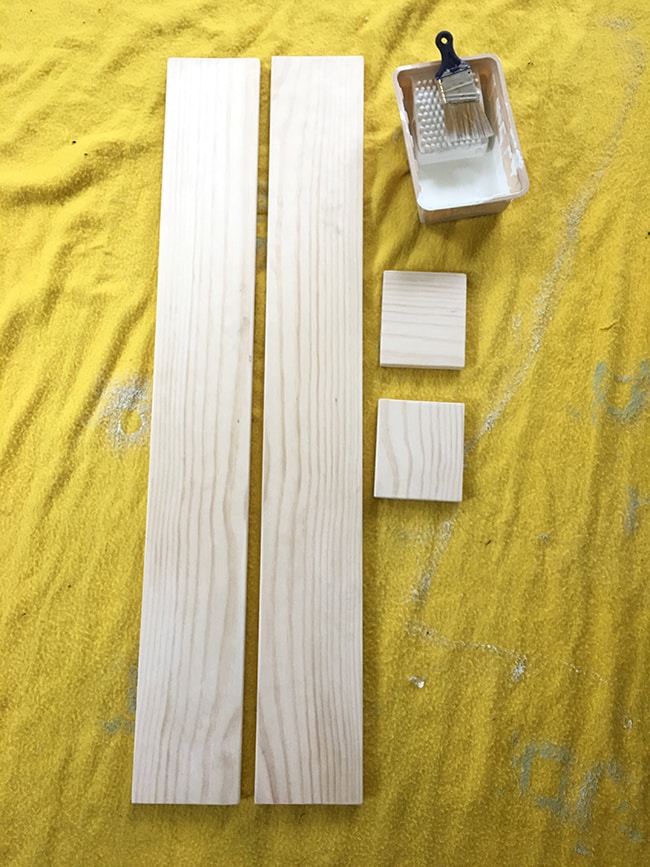 Pin
The plan was to assemble them together like this, with the open end against the wall: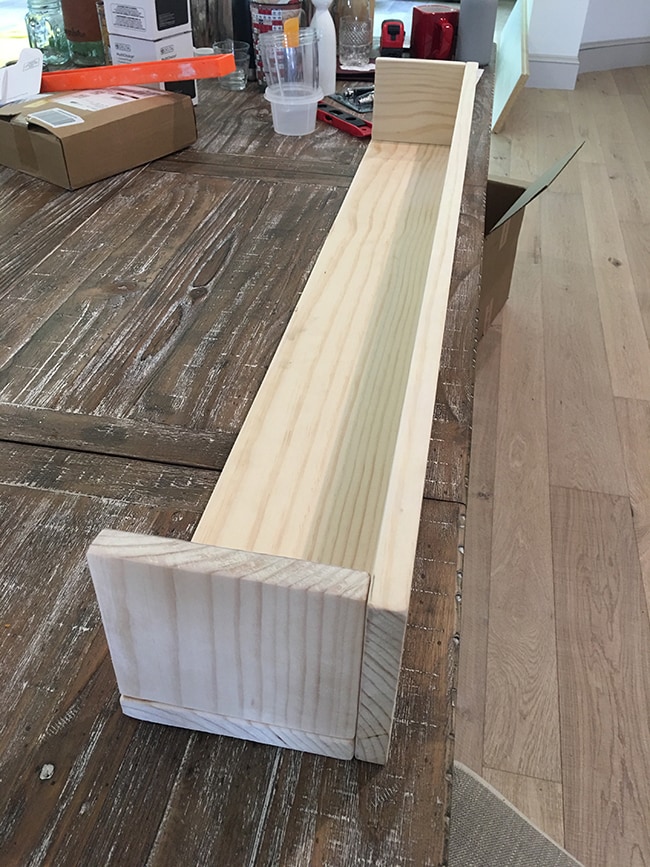 Pin
Since the top and sides would be visible, I went ahead and painted those areas (using the wall color, SW Alabaster). We also cut a few extra blocks to make dividers: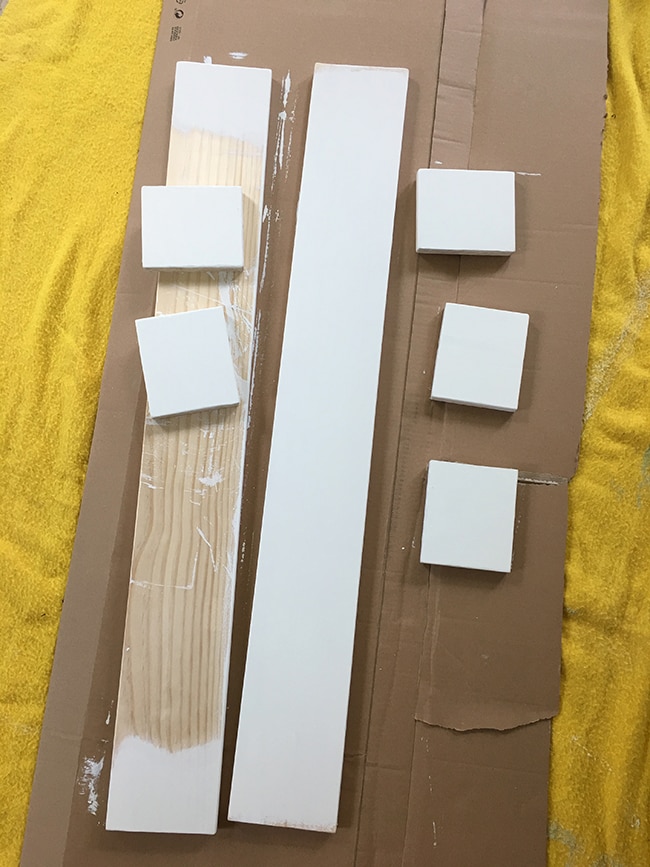 Pin
After the paint had dried, it was time for assembly. First we needed to attach the bottom to the sides. Holding the two pieces in place at 90º, we predrilled two holes: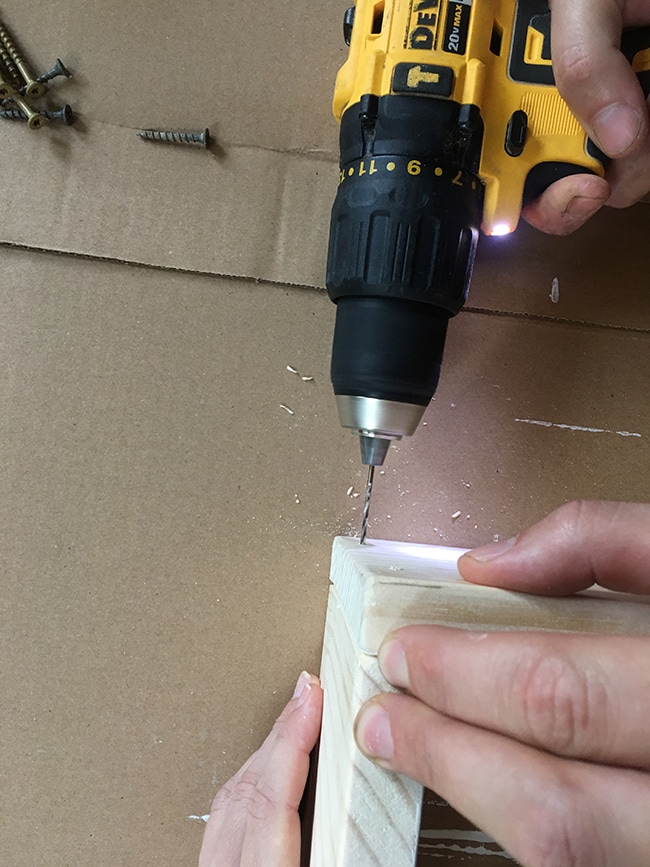 Pin
Then inserted our screws: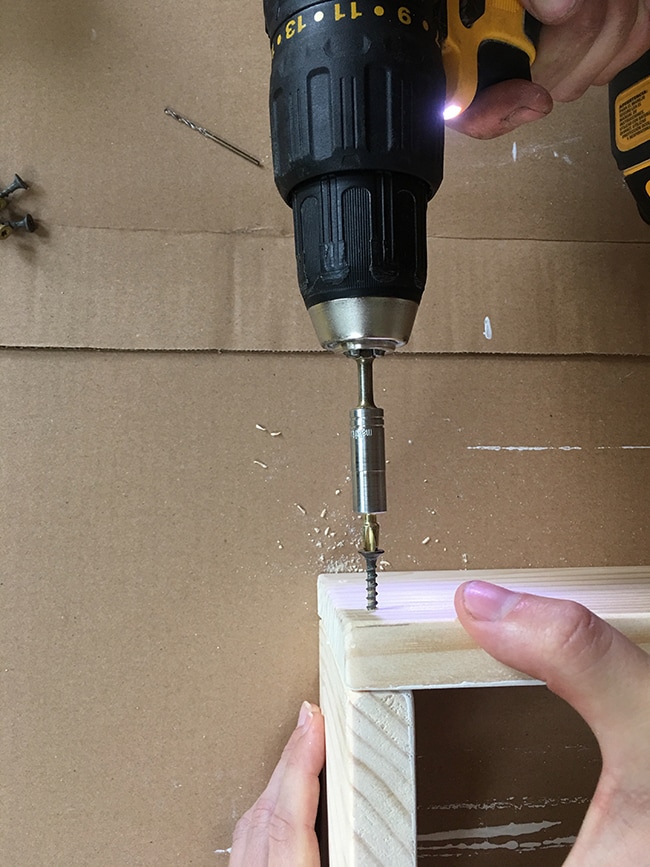 Pin
Ta-da!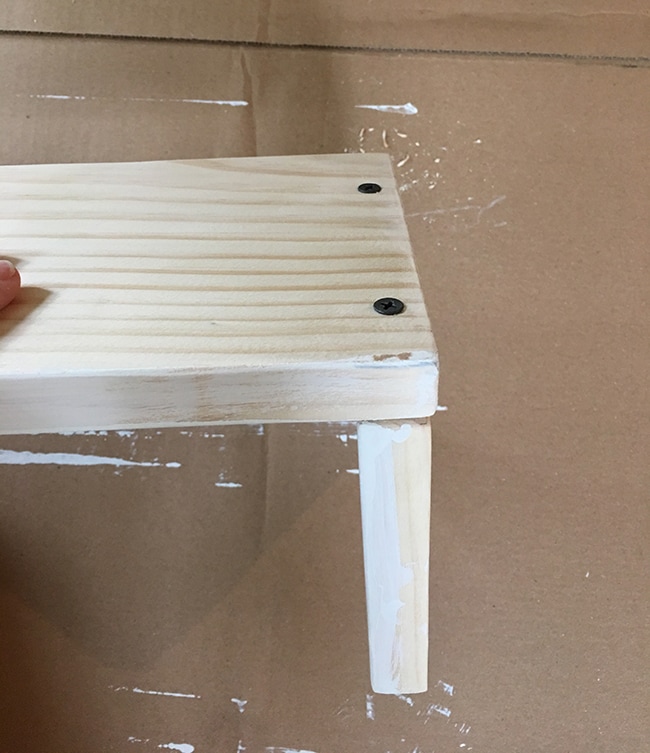 Pin
Repeat on the other side, and we were ready to roll: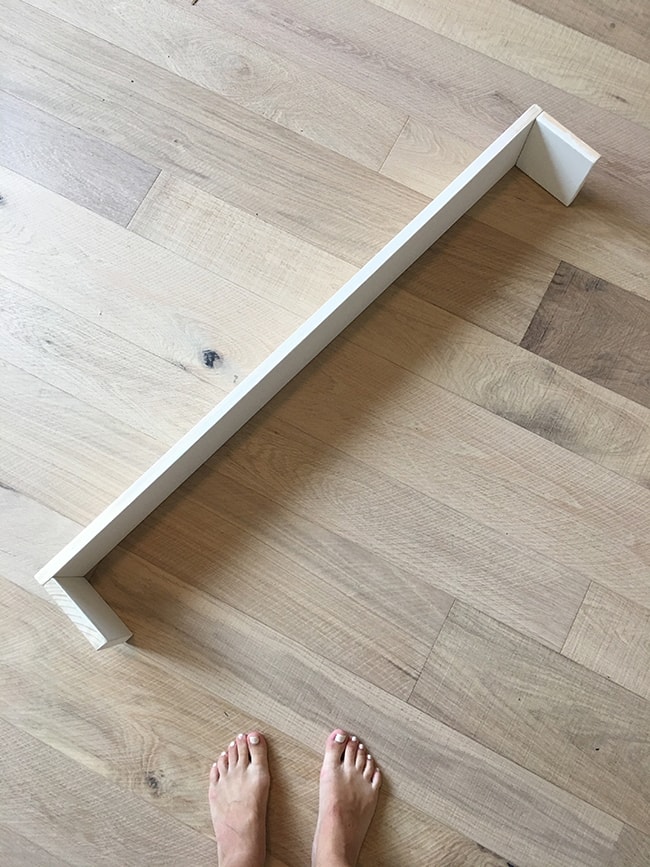 Pin
Before getting it into place, we predrilled two more holes for the screws that would attach to the wall.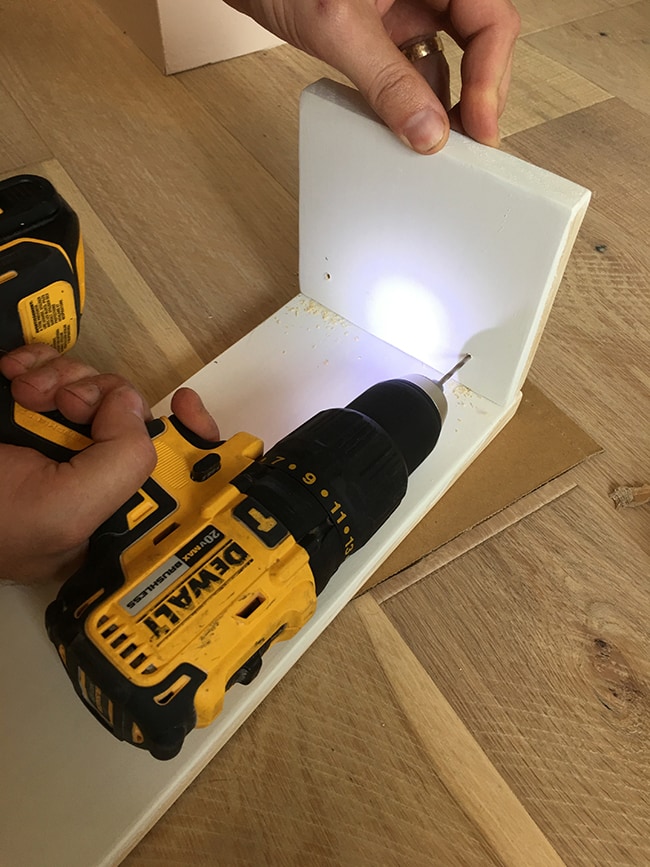 Pin
After measuring the dresser to determine our desired wall height, we marked our measurement along the wall…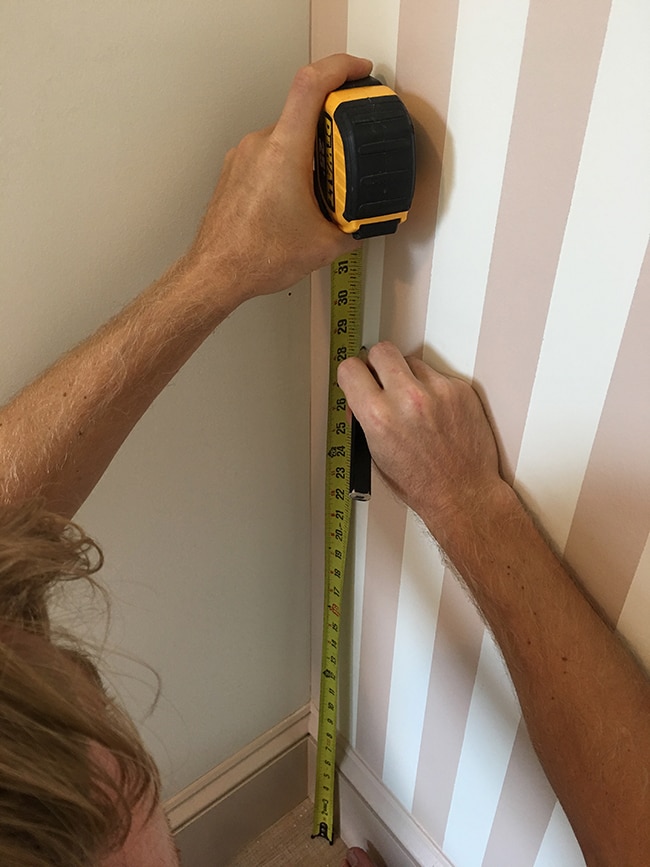 Pin
Then held the shelf up along those marks, checking for level.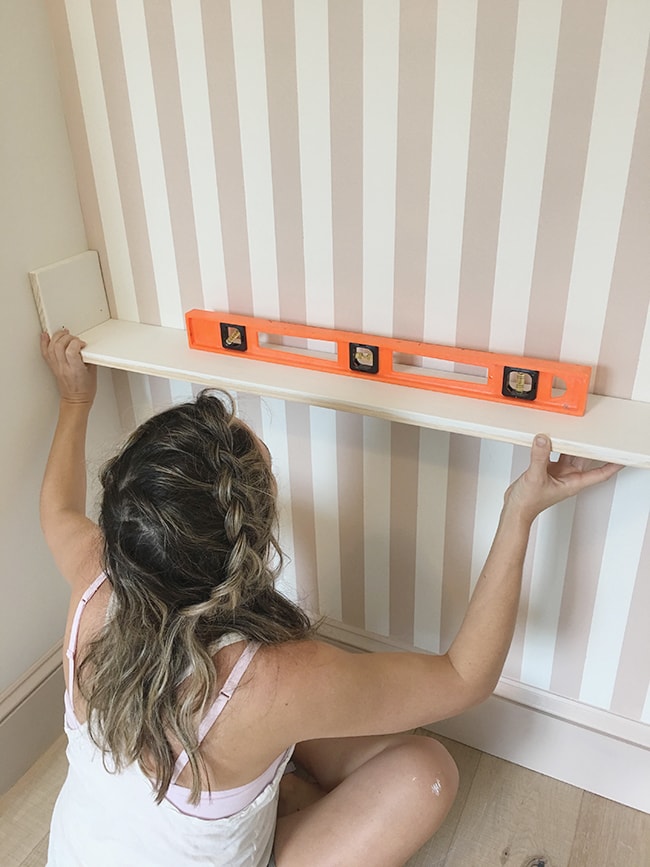 Pin
Once in place, we drilled through the last four holes we made to mark the locations on the wall and removed the shelf. The screws closest to the wall would end up in a stud, but we needed to use drywall anchors for the other two (btw, never using anything other than these self drilling anchors again!)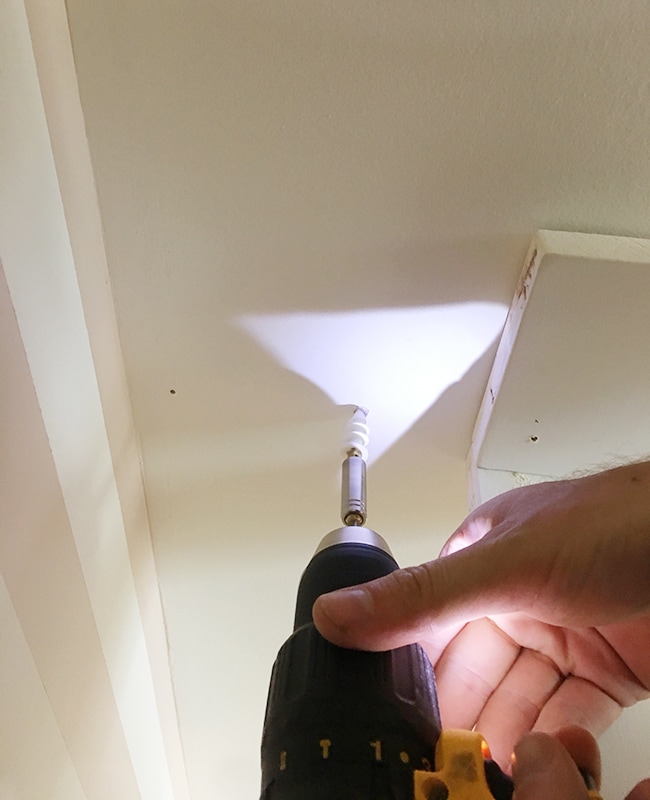 Pin
Once the drywall anchors were in, we lined our shelf back up and inserted the screws (one into the anchor, one into the stud).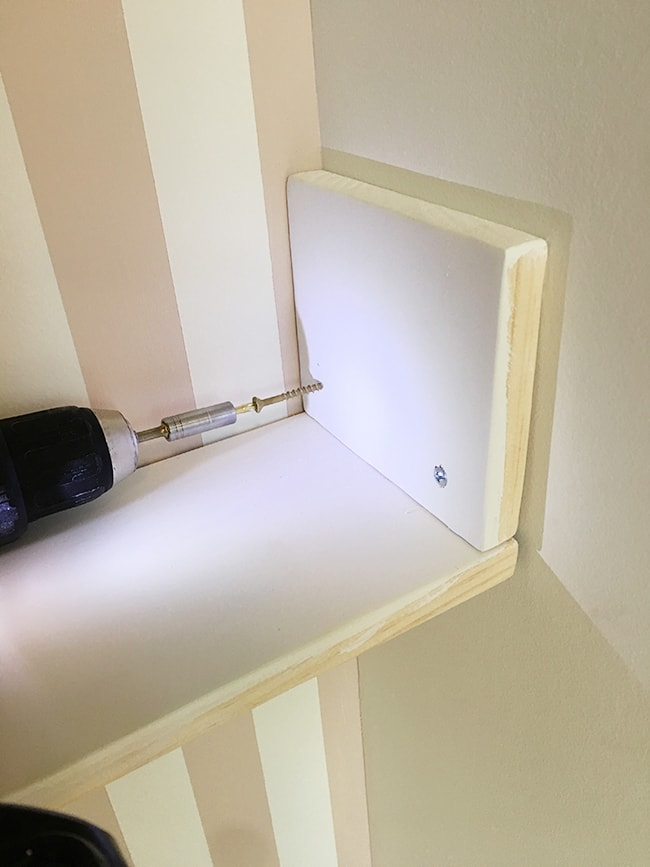 Pin
For extra support, we decided to use a couple of these metal brackets along the bottom: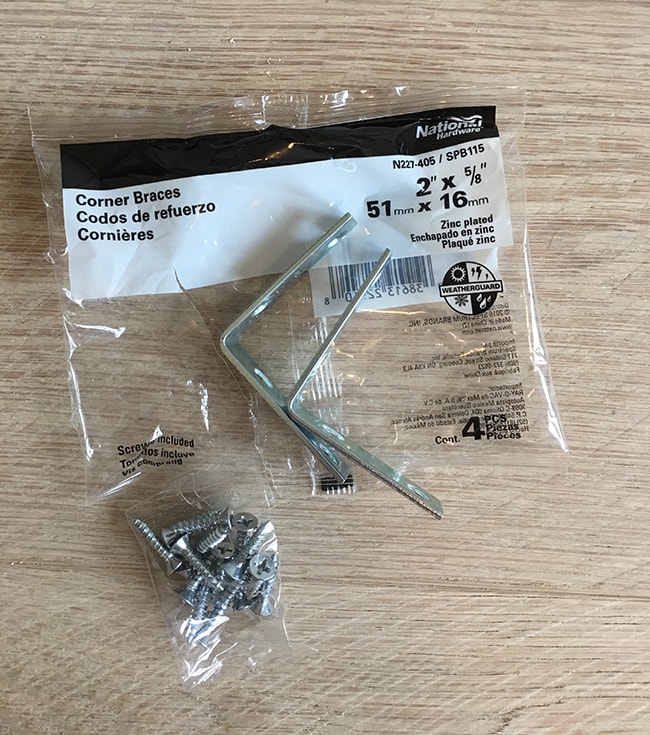 Pin
First step, find and mark the stud locations: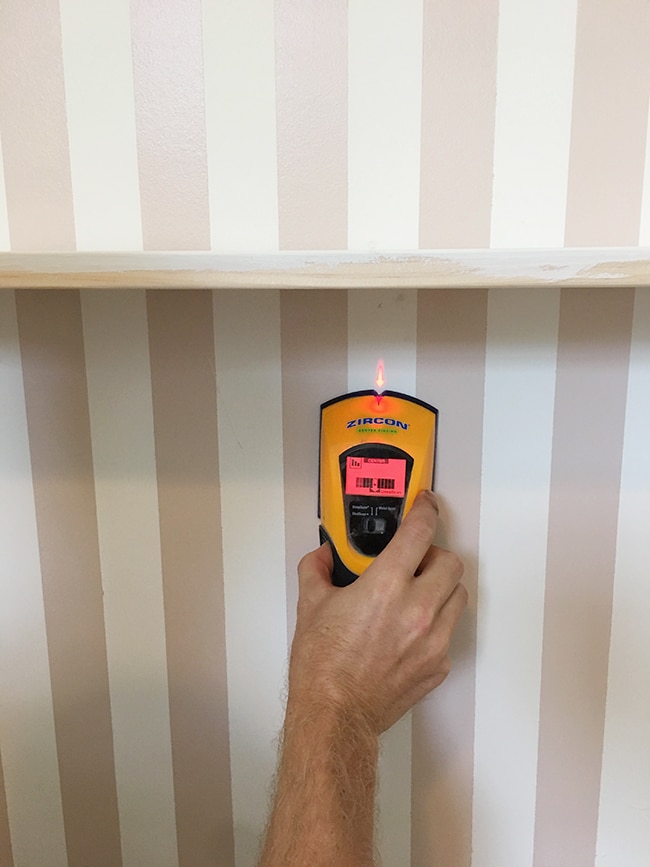 Pin
Then attach the braces into the wall and shelf (for the wall we used longer screws than what was provided in order to reach the studs):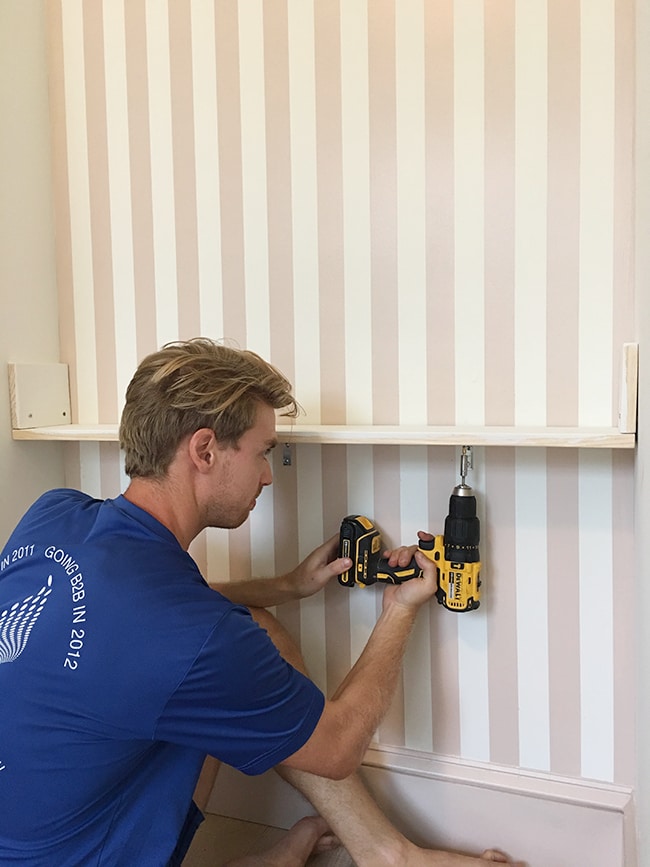 Pin
And we're in!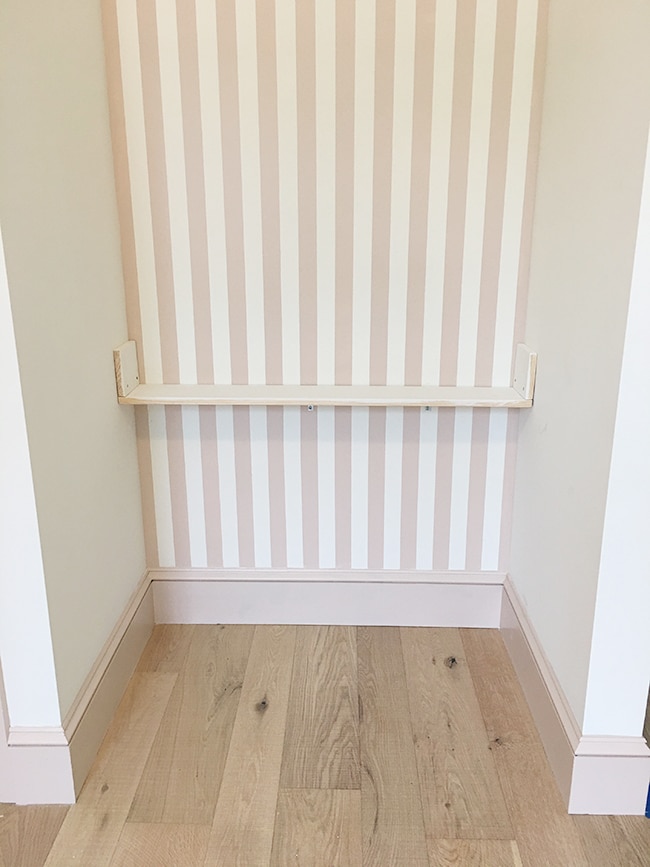 Pin
At this point we decided there was no need for an additional piece of wood in the back, since the back of the dresser would serve the same purpose. Here it is in place… you'd never know something was behind it!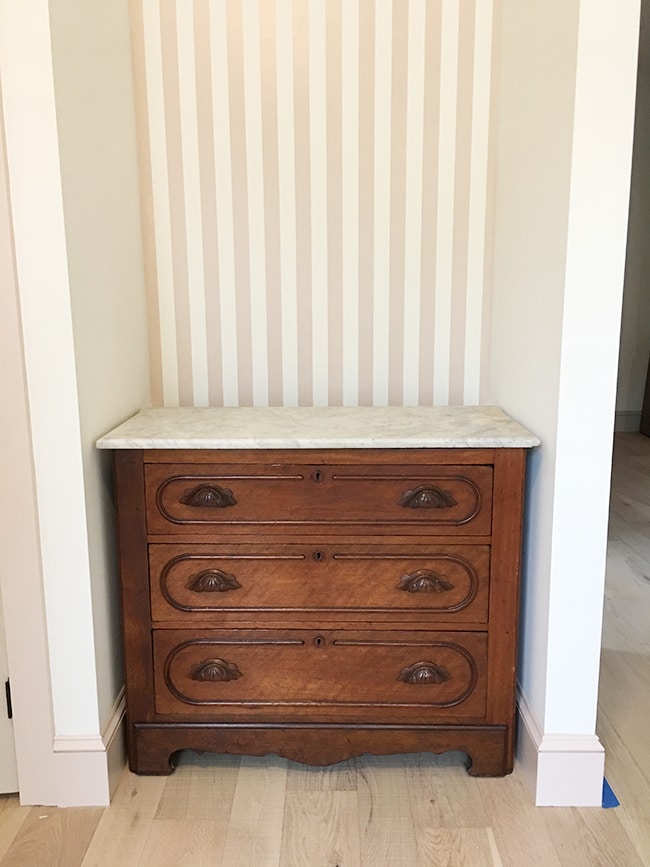 Pin
Until you peek around back…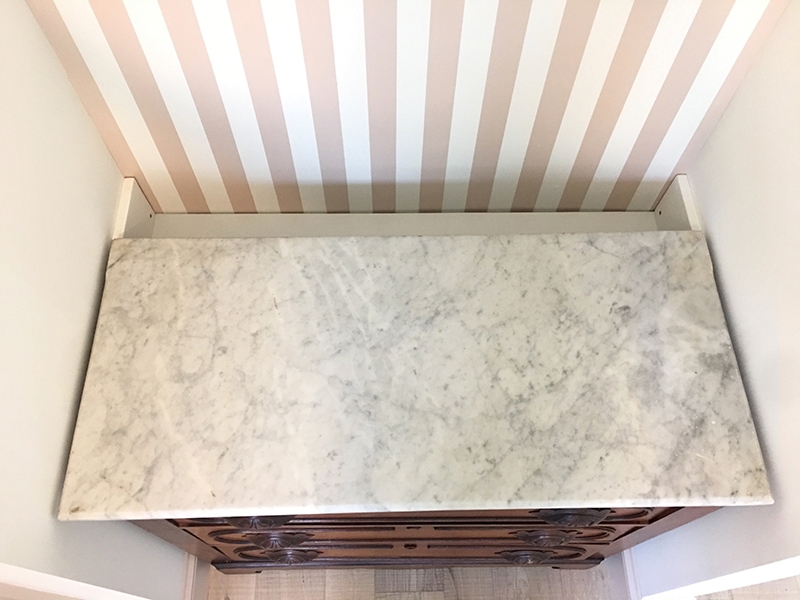 Pin
Obviously I couldn't wait a single minute before organizing it. We have yet to buy most of our changing supplies so this isn't the finished setup (do we need anything other than diapers, wipes, rash cream and lotion?)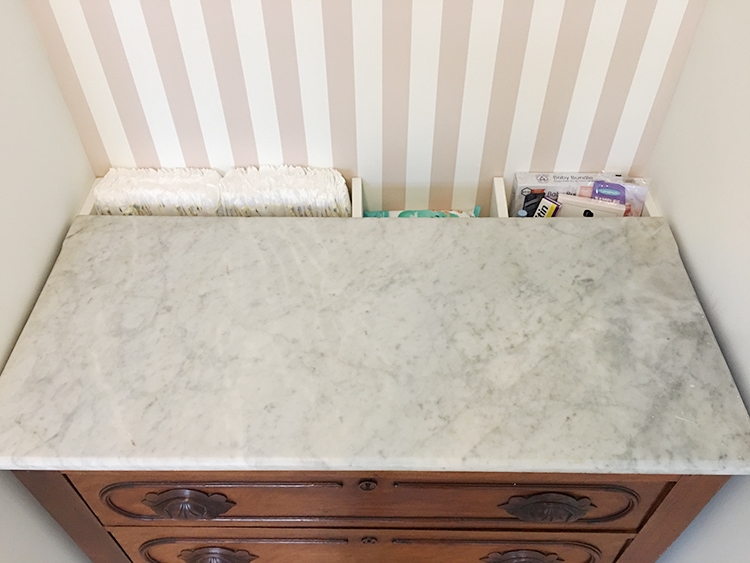 Pin
The next day it was time for a dresser makeover! I decided on Maison Blanche's french lime paint, in the color Printemps (which is a pale sagey green):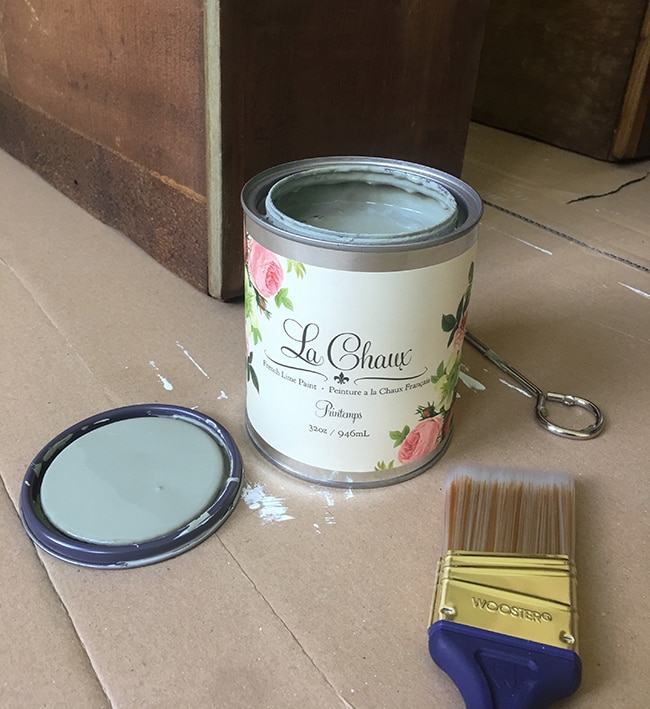 Pin
I also made sure to use a brand new brush (my favorite $5 brush) and applied the first coat: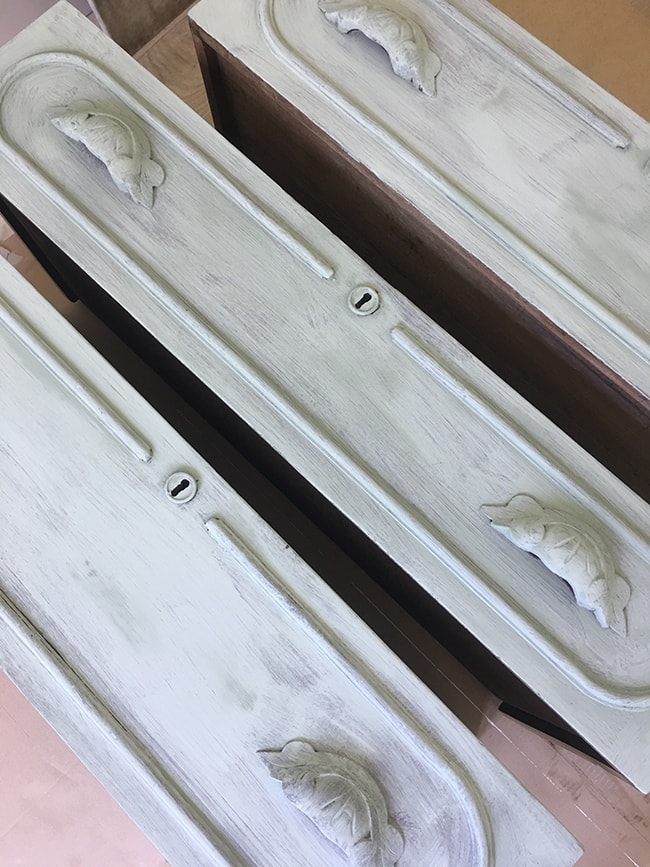 Pin
This paint is not like regular latex paint at all—it's has a powdery finish that you layer on and end up with visible texture and depth for an aged look. It can get really thick, and I found that it's best to water it down for a smoother finish.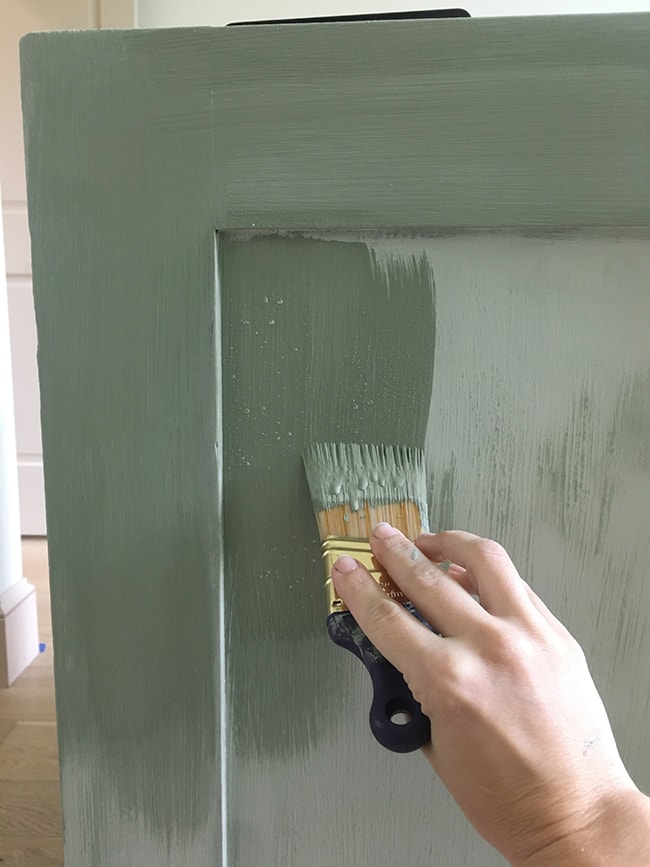 Pin
I applied 3-4 coats, lightly sanding with a 320 grit block in between.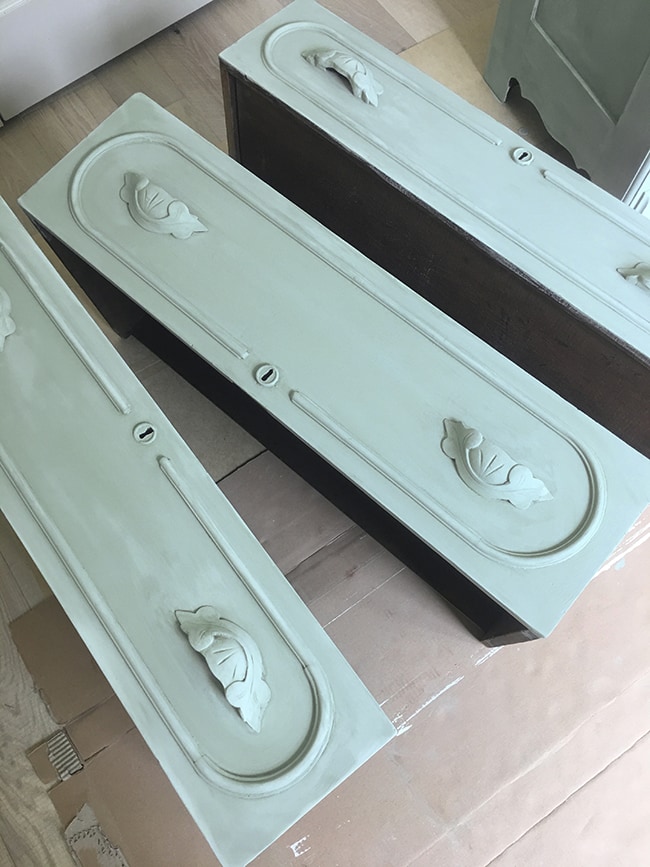 Pin
You can see how much lighter it gets when it dries (the bottom drawer is still wet in the photo below):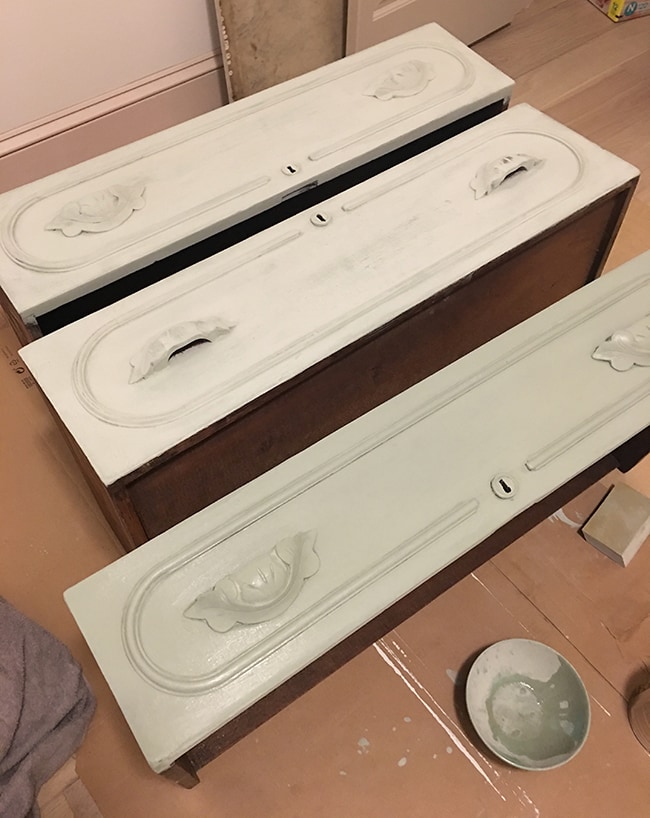 Pin
Finally, I sealed the dresser with three coats of Minwax polycrylic in matte: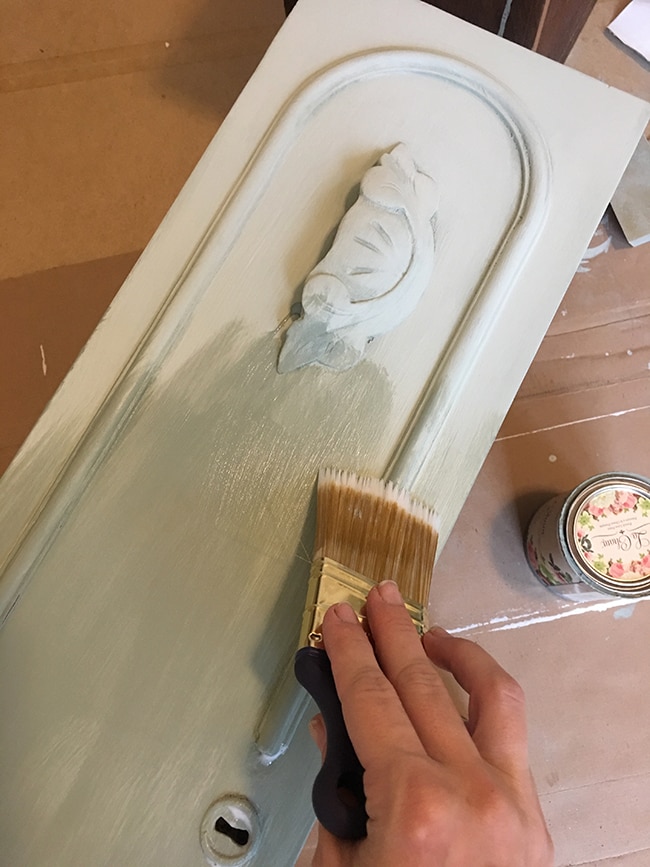 Pin
It's hard to capture the true color in photos, but it's so soft and delicate, and I think it will be gorgeous with the forest mural…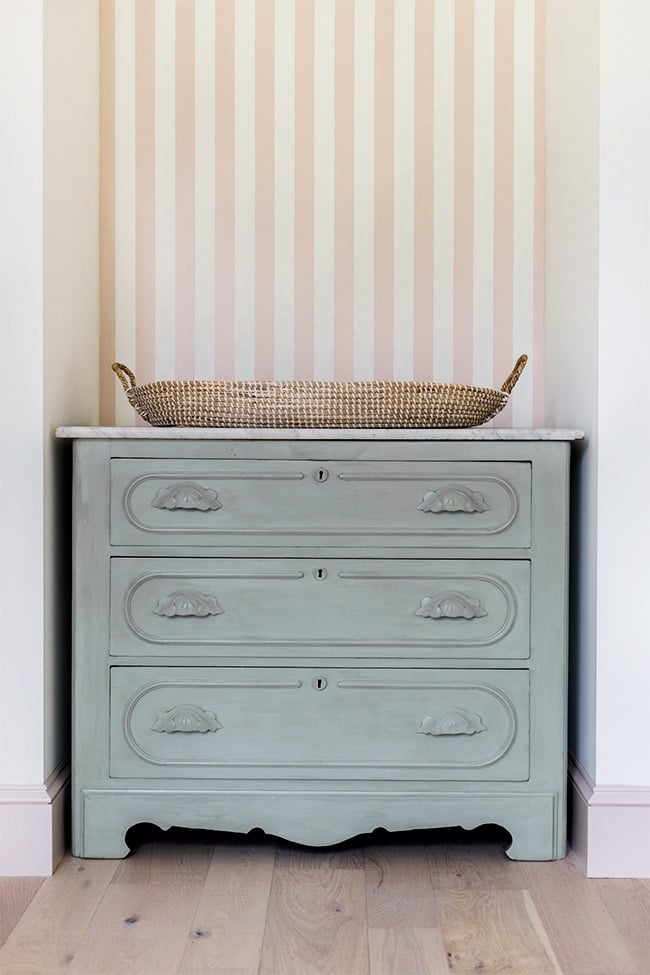 Pin
And I love the way it looks next to the natural texture of the seagrass changing basket.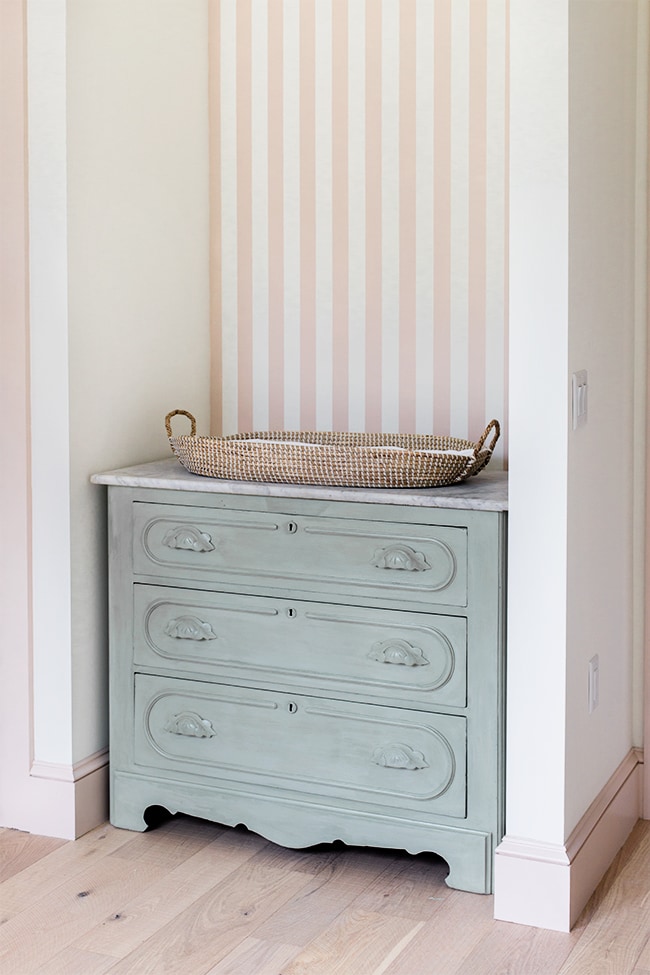 Pin
One more time for the overhead view…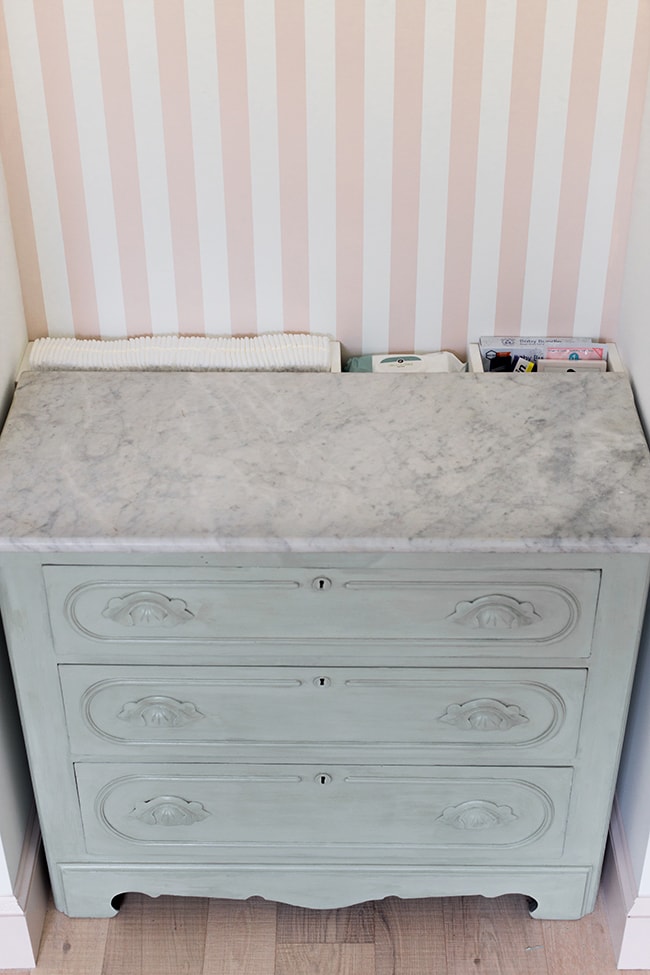 Pin
I'm tempted to put our cat in the basket for a practice diaper change 😉 Daydreaming is fun…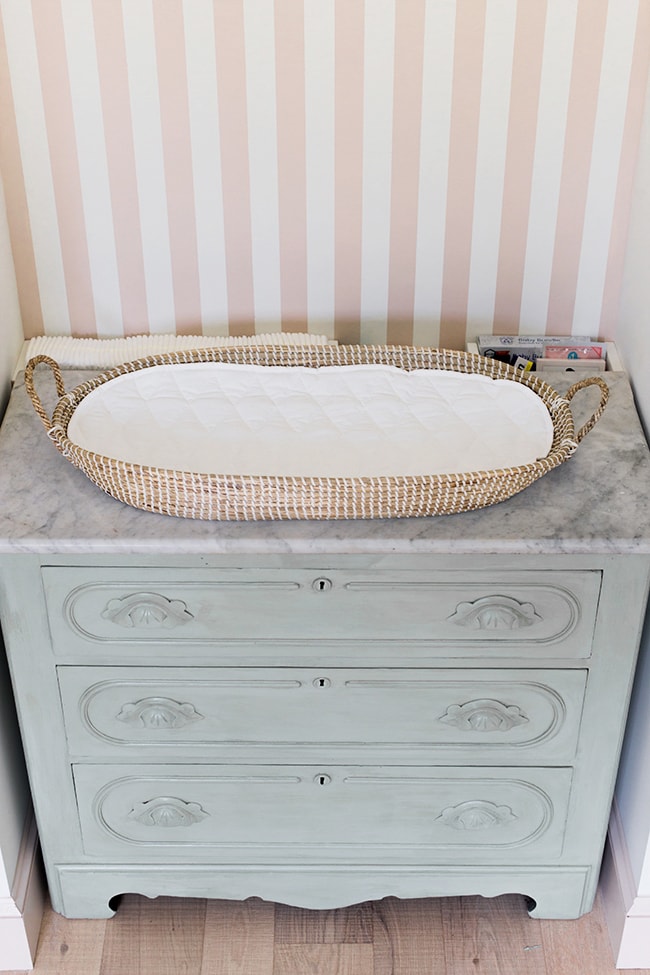 Pin
I also didn't waste any time organizing these drawers! The nursery is now 95% organized (even though the room is only 10% complete…)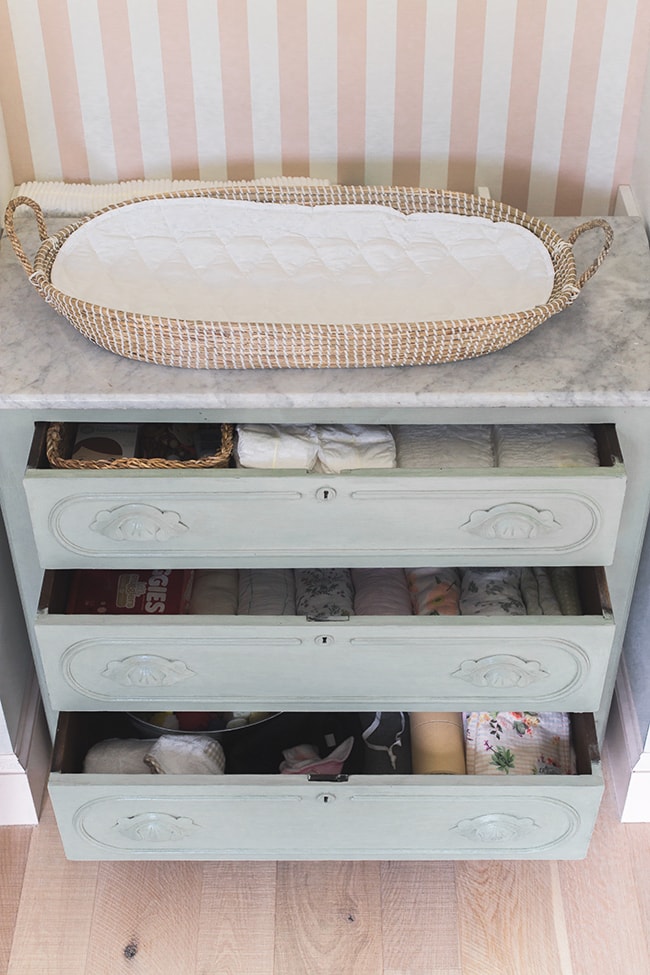 Pin
Next up I'm spilling all the details on her closet makeover. My nesting has been in serious overdrive lately (making up for lost time) and nothing makes me happier than staring at all her little clothes and accessories neatly stored away. Can't wait to share that with you in a couple days—stay tuned for more nursery fun my friends!