Last weekend I finally got around to a project I've been wanting to do for some time, and today I'm here to share the results along with my best tips and secrets to get a perfect antique gold finish on almost any surface!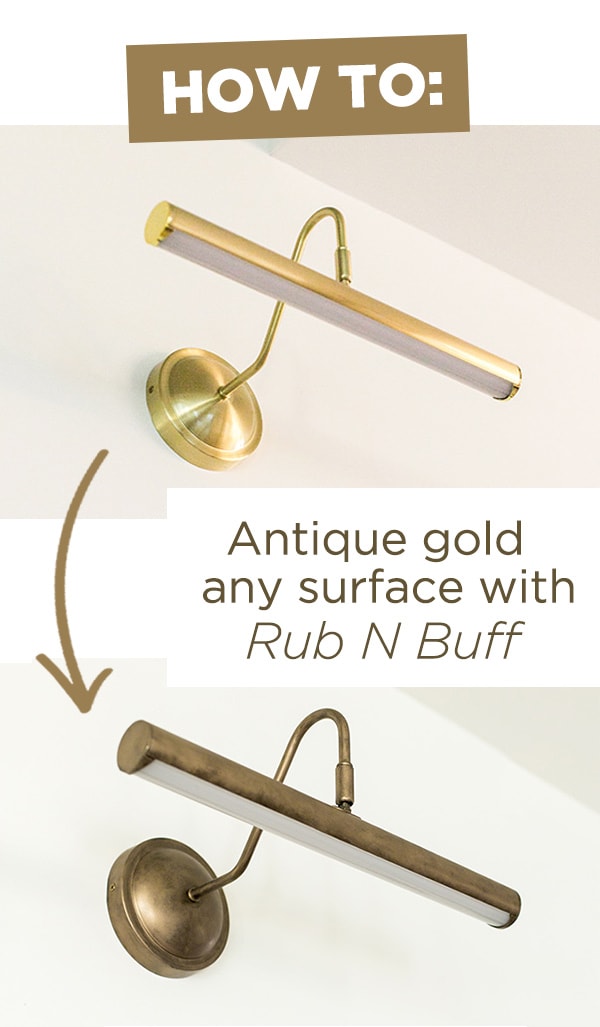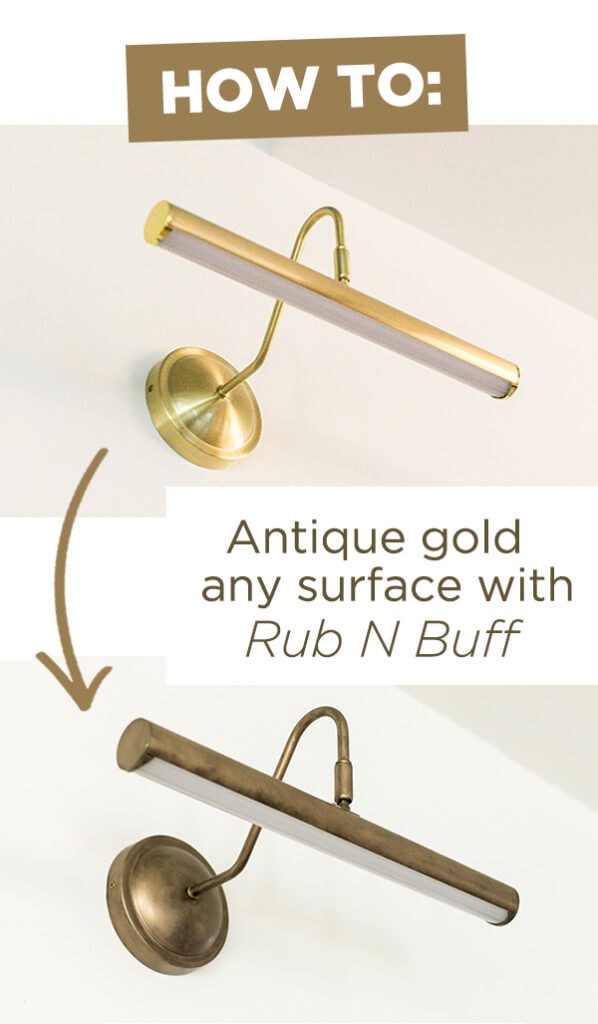 I discovered Rub N Buff last year and instantly fell in love with it after testing it out on some knobs and hooks. It's the easiest and quickest way to achieve a realistic antique metal finish, and it's an enjoyable process too!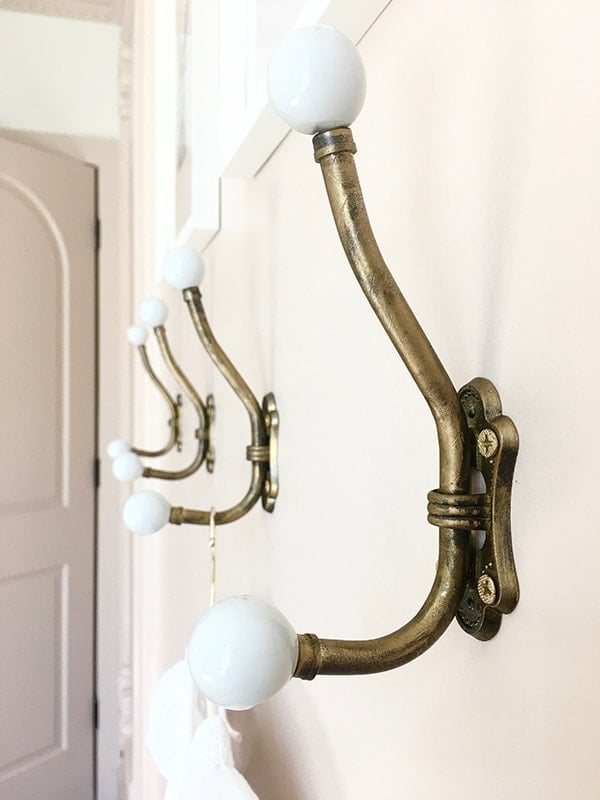 The application of Rub N Buff is unlike anything I've used before (different than paint, wax, or gel) and requires a certain technique to get the aged look just right. It took a few failed tries and some experimentation, but I finally figured out the best way to get consistent, beautiful results. Let's jump right into it!
To get started, you'll just need a few materials: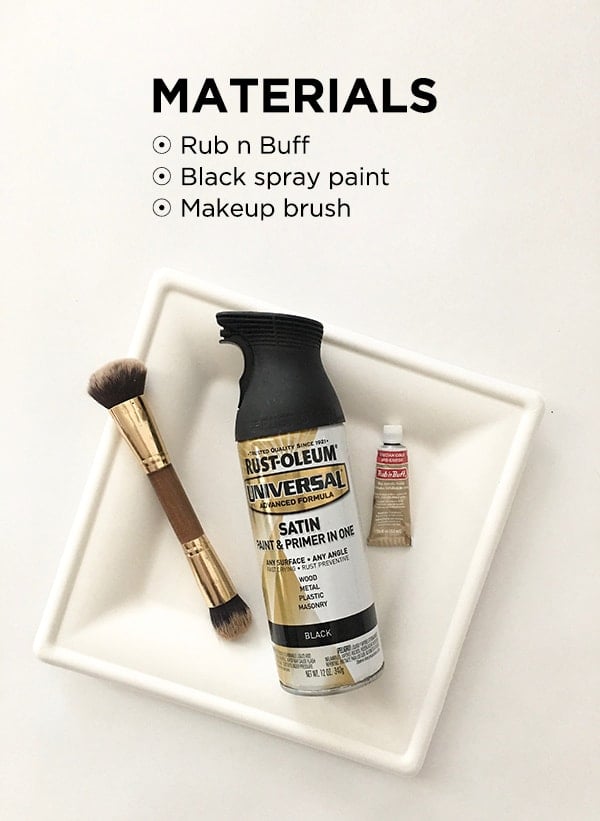 Rub N Buff — I purchased this set of five different golds that I've tested for you in this post (you can also find them sold individually here). I recommend getting more than one color to do your own experimentation!
Black spray paint — Any kind will do, even Oil Rubbed Bronze or dark brown is fine.
Makeup brush — Obviously you won't be using it on your face again, so don't use your favorite brush! It must be stiff and not fluffy (a blending brush works well) and you'll want super fine/soft bristles for best results. If you don't have any handy, I'm obsessed with this inexpensive brush set and use it for makeup, but the stiffer large brushes will work for this project!)
And of course, you'll need the object you'll be transforming along with a paper plate, paper towel or any clean surface to blend the Rub N Buff.
During our build we installed these brass picture lights in our dining room. They were just the right size, style and price point. Psst, if they're out of stock try this link, or these I found that look identical but they're larger and a better price!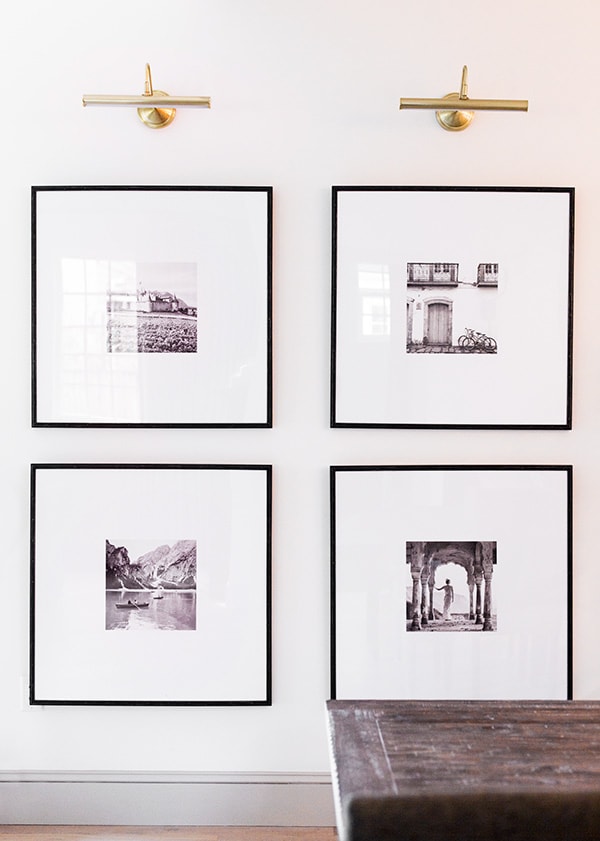 We've lived with them for almost a year and I liked them, but I wasn't completely in love with the brass finish.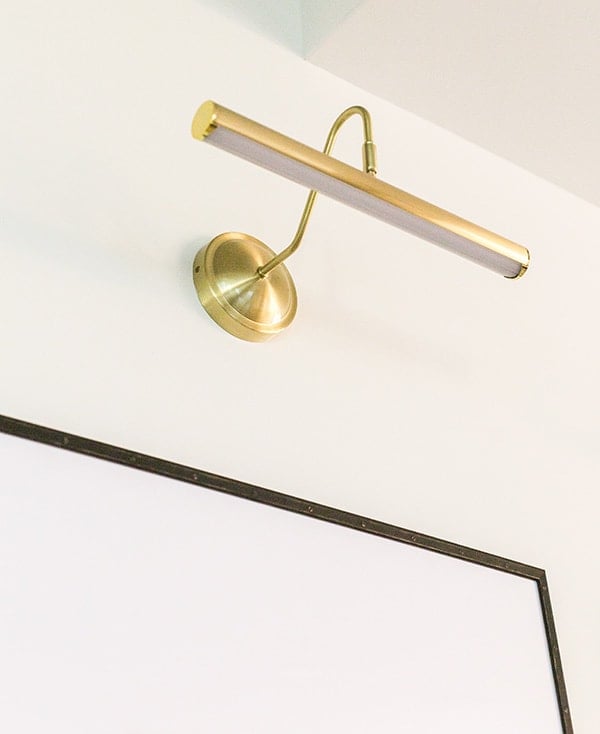 They just looked a bit too new, and the color wasn't quite right with the decor in our home.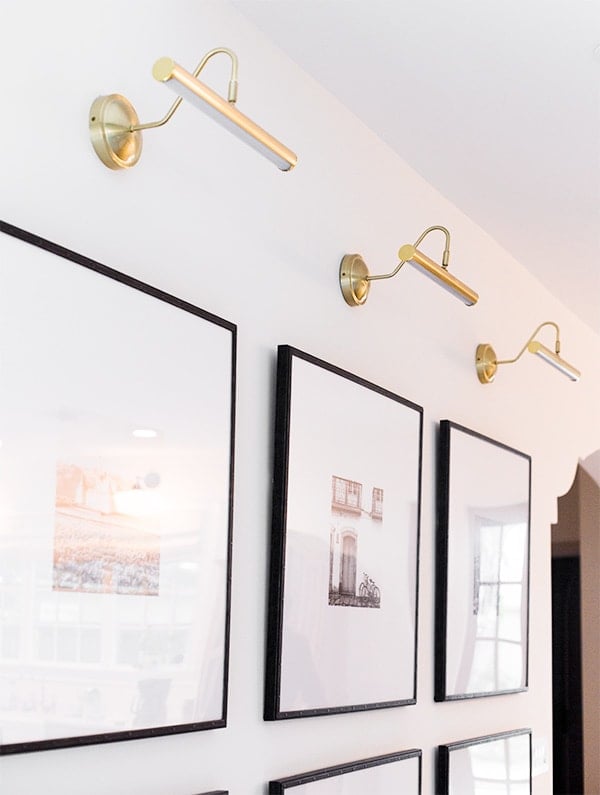 I knew Rub N Buff was the answer, and I was finally able to carve out some time last weekend to make it happen. But first, I thought it'd be fun (and helpful for everyone!) to test out all five shades of gold I had on hand.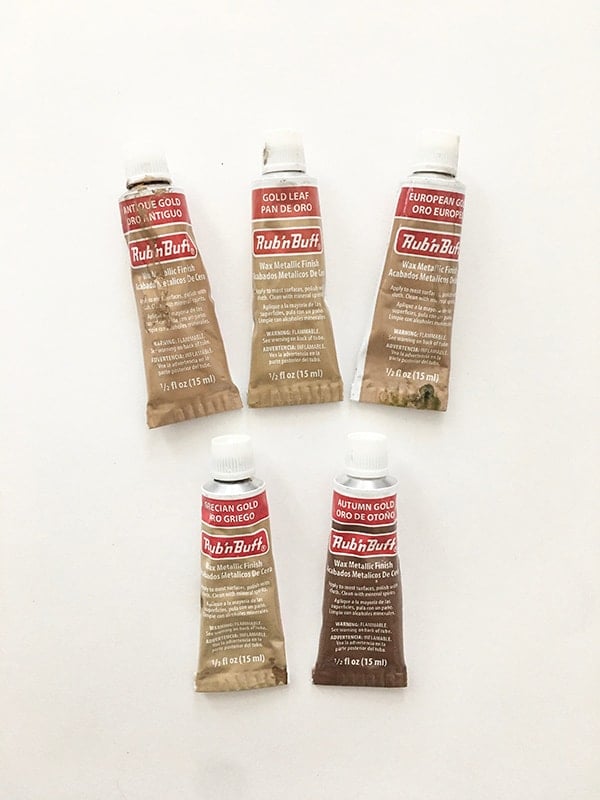 Here's a secret to getting a vintage look: paint it black first! A dark base coat will create the depth and dimension required for a patina effect. If you don't want it to look aged then feel free to skip this part. For this color test, I sacrificed some old spoons and gave them a couple coats of black spray paint: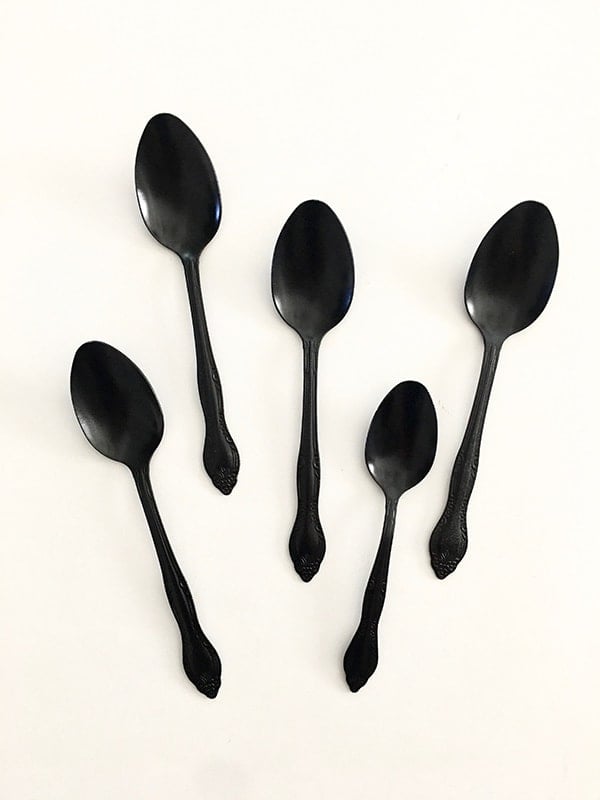 The black paint doesn't have to be perfect or even cover completely, we're just aiming for a darker base coat. I found that the spray paint will also "grab" onto the Rub N Buff and make it adhere to the surface very well.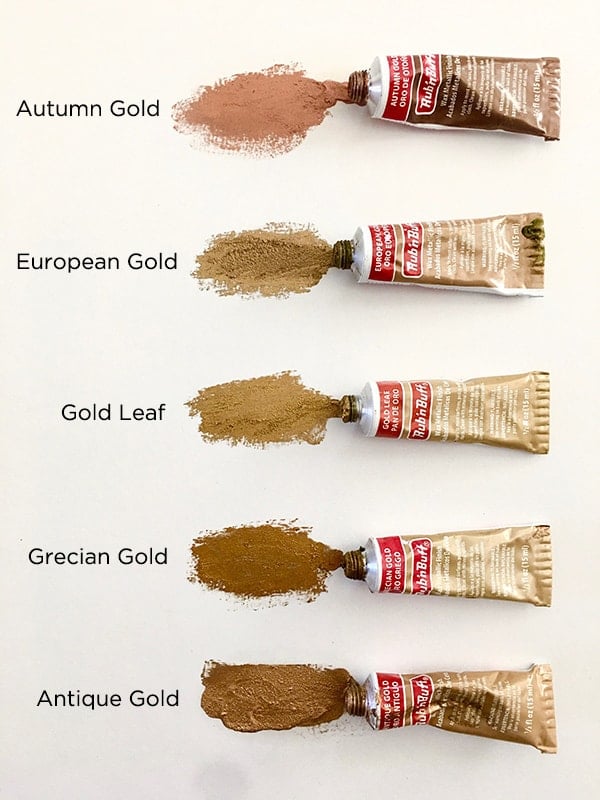 These are the golds that came in my set:
Autumn Gold: More like a rose gold or a copper
European Gold: The most desaturated gold of the bunch, very neutral
Gold Leaf: Similar to European Gold but a bit brighter/more saturated
Grecian Gold: The darkest gold with bronze tones
Antique Gold: A warm gold with peach undertones
Time to test them on our spoon subjects! I dabbed a small amount of Rub N Buff onto a paper plate, grabbed my makeup brush and used the stiffer end to blend thoroughly. A tiny bit goes a long way!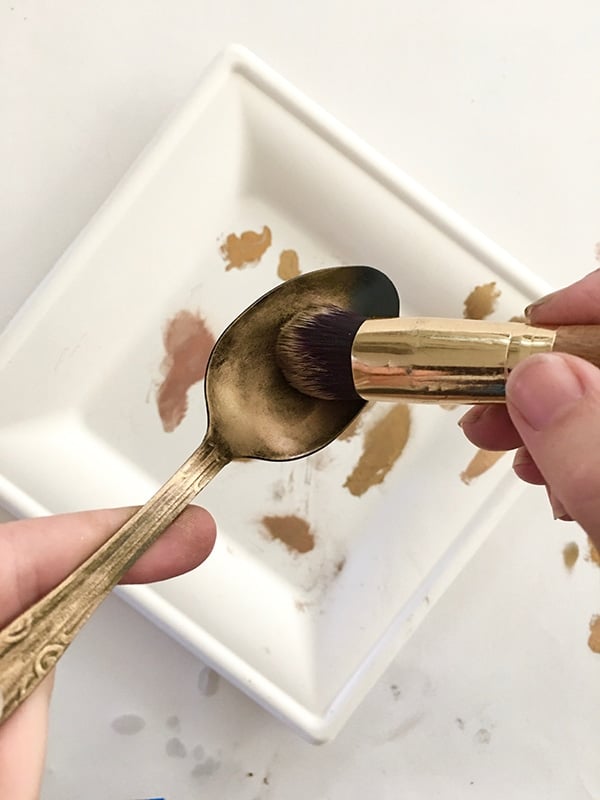 You'll want to start very lightly, because the black paint grabs the pigment and unlike paint or wax, it 'dries' right away—meaning you can't blend it in or spread it around. Think of it as a concentrated powder paste that immediately transfers to the surface. Remember, you can always add more pigment but you can't easily take it away! This is why a fine bristle blending brush is so important. The first time I tried using a cotton ball and that didn't work at all, so take my advice and use a good makeup brush!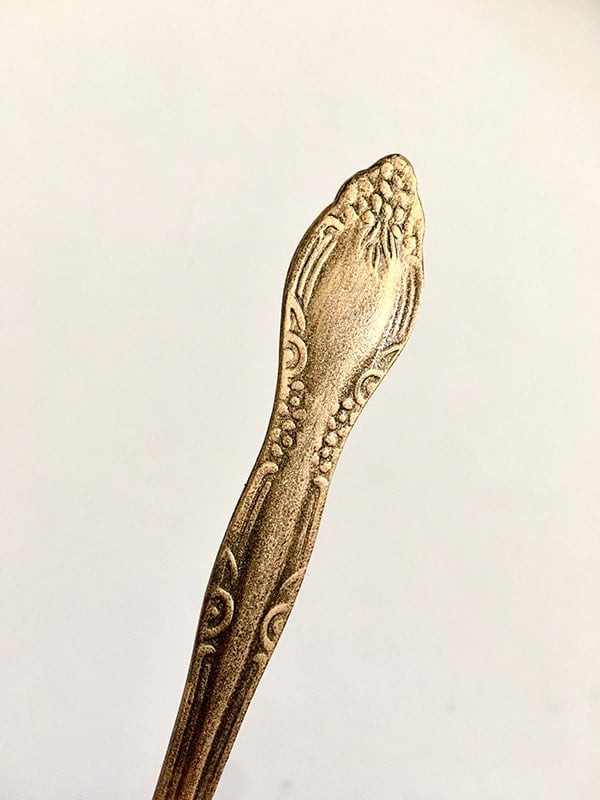 I found that shorter movements and a swirly motion helped to eliminate any visible brush strokes. You can experiment with the patina effect and go for more contrast by letting the base coat show through, or a subtler look by adding more layers of gold (including multiple colors, if you choose).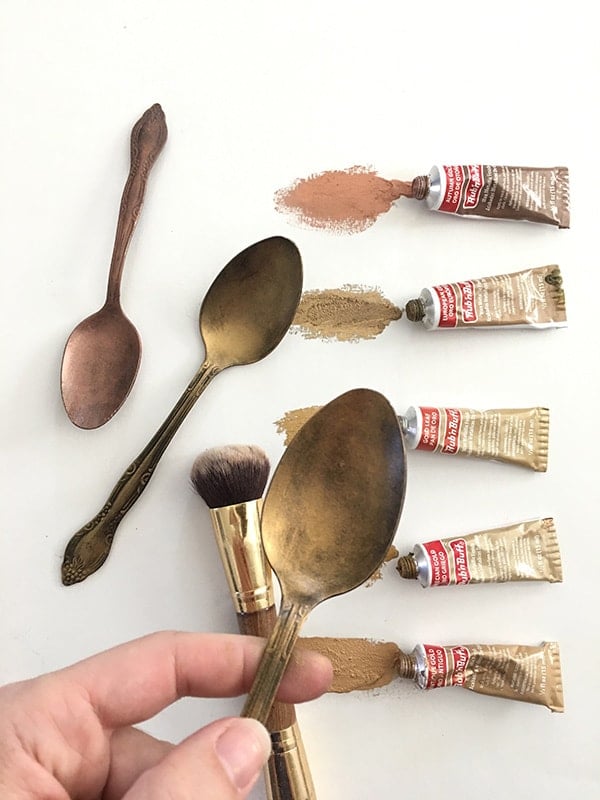 I gave each spoon a coat of a different shade, allowing the black to peek through just a little. Here's how they turned out: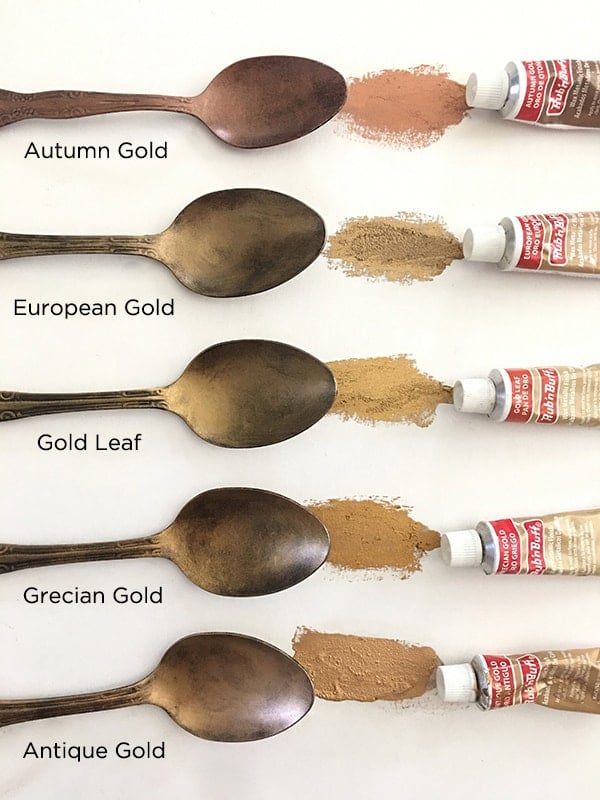 It's tough to capture the metallic qualities through a photo. Do you have a favorite?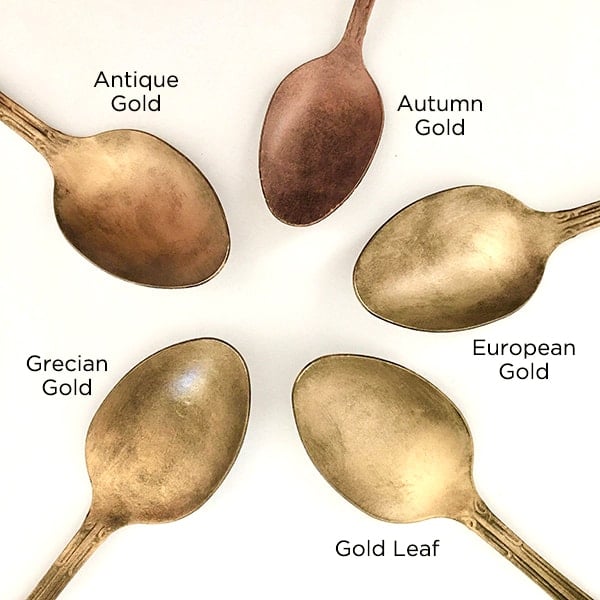 Honestly I would have been happy with a few of them, but the more subtle European Gold was my favorite: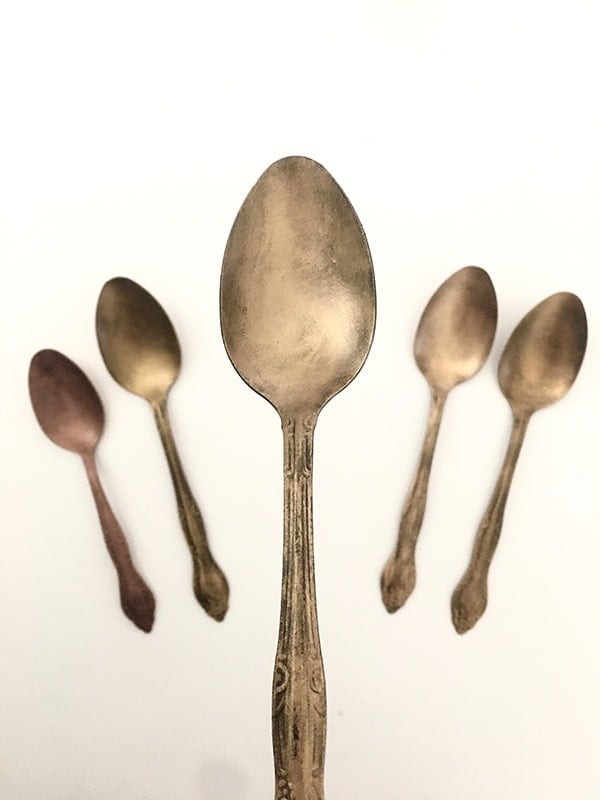 With the winner chosen, it was time for the transformation to begin!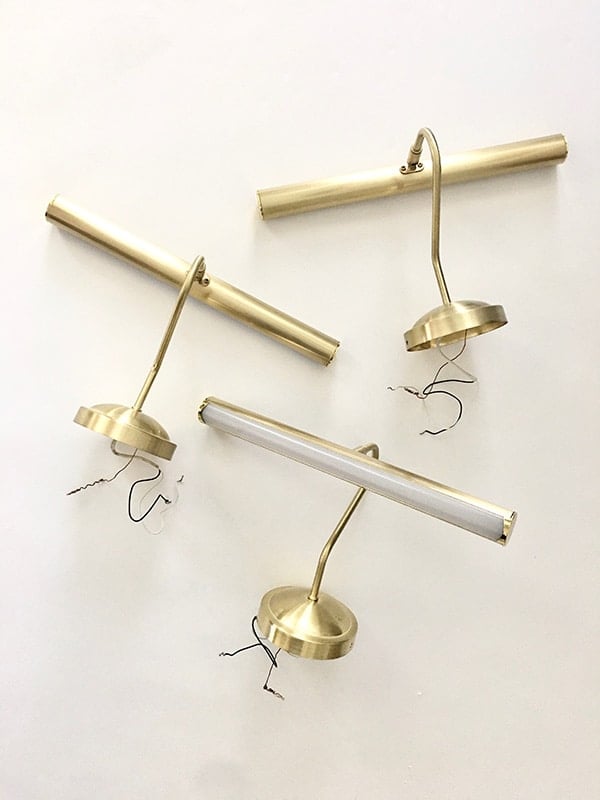 To prep the sconces, I first used painters tape to protect the light.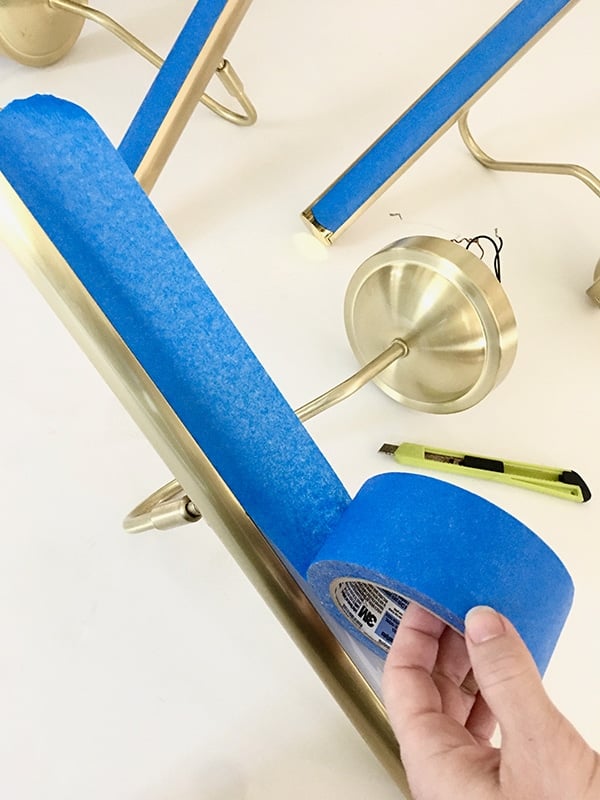 This is a little trick I use when I don't want to paint all of something. The shape is easily cut away with a razor blade knife.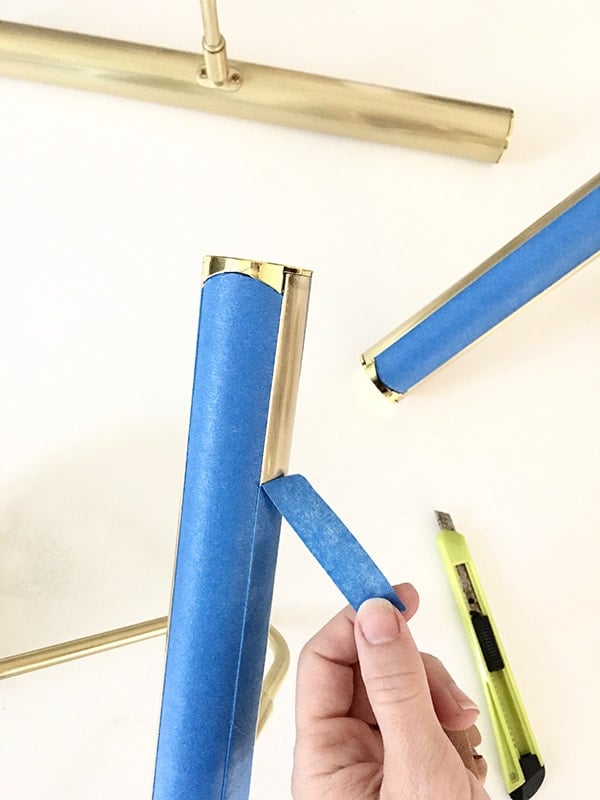 Then I brought them outside to paint. The Rustoleum spray paint dries super fast so this didn't take long at all.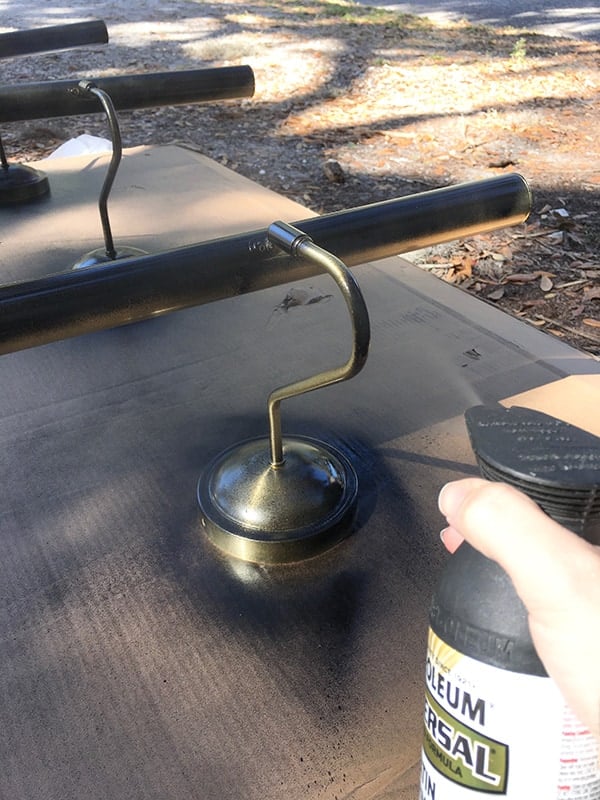 You'll want to make sure the paint is completely dry, I'd give it at least a couple hours so the finish won't rub off.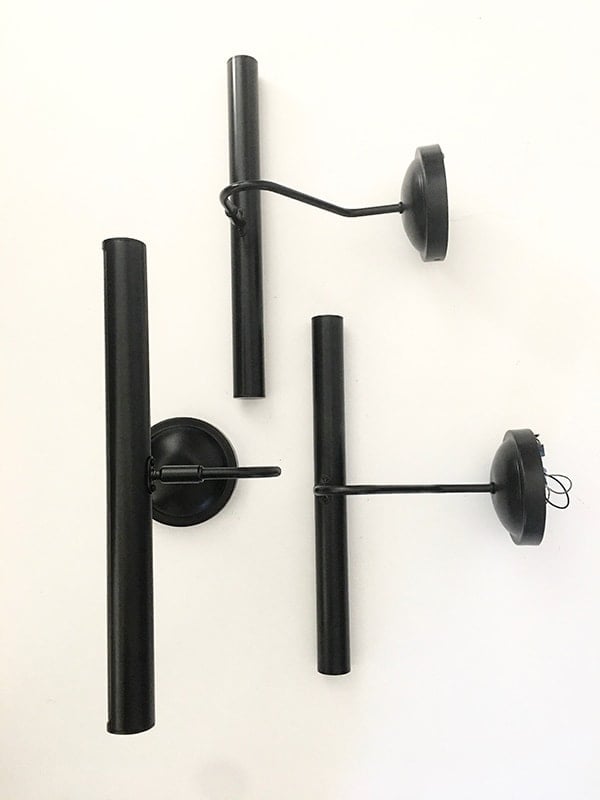 Now it's time for the fun part! I loaded up my brush with European Gold (making sure to thoroughly offload the color first) and gently swirled it on.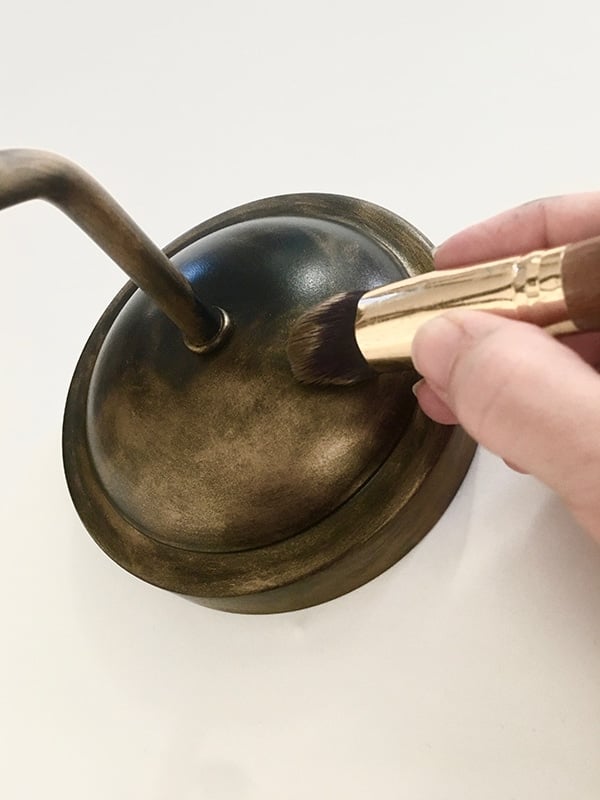 The process didn't take long at all (I posted a timelapse in my Instagram stories, in case you want to see a video of it!)
Here's a little before -> during -> after progression…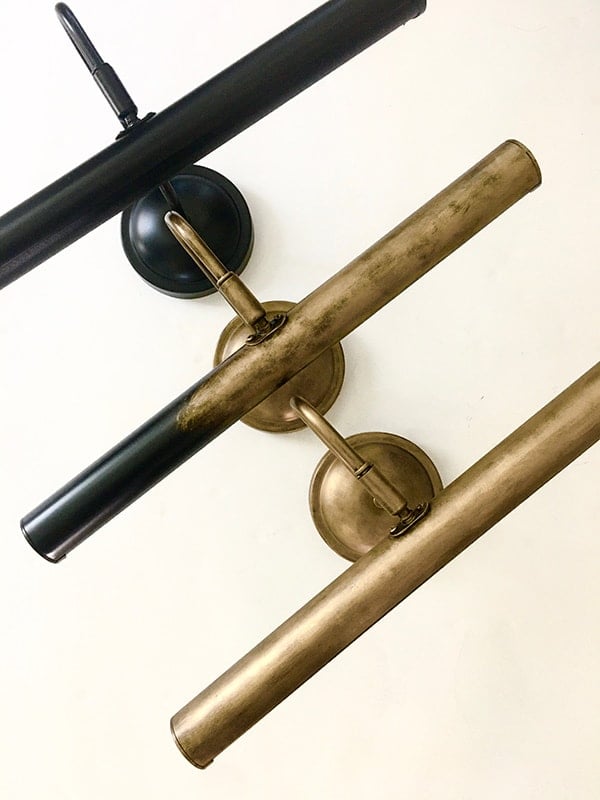 I was aiming for a more subtle patina, so two coats were needed. I found that brushing side to side on the top layer gave the finish a more realistic texture. At this point the brush had been sitting overnight with the Rub N Buff dried on (I forgot to wash it out) so it wasn't going on as smoothly, and even buffing parts of the first layer off. I switched to using my finger to apply a thicker finish and cover completely in some areas.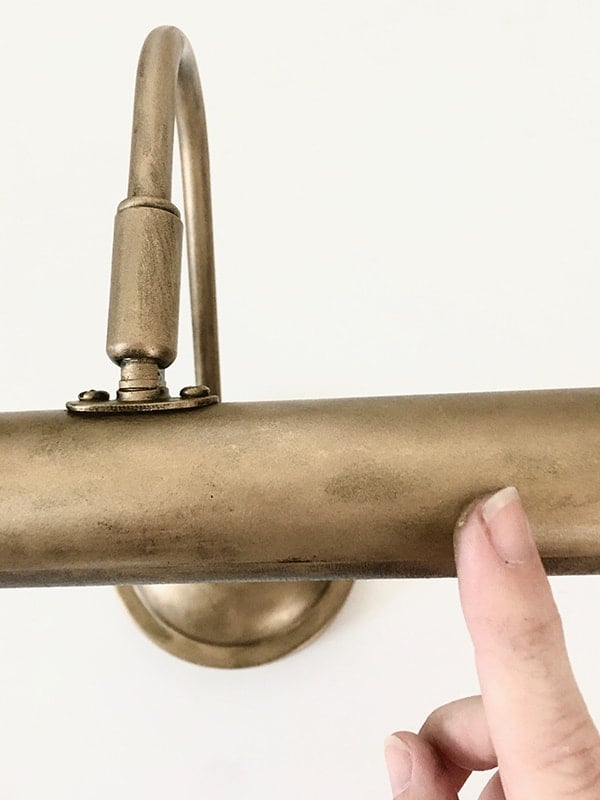 In total, it took around 15-20 minutes per light and I used maybe 1/3 of the tube. And had fun doing it!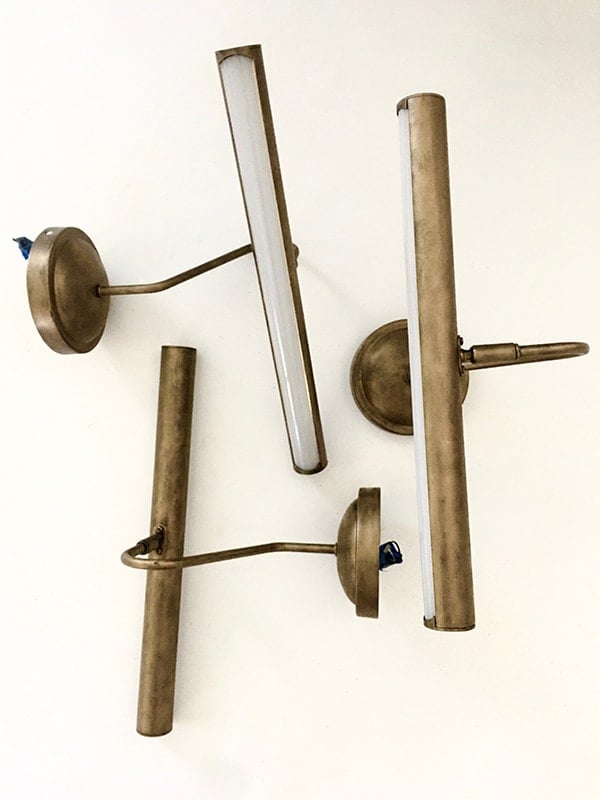 A huge improvement, I'd say!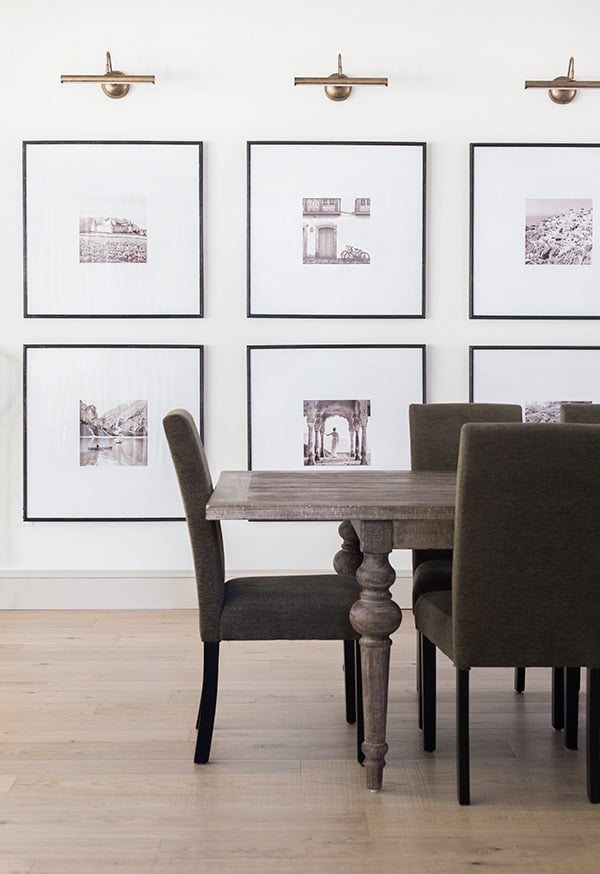 Don't these look like super expensive antique lights?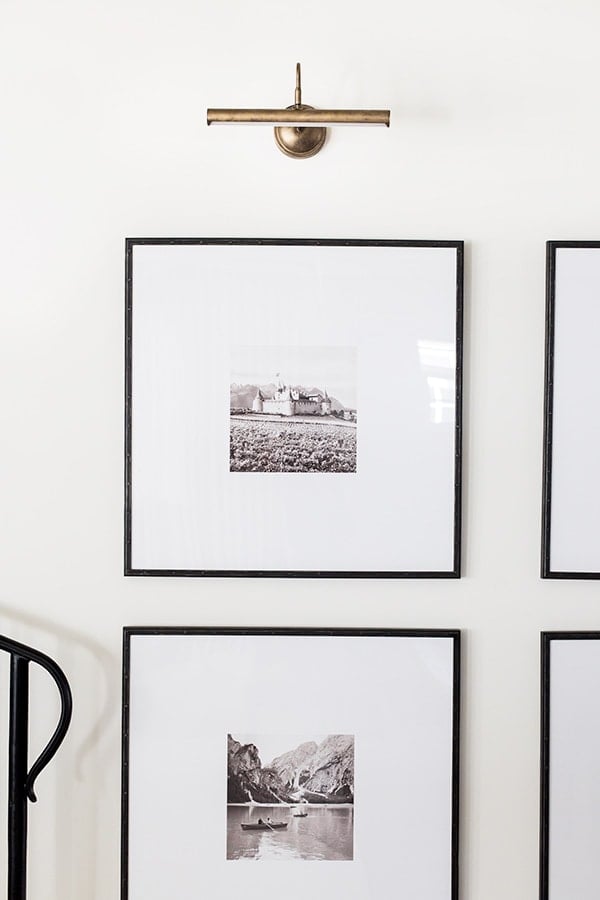 I'm amazed at how authentic it looks. You'd never know these weren't the real deal.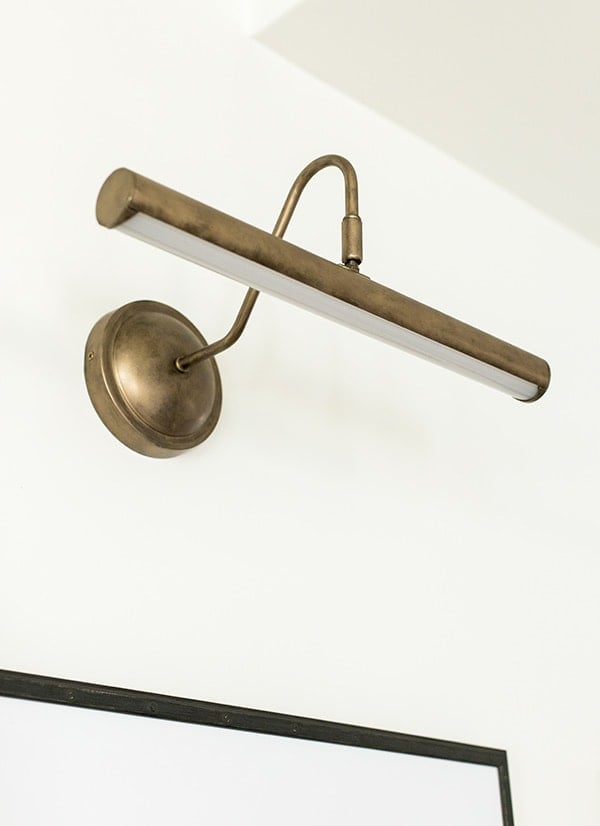 Even Susie couldn't believe her eyes…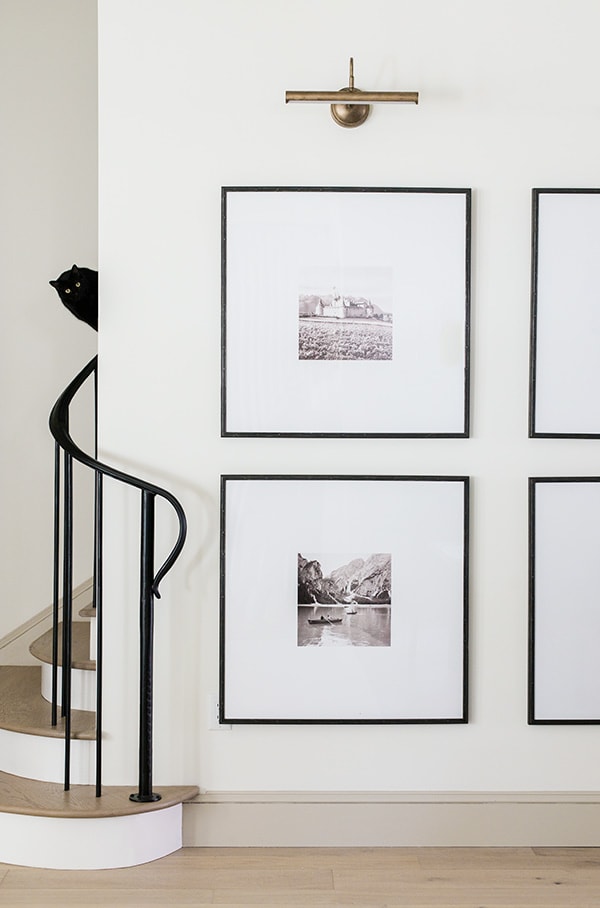 I'm already looking around the house to find my next Rub N Buff project. This stuff is addicting!
Q: When should I use Rub N Buff instead of spray paint?
On medium to smaller pieces without a large surface area
On fixtures that aren't easily removable to spray paint outside
For an aged look instead of a "new" factory smooth finish
If you want more color variety than the few gold spray paint options
Q: Will this work on door knobs and faucets?
It will work great on any metal! However, durability over time is the real question. Objects that aren't handled regularly (like light fixtures) are ideal, as you'll never have to worry about the finish coming off. Rub N Buff is permanent and I would trust the staying power of it over any paint or spray paint, but if you scratch the metal with another hard surface, it will scrape off.
You'll definitely want to scuff up the surface first using fine steel wool or a sanding block for better adhesion. You'll also want to protect the finish with a lacquer/varnish. I bought this spray lacquer to use on a faucet refinish project that I never ended up doing—if you try it, let me know and I'll update here! Note that Rub N Buff adheres very well to more porous surfaces like wood and should not come off, even with a lot of physical contact.
I hope this post was helpful if you've been wanting an easy and inexpensive way to antique almost anything. There's several other color options like silver, pewter, white and ebony, so the sky is the limit. Leave a comment and let me know what you plan to makeover!
If you like this project, check out these popular beginner budget DIYs from my Project Library!