Recently I had an opportunity to do an outdoor makeover for a friend, and today is Reveal Day! Watch below to see the transformation:
When Article reached out to me a few months ago wanting to partner up, I had the perfect space in mind for an outdoor makeover. A friend of mine here in Tampa had a great screened in patio, but it needed some help: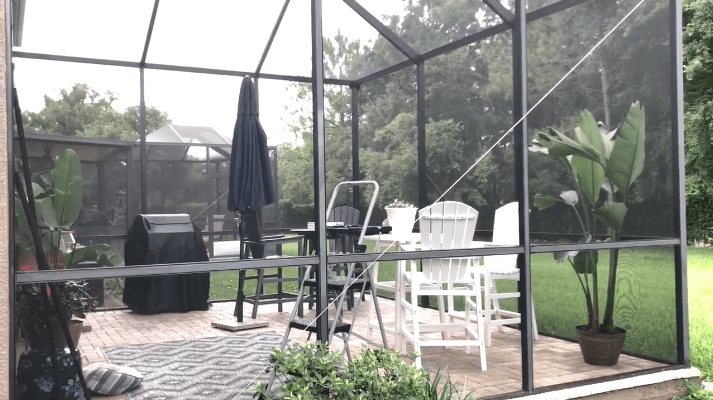 Pin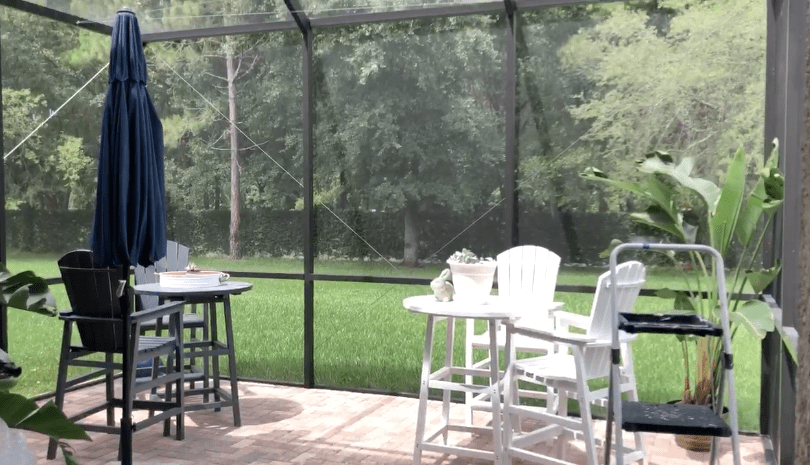 Pin
Her current setup was a couple small tables and a grill, but she wanted to make the space more functional and inviting for guests.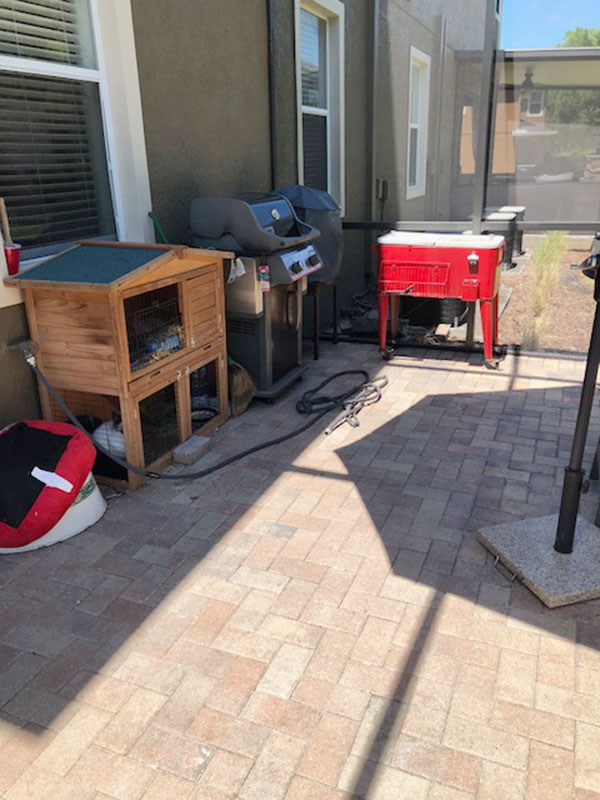 Pin
Below you can see the covered entrance from her living room, which leads to the main open area.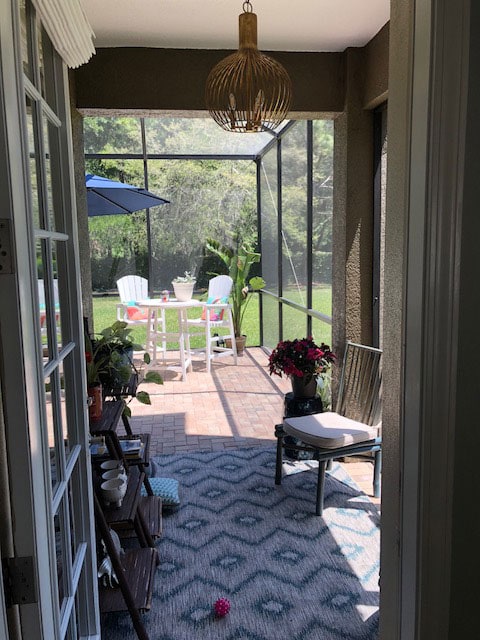 Pin
Here it is from the outside, looking back at the house: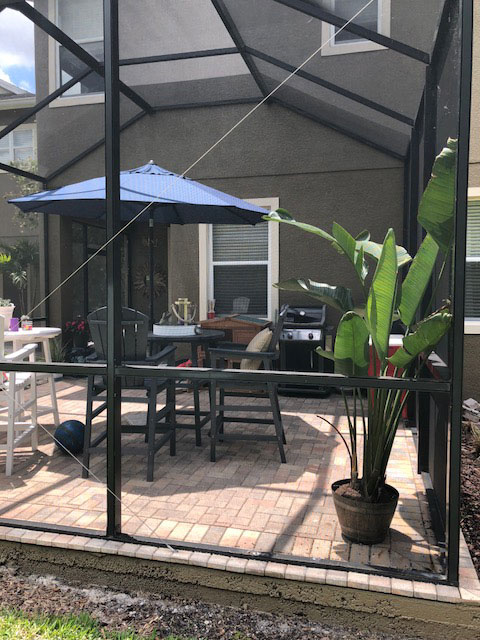 Pin
It's on the smaller side, so we had to get creative with the layout to include multiple areas for lounging, dining and grilling.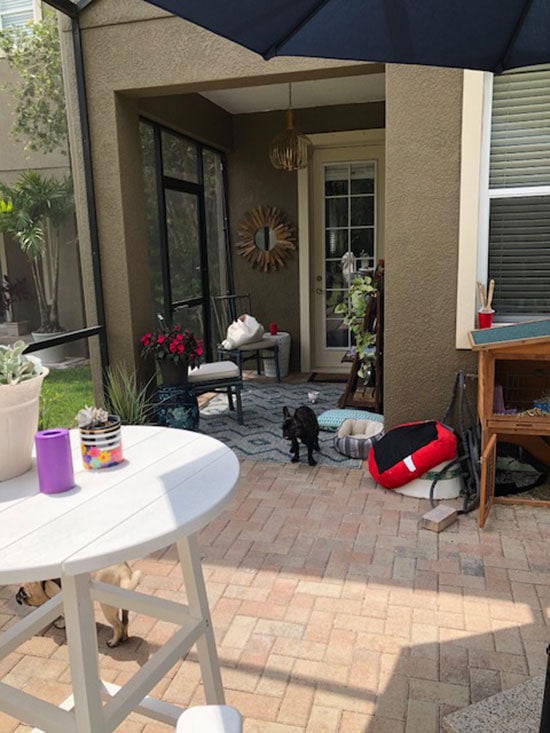 Pin
Ready for the After?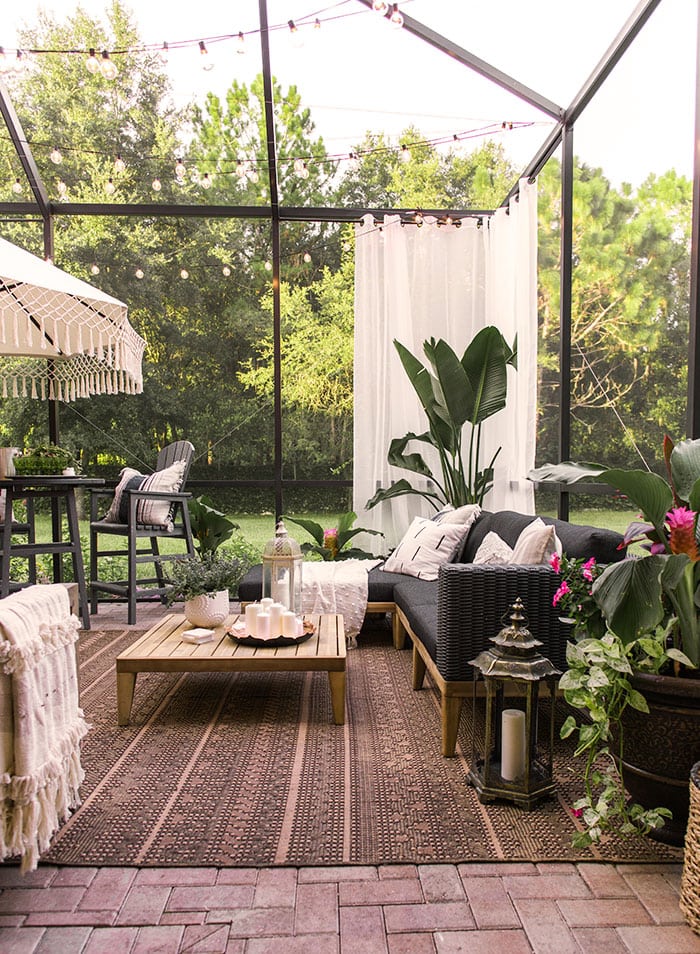 Pin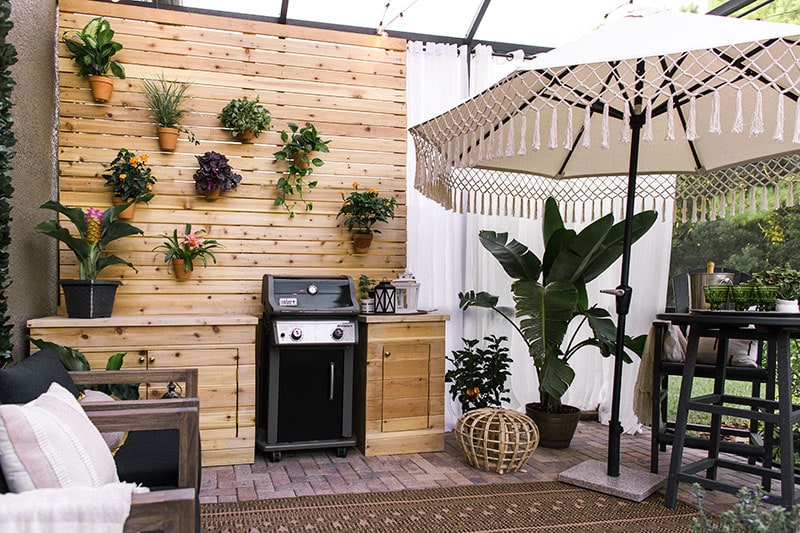 Pin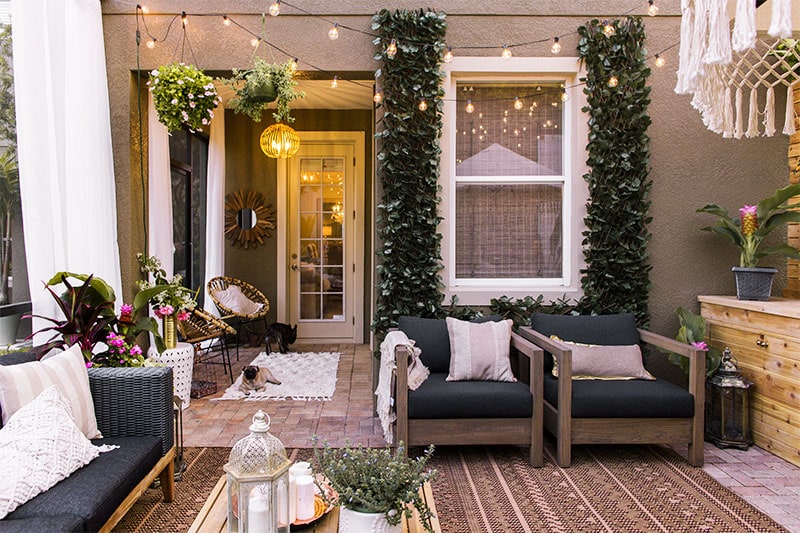 Pin
Well, hello there! Is this a suburban Florida backyard or a swanky 5-star hotel lounge? I can't tell.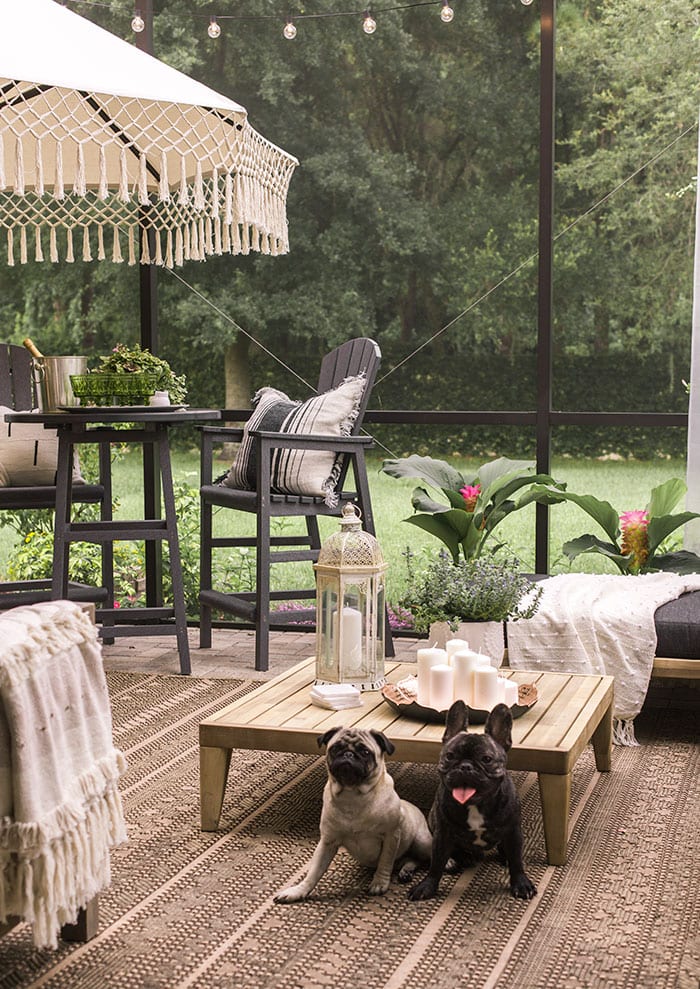 Pin
Just when you think it can't get any better—a pug, a frenchie and a bunny show up…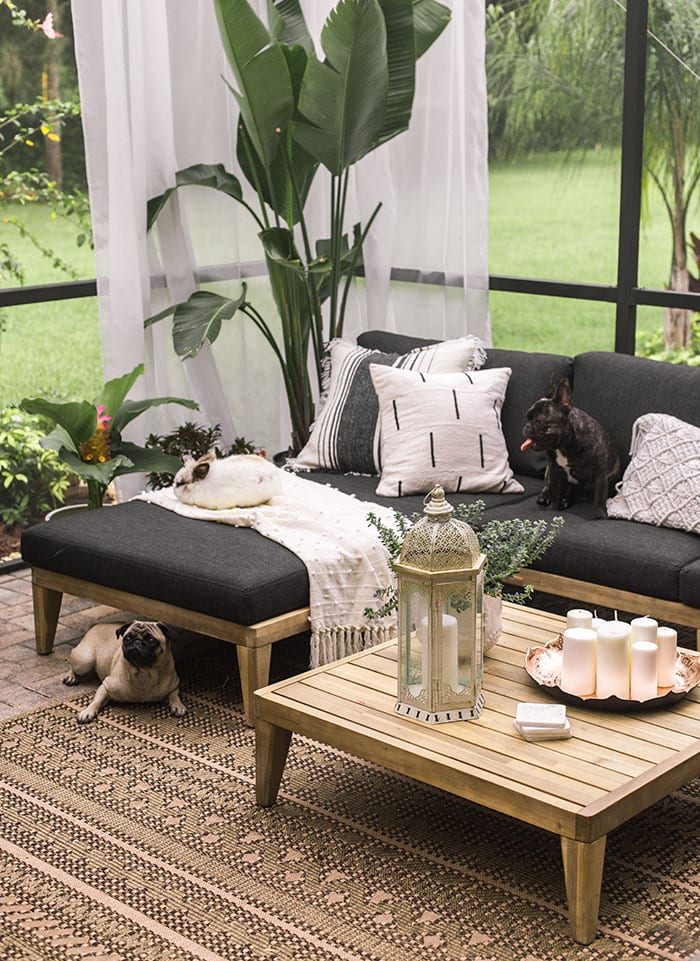 Pin
This basically turned into a cute animal photoshoot, but I don't think anyone minds.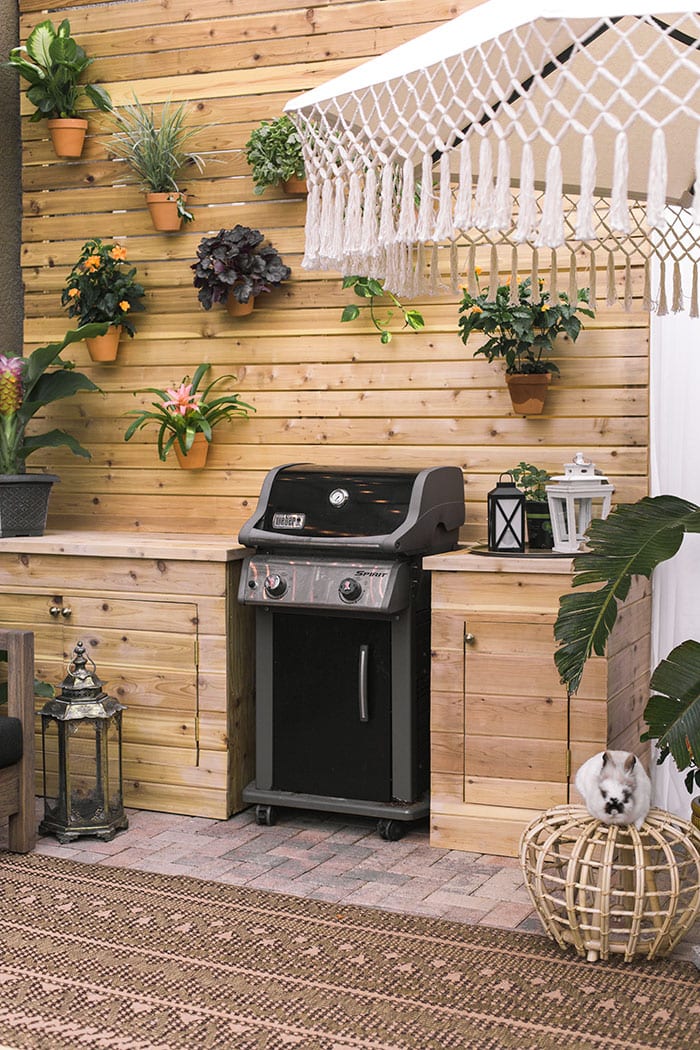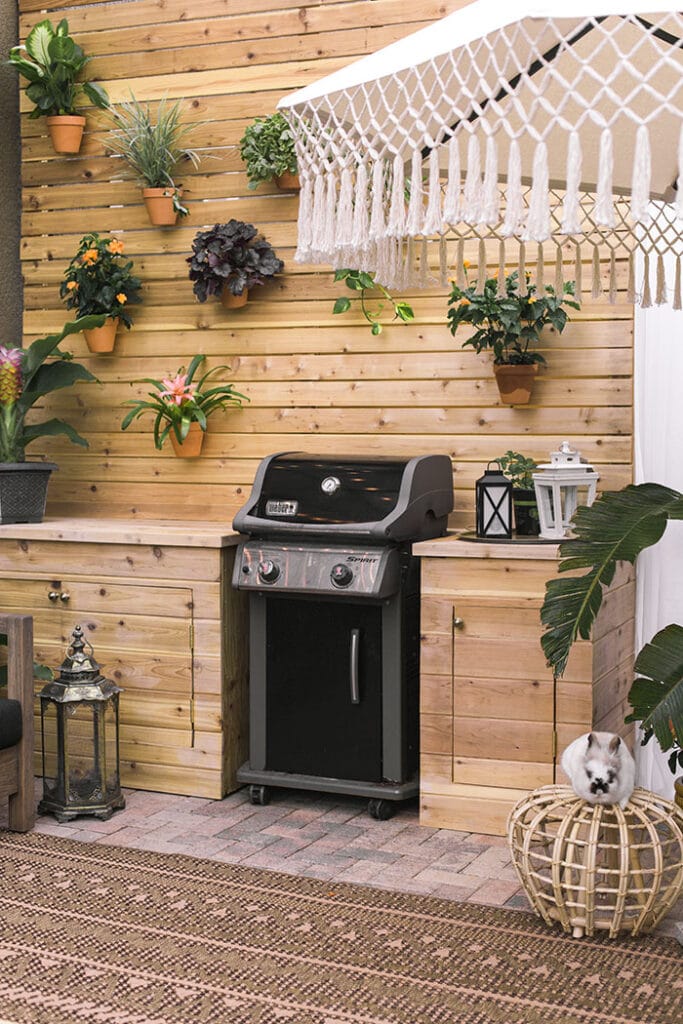 Pin
Okay, back to the makeover!
The very first step was deciding on furniture. It wasn't an easy task narrowing down our options from Article's outdoor selection. I've seen a few folks rave about the quality and ordering process, so I was looking forward to trying them out! We were immediately drawn to this dark and dramatic Urba sectional, and that became the centerpiece of the layout.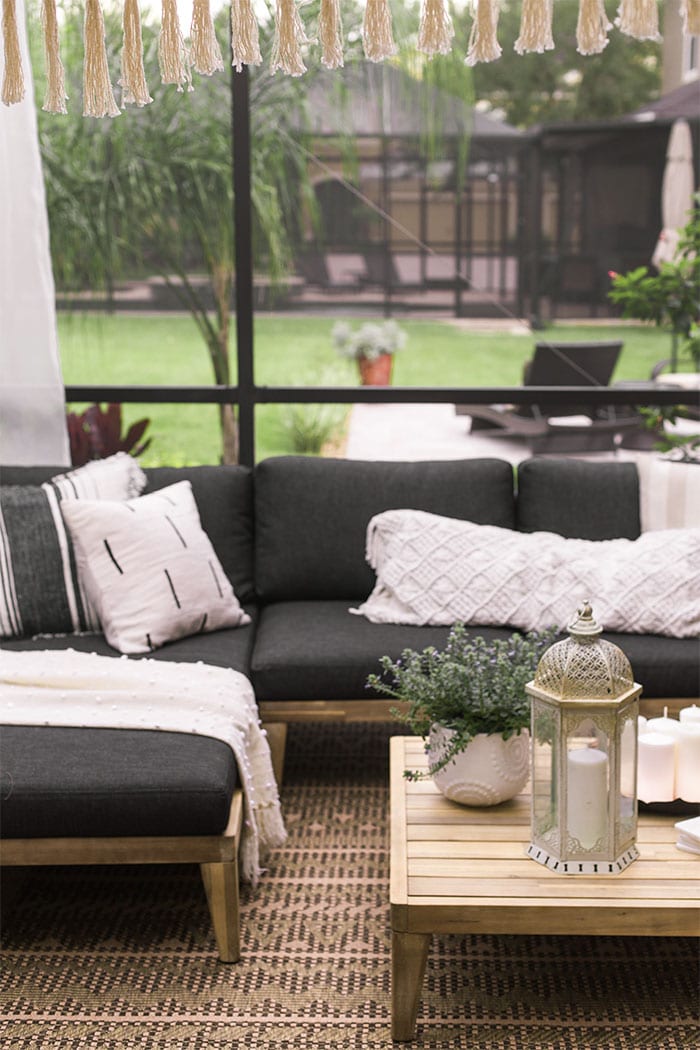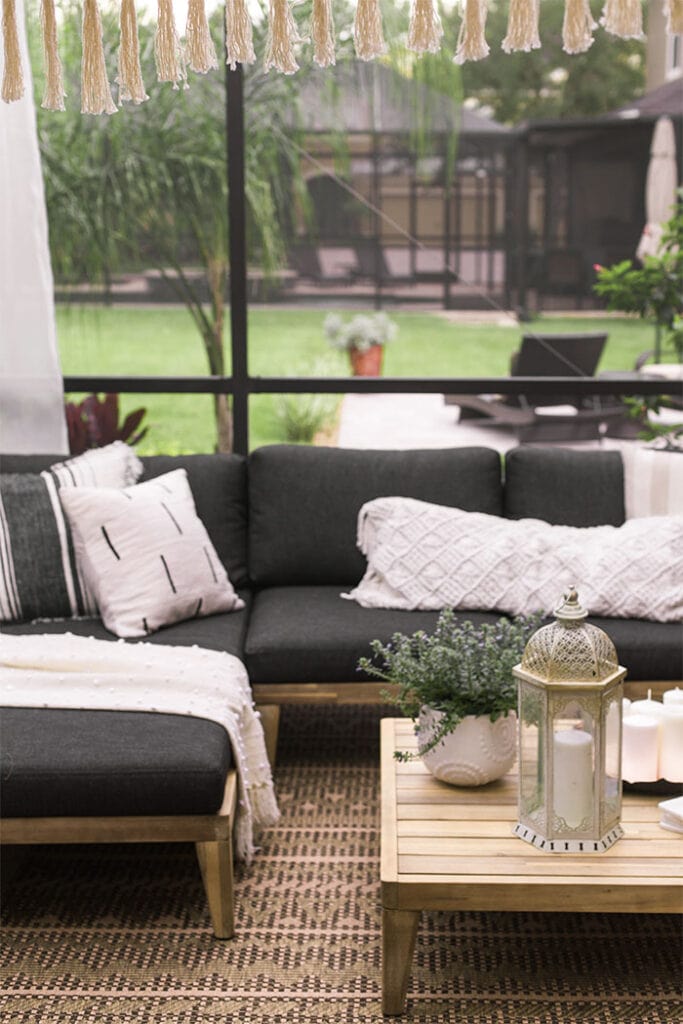 Pin
Because they're on online-only store, they don't have the high markup like other brands and they work directly with the manufacturers, offering a nice selection of curated pieces. I'm a big fan of their clean lined/Scandinavian inspired designs, because you can dress it up or down in any style you like (and it'll last throughout the seasons!)
Pin
The sectional became the jumping off point for the design, which evolved into a lush tropical glam style with lots of natural wood tones, woven materials and mixed metals.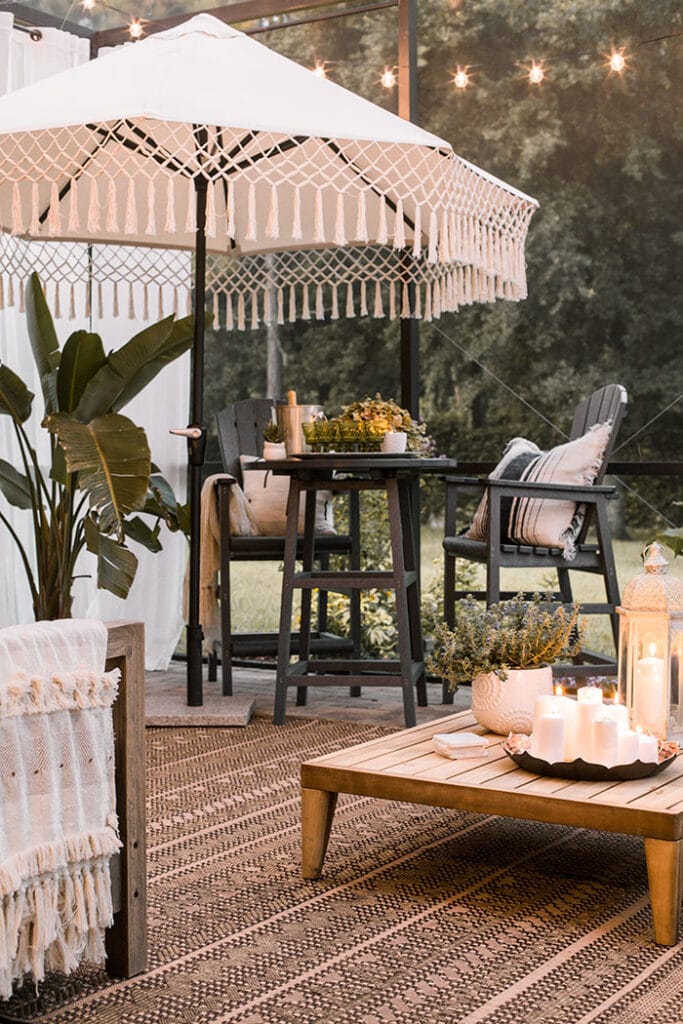 Pin
The matching acacia wood coffee table was used as well (btw, these are suitable for both indoor and outdoor use) and there was just enough room for two Arca lounge chairs to complete the conversational area. Isn't the wood tone on these gorgeous?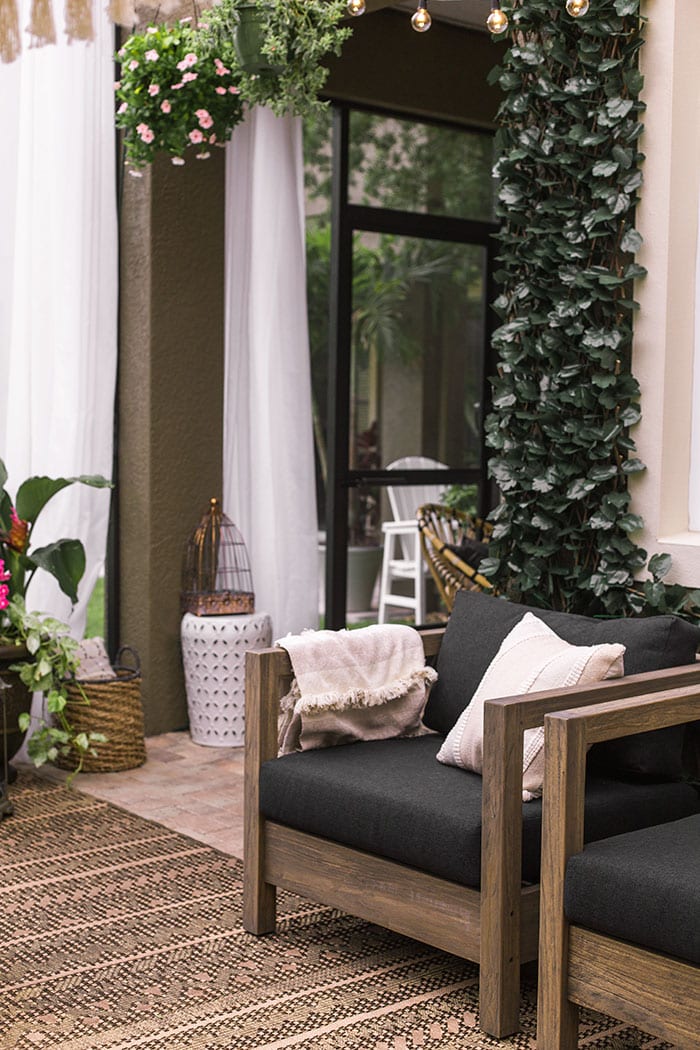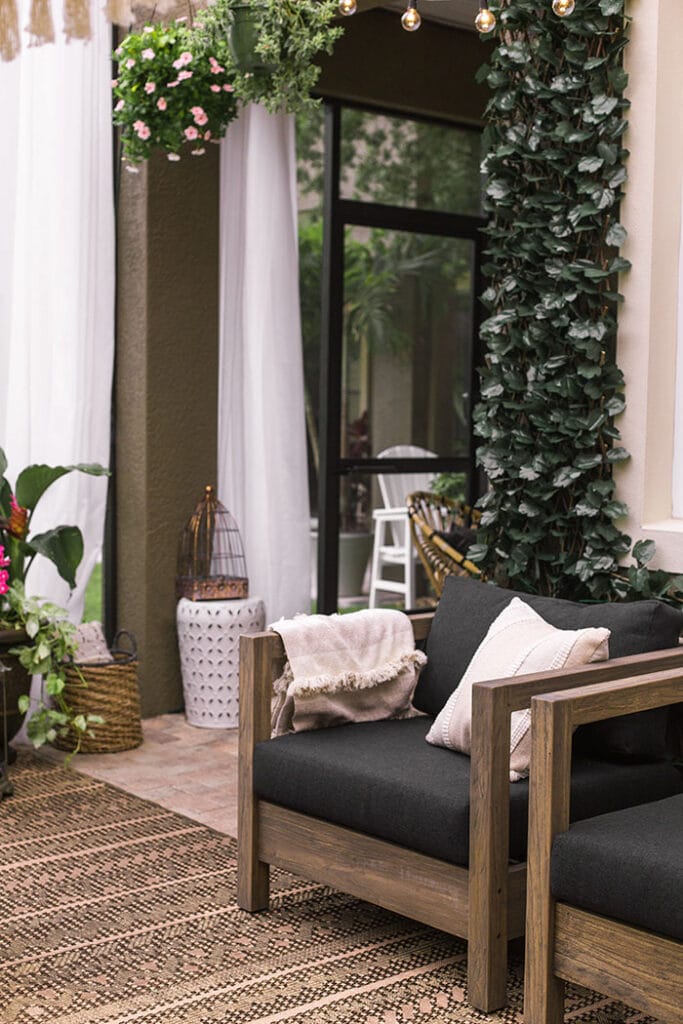 Pin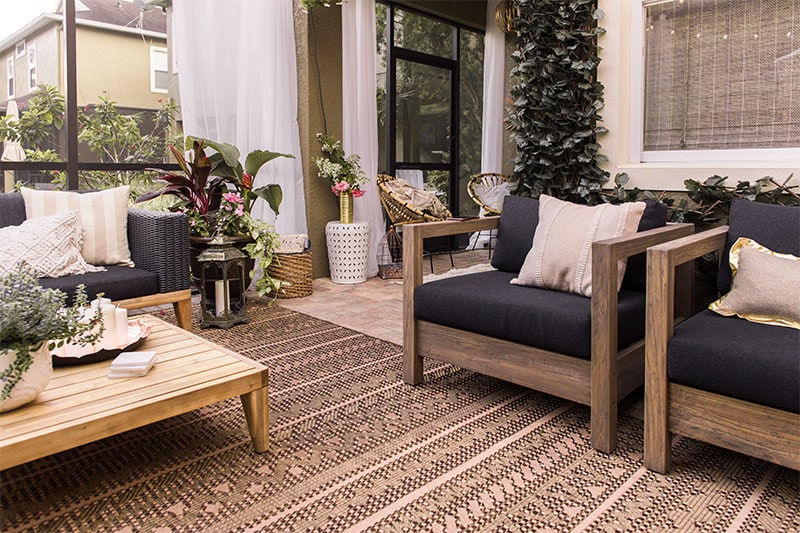 Pin
We eliminated the white tabletop and left the black set as a casual dining area.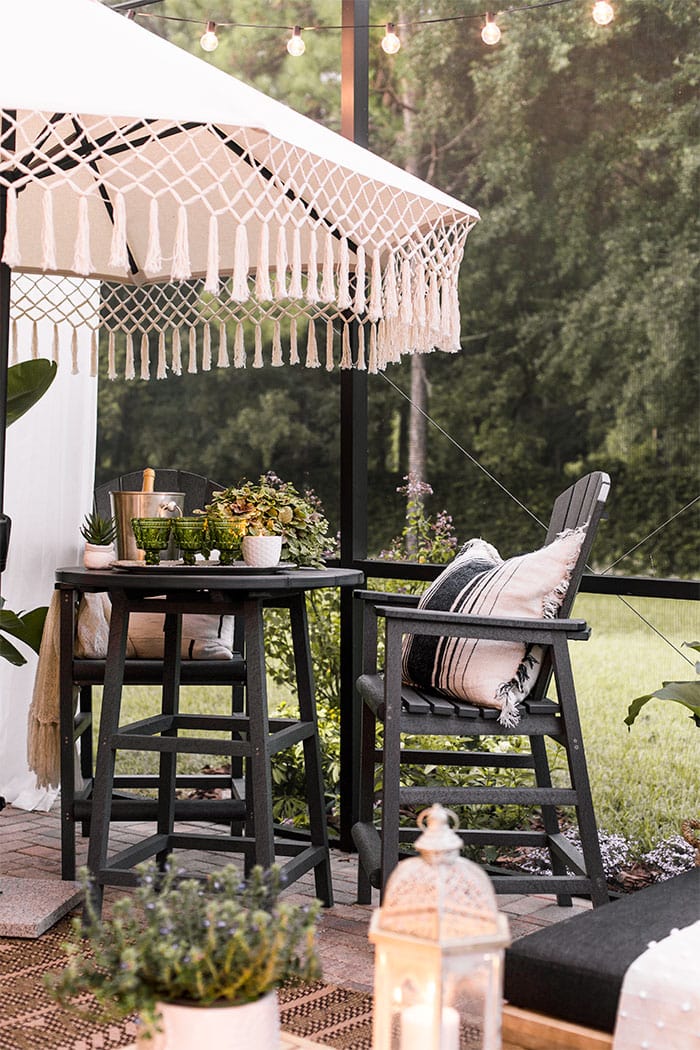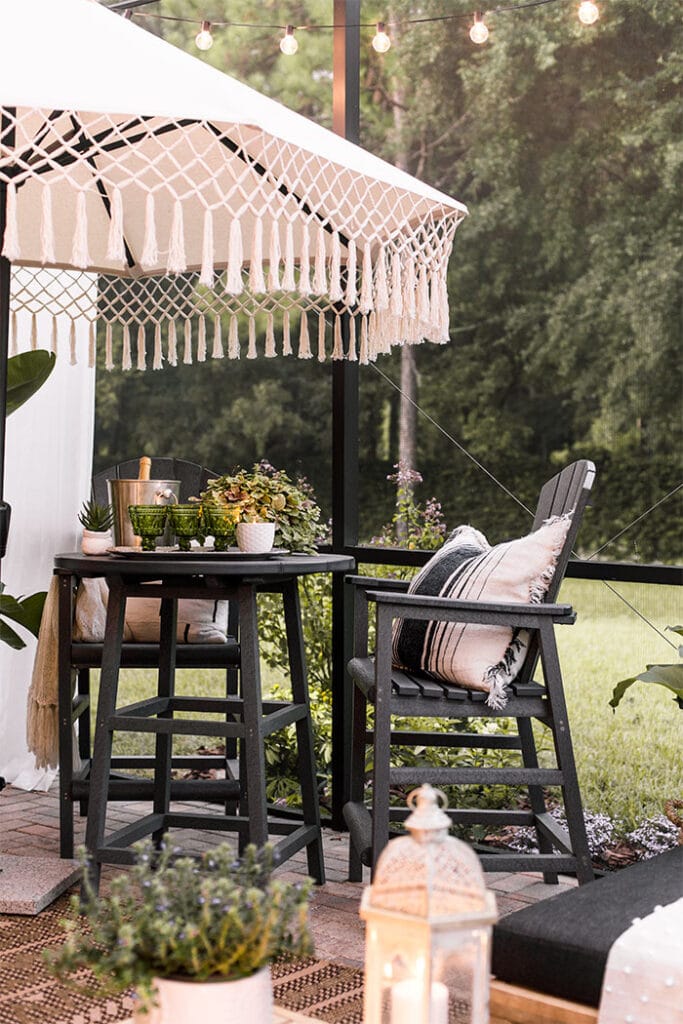 Pin
The old umbrella was replaced with this pretty fringe canopy, and cafe lights strung overhead.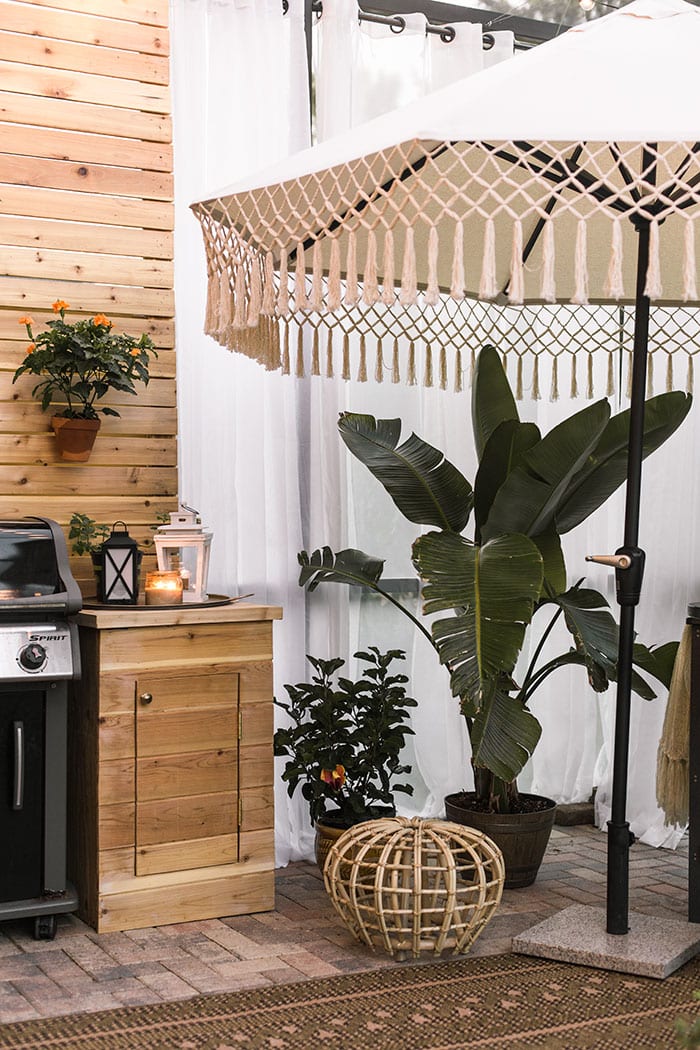 Pin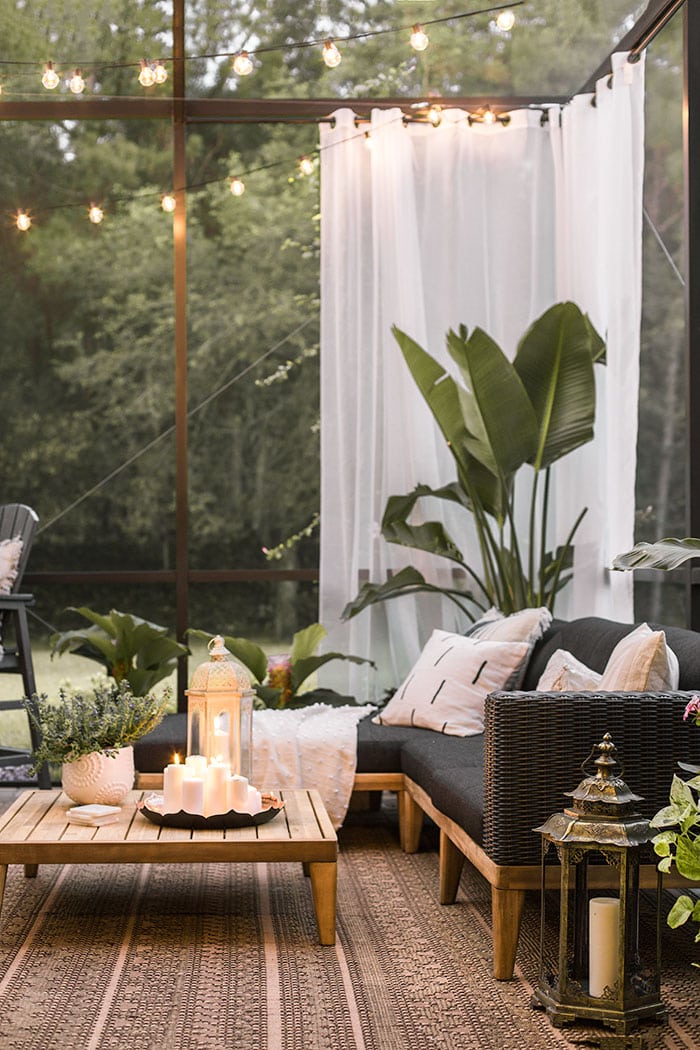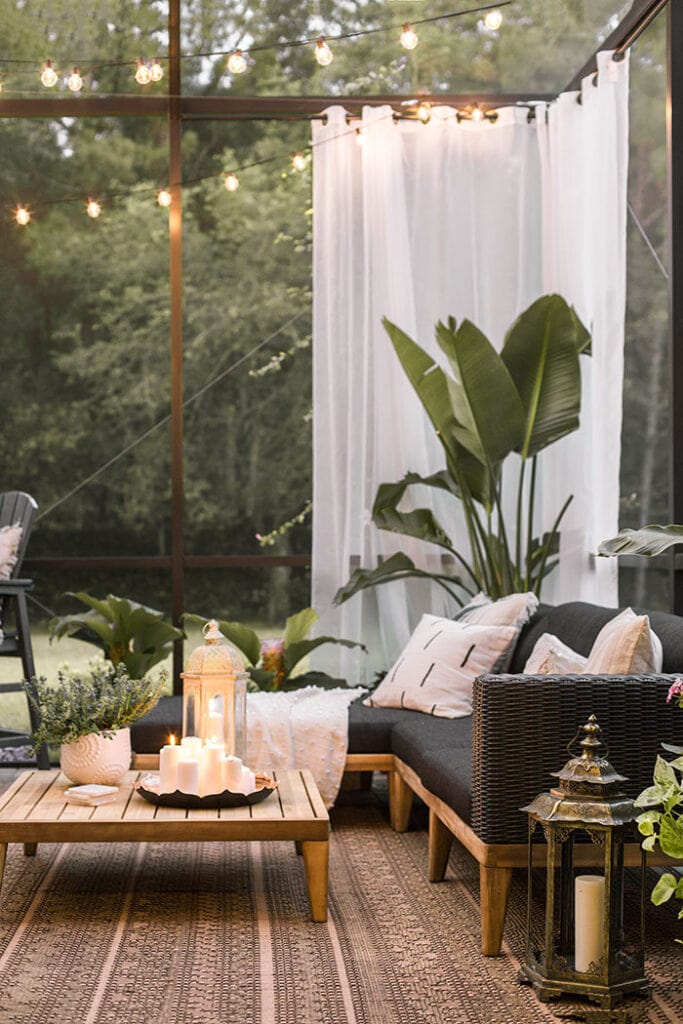 Pin
We also hung 10′ long outdoor-safe curtains (we found these for only $9/panel! How is that possible?) The curtains make a huge difference in the space with added privacy, shade, and that breezy chic style.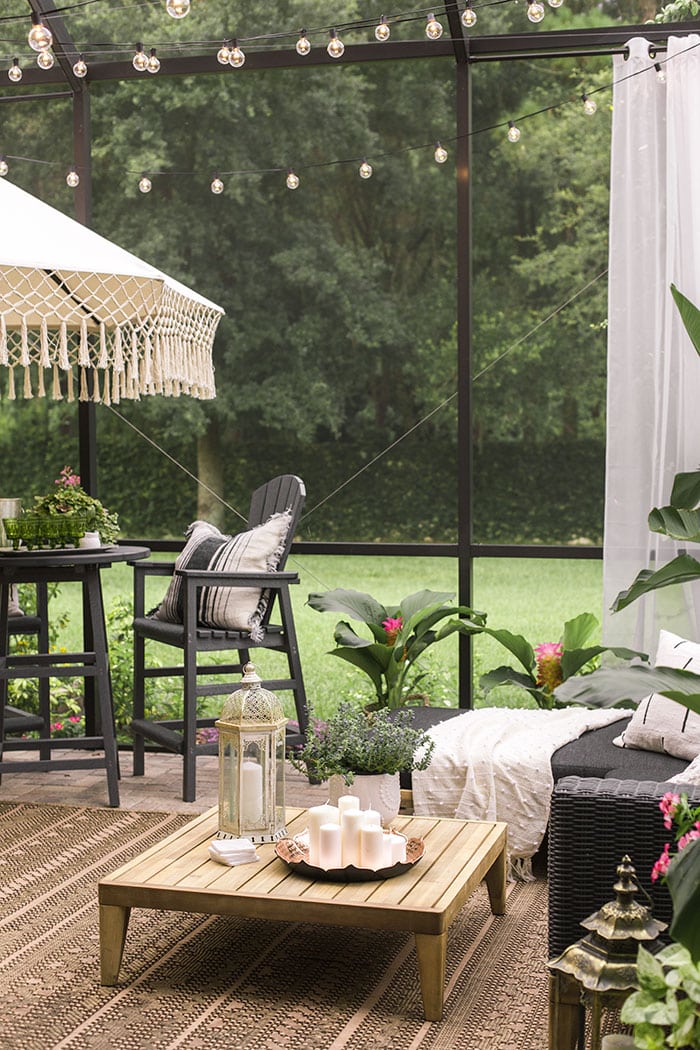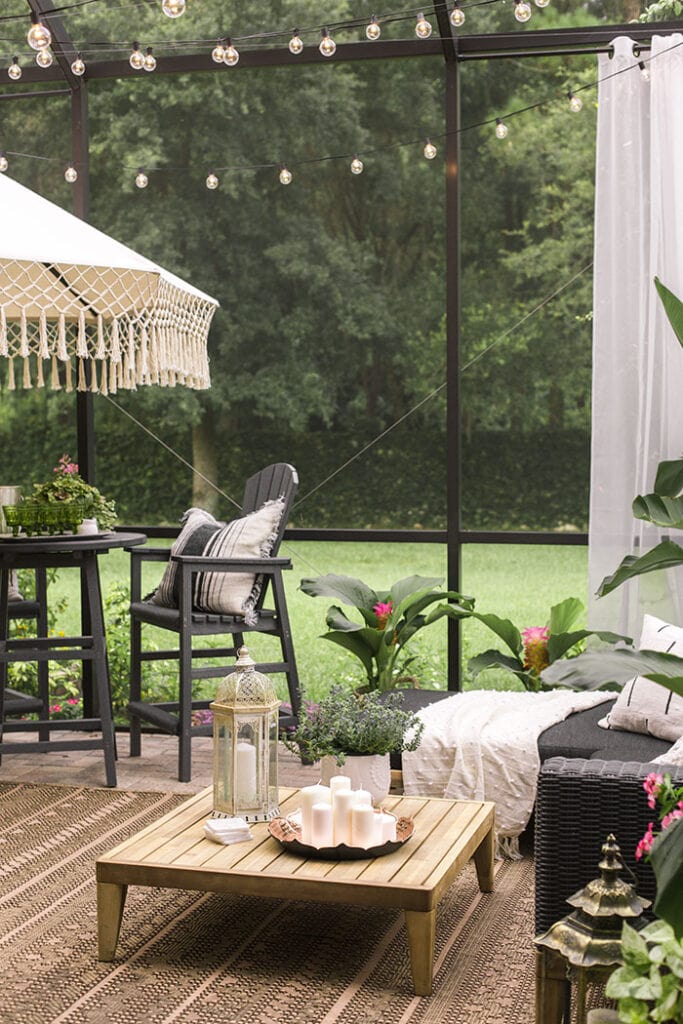 Pin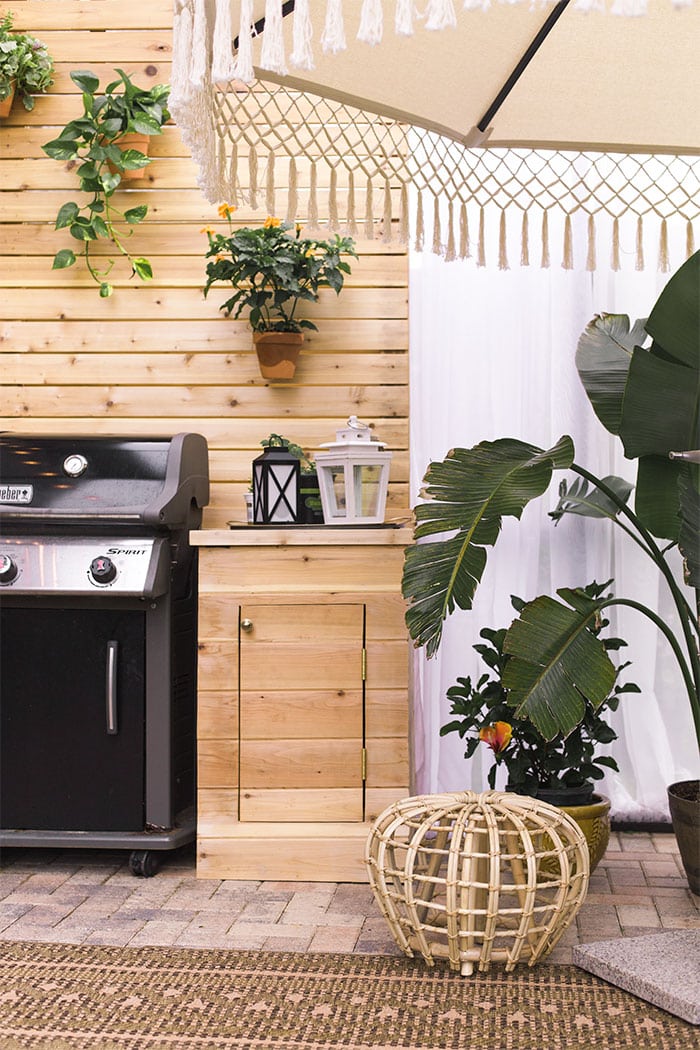 Pin
One of the biggest changes was this custom built cedar plank grill surround and privacy wall.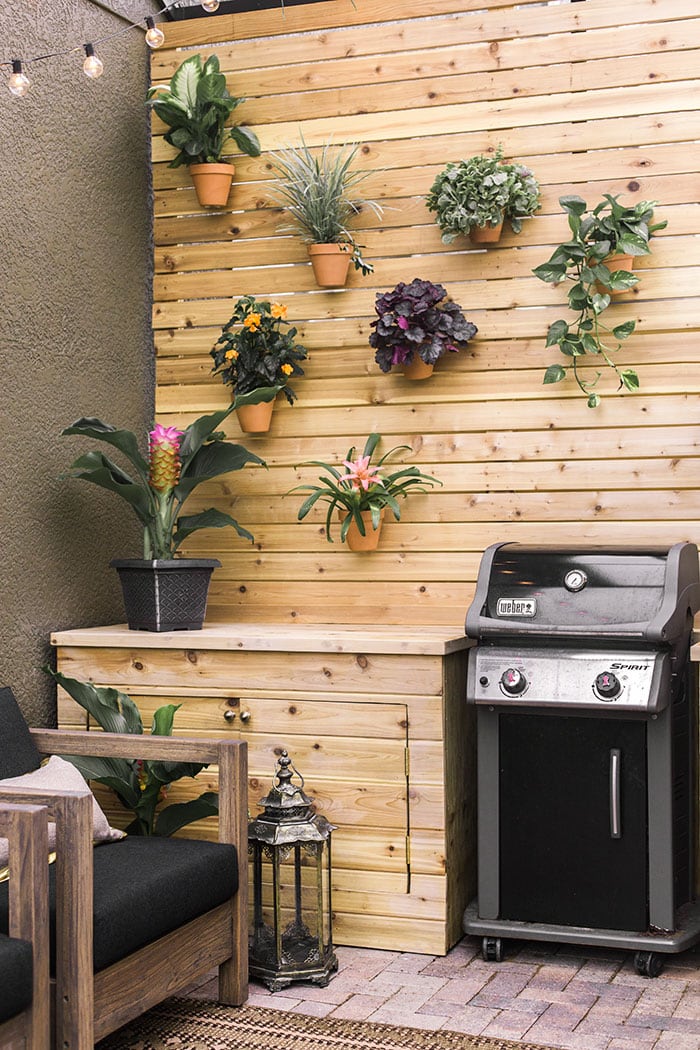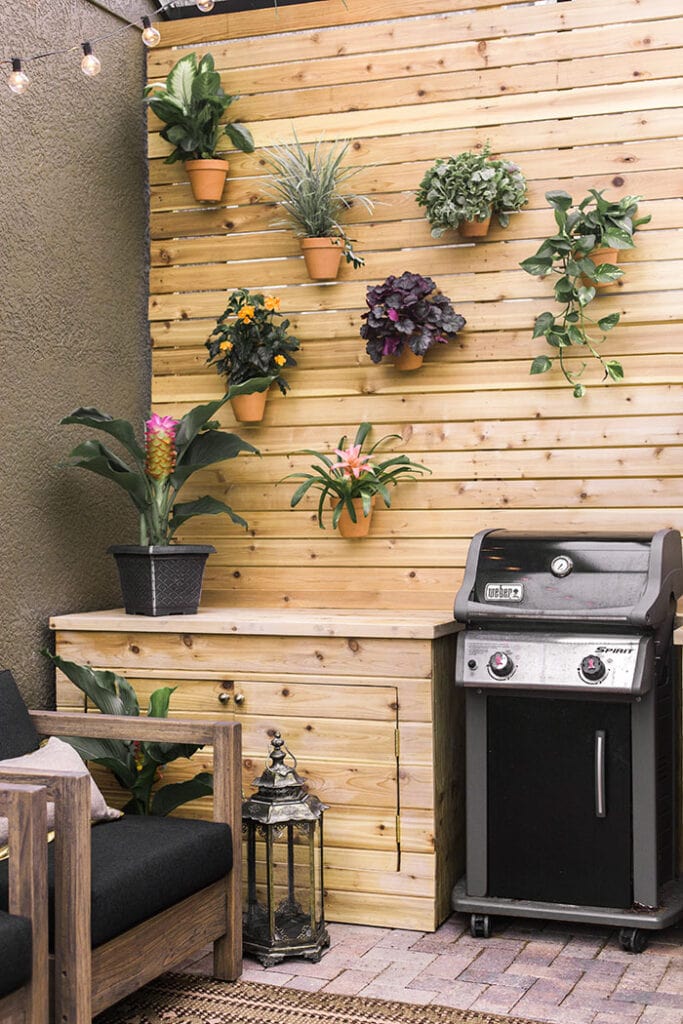 Pin
It's the perfect match of form and function. I love the wall of hanging plants, which she can change up over time (this would be a great spot for fresh herbs to pull from while grilling!)
The entryway was also spruced up with two Daisy lounge chairs and a cozy Home Goods rug (Buttercup the pug approves). We chose all of the furniture in this space with durability in mind, since it'll be getting a ton of use from both family, friends and pets (and constant exposure to those Florida summer thunderstorms) So far, so good!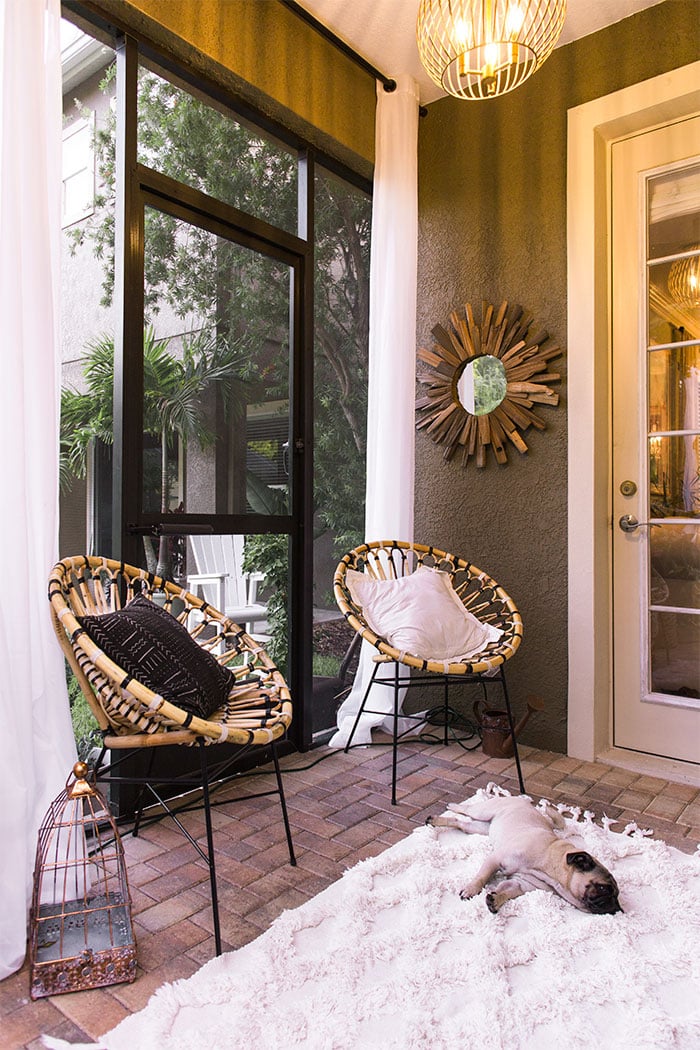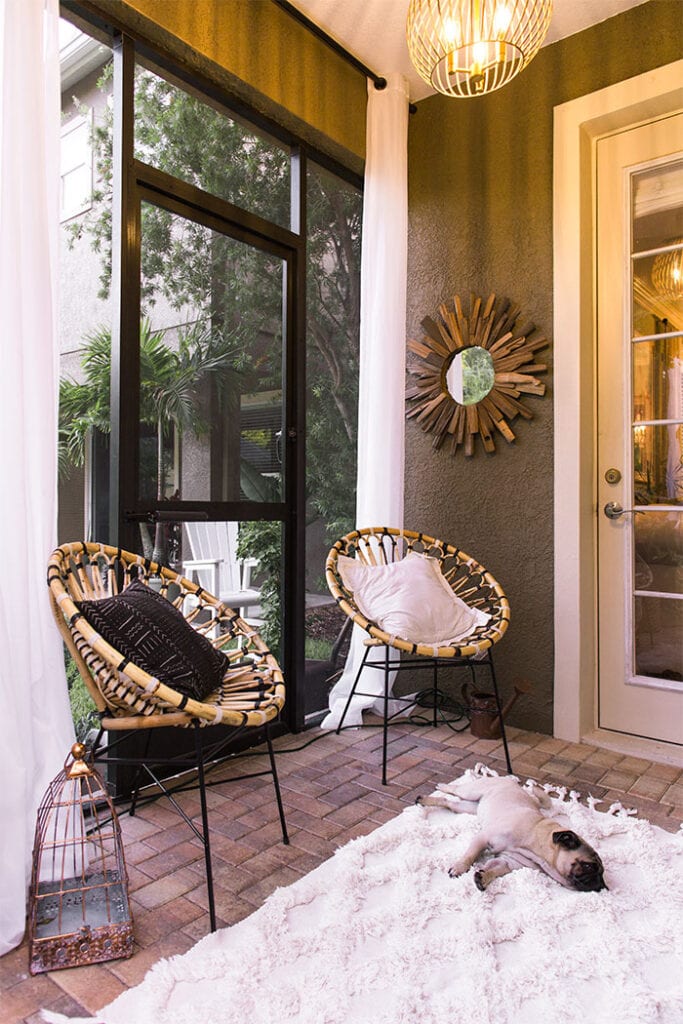 Pin
I sure wouldn't mind entertaining here…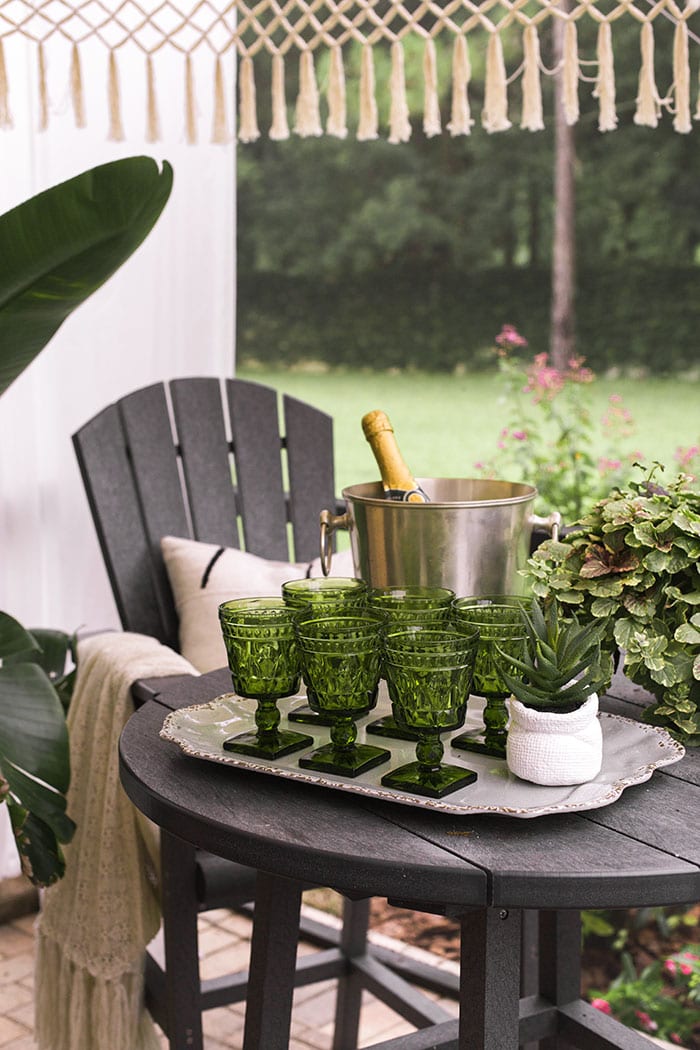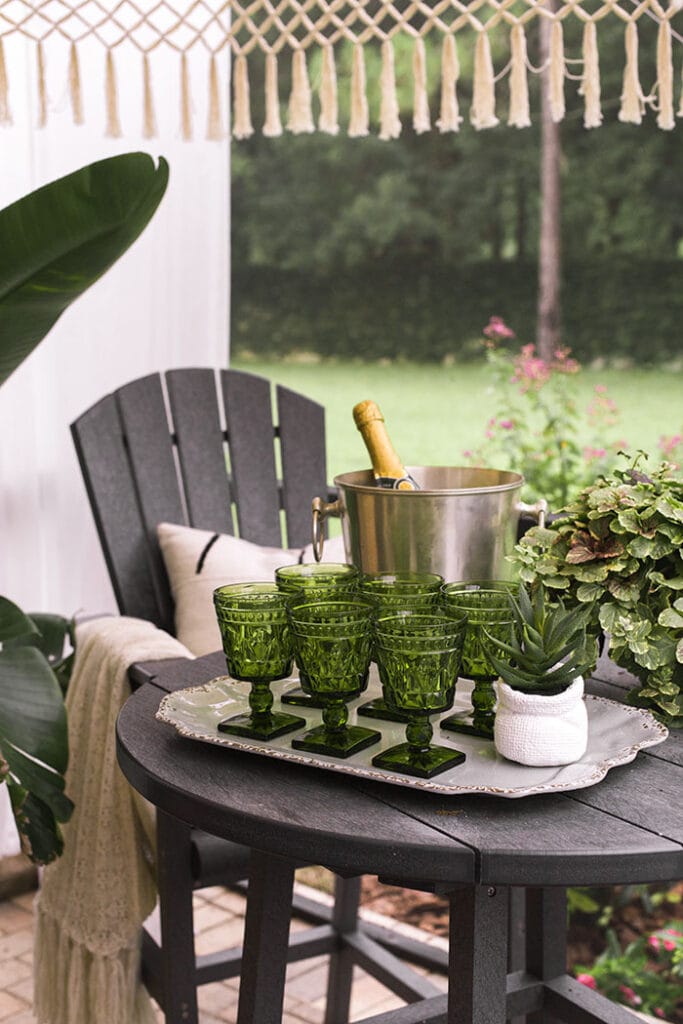 Pin
My favorite time to be outside is the golden hour, just before the sun sets.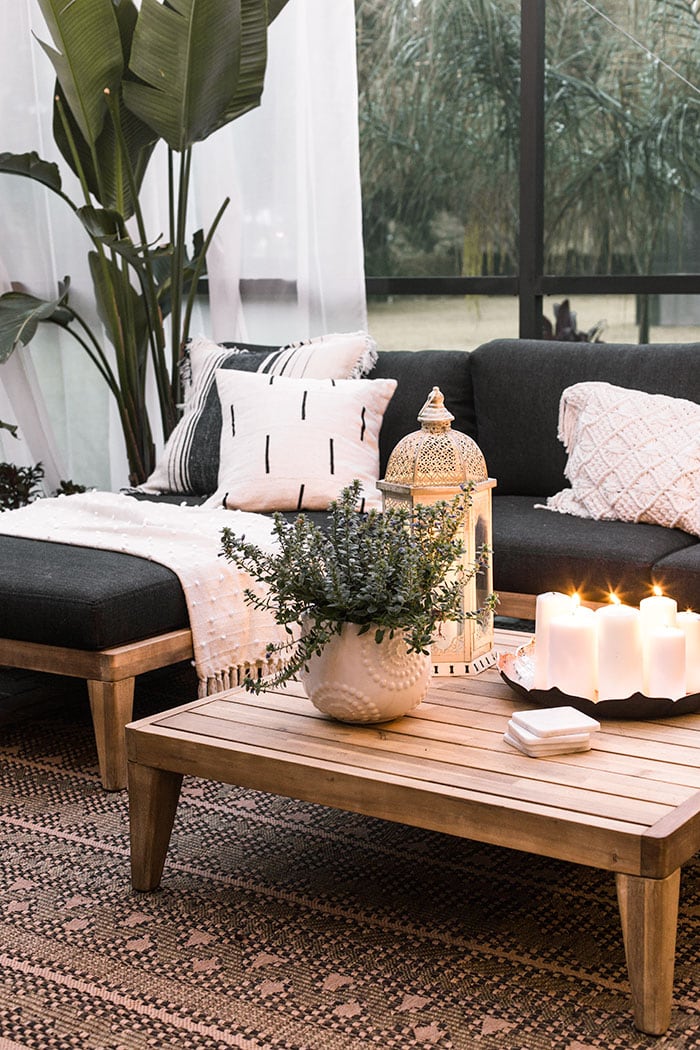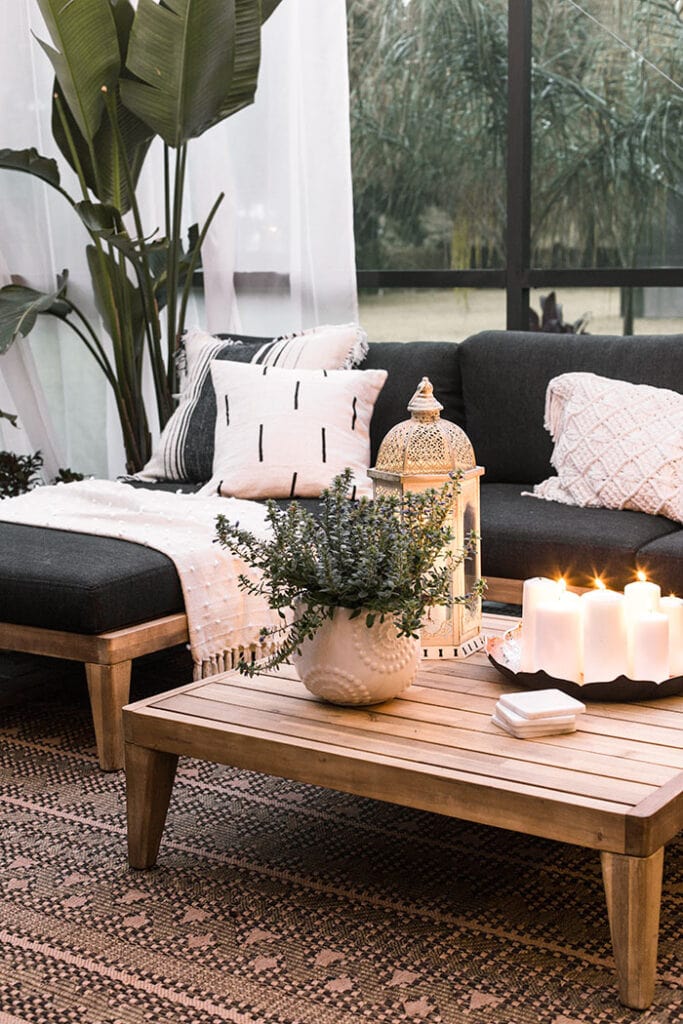 Pin
When you've got that evening glow from the sky, string lights and candlelight…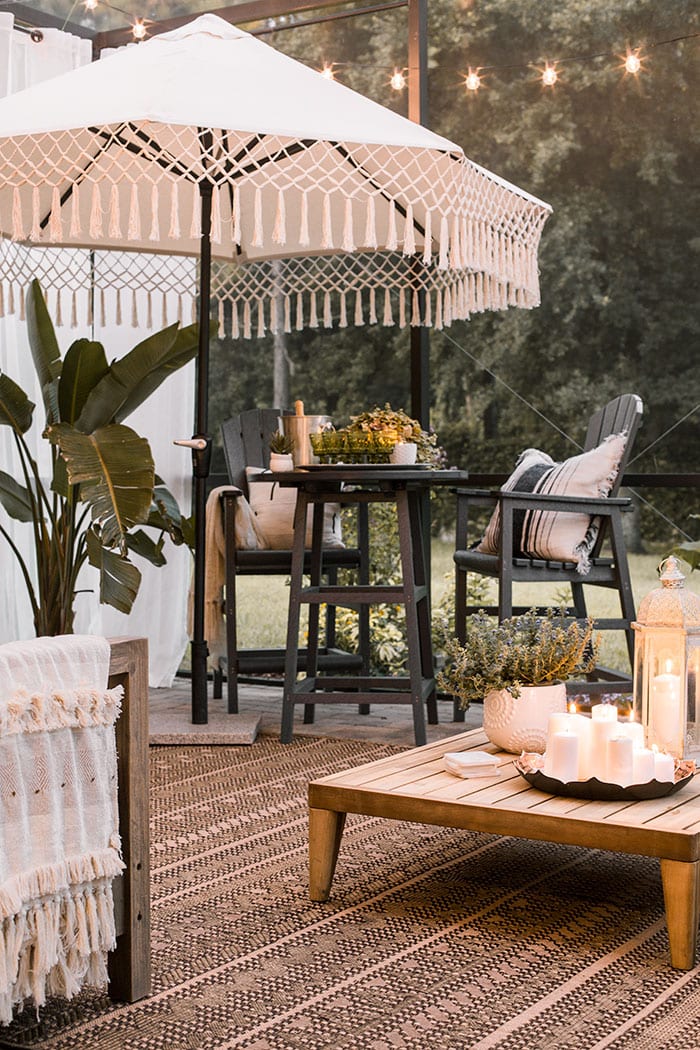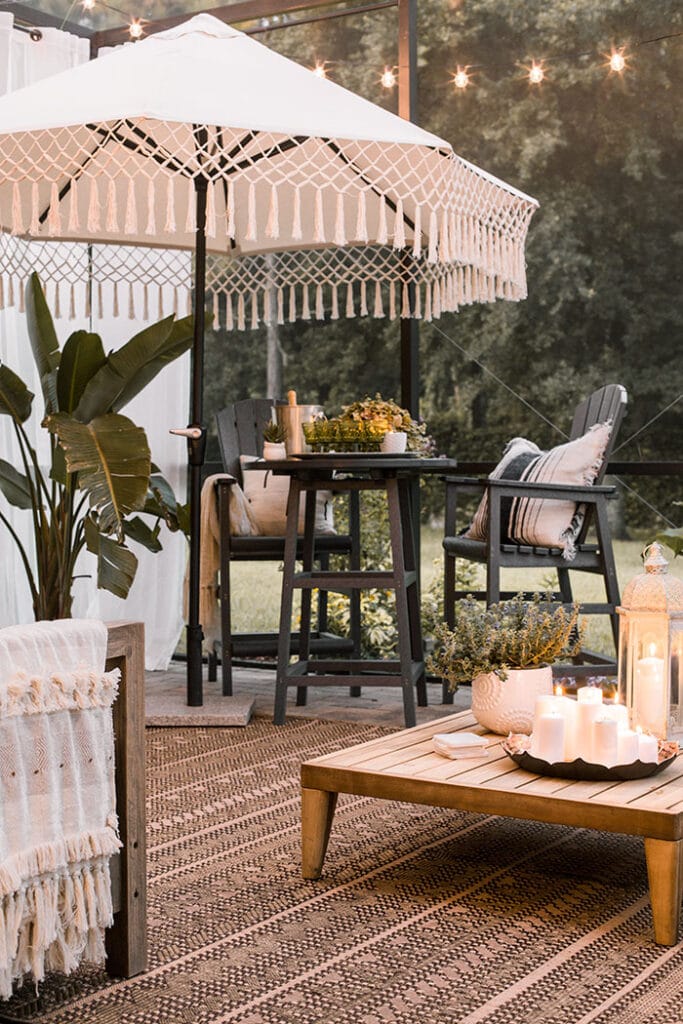 Pin
Summertime is magic—don't you agree?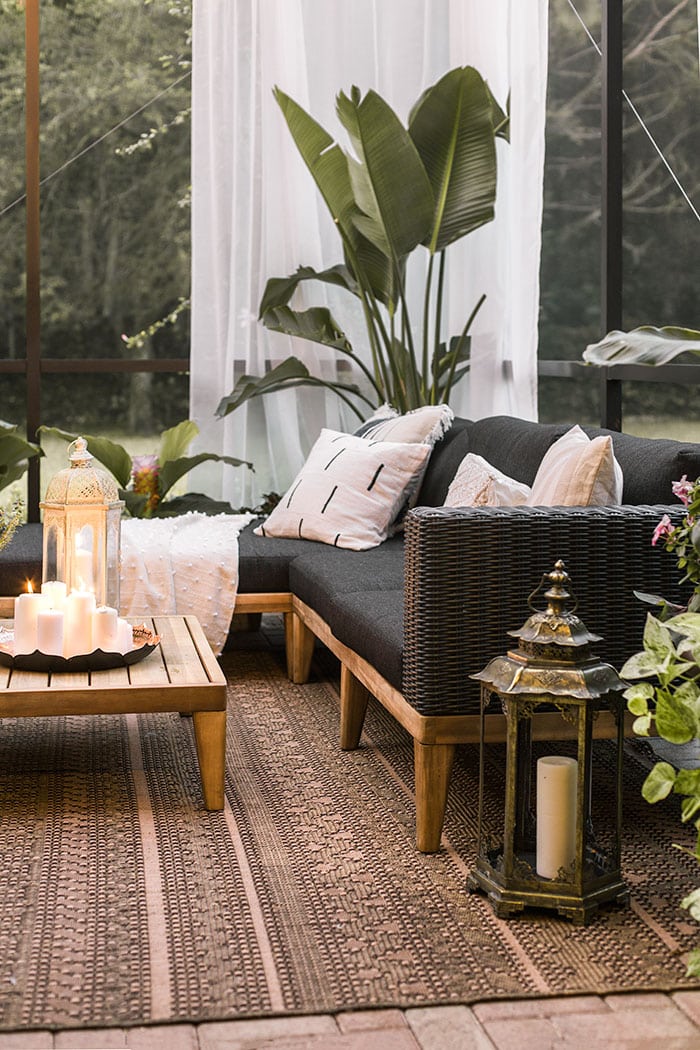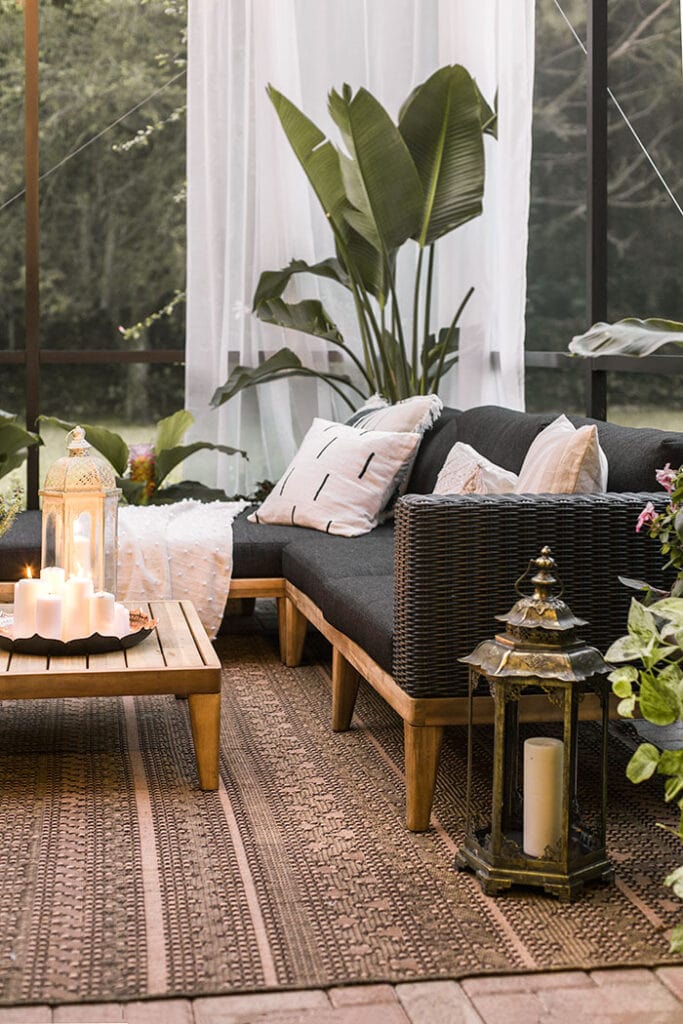 Pin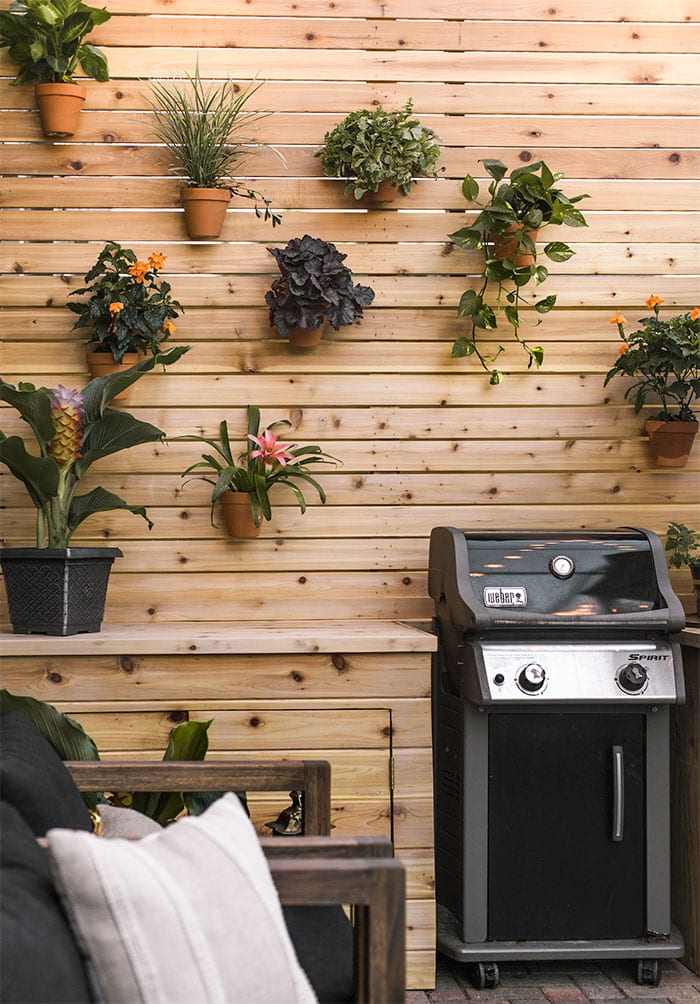 Pin
I'll leave you with the outtakes of the pup photoshoot: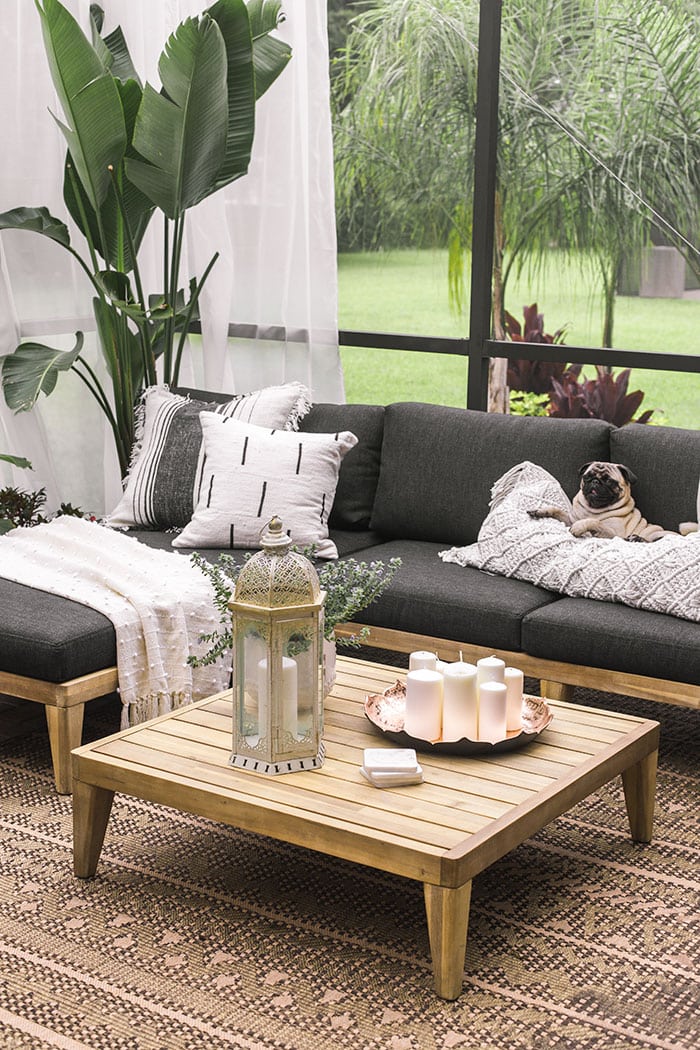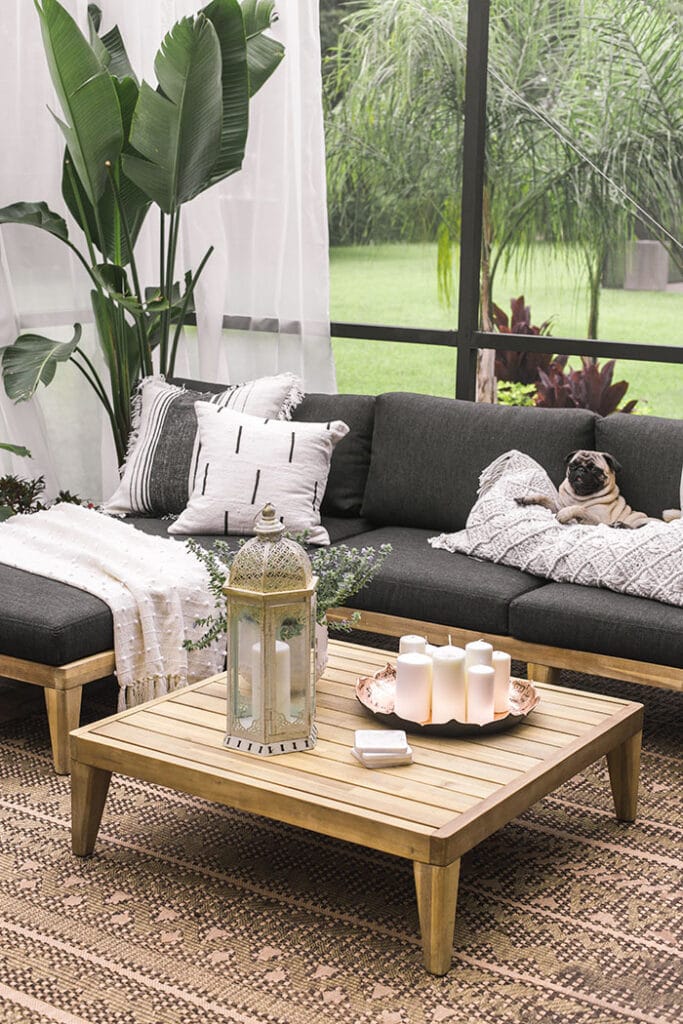 Pin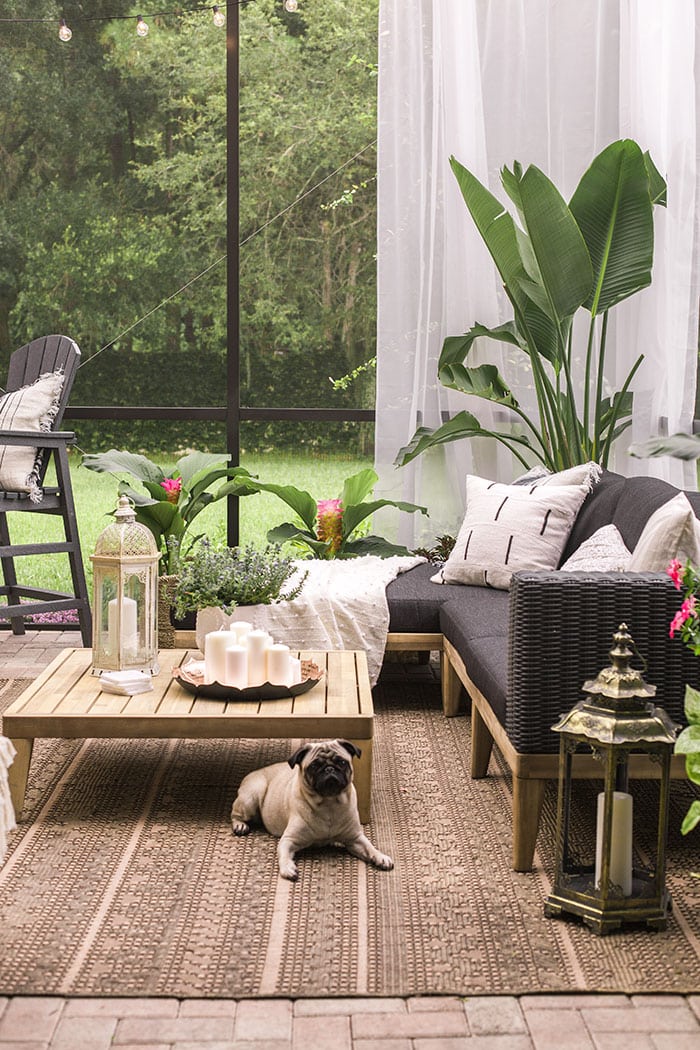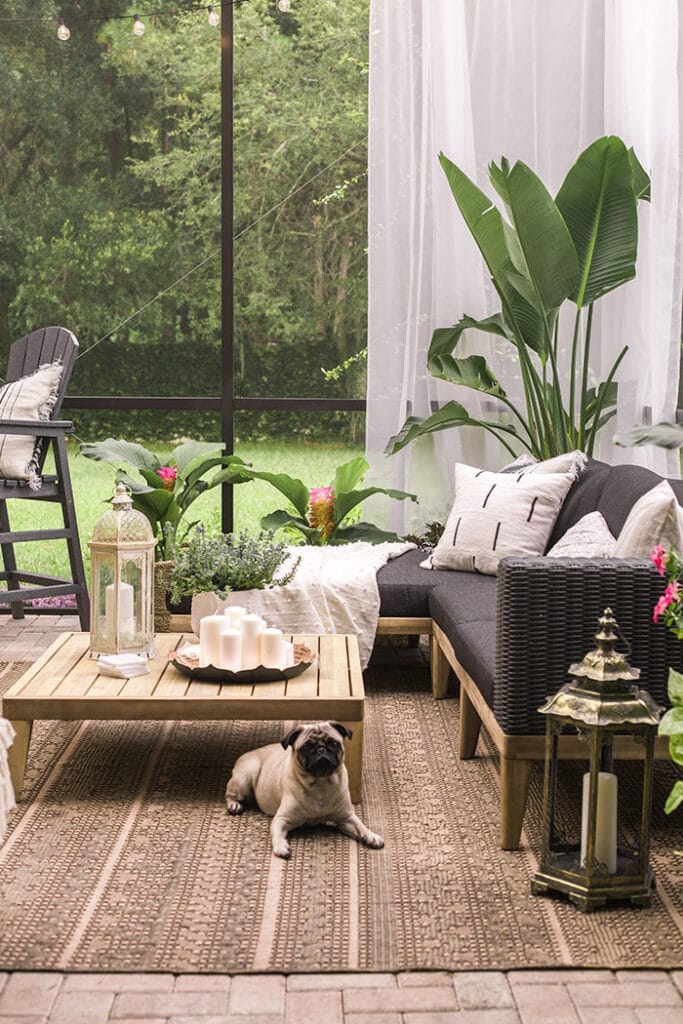 Pin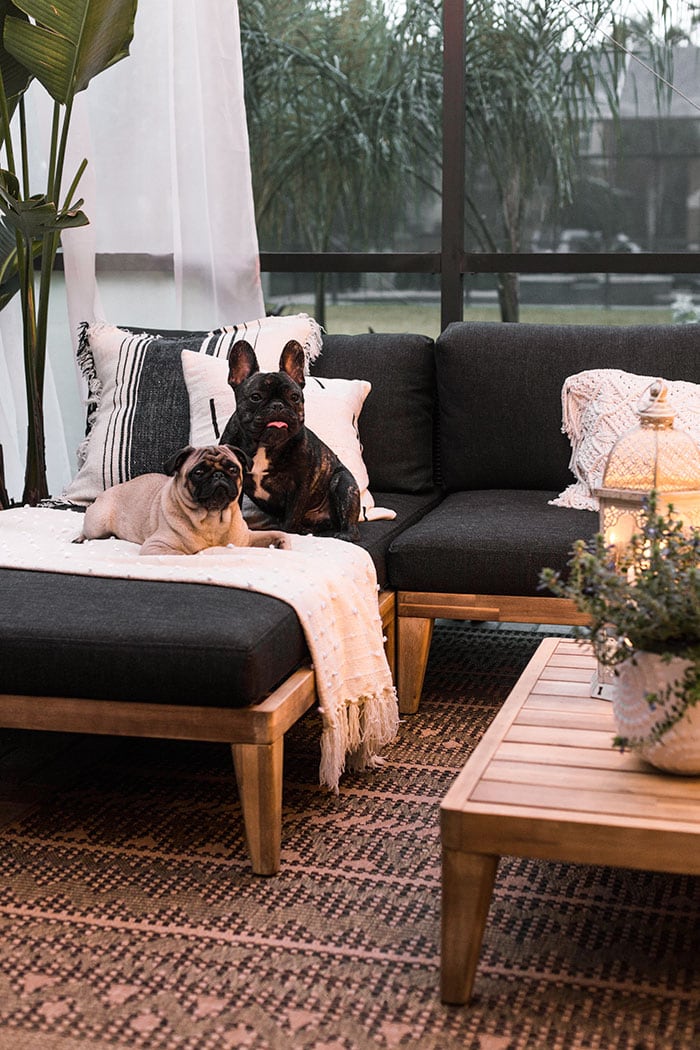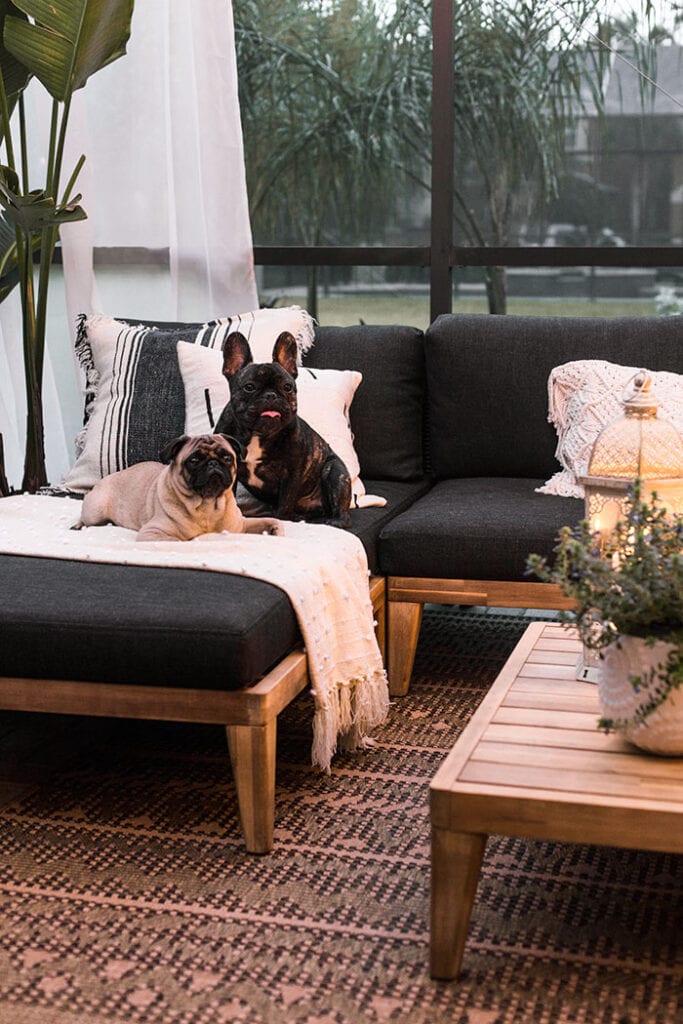 Pin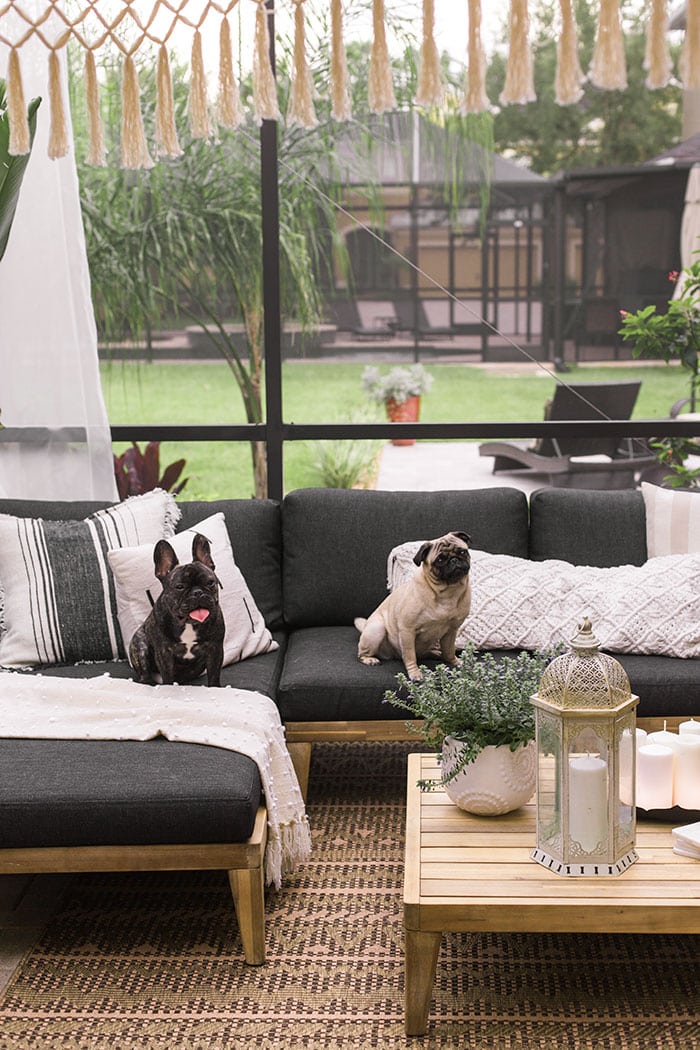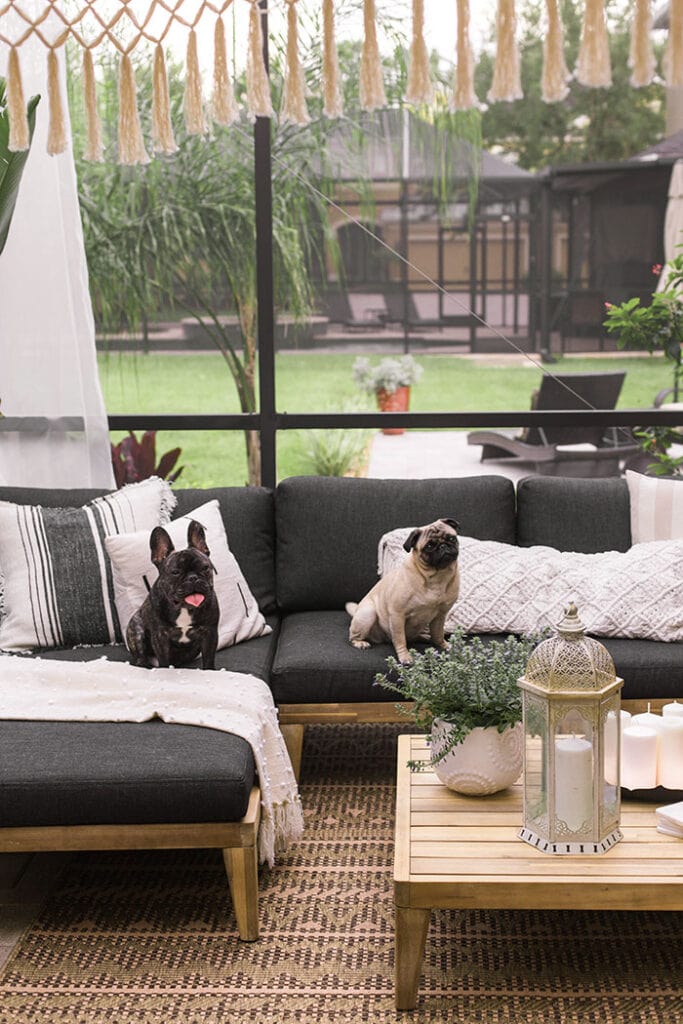 Pin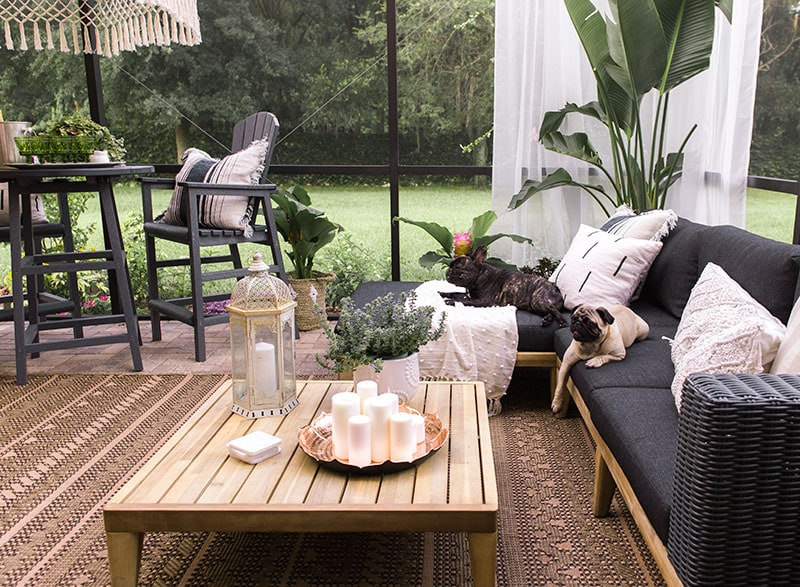 Pin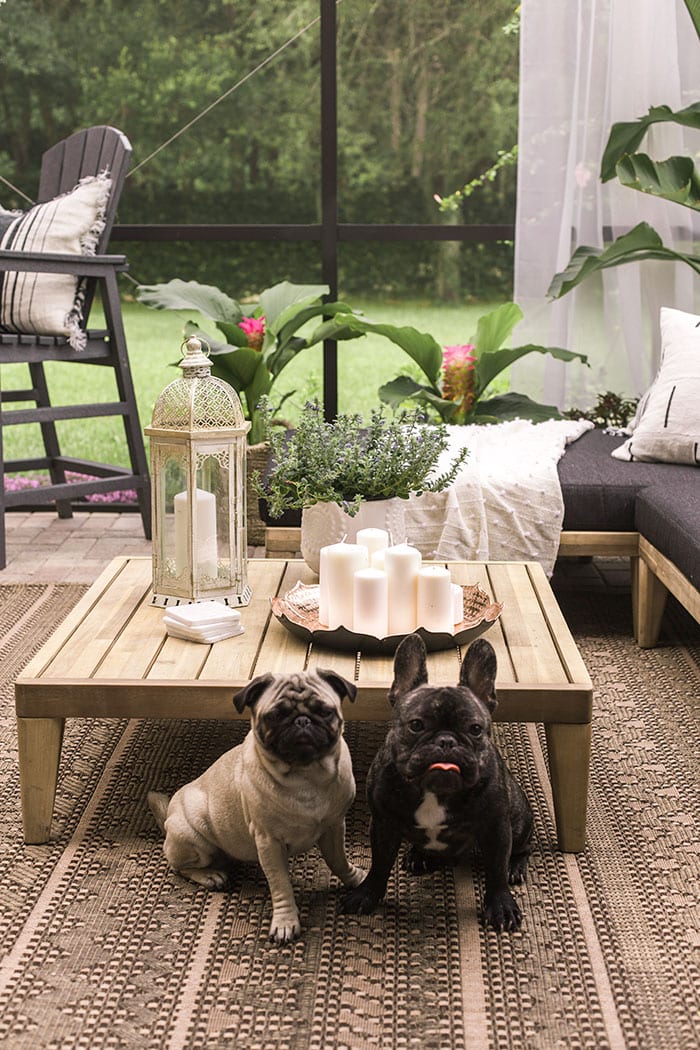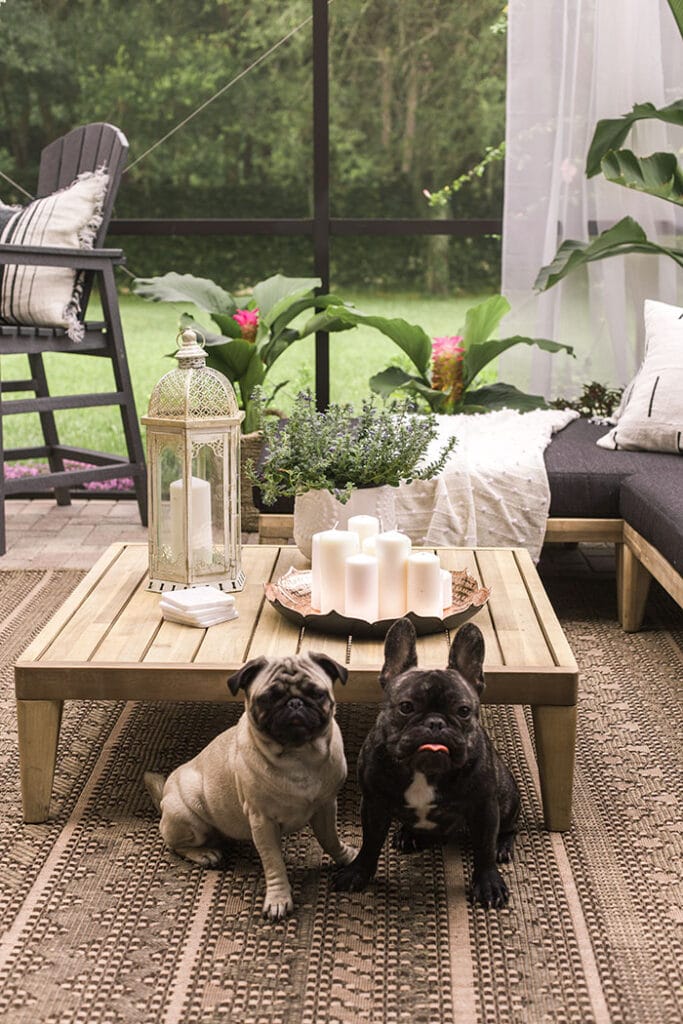 Pin
Sources
Sectional: Urba Slate Gray
Coffee table: Urba
Two wood chairs: Arca
Two round chairs: Daisy lounge
Rug: Wayfair 7×10″
Curtains: Lowe's
Patio table: Wayfair (old)
Patio umbrella: World Market (sold out, similar here)
Cafe lights: 125 ct, Amazon
Faux ivy wall: Amazon
Mudcloth pillow covers: Sew + Cloth, Etsy
Striped pillows: Annie Selke
Blankets, lanterns, planters, misc decor: Home Goods & Ross
Pssst… looking for outdoor entertaining ideas? I'm sharing my top 5 tips (and reliving past patio makeovers) on Simon Said!