Some of you may have caught a few glimpses of our DIY progress in this room on my Instagram stories over the past several months, but it's one space in this house I haven't shared yet… until today!
Here's how it looked earlier this year when the house was still under construction: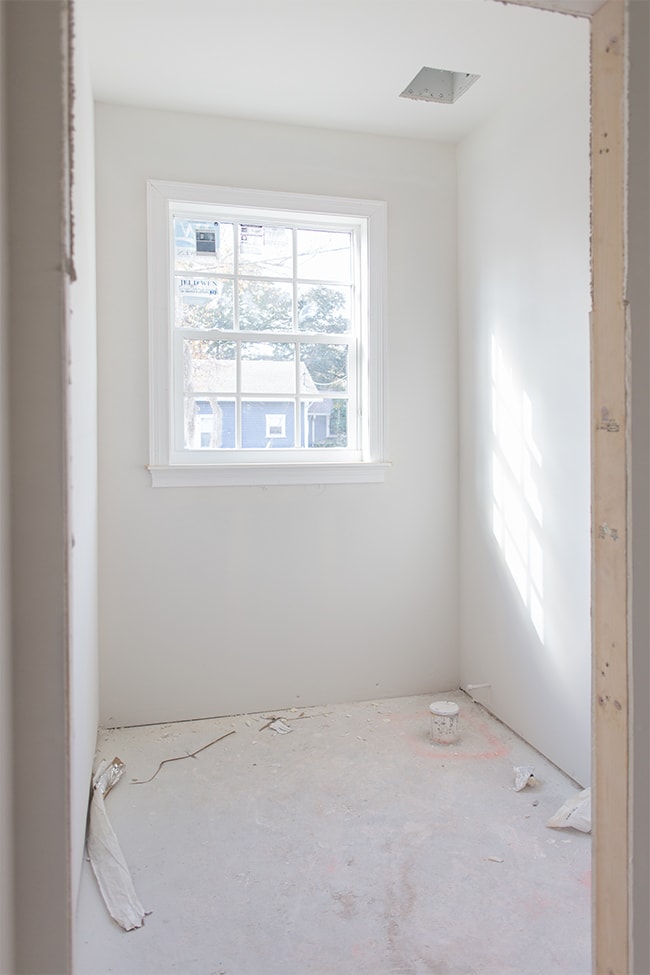 Pin
And here was the design plan I came up with: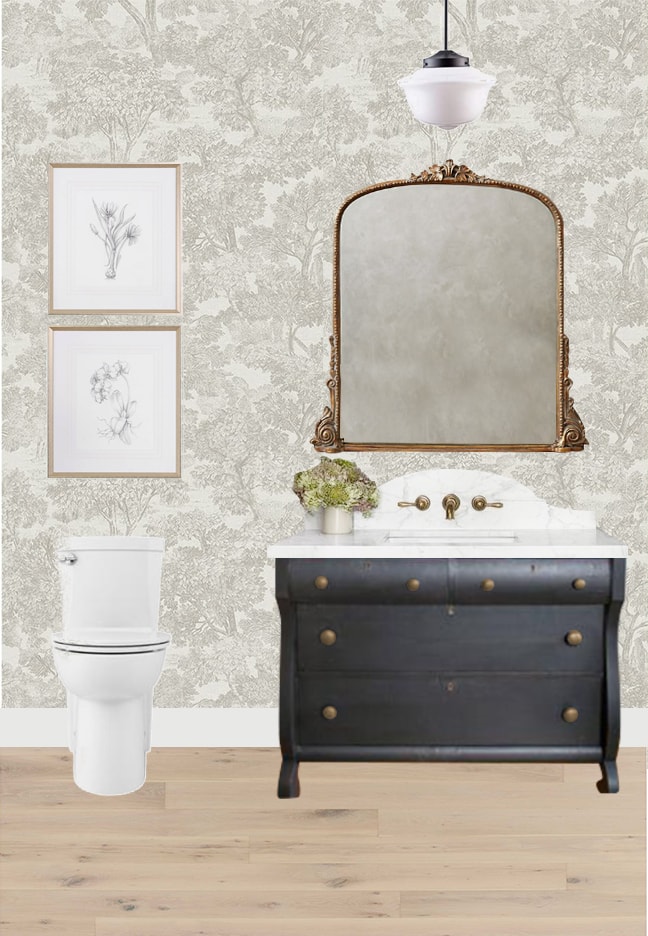 Pin
After the floors and trim were in, Lucas and I installed the wallpaper. I didn't save any photos of this process and I'll say it was by far the most challenging wallpaper installation we've done because it wrapped around the whole room. I'm just glad our marriage survived the ordeal 😉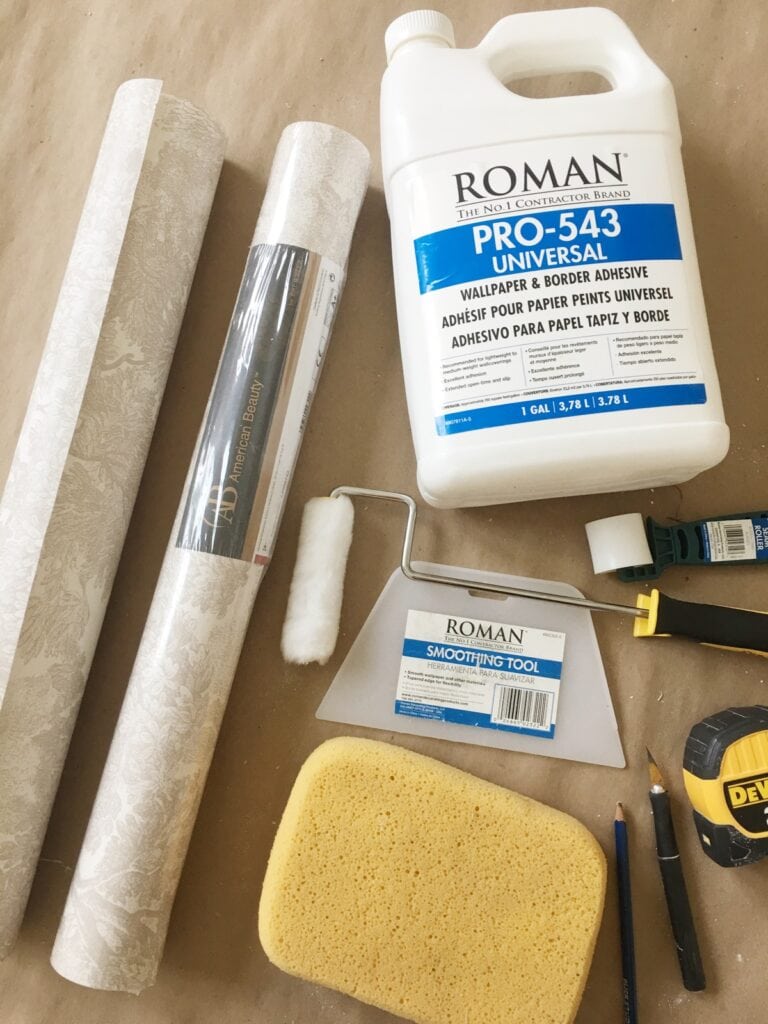 Pin
Fortunately, this pattern is extremely forgiving and you don't notice all the areas we had to slice into unless they're pointed out!
The other major player in this space is the vanity. For weeks I looked for the perfectly sized vintage dresser, and finally found it on Craigslist for a bargain (diligence pays off!)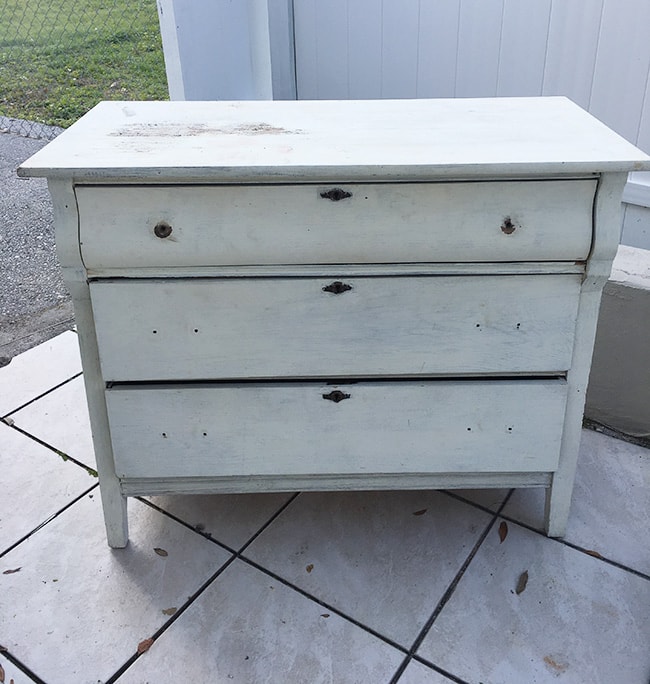 Pin
I sanded it down and refinished it with Maison Blanche's Wrought Iron vintage furniture paint which gives it a super rich velvety finish, and sealed with Maison Blanche's clear antique wax.
Pin
I also kept the original wood knobs and gave them a couple coats of Rustoleum Metallic gold spray paint, which I believe is the most realistic gold shade in a can (I did my research!)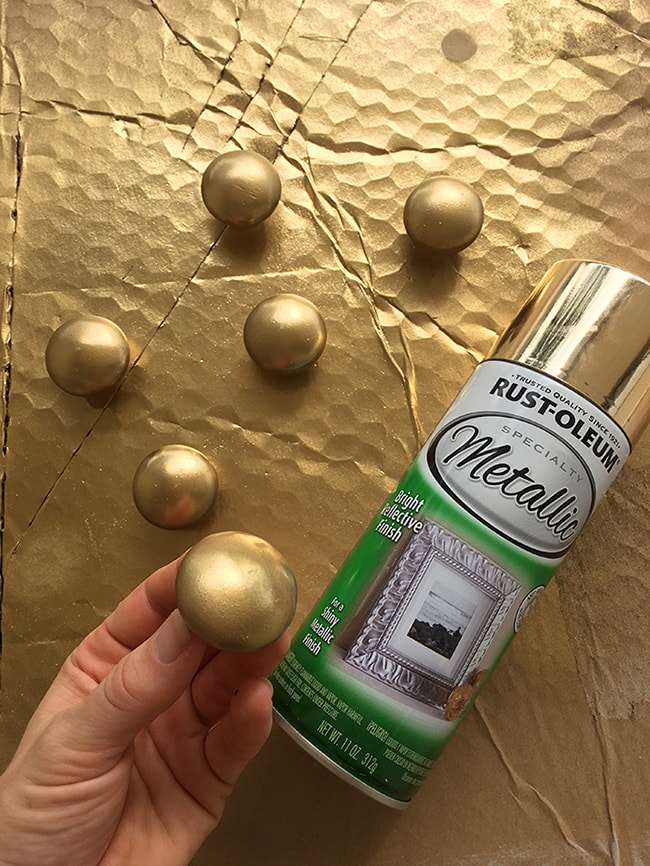 Pin
For an added layer of dimension and protection, I wiped on a bit of gold rub n buff as well (that stuff is my new favorite find, I'll have to do a blog post all about it!)
To convert the dresser into a vanity, I opted for an undermount sink (because of the taller height) so we had to cut out the center of the top two drawers to accommodate the plumbing. Easy work with our dremel.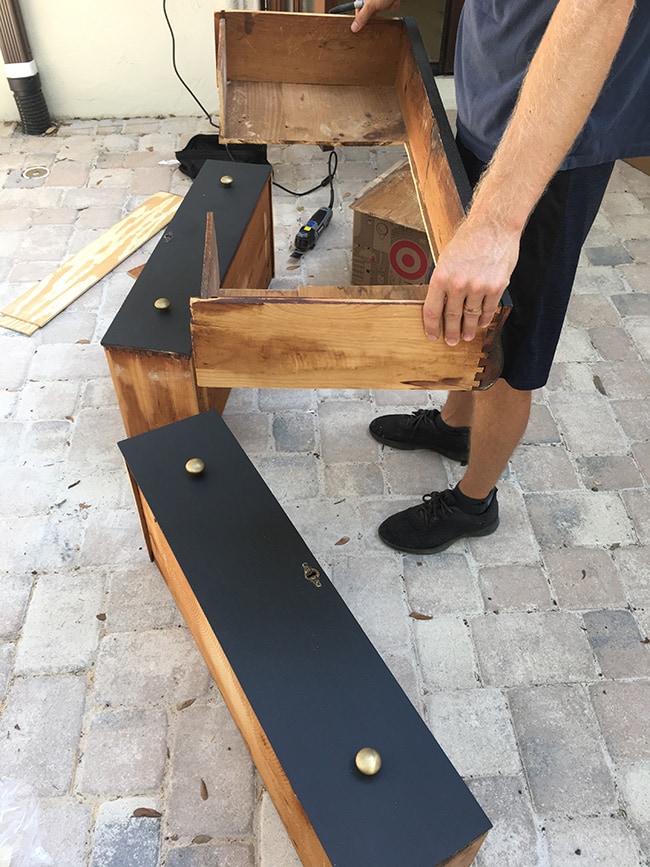 Pin
Then we had a custom top and backsplash made from white quartz (I arranged this through my builder's stone guy). I was able to show him inspiration photos, give him the dimensions and he did the rest.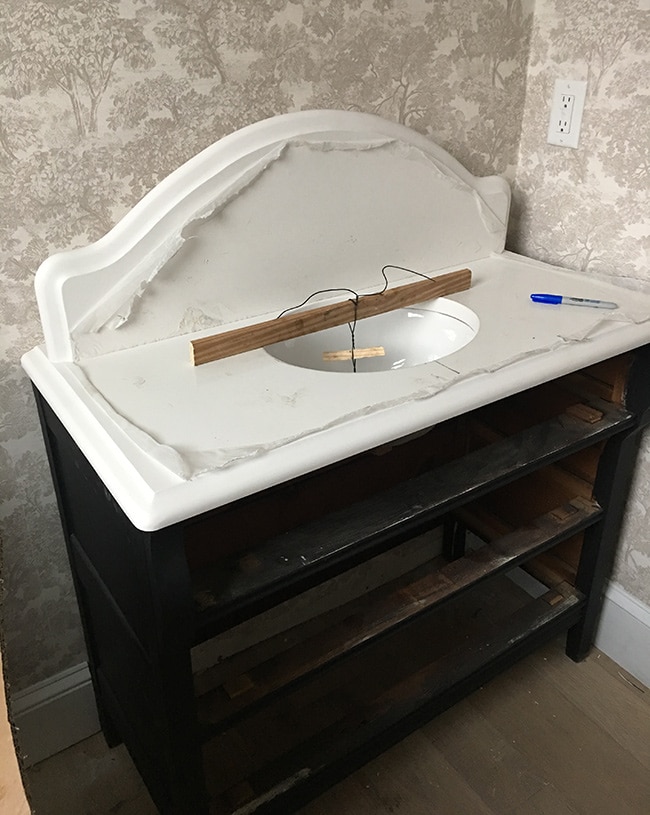 Pin
And then came the wall mounted faucet of my dreams (the price dropped $80 since I bought it earlier this year—still worth every penny!)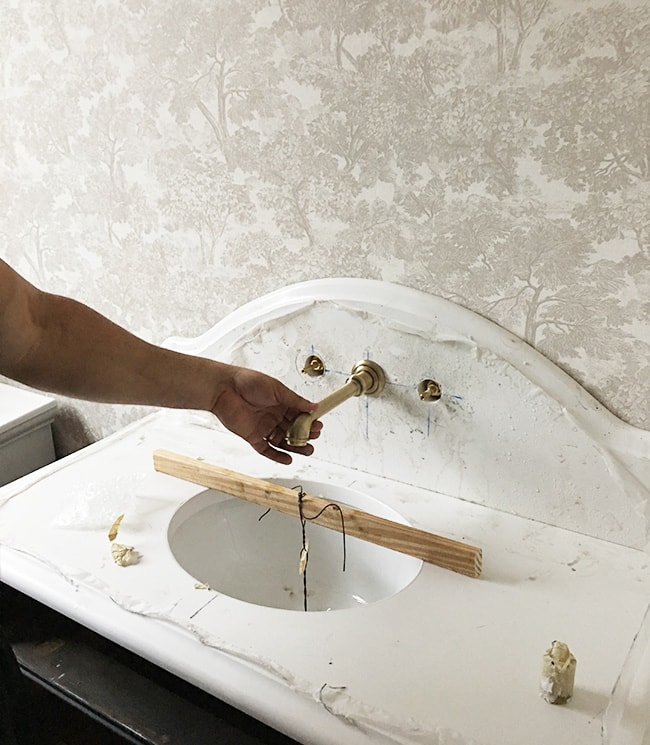 Pin
Tip: if you're building a new home… make sure to plan out all of your plumbing BEFORE the rough-in stage! We had to pay to redo the plumbing in this room because I decided on a wall mounted setup after the fact. Sigh…. but #noregrets.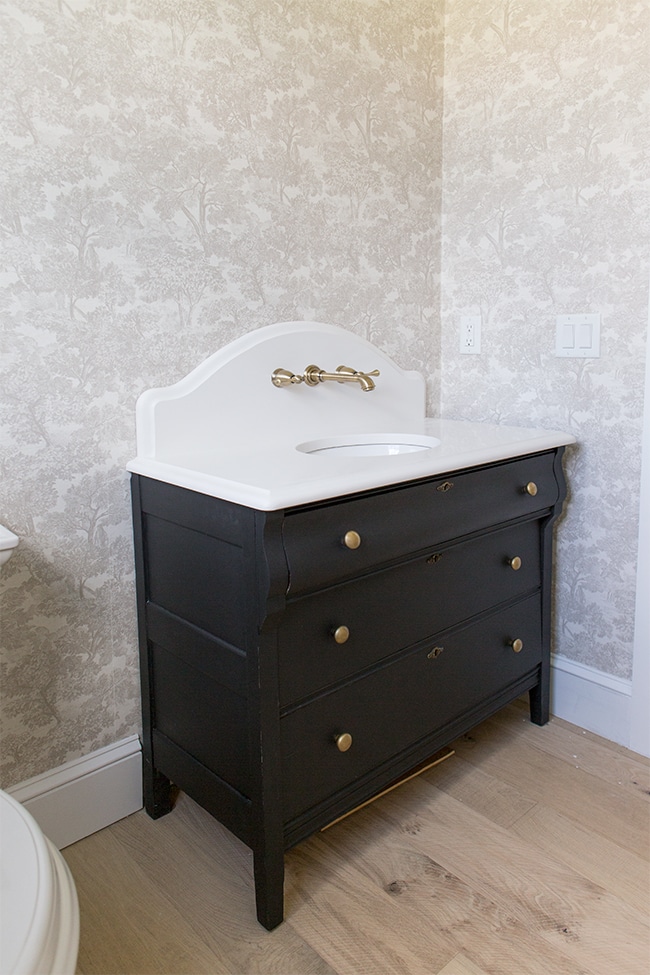 Pin
I saved money with a $41 sink, then splurged a little for my favorite handsome toilet (of course).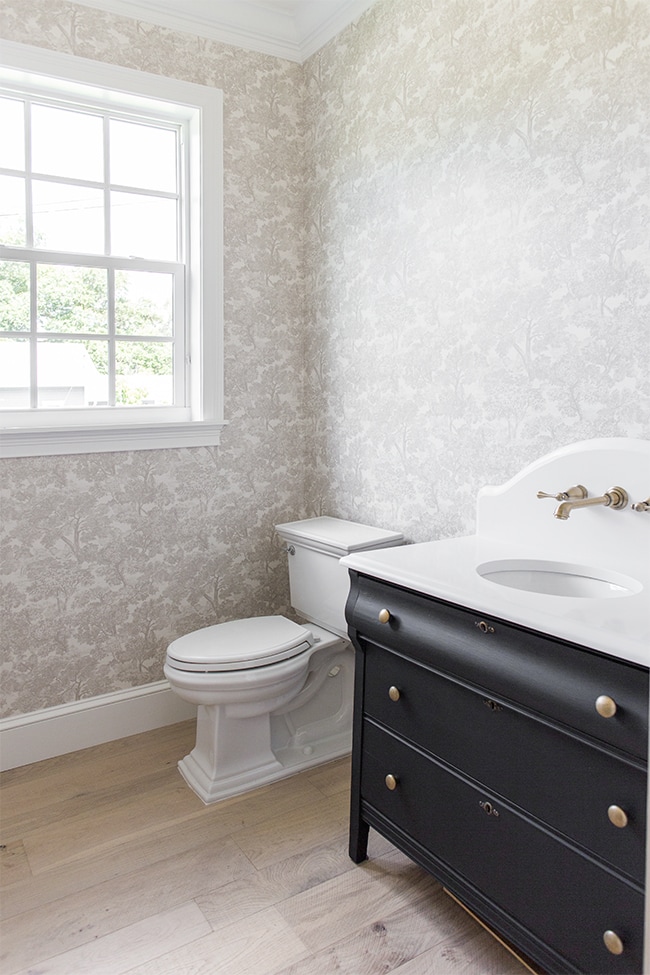 Pin
A few more little details, and this room is done!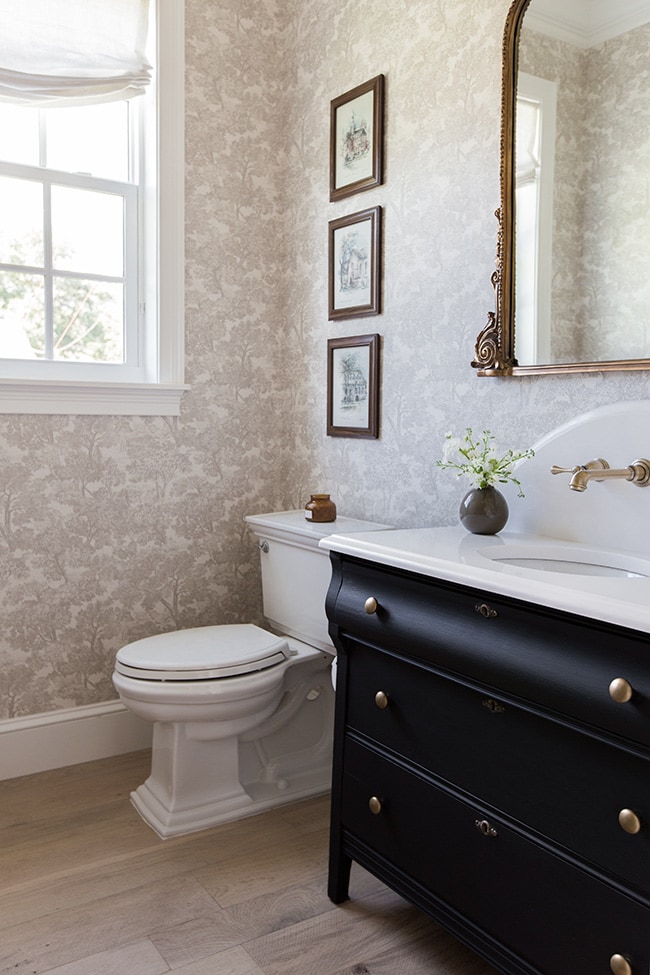 Pin
The very last piece was just installed last week—our custom linen roman shade from JCPenney of all places. This is the fourth one I've purchased and I'm obsessed with them (especially for the price!)
Pin
I'm a huge fan of classic toile, and I think powder baths are the perfect place for it.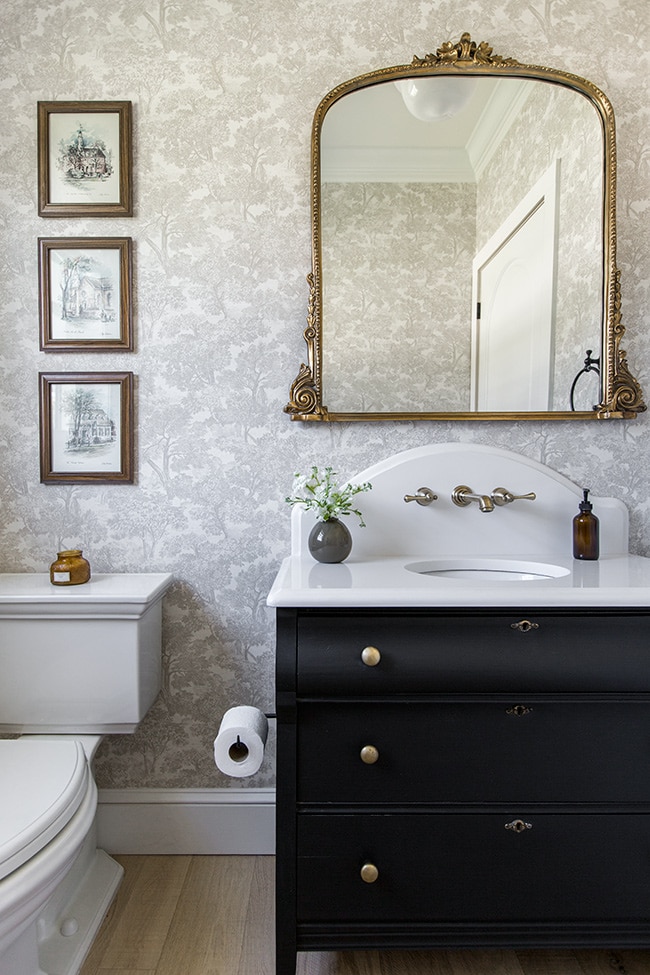 Pin
You can barely see it peeking through in the next photo, but I found this great vintage style pendant light for only $90:
Pin
I love the way the vanity turned out, too. Refinishing dressers are the easiest way to save money and add character—win-win!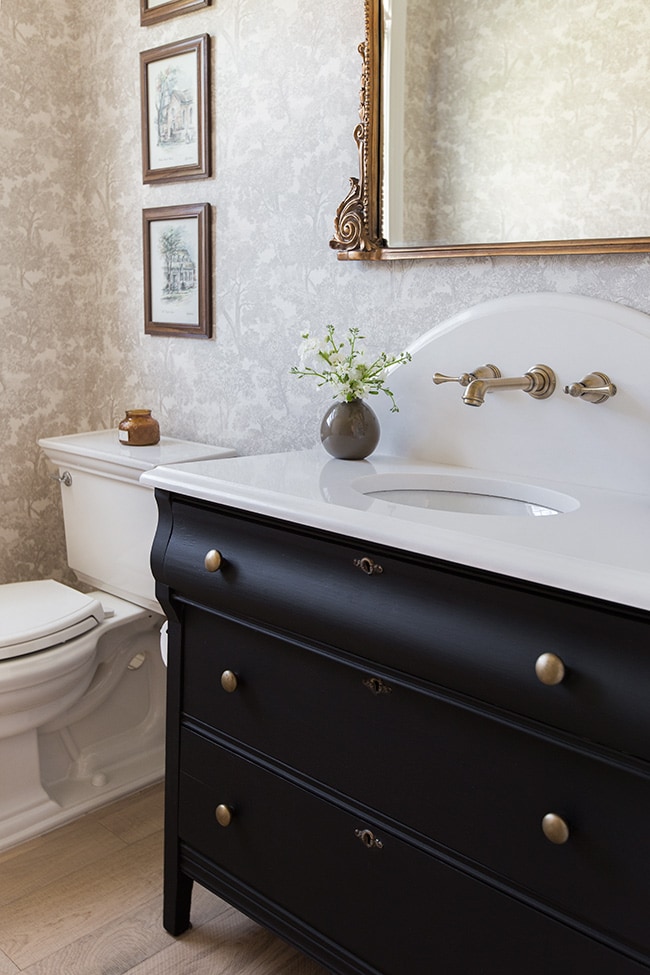 Pin
One of my favorite things in this room is the Anthropologie mirror. I'd been eyeing it for months and actually received it as a gift from a client!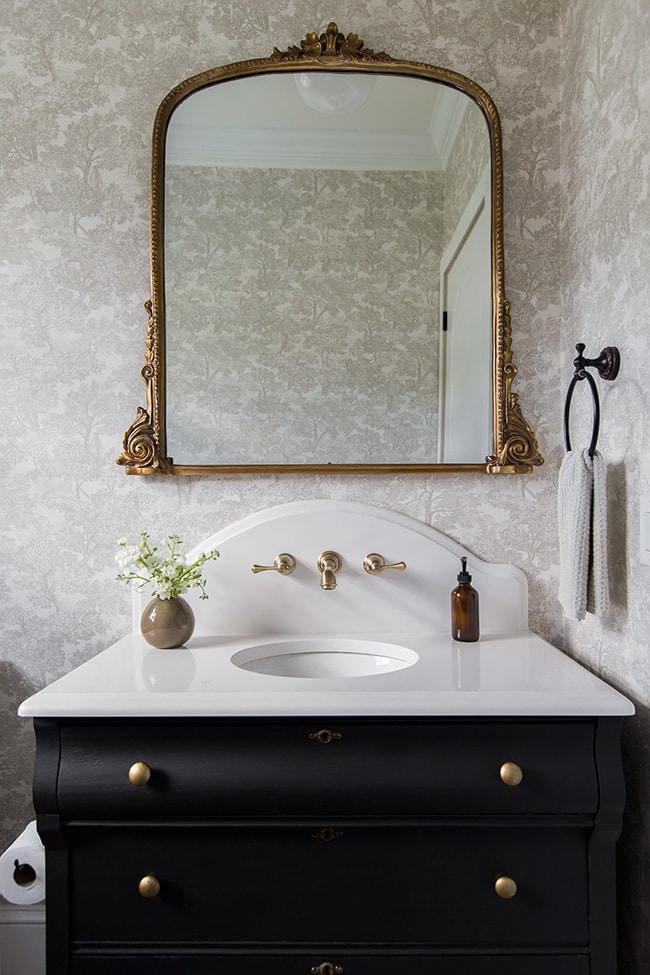 Pin
This room is really all about the small details, like the 9″ Emtek door handles used throughout the house (you can read more about our door hardware in this post).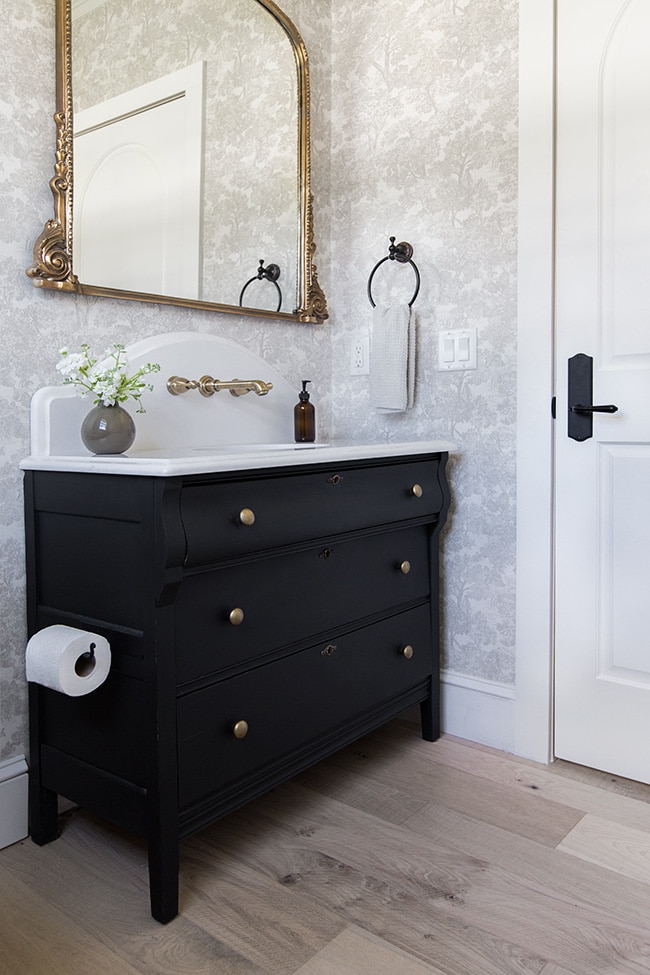 Pin
Another budget buy was the $15 Amazon towel ring and $20 wrought iron TP holder.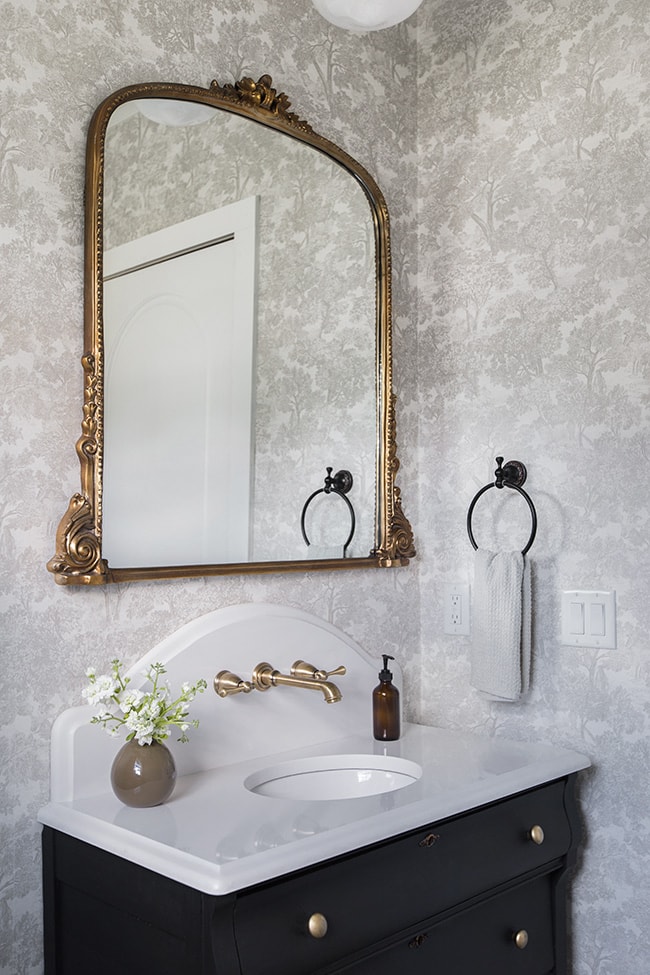 Pin
I love using these amber bottles for hand soap—I bought several to use in multiple bathrooms. The vase was a $1 thrift store find!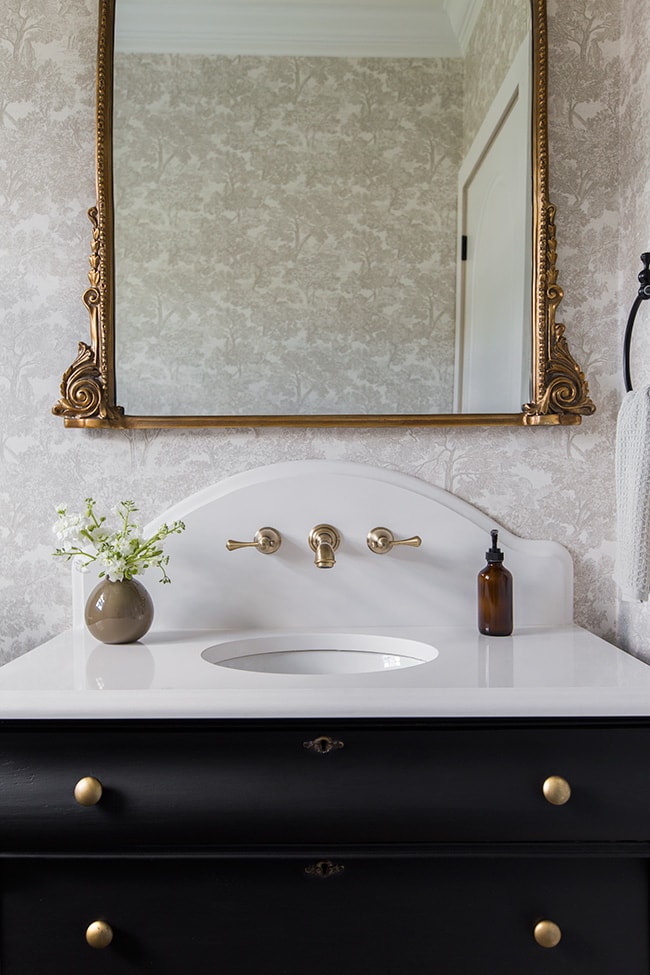 Pin
These vintage framed drawings were also a thrift store find from years ago.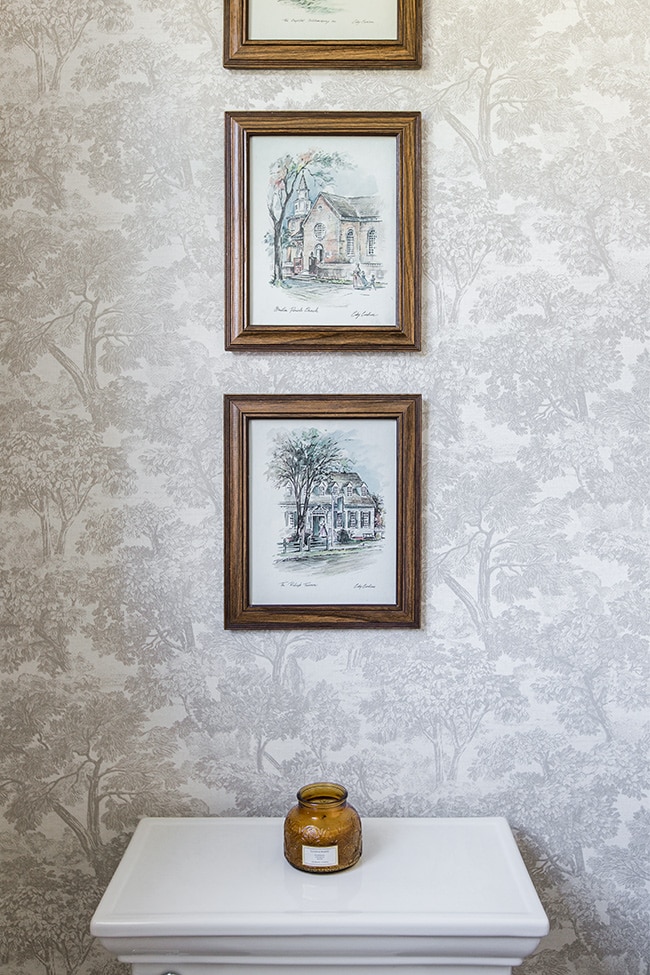 Pin
I think that covers everything!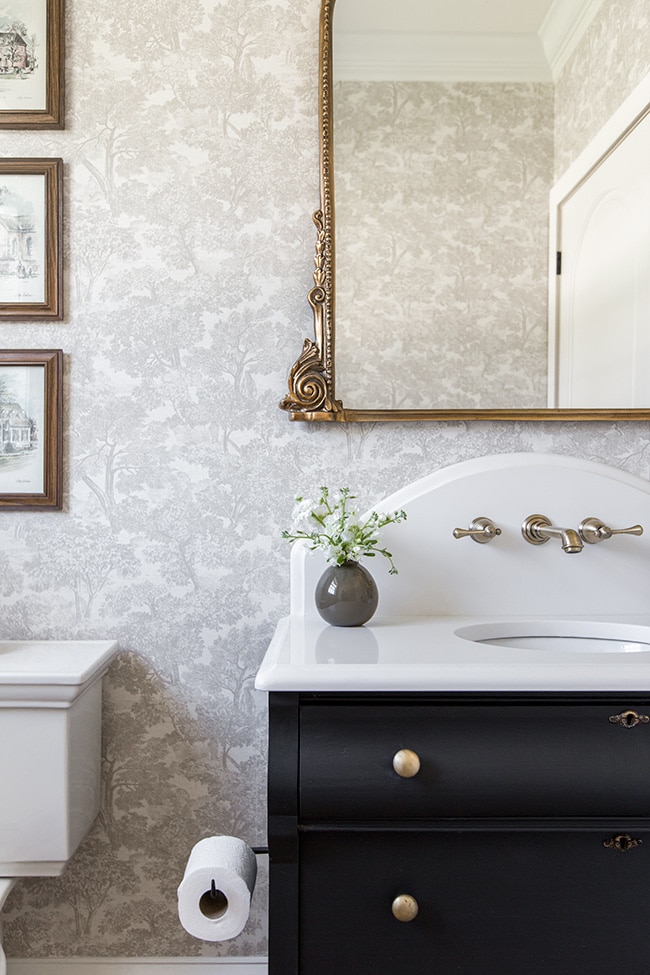 Pin
What's your favorite detail?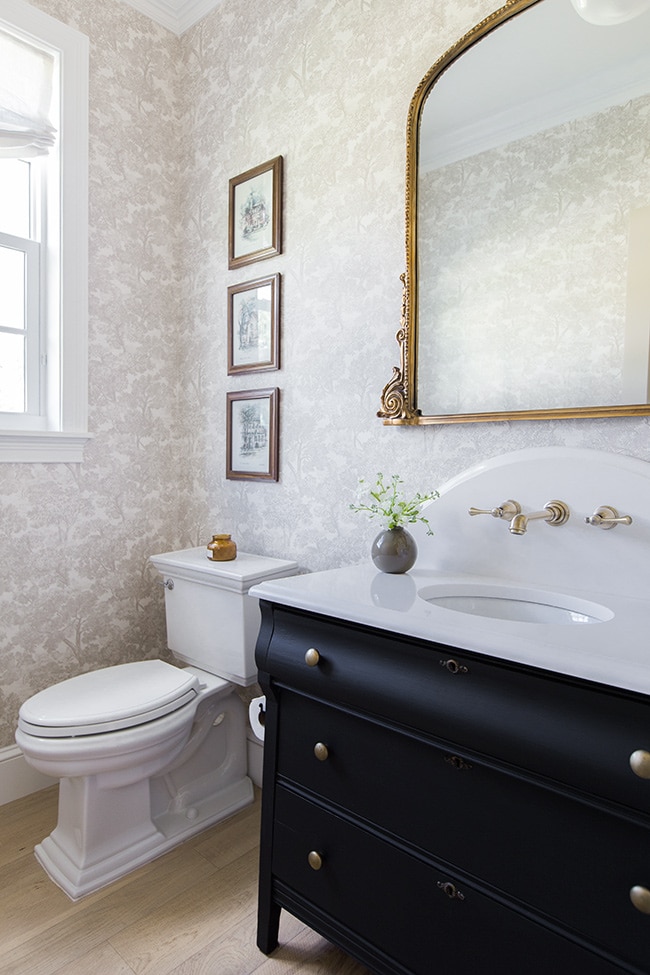 Pin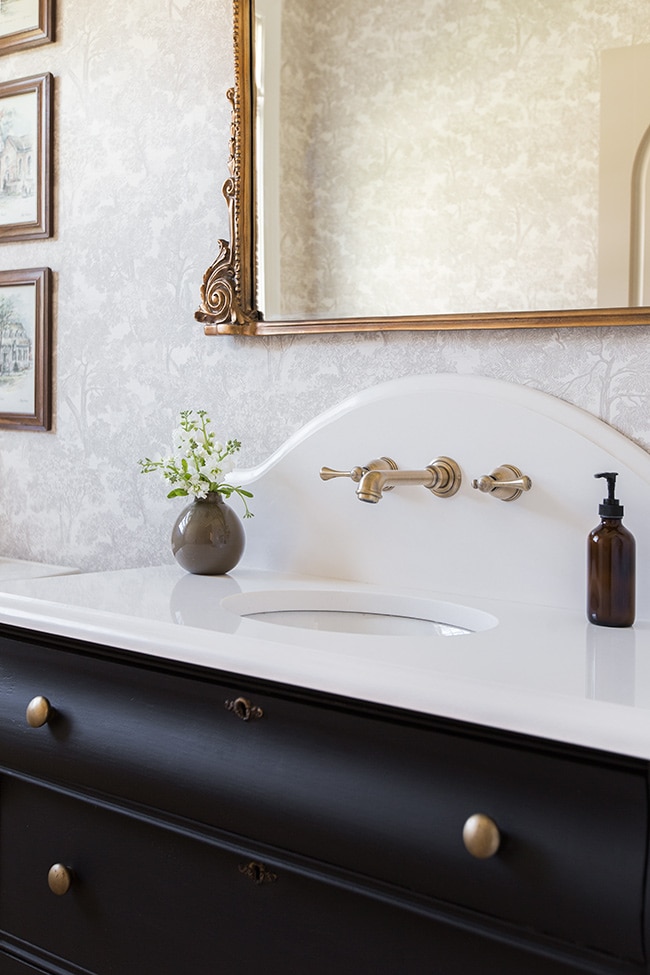 Pin
Sources
Trim: SW Pure White
Vanity: Vintage, Maison Blanche Wrought Iron paint
Artwork & vase: thrifted
Next on the blog: our new smart home features plus living room design plans!