It's not often talked about in the home/design blogging world, but I believe smart home features are every bit as important (sometimes even more so) as design and décor. They provide convenience, comfort and safety, and keep our house (and lives) running smoothly.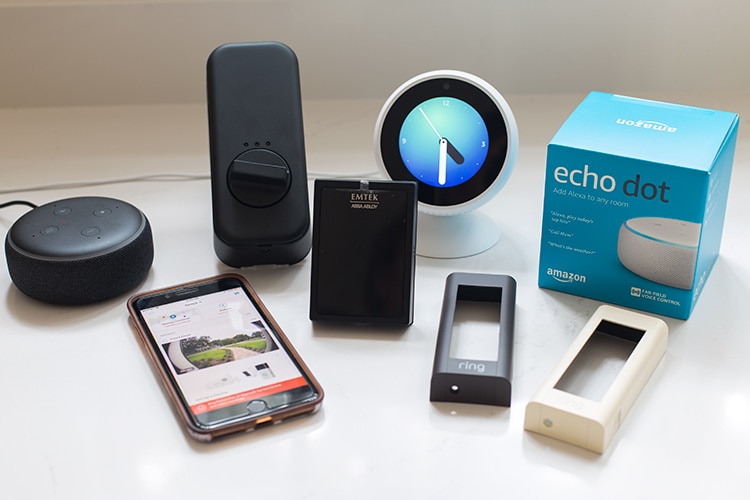 Pin
Now that we've finally settled into a permanent home after years of traveling and renting, researching and implementing smart home features has been a priority. We spend the vast majority of our time here, so why not make it as functional as possible?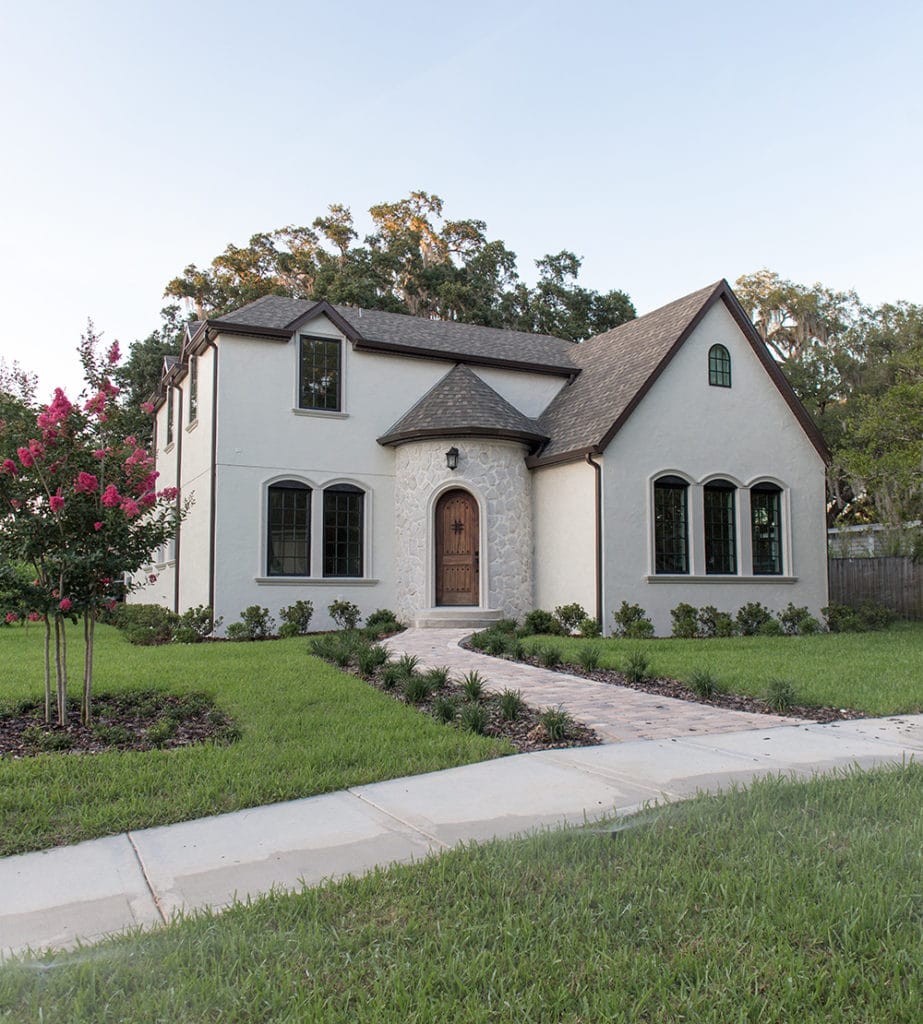 Pin
In this post I'll be sharing the features we've added to our home, our experience with them so far and what's next on our list. Good news: most are easy to install and easy on the wallet!
First, let's talk about these doors and locks (not smart home related but I've been meaning to share the sources!)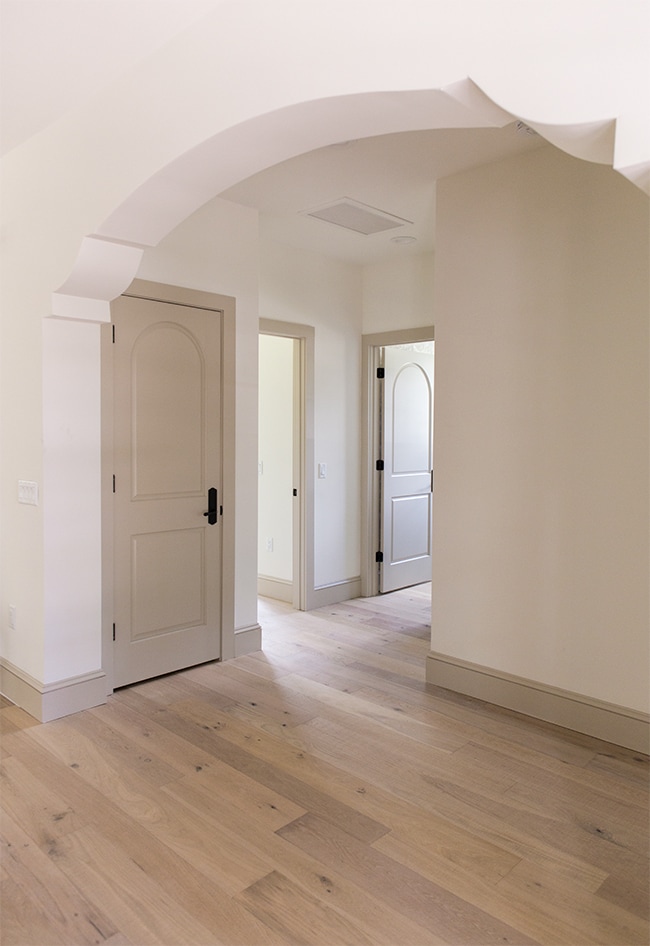 Pin
If you've been around for a while, you know my love affair with doors and hardware runs deep. They're one of the most important design elements in my book, and this house was no exception. I ordered custom solid core 7′ doors from a manufacturer on Ebay and had them painted in SW Accessible Beige.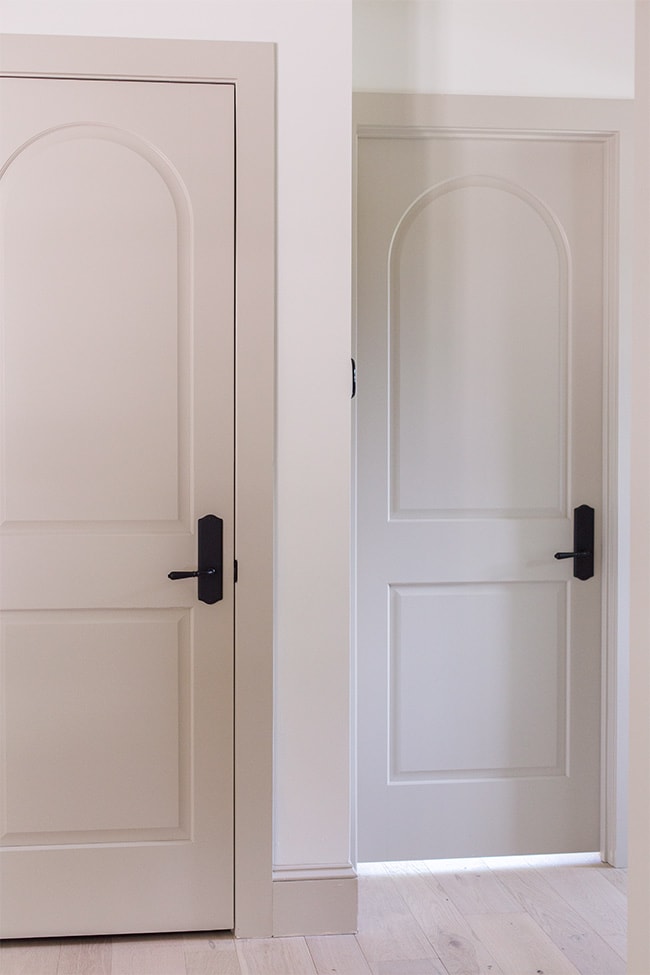 Pin
When it came to the hardware, I had a specific style in mind, and Emtek was my first choice. Apart from being well known for their quality, Emtek has an insanely huge catalog of options in every finish under the sun, so I was able to find exactly what I was looking for.
Pin
I opted for a 9″ Colonial plate with the turino brass lever in matte black for all of our interior doors. One of the best and most unique features of Emtek is the ability to mix and match different backplates, levers and knobs in different finishes—not only with full handlesets, but even on individual sides of the door! This really comes in handy if you have one side of the door painted a different color (which I often do) or want a different style for the interior of a certain room.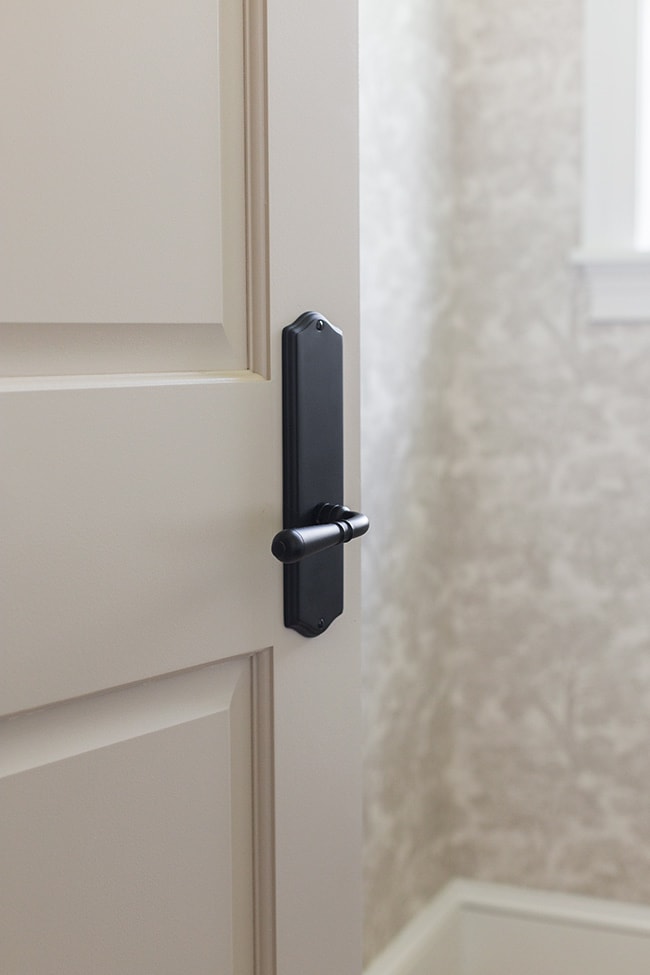 Pin
The matte black lever style goes with everything so I decided to keep them all consistent, but it's nice to know I can easily switch out different parts in the future if I change my mind.
Moving onto the exterior doors—here's where the technology comes in. We enter the house through the back patio french doors, and wanted a secure keyless entry system. Emtek just released their EMPowered Smart lock a couple months ago so we decided to give it a shot.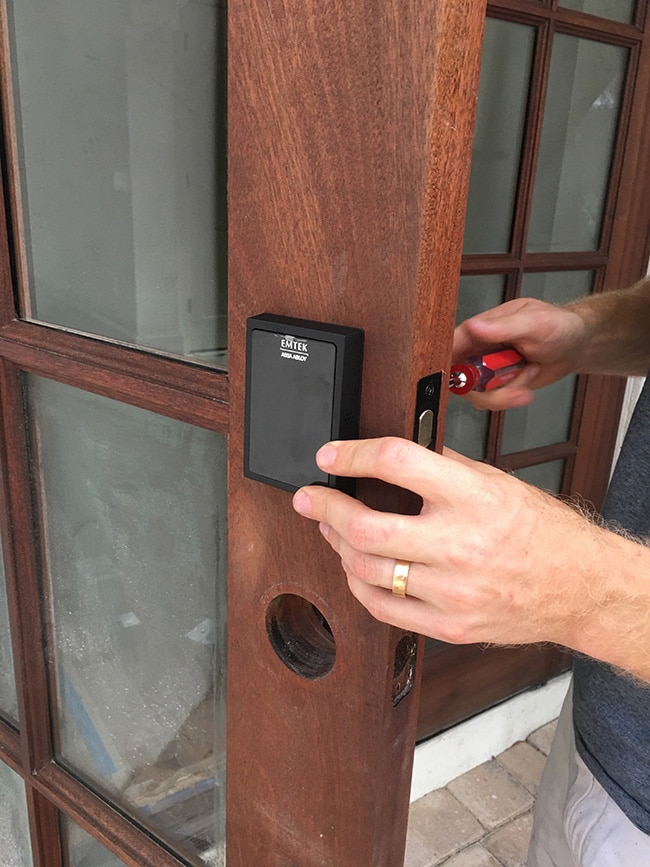 Pin
All you need is the smart deadbolt paired with a regular passage handle (no keyset/lock required) so I used the same 9″ colonial plates in matte black, but with knobs instead of levers.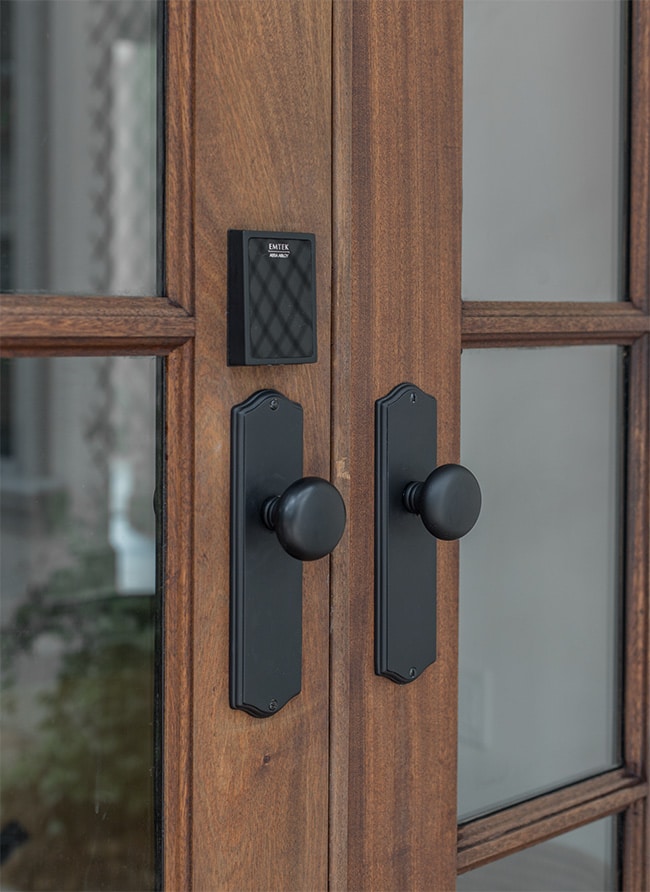 Pin
Installation and setup is straightforward, though you do have to drill an extra hole in the door frame for a sensor. We can't get enough of the sleek look (and hallelujah for no fumbling for house keys!)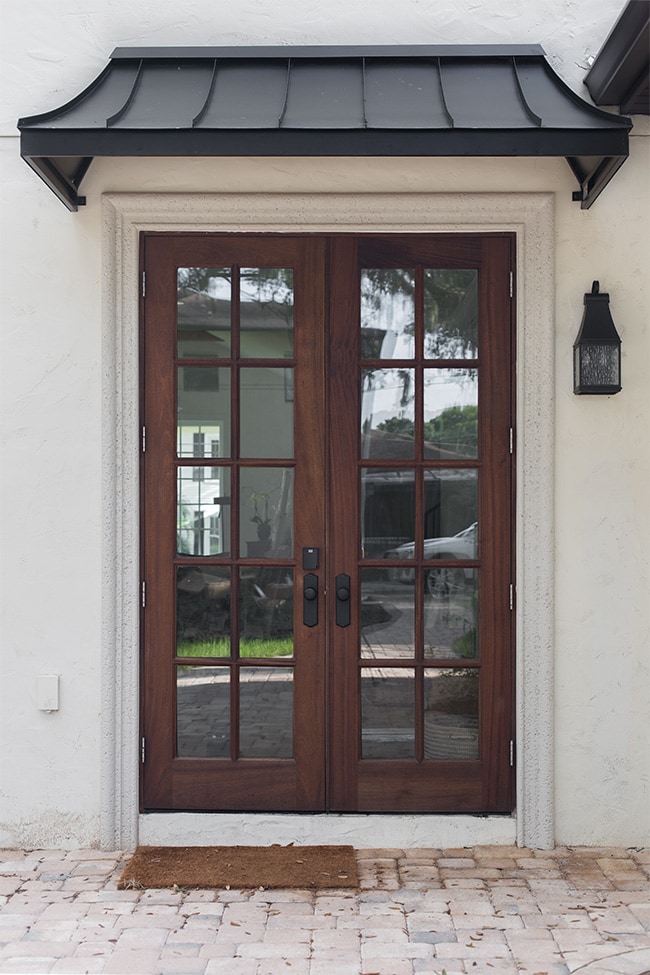 Pin
We used the same smart lock on the front door as well.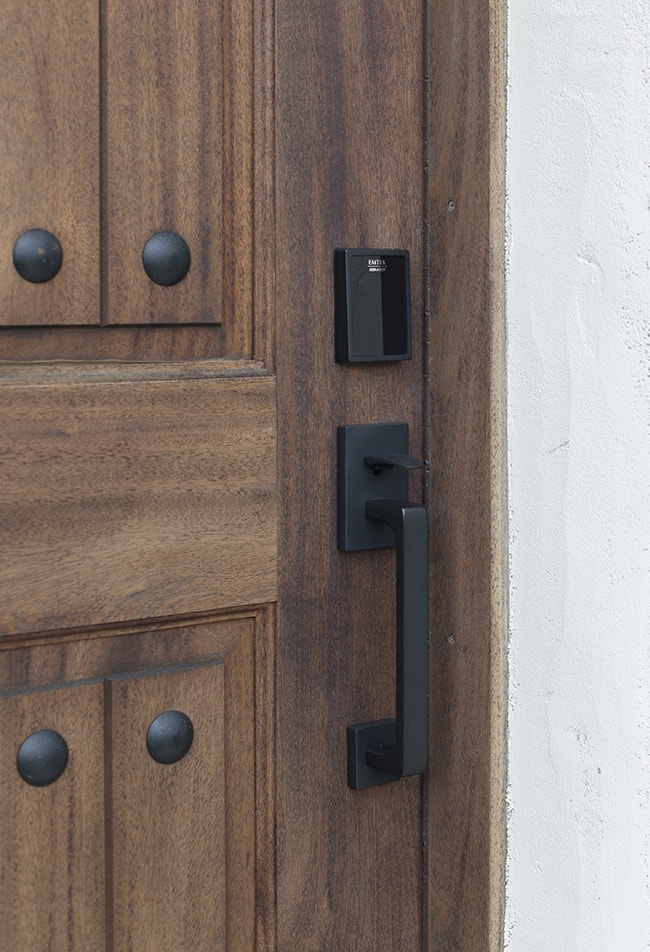 Pin
You can program multiple codes for friends/visitors to use, and it can be controlled with both Alexa and the August app.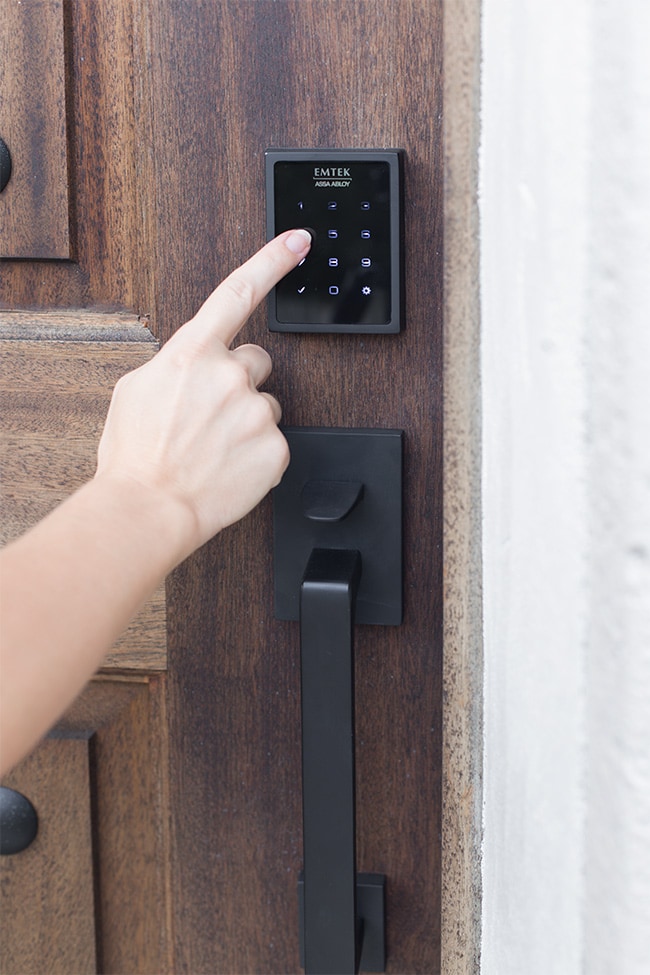 Pin
This is especially useful when we're away—we can simply open the August app and see the current status (the sensor lets us know if the doors are closed/locked, closed/unlocked, ajar or open). We can also lock/unlock both doors, and view a timestamped history of when they were opened and which code(s) were used. Pretty convenient, right?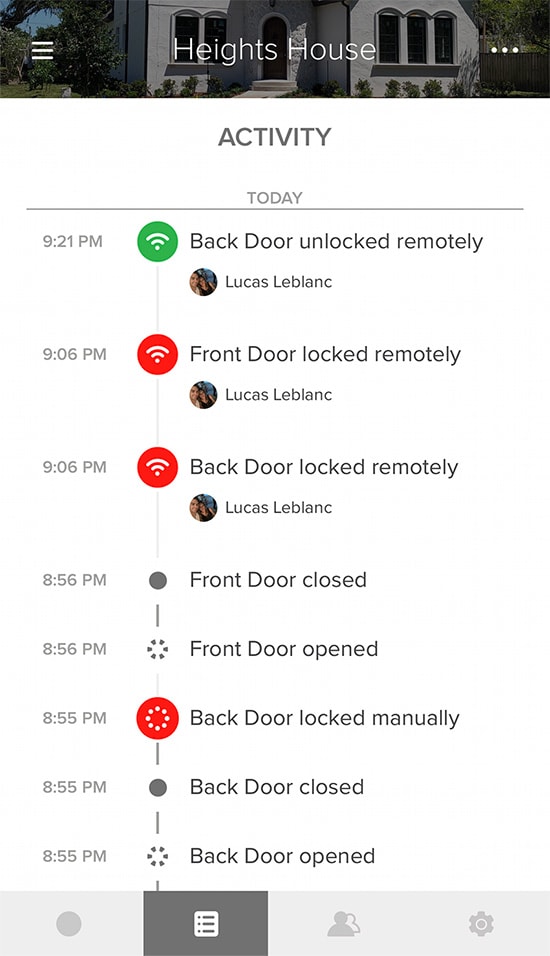 Pin
As much as I love technology, I didn't want the hardware to look too modern and take away from the medieval style of the front door, so I thought the Baden entry set was a nice compromise.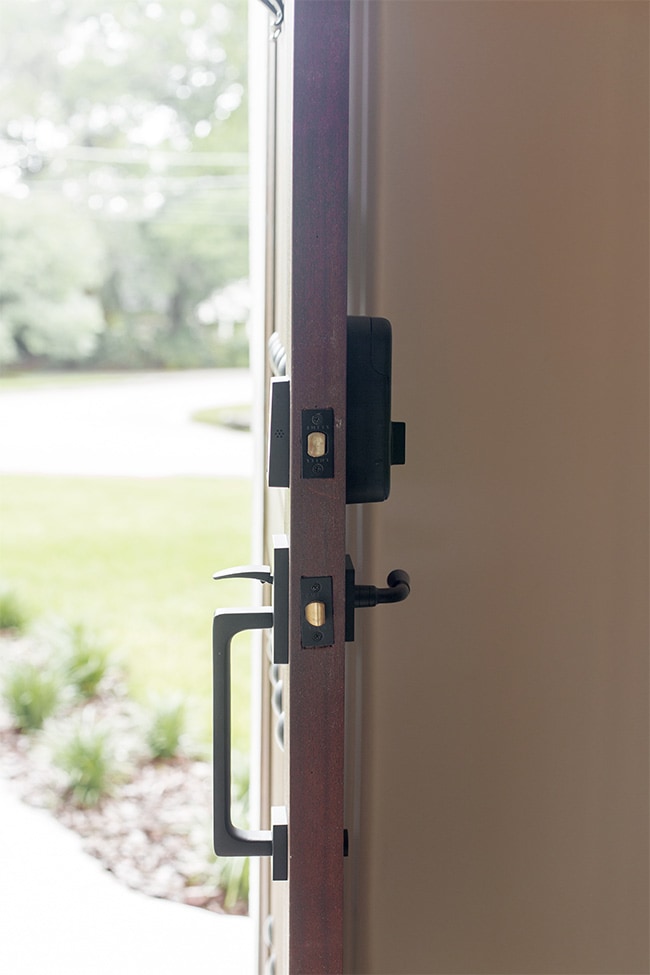 Pin
On the inside, I just switched out the lever to match the other interior doors.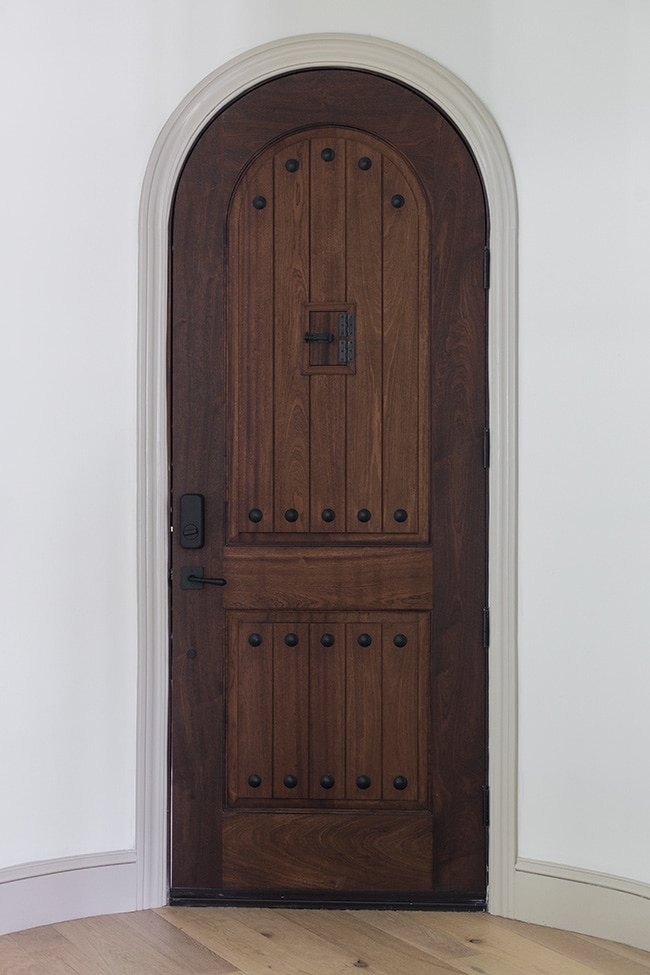 Pin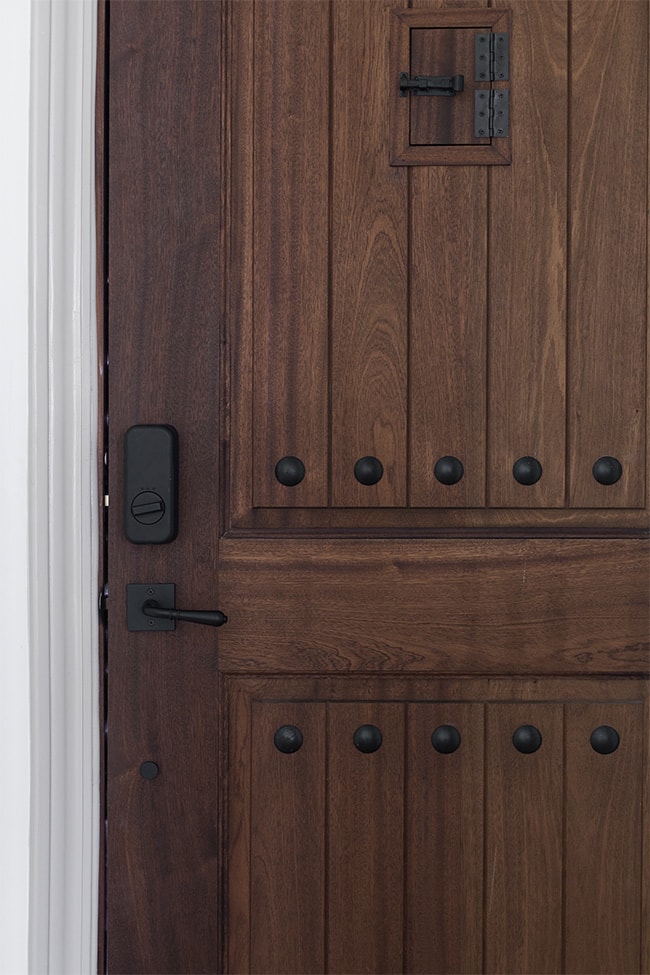 Pin
And there's one more very important addition to the front door…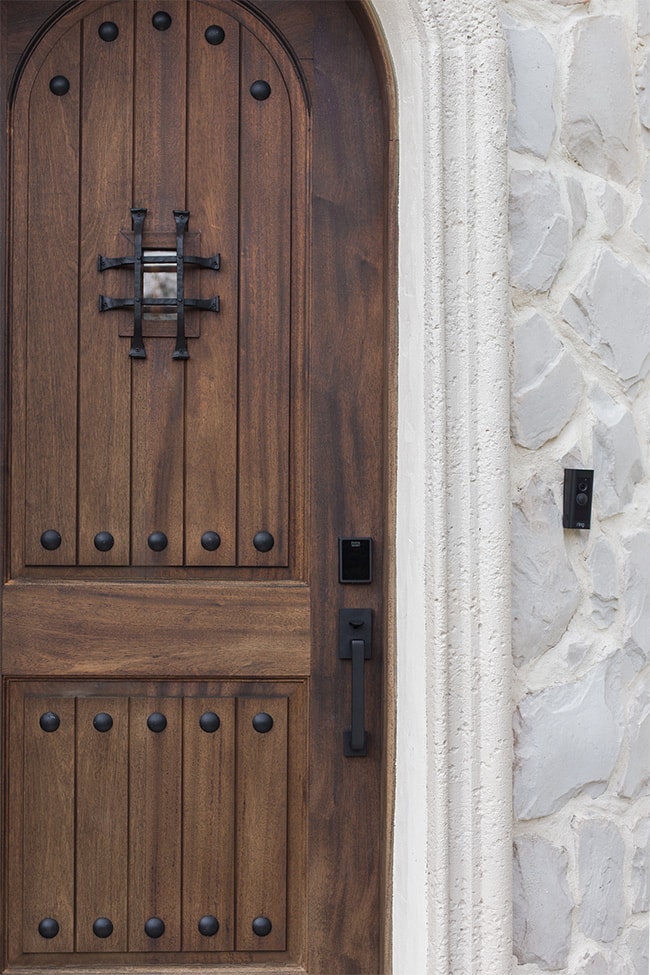 Pin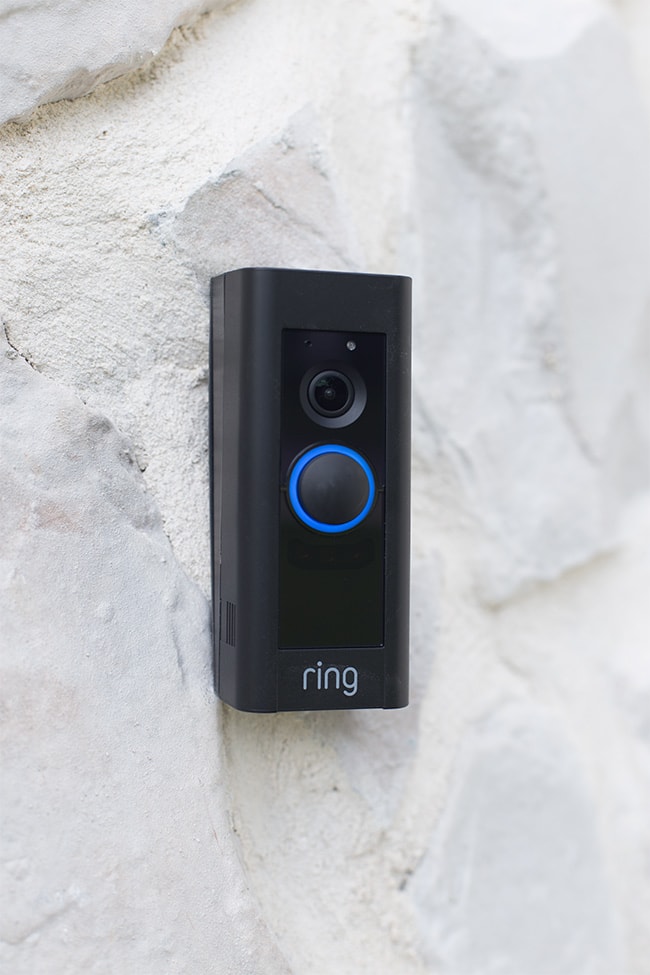 Pin
Several months ago we installed the Ring doorbell at the Riverside Retreat and it has been one of our favorite upgrades. We knew we'd want one for this house too, so I scooped up the Pro version when it went on sale for $199 a couple months ago.
If you aren't familiar with the Ring, let me tell you why it's one of our most useful smart home features. The Ring records video and sends you alerts when there's motion at your front door (with the Pro version, the sensitivity field can be adjusted so it won't pick up activity in the street).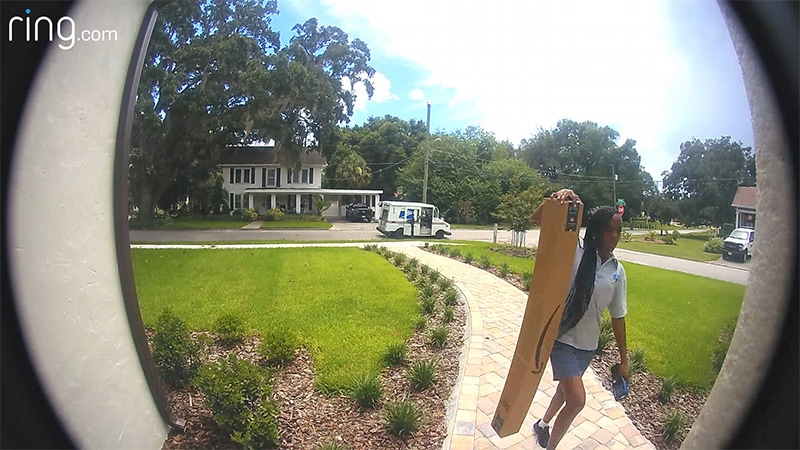 Pin
The built-in camera, microphone and speaker allow you to see, hear and communicate with visitors in real time (through the Ring app or your Alexa devices).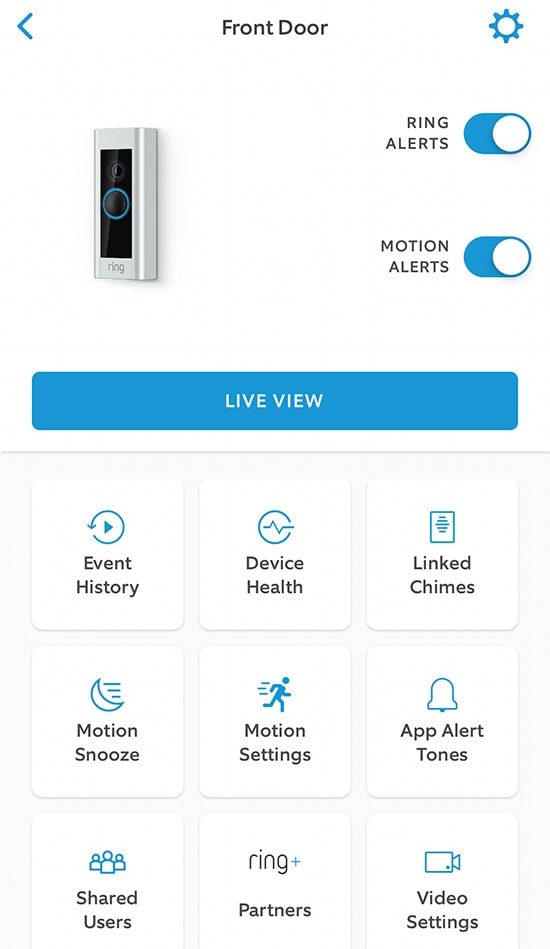 Pin
You can review a log of past activity, and there's no subscription required—however—after 30 days you'll need to subscribe their Recording Plan in order to store/retrieve past recorded videos (plans started at $3/mo last I checked).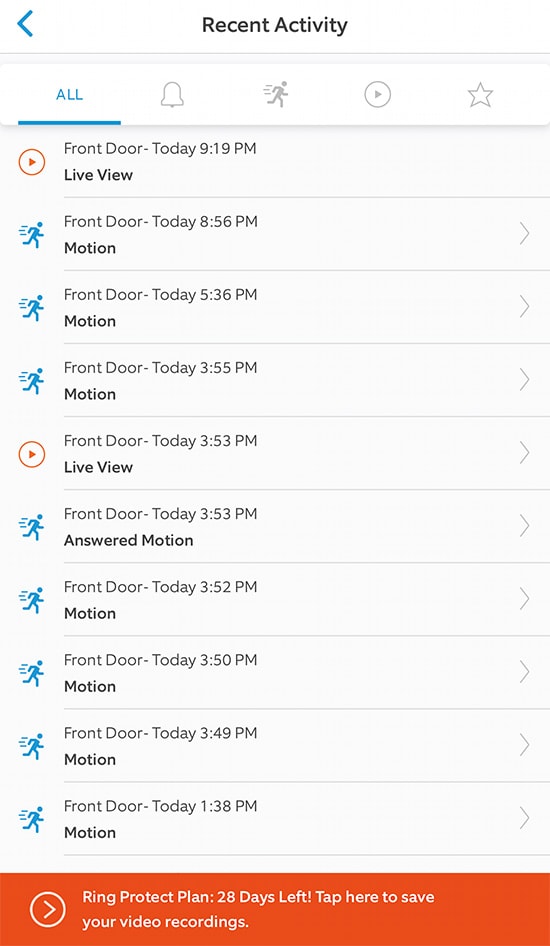 Pin
We didn't bother subscribing after our free trial ended at the Riverside Retreat, but it would have come in handy when a car flipped over and crashed into our driveway a few weeks ago ? Once that house becomes a vacation rental, you can bet we'll be buying the subscription! Still undecided if we'll splurge for it at this house…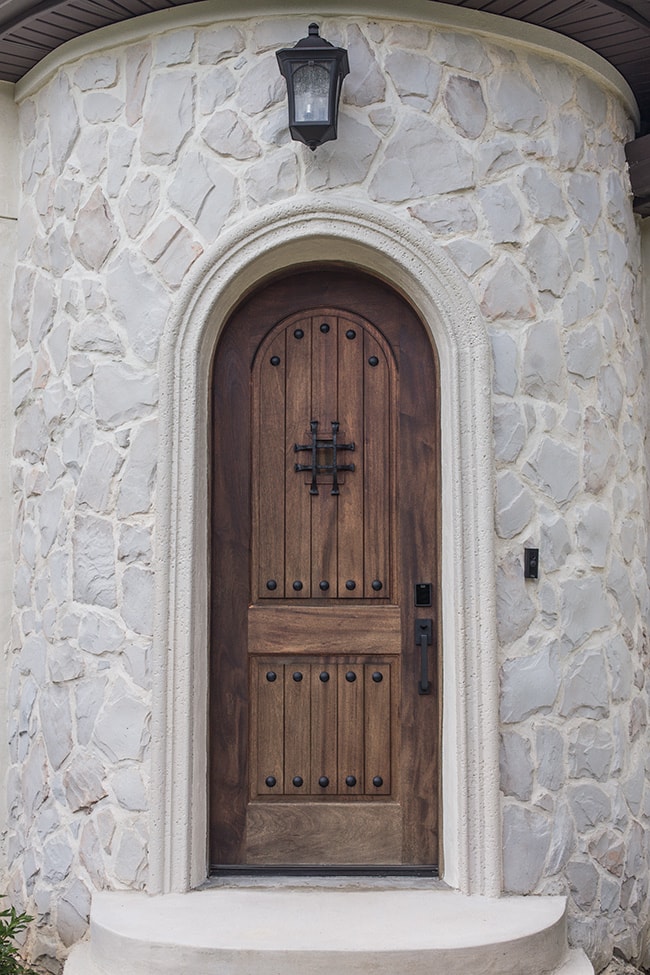 Pin
Let's get out of the heat and step back inside to our next smart home feature—the EcoBee thermostat: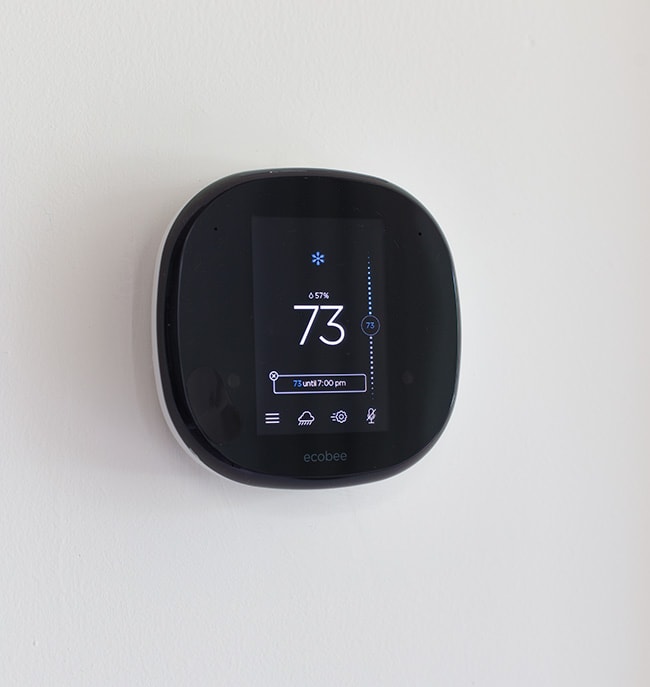 Pin
The EcoBee was recommended by our builder's low voltage installer (over the Nest or other similar models) and we have no complaints so far. The two biggest selling points for me are the ability to set it on an automatic schedule, and the fact that it communicates with Alexa (this was a must).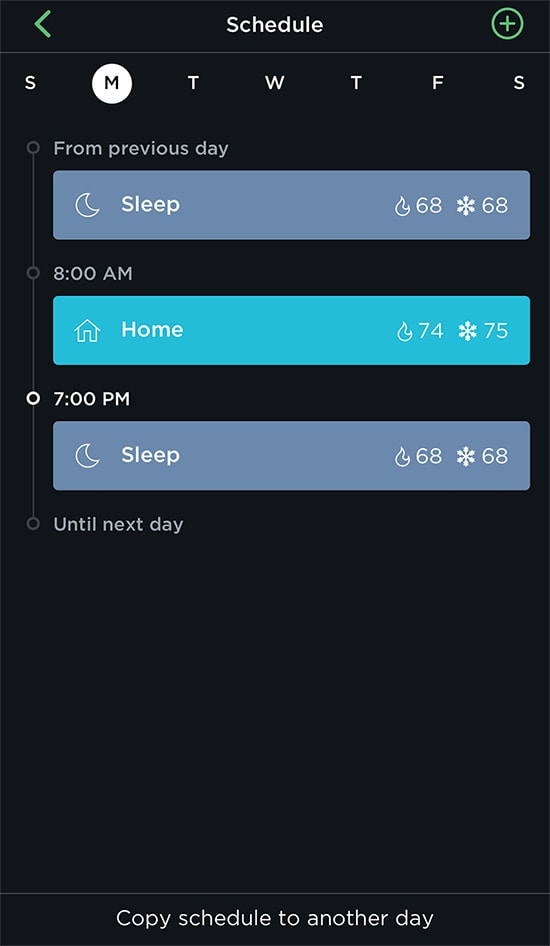 Pin
It really is just set it and forget it, and you can program different away/vacation modes as well. Although there is an ongoing battle in our house over the ideal settings… one of us does not agree that 75º when you're 8 months pregnant during Florida summer is acceptable. 68º at night is pushing it, too. Marriage is all about compromise, right? 😉
Our last (but certainly not least) and most used features of the house? The Amazon Echo Spot and Dot: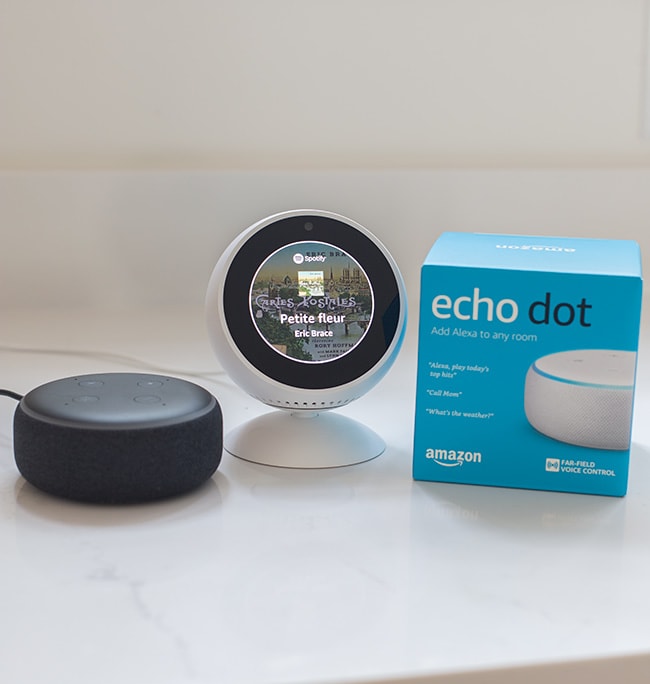 Pin
We started using Alexa this past Christmas and haven't gone a day without it. The Echo Spot is our main hub, and we keep it in the kitchen/dining area where we spend our evenings. It's voice controlled and mostly used to play music and podcasts, but it's also very useful for setting timers (especially while cooking) and reminders throughout the day.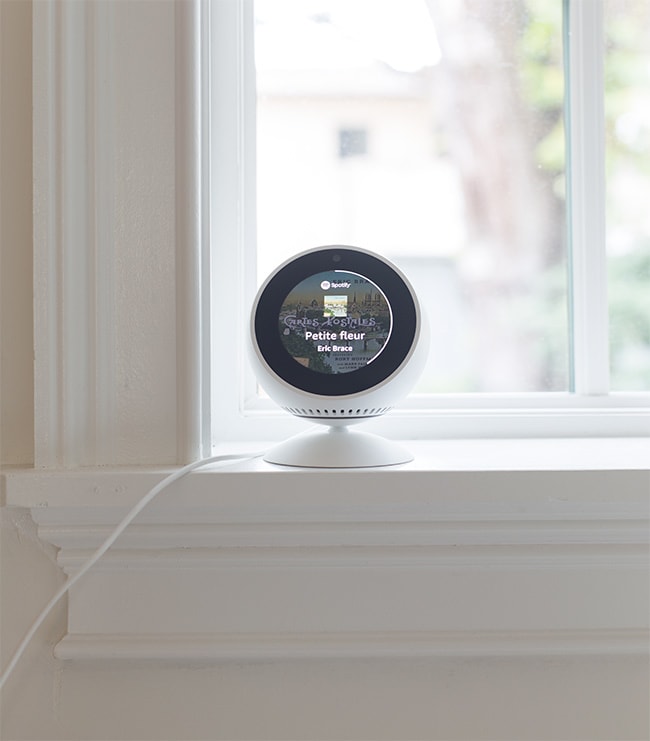 Pin
We also keep an Echo Dot (it does the same thing, just without a screen) in our bedroom and I just bought another one (on sale for only $25!) for the nursery, which will be perfect to play white noise once baby starts sleeping there.
For me, the biggest selling point of Alexa is its compatibility with so many other smart technology devices. We use it with our door locks, thermostat, Ring doorbell and house speakers—and that's just scratching the surface. It's so nice to have the option to control everything by voice and with one app.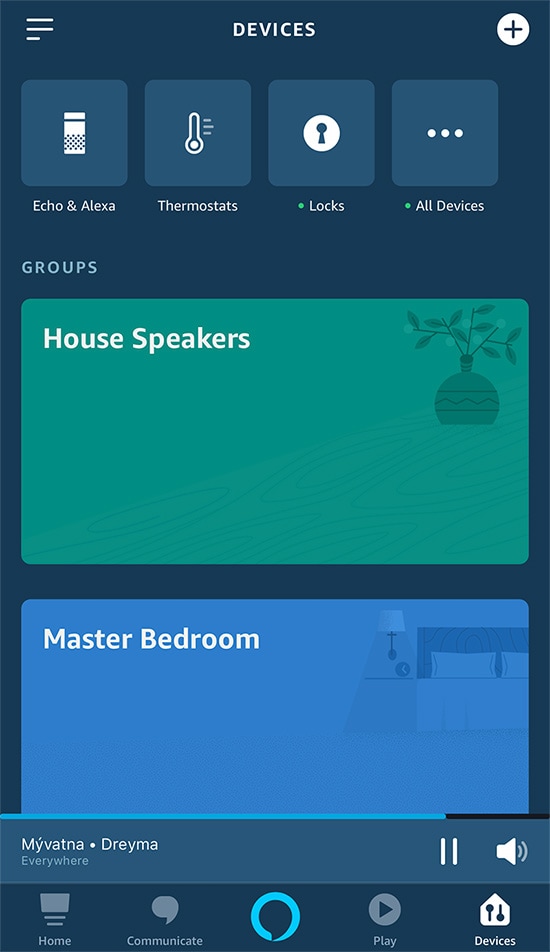 Pin
One cool feature is the ability to customize routines, where you can give Alexa a command and have her execute a set of pre-programmed actions. Before heading to our room for the night, we'll say "Alexa, we're going to bed" and she'll lock our doors, set the temperature and play the music of our choice: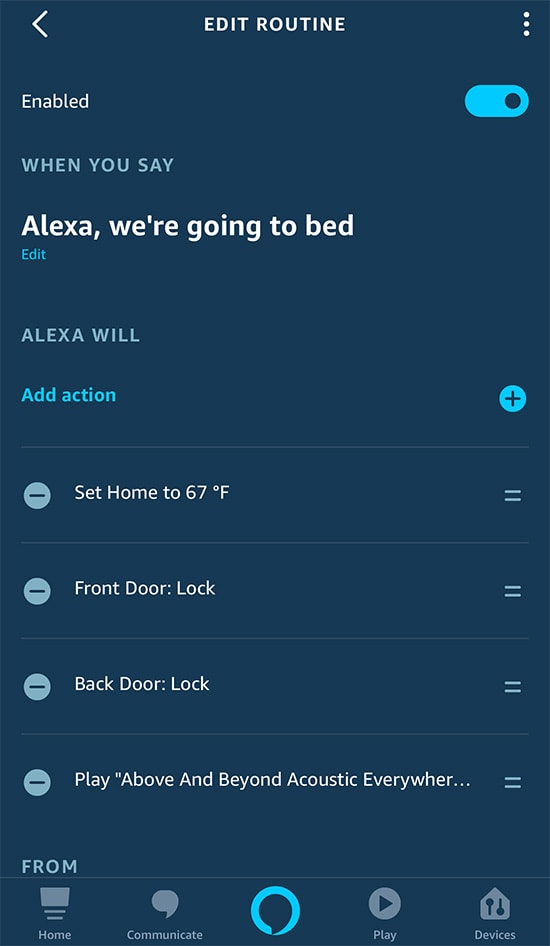 Pin
How neat is that? If you're unfamiliar with Alexa and all of its features, I'd definitely look into it (Amazon reviews are my favorite way to research). It has made our lives so much more convenient and will only continue to improve as new technology is released and Alexa skills are added. I'd recommend starting with an Echo Dot (you can get two right now for $50!) and see how you like it.
Our smart home journey is only beginning, and we're still in the process of learning and adding more features. We had speakers installed in the kitchen, dining room, living room and bedroom and we're currently looking into smart receivers to be able to control them through Alexa (music is life around here and we can't go a day without it! Also, necessary for entertaining which we love to do).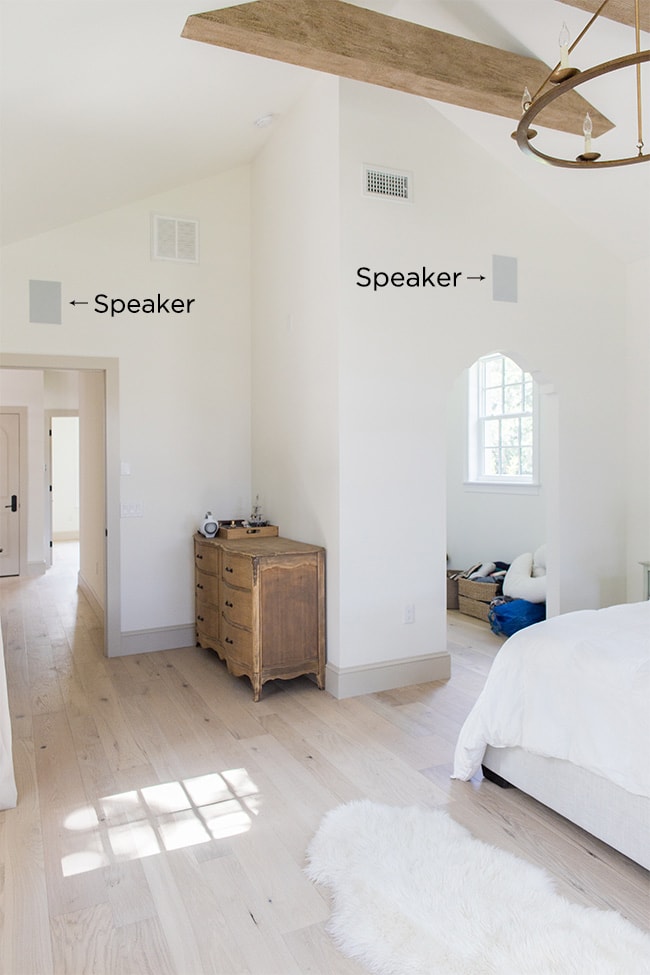 Pin
We also just bought a smart TV on sale during Prime Day (our first TV in years!) which will connect to Alexa and allow us to watch Netflix, access apps and the internet. We have no desire to pay for cable (we don't watch TV anyway apart from football season) so this setup is perfect for us.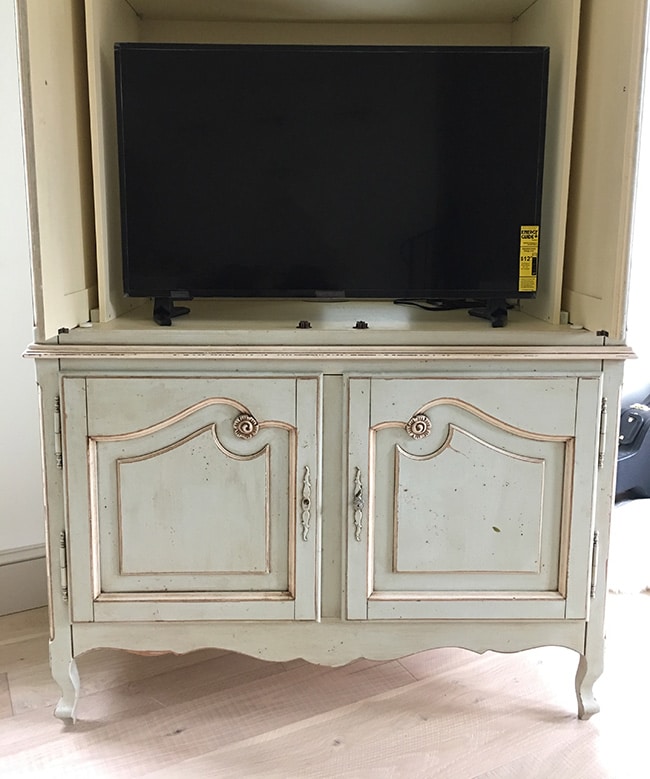 Pin
Future upgrades we're looking into are a smart garage door (ours is broken and desperately needs to be replaced), smart bulbs/lighting and smart AC vents (this technology is still very new, but we waste a lot of energy cooling the entire house at night instead of our bedroom only).
Tell me, have you jumped on the smart home train yet? I'm convinced it's only a matter of time before we're controlling everything in our lives via voice or app. Time is our most valuable resource and anything that makes our lives operate with less friction is a step in the right direction. What smart home features do you use and love?