Hello from Portugal! We arrived last week and have already fallen in love with this country. I've been sharing parts of our experience on my Instagram stories, and I'll be back soon with a more in depth blog post.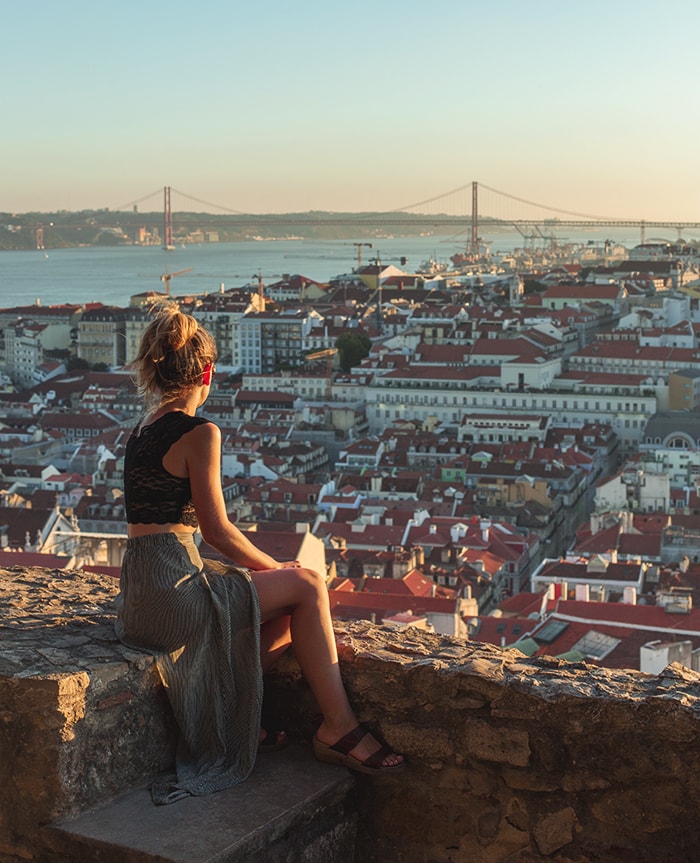 Pin
But first: I've had a ton of requests asking how I pack for these extended trips, what items/bags I use, how I decide what to bring, etc. Last week I shared a live demonstration on my packing process on my instagram stories, and today I'm here with a full detailed recap!
My first backpacking trip was to Southeast Asia for 3.5 months, and after some research, I decided to purchase an Osprey 46L backpack because 1) it's small enough to use as a carry-on (for some flights) and 2) it's a manageable size for my 5'2" frame.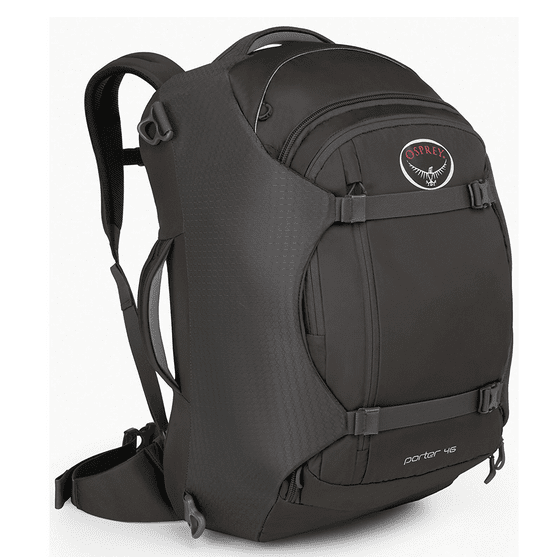 Pin
Of course, a small size comes with sacrifices—I can't pack a full wardrobe or several pairs of shoes or a hairdryer. But you learn quickly that stuff doesn't matter so much when traveling, it really just weighs you down. I tend to have the same minimalistic approach with my home and the rest of my belongings, so it was an easy transition.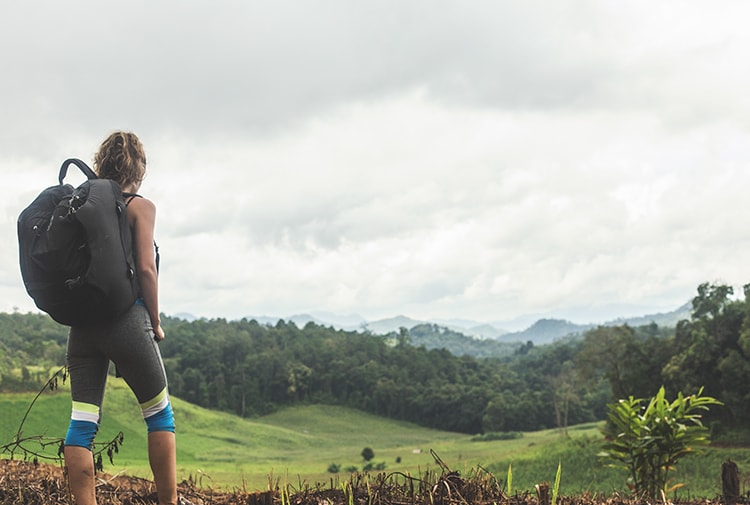 Pin
I considered getting a larger backpack for this current trip as it would be several months longer, but couldn't find any that fit comfortably and decided it wasn't worth the cost in the end. I'm really glad I stuck with my Osprey.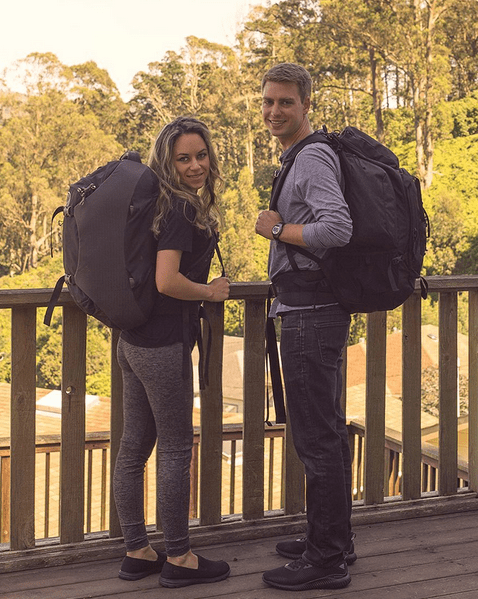 Pin
Now for the fun part—wardrobe selection!
Here's a little secret: the main reason I'm able to pack so much is because I travel to warm locations. There's no way I'd be able to fit boots and winter jackets in this backpack, but I can squeeze in plenty of shorts and tanktops.
There are some fundamental guidelines to adhere to when choosing what to bring, and you have to be selective. Here are my requirements:
Lightweight clothing only. Each item must take up very little space when rolled. Jeans are off limits!
Color/pattern coordination. Lay out all of your clothing and see what works together. Tops and bottoms should be versatile enough to be worn with multiple pieces, not just one. You can't go wrong with neutral colors, and I always throw in a few patterned items to mix it up.
Comfort. This is a must. You want to be able to be fully present and enjoy your experiences, and you can't do that if your dress is itchy or your pants are cutting off your circulation. All of my clothes were comfy enough to sleep in (no room for pajamas!) and there are plenty of long travel days where comfort is essential.
Versatility. While traveling you'll find yourself in every situation—from trekking through the jungle to lounging on an island to dressing up for a fancy night out. Make sure you're prepared by choosing pieces that can adapt to multiple scenarios. A little black lightweight dress is one of my essentials, along with lightweight, breathable tops and bottoms.
Affordability. This is a personal choice and I've never been one to splurge on clothing, but you can't have any attachment to what you bring while backpacking. Things happen, clothing gets ripped or stained or lost, and you have to be okay with sacrificing them. I also love buying new clothes along the way, so if my bag is too full I'll end up ditching something I brought from home to make room.
Here was my wardrobe for 9 weeks in South America: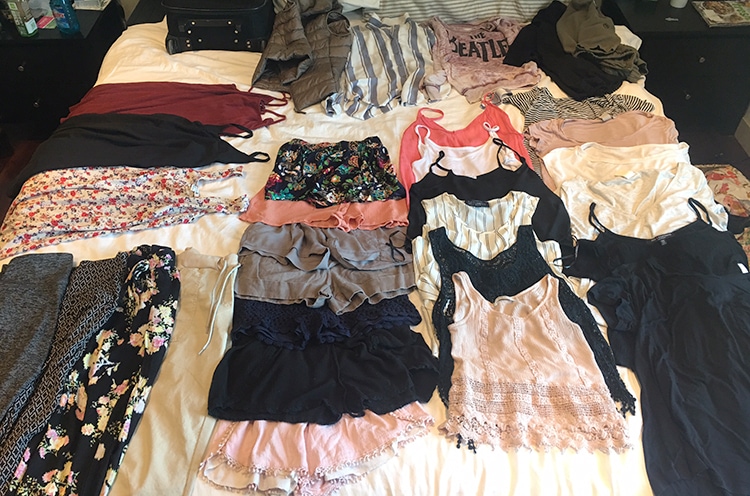 Pin
After taking this photo I actually ended up removing a pair of pants, shorts and a light jacket since my bag was completely stuffed and I wanted at least some room for souvenirs. With those gone, I ended up with 3 pairs of pants, 3 dresses, 6 shorts, 6 tanktops, 6 t-shirts, 2 long sleeve shirts, a swim coverup and a poofy vest. Not pictured is the bag of undergarments/socks/swimsuits, and shoes (a pair of tennis shoes, walking shoes and two sandals).
There's one standout item that has been the single best investment of this trip and one that many of you have asked about… these sandals: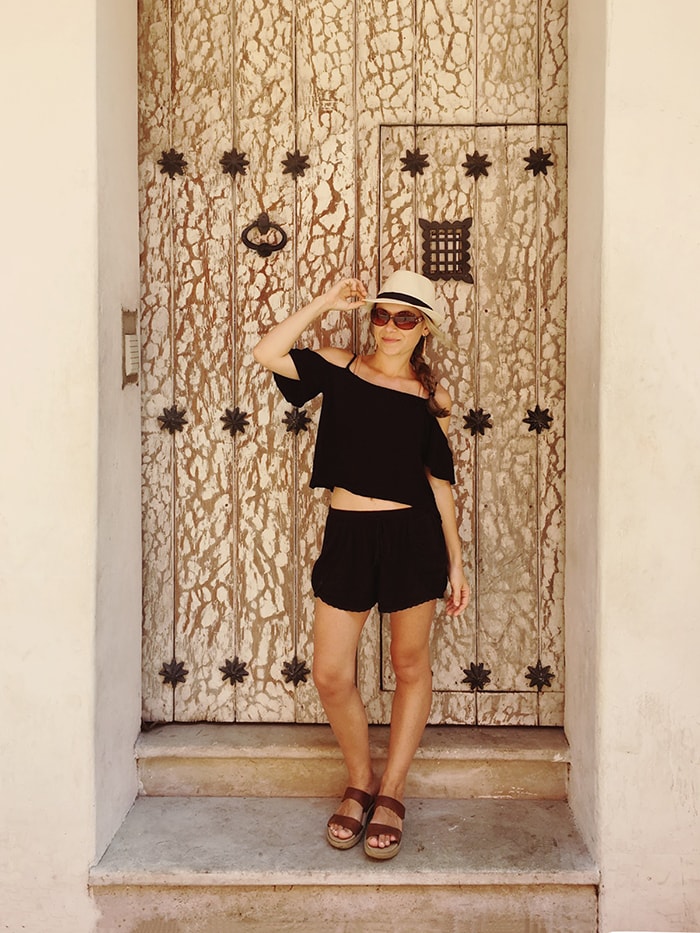 Pin
Forget the trip, these are the best shoes I've ever purchased, period. I've always struggled with finding shoes/sandals that were not only super comfortable to walk in, but gave me some height, were acceptably cute, and could be worn with everything all while being affordable. These are it.
And believe it or not… they are crocs! I found them on Amazon and after reading countless reviews claiming them to be the most comfortable shoes ever, I spent the best $40 of my life (no joke)—the price has now gone up a bit, apparently Croc has realized how amazing they are. Still worth every penny, I'm buying another pair as soon as I return home.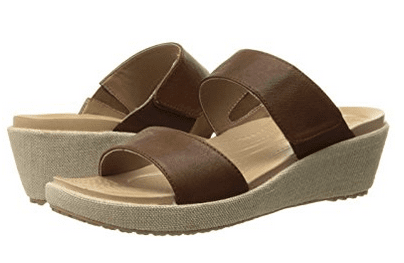 Pin
These things have been everywhere from sandy beaches to muddy hiking trails and it feels like I'm floating on a cloud with each step. I walk several miles per day in these and could have hiked Machu Picchu with them.
Anyway, enough gushing (seriously, get these shoes).
Here's my wardrobe for 5 months in Europe: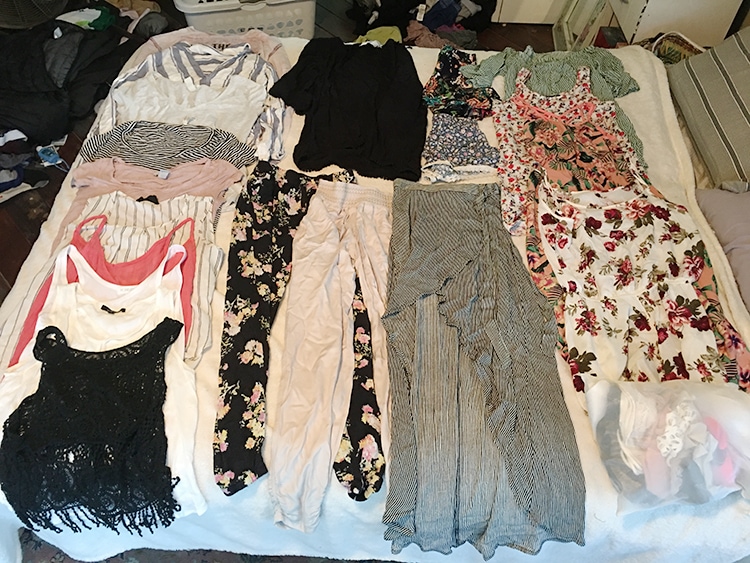 Pin
I'm actually bringing less than what I brought to South America: 2 longsleeve tops, 4 t-shirts, 5 tanktops, a poofy vest, a swim coverup, 3 pants, 2 shorts, a skirt, 3 dresses and a romper (not shown are the dark green pants and black tshirt I'm wearing when I took this pic, but they're included in the total).
Most of the shorts in South America had either shrunk, gotten lost or stained and I prefer to wear dresses/skirts anyway, especially in Europe. Other than that, the lineup is pretty similar. I was also able to ditch the bulky tennis shoes—I only wore them a handful of times and my walking shoes should be plenty sufficient for any trails/hiking we do here.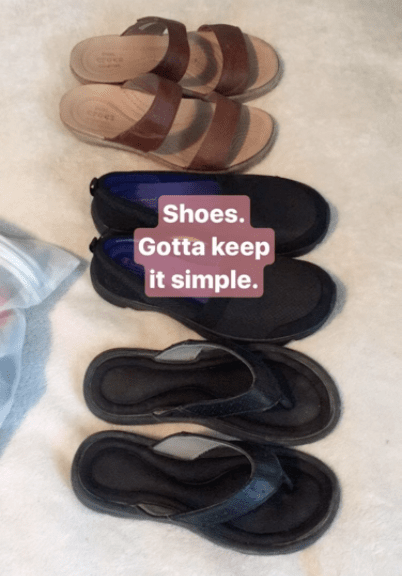 Pin
Now my bag has plenty of room left to pack with goodies from Europe—and that's the way it should be!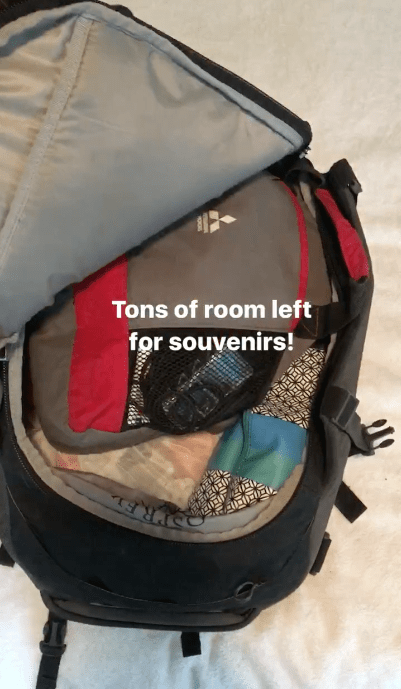 Pin
When researching the most efficient way to pack years ago, I came across something called packing cubes. Best discovery ever.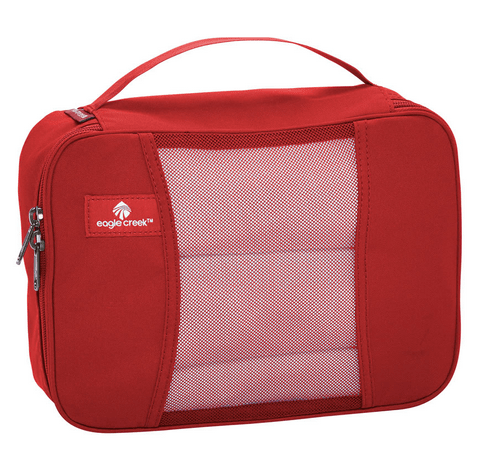 Pin
They are these thin, zippered and somewhat flexible compartments to store and organize your belongings. There must be magic involved because this is what happens to that bed full of clothes: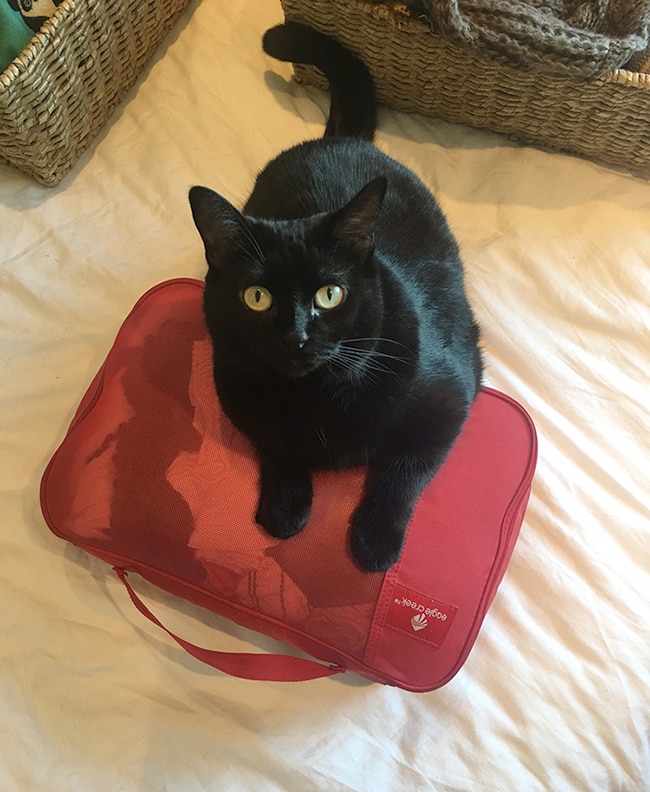 Pin
That was my cube for South America which was stuffed, but for Europe I actually have room to spare:
Pin
Look—my undergarments take up almost as much space as my entire wardrobe. Mind blowing.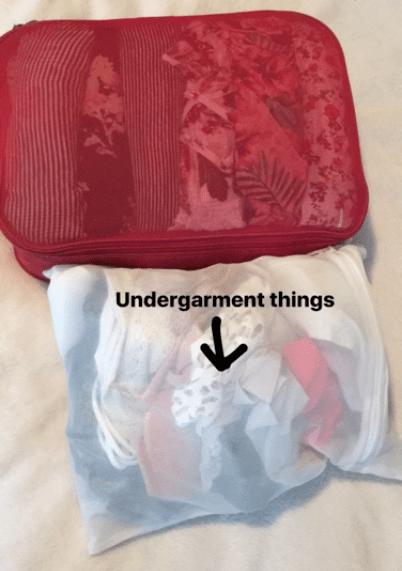 Pin
There is a method to this though—you have to roll your clothes for maximum efficiency. And yes, wrinkles are unavoidable. Over time you become better at identifying materials that wrinkle less than others, but it's just one of those sacrifices you learn to live with (but wrinkles happen even with folded clothes).
For toiletries, I only bring travel sizes in case I need to carry my bag on a plane, and I find that I rarely need to refill most of them. I made it through nearly 2 months with 3oz of shampoo, conditioner, facewash, body wash and lotion. Between the lack of hot water, remote locations and long travel days, showers are not a daily occurrence and hair washing is something that happens twice a week at the most. Welcome to the realities of backpacking.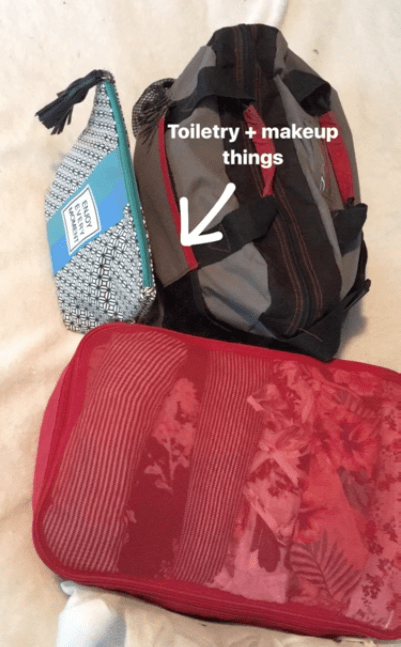 Pin
I did bring a curling iron to South America and used it once before stepping outside into the humidity and realizing what a mistake that was. It will definitely prove useful in Europe though with a dryer climate.
All of my toiletry essentials fit into a bag about the size of my packing cube, and my makeup is in a separate smaller bag.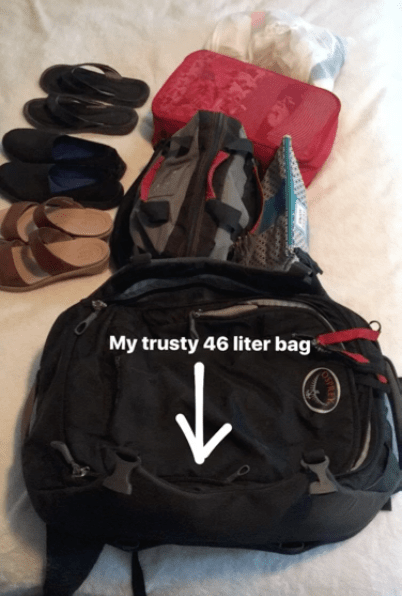 Pin
Once you get your packing configuration down, it takes no time at all to put everything back in a hurry.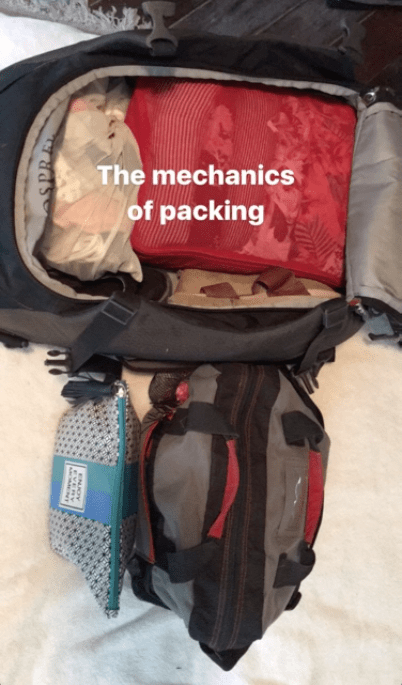 Pin
One thing I didn't have with me in Asia was a special backpack for my camera gear (I carried my SLR in whatever spare bag/purse I had). For South America, we brought a steadicam and Gorilla Pod, plus an accessory bag, so I needed a larger protective pack to fit everything.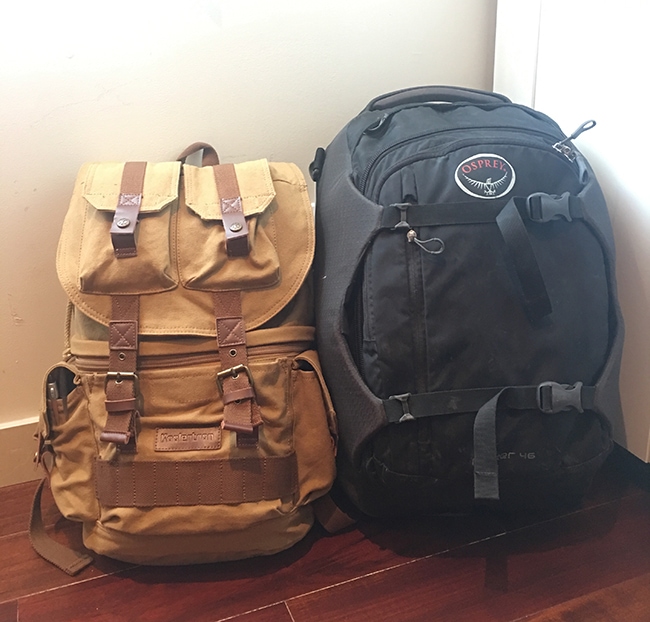 Pin
I found this Koolertron bag on Amazon, which has a separate padded compartment at the bottom for your camera/lenses, plus a drawstring portion at the top. During travel days I was able to fit my 15" laptop in the back as well. It's the perfect day bag and we bring it out with us everywhere we plan to shoot (which is more often than not).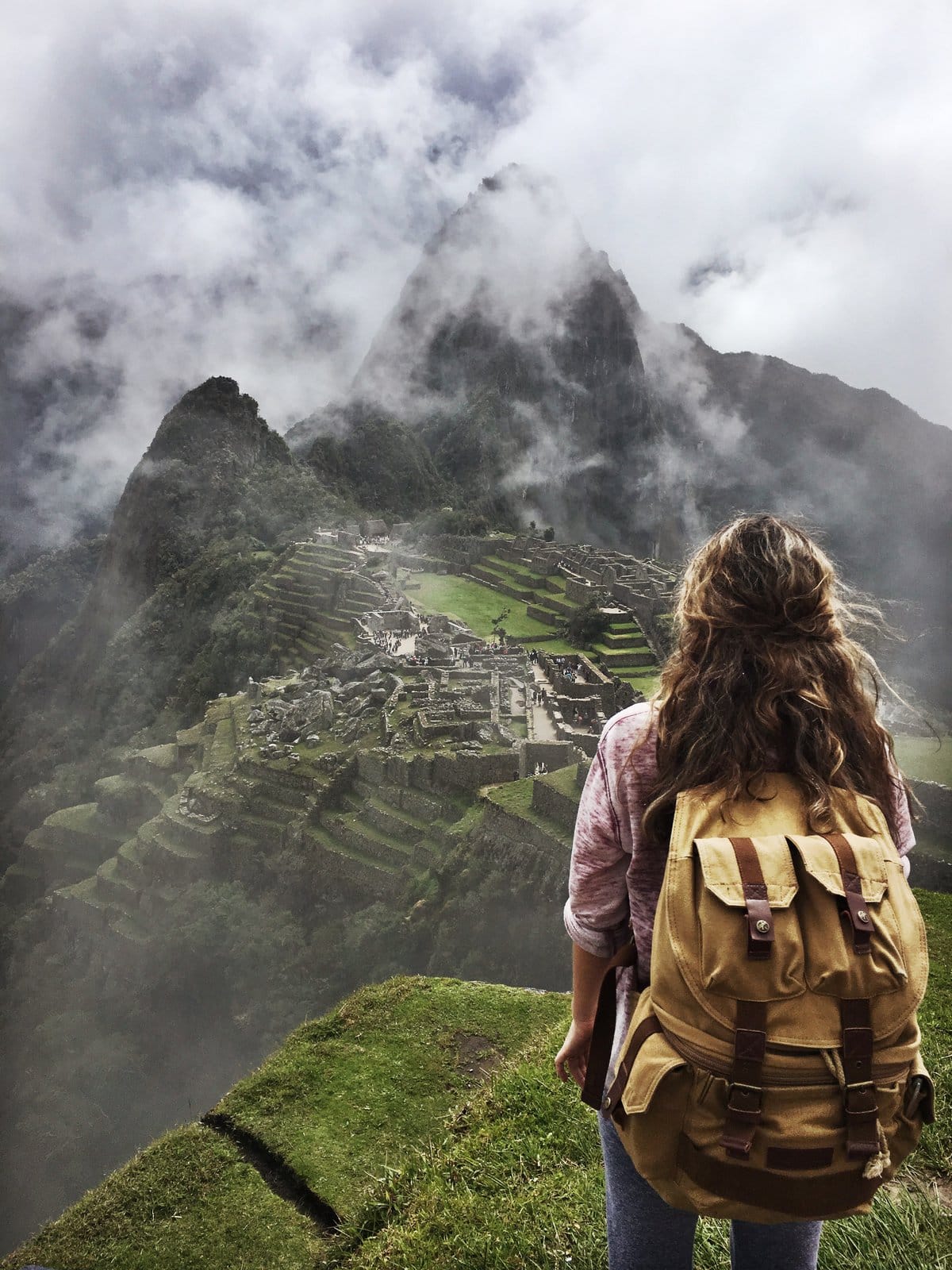 Pin
With most of our valuables inside, this bag never leaves my sight and stays with me on every plane/bus/taxi/boat ride (it comes with a waterproof cover which is nice).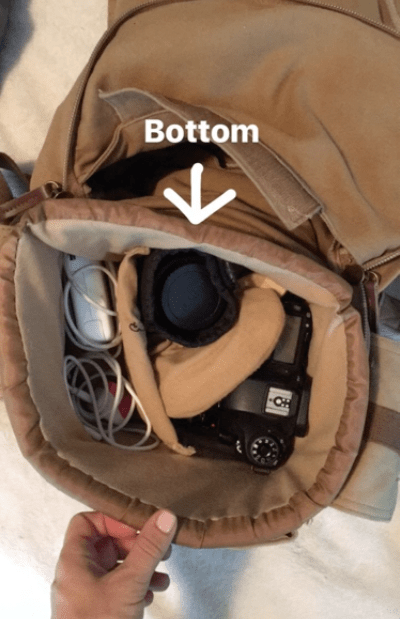 Pin
The built in camera compartment feature is what sold me (that and the fact that it's only $40 shipped). It all fits safely and snugly at the bottom—my DSLR, two lenses, Gopro, multiple chargers and extra batteries with room for my gorilla pod and accessory bag—all just in the lower portion (PS—you can see all of my camera gear here).
Once that is zipped up, I slide my laptop behind everything in the back.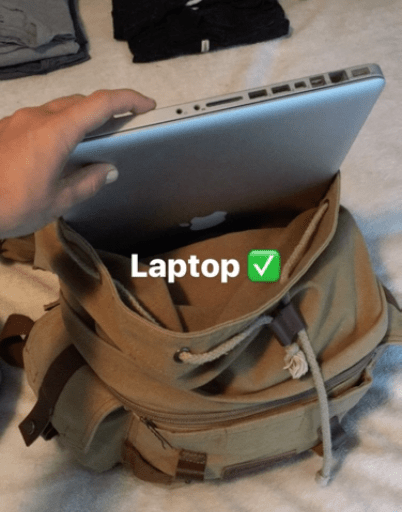 Pin
In the drawstring section, there's room for the drone and my Turkish towel/blanket which has proven invaluable.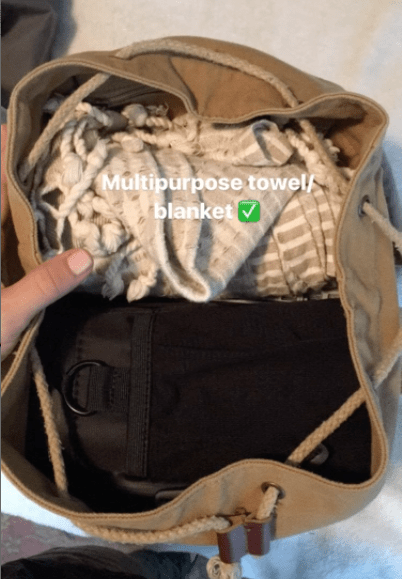 Pin
This turkish towel is ideal for travel days as an extra layer of warmth, a pillow or sun blocker. It's also used as a beach towel, sarong, or for drying off after a shower when there are no towels provided (this happens pretty regularly at hostels). Definitely the most multifunctional and useful item to have on any trip, backpacking or not!
Oh, and it's only $13 on Ebay and comes in several colors/patterns. I originally bought two and used them in the cottage flip: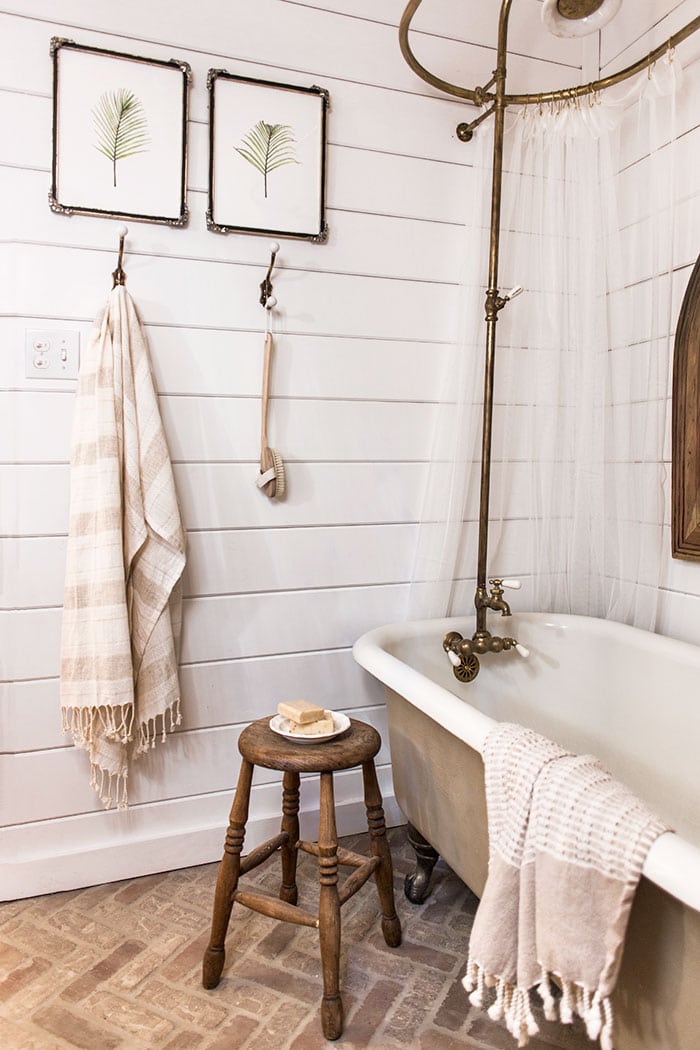 Pin
After my sandals, this towel is the second best trip purchase I've made.
And that covers everything on my end!
Lucas has a 50L Kelty Redwing backpack, and his has even more room (maybe because he knows he'll end up carrying all my souvenirs?)…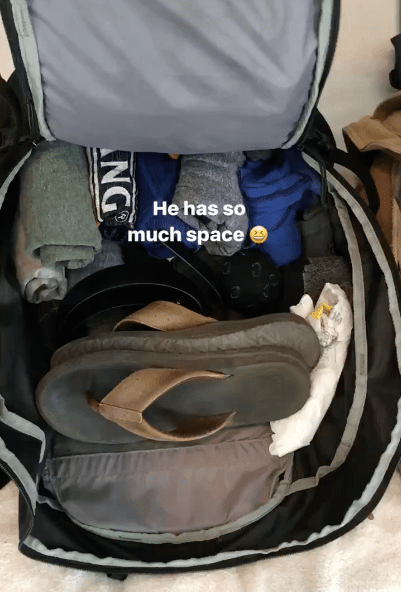 Pin
He also has a smaller day bag that can be folded up and fit into his main bag if needed.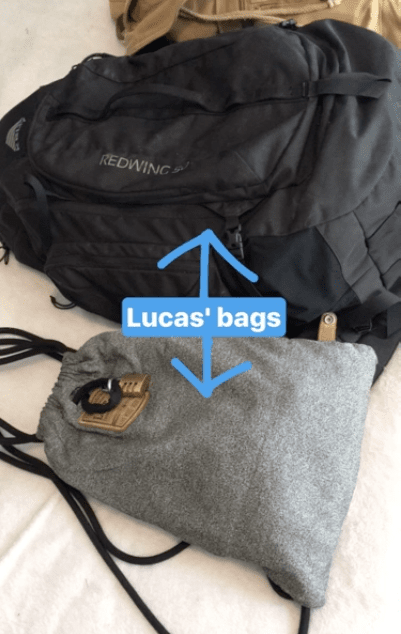 Pin
It's theft proof, slash proof and has a lock to secure it somewhere if we decide to walk away. It's nice to have when we don't want to haul the camera backpack around with us.
Here's the entire lineup for both of us: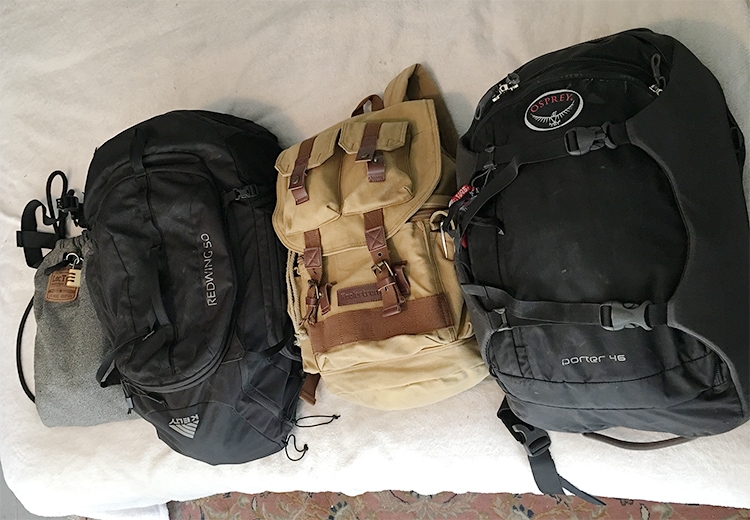 Pin
After many months of traveling over the years and making adjustments along the way, we've got a pretty solid setup for our needs and I can't think of anything I would change. Hopefully this is helpful for any of you who plan to take an extended trip, are trying to pack with less or are just curious about how we pull it off 🙂
On another note, last week I published a very special video that's near and dear to my heart. It's a wedding gift I made for my sister and her husband who got married while we were in California recently, and has become my favorite video to date. I can't help but tear up each time I watch it… I hope you enjoy their beautiful love story, click below to watch: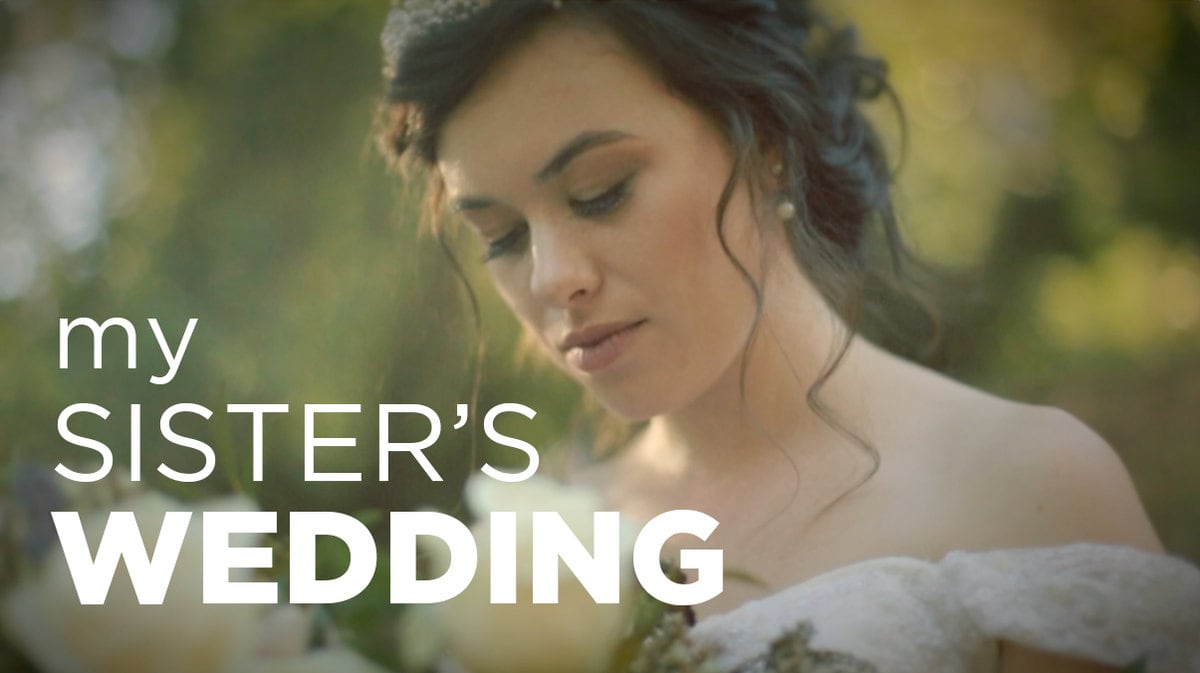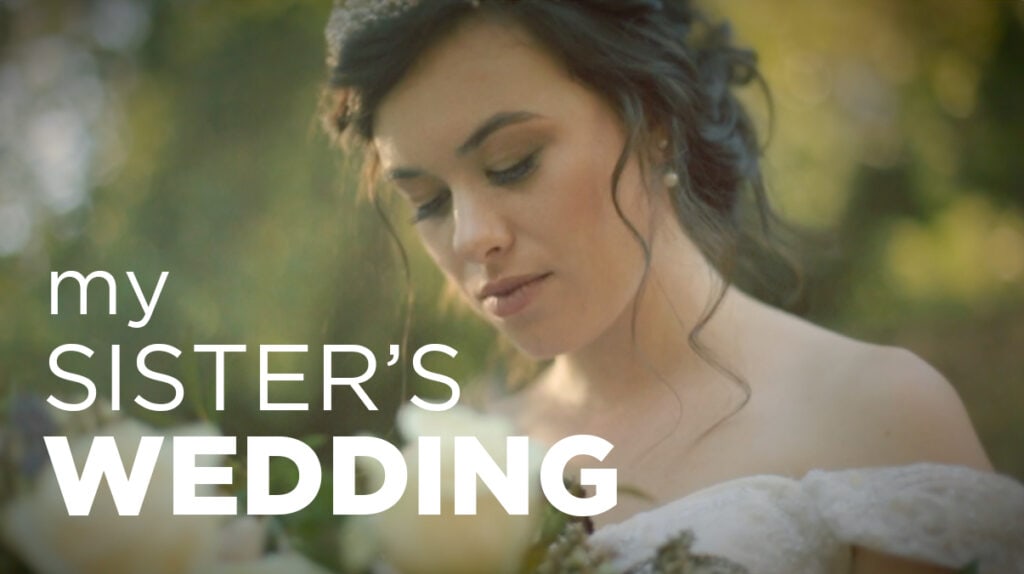 Pin
Now we're focusing on capturing our travels through Portugal, and looking forward to sharing our first video from Europe. But first, there are photos and stories to tell… coming up next! You can find me on Instagram (Lucas too) for daily updates in the meantime. Ciao!