This is how our faces look right now…
Yes, we're happy campers because after weeks of anticipation, our counters are in!
Before I show the results, a quick breakdown:
We purchased them at Lowe's six weeks ago (they didn't measure for them until 3 weeks ago, so the production time was really only 3 weeks).
They are both Silestone Quartz. We chose 'Marengo' which is a deep gray for the island, and 'Blanco Maple' which is a speckled white for the sink area, both 2cm with an eased edge. We needed 51 square feet, and the total including installation came to $3254.
Why quartz instead of granite or any other type? Well, Brad had strong opinions on this. I mentioned butcher block or concrete, both of which I love the look of, but Brad was not a fan of wood and we both agreed concrete might be too much of a hassle. I also really wanted white against the gray cabinets.
There were a couple granite options we liked but the quality ratings and ease of maintenance were a bit better for the quartz, and they weren't that much more expensive so we went for it.
Here's the Marengo up close…
It reminds me quite a bit of concrete, but it has the durability of quartz which is great.
Here's the Blanco Maple:
This one is my favorite. I love all the little flecks.
Back to the island…
With the counters in, we were able to get our new cooktop installed as well!
It still needs to be wired up, but I can't wait to start cooking on it (let's just hope it stays clean…)
Now we can also set up our faucet. It's a Price Pfister "Cagney", purchased online at Lowe's.
The plumber should be here to hook everything up in the next couple days. For now I just placed it in to get a visual.
And one more thing we tackled last night—our sink pendant light:
We ran into an issue though—when we installed the electrical box, there was a stud right above the  center of the sink, so we had to either push it back or move it forward. I was concerned about it being too close to the window, so we moved it forward.
But if anyone over 6′ tall wanted to use the sink, they'd bump their head if they leaned forward. Not ideal.
Luckily, the light came with different sized rods, so we just used a shorter one…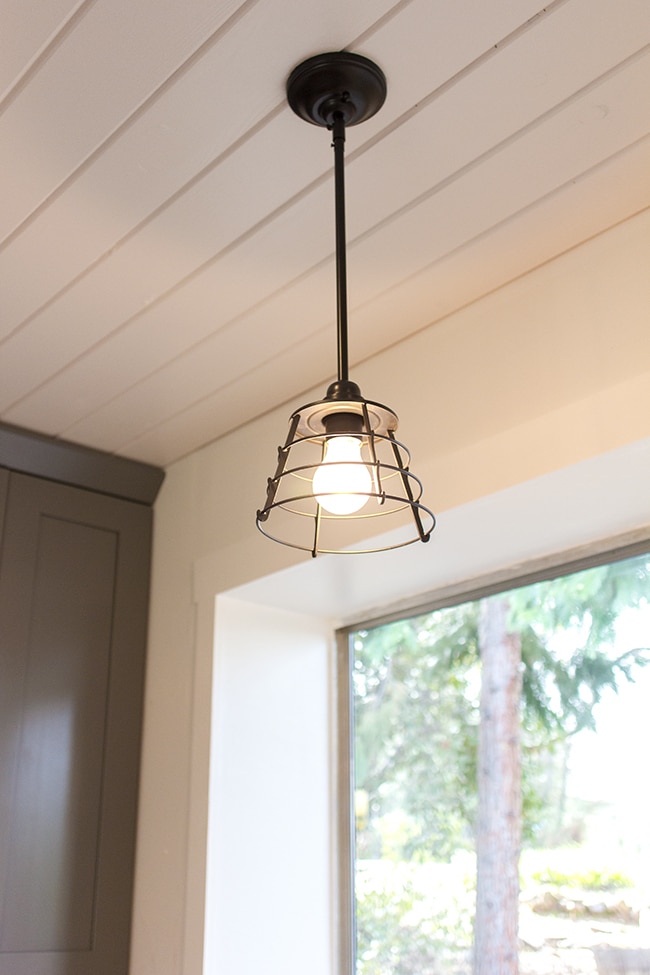 Pin
Much better!
I plan to replace it with a more suitable bulb… something vintage like this would be amazing:
I'm loving the industrial touch it adds to the space.
One last photo…
Next up for the kitchen is to get the dishwasher/garbage disposal/faucet and cooktop functional so we can finally cook and clean instead of going to my parents house for every meal (as much as they love having us over 24/7).
We're going backsplash shopping on Saturday, and our Ikea delivery is scheduled for next week, so that's when the real fun begins…
But before any of that, we have another plank wall to ins
tall…
This one should be our biggest challenge yet. Hopefully I'll have results to share on Monday. Better get to work!