Koh Phangan is the third main island in this area and one I never planned to visit. It was on my way to the mainland in the south, so I booked a ferry there on a whim. It also happened to be the full moon party weekend and a friend I'd met in Koh Tao was there so I decided to stop by for a night.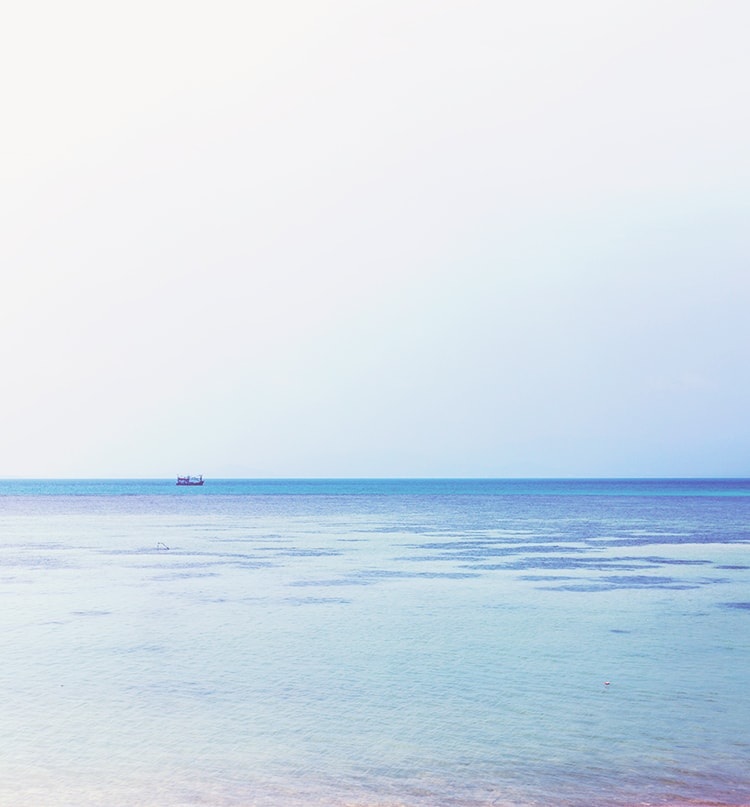 Pin
If you're familiar with the full moon party, I don't really need to say much more. If not… picture an island with 30,000 party goers covered in neon paint, wasted out of their minds, dancing on the beach for 3 days straight. At this stage in my life I feel a little old for these parties, but people travel here from all over the world for this event, so I gave it a shot. Just for the experience.
Here's a random Google image to paint a picture…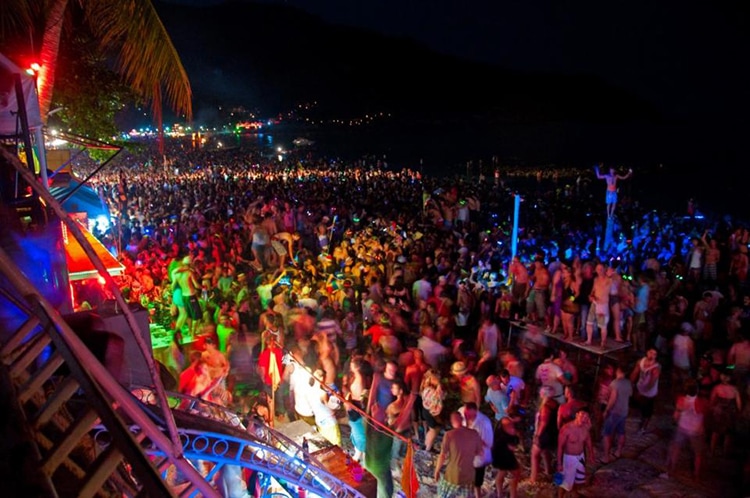 Pin
I didn't know if I'd even end up finding my friend with the wifi challenges on the islands, and figured there was a 50/50 chance coming here would be a huge mistake, but the day before I booked a bungalow on the water and hoped for the best (Phangan River Sand Resort in Bantai for those wondering).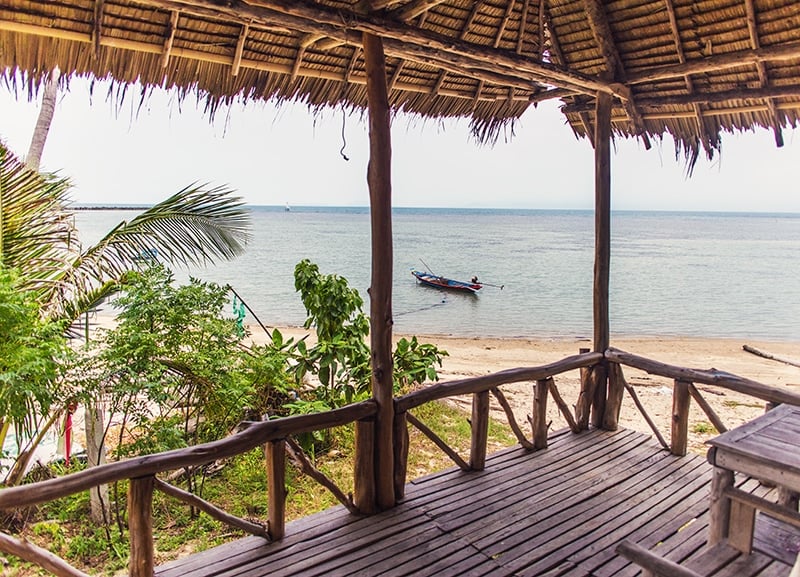 Pin
The receptionist was a sweet, soft spoken older lady—beyond welcoming and helpful. The bungalow was a picture perfect straw hut in a slice of paradise. I paid way more than I'd like to admit since it was so last minute and all the hostels were booked, but it was a nice change to have my expectations exceeded (see my instagram video for a real time view). Too bad I'd only get to enjoy this place for a few hours.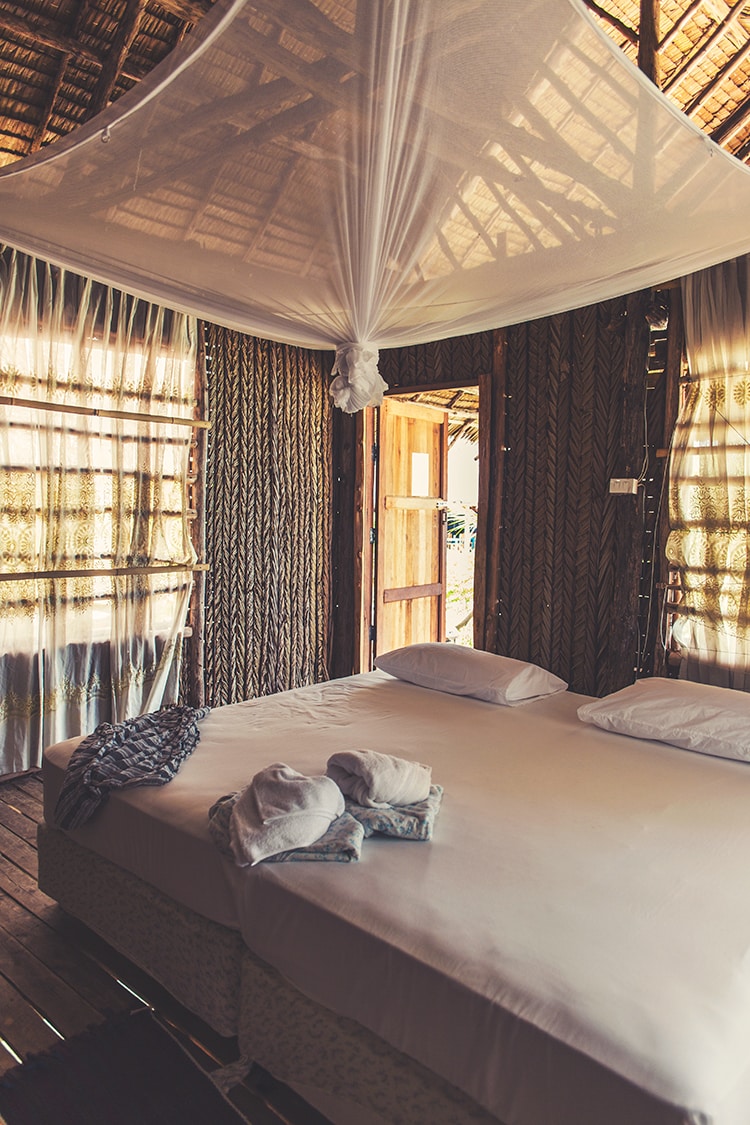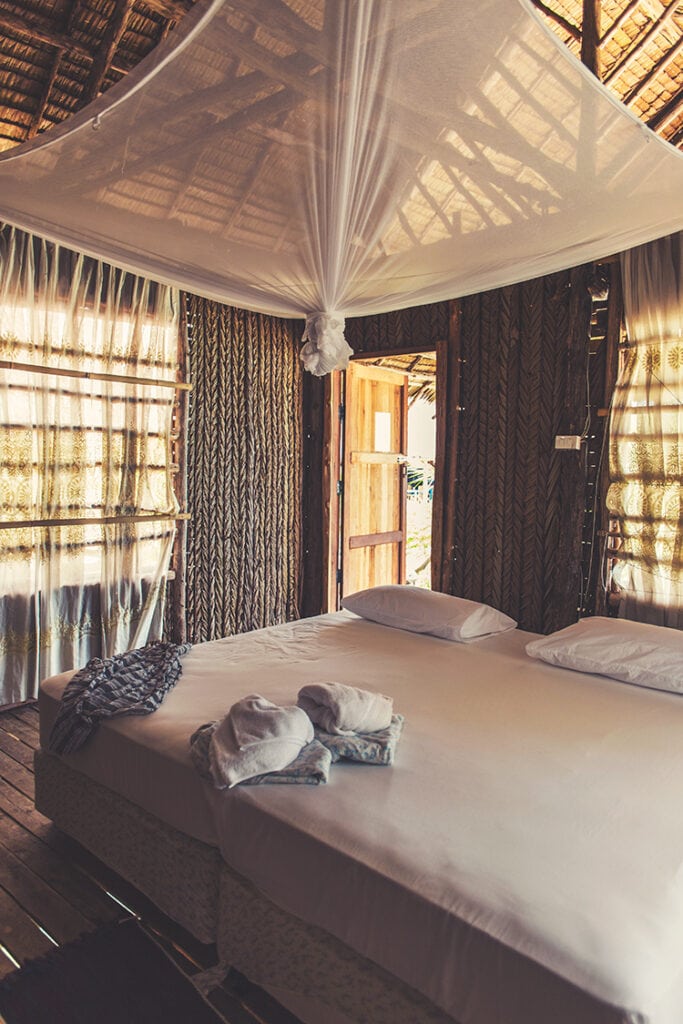 Pin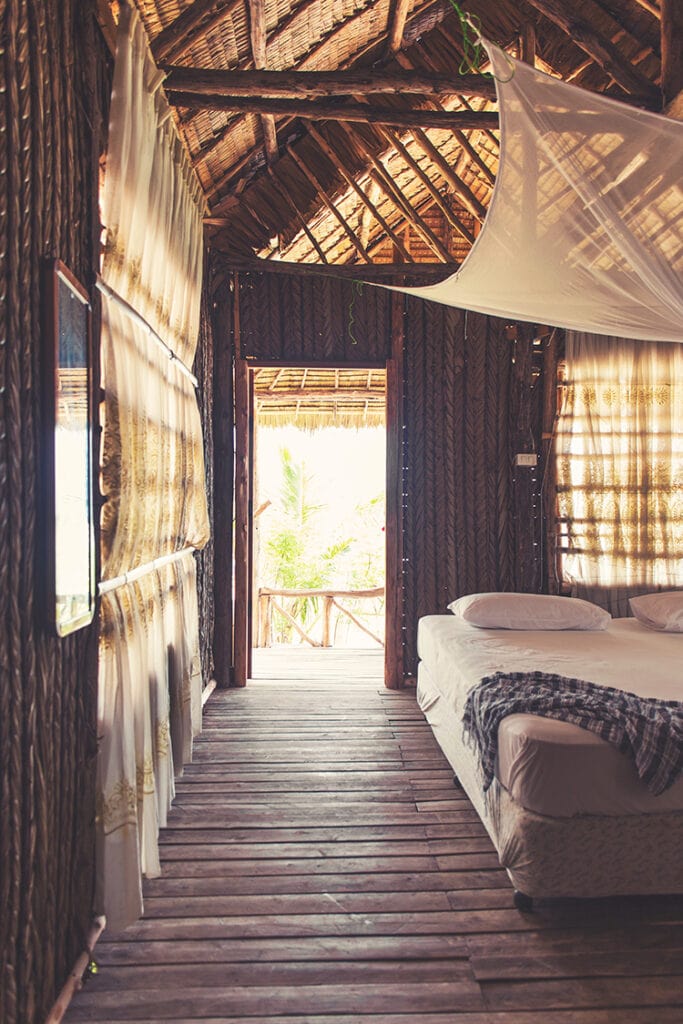 PinWhile walking down the street looking for a taxi to take me to the main beach, I stepped into a bar for a quick bite and ended up running into two friends I had met my second day here in Koh Samui—they were staying in a hostel right next to my bungalow. Two people I was certain a I'd never see again—funny how life works.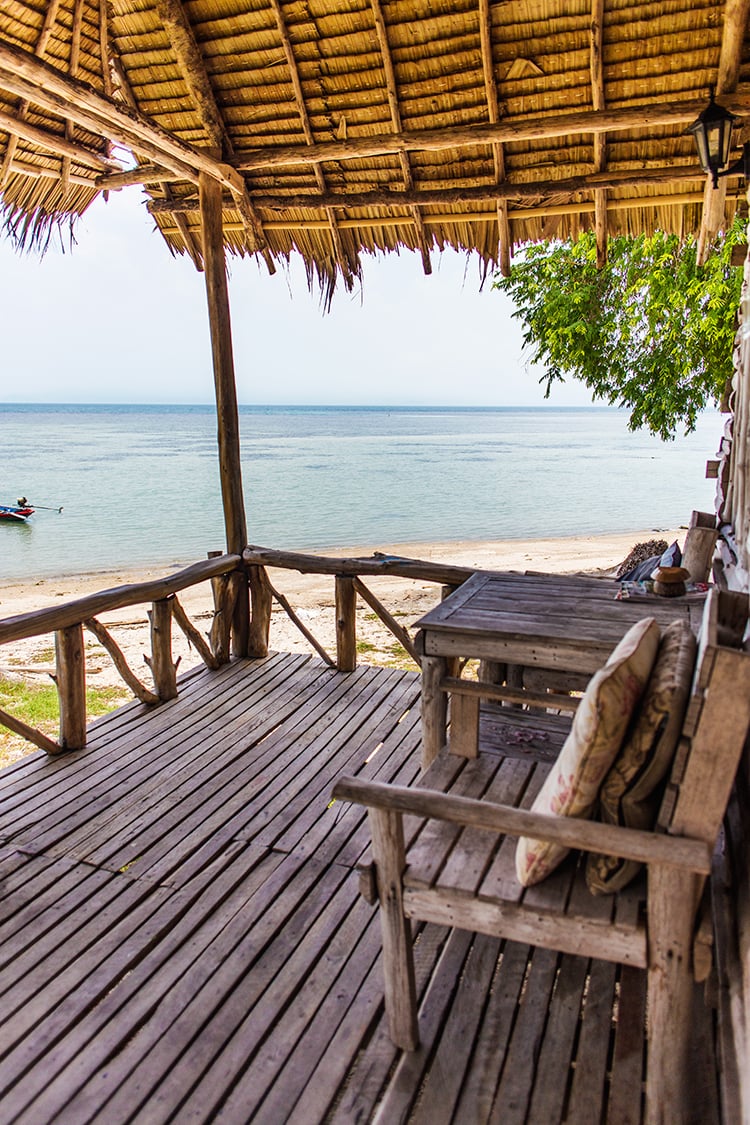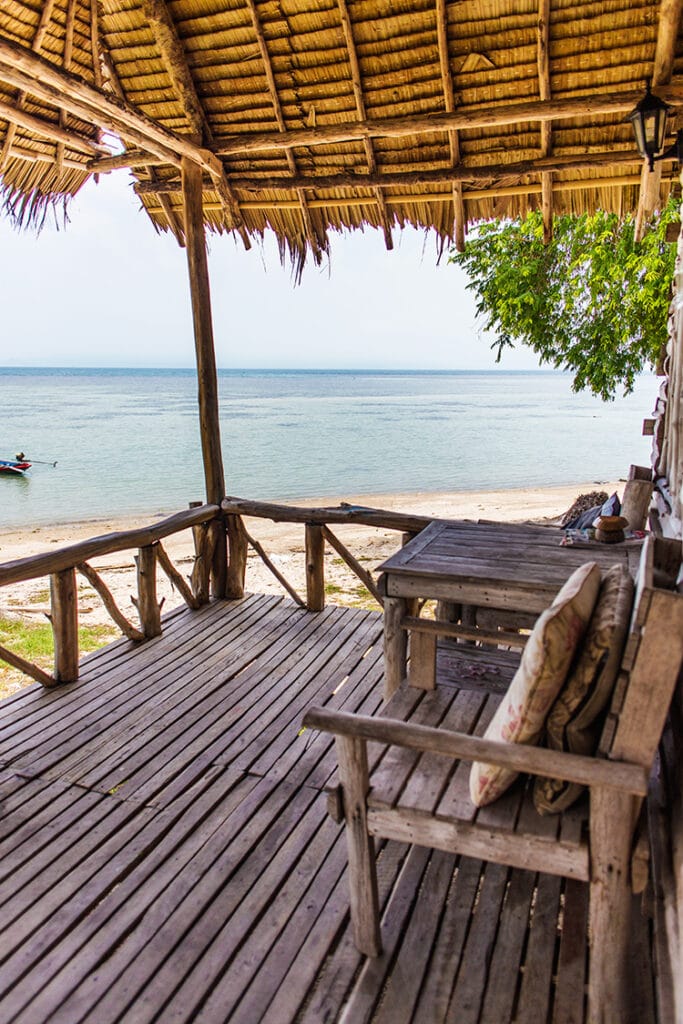 Pin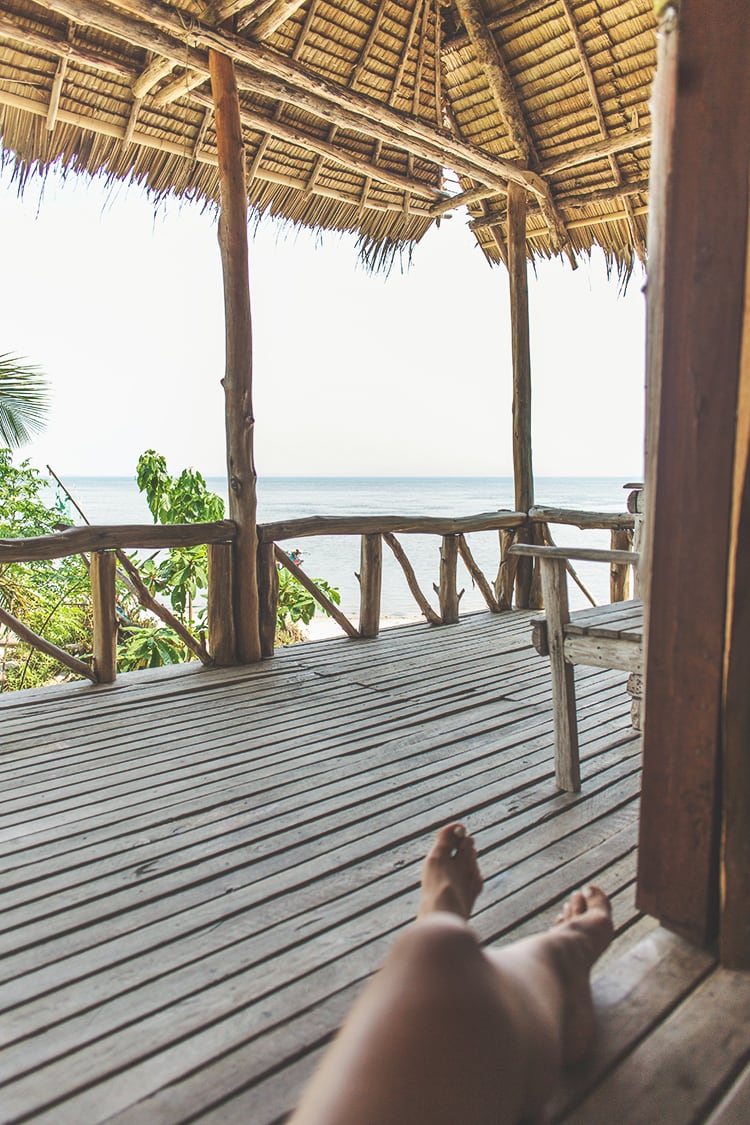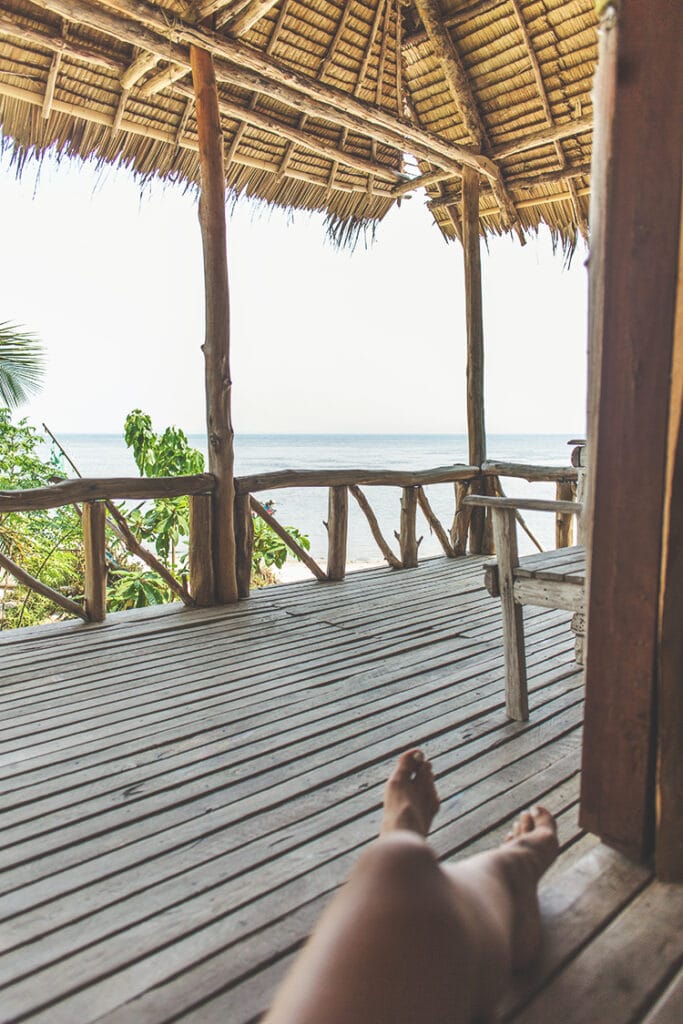 PinWe caught up on each other's travels and they gave me a ride down to the party beach, where I met a group of fun Canadian girls who I stuck with for the rest of the night. I locked my belongings up in a friends hostel (as they'd surely go missing/stolen/damaged with me) and it's a wonder I was able to stay with familiar faces for the next 10 hours and not end up lost in the crowds.
I won't elaborate on the details of the night but visualize a circus fun house, anything goes, mass chaos and confusion, bodies passed out in the ocean and streets, people carrying their bloody and unconscious friends through crowds of strangers on 10 different kinds of drugs and $6 buckets of alcohol as far as the eye can see. I'm old and wise enough to know my limits and surroundings so I stayed alert and coherent, simply taking in the experience until returning to my bungalow at dawn. Another impulse decision I would't normally have chosen, that turned out to be an amazing, unforgettable night.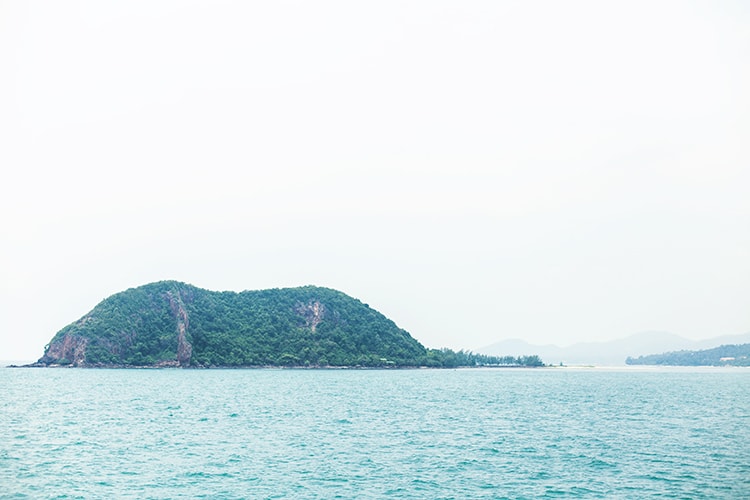 Pin
When it comes to transportation, two things are always certain: confusion and heat. In Koh Tao I was dropped off for the ferry on a side street with lines of backpackers who looked just as confused as I was. There are different ferries and different check-in desks but there's no wayfinding system in places so you basically have to keep walking until you stumble upon the right place.
I walked into four random buildings looking for help before finally reaching my ferry. After checking in, a lady pointed and yelled in broken English, herding us like cattle onto the beach to sit under the sun and wait for the boat which arrived an hour late. You never know the conditions inside the ferry either. The cabin from Koh Samui to Koh Tao looked like an unsanitary clinic waiting room, stuffy with no air conditioning for the two hour trek. The boat to Koh Phangan however could have been a luxury airliner with roomy cushioned seats and a comfortable 70 degrees. I would have paid extra for a longer boat ride just for the air conditioning.
The worst experience so far was traveling to Surat Thani from Koh Phangan. After less than 3 hours of sleep from the full moon party the night before, I arrived an hour before departure as instructed, waited under a small covered roof and watched as tourists poured in. This day was especially hot and humid with shade providing little relief. Departure time came and went as heads turned in the crowd, scanning for our boat or anyone who knew what was going on. When someone who looked like they knew what they were doing walked in a certain direction, others began to pile behind him, not wanting to be stuck at the end of the line. When enough people got up I followed suit and stood amongst the crowd now in the hundreds. The intense Thai sun began to burn my skin and lethargy set in from the weight of my backpack and overwhelming heat. Everybody around me, some still with neon paint and open wounds from the night before were dripping in sweat and people were removing articles of clothing to avoid heat stroke.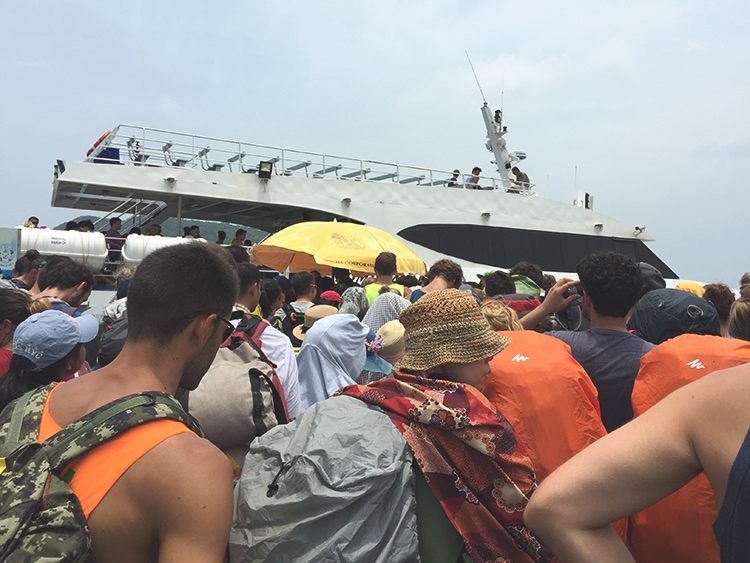 PinAfter several minutes of no progress I realized it was a false alarm and walked back to the covered benches, now completely full, taking refuge on an old motorcycle next to a homeless dog instead. There I waited another 45 minutes until what appeared to be our boat finally pull up. This time I made sure to jump in line early, enduring the open sun once more to secure a coveted indoor seat. Drenched and smelly bodies that towered above me shoved their way to the front as we all funneled together into a bottleneck, inching toward the promised land of air conditioning.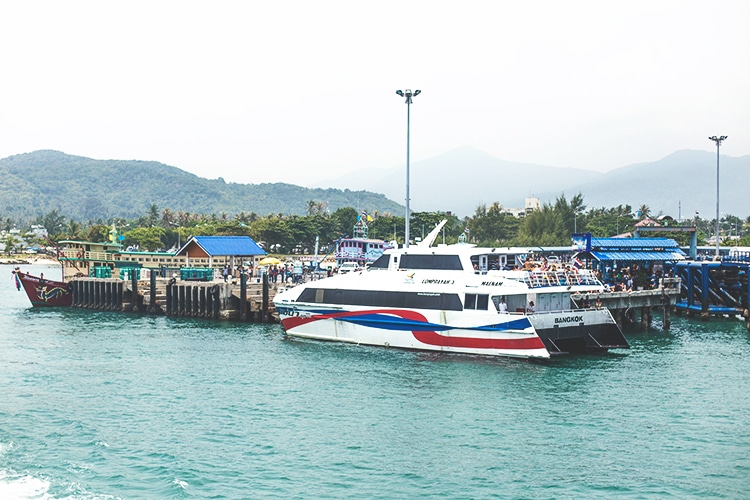 PinSomehow I ended up in the very back and dread set in as I walked past every full seat, realizing my fate of three hours on top of the boat in the open sun. I skipped the metal chairs and found an empty spot on the deck off the back of the boat, stepping over backpacks and hungover/still drunk tourists passed out on the ground. I leaned against the railing and watched Koh Phangan fade away in the distance, wondering if I'd ever return to these islands again.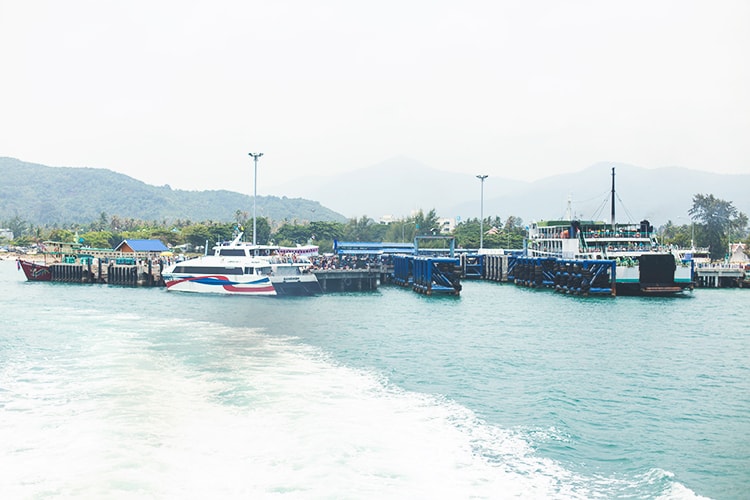 Pin
Surat Thani city is a sprawling mix of urban and rural countryside, only known by tourists for having an airport. A flight to Chiang Mai or Bangkok runs around $50 so it was worth catching a ferry here. Most people head straight to the airport or train station, but I decided to stay a night to sleep in and recover from the full moon party, splurging on a $17 private room with A/C and my first hot shower in two weeks. Pure heaven.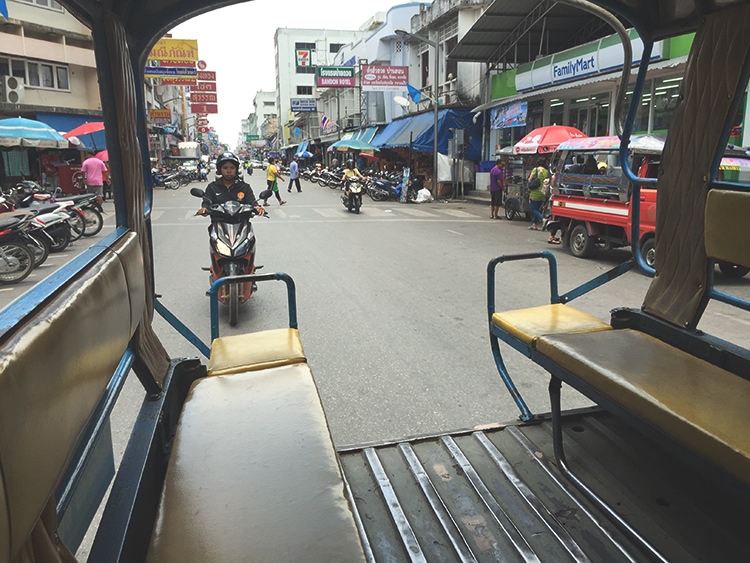 Pin
My hotel was near the center of town but this wasn't Bangkok where every street was well lit and alive with attractions and tourists. The front desk staff handed me a map and told me about the night market which was apparently the only thing to do there.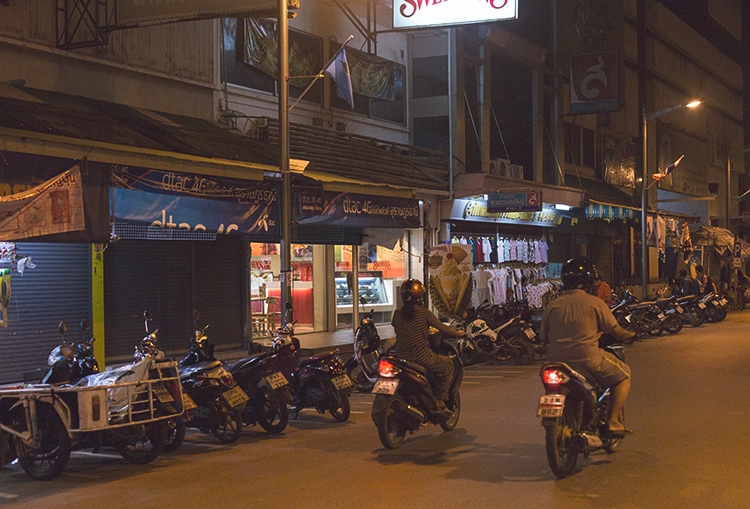 Pin
I woke from a nap at 7pm, hungry and up for exploration, so I grabbed my camera and map and headed outside into the darkness. Most buildings were closed, apart from a few markets and barber shops, and there wasn't another tourist in sight. The sidewalks were narrow as cars sped by and my pace increased as I crossed the dark side streets. I have a decently high risk tolerance but this place was sketchy and I almost turned back, visualizing the news headlines "American girl missing in Surat Thani". The roads weren't clearly marked so I kept on the busiest roads, lost once again, before seeking help from a shop owner who didn't speak a word of English. Eventually the smell of frying meat caught up with me as I spotted food carts and crowds in the distance, exhaling a sigh of relief.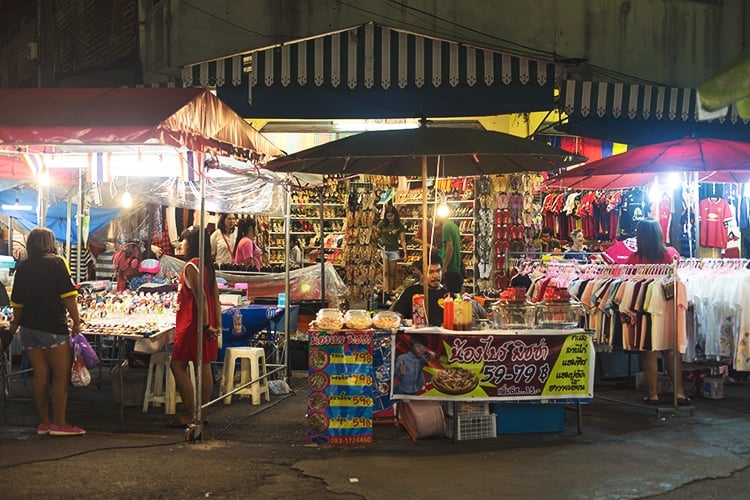 PinThe night market was a feast for the eyes and I walked slowly, examining every vendors offerings, wanting to sample all the foreign flavors. I settled on deep fried wonton pork, a watermelon and mango smoothie, a box of mini macaroons, colorful sushi and Asian fruit candy, stuffing myself until I couldn't eat another bite.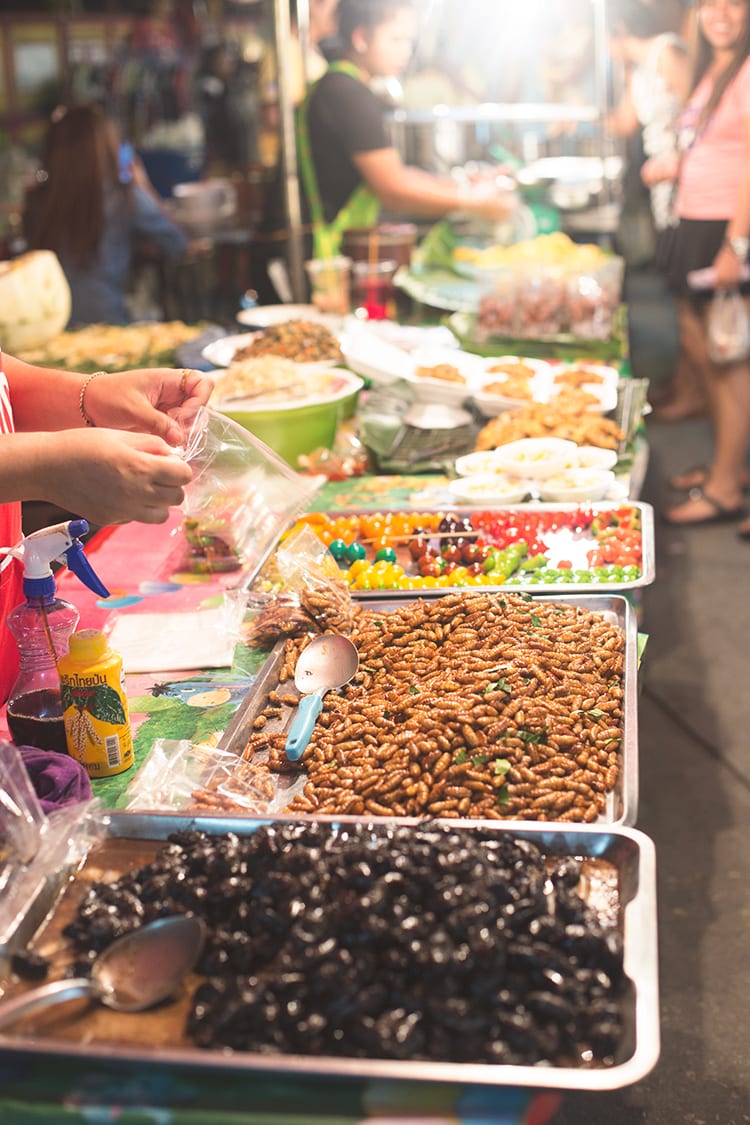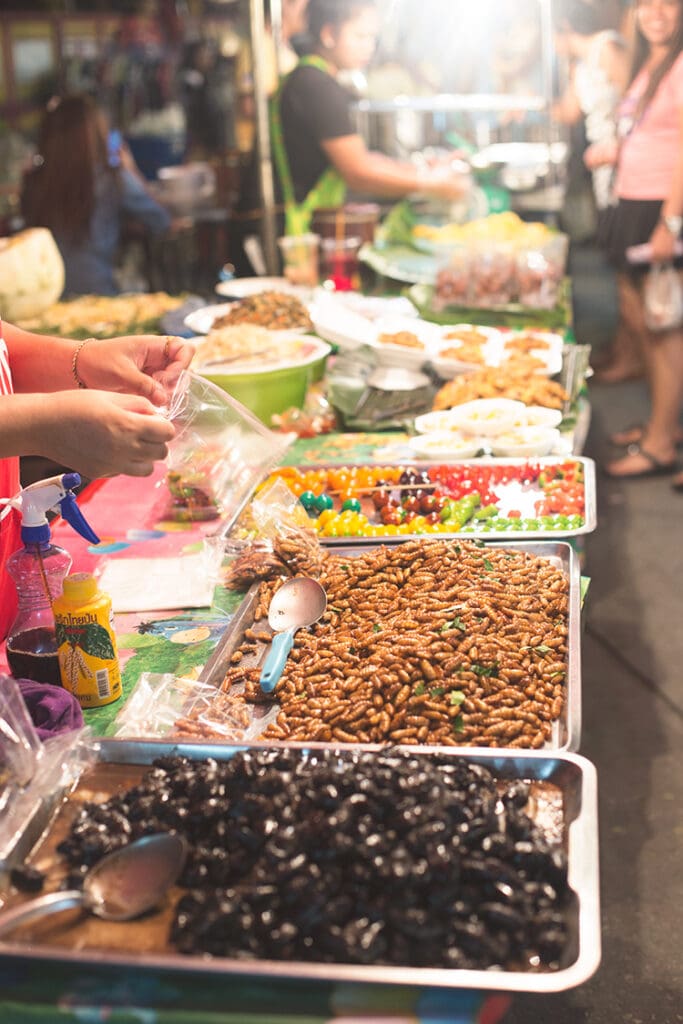 Pin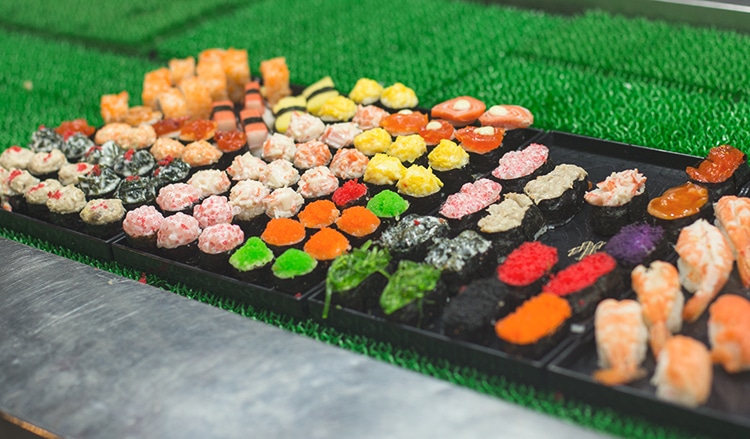 Pin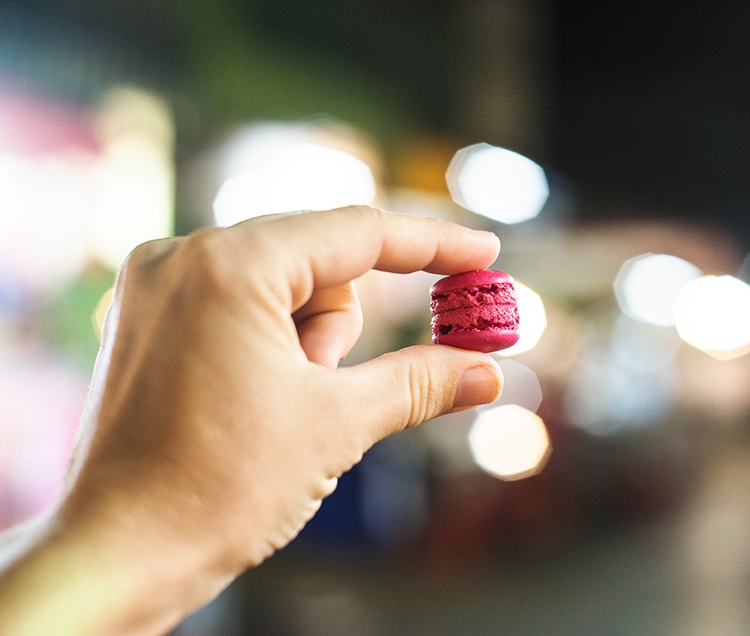 Pin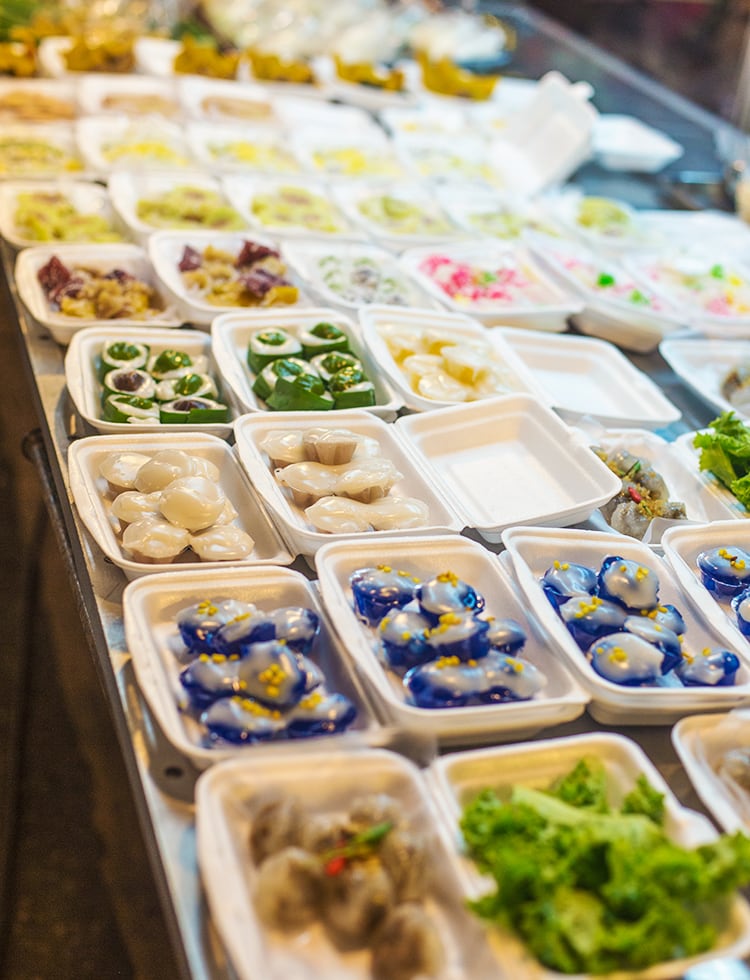 PinI browsed $1 wallets and earrings and perfumes, wishing I could fit them all in my backpack. After buying a cute shorts and top set, I found my way back into the street—spending just $10 in total that night—and caught a 95 cent tuk tuk ride back to the hotel.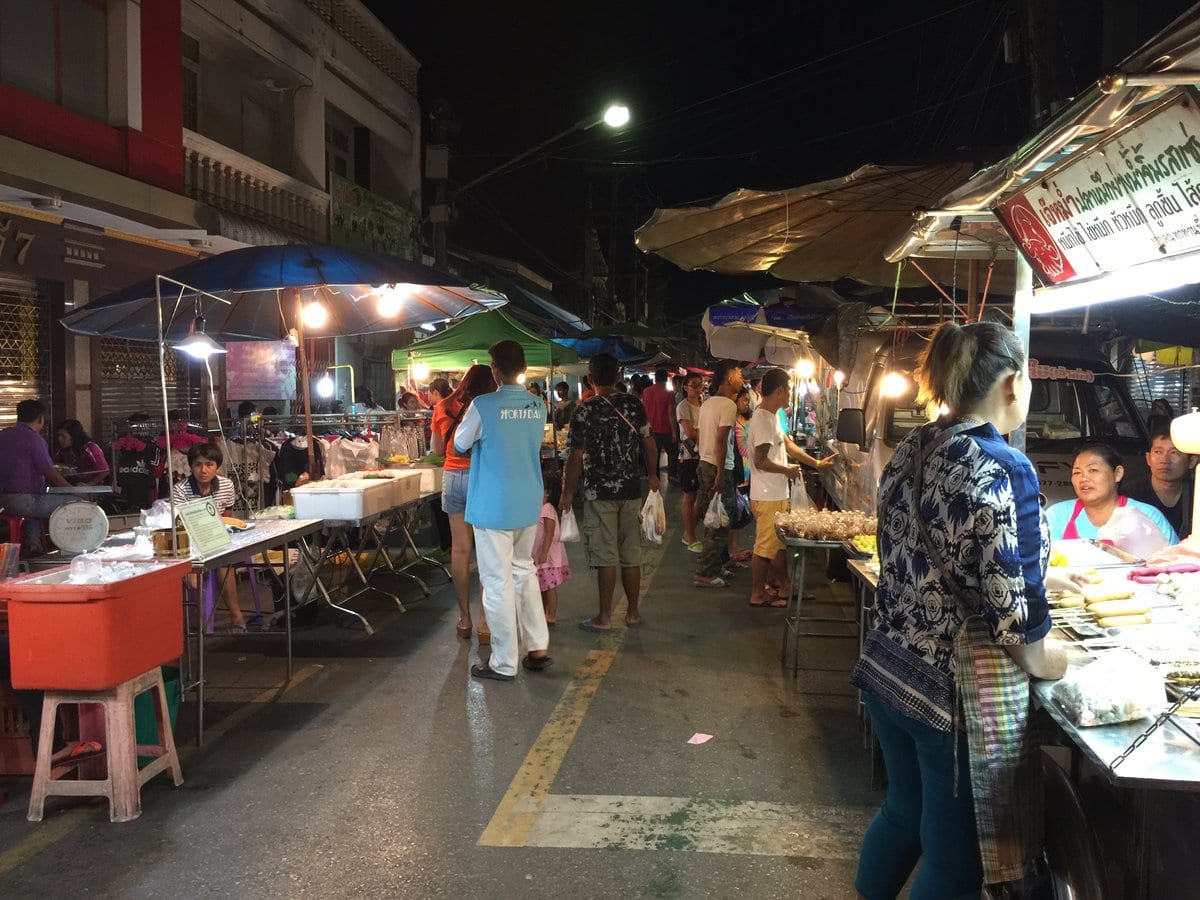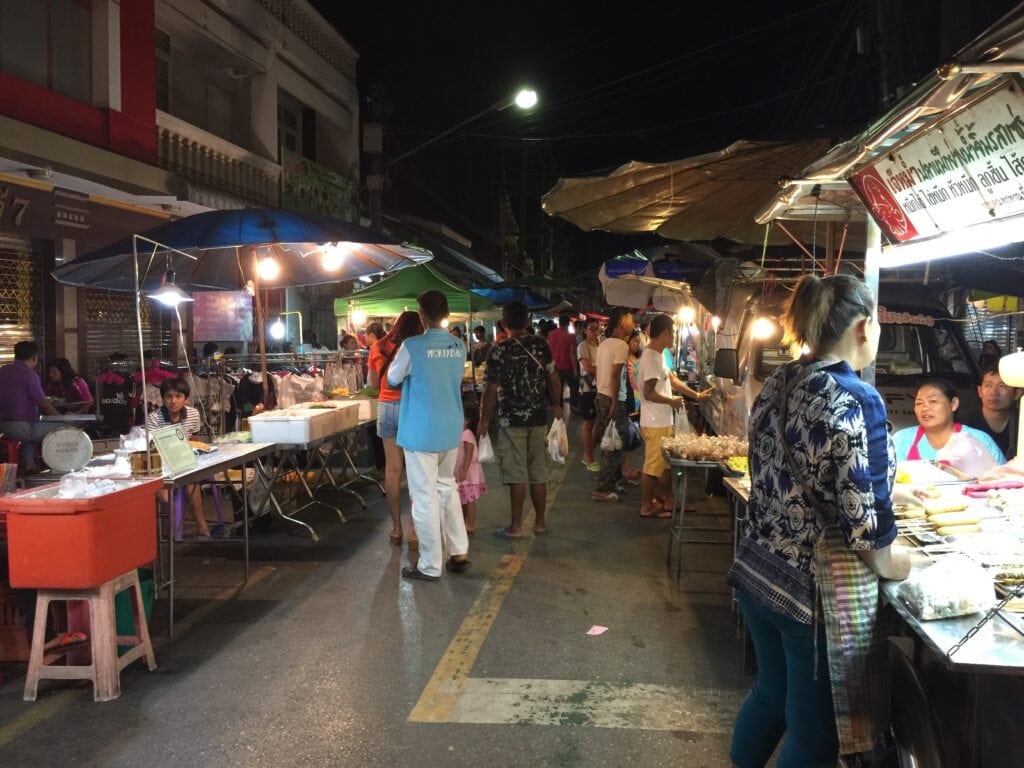 Pin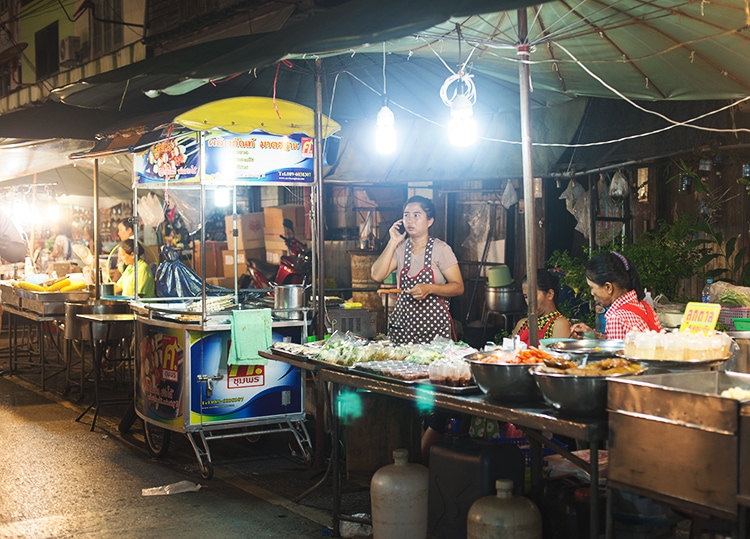 Pin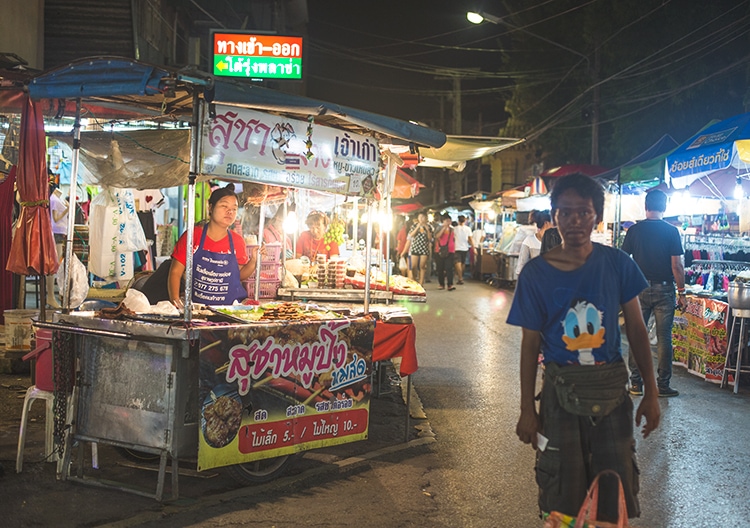 Pin
The next morning I walked to the front desk to wait for my taxi to the airport. The paper I was given from the transport company showed a 12pm pickup and I asked the staff if they could call to confirm. They didn't speak English but I hoped they would understand my mission as they began dialing numbers. After several attempts to reach someone, another worker who spoke slightly better English came to help. It didn't look promising. She typed thai characters into a translator on her phone and showed me her screen: "This company have no credibility. Because every customer will not come to here. I will have complaint."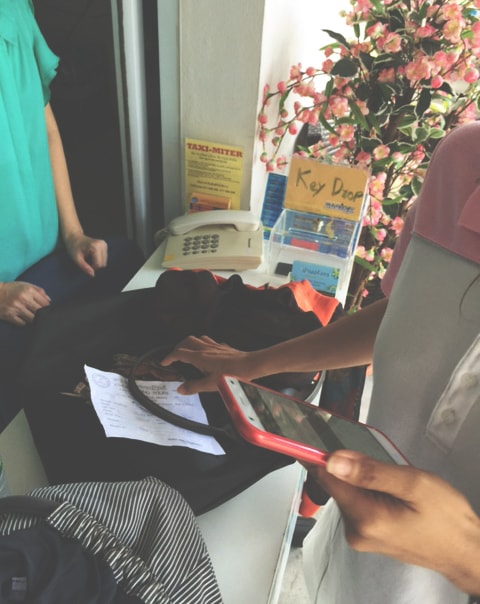 PinGreat.. I just paid this company 600 baht to take me to the airport and now they're MIA. Helpless and unable to communicate, I used hand gestures and spoke slowly, "different taxi to airport, pick me up here now…" In hopes they could offer a back up plan. "I call taxi for you, take you to tour company first" she reassures me. Twenty minutes later a cab arrives and I'm instructed to get in. Just behind it a tuk tuk pulls up and they tell me to go with him instead. I have no idea if I'm going to the airport or tour company but I have a flight to catch so I do what I'm told and hope for the best.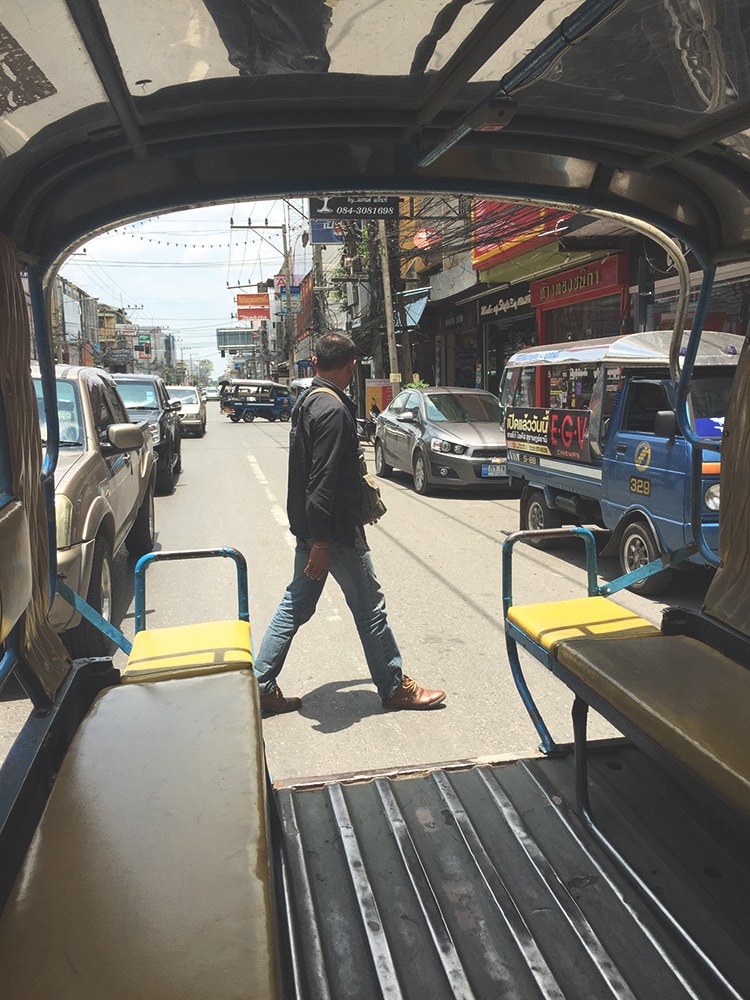 PinFive hours later I landed in Chiang Mai and that is where today's story ends. I've been here for almost 48 hours and tonight I'll be in a new city, living out the next chapter of my journey. More on the way from Northern Thailand…