Three reveals in one month—we're on a roll and not slowing down! Today's post is one I've been looking forward to most since I dreamed up the design months ago.
In February, I shared the design plan…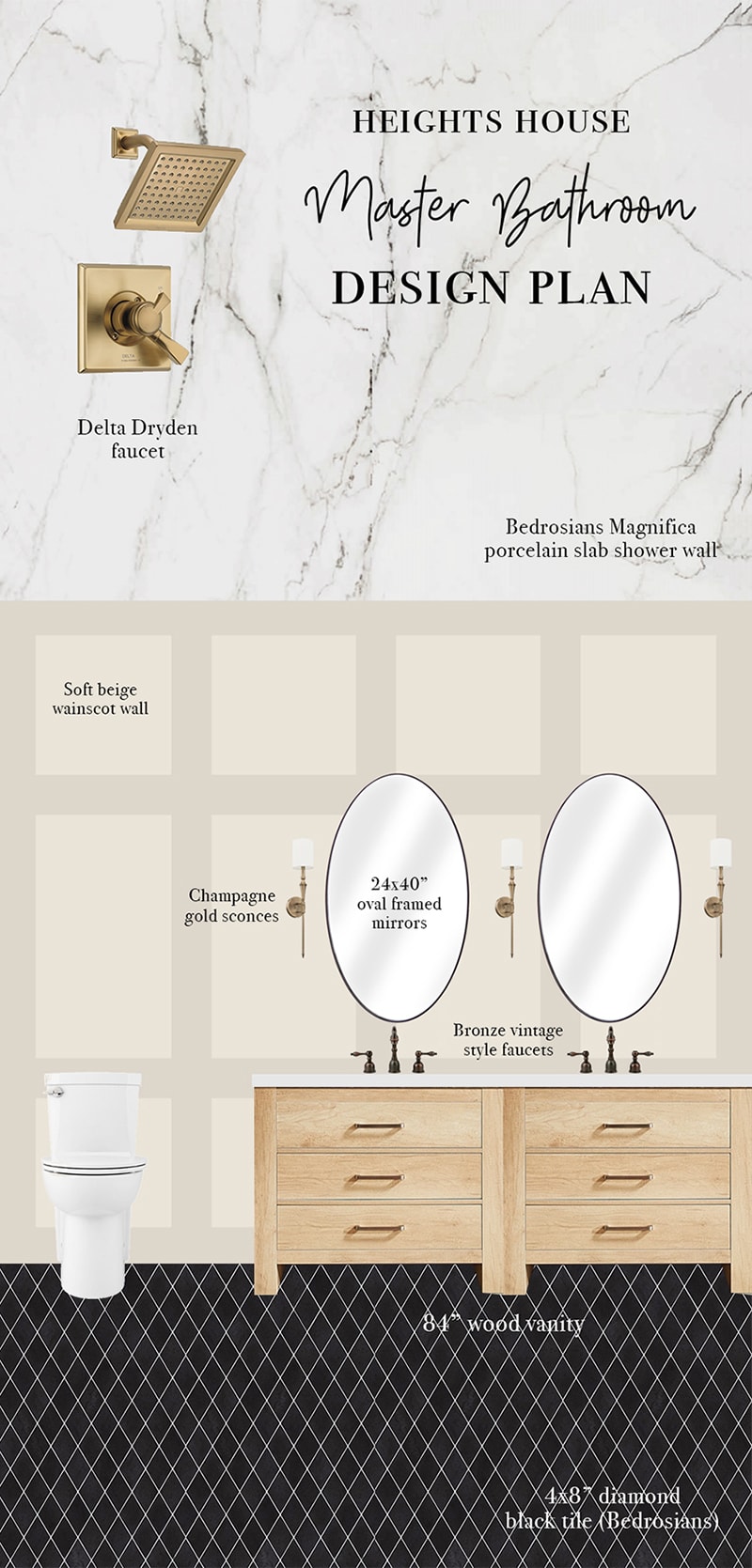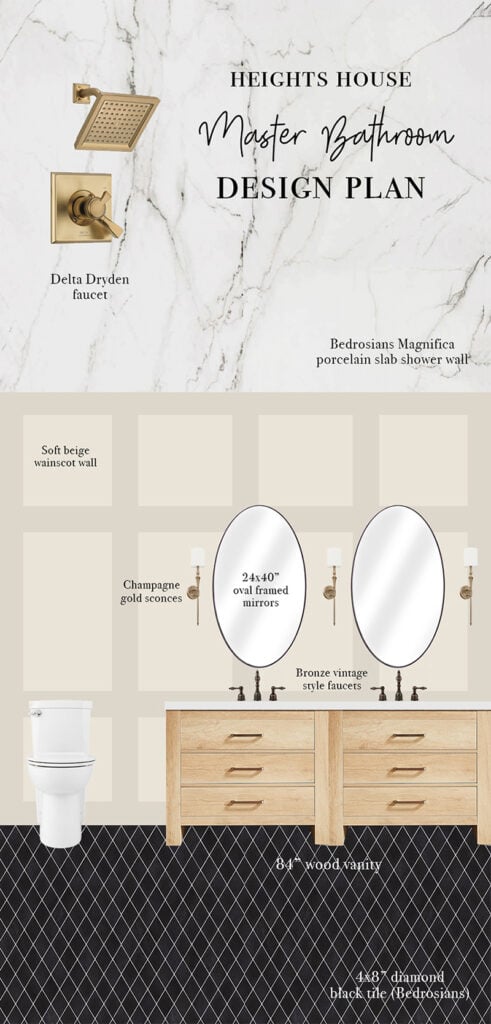 Pin
Along with Before Photos of the space…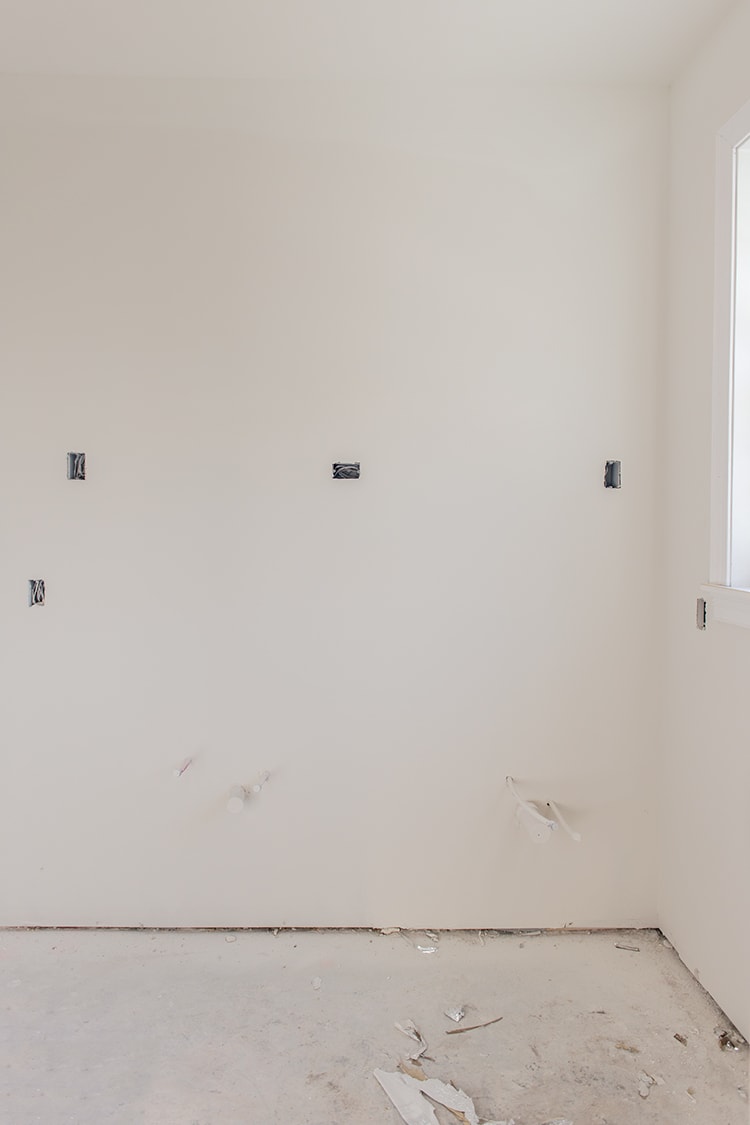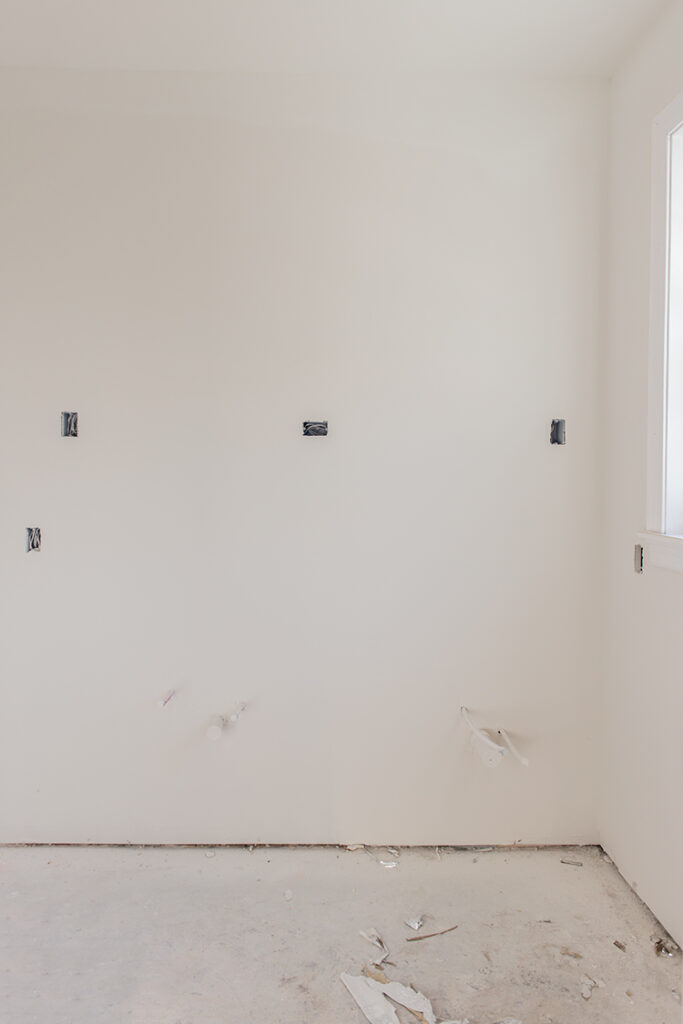 Pin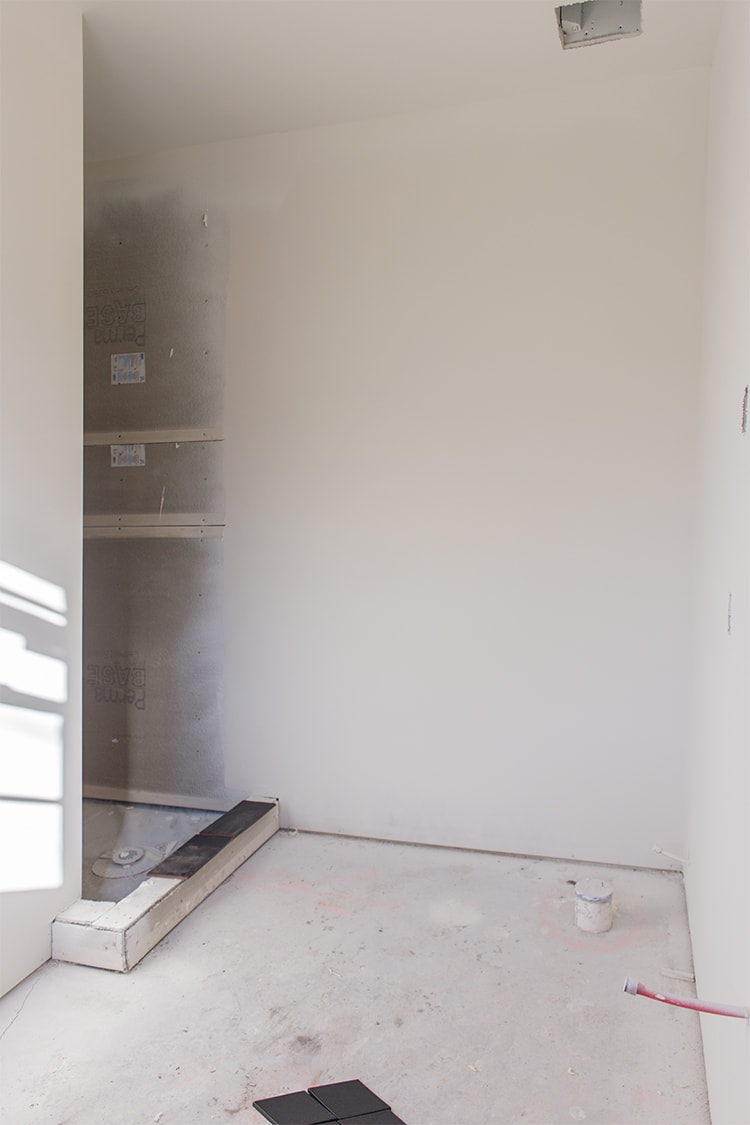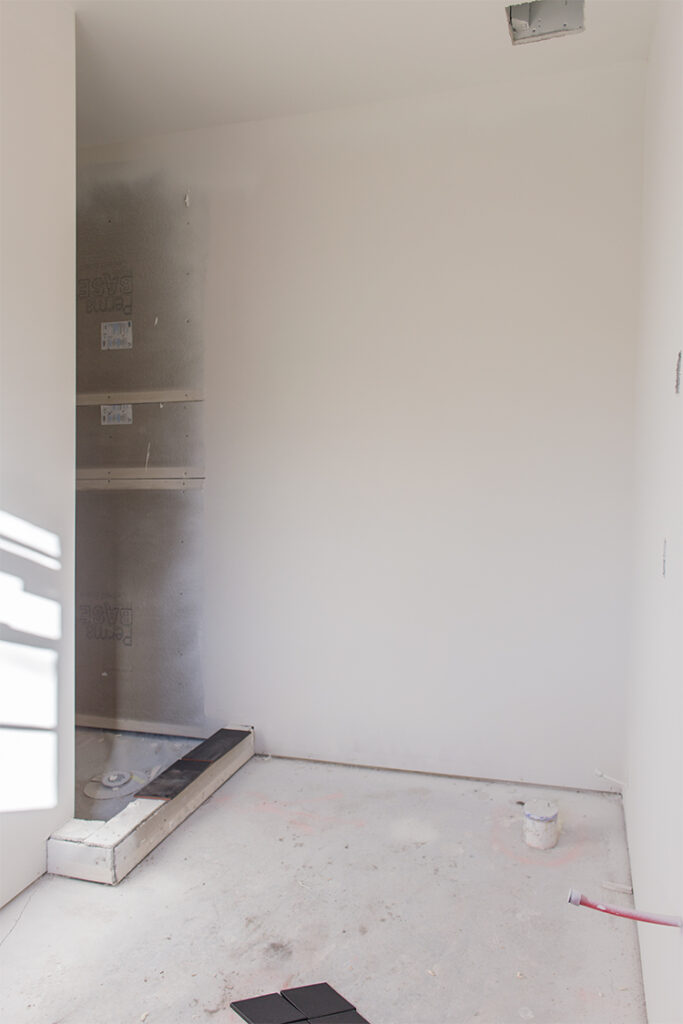 Pin
It has a small footprint, at around 10′ x 6′ in size (not including the shower), but tall 9'4″ ceilings give the illusion of a roomier space.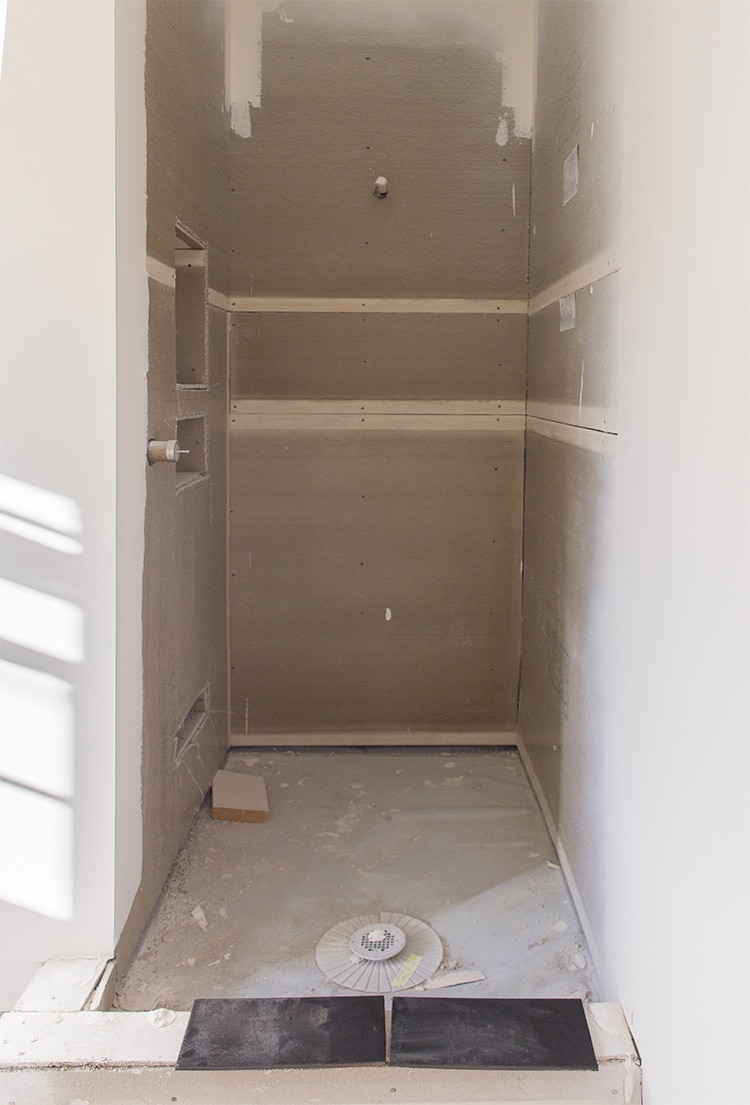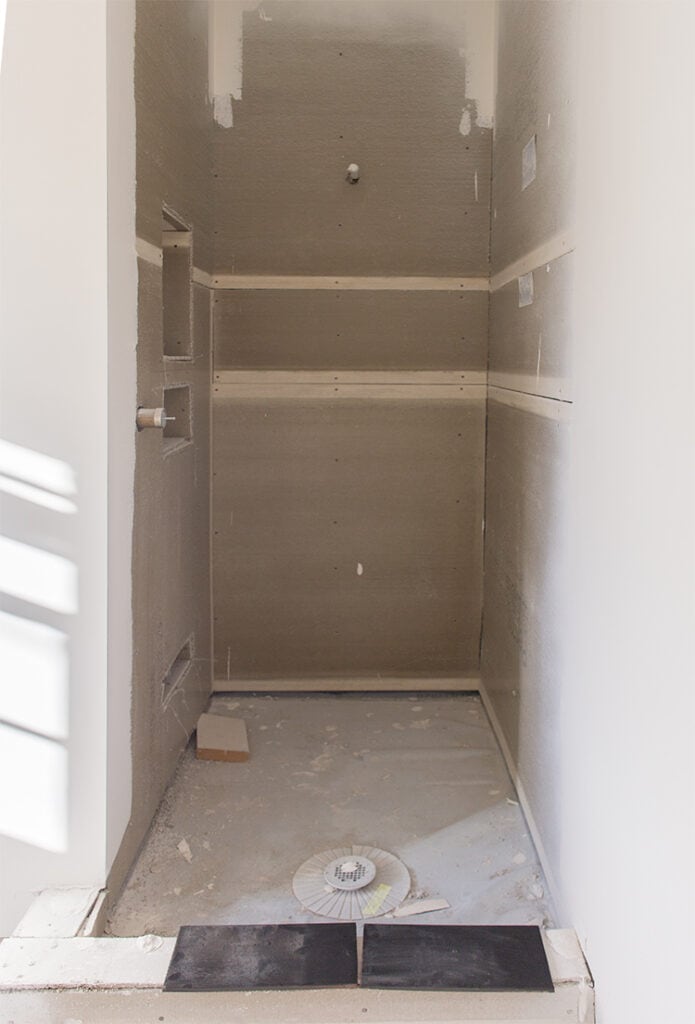 Pin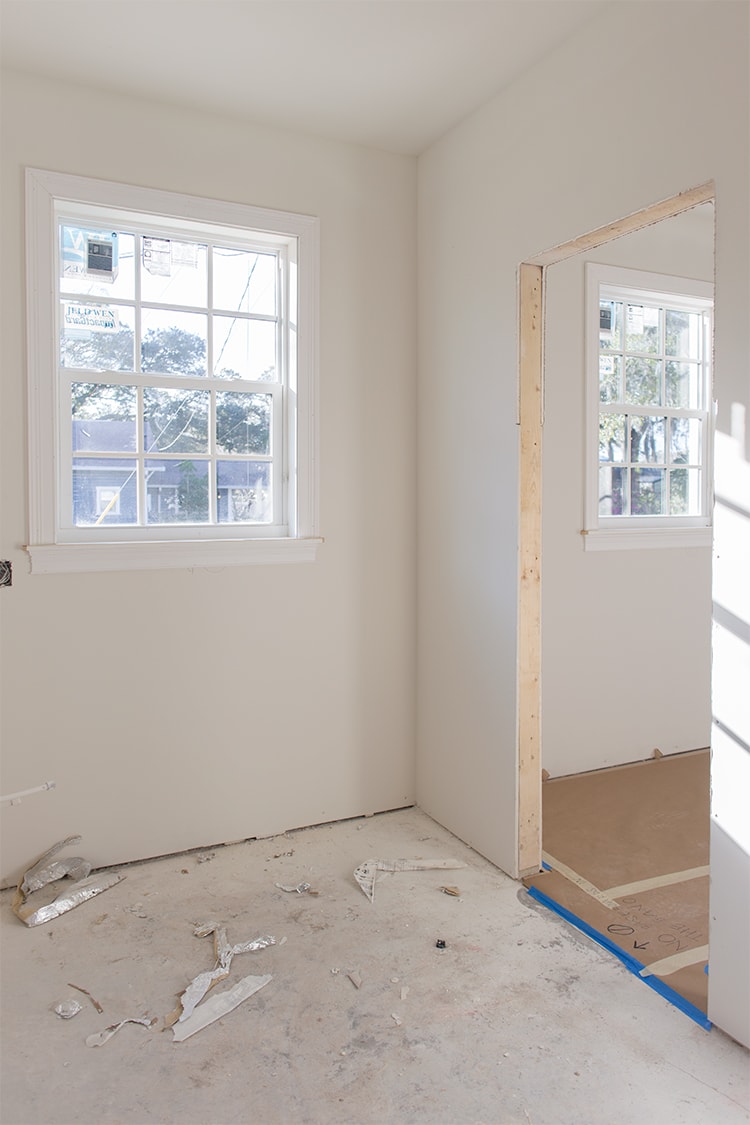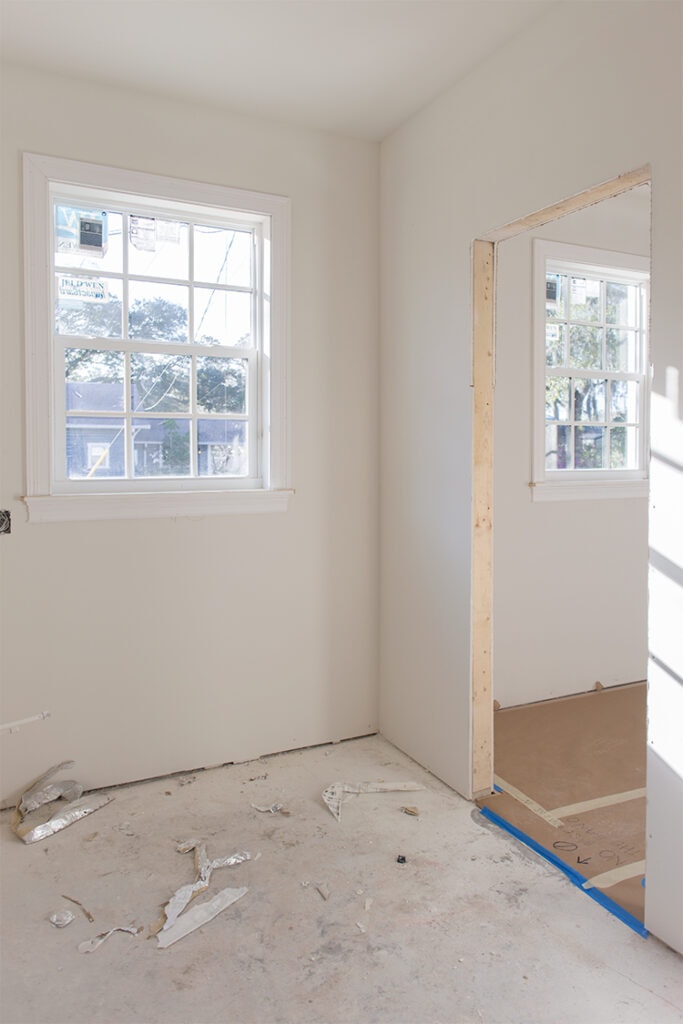 Pin
I decided to splurge a little on luxury tile and porcelain slabs to give it an extra rich feel, and opted for budget-friendly finishes and accessories (plus some DIY for good measure) to balance it out.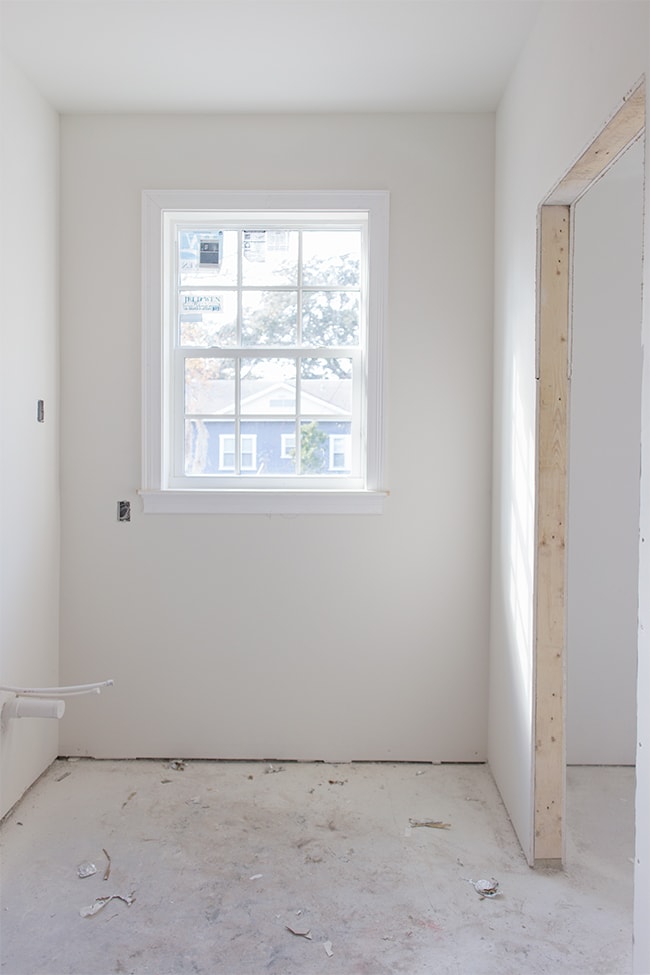 Pin
A couple weeks ago I shared the whole process of the tile/slab install, plus our DIY wall molding treatment in a master bathroom progress post: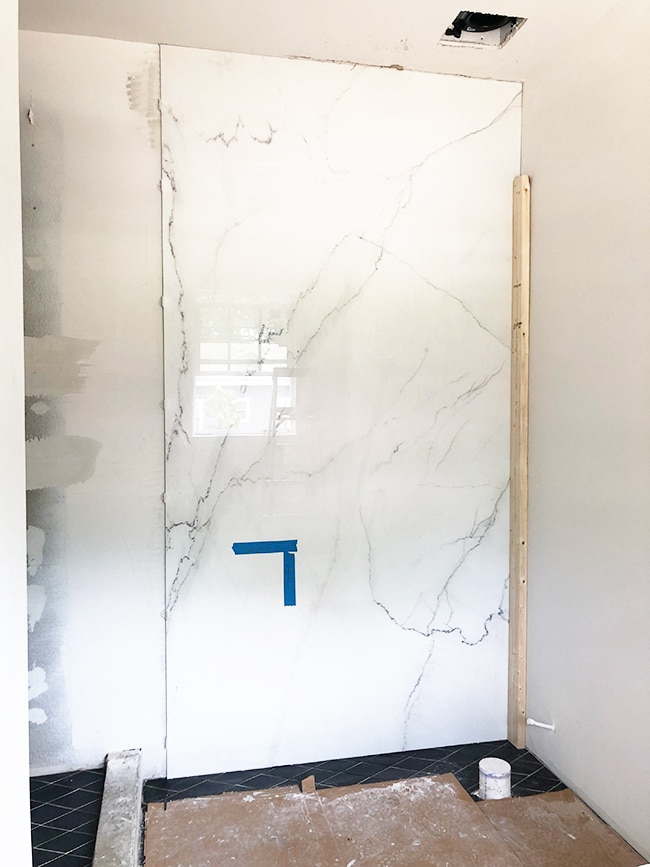 Pin
Make sure to read that first in case you missed it, so you can appreciate the tile trauma and sweat equity we endured to get to the finish line!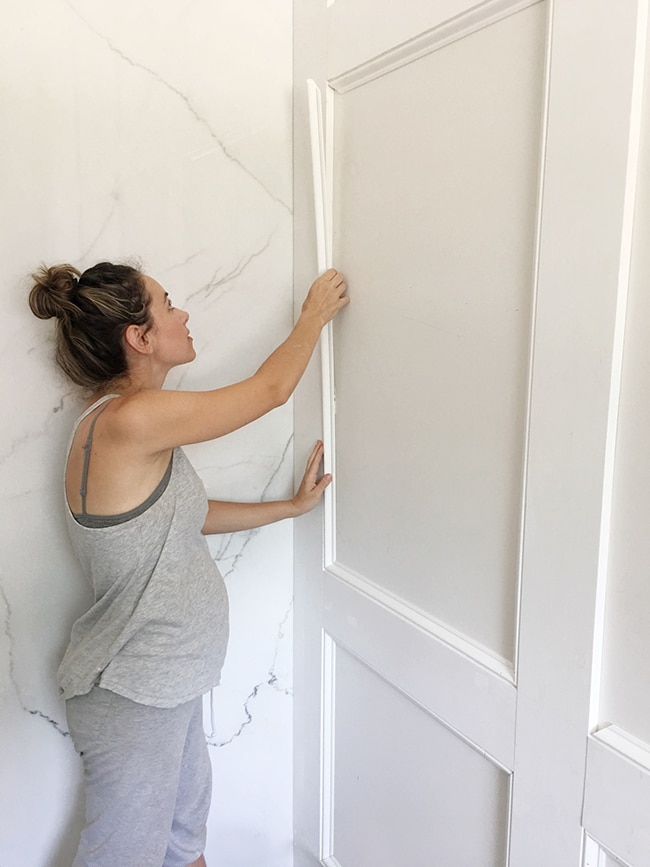 Pin
Like any good renovation full of ups and downs, this story does have a happy ending.
Welcome to my dream bathroom…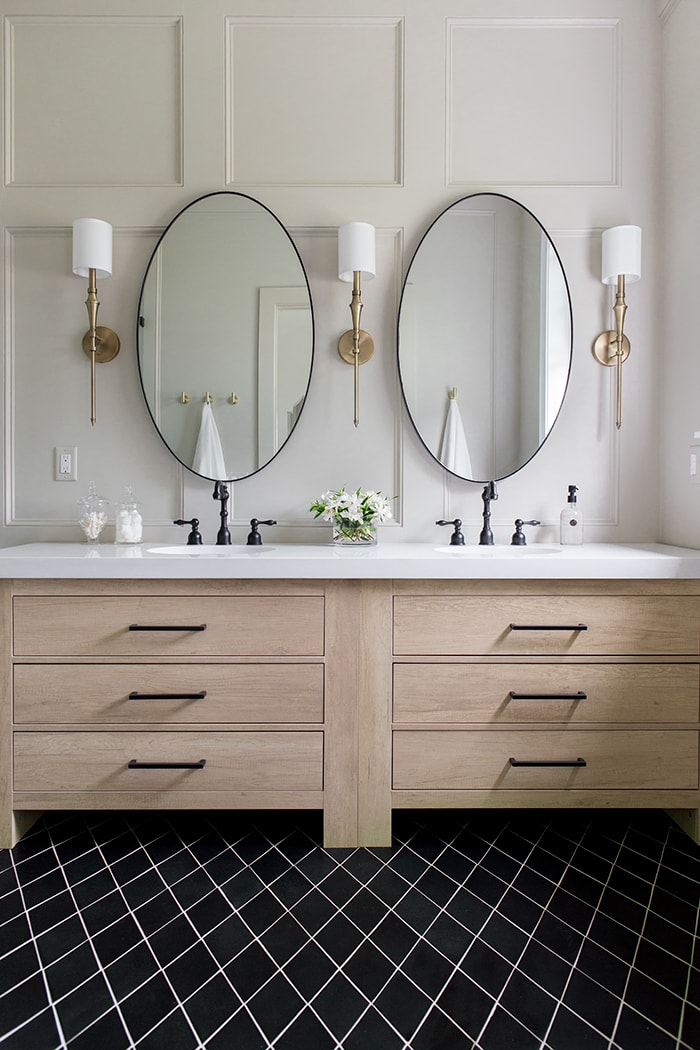 Pin
To be honest, we've been in so much of a rush to get things done at the house that I haven't had a chance to pause and take it all in yet.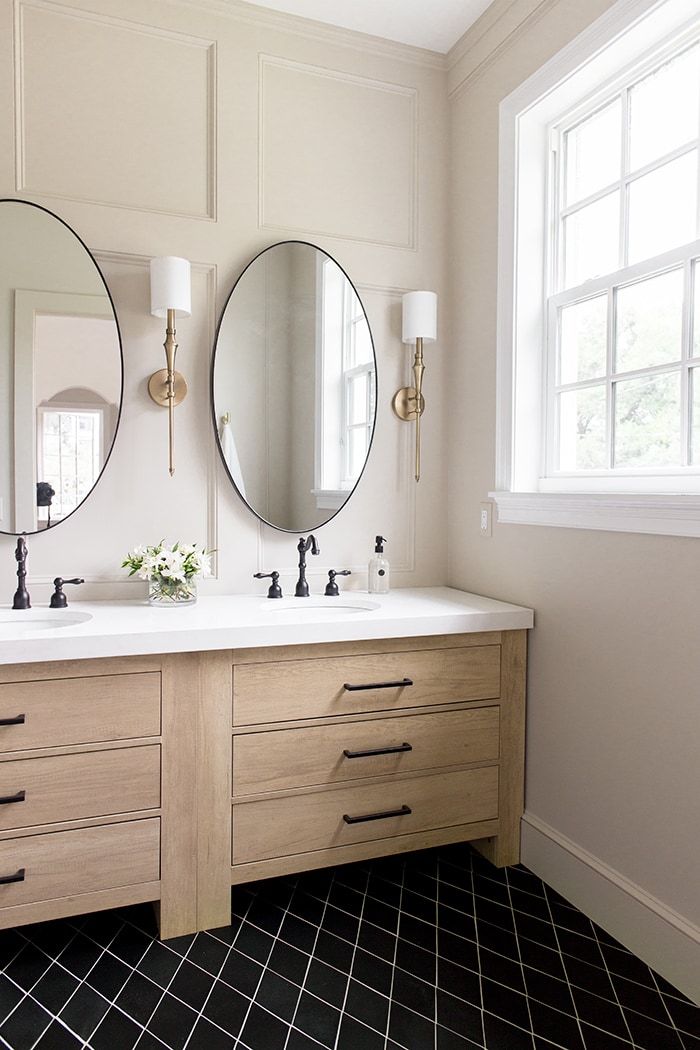 Pin
Counting down the weeks/days until we can finally move in and start using these spaces (if there are no more delays, it should be this month!)
Pin
Let's start with the floors. These are artisan crafted 4×8″ satin glazed ceramic tiles, special ordered from Bedrosians Paseo line. I knew they were "the one" the moment I spotted them online and the texture and quality is stunning in person. We used Mapei grout in Ivory to accentuate the design.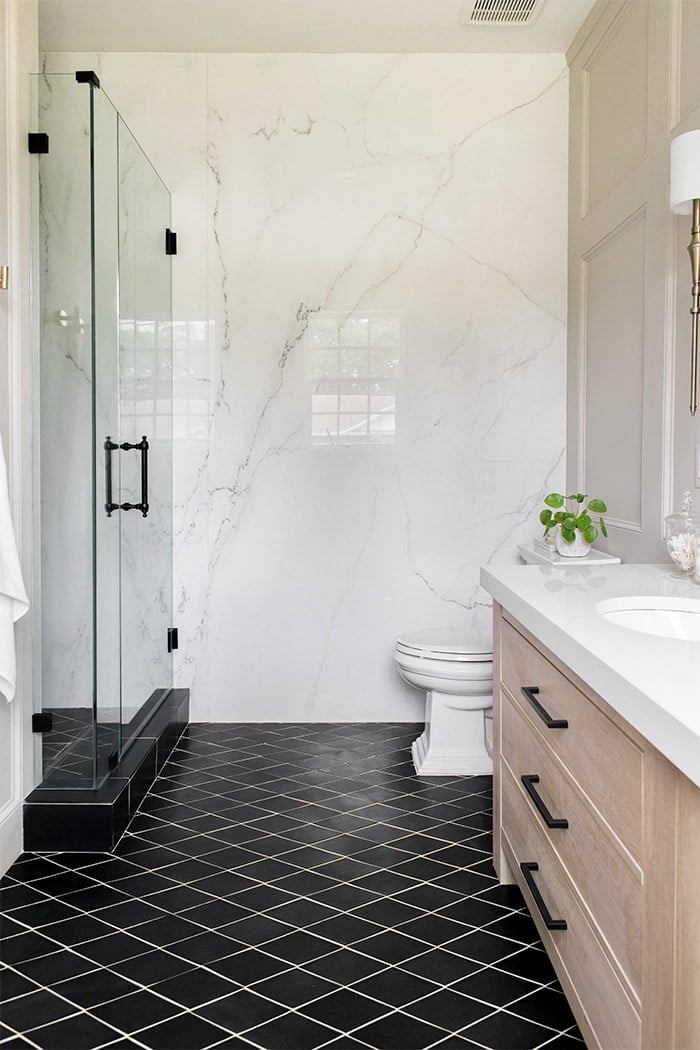 Pin
But you're probably distracted by that statement wall, right? HELLO there, gorgeous…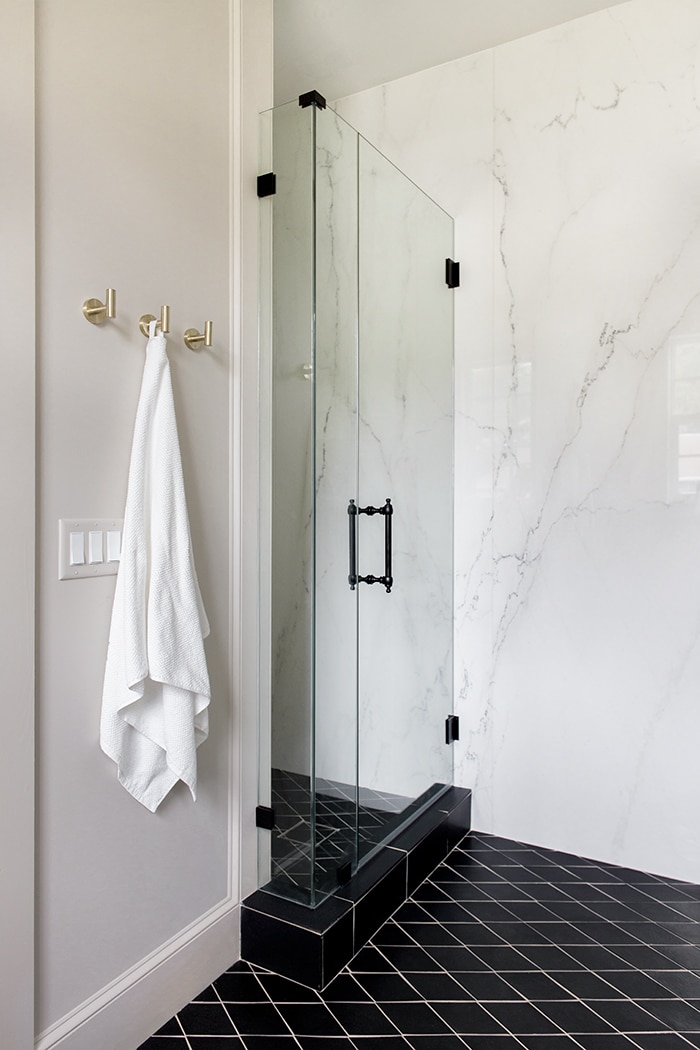 Pin
These are large format 1/4″ thick porcelain slabs from Bedrosians Magnifica line, in Lincoln Super White. They wrap around the entire shower and back wall giving the illusion of one continuous piece. These slabs were the first design element I chose for this space, and even with all the stress we went through, I wouldn't trade them for the world (you can read more about the selection/install process in this post).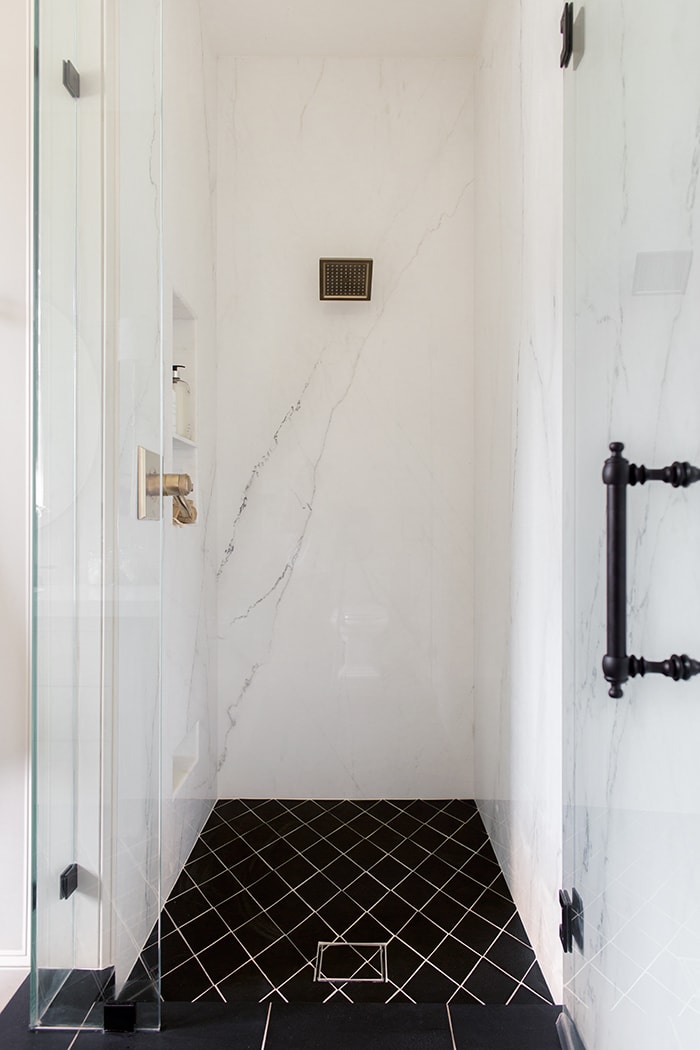 Pin
Champagne gold accents were a natural fit for this luxury inspired space, and I went with one of my favorite affordable shower faucet go-to's—Delta's Dryden trim in champagne bronze. The valve is mounted near the door so we aren't sprayed with cold water every time we turn it on.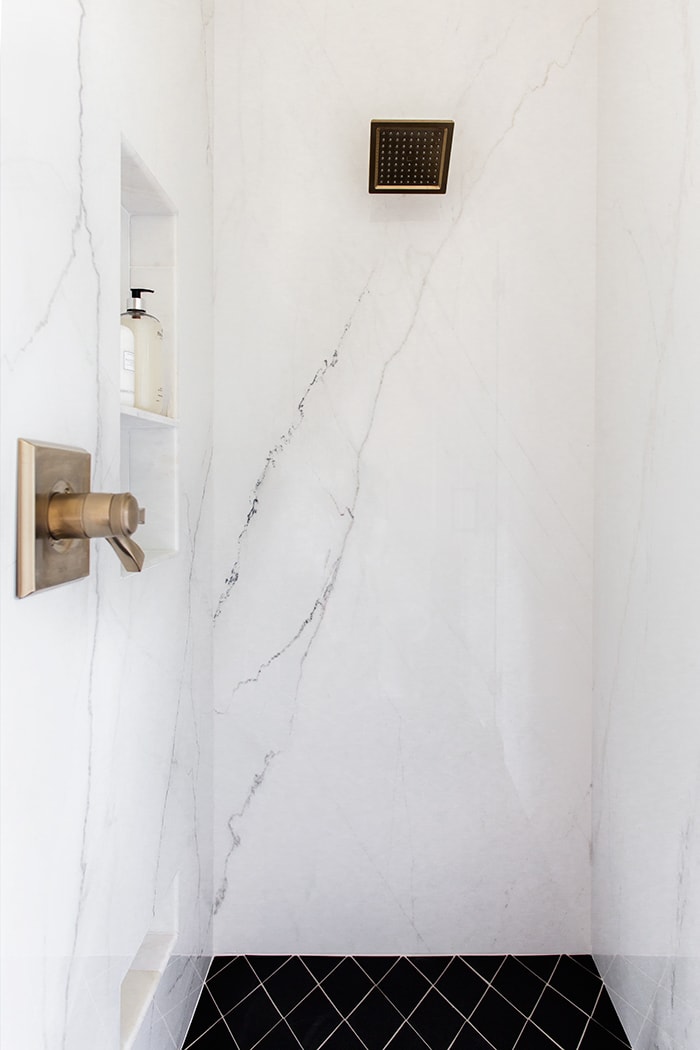 Pin
From inside the shower, we have a lovely view of the toilet. Good thing I picked a handsome one 😉 This is the same Kohler model used in our guest bathroom, and I bought one for the powder bath too.
Pin
The glass door enclosure was just added a few days ago by a specialty shop my builder uses (sorry, no additional info on that!) Also, can I just comment on this wall color? Accessible Beige has to be my favorite paint right now—I can't get over how much it changes depending on the light and its surroundings. Truly the most perfect greige.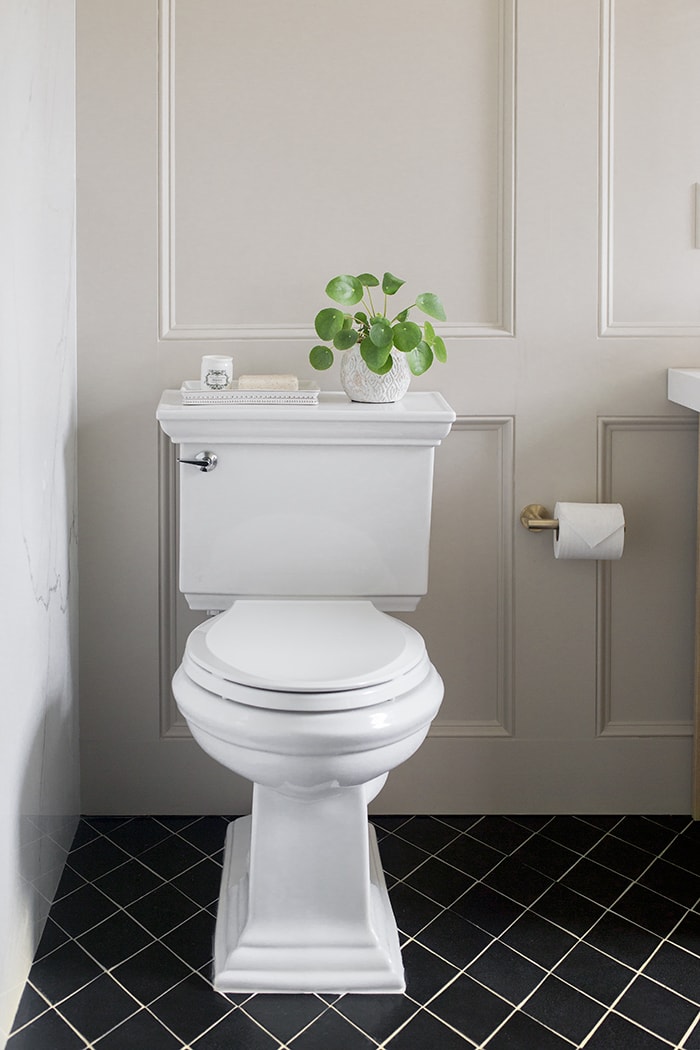 Pin
Let's move onto the most substantial piece in the room… this vanity: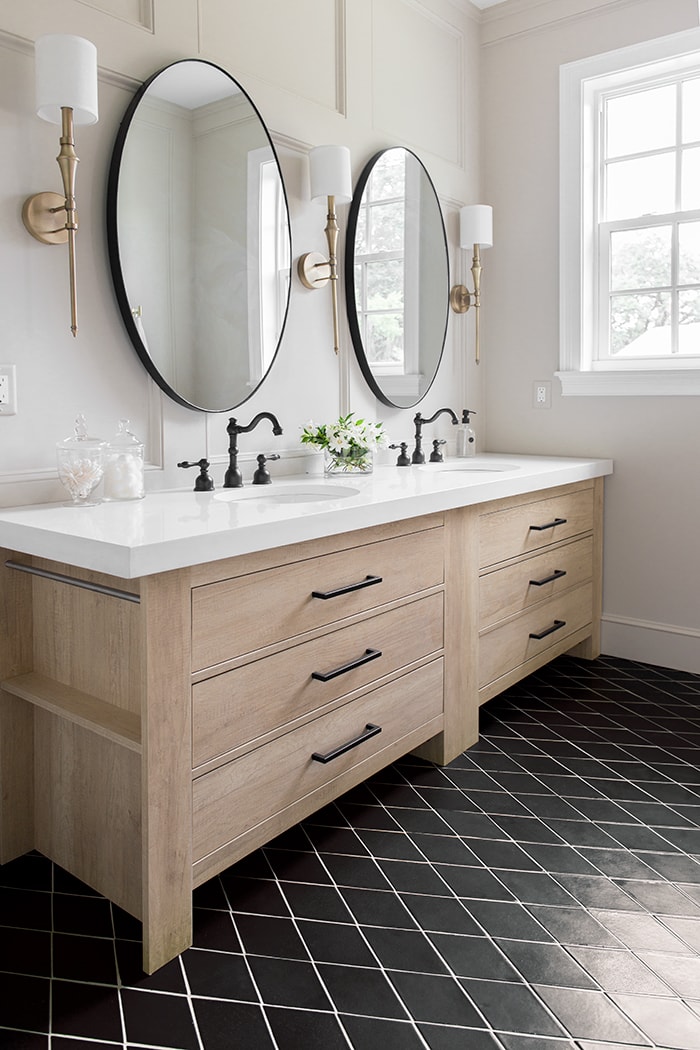 Pin
Or should I say, vanities. My design plan called for a 7′ vanity to adequately fill the wall space, and I had made my mind up on a light wood finish. I looked for hours, days and weeks trying to find something that fit the bill (even considering custom/handmade options) and came up short finding something reasonably priced.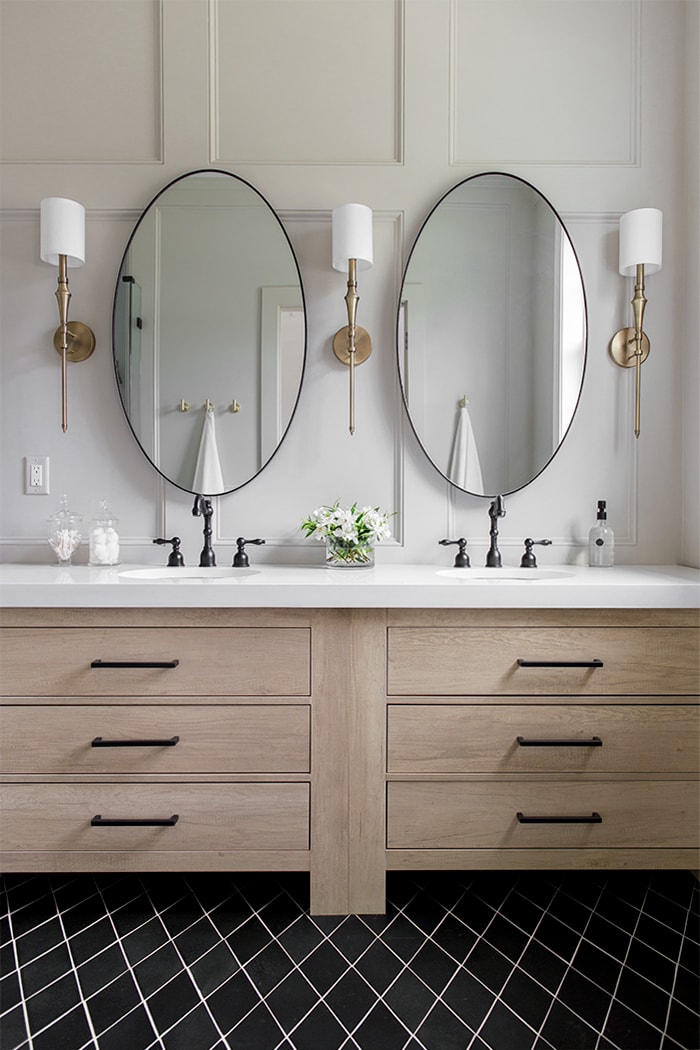 Pin
Finally I had an "a-ha" moment—why not use two 42″ vanities side by side? This opened up a lot more options (still not a ton, as 42″ isn't the most common size and there is a serious lack of light wood vanities out there) but eventually, I came across this simple and clean lined 42″ vanity on Overstock, and knew it was perfect.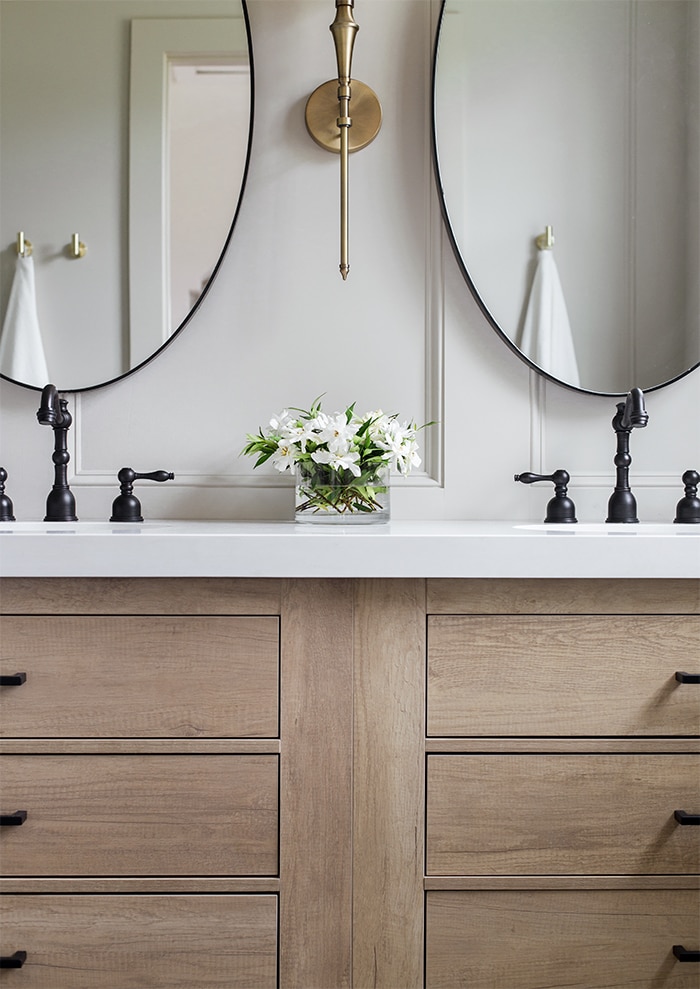 Pin
The straight edges allowed the vanities to sit flush together and give the appearance of one long vanity, and we replaced the existing counters with one large custom slab of thick white porcelain.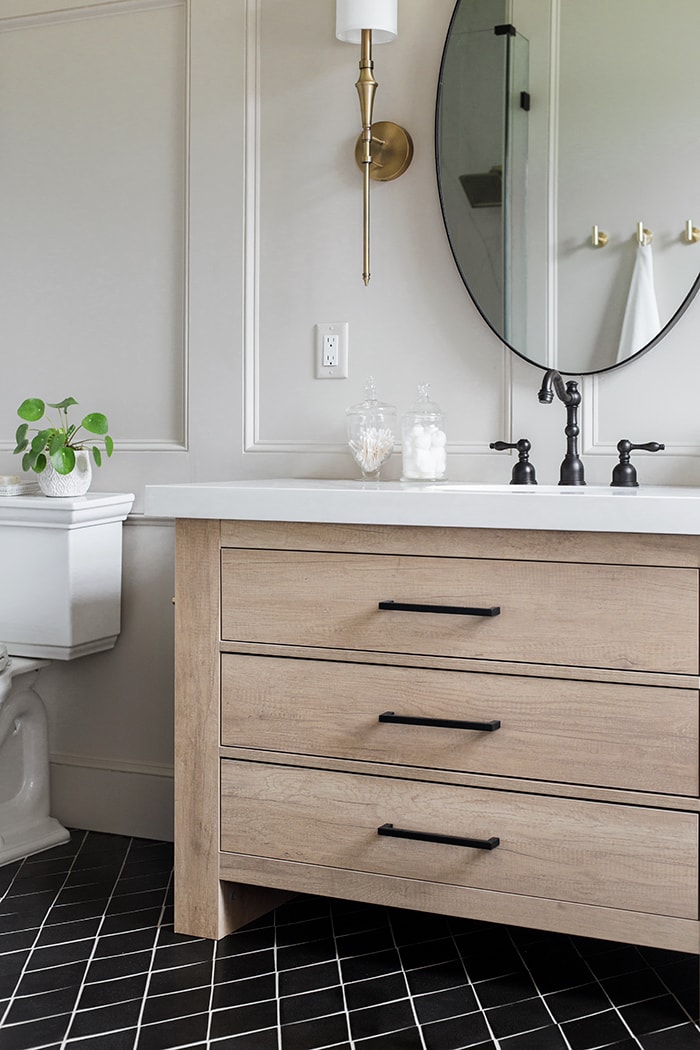 Pin
They were further customized by swapping out the chrome handles with these affordable modern black pulls. The subtle oak grain and natural wood tone really warms up the room, and I'm so glad I took a gamble and ordered these sight unseen!
The mirrors were also exactly what I was looking for—oval to contrast with the hard lines in the room, a thin dark frame, the perfect width and height to fit between the sconces, and budget-friendly—it doesn't get much better than that! I searched high and low and did a happy dance when I came across them.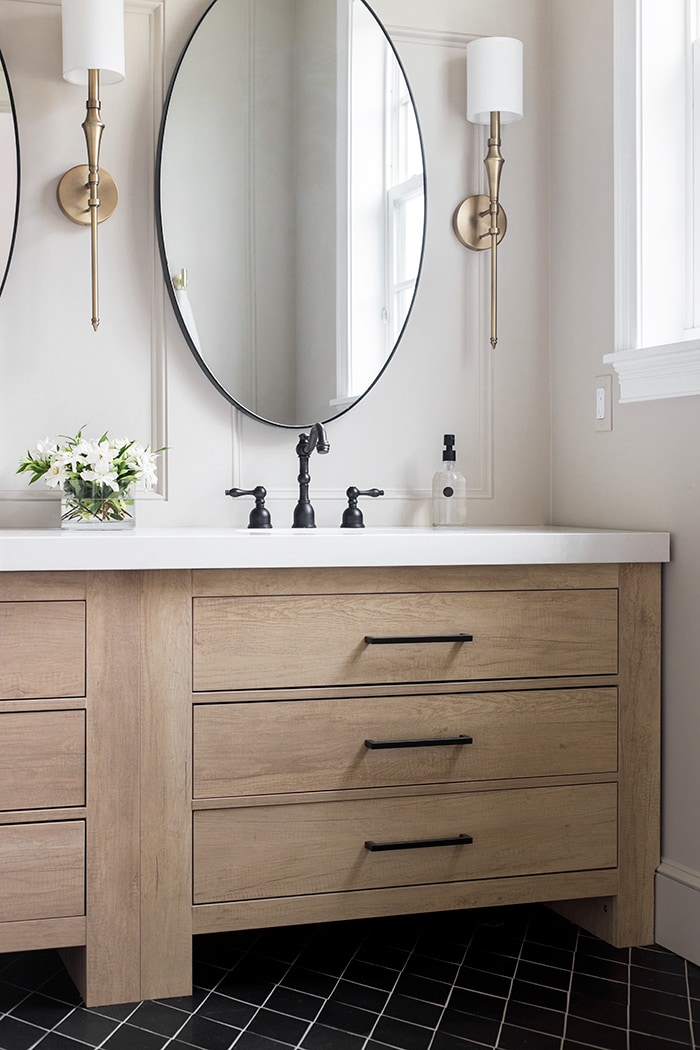 Pin
And of course, those elegant champagne gold sconces. The color and size were perfect, and they had just enough detail to make them stand apart from other similar sconces I'd been eyeing for a while. They were only $128 when I placed the order a couple months ago, but they've dropped the price even more so I would jump on these if you're in the market!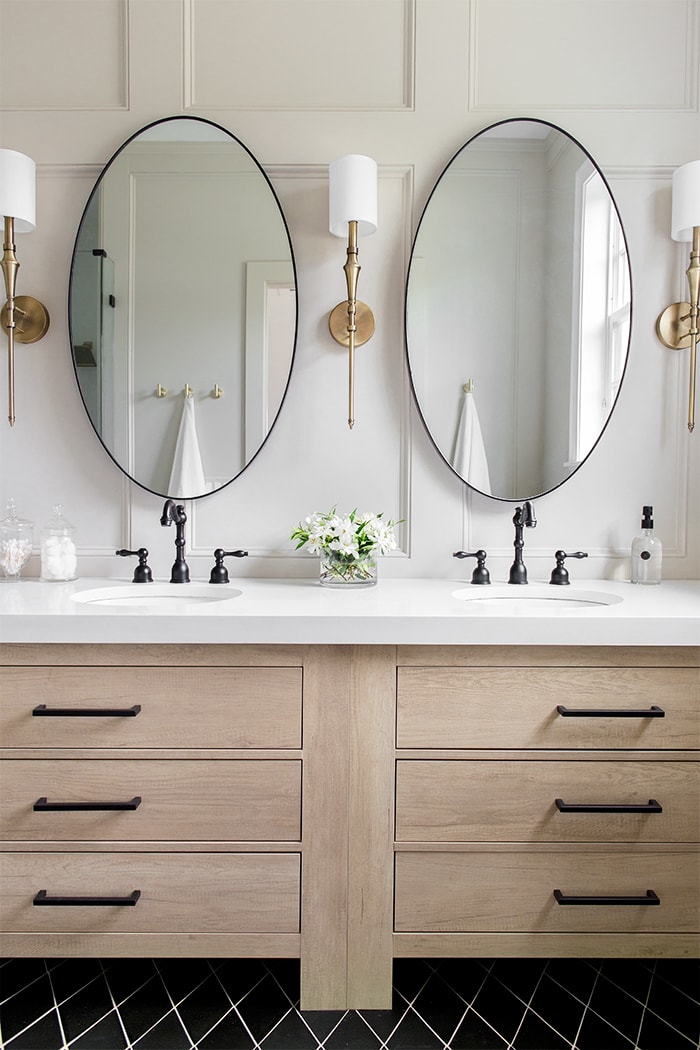 Pin
The faucets and undermount sinks were another Overstock find. I went with small white porcelain oval sinks for maximum counter space (they're under $40!) and pretty vintage style oil rubbed bronze widespread faucets. They're heavy, solid brass construction and seem to be great quality.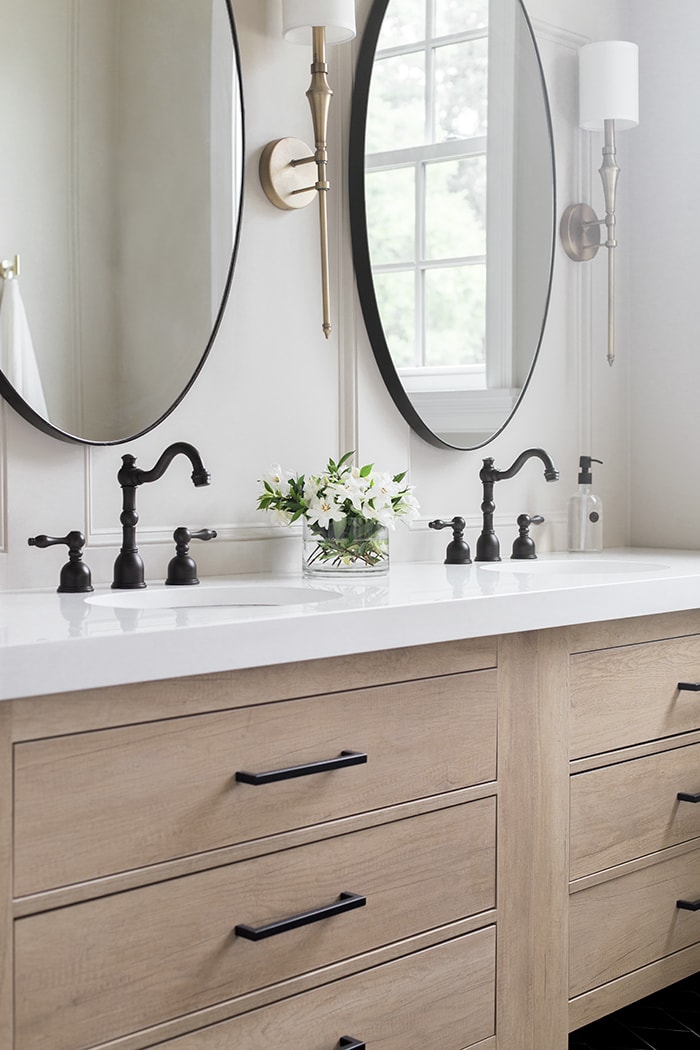 Pin
Matching pop-up drains (not shown) were also installed—and how about those fresh cut blooms from our new gardenia bushes? If only you could smell them through your screen…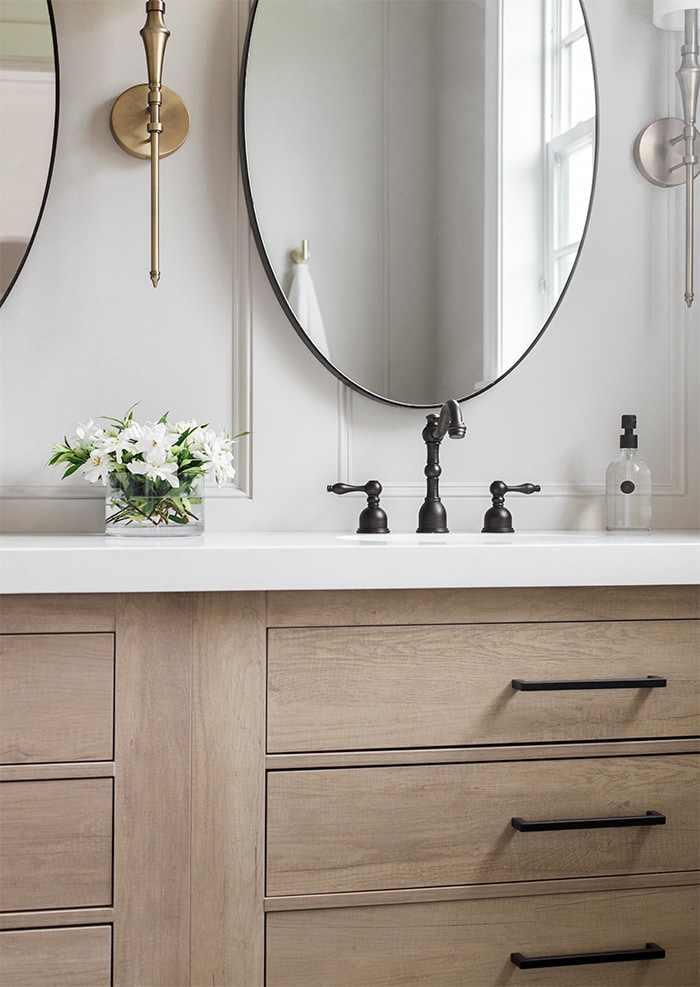 Pin
I'm all about layering different finishes—so much more visually interesting than having everything match. Would you agree?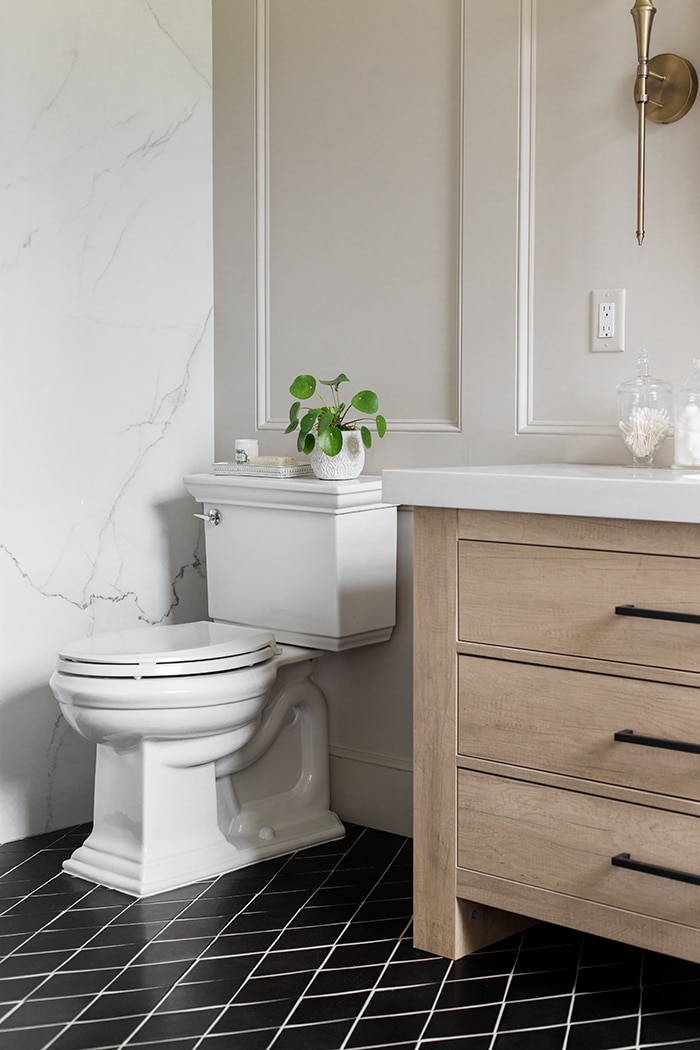 Pin
The final addition to this bathroom will be a white roman shade I custom ordered a few weeks ago—I'll be sure to update with details once it's installed.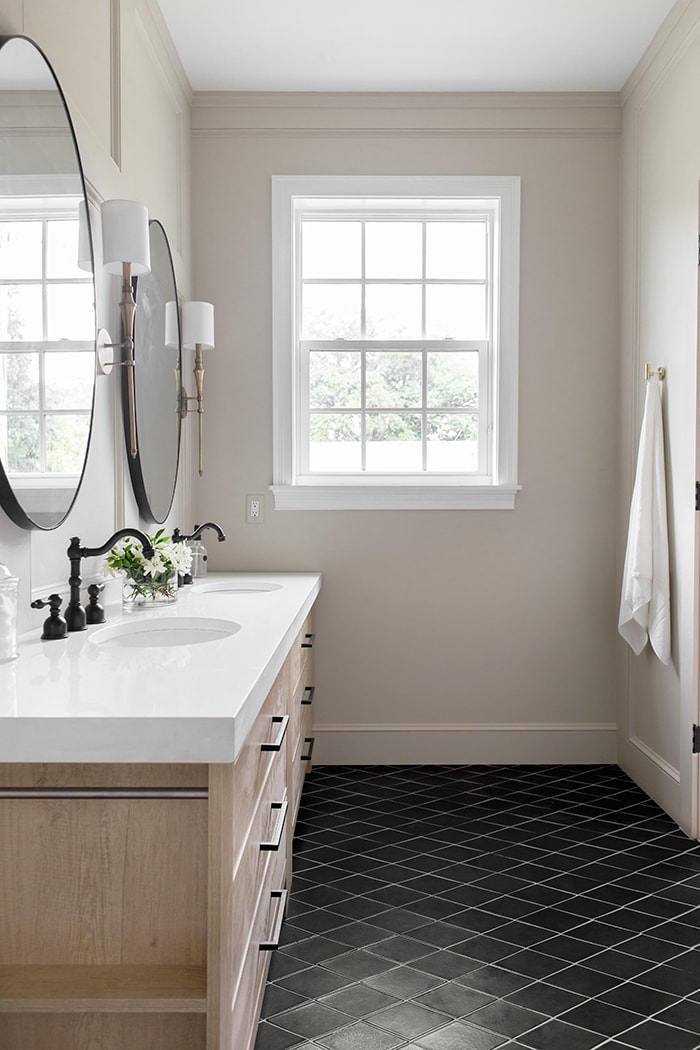 Pin
And that wraps our tour! I hope you've enjoyed the process and walked away with some inspiration and a few new finds to add to your wish list. A huge shout out to Overstock and Bedrosians for partnering with me on this bathroom and trusting my vision for this space. They're two of my favorite vendors involved within home/DIY blogging community so show them some love and support!
Sources
Wall color: SW Accessible Beige
Porcelain slabs
Stay tuned for another post this week—we've made major progress on our backyard at The Riverside Retreat and I'm sharing all the details in a couple days!