Updates: Watch a time lapse tutorial of the process here and see the full room reveal here!
Have any plain, flat doors in your house? This tutorial is for you!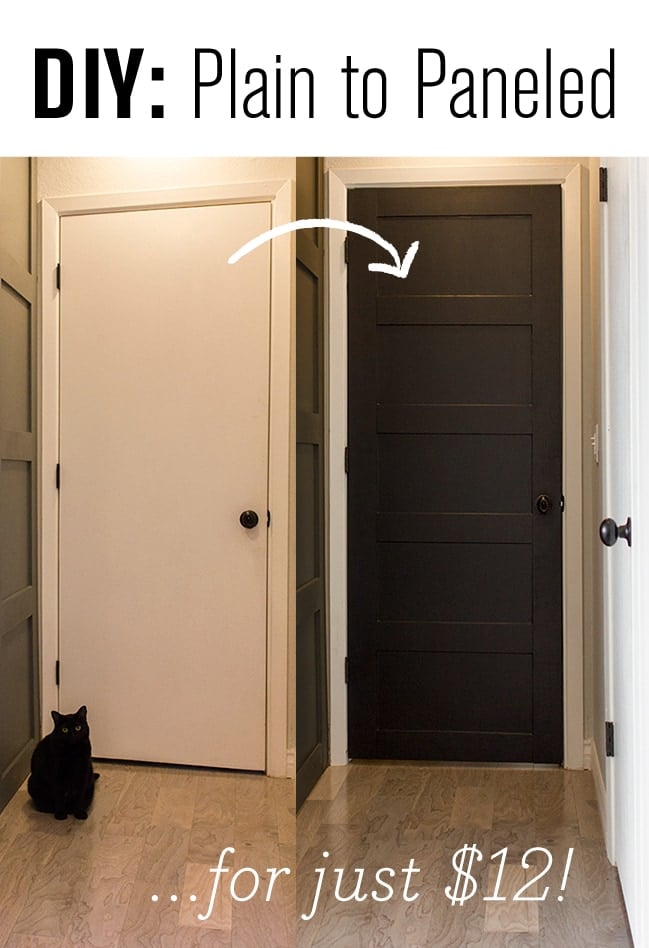 Here's what you'll need for this project (per one standard door):
Materials
Tools
I spent a lot of time trying to figure out what to do about our doors. Here's an old shot from the hallway:
After I painted the walls an almost white/super light gray shade, it just turned into the hallway of no color. I knew I needed to do something with the cheap hollow core doors but didn't want to break the bank. In a perfect world, they would all be beautifully constructed and detailed solid wood, but there's no way I'm spending that much on all of the doors in the house.
Then I gave our foyer closet door a makeover...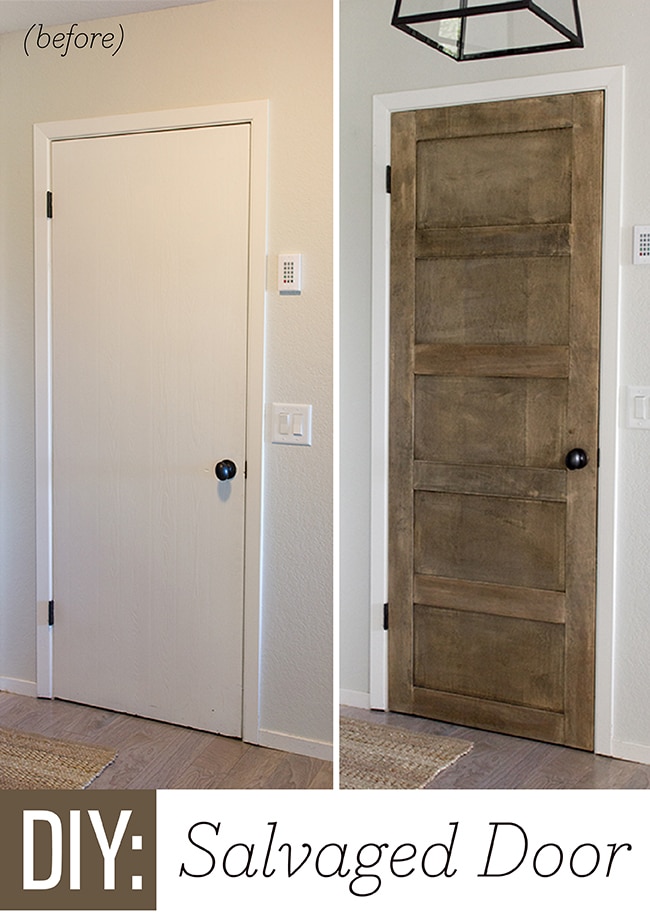 And I loved the results. It was simple enough to do to the rest of the doors in the house.
Fortunately, our bedroom door was completely smooth so I didn't need to apply veneer over it (our foyer door had that faux wood grain texture which I covered with veneer). That meant that all I'd need for this project is a $12 piece of 1/4″ (actual thickness = 0.2″) plywood from Lowe's. I ripped mine down into 4″ strips with a table saw (but I've also had luck asking Lowe's to do this for me in the past!)
I've already covered the basic method for installing the strips which you can read about in my foyer door post: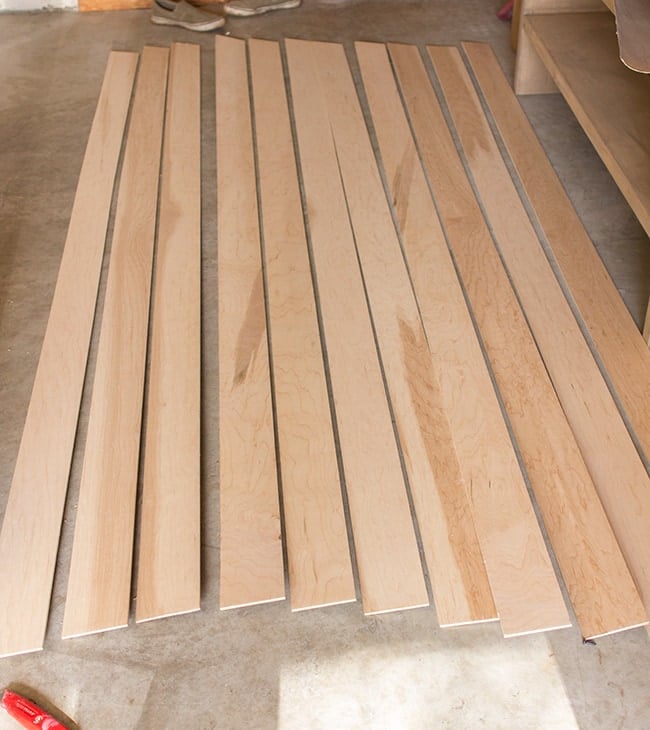 It's so easy though… just measure and cut, spacing your horizontal pieces out evenly, and secure with a nail gun (wood glue is optional).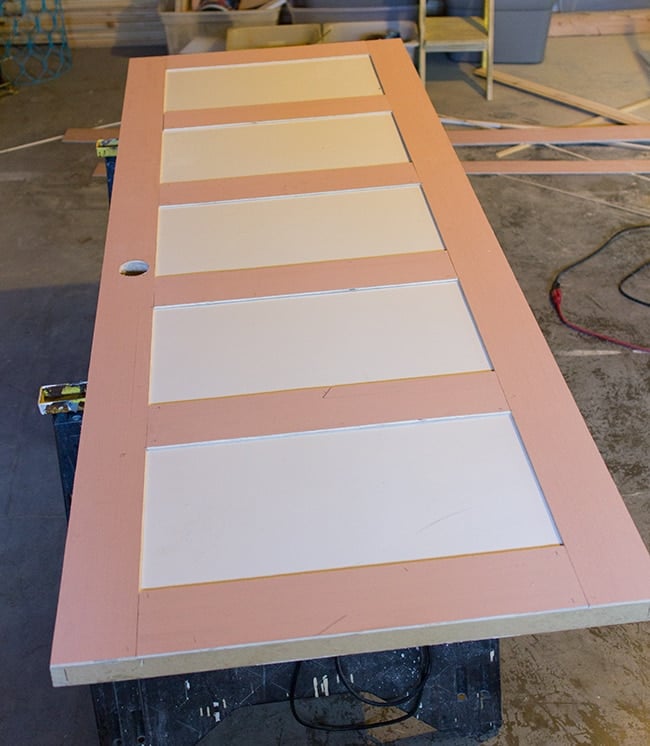 Flip it over and repeat for the other side. You'll need to use an arbor to drill out a hole for the door handle (make sure to drill it in the exact same location!)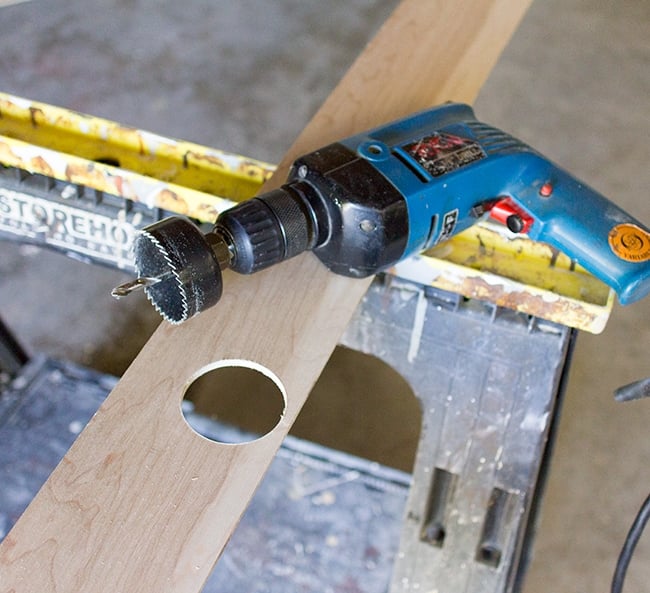 Once all my pieces were attached, I sanded down the rough edges with my Mouse (if you don't own one of these yet, you're missing out!)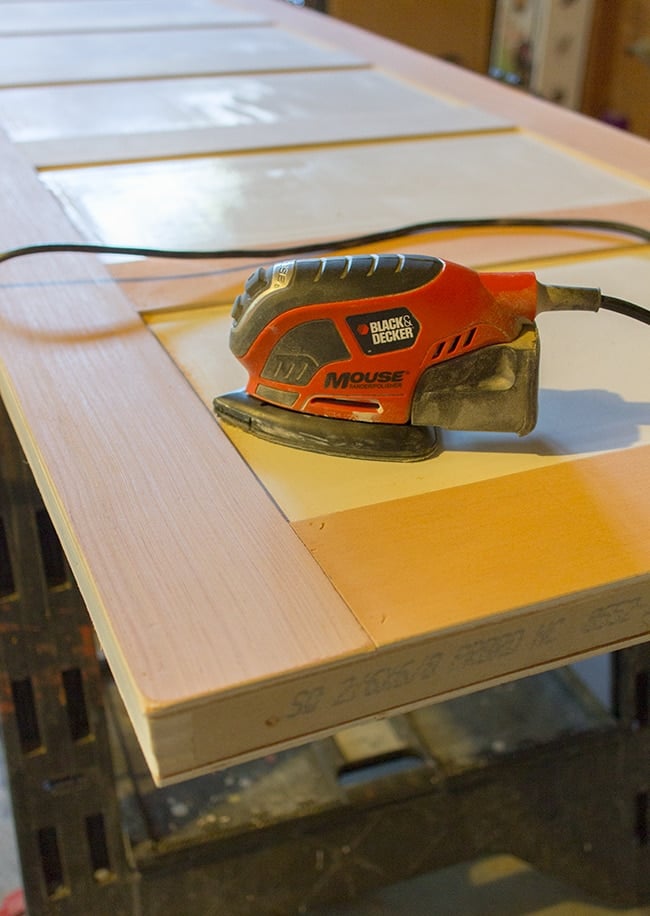 Then I spackled the nail holes and caulked along the inside edges for a seamless look.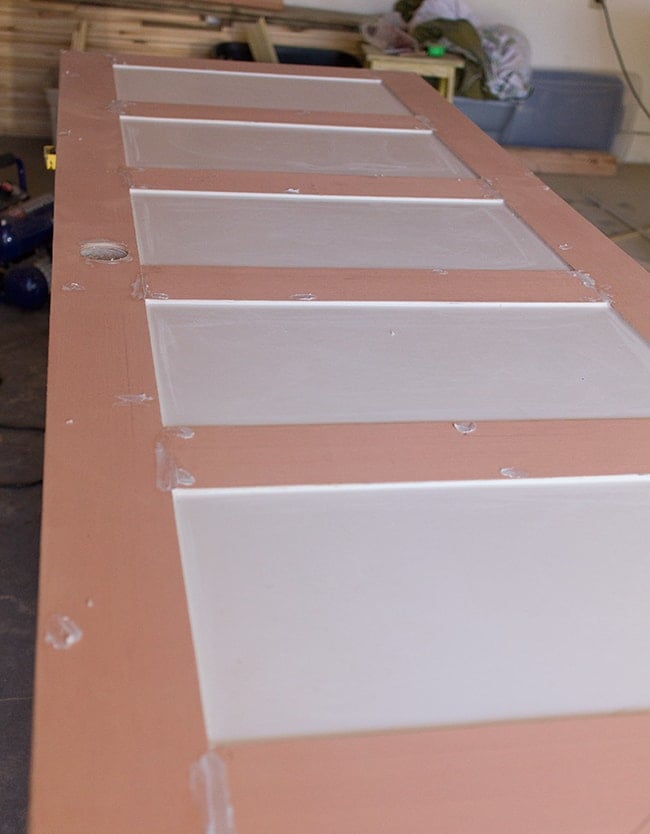 After drying overnight, I gave everything a nice thorough sanding with finer grit sandpaper (including the actual door panel).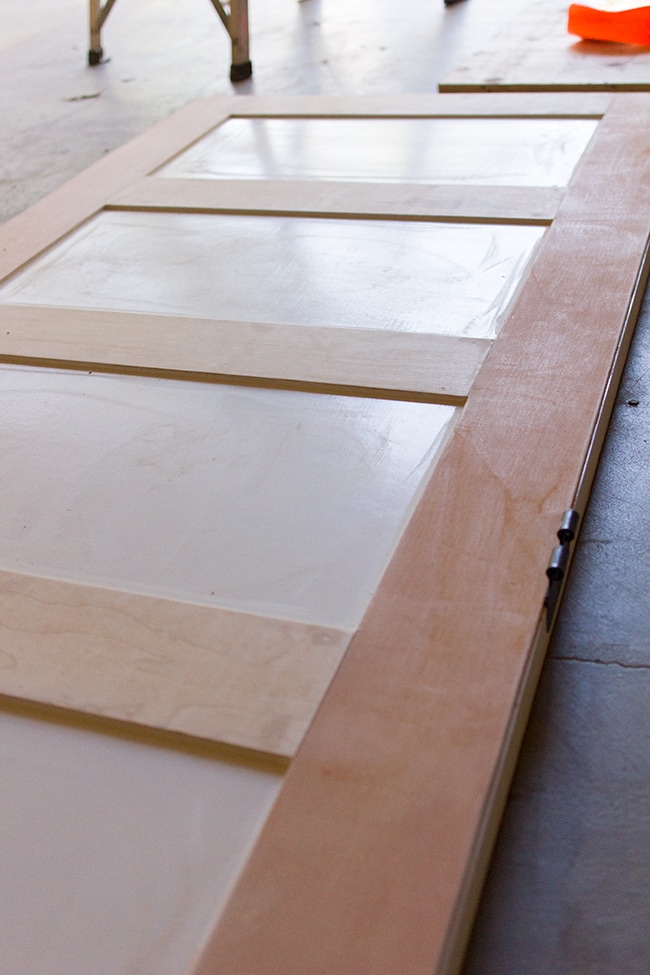 Since I added almost 1/2″ of depth onto the door, I had to remove the door stop casing or else it wouldn't close properly.
To do that, you must first cut a line with a utility knife on all sides…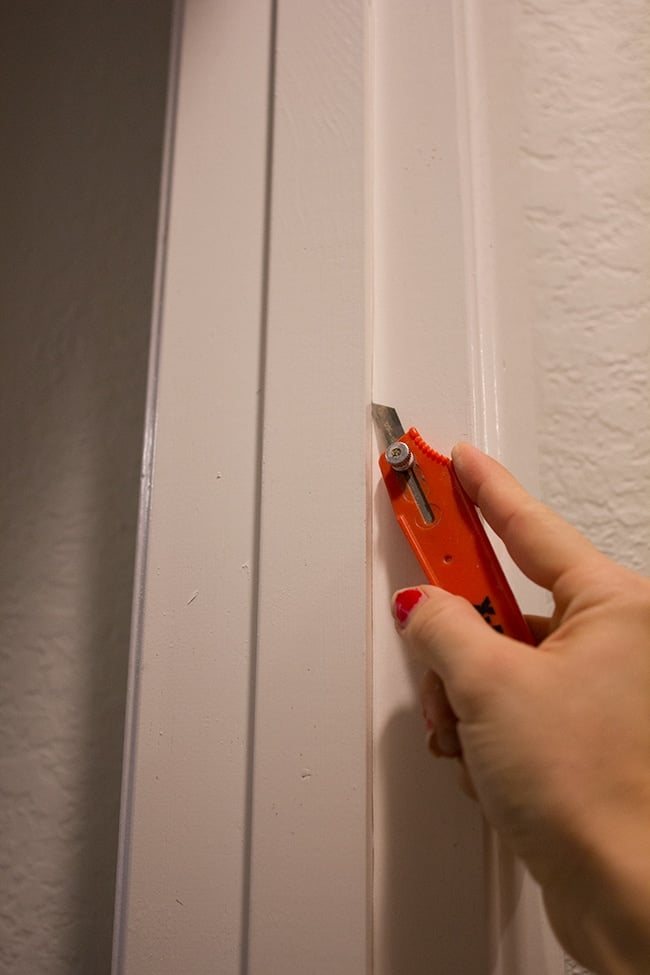 Then pry the pieces off. Luckily these ones came off really easily (you can see the three pieces in the hallway).
Some of the nails will stay in the door casing which you can just hammer back in, and break off the ones stuck in the molding.
Then clear the built up caulk from the door casing and the trim pieces so it's nice and clean for reinstallation:
I decided to hang the door back up first before painting it because 1) it was 100° in the garage, and 2) I could turn on the TV in our room to make it more enjoyable. It really doesn't matter either way, you just have to be slightly more careful to not paint the casing.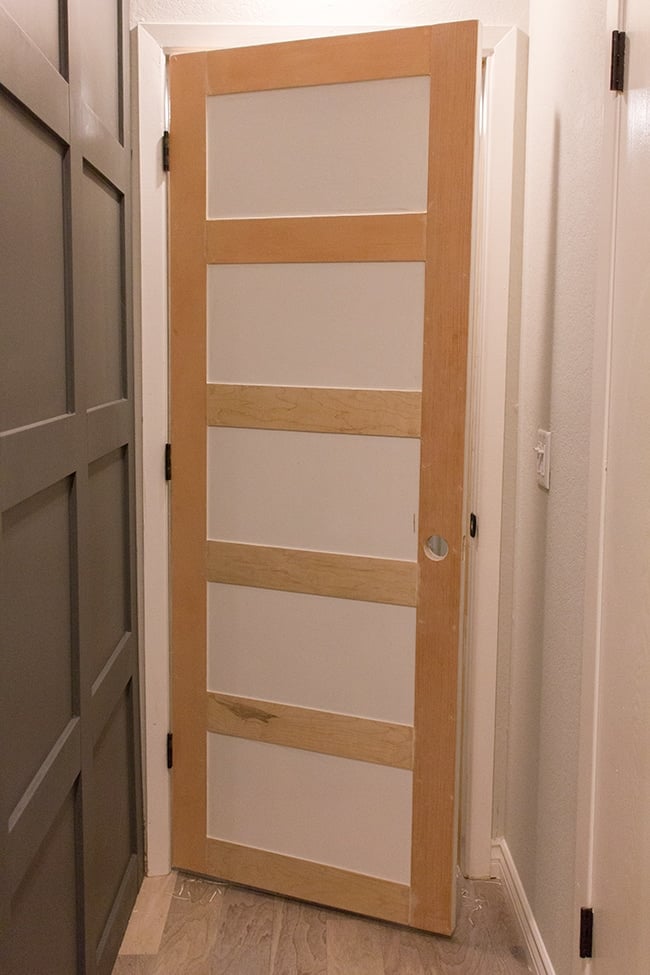 I used the same black that's on the kitchen and front doors, except in a satin finish—Valspar's Dark Kettle Black.
I haven't tried their new Reserve line yet, but I can't imagine needing anything better than their Signature. The coverage is amazing… here's after just one coat: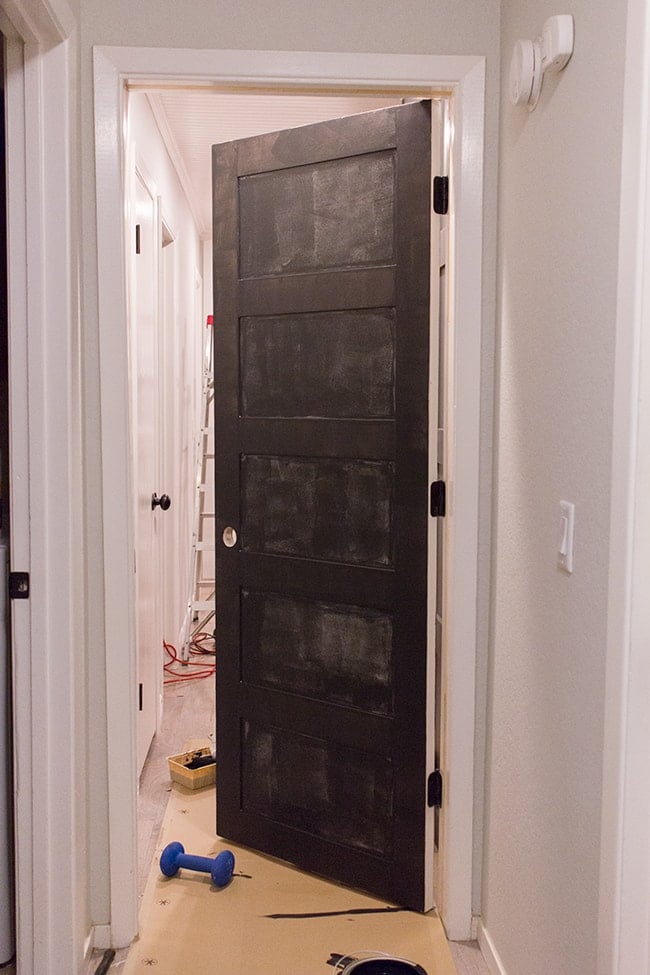 Of course the plywood took to it better than the painted white door—it almost covered in just one coat!
All it needed was two coats and a few touchups. Easy, fast paint job (excuse the poor lighting).
Once the handle was back on, I shut the door and nailed the casing pieces back in place so the new door would shut properly.
Then I filled the nail holes and caulked it back in. (I still have to sand and touch up paint… that will be done tonight).
Ahhh… so rich.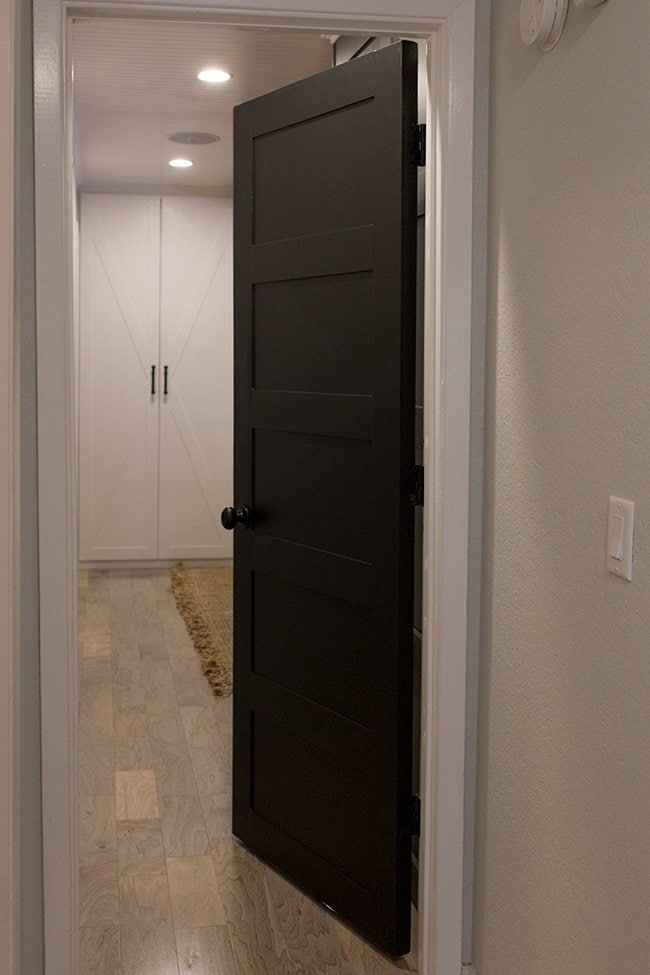 It's a little difficult to see the detail through photos (I have to bump up the exposure a bit, hence the grainy-ish pics) but it's really lovely in person. Black doors will never go out of style.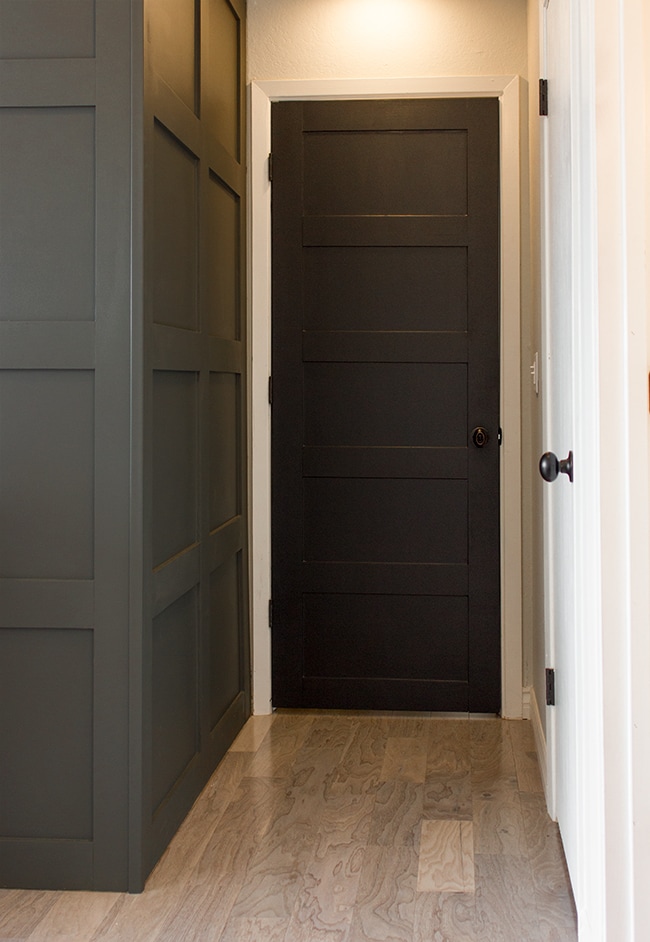 I love the way it ties into the wall paneling.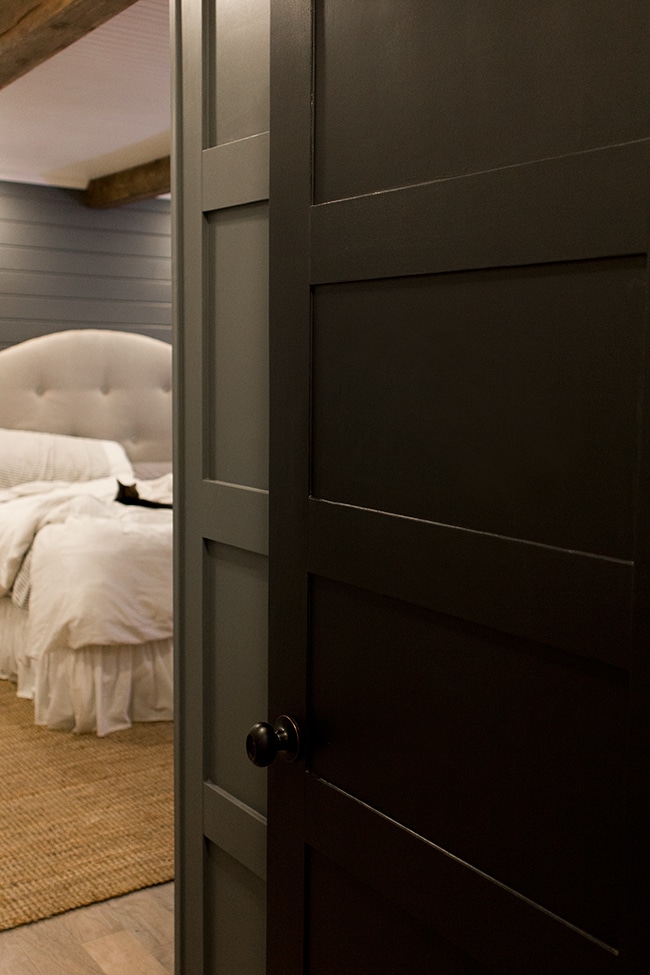 I'll be converting all of the doors eventually. This hallway needs some loving, I know. One step at a time.
If you like this project, check out these popular beginner budget DIYs from my

Project Library: