This post is part of a paid collaboration with Lowe's Home Improvement. All opinions are my own.
It has been a while since my last kitchen update at the Heights House, but the last pieces of the puzzle have finally come together and it's just about ready for its debut!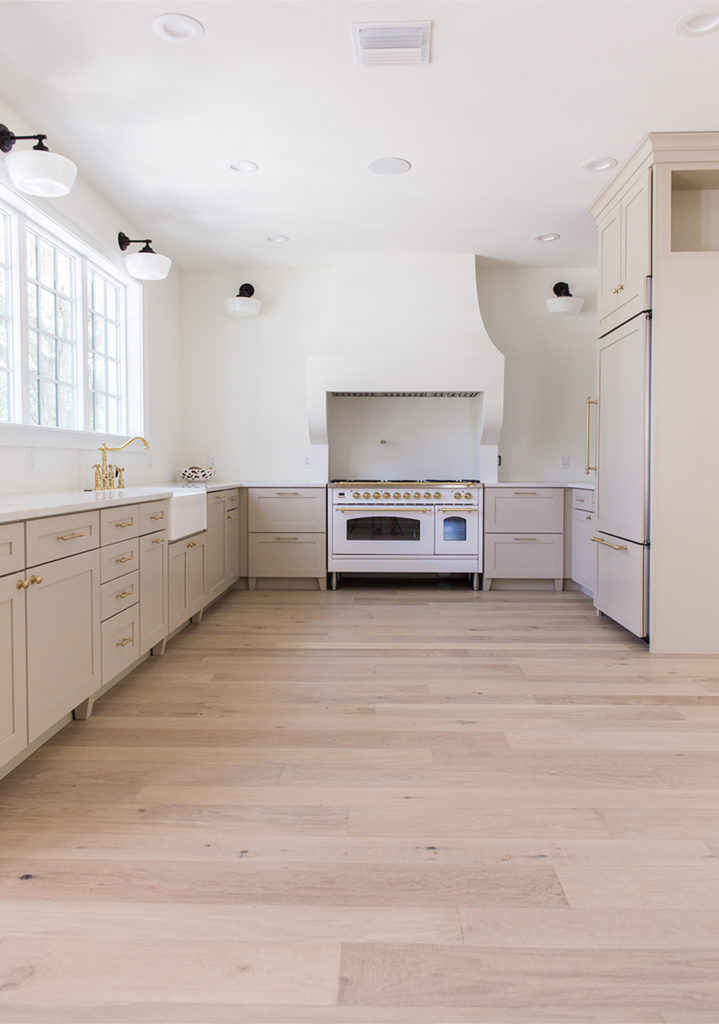 Pin
When designing this space, I knew right away that the rug would be a key element. The simple shaker style cabinets and neutral color palette would allow for the rug to dictate the overall feeling of the room through color and pattern. When it comes to more permanent choices like cabinets, I tend to go neutral so that I can easily change up the style through more affordable accessories like rugs.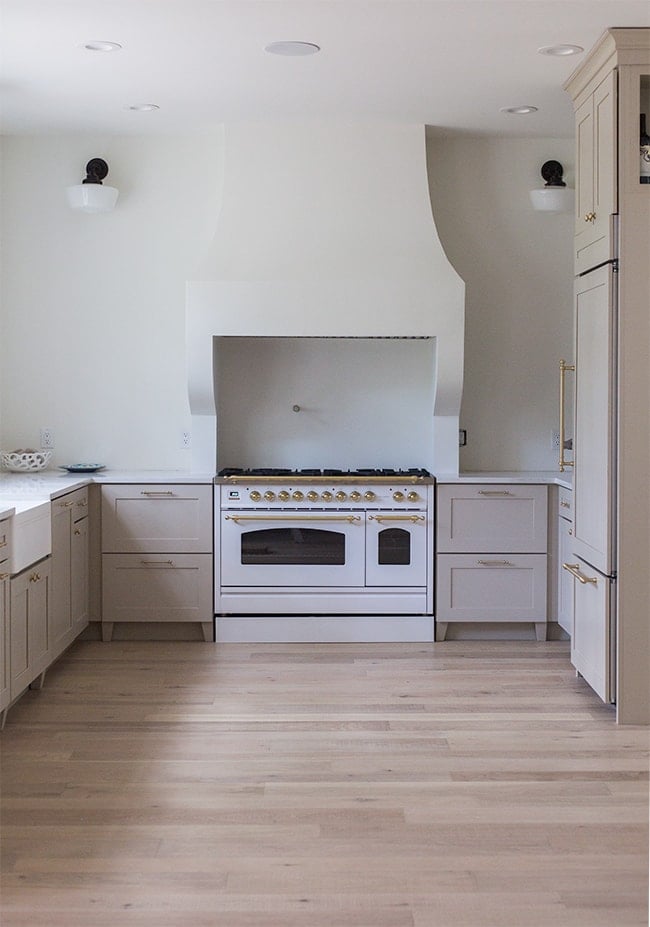 Pin
With a blank canvas to work with, I could take this room in any direction so I began my search online at Lowe's. I've ordered rugs through them before and knew they had an impressive selection (literally tens of thousands of options) so I felt confident I'd be able to find something that fit the bill.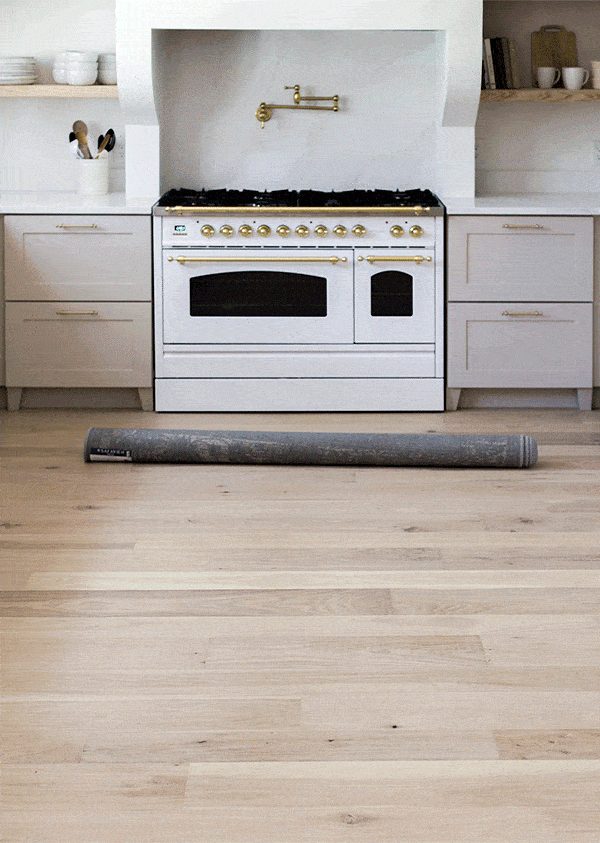 Pin
First up: deciding on the size—this is always the first step when choosing a rug! I opted for a larger rug in the center rather than a runner in front of the sink, as it felt much more balanced (and once baby starts crawling around it'll be nice to have a softer area for her to play on while we're working in the kitchen).
With our floor space measuring 8' wide, a 5' rug was perfect to fill the space nicely without crowding it. The length didn't matter as much—both the standard 7' and 8' would work.
With the size determined, I began to narrow down my search criteria. There were over 9,000 options in those two sizes alone, but I wasn't done narrowing down.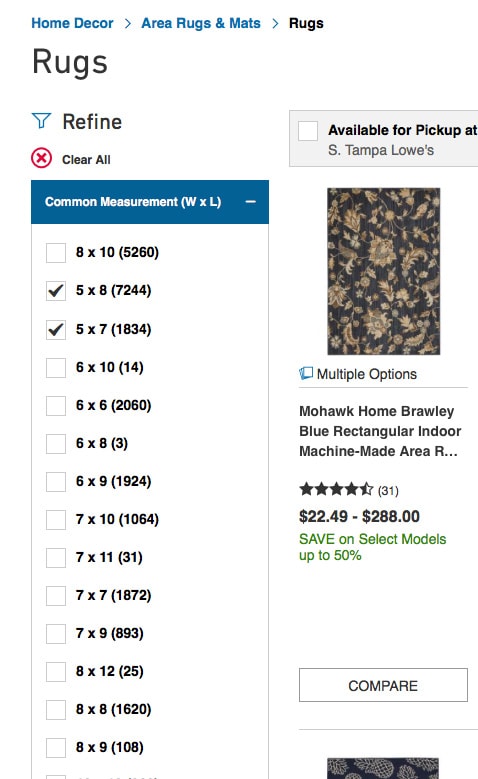 Pin
Next, and perhaps most important in my book: price. As much as I love a vintage one of a kind rug, I can't bring myself to justify spending a fortune when there are so many affordable and stylish options out there—especially when you like to switch up the look of a room as much as I do. I set a max budget of $200, which still gave me over 5,600 results!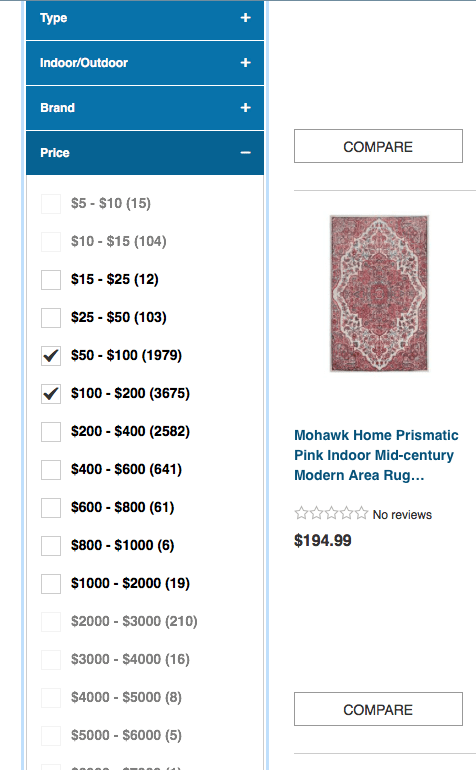 Pin
Now is when you grab a tall mug of pumpkin spice coffee, put on some music and enjoy a little "me" time (that's what online shopping is for me, at least ?)
I spread it out over a few days, but eventually made it through all 131 page results. Normally I'd narrow down by color as well, but I didn't have a very specific look in mind and wanted to see what caught my eye. My preference was to find something relatively neutral with a subtle (ideally vintage-esque) pattern, but with enough color to contrast with the beige and white and bring a little personality into the room.
After my exhaustive search, these were the top five contenders: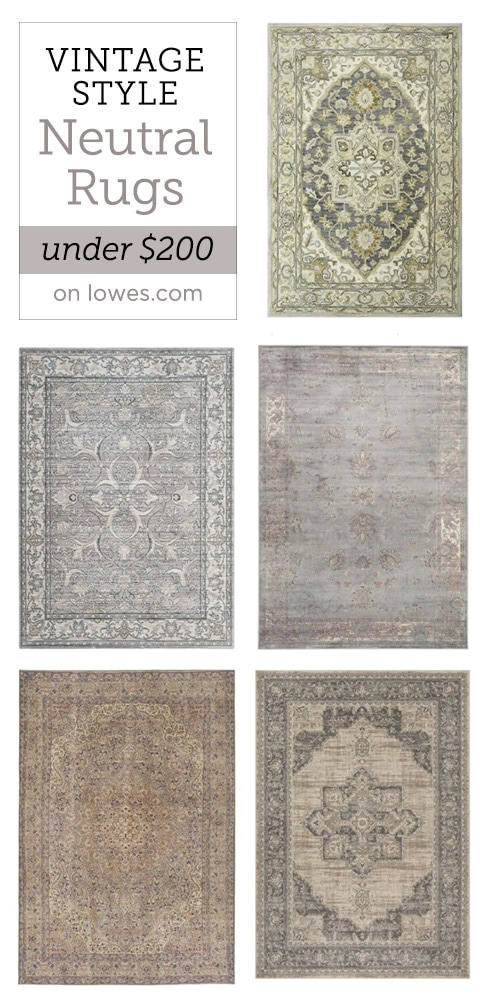 Pin
From my experience, rugs are one of the most difficult items to shop for online because they're not only very tactile objects, but the colors almost always look different on screen than they do in person (even when comparing to the 'real life' customer photos).
Just like you'd never want to choose a paint color without putting samples on the wall first, I wouldn't commit to buying a rug unless I had access to samples first or it had an easy return policy. Fortunately, Lowe's offers free shipping AND returns, and you can simply return online purchases to your nearest store instead of having to ship them back.
Rather than trying to narrow it down to just one, I thought it'd be fun to share my top five budget-friendly vintage style rugs from Lowe's. Who's ready for a rug fashion show?!
---

This wool rug was the thickest and heaviest of the bunch, and super soft underfoot.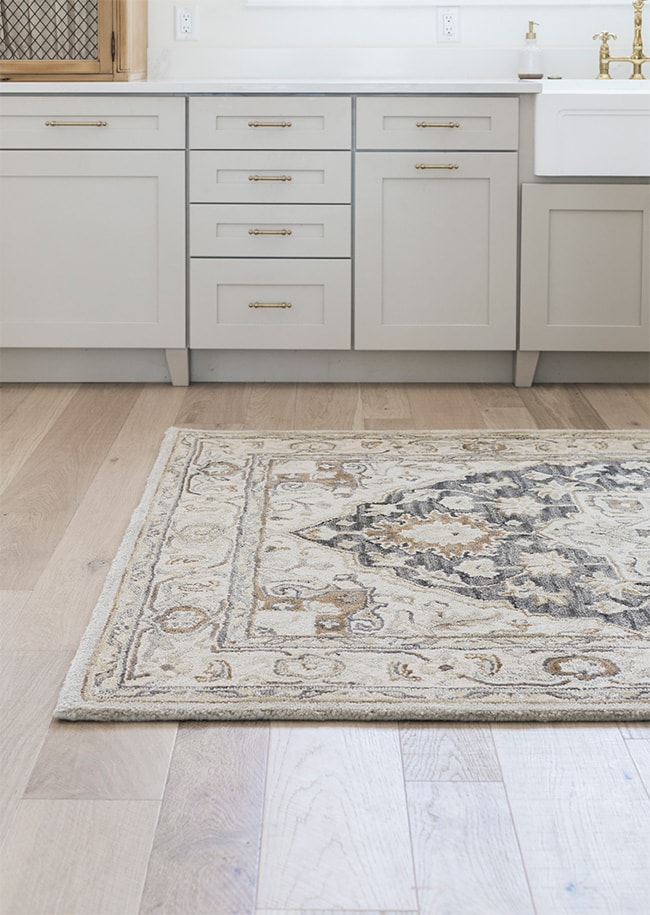 Pin
The overall color was a bit more beige than how it appears on my monitor, which has somewhat of a green/yellow tint.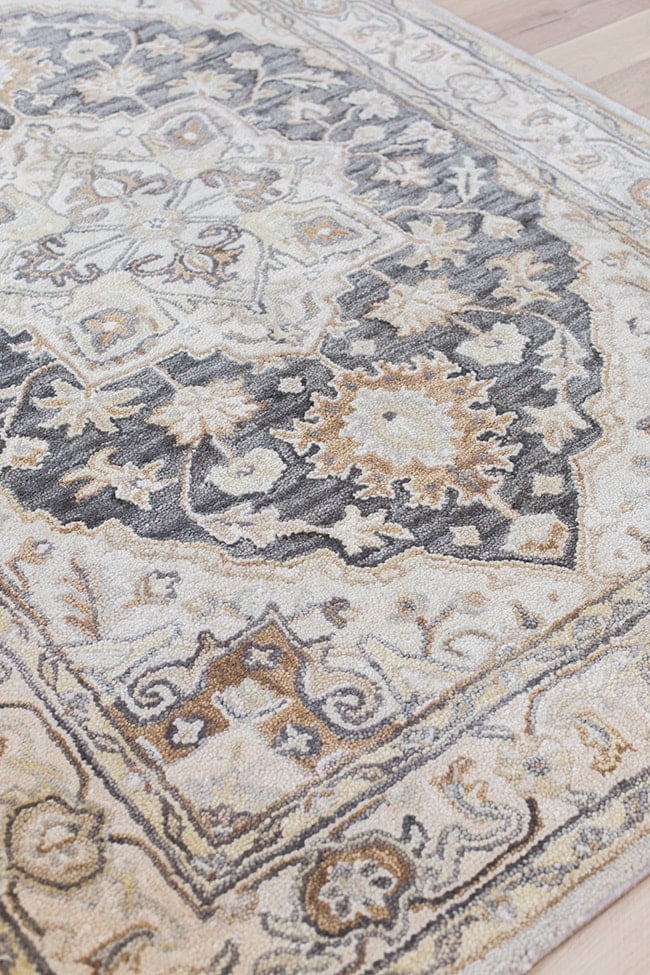 Pin
It's a lovely design with a high quality feel, though it has a more traditional look vs the vintage style I'm after, and the beige wasn't providing much contrast to the cabinets and floors.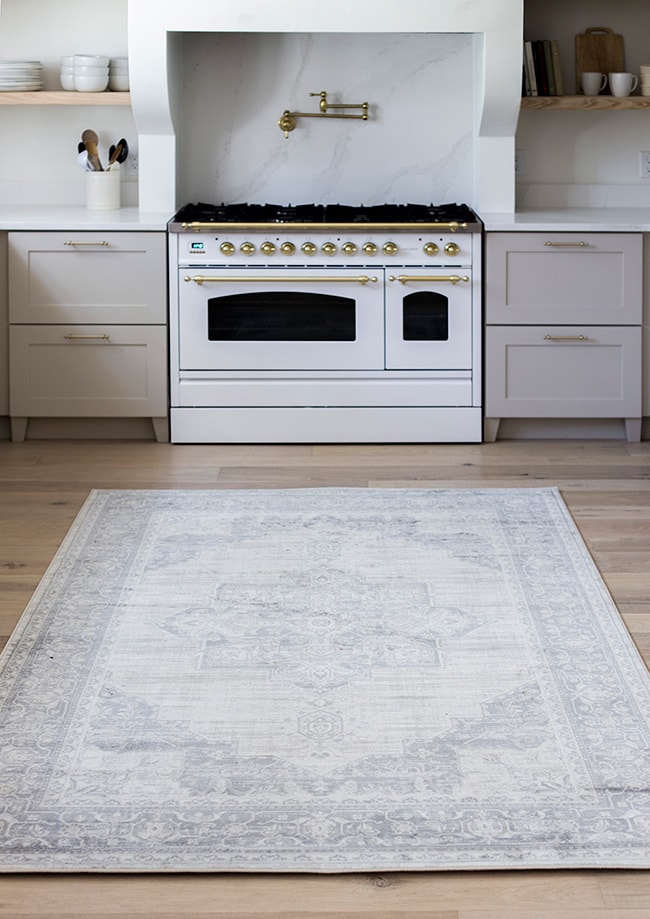 Pin
Coming in as the most affordable option, this rug is on the thinner side (0.3" pile height) but very smooth and soft. The coloring is quite a bit cooler in person (at least in my kitchen) with slate blue-gray and ivory tones.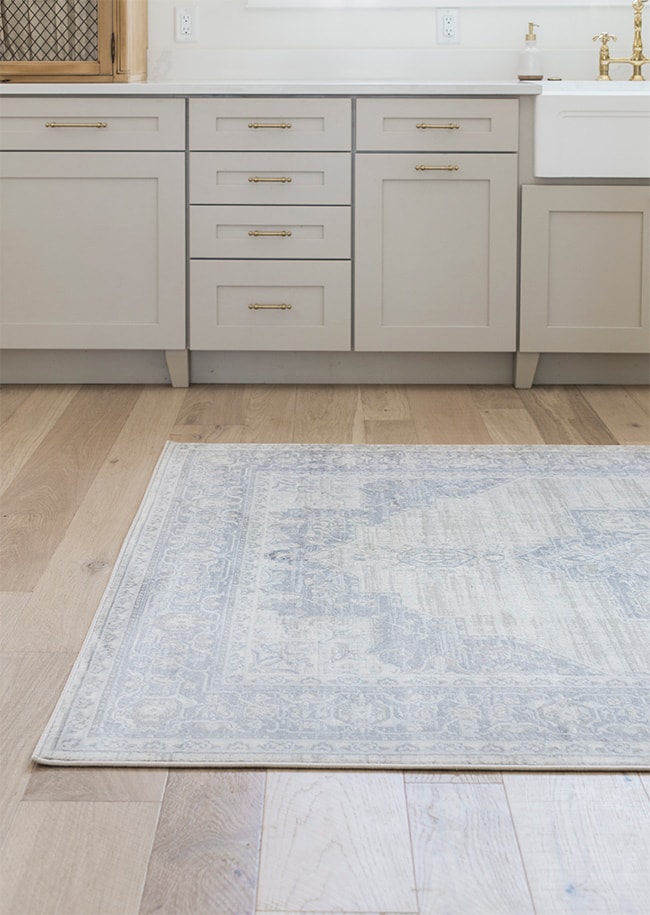 Pin
The polypropylene fibers make the colors shift at different angles—you can see in the first photo it appears to be a very subtle light gray, but the color and pattern really jump out when you're standing directly above it.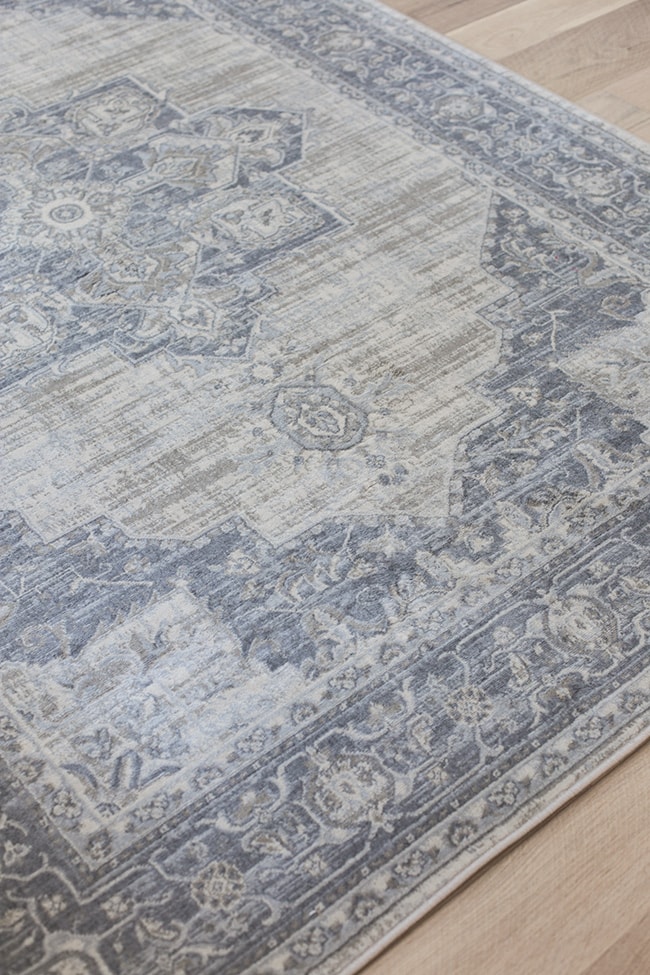 Pin
I love the subtle design of this rug and the neutral hues, and it's a great choice if I'm leaning towards cooler/blue tones.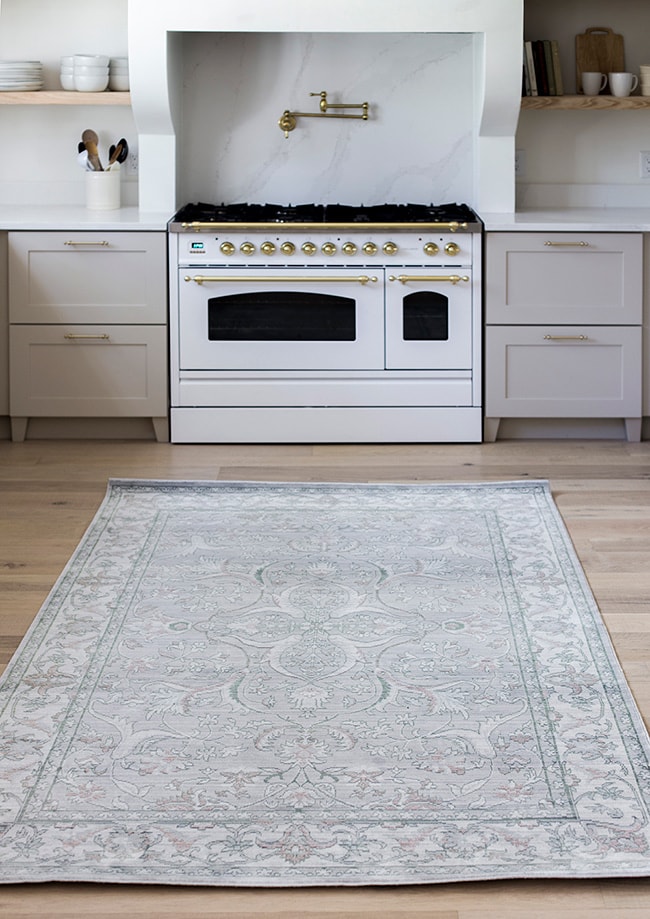 Pin
This rug had a similar weight and feel to Option 2 with a 0.25" pile height, though the material is a woven soft polyester. I didn't notice much of a color shift from different angles, which I like.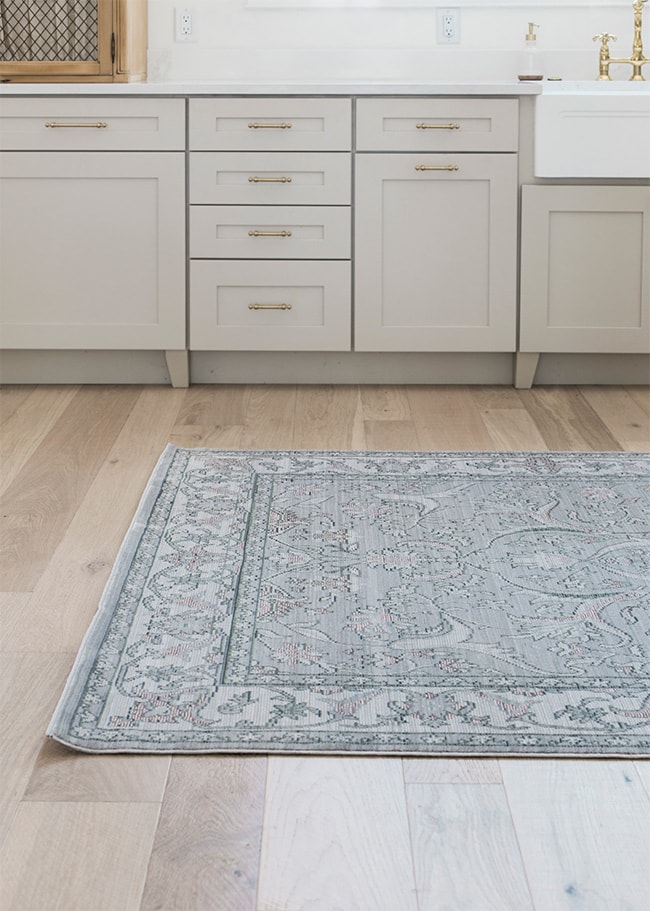 Pin
The coloring is a neutral gray with green and light brown detailing, which I thought was a nice complement to the beige cabinets.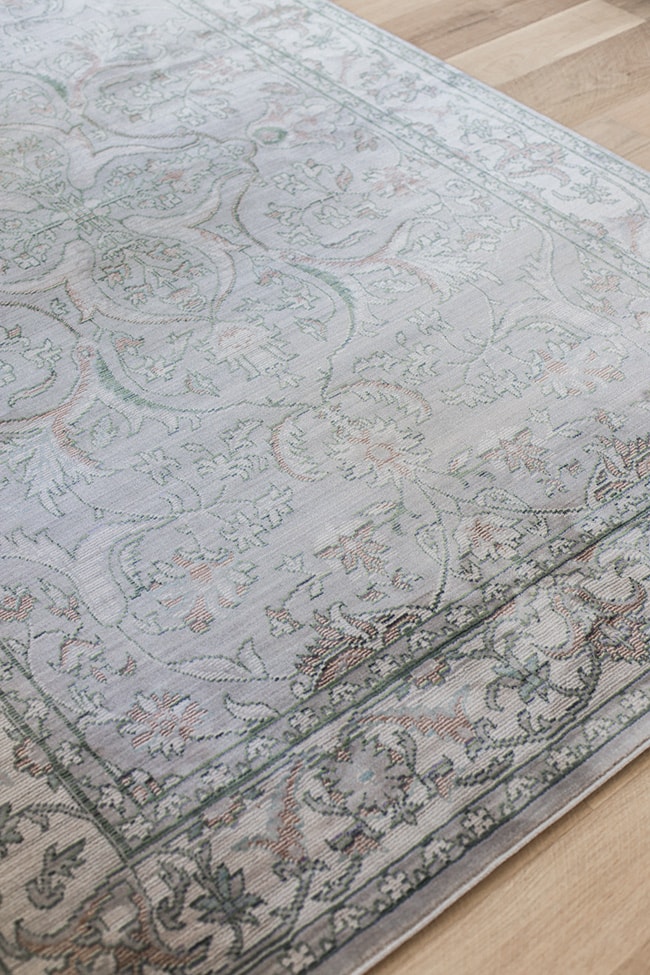 Pin
This rug is definitely neutral enough to last through different seasons/decor styles or move around to other rooms in the future.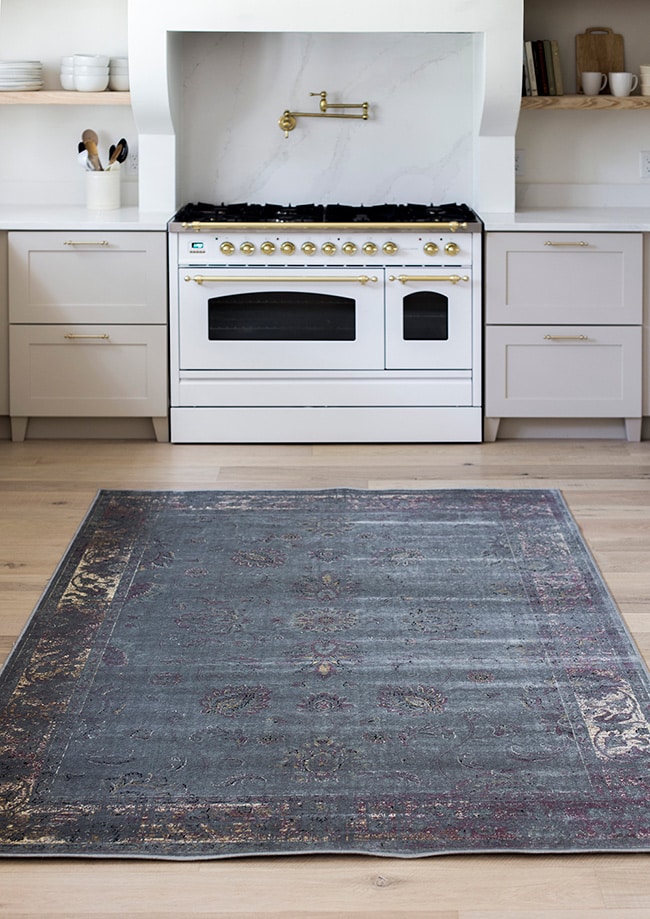 Pin
Made with power loomed viscose yarn, this rug is most vintage looking of them all. The fibers are smooth and soft, almost like velvet, so when you rub your hand across it the color will change.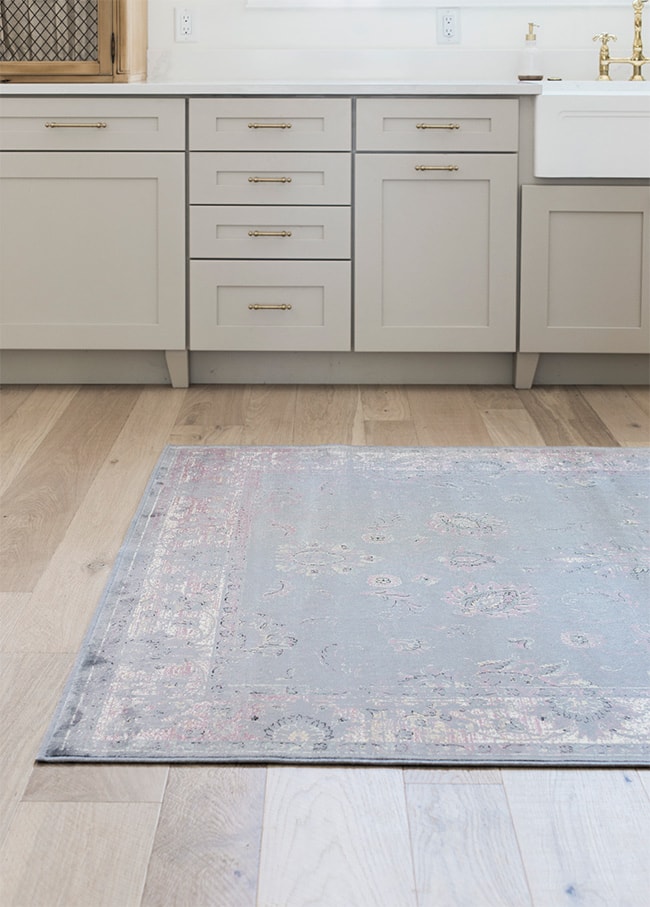 Pin
It also looks quite different from every angle, as you can see in the photos. The coloring is bluer in person than the warm gray displayed on my screen, although when I had it unrolled in the living room it read as more of a cool gray.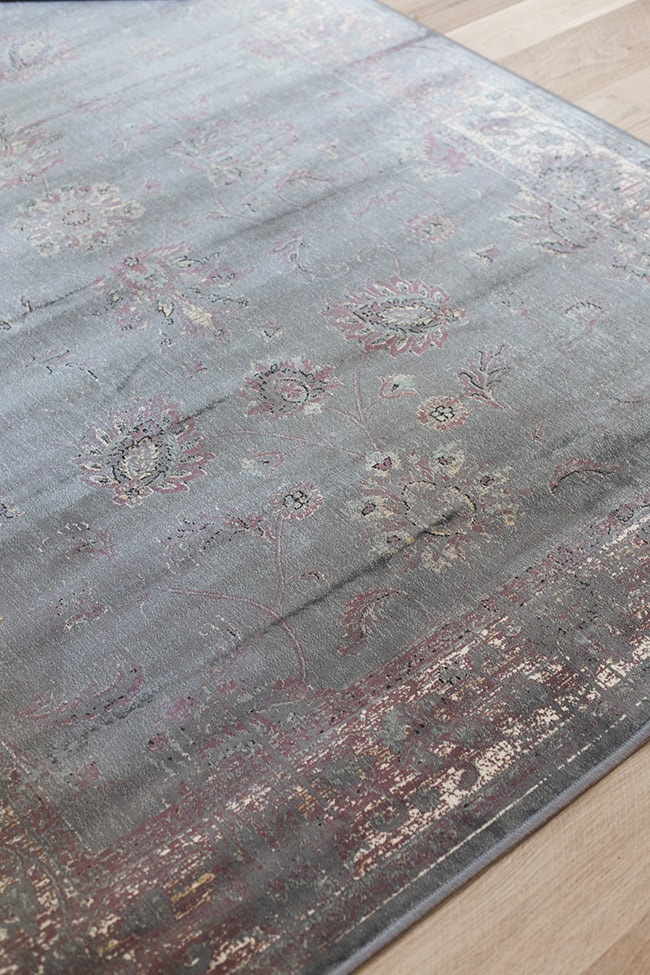 Pin
I really liked the faded vintage pattern, but would have to decide if the blue and lavender tones were the direction I wanted to take for this kitchen.
Pin
The most expensive of the bunch, this polyester flat weave rug is suited for both indoor and outdoor use.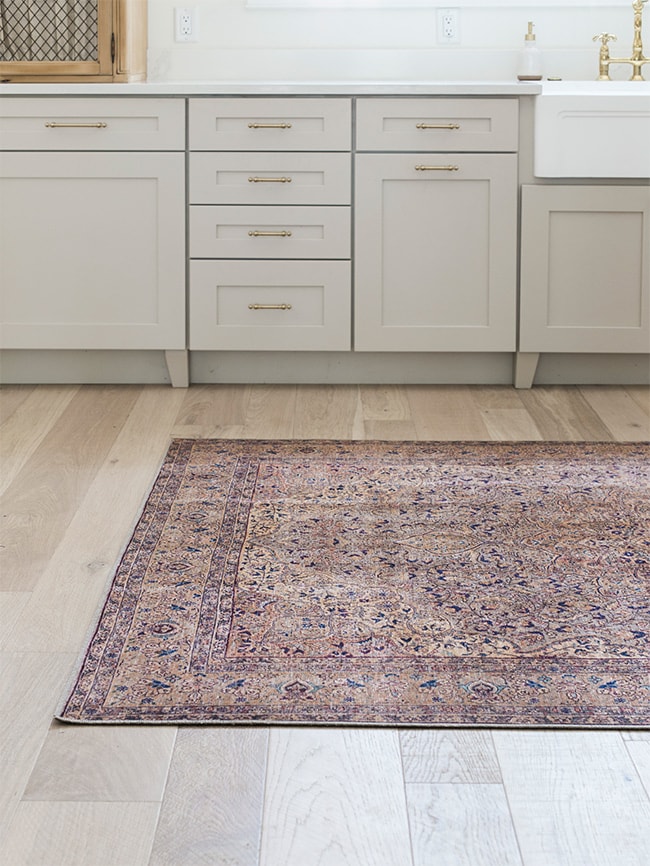 Pin
It's one of the thinnest at 0.125" pile height, but there are no shiny fibers which means the coloring is consistent at every angle. With the lights on, the rust/burgundy tones are more prevalent in person than depicted online, though at certain times of day it does read as a neutral taupe overall.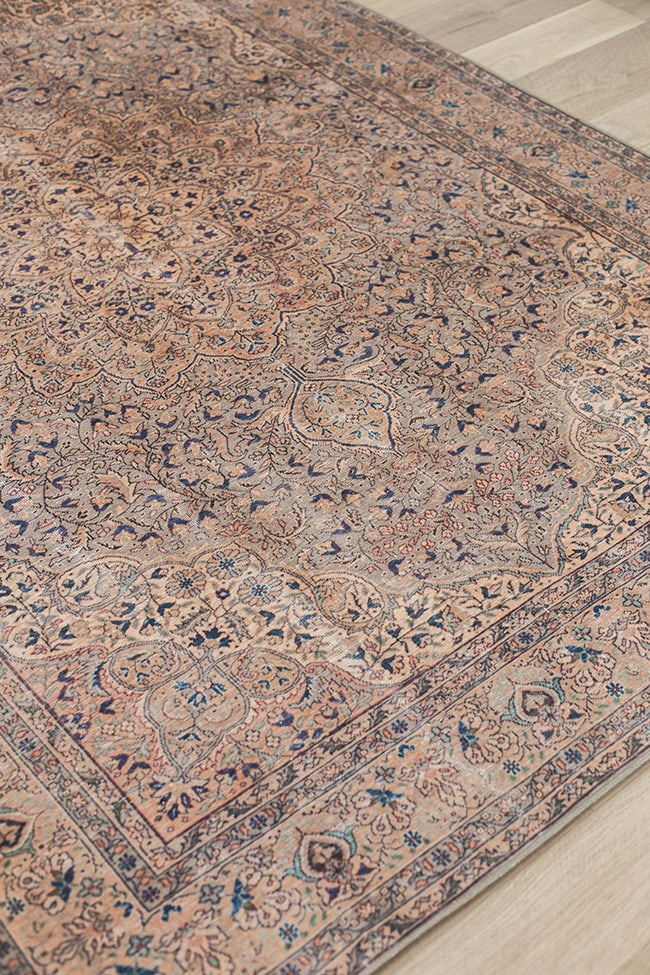 Pin
This rug was the most realistic looking vintage option, in my opinion, and great for hiding stains. It's also the boldest color so I'd have to be fully committed to the warmer tones.
---
And there you have it, a complete review of my favorite neutral rugs at Lowe's! Which one is your favorite, and which one do you think I chose? I'm looking forward to sharing the winner in the kitchen reveal soon!
Hopefully this post will save you time searching online if you're in the market for something that won't break the bank. And since Lowe's makes it super easy (and free) to return without question, don't hesitate to order a few rugs (or more) at once—it's always better to have options than to settle!
Stay tuned for more kitchen updates next week,