A couple weeks ago I shared a complete "Moving in" tour of the Heights House (btw, the YouTube video is already up to 100k views—insanity!) with a quick walkthrough of each room.
Today I want to dive into the room a lot of you have been asking about—none other than the heart of our home, the kitchen…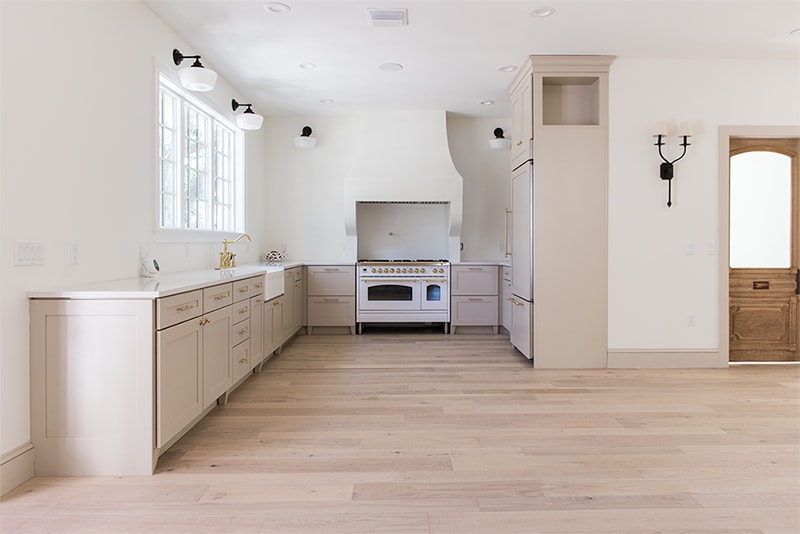 Pin
This isn't a room reveal post (we still have a few things to do in here!) but a progress report where I'll be sharing the sources and our plans to complete the space.
First thing's first—make sure to check out the Kitchen Plans post from back in January, which explains the whole design process and all the decision making, including cabinet selection, fixtures and appliances.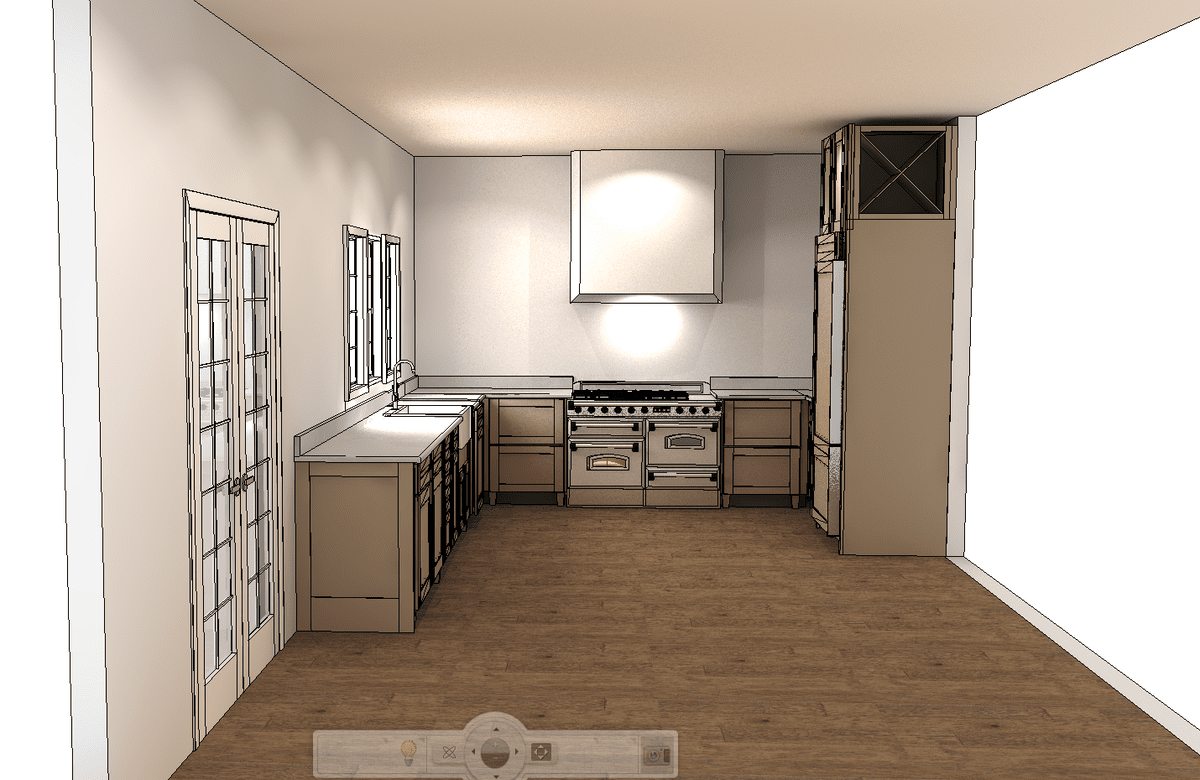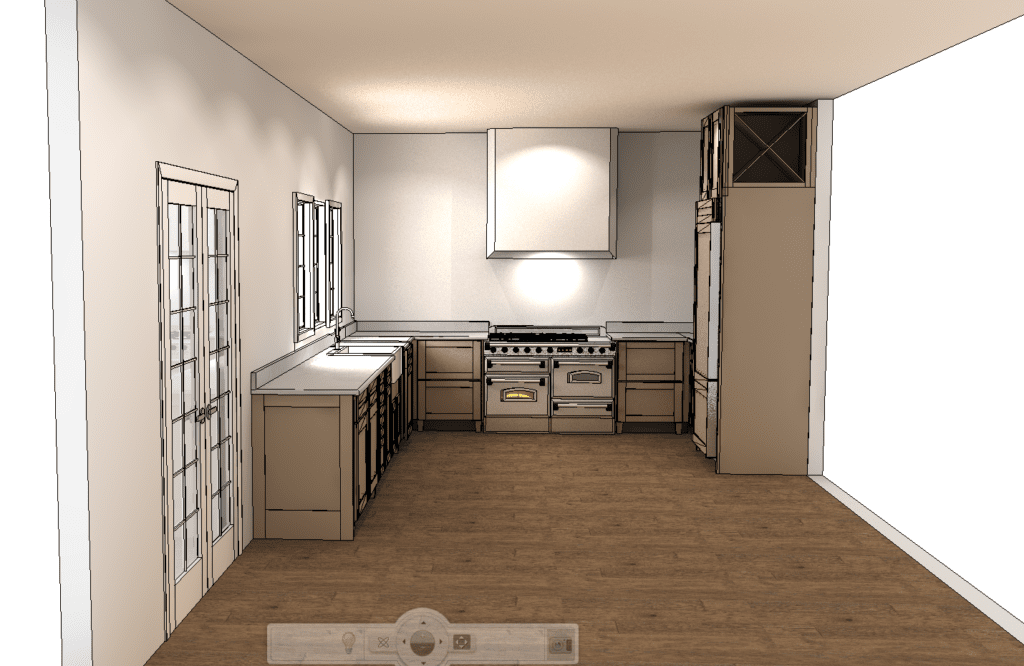 Pin
I partnered with Lowe's on this project, choosing Kraftmaid cabinets (I used them in my Modern Farmhouse and Cottage Flip and was very happy with the results, so it was an easy choice) in the color Mushroom, with the Durham Maple Square face. We had a lot of fun choosing our layout and storage features—I'll have to do a dedicated post soon showing exactly how we organize everything.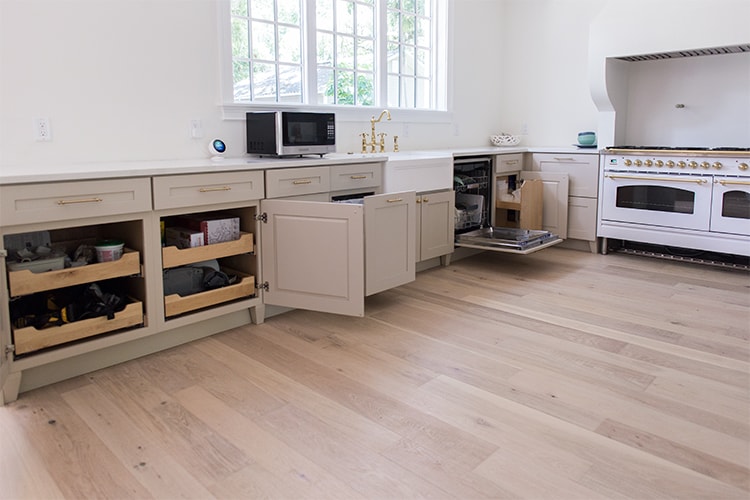 Pin
I went into detail on this in the Kitchen Plans post, but we ended up choosing Silestone Quartz Calacatta Gold counters after seeing the slab in person. The overall design is pretty subtle, but more noticeable in person than the photos…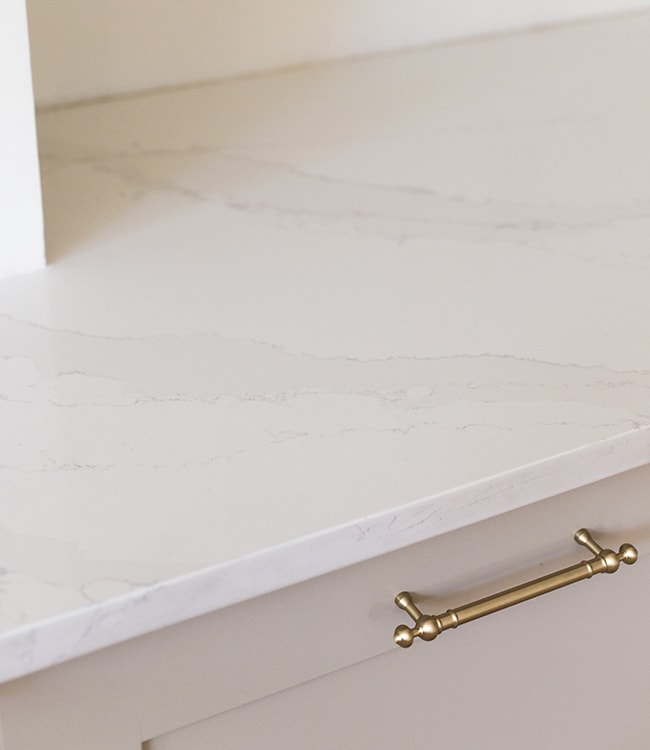 Pin
I love that it's not too "in your face" and I think it's classic enough to stay on trend for many years.
Pin
The overall tone is white with soft gray veining, but it does have bits of gold in some areas (hence the Calacatta Gold name).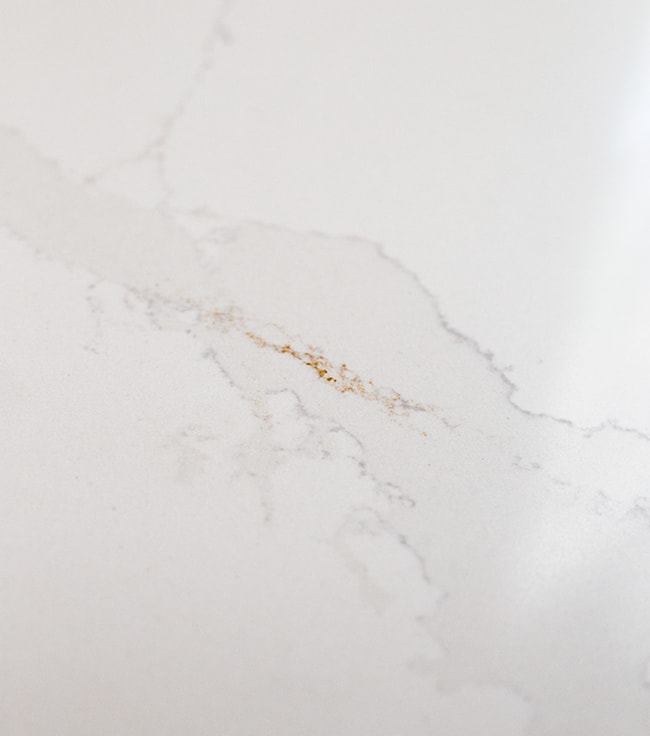 Pin
Our counter installation isn't actually complete yet, if you've noticed the lack of a backsplash. We were waiting for the stove to be installed before having them take the last measurement, since we'll be adding quartz above the stove inside the range hood surround: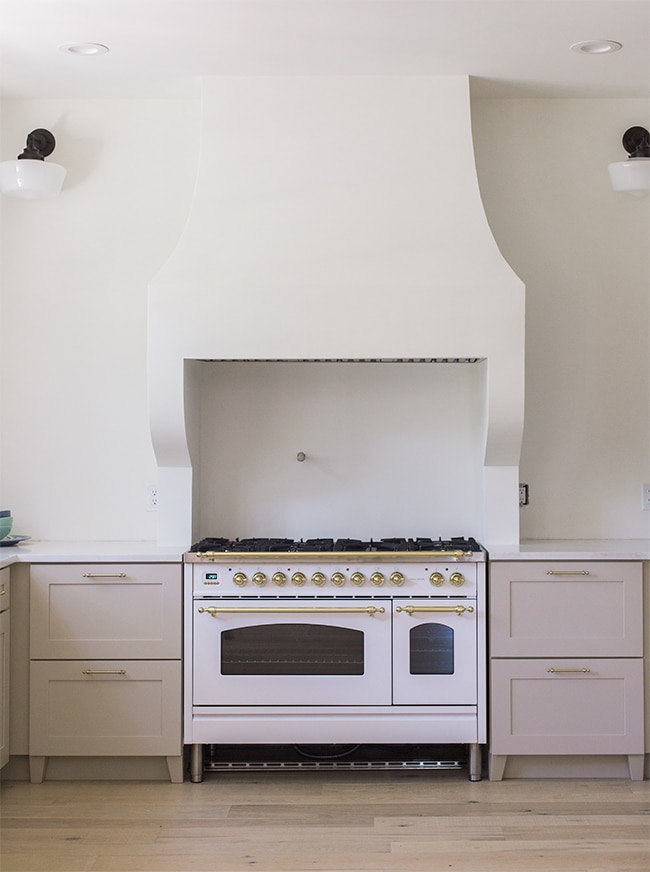 Pin
I think it's going to look pretty stunning with our brass pot filler…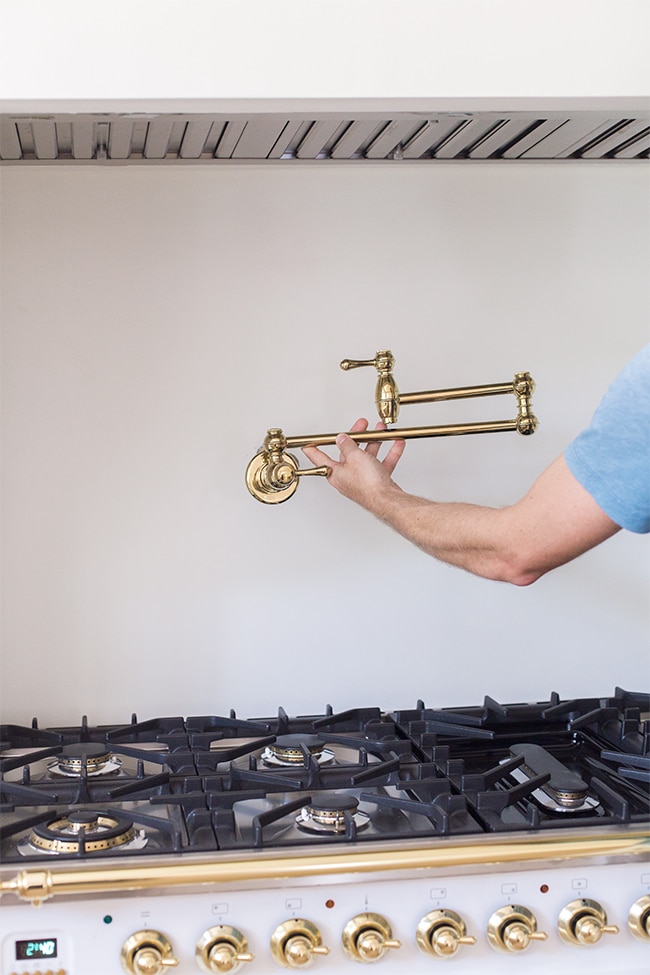 Pin
I ordered this Danze Opulence pot filler to match the stove & faucet. It's heavy solid brass and I can't wait to use it 🙂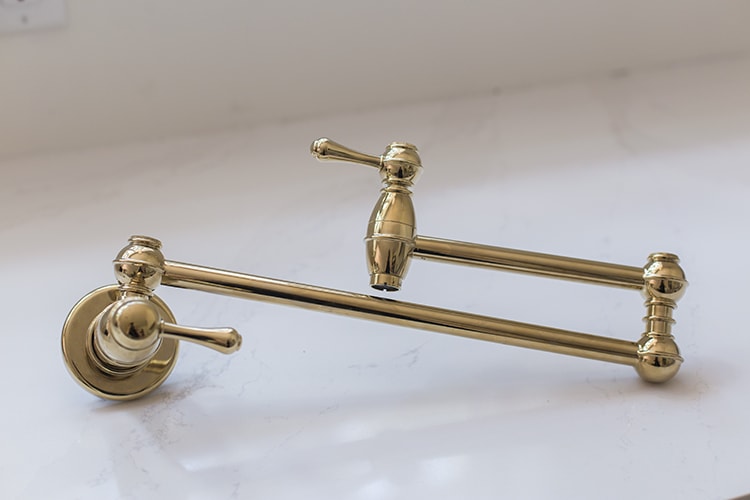 Pin
And while we're talking about this range hood, the surround started as a mockup I made in Illustrator…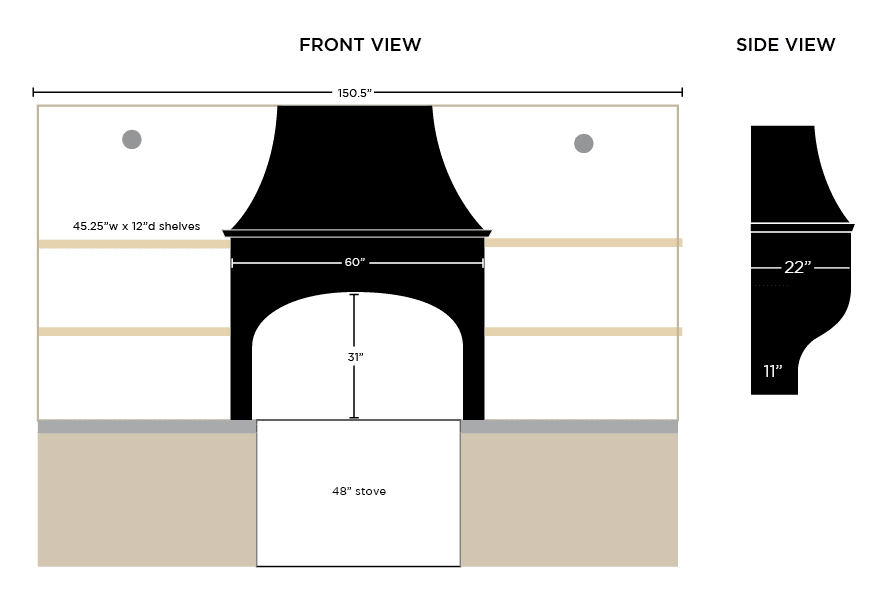 Pin
I worked directly with my builder and one of his carpenters to bring it to life over a few days.
Pin
I freehanded the templates for the curved sides, and they used plywood and 2×4's to construct the frames.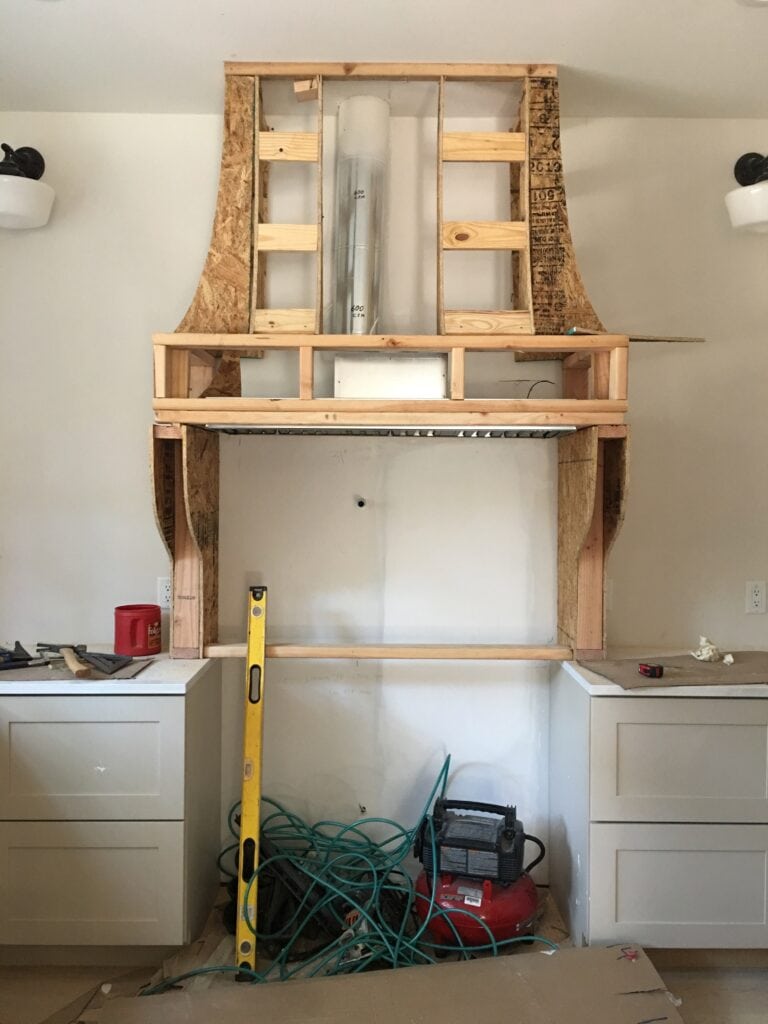 Pin
We had to make a couple modifications but I think they did a fantastic job of executing my vision.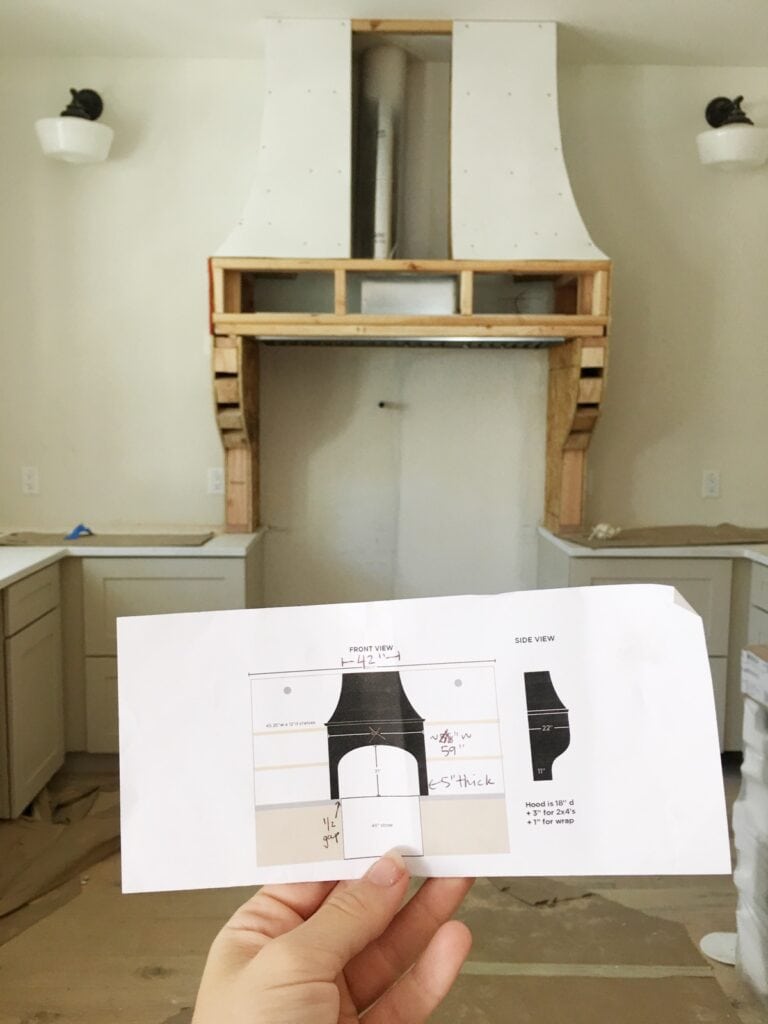 Pin
Did you know drywall could be so flexible?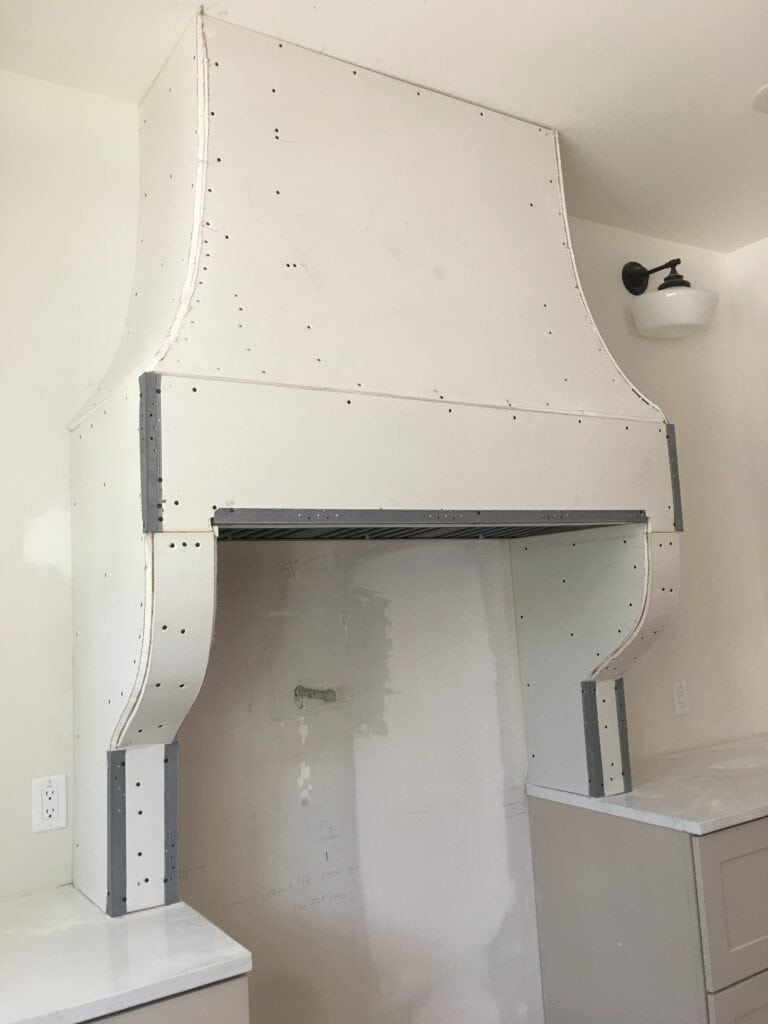 Pin
The surface was given a few coats of mud, sanded down and painted, and that's where we're at today. I'll likely need to coat the inside with satin paint to make cleanups easier—we'll see how it does over time!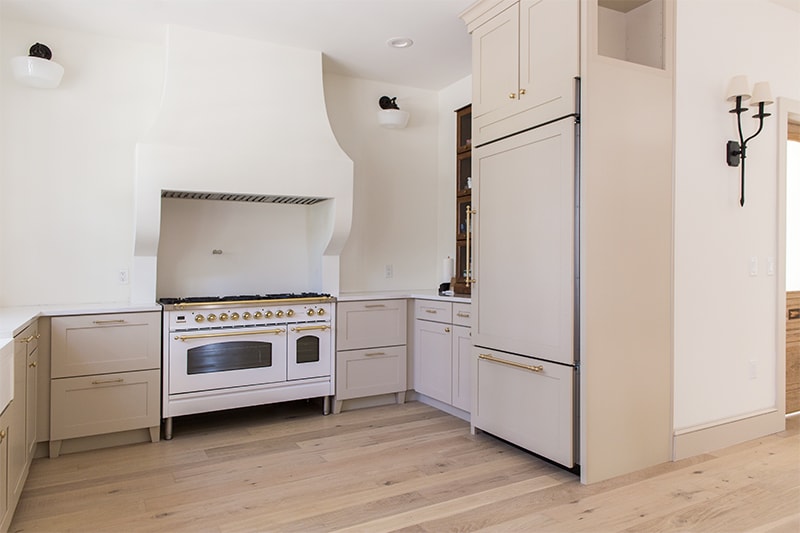 Pin
Ok, I'm sure you're all wanting to hear more about the star of the show, the work of fine Italian art that is our range…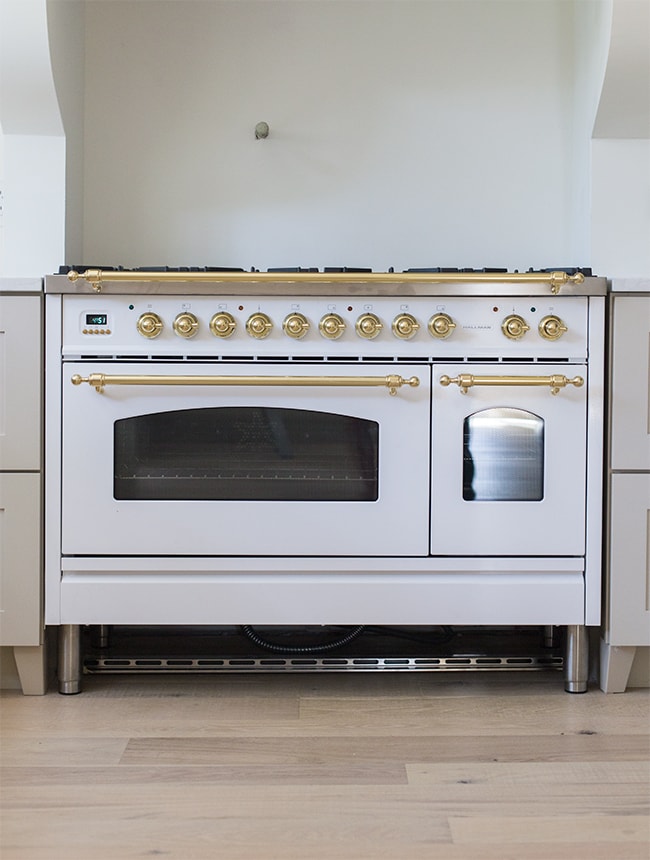 Pin
It's a 48″ dual fuel Hallman range, white with brass hardware. I purchased it through Appliances Connection (it's the same price and lead time no matter where you order from) because of their rewards program—we bought our 48″ range hood at a discount with points from our stove order.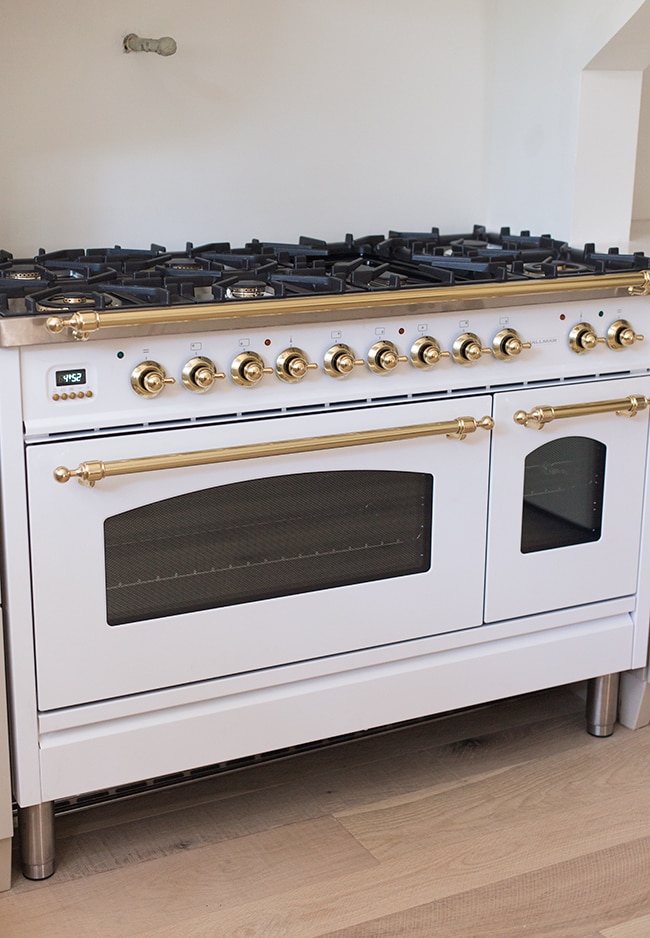 Pin
Overall, it wasn't a perfect experience. I originally ordered the 'bronze' hardware which is depicted as almost a champagne gold in Hallman's photos (it was a close call for me between this and the brass, which is $100 less):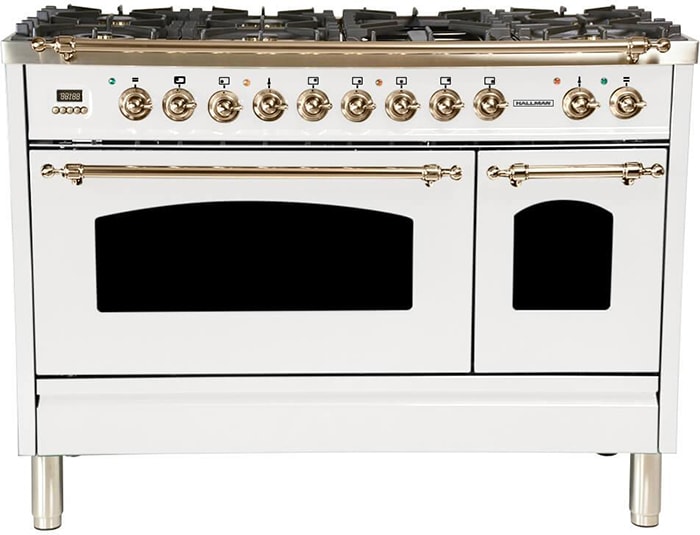 Pin
Then I did a bit more research and found a real life customer photo—the bronze is actually more like black (oil rubbed bronze) in real life! Nothing like the product photo. I immediately called Appliances Connection and requested to change to brass (this was about a week after placing the order) and they said it was too late, and that I'd have to pay $800 to change the hardware. Umm, no thanks, and Hallman really needs to fix their product photo (they said it was in the works, but five months later it still hasn't been updated—here's how the bronze really looks):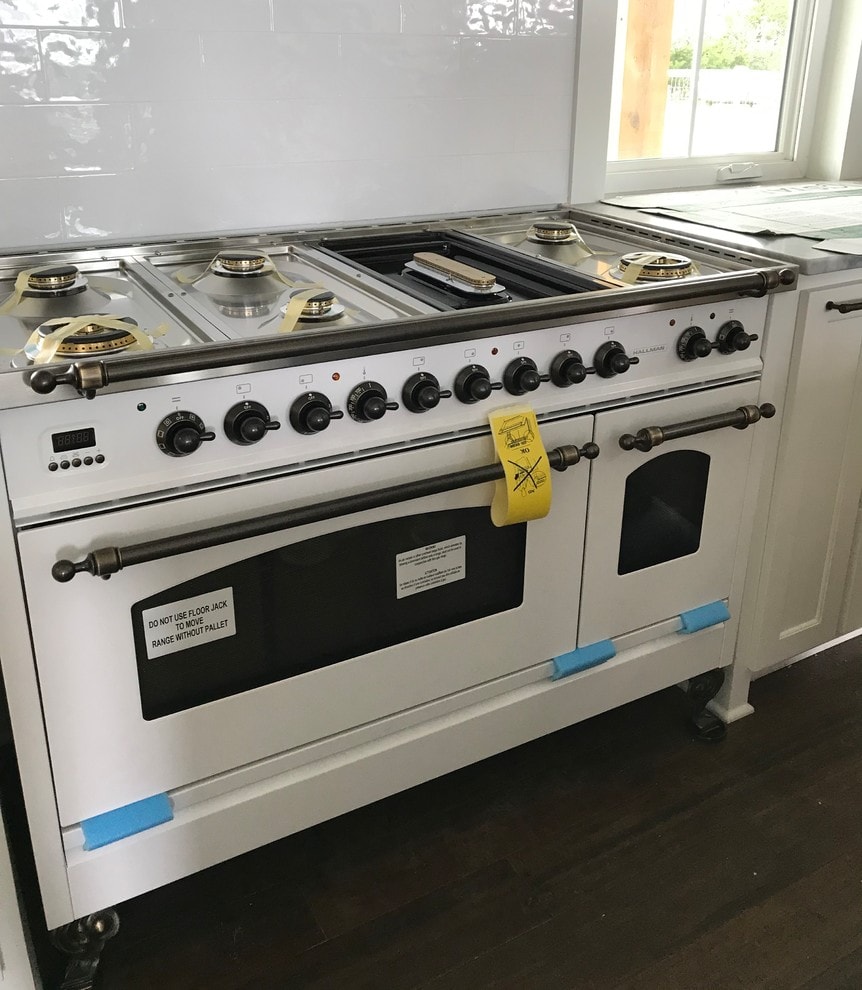 Pin
I came to terms with the bronze hardware and even decided I liked it. Then last month when we called to get an update (it was past the delivery date at this point) they told us that the order was delayed for two more months because they didn't have the bronze hardware in stock. In an ironic turn of events, they offered to ship it out with the brass hardware, which was in stock, at no additional charge. So that worked out…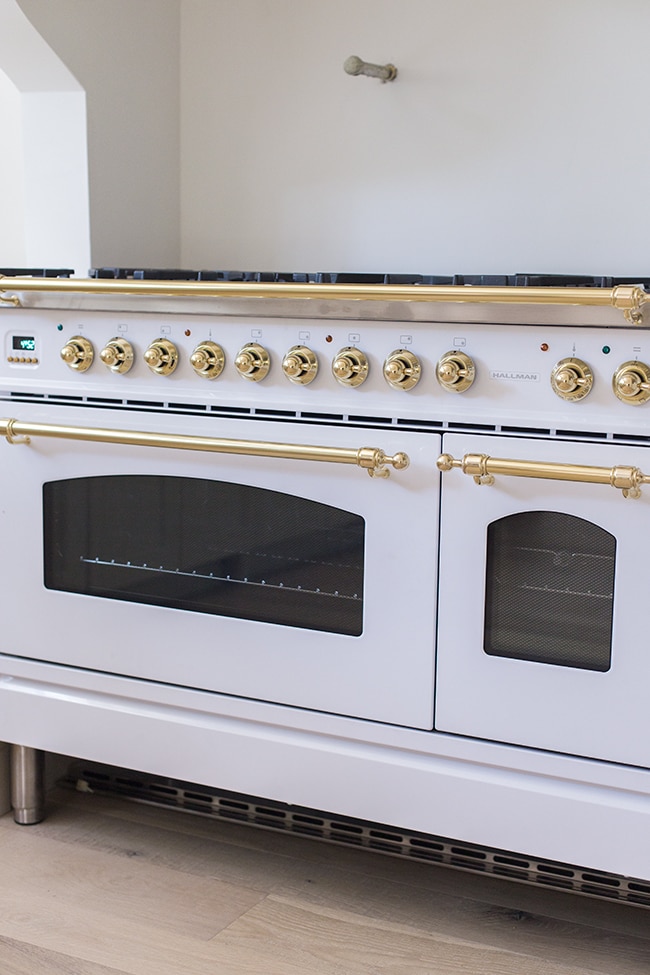 Pin
It took five months to arrive from Italy (we actually just received the toe kick last night after trying to track it down for weeks) and we've barely had a chance to use it because our gas was only hooked up two days ago. The gas installer broke the elbow pipe while attempting to install it the first time and it's a special pipe from the manufacturer, so he wasn't able to find a replacement. Fortunately, the CEO of Hallman himself reached out and offered to expedite the part for us at no cost, which was a pleasant surprise!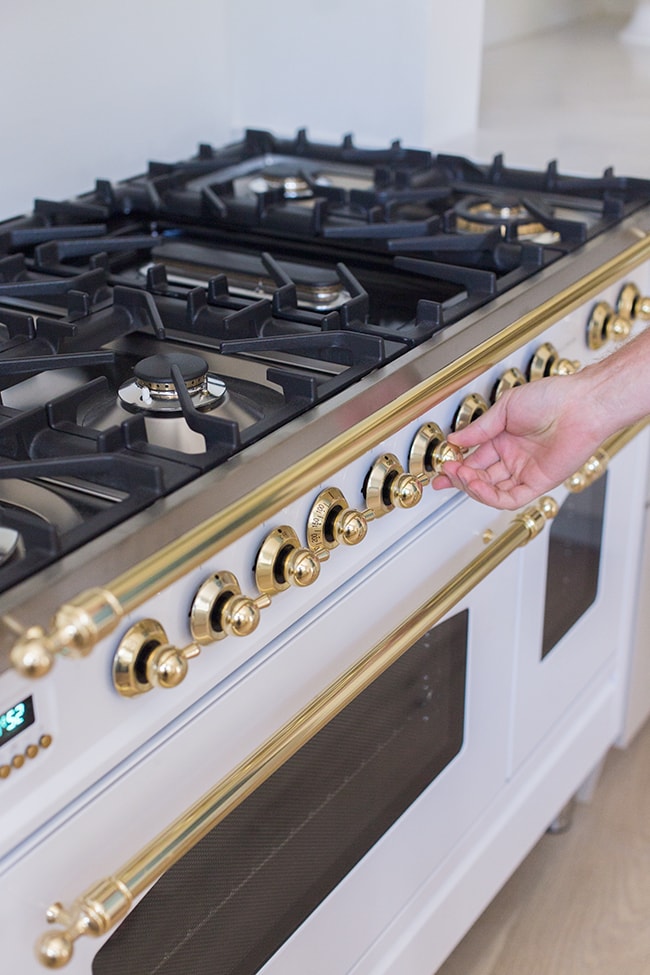 Pin
However, the ignition on one of the burners has already stopped working so we're going to have to call customer service and hope it's an easy fix. So far, the only verdict is that it's an incredibly gorgeous appliance and I'll be extremely disappointed if it doesn't operate half as good as it looks… because this girl likes to cook. I took a gamble with this range because the price is significantly less than anything else in its class, so I'm hoping Hallman won't let me down!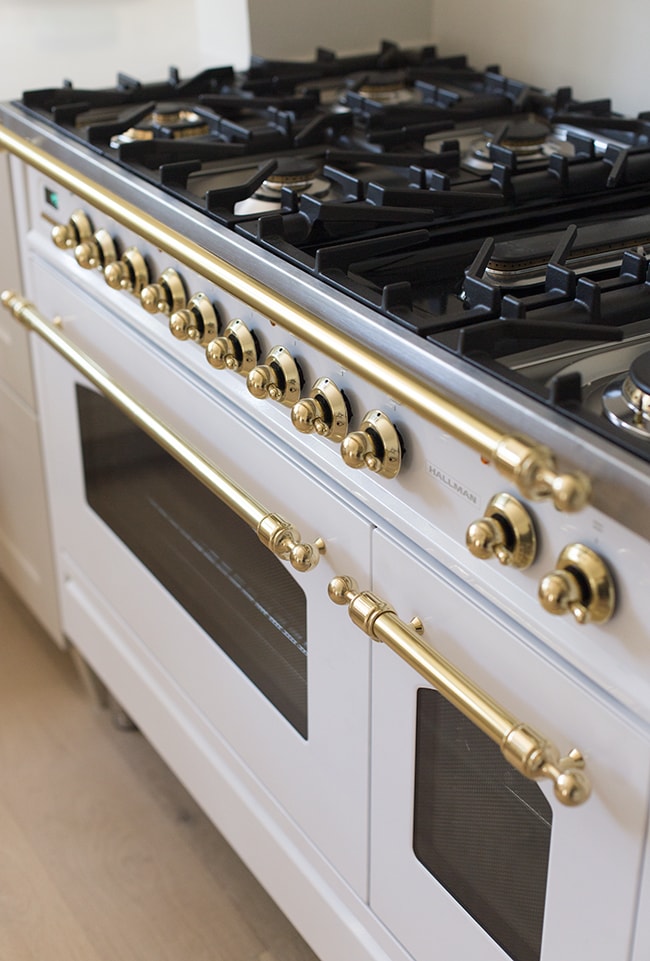 Pin
On the topic of appliances—I'm a firm believer that they should either be beautiful, or hidden. There are a few major companies that are finally coming around (hello, GE Café) and offering customizable colors, but the majority are still stuck in the stainless steel era.
Long before designing this kitchen I was pretty set on using integrated/panel-ready appliances that would blend into the cabinets as seamlessly as possible. These tend to be pricier than your average appliance, but well worth every penny in my opinion. Can you spot the dishwasher?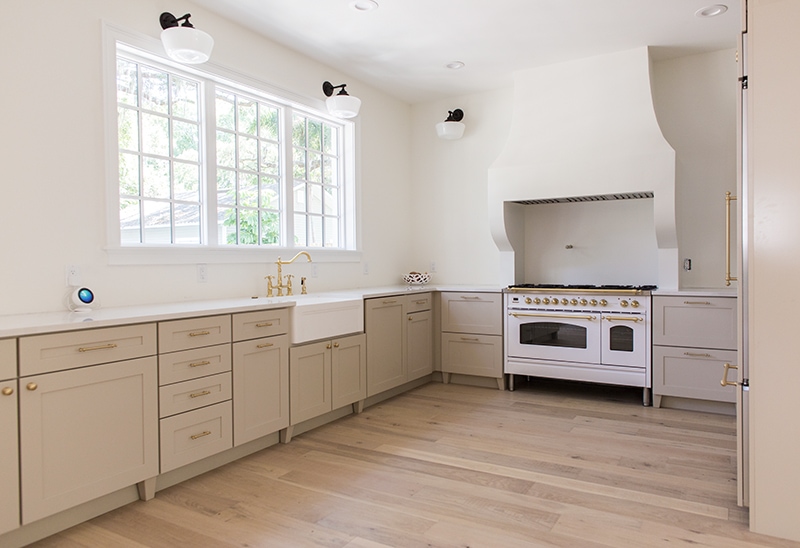 Pin
Well hi there, handsome!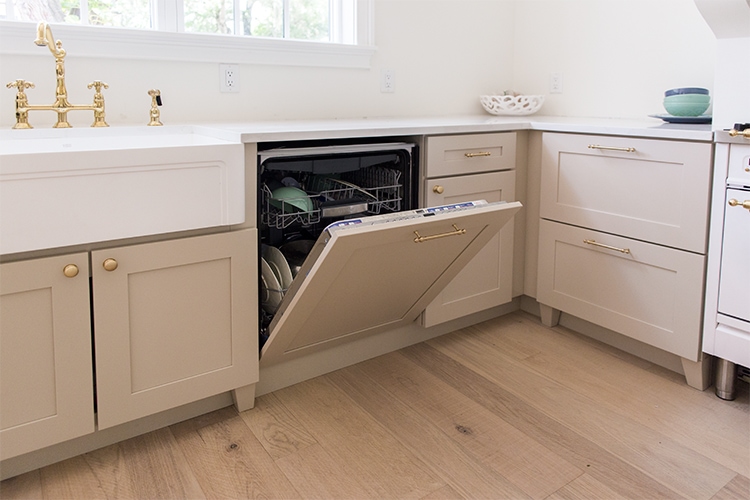 Pin
After lots of reviews, I landed on this Bosch model and so far, we're very pleased (especially after living without a dishwasher for over two years—what a luxury!) A few of you with the same model messaged me on Instagram saying how much you loved it, too. It has a separate utensil rack, which is basically the greatest invention in recent dishwasher history. I'll be sure to cover it more in depth in my kitchen organization post.
Another choice we're quite happy with is our KitchenAid panel ready fridge. With the exception of an exquisite Italian range, I'd always prefer panel-ready appliances (fridge & dishwasher) to anything metal, customizable or not. An uninterrupted row of cabinets just looks so much cleaner, don't you agree?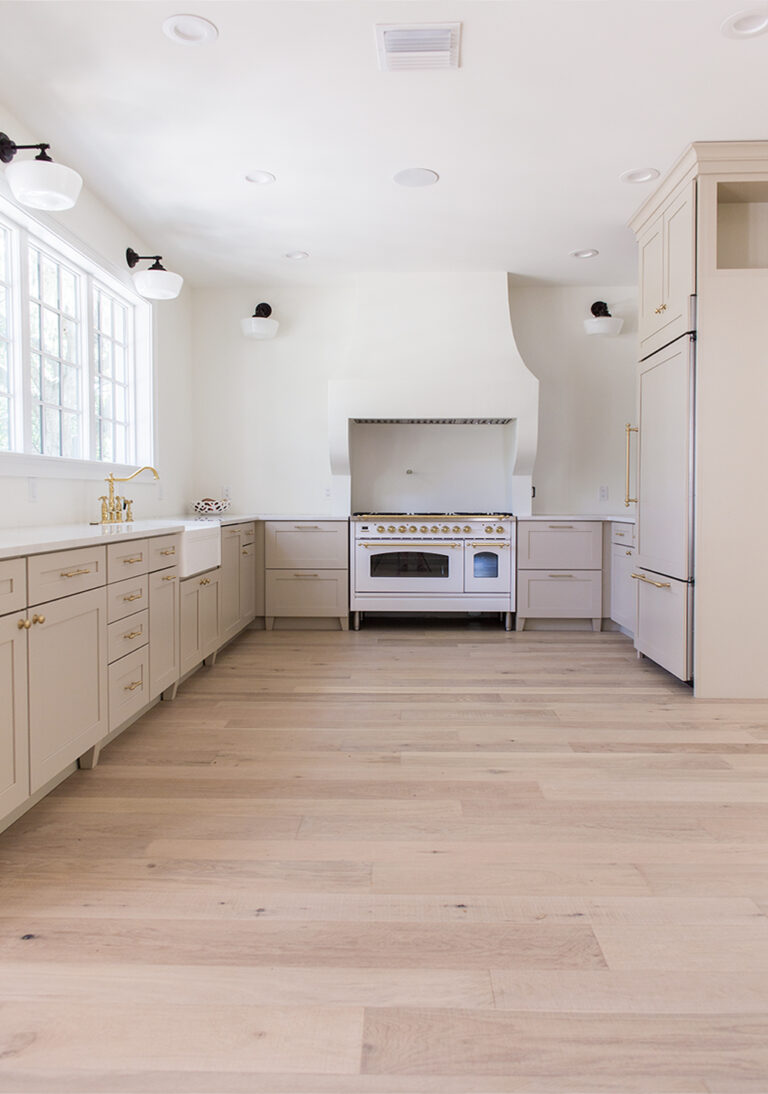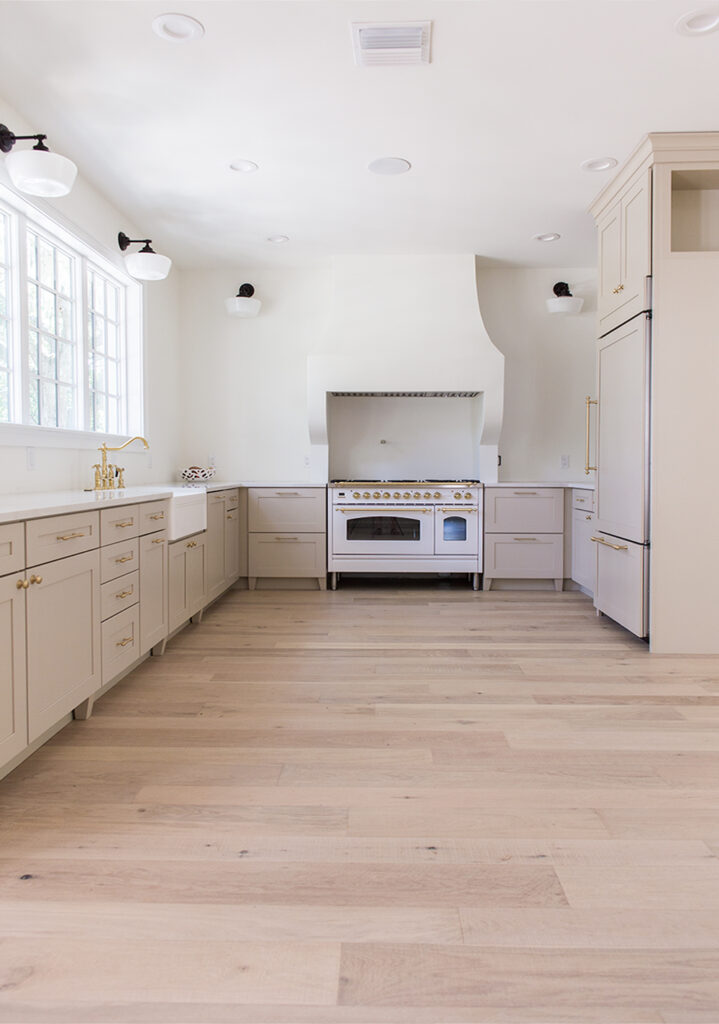 Pin
Not going to lie, it was no picnic to get these panels on for us first-timers. We took on the challenge ourselves as our cabinet installer was stumped.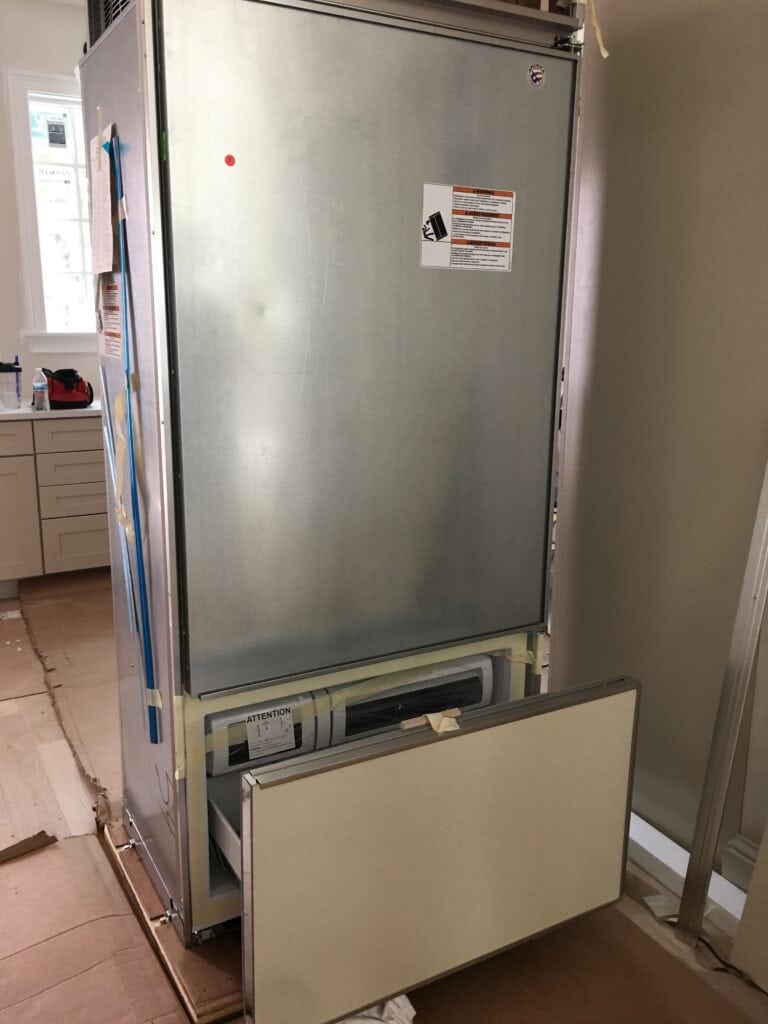 Pin
It took a couple nights, trips to the hardware store, and a lot of tiny adjustments to make it work. But we love our new fridge!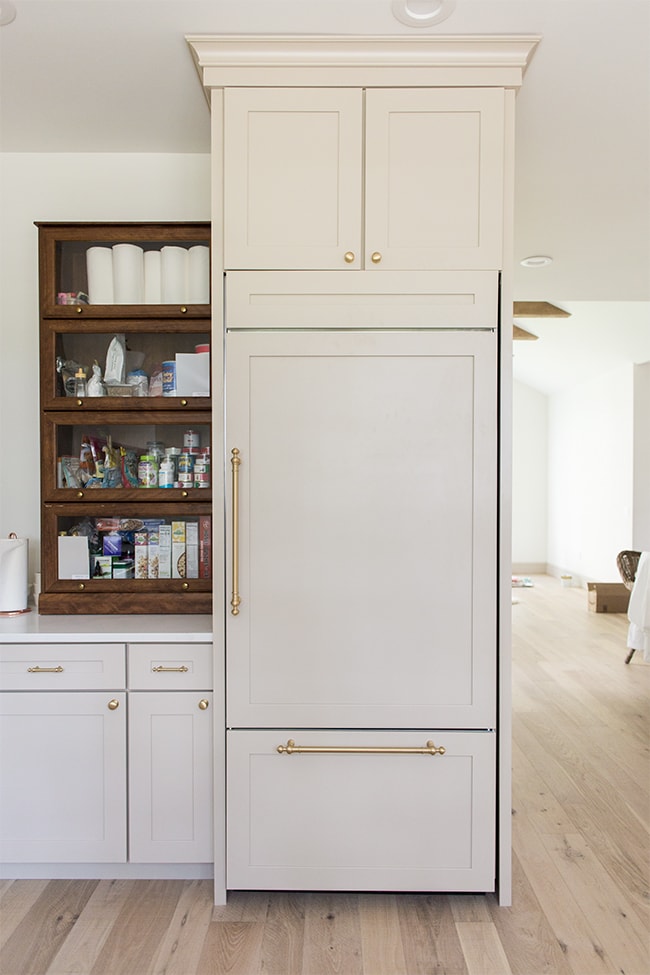 Pin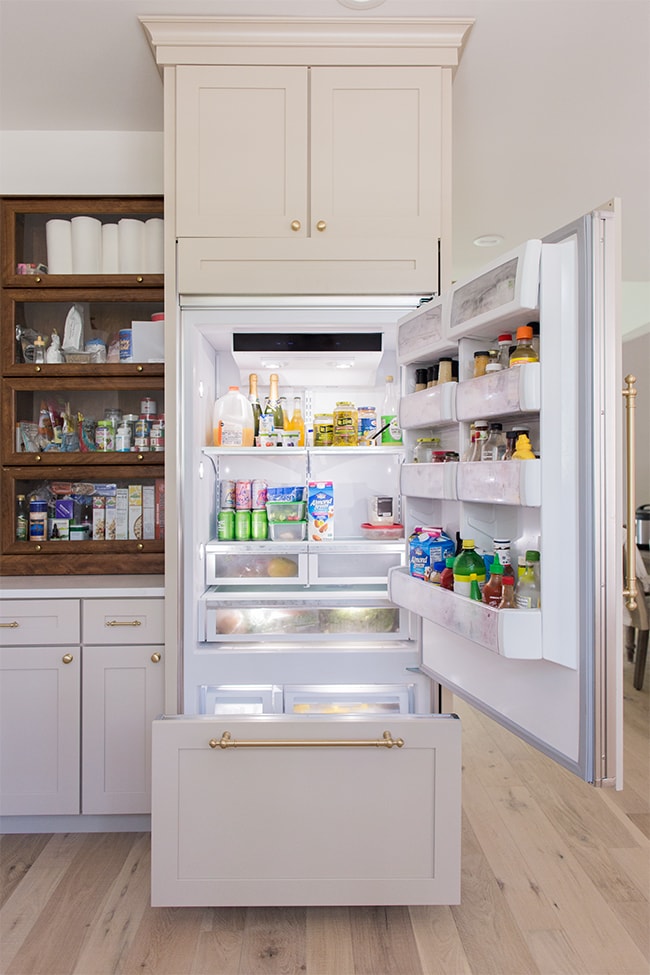 Pin
You know what else we love? Our hardware. Swoon.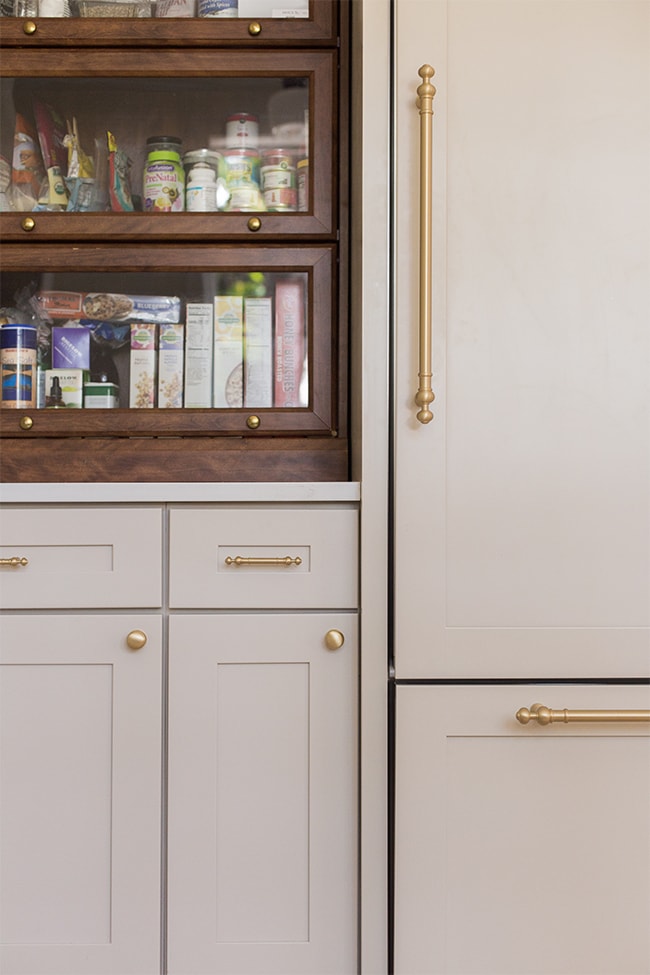 Pin
Relatively speaking, these were the biggest splurge in the kitchen. I'm always a cheapskate when it comes to hardware, shopping for bargains on Ebay and Amazon, so this order was  tough one for me to pull the trigger on. Here's the thing—I didn't have a lot to choose from, because I needed matching appliance pulls for the fridge and freezer. These are a specialty item so there's not a ton of options, and the few I liked were $$$ (ours were $185 each—ouch!)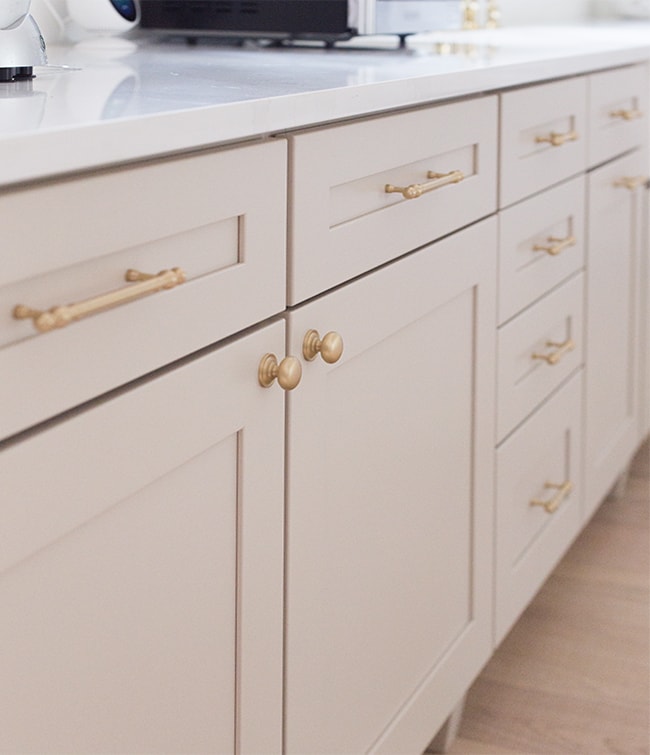 Pin
And then of course I needed all of the matching cabinet pulls, which weren't nearly as expensive but it all added up. These are RK International satin brass and I ordered from myknobs.com (the only retailer I found that carries the full line). Here's the order breakdown, for those wondering: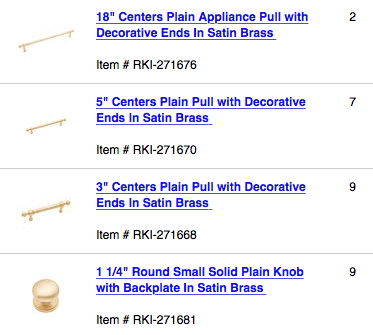 Pin
While we're on the brass train, let's talk about this faucet!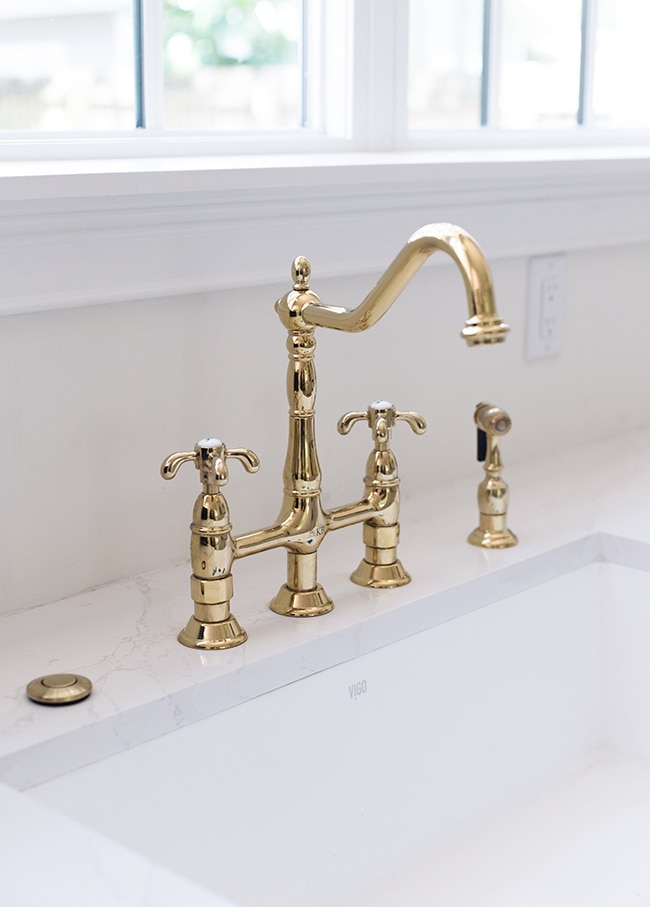 PinIt's from Lowe's and a great price, especially for solid brass. I just love those vintage European hot/cold taps! It was one of the first things I chose for this kitchen and originally I thought I might give it a light buffing with steel wool so it has more of a satin look to match the pulls, but it matches the stove and pot filler so I'm leaning towards keeping it as is.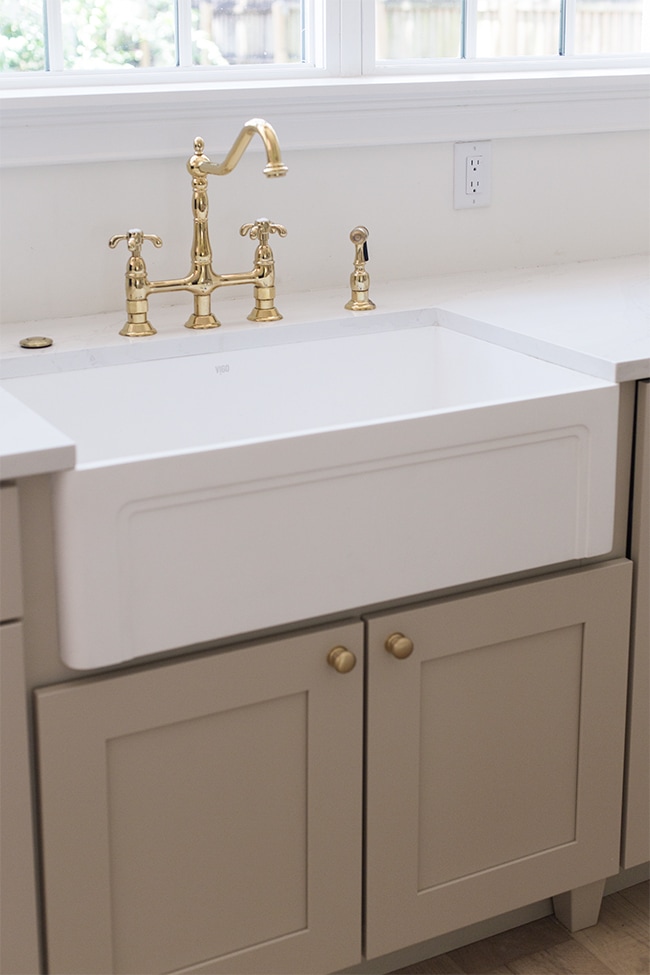 Pin
The sink is a 30″ VIGO Matte single basin farmhouse, and I chose it because the pretty detailing on the front (for some reason the 30″ size isn't on Lowe's anymore, but they have other sizes and styles). I've used different styles of farmhouse sinks in the past and like to switch it up every time!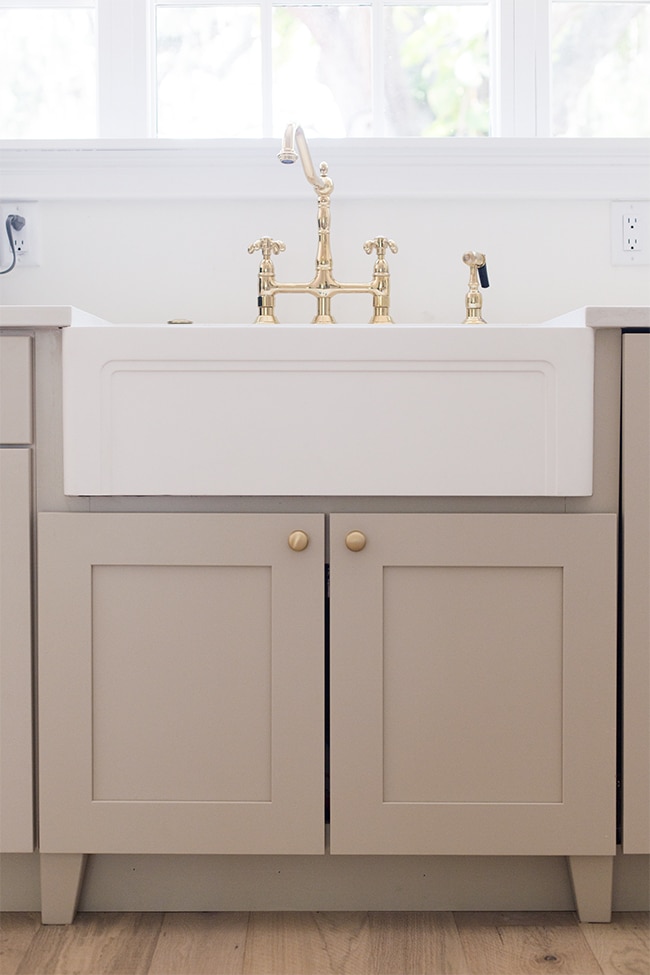 Pin
And wrapping up our hardware/fixture selections are these lovely vintage schoolhouse sconces—I ordered four at a great price from Lowe's: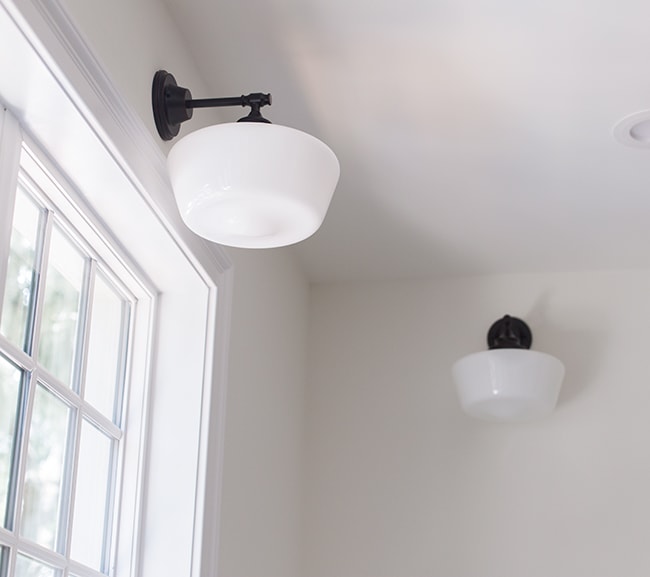 Pin
This was many months ago and unfortunately Lowe's no longer carries them, but I found them (also very affordable!) here on Amazon.
One thing Lowe's does still have in stock, that is one of my all-time favorite finds (and decisions for our house) are these floors.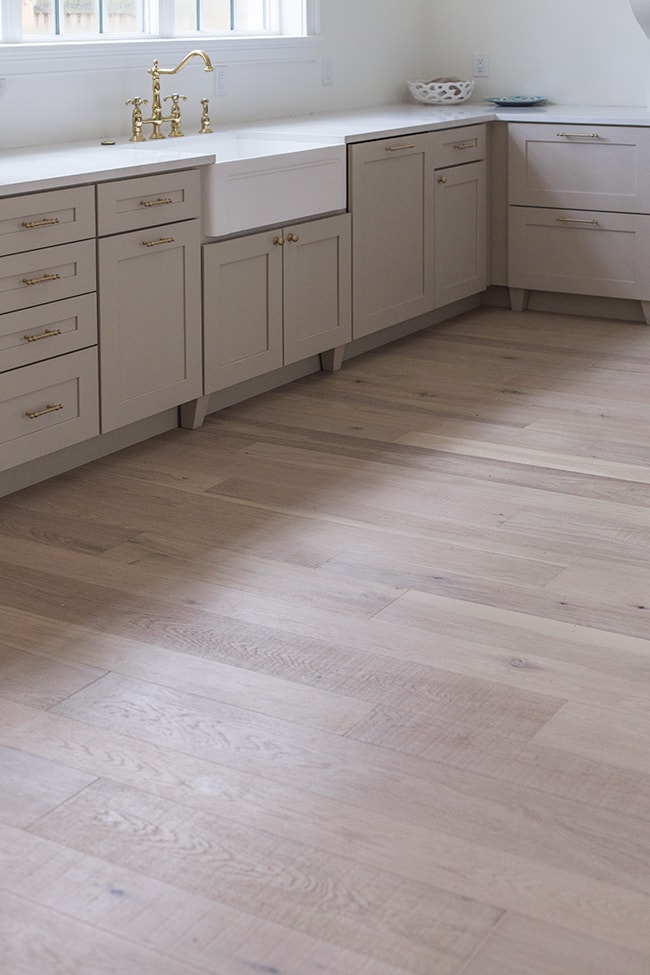 Pin
I've mentioned them several times on this blog but if you're new to the party, these are the Villa Barcelona Terrassa French Oak engineered planks. Only $4.99/sf, beautifully textured and have proven to be pretty much indestructible so far (they survived tools dropping from ladders and heavy appliances dragged across them without a single visible scratch).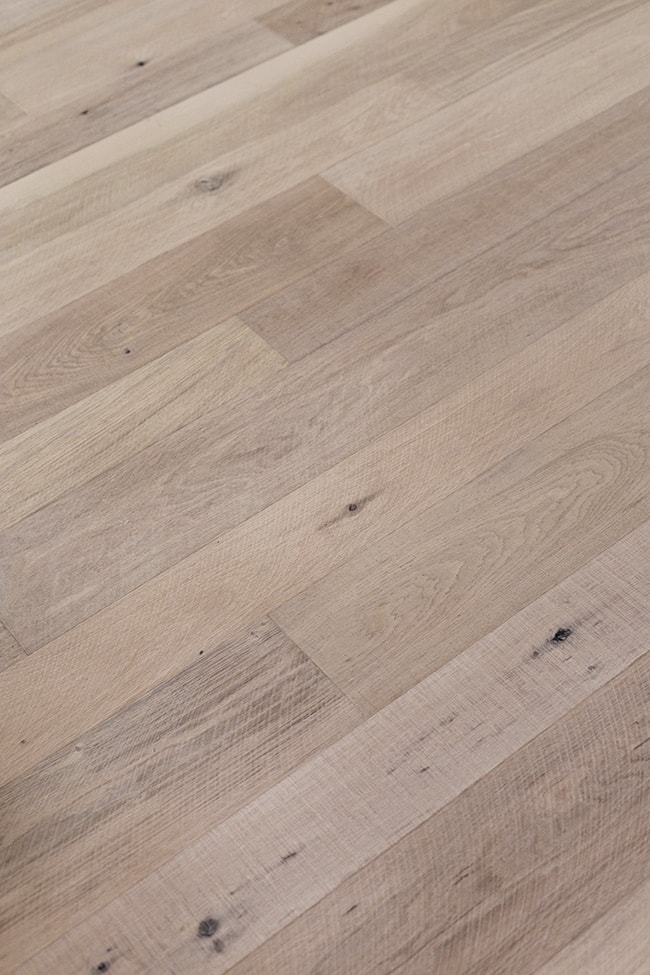 Pin
Oh, speaking of ladders—we have a few exciting projects coming up! We're currently working with a local metal fabricator to build a custom iron ladder that will be mounted onto the side of the fridge to access our wine cabinet.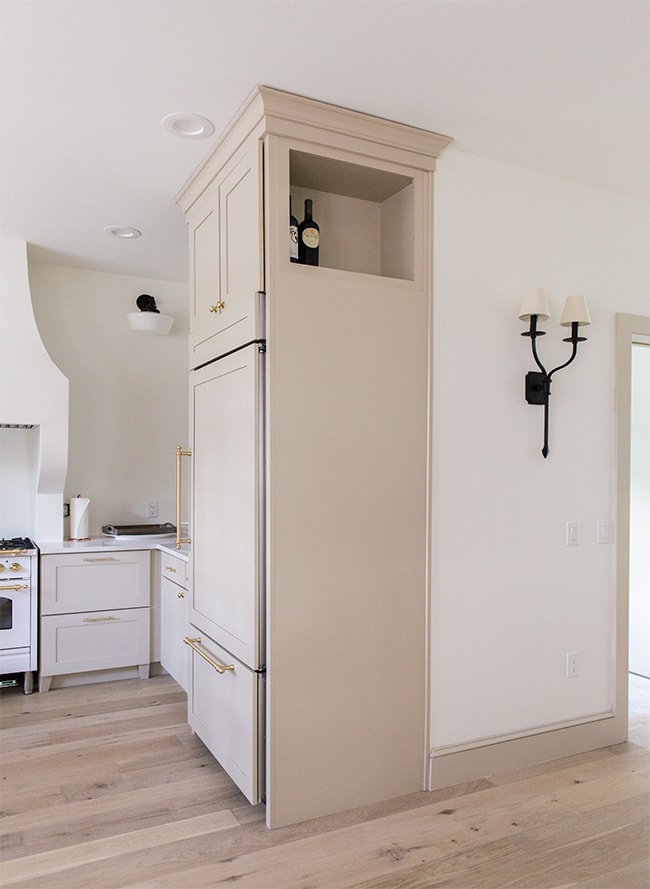 Pin
Don't judge our sad collection at the moment—one of us hasn't been able to enjoy wine for 6 months 😉
Another project in the works is this barrister bookcase I scored on Facebook marketplace. I plan to paint it black and use it as our pantry/food storage.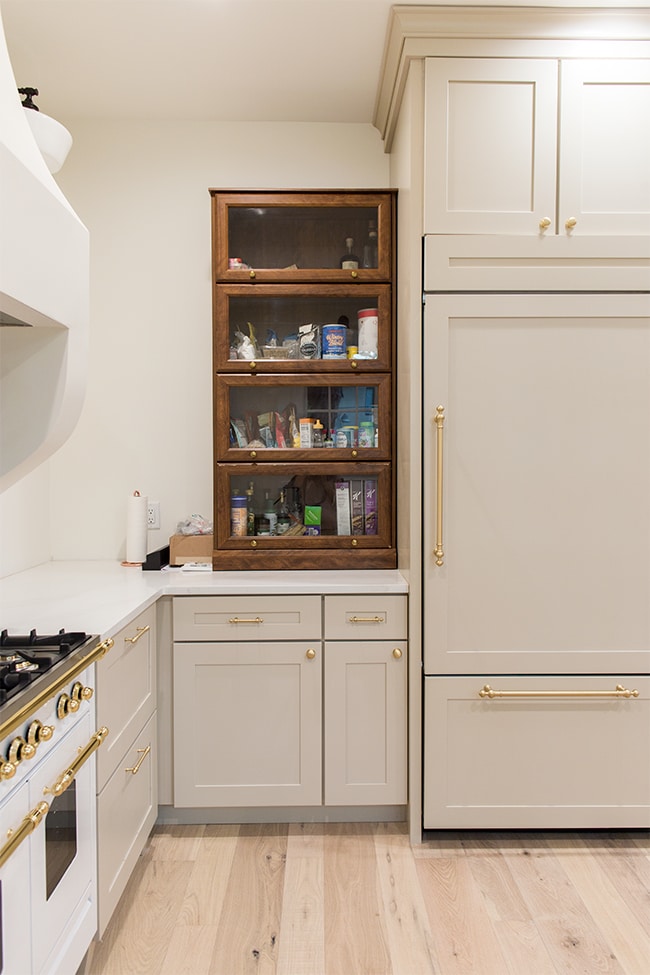 Pin
Because pantry items are not the most pleasant thing to look at, I ordered this frosted window film in a matte ivory color to hide the contents. I think the warmer shade is much nicer (and less modern looking) than your traditional frosted glass cabinets. Looking forward to seeing how this one turns out!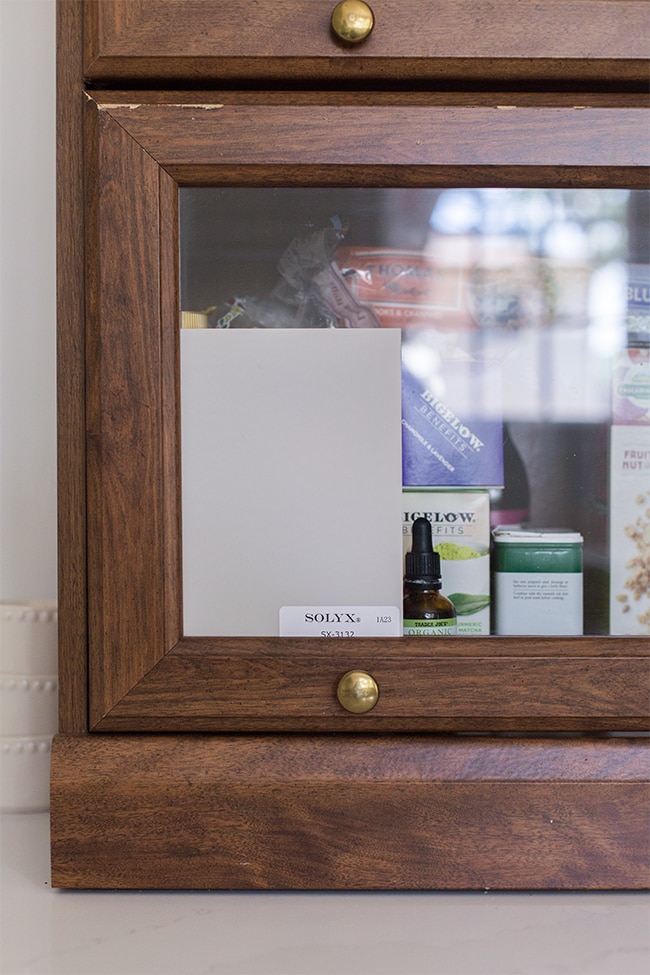 Pin
Another furniture refinishing project is also in the works, and it may be the death of me. I apparently forgot (or blacked out) what a pain it is to sand stained and lacquered furniture down to bare wood—especially larger pieces with lots of little details…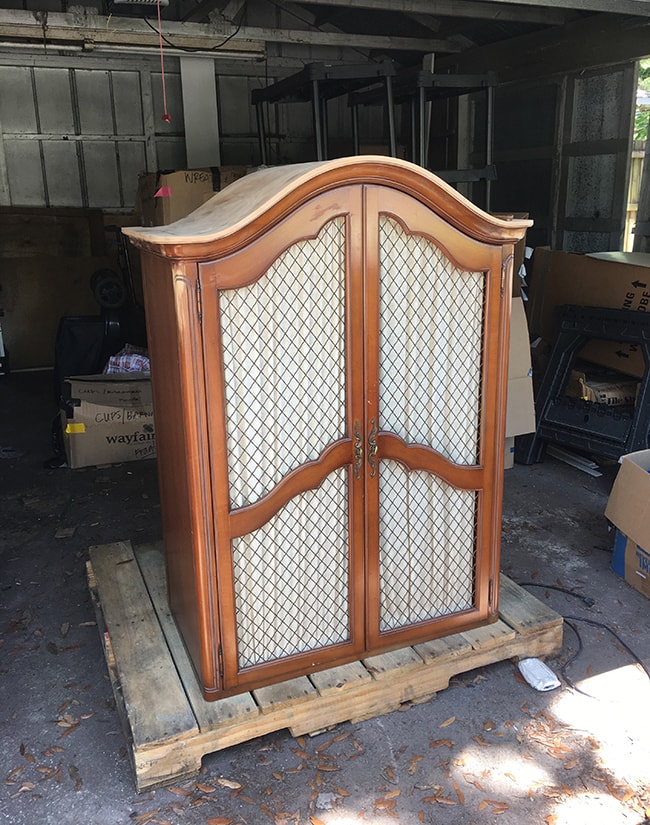 Pin
It took me almost two hours just to sand the top of this piece with an orbital sander, and that was the easy part. I have to change the pad out every 5-10 minutes because it gets gunked up with lacquer and stops working. Sanding is my least favorite DIY activity of all (and paint stripper to remove lacquer is even messier and you still have to sand—anyone have a miracle solution??)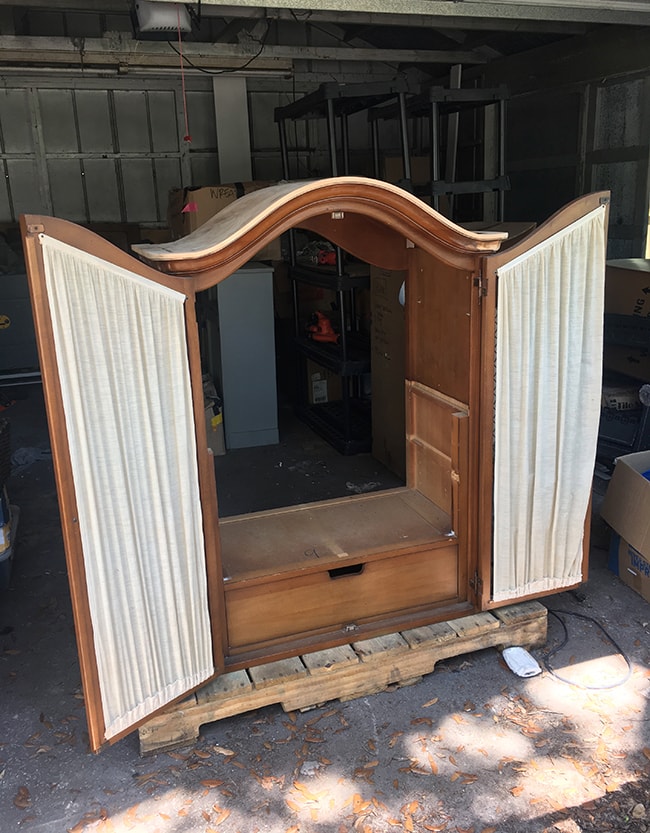 Pin
The end goal is to get it down to a nice natural wood tone, and I think all the effort will be worth it. The hutch will be used to hold our microwave, coffee maker, and cups/barware on the two upper shelves. It'll sit on the counter, centered above these two end cabinets—can you picture it?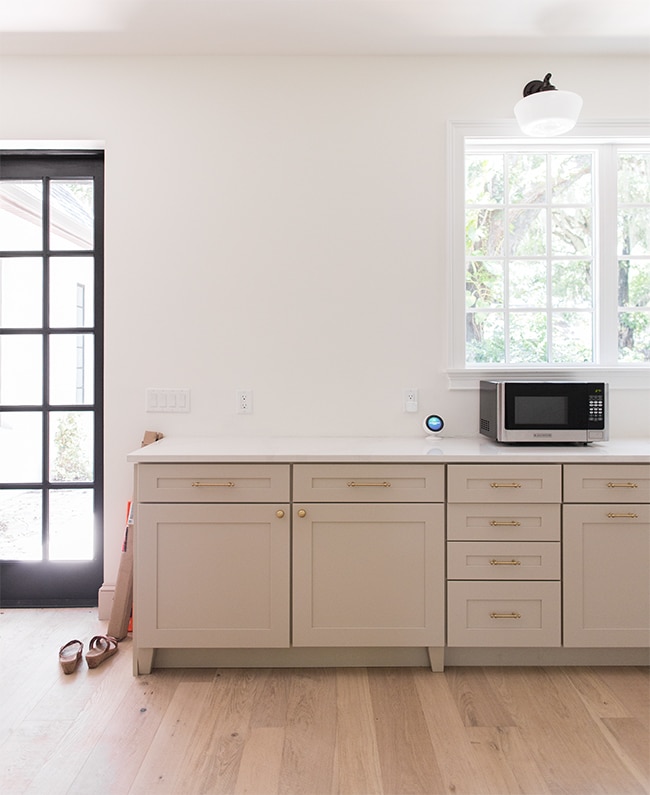 Pin
I found this relatively compact microwave (that still fits our biggest plates) for only $76 that fits perfectly inside the hutch (we've been using it every day and love it).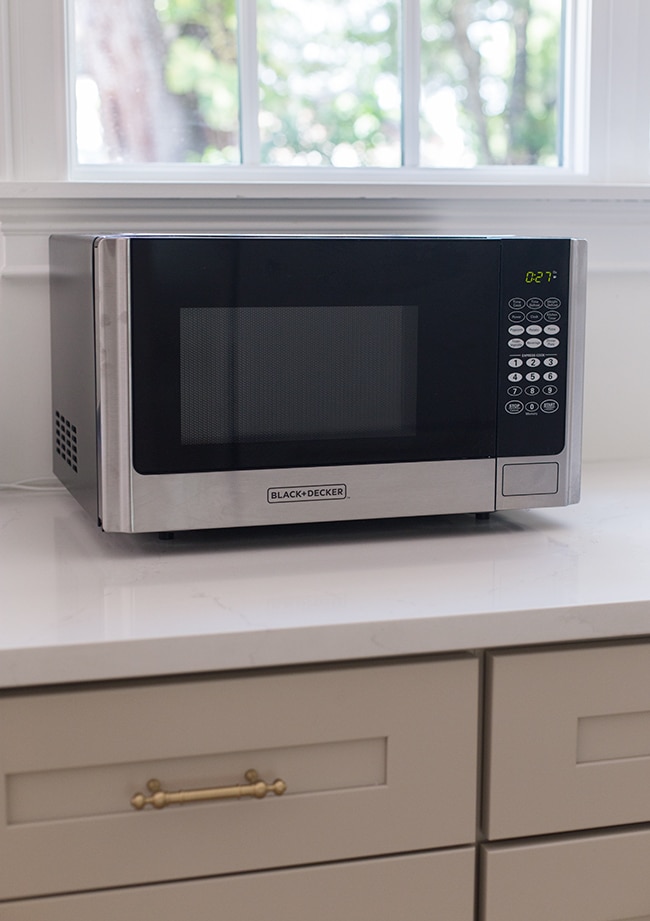 Pin
You may have also caught a glimpse of something new in the last photo… I painted our French doors! If you recall, they were wood (mahogany) before: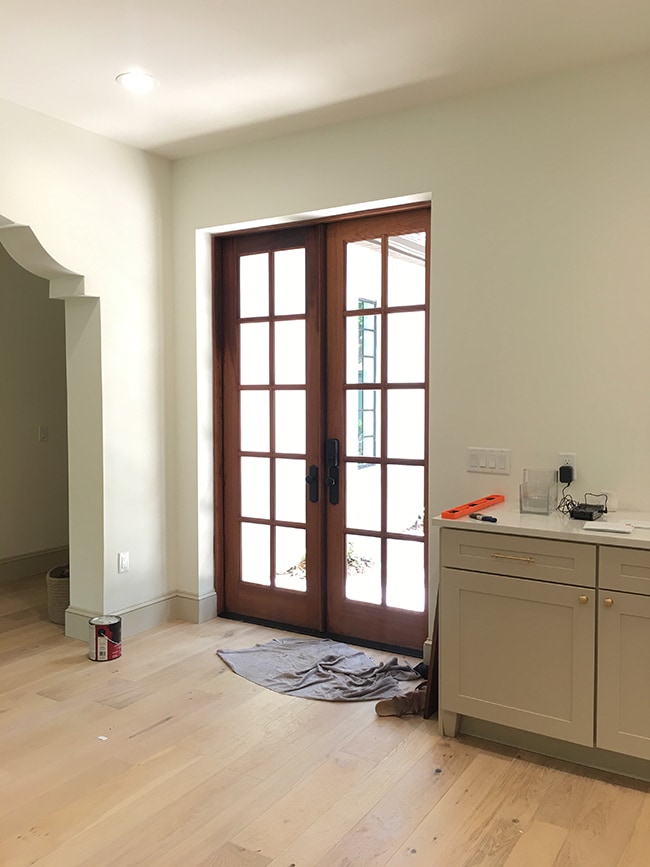 Pin
I didn't mind the wood (the exterior will be left as is and we're leaving our front door mahogany as well) but once the wood hutch is introduced, there will be too many competing wood tones next to each other. And you know how much I love a good black door…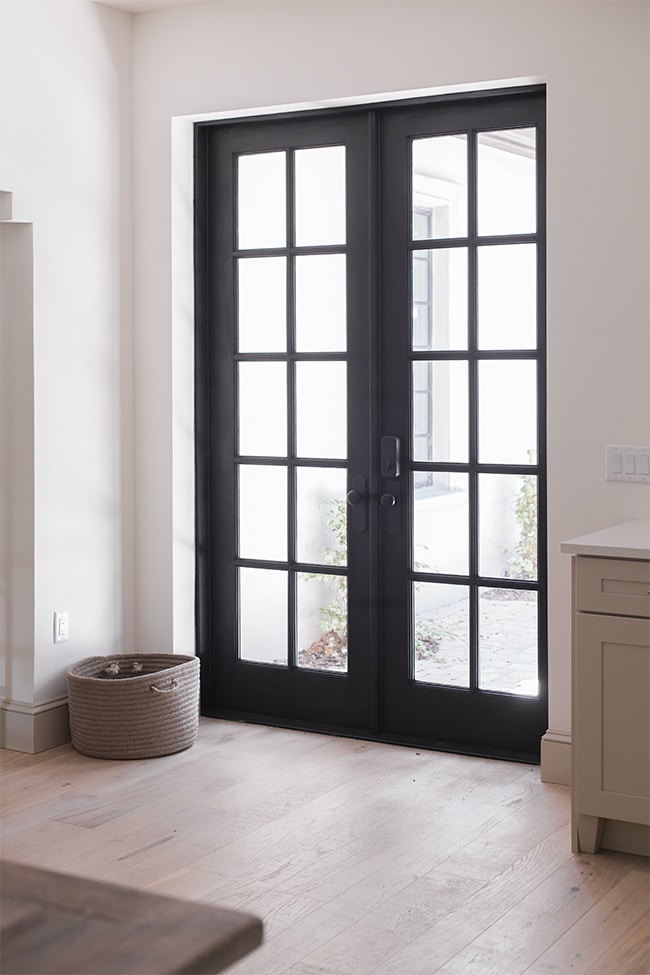 Pin
PS I used SW Tricorn Black (one of only two blacks I ever use, Valspar Cracked Pepper being the second, and they're basically identical).
The last project we're currently working on are floating shelves for the back wall. I ordered these brackets from Shelfology —I've worked with them on a few floating shelf projects in the past and knew they'd be perfect.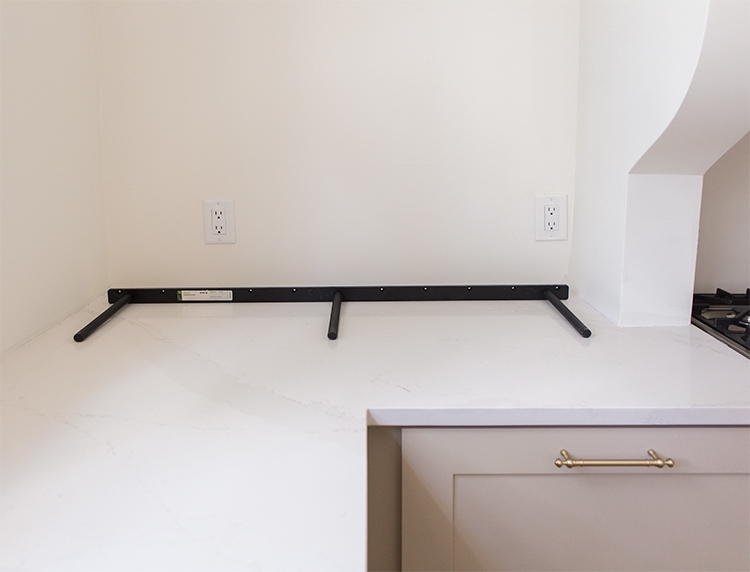 Pin
We'll be adding four shelves total—two on either side of the range hood—using cypress wood from a local lumber mill. Can't wait to stock them up and give this kitchen some life!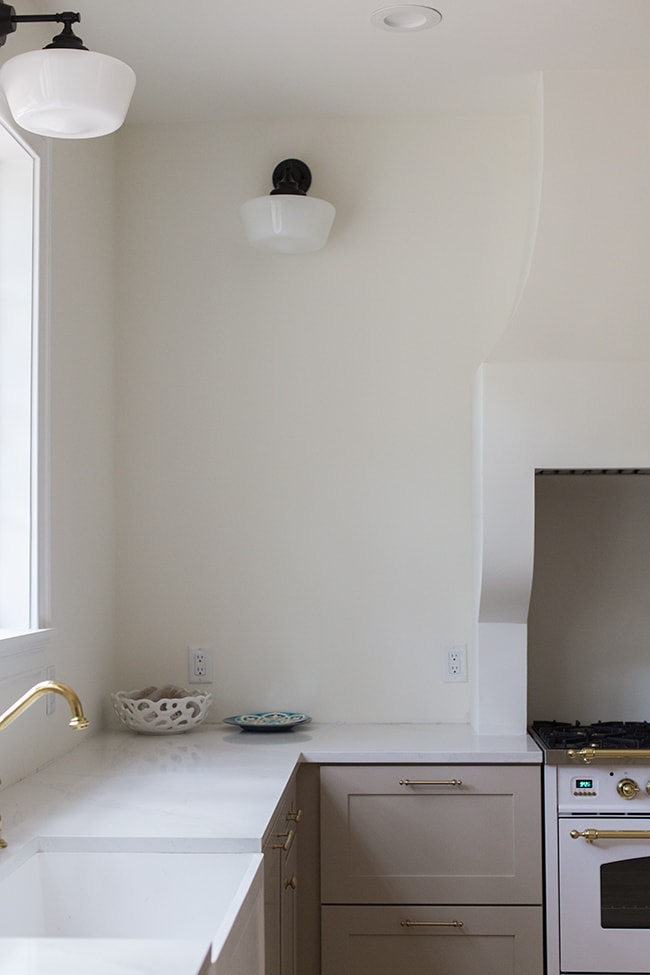 Pin
And that should cover everything so far! We're hoping to get the shelving, ladder, bookcase and hutch finished within the next month (spread out amongst all of our other projects) and then I can do a more formal kitchen reveal. Although I still need to find a really great rug and maybe some window treatments, and those things take time!
Here's a little sneak peek at the toe kick I just took this morning… it's just sitting on the floor because there doesn't appear to be a way to actually install it, so that's one more thing we're going to have to figure out…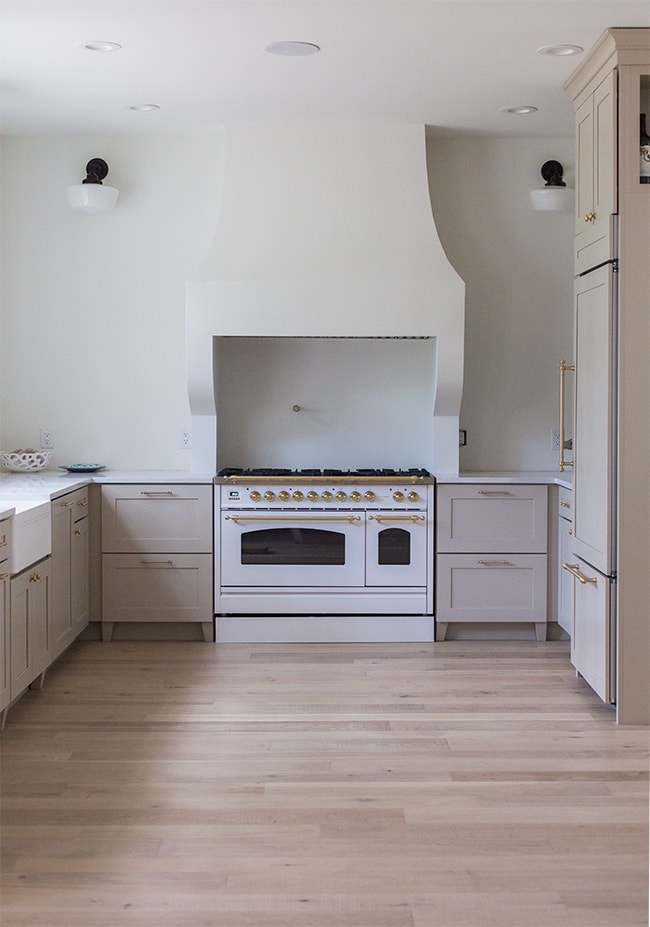 Pin
I'll be sharing the progress on my Instagram stories as we tackle the rest of our to-do list in here, so make sure you're following me there for all the latest updates! Next up is the reveal of our master closet at the Riverside Retreat…