This post is part of a paid collaboration with Lowe's Home Improvement. All opinions are my own.
Today calls for a mini-celebration, because we've finally knocked one small but mighty project off our to-do list at the Riverside Retreat!

Pin
If you're just tuning in for the first time, a couple weeks ago I outlined our plans to create a master closet + doorway to a new master bathroom, along with the framing and drywall progress. Here was the original bedroom wall:
Pin
We bumped the wall out 2'10" to accommodate a closet and space for the new bathroom.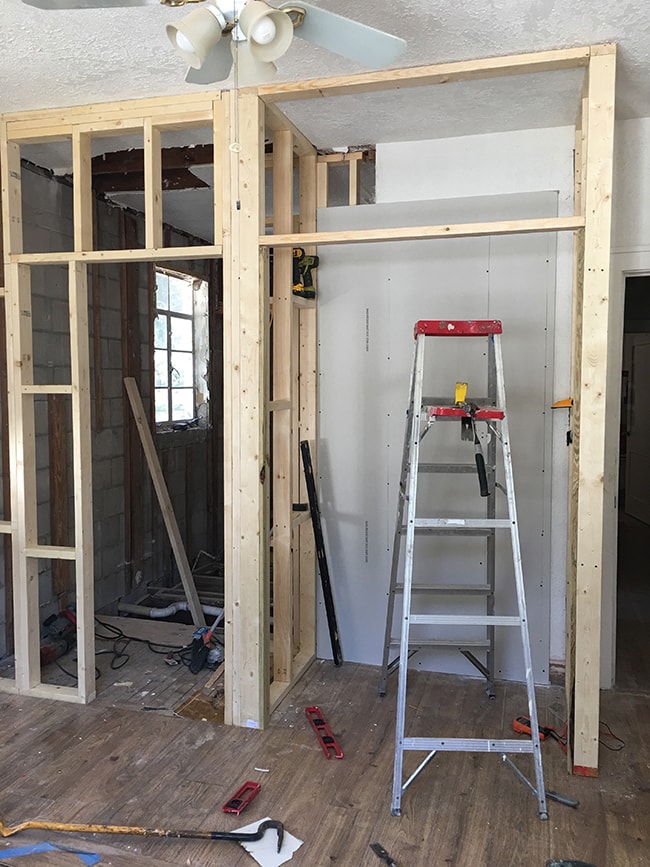 Pin
Then drywall went in, followed by taping and mudding…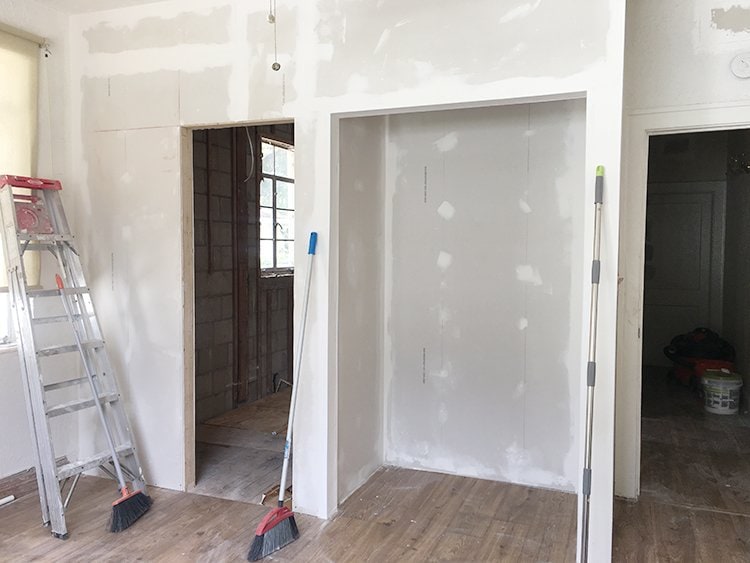 Pin
Then the doors and trim: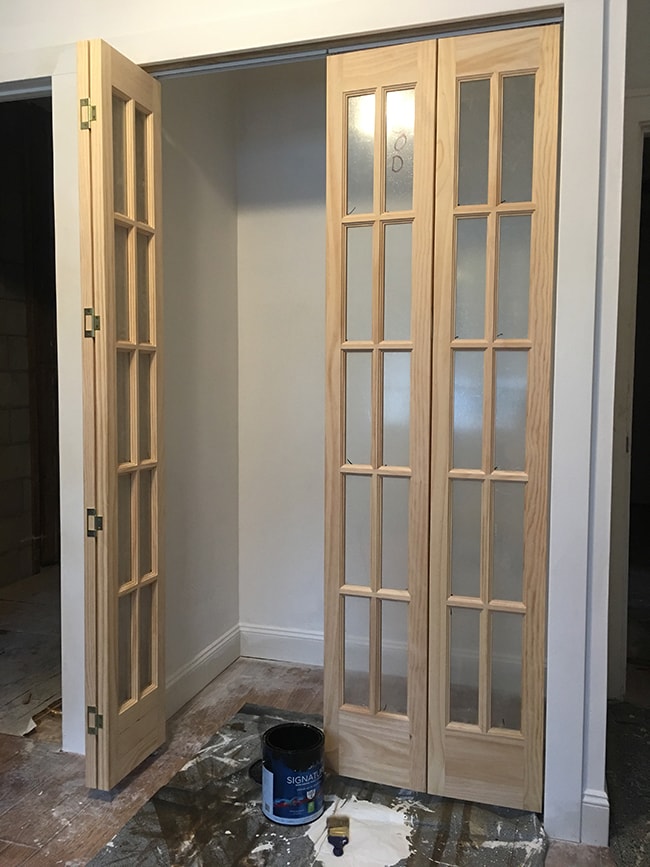 Pin
The door panels came with a protective plastic cover on both sides so you can easily paint or stain the wood without having to scrape paint off the glass later. I used Valspar's Cracked Pepper in semi-gloss: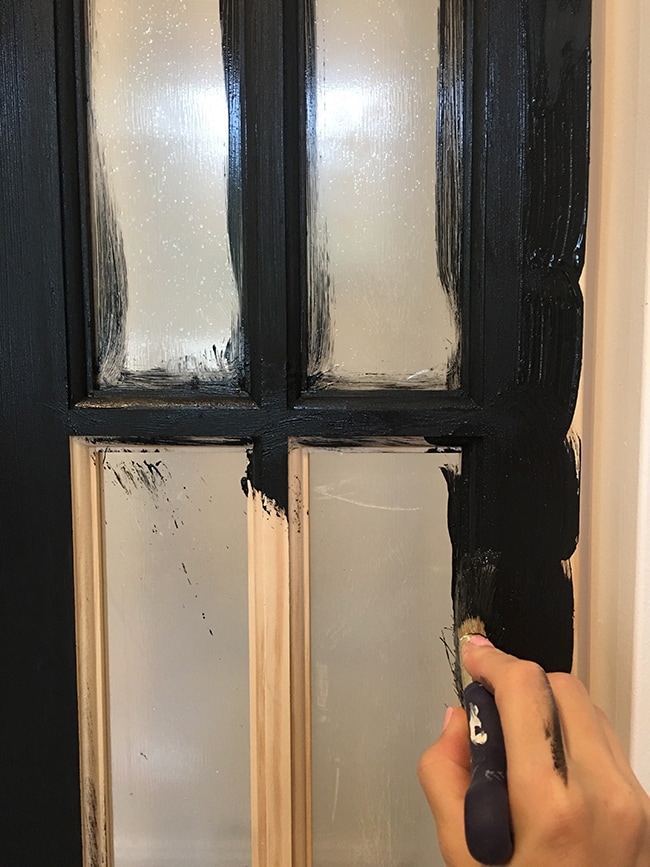 Pin
The unfinished wood soaks up the highly pigmented paint so it only needed one coat.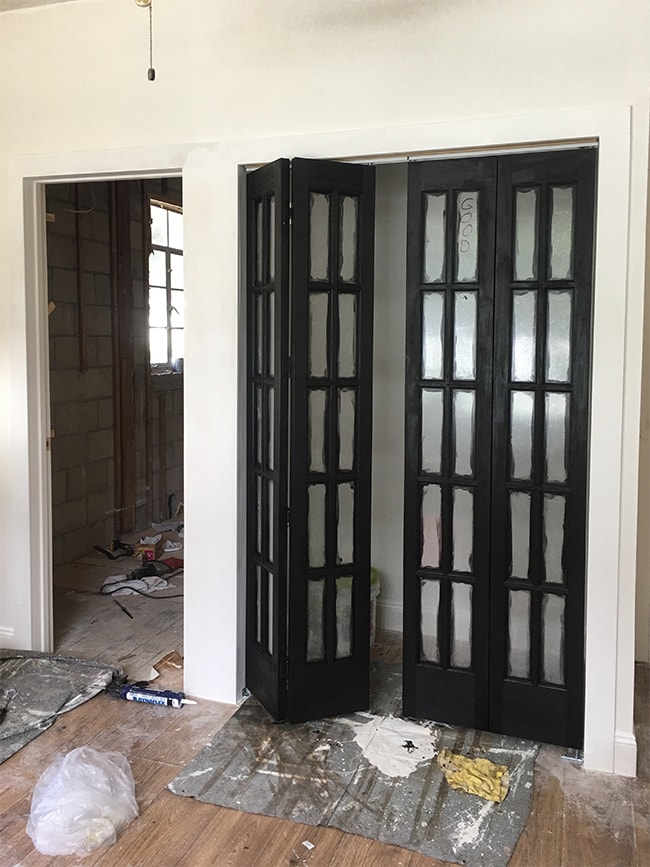 Pin
Some of you may have caught a timelapse of removing the plastic in my Instagram stories…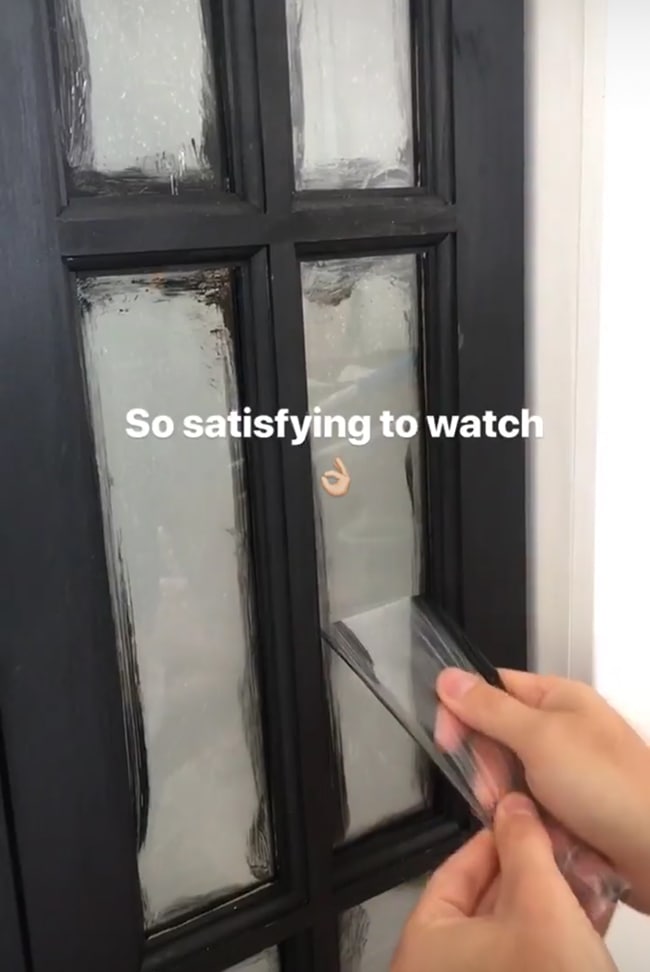 Pin
Once the doors were prepped, we removed them and moved onto the next stage. I had an extra roll of this lovely toile wallpaper from Brewster Home leftover from our powder bath at the Heights House, and thought it would fit perfectly in this space. One hour later…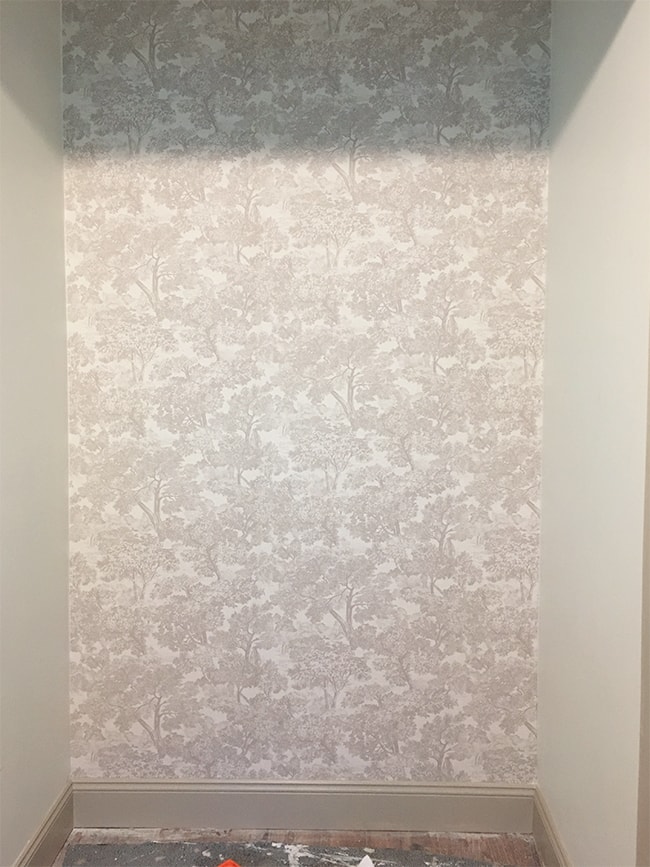 Pin
We also painted the trim SW Loggia (to match the rest of the house) in semi-gloss.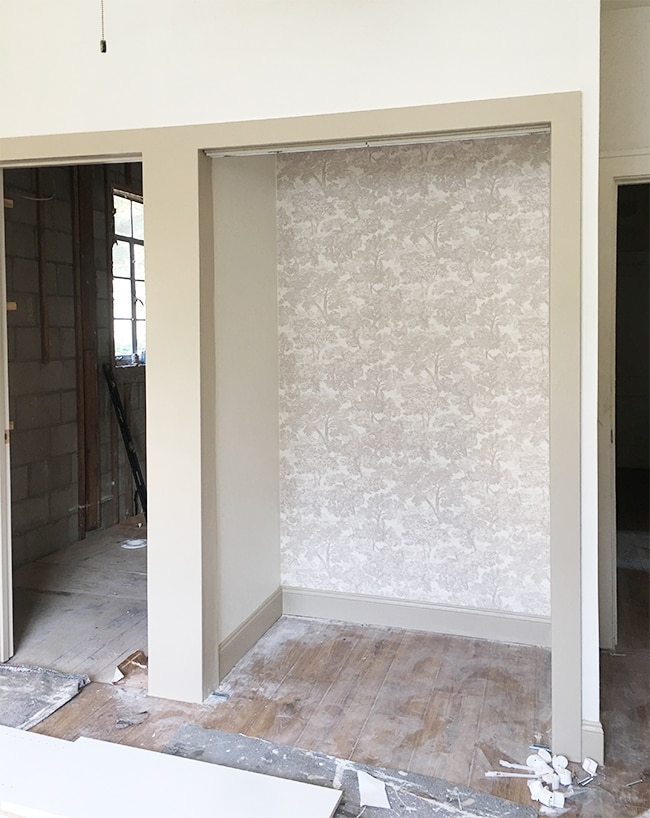 Pin
Next it was time to assemble the closet. I ordered this Easy Track closet kit made to fit closets up to 5′ wide: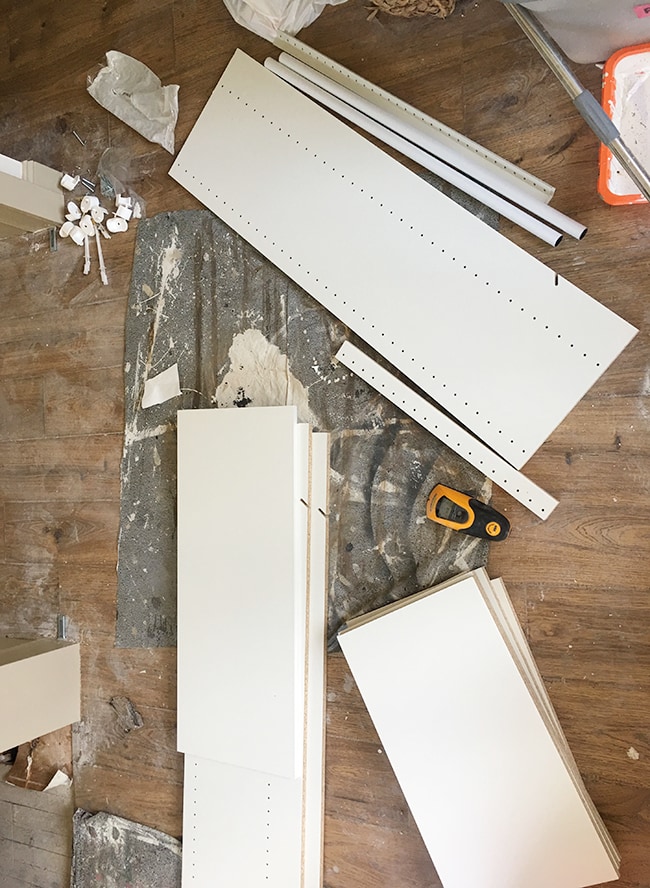 Pin
Assembly was straightforward, requiring just a drill (if you've assembled IKEA furniture, you can put this together!)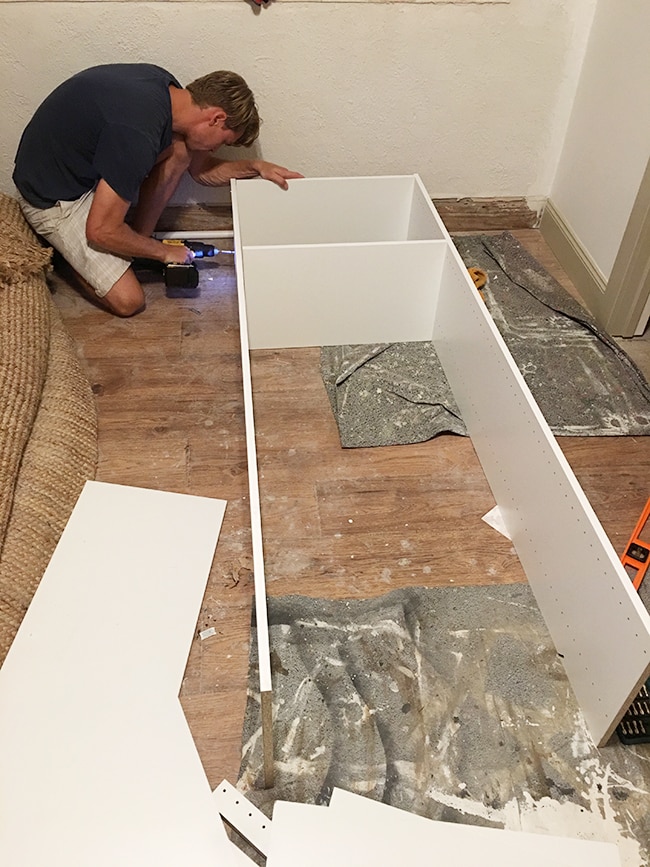 Pin
We did have to cut our rods and one shelf down a bit since our closet is under 5′ wide. Even still, it didn't take us more than a couple hours.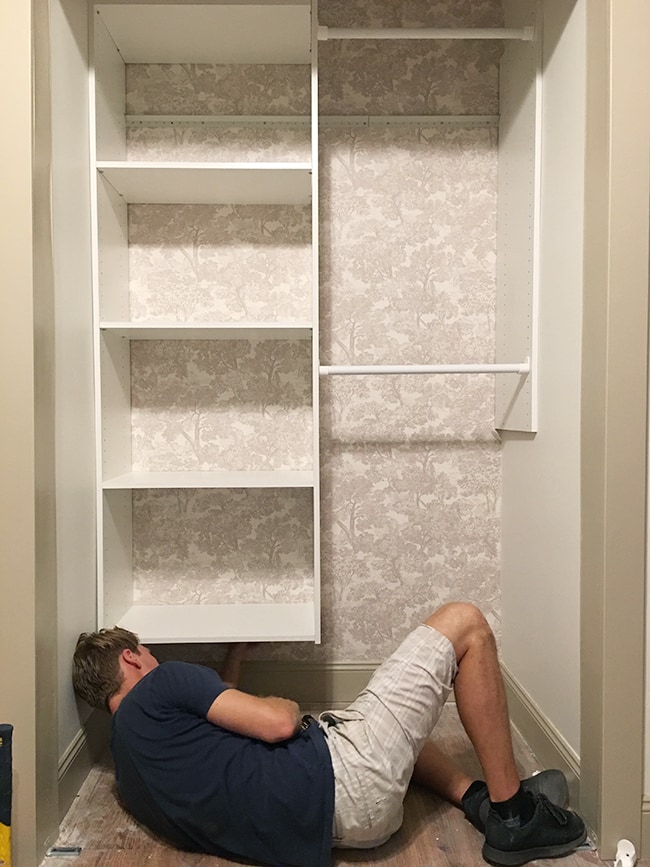 Pin
Since this house will be used as a vacation rental, simple and cost effective was our goal as we don't need a ton of storage and organization features. If this were my own closet though, I'd definitely add a few of the drawers and accessories that fit with this kit!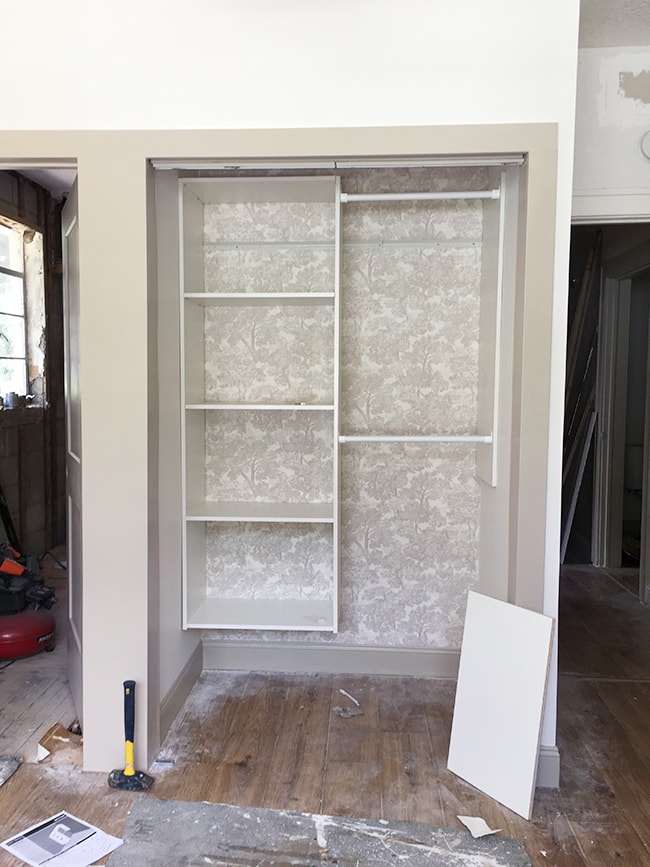 Pin
After the inside of the closet was complete, we reattached the doors. I ordered a new 28″ Jeld-Wen door for the bathroom that matched the 1940's style of our existing original doors and it turned out perfect! I got mine on sale for $140, but even at the regular price I think it's a great deal for a pre-hung solid core.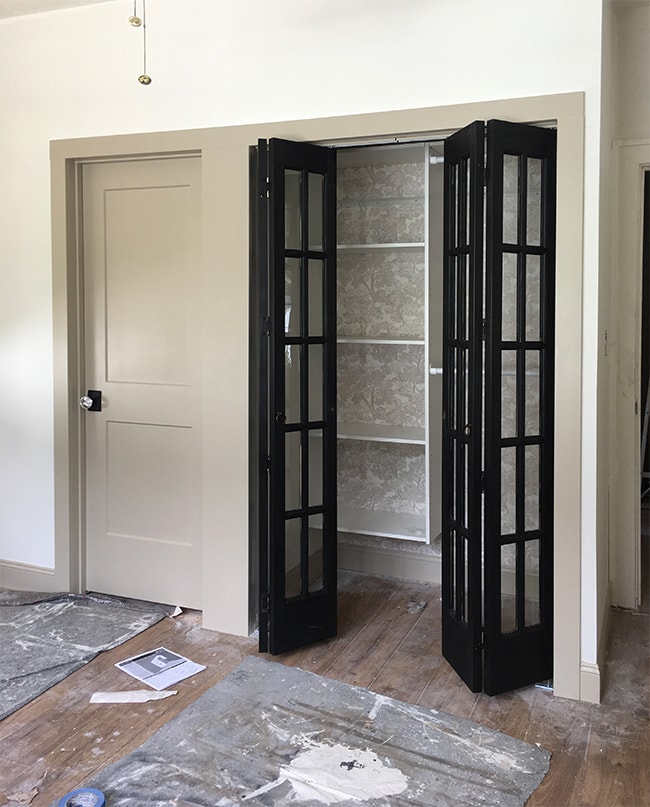 Pin
The final step was adding curtains to the french doors. I picked up some inexpensive muslin fabric, cut it to length and used peel and stick hem tape to form pockets at each end.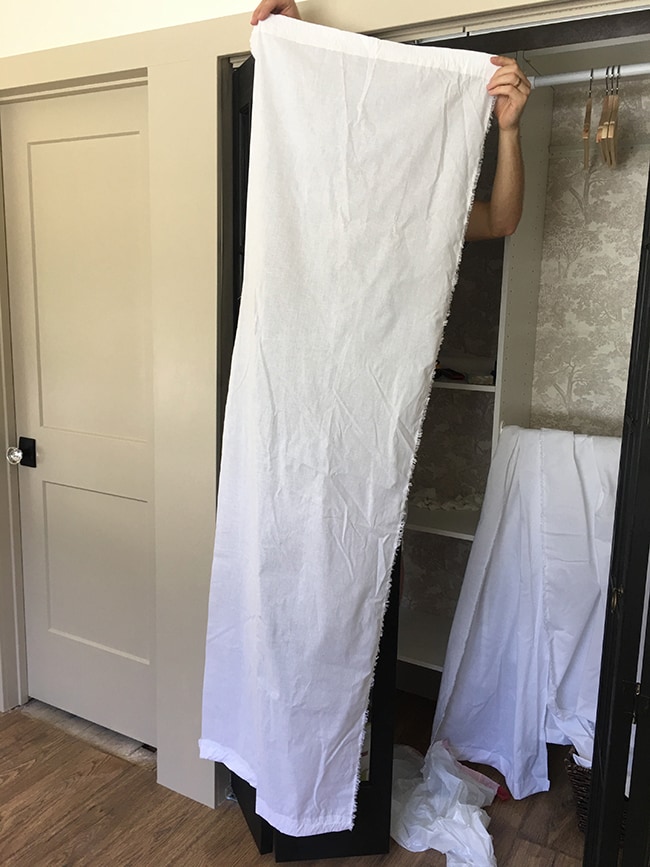 Pin
Then we mounted sash rods to the top and bottom…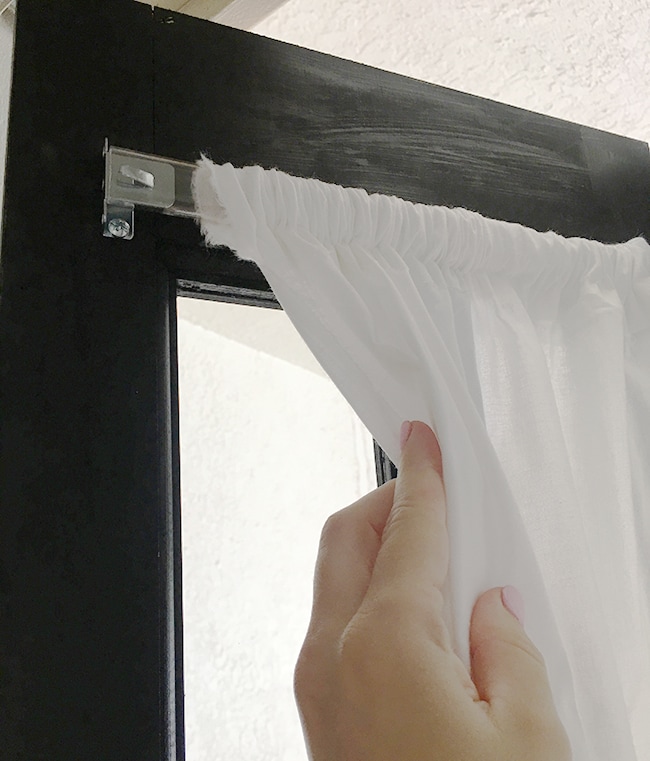 Pin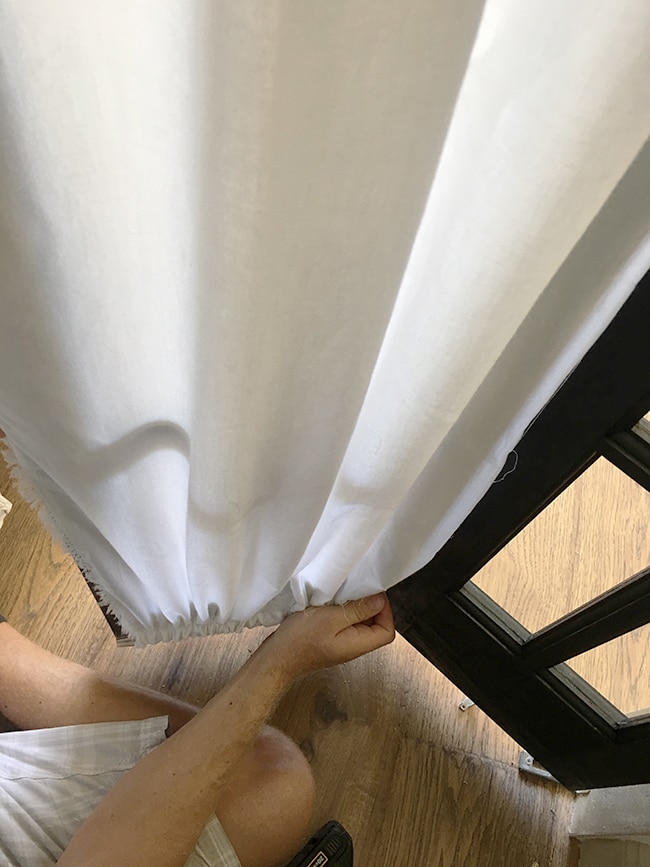 Pin
Worked like a charm!
Pin
And just like that, our fancy little French closet was born…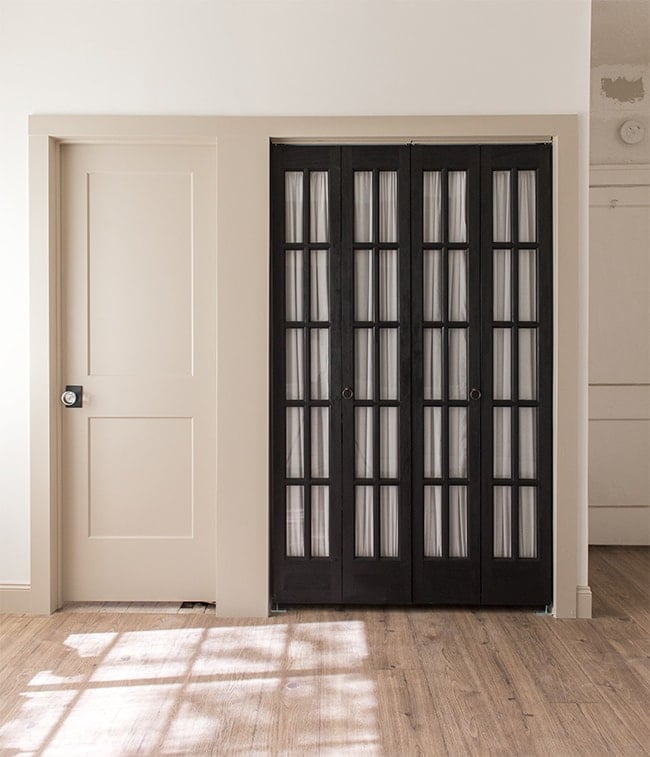 Pin
I wonder who will be the first person to use it…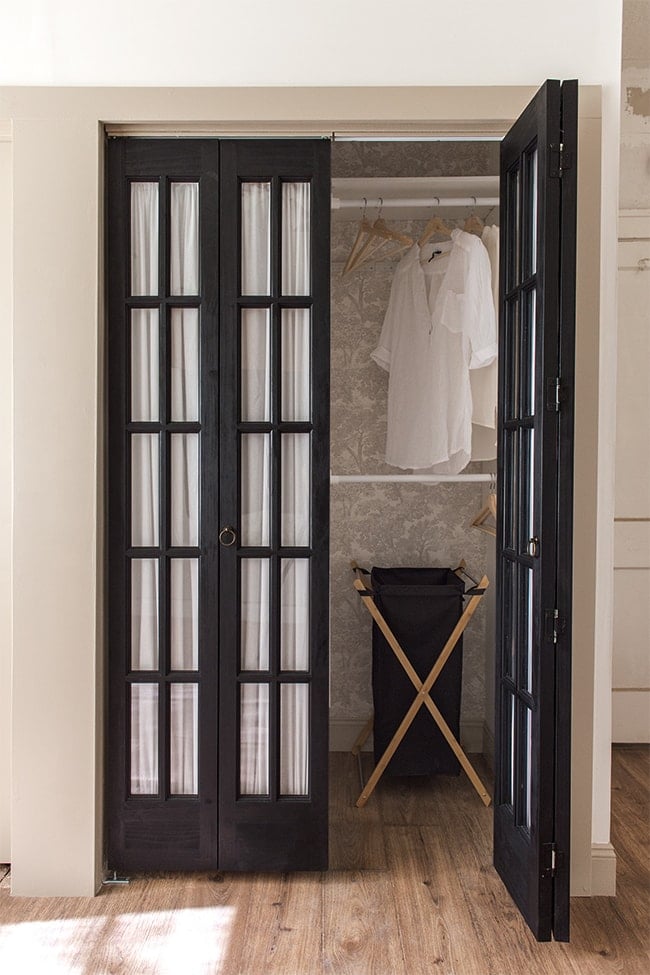 Pin
We'll be storing extra towels, linens and pillows for the house here.
Pin
And we built it extra deep so suitcases can fit too.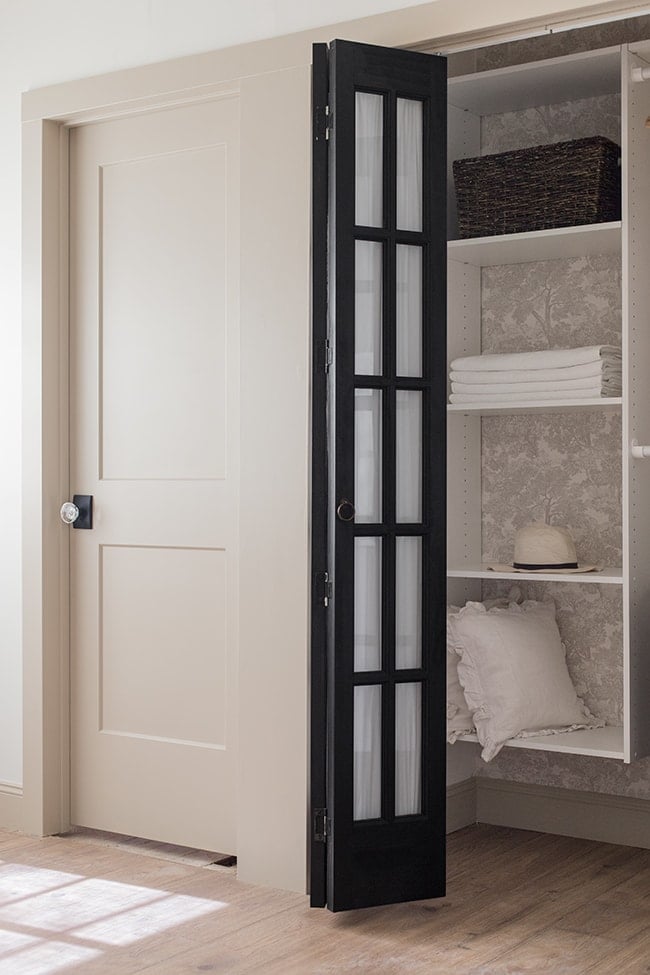 Pin
How gorgeous is this glass Schlage knob? These will go on all the interior doors throughout the house, and this is the first one installed.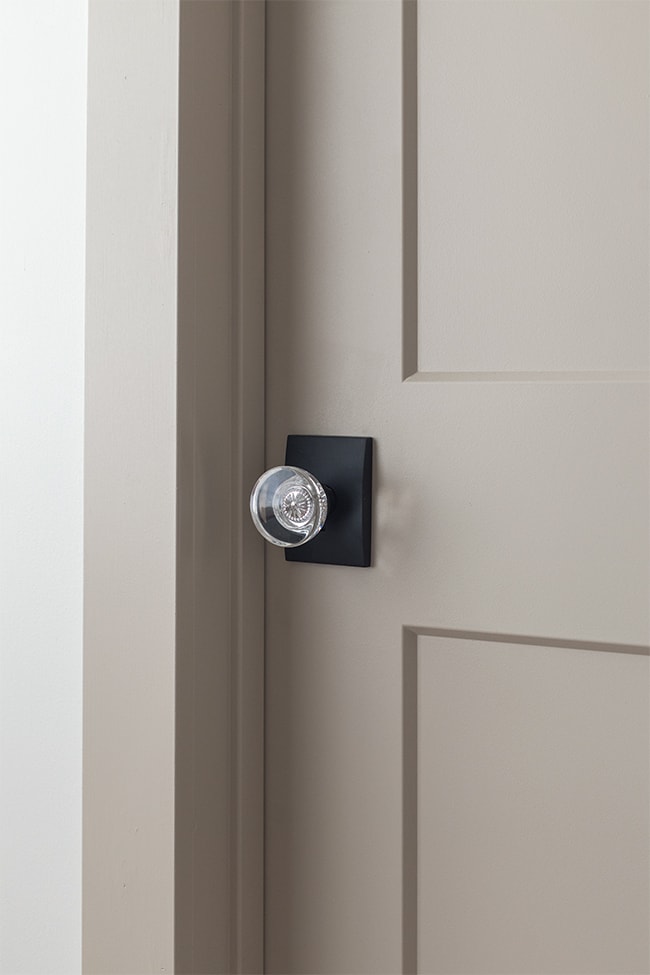 Pin
I'm also digging the delicate ring pulls on the closet doors.
Pin
They're only $3/ea and I'm thinking about using them again in the nursery…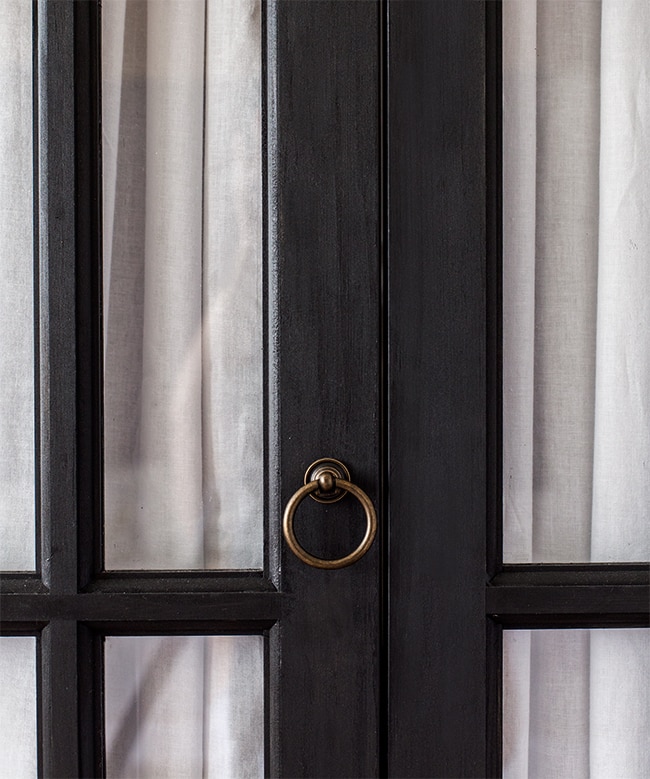 Pin
This whole door situation is my favorite. Those curtains just do it for me.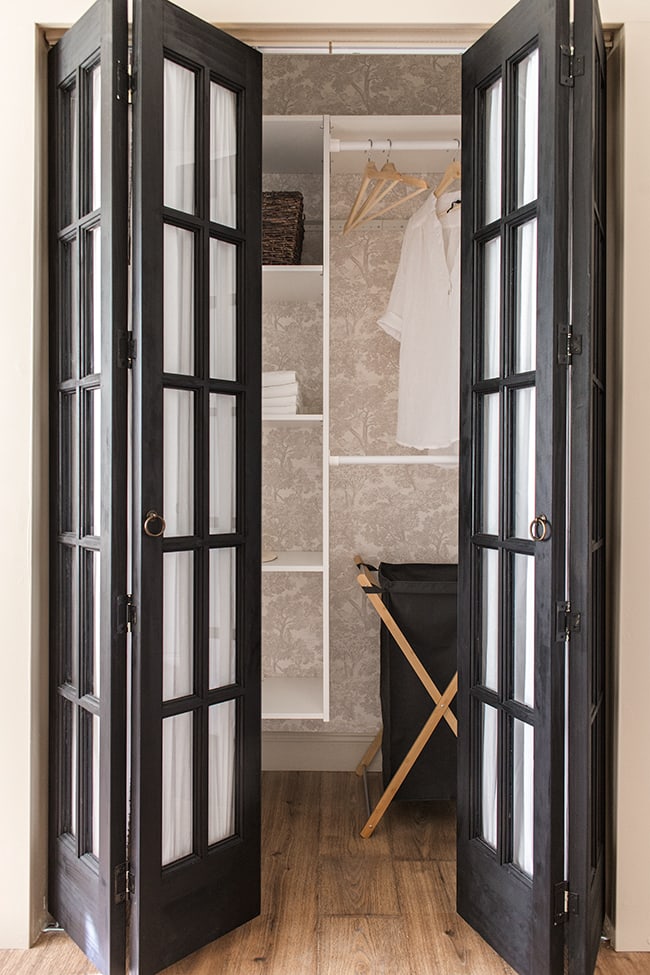 Pin
There's also something about an old fashioned folding hamper…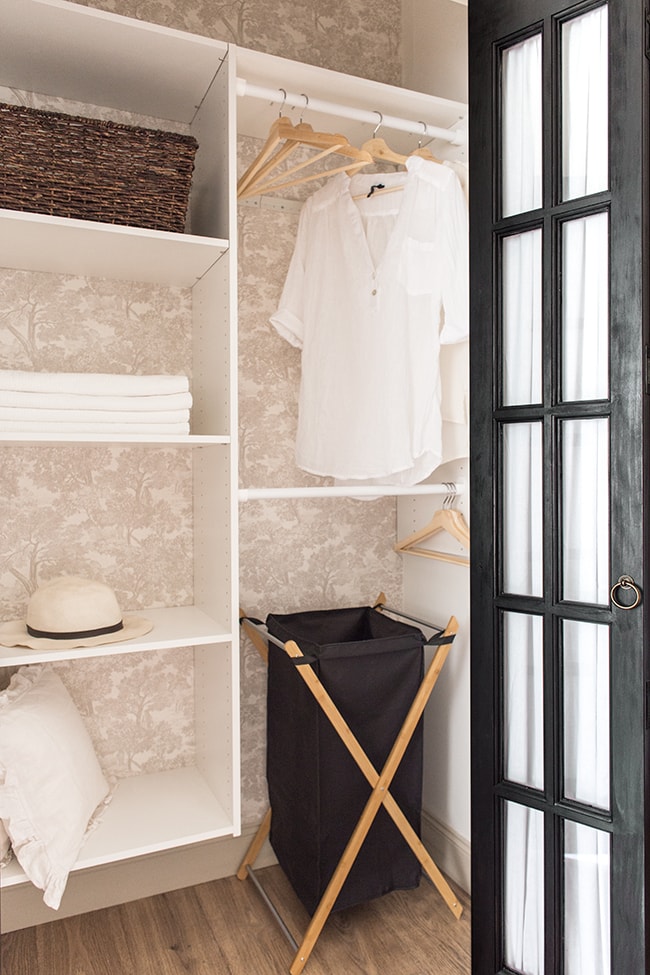 Pin
I'm having a bit of closet envy now, wishing we had this setup in our own house!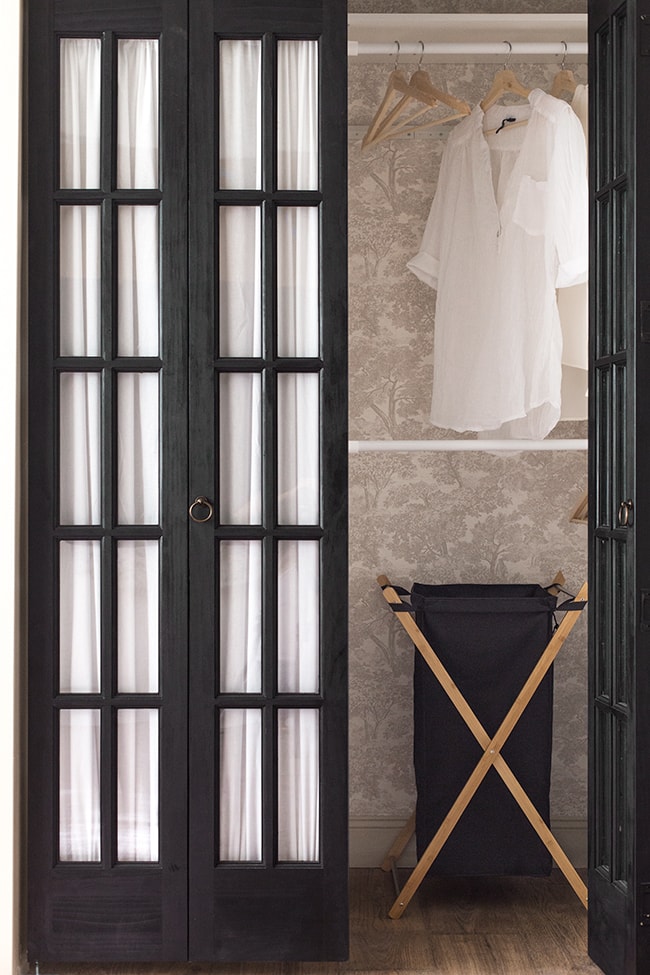 Pin
A closet is also the perfect place to try out wallpaper for the first time. I just used what I had on hand, but a few other options at Lowe's caught my eye like this striking black & white toile, this textured grasscloth I've been wanting to try (perfect for a closet!) and this fun nautical pattern (fitting theme for a vacation rental). Lowe's has hundreds of options and I've had great luck finding just what I was looking for there.

Pin
Fortunately closets are also some of the easiest spaces to pull together (even when built from scratch) and these customizable kits are definitely the way to go, especially for under $200 like this one.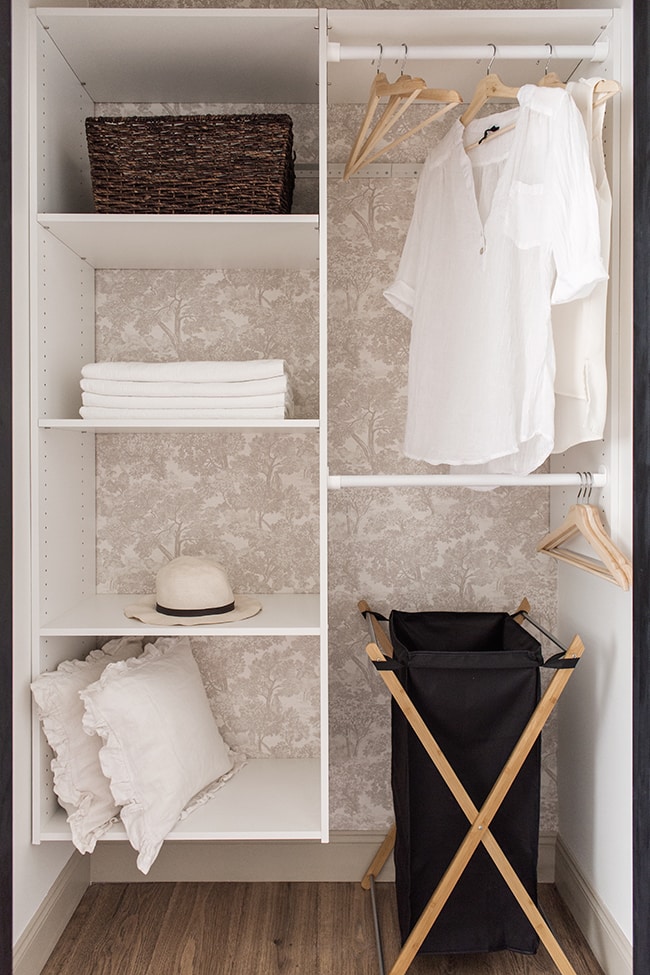 Pin
Let's do a little quick Before & After comparison…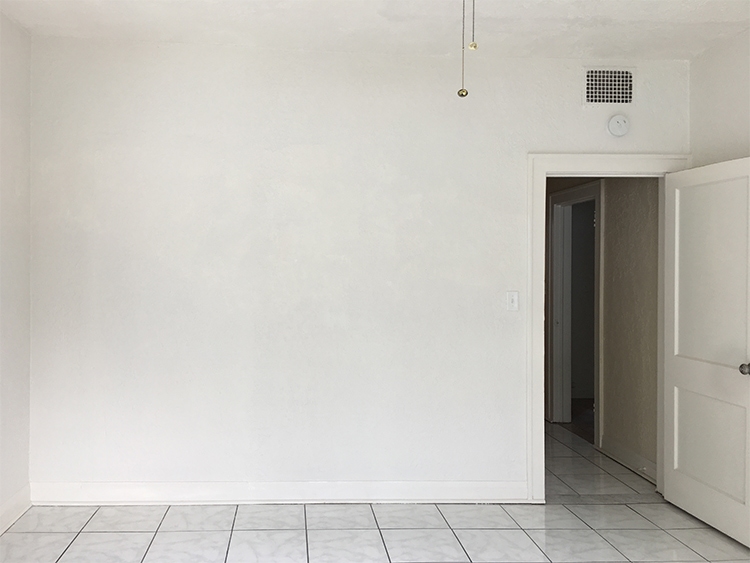 Pin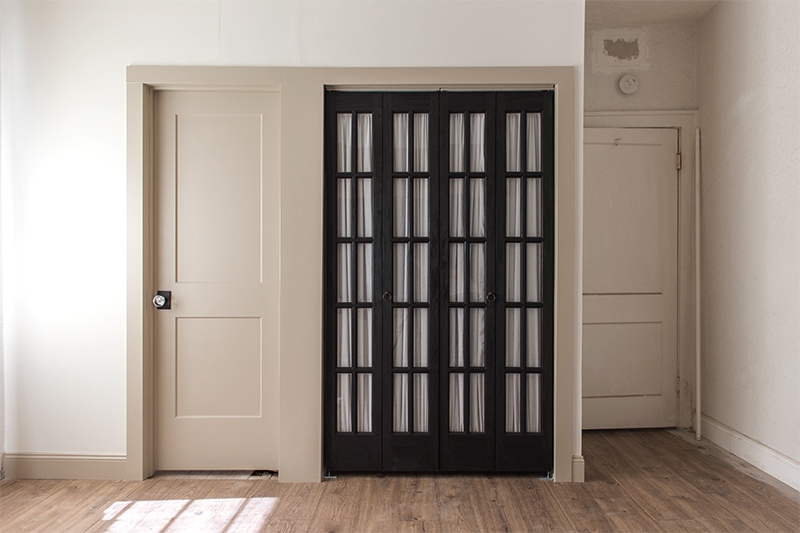 Pin
And for a little dose of reality, here's what the rest of the room looks like right now…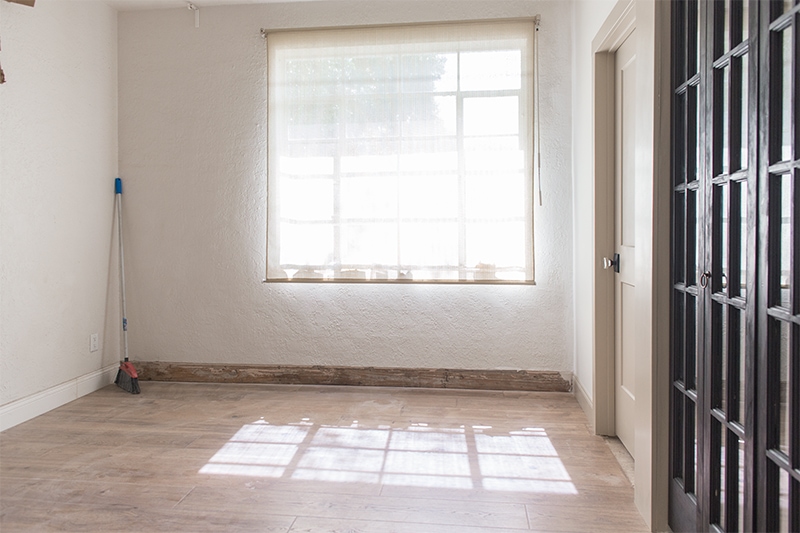 Pin
Desperate measures to block out the window reflection in the photos: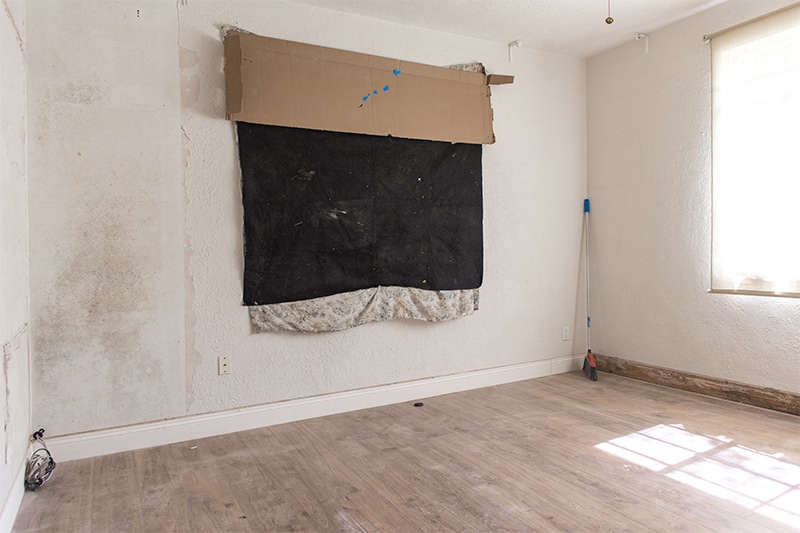 Pin
The rest of the house is covered in tools and construction dust & debris at the moment, and that won't be changing anytime soon as we continue work on two bathrooms, a kitchen and two more bedrooms. This is quickly becoming the longest house renovation in history (only a slight exaggeration) but today at least, we celebrate one small victory…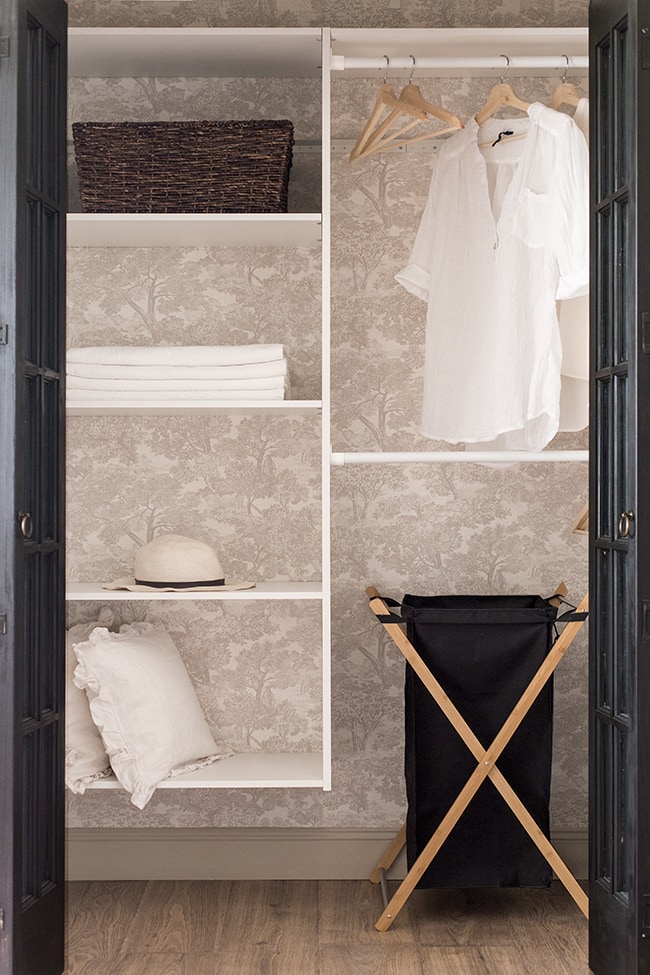 Pin
More plans and projects, coming soon!