If there's one room that I'm most excited to reveal, this would be it. Click below to watch the official Before & After video: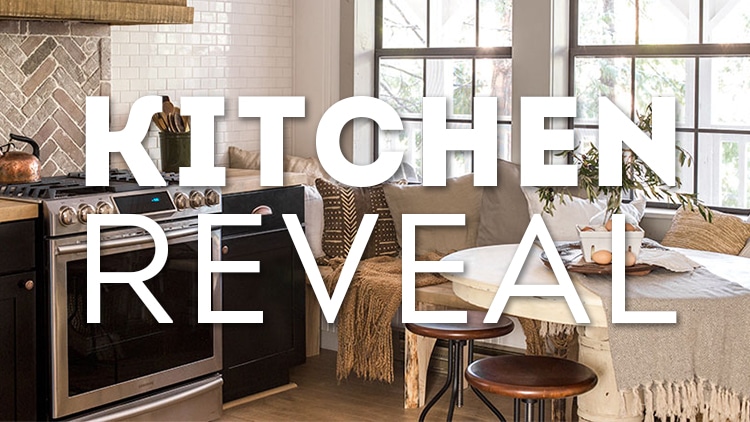 Pin
The dream kitchen planning began long before purchasing the house—months spent browsing Pinterest and gathering inspiration and ideas for my next kitchen renovation. I had a general idea of what I wanted it to look and feel like, and shared it back in November, in my Kitchen Plans post.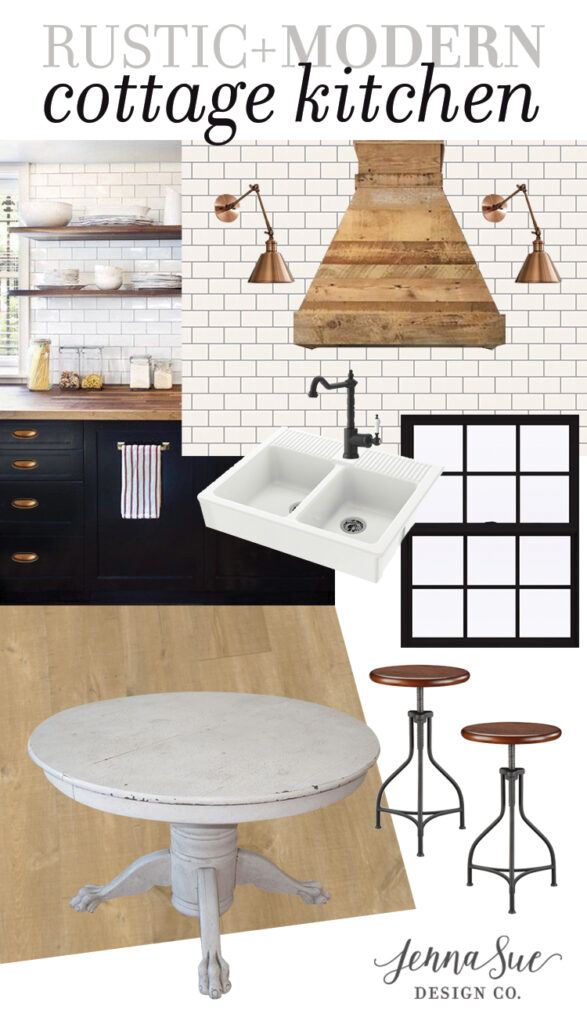 Pin
The only way to get there was a complete gut job of this 60 year old relic: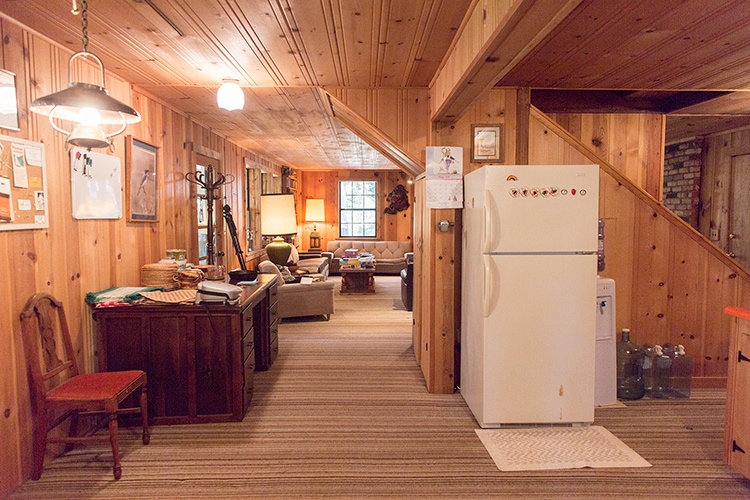 Pin
It was begging for a new life.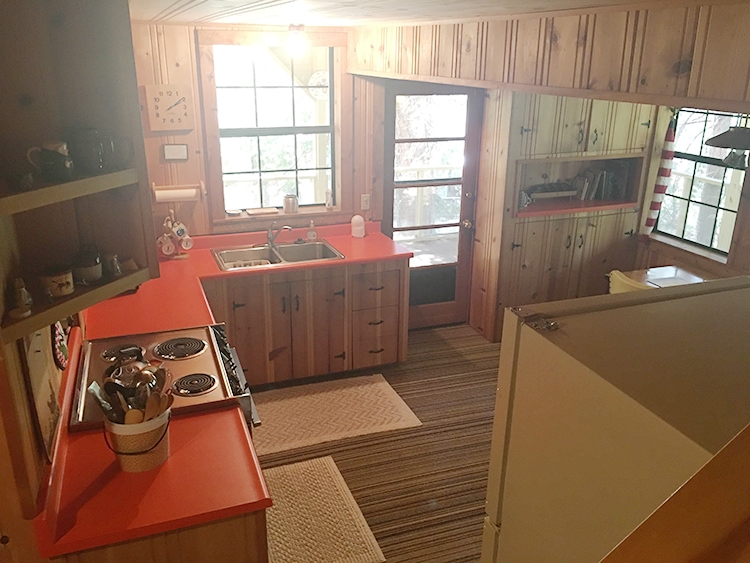 Pin
So I went to the drawing board, coming up with every possible configuration until landing on one that made the most sense.
Step 1: Take it down to the studs.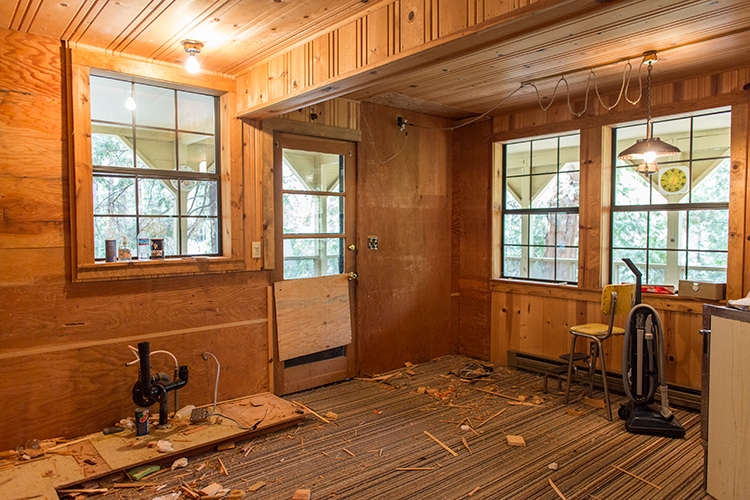 Pin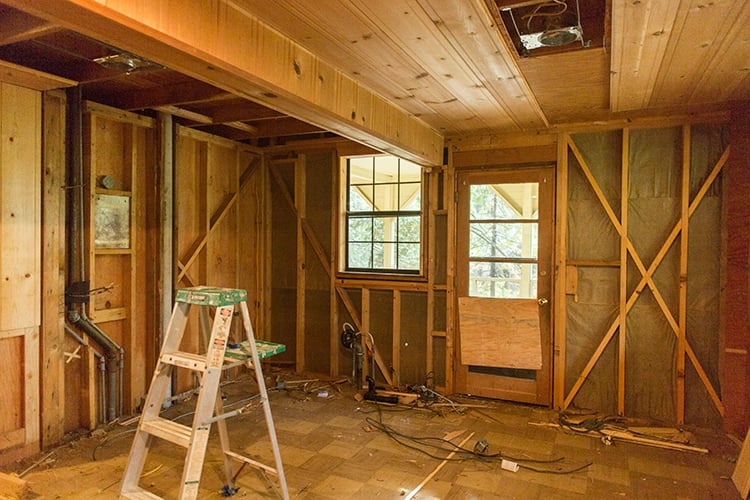 Pin
Step 2: Remove the door to make way for a new stove & fridge location, and brighten up the walls.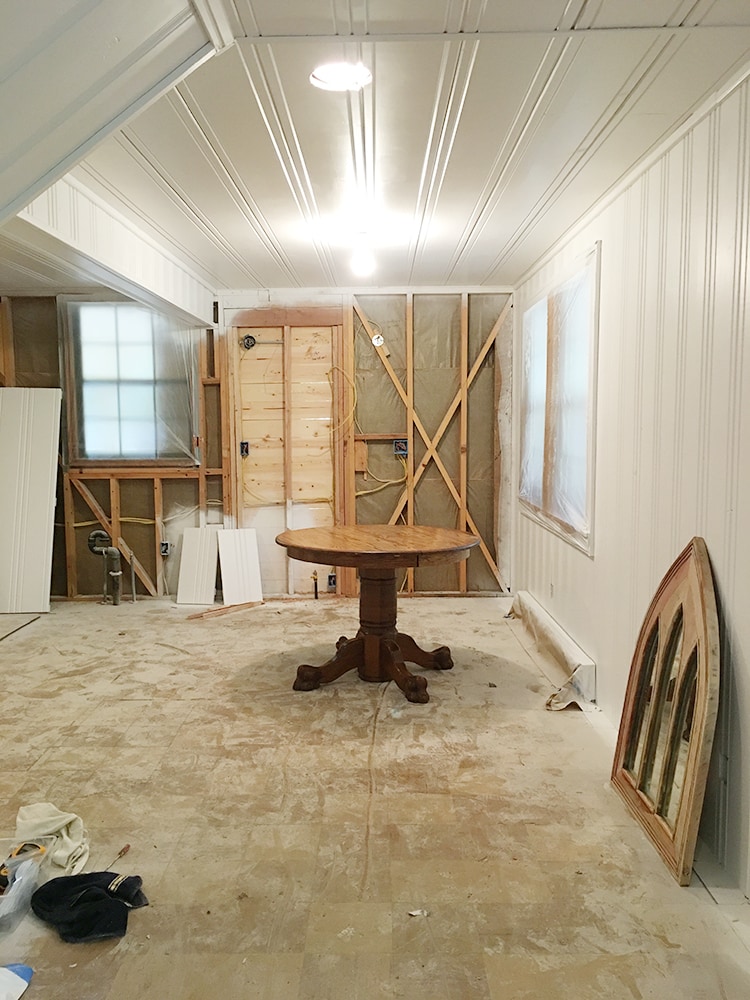 Pin
Step 3: More cabinet & counter space.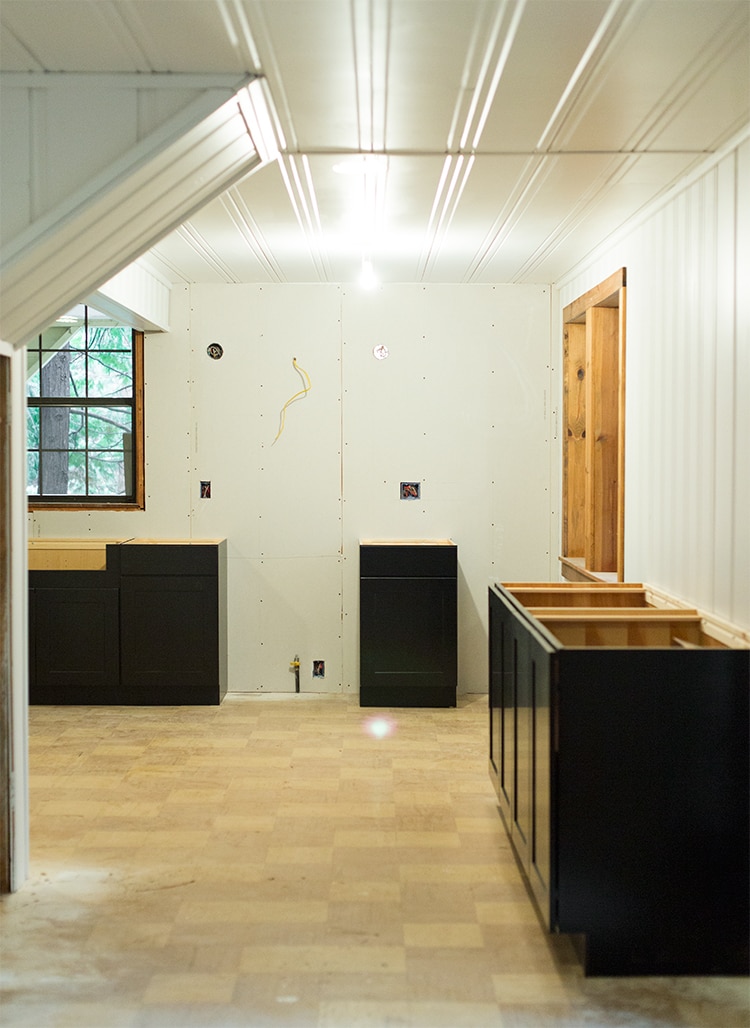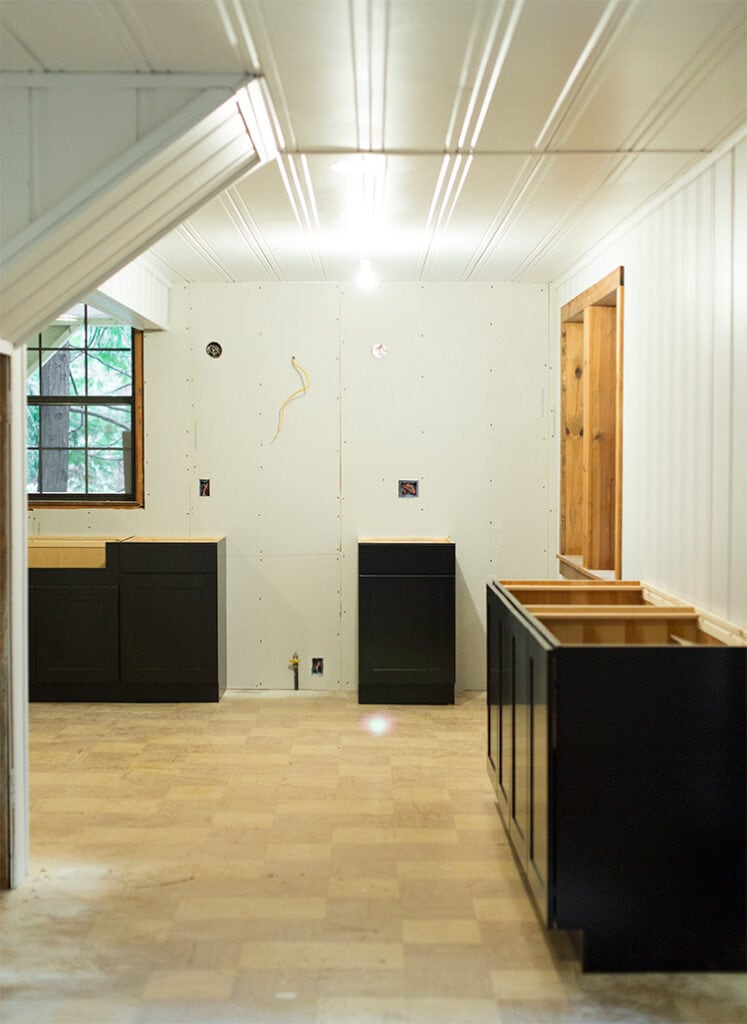 Pin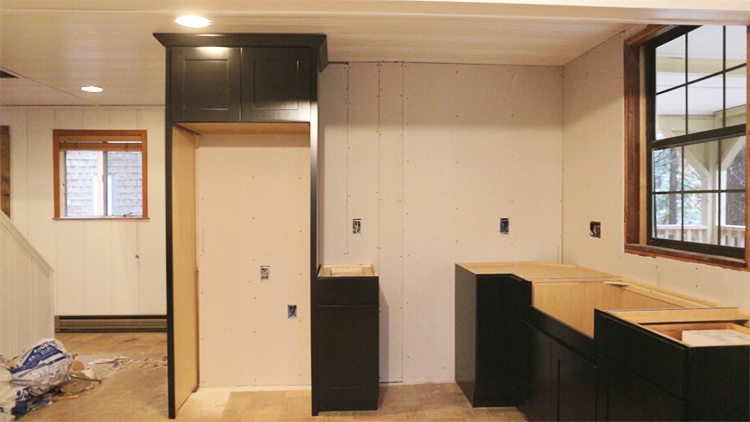 Pin
Step 4: Durable flooring, butcher block counters, farmhouse sink, a DIY range hood and updated electrical.
Pin
Step 5: Custom built-ins by my talented contractor: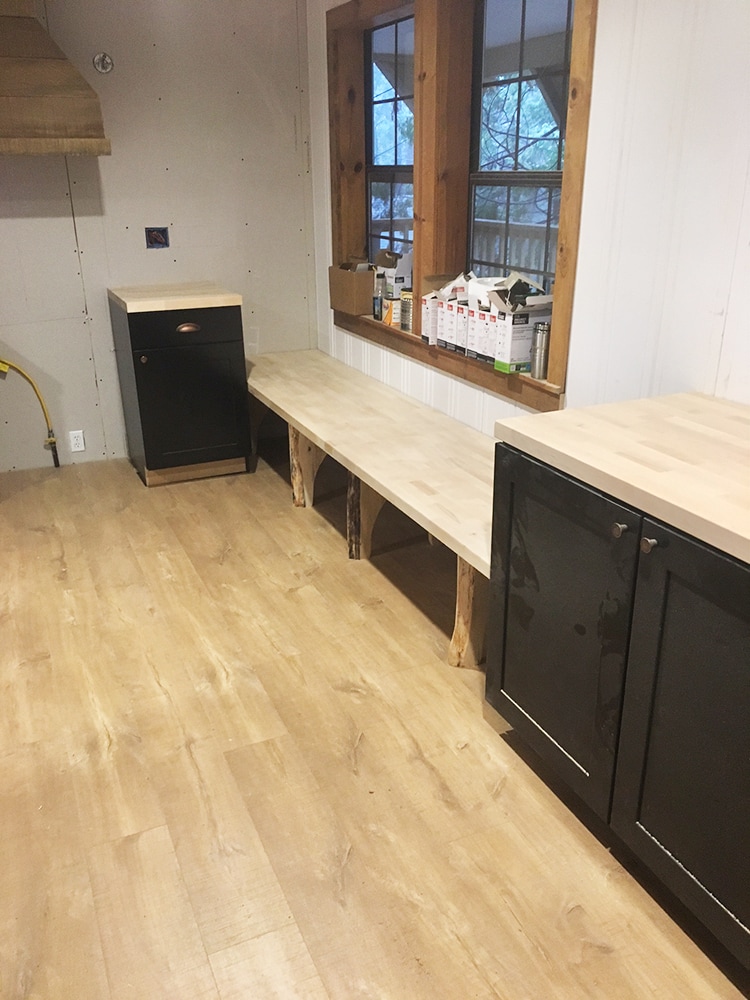 Pin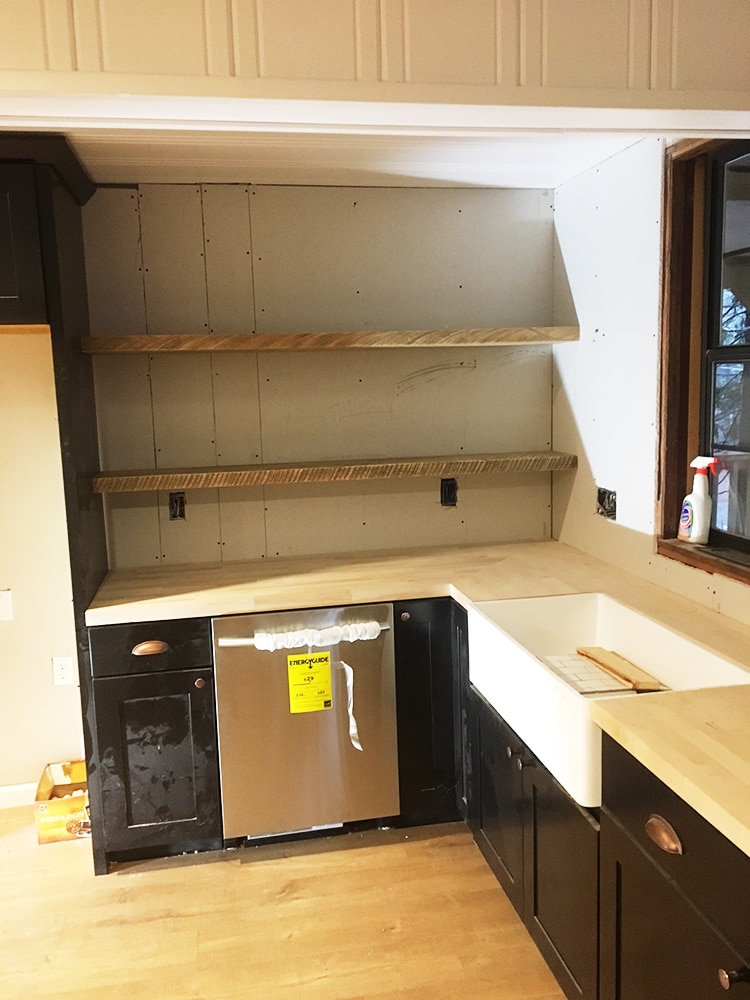 Pin
Step 6: Layer on the unique & unexpected details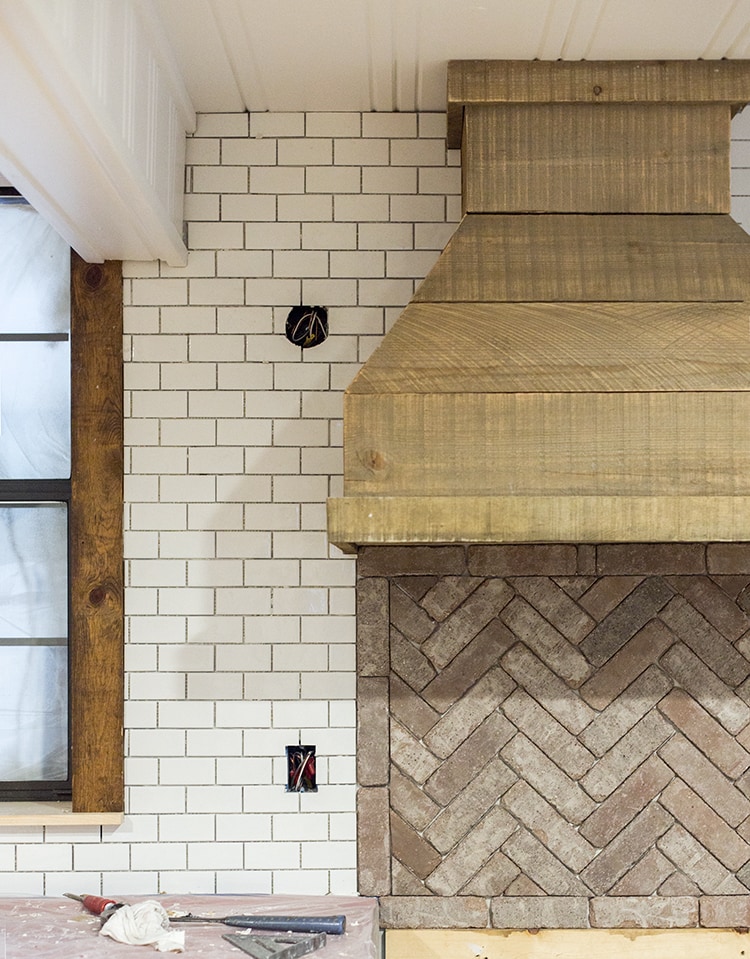 Pin
If only it were as simple as those six steps… Ha! But the four months of intensive labor have really paid off this time.
Welcome to the Cottage House Flip Kitchen…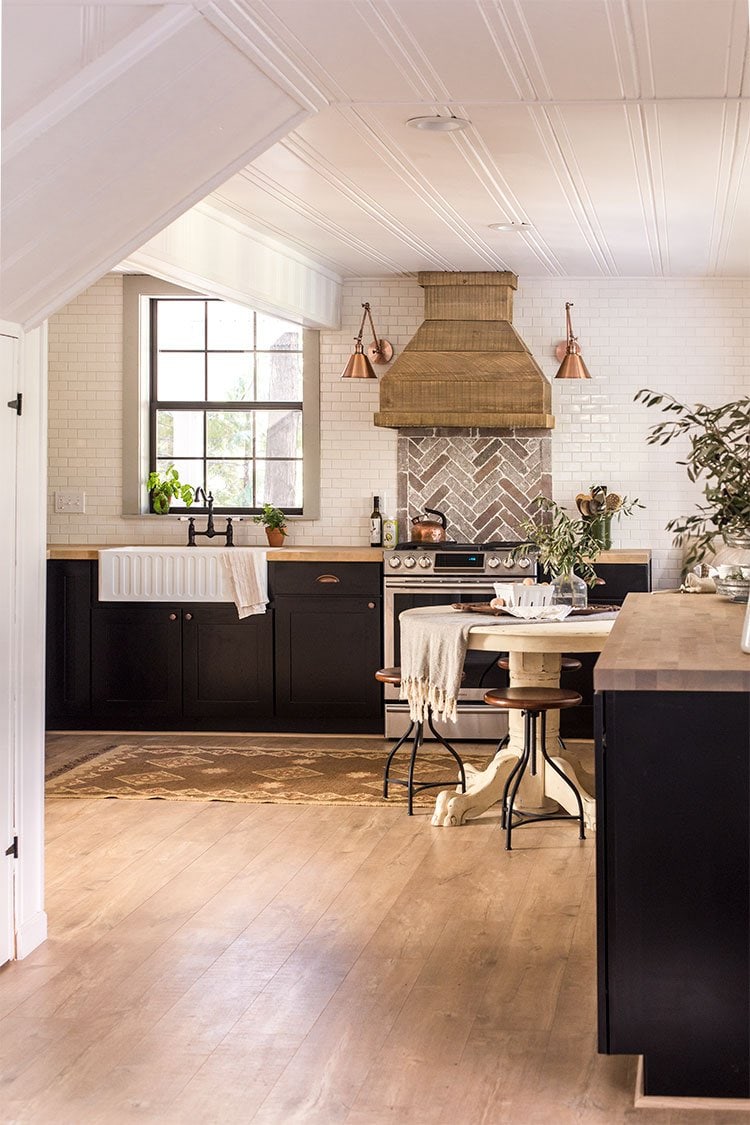 Pin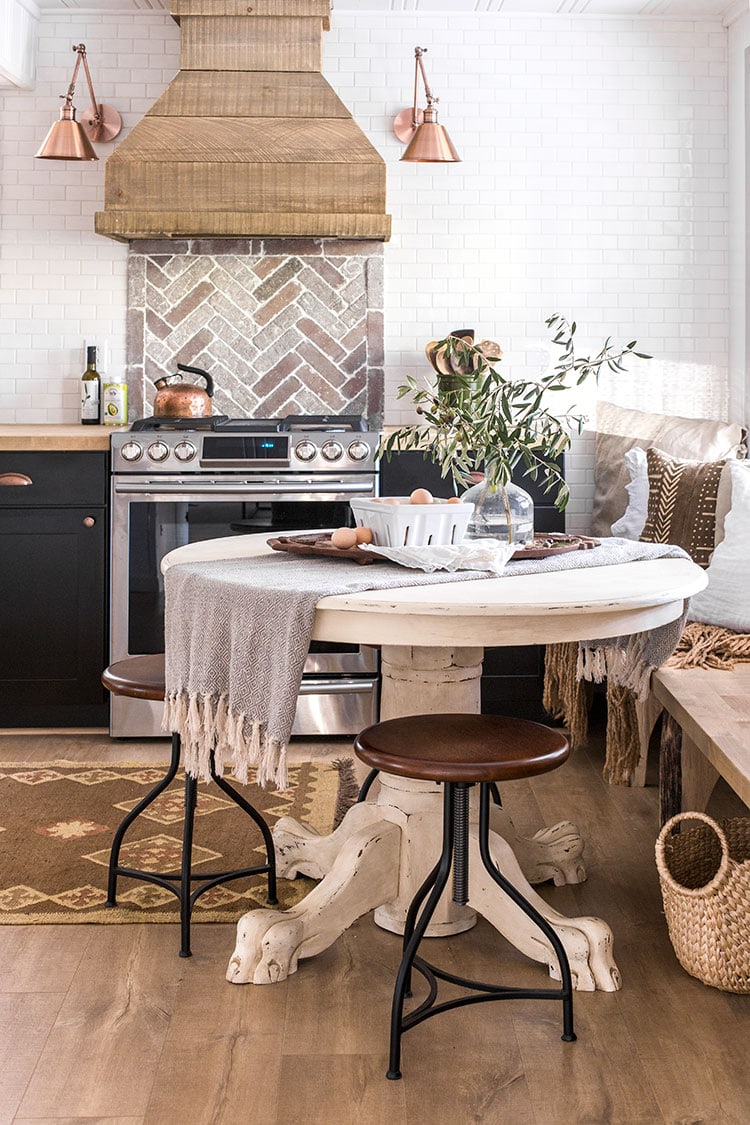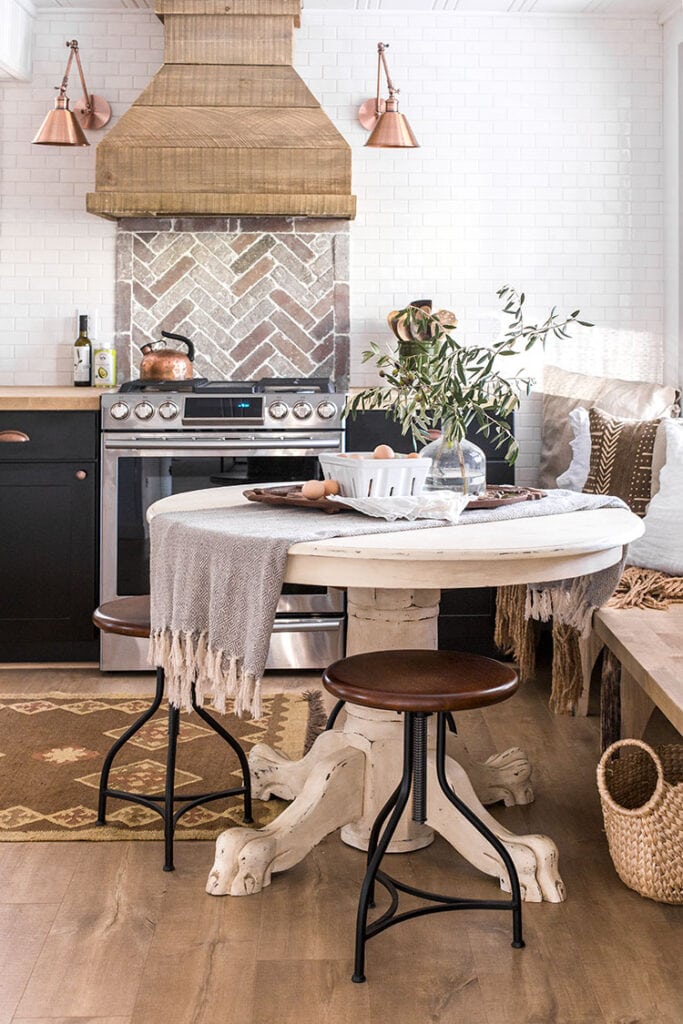 Pin
I almost chose gold over copper, but I'm glad I went with my gut on this. I haven't seen another kitchen like it.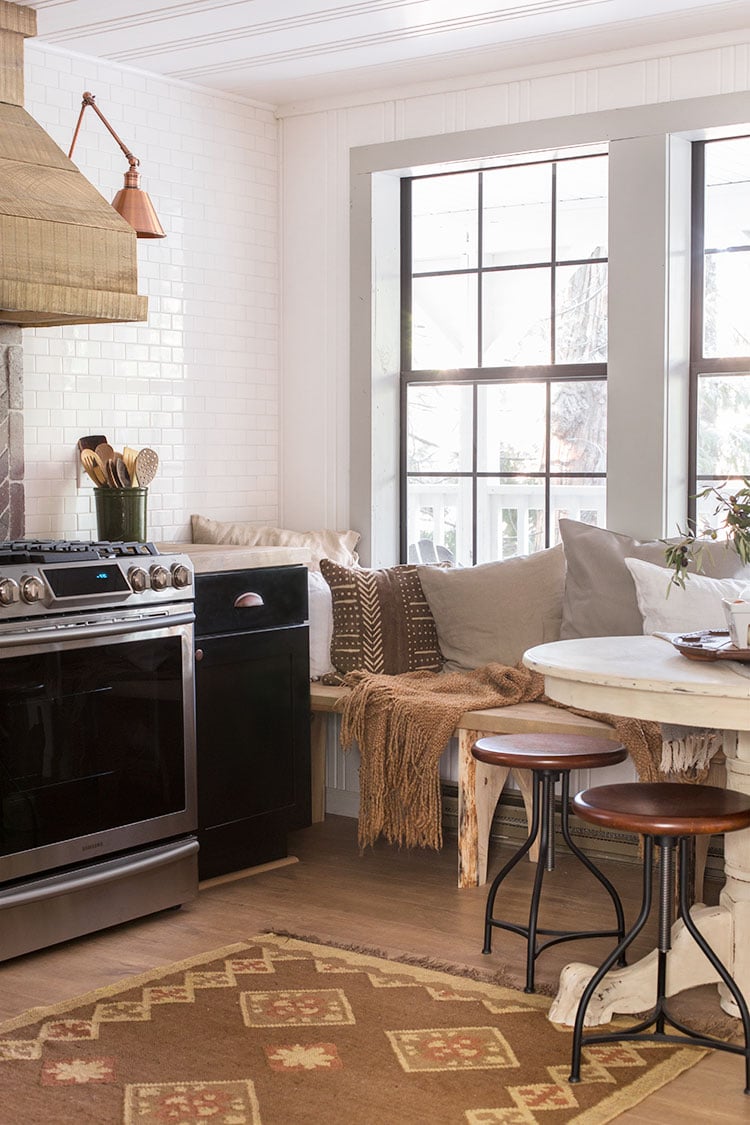 Pin
Here comes the fun part: hover over the next two images and product info & links will magically appear. Bam!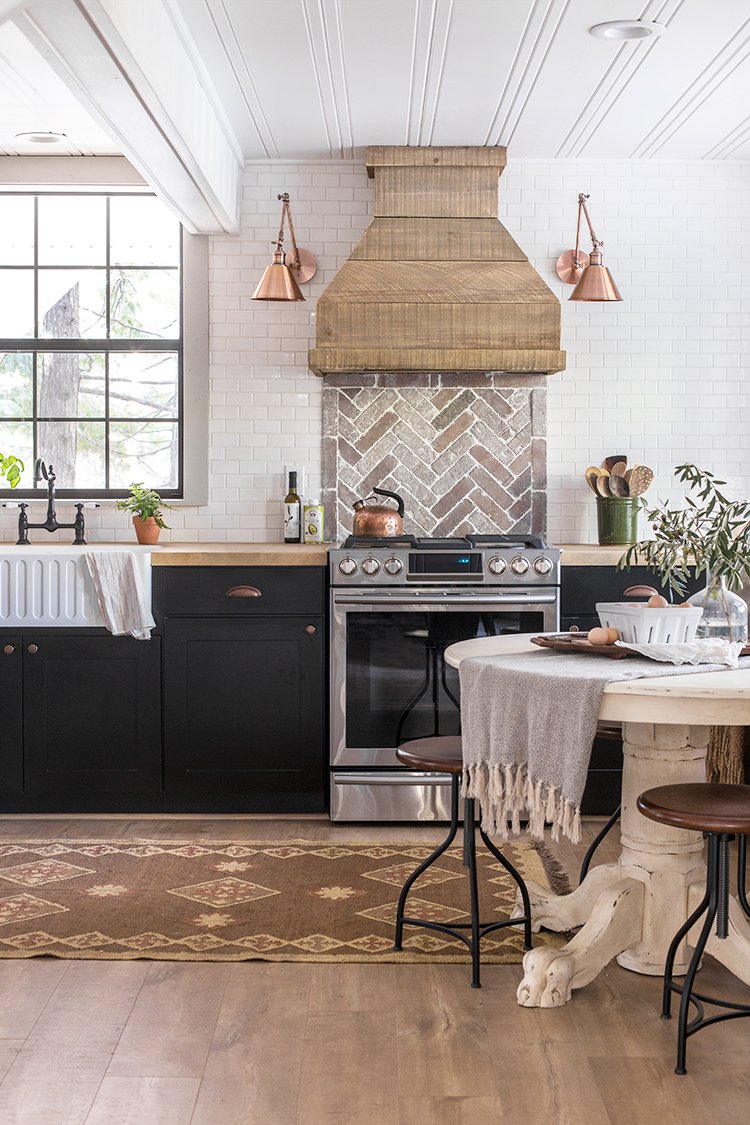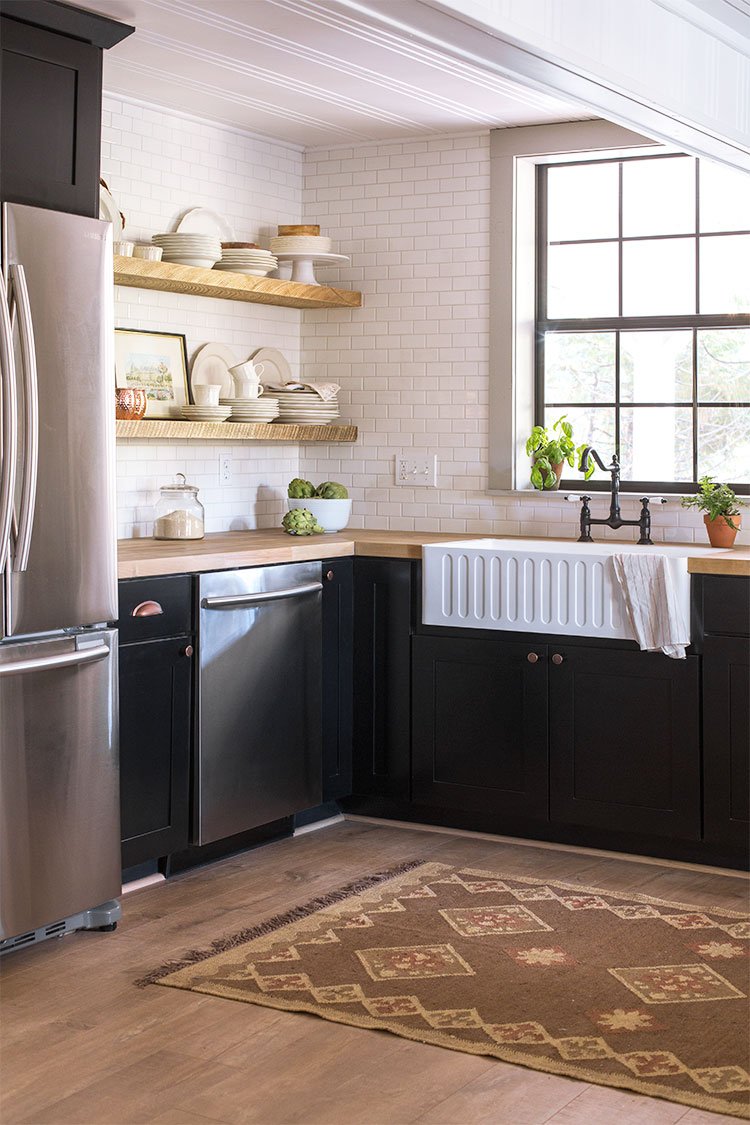 Pretty cool, right? I'll be using this feature in a few of my reveal posts, so stay tuned for more.
Can we talk about this sink for a second?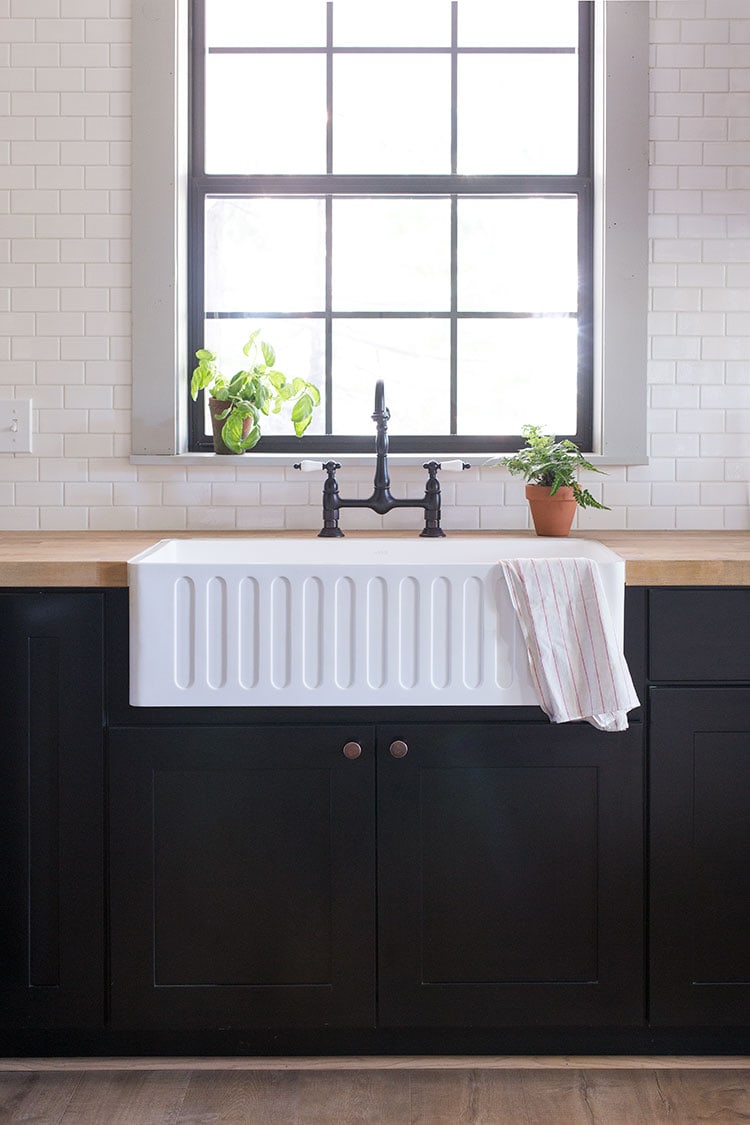 Pin
The front detailing gets me every time. It's actually reversible with a smooth side on the back, but I don't know why you'd want to use it when you've got this awesome sauce on the other side. And that bridge faucet is a match made in heaven for it (affordable, too!)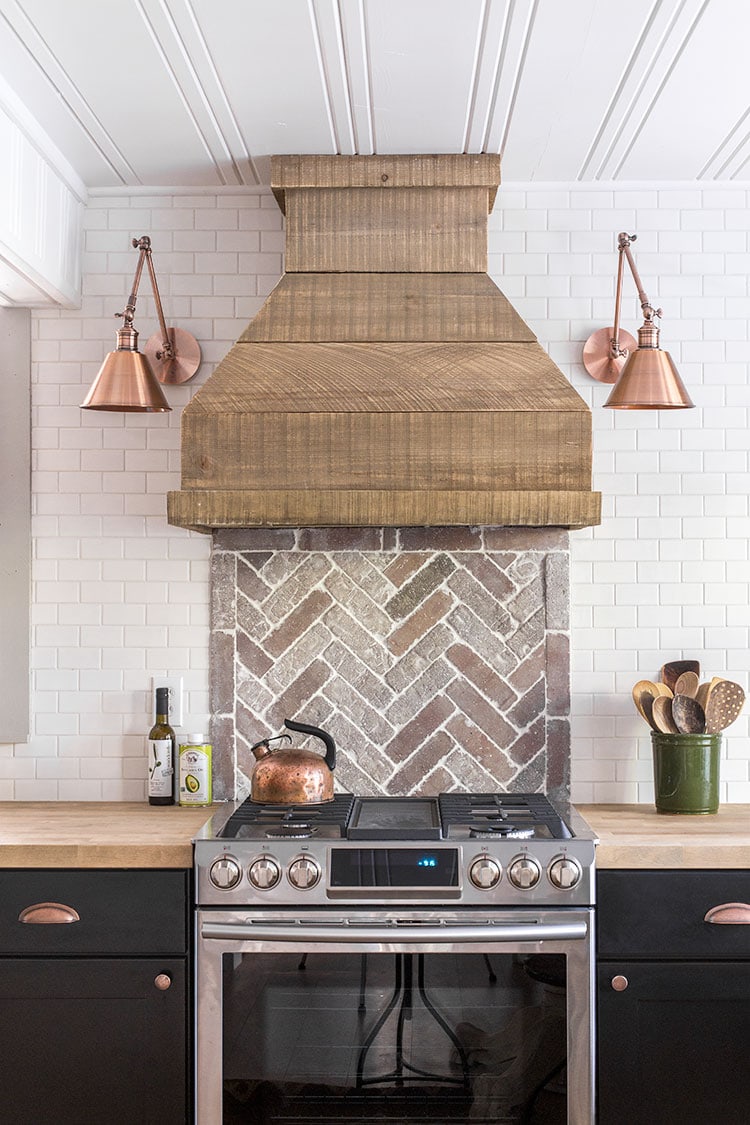 Pin
The brick herringbone accent was a last minute decision because I couldn't stand to throw away the gorgeous brick pavers I had leftover from the laundry & bathroom floor (PS, they come in several different colors… wish I had discovered these sooner!)
We ran a propane line just to have a gas stove (you're welcome, future homeowner) and this range is by far the nicest I've ever owned. In fact, my contractor who installed it is about to buy one for himself. Sidenote: can you believe these sconces are only $91 a piece?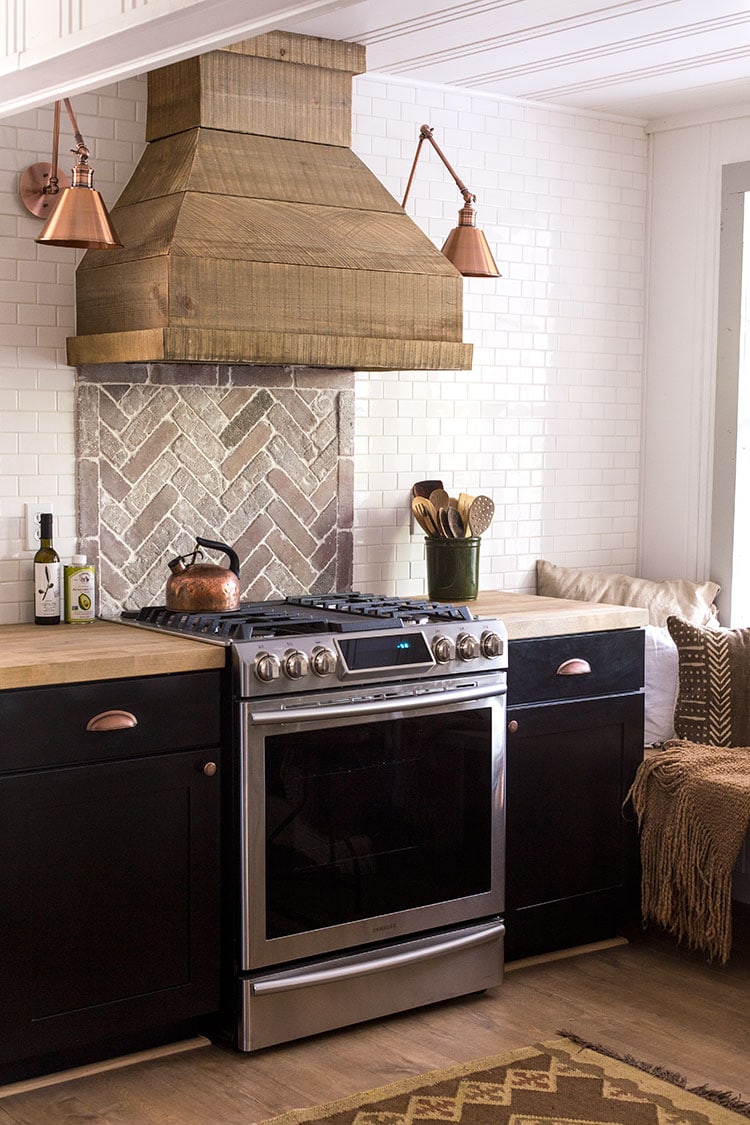 Pin
I wasn't sure if there'd be room for a table in here but it worked out pretty perfectly. It was a $30 Craigslist find that I refinished (in Maison Blanche's Vanille & brown antique wax). The runner is a light weight blanket I grabbed from home and threw on top at the last second.
Pin
The open floating shelving is a designers dream. Everything here was pulled from storage (collected over the years from flea markets, thrift stores, some from Wayfair, etc). Artichokes and pistachios courtesy of the Country Living stylist 🙂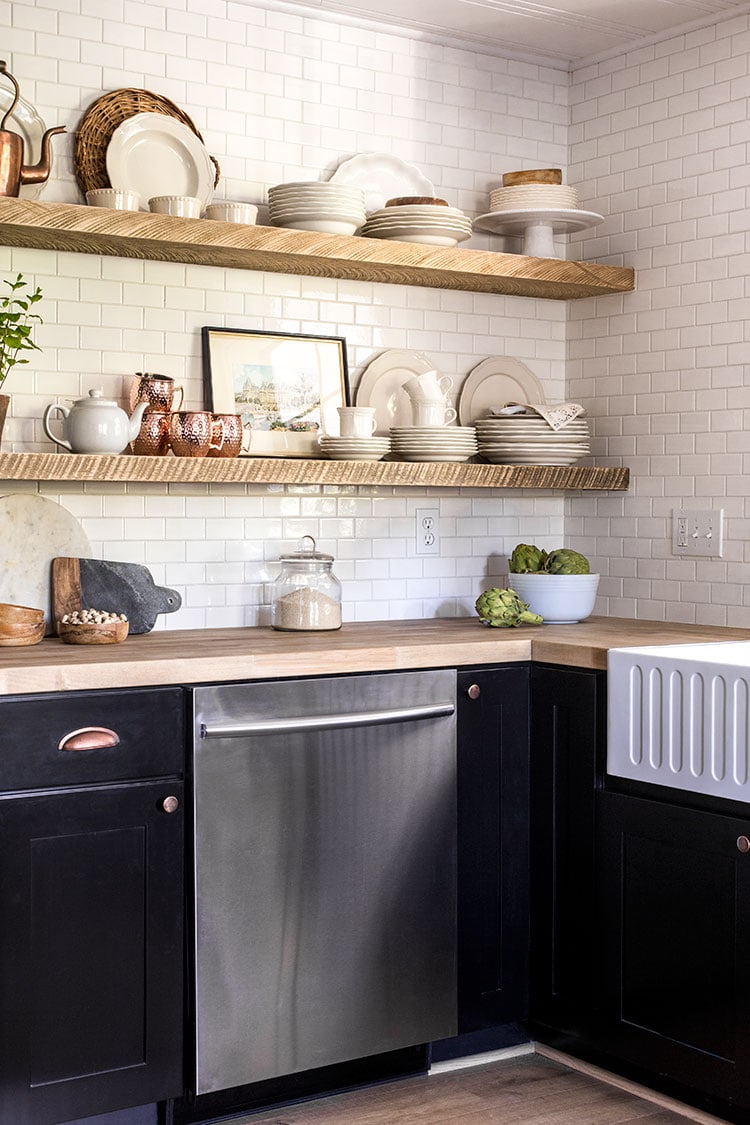 Pin
And the hardware—I scoured the internet for weeks looking for copper pulls and knobs, and think I found the only set in existence (that wasn't outrageously expensive or unattractive). I actually used a bit of steel wool to expose more of the copper underneath and they're a great match to the sconces.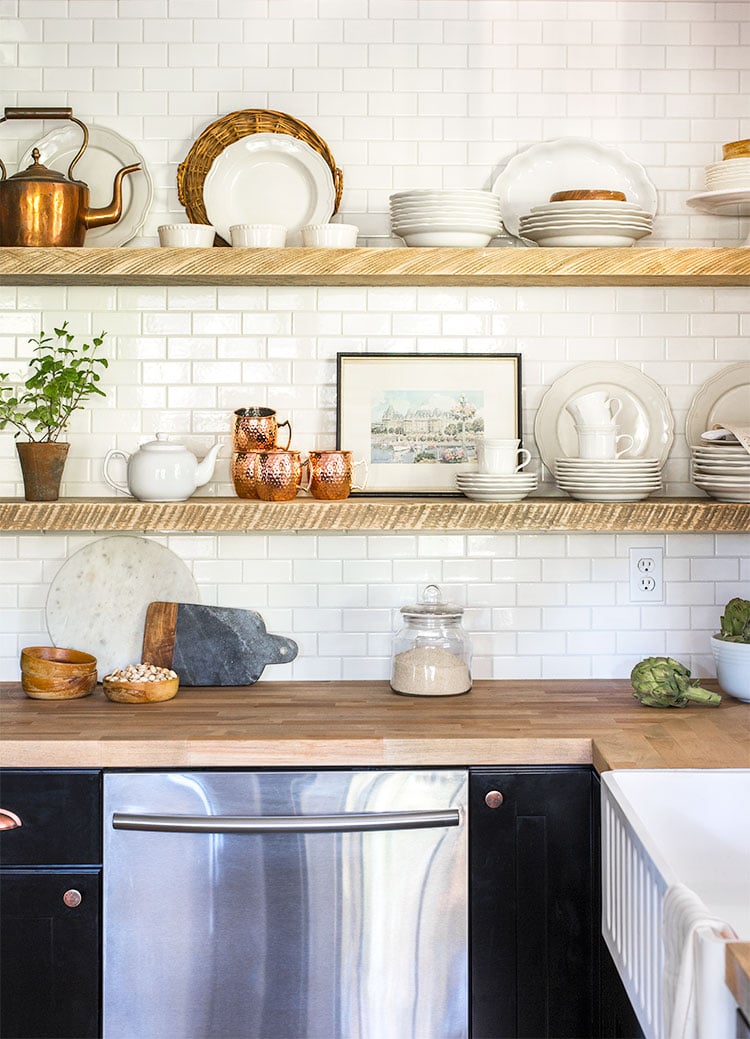 Pin
On the right side of the room, we have a nice row of cabinets providing plenty of storage and extra counter space.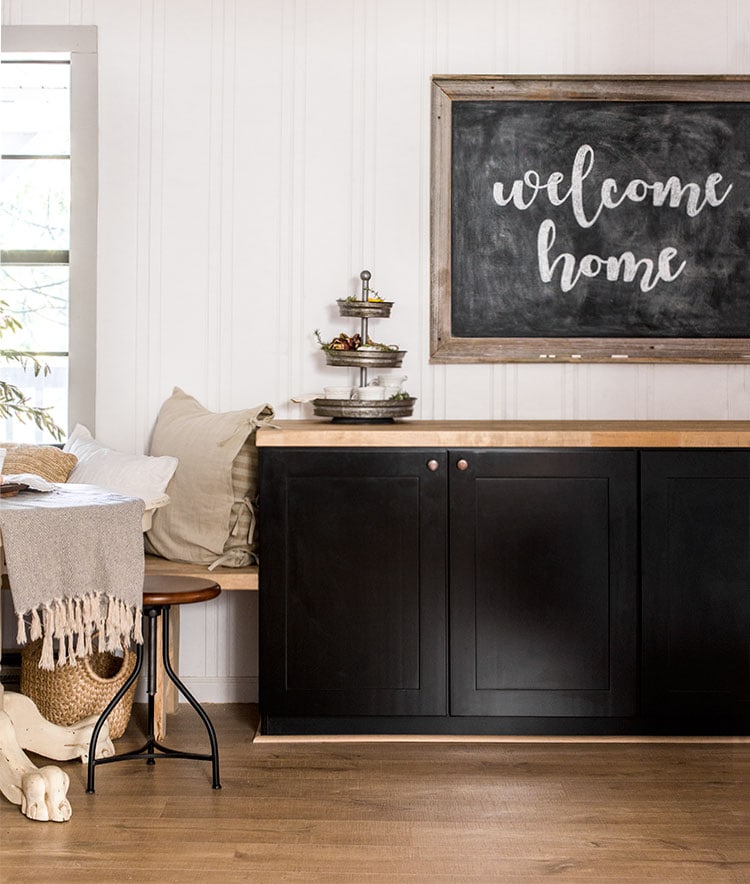 Pin
The chalkboard (made by the Summery Umbrella) came from my last house, and I designed a quick "welcome home" in Illustrator, printed it out on several sheets of paper and traced it.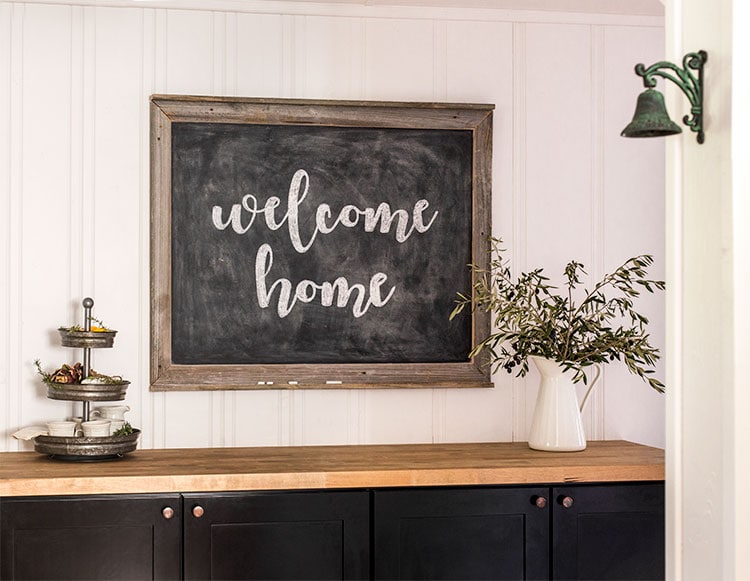 Pin
And how cute is that little dinner bell?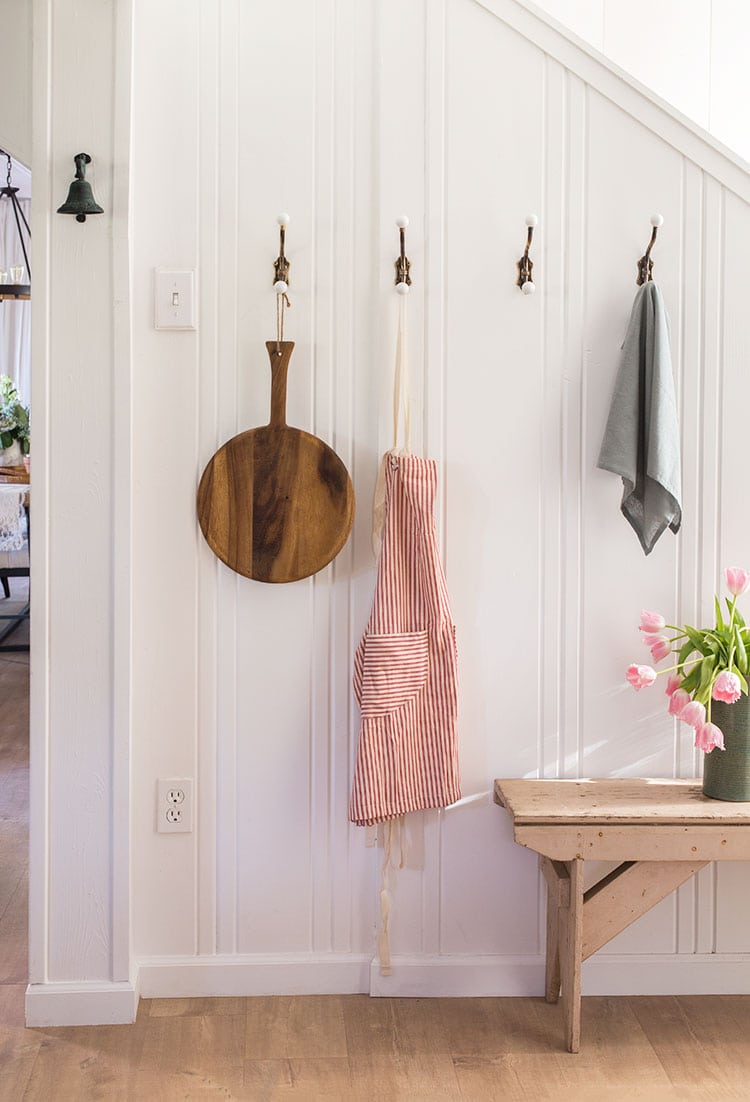 Pin
I repurposed a few vintage hooks found in the house and created a little drop zone where the fridge used to stand.
Pin
The fun striped apron was an Etsy find: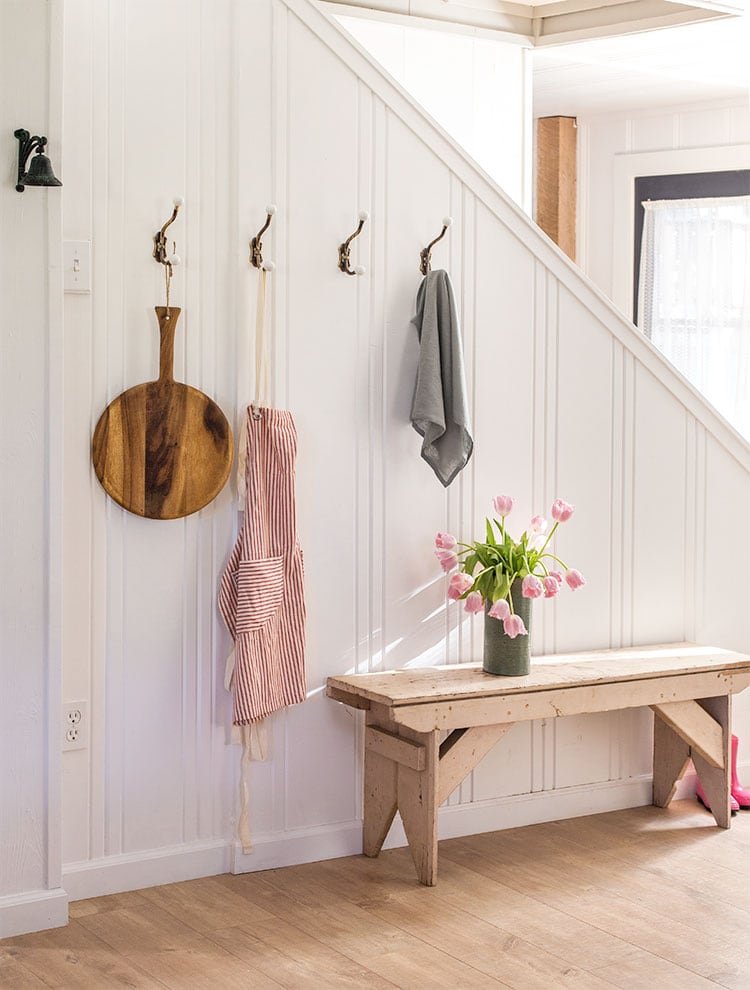 Pin
I also borrowed some of Country Living's props while they were here and had fun switching up the styling…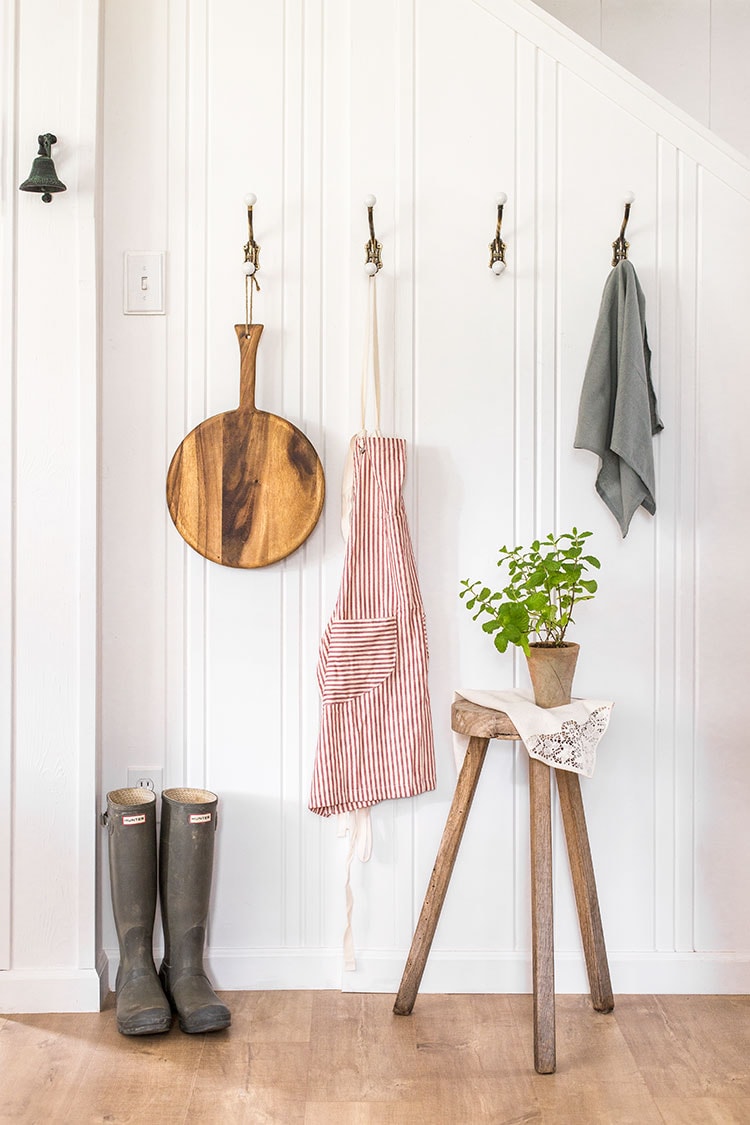 Pin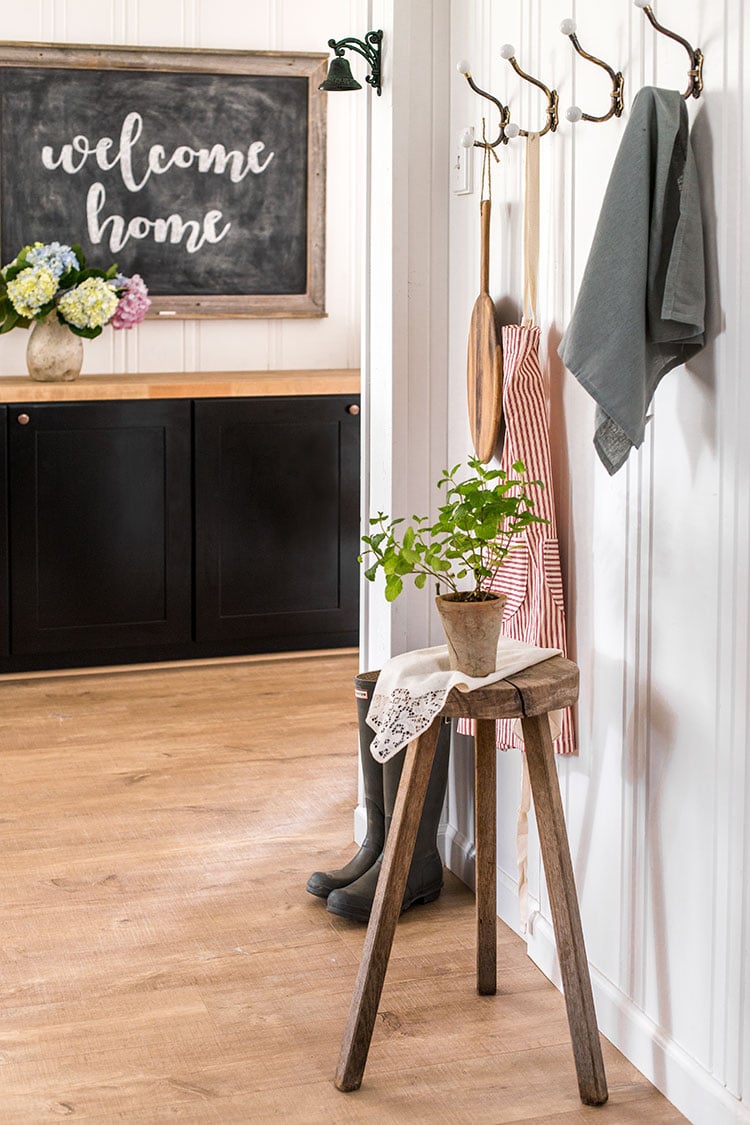 Pin
I wish this flip was 4 months of styling/shooting and 2 days of construction, rather than the other way around. I'd much rather do that all day.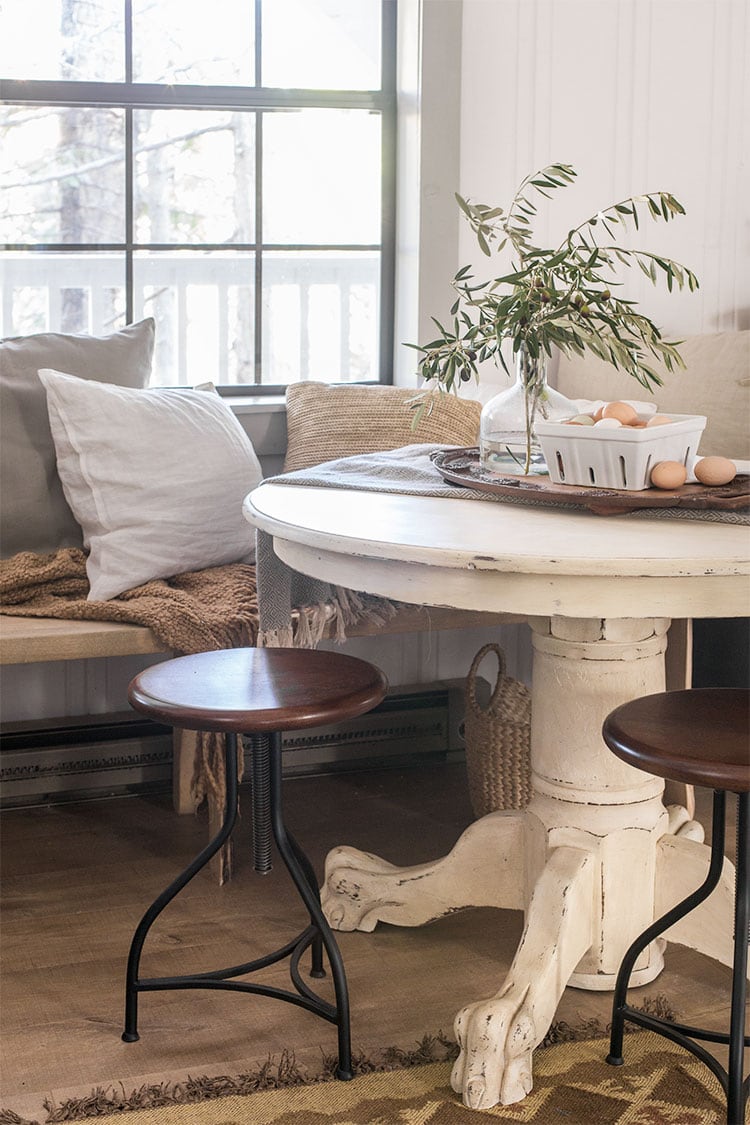 Pin
This color palette… I didn't know if it would all work together, but it just feels so right.
Pin
Several meals have already been had around this table, and I plan to take full advantage of this kitchen for as long as I can. Part of me secretly hopes it doesn't sell for a while.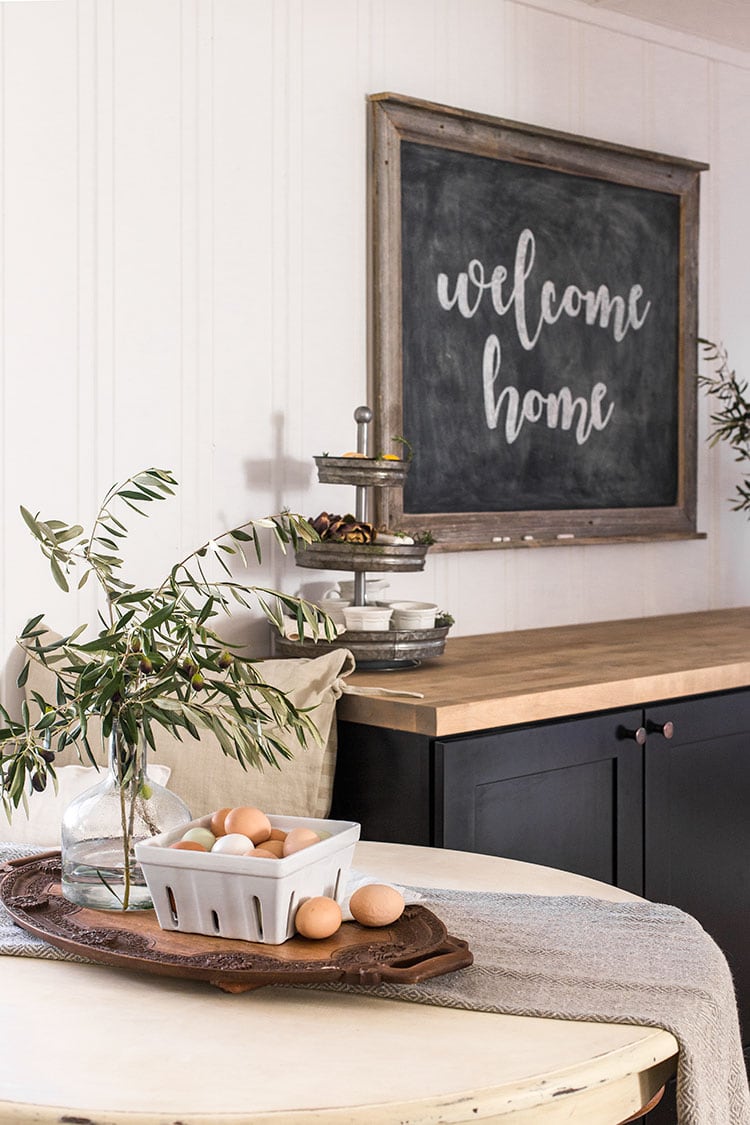 Pin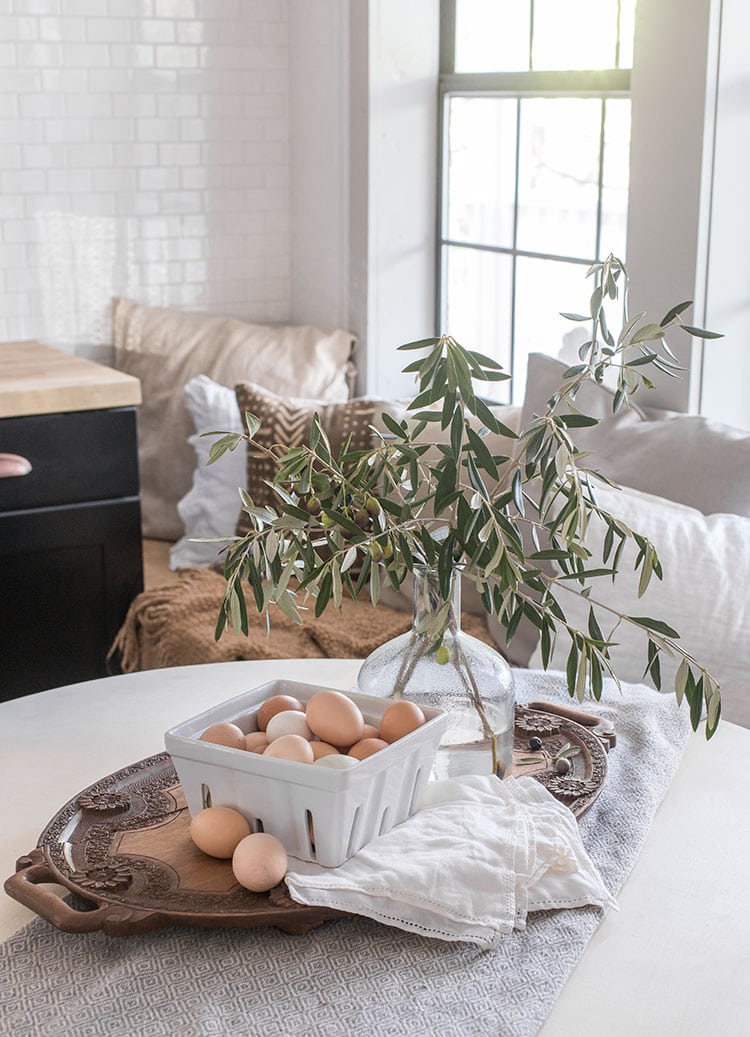 Pin
Can you blame me?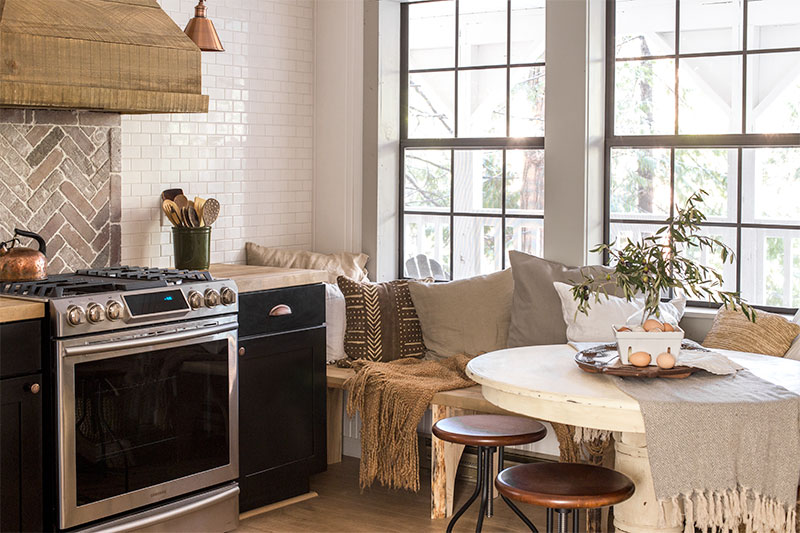 Pin
It's hard to give up your dream kitchen. I'd do it all over again.
Pin
SOURCES
Wall paint: Valspar's Bistro White (eggshell)
Trim paint: Valspar's Woodlawn Colonial Gray (eggshell)
Pergo Flooring in Scottsdale Oak – discontinued color (Similar here)
Cabinets: Kraftmaid Durham Maple Square in Onyx
Butcher block counters – stained in Minwax's weathered oak & sealed with Howard's Conditioner
Subway tile (with white grout)
Brick veneer tile (with white grout)
Copper sconces: Discontinued, similar here
Dinner bell (similar)
All other pillows: Ikea, H&M
Blankets: already owned
Hooks: already owned
Old bench: already owned
Plates, vases, pitchers, etc: flea market/thrift/already owned
Disclosure: Some of the products listed were provided via sponsorship—all of which I selected and fully approve of.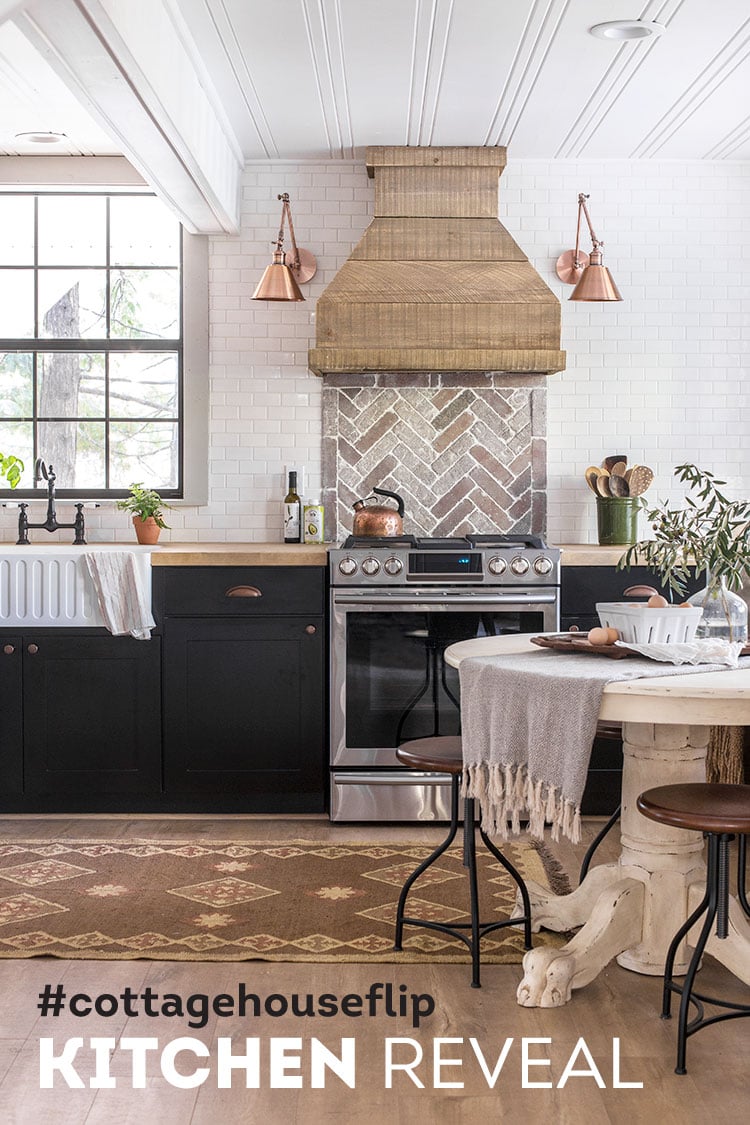 Pin
I think that covers it all, let me know if I missed anything or if there's any clarifications needed, and make sure to watch the Before & After video to get a more complete picture! What do you think of the reveal? What's your favorite part? It's hard for me to choose, but I think that brick herringbone is the icing on the cake.
Next Tuesday I'll be sharing the living/dining area, so there's a ton of photos coming your way! I'm off to enjoy the first weekend I get to spend relaxing at home in a very long time… <3