These past ten days have been a true transformation, in every sense of the word. It's hard to remember what life was like before this all began, before this house came along and consumed all of my thoughts and time. I feel as if I've just given birth to a child after planning and dreaming and laboring for 4.5 months… and now, it's finally out in the world—even more perfect and beautiful than I'd imagined—and so begins the phase of equal parts relief, recovery, and celebration.
Between scrambling to finish last minute projects, the Country Living shoot, the Open House and trying to photograph/video/document it all (and that's just in the past 4 days), I still have yet to pause and take it all in, so it hasn't quite hit me yet. It has been an absolute whirlwind complete with flooding the day before the stylist arrived, 20 realtors walking through the photo shoot and getting wet paint on their clothing because we still weren't finished, bouts of delusion and sickness and 17 new gray hairs on a head that has been washed once in ten days. It got to the point of trying to figure out if/how I could reschedule the shoot and the Open House, but pushing through was the only option, so that is what I did.
If there's one life lesson that continues to manifest, it's this: the harder the struggle, the greater the reward. This has been the most mentally and physically challenging undertaking I've endured, but reaching this point has become my greatest accomplishment, taught me a lot and made me stronger in many ways. Every bit of blood, sweat and tears were so worth it. 
Over the next month, I'll be posting multiple times per week, revealing each space complete with Before & After photos/video tours, and links to sources followed by a few awesome giveaways at the end. Buckle up, ladies and gentlemen.
Let's kick off the Cottage House Flip Reveal with the logical place to start… the Exterior!
BEFORE
Plenty of cottage charm, needing lots of TLC.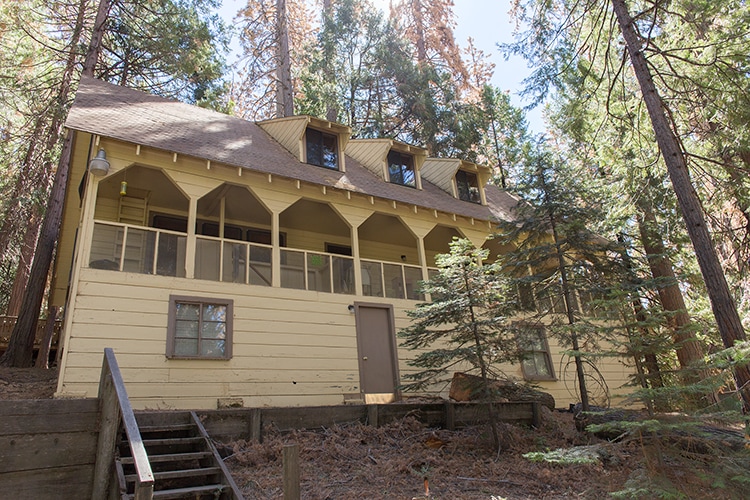 Pin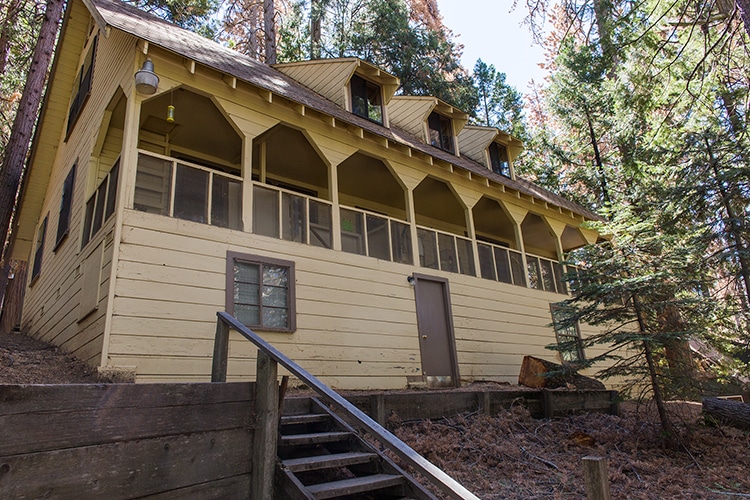 Pin
Pin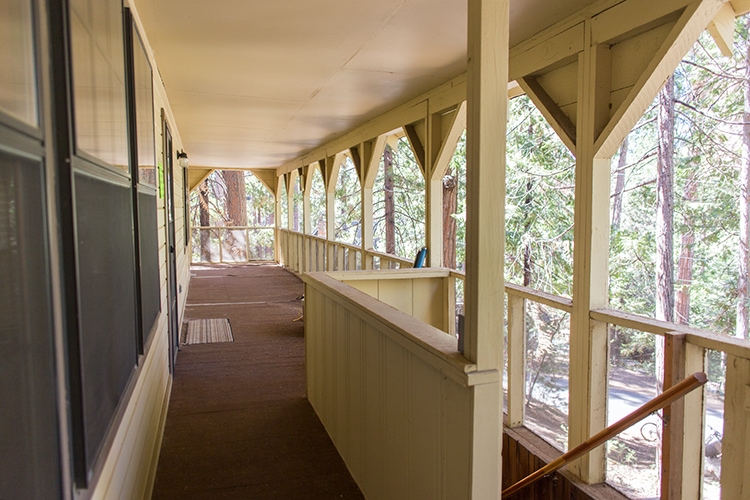 Pin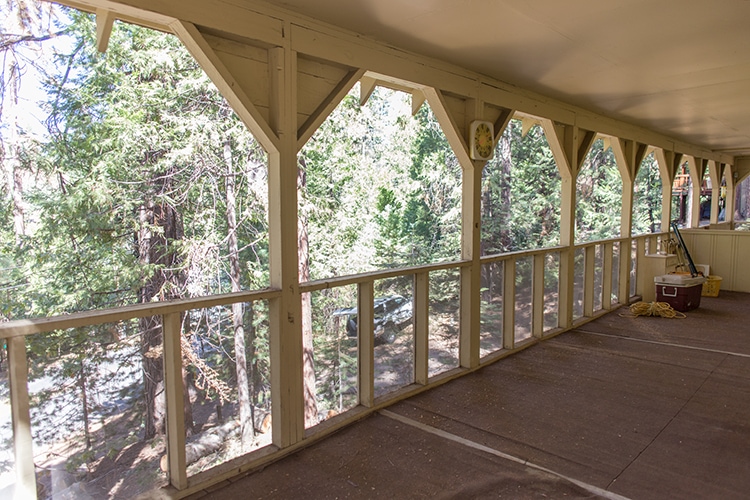 Pin
DURING
The exterior racked up quite a few costs, including a new foundation along the front perimeter, all new siding on the lower half of the house, two new windows, shutters and lower front door, all new window trim, new railing and a deck refinish, a new porch ceiling, rebuilding the back porch, new retaining walls and staircase, creating an entryway under the house, paint and landscaping.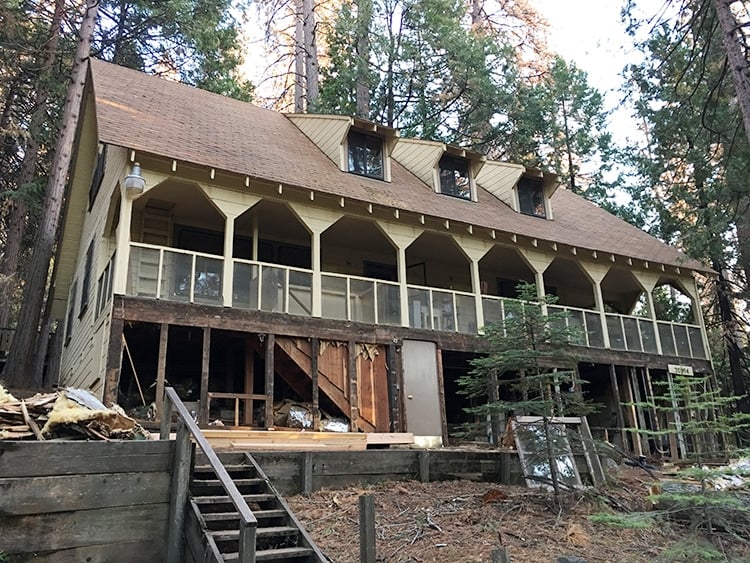 Pin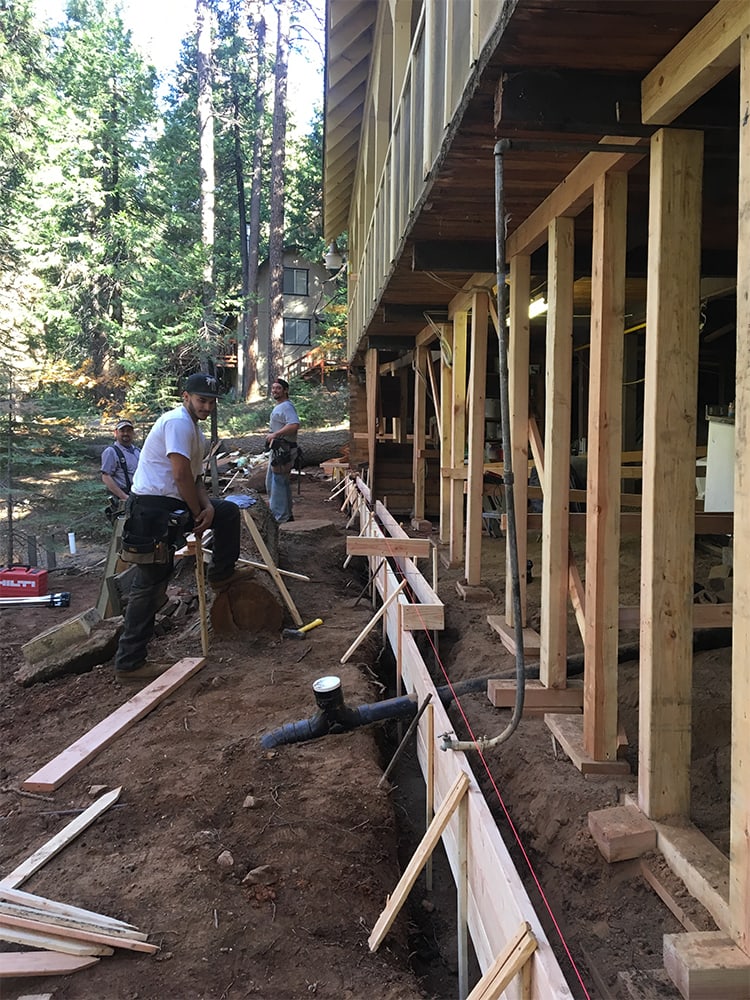 Pin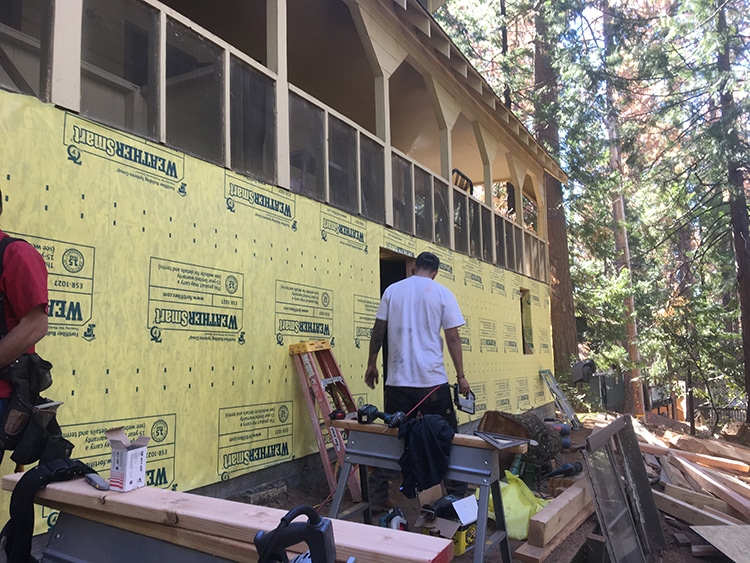 Pin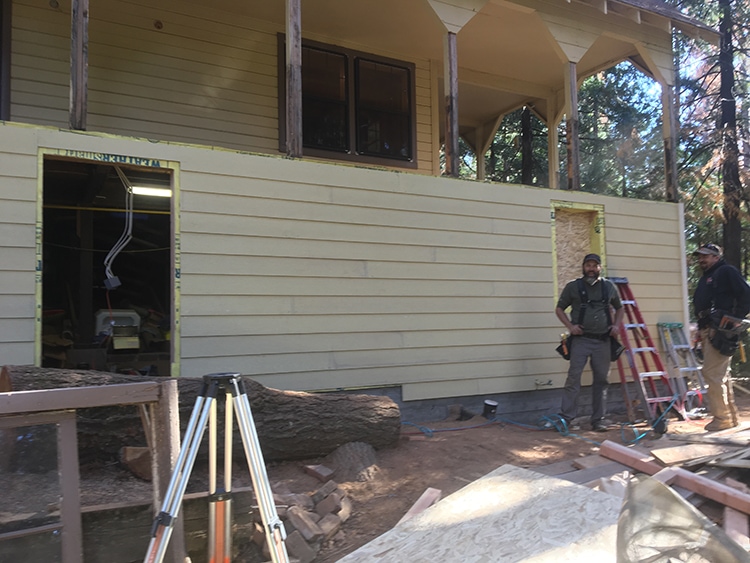 Pin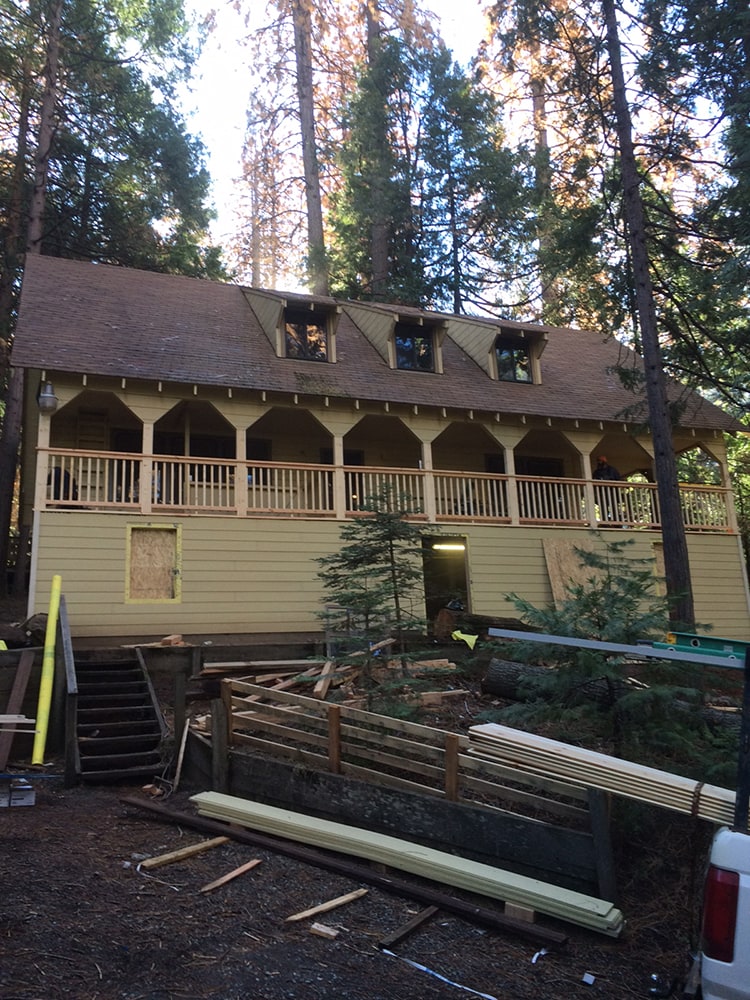 Pin
The biggest hurdle here came from the weather—unseasonably rainy and cold, leading to record snowstorms and power outages.
Pin
In fact, it rained for days until hours before the open house, so my contractors still need to come back for paint & stain touchups, deck refinishing and log removal.
This was how it looked just a couple weeks ago, and miraculously there's only one small patch of snow left now…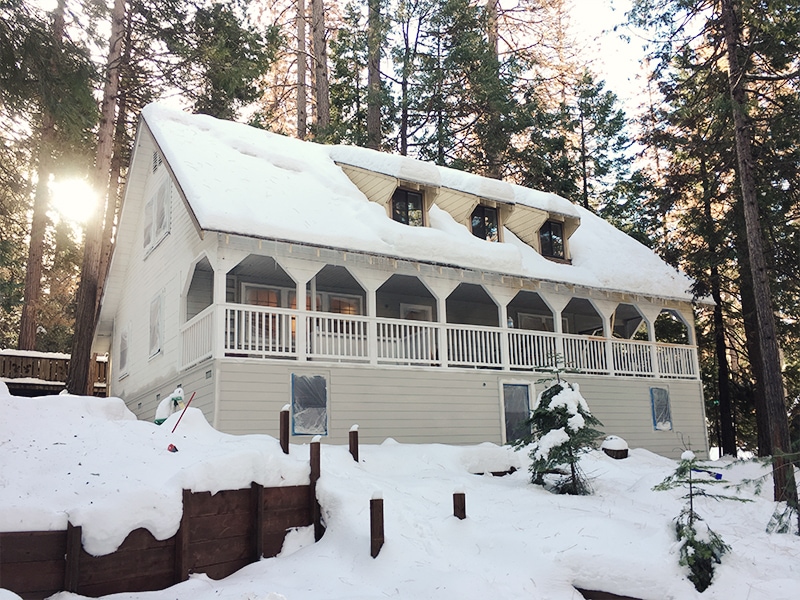 Pin
Ready for the AFTER?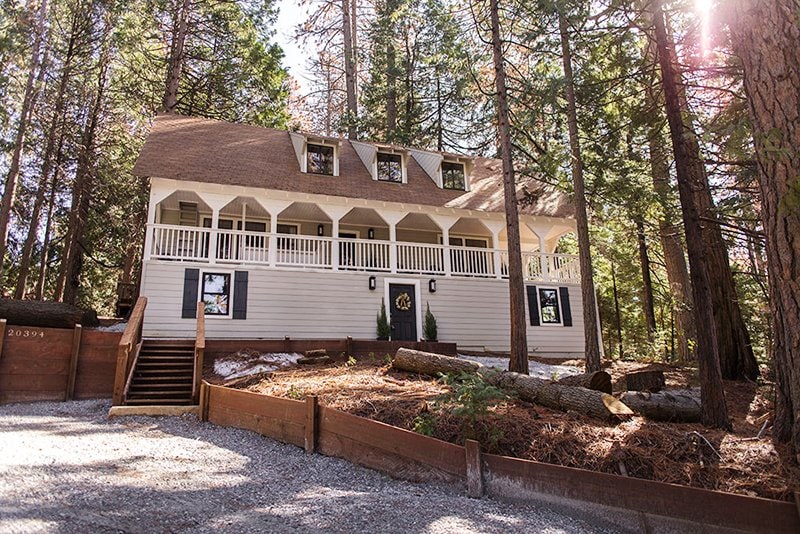 Pin
*Cue the choir of angels*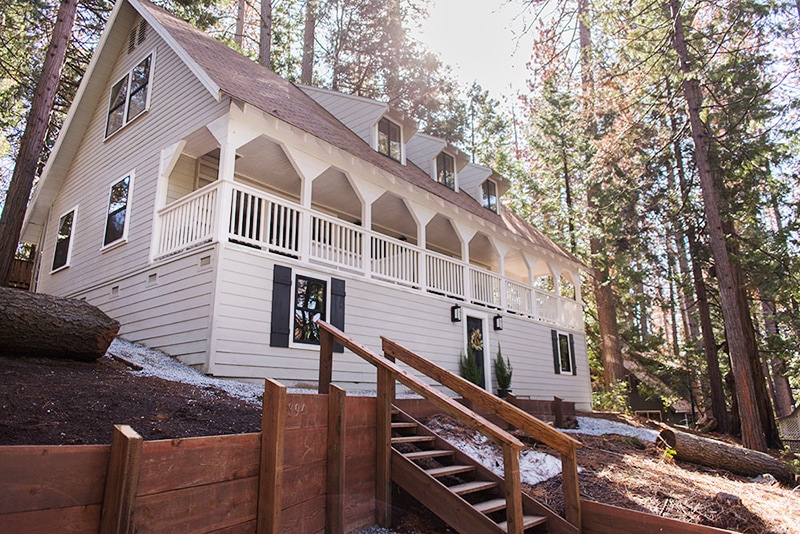 Pin
After a week of rain and darkness, the skies cleared the morning of the Open House and it was the most perfect day.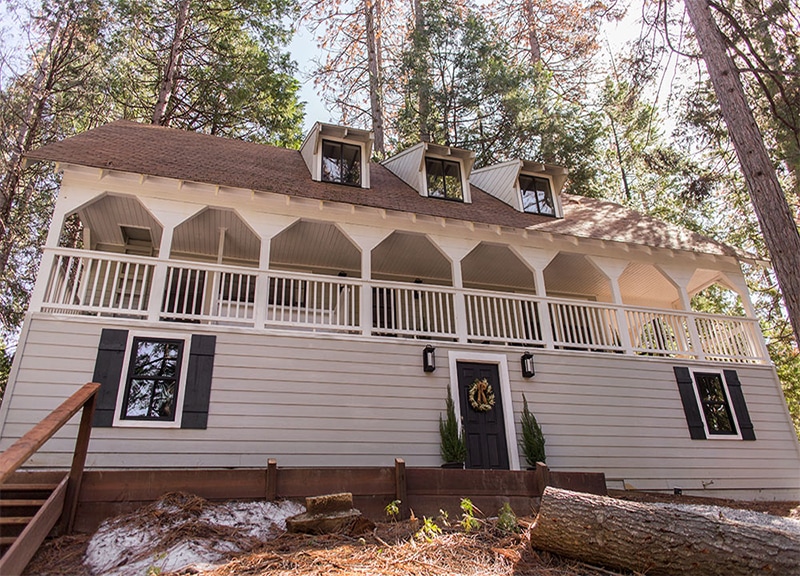 Pin
Lucas and I had a slumber party there the night before and it was like living in a fairy tale in the enchanted forest. I never wanted to leave.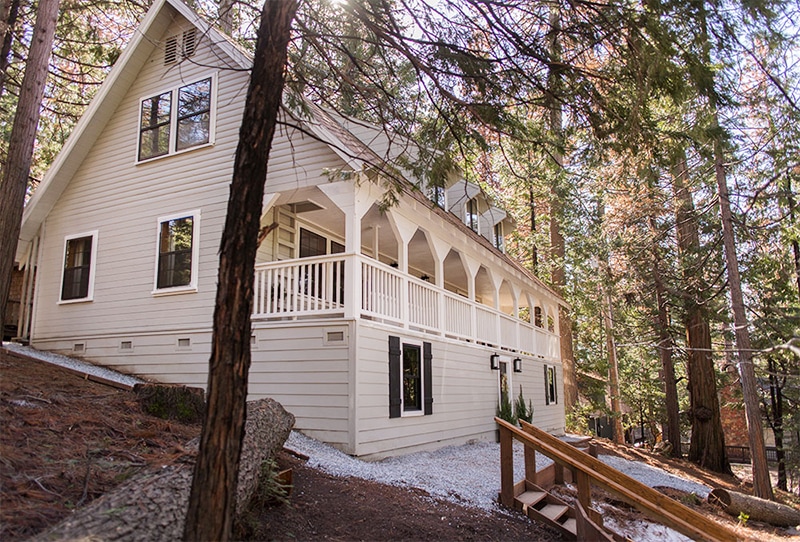 Pin
Hats off to my contractors who had guys out there shoveling gravel, building stair railing and doing paint touchups while Country Living was there shooting.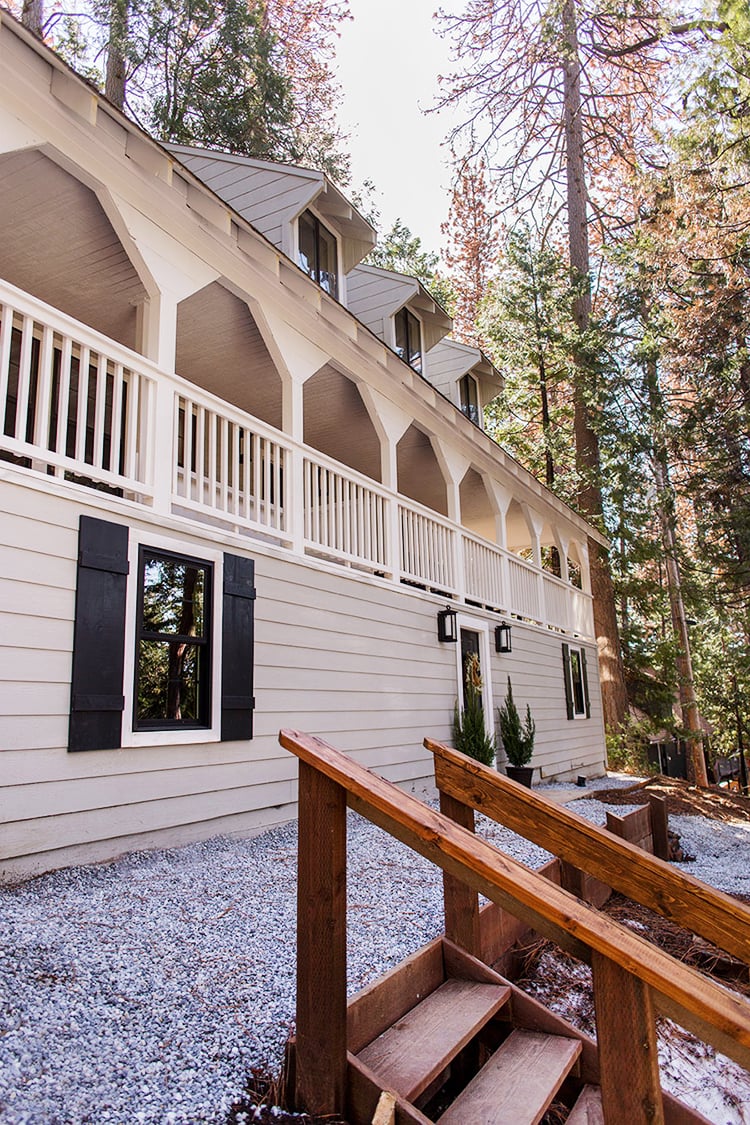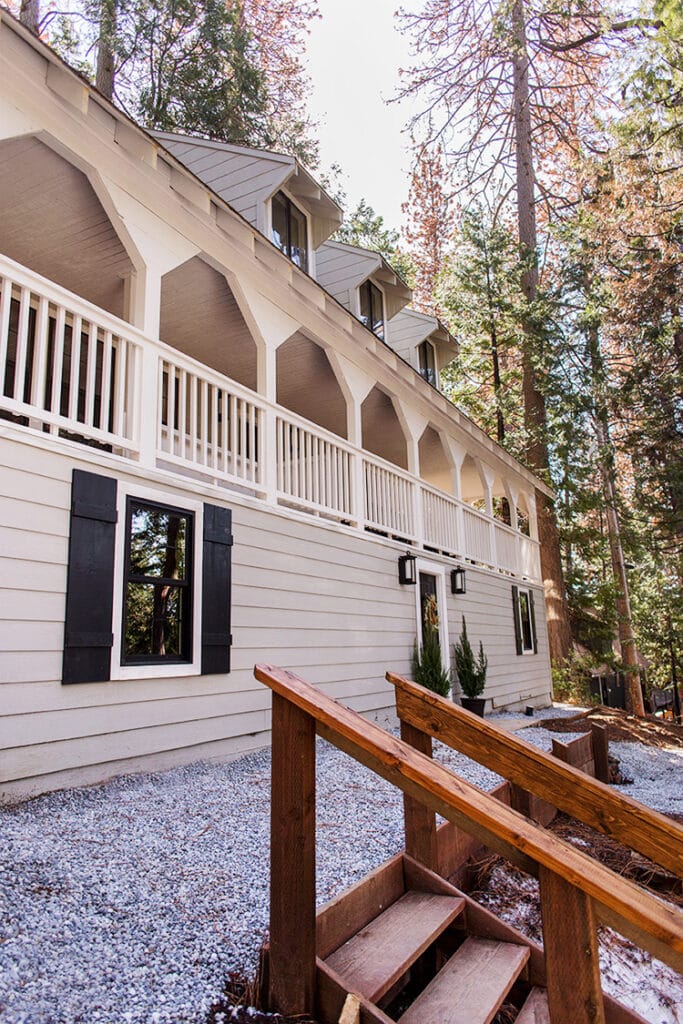 Pin
The black shutters and lanterns worked wonders for making it look more finished, don't you think?
The lower front door leads you underneath the house before heading up the stairs to the porch, so my contractor poured concrete and added a wall with built in shelving for a makeshift mud room.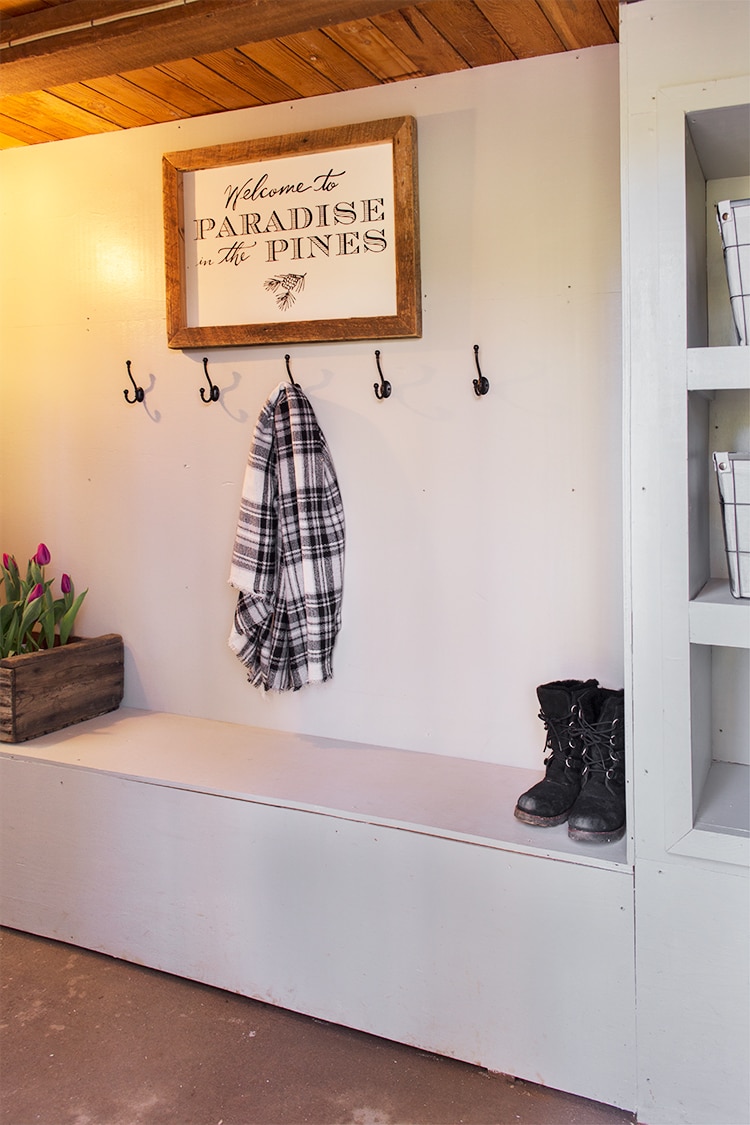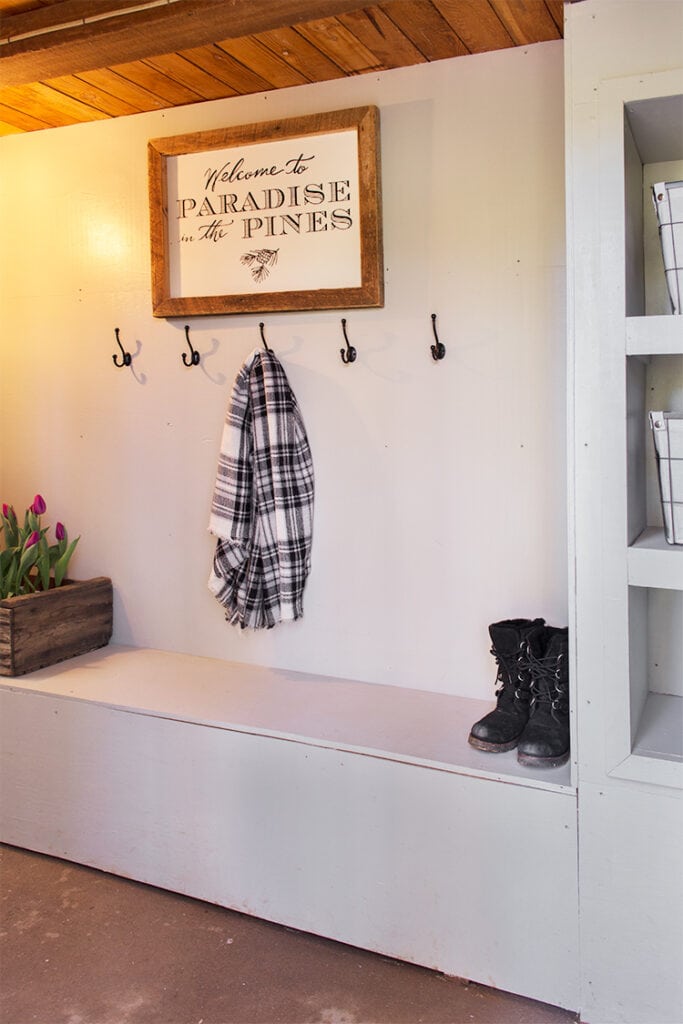 Pin
It was painted the same soft gray as the exterior (Valspar's Woodlawn Colonial Gray) and accessorized with coat hooks, along with this super fun custom Welcome sign…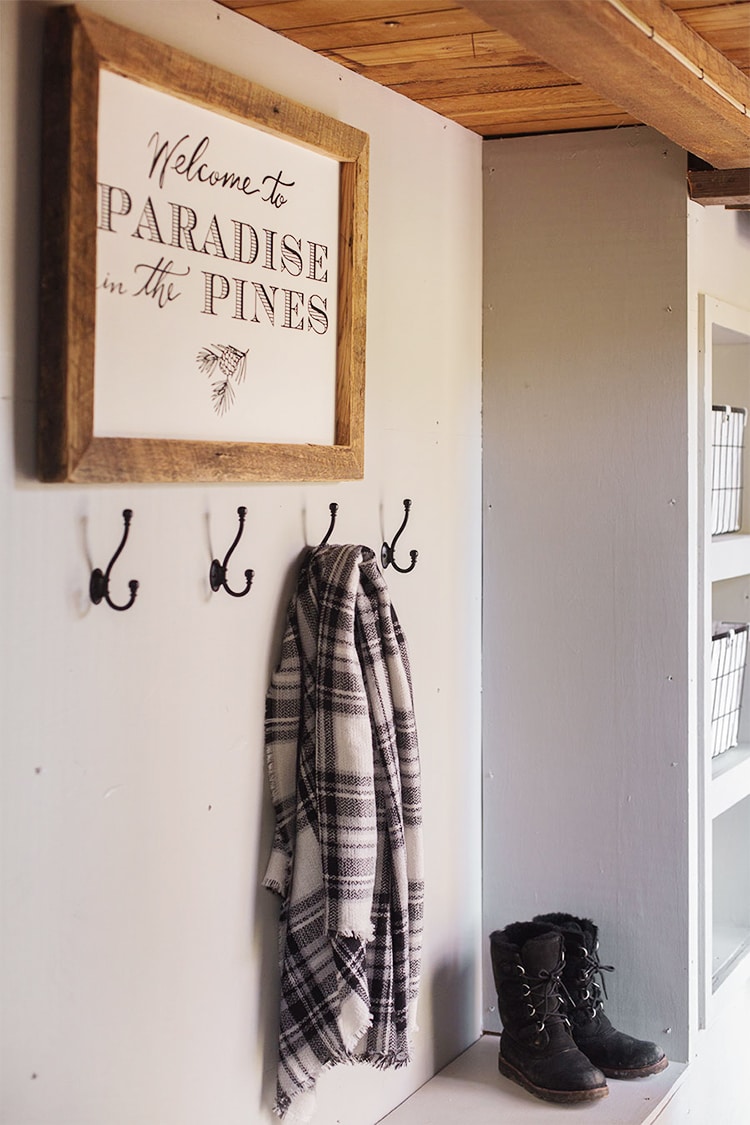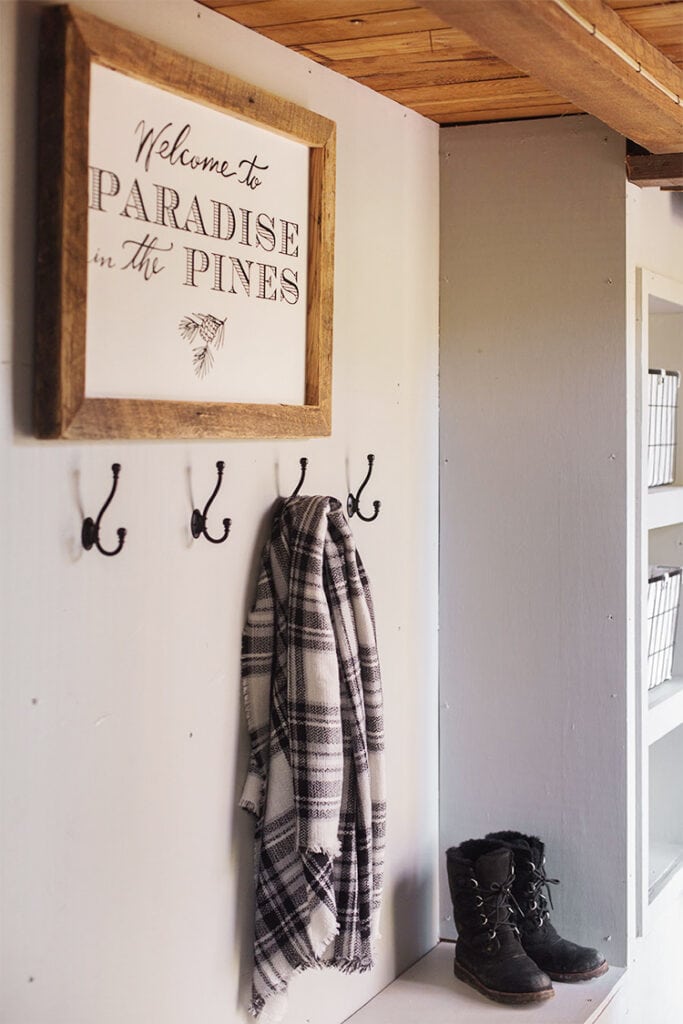 Pin
It was made by my sweet and talented friend, LZ from The Summery Umbrella. I have a handful of her barn wood frames & signs in the house and can't get enough.
I told her my vision for this design and she brought it to life. So perfect for this home!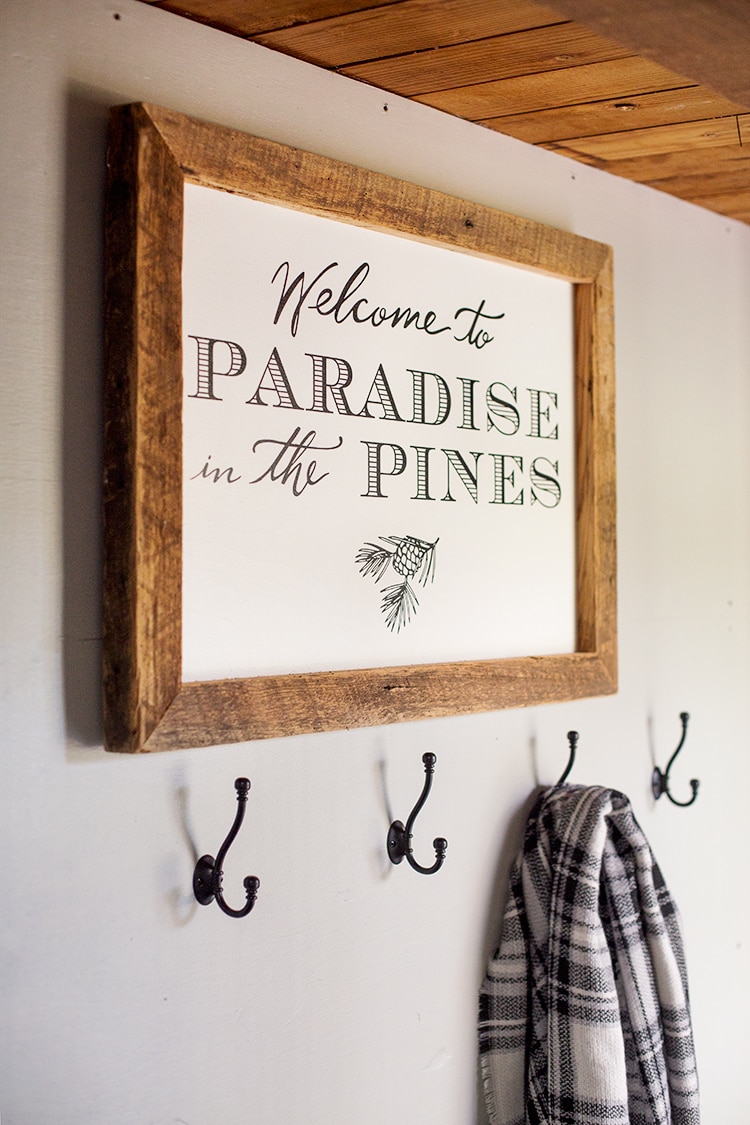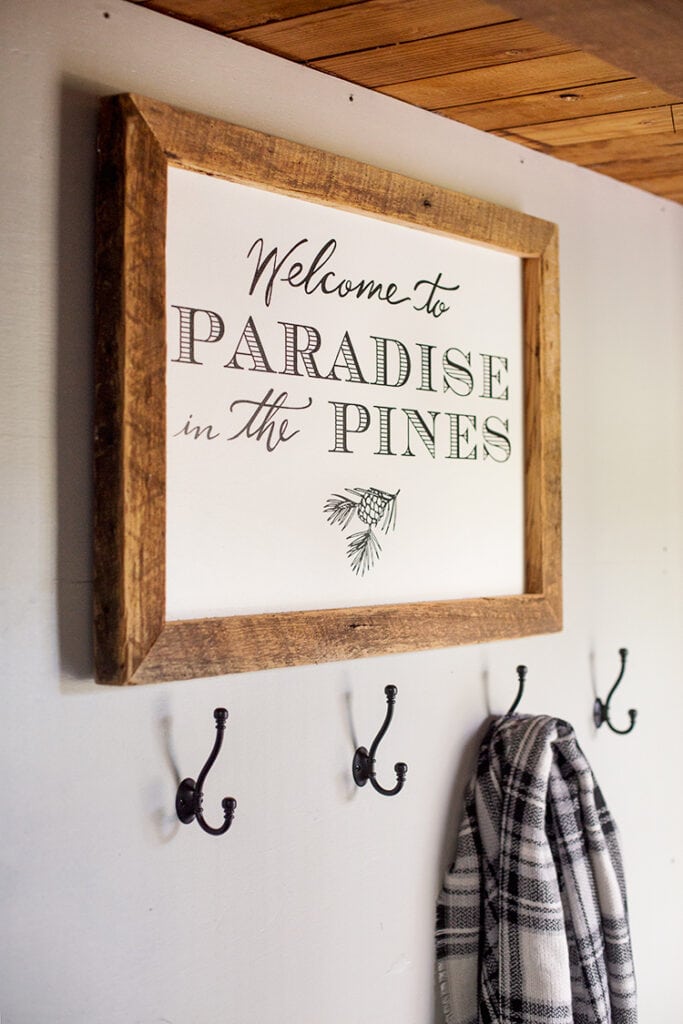 Pin
At the top of the stair landing, we have our spacious wrap around deck.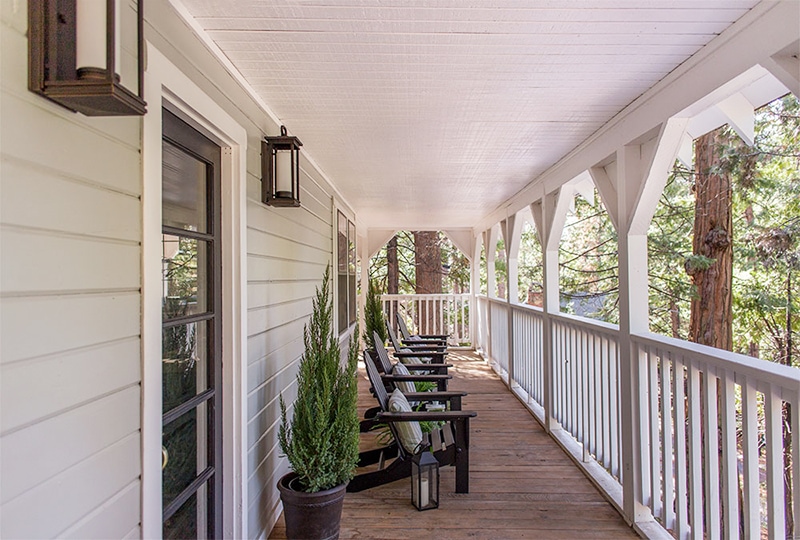 Pin
The main stretch was begging for a row of Adirondack chairs, so I grabbed four of them in black at Lowe's.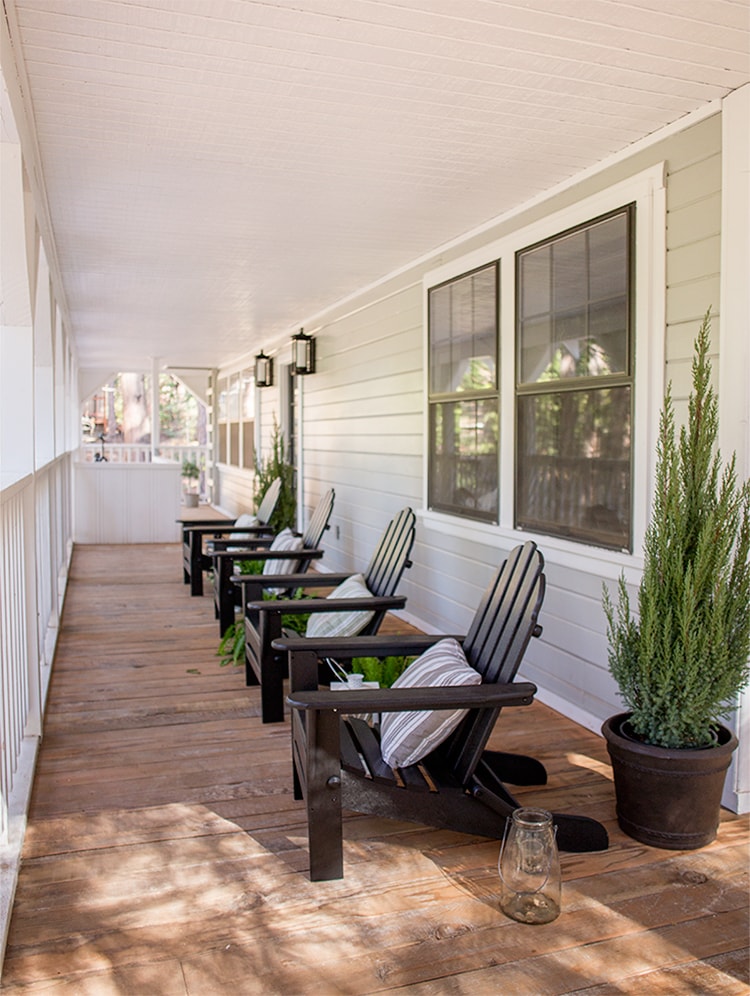 Pin
Lanterns and pillows pulled from storage along with some greenery bring it all together. You can see more of this area in the reveal video posted above. (Soon the deck will be stained & sealed in a dark walnut shade).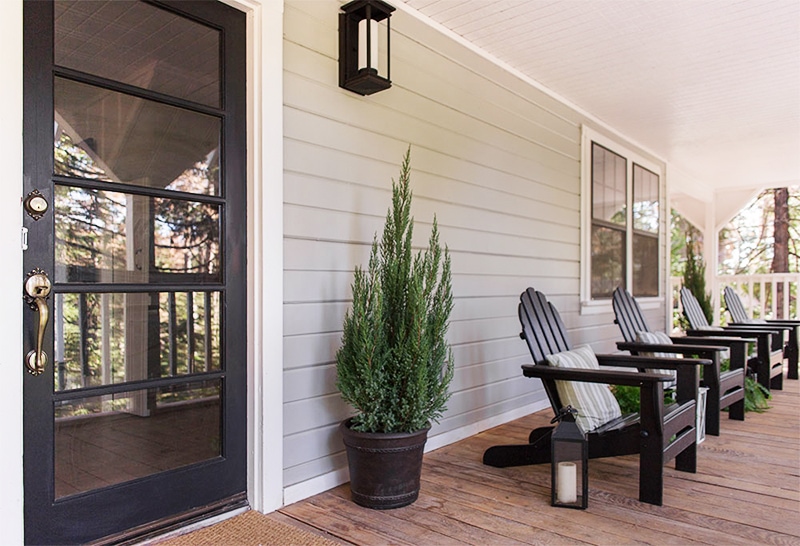 Pin
I kept the original front door and gave it a coat of Valspar's Cracked Pepper, and replaced the hardware with this vintage style antique brass set. Someone's going to make some great memories out here during those long summer afternoons, sipping tea and listening to the birds. Ahhhh.
How I wish I could keep this beautiful home in my family for generations to enjoy…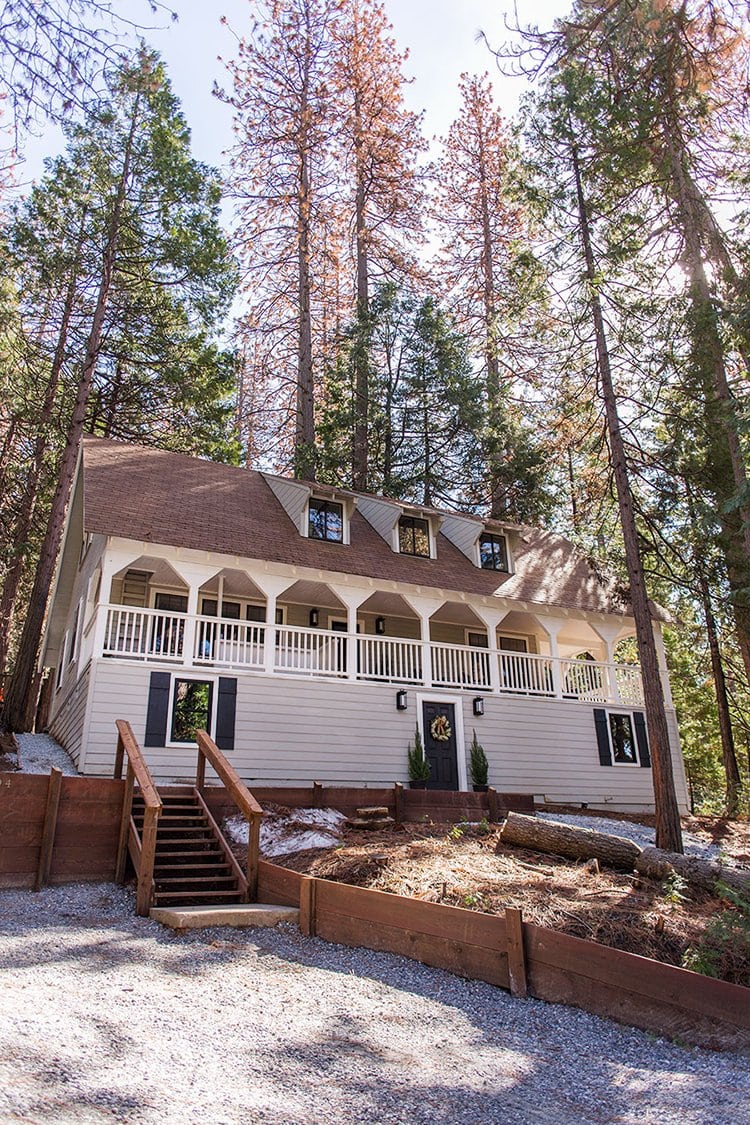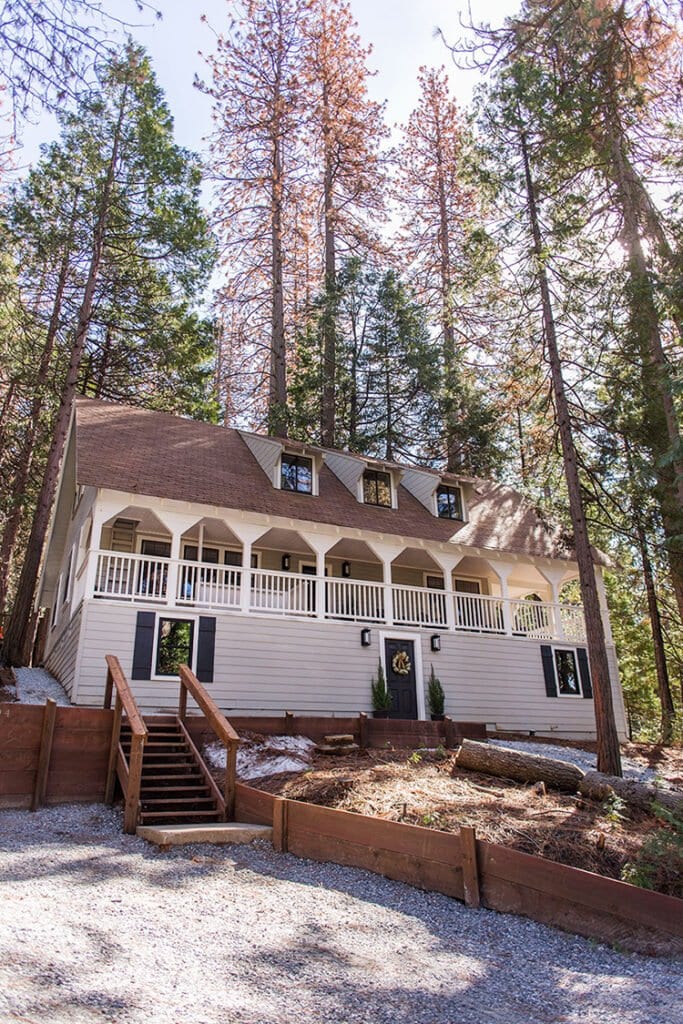 Pin
There are so many who have worked so hard to create this transformation, and honestly, it wouldn't have been possible without Lowe's. Not to this level. I am beyond fortunate that they have trusted my vision and ability to pull this off, and supported me as a sponsor to really make this house extra special, where I wouldn't have had the budget to do otherwise. Lowe's has always been my first choice in renovation projects (remember my last house?) and you'll get to see a lot of their items used in this home as well—which is great news if you're looking to recreate any of these looks (hello, affordability & accessibility!)
SOURCES:
Exterior Body Paint Color: Valspar's Woodlawn Colonial Gray
Exterior Trim Paint Color: Valspar's Bistro White
Exterior Accent: Valspar's Cracked Pepper
Pillows & lanterns: Already owned
Disclosure: Some of the products listed were provided via sponsorship—all of which I selected and fully approve of.
I think that covers it for the Exterior! Make sure to watch the Before & After video as well, which gives you a more complete experience than the photos (and makes you feel almost as if you're really there!)
The first room reveal will be on Thursday, and we're starting with the kitchen. Oh man, I've never been more excited to reveal anything. Just you wait. See you back here in two days!