Let me just start by saying this is what the living room looks like as of Tuesday. Two days before the Country Living photo shoot: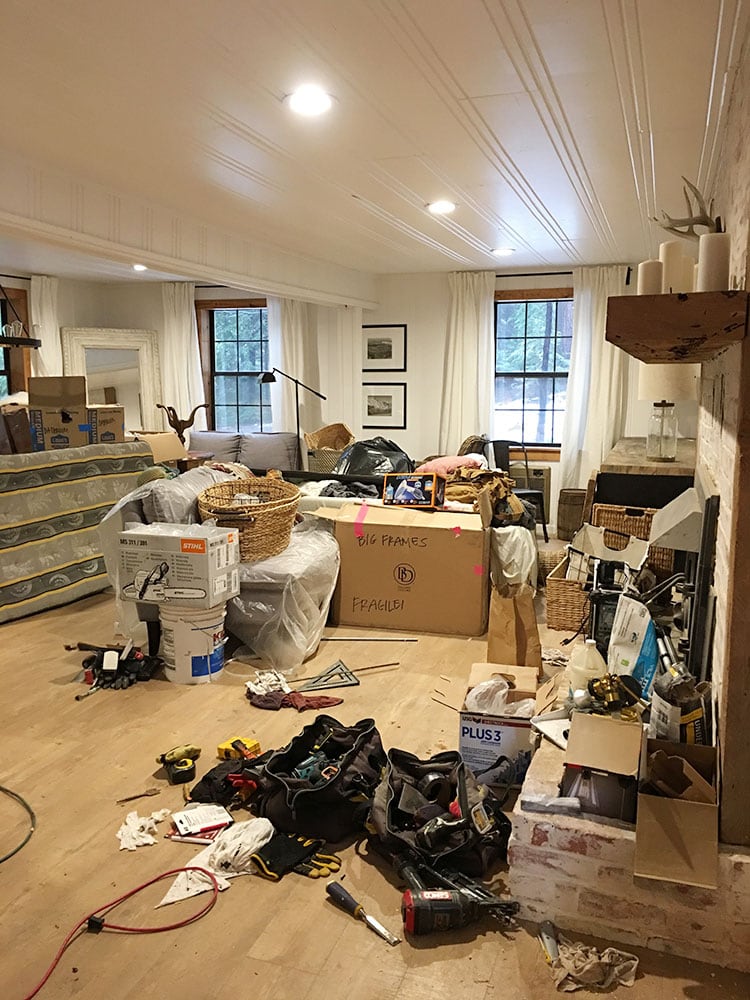 Pin
That should give you an indication of where my frantic/stress level is currently at.
I really don't even have time to post but I can't leave you hanging, so here's a quick run down of as much as I have time to squeeze in.
On Friday morning, my dad and I headed to the flip and got right to work on the biggest remaining project: the DIY dining table. Here's how the living room looked upon arrival… I feel like it's actually getting more cluttered with time.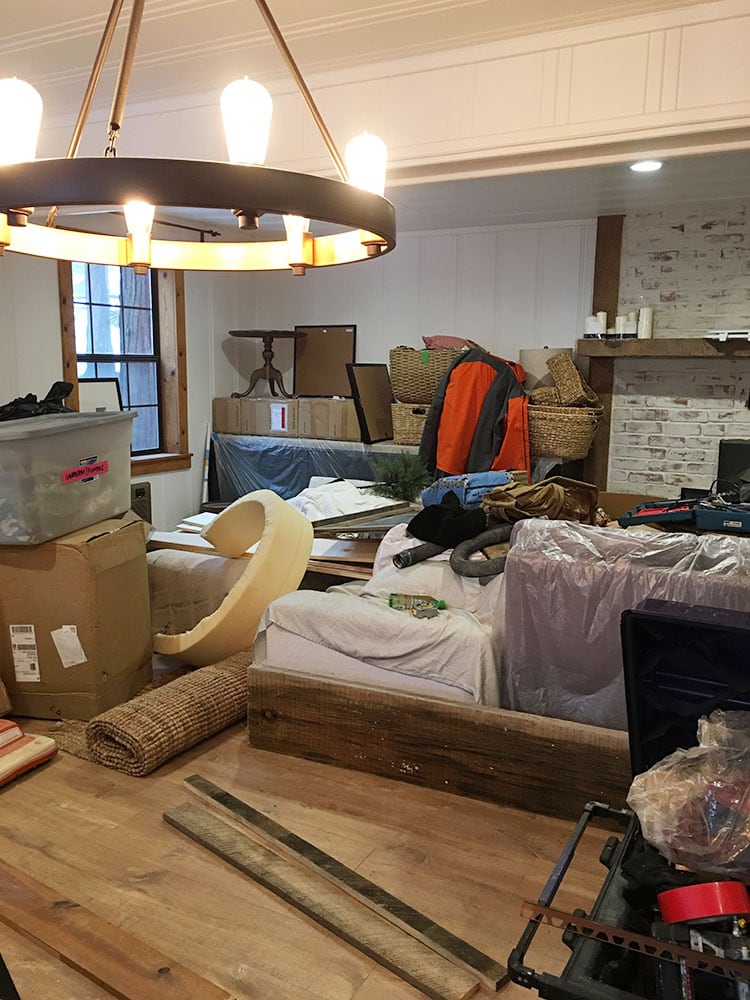 Pin
We bought two 2×12's at the local lumber yard the weekend before so we cut those down to 7′ and used a belt and orbital sander to get them smooth. They were covered in snow last week so they are still drying out, hence the dark streaks.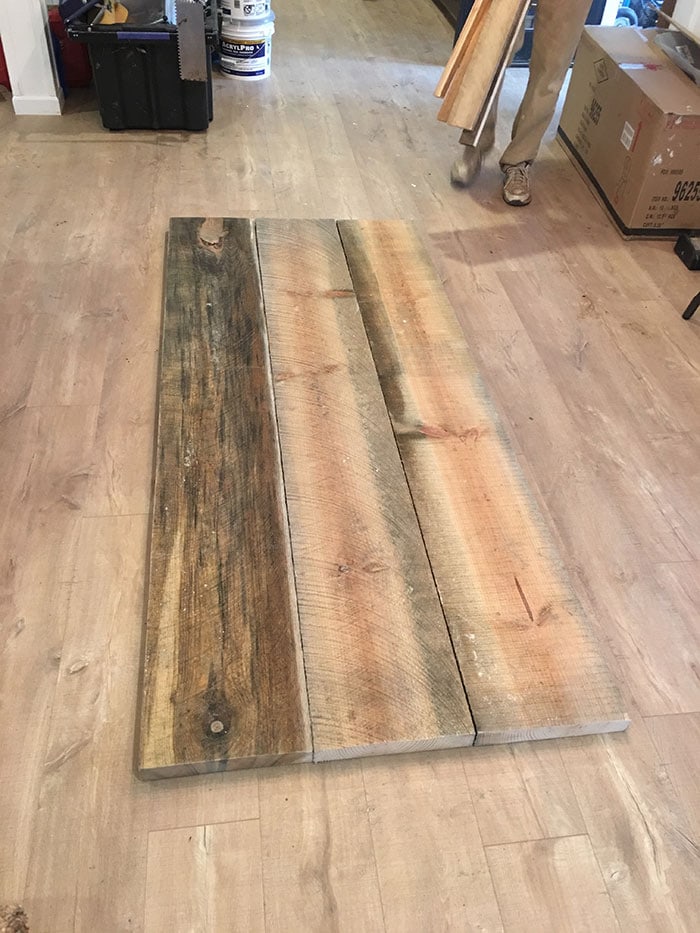 Pin
I brought two $15 trestle legs from Ikea. The legs don't have holes to attach to anything, so we added cleats on the bottom of the wood for them to sit between, using scrap wood: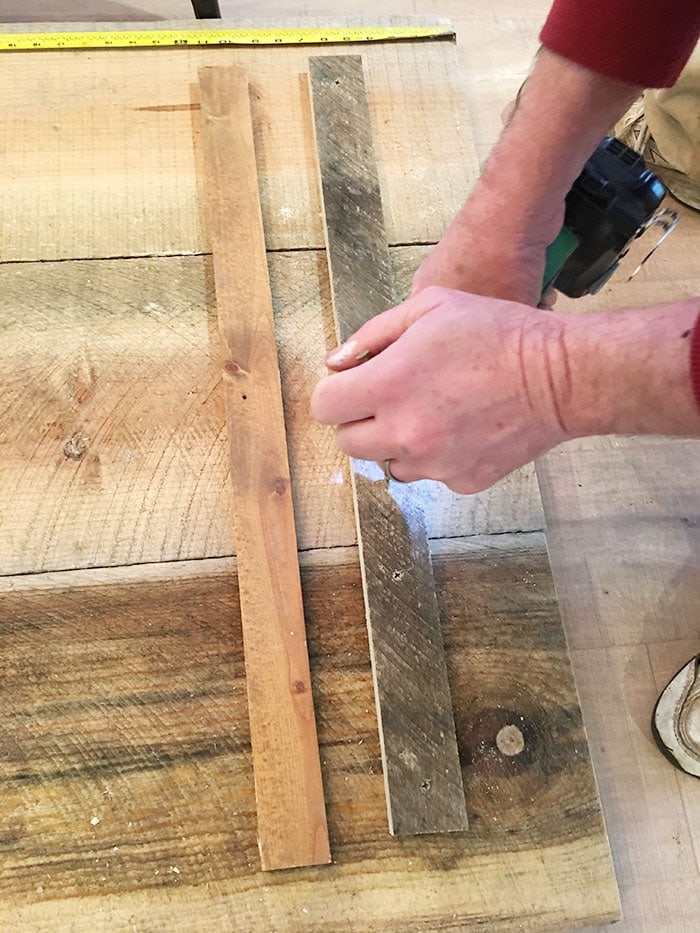 Pin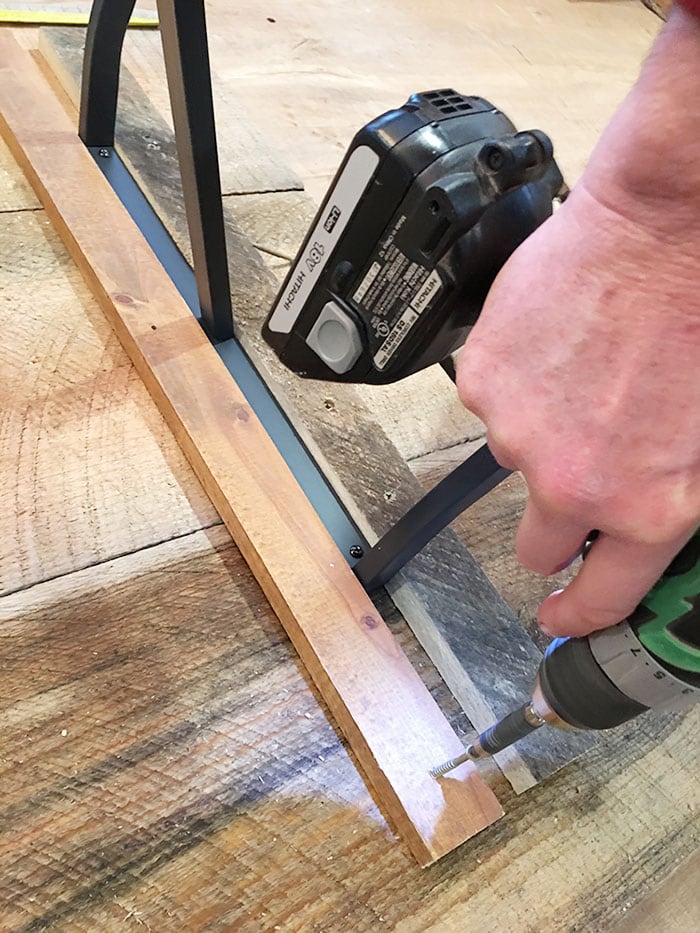 Pin
We secured it in the middle as well: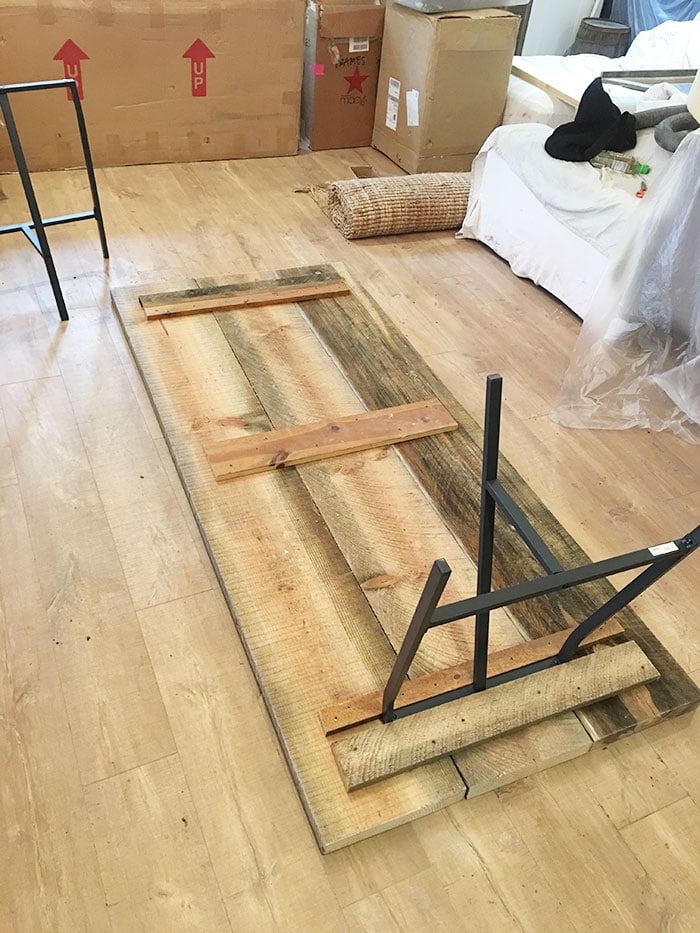 Pin
Done! Easiest table ever. But this reclaimed wood is quite imperfect, and didn't exactly line up. So we had to tweak it a little.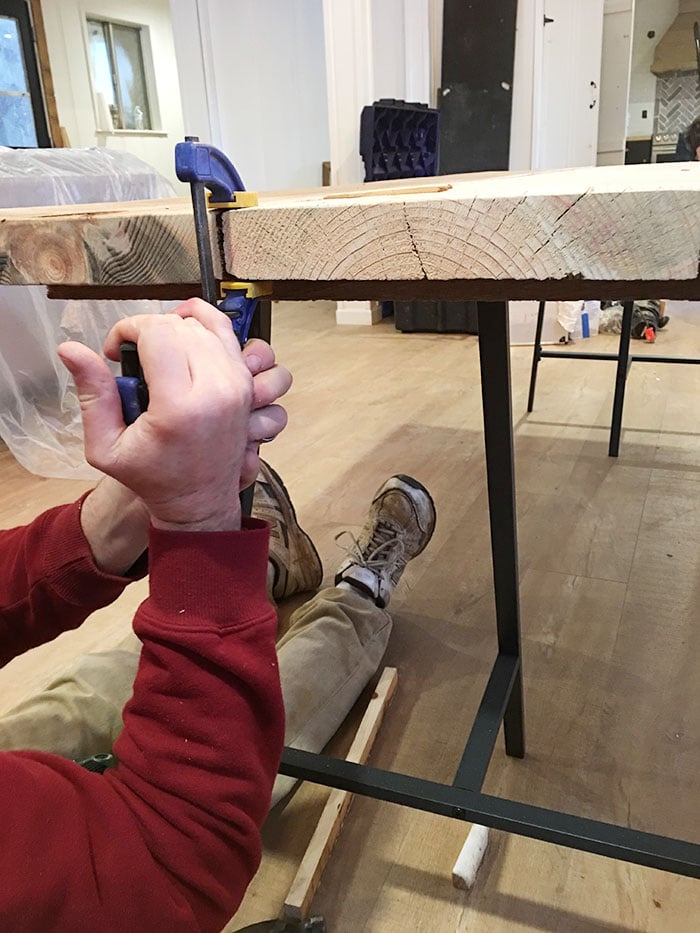 Pin
We also ended up drilling into the metal to secure the legs to the wood to help with stability. For anyone looking to use these legs, I'd recommend keeping the table top as light as possible to avoid any wobbliness.
Pin
I stained the top with Minwax Weathered Oak which is a very close match to the floors, but I'm not really feeling it—too much wood for me. I explained my problem on instagram and hundreds of you chimed in—90% in favor of leaving it wood, 10% said paint it. There won't be a rug underneath since there's a rug just to the left in the living room. White washing or a different stain won't cover up the red streaks (which are a lot more noticeable in person), so it's down to either painting (and distressing to let the wood show through) and/or covering it with fabric which I'd rather not do… so… it will be a game time decision after I consult with the Country Living stylist.
Meanwhile, my dad built these simple shutters: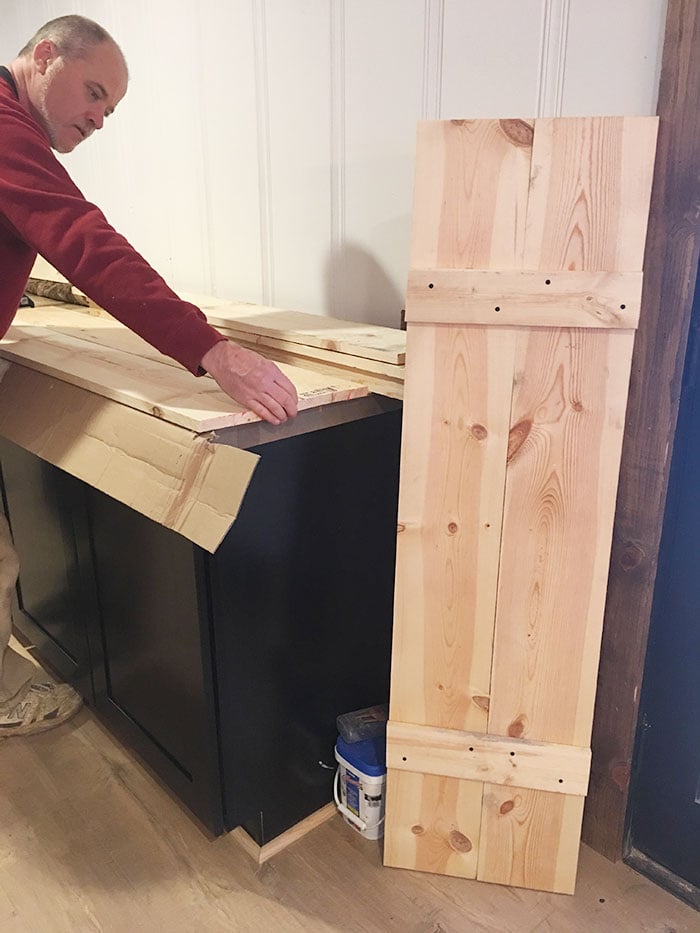 Pin
They were painted with Valspar's Cracked Pepper (in exterior Duramax) and attached to the lower windows… what an improvement!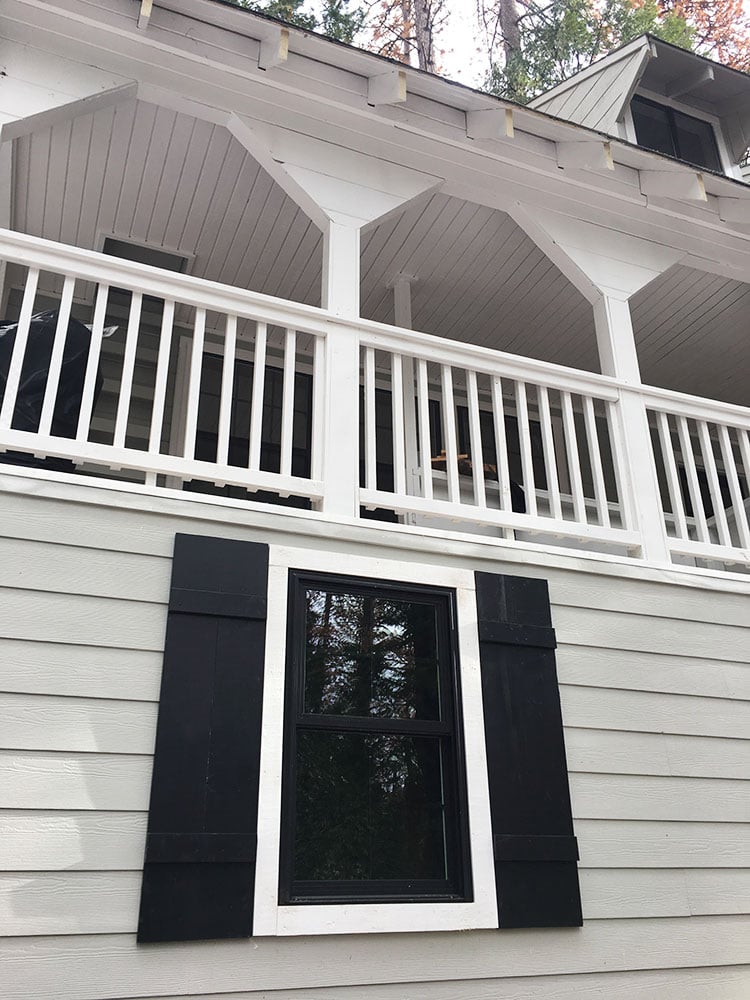 Pin
The exterior still needs touch up paint… let's hope the rain stays away long enough!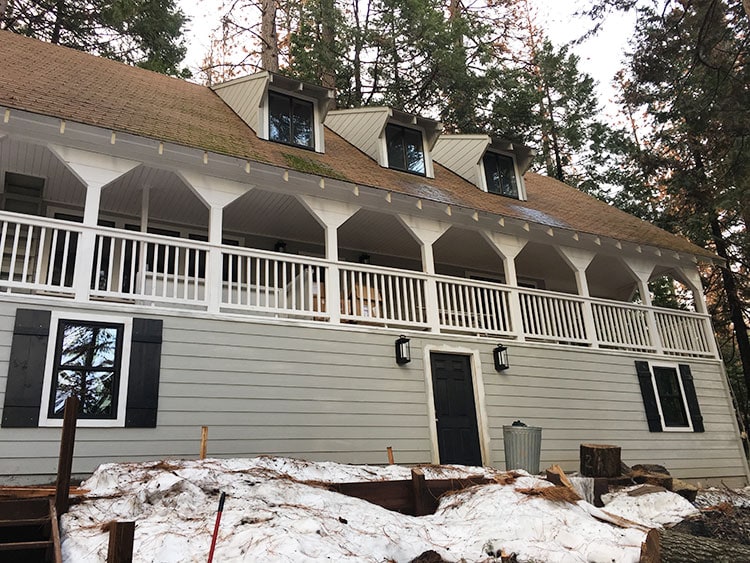 Pin
And how about these lanterns??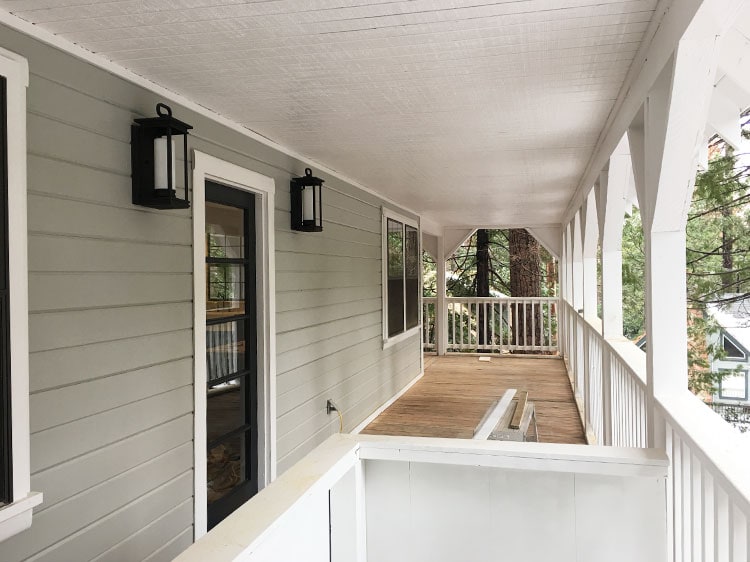 Pin
Lowe's was kind enough to provide them, and they instantly make the house look so much more sophisticated (These are the 17.75″ size)
The biggest transformation award goes to the downstairs bathroom… remember how it looked last week?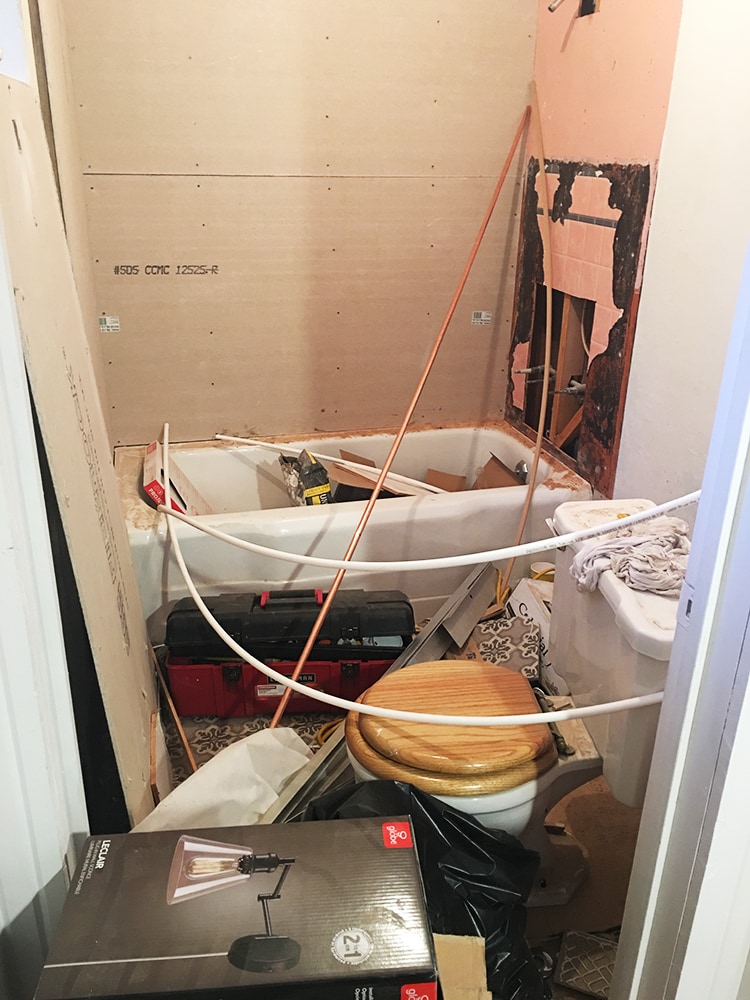 Pin
I can't believe how fast my contractors knocked it out… and I just realized I neglected to take a full photo (there were videos on my instagram stories & snapchat), but here's the best part: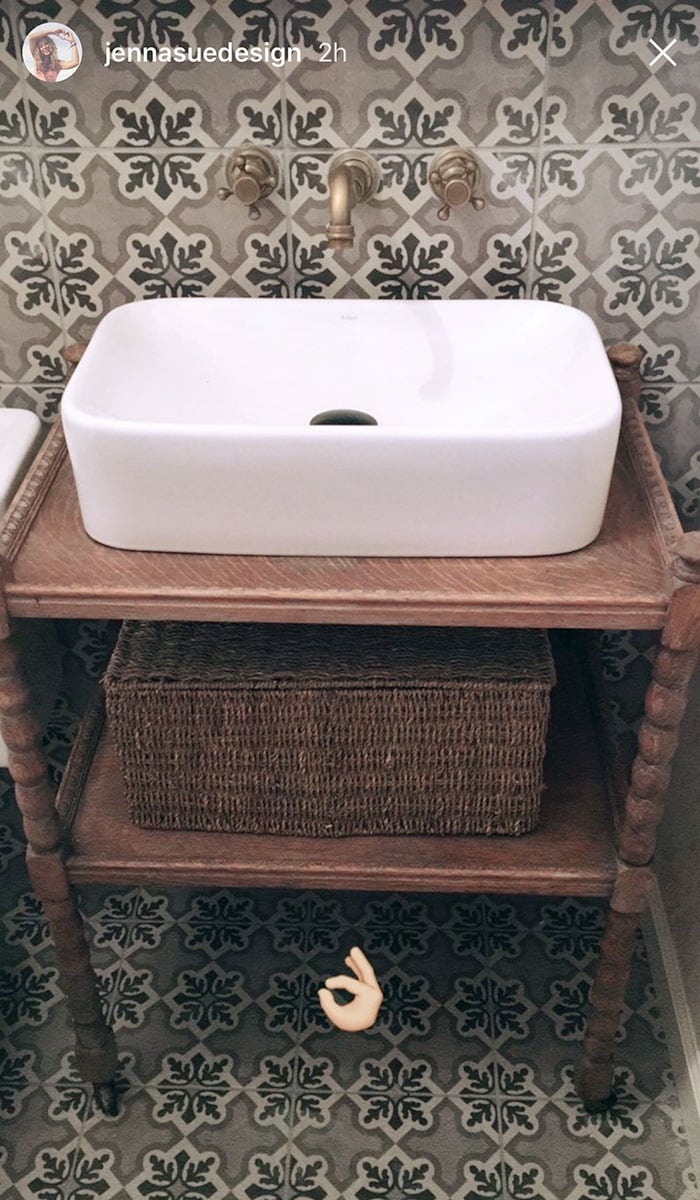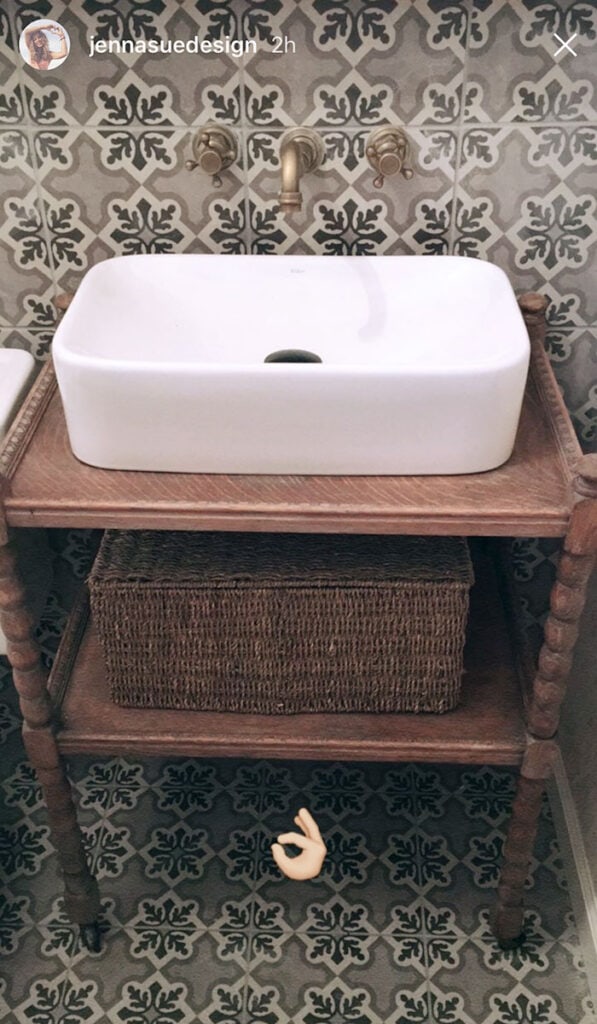 Pin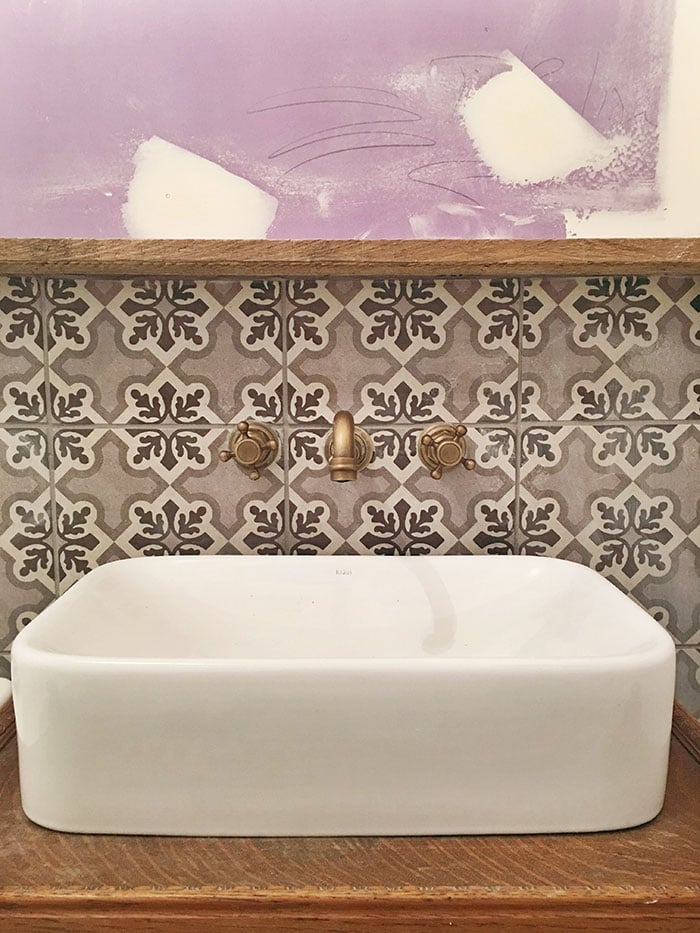 Pin
It just needs paint, a mirror, shower hardware and the lights reinstalled. You'll just have to watch live on my instagram/snapchat or wait for the big blog reveal!
Let's move into the living room, where we now have a foyer on the side of the staircase: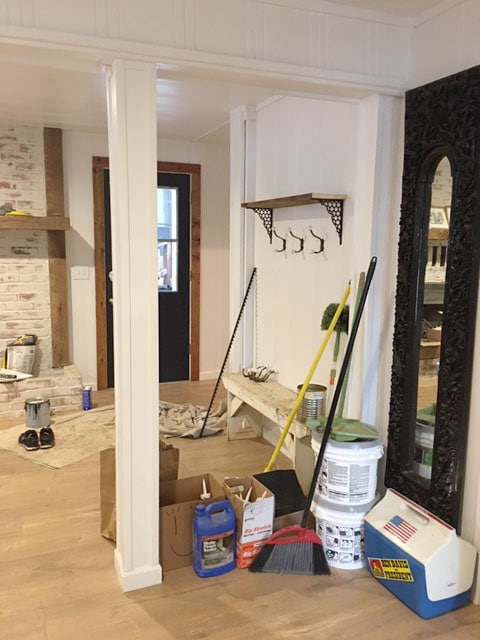 Pin
Side note, the back door trim will be painted white.
Now on to what's shaping up to be my dream kitchen… folks, it's basically DONE!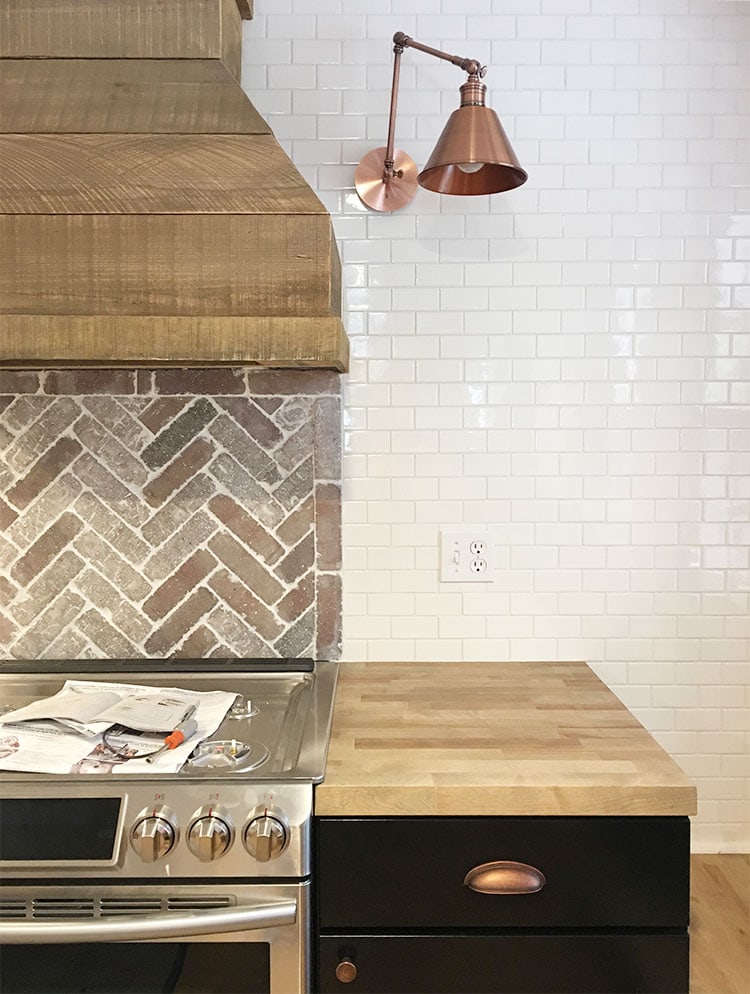 Pin
The copper sconces, that gas range!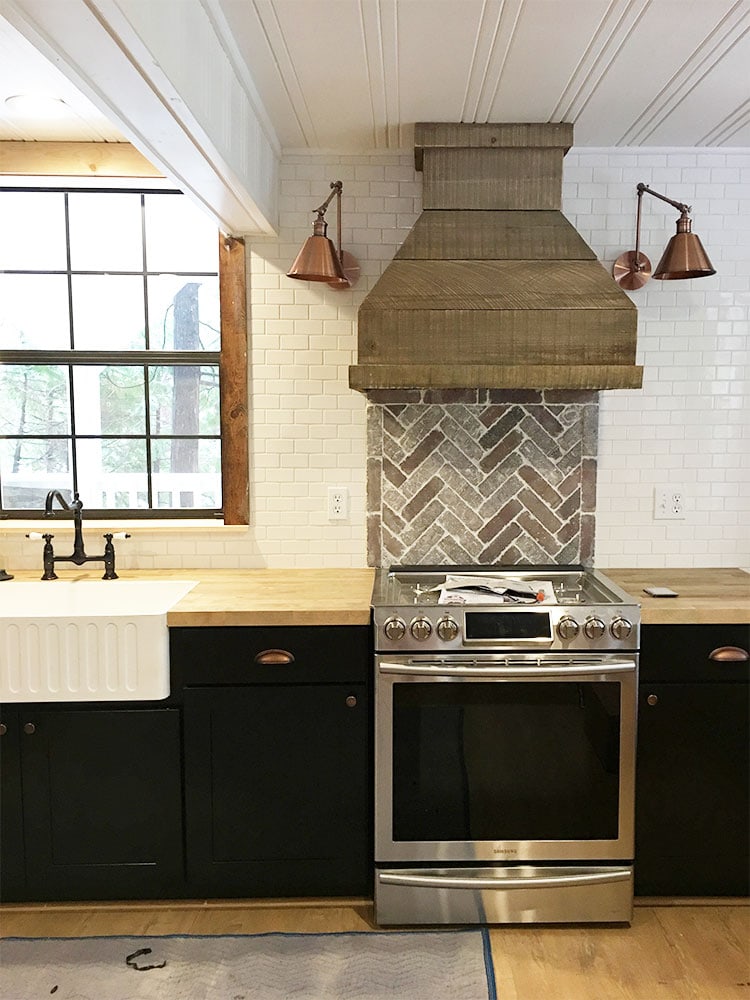 Pin
And the fridge is finally in too!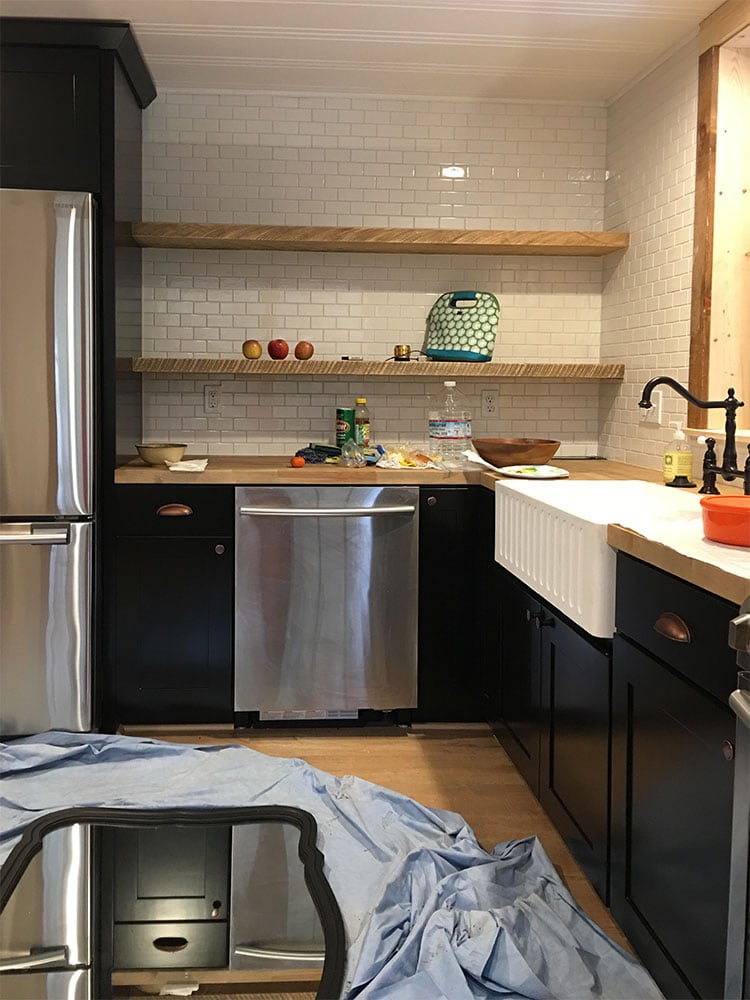 Pin
And after much debate, I finally decided to paint the window trim in the kitchen. All the different types and shades of wood were just too much (they'll stay original in the rest of the house).
I tested white, but gray was the clear winner: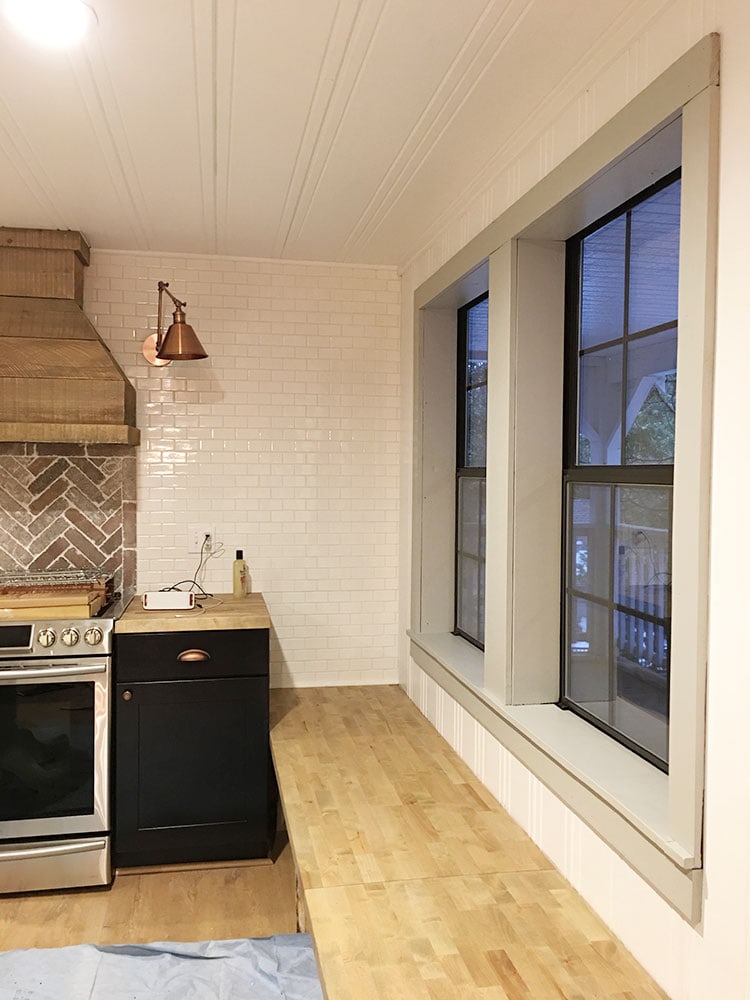 Pin
It's the same shade as the exterior—Valspar's Woodlawn Colonial Gray.
Doesn't it feel so much lighter and cleaner?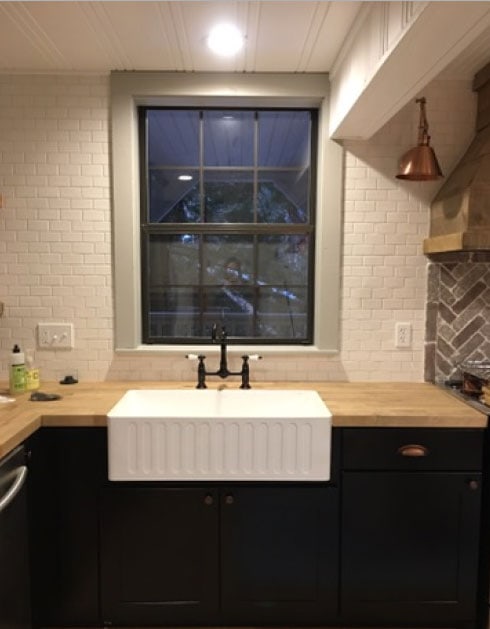 Pin
I also painted this table (in Maison Blanche's Vanille) which I plan to use in front of the bench with a few bar stools.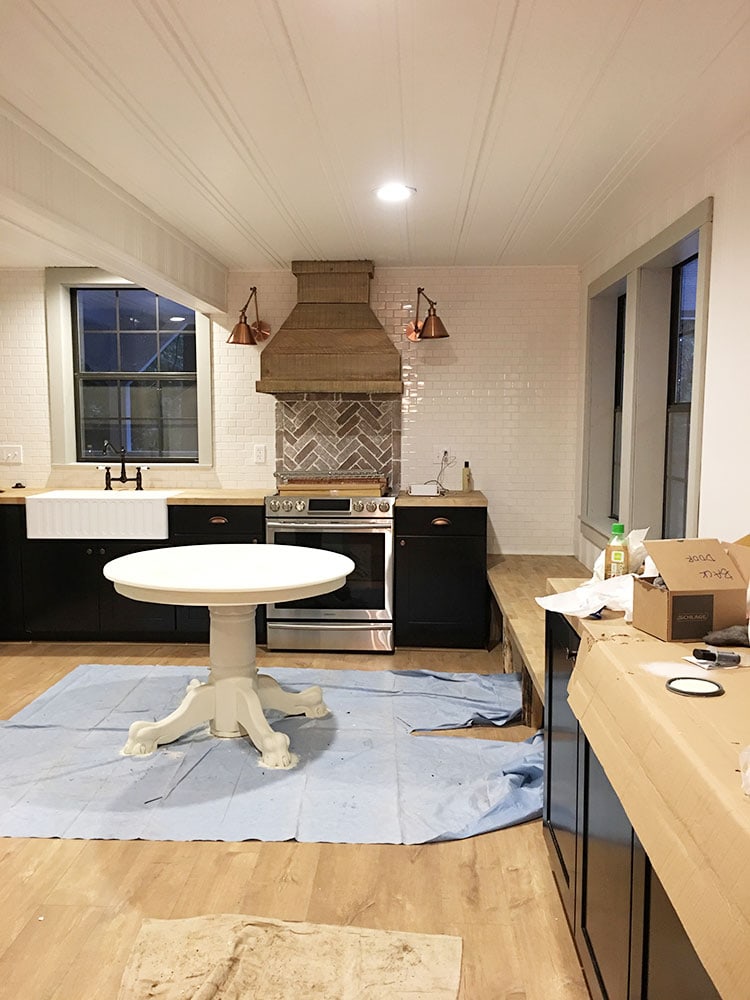 Pin
After these photos were taken I distressed it and used a dark brown antique wax, so it's looking quite different.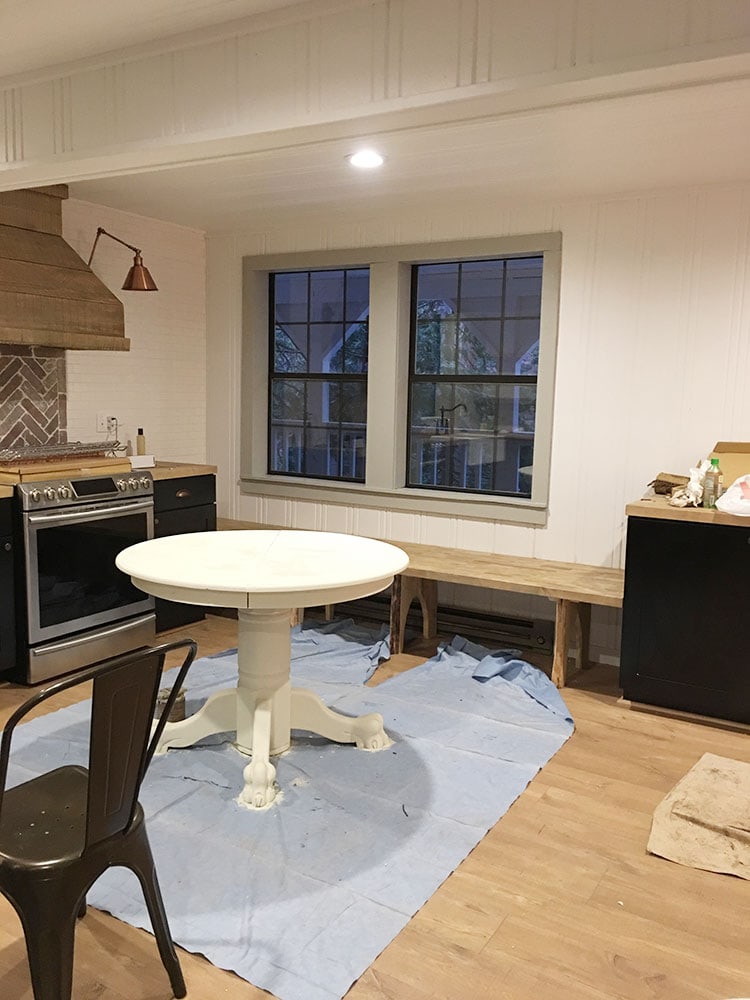 Pin
I spent Sunday morning setting up the beds for each room and I had so much fun coming up with a "story" for each one. They all have their own unique personality and character, and I can just imagine how fun it would be for kids/grandkids to come visit their mountain vacation home and pick their favorite room. Living out my childhood fantasies with this house, for sure.
With that said, of course each room deserves its' own number…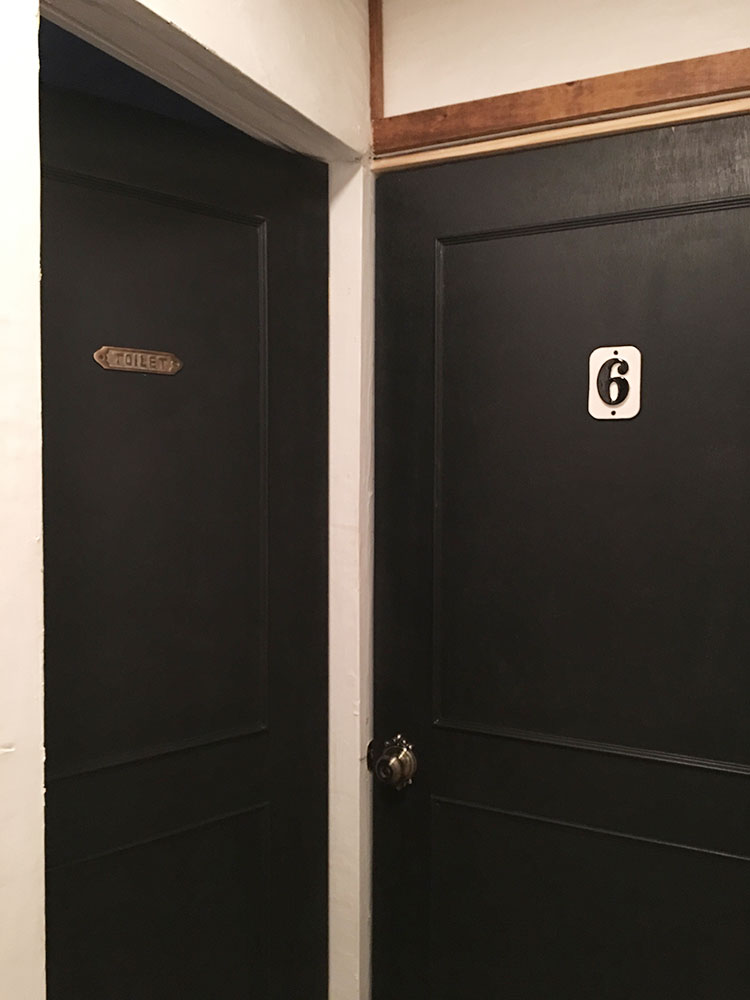 Pin
Can't forget about the toilet.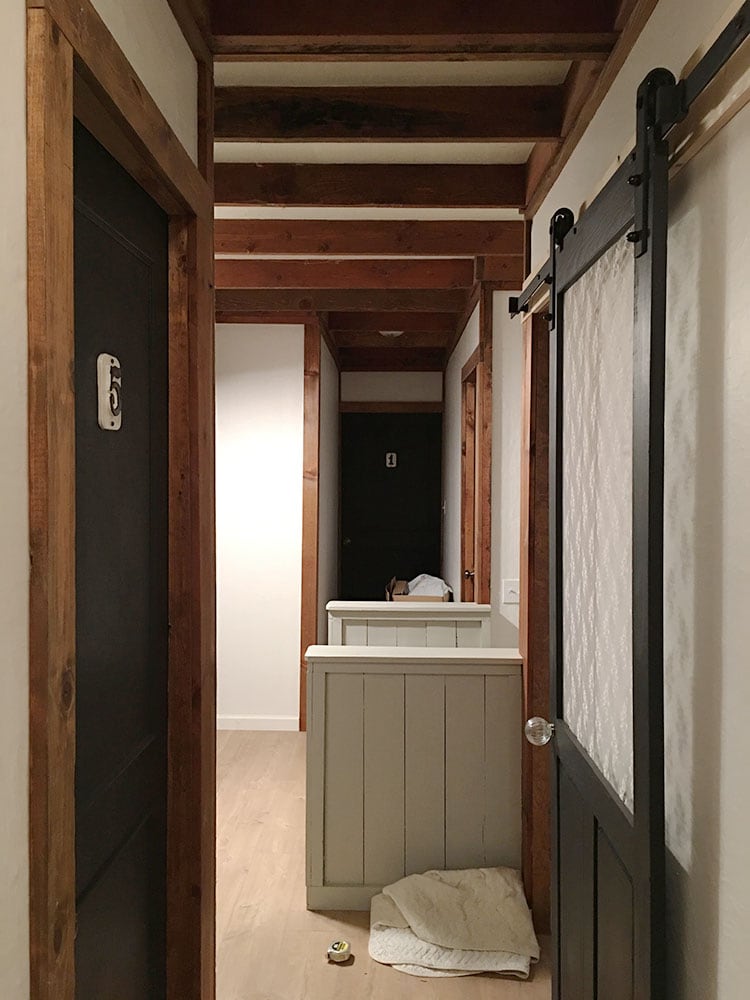 Pin
It wasn't easy to keep these bedrooms straight at first, but now everyone will know which one is which.
A lot of you asked where these plaques were from… both on eBay! The door numbers were such a great find, after scouring the internet for weeks. They're handmade and completely customizable. I see more of these in my future!
The brass toilet signs were another steal at around $10 each, and I there's a variety of words to choose from on eBay. Although to tie in with the rest of the house, I aged them using my brass aging solution…
Pin
Okay, bedroom #1. The bedding (thank you Wayfair!) was a complete game changer for this one.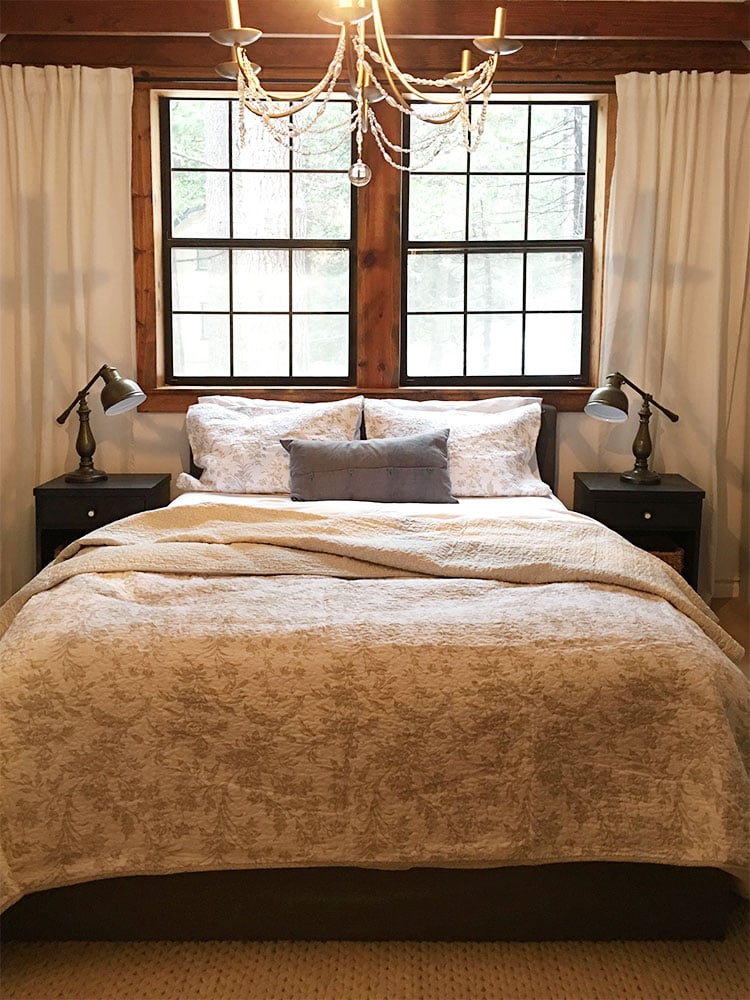 Pin
That chandelier doesn't hurt either. Nor do those amazing lamps. I'm just so smitten with this room… I honestly didn't think I would love it this much, but it has risen to the top of my favorite rooms list. So cozy.
Bedroom #2 has become a storage unit for all of the extra pillows and blankets… so no updated photos, but here's how it looked last week as a reminder: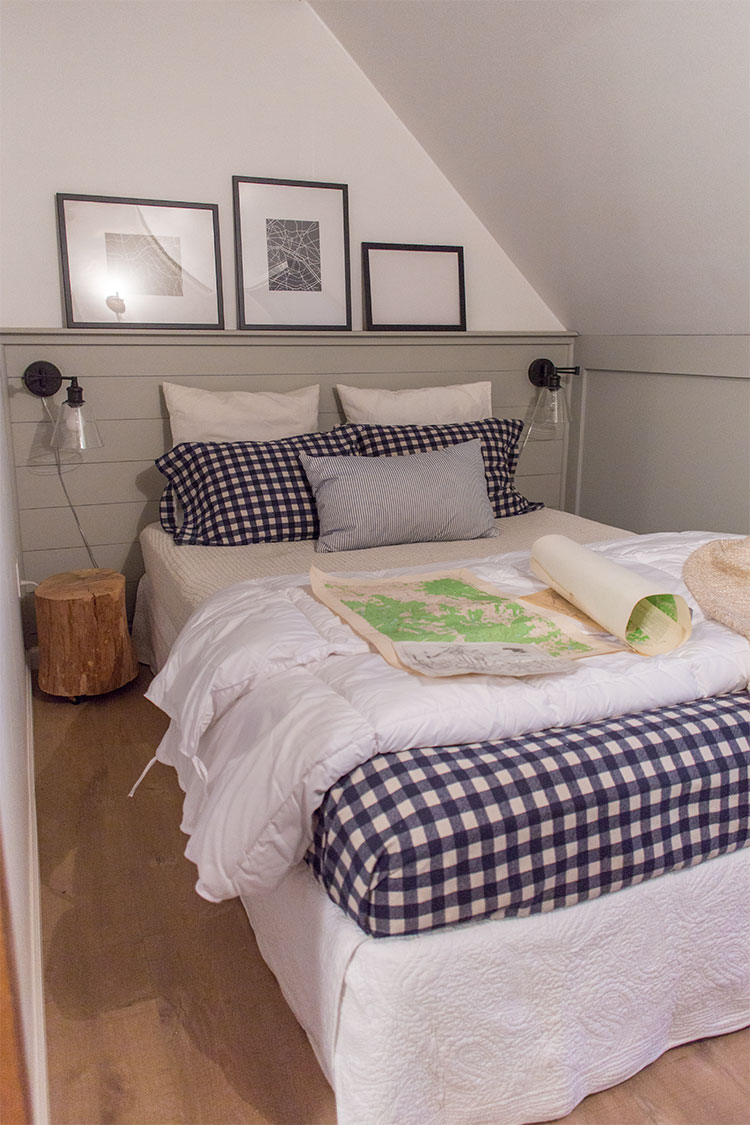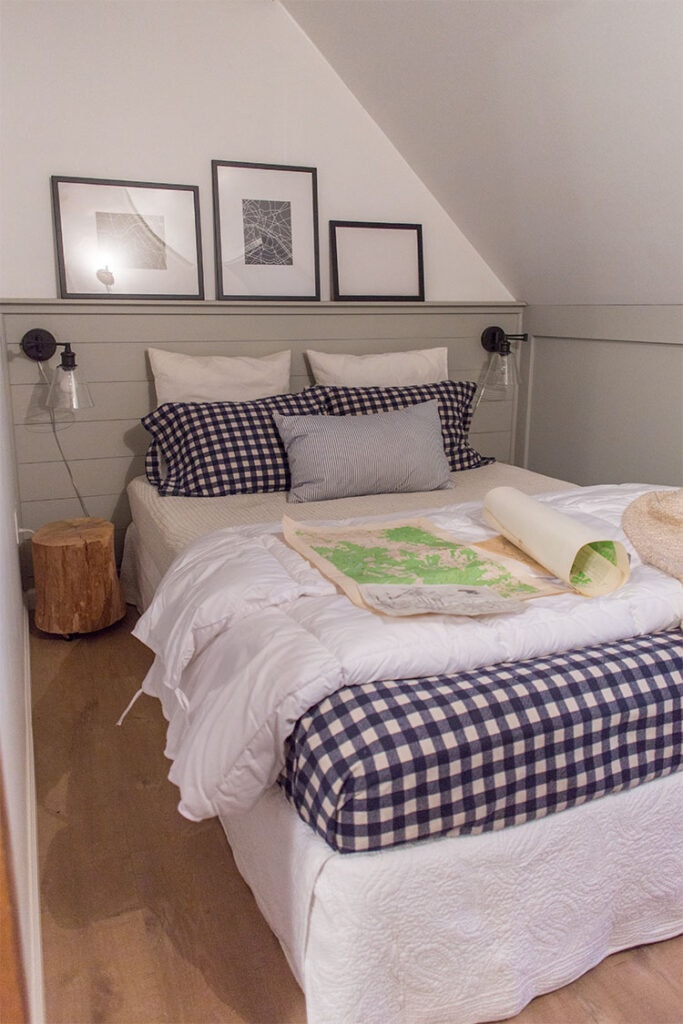 Pin
There've been a few small updates in here but nothing too drastic.
Bedroom #3!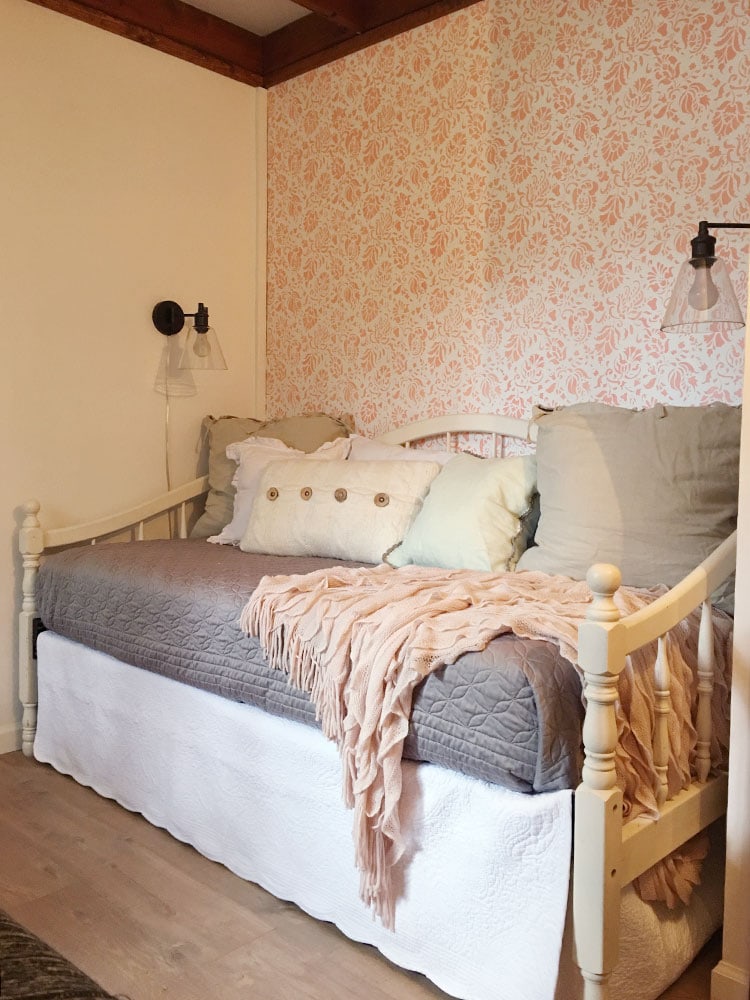 Pin
So sweet. My favorite part may be the quilted skirt and sconces from last week. Those pillows are not permanent… it will probably change 10 times before the actual shoot. Still need art and accessories too.
Bedroom #4 might actually be tied with #1 on favorite bedrooms… because it's just so DARLING.
Pin
This floral quilt slays me. And what a perfect match it is to the Maison Blanche Printemps shade on the dresser! It's hard to tell online if you'll get the right match, but I got lucky.
Bedroom #5 is clean and simple, with an iron bed frame, fluffy comforter, striped sheets and Ikea bedspread.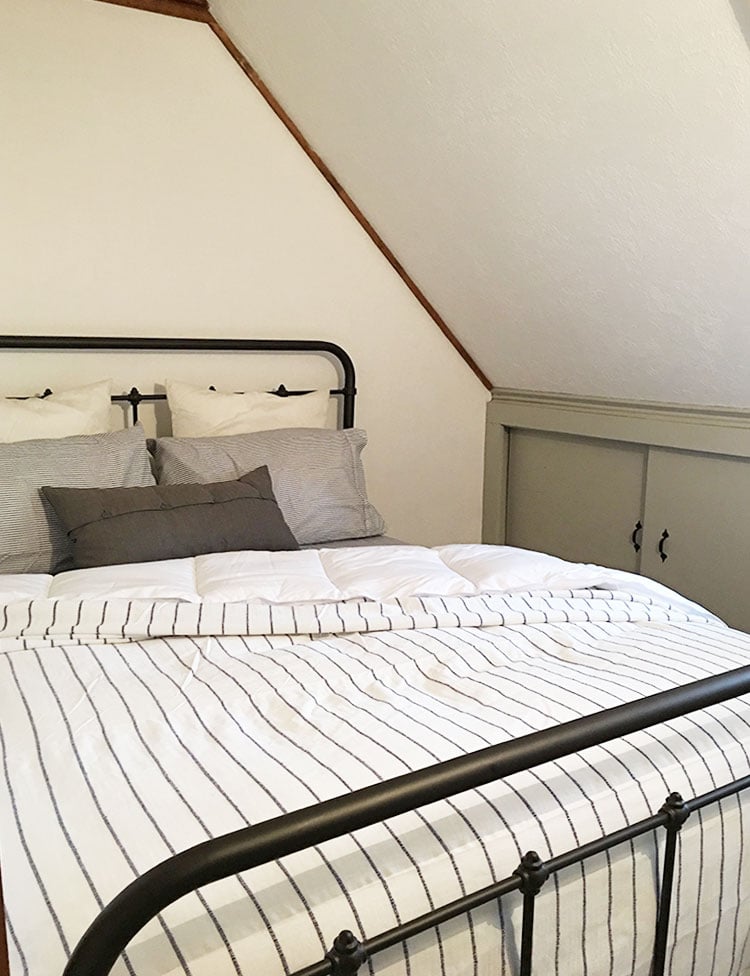 Pin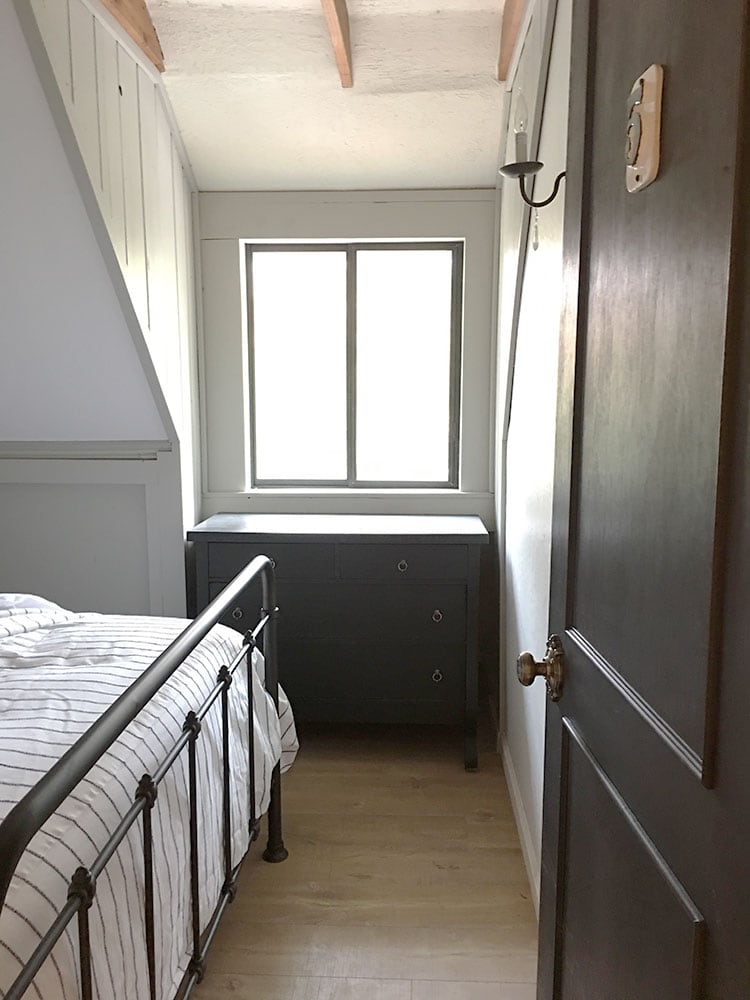 Pin
There have been a few more updates since this photo was taken Monday… make sure to watch my instagram stories to see more before the reveal!
And last but not least, bedroom #6: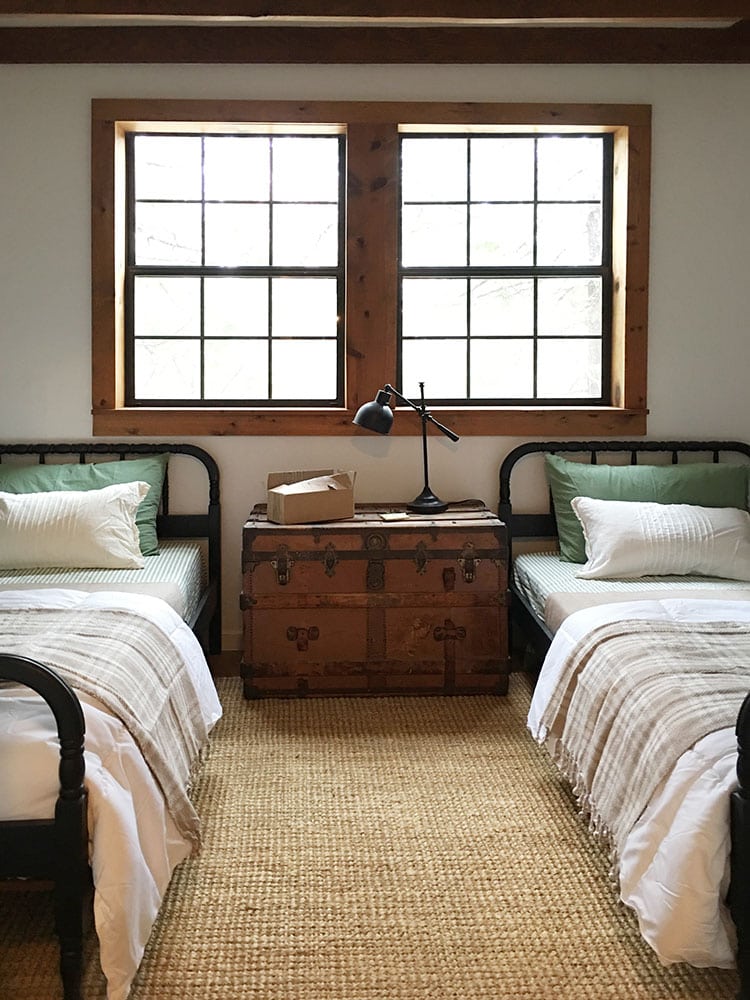 Pin
I brought in a jute rug and old chest from my last house, reused the original striped green sheets and pillow cases, and added matching comforters and plaid throw blankets. Love love love.
That's it for now! The house is changing every 5 minutes and you can watch it all live on my instagram stories or snapchat. I have a feeling it won't be 100% completed to my satisfaction by Thursday, but I'll pull all nighters if I have to… whatever it takes! I also have to stop and thank my sponsors, especially Lowe's and Wayfair for having faith in me and allowing me to create this dream home for a lucky family. It certainly wouldn't be on the same level without them, and I'm so incredibly fortunate and grateful for their support.
Pin
The next post will be the first of the month long reveal. Stay tuned!!
Disclosure: Some of the products listed were provided via sponsorship—all of which I selected and fully approve of.