We've officially been "moved in" for around ten days now, and I couldn't forget to document the house in its' early stages before we slowly transform it into our home! Watch below for a complete room by room tour:
If you're brand new to the party—a quick backstory:
We purchased this property in February 2018, when it was a modest little house in need of some serious TLC: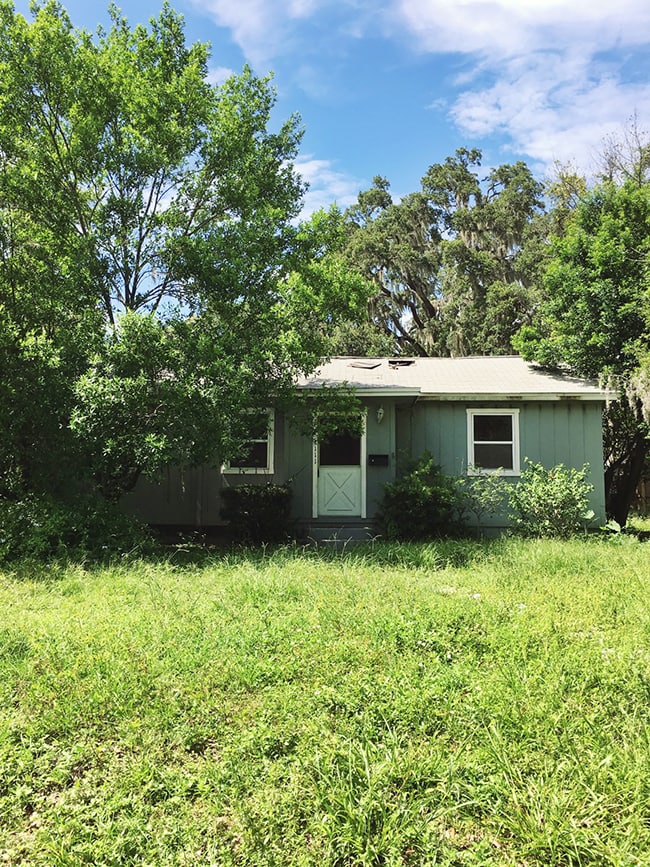 Renovations began immediately, but a month later it tragically and unexpectedly caught on fire, destroying most of the house. We were at a loss for what to do at the time, but quickly found the silver lining…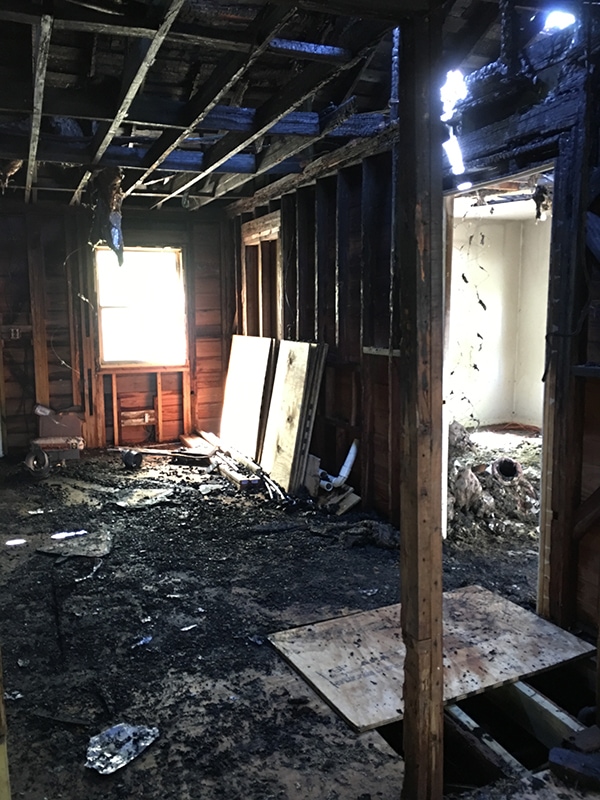 We decided to take the opportunity to start over and build our dream home in its place. For months we worked on the floor plan and design, and with the help of our awesome builder, our beauty from ashes was born just nine months after breaking ground.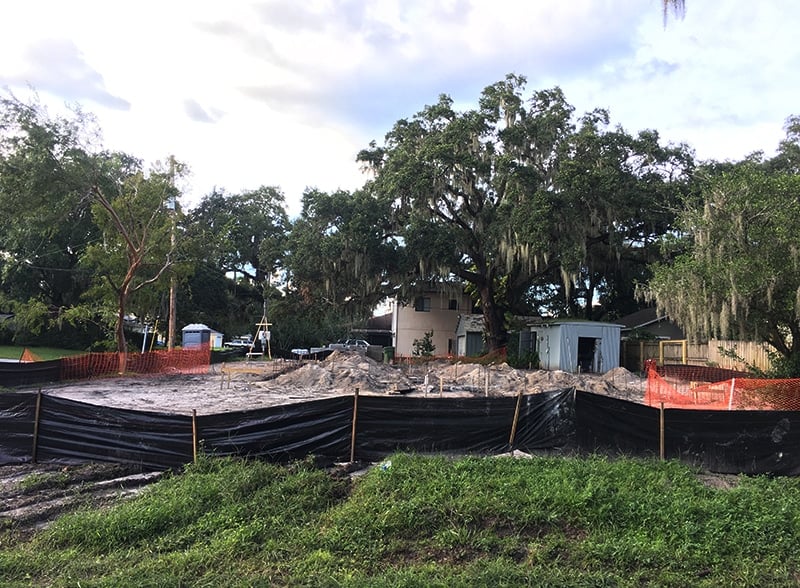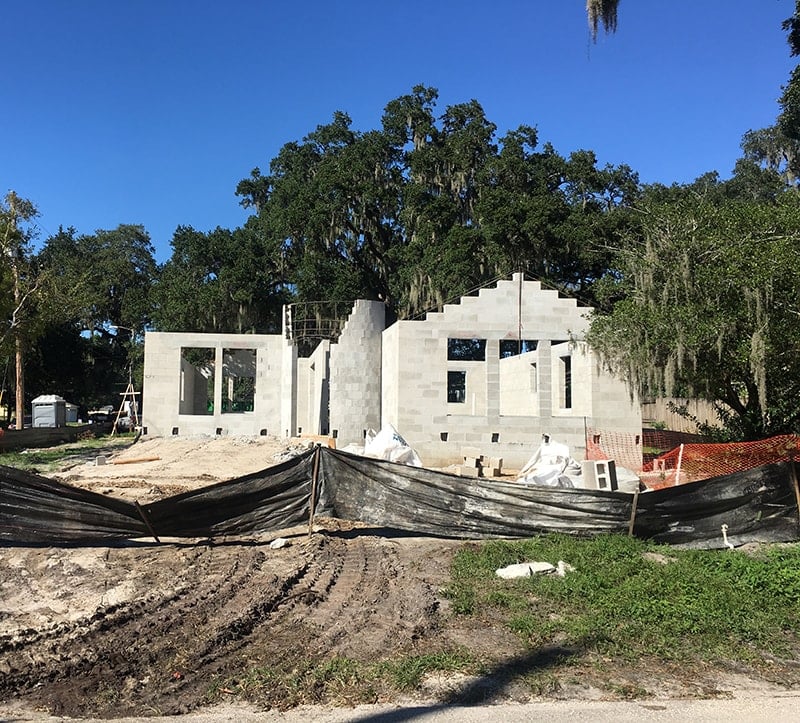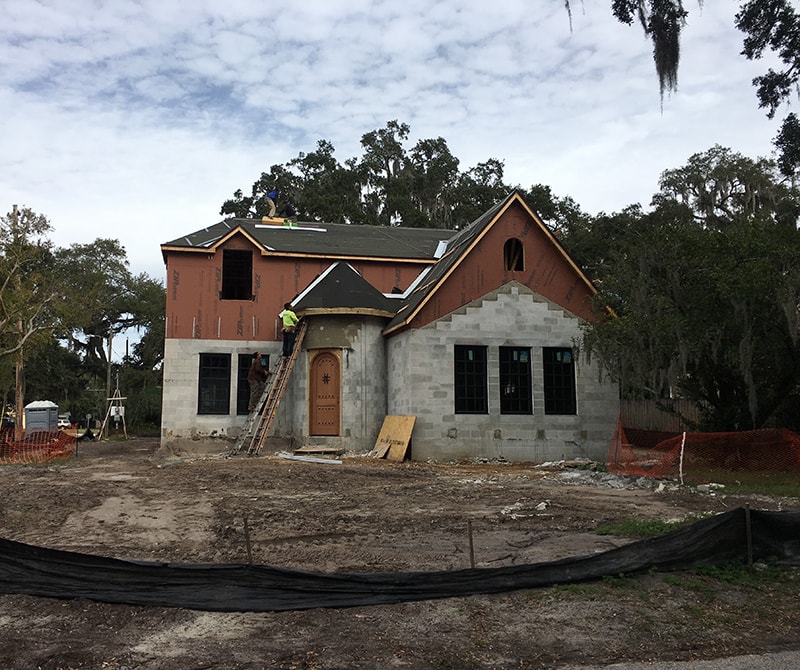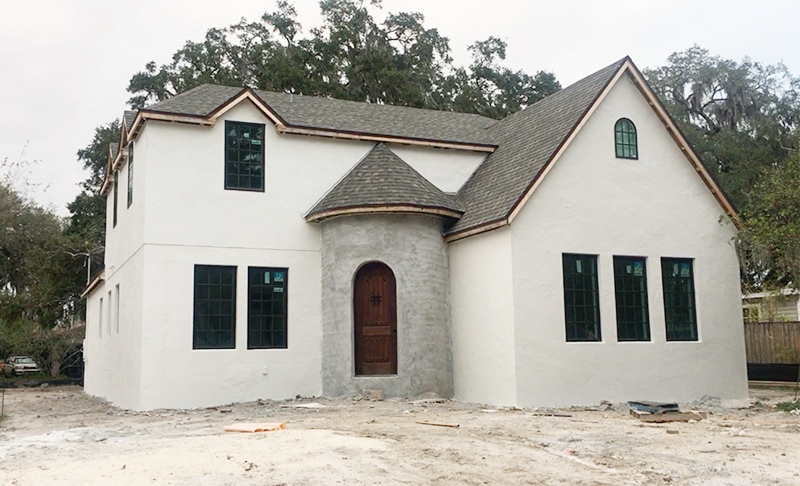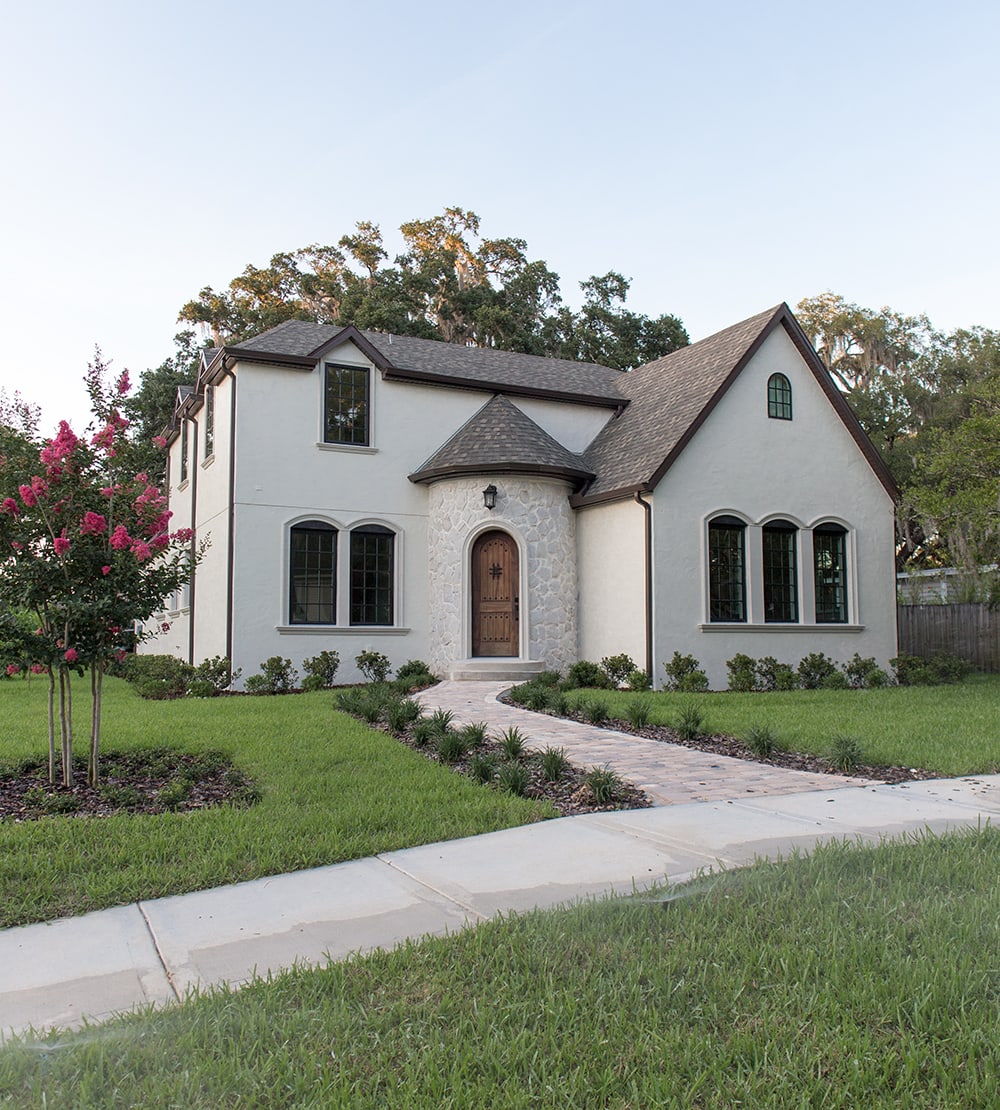 The new Heights House is a 4 bedroom, 2.5 bath (plus bonus room) approximately 2600 square feet. We're calling it a "french country cottage tudor" style—a mix of all of our favorite European influences.
When you walk through the front door, you'll see the staircase on the left: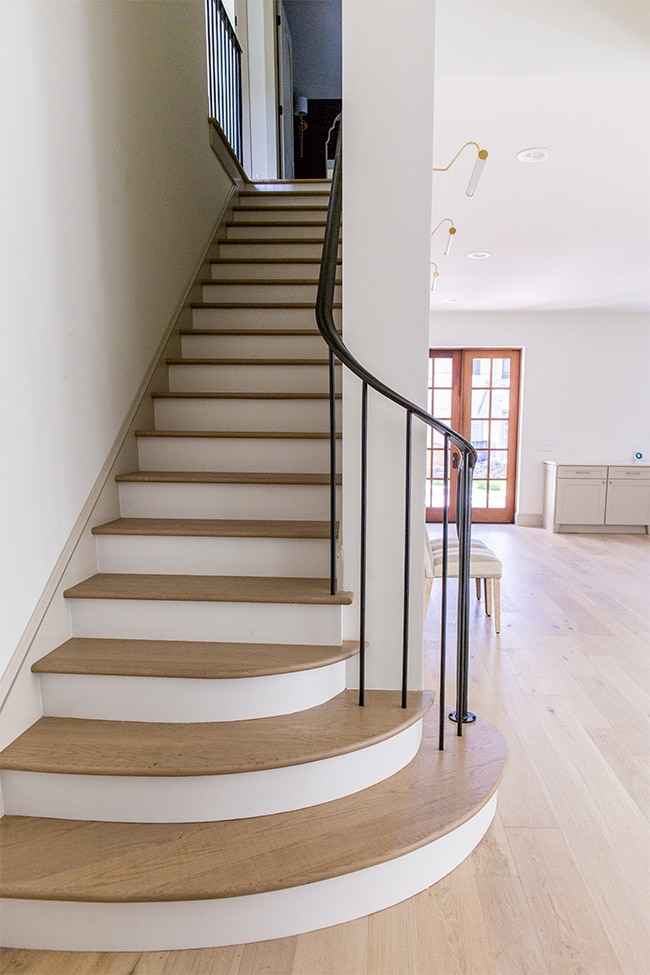 Straight ahead is the dining area (with the kitchen in the back).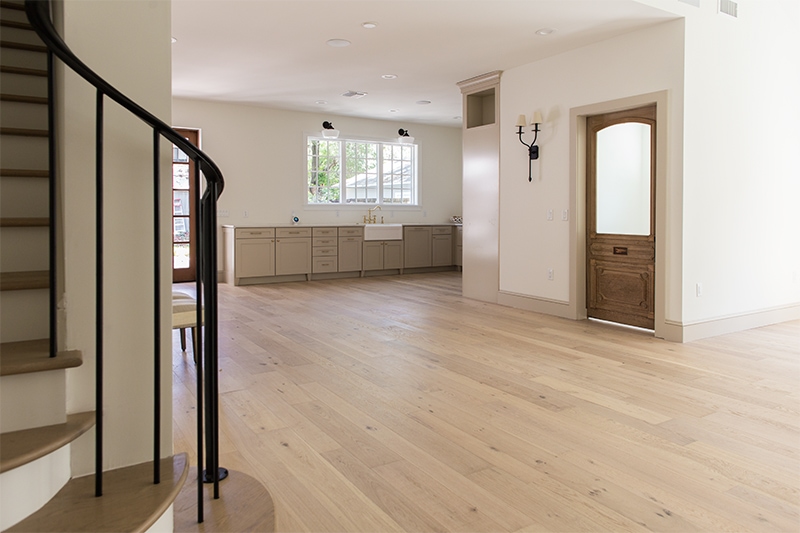 And to the right is the largest room in the house, the living room:
The standard ceiling height throughout the home is 9'4″, but we designed this room with vaulted ceilings to make it feel extra spacious. Paired with the beams, it adds so much drama.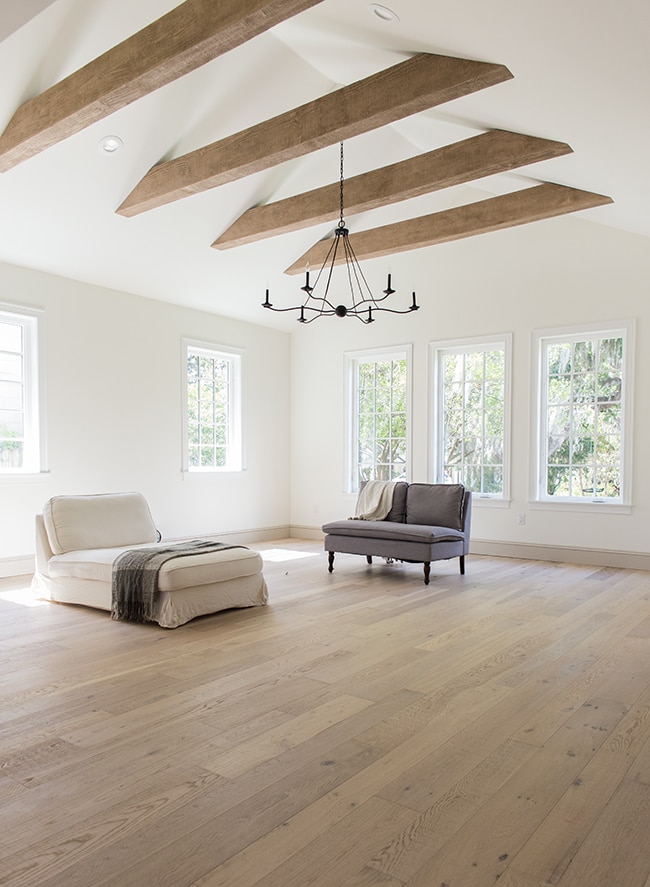 Ignore the temporary furniture, that's literally all we have right now while I slowly piece together this room (it won't happen overnight!) The floors are French Oak from Lowe's, and the chandelier is the only thing I've bought for this space (it's enormous and elegant and under $300!)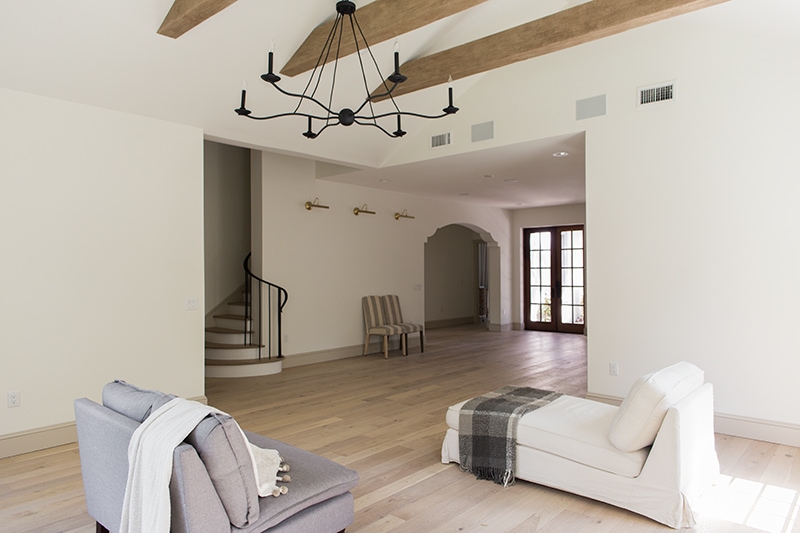 Back to the dining room—I wanted it to be easily accessible from both the living room and kitchen, but also keep those two areas separated a bit.
The wall color is SW Alabaster, the doors/baseboards are SW Accessible Beige and window trim is SW Extra White all throughout the home. That wood glass door is an antique piece I scored at a local salvage shop last year (what a find!) and behind it is our laundry room. We won't tackle this project until next year.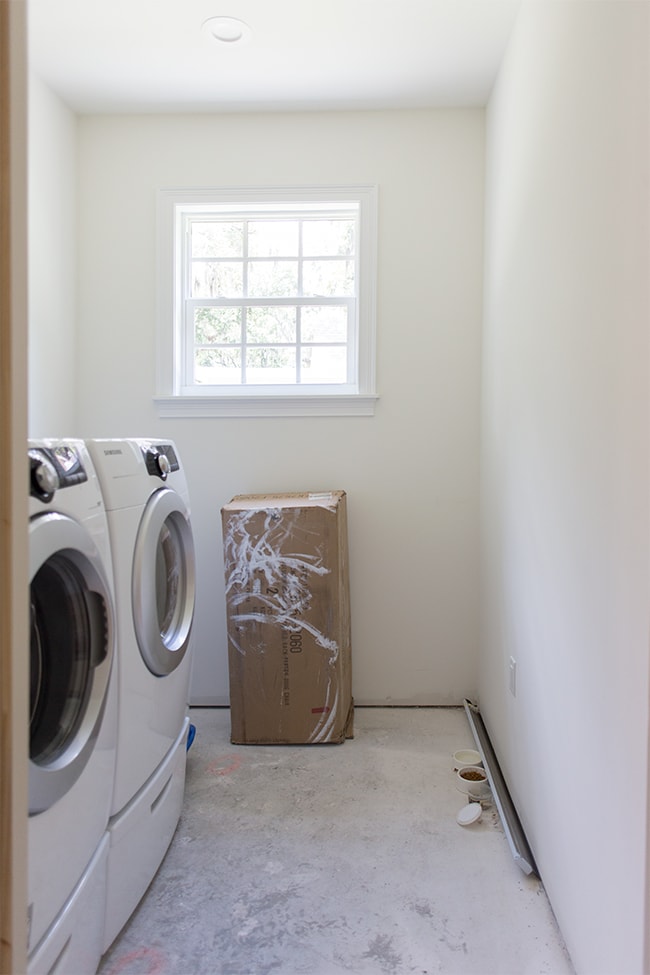 View of the dining area (and living room/foyer) from the other side. We ordered a 9′ table that can seat 10 people—it should be delivered any minute now!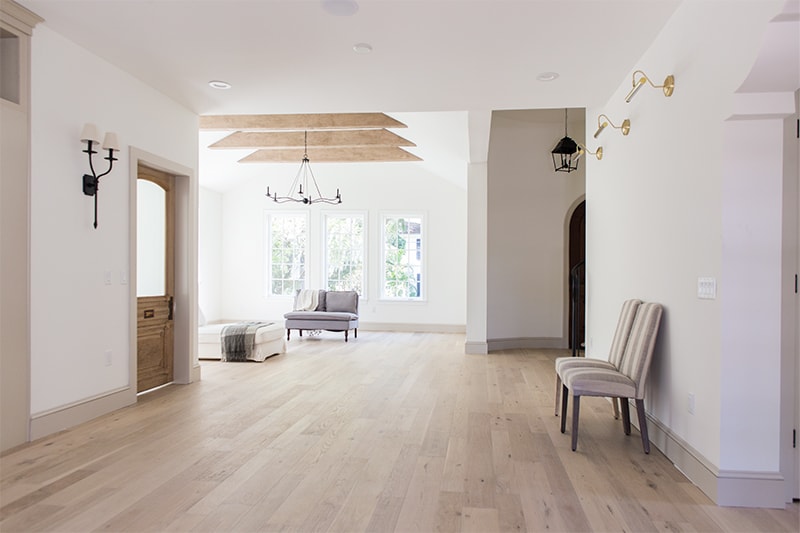 At the back of the house is the kitchen (and how gorgeous is that Troy Lighting dining sconce?)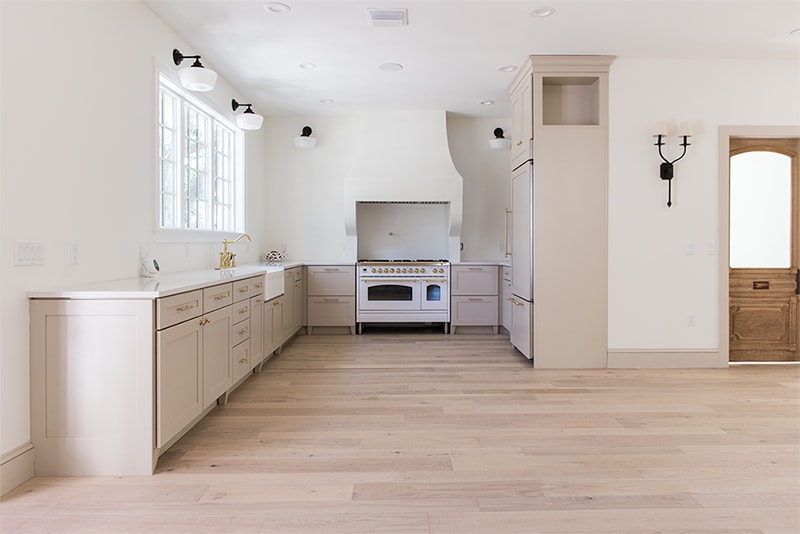 The cabinets are Kraftmaid Mushroom from Lowe's, and the sink, faucets, built-in dishwasher and fridge are also from Lowe's (you can find all the kitchen details in this post). The knobs are all RK International satin brass from myknobs.com.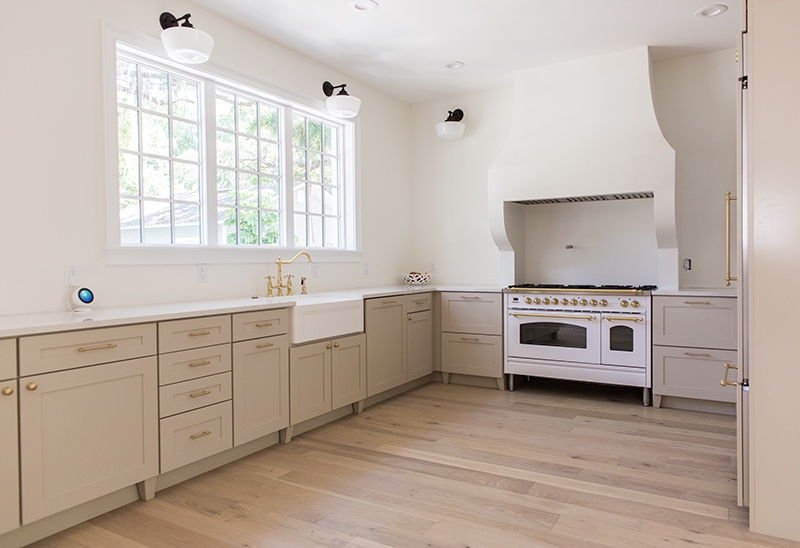 The custom range hood is one of my favorite features in the room—I sketched it out and my builder worked on it himself, pulling it off beautifully. And that Hallman range—it just arrived a few days ago and it takes my breath away every time I walk in the room.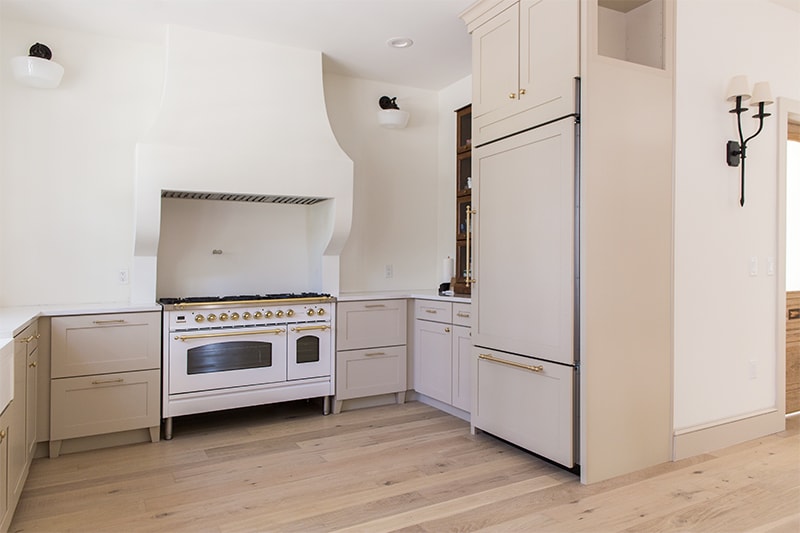 There's several things left to do here—DIY open wood shelving flanking the range hood, finishing the quartz backsplash counter lip and behind the stove, pot filler, and refinishing some antique furniture—like this barrister bookcase I scored for $65 over the weekend: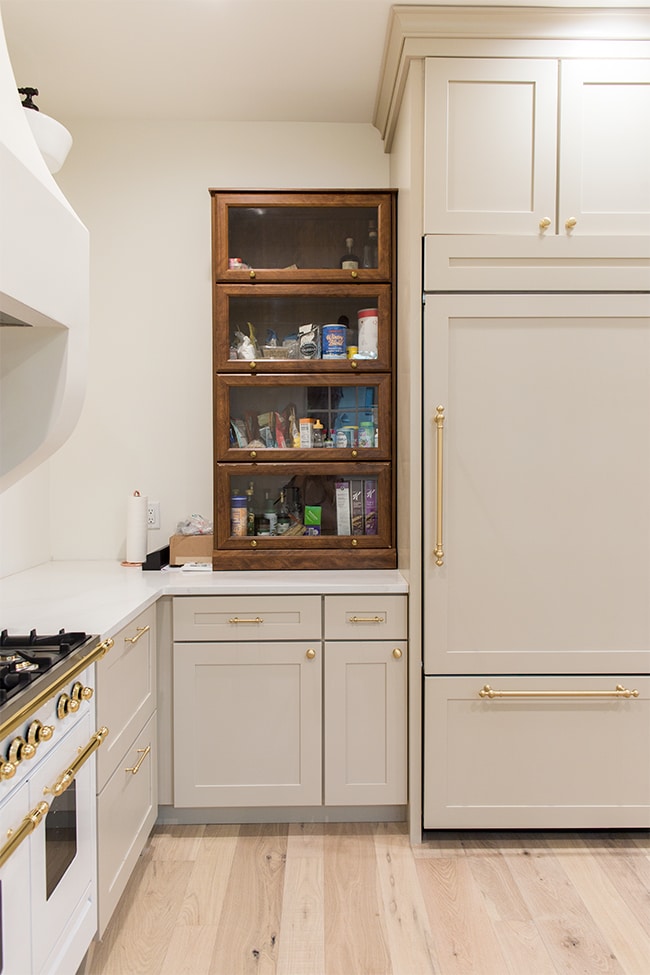 It will be painted black and the glass frosted, to hide our pantry items. I also have this beauty sitting in the garage, which will be refinished and used to store our microwave/coffee maker and barware: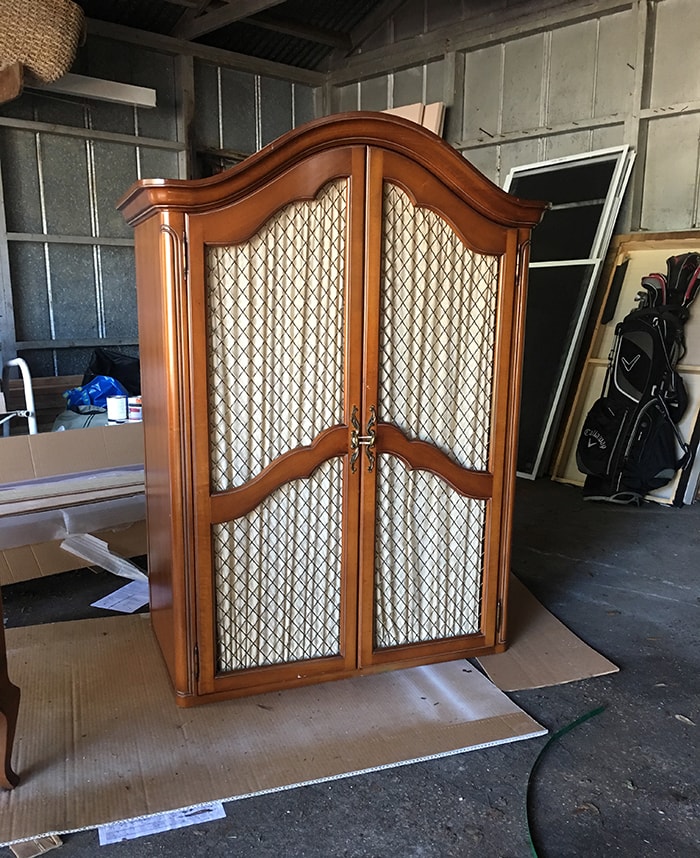 I'll do a formal dedicated kitchen post soon as more progress is made!
On the other end of the kitchen is the arched hallway (another design element my builder brought to life from my drawings!) that leads to the future nursery, powder bath and master suite.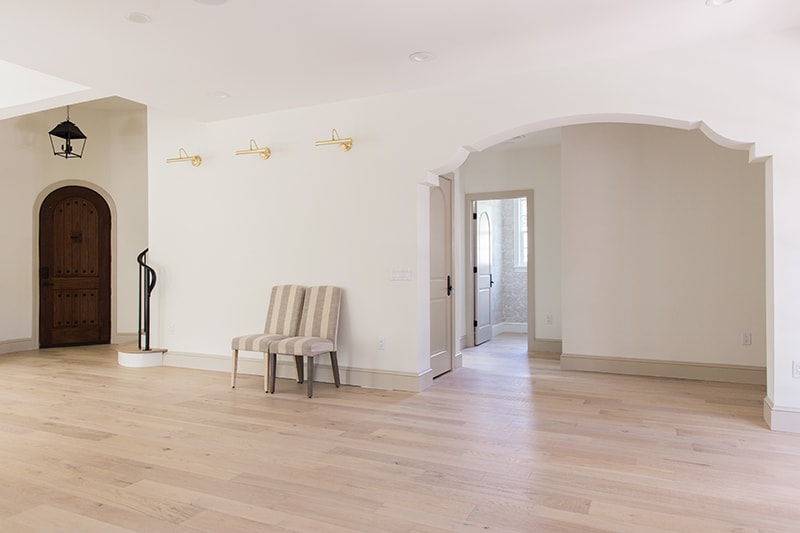 Here's the view from the master bedroom, looking back out towards the dining/living room. The door on the right is a storage closet underneath the stairs.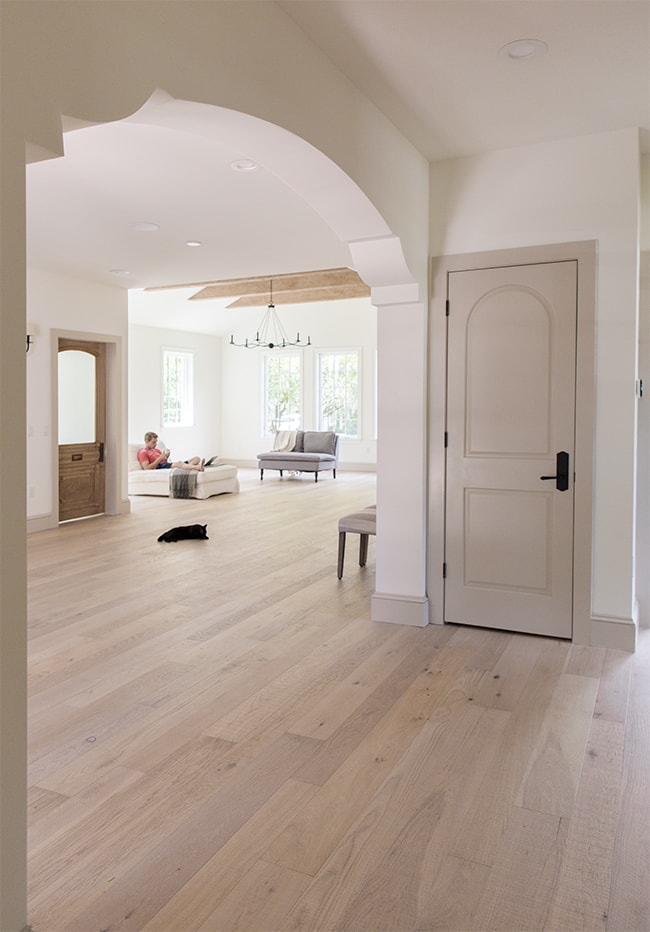 All of the door hardware in this house is from Emtek—though we've only installed a few handles so far. Slowly but surely! I'll do a separate post with more details soon.
Onto the master suite…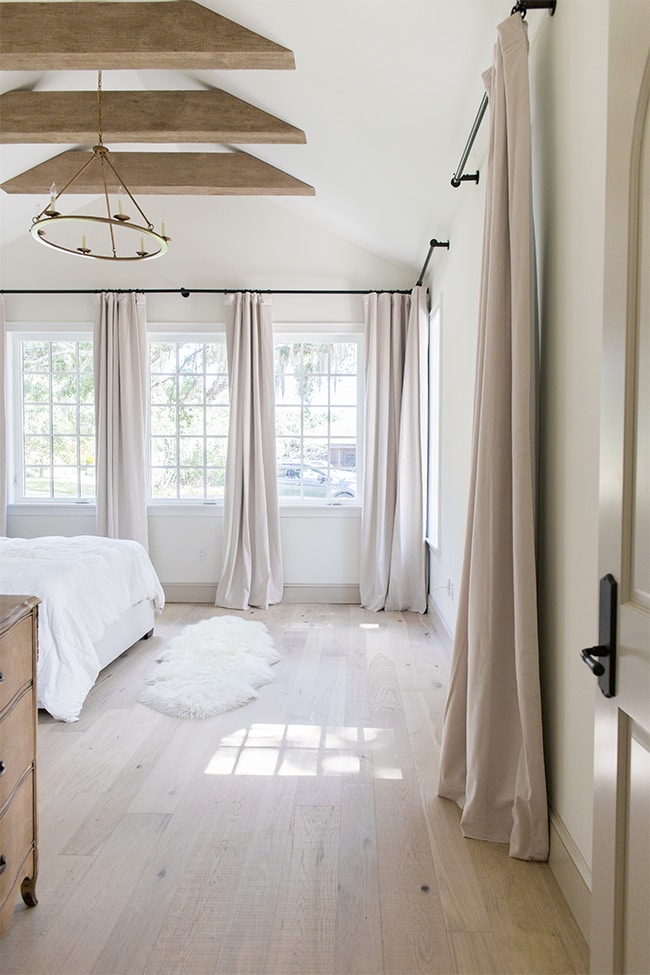 This is the second room in the house with a vaulted ceiling and beams—both on my "must have" list for our bedroom. Doesn't it make it feel so romantic and dreamy? The curtains are an Amazon find and I'm obsessed. 9′ velvet ivory blackout panels at a very reasonable price.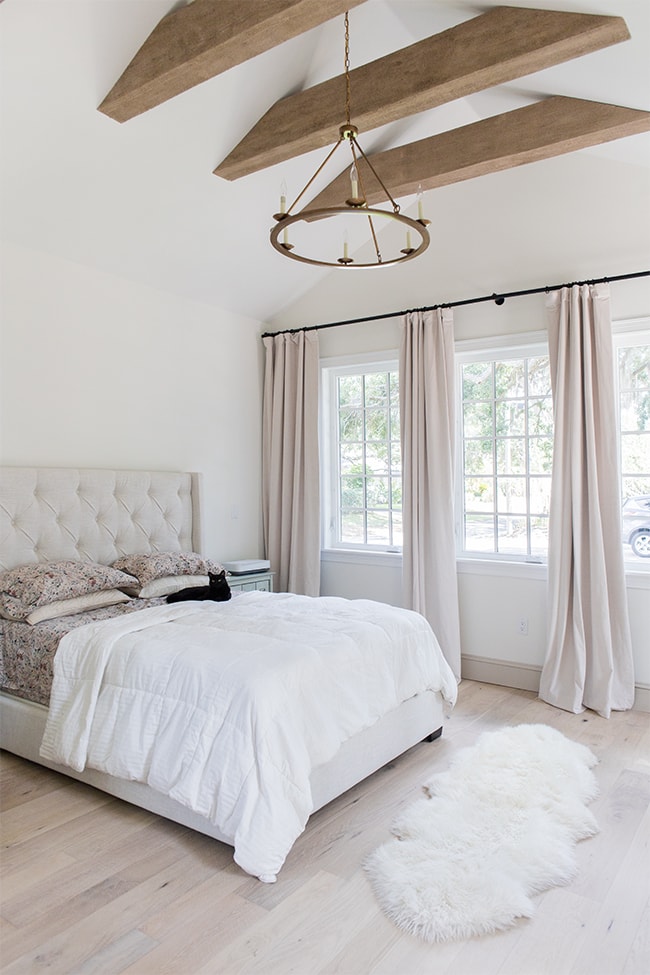 We brought our bed and night stands over from the Riverside Retreat, but eventually I'll replace them with something more substantial and better suited to the style of this home.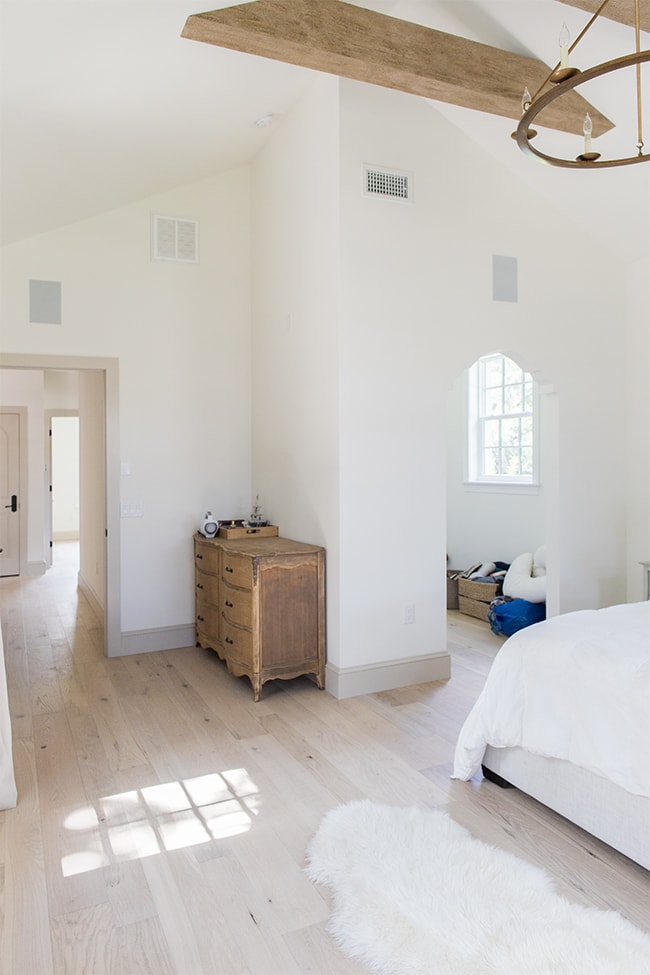 Just off the bedroom is a galley style closet (framed with a mini-custom arch):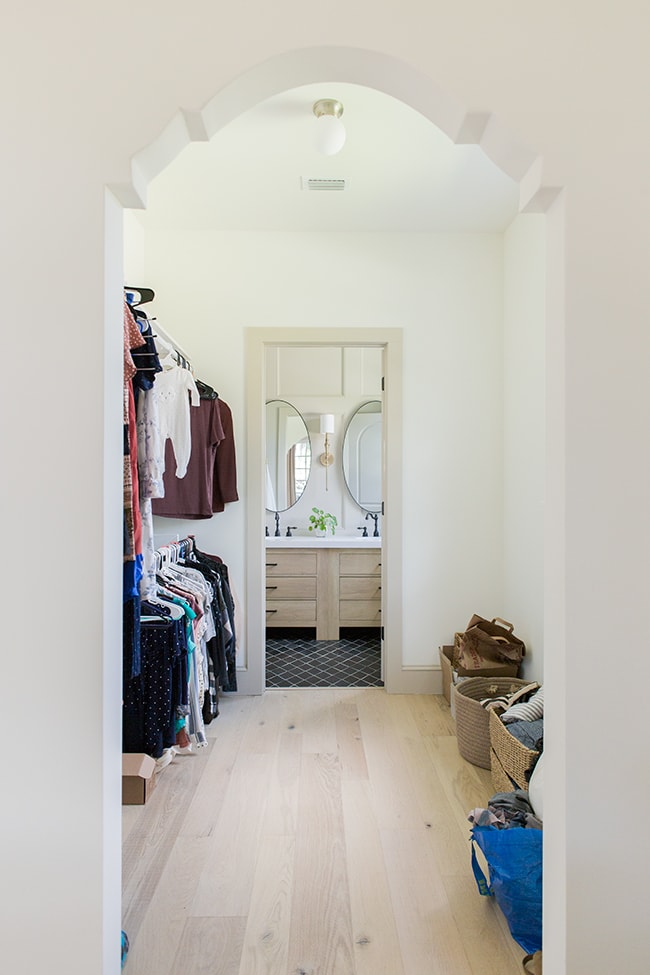 It's open right now, but we plan to add custom floor to ceiling door/drawer built-ins to hide the clothes.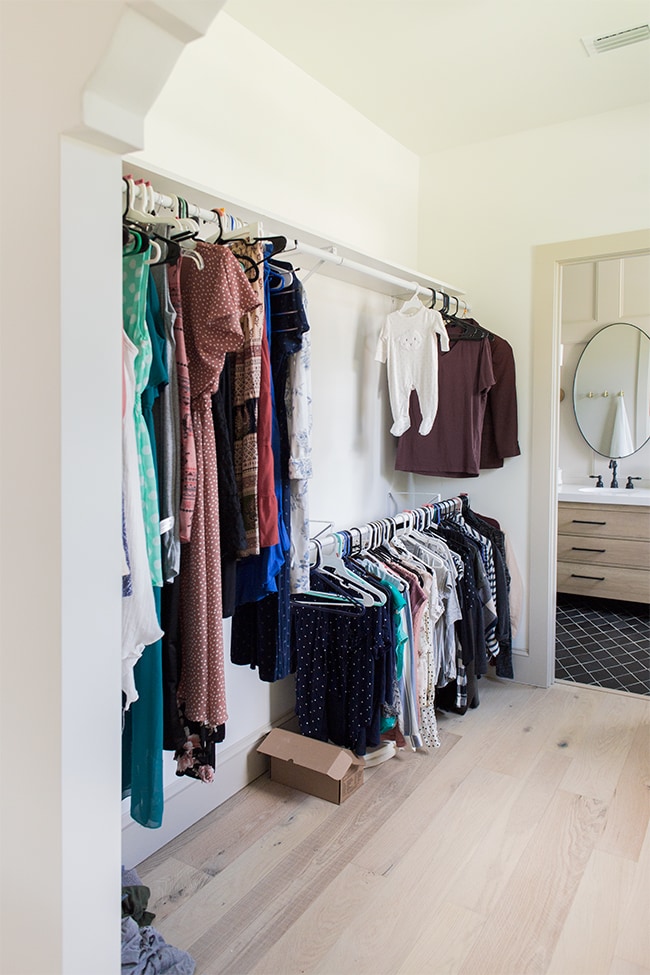 On this side we'll probably add two tall built-in wardrobes with a vanity desk/stool in the center below the window.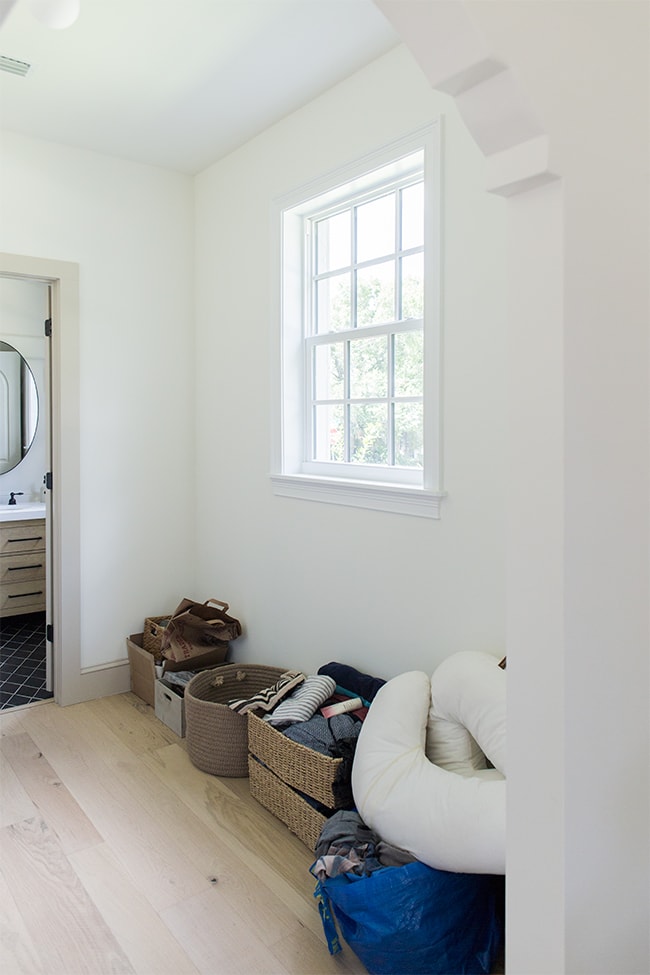 Ignore the mid-unpacking mess—this space won't look pretty for a while and that's fine with me!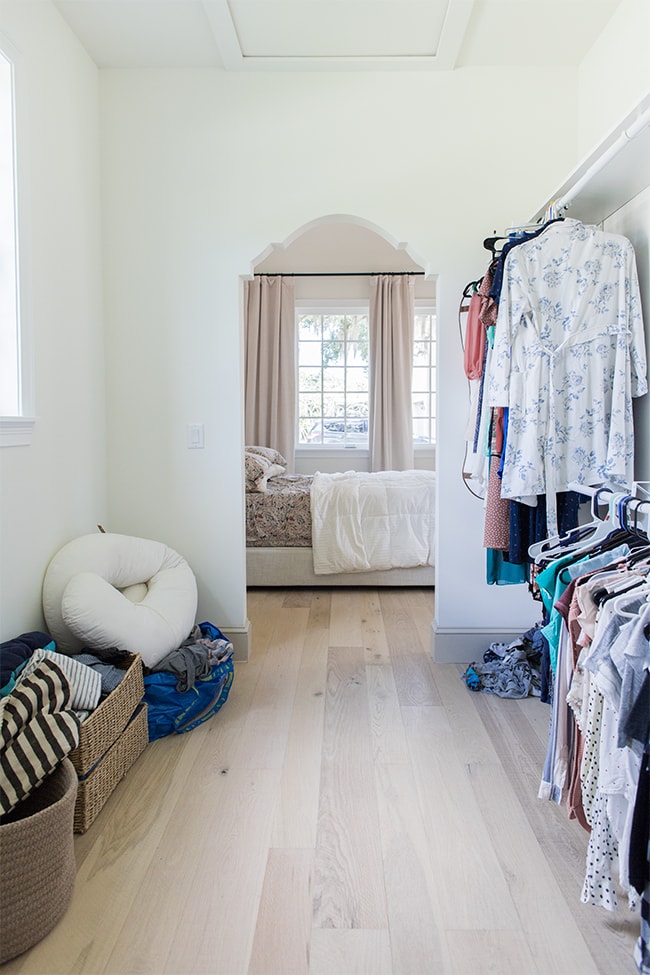 At the end of the closet, we have our master bathroom—which was revealed on this blog last month—all the details and sources can be found in this post: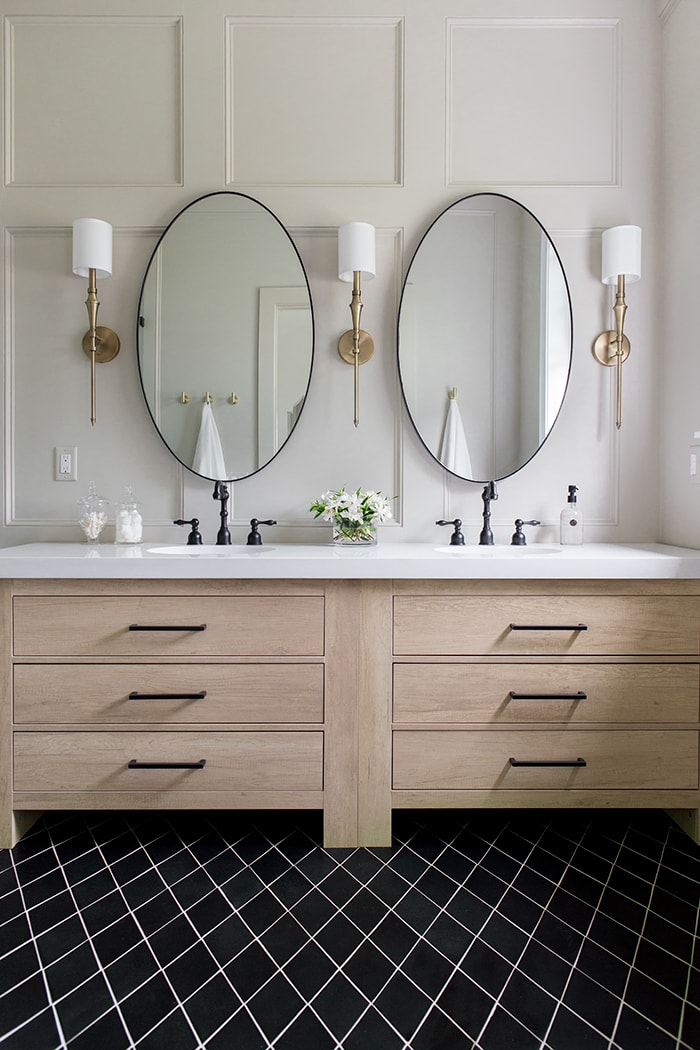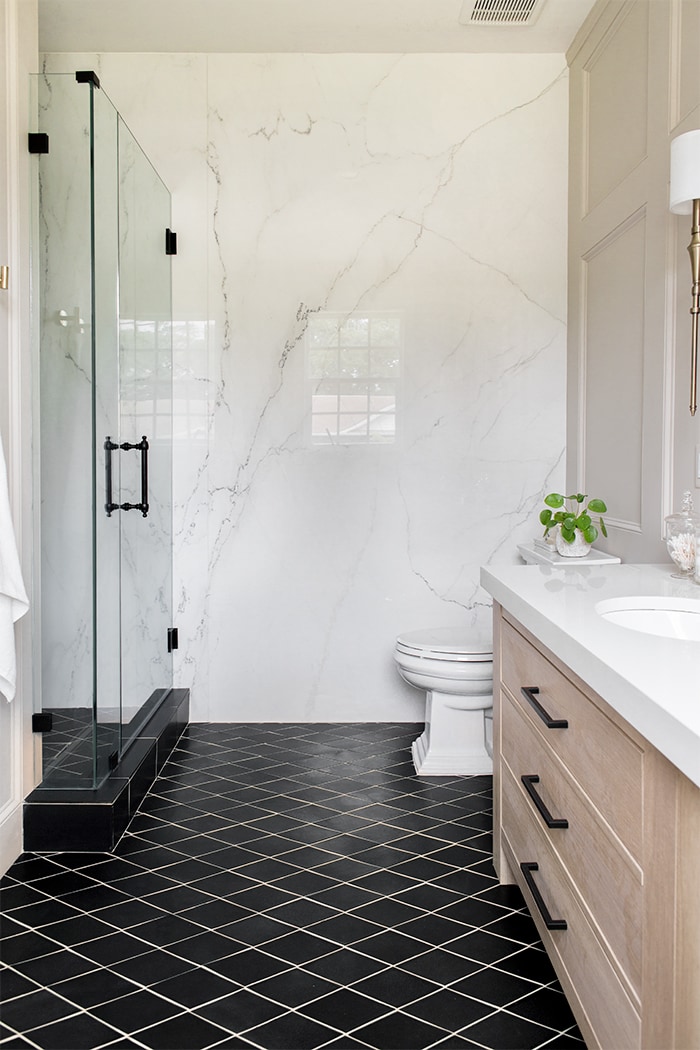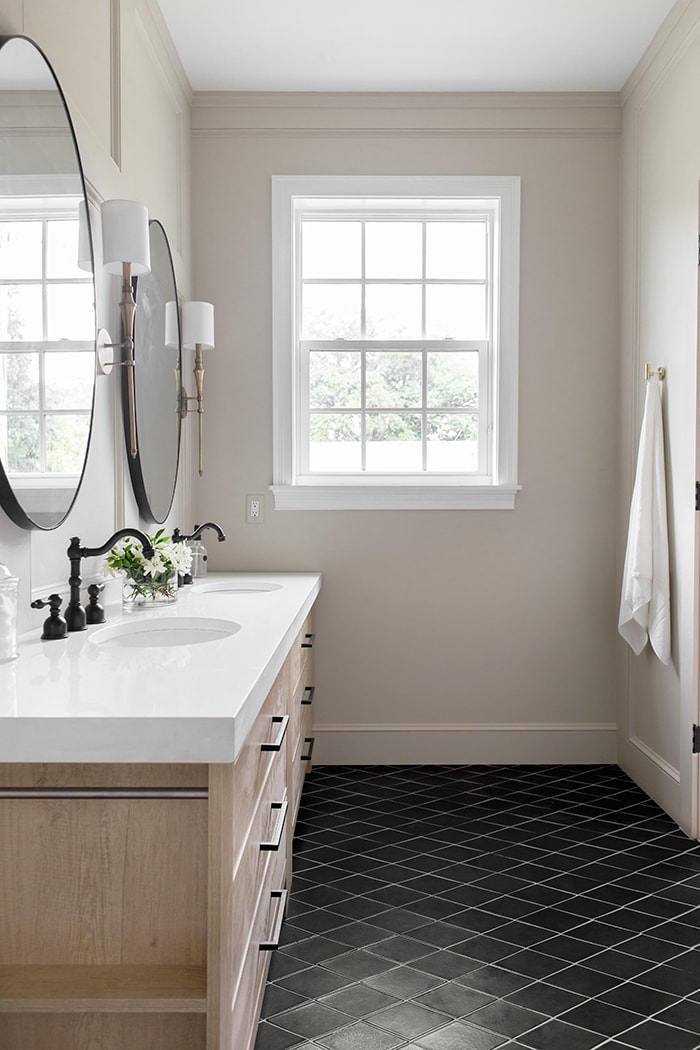 Let's head back to the hallway now, into the next room—our powder bath: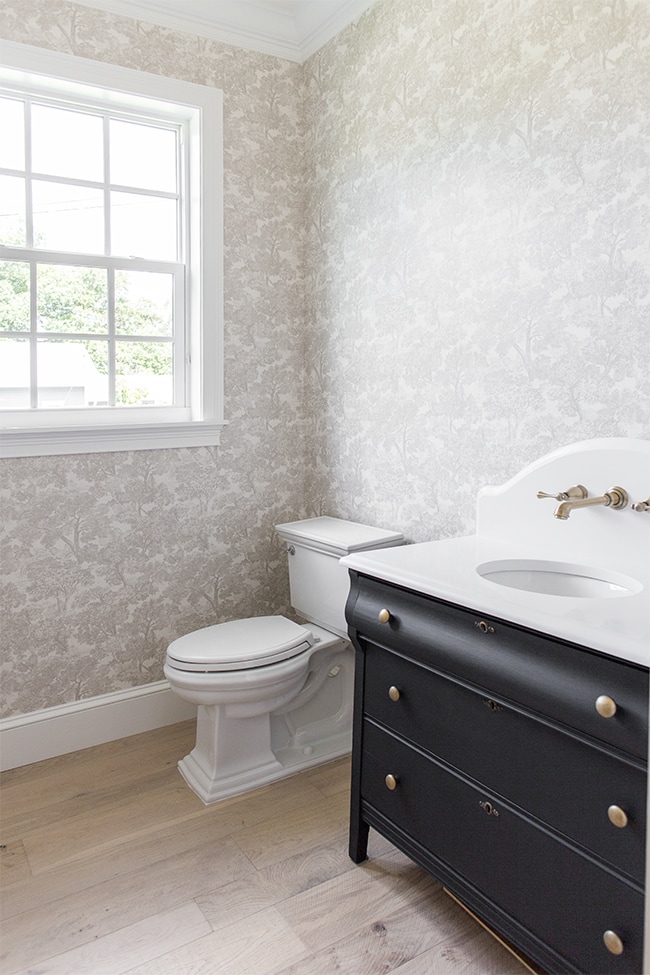 Still a few things left to tackle in here like hanging our mirror, artwork, lighting and accessories. But I'm absolutely smitten with this tiny little space already. I'll share all the details on this room in a separate post soon!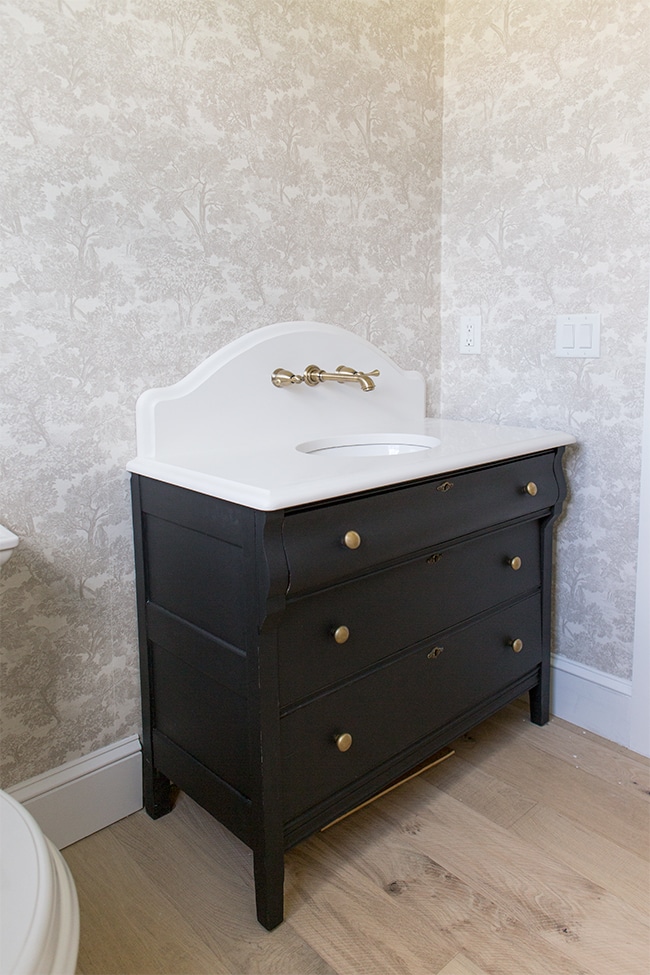 Next to the powder bath is the future nursery: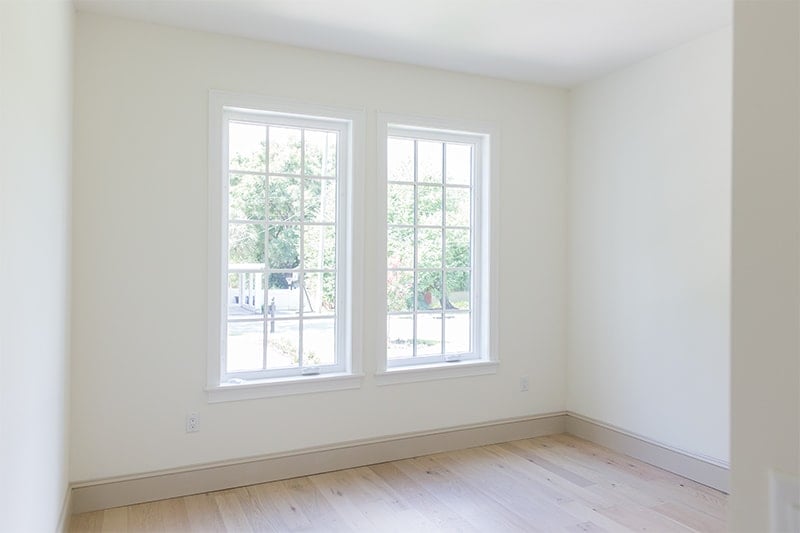 With only 11 weeks left until her due date and not a single thing ordered yet, I'm definitely feeling the pressure.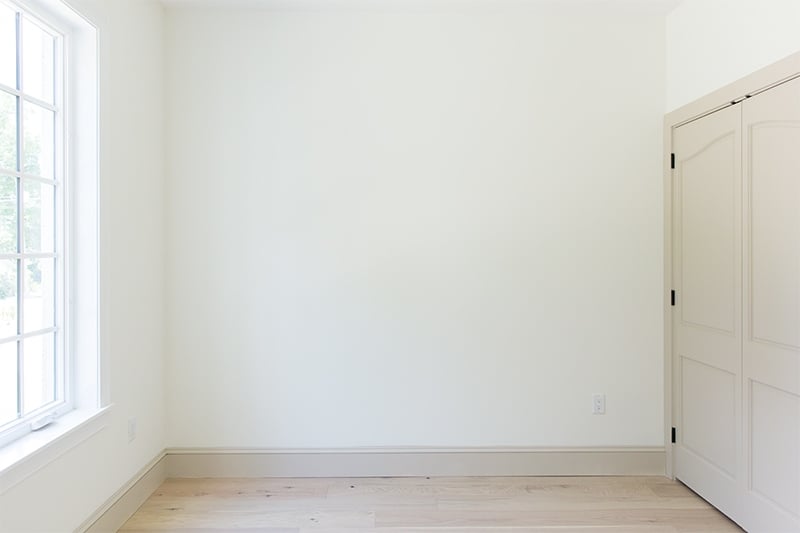 I have the design kind of/mostly figured out, but we've got a lot to tackle before we can start in here. You can only imagine how anxious I am to get the ball rolling!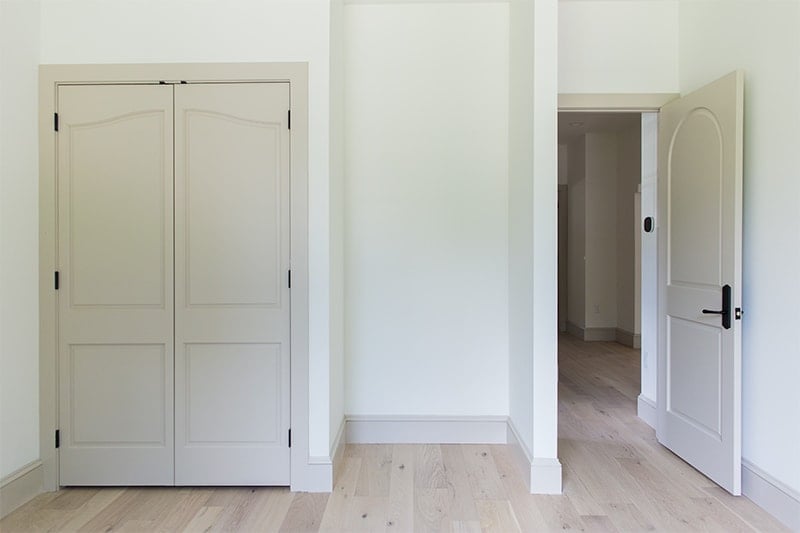 The closet doors are custom from Simpson Doors, and of course I'll share all the details and plans soon as we get started!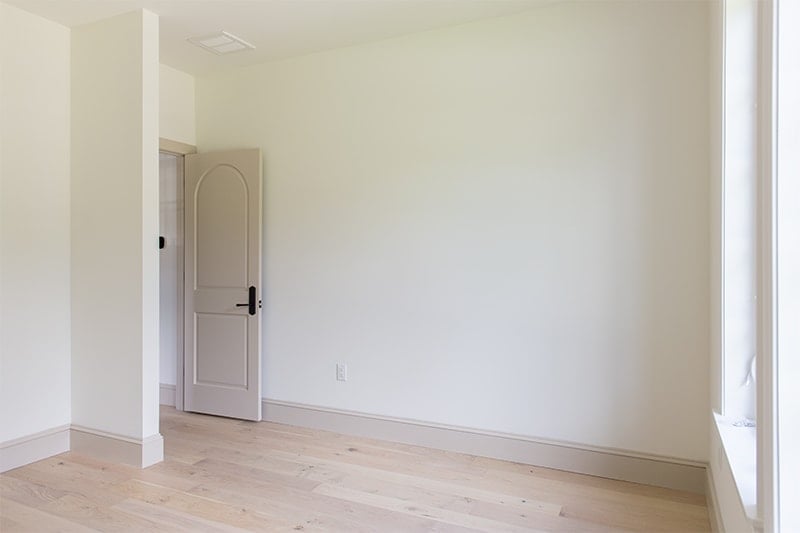 Moving upstairs now! Here we have two more bedrooms, a full bathroom and bonus room.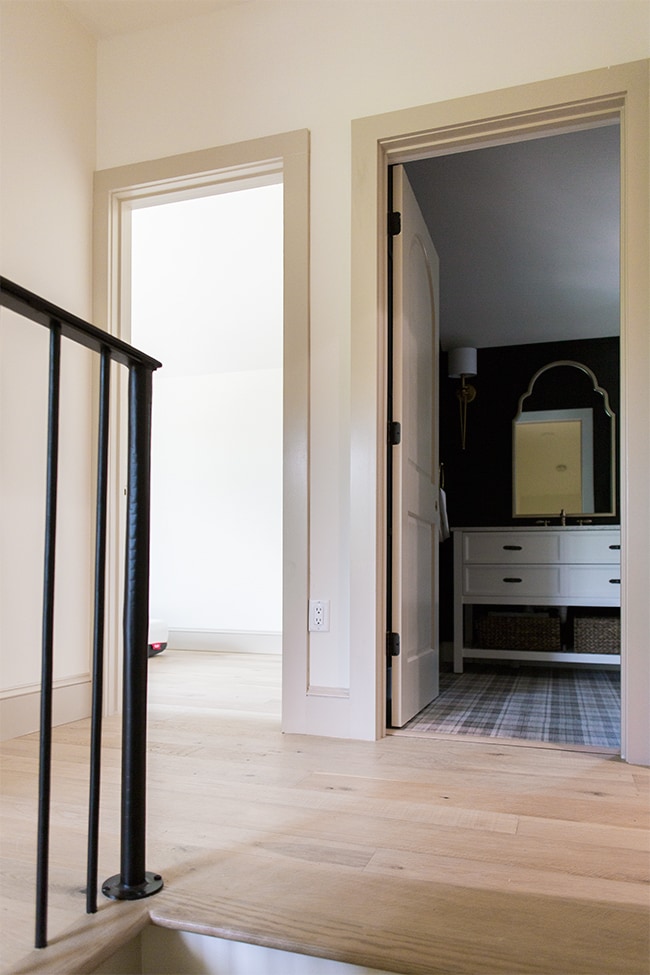 Starting with the first bedroom…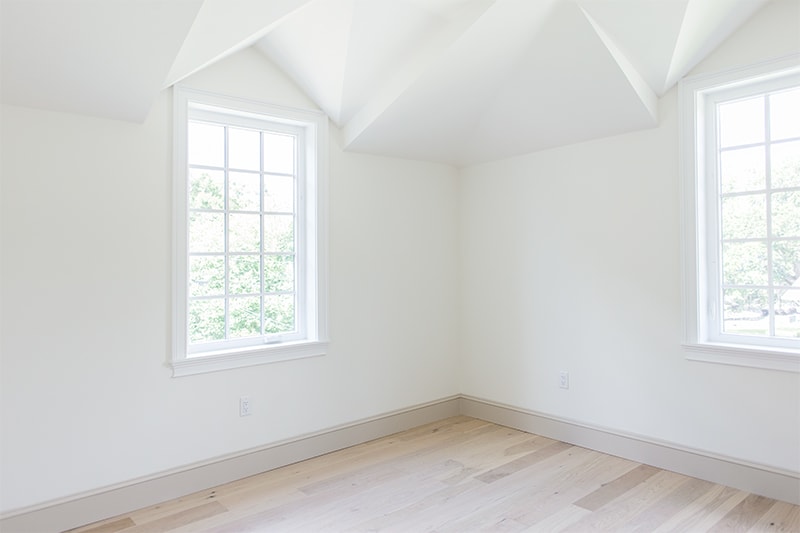 This will be used as an office space/secondary guest room.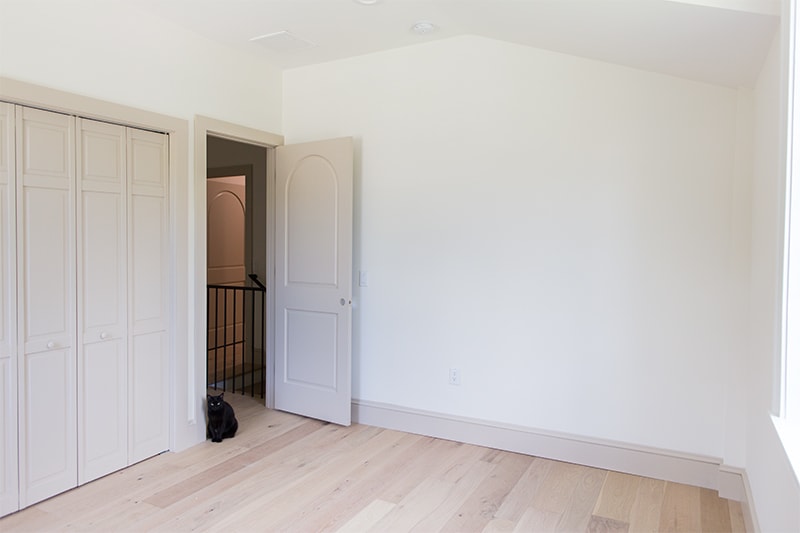 We'll add a trundle/daybed to sleep two guests that can save room when not in use.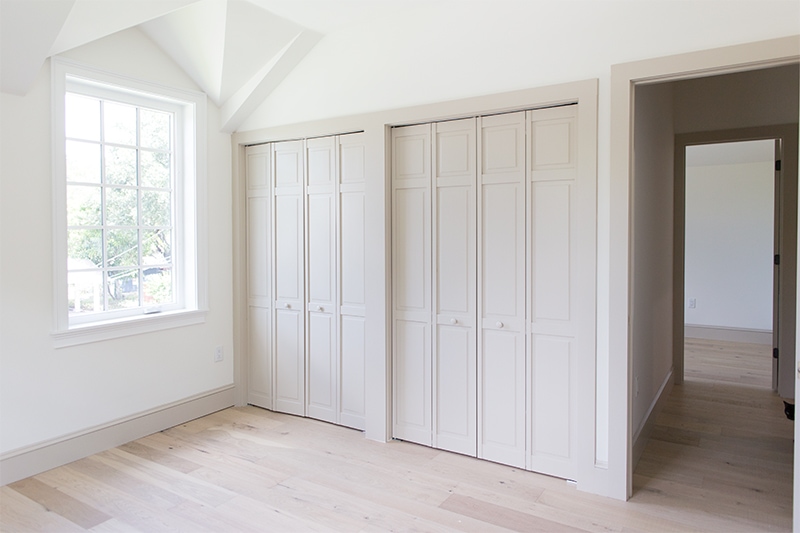 Eight feet of closet space—so much room for throw pillows! The second bedroom will be used as our main guest room—it's just a tiny bit smaller (but still large enough to comfortably fit a queen bed).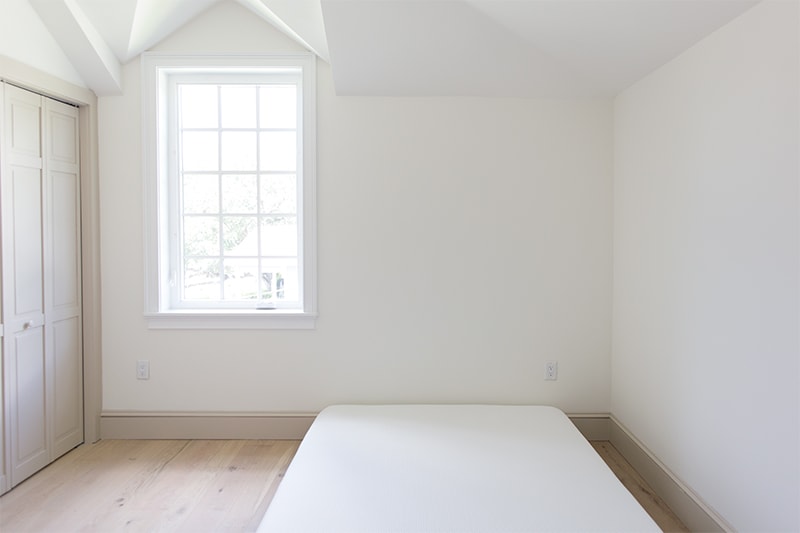 And eight more feet of pillow storage!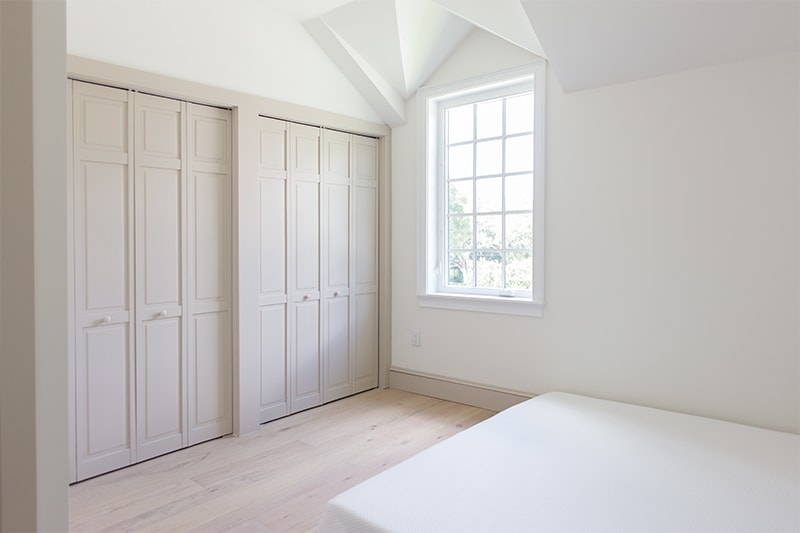 Finally, we have the bonus room, coming in at around 400 square feet.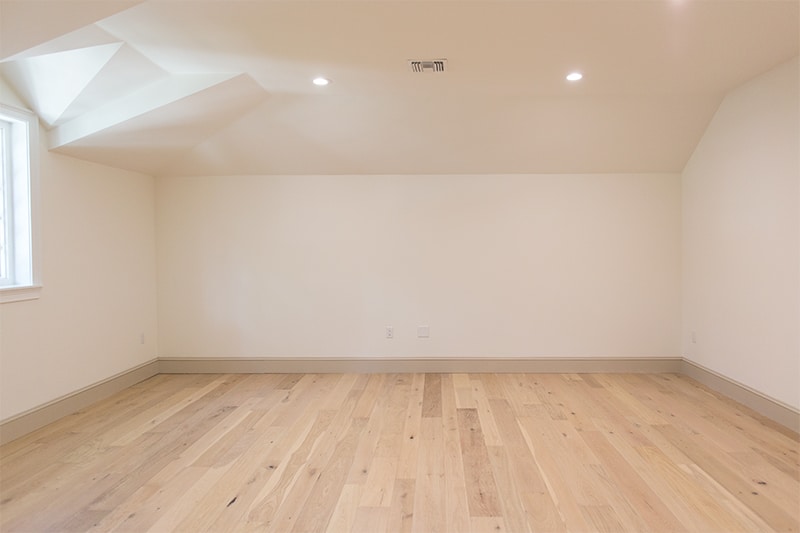 I haven't even begun to think about the design/layout, but I think it will be used as a game/media room and playroom for the baby.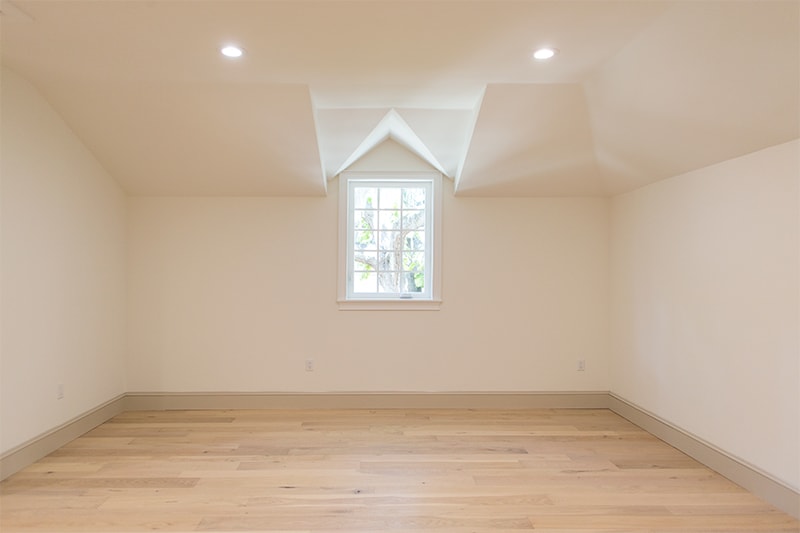 It's definitely large enough to have multiple zones and provide flexibility if our needs change.
We were originally going to leave this as unfinished attic space thinking we wouldn't need the room, but boy are we glad now that we have it!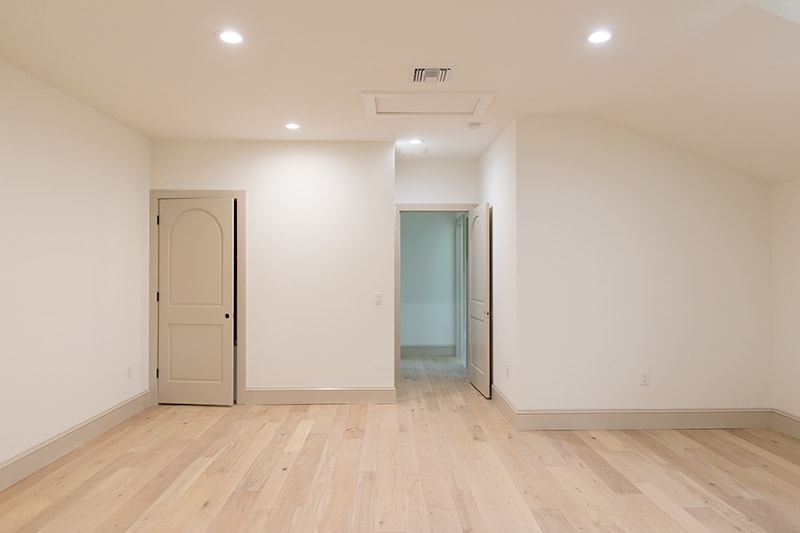 That covers everything for the interior, so let's head back downstairs—Susie will lead the way…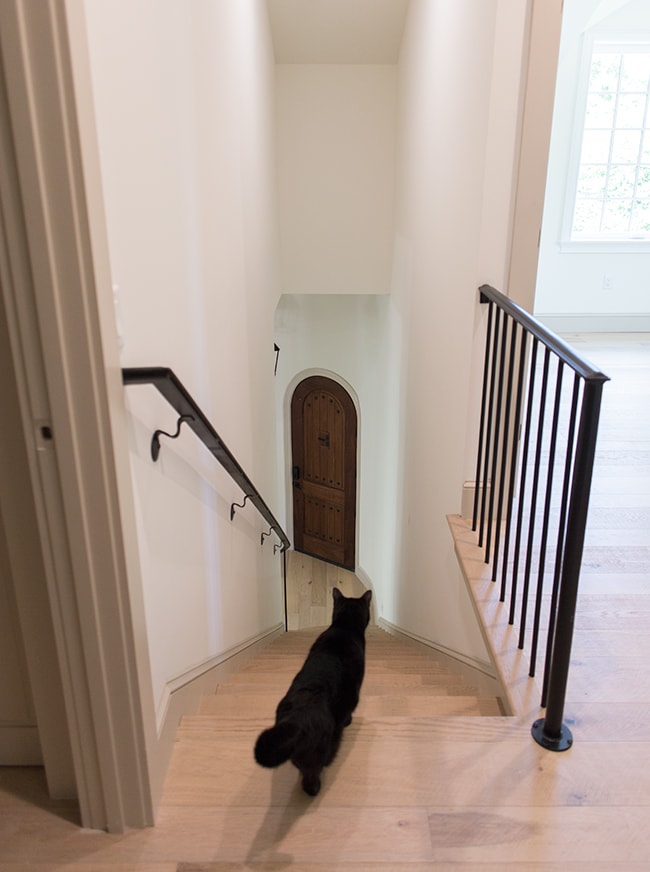 One thing we loooove about this house is the big lot size (10,000 sq ft) and outdoor space.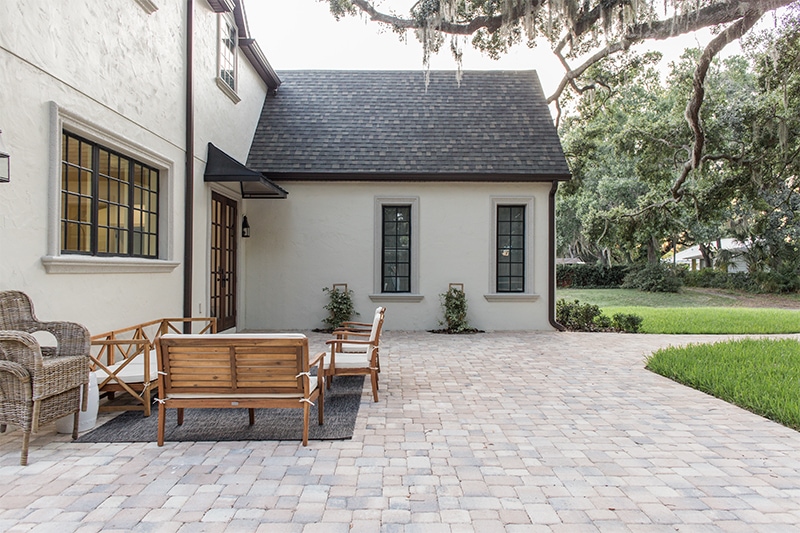 We had about 700 square feet of pavers installed, and still have plenty of grass area leftover. The huge grand oak tree was also a big selling point when we first purchased the property.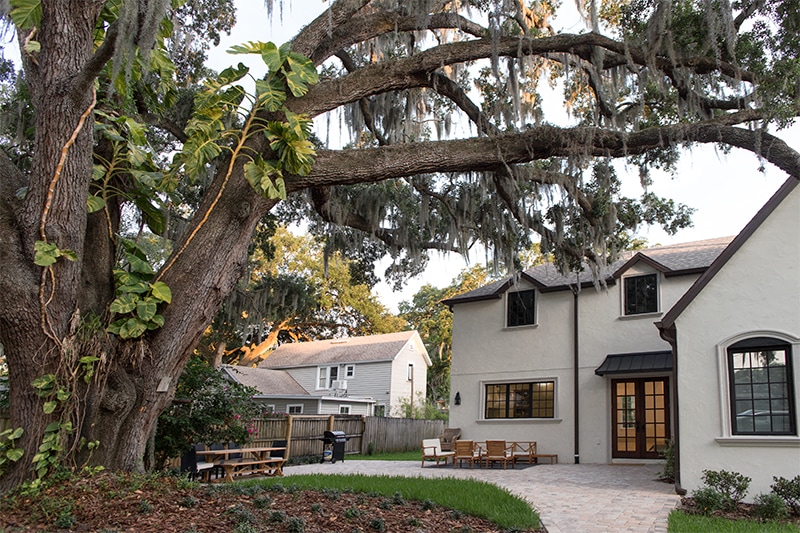 Recognize the patio furniture from our Riverside Retreat backyard makeover? We couldn't let it go unused all summer while we worked on that house, so we get to enjoy it here for a few months!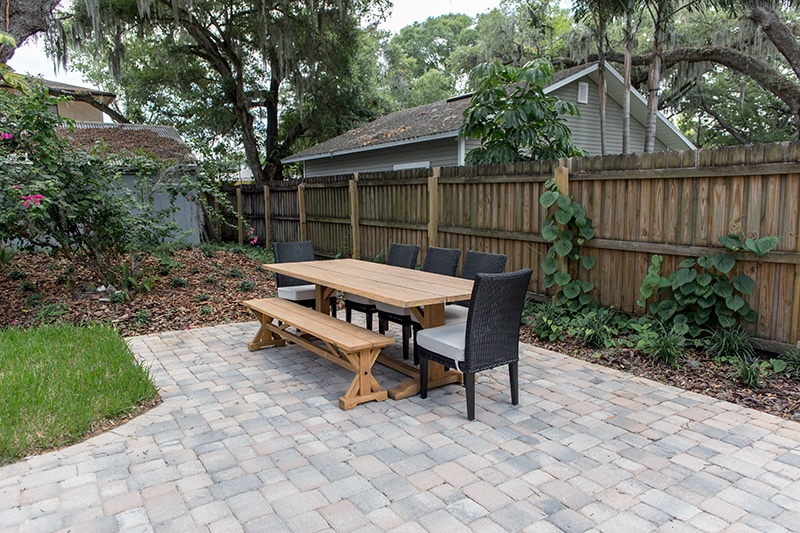 We also made landscaping a priority, and incorporated a few features like these bumpouts along the back wall. White bougainvilleas were planted and soon we'll need to add a vertical trellis for them to climb. I plan to do a full landscaping post soon!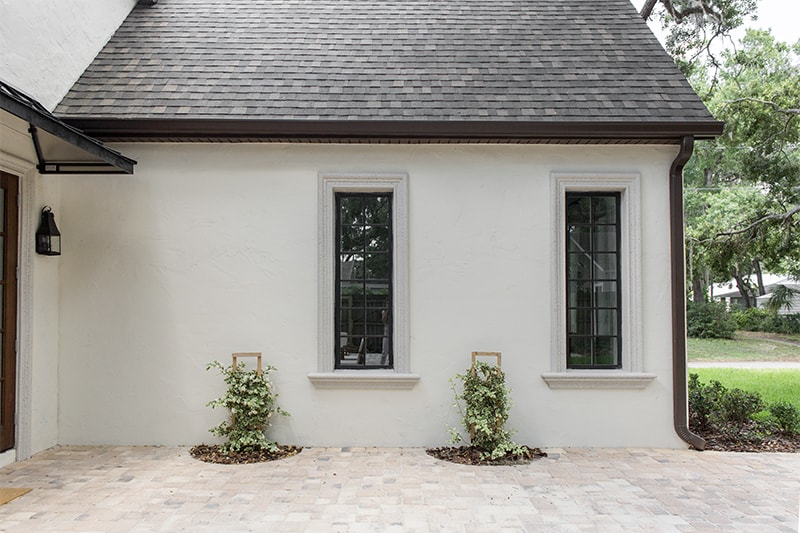 The exterior color is SW Oyster and trim color is SW Worldly Gray. We also finally got around to painting the rest of our window arches black (for those still wondering!)—don't they make such a difference?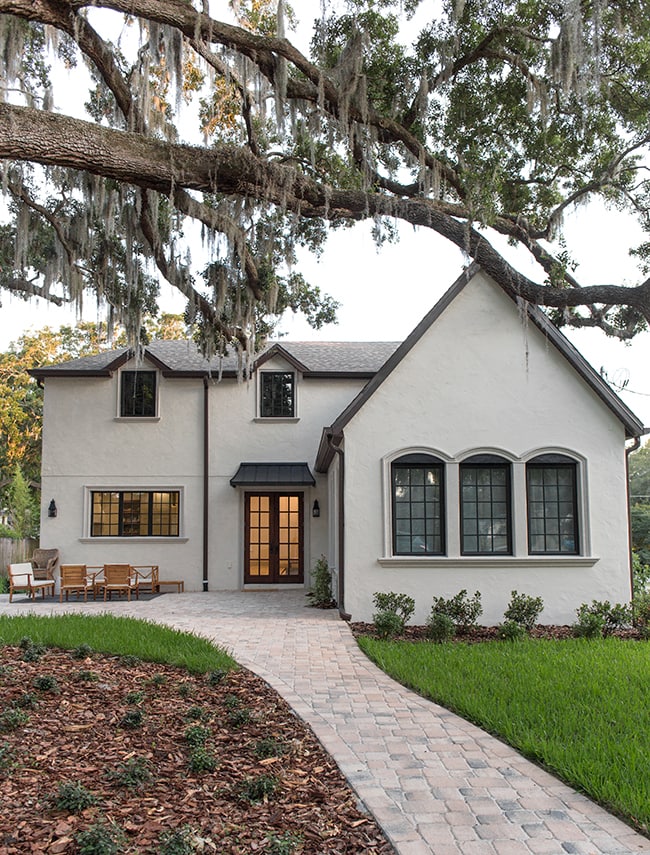 And that wraps our "Before/Moving-in" Heights House Tour! It has been one heck of a rollercoaster ride over the past nine months… I have to say, nine months of building a house is much harder than nine months of growing a baby 😉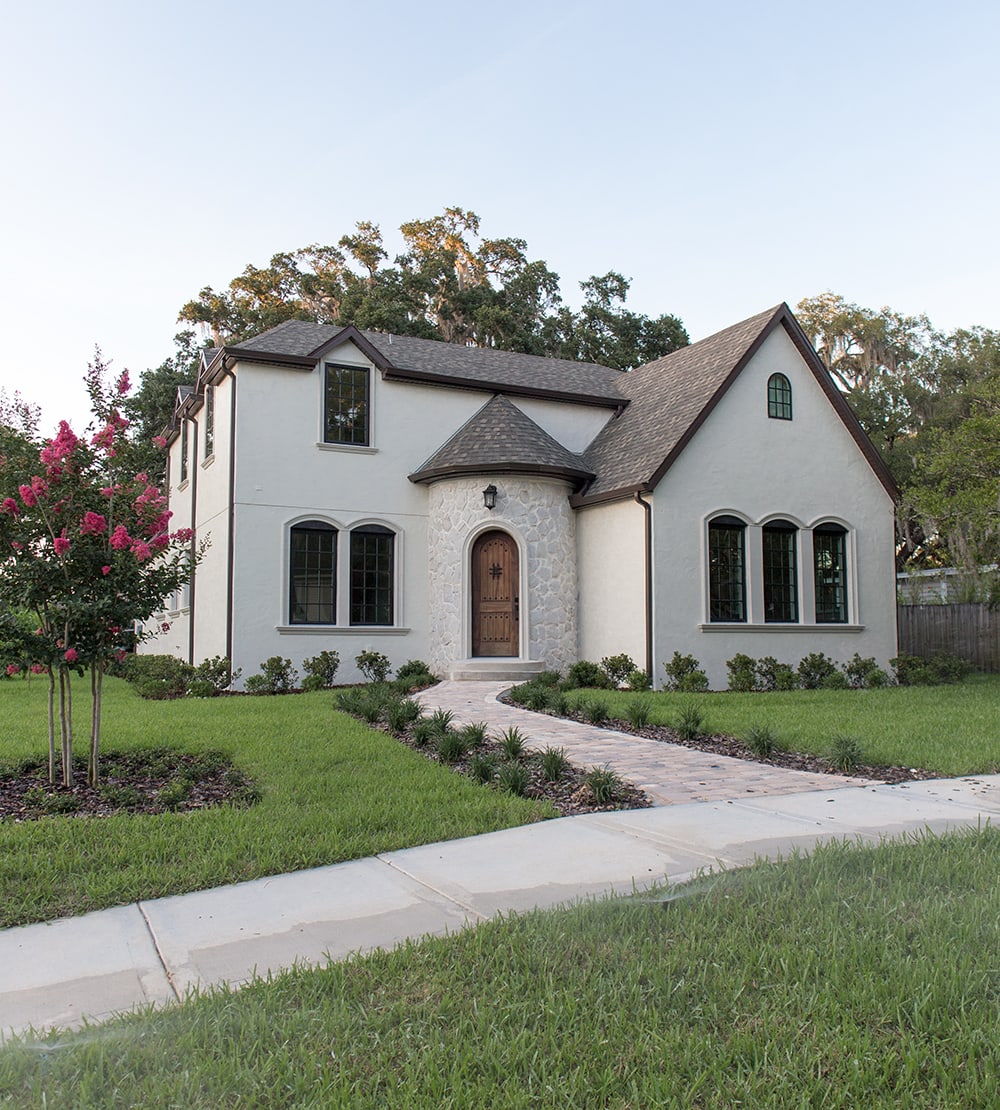 But of course, they're both worth the challenges and sacrifice, and I'm really looking forward to sharing how these spaces evolve with our growing family. There's a lot to cover, so let me know what you'd most like to see more of or focus on in the coming weeks. As always, you can follow my daily updates on Instagram and Facebook, see what's been inspiring me on Pinterest, and catch our latest video updates on YouTube.
A couple years ago I never would have dreamed that we'd end up here. Now that it's real, I find myself overwhelmed with gratitude and in "pinch me" mode every day. The climb from rock bottom in 2015 was worth every step. Beauty from ashes…