Right after we signed the papers last night we went back to the house just as the sun was setting. It was gorgeous. I took a photo from the back deck and posted on instagram, and someone finally guessed right:
It's house #3!
Back when we first looked the house, we had decided against it because it was old (built in 1978) and needed a lot of work. It also has a strange layout and we just couldn't figure out to do with certain rooms. Well, honestly, I saw the potential but Brad wasn't into it so I conceded.
But then the MLS went quiet. There were no new houses coming on the market… at all. The slow season is approaching and prices and interest rates are going up. One day we noticed the price on this house had dropped and decided to give it a second look, this time with an open mind.
Once I really started to visualize what I could do with each room, I knew I could make it work. It took some convincing, but Brad finally jumped on board and agreed to put an offer in. We got a counter almost immediately, countered back and they accepted.
Our top 5 favorite things about the house:
1. The view (duh)
2. The neighborhood—it's nice and quiet on top of a hill, and walking distance from my parents (and our current rental), and just 10 minutes from Brad's work. Perfect location.
3. The price—it's 175k under our budget!
4. The potential. I've already planned out what I'm going to do to this place and I think it's going to be pretty amazing. I love the open concept/split level layout and overall it should work well for our needs.
5. Great investment. The other houses in the neighborhood are worth more, so we'll increase the value by much more than what we put into it when it's all said and done. We don't plan to sell it, but it will at least bring in good rent one day when we move.
Our least favorite things:
1. The master bathroom is very small. If I can convince Brad to let me knock down a closet wall in the future, we'll be able to get a little bit more room out of it, but it's never going to be our dream bathroom.
2. Textured walls. Ahhhh! I hate them.
3. It doesn't have my wood beam ceilings. But I have a plan to add them.
4. The room that I'm going to convert into my office is small. It's going to be a tight fit.
5. No yard. This doesn't matter so much right now, but it would have been nice for potential kids in our future.
So, there you have it. We've been brainstorming nonstop since before we even put an offer in about what exactly we're going to do to this place.
Want to hear what we've come up with so far?
The first order of business, before we even move in, will be tearing out this kitchen:
We're ripping out the entire thing. Down to the studs. Opening it all up so it's one giant kitchen/dining area when you walk in. We'll be using Ikea for the cabinets—haven't chosen the counters yet.
In the dining room (just to the right of the kitchen) we're ripping out this bar area. I'll put a buffet in the empty nook.
Back to the foyer… right when you walk in, you're staring at my new office.
I don't have a solid plan on the layout yet (still need to take some measurements) but I think I'll have to remove all the built-ins around the window (unfortunately)
I'll probably also have to fill in this wall—at least the bottom half—so I can utilize the space with my large desk.
In addition, I may need to extend the wall where the main opening is to fit my printer. A lot of work to be done in here.
Moving to the living room…
First things first—carpet is coming out and hardwood is going in. We're actually installing hardwood throughout the house, except for the downstairs/basement area.
The railing also needs to be updated.
On this wall, I'd love to remove the brick and cover the whole thing with stacked stone (all the way up to the ceiling)
Kinda like this…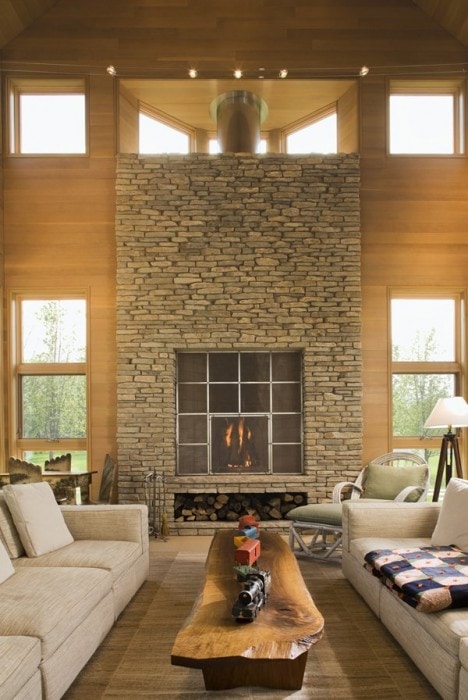 Source
With a big chunky mantel too.
All of the blinds will come down, and on the left wall of windows I'll add either woven or roman shades with long white curtain panels in between.
And the vaulted ceilings will get wood beams, like this:
Depending on how much of a pain it is to DIY wood beams, I'd love to carry it throughout other rooms as well (especially the kitchen/dining room area).
Here's our future bedroom…
It's actually a pretty good size—comparable to the master in our Florida house. I'm the most excited about this room, because I've already planned out exactly what I'm going to do.
I don't want to give away too much but it will consist of built in wardrobes, a plank wall, a seating area, and a new dresser. And perhaps some molding. The colors will be grays, natural wood tones, white and navy, with possibly some pops of tan/cream.
On the other side of the wall is our bathroom and closet.
Down the line I'd love to break down a wall or two and change the layout, but right now I'm picturing sliding barn doors. How fun would that be?
Finally, let's move on to the area that left us completely scratching our heads… the downstairs.
We had no idea why this strange, narrow platform area existed or what to do with it…
Instead of tearing it out, we came up with a really fun idea: a theater room.
Tell me if you can picture this—a big screen TV mounted on this wall (below the vent), with speakers and electronics that are also flush mounted:
In the recessed area in the middle and the back platform we'll have our lounge seating.
There will be two chairs in the center (so there's an aisle) and a couch along the back wall. We'll fill in the two walls on the outside (between the beams and the existing walls) so the room is closed in, and hang curtains in the center.
The room will be carpeted and painted in a deep gray, and there will be rear speakers mounted on the back wall, dimmable crown molding lighting, and possibly curtains around the perimeter to help with the sound. I know it's a bit confusing to visualize right now, but it's going to be awesome, I promise.
On the outside of the newly built walls we'll hang movie posters and Brad wants to build some marquee lighting for the full theater experience.
As for the right side of the room, we'll having a seating area on the back wall under the window using the daybeds from the sunroom, possibly a bar in the center with stools (or a free standing fireplace if I can swing that somehow?). I'm just throwing ideas out, this part of the room is up in the air right now.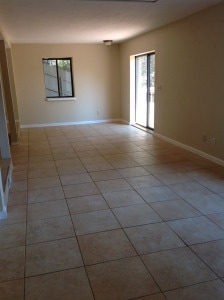 And and maybe a dart board or some sort of game at the other end.
It will be an interesting room to decorate, for sure.. I can't wait to try something new!
That pretty much covers the major plans we have going on right now. We've already had a floor guy come in and measure upstairs so we're hoping to have the wood by the time we get the keys. We're not wasting any time here—this blog is about to get exciting!
I hope yo
u'll continue to follow our progress and share your ideas/opinions/suggestions along the way. Let's get this party started!