It has been two and a half weeks since we said farewell to our Florida home. It all happened so fast—14 days after we decided to move, we were on a plane to California and a new couple was calling our home their home.
While I welcome the change, I do feel sad sometimes thinking about what I left behind. All of the hard work and energy I put into this space for the past three years—and I've just abandoned it. There wasn't any closure. I didn't get a chance to say goodbye after the cleaners left and walk through the empty rooms, take a few photos of what remained, or sit on the dock one last time.
This wasn't supposed to be a sad post, I swear. I just want to pay my final respects and look back at our home with one last recap. I thought it would be fun to go through each room and reflect on my favorite parts and some of the biggest challenges.
Ready?!
Let's start with the kitchen…
Biggest bang for the buck: Hands down—painting our cabinets.
Favorite part of the room: The open shelving. Worth every penny! (we paid a carpenter $250)
Biggest splurge: The countertops (Kashmir White granite from Lowe's… we ended up paying $39/sf. Still a great price for granite).
Most enjoyable project: Organizing the pantry! There was a lot of time and energy put into this, but it was all worth it in the end.
Onto the dining nook…
Biggest bang for the buck: The DIY wainscoting
Most enjoyable project: The wooden wine signs. I love a good craft.
Favorite part of the room: The refinished pedestal table.
Most challenging project: The stenciled wall.
Biggest splurge: Believe it or not, I can't think of anything. The table, mirror, and chandelier (wind chime) were purchased on craigslist or discount stores and repurposed. The chairs were brought from the last house and I added foam backing and cheap-o slipcovers purchased online. The wall treatments, art and signs were all DIY. Accessories were either discounted or thrift stores. The whole room probably came in under $500.
Onto the living room…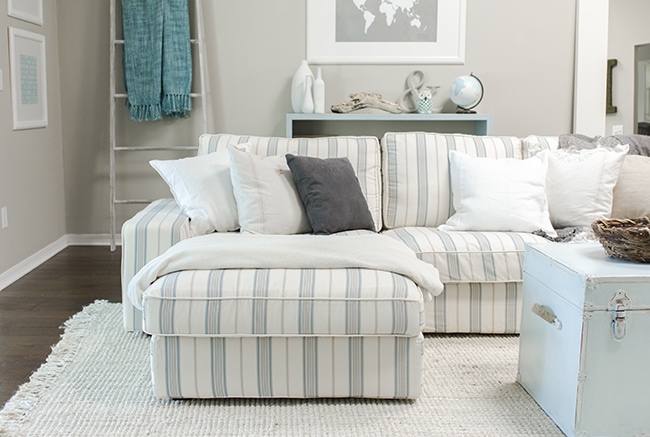 Biggest bang for the buck: Repurposed vintage trunk. Doubles as a coffee table and storage bin!
Most enjoyable project:  This one is a tie between the fabric-wrapped canvas…
And the DIY grain sack pillows…
Favorite part of the room:  The rug. I am obsessed. The tassels just seal the deal.
Most challenging project: This room was filled with relatively easy and simple updates, so if I had to choose one, it would probably be building this ladder… which wasn't even bad at all:
Next up, the sunroom:
Biggest bang for the buck:  This is a boring answer, but I'd say the curtains. They are the cheap Ikea Vivan panels, but hung throughout they really define the breezy beachy feel of the room.
Most enjoyable project:  The DIY coffee table. This thing was so quick and easy to put together, I even surprised myself. The sturdiness and versatility mean I can use it anywhere I want in our future homes.
Favorite part of the room: That's a tough one—but I'm partial to the "wood" tile floors.
Most challenging project: Easily—making this slipcover. No idea how I did it. It was all luck and I'll never be able to explain or do it again.
Moving along to my studio…
Biggest bang for the buck: Building our own custom work desk.
Most enjoyable project: Creating a binder filing system.
Favorite part of the room: This isn't aesthetic at all, but the sliding drawer we fabricated under the desk has solved my biggest storage issue so it's my favorite project we did in here.
Most challenging project: Between hiding seams, cutting around the outlets and trying to calculate wall angles, the beadboard wall project takes the cake.
Now for the master bathroom:
Biggest bang for your buck: To save money, we reglazed the beige shower tile instead of demo'ing and replacing it:
Most enjoyable project: The major parts of this bathroom renovation were hired out (tile work and drywall patching) but I enjoyed converting this former medicine cabinet crevice into a cool storage nook:
Favorite part of the room: I love so many things in here, but the glass/marble tile wall is the real star.
Most challenging project: There were two things that turned out to be nightmares. First was building these mirror frames:
And the crown molding was equally as painful.
Last but not least, our (second) master bedroom:
Biggest bang for the buck: This DIY upholstered tufted headboard (for under $90!)
Most enjoyable project: The easy DIY $50 Gallery Wall
Favorite part of the room: The plank wall, without a doubt!
Most challenging project: The dang salt dough sculptures.
And that concludes my room by room assessment. But if I had to pick just one transformation that has been the most dramatic overall, generated the most interest and comments and pins, and has become the most representative space of my home—it has to be the foyer:
Sometimes it's the simple things that have the biggest impact.
Now that I've paid my respects, I feel a little better about closing this chapter and starting all over again on a new home in California. I will always have love for this place… it taught me so much. And I'm still learning, and waiting for the next house we can turn into our home!
More house hunting adventures coming soon… you won't wanna miss these ones.