Here's how to make a professional-looking gallery wall using inexpensive Ikea frames, DIY mats and your own photos!
Gallery Wall Inspiration
I've been pinning these gorgeous monochromatic gallery walls for quite some time now…
Ahhh…. like a breath of fresh air. So when we ended up with this large bare wall in our new master bedroom…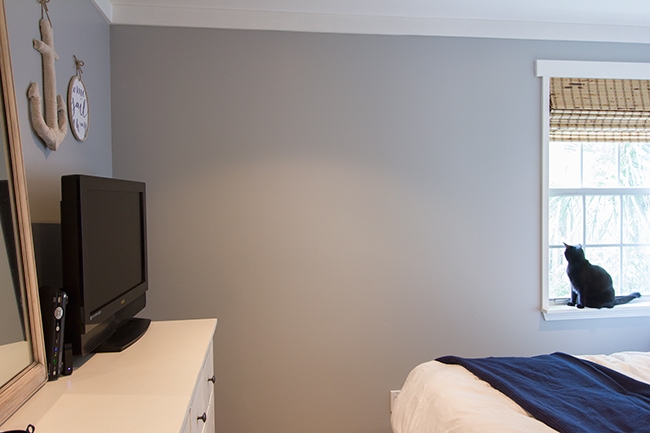 Paint color is Valspar's Urban Sunrise, more photos here
Inexpensive Frames
I loved the simple thin frame and most of all, the price! It was just $7.99 for the 21×21″ which was the perfect size for my wall. Right now they are only $4.99 with the Friends and Family discount! Insane, right? If you're lucky enough to live near an Ikea—walk, don't run, to your local store and stock up! You can never have too many.
Here's one frame in all its glory:
Use Posterboard for custom Mats
As you might notice, the frame doesn't include a mat. But there's an easy fix:
I picked up a 10 sheet pack of white posterboard at Michael's for just $3 after a 40% off coupon. Super score.
Cut out an opening
To turn the sheets into a mat, I simply removed the backing from the frame and traced the outside of it onto a sheet:
Then I used my Xacto knife and ruler to cut it out. Easy peasy. I wanted the mats to make a statement so I kept the picture opening on the small side, settling on a 6″ square.
After lots of precise measurements, I cut out my square in the center of the sheet the same way I cut the outside shape. Here's Susie modeling my fancy new mat:
I could have just skipped this step and taped or glued my photos in the center, but I wanted this to be as realistic as possible and also make sure everything was perfectly centered. It will also make things easy down the line if I decide to switch out my photos.
Use the first mat as a template
After I had my first mat made, I used it as a template and traced it onto the remaining five sheets. In no time at all, my mats were ready to rock. For the photos, I decided to go with a water theme and gathered some of my favorite Instagram photos from our travels—Mexico, California, Mississippi, Florida and Costa Rica.
Convert your photos to black & white (optional)
I opened them all in Photoshop, scaled them to size (slightly larger than the mat opening for necessary overlap), and ran a simple black and white filter over them.
Print and trim your images
I printed them out on a sheet of 13×19 paper…
And trimmed them down:
To keep them secure, I placed a couple pieces of tape on the back:
Voila!
Assemble and hang
All that was left to do was put the frames back together…
I laid everything out to admire my work and decide on an arrangement. Susie helped oversee this process.
Use butcher paper as a guide to hang your frames
Next comes the part I always dread… attempting to line everything up on the wall. I decided to try out a new method this time and picked up a roll of butcher paper from Lowe's:
It was just wide enough and I have 135 feet leftover to use for other projects, yay!
First I trimmed off a piece several feet long and and spread the sheet onto a flat surface. While my frames were on the ground and I had them spaced out accordingly (around 2″ between the frames), I measured from one nail position to the other and made my markings on the paper:
This is just one of those things where everyone has to figure out what works best for them.
Once I was confident I had my marks in the correct spot, it was time to hang the paper up on the wall (I had my sister help with this one).
Hammer picture nails into marks on paper
I used a level on the top and bottom to make sure it was perfectly straight. Then I just hammered my nails into the markings I had made:
Once all six were up, I ripped the paper off leaving the nails behind, and hung my frames. This is so much easier than any other method I've used! Make all your markings on paper so you don't have to mess up your walls. Genius.
These frames are so lightweight and easy to move out of place since they are hanging by just one nail, so this little bit of tape is perfect to hold them steady without damaging the wall.
For a couple hours of easy work and around $50, our room went from this:
to this:
I've been doing a happy dance ever since. I just love the classy yet personalized touch it adds to the room. Just a few more projects to go until I can call this space finished!
Hopefully this post can help solve someone else's empty-wall syndrome… I really can't think of anything better to spend $50 on!