When we built our house in 2019, landscaping was at the bottom of our priority list. We were in the middle of making a million other design decisions, renovating the Riverside Retreat, preparing for a baby and packing, and our budget was maxed out.
Of course, we had to do something and time was running out, so we hired a landscaping company and trusted their expertise.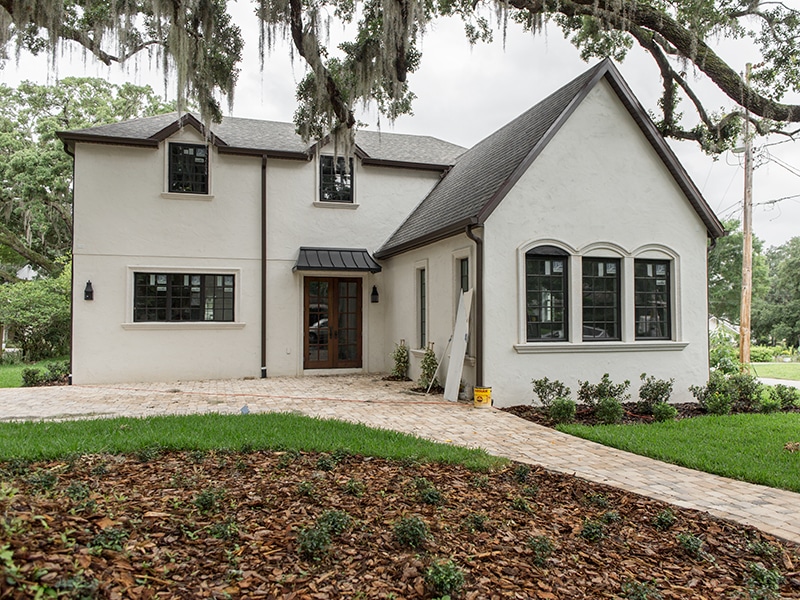 Overall, we were fine with the results. A few of the plants were incorrect and most weren't as large as we would have liked, but we had to downsize after the sticker shock of fully landscaping a quarter acre corner lot.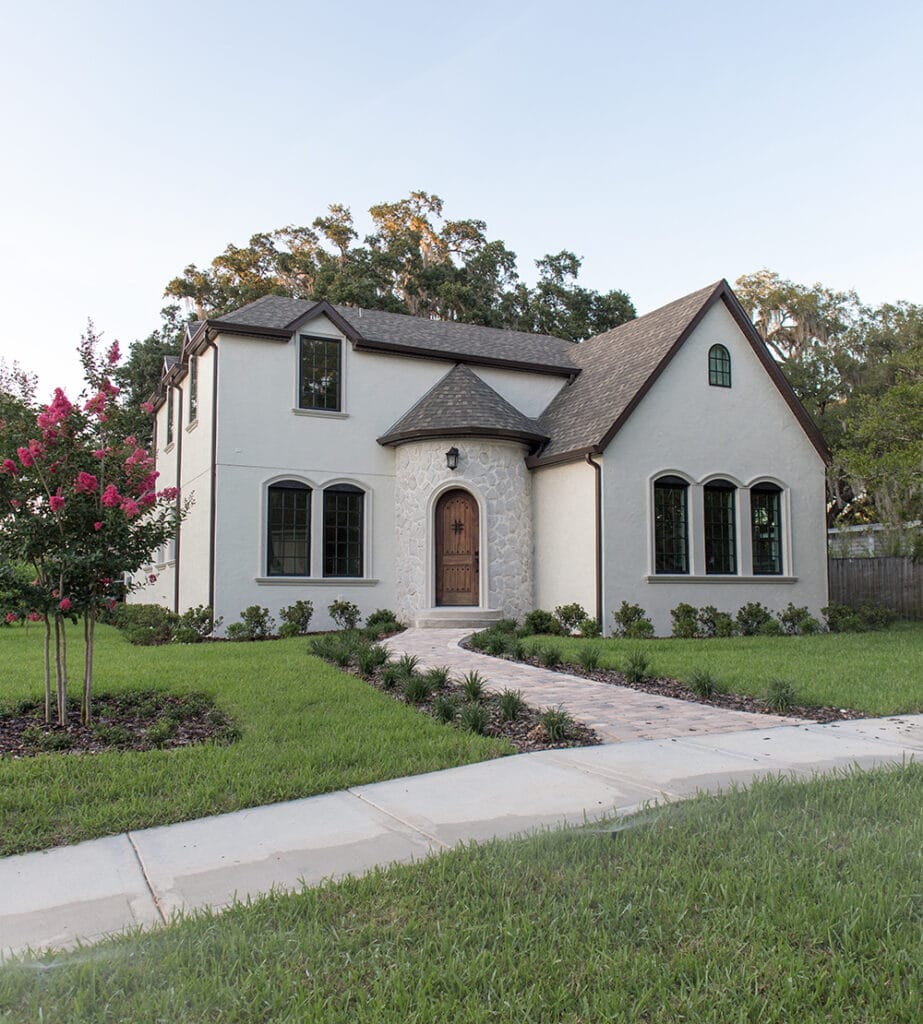 Fortunately, everything grows fast in Florida, and it was filling in nicely a year later.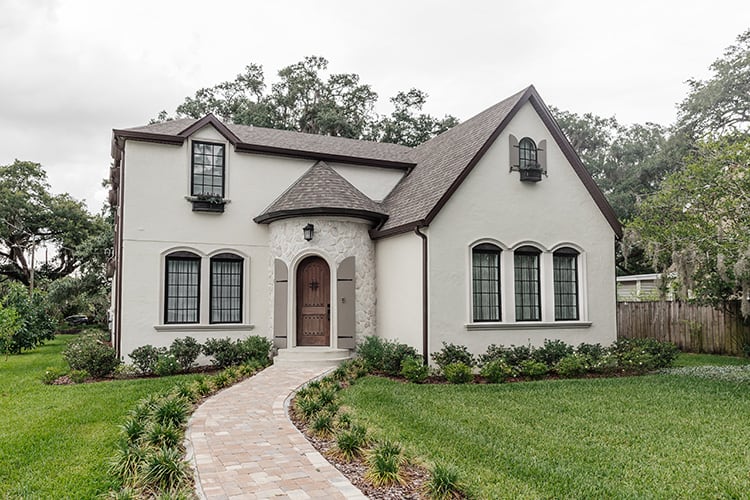 We hired someone to mow/edge the lawn, and a lawn pest control service (pretty much required here in FL) and took the rest on ourselves. By took on ourselves, I mean basically did nothing at all except fertilize once or twice (gardening is not our forté).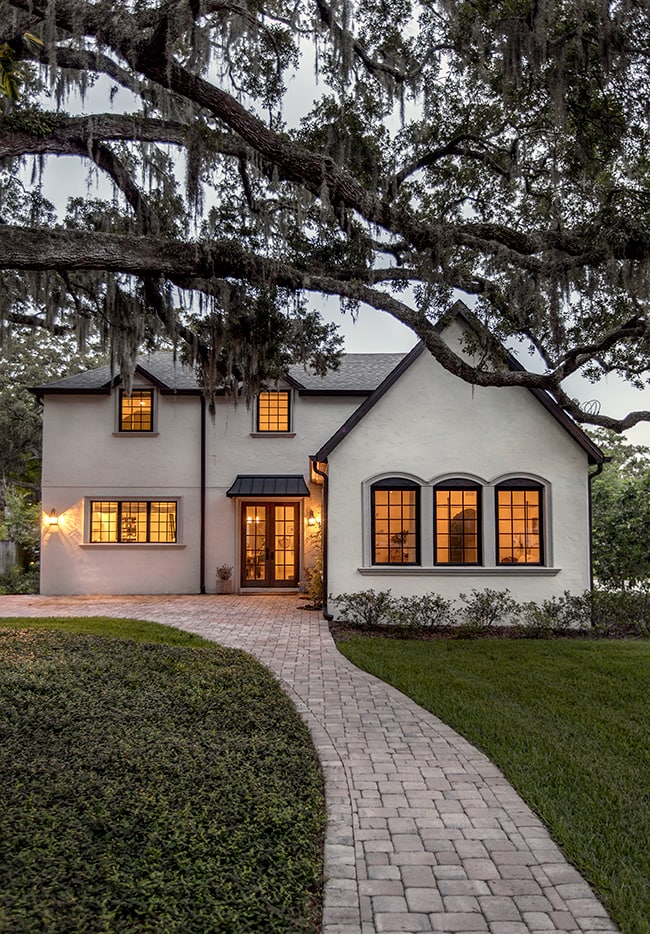 The lack of care became apparent, and over the last couple years, plants have stopped blooming and are dying left and right. Last Christmas, we woke up to our tangerine tree fallen over in the yard.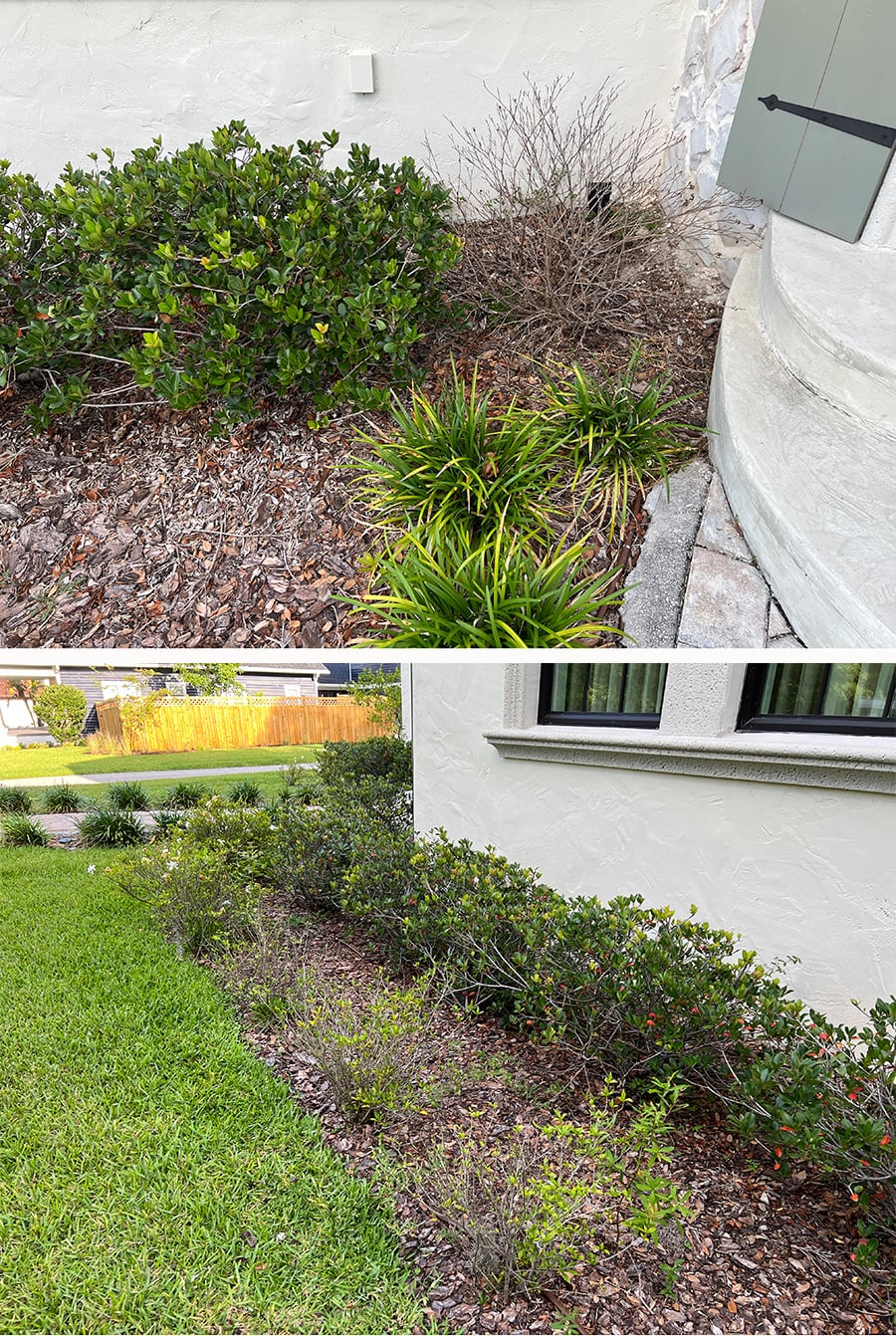 Our lawn guy didn't edge any of the grass, broke our irrigation on more than one occasion, and blamed the pest control service for our yard's condition (and of course, pest control blamed him). Something had to change.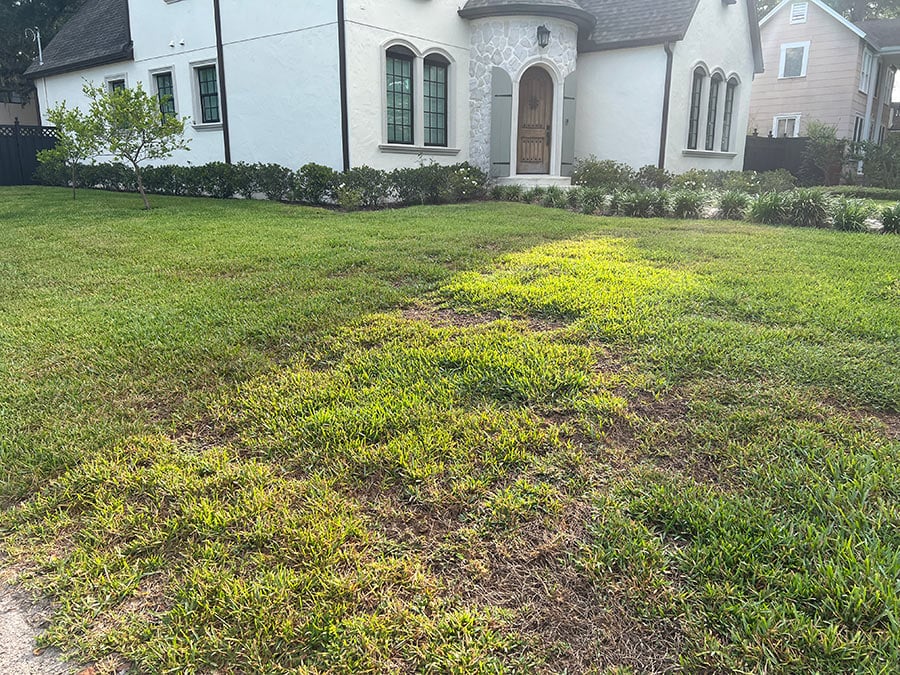 The New Plan
After installing our backyard fence, it was time to overhaul our landscaping once and for all. We reached out to a local landscaping company that came highly recommended in our neighborhood, and came up with a plan to fix what wasn't working.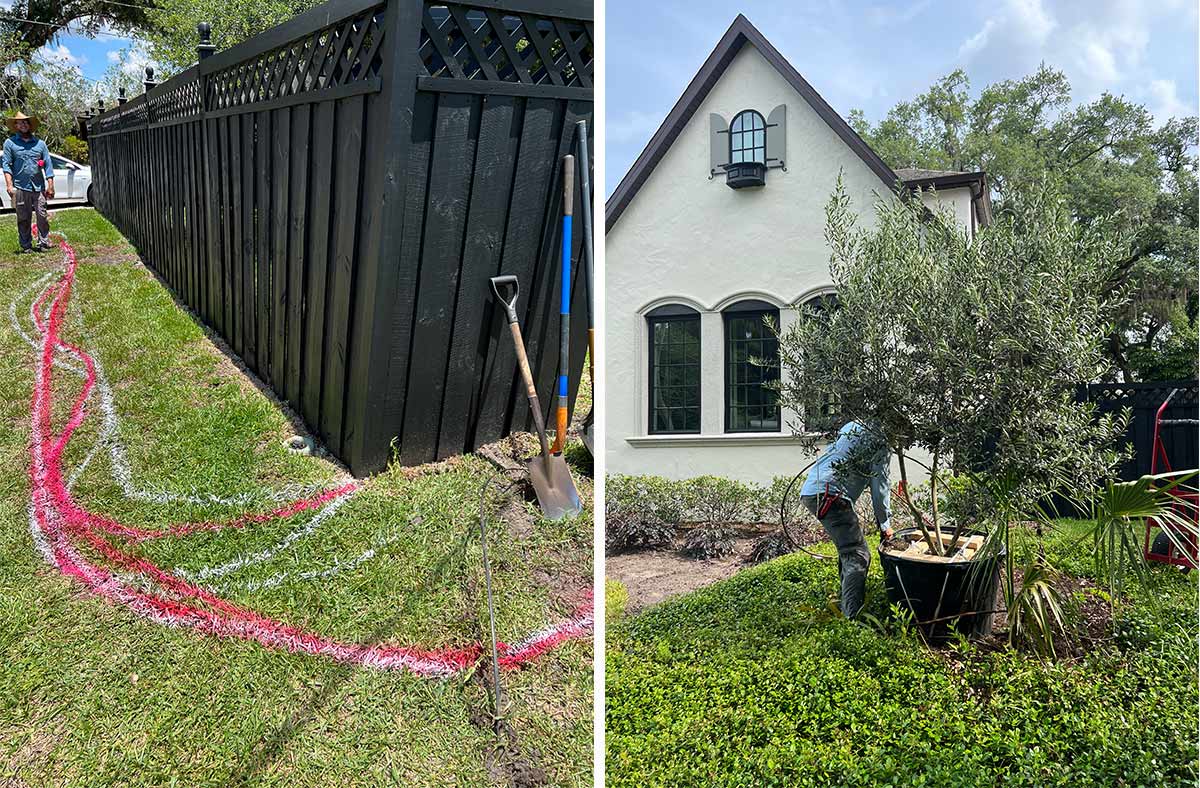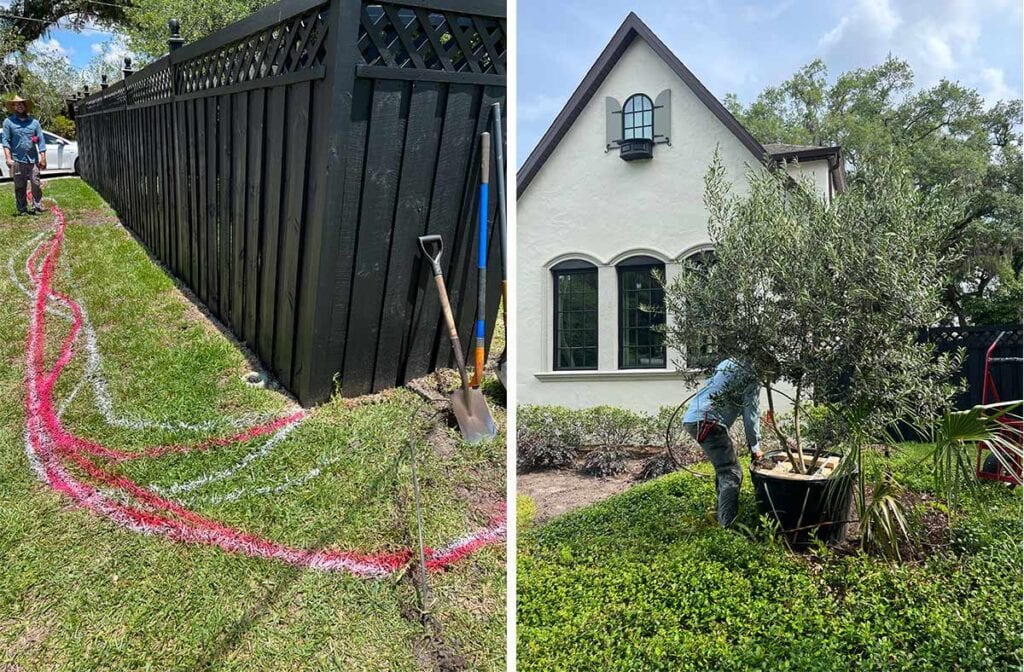 In keeping with the European architecture of the home, a lot of research went into selecting the right plants that had the look I wanted, but would also survive in our subtropical climate. For someone who knows nothing about plants, it wasn't an easy task and I relied heavily on our installers recommendations.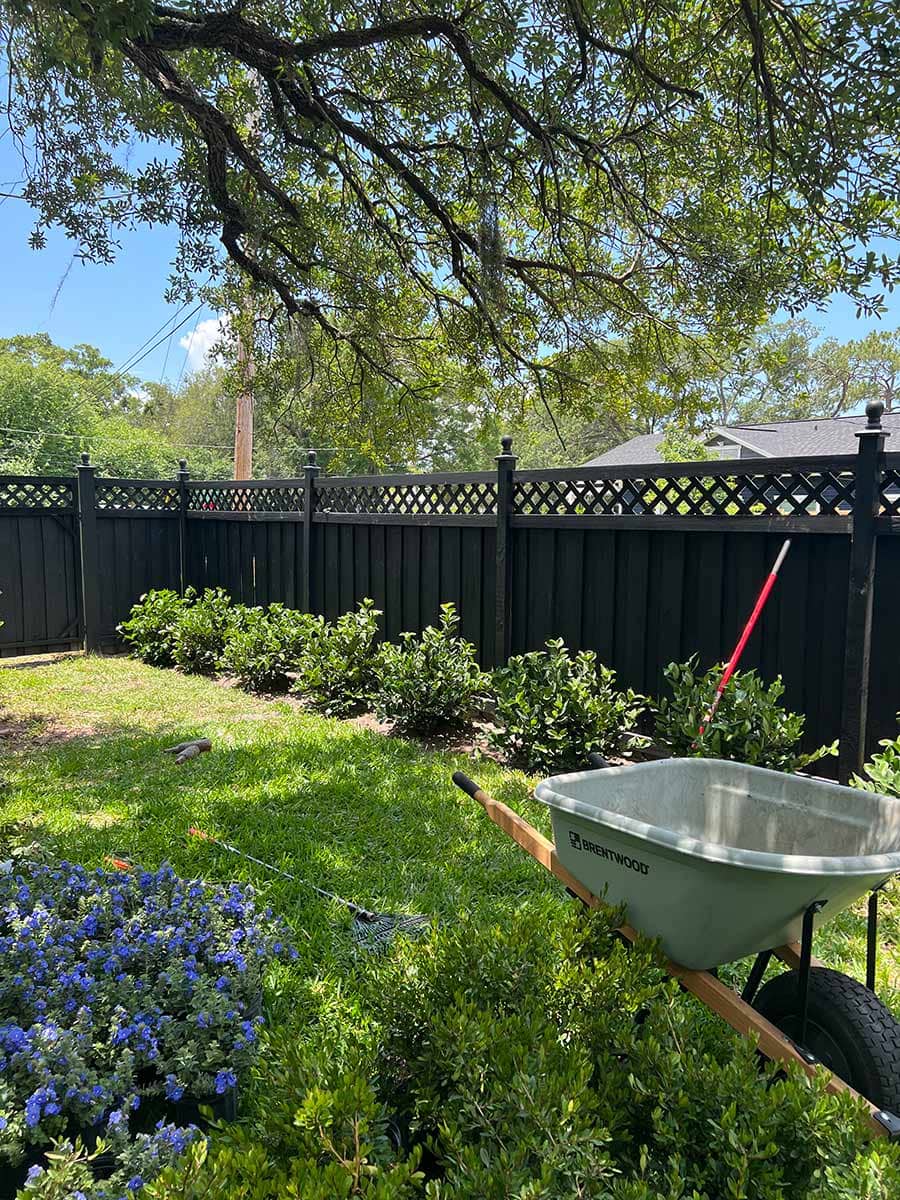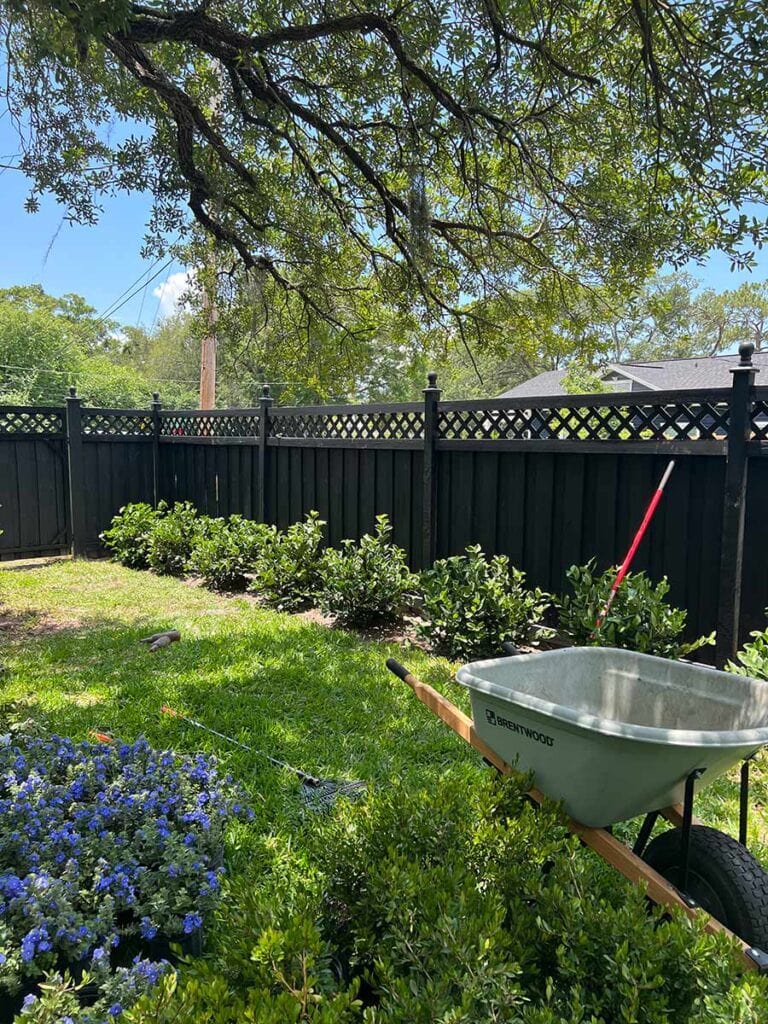 In the front yard, the liriopes around the walkway were replaced with walter's viburnum shrubs. Plum lorapetalum was planted in place of the gardenias, and the bed was reshaped and widened to add a third accent with blue daze.
To be completely honest, I was disappointed when I saw the lorapetalum because I was under the impression it would be completely plum/purple in color (like the Crimson Fire or Purple Diamond).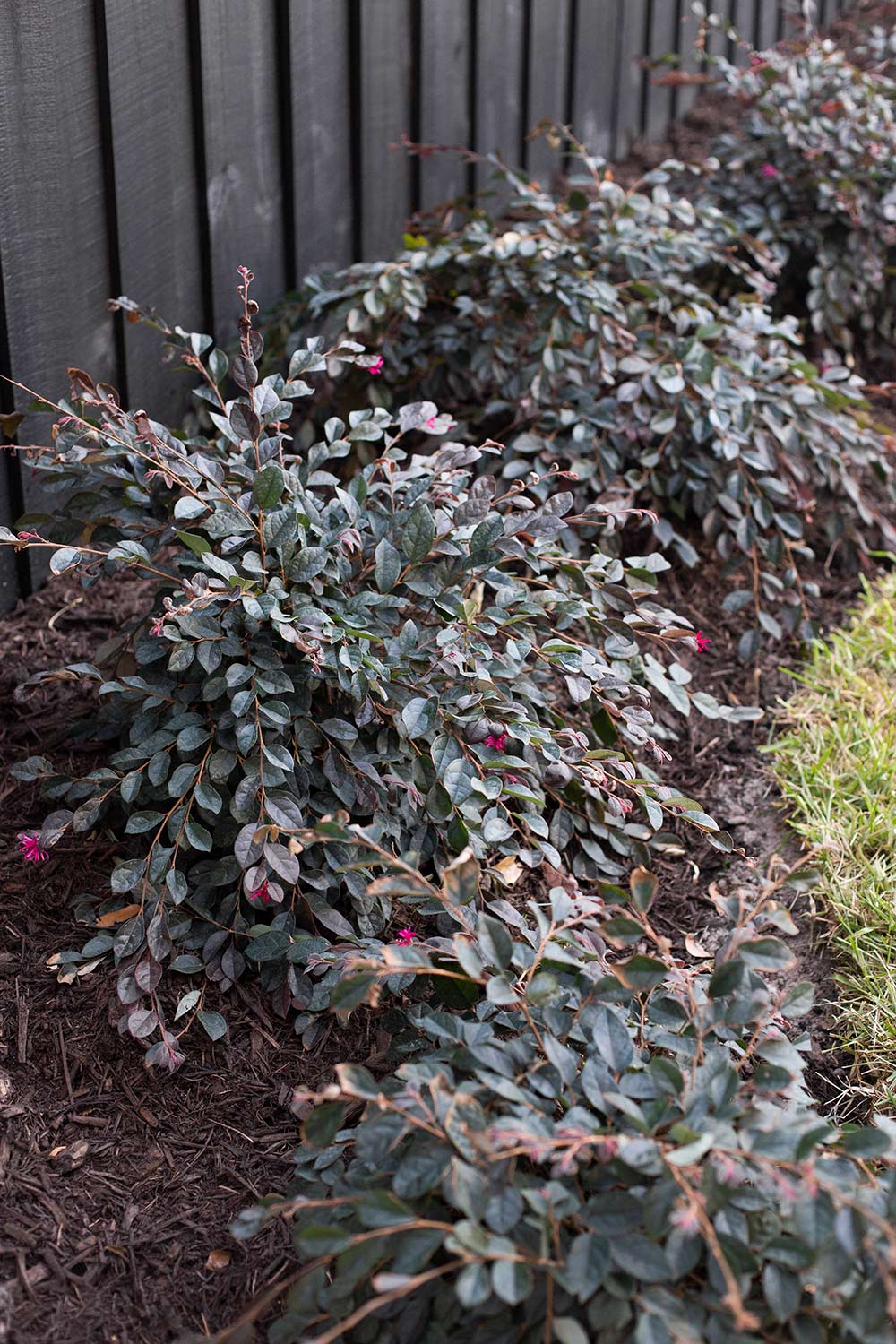 I've never seen those species growing around here, though, and neither has our installer. He said the new growth leaves would be purple, so we'll just have to keep them trimmed often. I do think they look pretty neat against our black fence.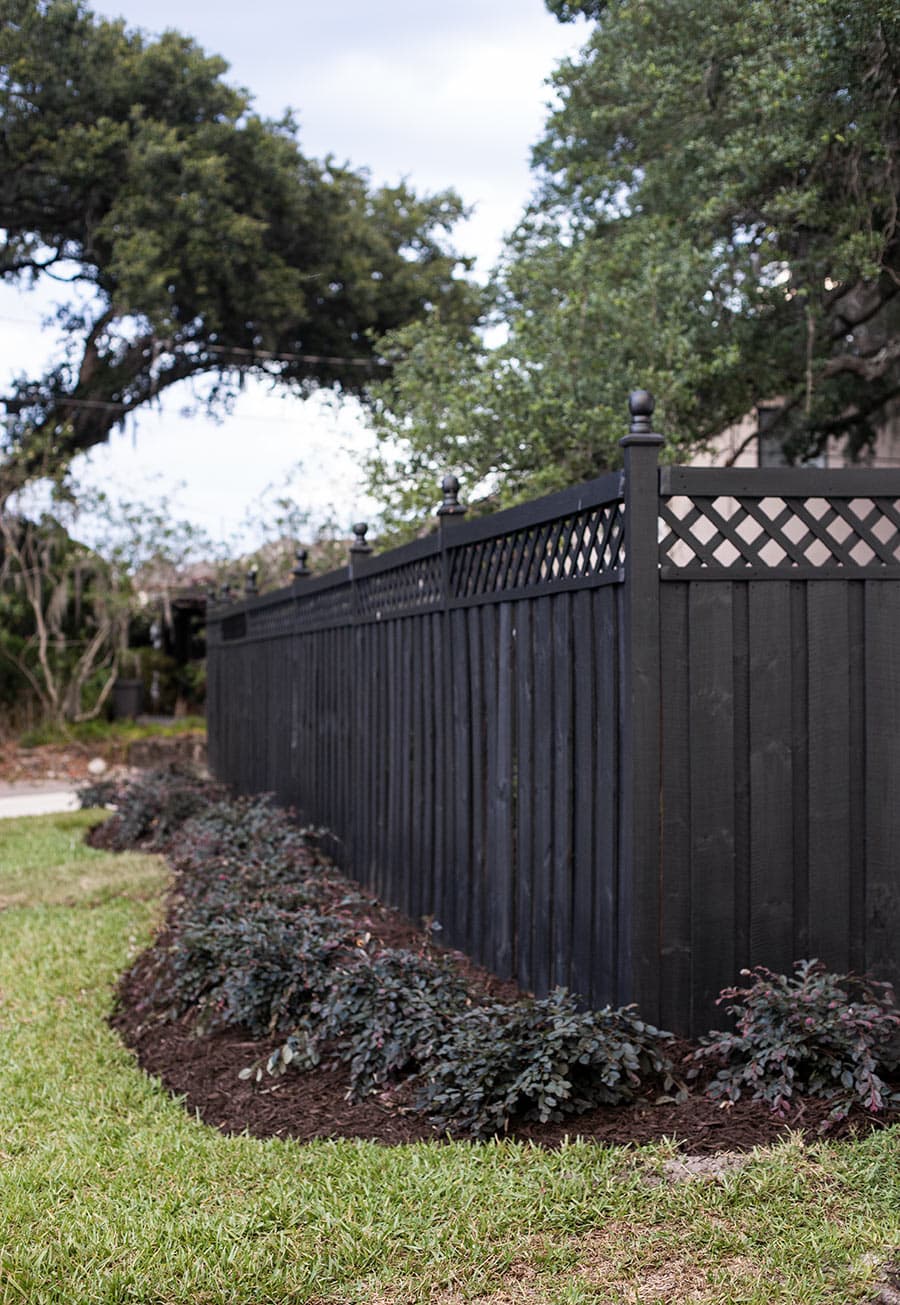 Areas of dead grass were patched with new St. Augustine sod (they're still looking a bit rough but should fill in nicely). Mature viburnum suspensum bushes were planted along our new fence and the back of the house.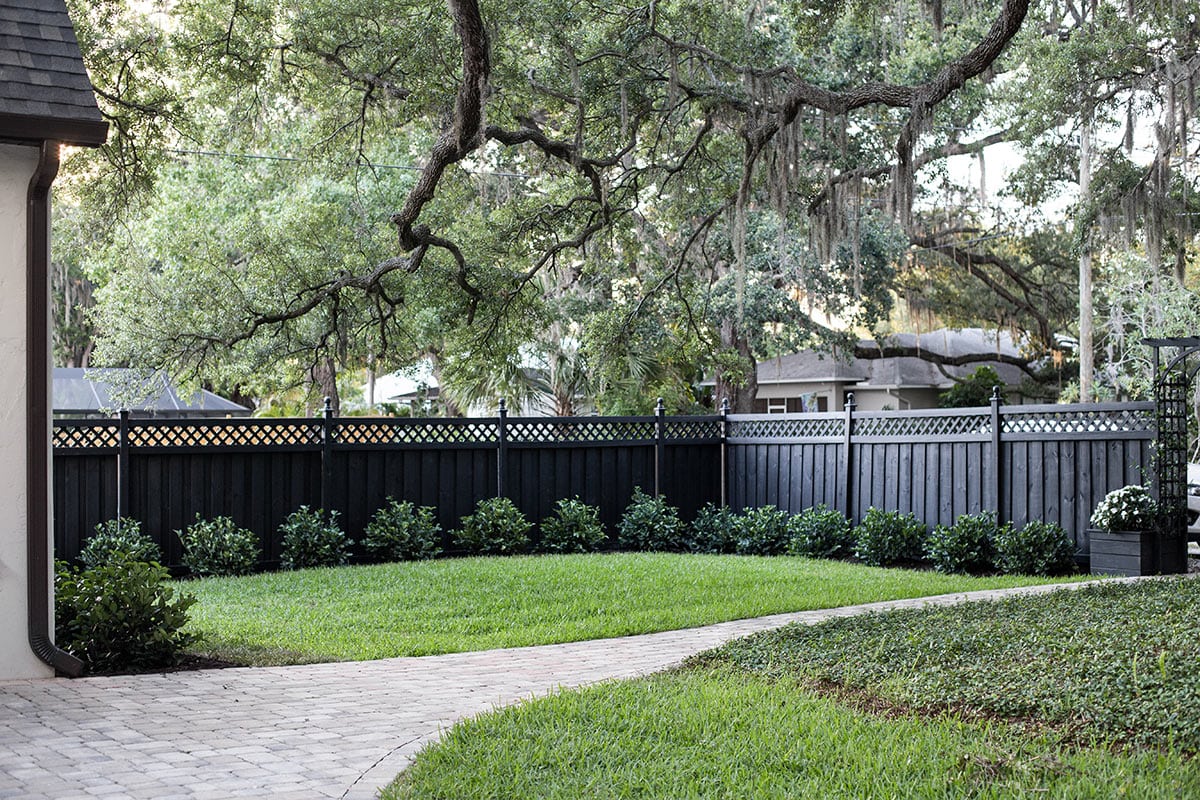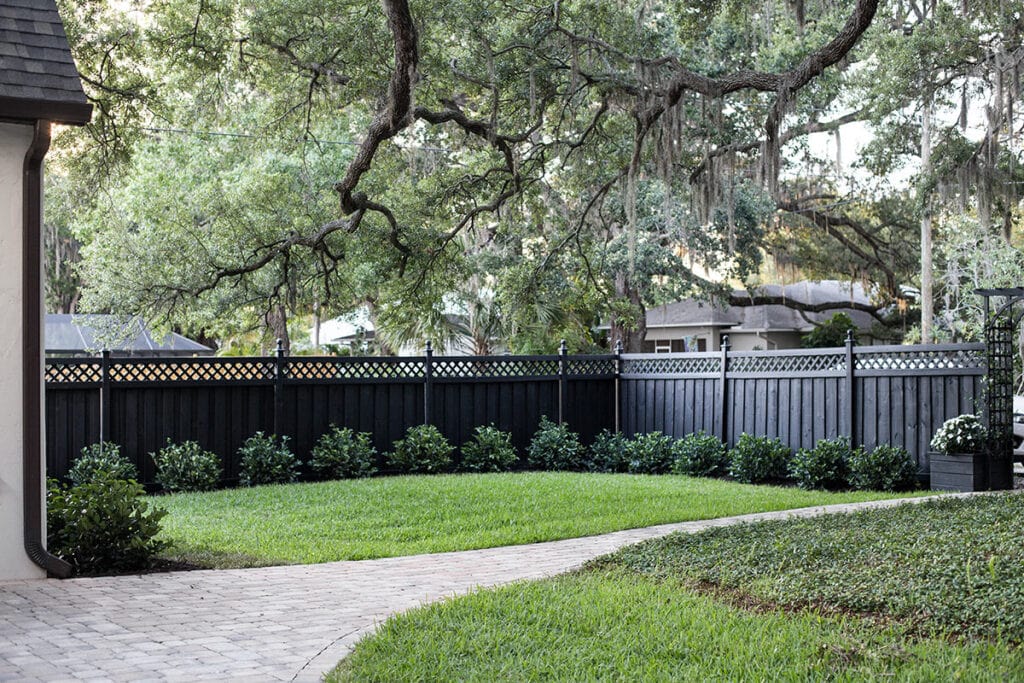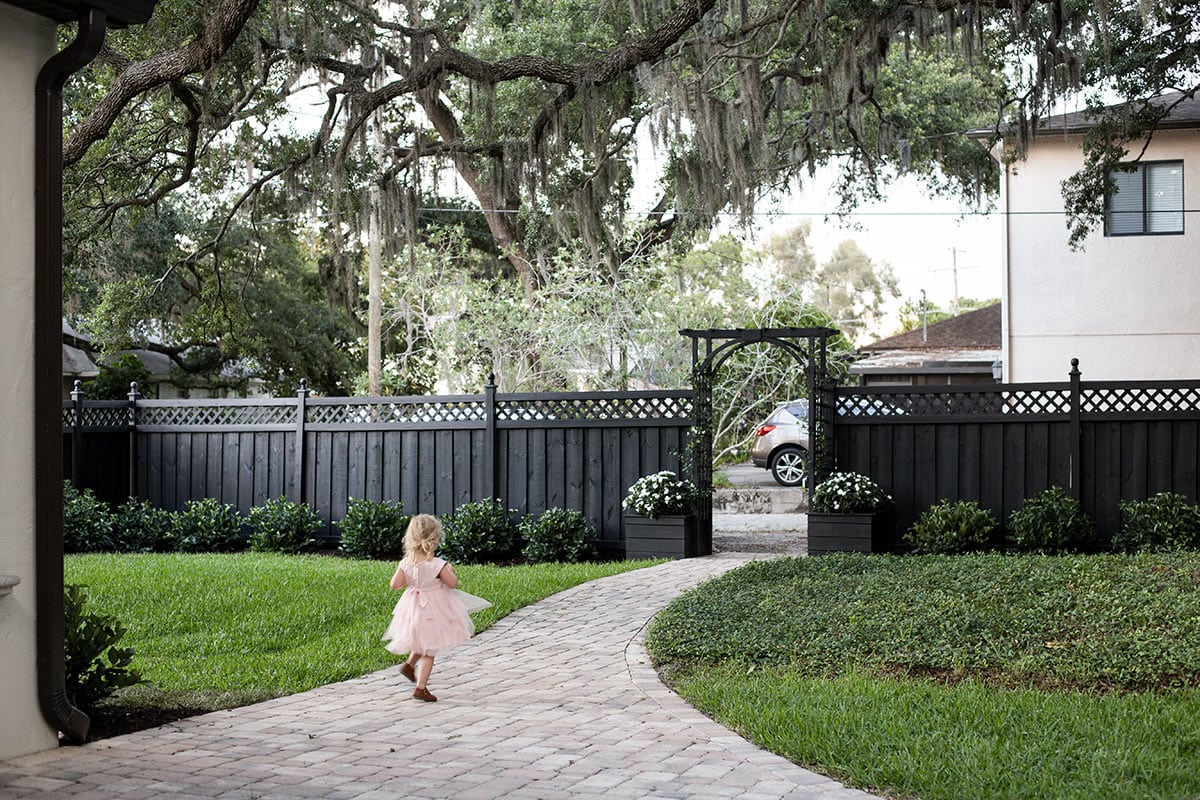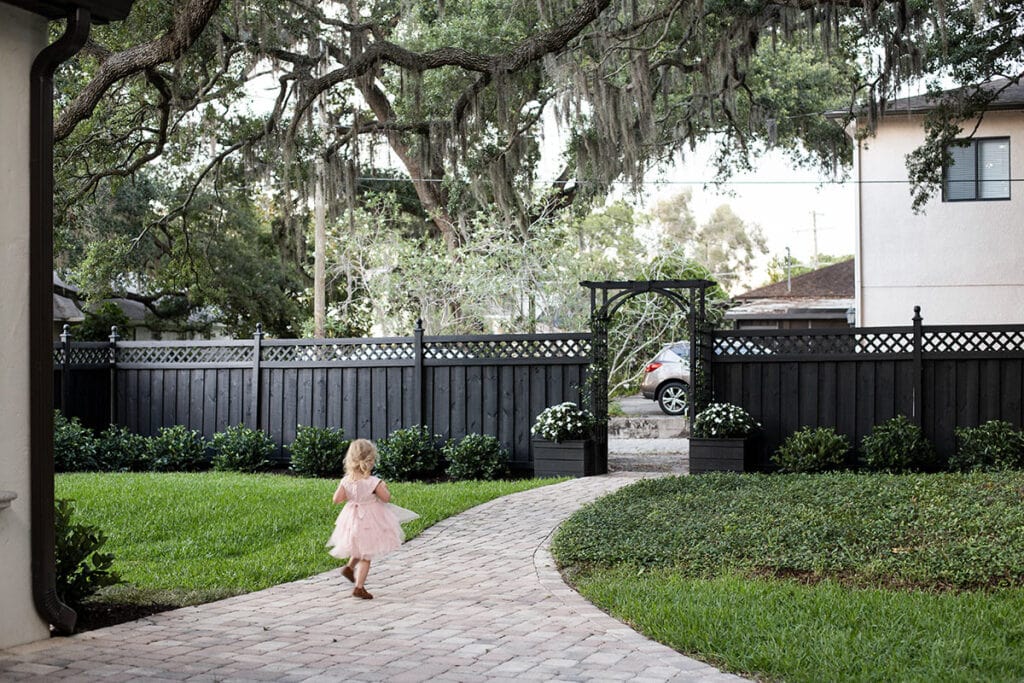 Perhaps the most noticeable change—three spartan junipers were placed at the corners of the house, which add much needed height and give it an estately feel.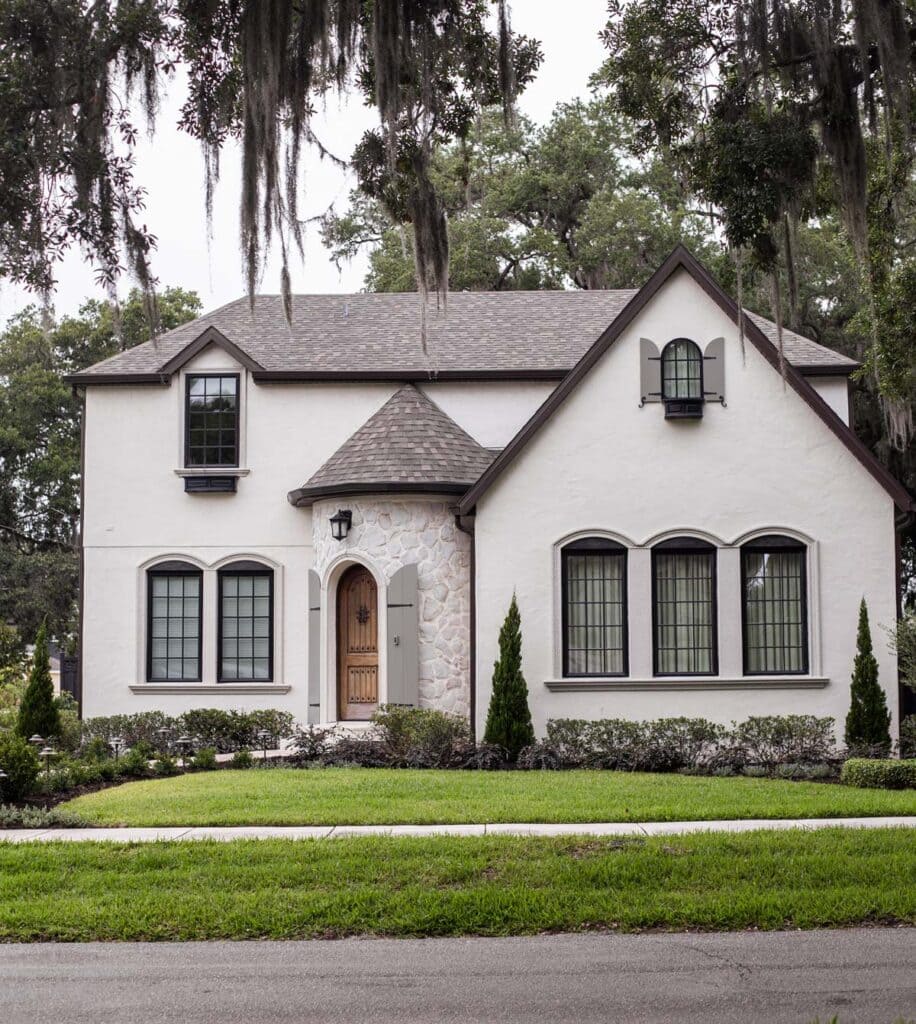 The European vibes continued with a 65 gallon olive tree, planted where the old tangerine tree stood.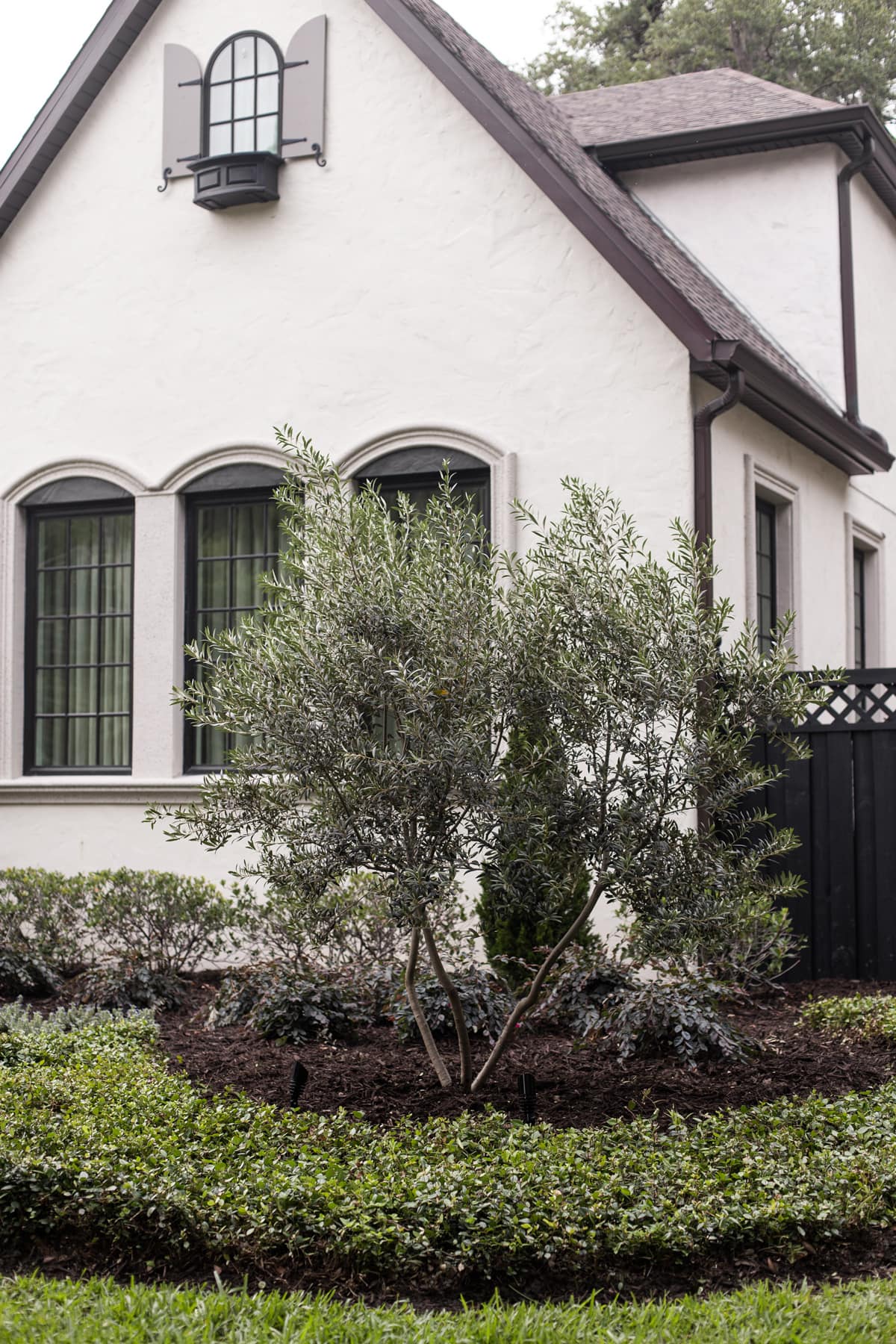 Two baby avocado trees were planted on the side of the house. You may recall that we had two avocado trees there originally, but the wrong species was planted ("Hess", not to be confused with Hass avocados) and one of the trees fell over.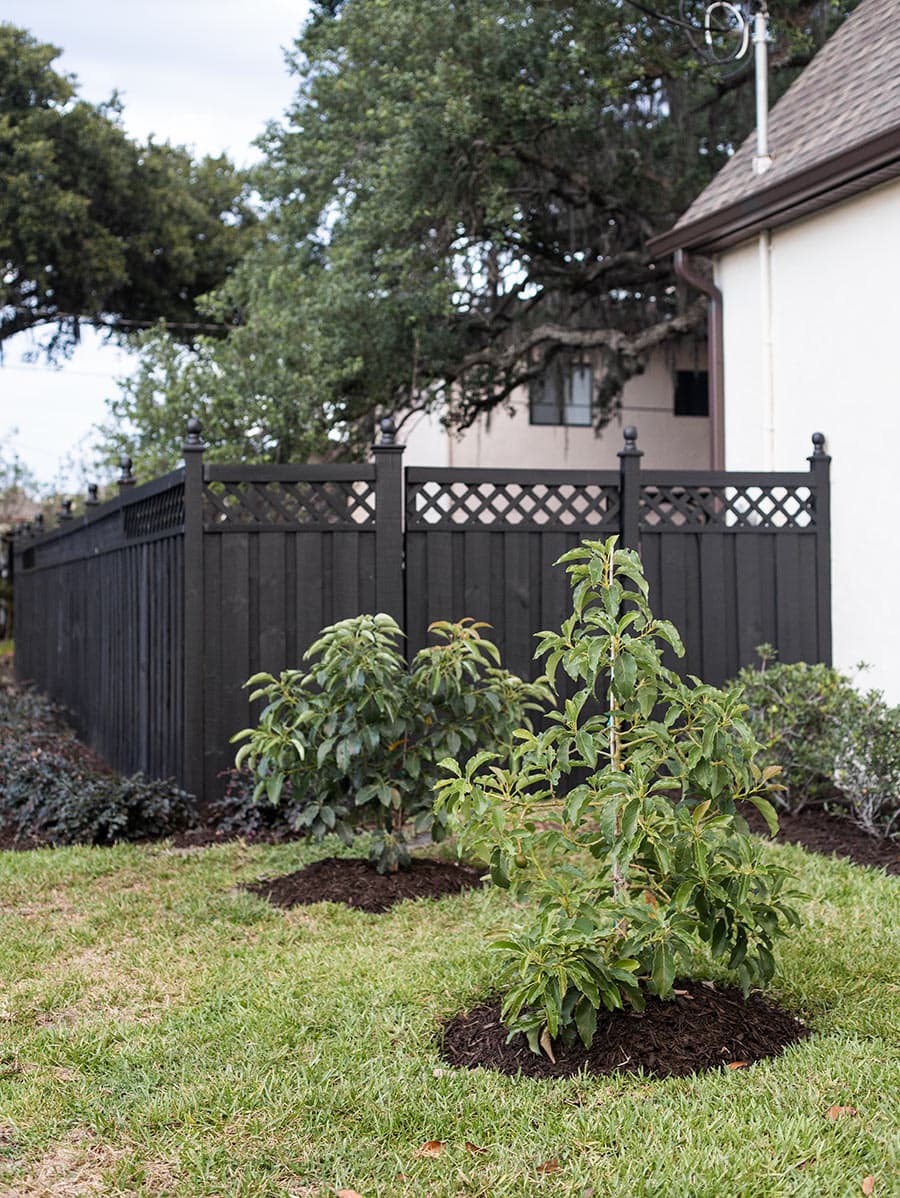 We also took this opportunity to install hardwired landscape lighting—something we wanted but couldn't afford when we built the house.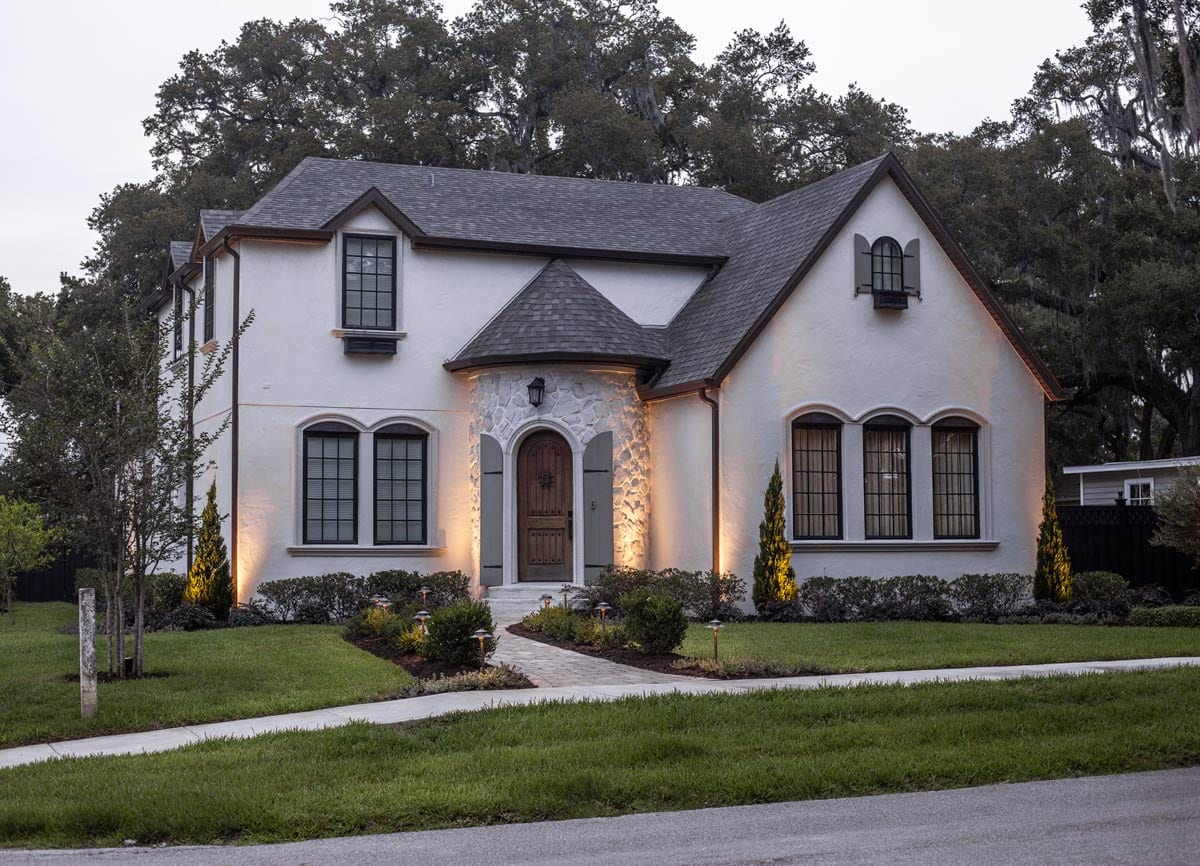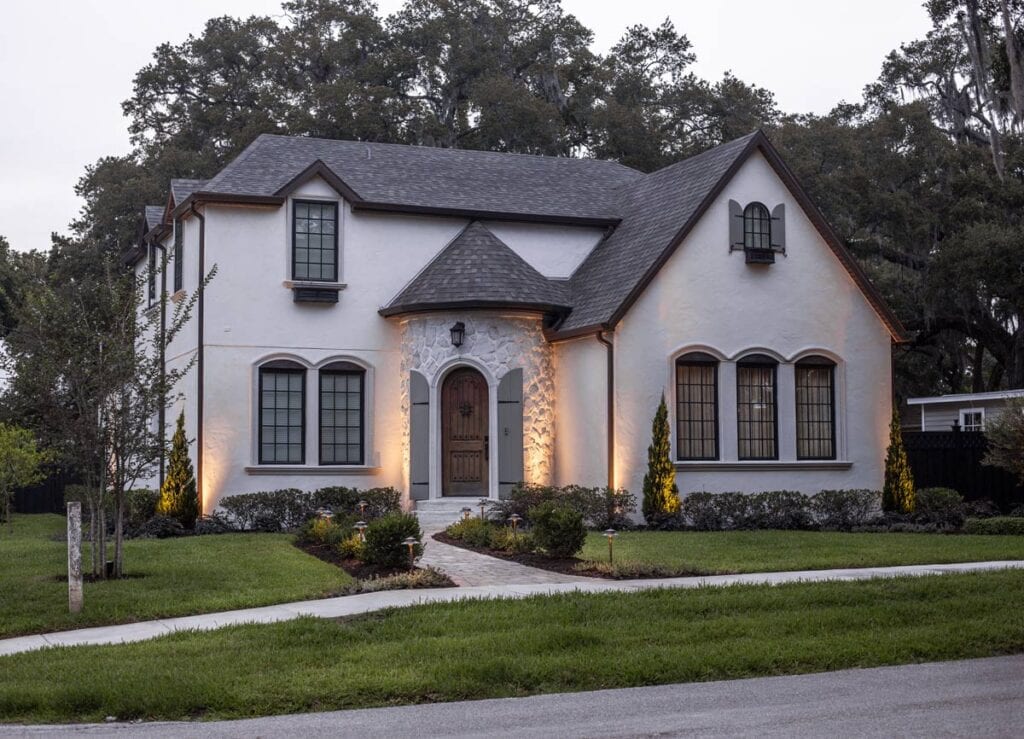 Proper lighting really is a game changer! It highlights the architecture and landscaping, and brings everything to life at night.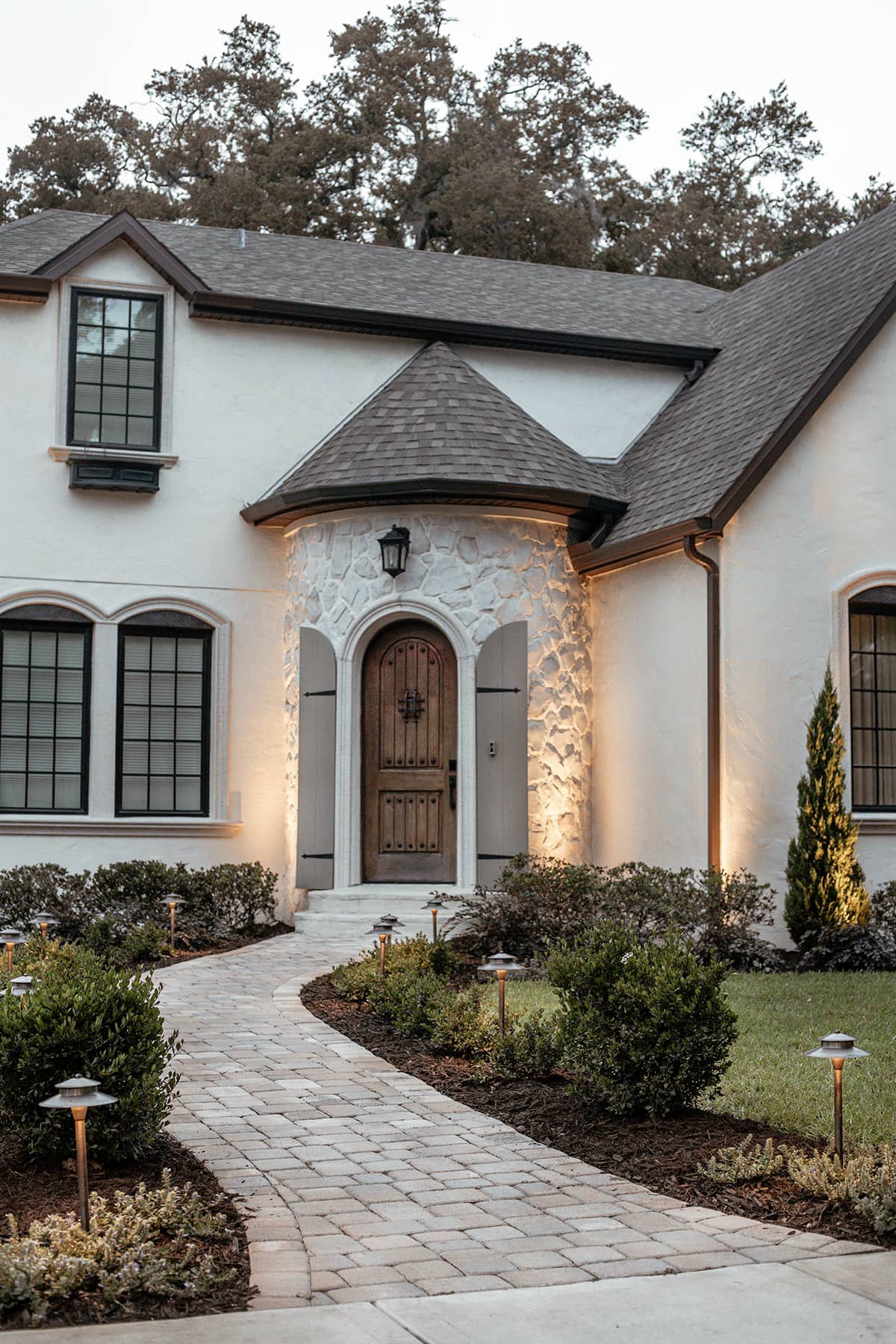 Now that we're finally in a good place with our yard, it's critical to maintain it this time around. We hired a full service company called Landcrafters FL to manage our landscaping. I was impressed with their work on Instagram, and our conversation after meeting with the head gardeners in person.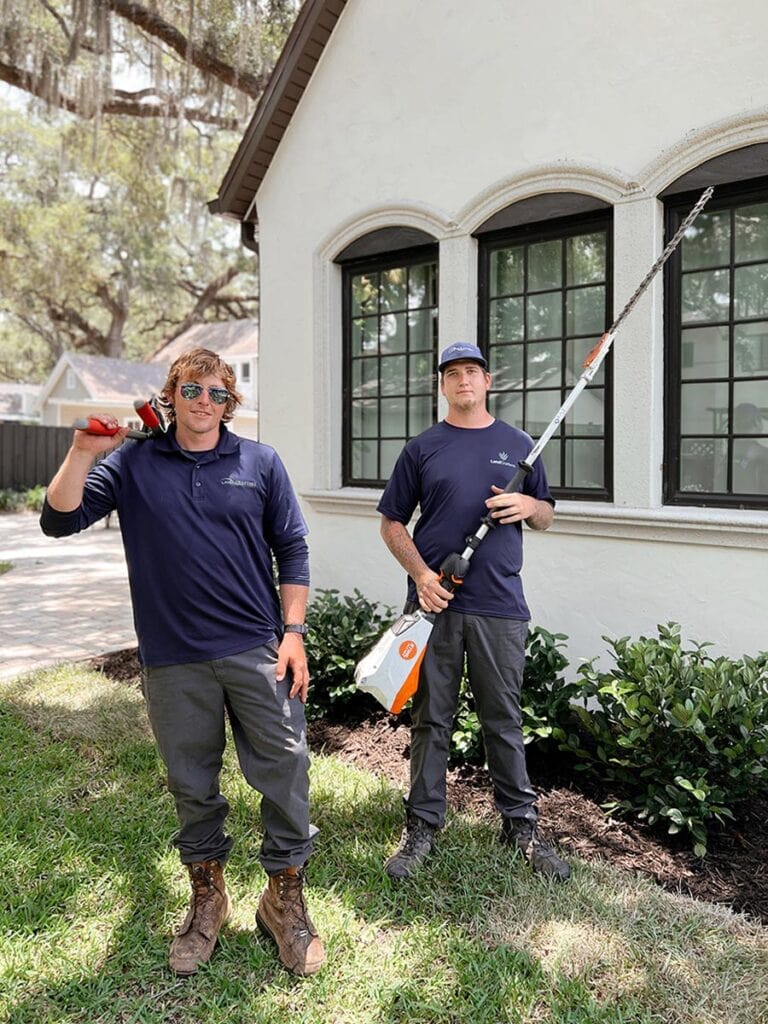 They created a maintenance plan for us that includes trimming, weeding, fertilization, cleanup and irrigation checks. We think it's absolutely worth the cost and feel confident they'll keep our outdoor spaces lush and healthy year round.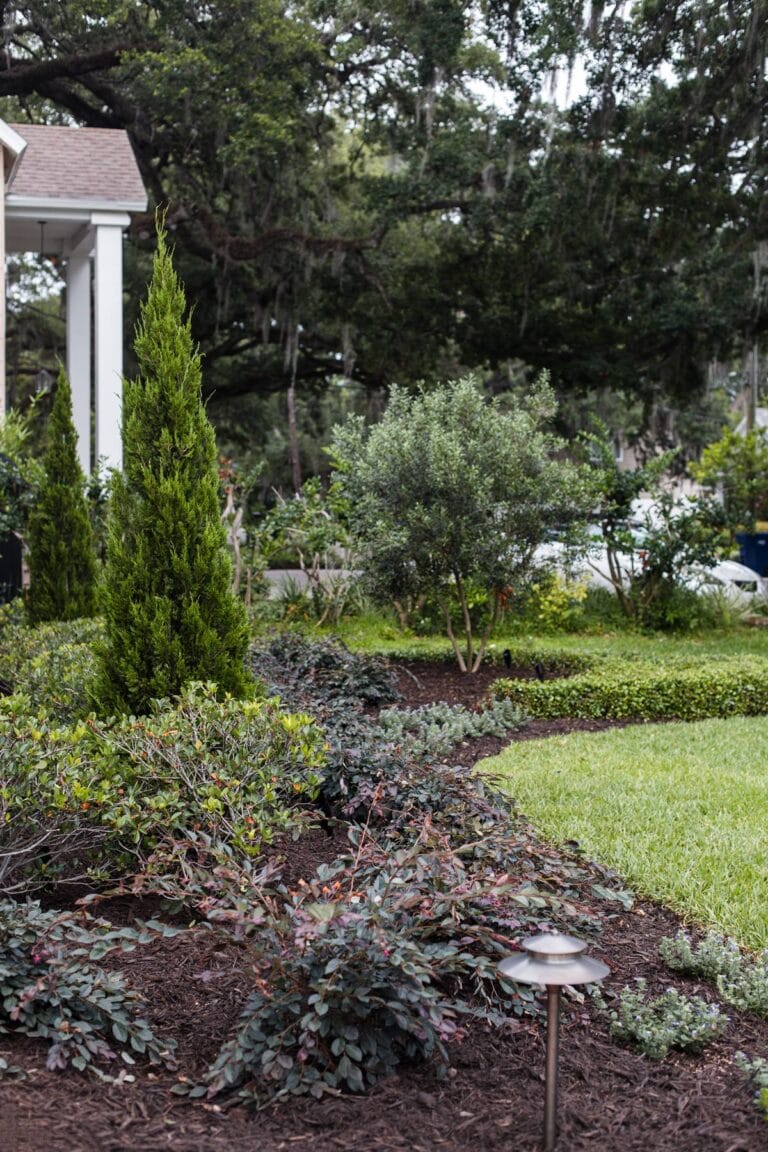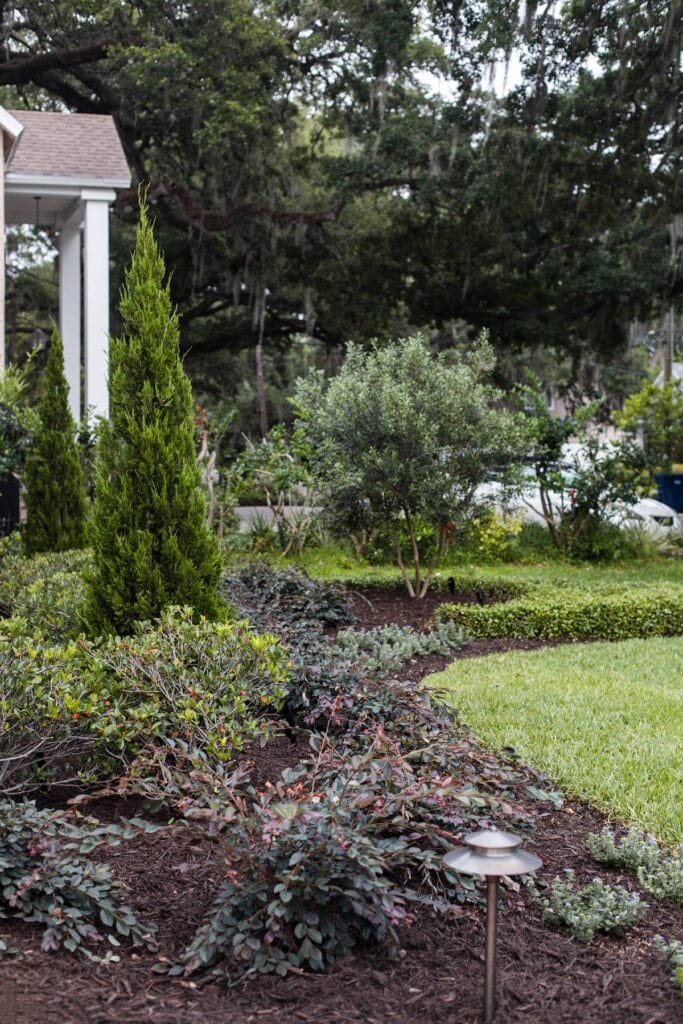 Most importantly, we'll have peace of mind and more time to focus on other priorities (like projects at the Hacienda Hideaway!)
Total cost
Our original landscaping total in 2019 came to $14,202. More than half of that was sod and mulch. Here's the full breakdown for anyone interested: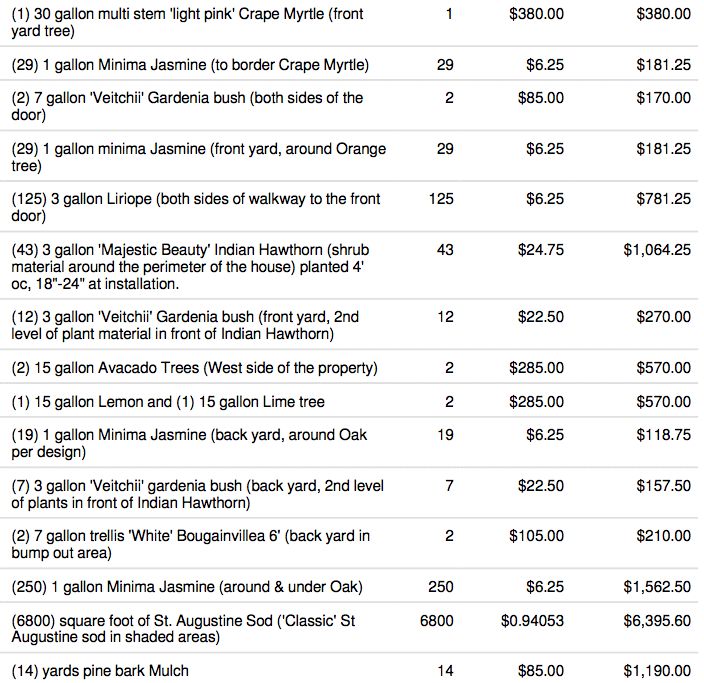 Round two came in even higher at $16,137, but a lot of that was landscape lighting: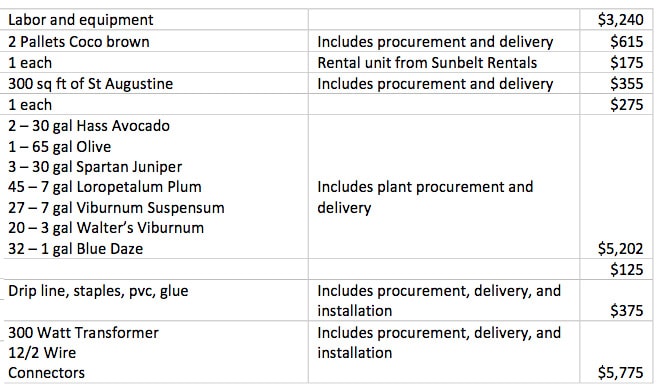 In the end, it definitely stings that we had to spend so much on landscaping twice (and we have to start over with some plants) but we knew this was a possibility going into it. I'm not sure if there's anything we could have done differently in our situation, with our limited time/energy and budget.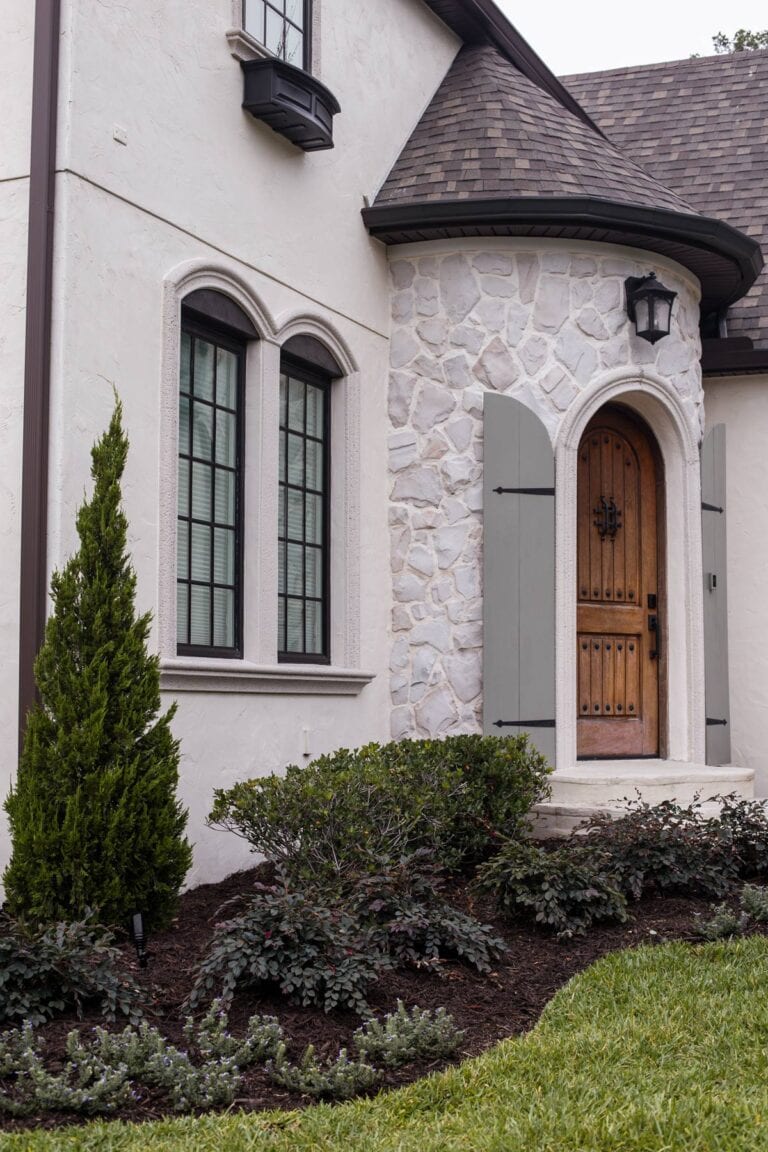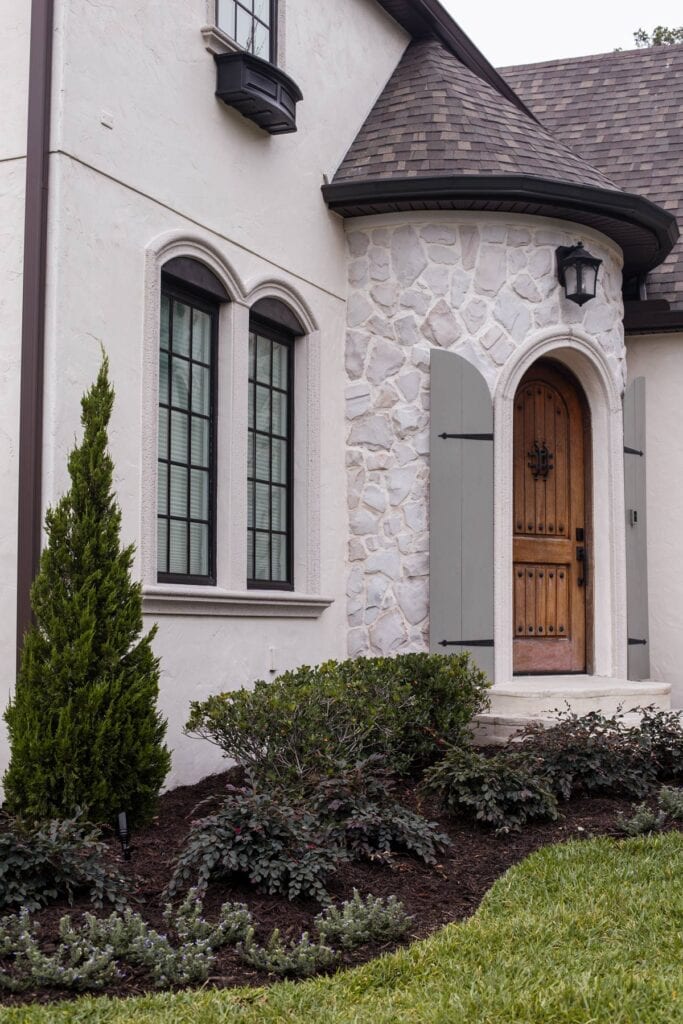 Now I'm focusing on the positives—we will finally have a beautiful yard moving forward, and we won't have to worry about it ourselves! The older I get, the more I value my time and sanity. Hiring this one out just makes sense.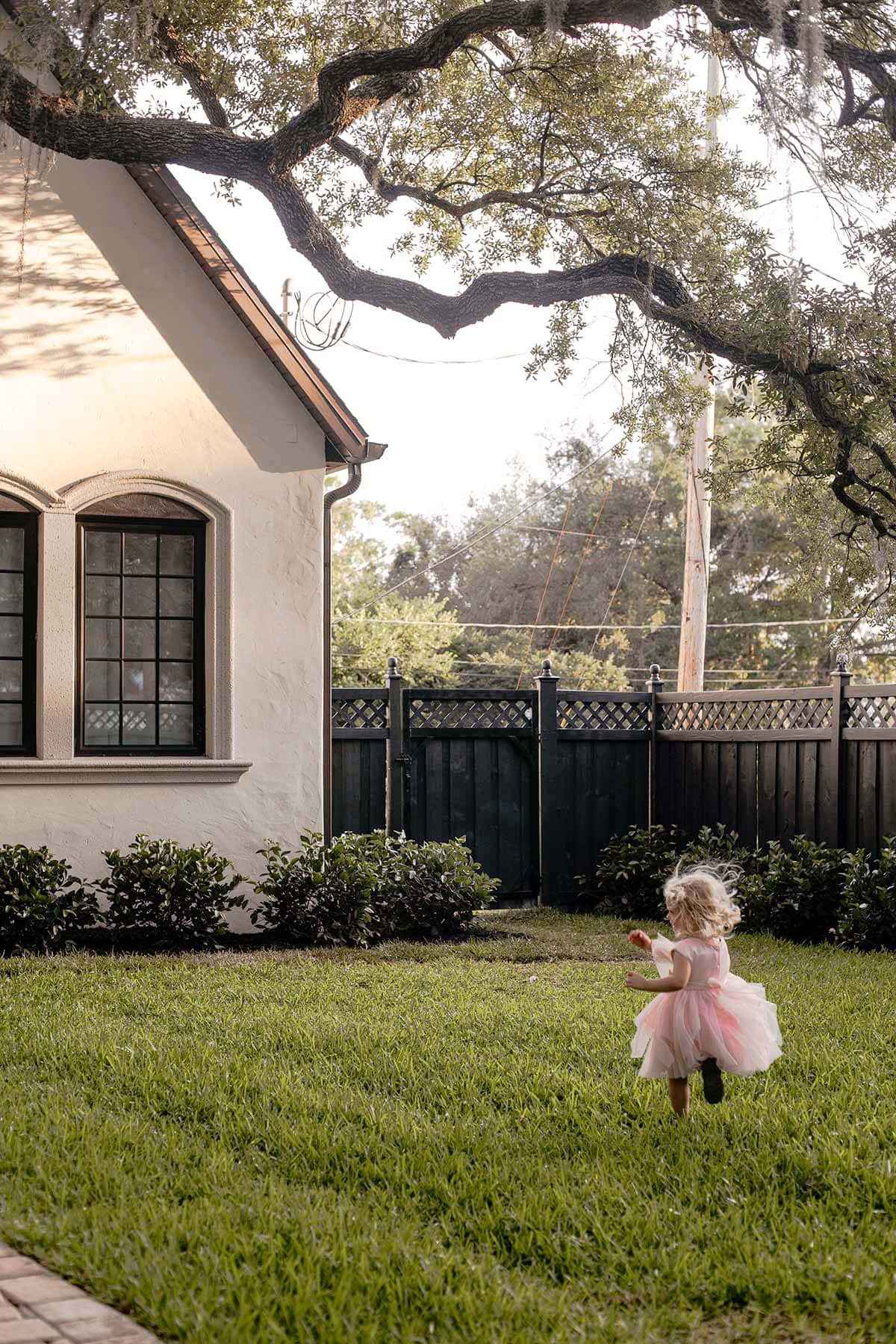 Do you have a similar landscaping experience or stories/advice to share? How do FL prices compare to where you live?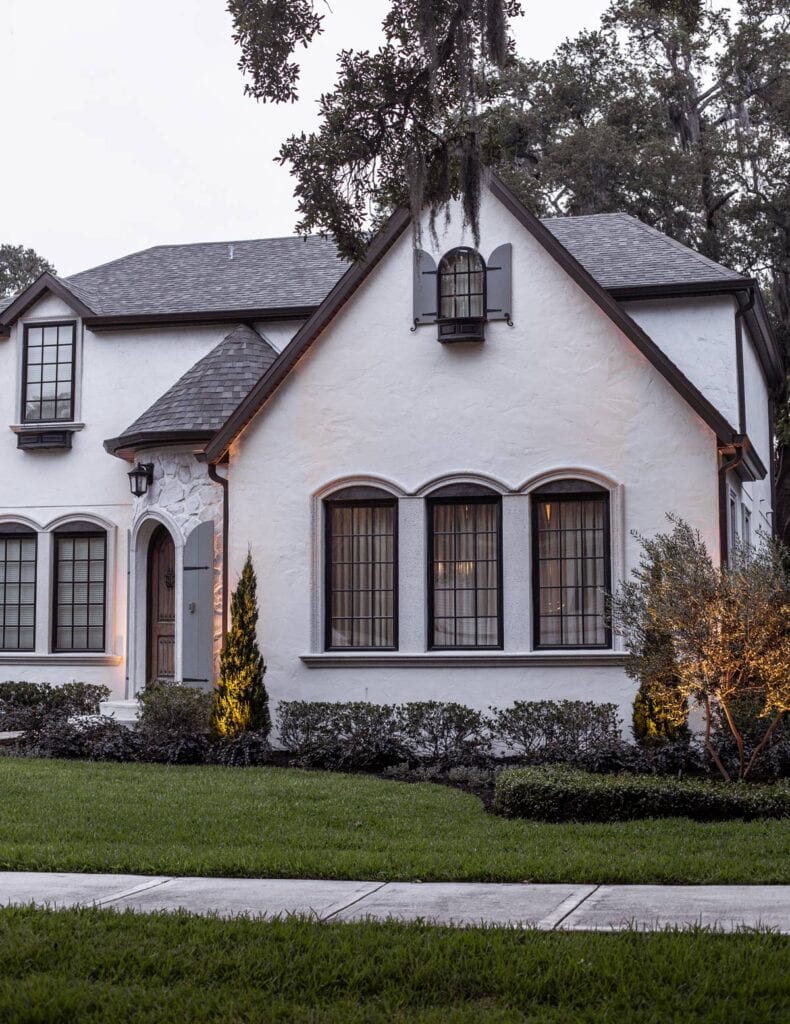 This is still unchartered territory for both of us and while the idea of gardening sounds fun, we'll stick to DIY projects for now 😉
If you have any questions about our experience, feel free to drop them below!