I've decided to document this trip in a daily diary entry style—sharing bits and pieces of our experiences and observations along the way, accompanied by photos and video vlogs. Some entries will be shorter than others or combined into multiple days, but this seems like the best way to go about organizing the memories that will be made over the next year.
I hope you'll enjoy following along, perhaps learn more about these places and even feel as if you're there, experiencing it all with us. We've just booked our flight to Peru for April 23rd, so after three weeks in Brazil I'll post the first video vlog (there's some amazing shots already, and I can't wait to share that with you!) In the meantime, you can follow our photos on instagram at #JandLtraveltheworld.
For now, let's kick off this crazy seven month adventure with our first week abroad…
Day 1: Panama City, Panama
After arriving at 5:45 am on a red eye which I could not fall asleep on, we made our way to the Copa airport lounge where I chugged three cappuccinos and watched the sunrise. The condensation forming on the windows was a welcoming sight—after months of a cold and dry San Francisco climate, we were ready for the tropical air.
An uber dropped us off at the Mercado de Mariscos, which is the famous local market where fishing boats dock and serve their catches of the day in an alleyway lined with ceviche cafes. It was 9am on a Sunday and nothing was open, so we continued to the streets of Casco Viejo.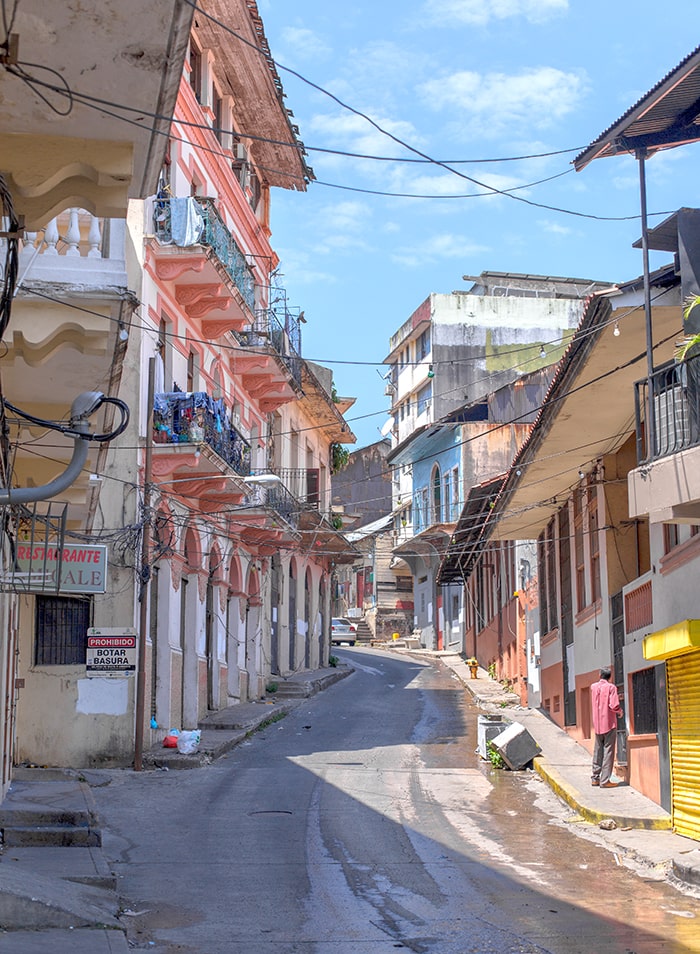 Pin
Downtown Panama City is something else—much more impressive than I had expected. From the Cinta Costera, you get an unobstructed view of the sprawling skyline, packed with modern skyscrapers and unique architecture, reminiscent of a Miami waterfront view.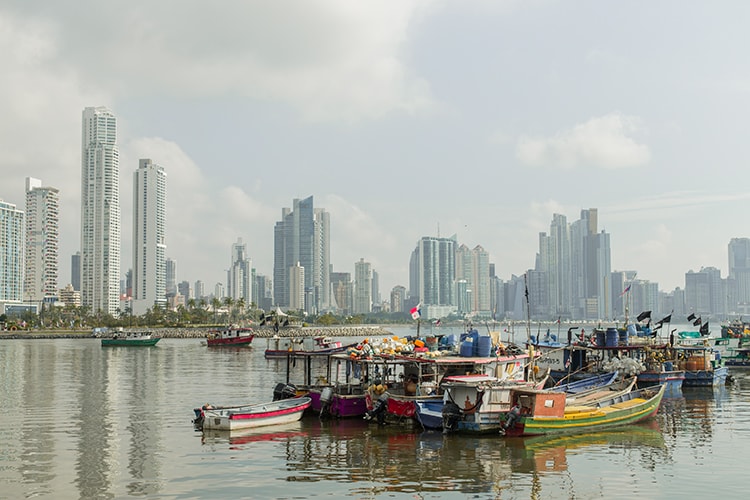 Pin
It's a stark contrast to the 17th century world heritage site of Casco Viejo, a charming peninsula of narrow cobblestone roads lined with Spanish style buildings mixed with squares, statues and abandoned ruins. It was nearly deserted as we wandered through the streets, already sweating from the humidity.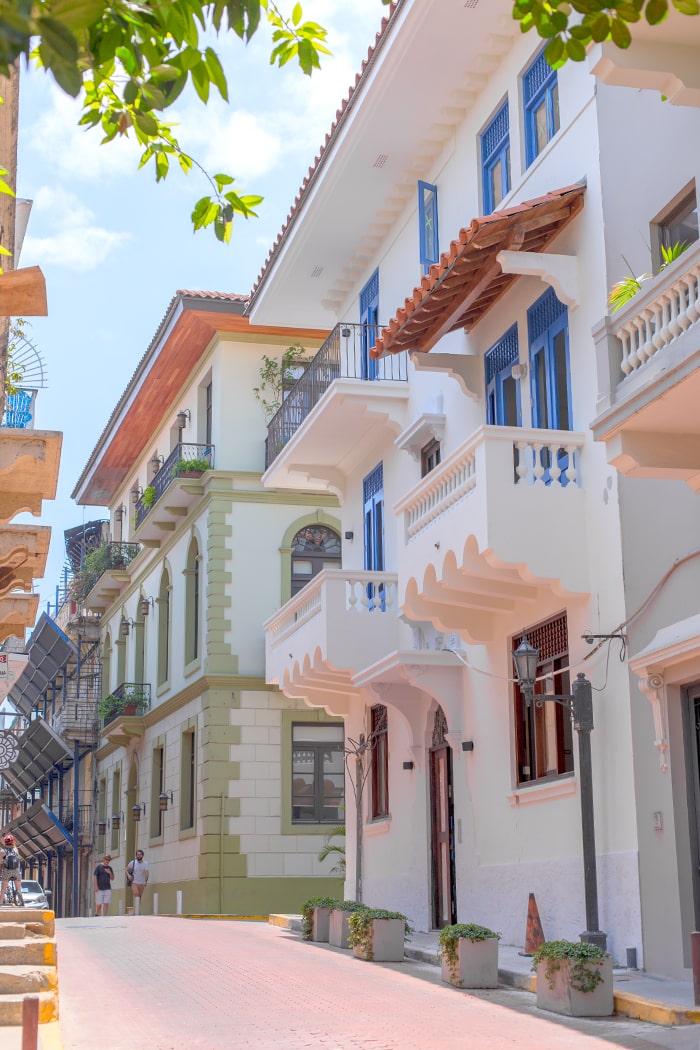 Pin
An older gentleman approached us on the street and we followed him around the town—stopping in a hole in the wall café for lunch, and exploring the outskirts where the locals reside as he gave us insight into the history and culture.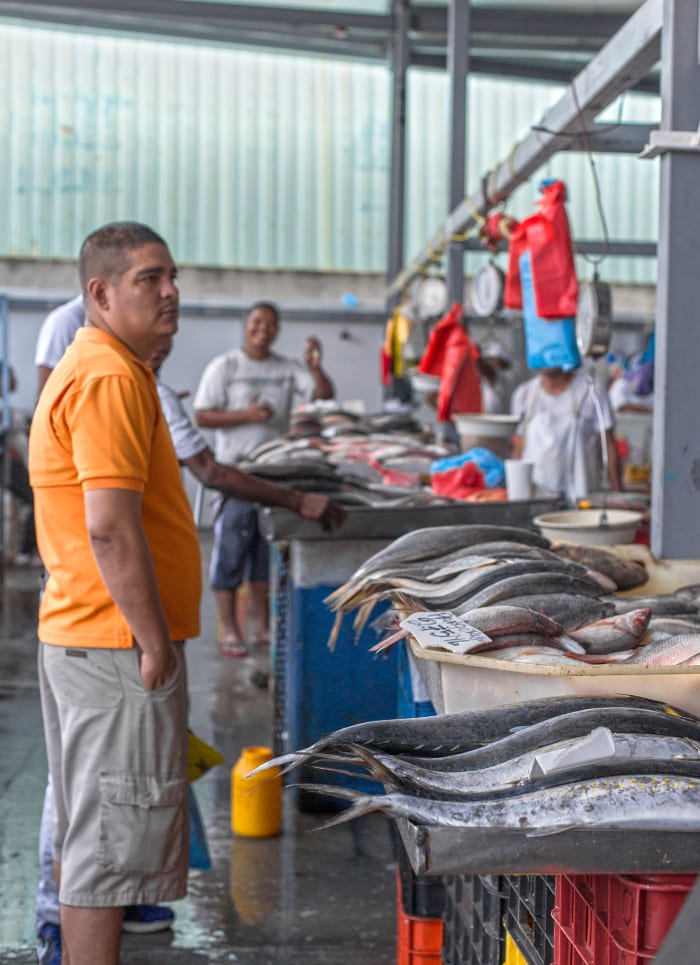 Pin
By this time, the fish market had finally opened and was more lively, with ceviche bars surrounding the perimeter and waiters desperately trying to pull you in. We found the only table next to a giant fan and a few minutes later we were eating spoonfuls of fresh ceviche from a styrofoam cup and sipping Panama's national beer. Just as quick as it had begun, we were back on a plane en route to Brazil.
Day 2: Central Rio de Janeiro
After checking into our hostel at 3am and sleeping for the first time in 30 hours, we wandered the streets of our new temporary home.
The smell of churrasco (Brazilian bbq) led us to a small, bar counter style local spot and we scanned the menu for any familiar words. Even with our basic knowledge of Spanish, Portuguese is completely foreign to us (apparently the Google translate app is just as confused). We pointed to a "combination meal for two" along with an agua, assuming that could be nothing else other than water. Instead we were handed a soda bottle that said "H2O" and was most definitely some form of Sprite.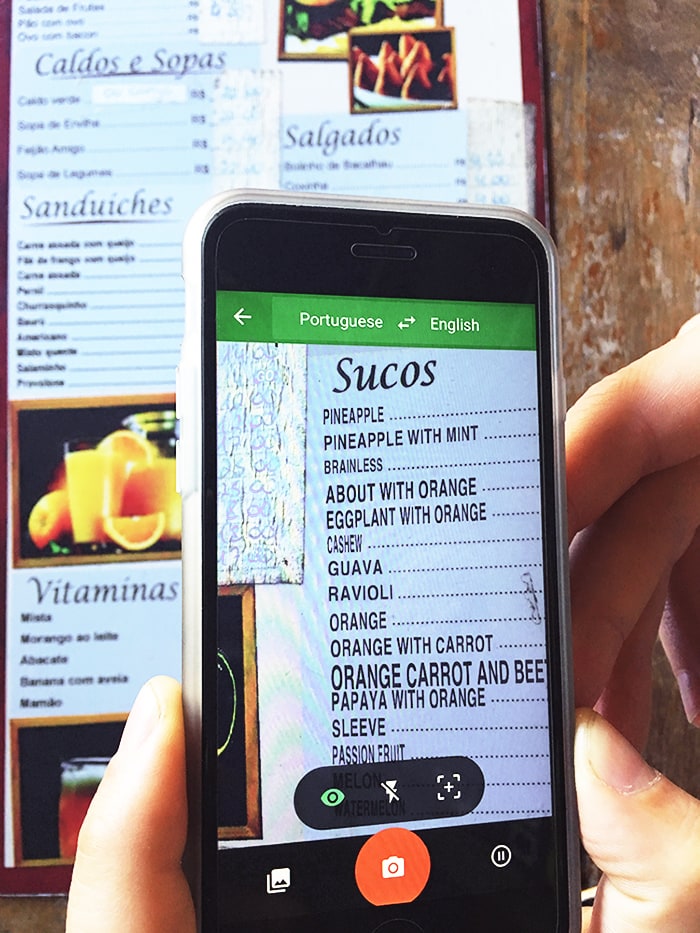 Pin
Minutes later, a giant plate of green rice and French fries was placed on the counter. Then a plate of what appeared to be chunks of egg coated in flour. Then a bowl of beans, a bowl of salsa, and finally, a platter of steak, chicken, sausage, onions and peppers. Normally I clean my plate, but we didn't even make a dent in this feast that could have easily fed four football players. First impression of Rio: Brazilians like to eat.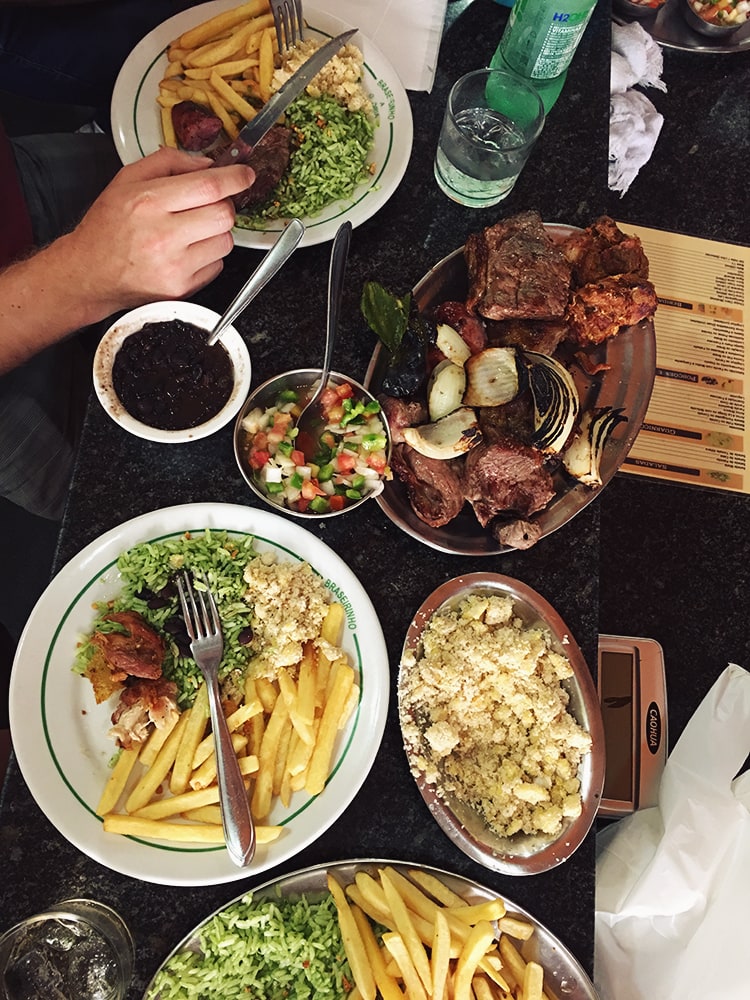 Pin
The rest of the day was spent digesting our food and figuring out the public bus system to get to Sugarloaf Mountain so we could watch the sun set over the city. We made it to the cable car ticket booth with an hour to spare, paid 80 reais each and glided up to the first peak, in awe of the breathtaking scenery below. It was our first real view of the city, and it was quite something to witness in person.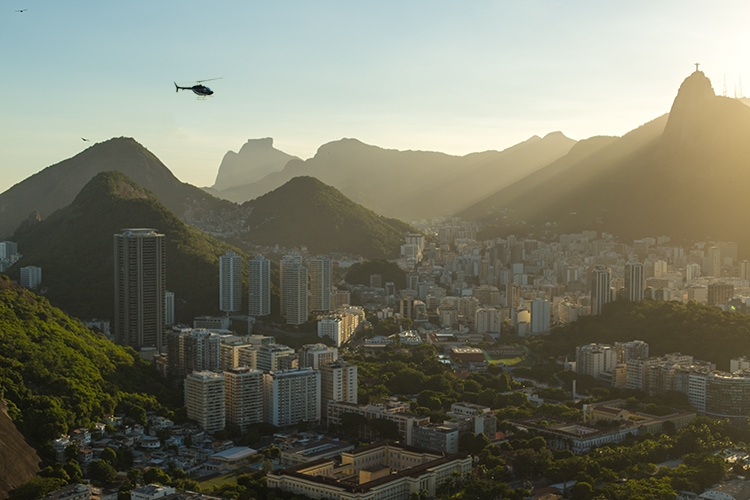 Pin
We boarded the second cable car up to the highest peak, and squeezed our way in through the crowds to grab a front row seat of the light show. From the top there's a 360 degree view—from the city center to Cristo Redentor, to the beaches of Ipanema and islands off the coast. Sunbeams highlighted the favelas on the cliffs and the sky turned shades of deep pink and purple. Helicopters and birds hovered above us as small mass of clouds formed at the base of the Christ in the distance, and the crowd clapped as the sun dipped below the horizon.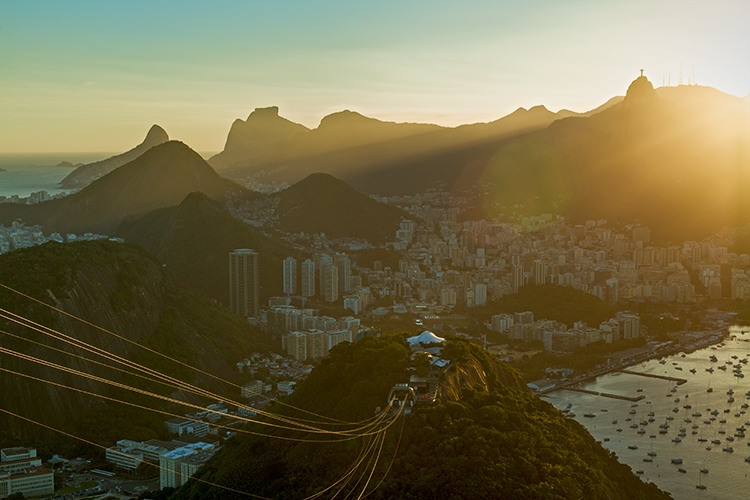 Pin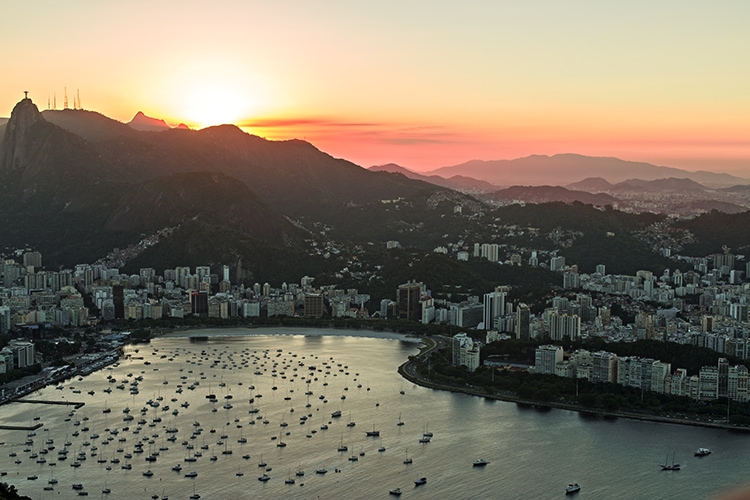 Pin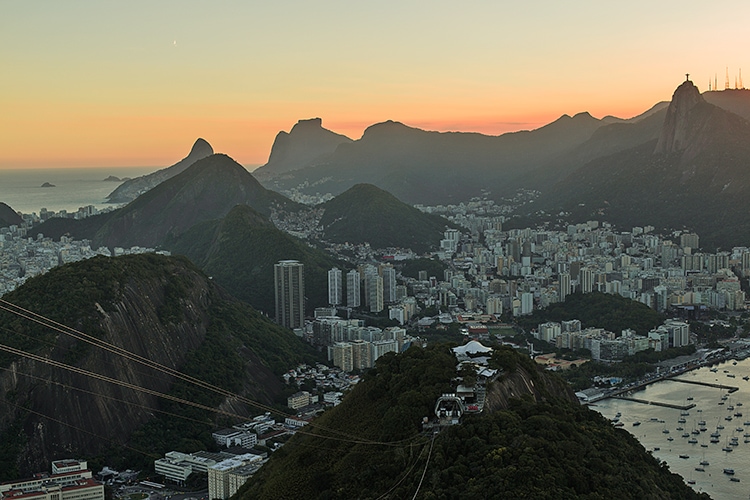 Pin
It could have been the ending scene from a movie, and I was so glad to have been able to capture those shots (video to come!)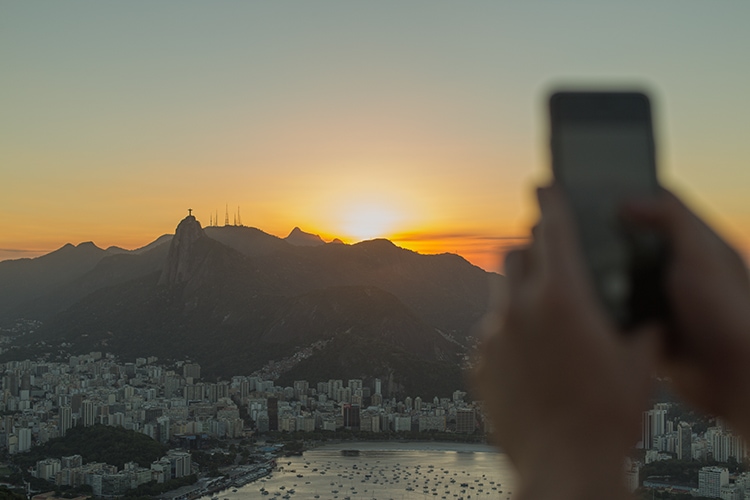 Pin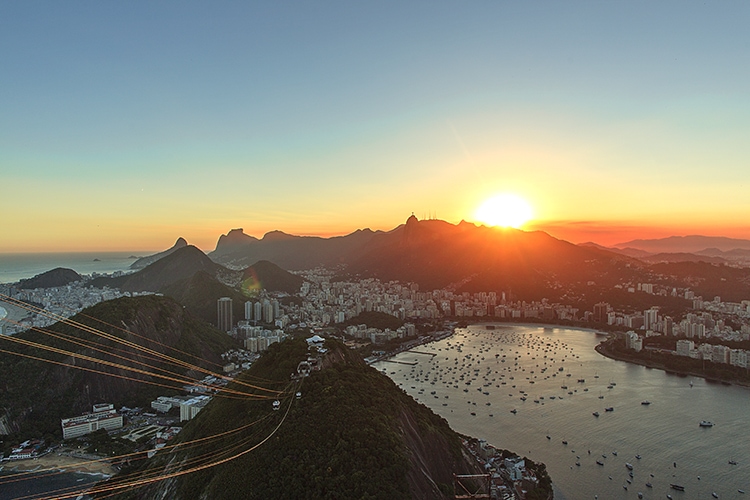 Pin
Feeling energized from what we'd just witnessed, we arrived back at our hostel ready to experience Rio's infamous nightlife scene. After meeting other travelers from different parts of the world, we ended up in an uber with a Norwegian couple, on our way to a neighborhood known for the biggest parties. We ordered four caipirinhas—a potent Brazilian staple made with pure sugarcane liquor, sugar and lime—from a guy on the street who had been there for 20 years.
Soon after we found ourselves dancing the night away to a random mix of salsa, Shakira, rap, the Macarena, and American oldies. The people were just as diverse as the music, and we ended up closing the bar down with our new friends and great memories for our first night in Rio.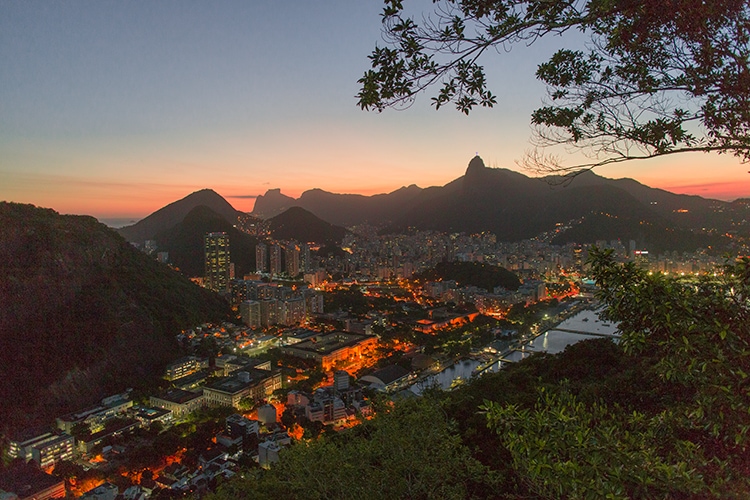 Pin
Day 3-4: Central Rio de Janeiro
The next two days in central Rio were filled with exploring the city's vibrant neighborhoods, sampling the local cuisine and learning about its' long history.
We hiked up winding cobblestone streets through Santa Teresa, past colorful doors and painted walls. The area was quiet and calm, with shady trees and city views along the way—reminiscent of the San Francisco streets I frequently walked through.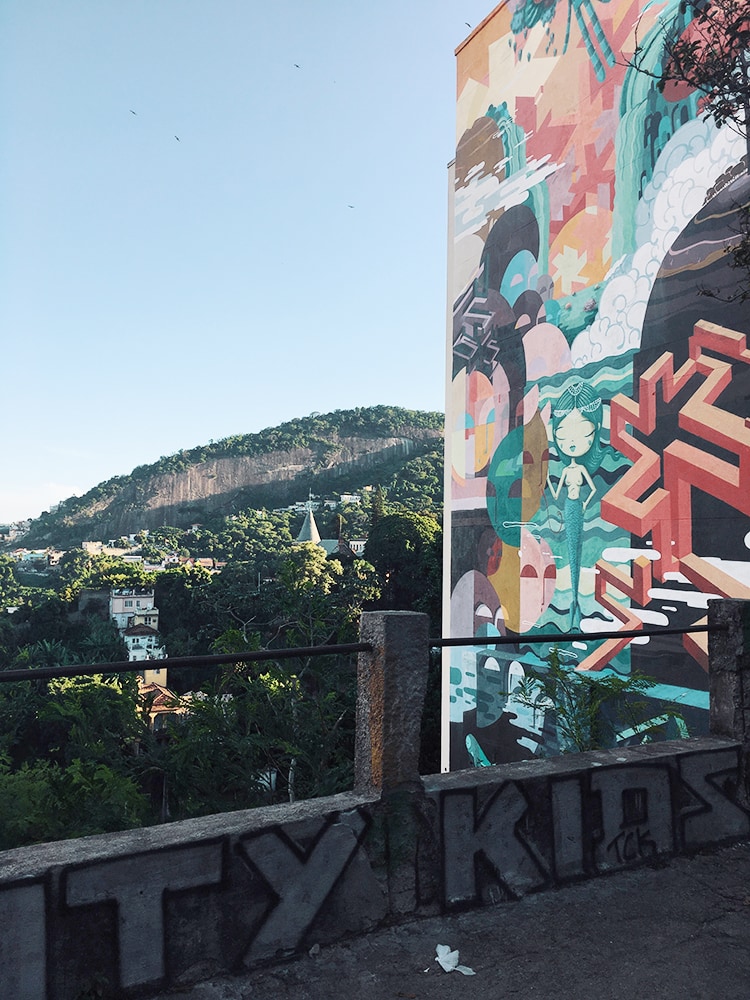 Pin
From there we entered the Parque de Ruinas, I tried my first of many Brazilian açaís, and took in 360 degree views from the top balcony.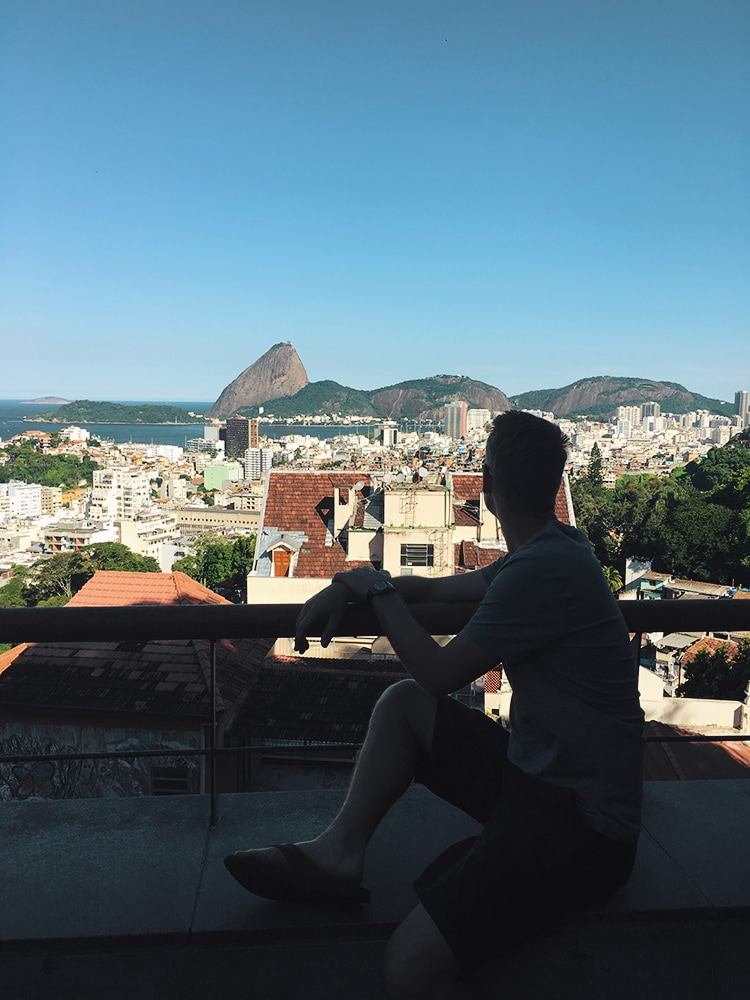 Pin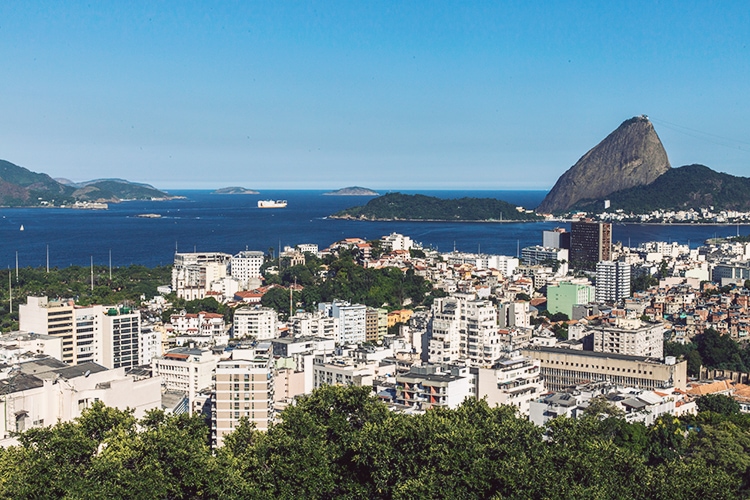 Pin
A free walking tour brought us to the Escadaria Selarón—an iconic Rio landmark of colorfully tiled steps. We passed by street vendors selling everything from VHS tapes to staplers, dish racks to naked baby dolls sprawled out on blankets on the sidewalk.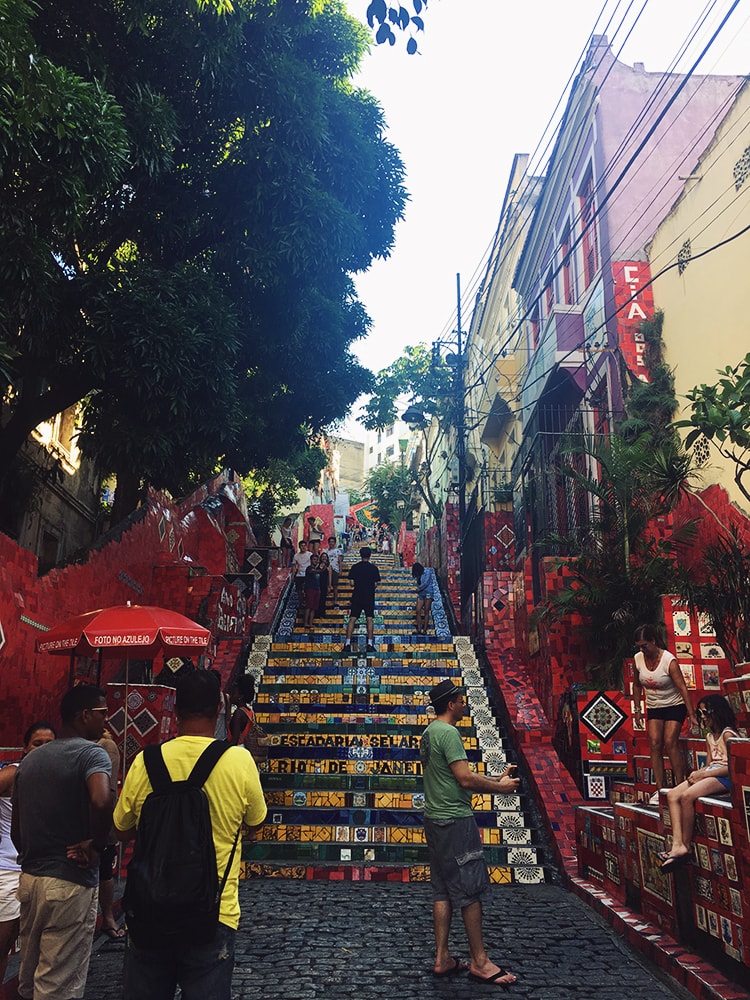 Pin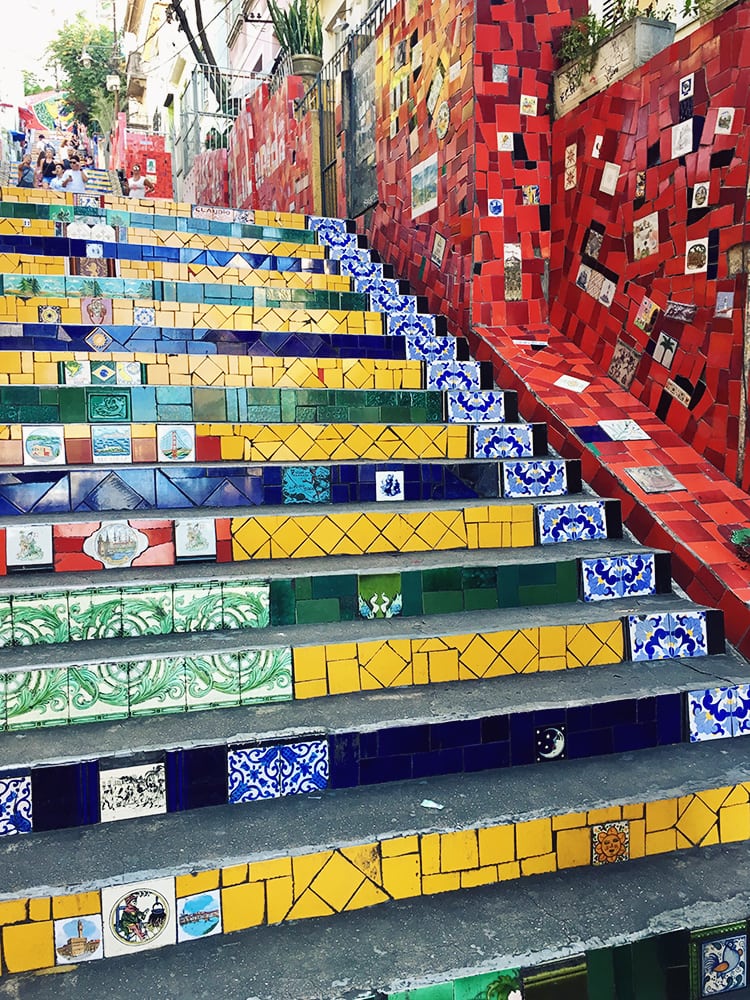 Pin
Even more common than street vendors are confectioneries. Brazilians love their bread and sweets, and as a sugar addict, it's both a blessing and a curse. For breakfast we'd walk to a local café and choose a handful of mysterious stuffed and fried breaded treats, savoring each bite as we guessed what was inside. Fortunately, we're averaging 5-10 miles on foot each day to balance out the influx of carbs and sugar (at least that's our reasoning).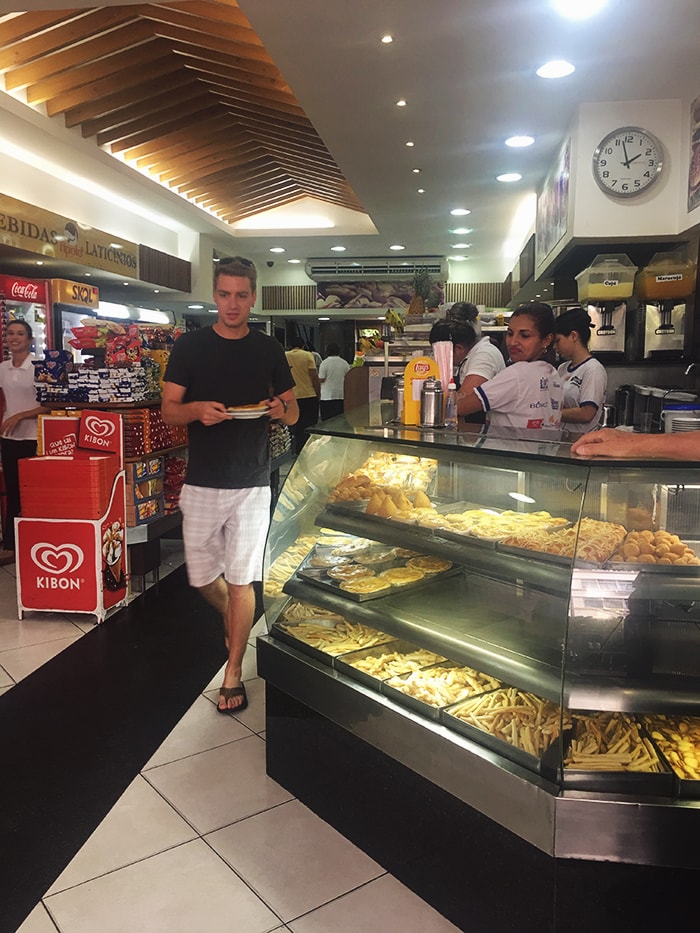 Pin
Walking through Rio is a feast for the eyes. The walls are covered in bright murals and graffiti—but the graffiti there is welcomed and a defining feature of the city. Each building is different, with interesting architecture and beautiful carved doors in every shape, size and color. Even the sidewalks are works of art with mosaic tiles laid in unique patterns which vary by neighborhood.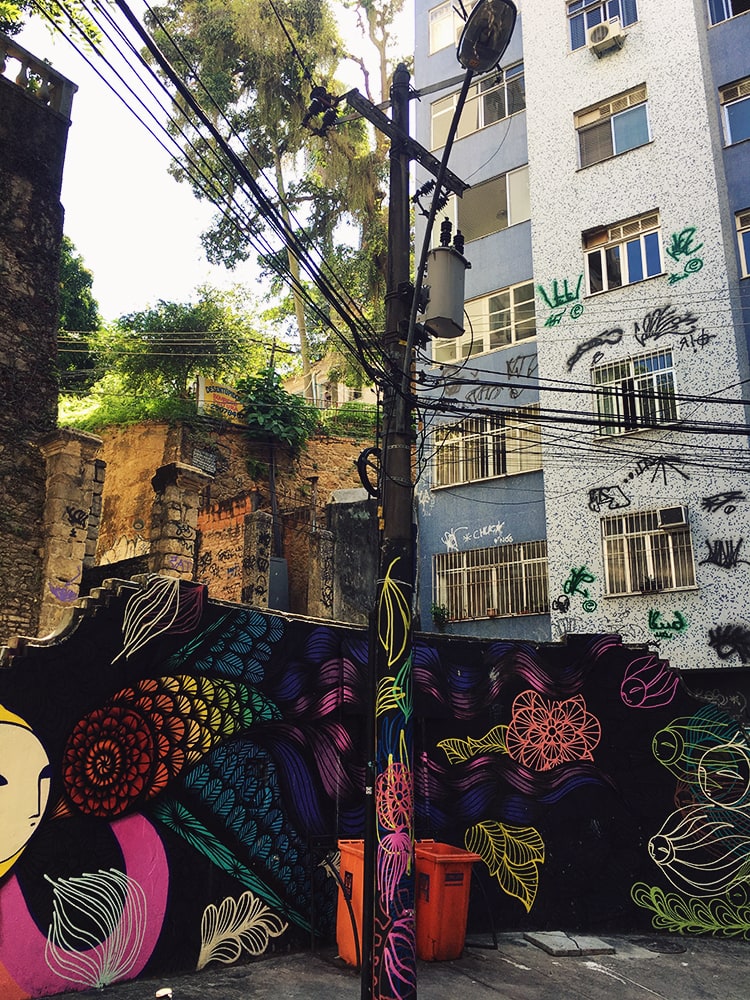 Pin
On a quiet Tuesday night, we sat on a romantic terrace surrounded by trees and string lights, sipped fancy cocktails and dined on the best meal we'd had in Rio. Later, a bartender exhibition rolled through and we watched and cheered as they performed tricks, spinning and throwing cups as they mixed the ingredients together. Our first few nights in Rio were relatively quiet, but the weekend is when it really comes alive.
Day 5-7: Copacabana & Ipanema
By Thursday we had relocated to Copacabana to check out Rio's picturesque beaches. The waters of Copacabana beach were a bit rough, so we walked to the neighboring Ipanema, on a wavy mosaic sidewalk past the rows of bars, food stands and vendors. A local pointed us in the direction of food (fortunately, the word for food is the same in Spanish and Portuguese) where we bought empanadas and rented an umbrella.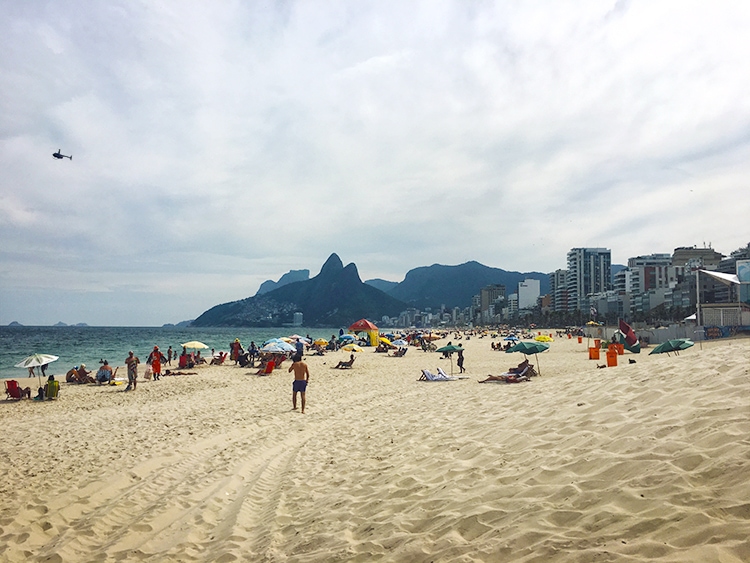 Pin
Our white skin made it clear we were tourists on a beach filled with rows of dark Brazilian bodies. People watching is the best in foreign countries—especially on one of the world's most famous beaches. My favorite character was the Portuguese speaking, blue bearded hippie cowboy, drinking liquor out of a wine glass behind us and preaching to bystanders—if only we understood a word he was saying.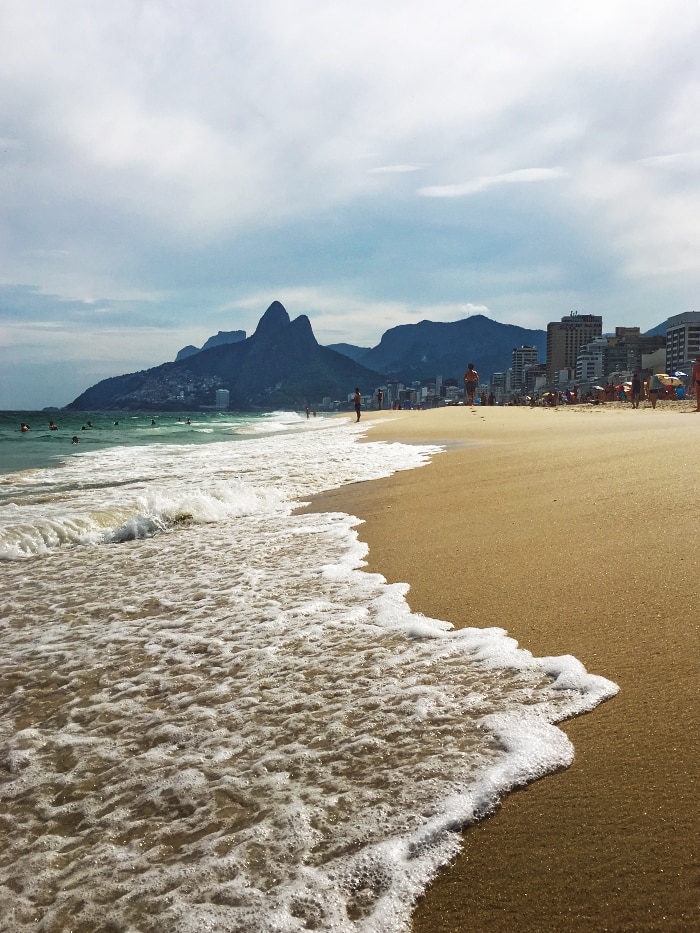 Pin
After getting our fill of sun and açaí bowls, we made our way to Arpoador Rock to watch the sunset. This small peninsula divides Copacabana and Ipanema beaches and attracts locals and tourists alike. It's the perfect spot to sip a cheap caipirinha and take in the views as the sun dips below the horizon and the city begins to glow.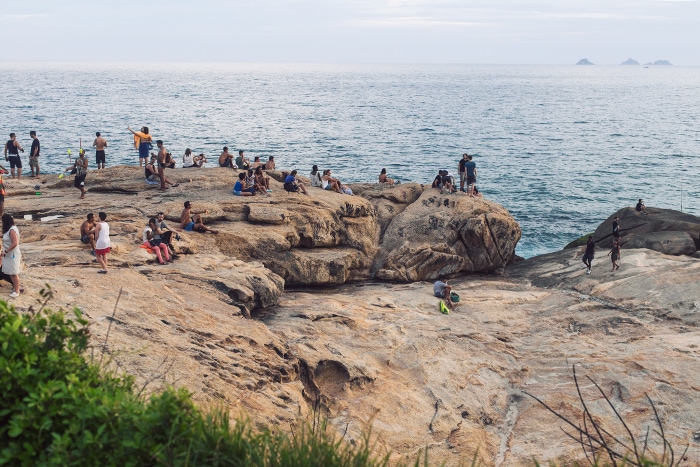 Pin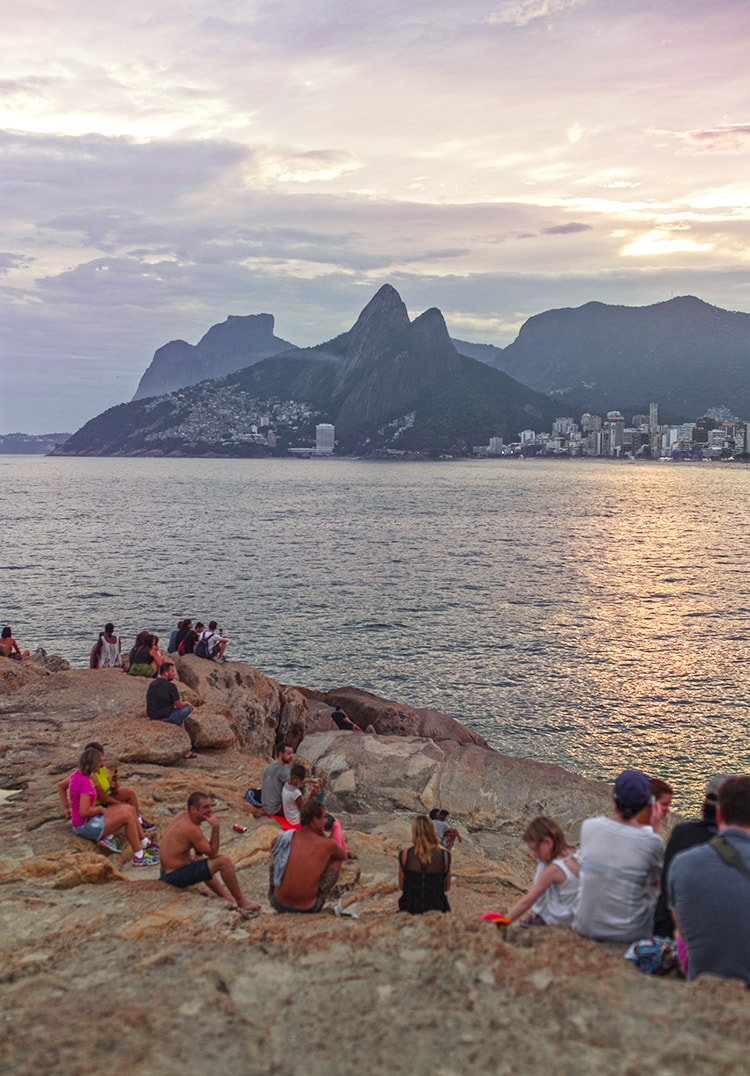 Pin
Our hostel threw a barbecue party Friday night, where we joined a crowd of mostly locals and other South Americans, and were able to practice our Spanish with new Argentinian friends. Later we went to the famous Lapa neighborhood, home of Rio's biggest nightlife scene. The rain began to pick up but that didn't stop hundreds of partygoers from hopping from bar to bar and gathering in the streets. We found cheap fruity caipirinhas and met a Danish girl who introduced us to her group of friends as we wandered the streets, ducking into bars and dancing along the way. By this point it was pouring outside, but we welcomed the cool rain on our sweaty sunburned skin.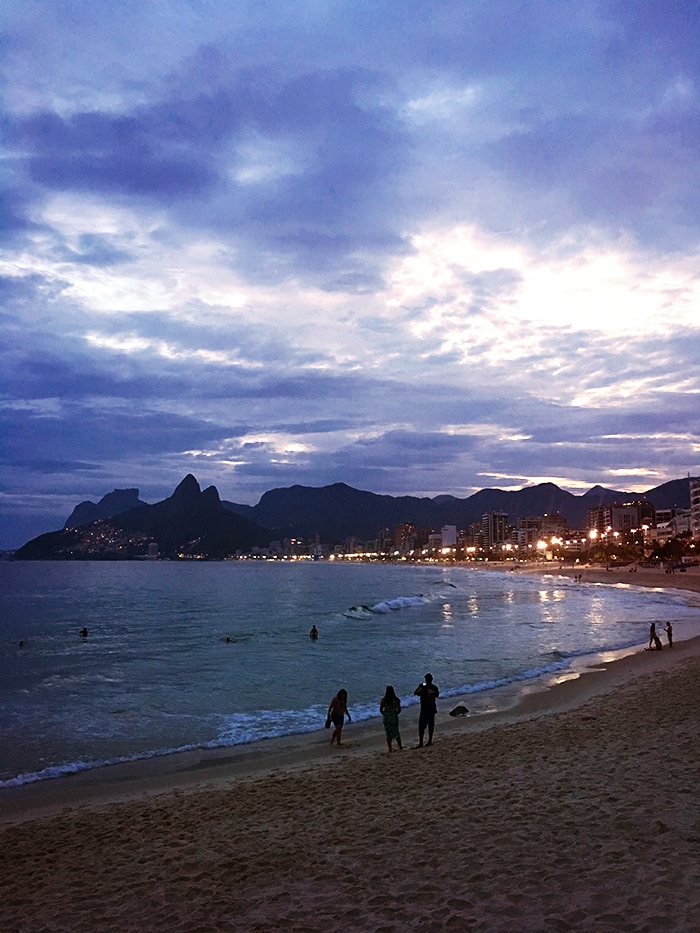 Pin
The backpacking scene is quite different in South America than Southeast Asia. As English speakers, we're in the minority so it's not as easy to make friends (thankfully we have each other!)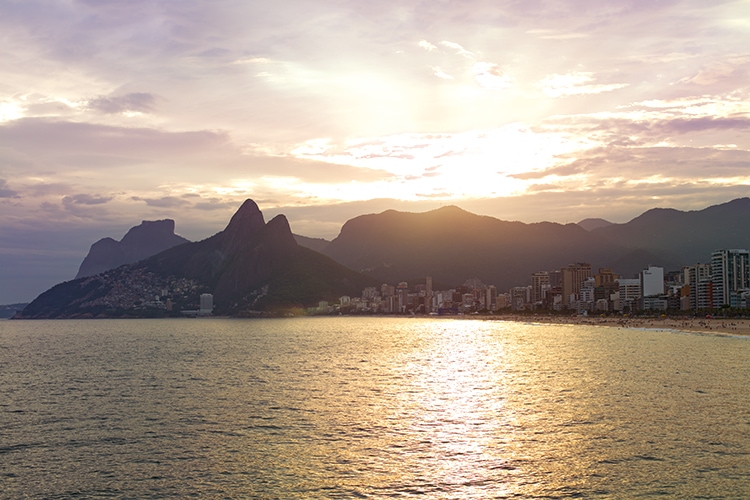 Pin
One night we hopped around to random hostels and joined a group for a big party on the street, filled with hundreds of locals socializing as Brazilian music played from the bars. There we met a couple girls from New York, and we all ended up at an outdoor night club at the base of a horse racing track. The crowd was lively and filled with nationalities from around the world. We danced with Argentinians and sang with Australians and cuddled with friendly cats. The dance floor was surrounded by straw huts where we escaped to enjoy the quiet solitude—an illuminated Christ the Redeemer visible in the distance with the lagoon and city lights below. This city is truly something special to experience.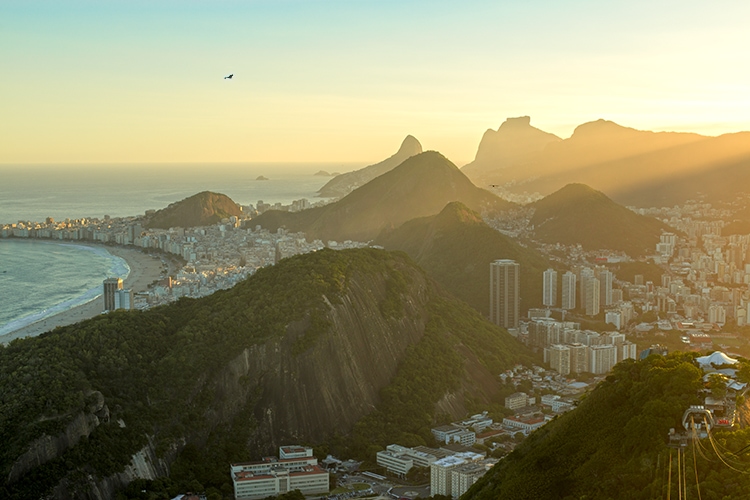 Pin
Next up: the island paradise of Ilha Grande…