For the past several weeks I've been working on a special project for some very special people—with the help of Joss & Main as part of their #10days10patios tour featured by Country Living!
Today marks Day 8 of the event, and I'm joining these other talented bloggers for a patio makeover:


Pin
Ella Claire | French Country Cottage | Love Grows Wild | Rooms FOR Rent | My Sweet Savannah
Craftberry Bush | City Farmhouse | Jenna Sue Design | Dear Lillie | Kindred Vintage & Co.
When given this opportunity, I knew that my parents deserved (ahem, needed) it more than anyone else. They purchased their original 1962 country cabin 1.5 years ago after falling in love with the outdoor space. Previously owned by a master gardener and surrounded by over an acre of lush fruit trees, plants and flowers blossoming year-round, my parents spend the majority of their time outdoors in the warmer months.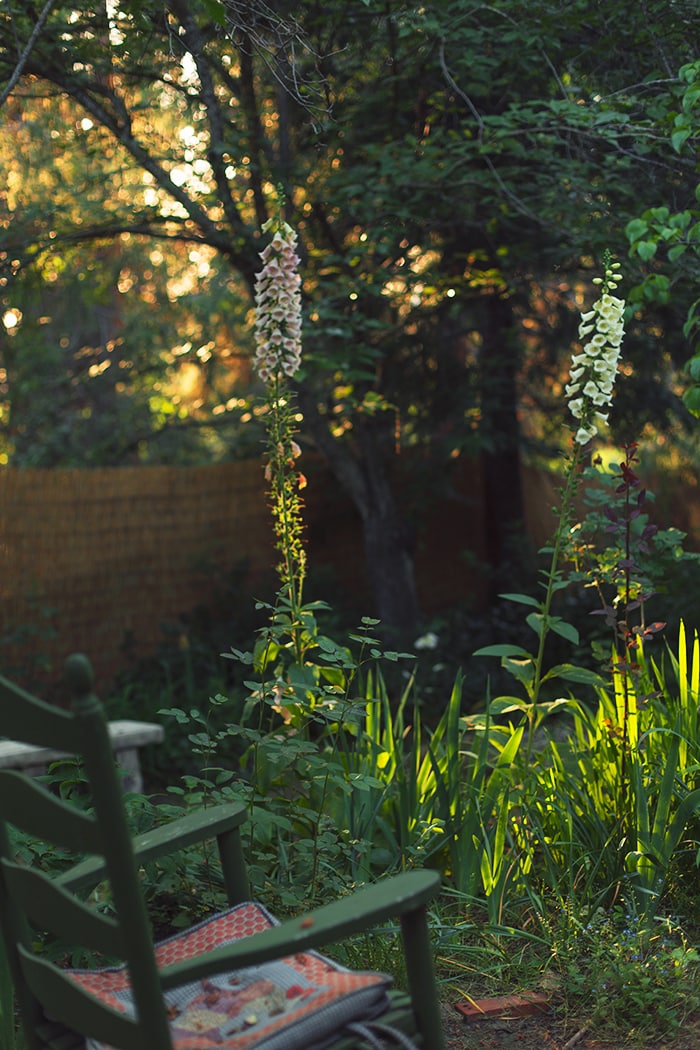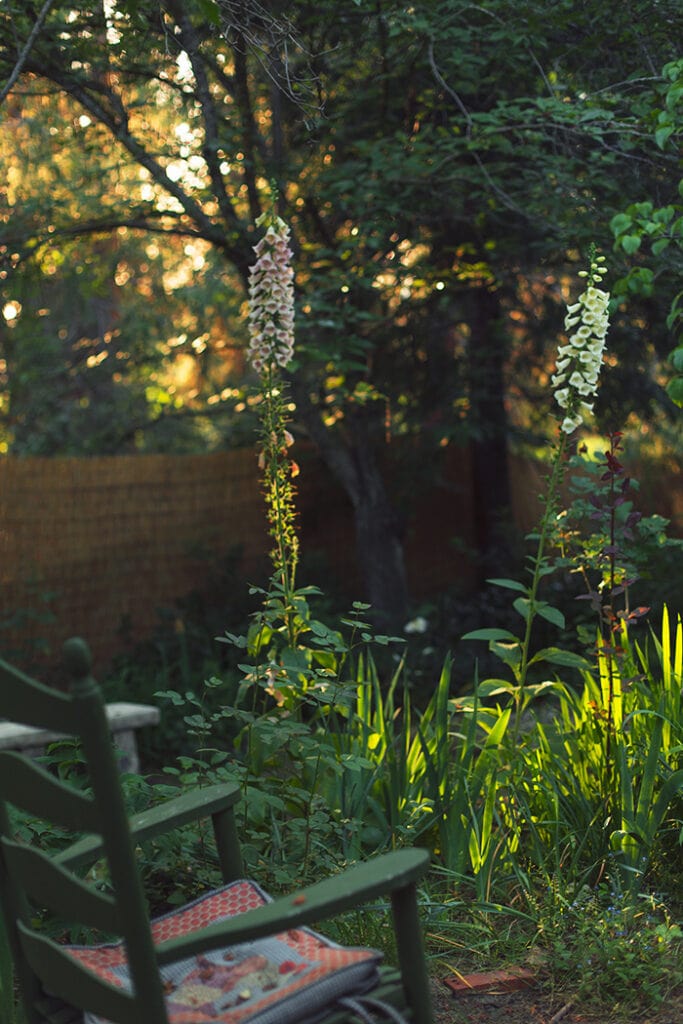 Pin
Between planting in their vegetable garden, tending to the chickens, grilling on the deck and stargazing from the hot tub, the yard has become an extension of their living space as they slowly update their forever home.
My parents also love to entertain (wonder where I got it from?) so this opportunity came at the perfect time to prepare for summer gatherings and dinner parties.
The area needing the most help was this side patio just off the back deck: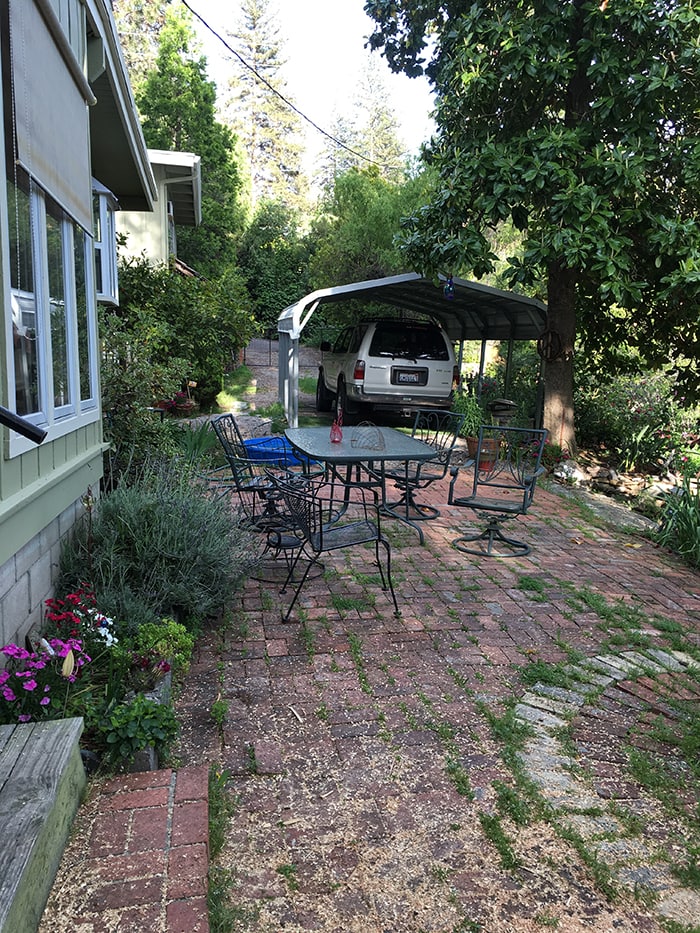 Pin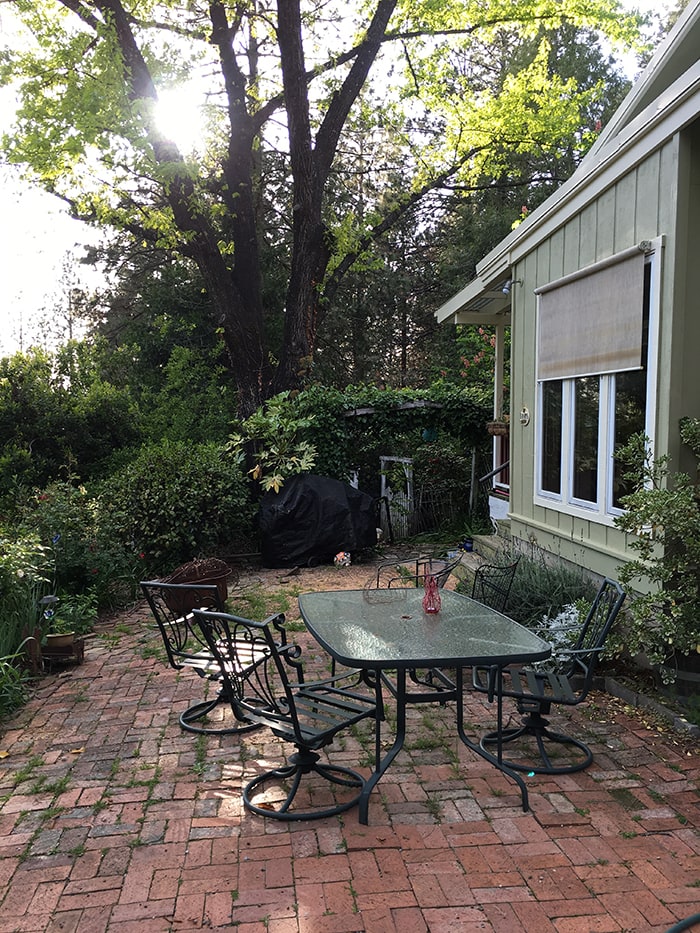 Pin
Between the uneven and overgrown sloping ground, the outdated dining set and rusty fire pit, this neglected space was not exactly the setting they'd envisioned to welcome guests: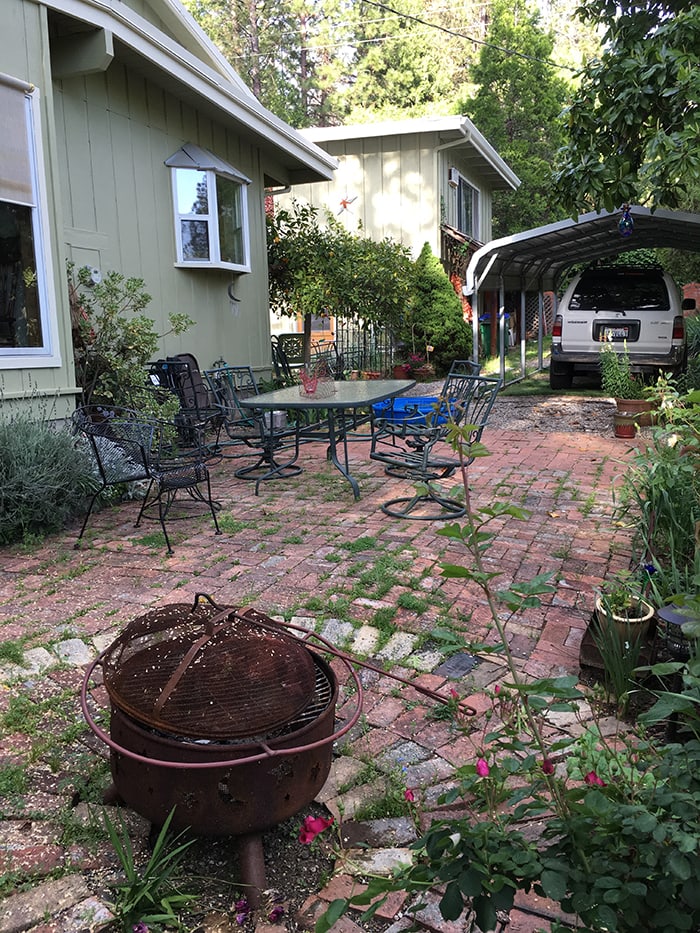 Pin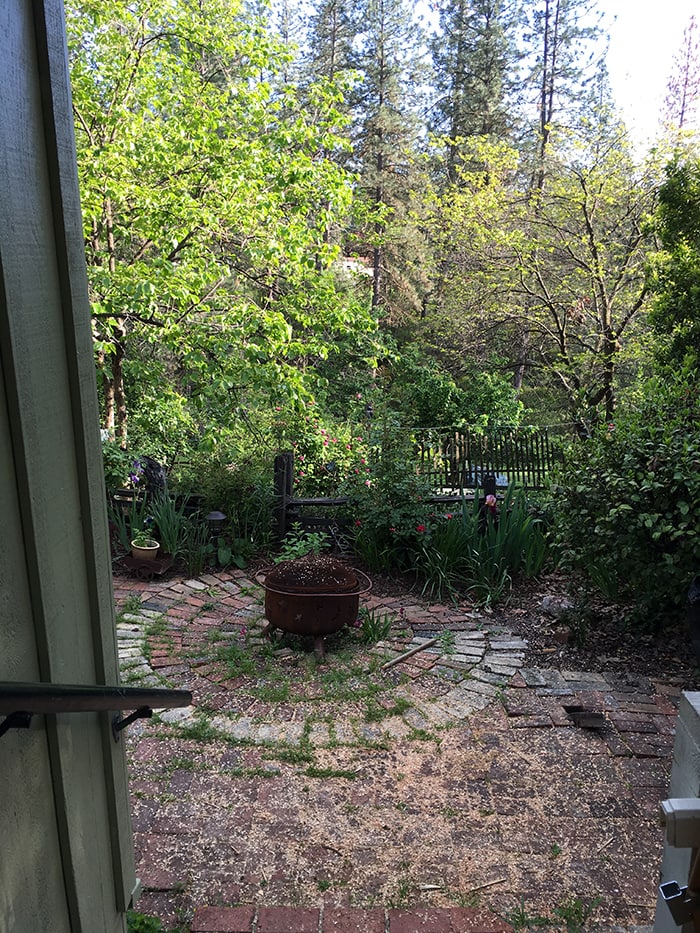 Pin
They'd been meaning to tackle this project for a while, but between full time jobs and a never ending to-do list, a swift kick in the pants was necessary to get the ball rolling.
That's where I came in.
After reviewing the budget and deciding on a game plan, they agreed to contribute their own efforts by investing in a new patio set and hiring a landscaper to fix the sloping ground: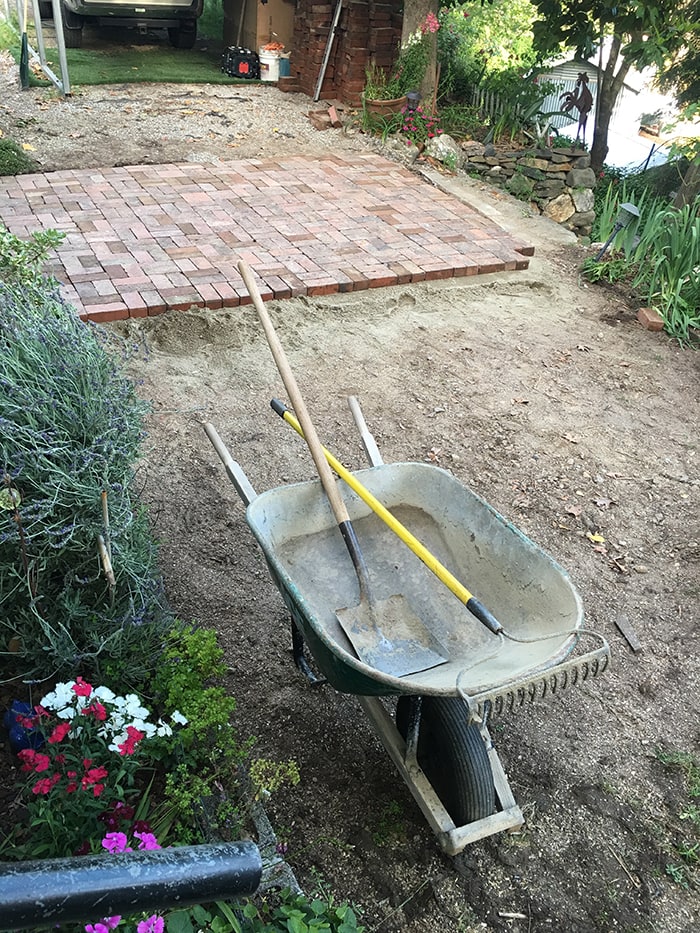 Pin
Labor began immediately as we were on a strict blogger's timeline, and the old bricks were reset onto the newly level surface while my dad worked with an electrician to string up the new lights.
My mom and I focused on the details as I channeled her love of blue, interesting patterns and vintage country style into a cohesive, timeless look.
Here's how it all came together…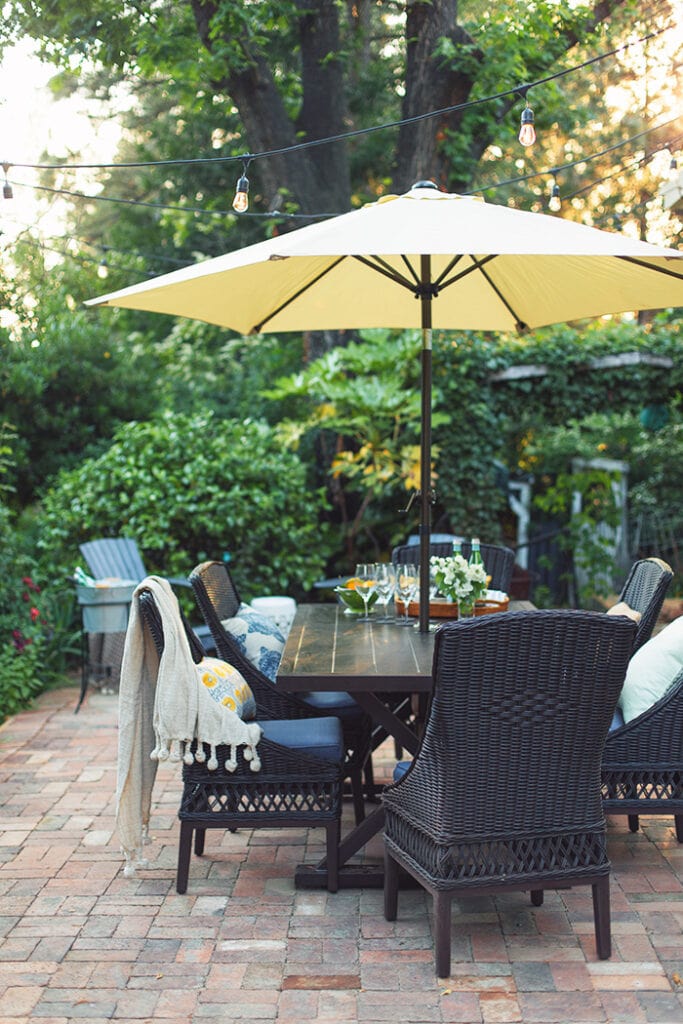 Two separate seating areas were created for dining and relaxing, and lighting was introduced in the form of cafe string lights and lanterns. We love the pop of color these hanging glass candle lanterns add to the background: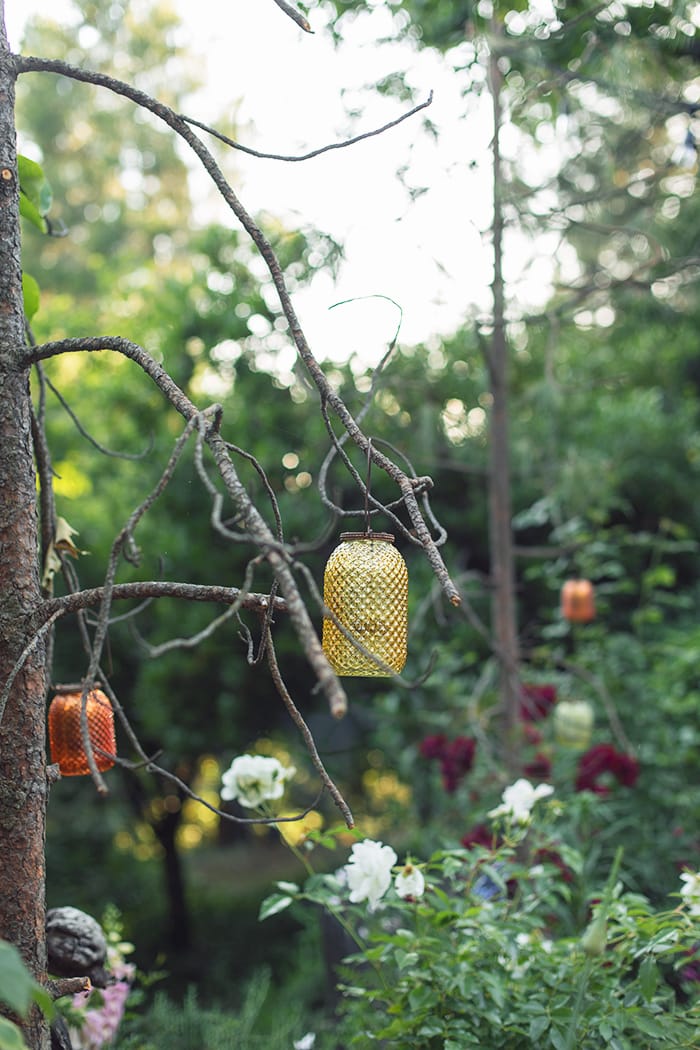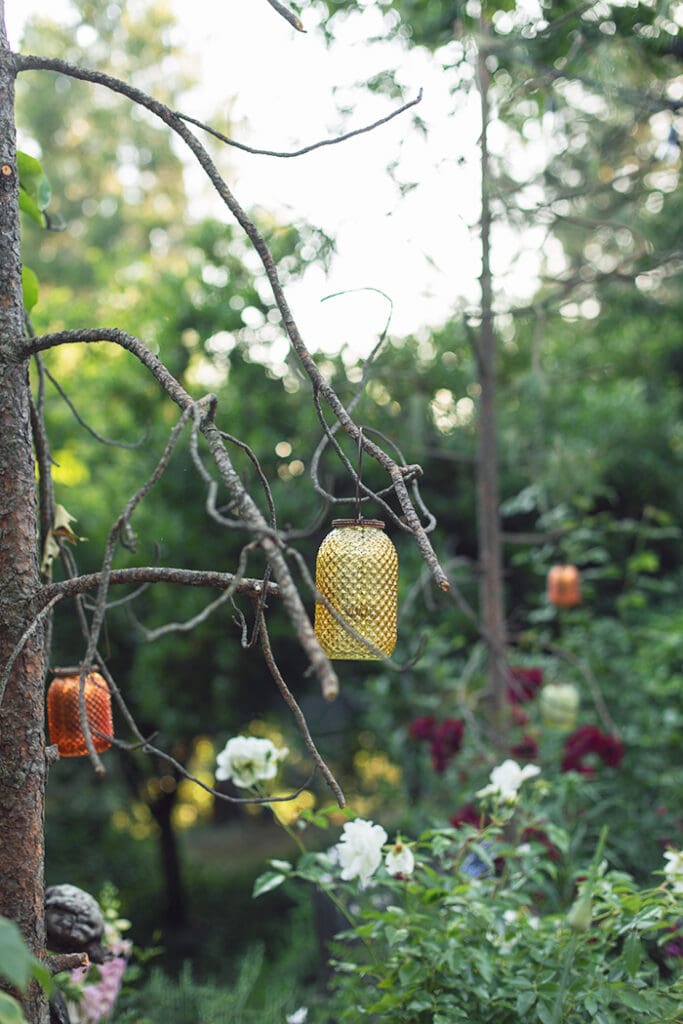 Pin
Pin
My parents were fortunate in that they had a beautiful backdrop to begin with, so all it really needed was a bit of planning, new furniture and pretty accessories to create the outdoor oasis they'd always wanted.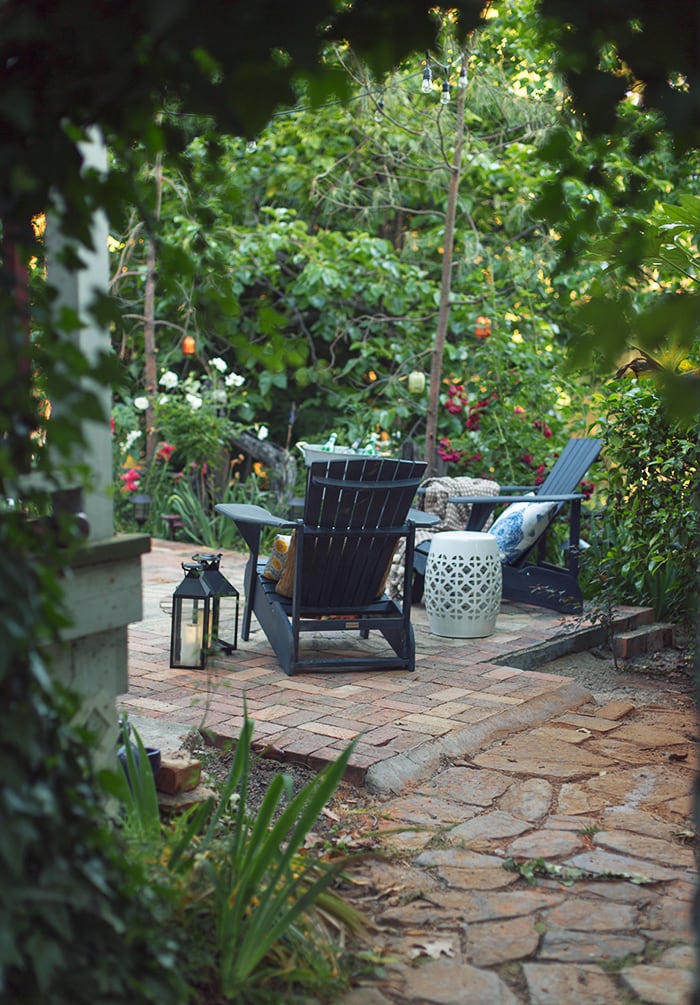 Pin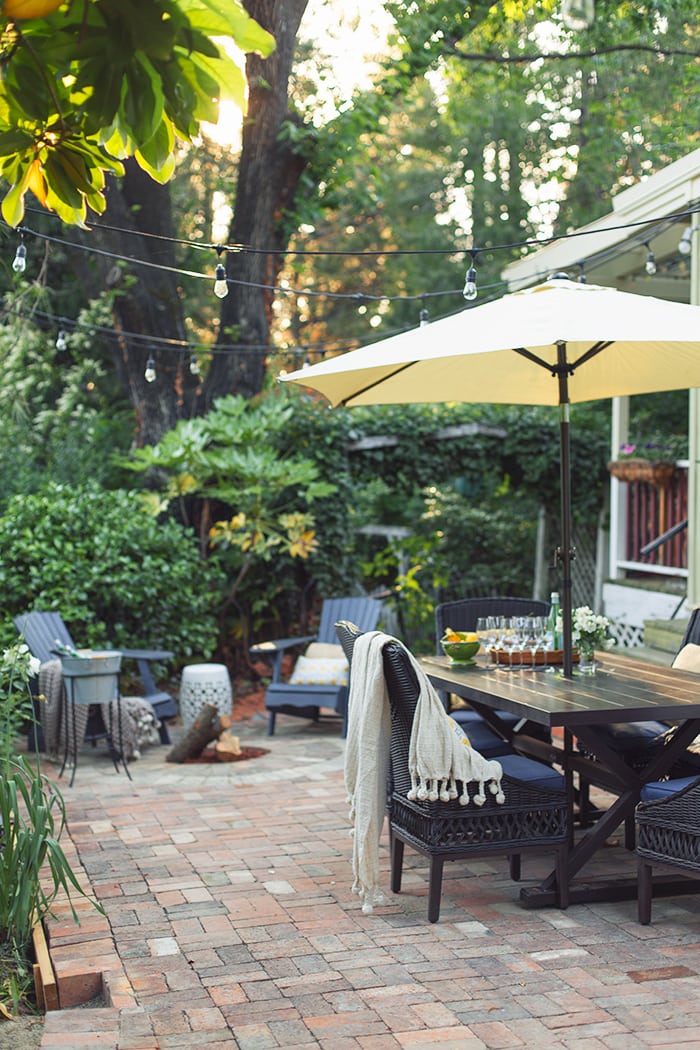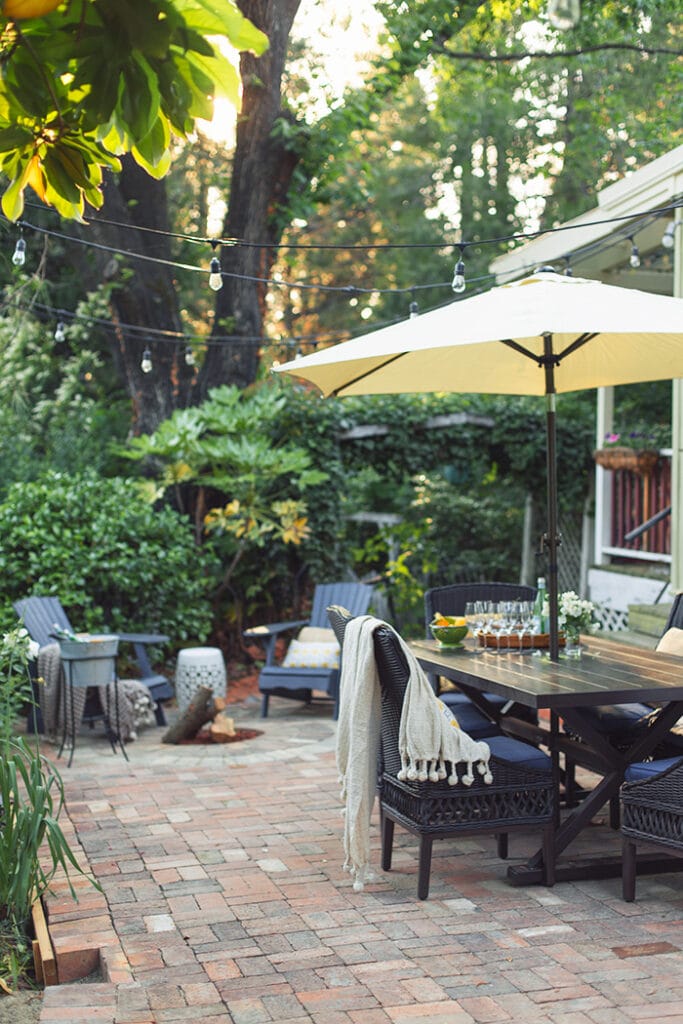 Pin
Styling this shoot was my favorite part. I found some pretty dishes in the cupboard and brought in napkins, a woven tray, and fruit & flowers clipped from the yard: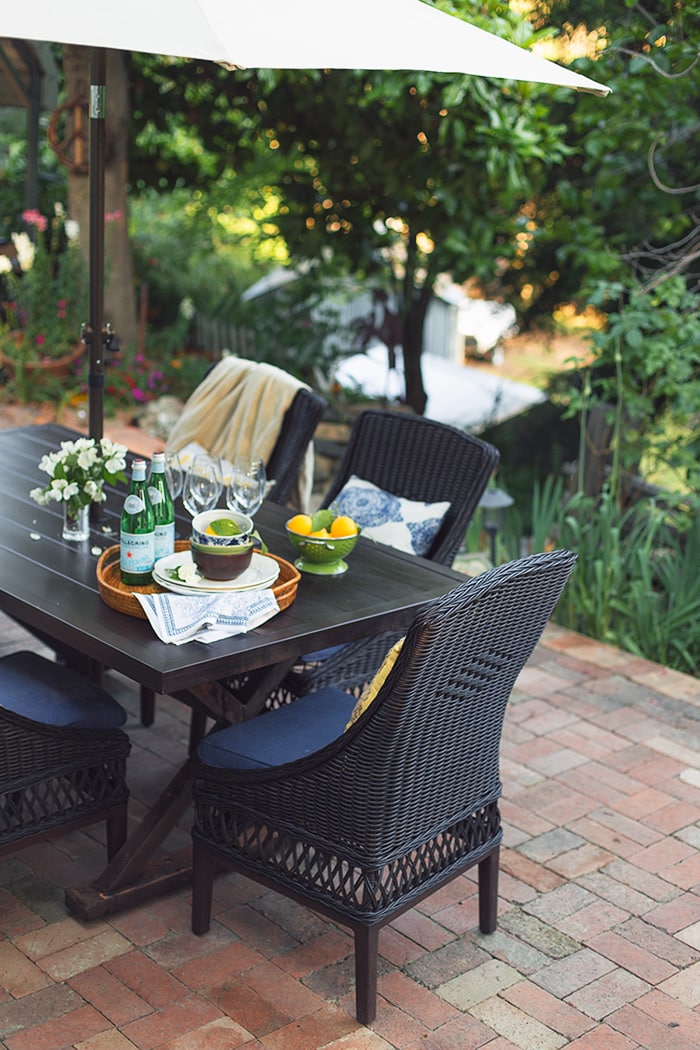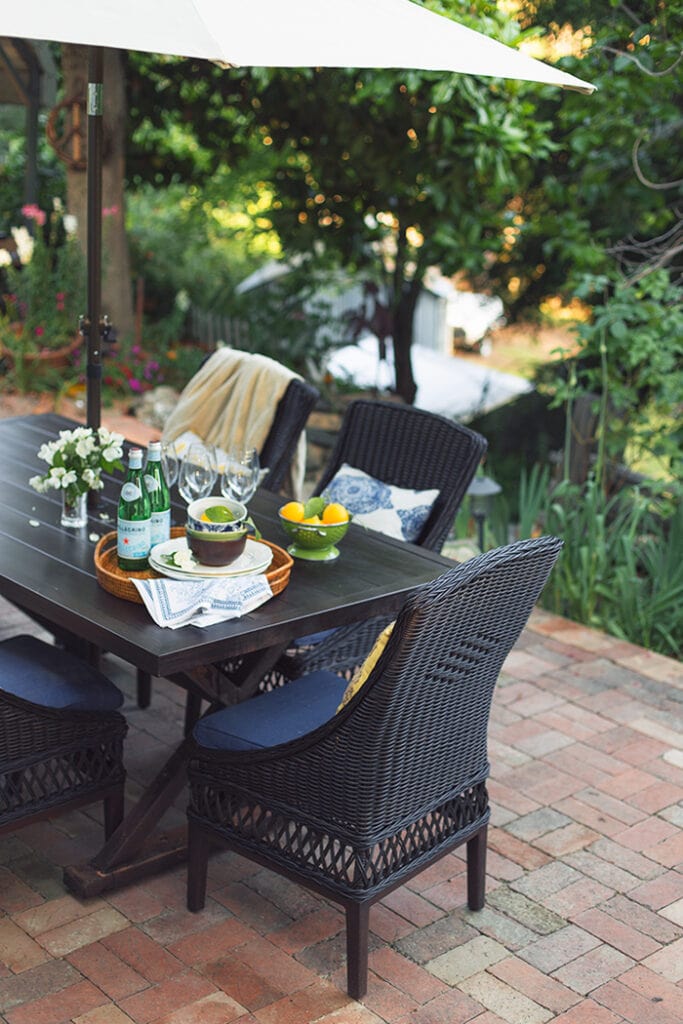 Pin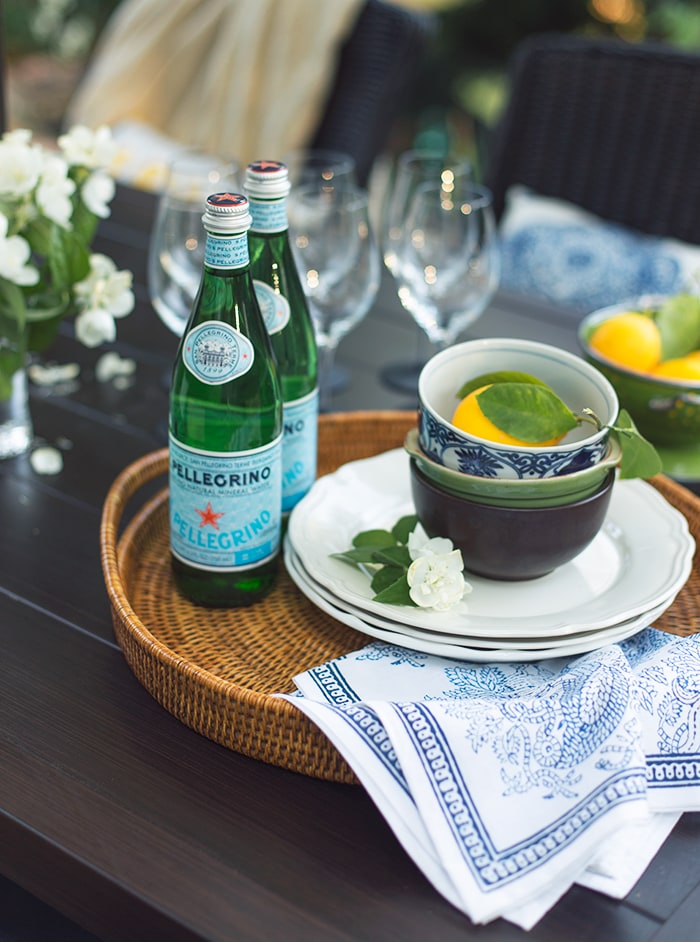 Pin
Pretty pillows in shades of blue, green, and yellow/gold add comfort and tie everything together.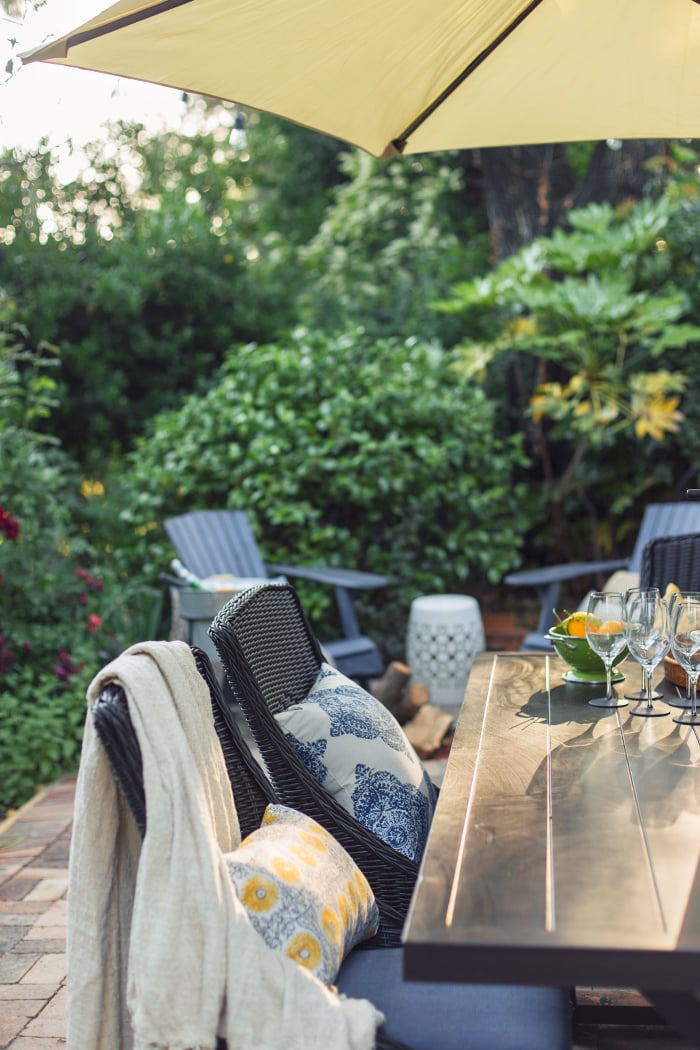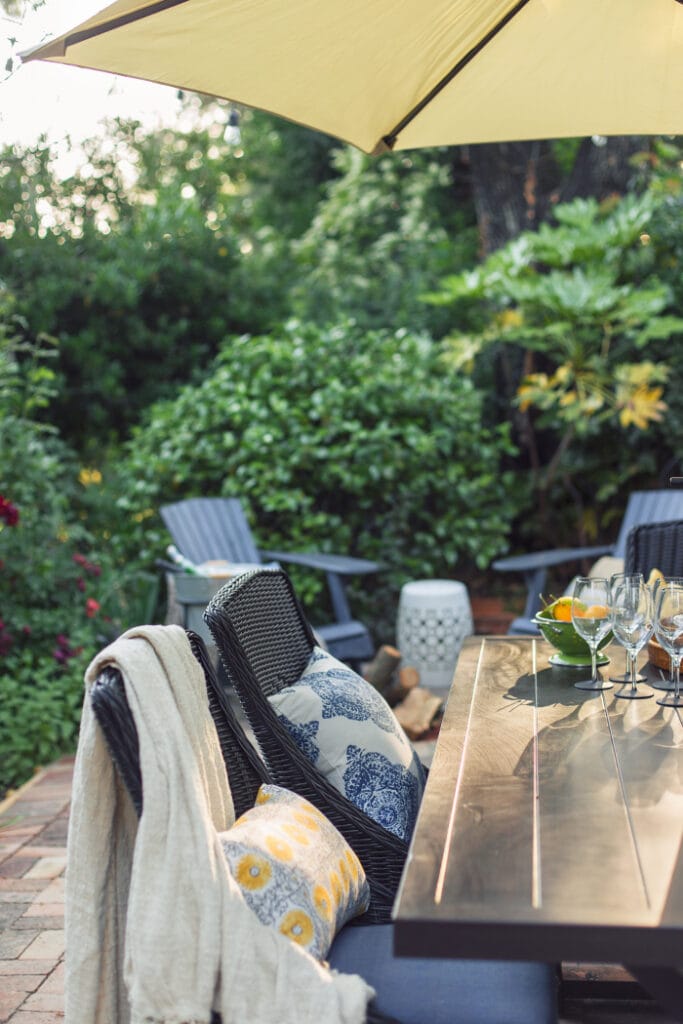 Pin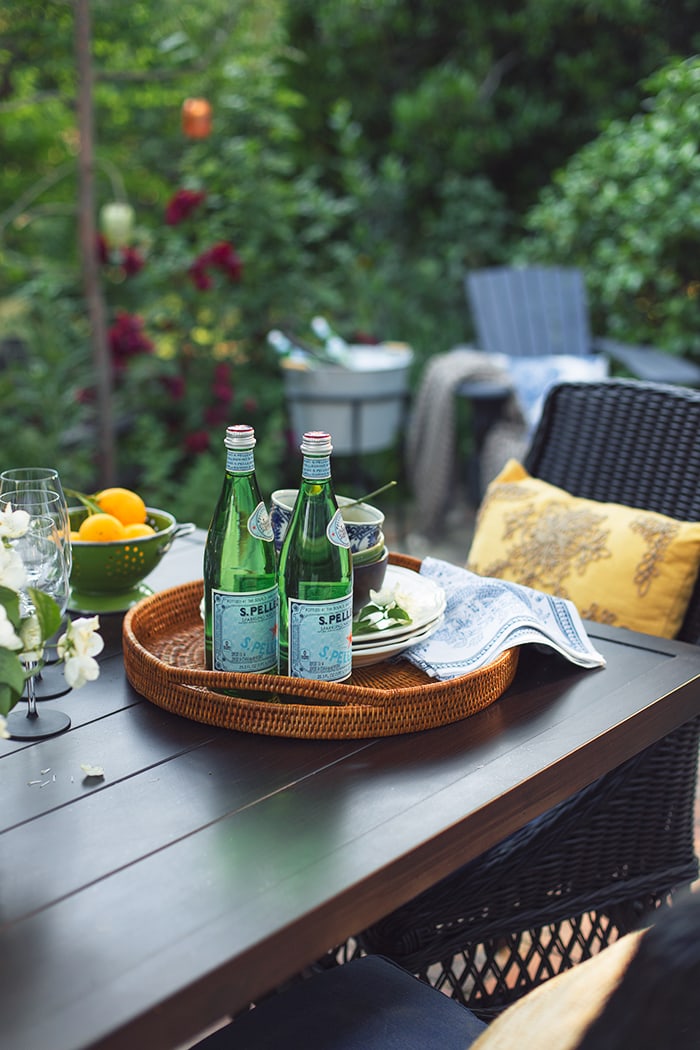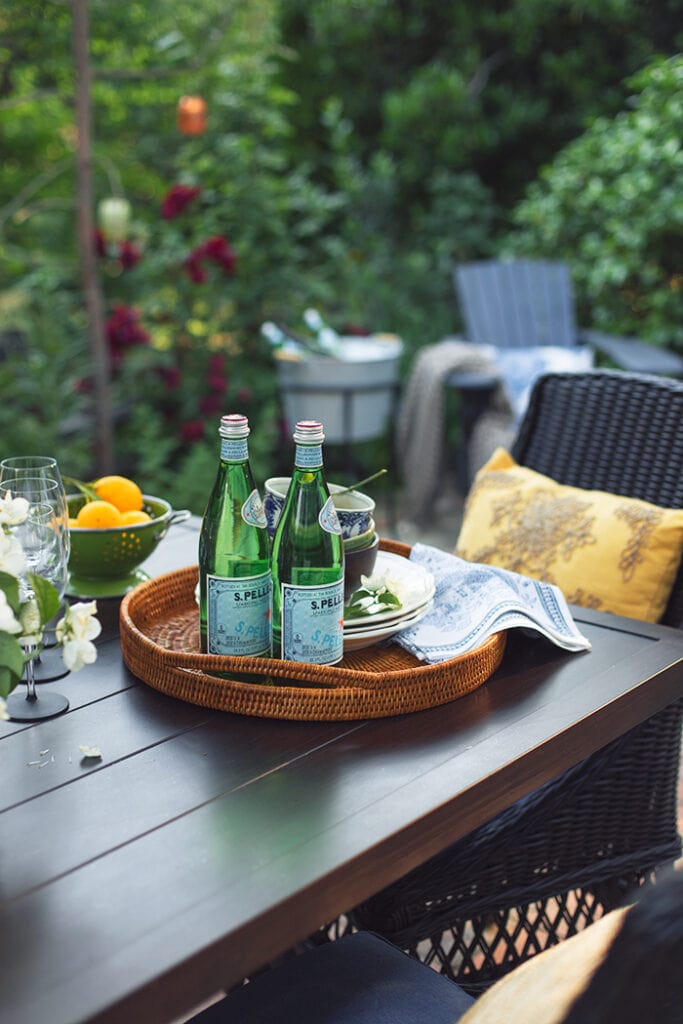 Pin
You can mouse over this image for more direct product links: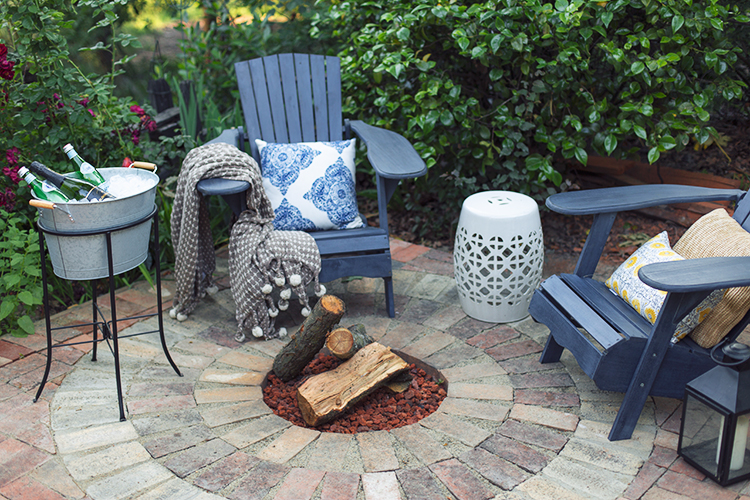 An all-weather bench provides storage and additional seating,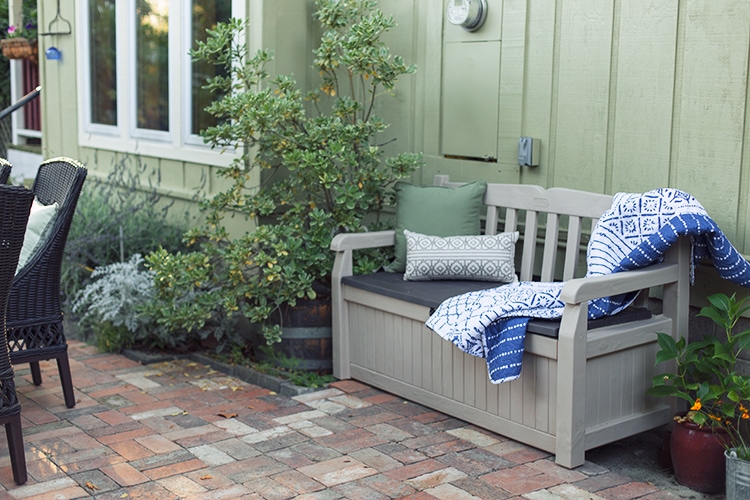 Pin
While a portable metal tub keeps champagne on ice for easy guest access: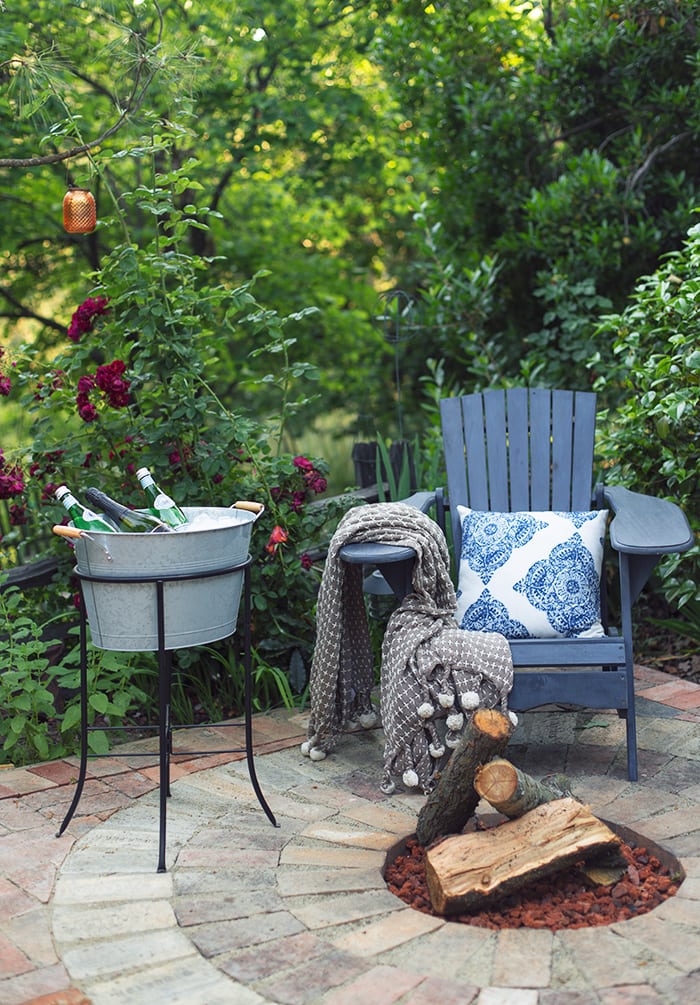 Pin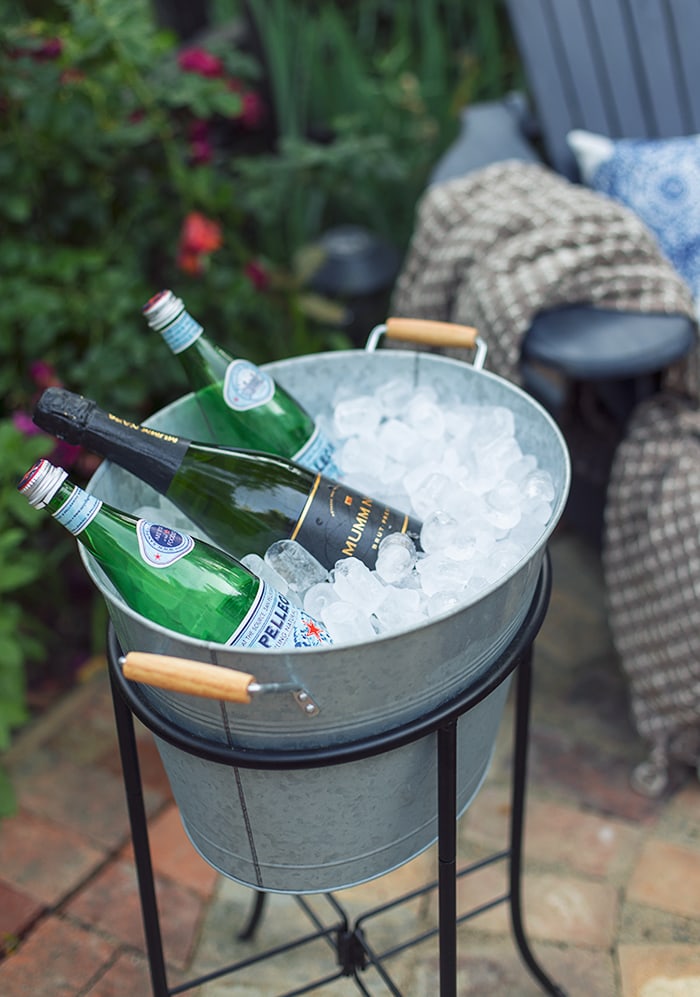 Pin
As the sun sets, the lights come on and a natural ambiance is created by sounds of crickets and frogs.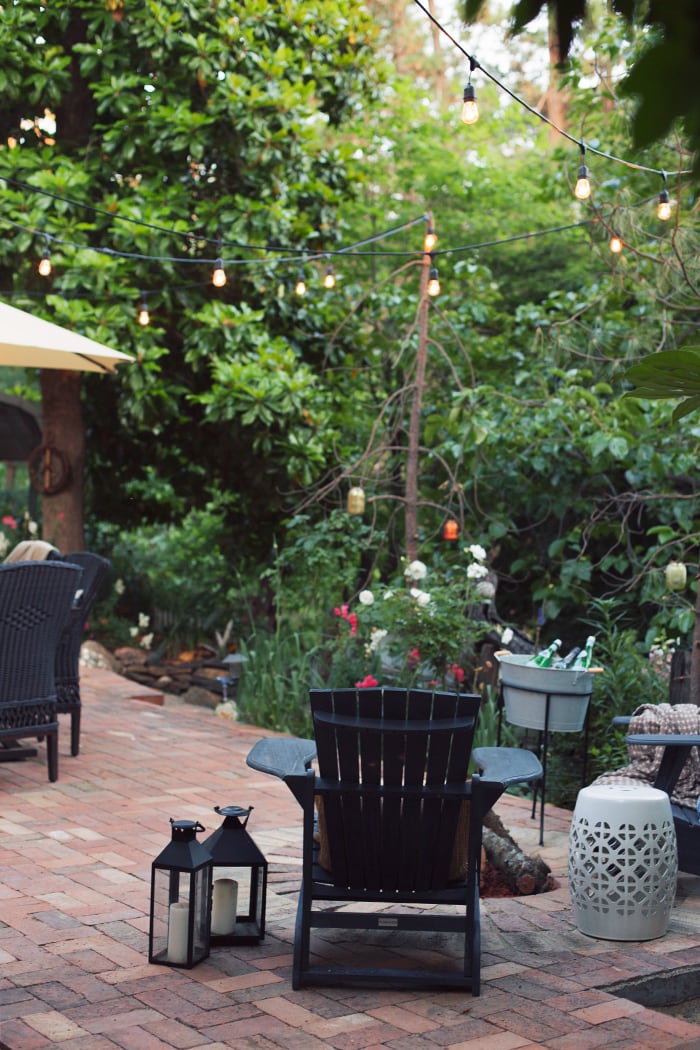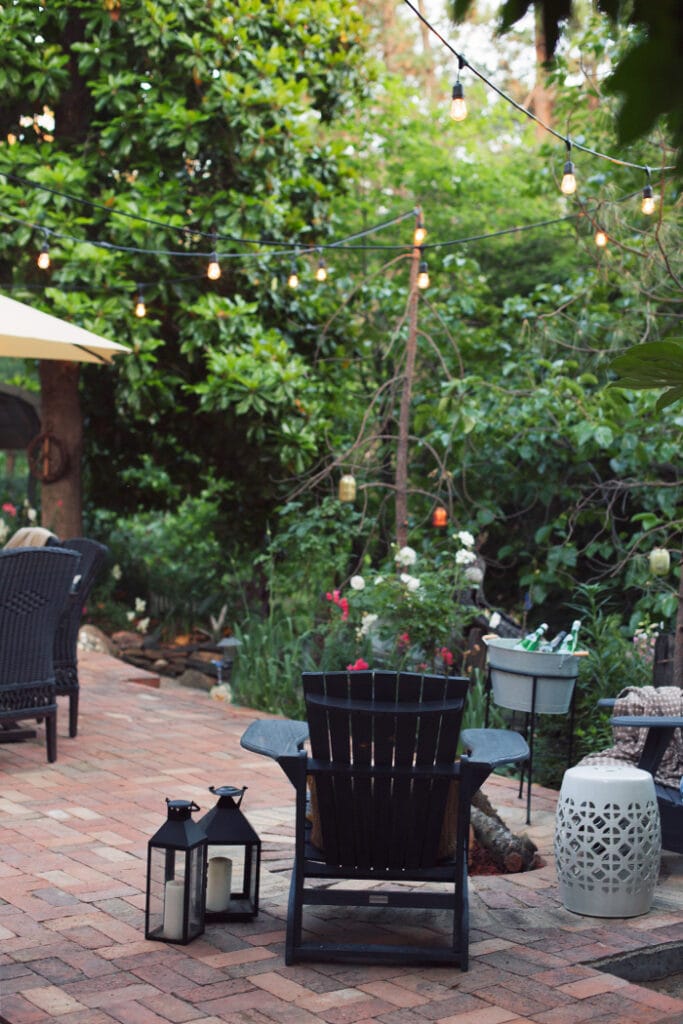 Pin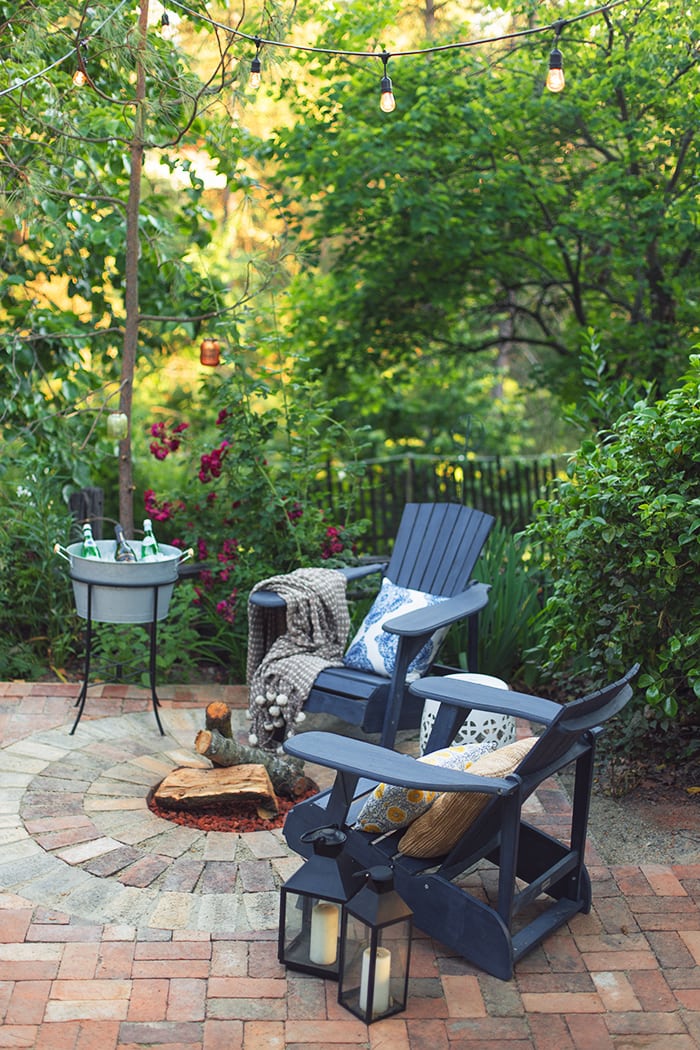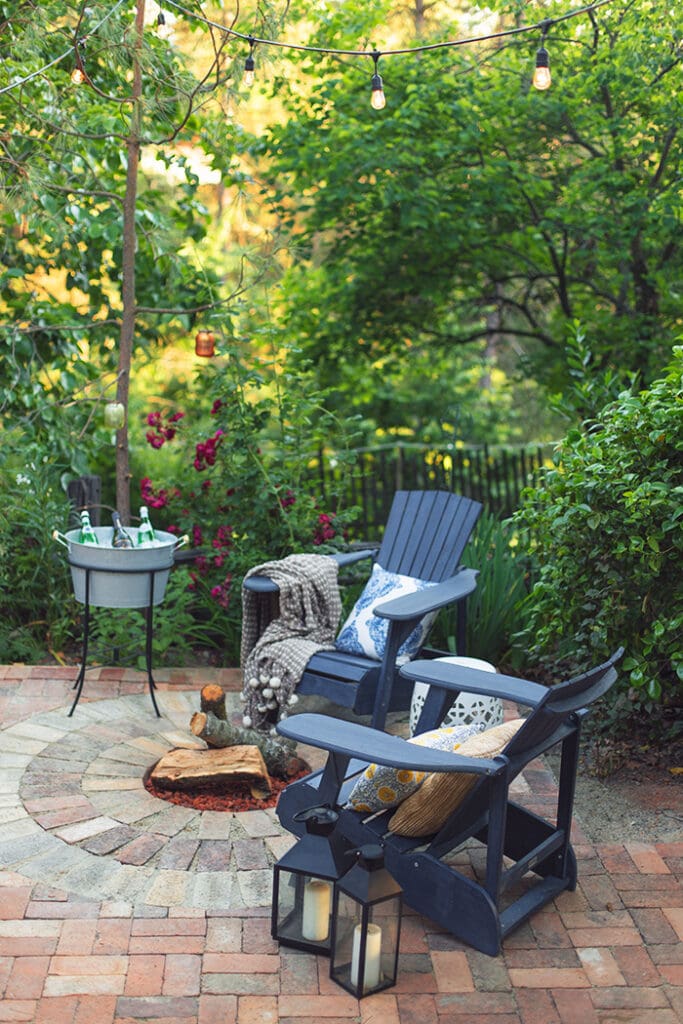 Pin
A setting worthy enough to host a special celebration, but also practical for every day life.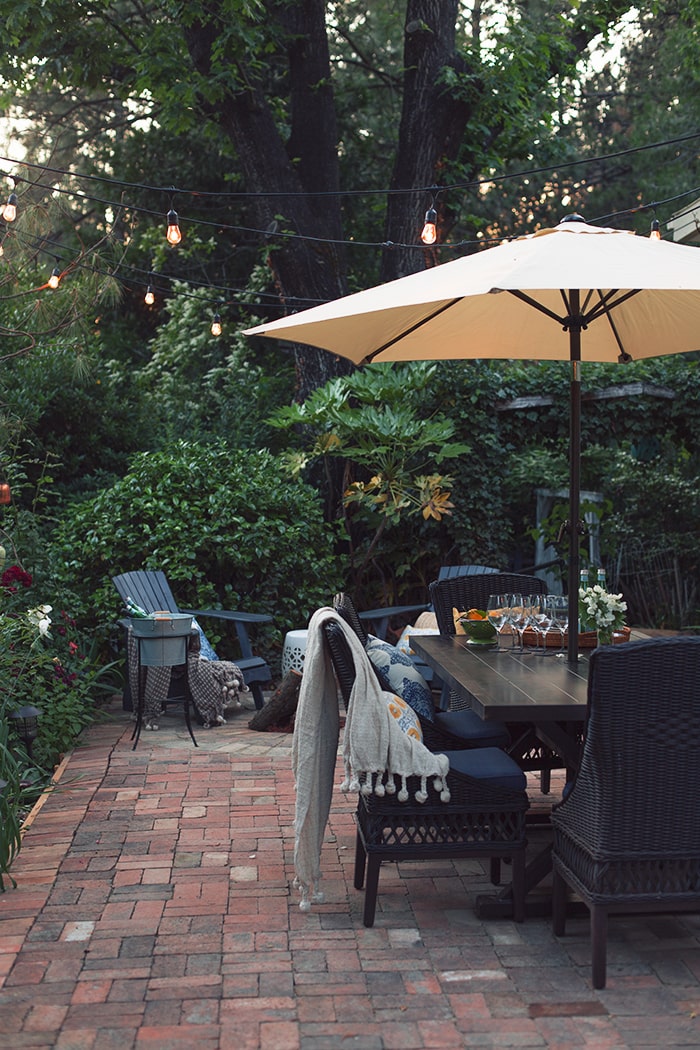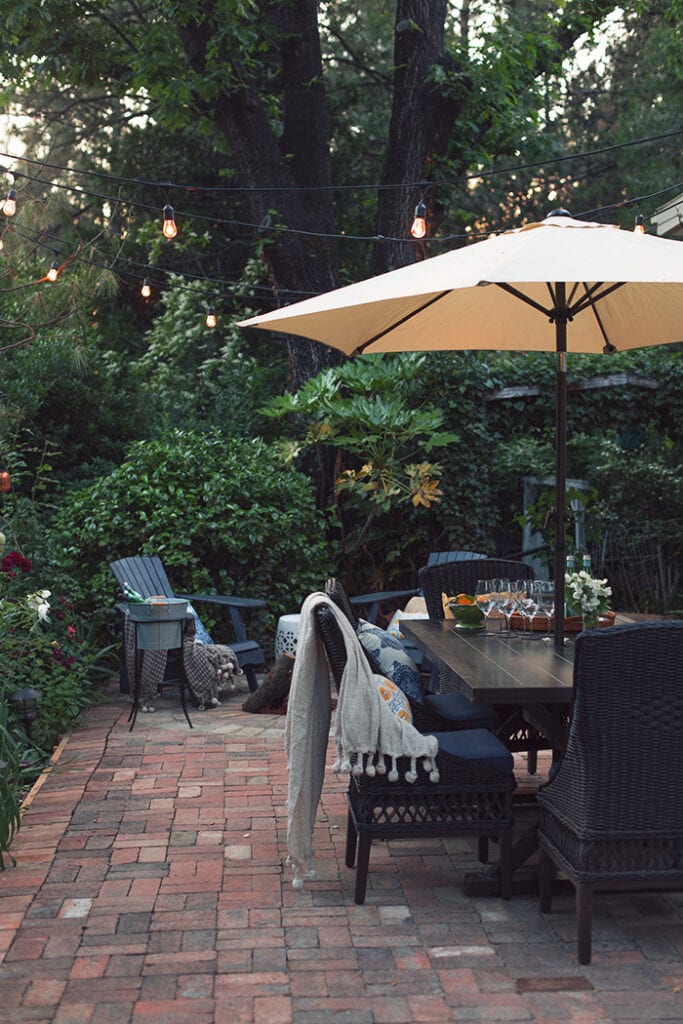 Pin
A bit of creativity and spatial planning is all it takes to add value to both your home and life.
Want to recreate this look for your own patio? Here's what I used:
Dining table set (in Sky blue)
Patio Umbrella (beige)
Adirondack chairs (Blue sold out apparently)
Garden stool (cream)
Party tub (steel)
Cafe lights (we used two sets)
Daganya pillow (indigo)
Hanna/Hayely pillow (canary)
Carmela throw (ivory & taupe)
Serving tray (honey brown)
Amalia napkin (blue)
That should cover it! Let me know if I missed anything in the comments, or if you have any general questions/thoughts to share! It's fun to makeover spaces that aren't my own… something I'll have more opportunities to do once my house is gone 🙂
If you missed yesterday's beautiful reveal by Jen at City Farmhouse, make sure to go back and check that out, and stay tuned for Dear Lillie coming up tomorrow!
I also shot plenty of video during this photoshoot, so make sure to check back Wednesday for more in this week's vlog. Happy Monday!