If you know me at all, then you know I love to throw a good party. My house was designed with entertaining in mind and I've been able to make so many fun memories with friends and family over the past couple years.
When Wayfair asked if I could host a wine tasting party, I did a happy dance because this was right up my alley! Click below to watch the video of how it all came together: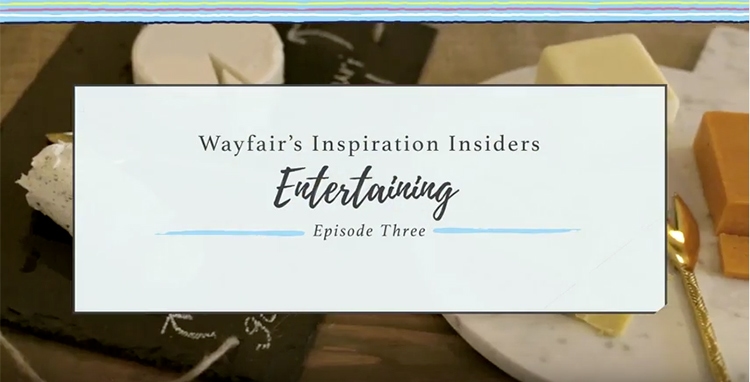 A few weekends ago I had some friends and family visiting from out of town, and thought it would be the perfect opportunity to gather everyone together for a fun evening. I've never hosted a wine tasting before, so I browsed Pinterest for inspiration and began the planning process.
Fortunately I had a handful of supplies and decor ready to use, and Wayfair let me choose a few more items to execute the look I had in mind.
Having just returned from Napa the weekend before, I visualized a rustic, old world type setting and used lots of neutral, rich colors, and natural materials like wood, stone and jute to pull it all together.
The premise of the evening was to blindly taste six different wines, give each one a rating and guess the varietal, and reveal each bottle at the end. The winner of the game received a small prize to make things more interesting.
I found a couple printable wine scorecard sheets on Pinterest but none of them quite suited my needs, so I whipped up my own instead, along with simple wine bottle tags (download the PDF at the bottom of this post!)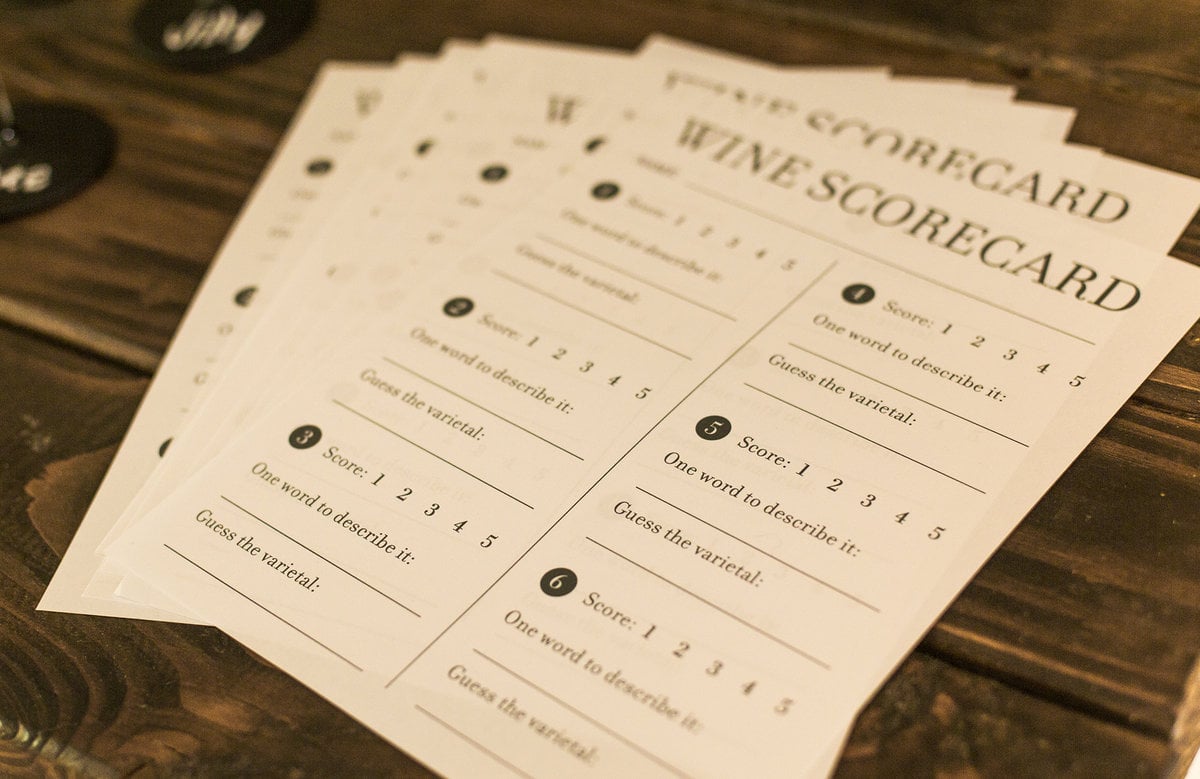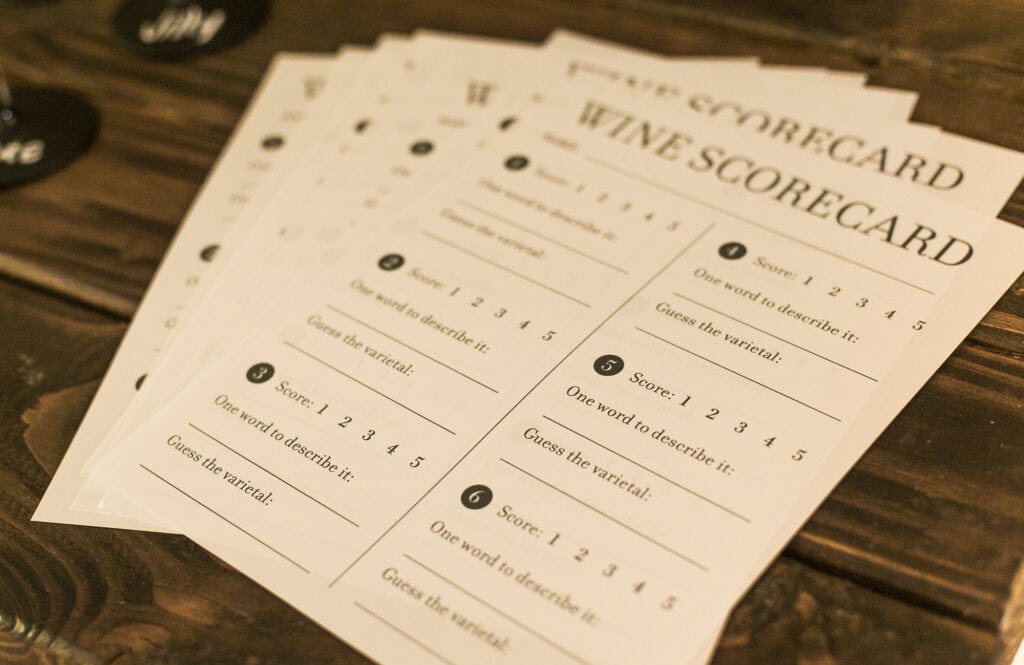 I chose six different varietals of red, and the bottles were placed in jute bags tied with twine, and displayed on a scrap of wood I found in the garage.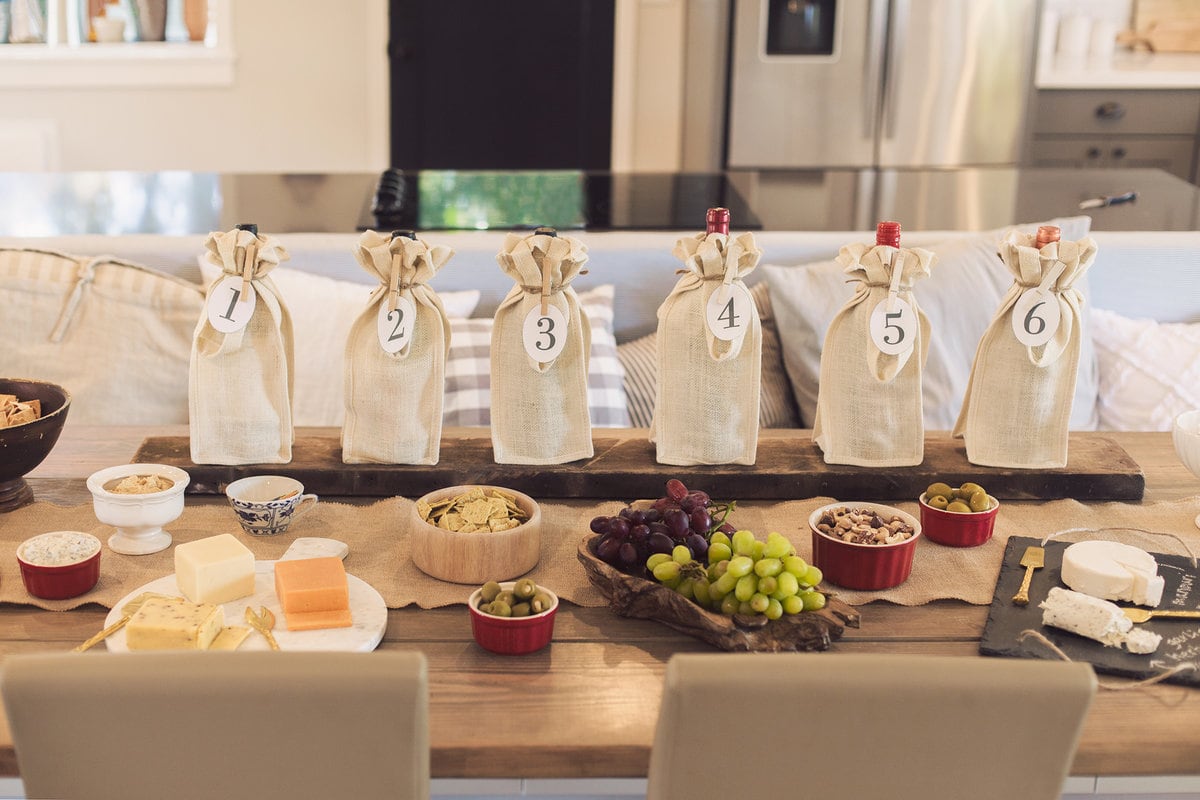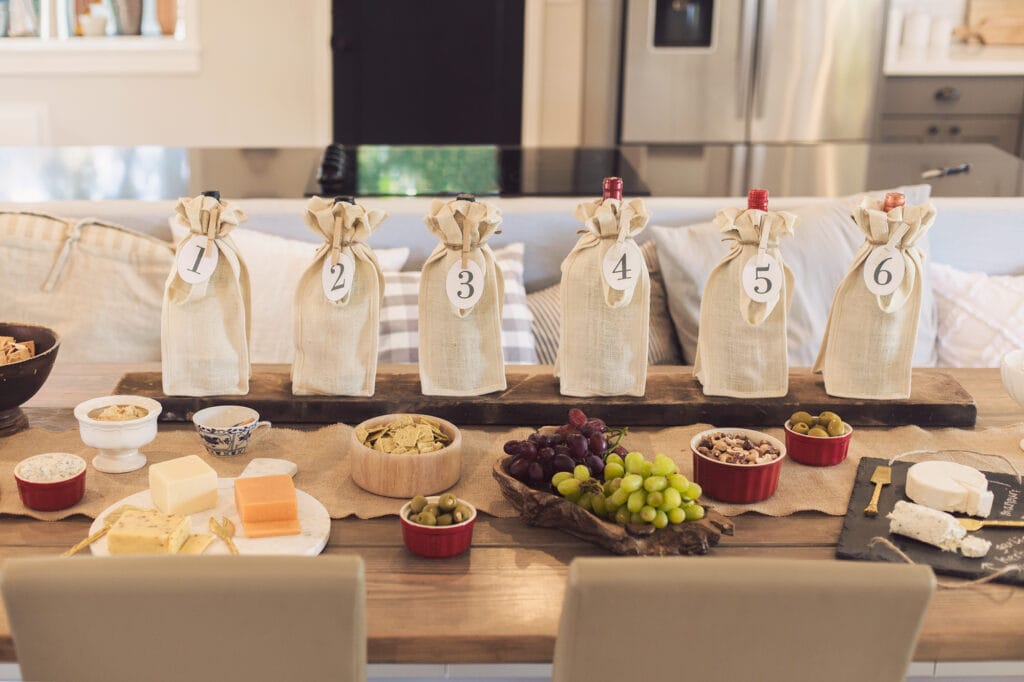 For a personalized touch, I used a plain set of matching wine glasses, spray painted the bottoms with chalkboard paint (found at Lowe's), and wrote the guests names in chalk: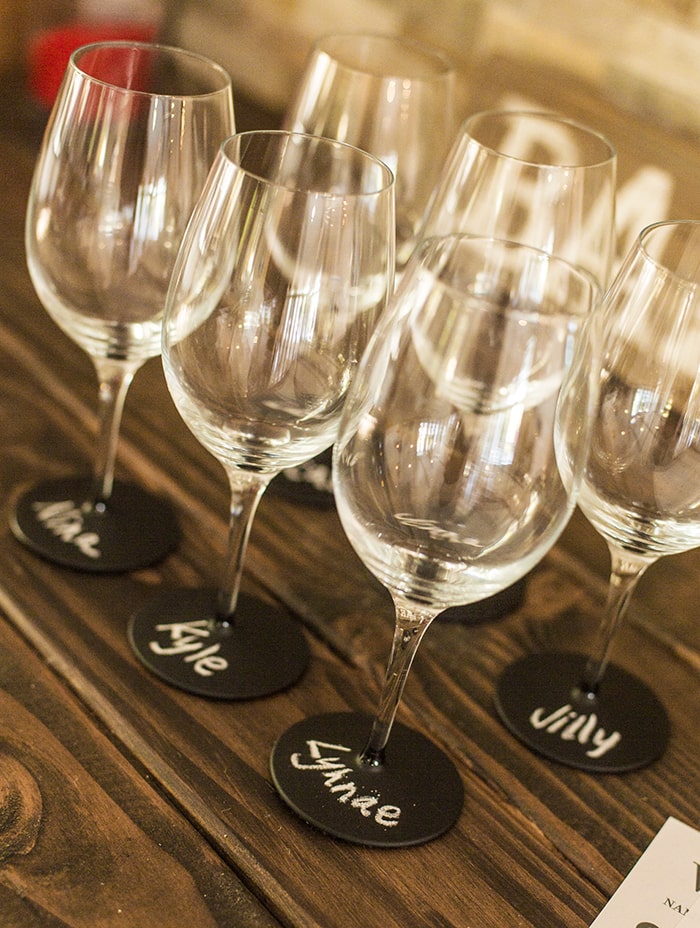 A mix of marble, wood and slate serving platters, bowls and baskets were used for my presentation: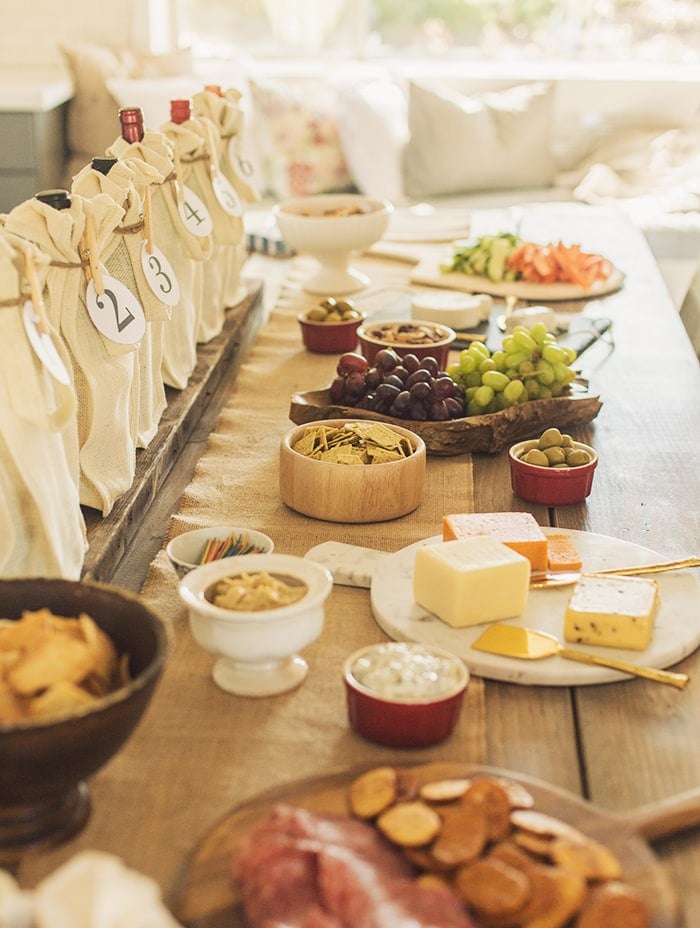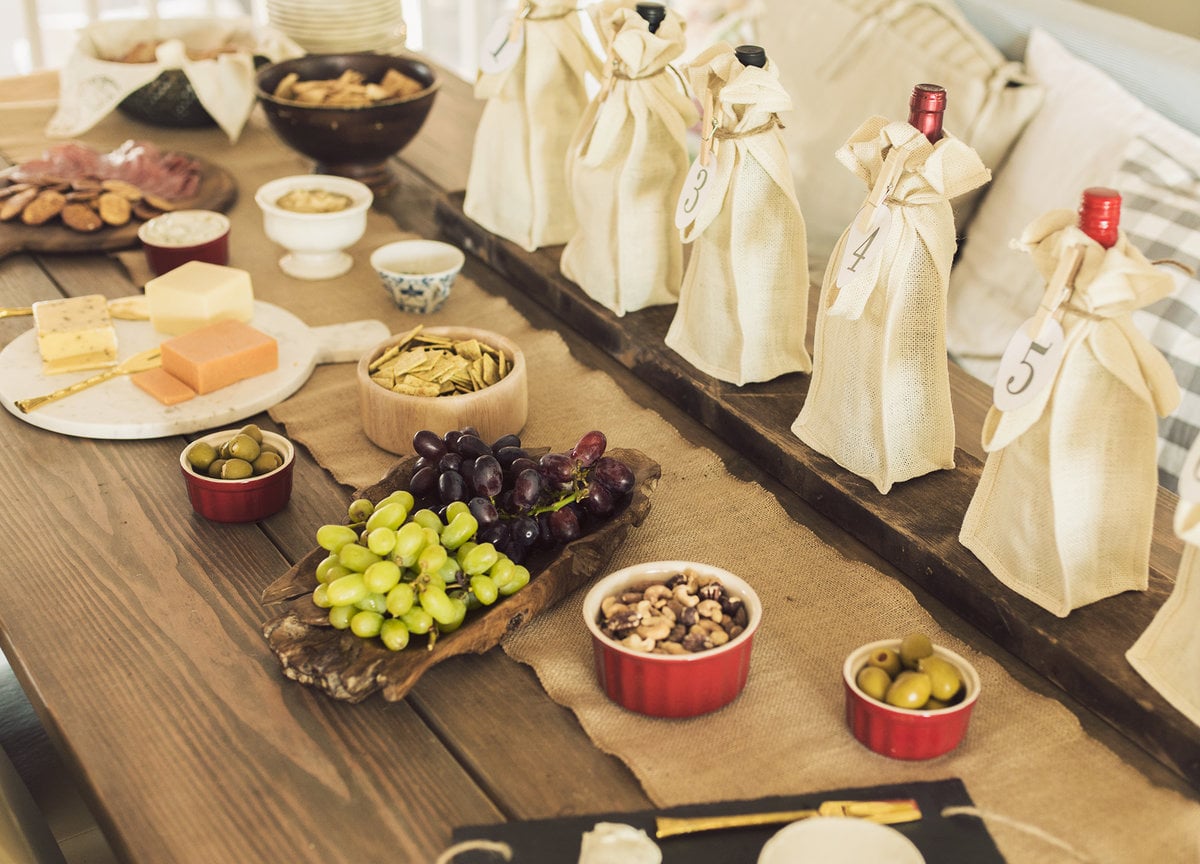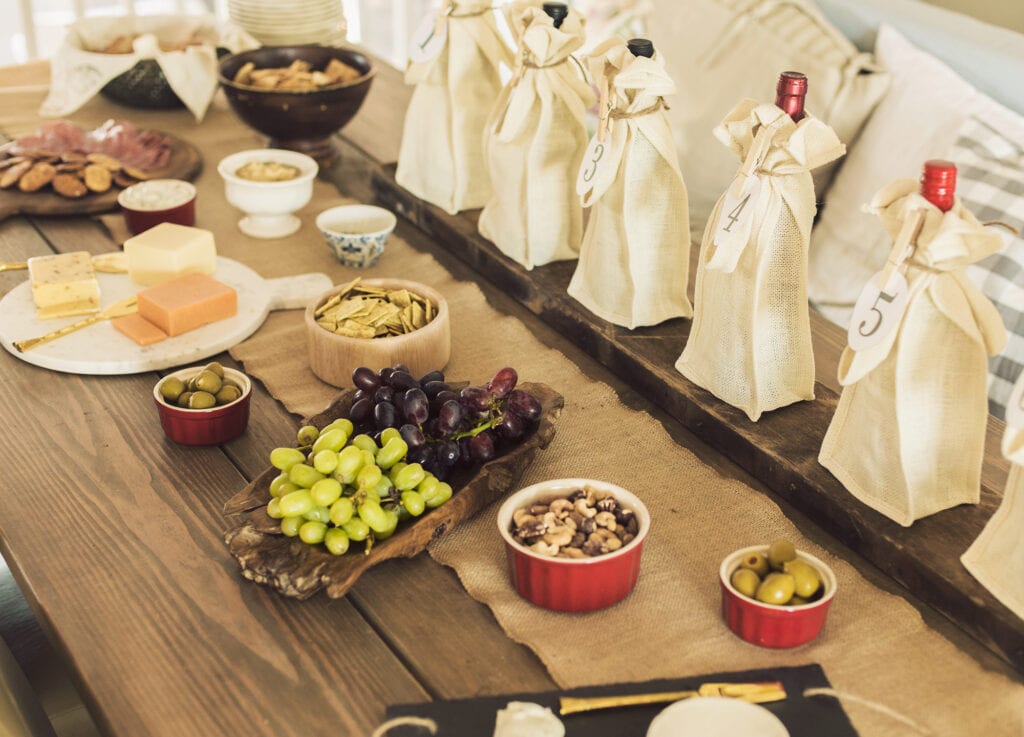 And filled with a wide range of snacks like bread, crackers, salami, veggies, olive, nuts and my favorite—cheese: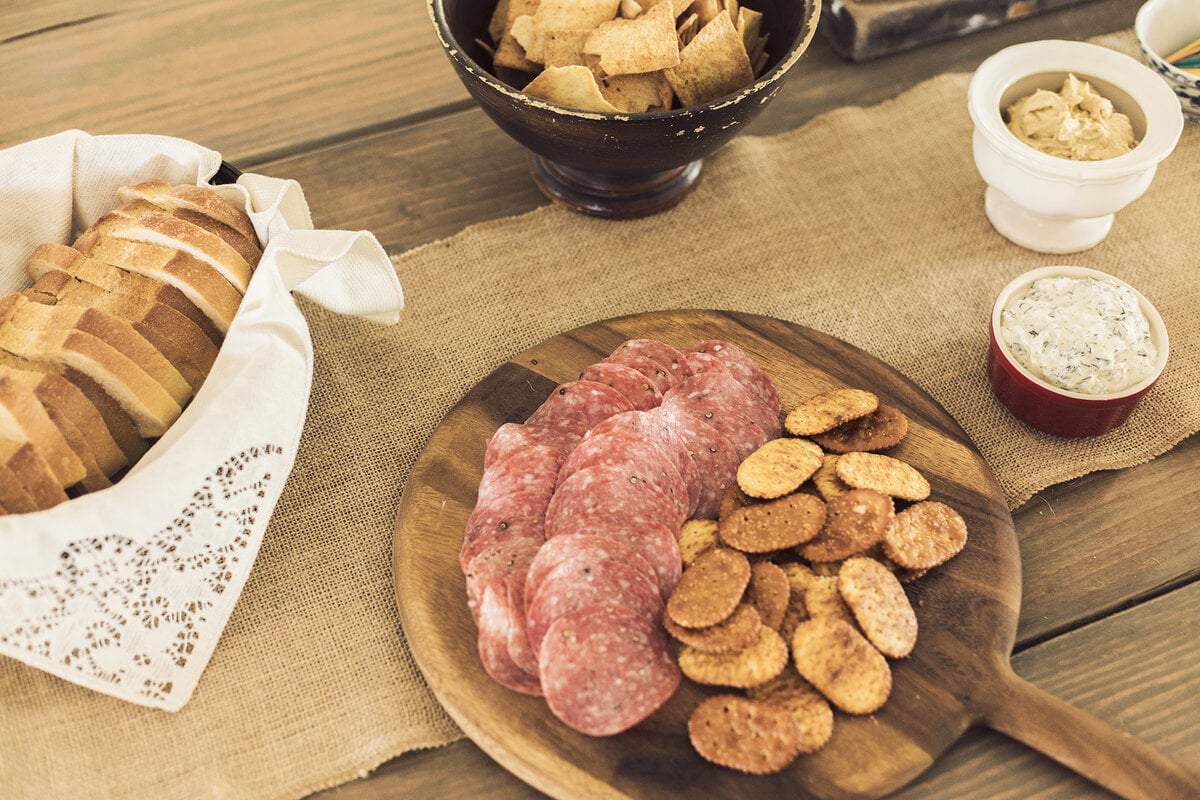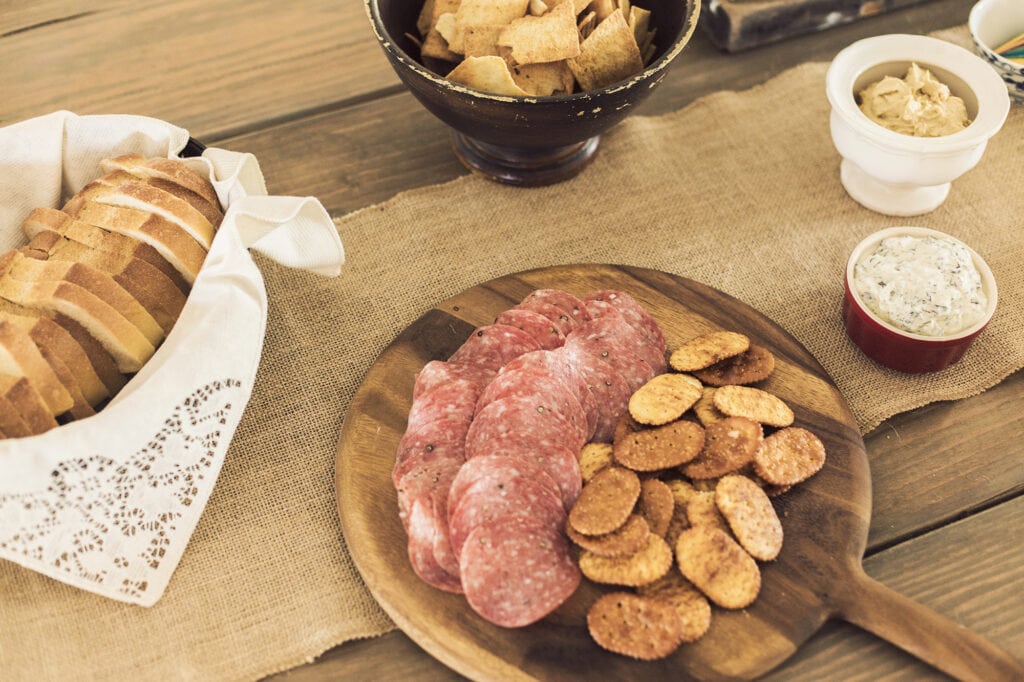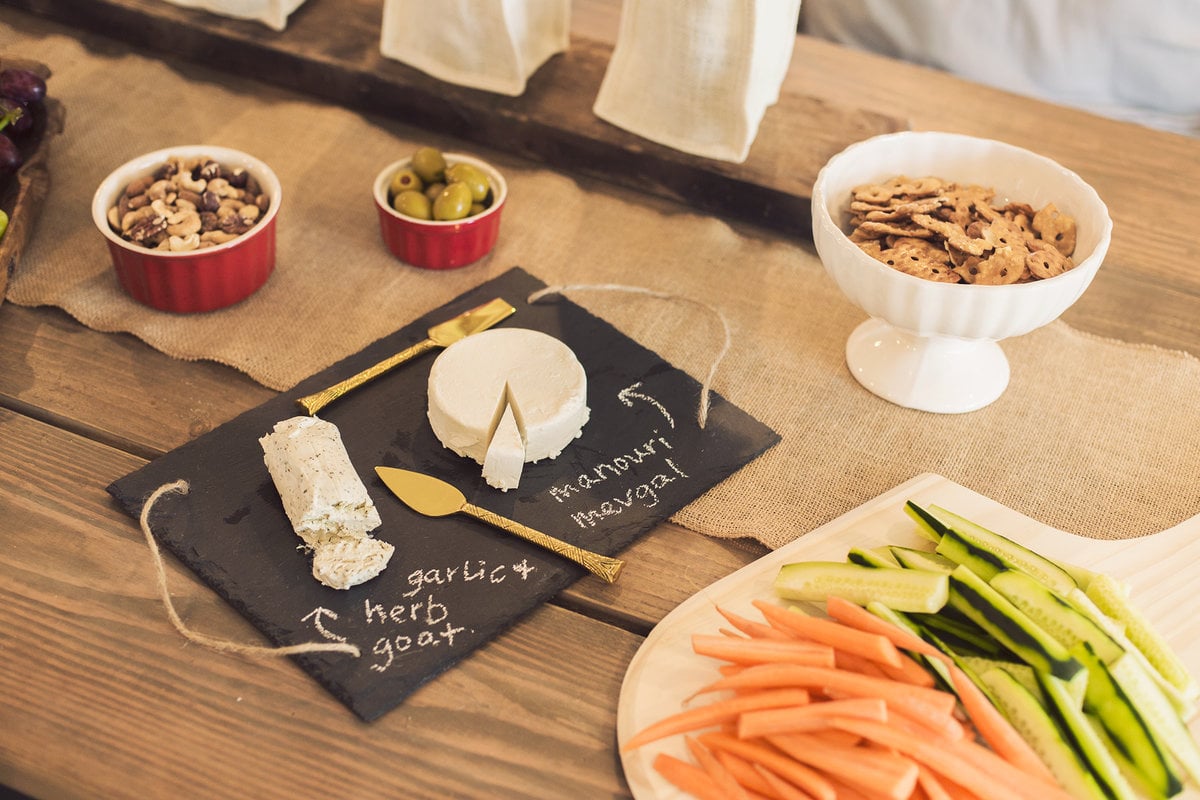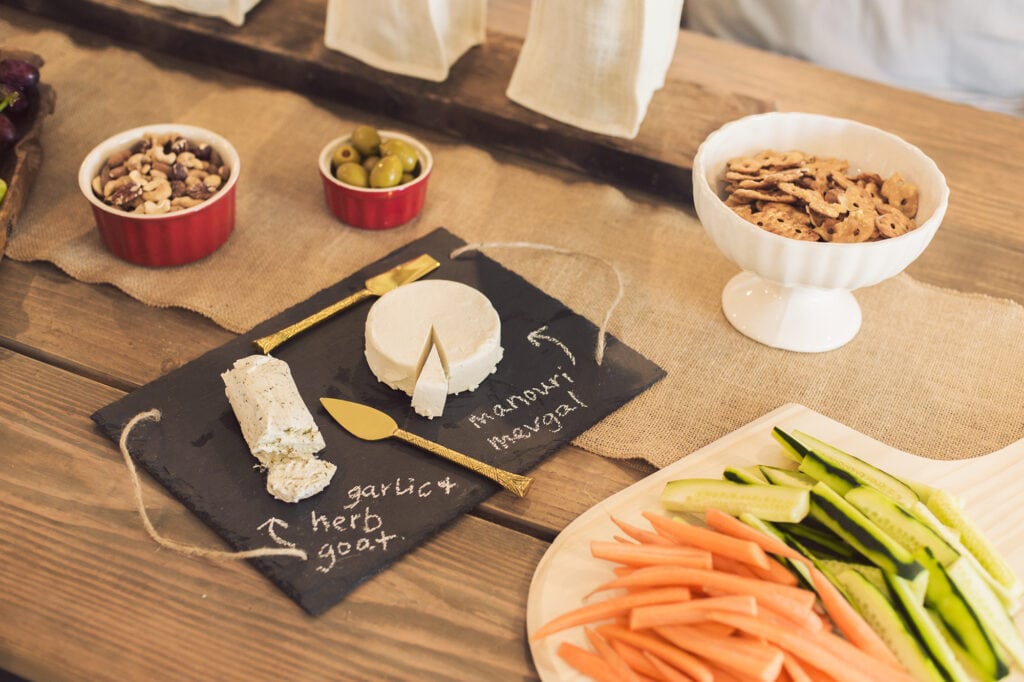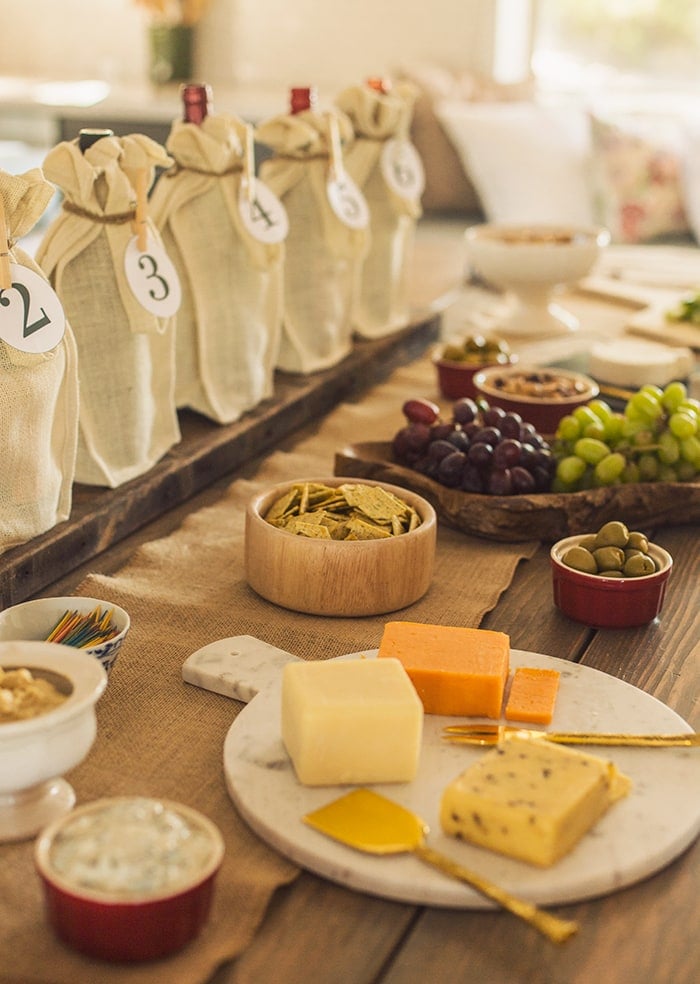 The guests arrived, music turned up, bottles popped and the sun began to set…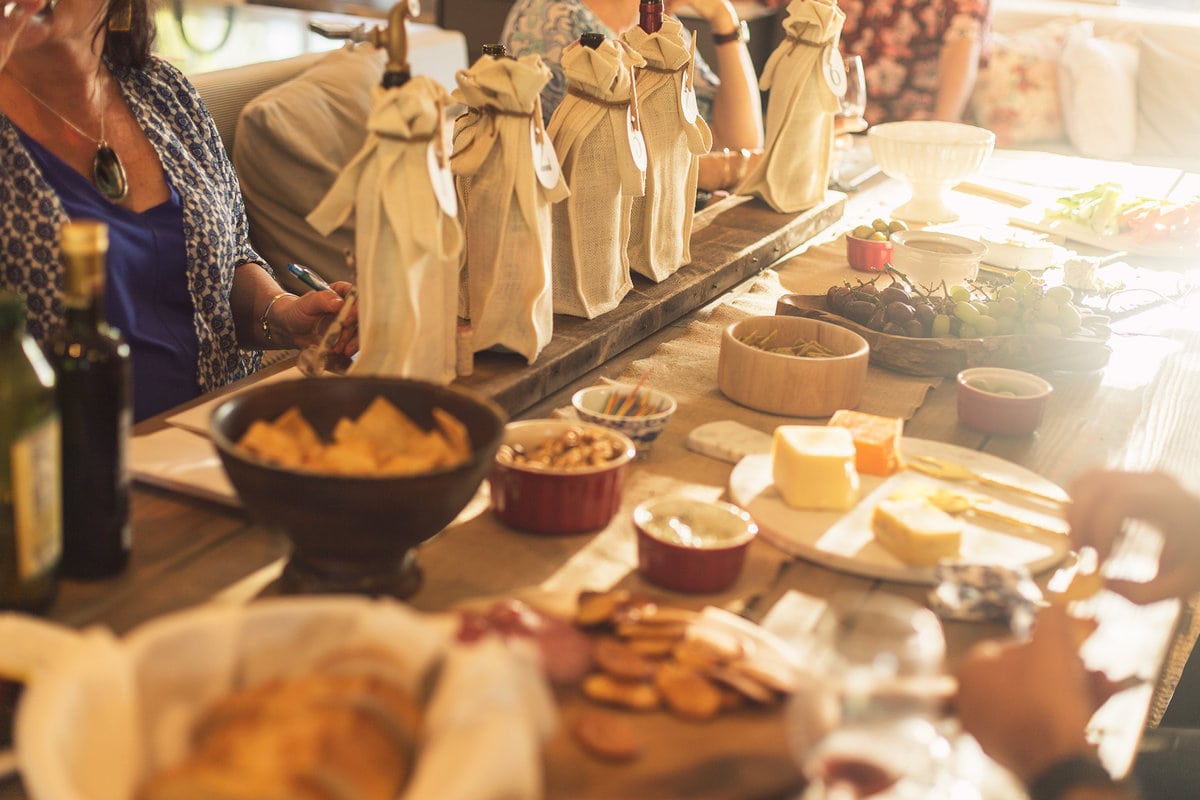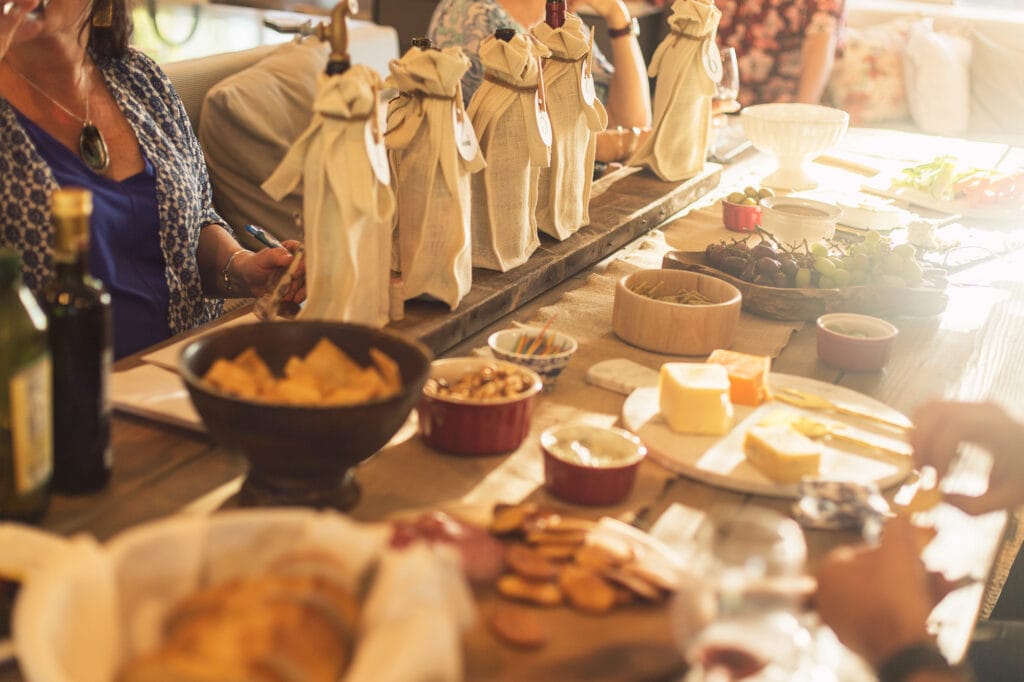 Even the self proclaimed wine connoisseurs had a difficult time identifying the different types of wine.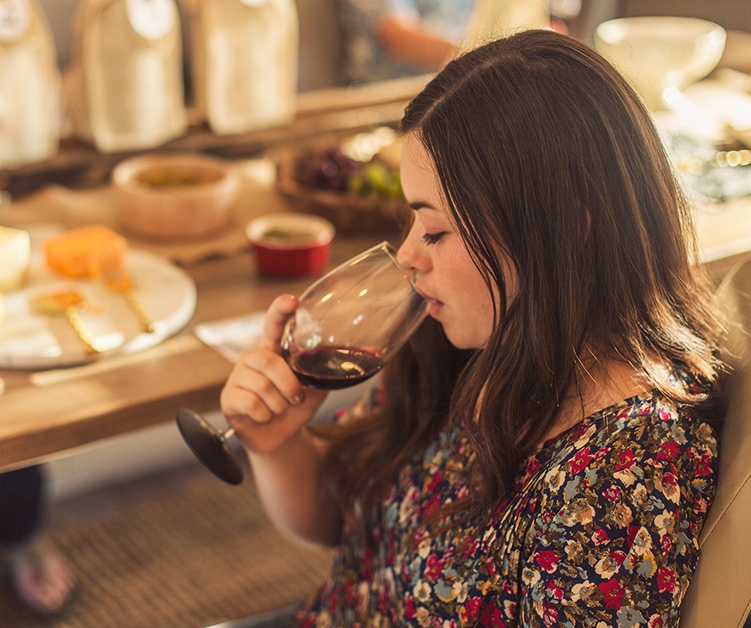 After a few glasses, some peoples' answers started getting weird…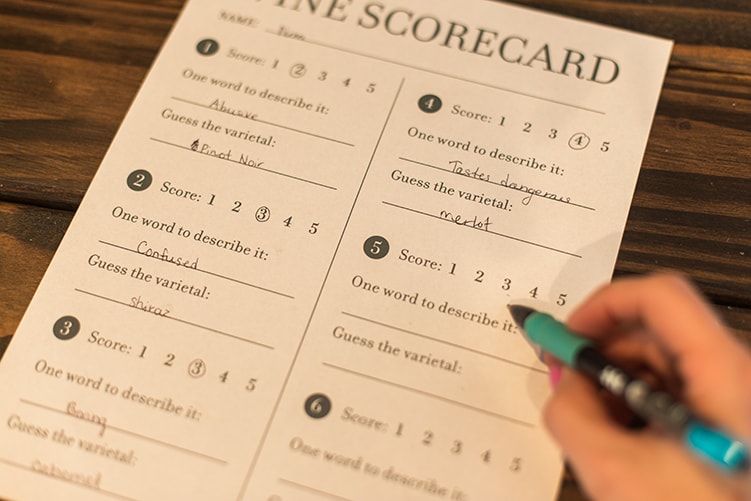 The highlight of the night? Reading everyone's ratings and descriptions aloud as each wine was revealed. It helps if you get creative with your scorecard 😉
My personal favorite turned out to be a Tempranillo, but wine that scored the highest was this 2014 merlot from Grandfather Clock…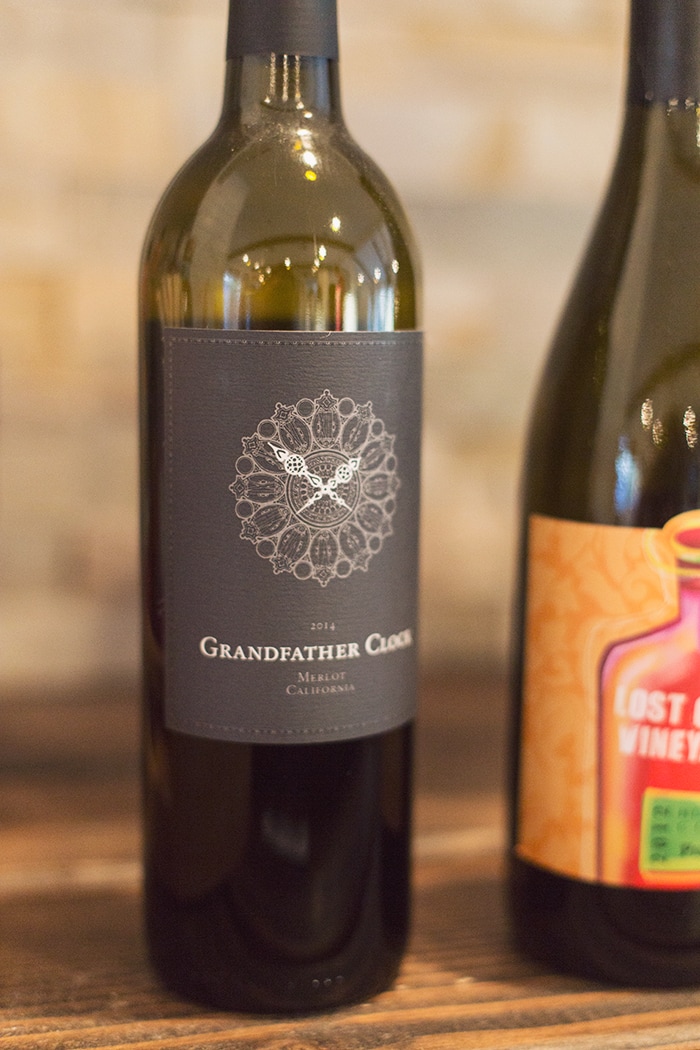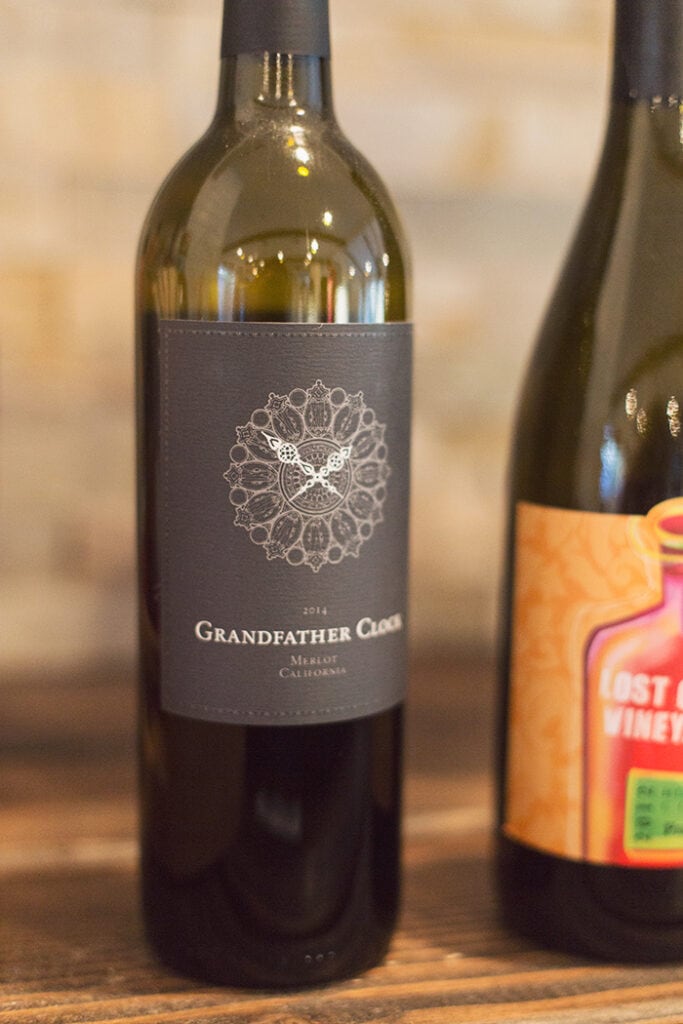 By the end of the night, we all left with a new favorite wine and stories to remember. It turned out to be one of my favorite gatherings, and even more special to me because it's one of the last at this home!
If you're thinking about hosting a dinner party or small celebration soon, I highly recommend a wine tasting party. It was even more fun than expected (good company and wine go a long way!) and it doesn't require elaborate planning, supplies or decorations.
You can start with these free PDF printables—click on the image to download them: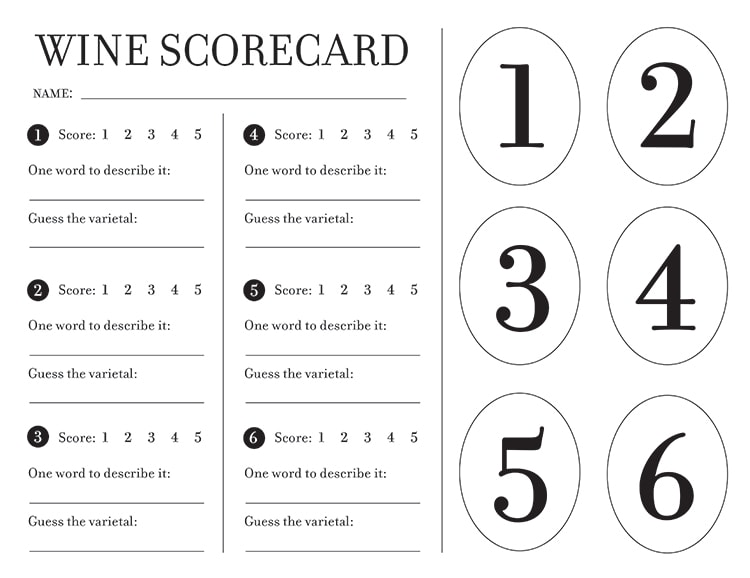 And here's a source list if you spotted something you can't live without (some items shown in the video):
That should cover it! Let me know if you have any questions in the comments below, and if the video was helpful please make sure to give it a thumbs up and let Wayfair know what you think as well! This assignment was one of my favorites to date and I'm looking forward to sharing more with you. I hope you're inspired to host your own party now 🙂
Be back soon with another vlog!