It was only a month ago that I revealed the new downstairs space, but it has already undergone a makeover—in a new design style!
For my fourth Wayfair assignment, I was asked to update a room with a specific lifestyle theme in mind, and when "traveler" was suggested, a visual immediately popped into my head. Since returning from Asia, I'd been dreaming about incorporating some of the patterns, textures and decor in my home so I could feel (almost) as if I were there again.
Click below to watch the video Wayfair and see how it all came together: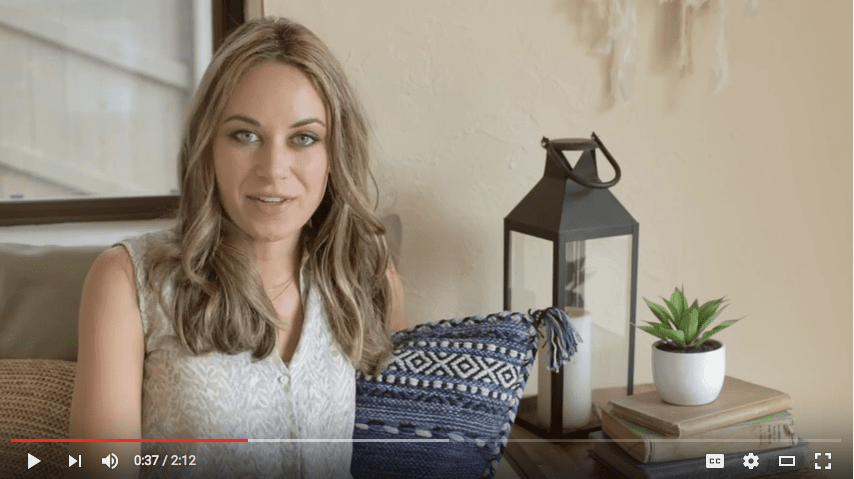 Pin
For this makeover I focused on the daybed lounge area in the back of the downstairs space, which wasn't bad to begin with but it was on the neutral side and could use a bit more personality.
I always like to start these posts with a before, so here's how it looked, circa four weeks ago…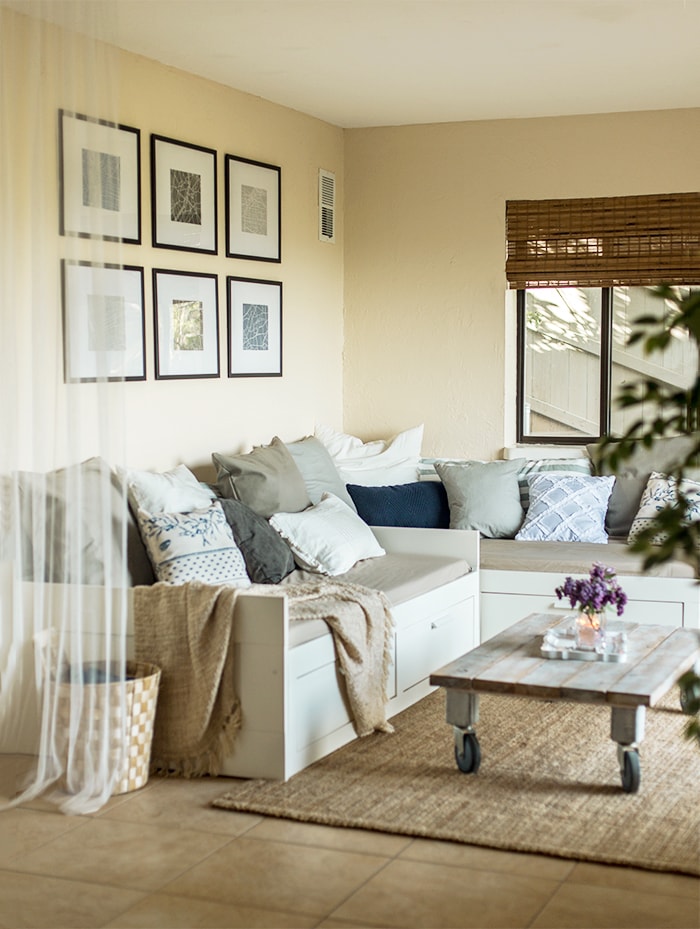 Pin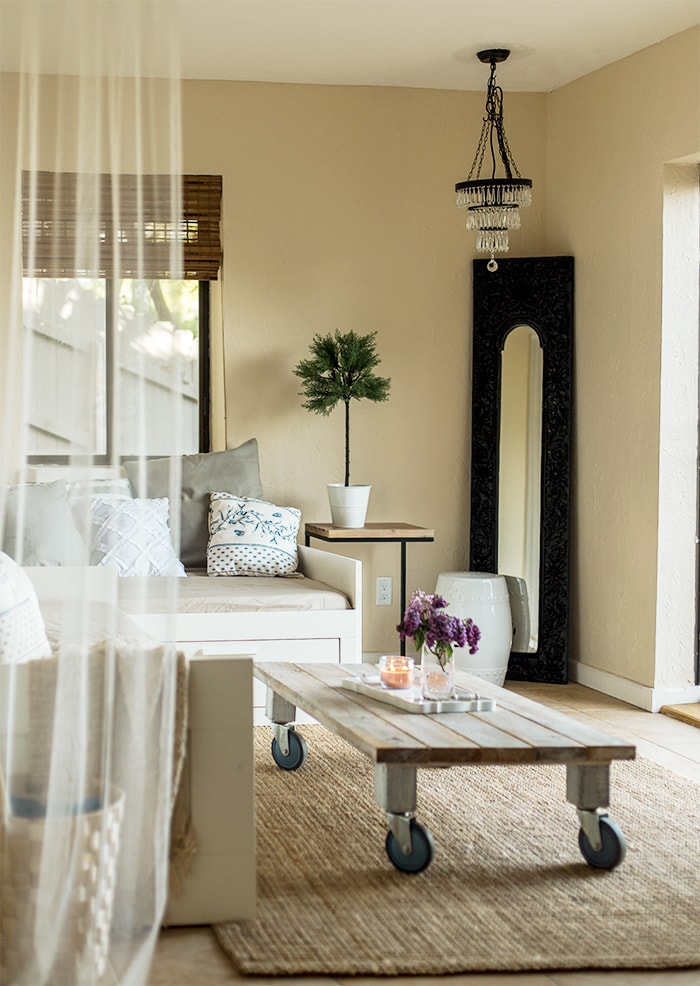 Pin
And now, with a bit of accessorizing and styling…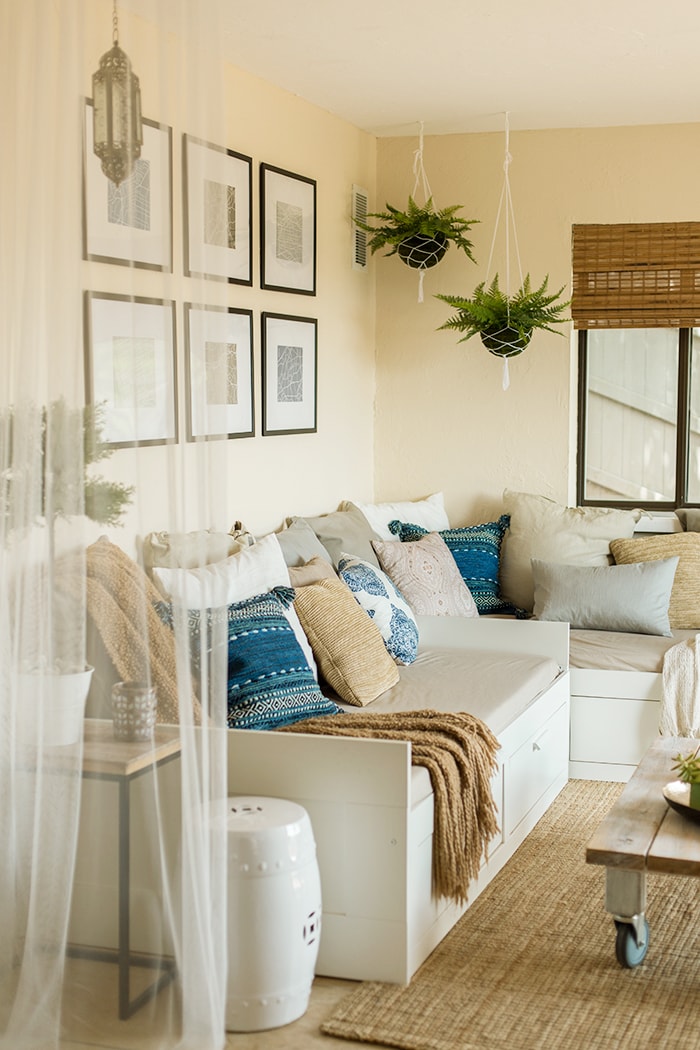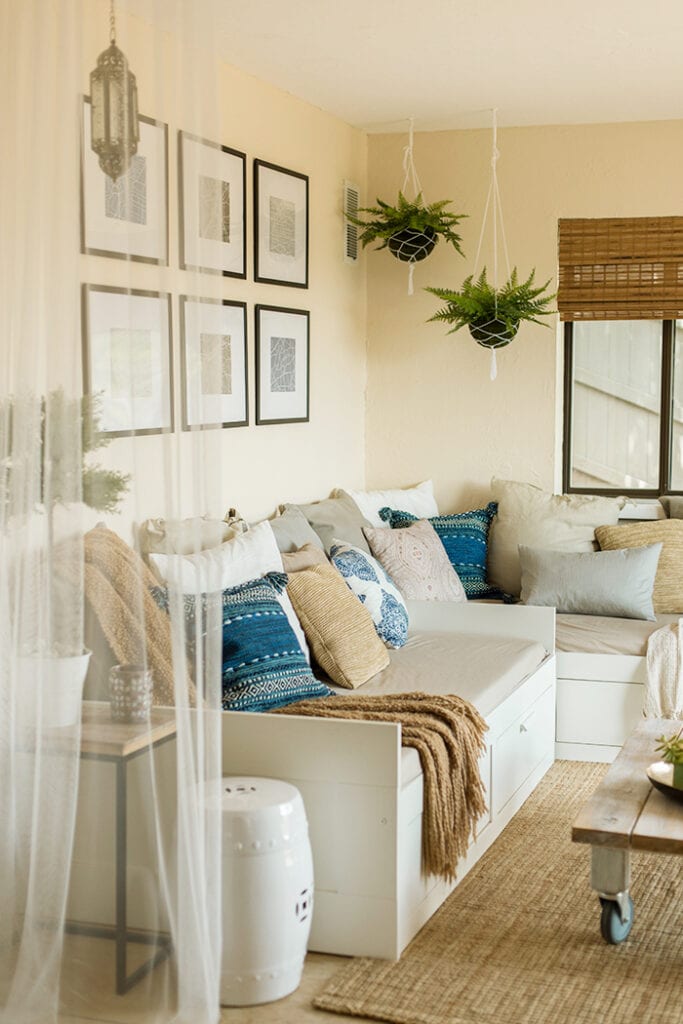 Pin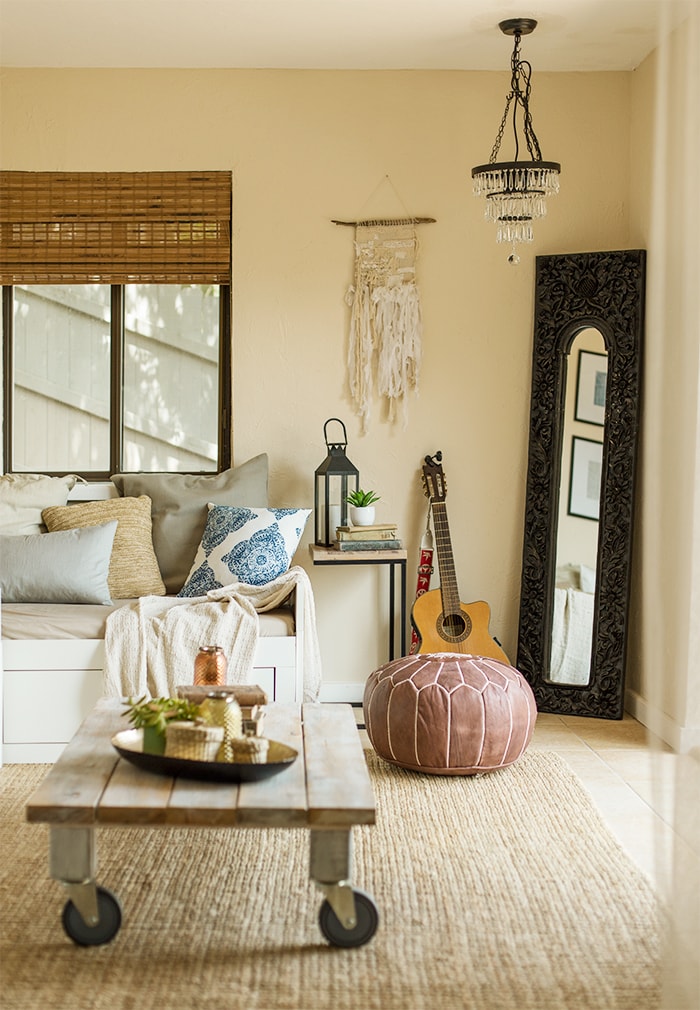 Pin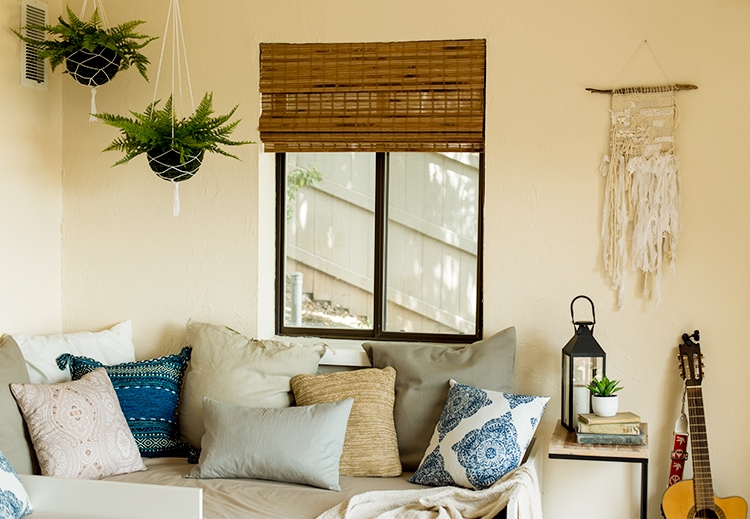 Pin
Existing pieces like the black carved mirror, crystal chandelier, woven blinds and gauze curtains were a solid starting point for the look I was going for, so it didn't take much to fully commit to the theme.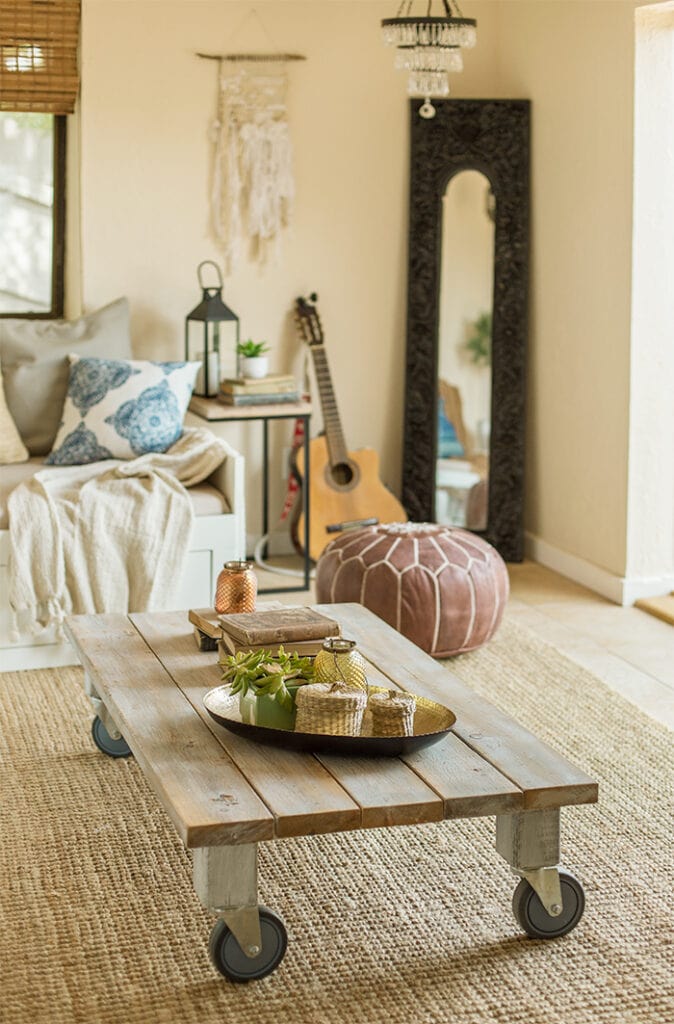 Pin
A leather moroccan pouf epitomizes casual boho style. It was a must have.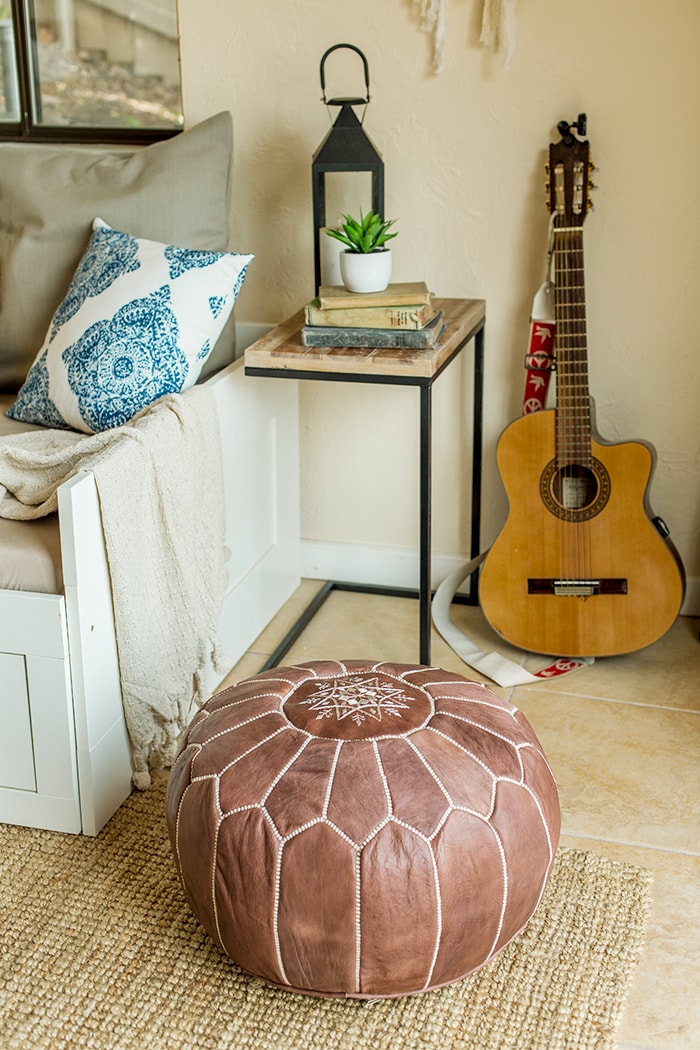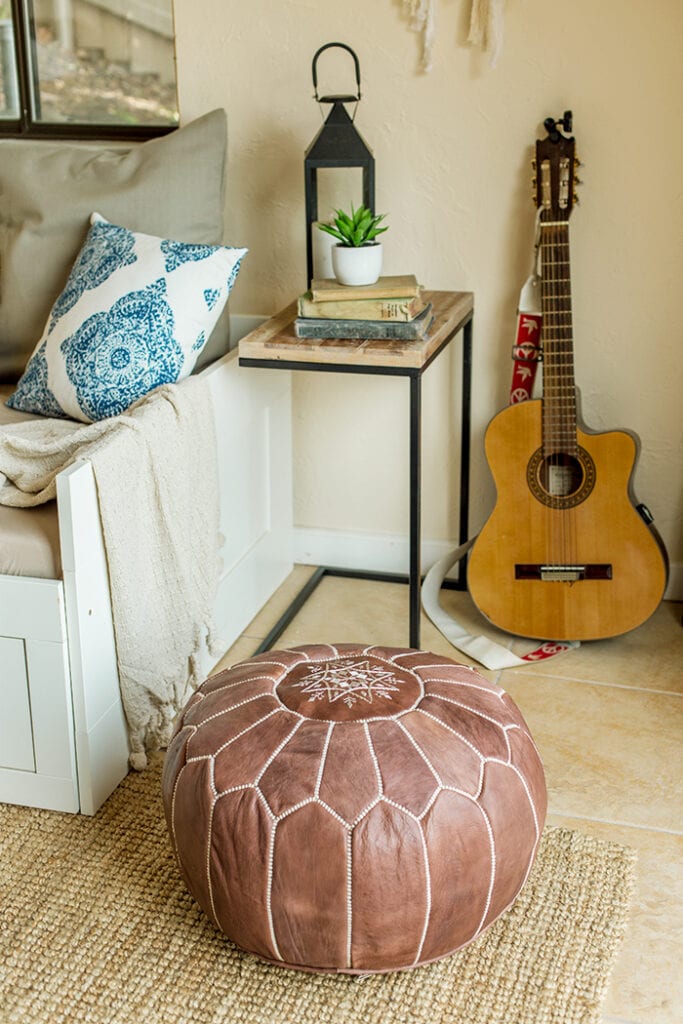 Pin
More color was necessary, so I layered shades of blue onto the neutral palette. This tassel pillow cover adds tons of texture and pattern, and it's only $19! My favorite.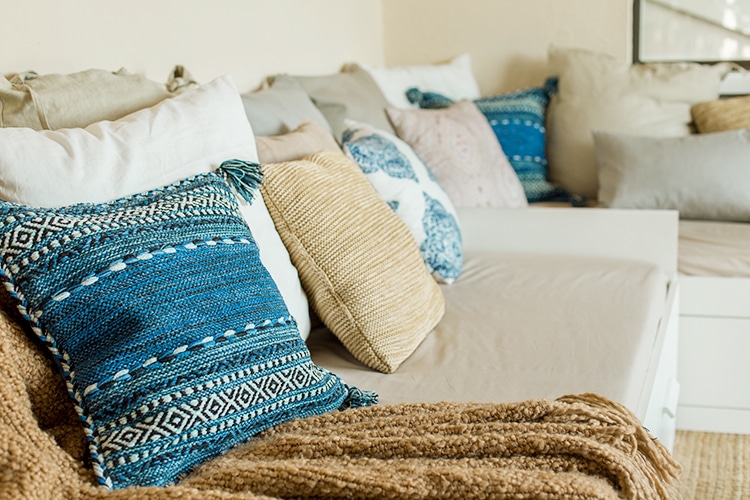 Pin
Ceilings are often ignored, but I used it to play up the height of the room by hanging faux ferns (in DIY macrame plant holders)…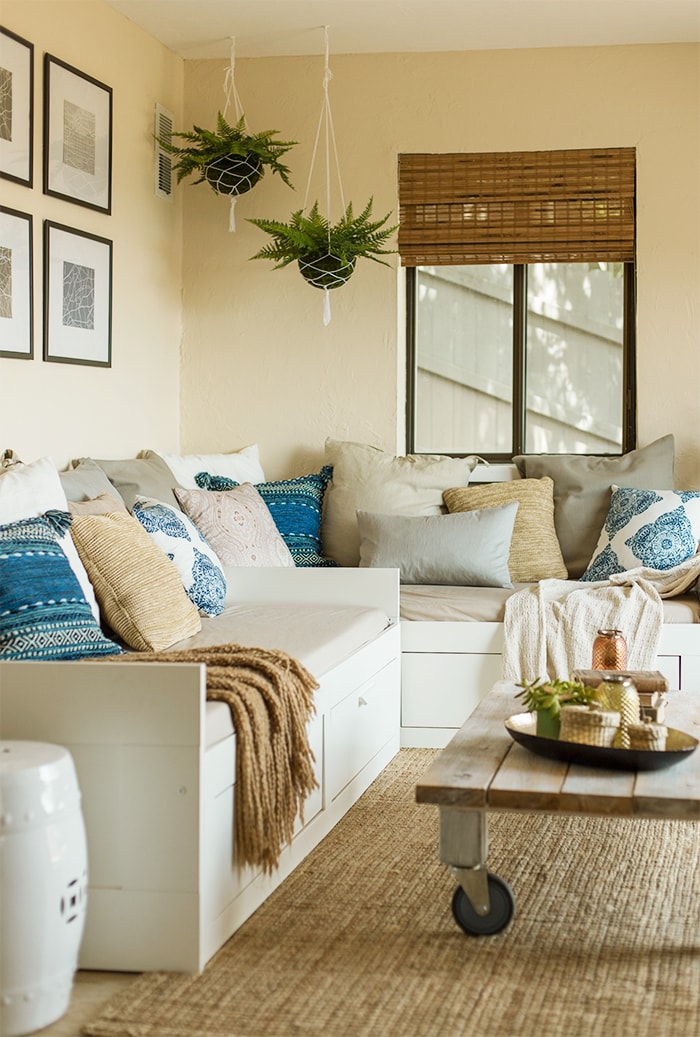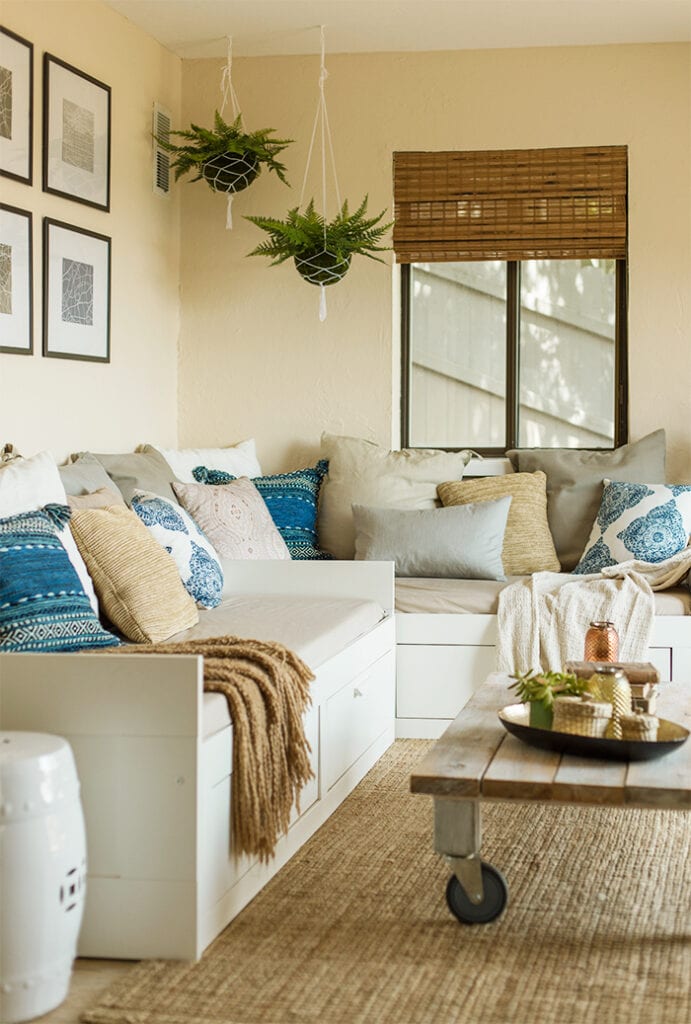 Pin
Along with this gorgeously detailed hanging metal candle lantern: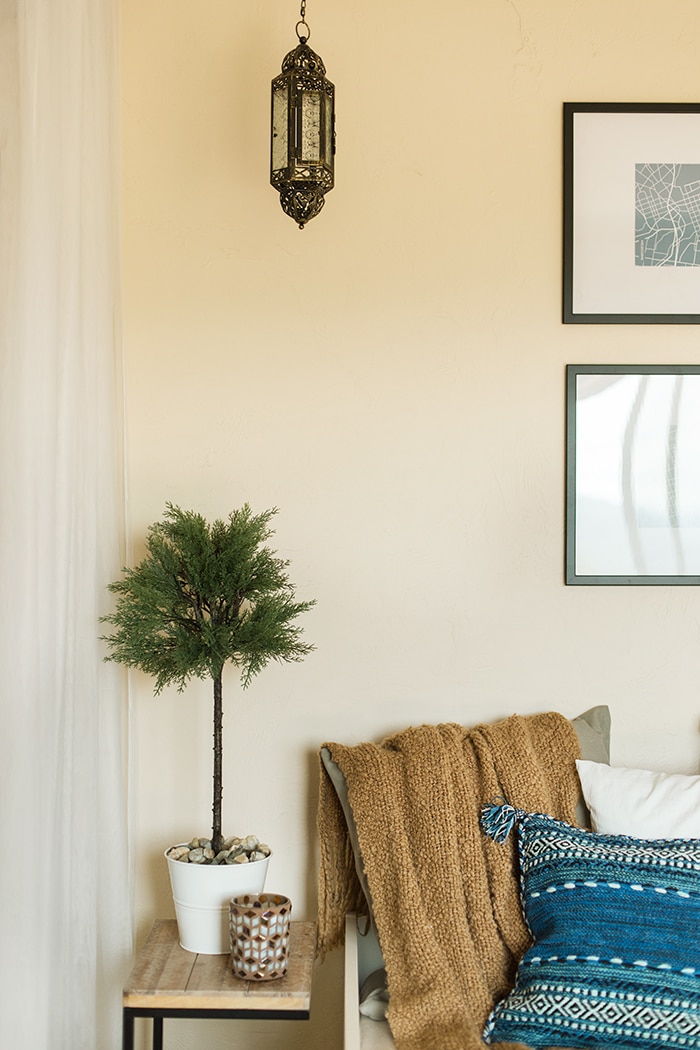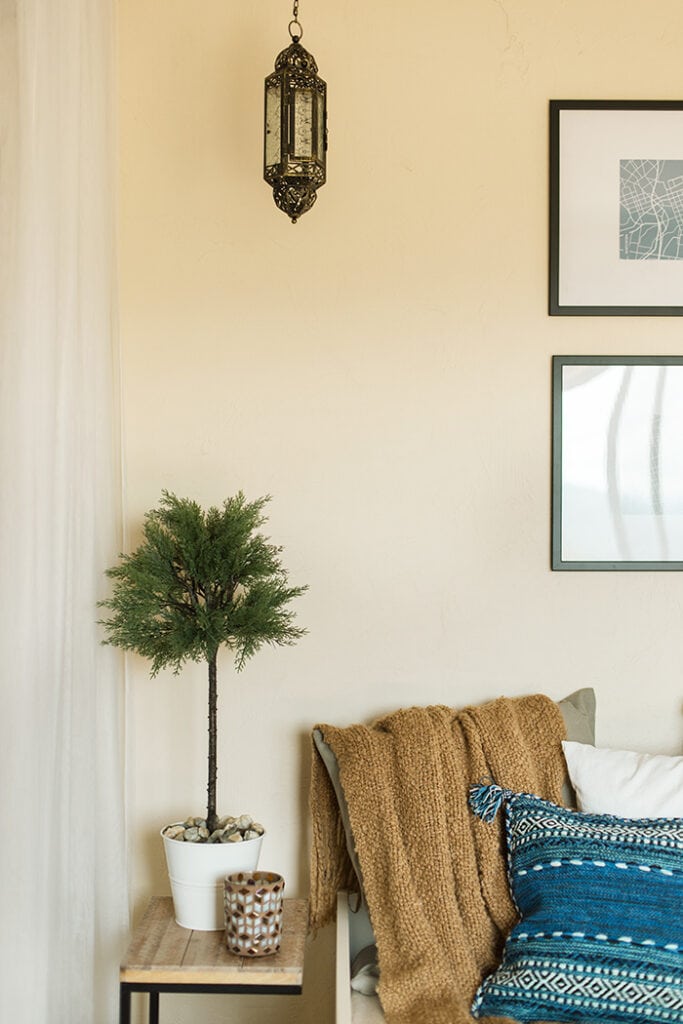 Pin
A second side table was added and tucked behind the garden stool.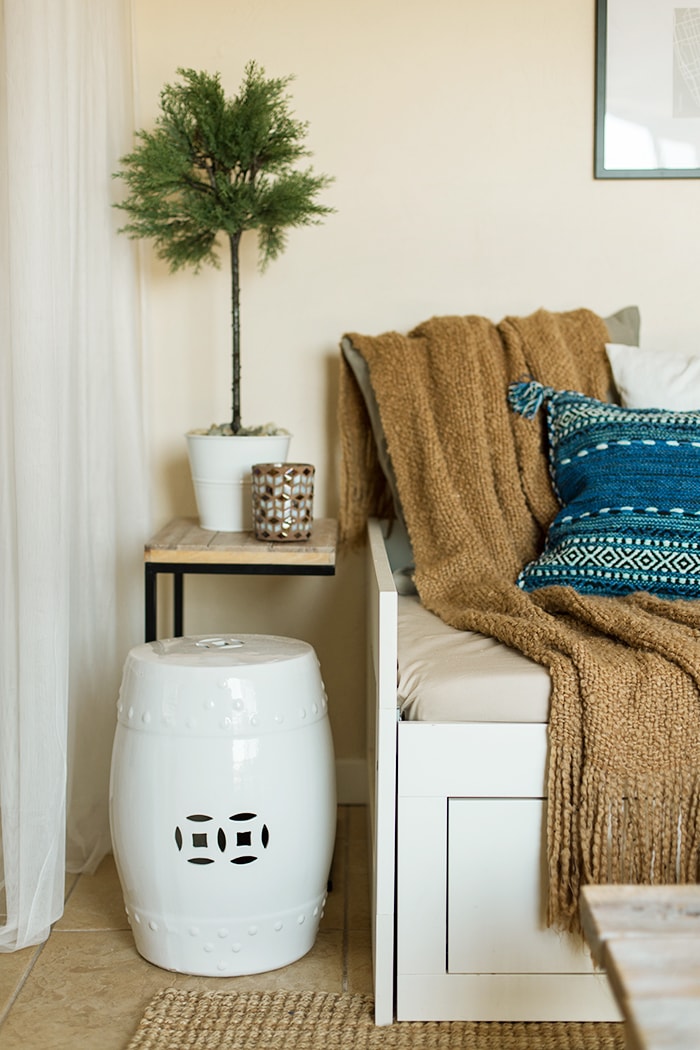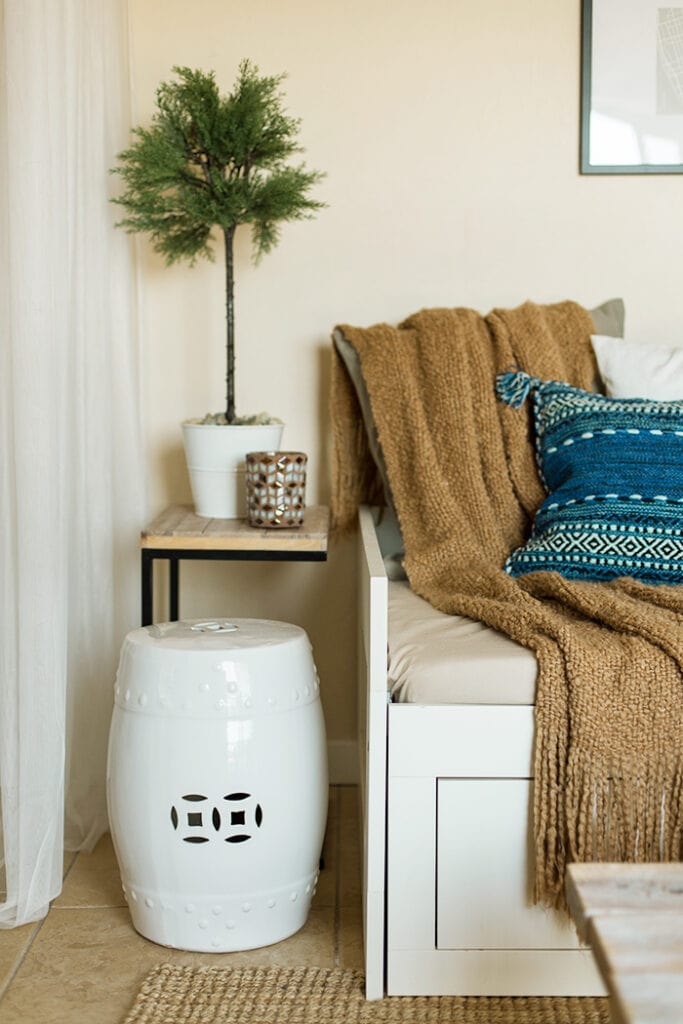 Pin
A wall of abstract city map art provides a clean lined, modern contrast to the cushions and accessories below and emphasizes the traveler motif.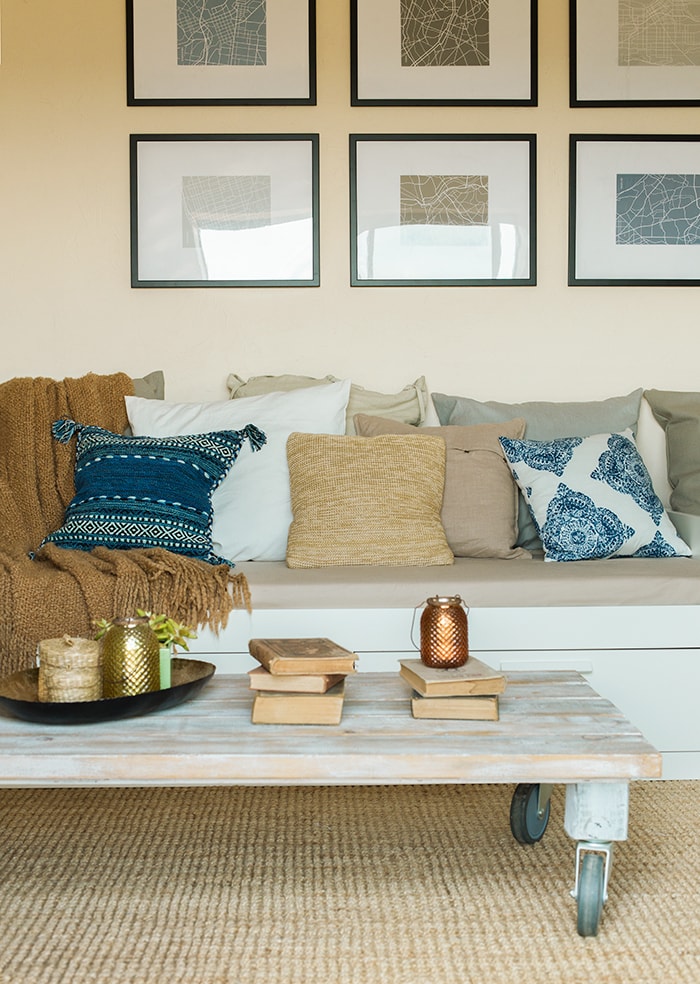 Pin
On the coffee table lies an interesting mix of shapes and materials—a hammered metal tray, woven baskets, succulents, glass lanterns and vintage books.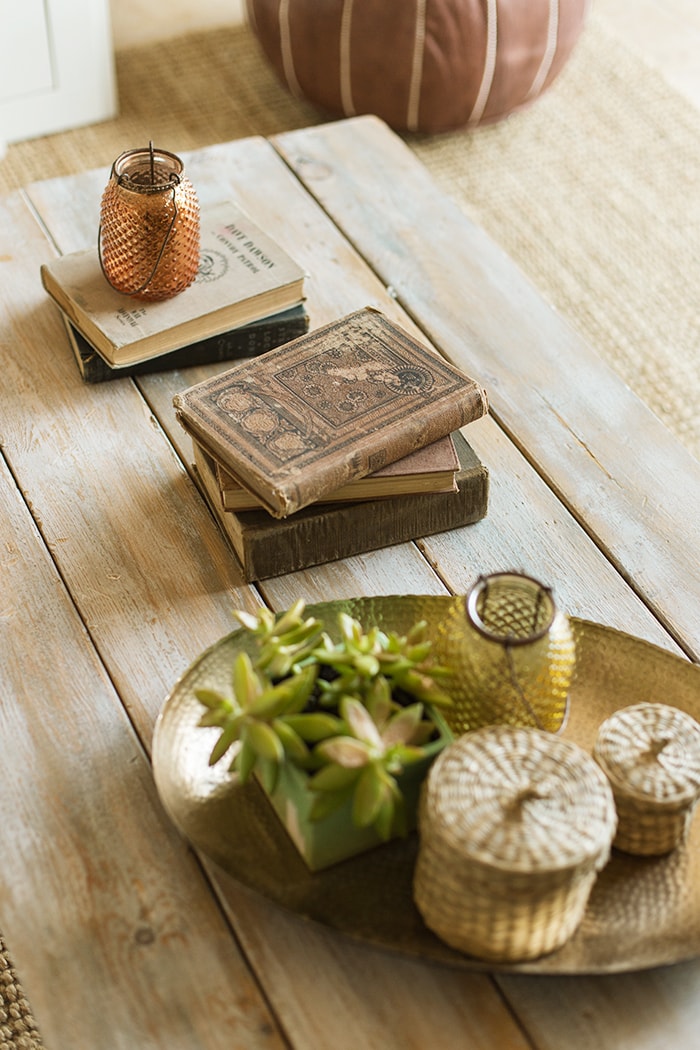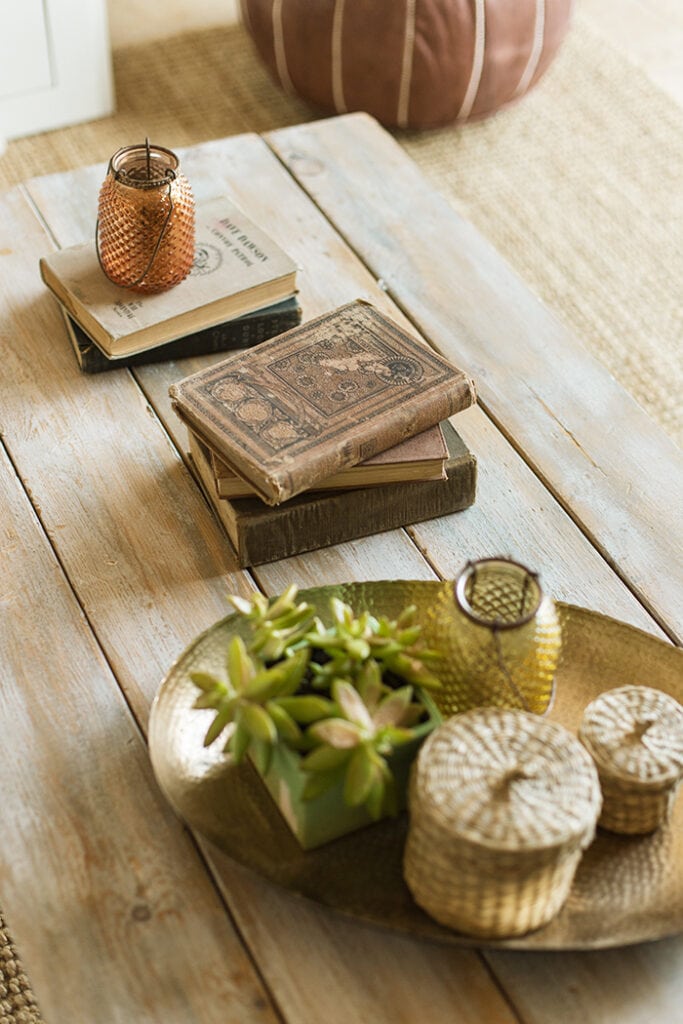 Pin
Variety is the spice of life!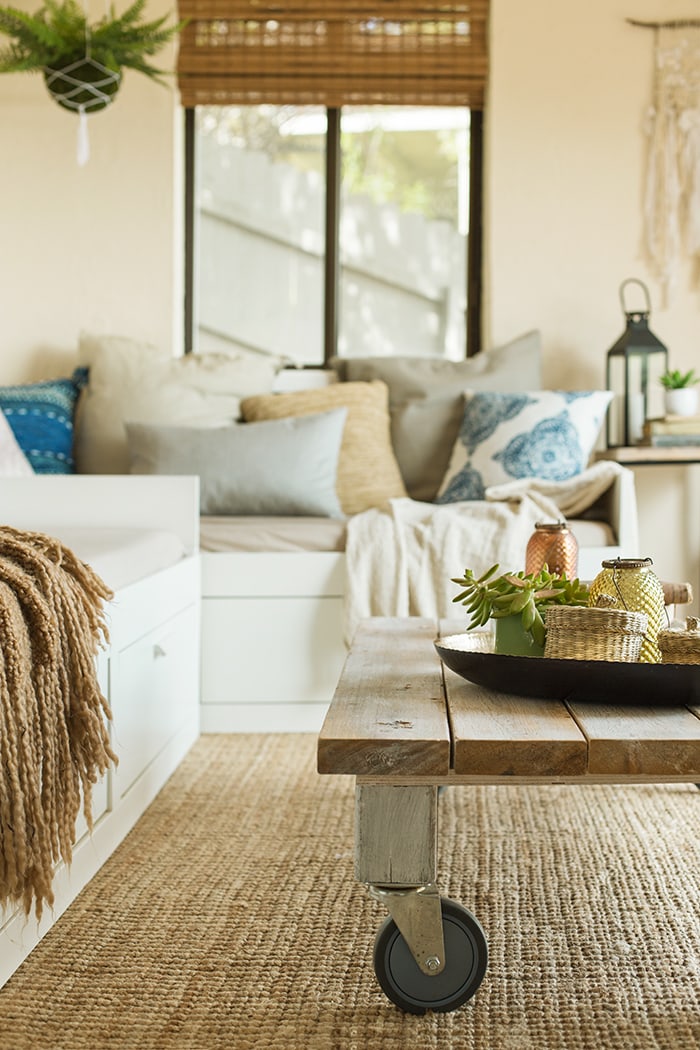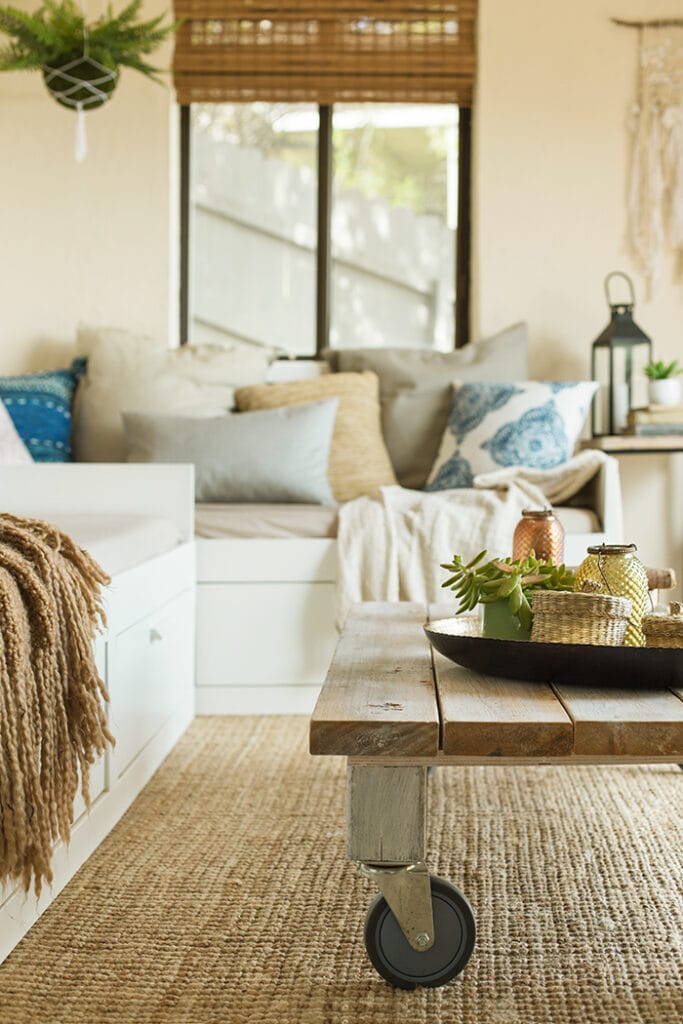 Pin
On the back wall, a fun textured wall hanging softens the hard lines while adding a laid back vibe.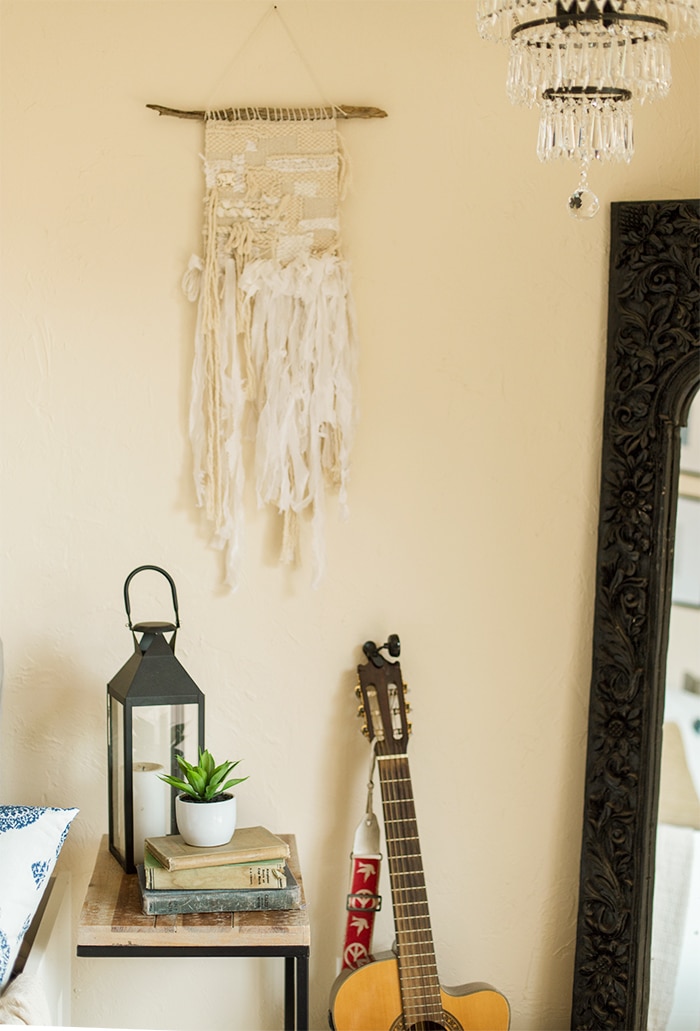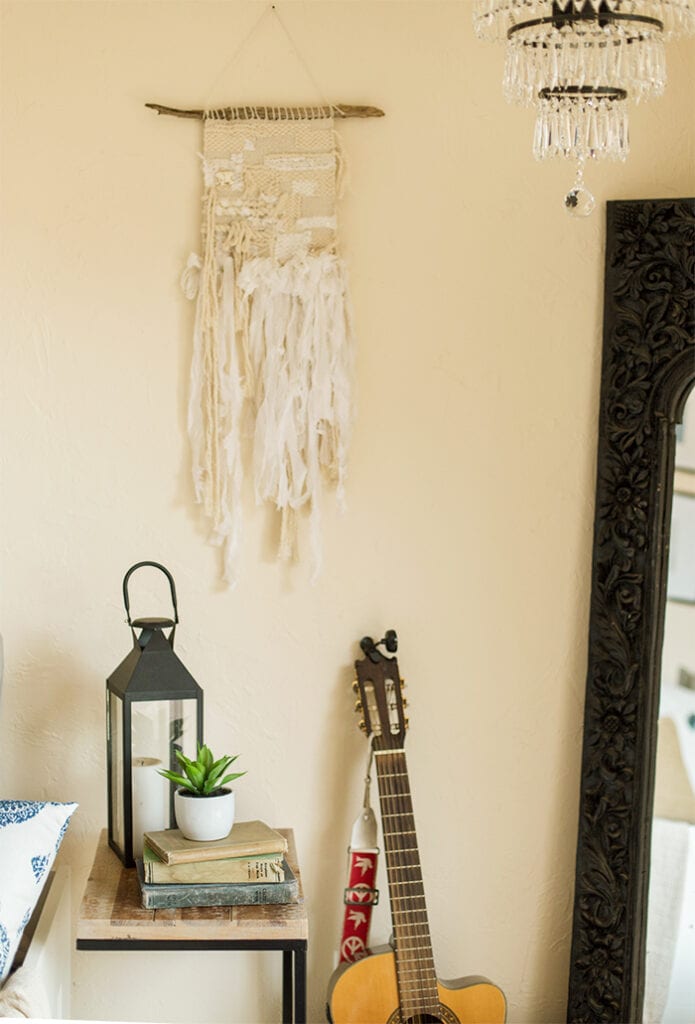 Pin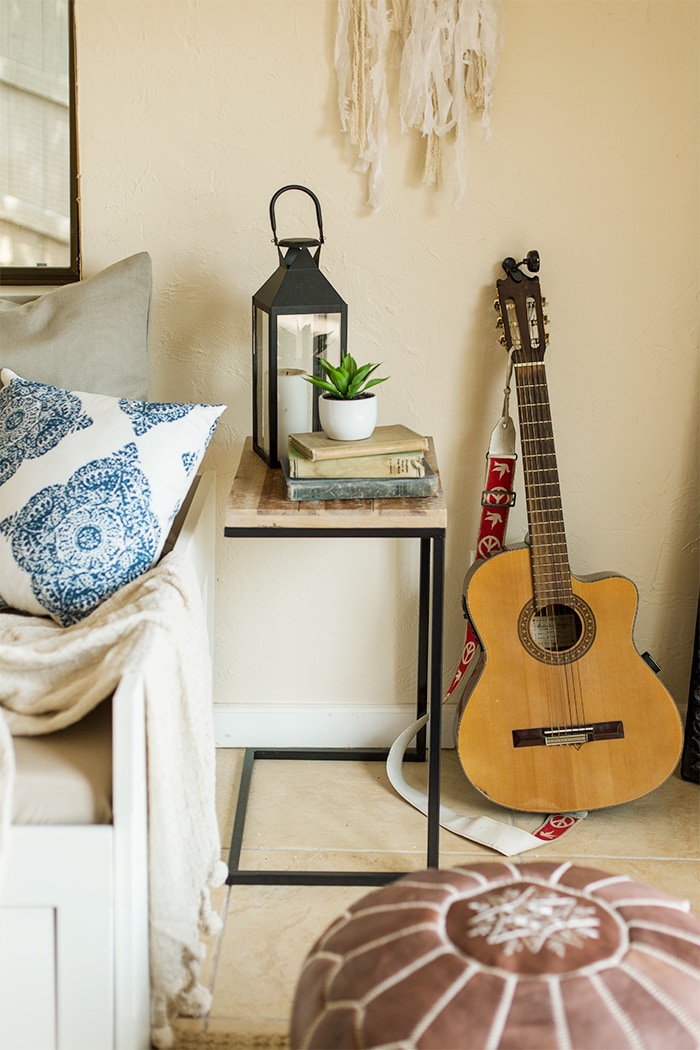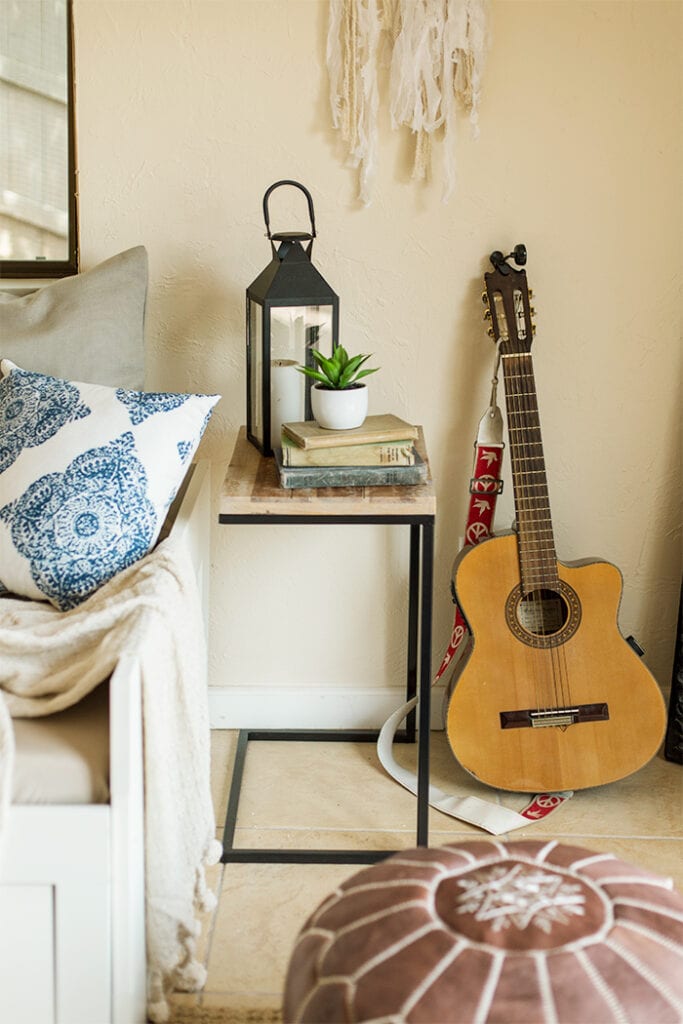 Pin
Designing this space was all about playing with patterns, color, shape, texture and style. A whole lot of mixing and matching make a room feel lived in and cozy.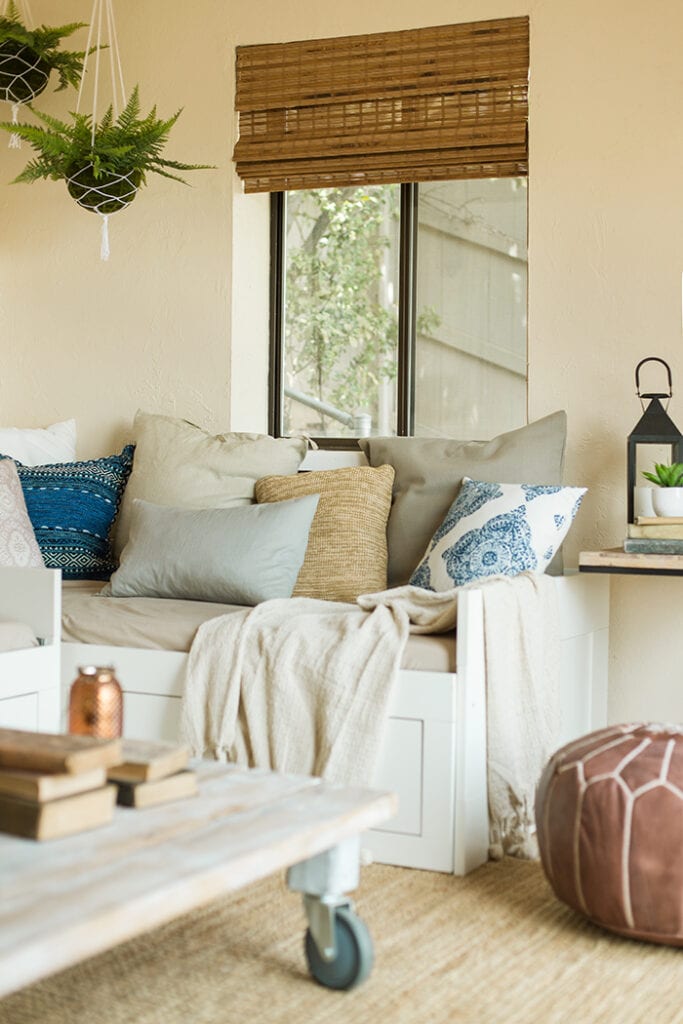 Pin
I know it's not the typical modern/farmhouse/vintage look you're used to seeing from me, but it looks like I'm adding boho to my style lineup. I love this space.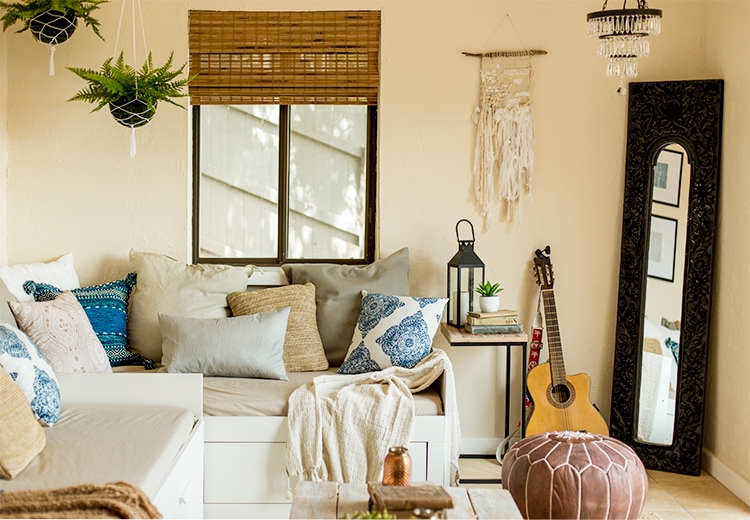 Pin
What do you think? Do you like branching out into different styles, or tend to stick to just one? Looking back to my first house in 2008, my taste has changed so much and I know it will continue to evolve through the years, as different life experiences shape the environment I choose to spend my time in. That's the fun part of design, we can reinvent ourselves as much as we want and it's all subjective 🙂
Here's a list of sources used in this room refresh:
Wall color: Kelly Moore's Laguna Beach
Rectangle jute rug: Ikea
Daybeds: Ikea Brimnes
Gauze curtains: Ikea Lill
Wood coffee table: DIY
White garden stool: TJ Maxx
Metal & wood side tables: Ross
Crystal chandelier: Overstock
Woven blinds: Amazon
Black frames:  Ikea Fiskbo 16×20″
Art prints: Jenna Sue Design city maps
Black mirror: Borrowed
Bali Wall hanging: Wayfair
Moroccan leather pouf: Dwell Studio/Wayfair
Faux ferns: Wayfair
Hanging candle lantern: Wayfair
Blue tassel pillow: Wayfair
Blue/white damask pillow: Wayfair
All other pillows: Ikea, old or borrowed
Small lanterns: Joss & Main
And that wraps up another makeover! I'd love to hear any questions, thoughts or comments below—and if you liked the video, please do me a favor and give it a thumbs up on Youtube & leave a comment to let Wayfair know as well 🙂 I really appreciate all of the support you've given so far.
Another vlog with new projects is up next! If you're looking for more content, don't forget to check my instagram, facebook and snapchat @ jennasuedesign where I post daily updates. See you there…