Happy Memorial Day! I'm in sunny San Francisco preparing to host a summer block party (coming to the blog in a few weeks) but wanted to drop by today to share my latest Wayfair project!
I always get excited when Spring comes around, because I get to pull my prettiest things out of storage and can use as much pink and floral as I want. This season only lasts a few months, so why not?
When Wayfair asked me to give my dining room a refresh, I hunted down the perfect blanket used it as my inspiration for an earthy, fresh vintage look. Watch how I pulled the space together: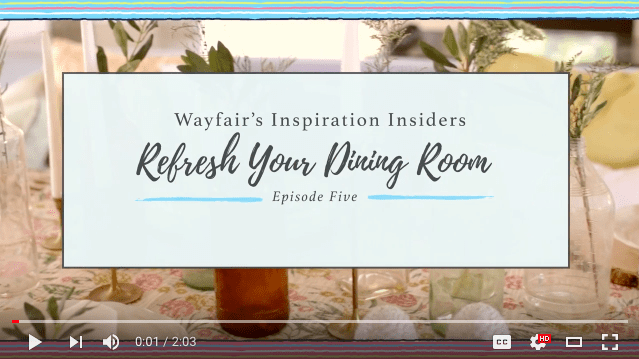 Pin
Lightweight blankets are great as makeshift tablecloths/runners, and I was able to pull my color scheme and patterns from the design: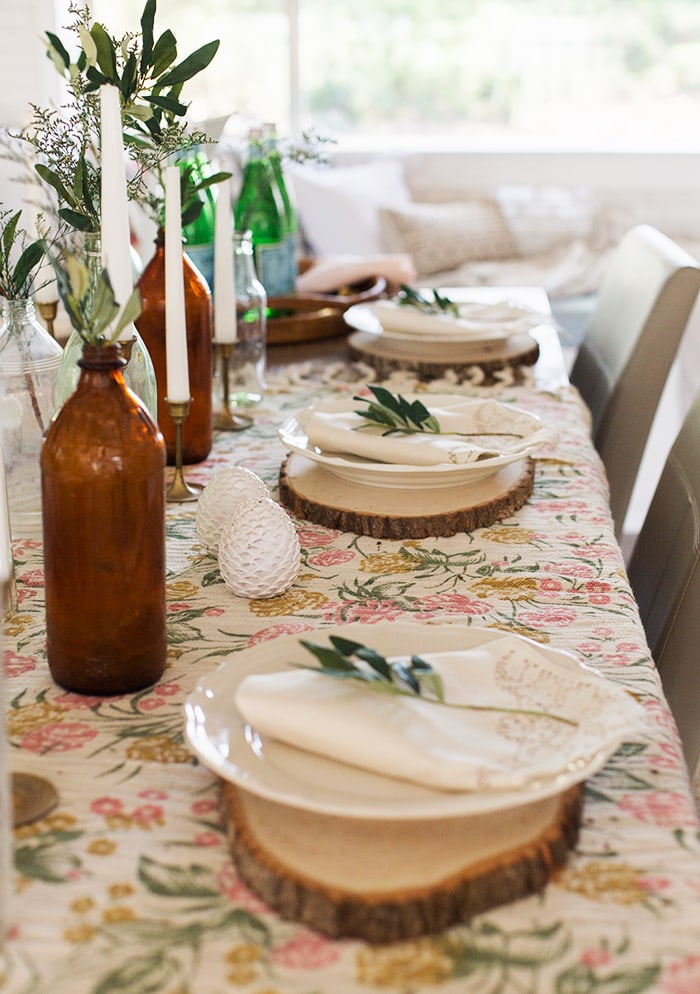 Pin
This was my focal point, so I layered neutral and solid colored pieces on top, starting with slabs of wood as plate chargers.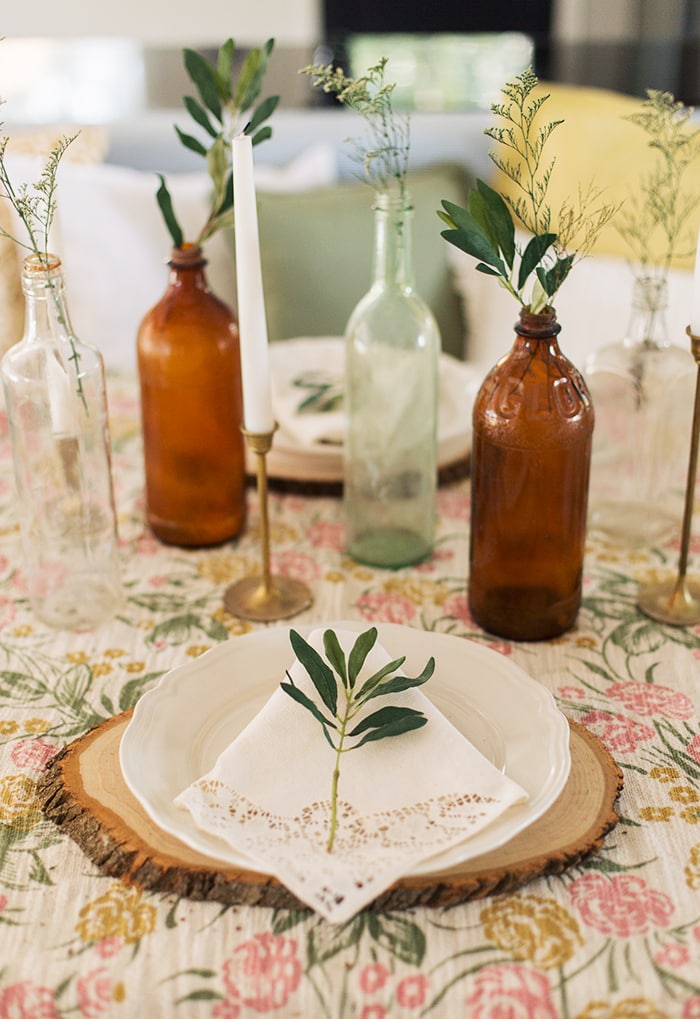 Pin
The ivory plates and napkins add subtle elegance and were flea market finds, helping to keep costs down.
Vintage glass bottles in shades of amber, mint and clear were pulled from storage, along with old brass candlesticks—all flea market scores as well (my relentless shopping trips paid off!)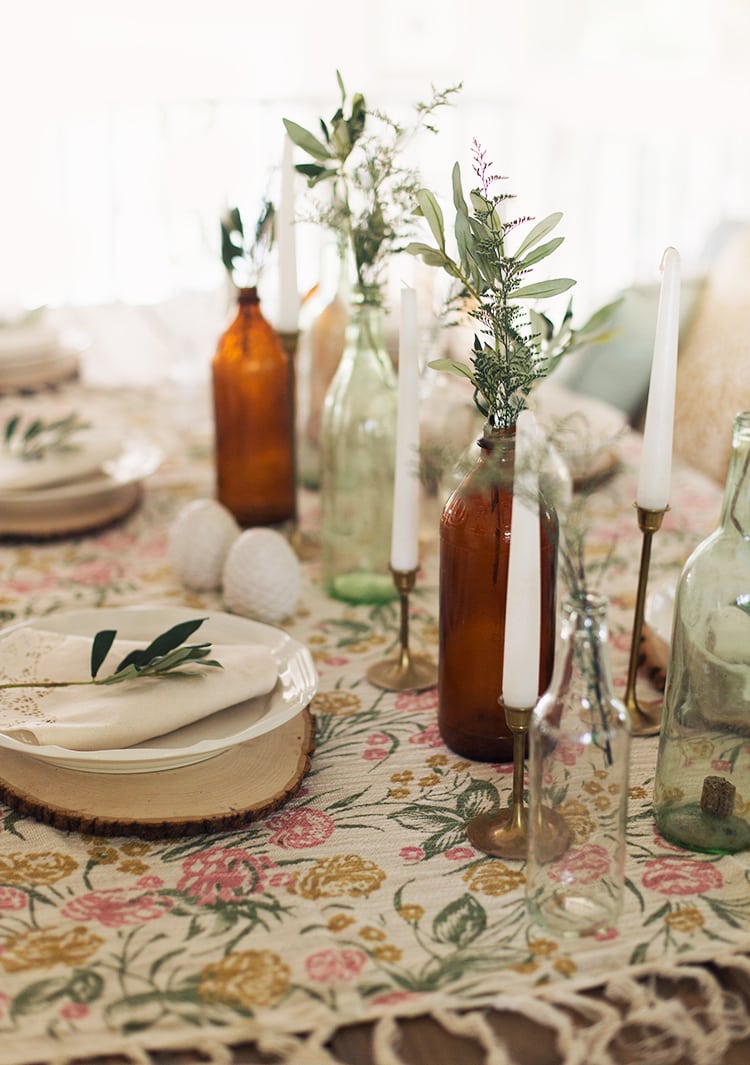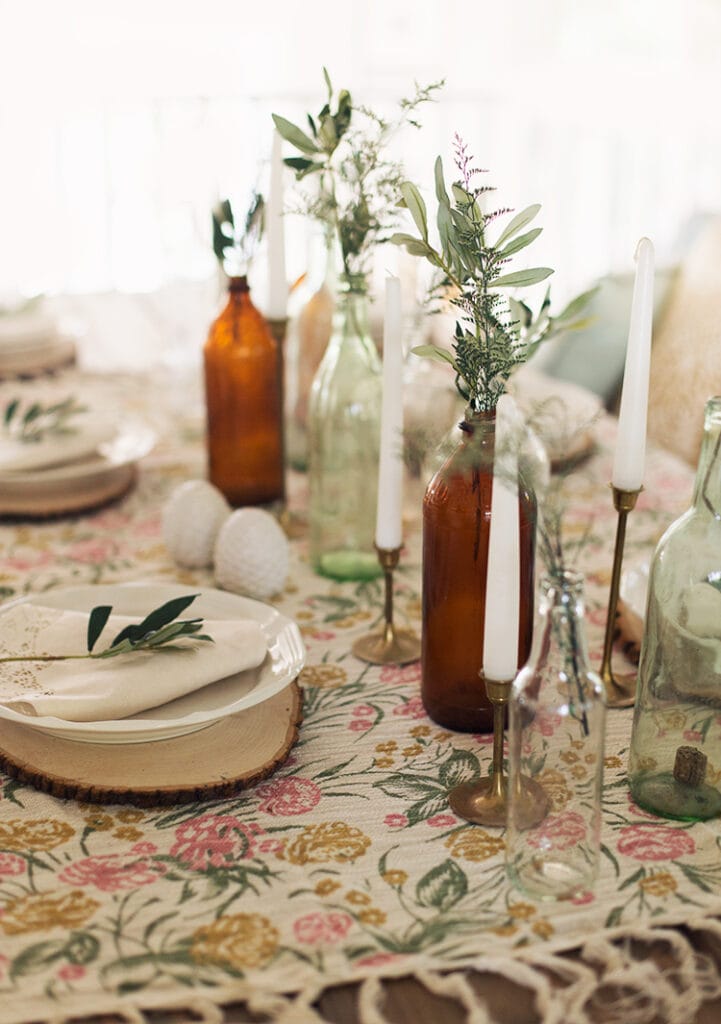 Pin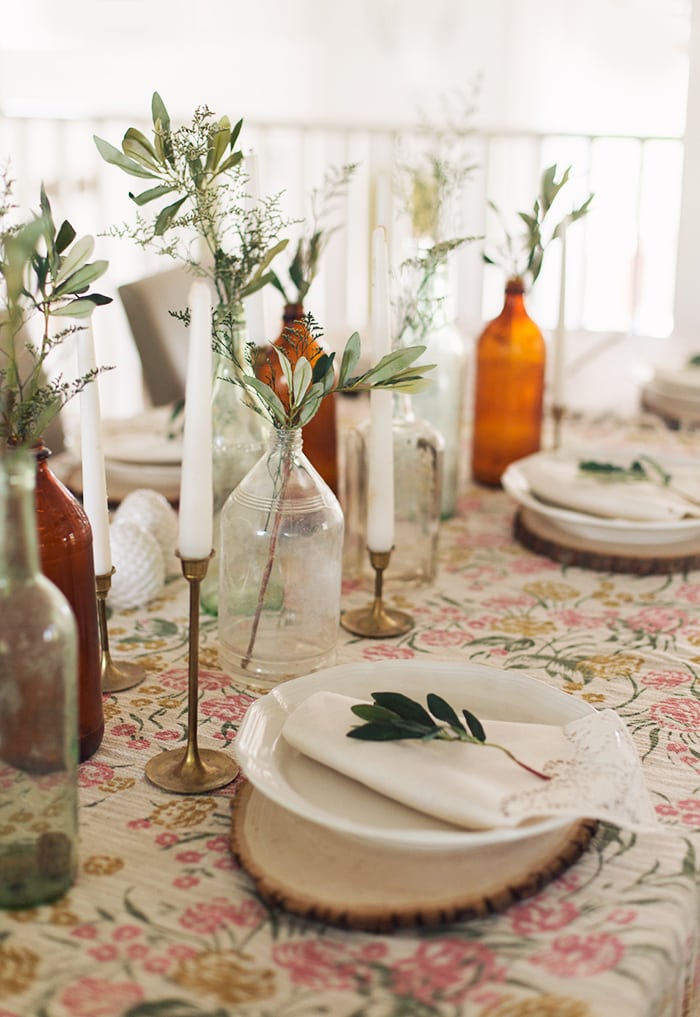 Pin
Including natural elements is a must for any space, and I was going for a predominately botanical theme, so I picked up 12 bundles of faux olive branches and mixed them with a few dried caspia stems I already had: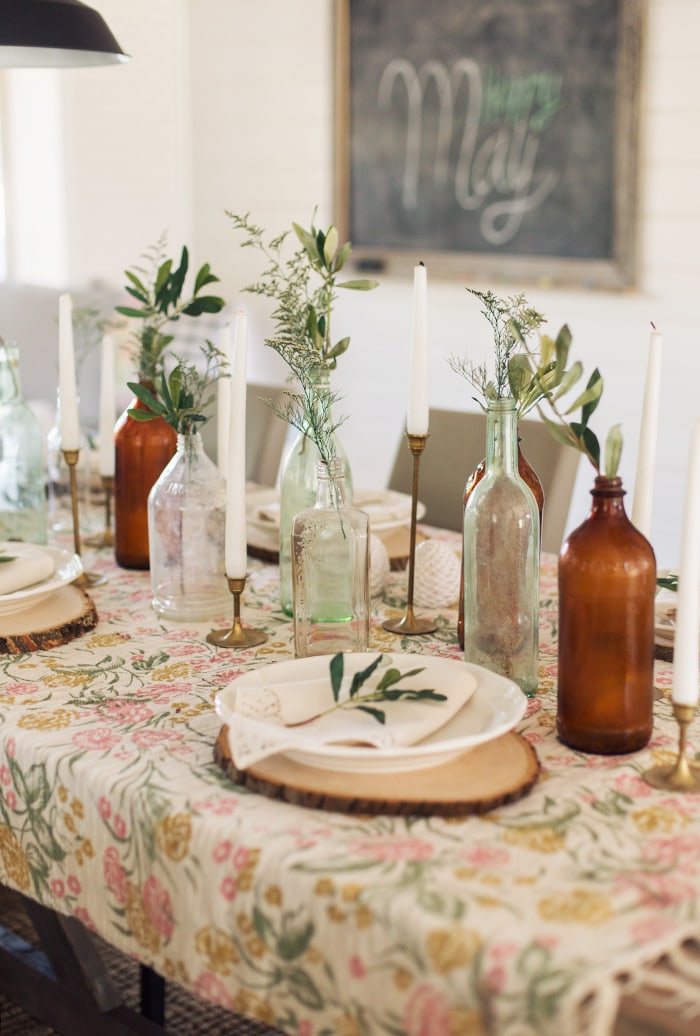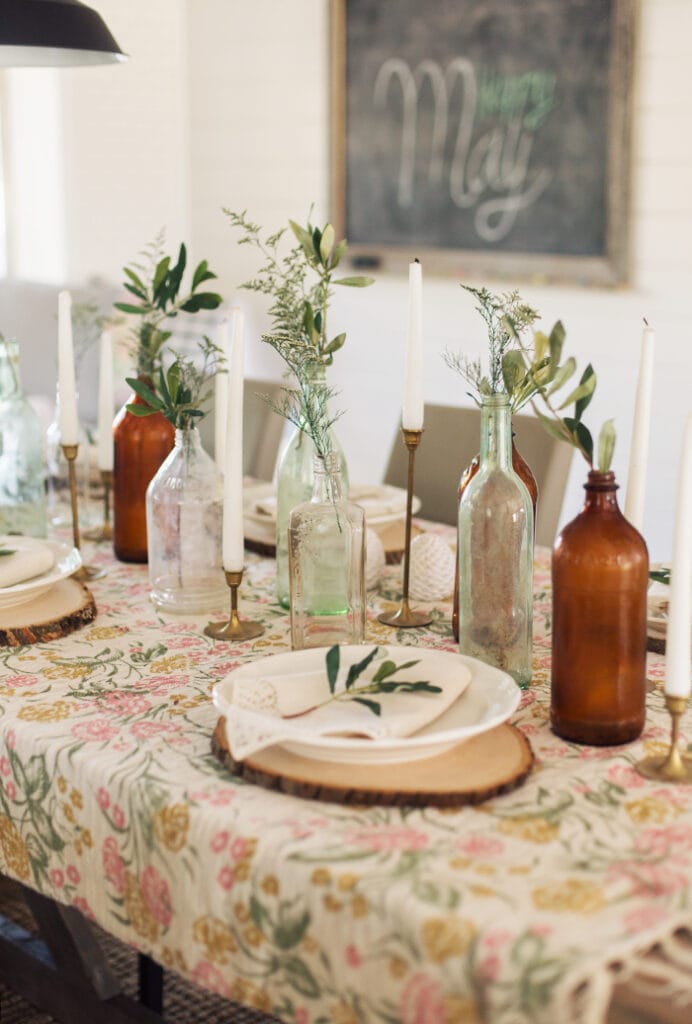 Pin
Including one on each napkin: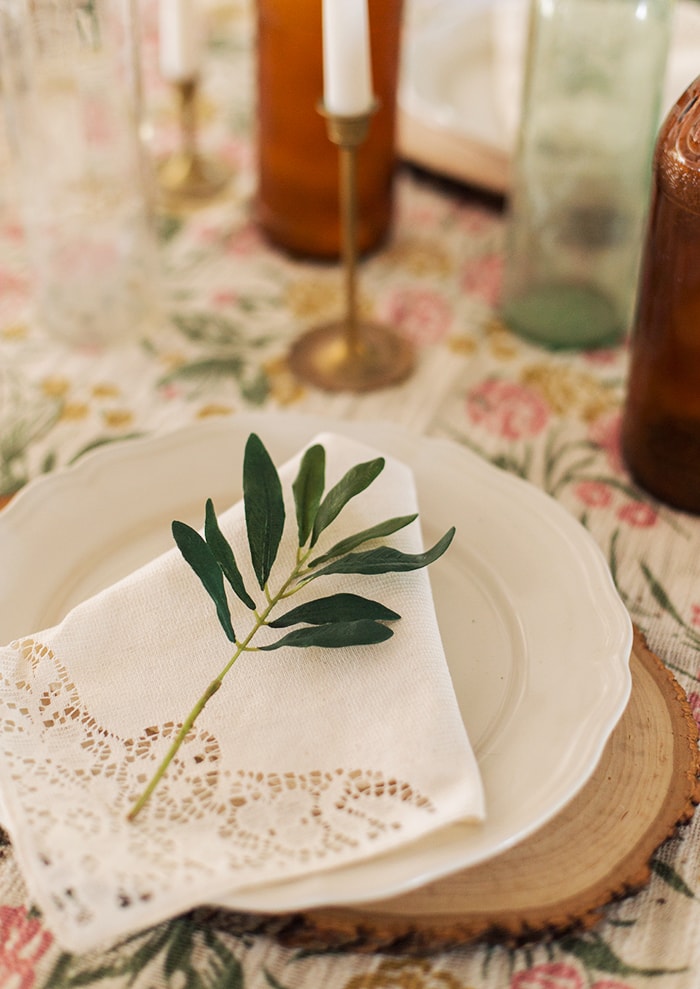 Pin
The faux stems might be the biggest splurge, but there's a lot included so I was able to use them in multiple places throughout the house. They're also super realistic looking and I'll use them forever, so totally worth it, IMO.
You also can't go wrong with a large woven tray to hold extra supplies…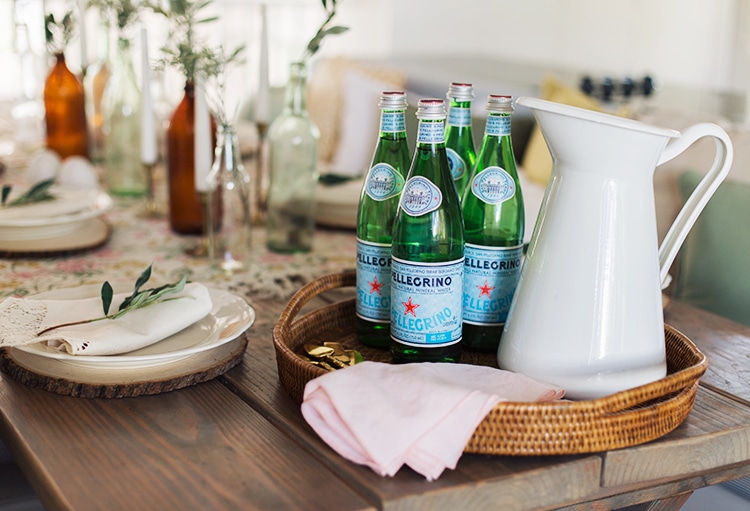 Pin
No matter the season, pillows and blankets are important elements for providing a cozy space to dine. Taking cues from the tablecloth, I mixed in a few cushions in shades of olive green and gold, along with my favorite pink ruffle throw from Kohl's.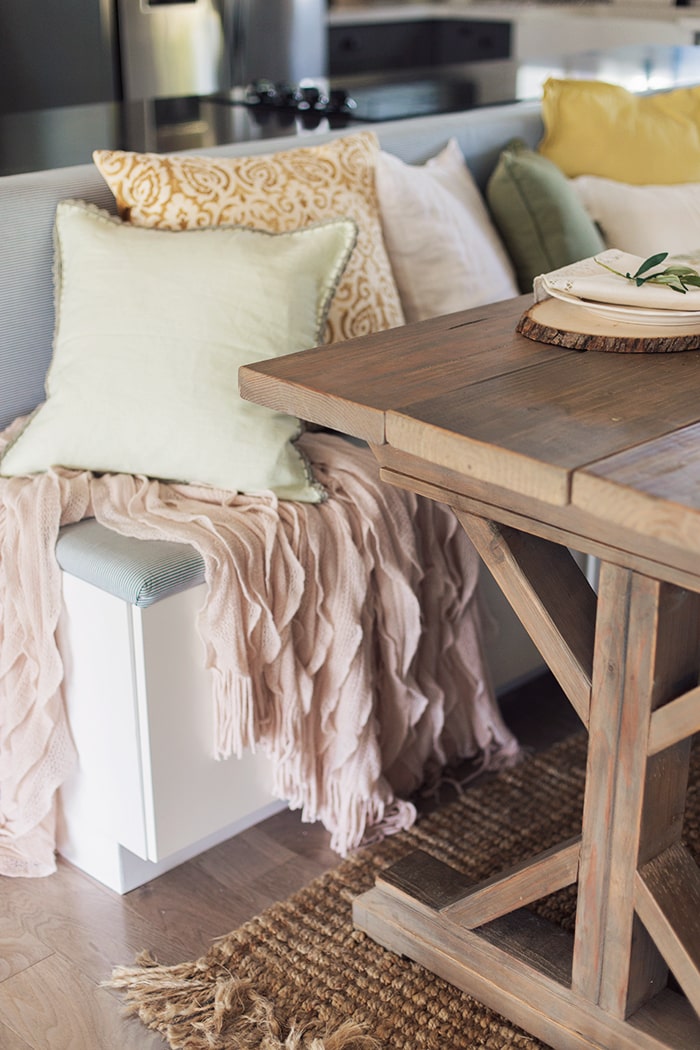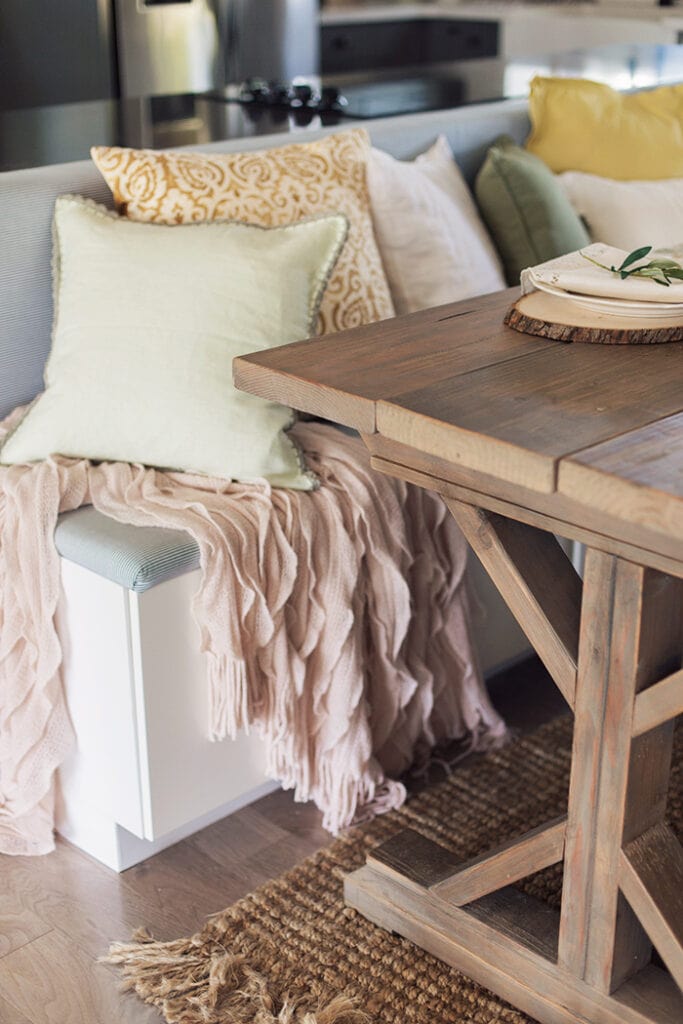 Pin
The patterns were kept simple as to not compete with the tablescape, and instead provide a nice coordinating backdrop.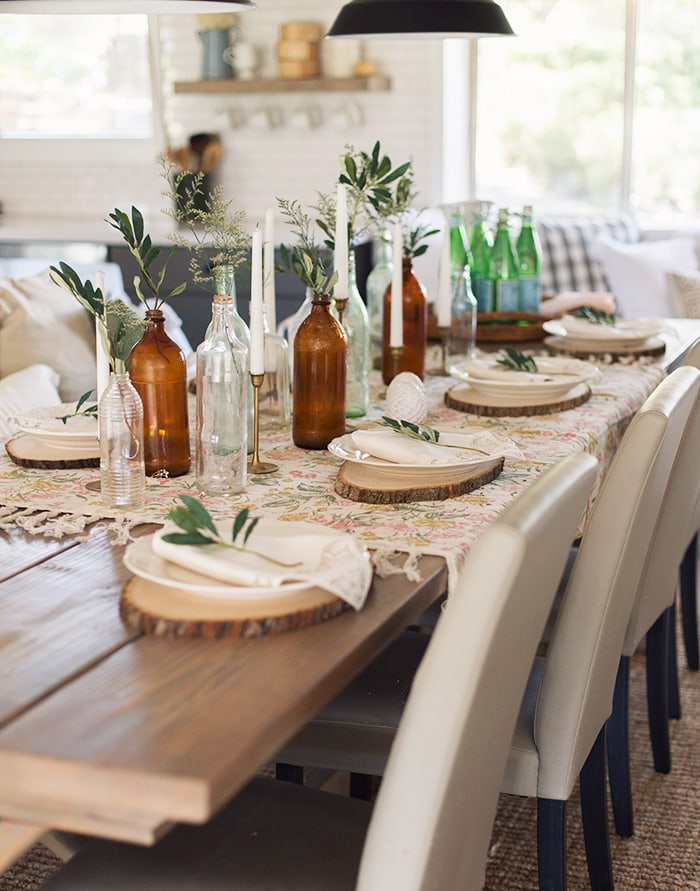 Pin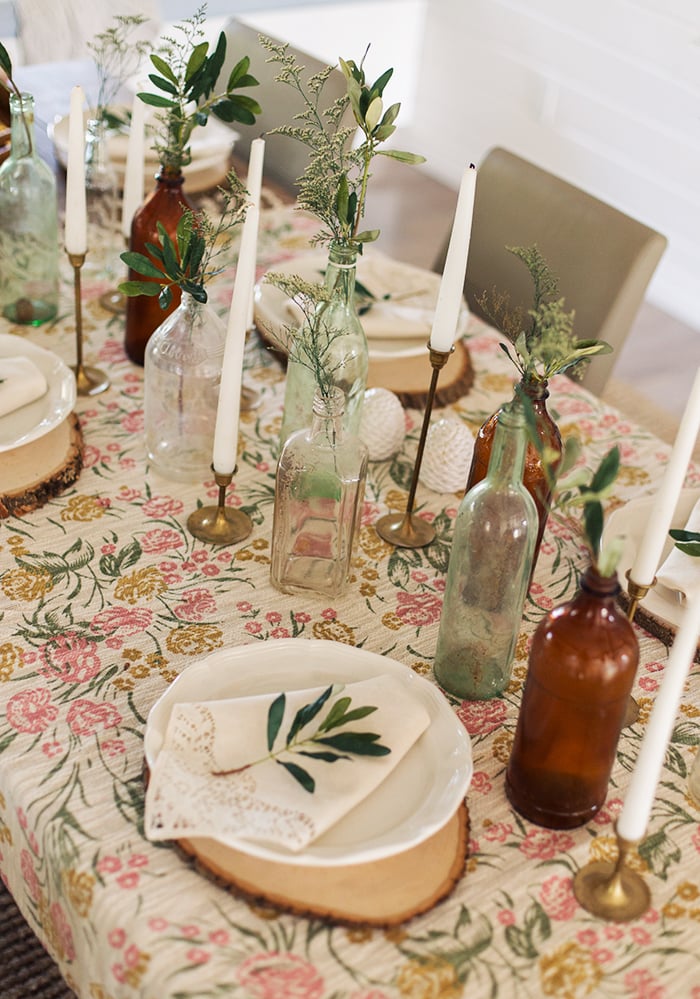 Pin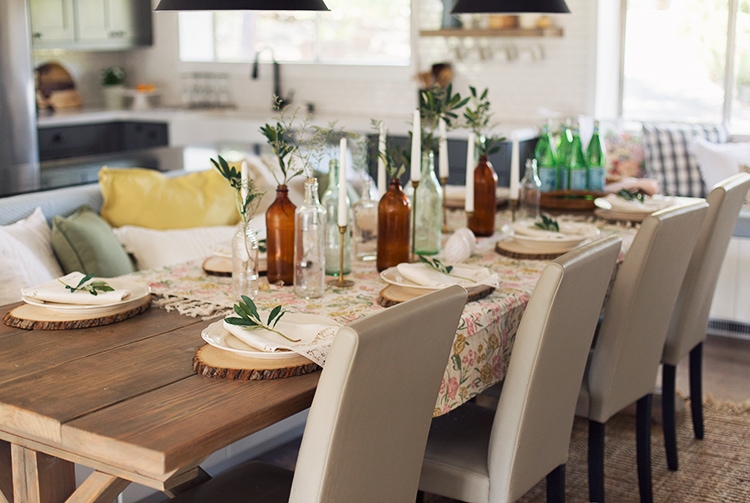 Pin
I'm such a fan of this look because it's simple and casual enough for every day, but also perfect for dinner parties or special celebrations.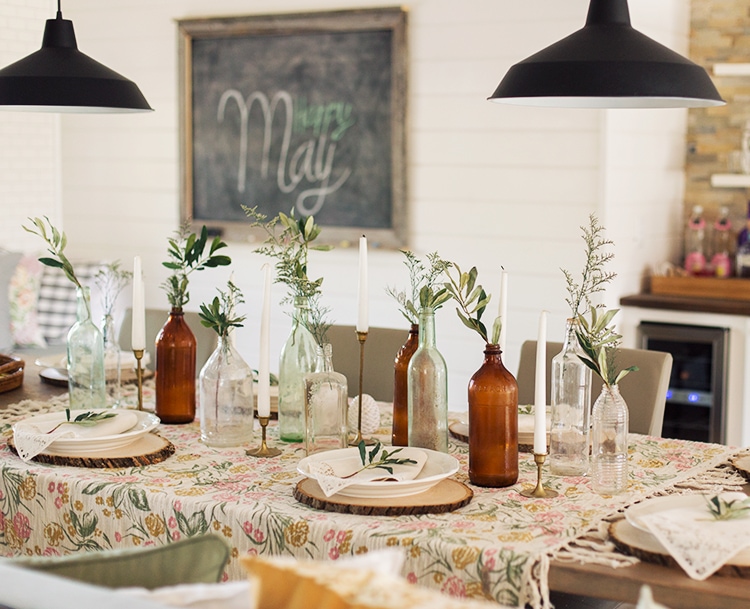 Pin
I can't bring myself to put any of it away, and am looking for an excuse to host a dinner party soon 🙂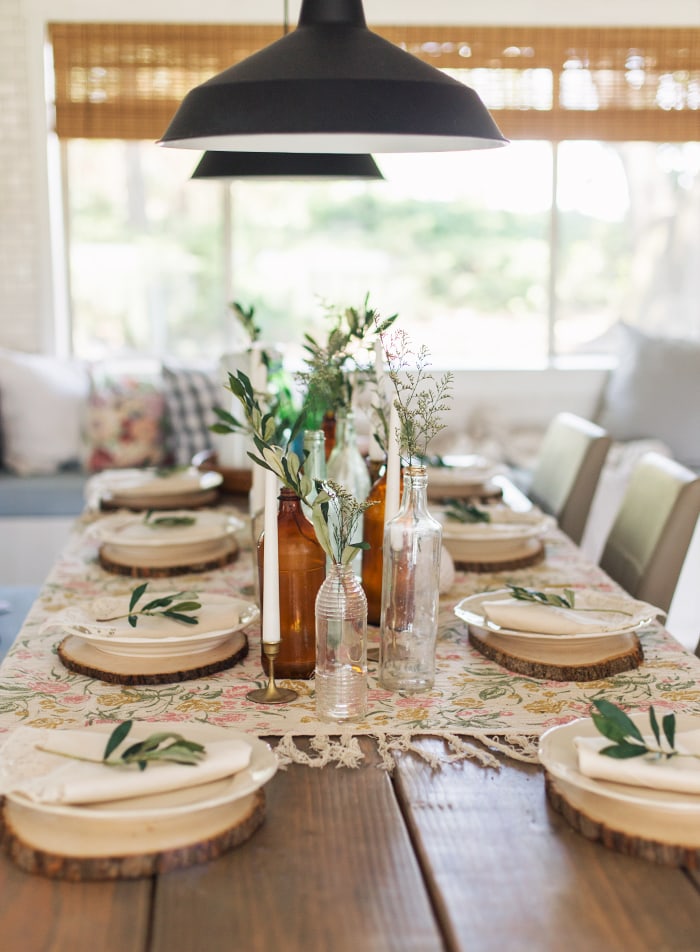 Pin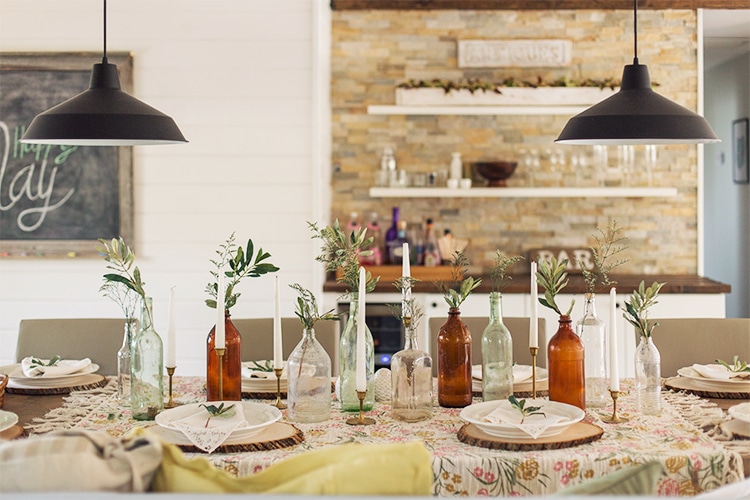 Pin
Or, you know, breakfast or lunch or brunch. Who wants to join?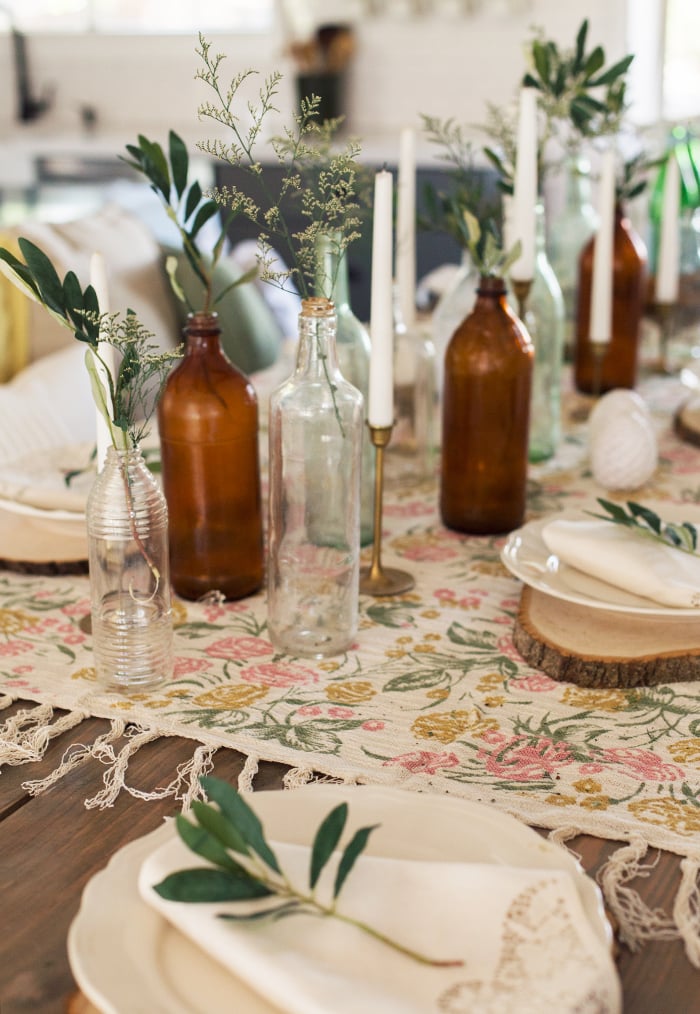 Pin
There's so many different ways you can achieve this look, but here are the exact items I used if you want to recreate it:
Blanket/tablecloth – Wayfair
Wood plate chargers – Wayfair
Plates & napkins – Flea market
Glass bottles & candlesticks – Flea market
Faux olive stems – Wayfair
Ruffle throw – Kohl's (no longer available)
Light olive linen pillow – Wayfair
Solid olive green pillows – Wayfair
Solid golden yellow pillow – Wayfair
Golden patterned pillow – Wayfair but currently available on Birch Lane
Black pendant lights – Lighting Direct
Dining chairs – Overstock
You can find the full kitchen & dining room source list here
And there you have it… a simple, foolproof table arrangement that can be adapted to any style and budget. One of my favorites to date and definitely one I'll come back to in the future when I need some party inspiration. What do you think of it? Please make sure to give the Wayfair video a thumbs up and leave a comment if it provided any value, and I'll keep making more of these tutorials!
Off to set up & shoot the last minute details for my summer kick off party… be back soon with more!