This post is part of a paid collaboration with Lowe's Home Improvement. All opinions are my own.
Popping in for a quick update on the Riverside Retreat kitchen, now that we've transitioned into the fun part where there's visible progress! In my last blog update, we had chosen the paint color and began the installation of our custom range hood.
Pin
Pin
A couple weeks ago we cleaned out our garage and brought the cabinet doors inside to paint them (details on the cabinets we chose in this kitchen plans post).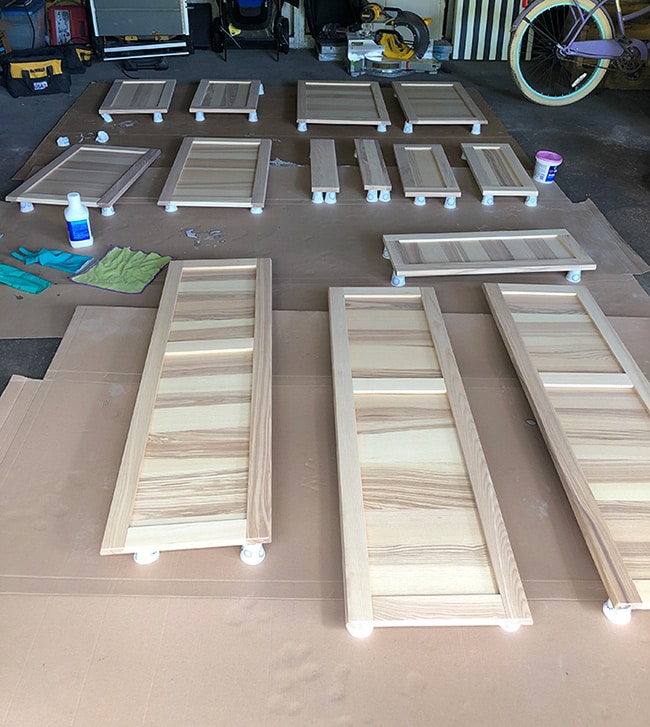 Pin
Rather than sanding down the wood, we used a liquid deglosser to prep the surface, and I bought a gallon of my go-to water based primer. It has been a while since I've painted/refinished cabinets so I spent some time researching the best products and process, and this primer kept popping up as a popular option (this was also what I used when painting my Ikea laminate cabinets 5 years ago).
Since our cabinet paint is a darker color, I had the Lowe's associate tint the primer to help with coverage. He said this was as dark as he could make it since there wasn't much room in the can to add pigment, but your experience may vary!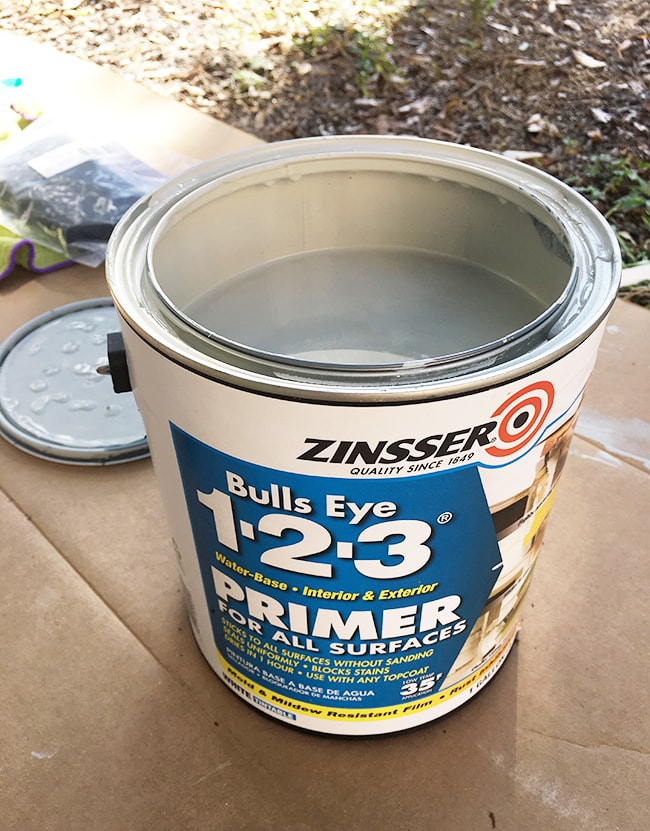 Pin
We also spent hours researching the best paint sprayer to use, and landed on the Wagner Flexio 3000: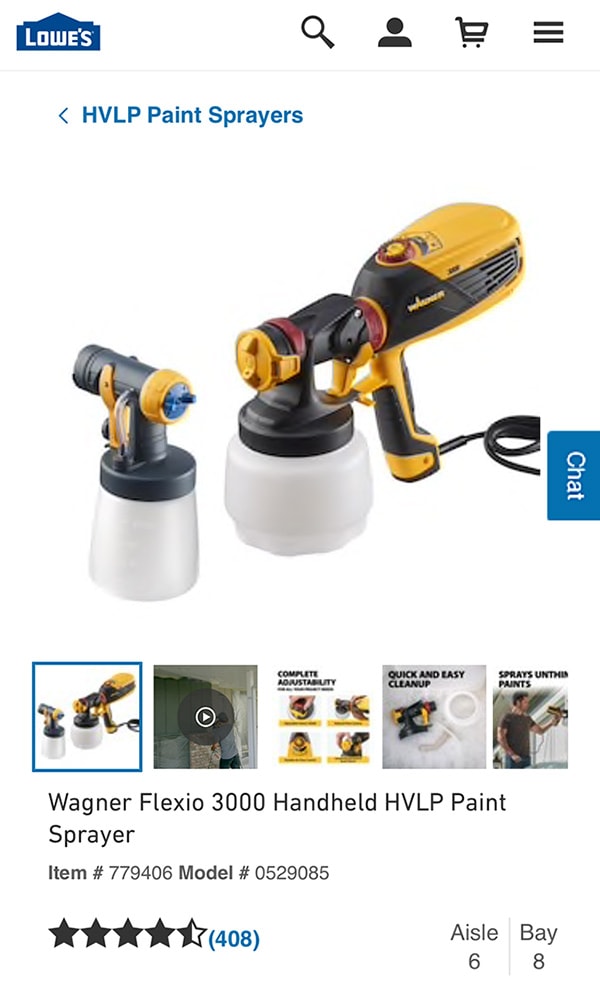 Pin
We needed something affordable, beginner-friendly, and compatible with latex primer and paint designed for cabinets. This one met all our criteria and came with great reviews, so we pulled the trigger and hoped for the best.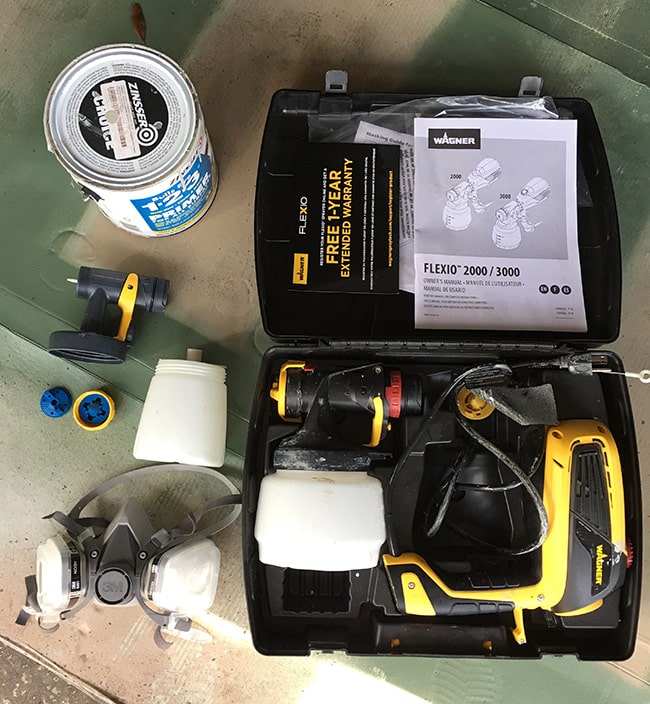 Pin
There are two nozzles for different applications, and Lucas used the larger (iSpray) nozzle to apply the primer. It didn't take long to figure out the ideal setting and he was on a roll (or a spray, I should say?) Pardon the poor lighting/quality, this was pulled from a video I shared in my Instagram stories: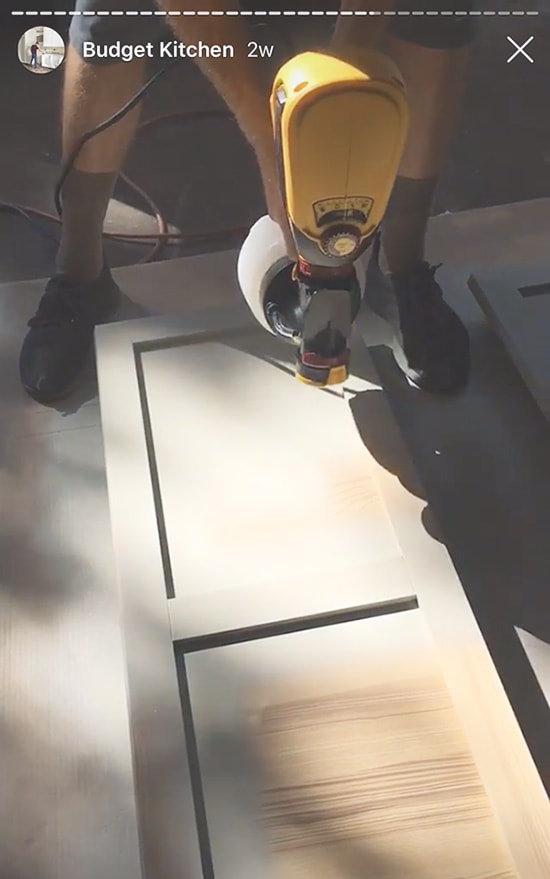 Pin
It took two coats of primer on each side to fully cover, with a light sanding after each coat to smooth out any dust/debris and imperfections.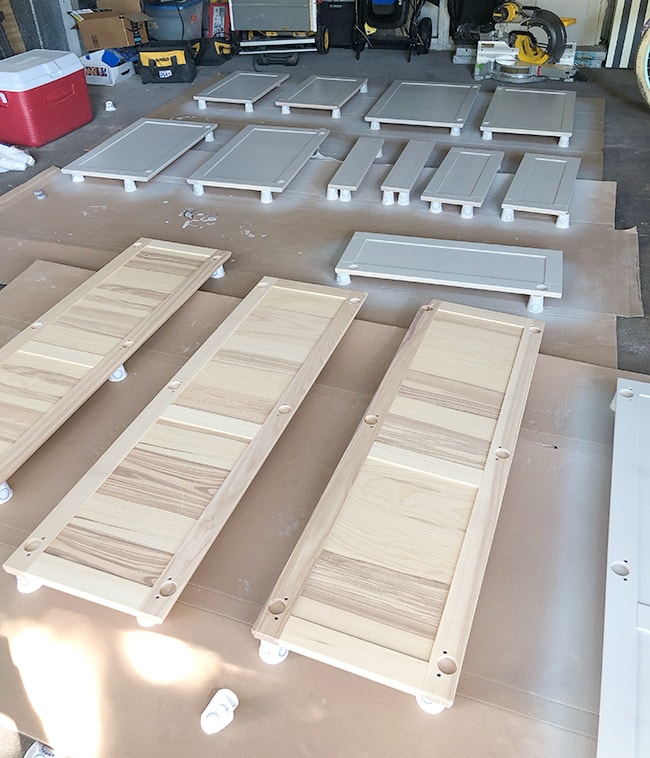 Pin
The following weekend, it was time to paint! I chose Benjamin Moore's Peale Greene in their Advance line, which is another popular choice for cabinets. I originally wanted to try Valspar's new cabinet enamel after hearing great things (it's also less than half the cost), but it's only available in a semi-gloss finish and I'm a satin cabinet kinda girl.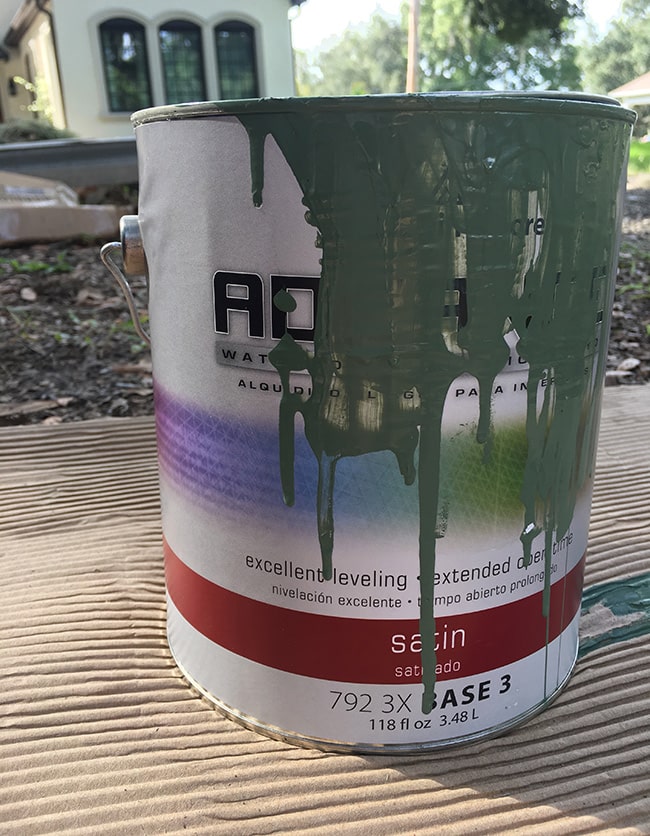 Pin
For the paint application, we switched over to the detail nozzle on our Wagner (level 4, for those wondering) and it went on just as easy—no thinning required for either the primer or the paint. With all the years I've spent rolling on paint trying to get a perfect finish, I regret not buying a sprayer sooner!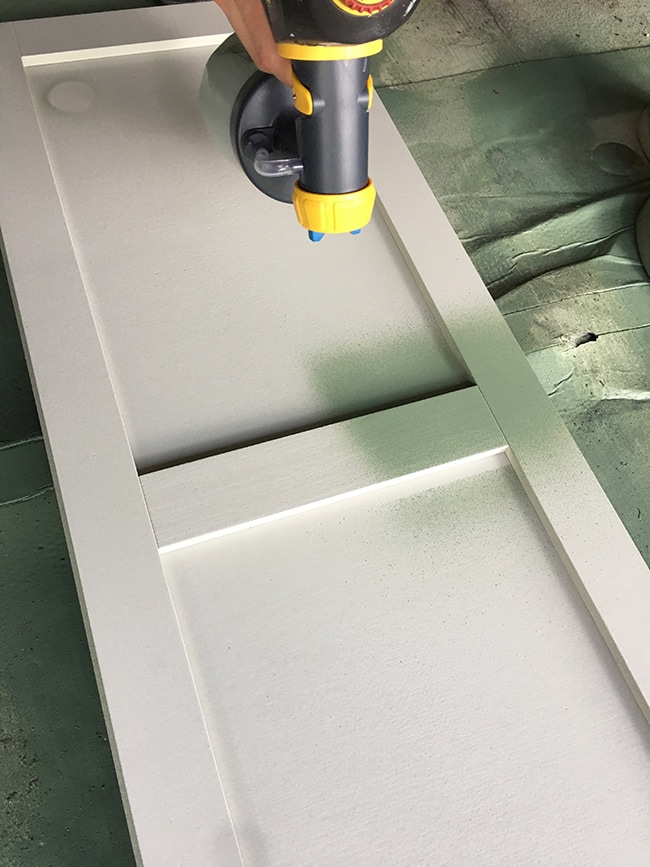 Pin
Fall hasn't kicked in yet in Florida and it's still as hot and humid as ever, so after a week of sitting in the garage, the primer still felt tacky to the touch. We had to bring the doors inside to dry out overnight between each coat of paint, which fortunately worked!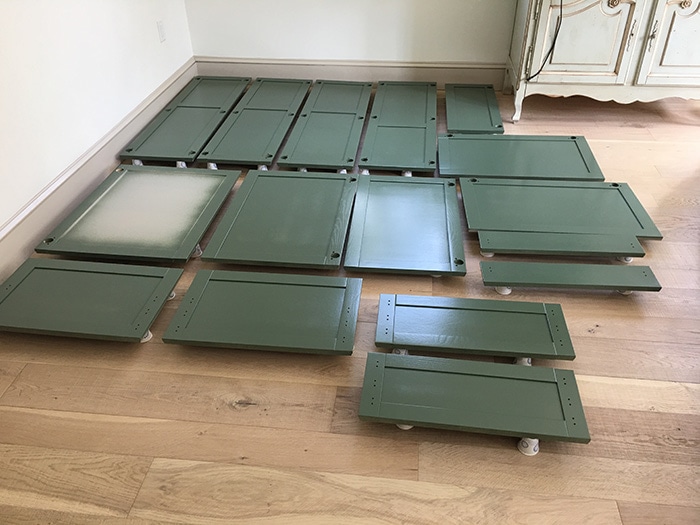 Pin
Currently the doors are curing upstairs (keeping any paint fumes away from baby) waiting for their second and (hopefully) final coat, which should happen in the next week. This renovation is a slowww process for us with Lucas back to work full time and a newborn attached to me all day. We aren't exactly DIYing machines like we used to be!
While the first coat of paint was drying, we were back in the kitchen starting on the trim. We're giving these off-the-shelf cabinets a custom built-in look, which requires some problem solving—like this empty corner to the left of the tall pantry cabinet: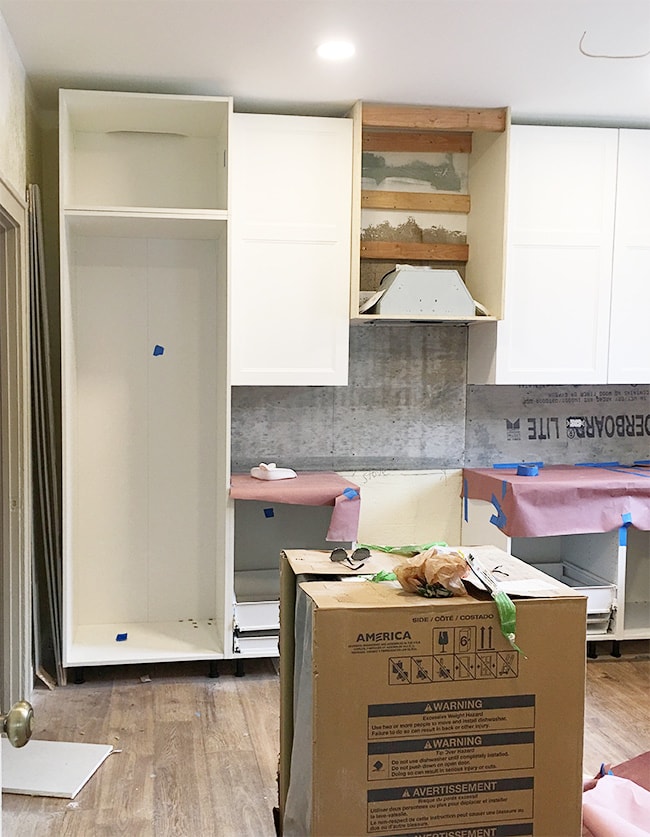 Pin
I had grand ideas of building a secret door for broom storage, but was talked out of it for the sake of time and simplicity. This is an investment property so time is money! On to plan B—filling it in with a 1×6 board (ripped down to size). We attached 2×4's for braces with pocket holes screwed into a stud along the wall.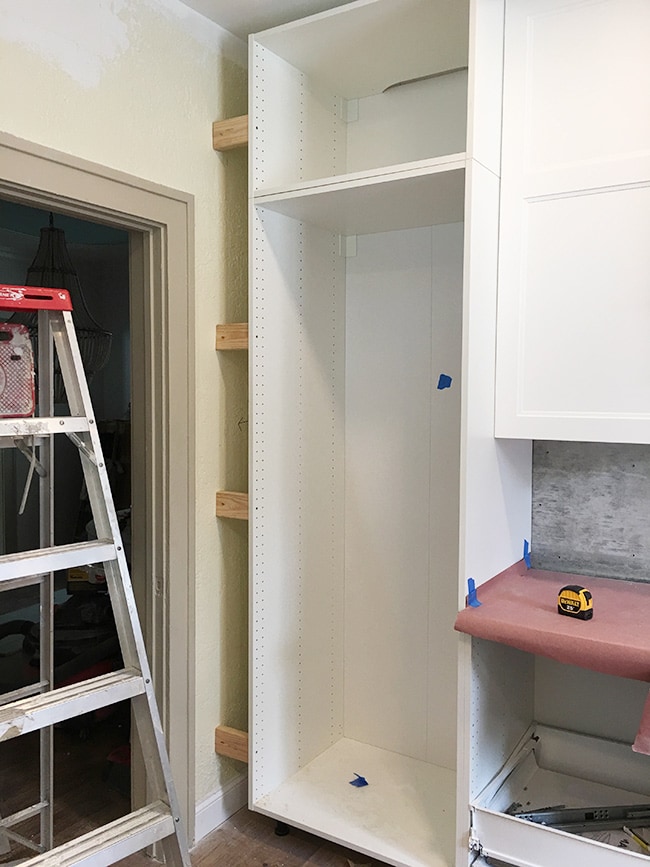 Pin
The 1×6 needs to be painted first so it isn't attached just yet—you'll have to wait until the reveal to see how it turns out (or follow my Instagram stories!)
Along the top of the cabinets we're using the same process (2×4 blocks) to attach crown molding, and for the lower cabinets we're installing custom baseboard molding using affordable primed pine (rather than the standard Ikea toe kick panels).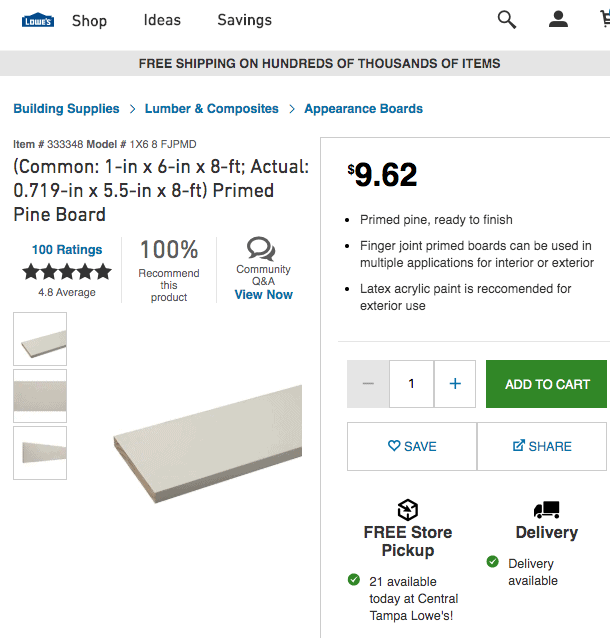 Pin
I almost went for this look in our Heights House kitchen, and love how it gives the cabinets more of a classic furniture look: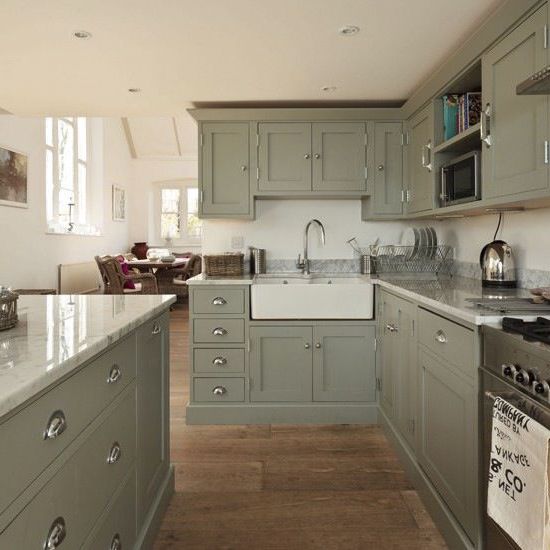 Pin
Lots of progress on the cabinets coming soon, and meanwhile the rest of the kitchen accessories have been delivered! A few are still in boxes, like this schoolhouse pendant light for above the sink: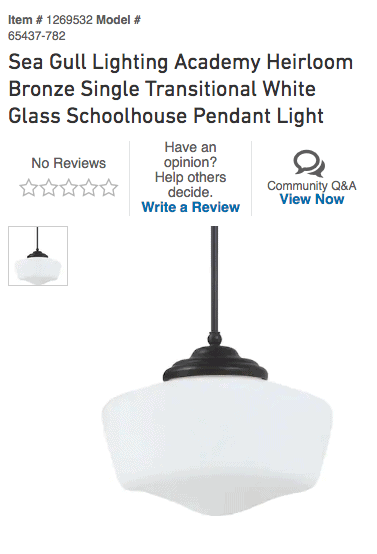 Pin
And the 33″ drop-in sink, with a 10″ basin that allows plenty of room for pots and pans. The price dropped 40% since I first bookmarked it (woohoo!) and it should be an easy DIY install thanks to the lip.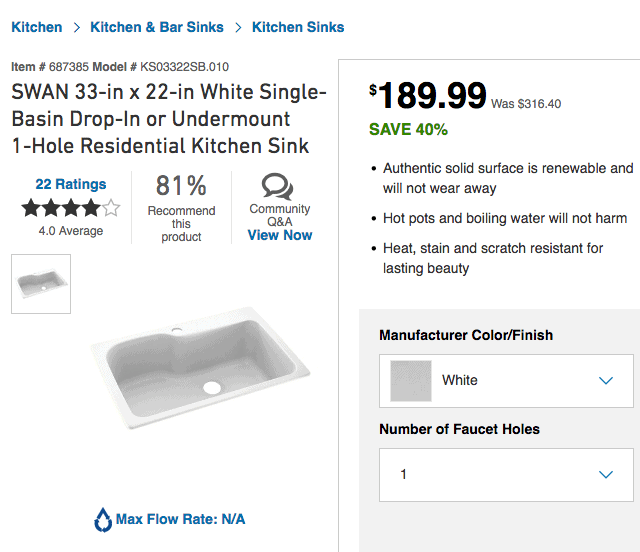 Pin
I also found this simple white ceiling fan with great reviews at an even better price. Normally I wouldn't choose to put a fan in a kitchen, but this is an older house with original single pane windows, so fans are necessary (and generally expected in a FL vacation rental home). The west facing window above the sink gets direct afternoon sun, and combined with the heat from the stove, this 10×10′ kitchen can get quite stuffy! Hopefully this fan will keep the room comfortable.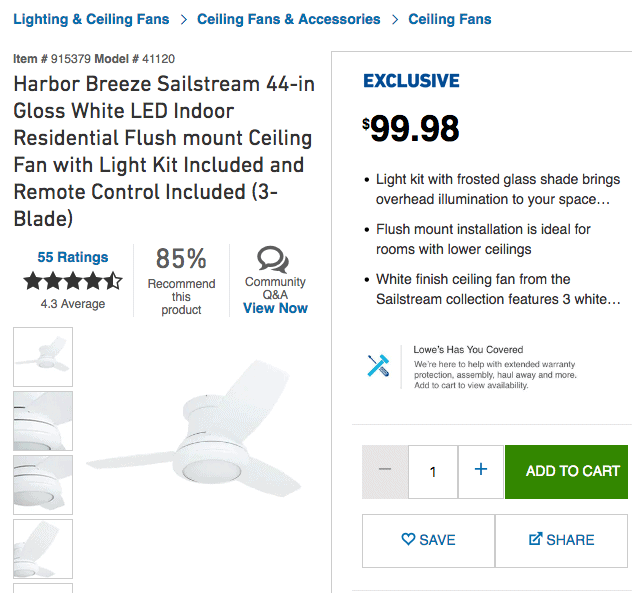 Pin
Our Delta faucet also arrived, the champagne bronze looking snazzy as always: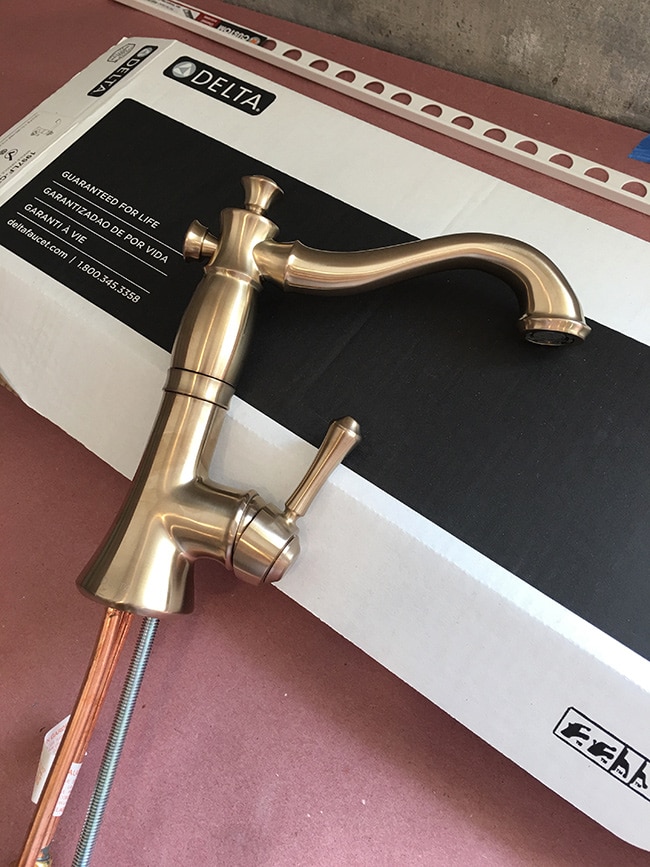 Pin
The cabinet handles and knobs arrived as well, looking just like the photos online. I've wanted to use these for so long and this is the perfect kitchen for them!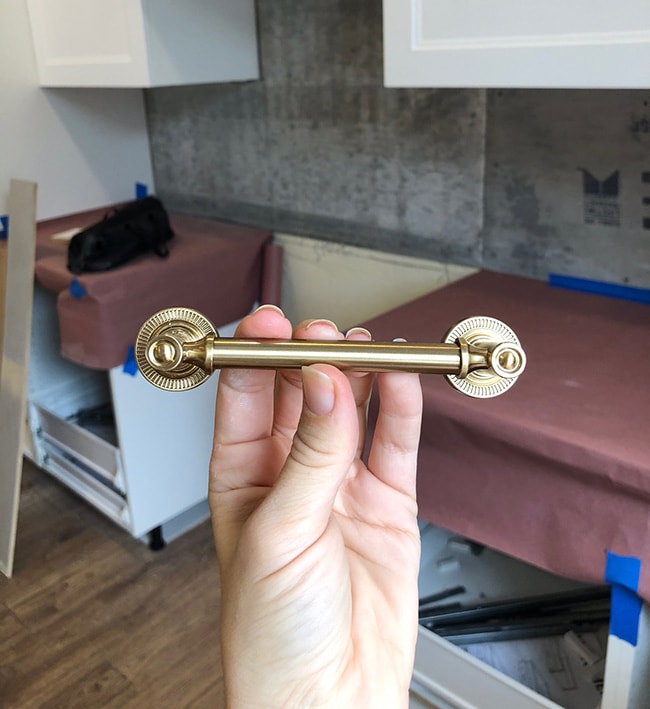 Pin
I ordered a mix of 4″, 5″ and 6″ pulls for the drawers and coordinating knobs for the doors. $141 total for all of the kitchen hardware, what a steal! (For some reason the product link says Currently Unavailable, but it's not true, you can still order them for store pickup or home delivery).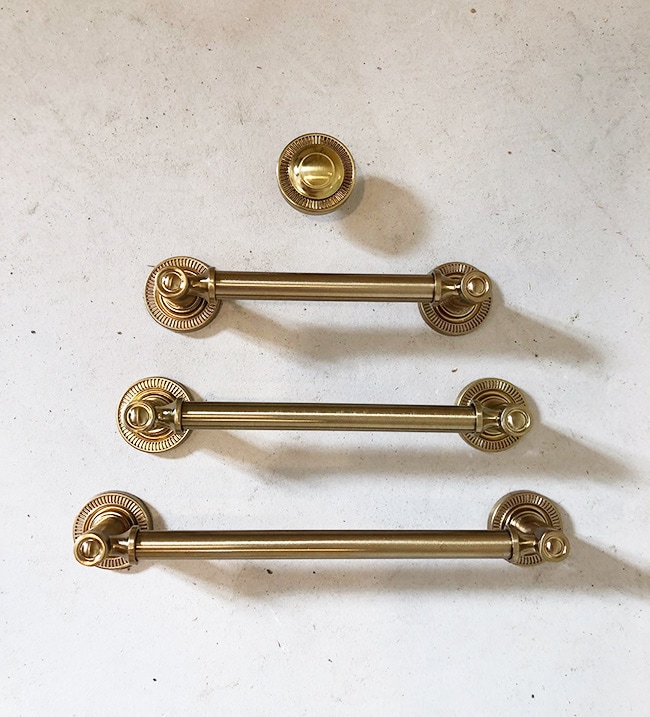 Pin
Last week the cement board went up, always an exciting part of the process…
Pin
And our gorgeous Cloe White tile arrived…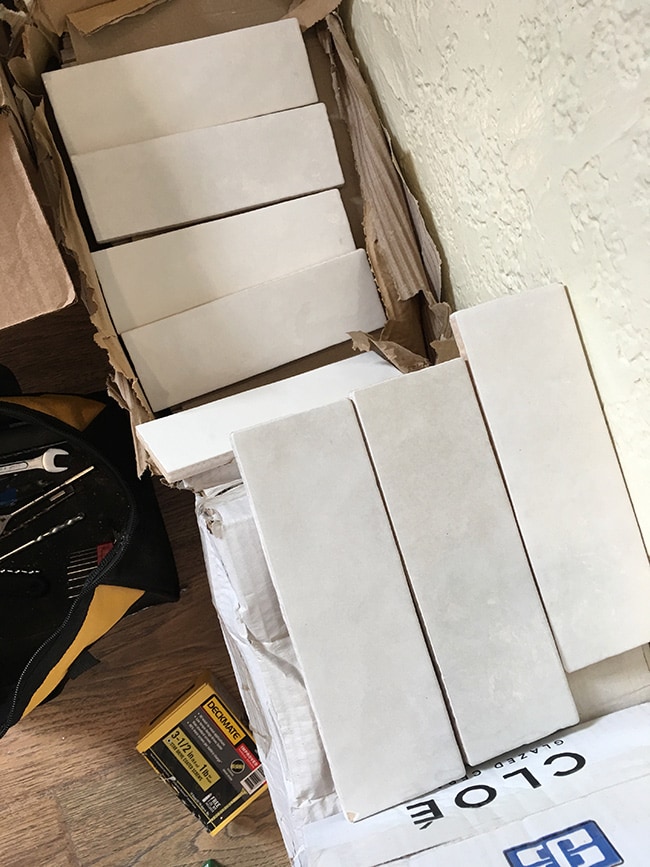 Pin
I settled on a classic subway style arrangement rather than stacked, just because it's a little more timeless. I think either way would have looked great though. Tiling is scheduled to finish by this weekend!
Pin
The custom shelves for the window wall are on the way and I'll share when they arrive. Now the question is—paint the window frame black, or SW Loggia to match the doors/trim in the room?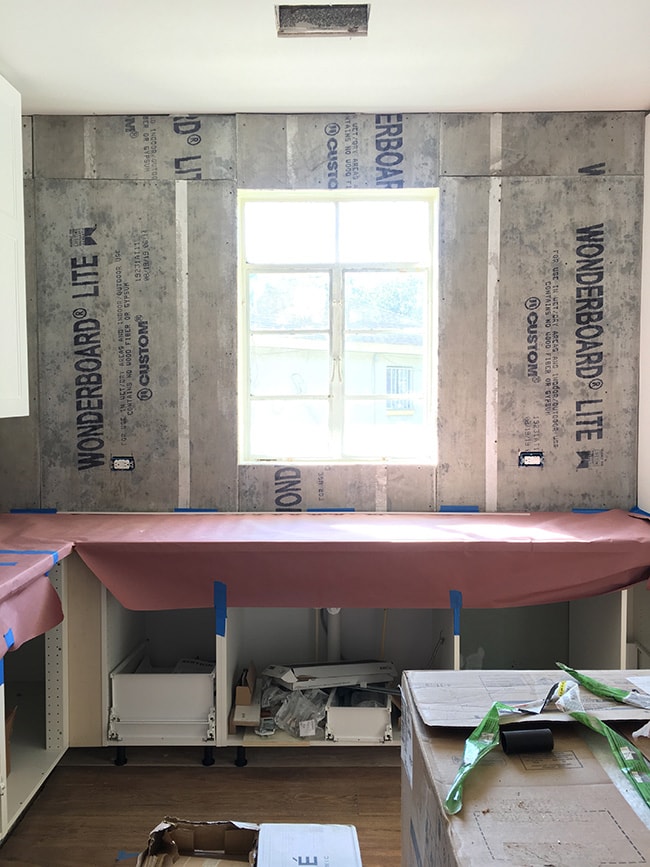 Pin
Here's a photo of the other window I'd paint to match: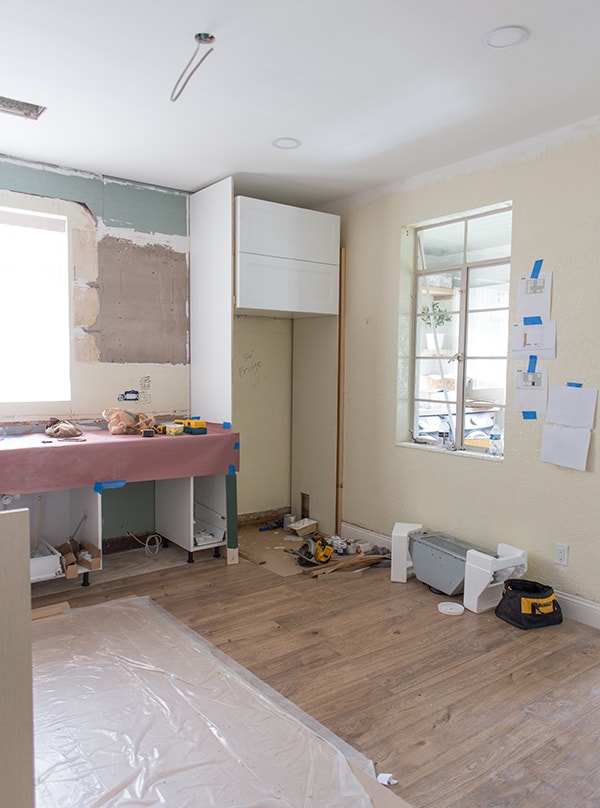 Pin
I'm leaning towards black as of now, but this will likely have to be a last minute decision. The kitchen walls will be painted white, and the laundry door/baseboards will be Loggia.
One fun design detail that I'm equally excited/nervous about… we're going to wallpaper our range hood! I was trying to come up with something unique, and eventually this idea popped into my head.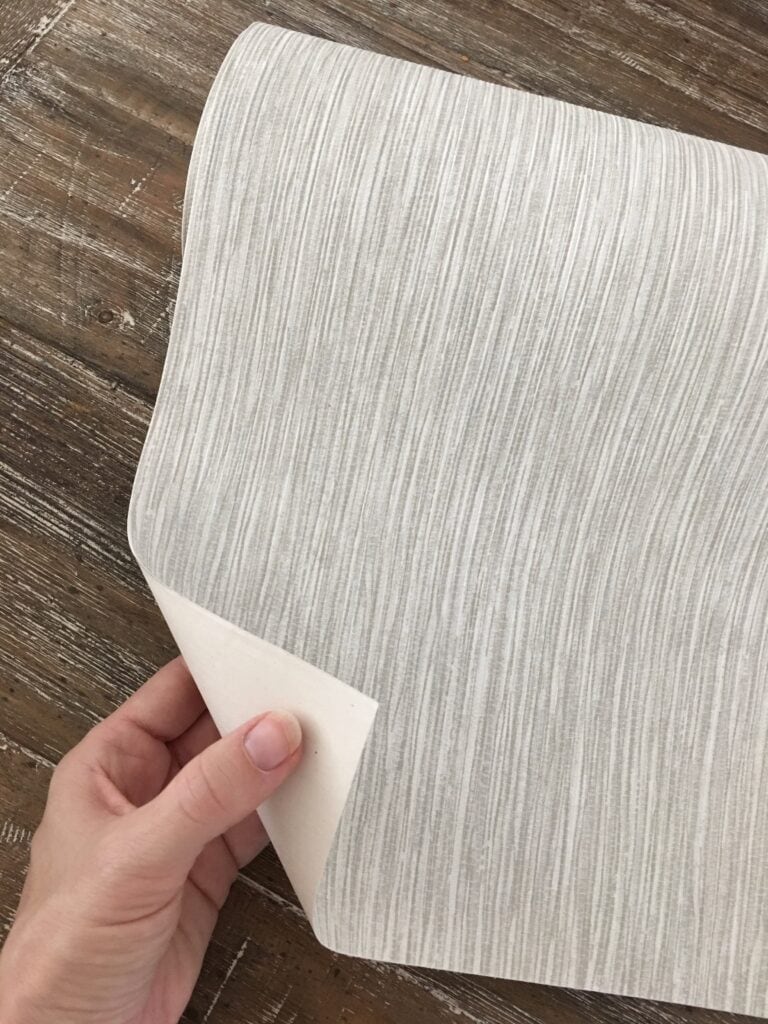 Pin
I found this textured grasscloth wallpaper and thought it would be an interesting feature— unexpected but subtle, and a nice complement to the warm and earthy design elements. I've never seen wallpaper used on a hood so maybe there's a reason for that and it might be a complete fail, but I'm willing to try! This is thick, quality paper (I looked for a long time before landing on this one) and bonus: it's on sale right now.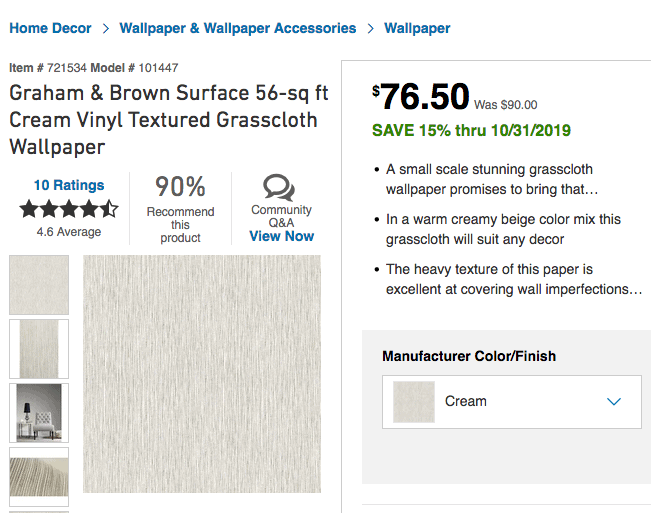 Pin
Last but not least, the Whirlpool Sunset Bronze fridge and stove have arrived!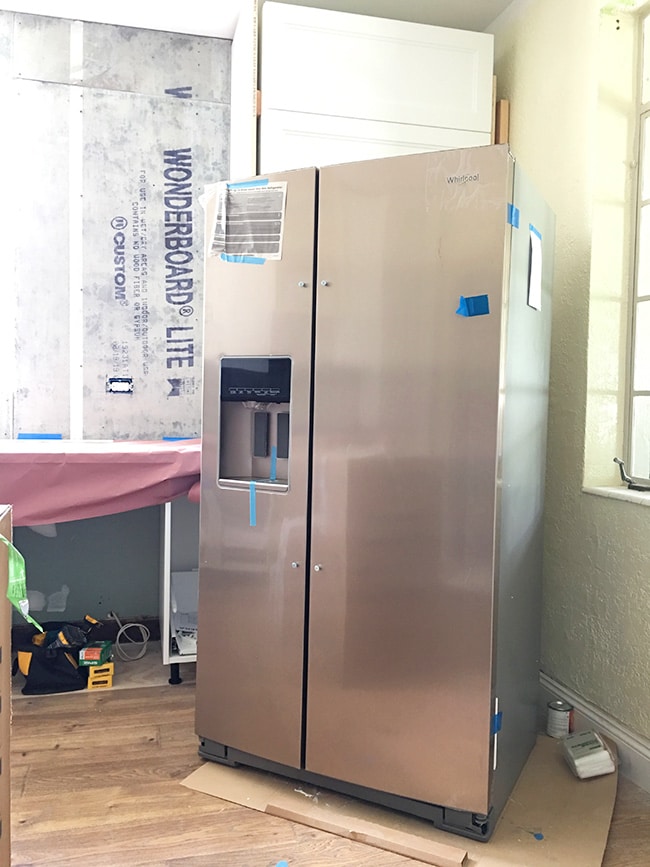 Pin
They still need to be fully unboxed/unpackaged but I'm looking forward to seeing how the finish looks once everything is in place and the dust settles.
It still feels like we're barely crawling along with this room, but there's so many details that go into creating a new kitchen from scratch and they all have to work together (design-wise, functionality and timing). This has been an especially challenging project for me between pregnancy brain, navigating the postpartum waters and now preoccupied with a newborn. Just in the past week I feel like I'm finally starting to clear my head and can switch my brain back over to the design/DIY mindset. I think part of that is motivation from watching things progress and sensing a light at the end of the tunnel.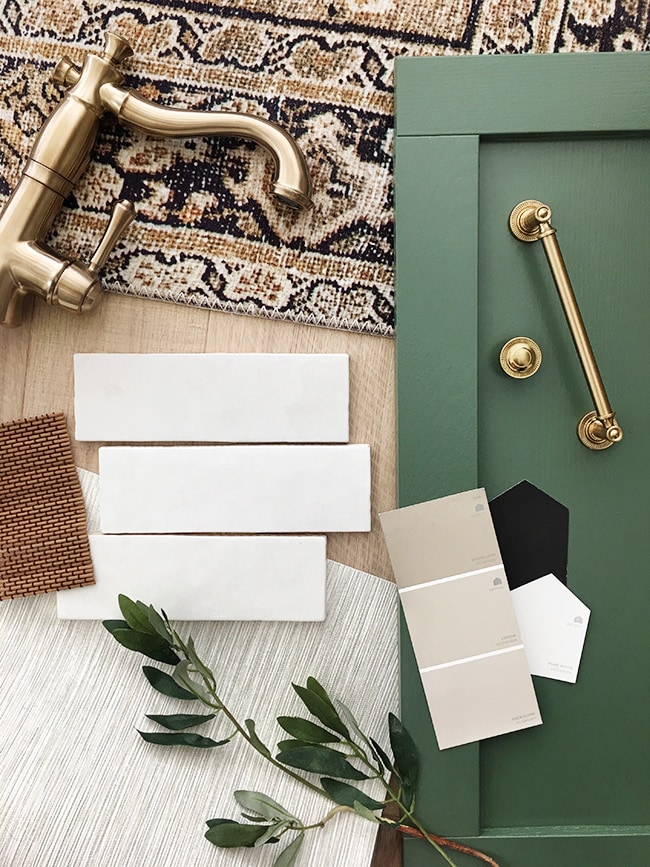 Pin
The "in between" stage of the Before and After can be rough, especially when you feel stuck or things don't go as planned (if you've ever been through a major remodel, I'm sure you can relate!) But during those times, I always find it helpful to remind yourself of where you started.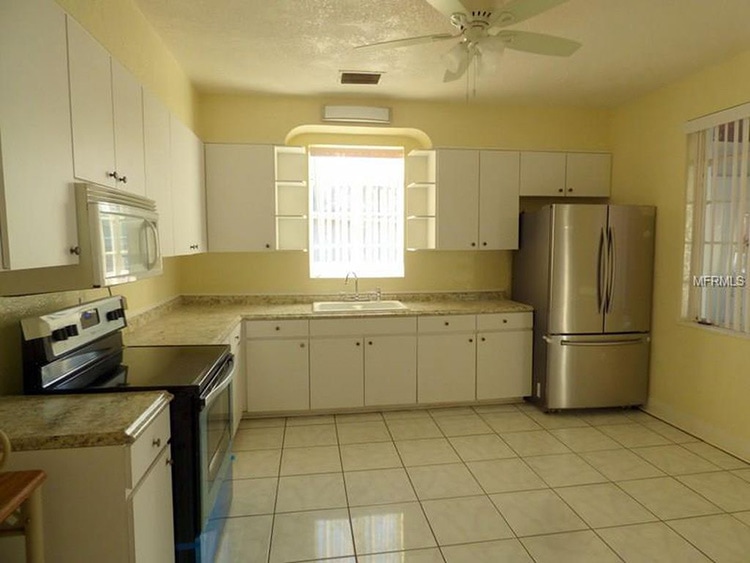 Pin
Day by day we'll keep chipping away, and eventually this stage will be a distant memory as we're on to the next project. And I'll be sharing as much of it as I can on my Instagram stories—you can get caught up on the progress from Day 1 in my Budget Kitchen story highlights: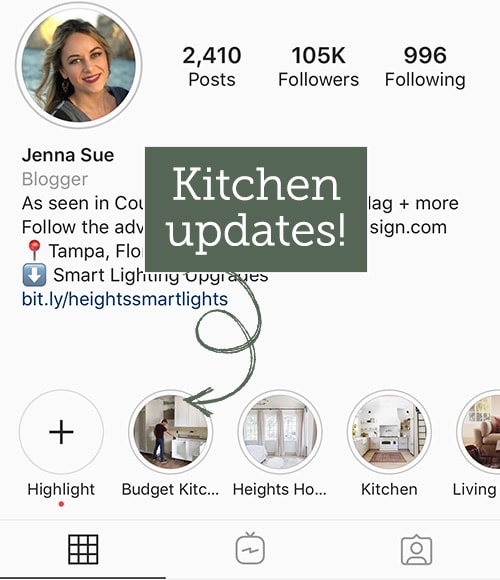 Pin
Solidarity to all my fellow DIYers and Weekend Warriors—we've got this! ?
Next up, the design details for our Heights House living room…