We're only a few days into spring but I've been mentally preparing myself for weeks—staring at pretty pictures on Pinterest, hitting up the local flea market and collecting new seasonal treasures to display. I just love the transition of seasons and that "fresh new start" feeling—after purging our home of every last pine needle and red accessory, it was time for a change.
I've been sharing glimpses of our spring makeover on instagram… here's a bit of what's been going on over there if you've missed any of the action: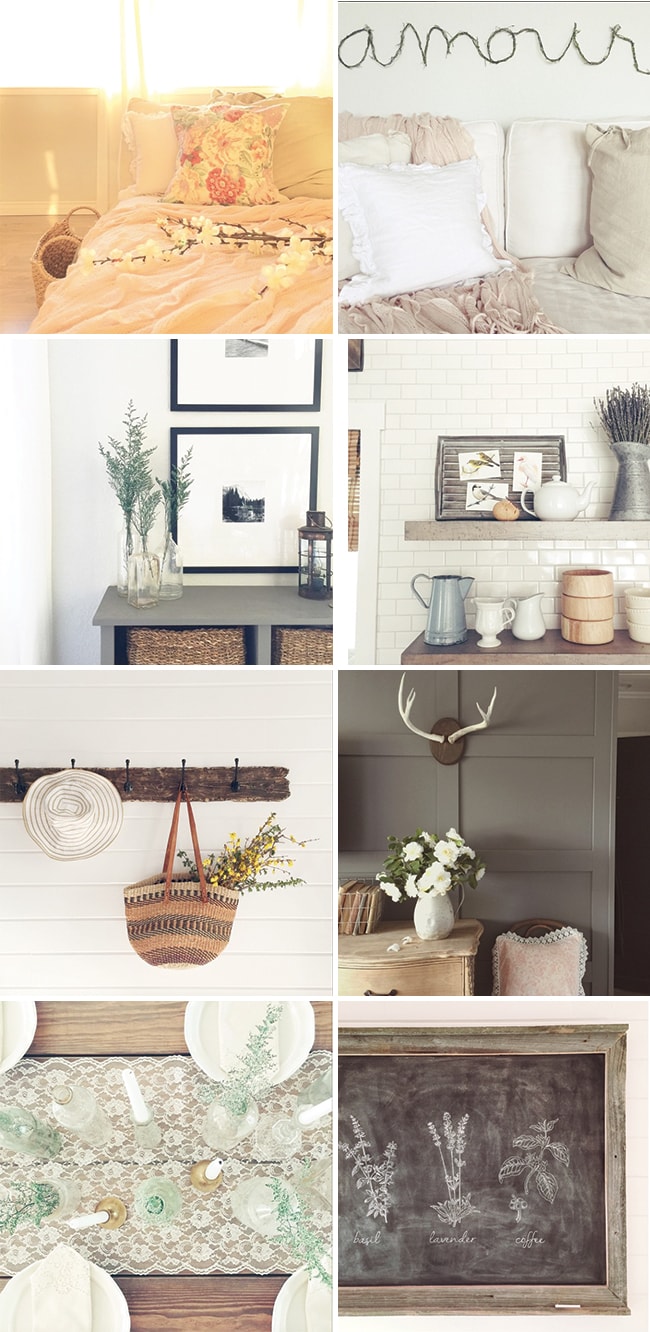 Pin
I can not wait to share the full home tour this Friday, but for now I'll have to tide you over with a few simple DIY projects and sneak peeks.
For this spring refresh I've stuck to a certain style—think shabby chic, pastels, vintage, romantic and of course, plenty of natural blooms and greenery. I came up with this idea of a word or symbol shaped from some sort of vine to hang above our bed. I found this preserved angel vine on Save On Crafts and for $8, I couldn't pass it up.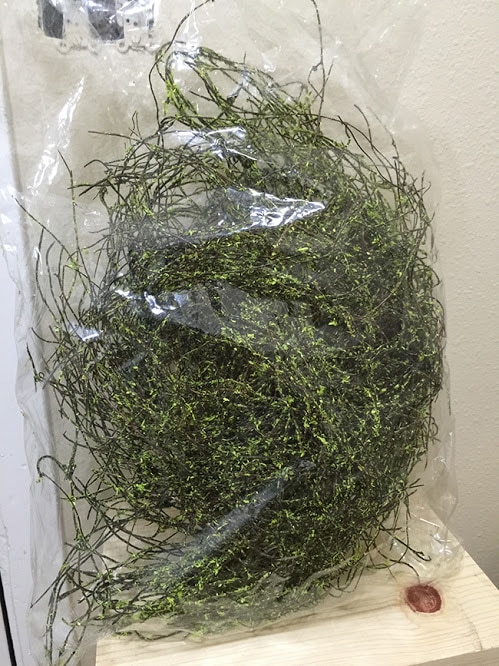 Pin
I liked the idea of using the word "love" but wanted something a bit more original, and the french translation seemed to fit my spring decor theme quite nicely. "Amour" it was.
To create the base, I used standard floral wire and formed it into my word (using one continuous piece):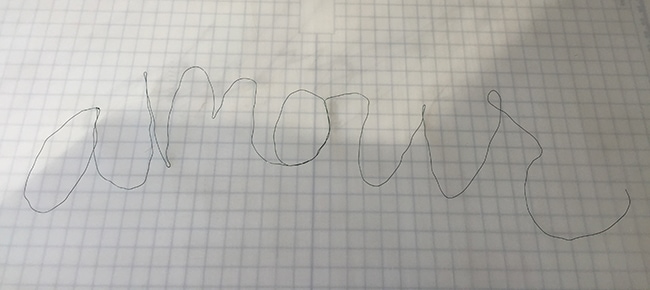 Pin
This would end up shifting so it didn't have to be perfect.
The angel vine wasn't as pliable as I thought, so instead of wrapping it all the way around the letters I had to break it off into sections. I grabbed a few at a time so it would be thick enough, and started wrapping my floral wire around everything to hold it together: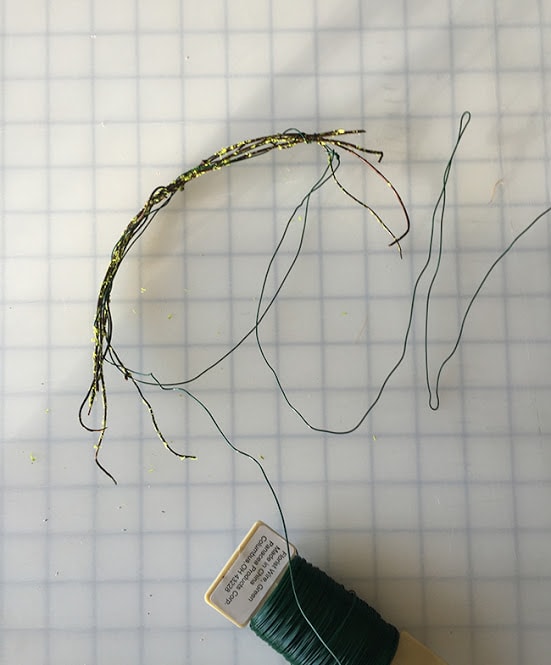 Pin
I continued to work my way around the wire base, one section at a time…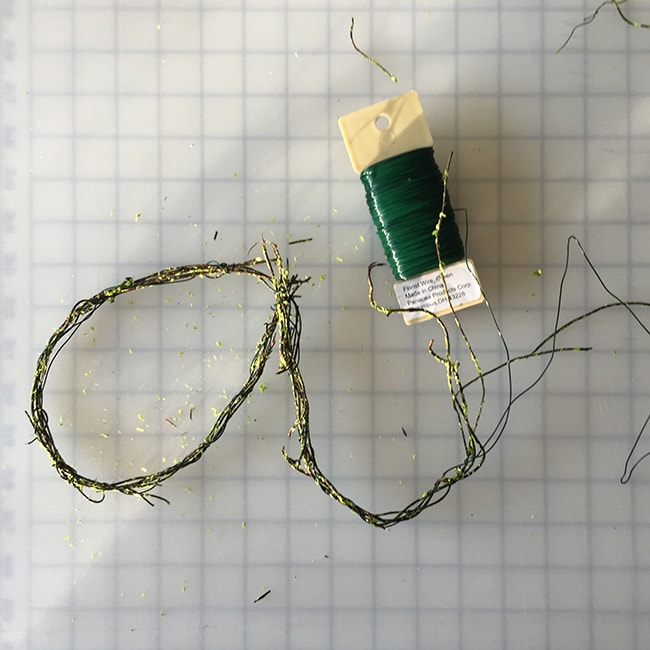 Pin
In no time at all it was finished. I used a handful of small brad nails in between the planks to suspend it, but after staring at it for a few days, I decided I didn't love it above the bed. There just wasn't enough contrast against the dark planks.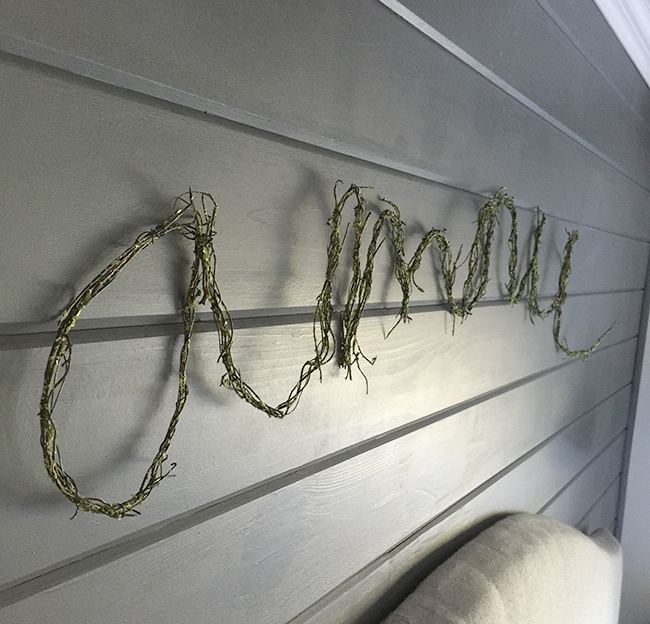 Pin
After circling the house a few times trying to find the perfect spot, it hit me…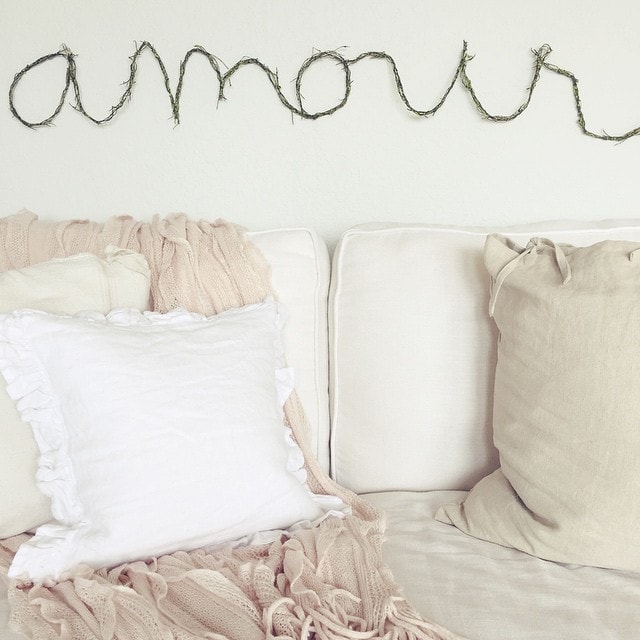 Pin
The short empty wall above the couch made for a nice simple backdrop to let this natural element stand out. Here's an early preview from Friday's house tour…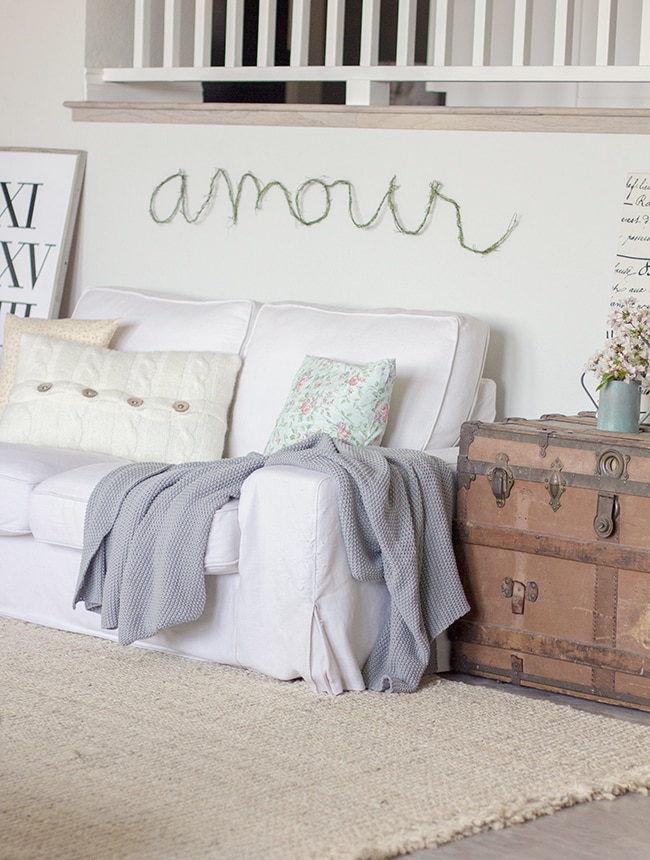 Pin
I still wanted something above our bed, though, and for inspiration I looked no further than just to the left of our new amour sign. The roman numerals print in our living room represents the date we purchased this house, but I thought it would be a nice touch to have our wedding date displayed in our room. Rather than making it a focal point however, I wanted to keep it subtle, so I found these 8″ customizable letters on Ebay: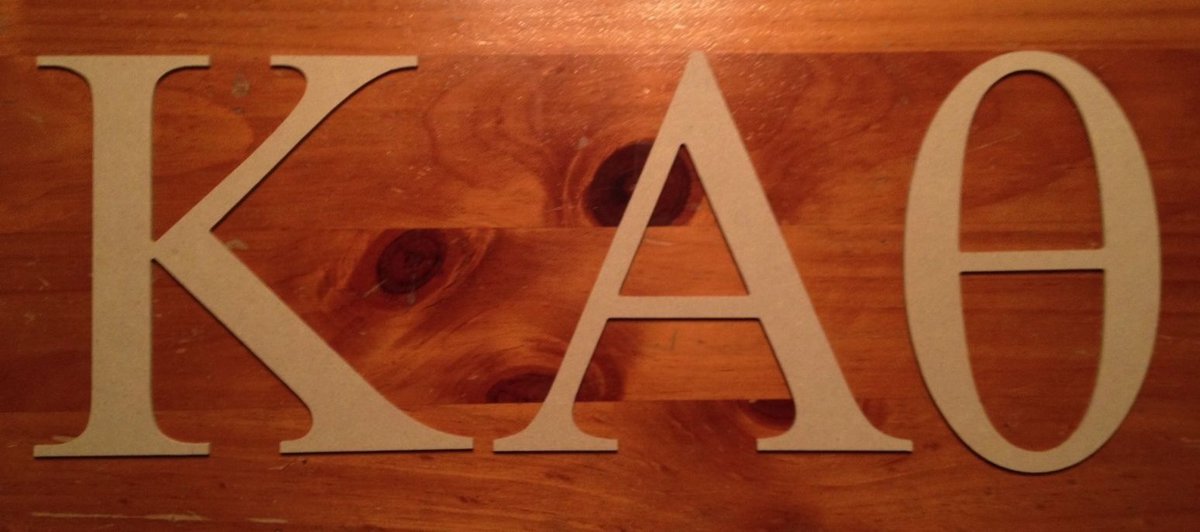 Pin
They're made of MDF (which absorbs paint wonderfully), 1/8″ thick so they're nice and lightweight, and only $2/ea. For $18 I got a set of eight letters shipped to my door in just a few days: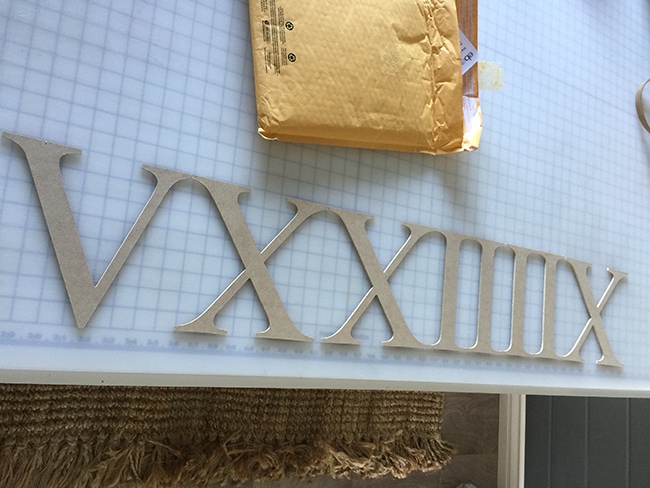 Pin
I gave them two coats of the same paint color as the walls (Valspar's Ocean Storm):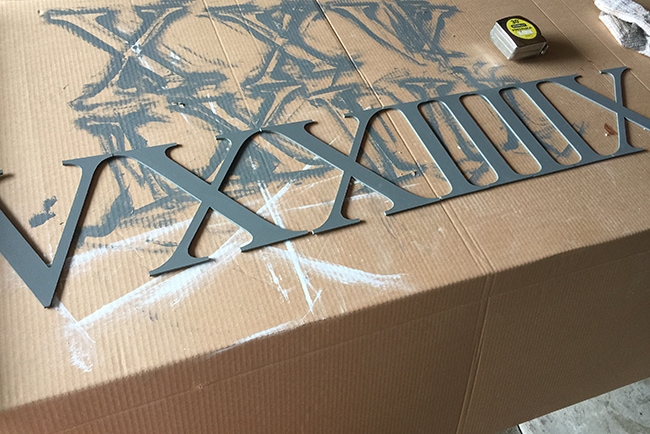 Pin
To keep the wall damage free, I picked up a set of command strips for under $5: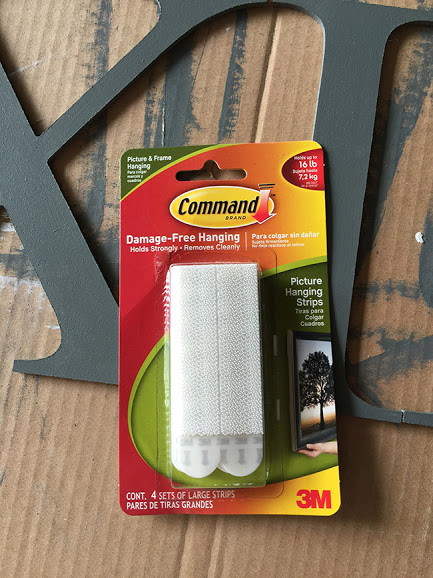 Pin
I just cut them in half to save some money (the letters are so light, I probably could have cut them into thirds even).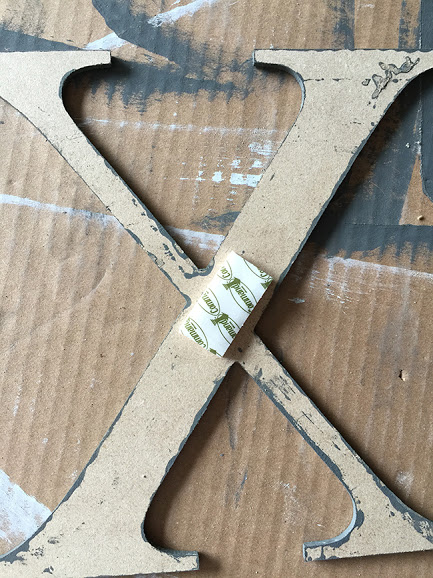 Pin
Then I measured the total distance, found my center and placed the letters along the bottom of one of the planks.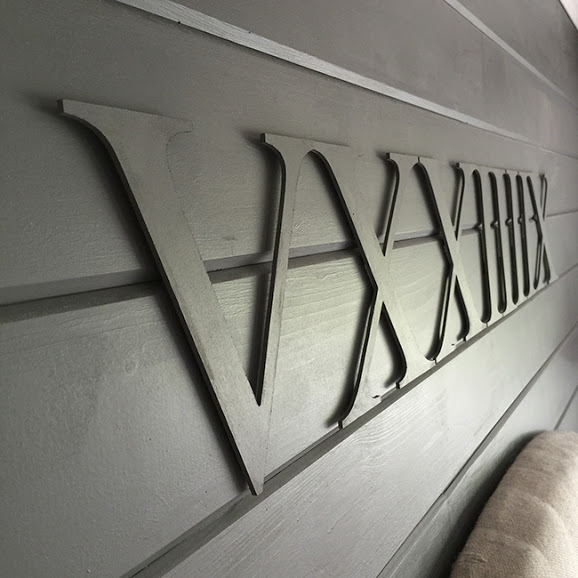 Pin
I love it. It just adds that extra little special touch.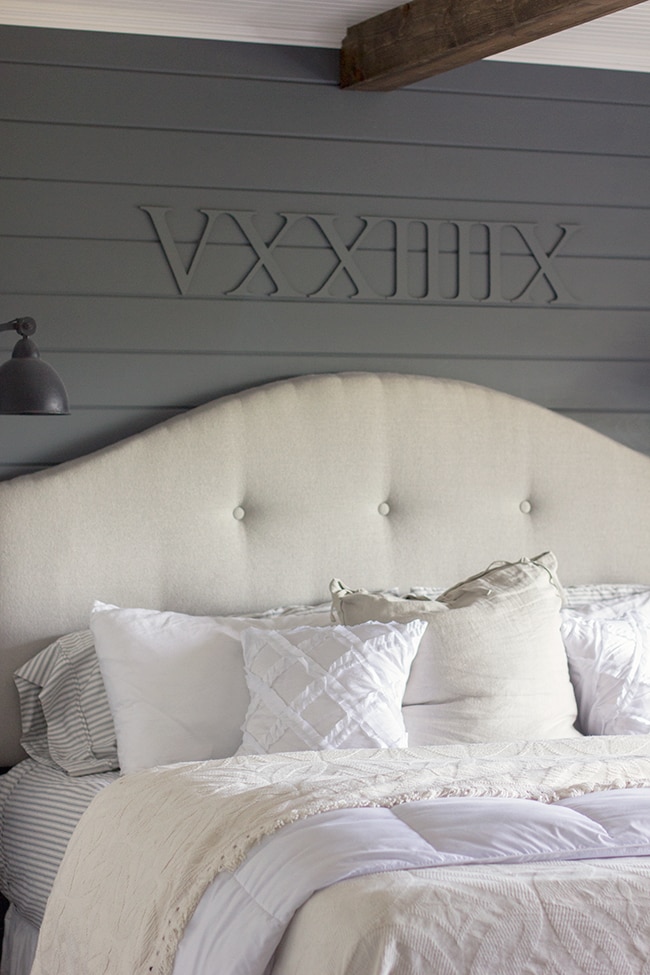 Pin
Okay fine, one more preview from the tour.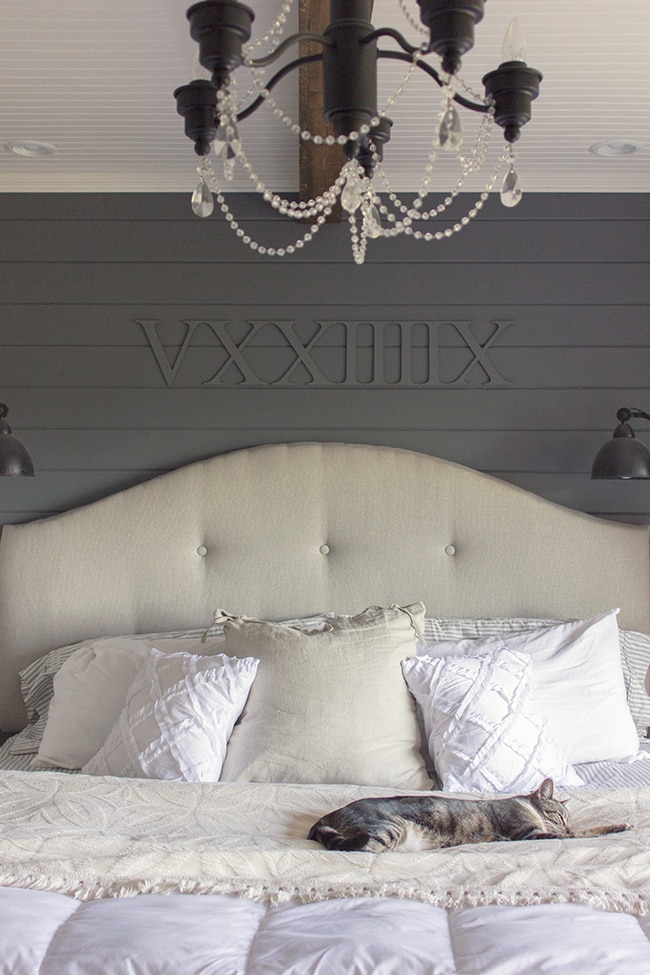 Pin
And finally, I dusted off a stack of old Ikea frames in storage and pulled together a simple mantel using old book pages. 100% free using items I had on hand already—that's my kind of decorating!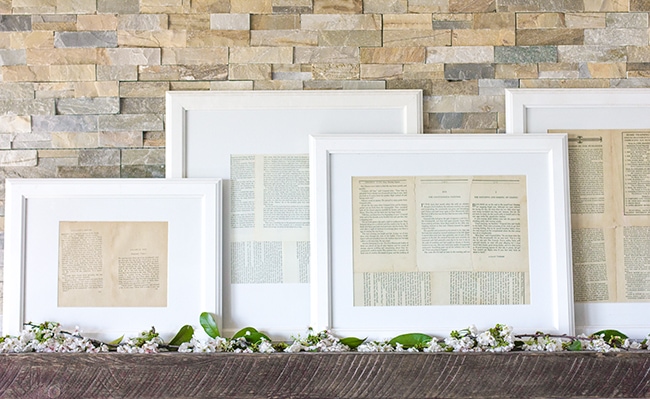 Pin
A lot more photos of this to come on Friday! The last time these frames were in use was in Florida… you may remember some of them from these photos: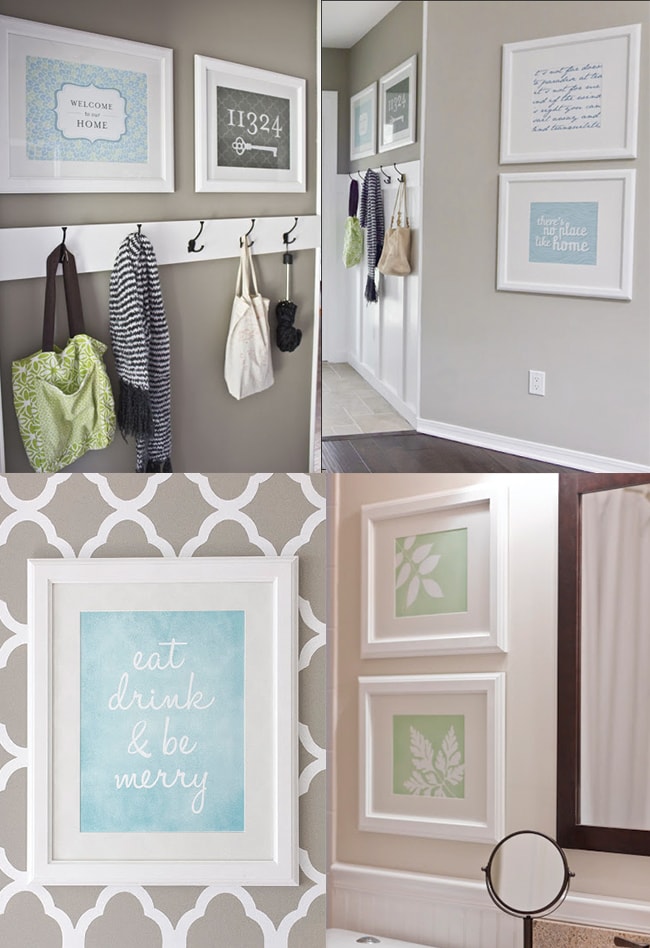 Pin
The prints were still inside, and since they're no longer in use I decided to make them all available for you guys by listing them on my instagram Sale page at up to 60% off! Only one of each is available so scoop it up before someone else does! To claim, simply click on the instagram photo of the print you'd like and comment with your email—I'll send an invoice right away. If you don't have an instagram account, go ahead comment on this post with your email and the print you'd like instead. Invoices must be paid today and sale items will ship today or tomorrow!
And speaking of Florida, in less than 24 hours we'll be on a plane there to visit my sister and friends (we also plan on stopping by our old house to check up on things so that should be interesting). That means today is the last day to get any shop orders in before April!
This week long vacation will be a nice break from working on the house almost non-stop. As soon as we get back it's going to be hectic around here with trying to wrap up the laundry room… and another secret project which I can't share just yet 🙂 It's going to be a good one though. Just you wait. I'm excited.
This week I'll be releasing some early images of the house tour over on instagram, so if you can't wait until Friday make sure you're following along! They may show up on Facebook as well so you can catch me there also. See you back here at the end of the week for the spring tour!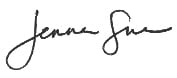 Pin