Welcome to my Spring Home Tour!
A quick background if you're new here—we moved into this 1970's fixer upper a little over a year ago and have been doing some pretty major renovations—our kitchen, master bedroom and living room have seen the biggest transformation, and we're currently wrapping up our new laundry room. Our home is in the California foothills and my decorating style is consistent with our surroundings—it's a mashup of what can be described as "calm cozy cottage farmhouse cabin" as I'm drawn to elements from each style, which I try to maintain despite the season. I absolutely loved decorating the space last Christmas and I had just as much fun scheming new ideas for Spring, this time sticking with a soft, pastel infused, romantic shabby chic cottage vibe.
Without further ado… let's start at the front door, shall we?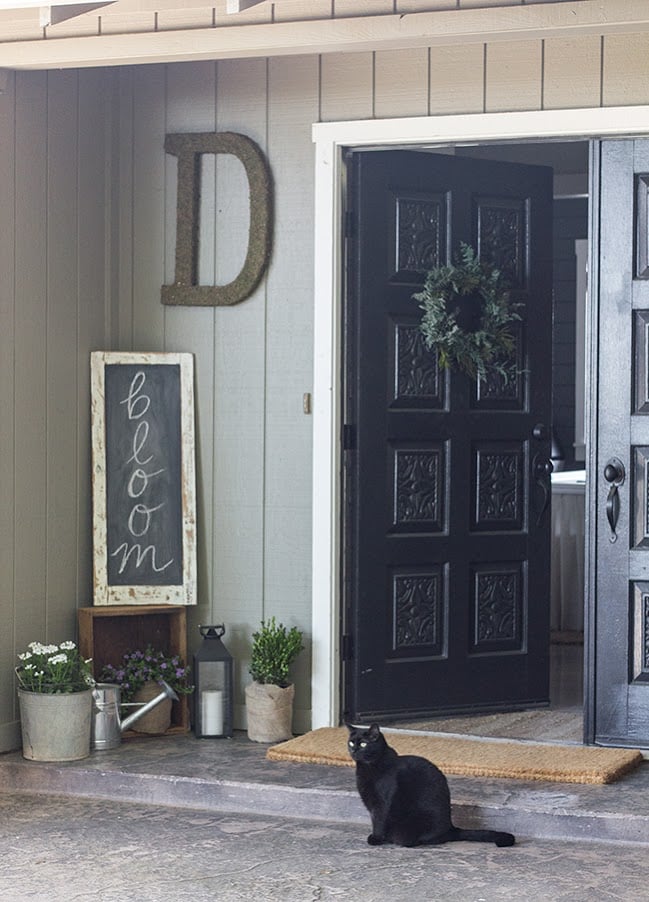 Pin
I kept this space relatively simple with crates, an old chair and buckets all from our local flea market (I get most of my finds from there), lanterns, flowers, and wreaths made from preserved greenery.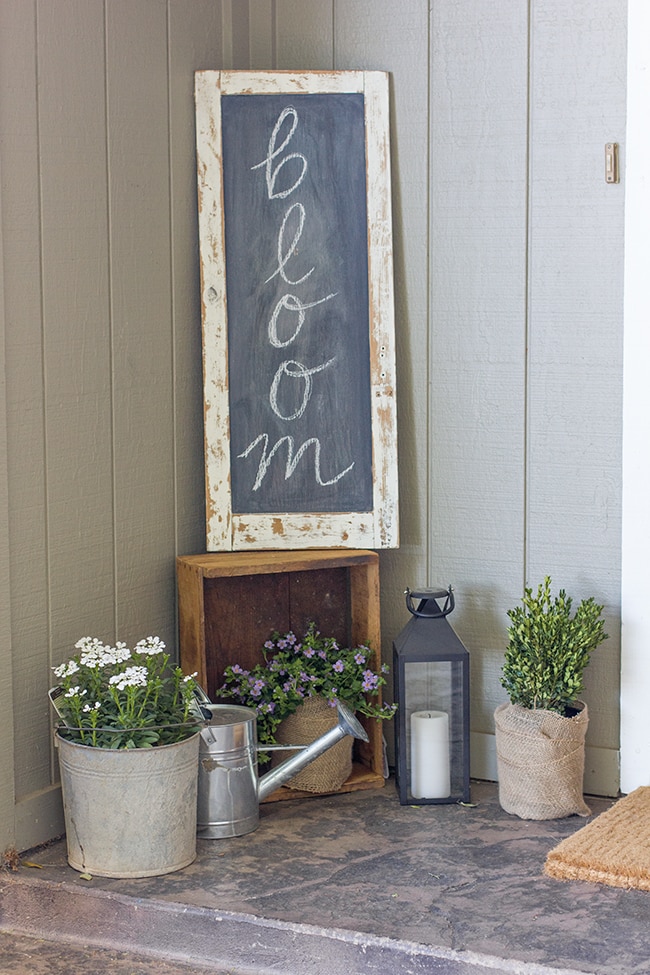 Pin
The large planter boxes were a DIY project.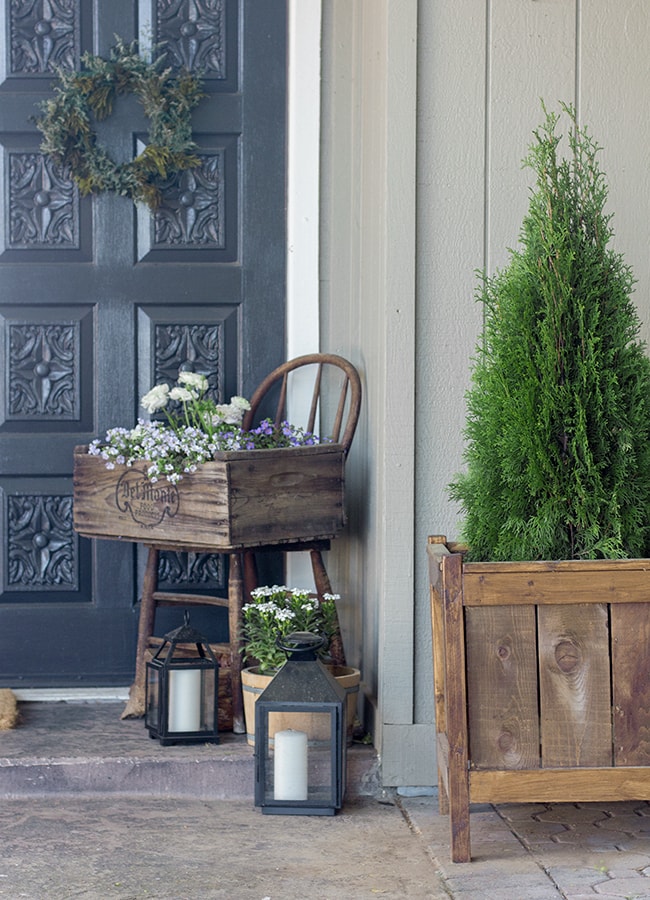 Pin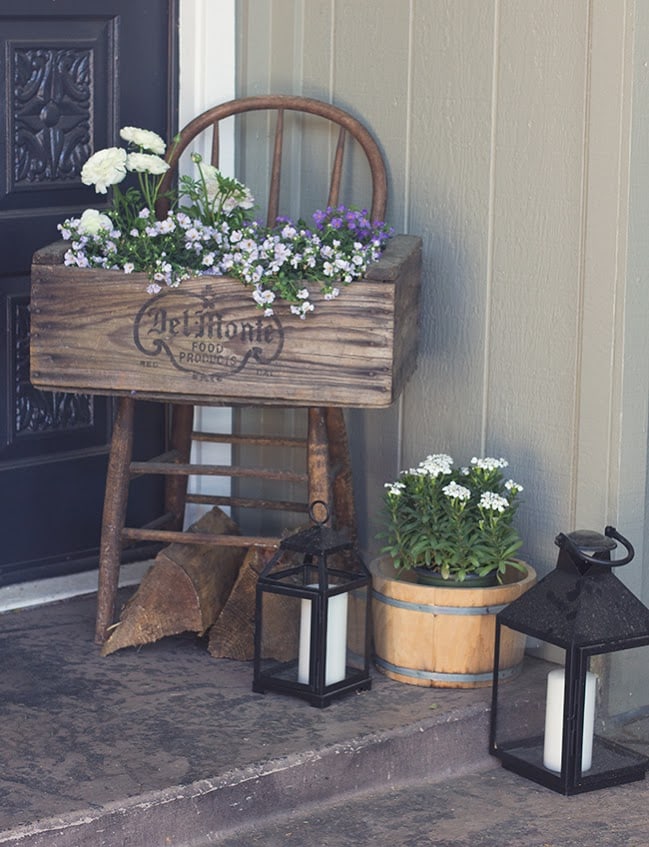 Pin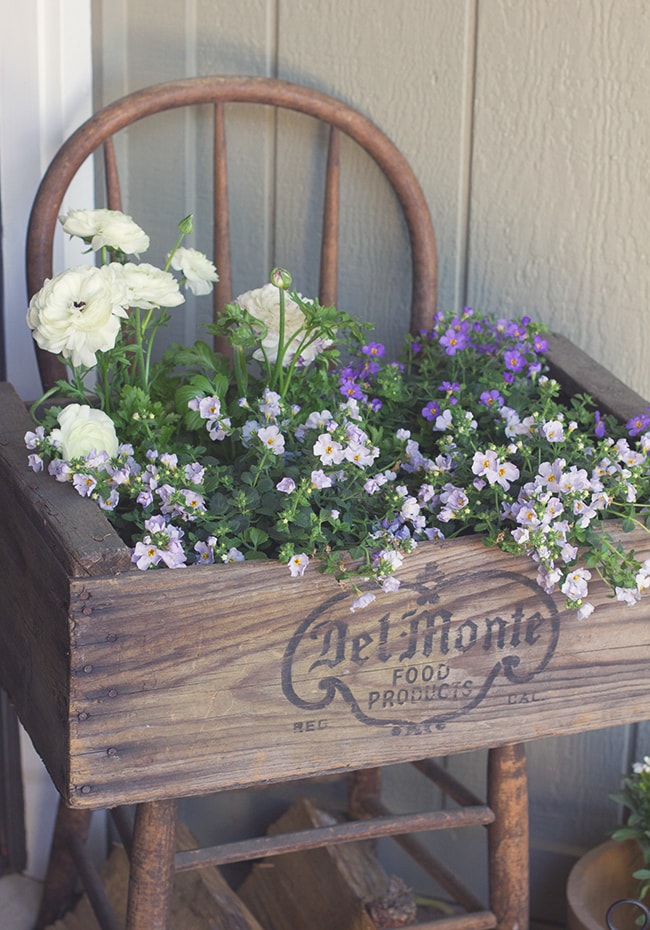 Pin
Susie is our official greeter today.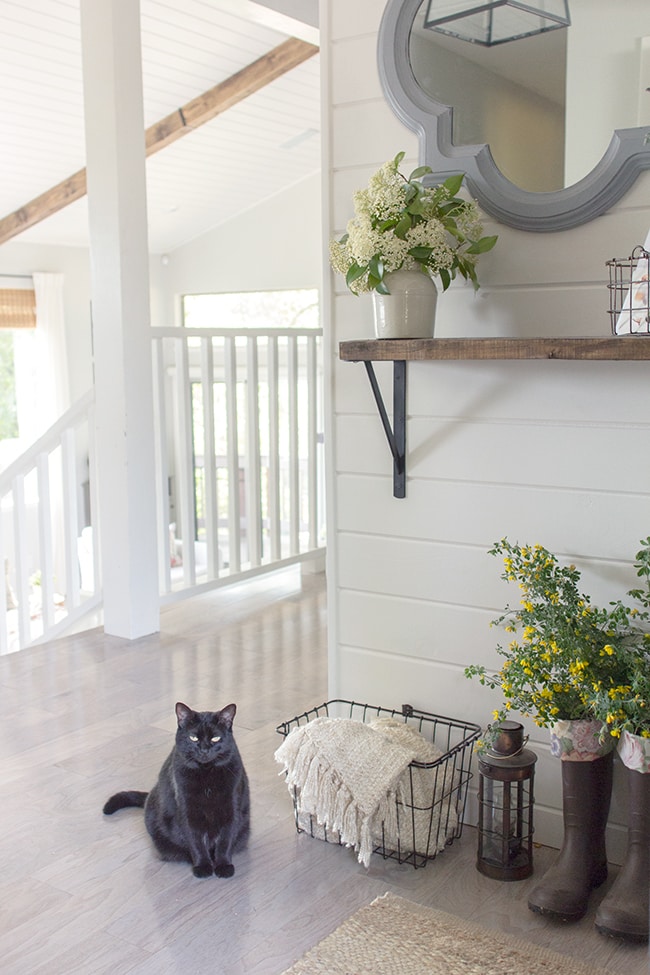 Pin
Upon entering, there's a tiny foyer which I made most out of with a DIY shelf ledge to place our mail and small belongings.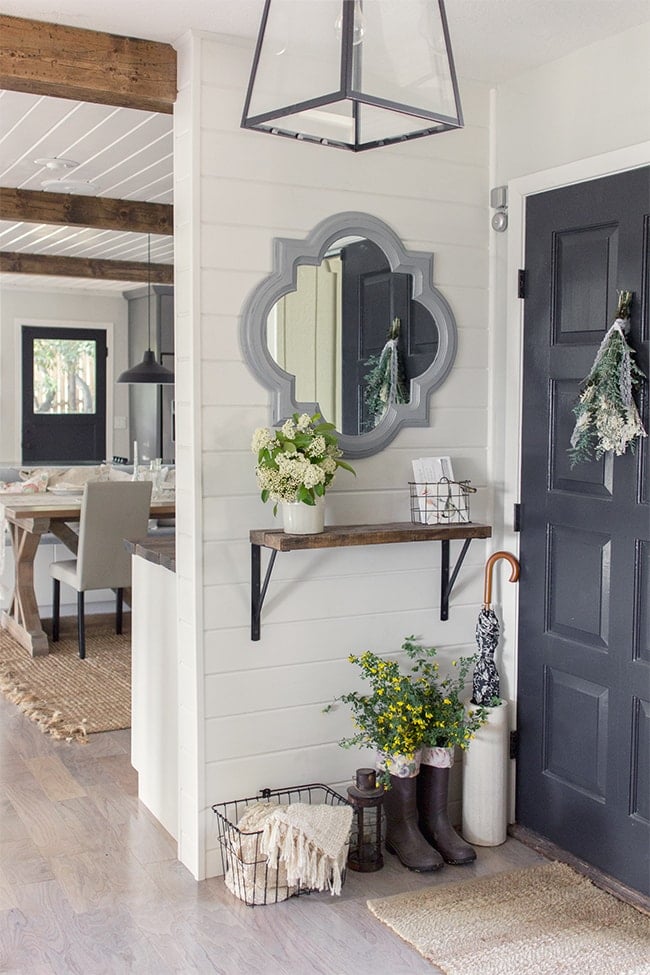 Pin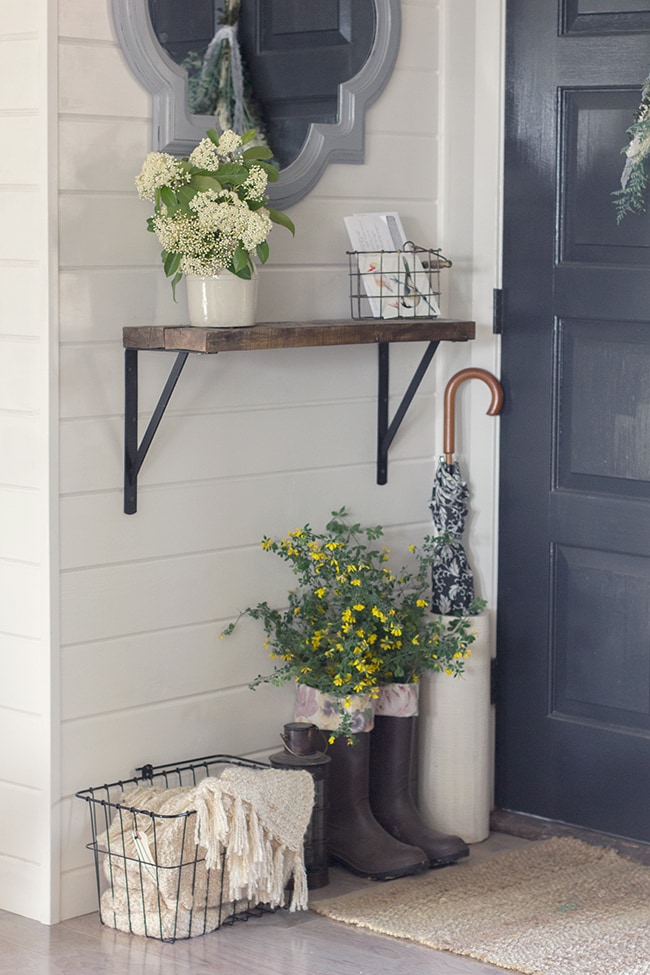 Pin
Just behind the foyer is our kitchen, let's step in and grab a cold lemonade before we continue the tour…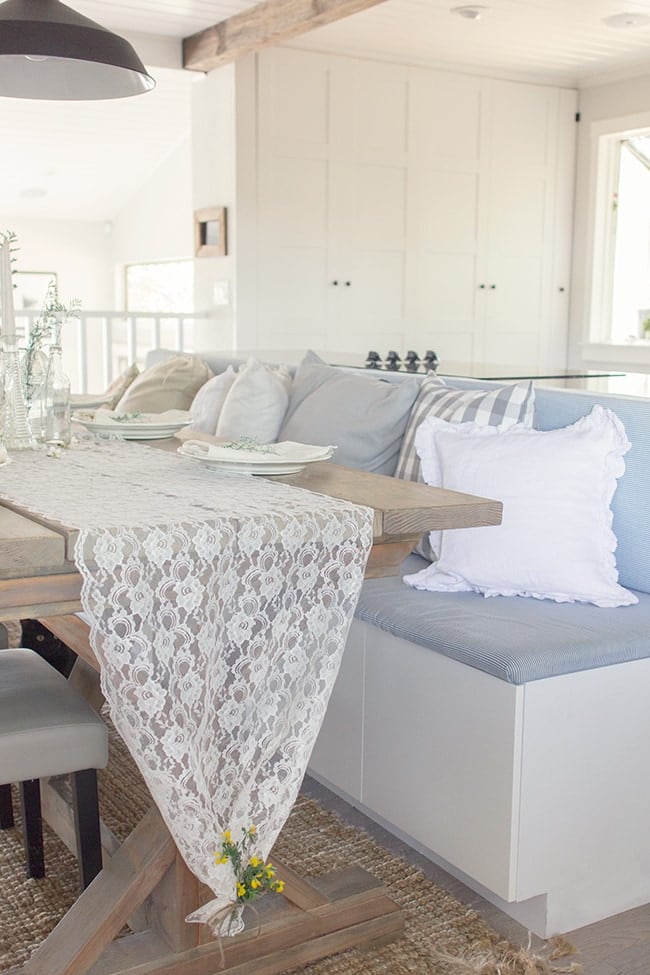 Pin
The table was set using simple white dishes, vintage linens, glass bottles and gold candlesticks (all from the flea market), as well as a lace table runner found on Ebay.
Pin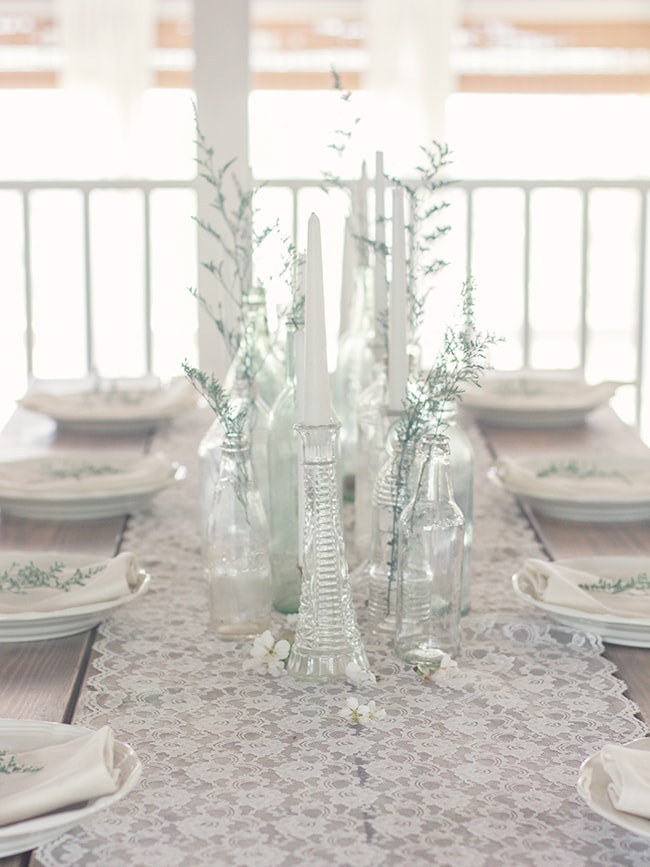 Pin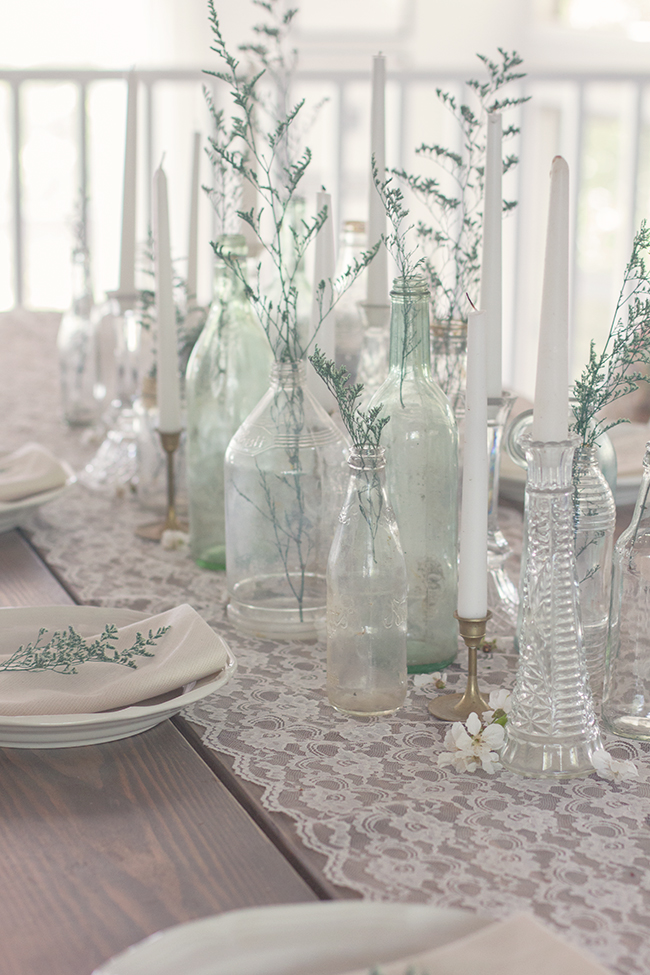 Pin
And here's Biscuit, or other rescued kitty, cozied up on our DIY bench seat (made from Ikea cabinets).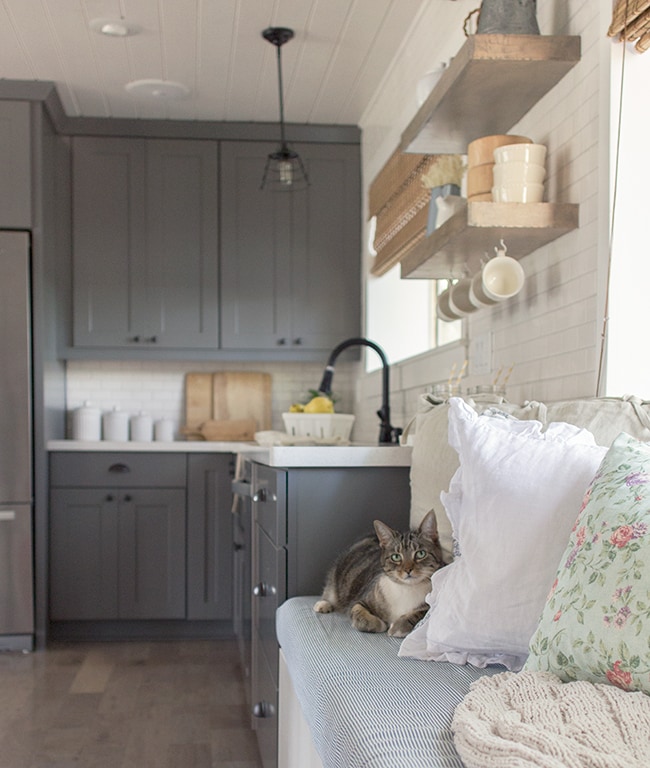 Pin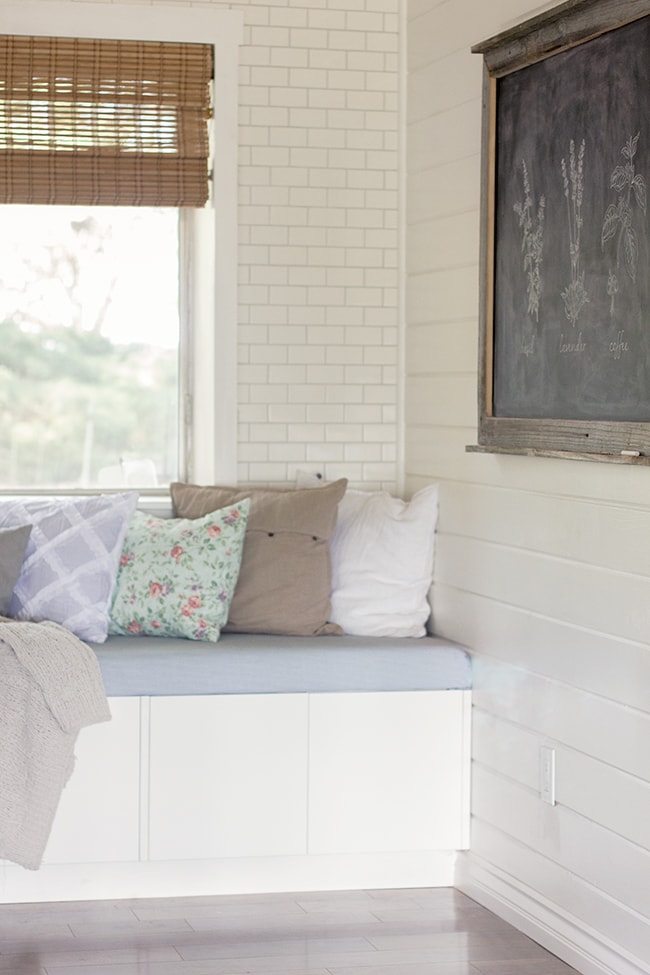 Pin
I swapped out the winter pillows for happy floral designs using discounted fabric from Ebay that my sweet friend sewed into covers for me.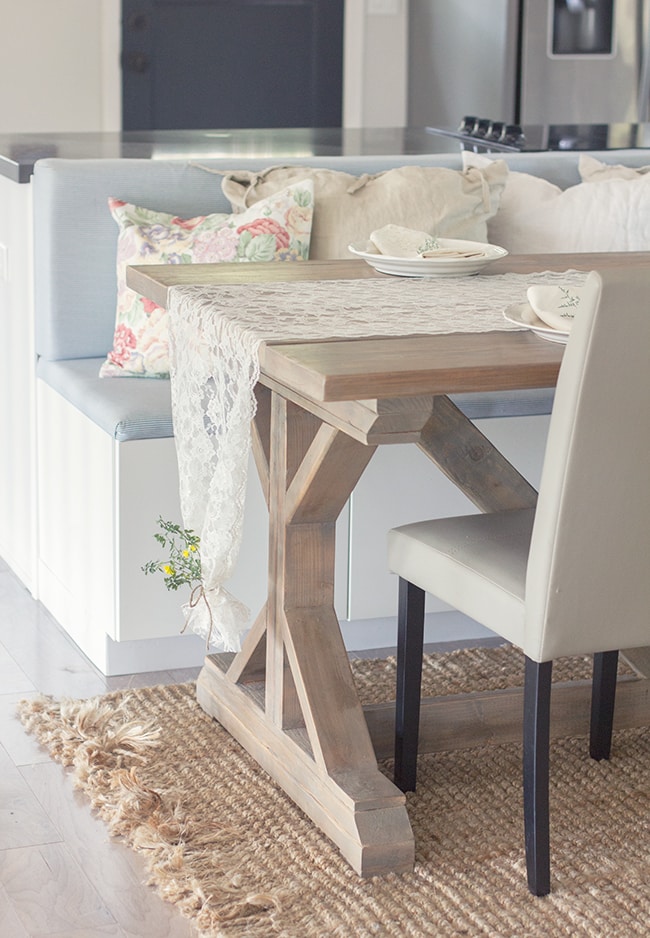 Pin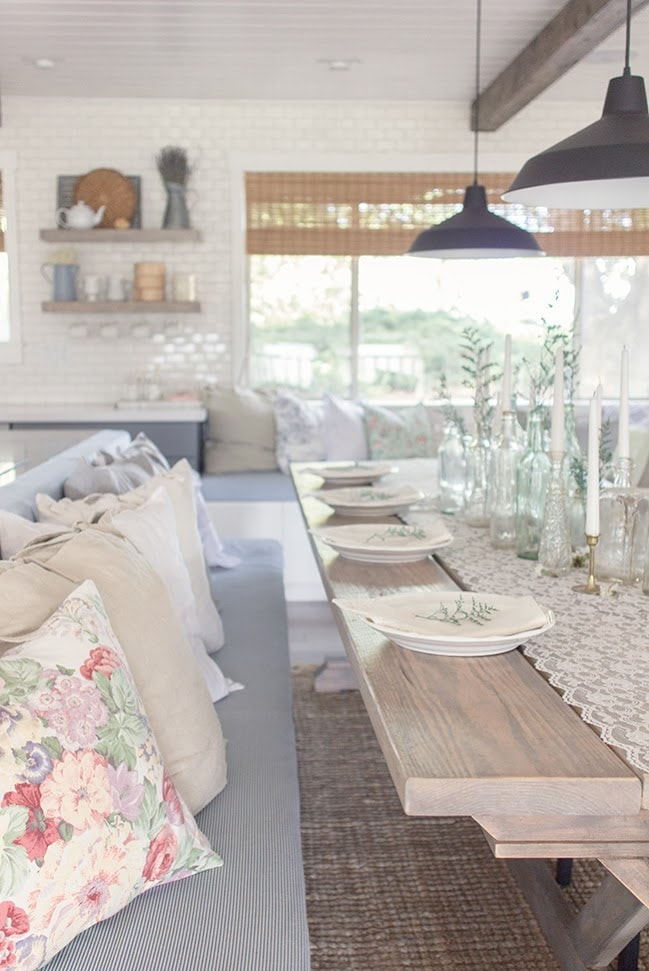 Pin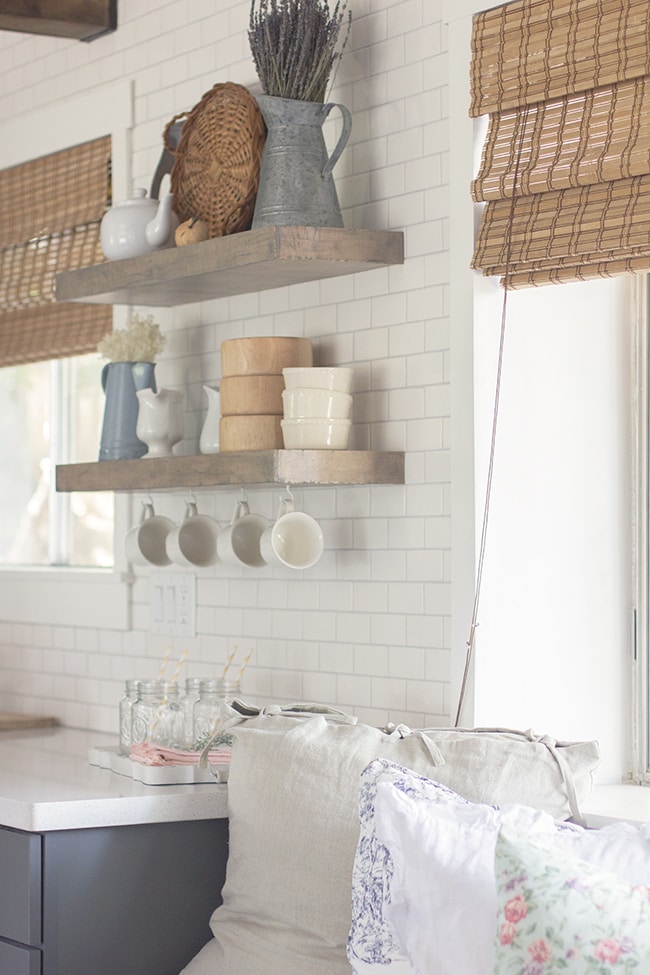 Pin
Our DIY shelves were also updated with a pitcher, basket and wooden bowls (flea market) along with dishes collected over the years.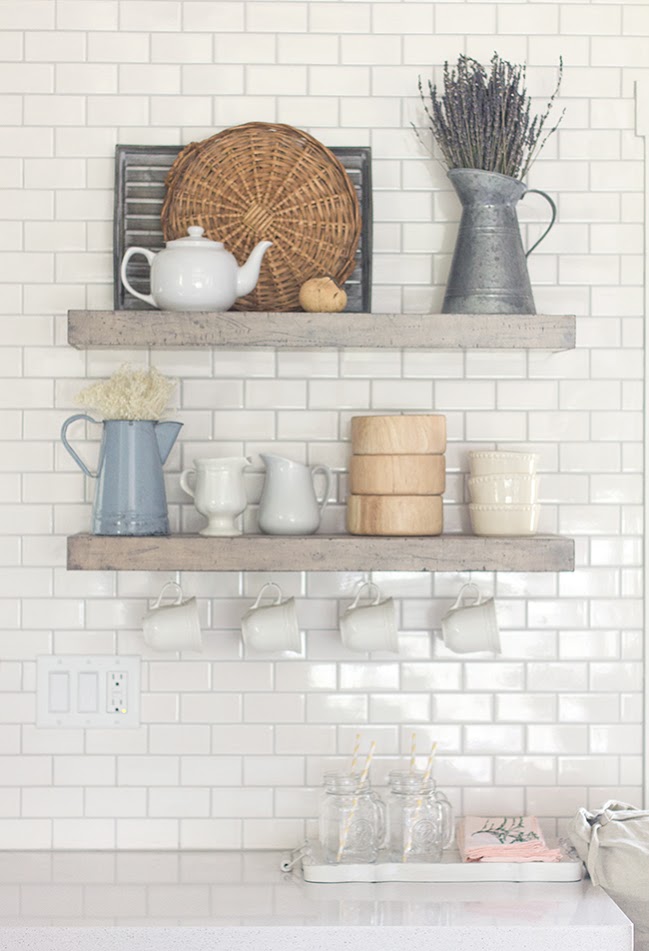 Pin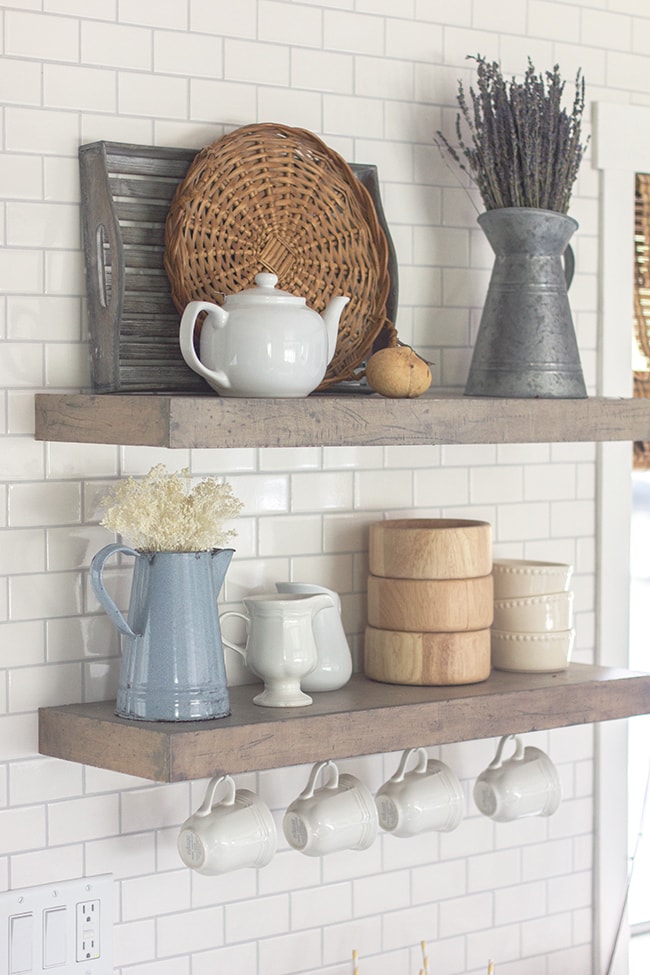 Pin
Just below that is this cute shabby white tray I found at Kirkland's (on sale!)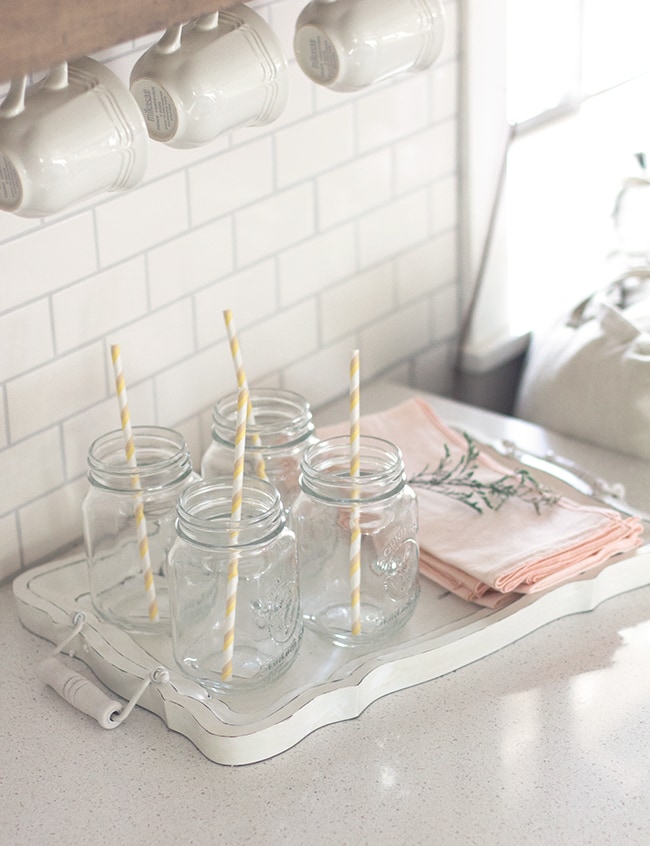 Pin
This fruit bowl and vintage linen cloth were another recent flea find which I'm slightly obsessed with.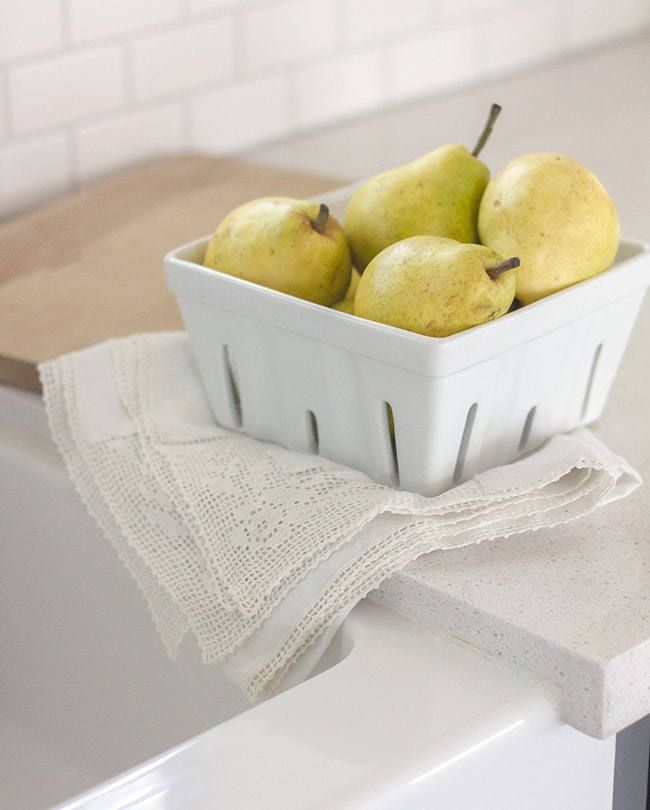 Pin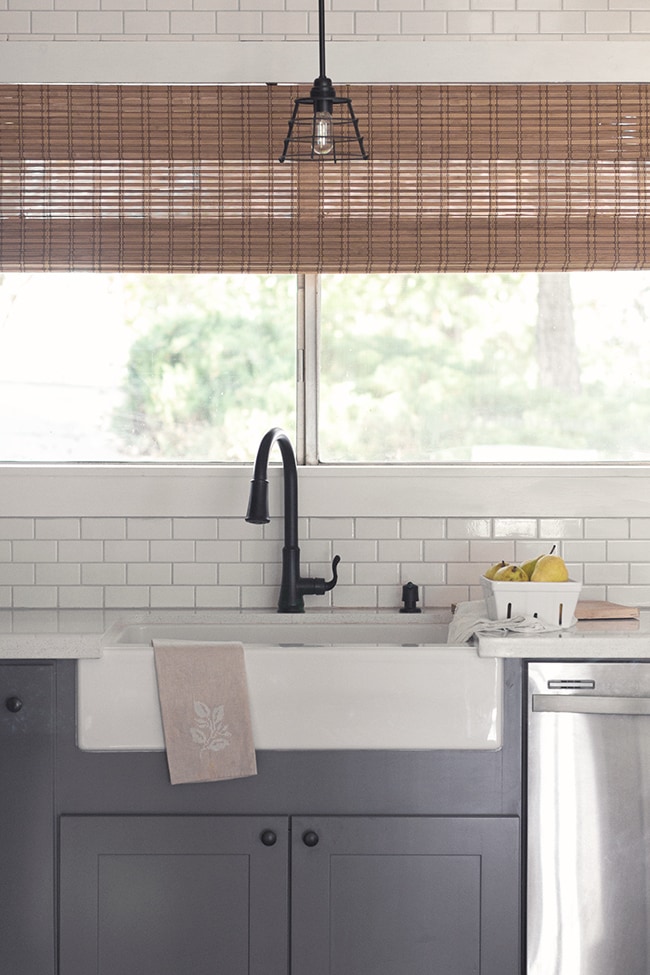 Pin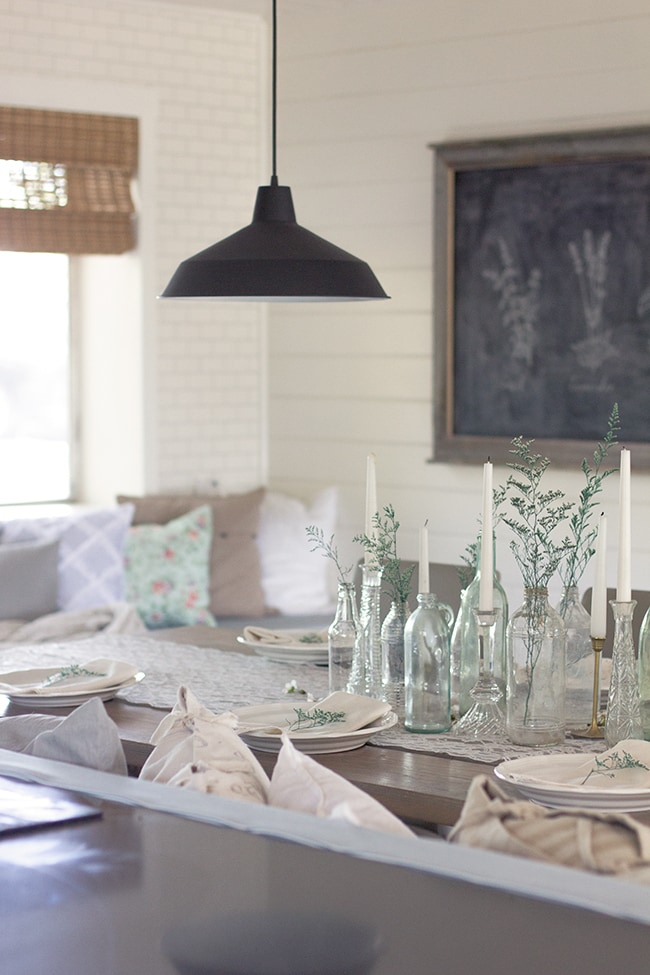 Pin
I love switching up our giant chalkboard for different occasions, and the change of seasons was a great excuse (read more about my easy hand lettered chalkboard method)
Pin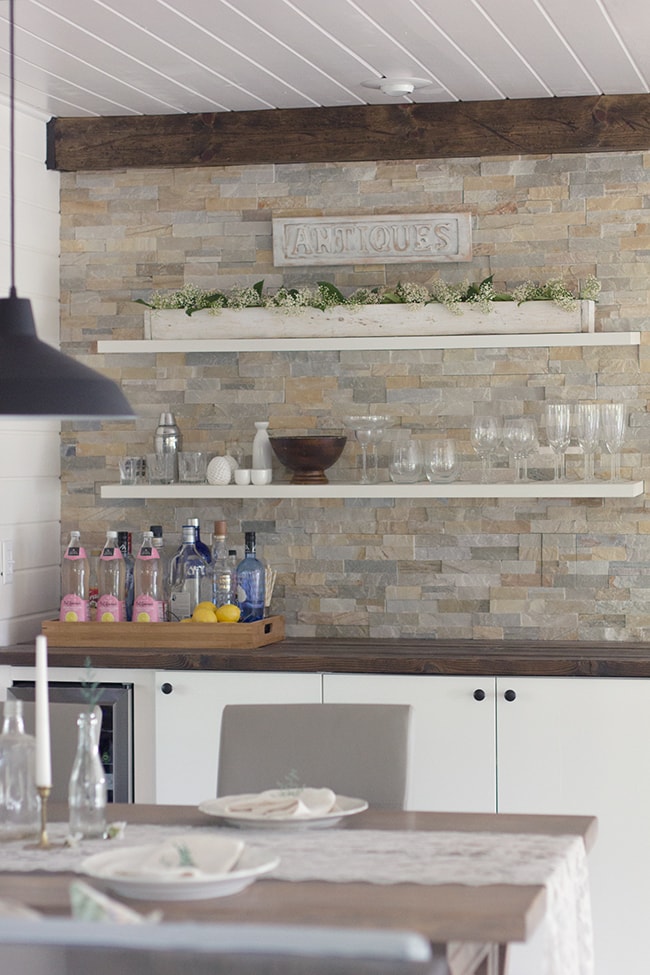 Pin
The bar shelves were pared down with this Antiques sign I scored for free and refinished, my DIY planter box filled with clippings from our front yard, a 50 cent flea market wooden bowl and glass barware.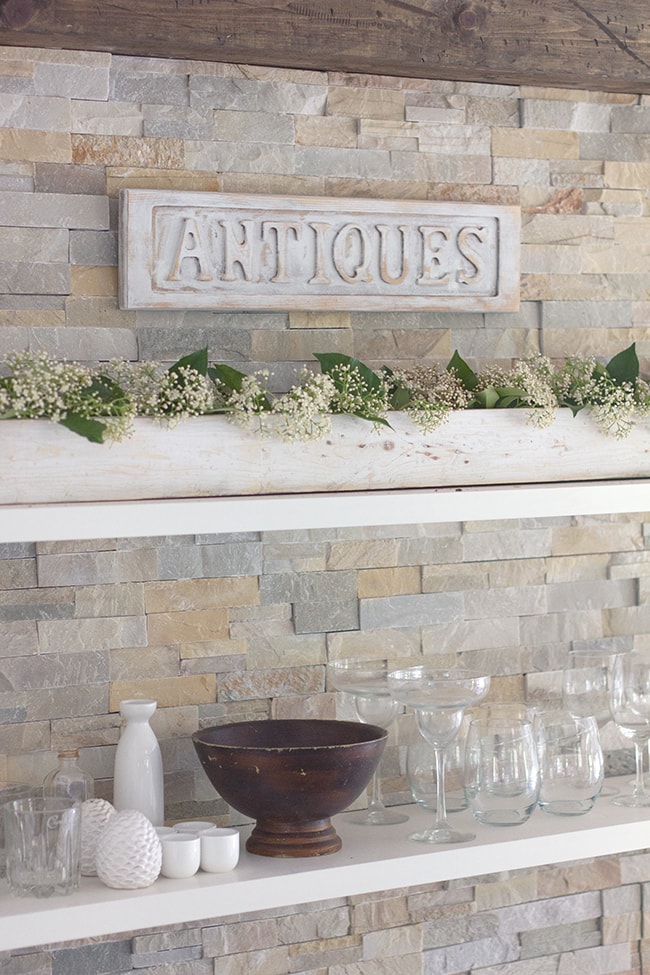 Pin
Now that you've grabbed a refreshment, let's go for a walk down the hallway to our master bedroom.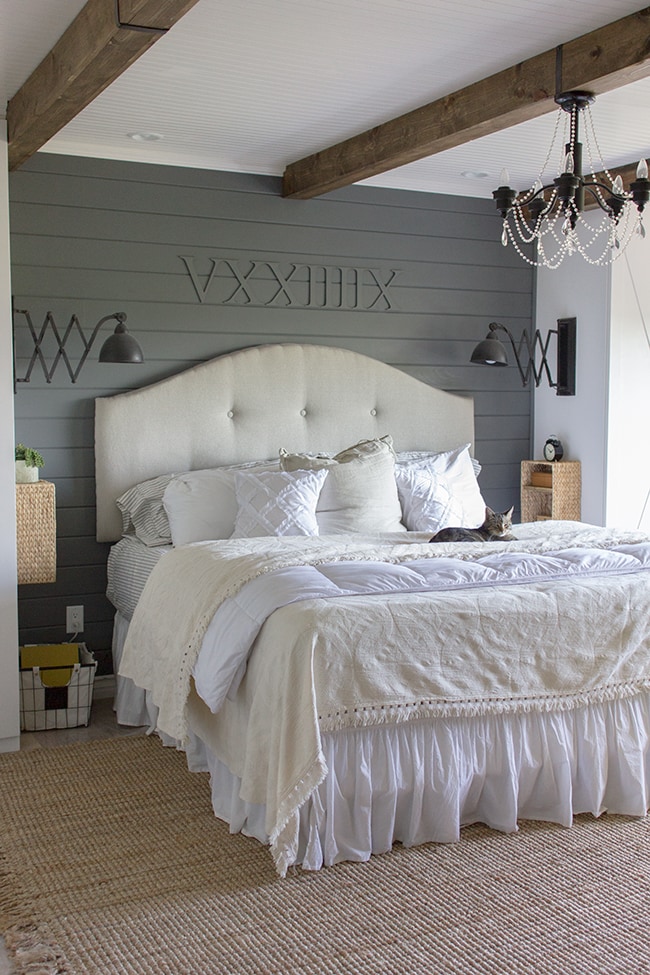 Pin
This space was completely renovated last summer, and it's absolutely my favorite room in the house.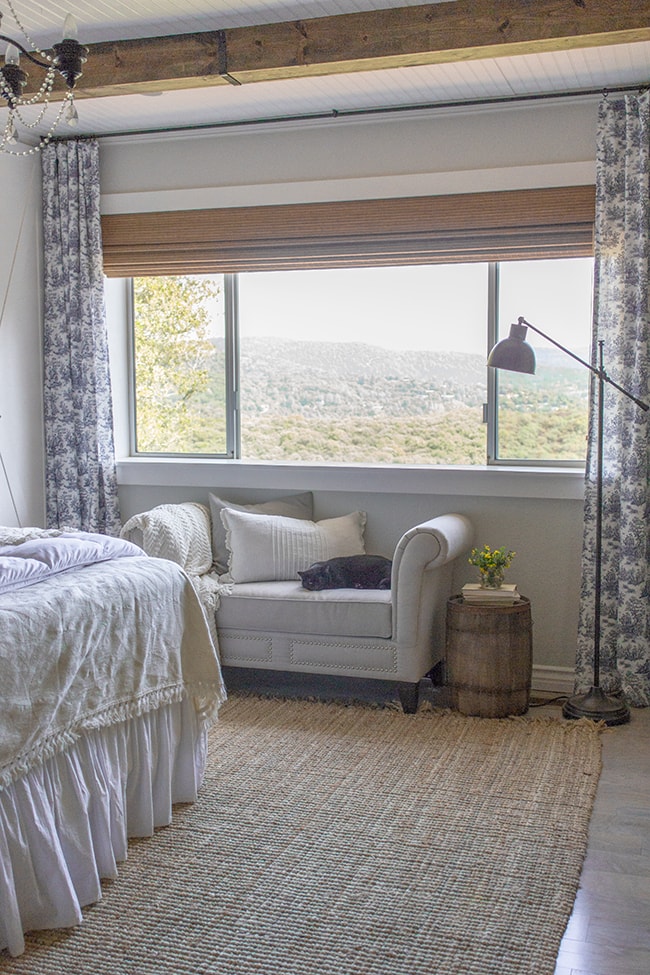 Pin
When I'm not working in the studio, you can usually find me right here, curled up in bed.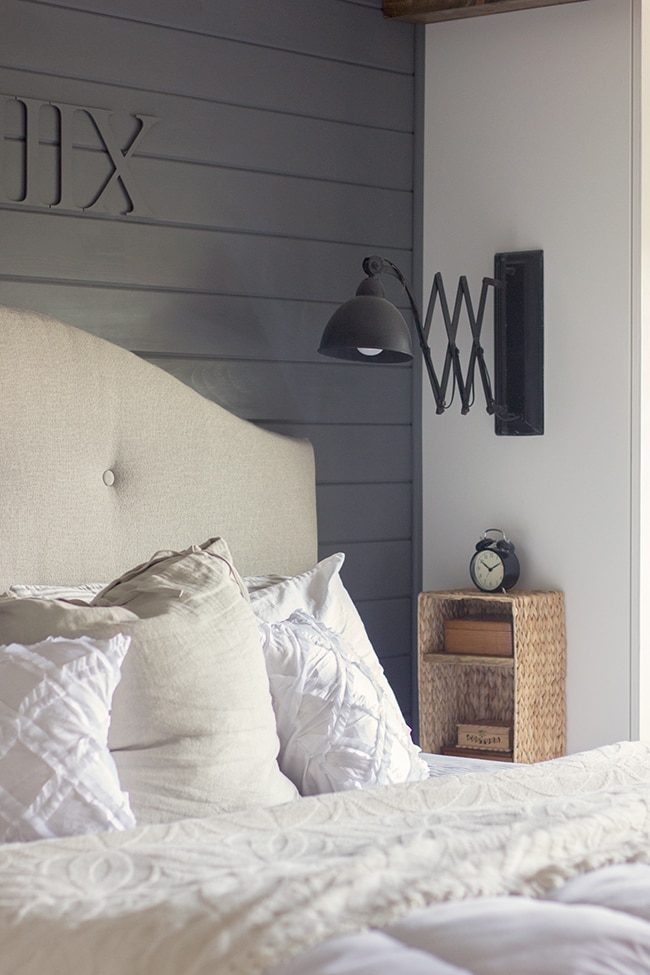 Pin
For the first time I've swapped out our navy bedding with this ivory quilt (another flea find, of course!) and added these DIY Roman Numerals of our wedding date over the bed.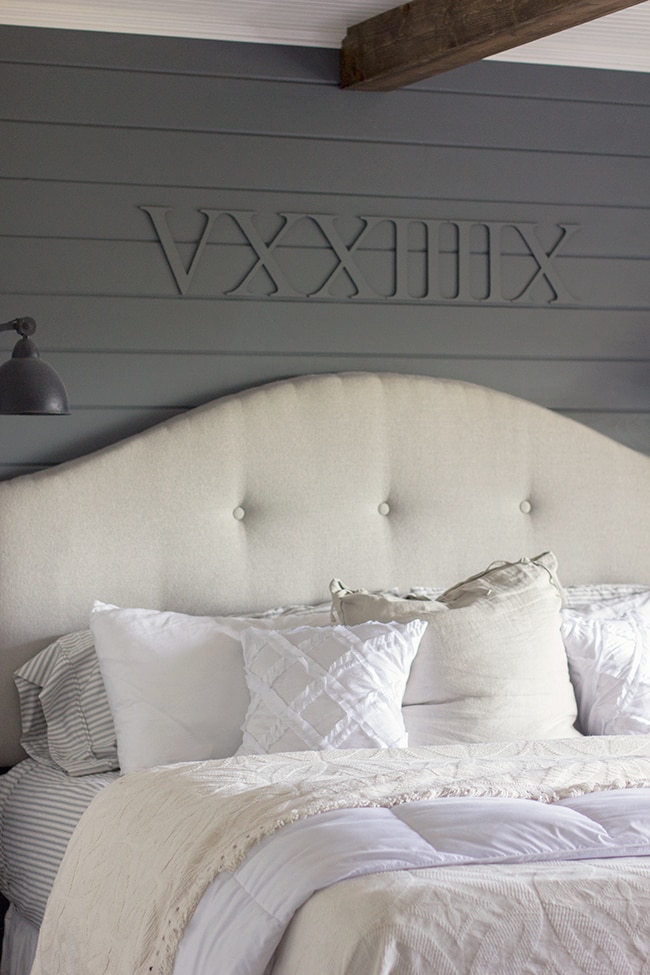 Pin
The kitties also spend at least 75% of their day in here. They don't get along at all but will snooze on the bed next to each other because it's the best spot in the house.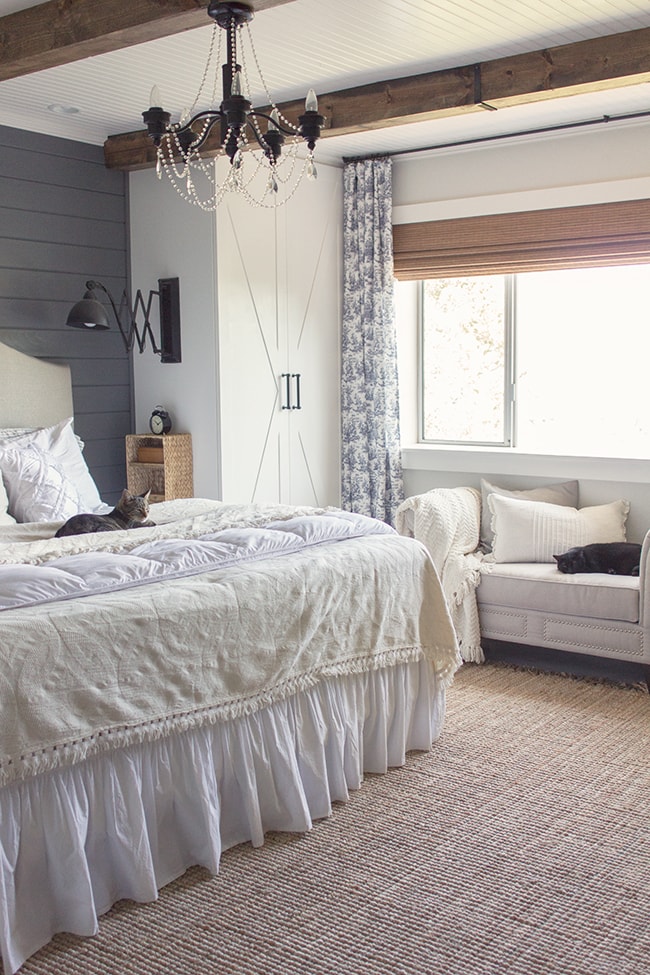 Pin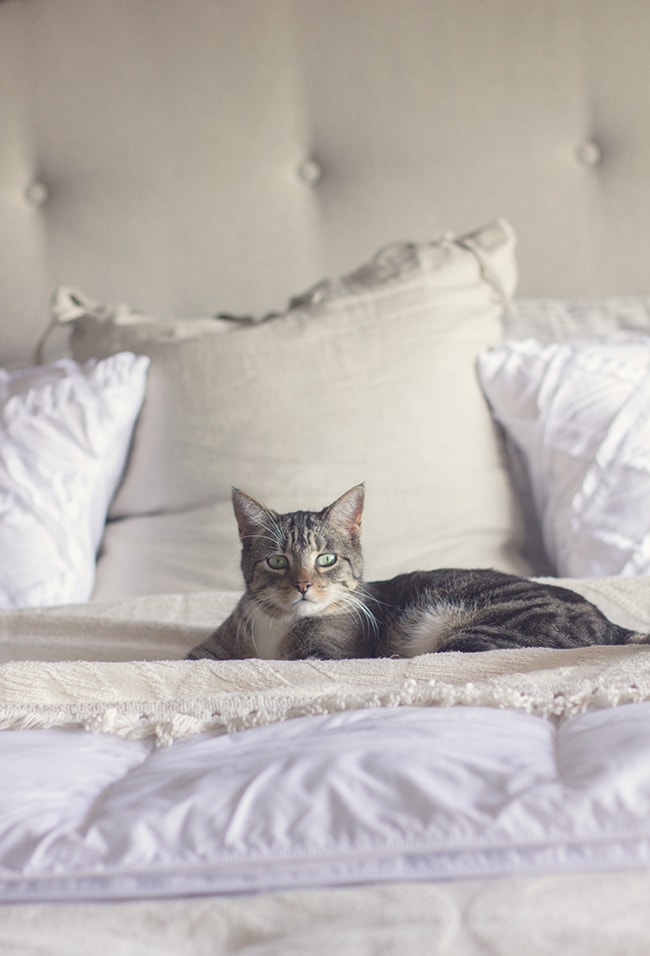 Pin
This DIY chandelier is still one of my favorites—the perfect romantic touch for a bedroom.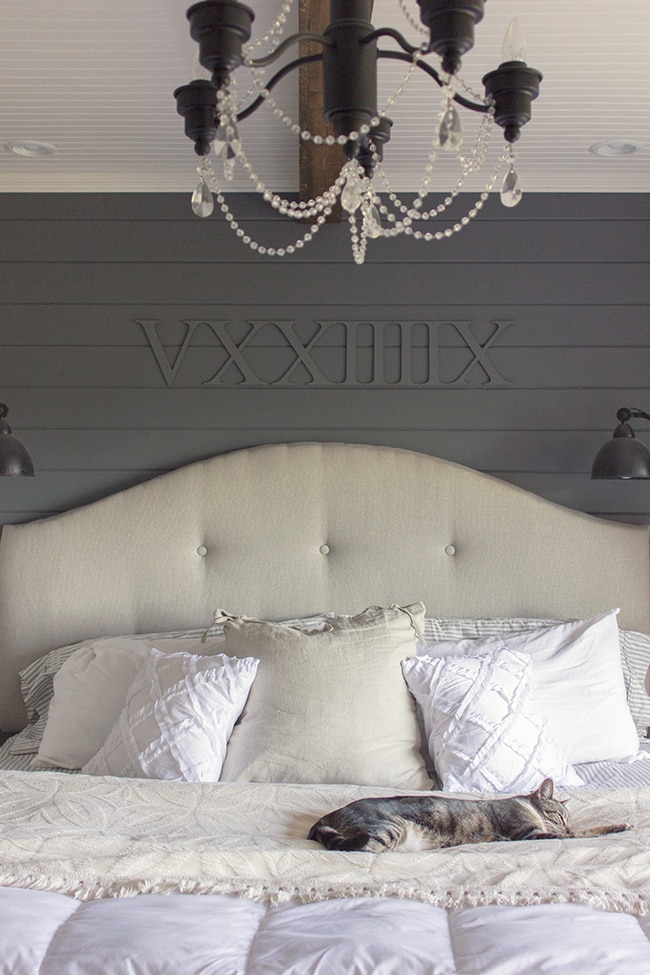 Pin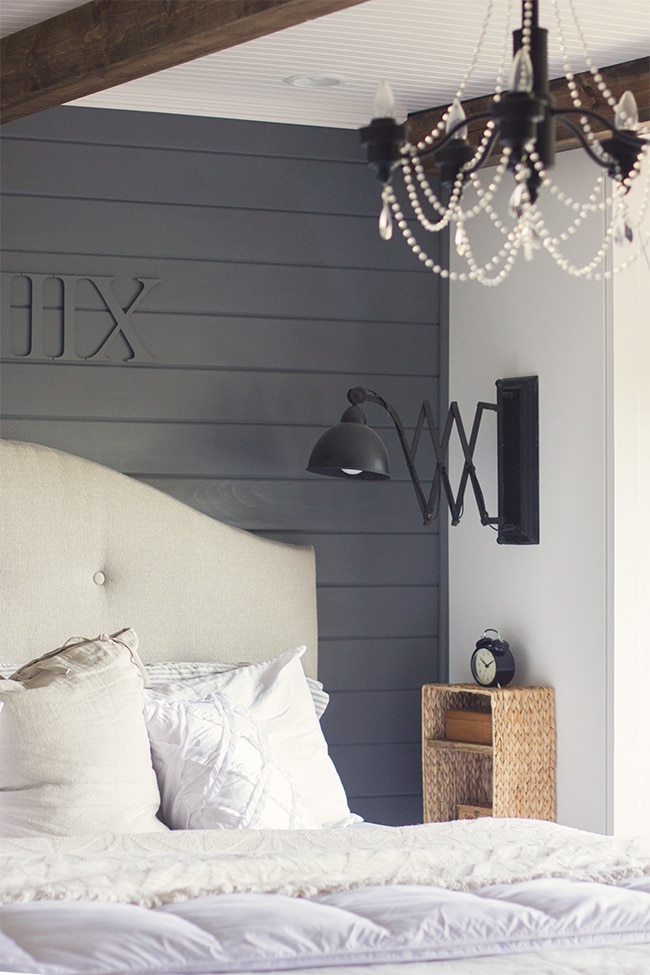 Pin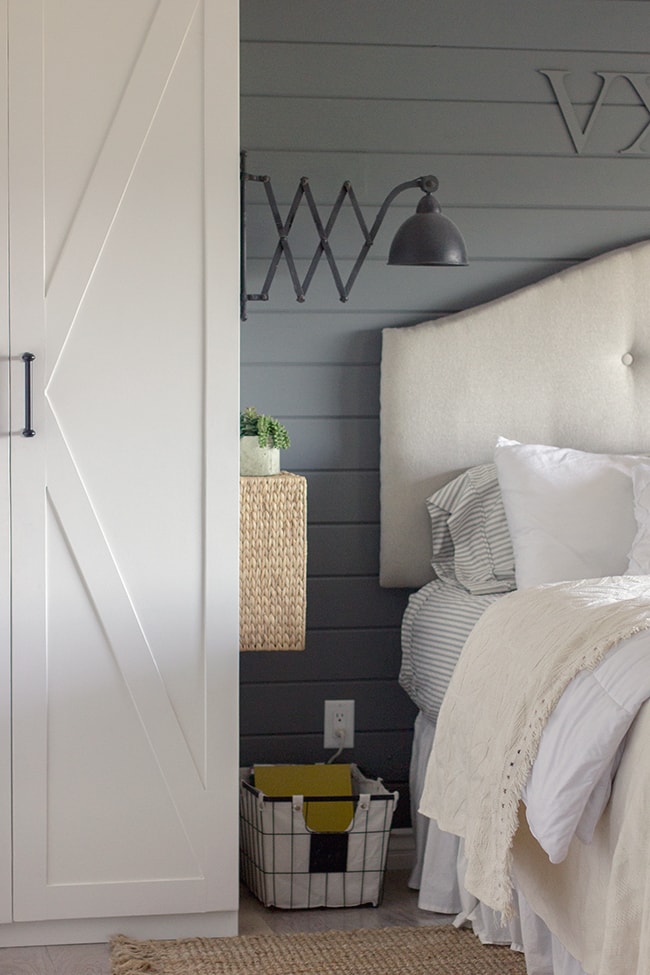 Pin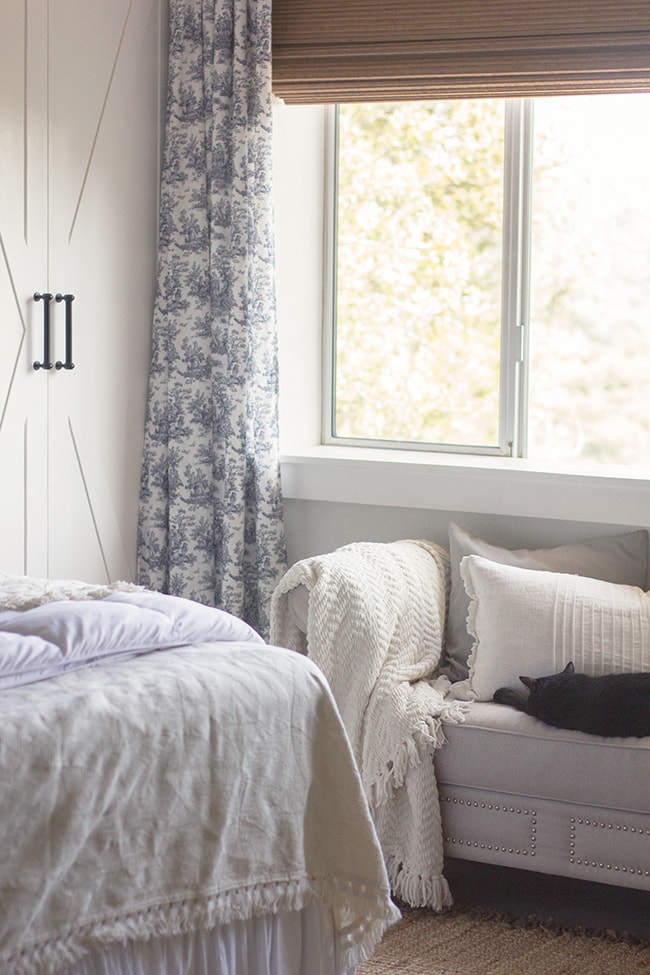 Pin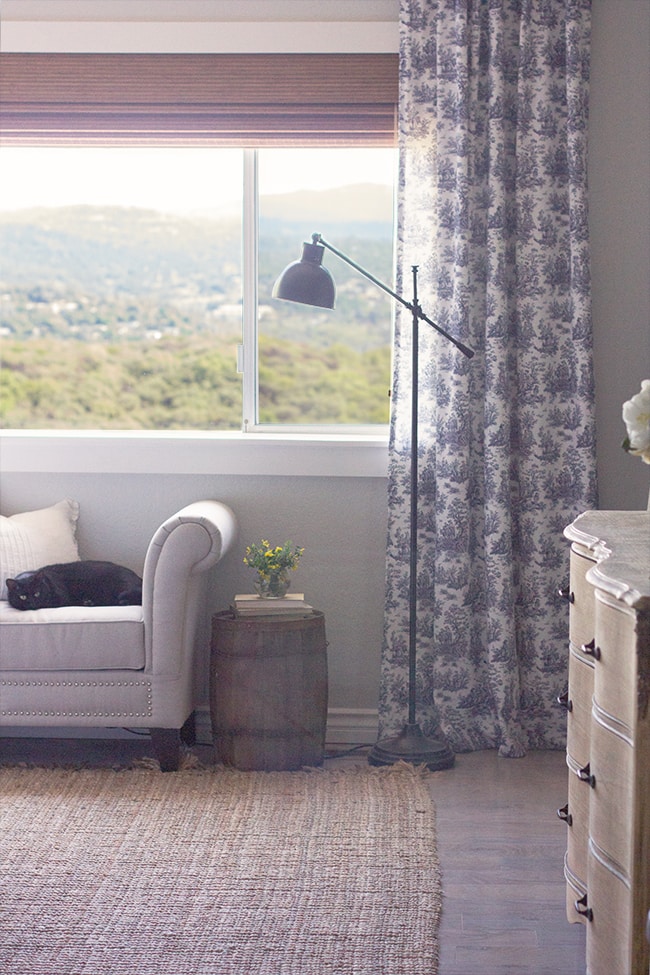 Pin
I stole these flowers from my parents backyard. Aren't they gorgeous?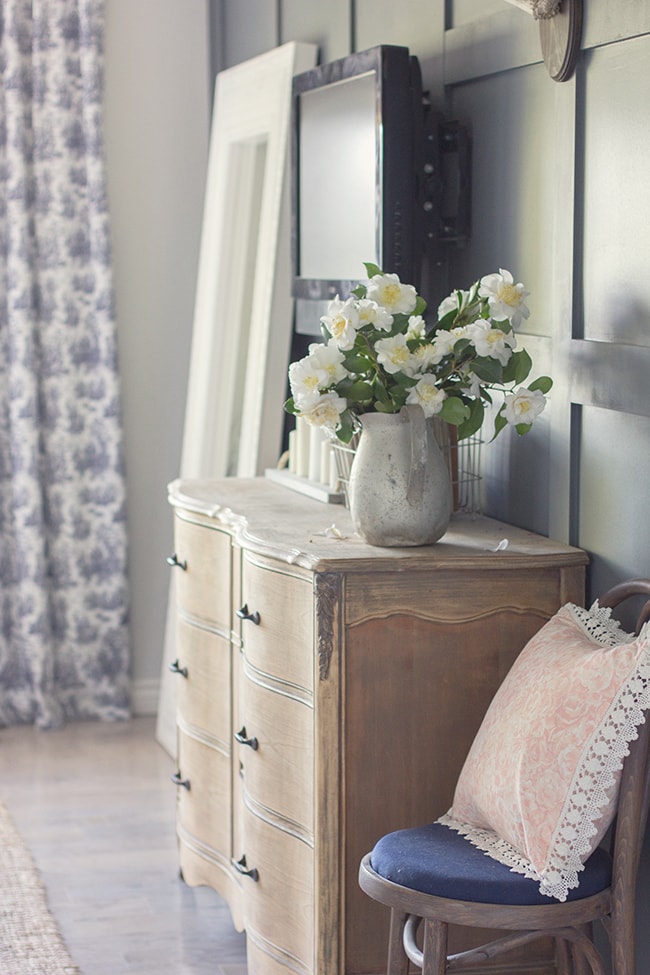 Pin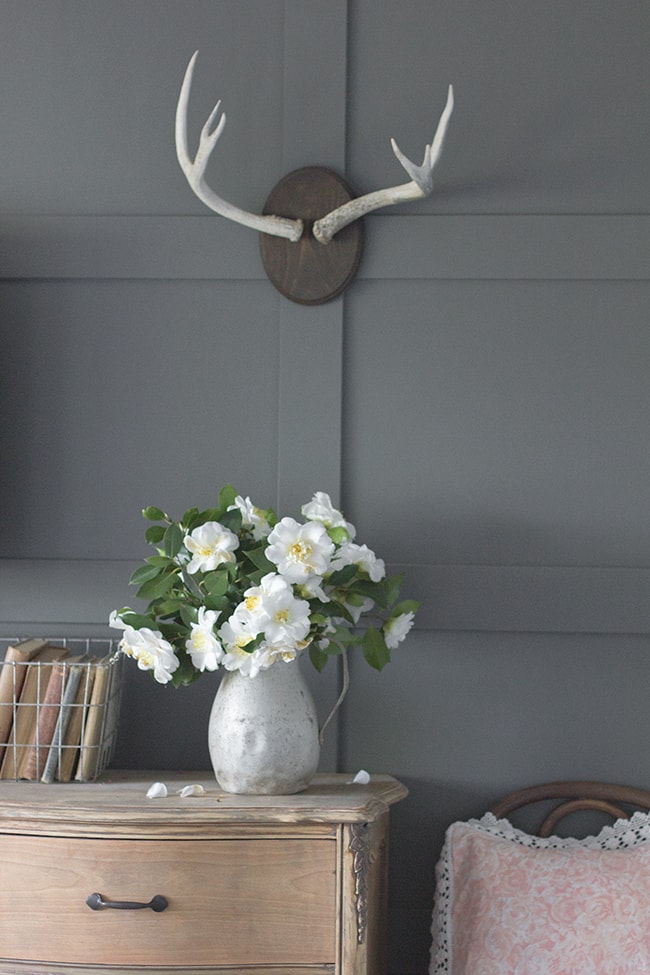 Pin
This Ikea-turned-vintage mirror is still one of my most favorite DIY projects ever.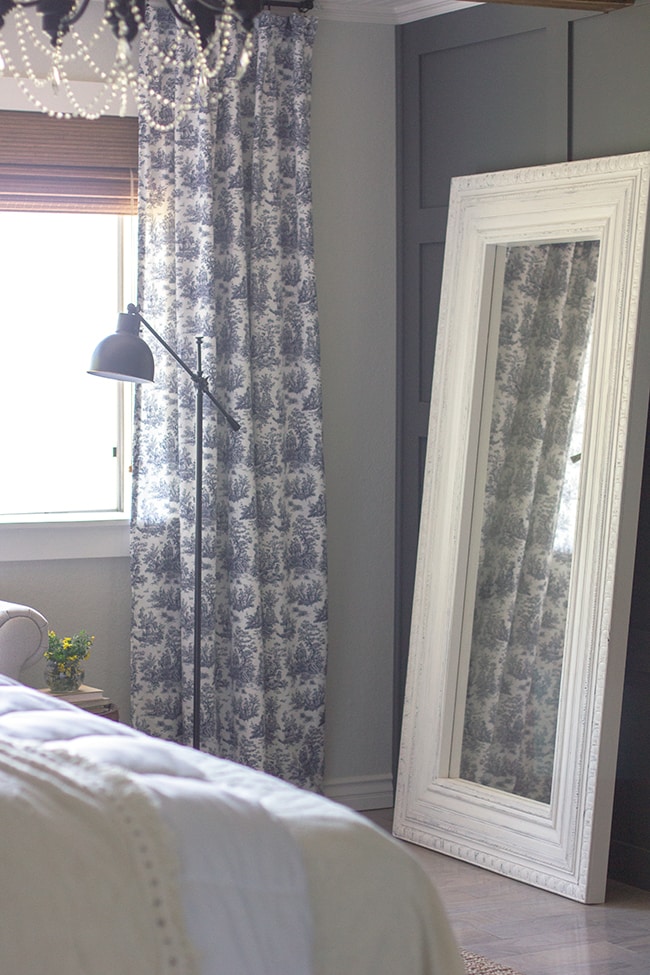 Pin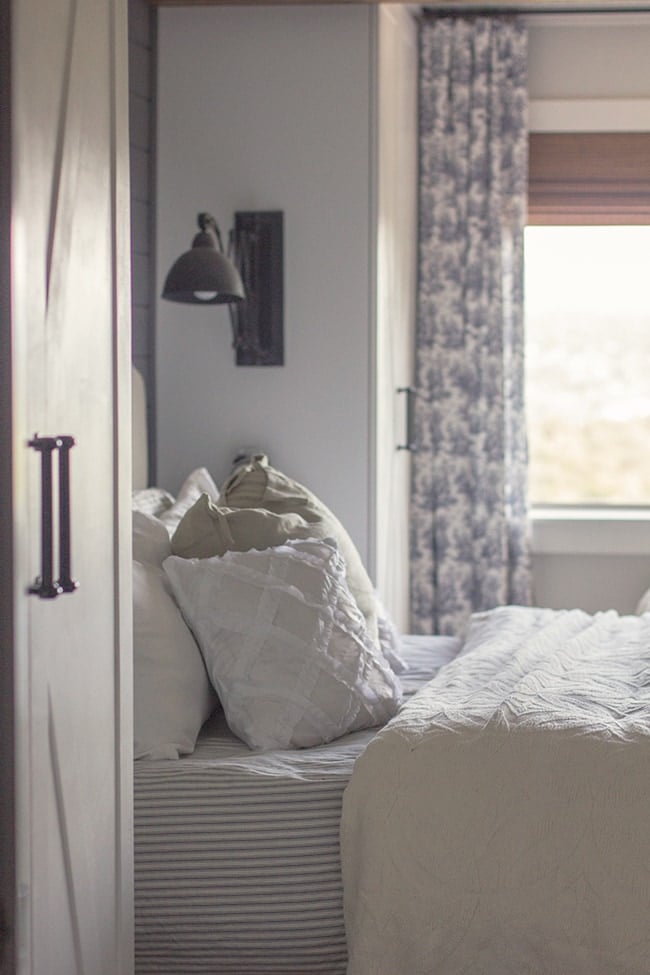 Pin
Still with me? Great, let's head back down to the living room.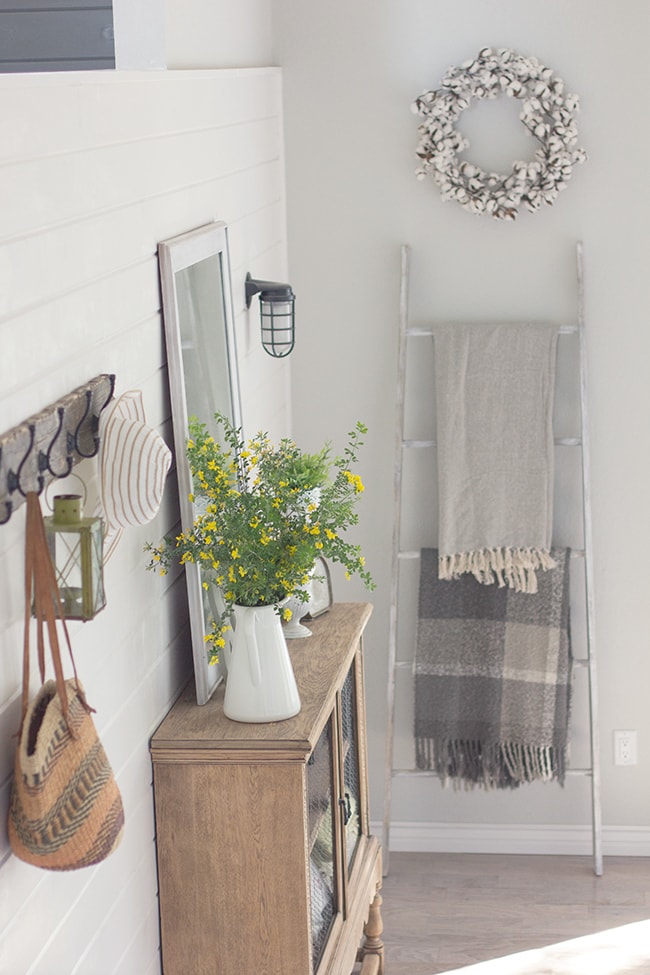 Pin
This is an open space on a half level, with the kitchen overlooking it just above the railing.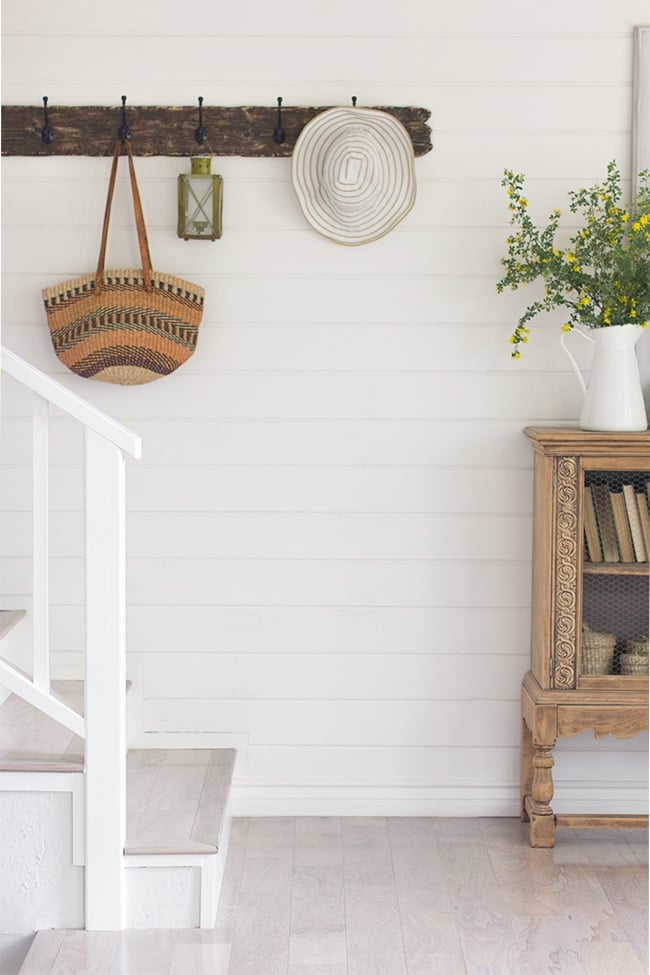 Pin
We had these white slipcovers custom made last fall and I'm still a huge fan. They're like a blank canvas—so easy to decorate around.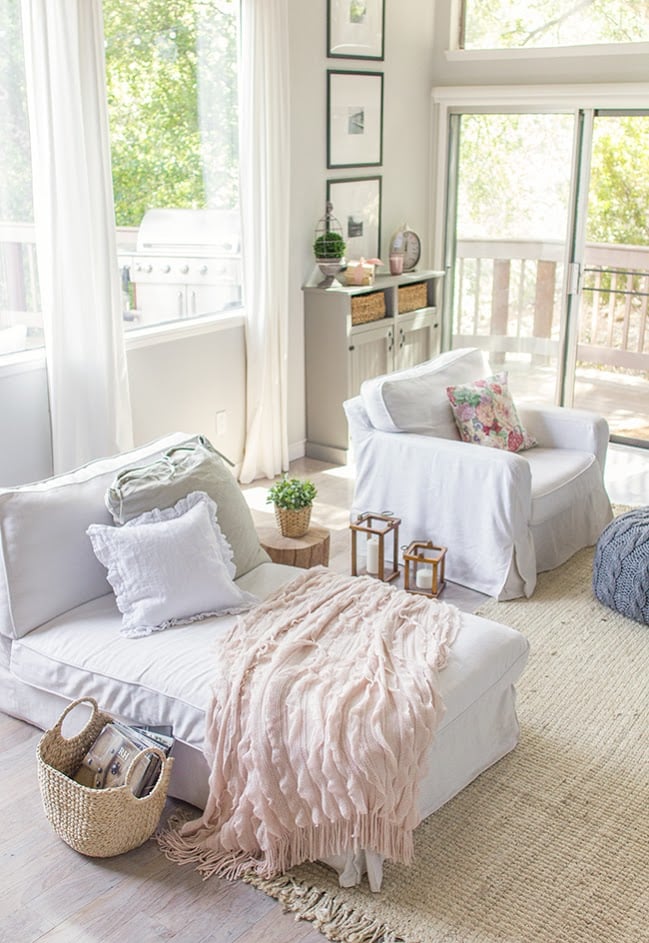 Pin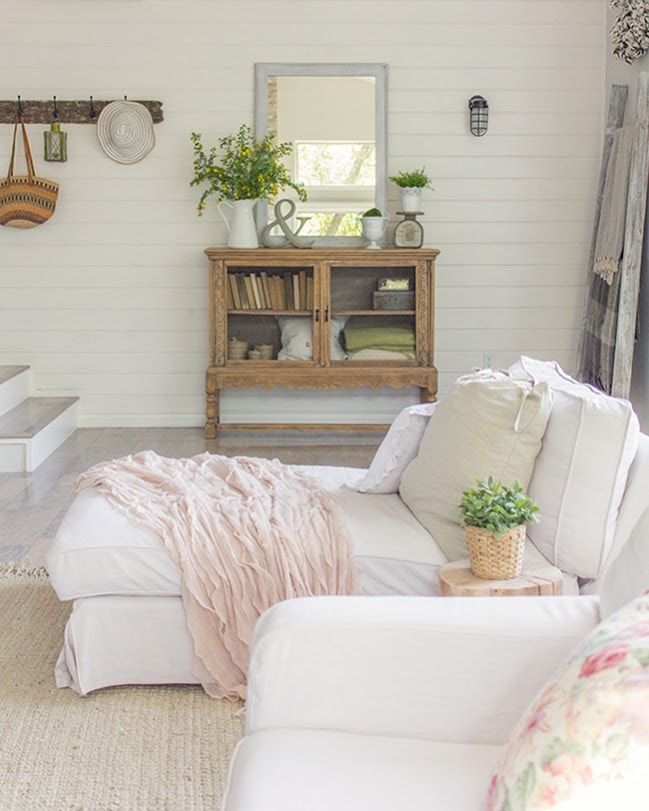 Pin
More spring pillows made from fabrics found on Ebay.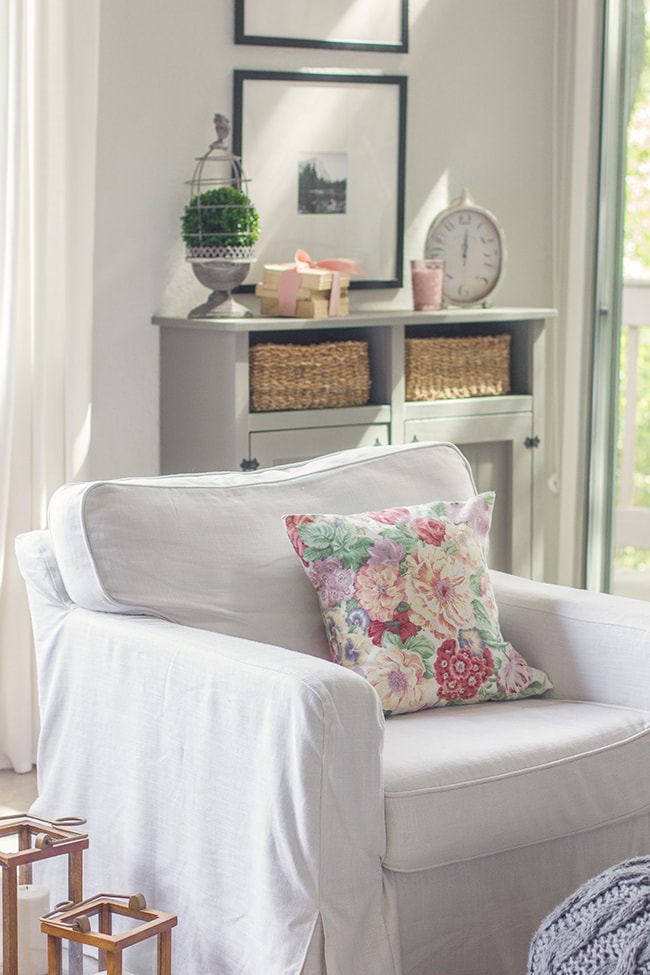 Pin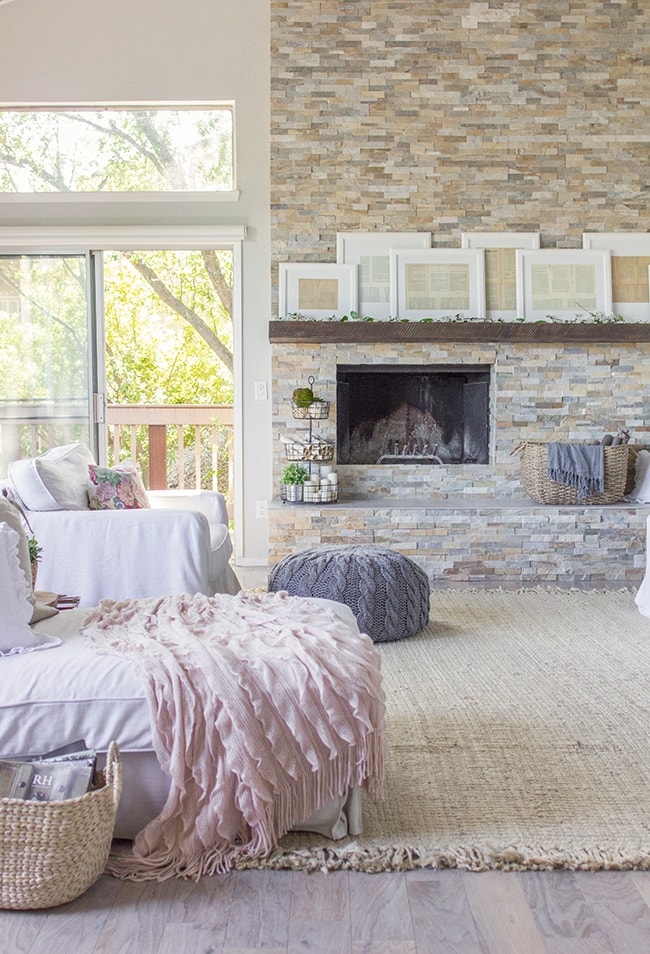 Pin
I wanted the mantel to be neutral and simple, and also free, so I pulled a bunch of old white Ikea Virserum frames out of storage and filled them with pages from old books.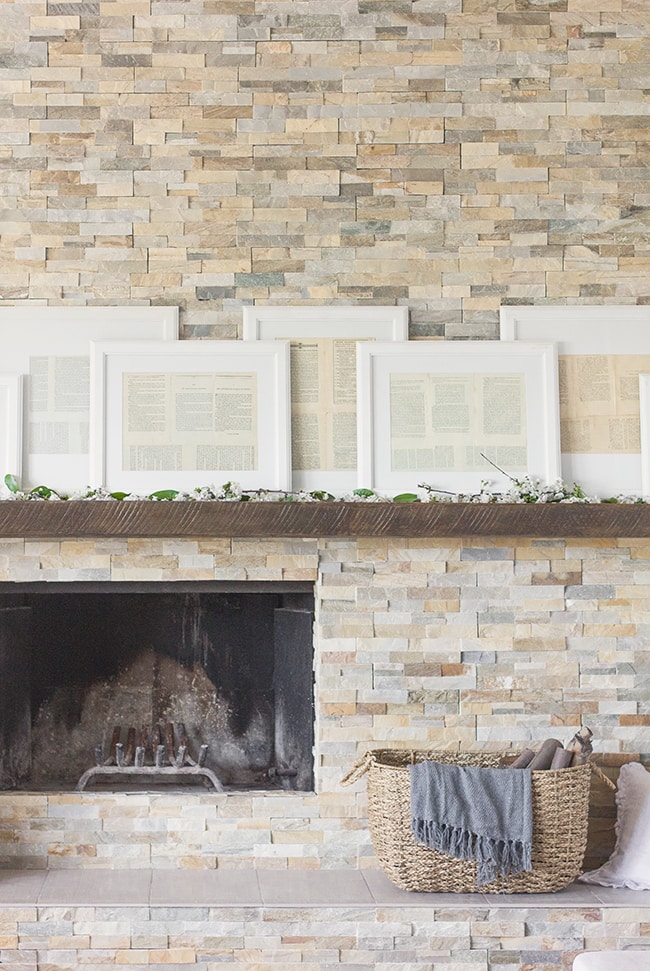 Pin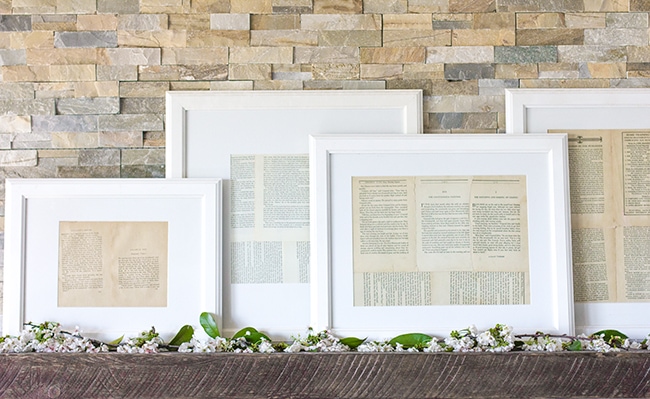 Pin
Fresh flower clippings gives it a romantic touch.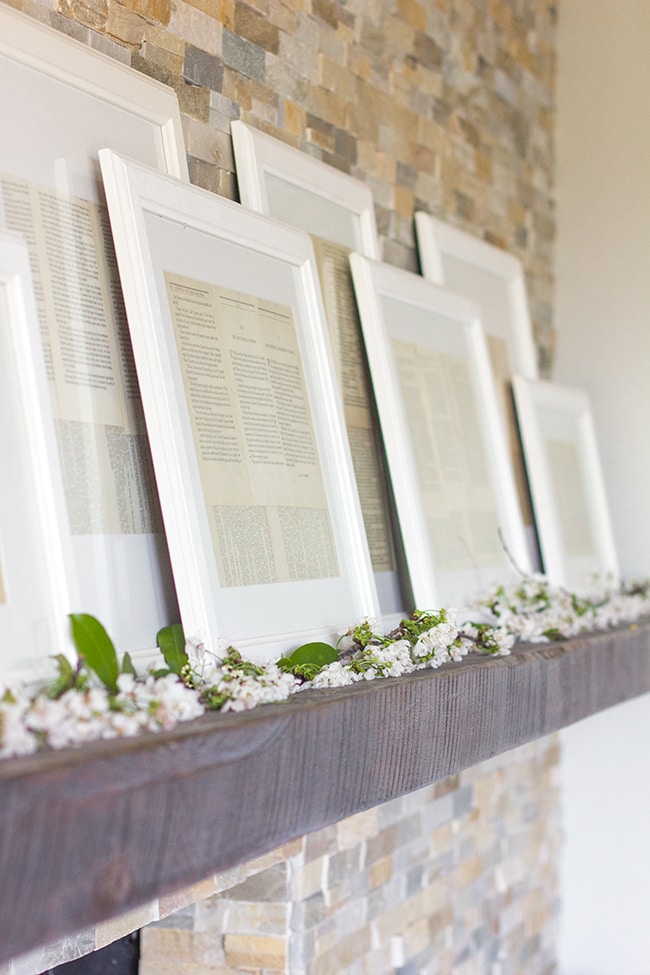 Pin
And on the hearth, a tiered basket from Home Goods (spray painted black).
Pin
This console table is one of my proudest DIY's.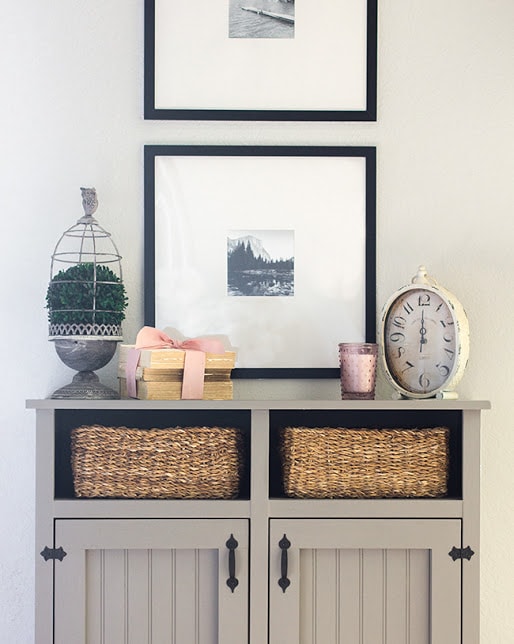 Pin
I love the color and the function it brings to the space—and it's just so pretty to look at! Especially when topped with fun spring finds like this metal bird cage and vintage clock, both from Kirkland's.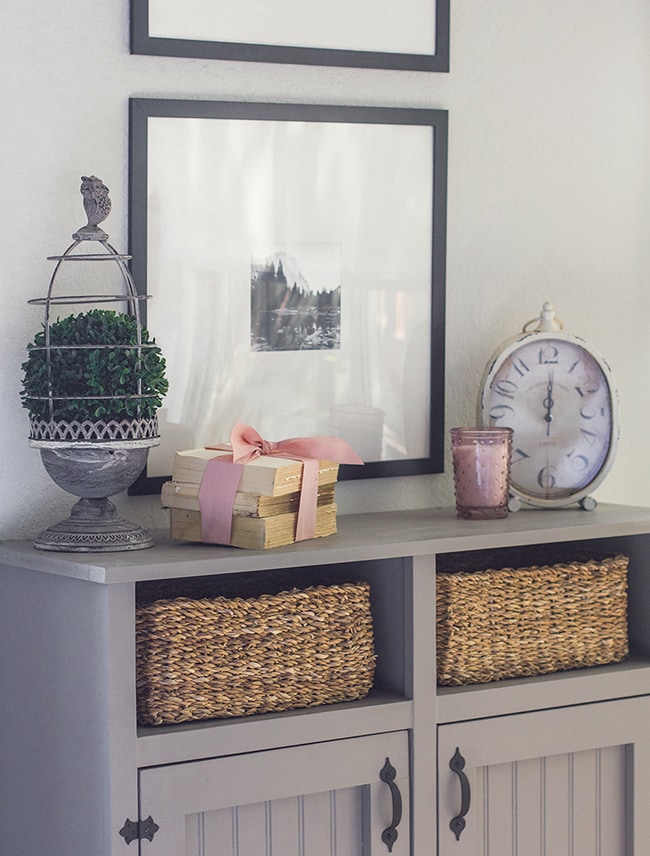 Pin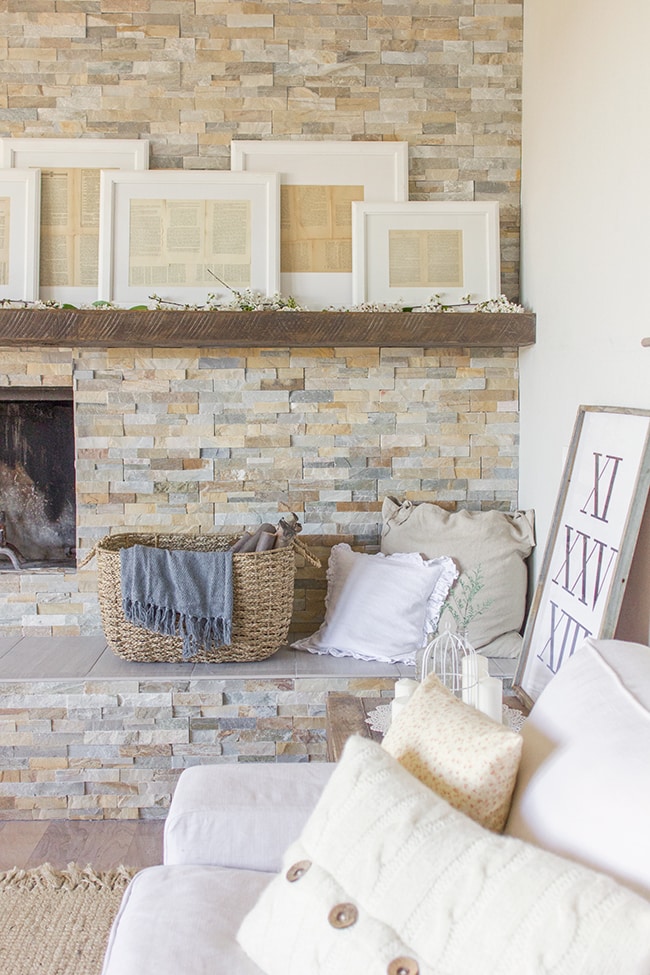 Pin
Hidden behind this DIY table is our subwoofer—one of the best solutions I've ever come up with to keep the peace. (Can you tell I have a thing for roman numerals?)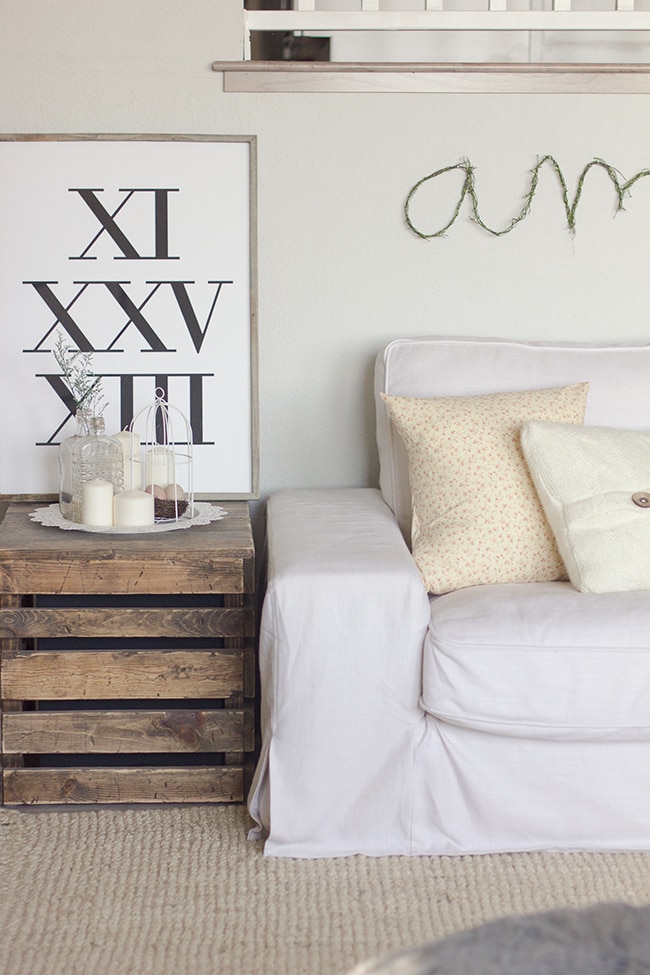 Pin
The DIY Amour sign was another fun spring project.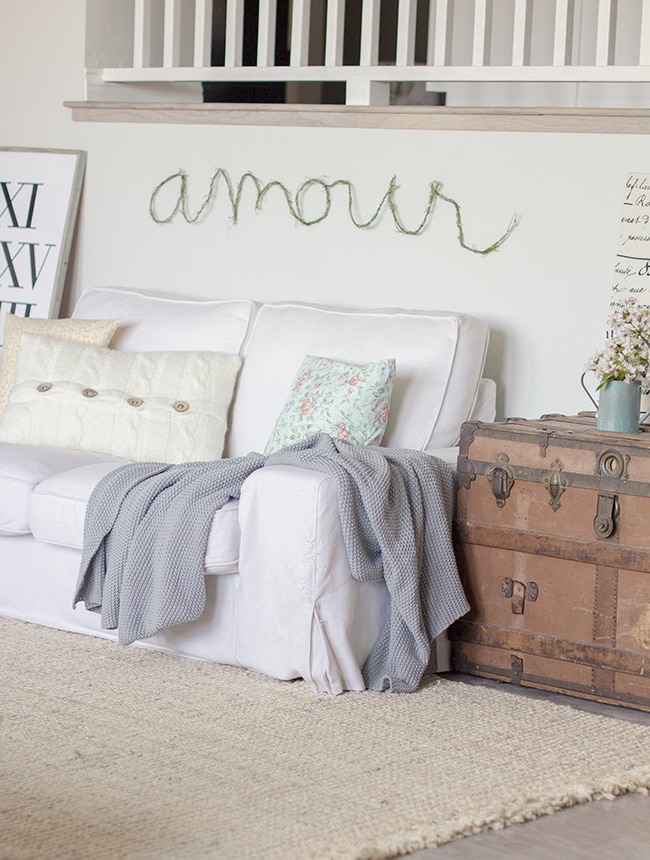 Pin
Also still loving this old flea market trunk.
Pin
One of my favorite new purchases in the room is this ruffle throw from Kohl's (on sale plus 30% off!). I kind of want to leave it here all year.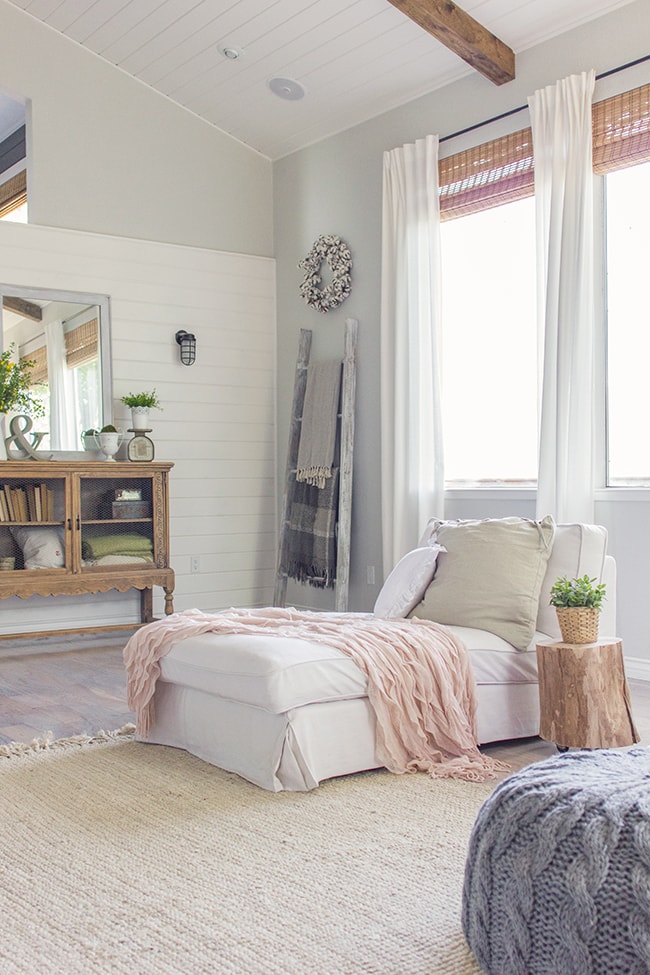 Pin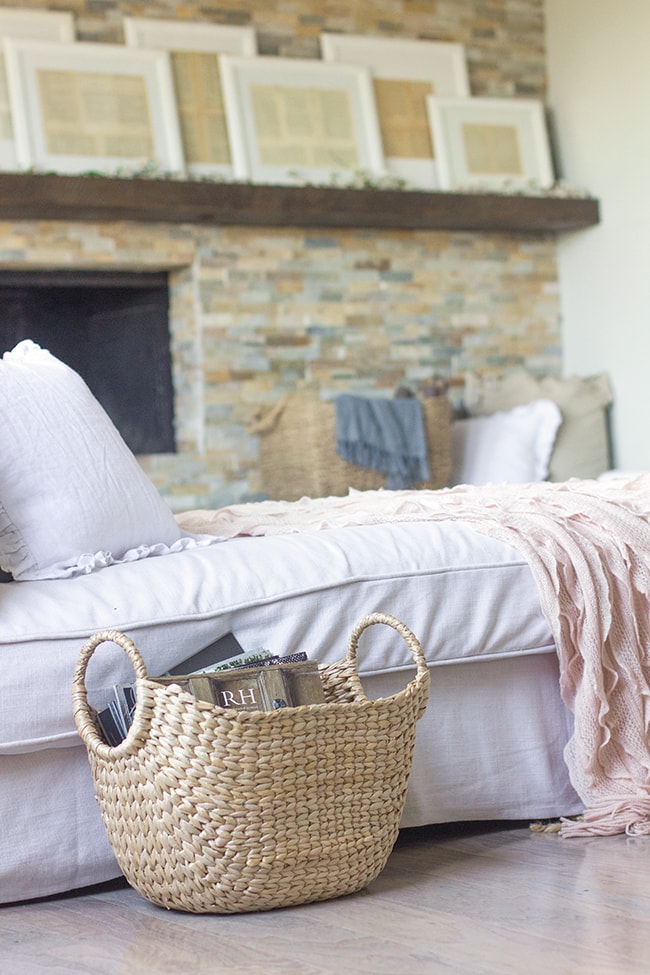 Pin
More simple decor on the antique cabinet I refinished last year.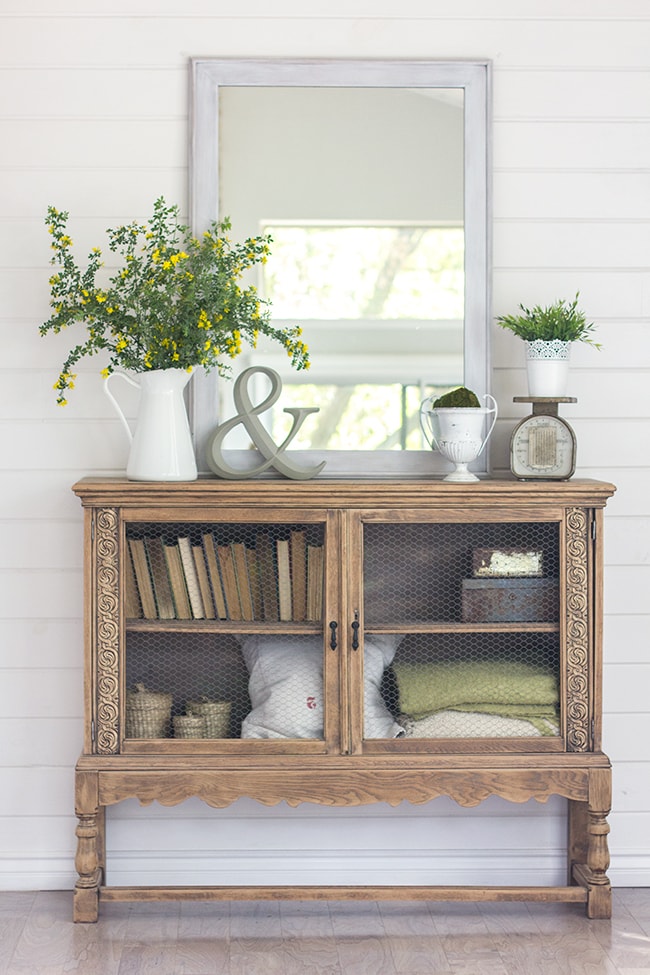 Pin
White Ikea pitcher filled with bush clippings; scale, trophy, vintage books and metal boxes all from the flea market.
Pin
I love this space because it lets in so much light, and is wide open to the hillside view. You can see it right when you walk in the house.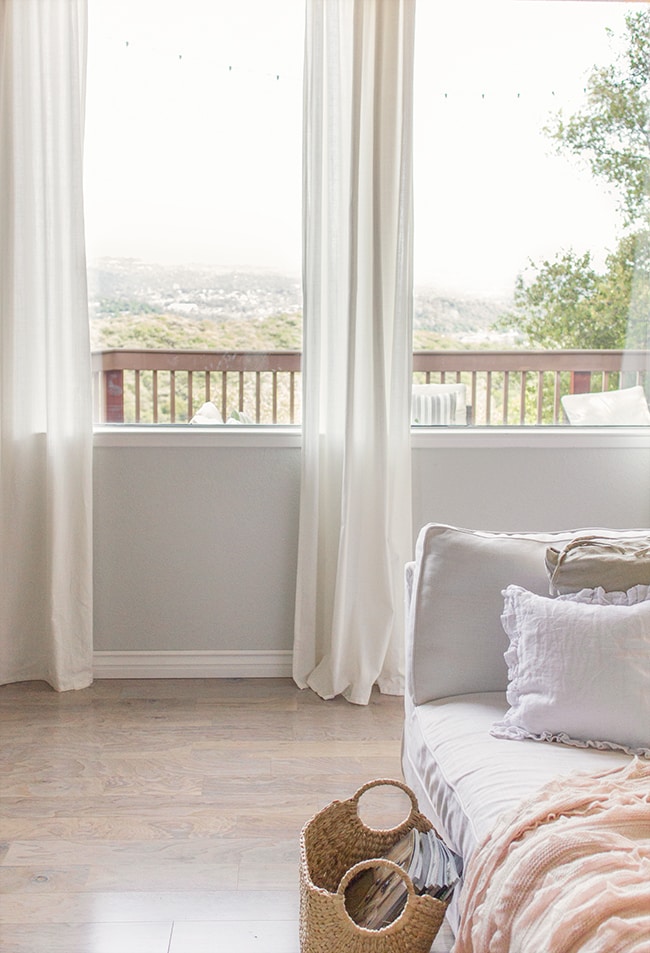 Pin
Speaking of outside… that's our last stop, so let's step out onto the deck.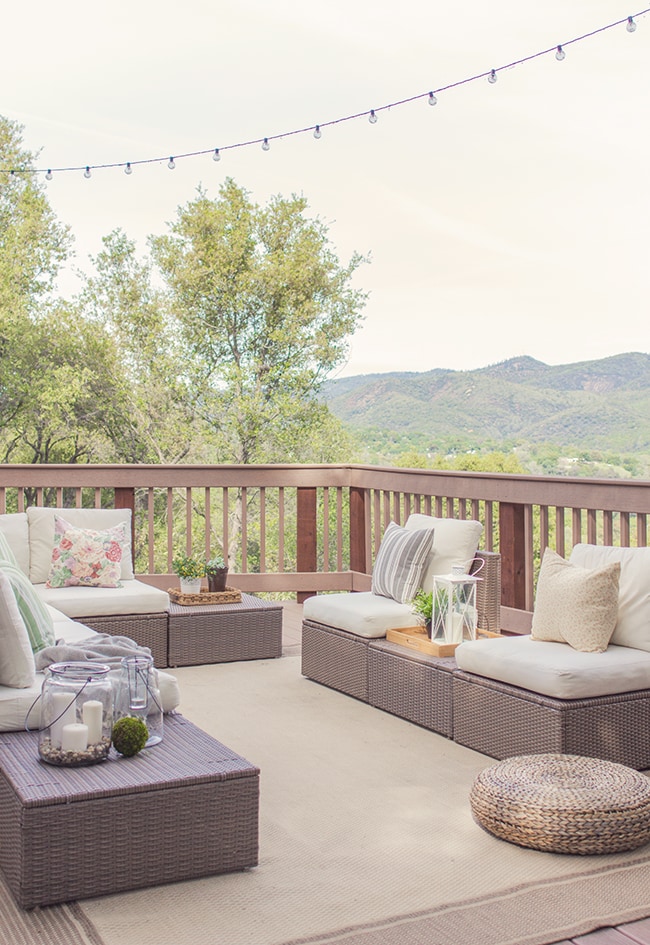 Pin
We normally keep our Ikea furniture set under a waterproof cover (you know, for protection from these brutal California winters) so I uncovered and dusted them off just for you guys.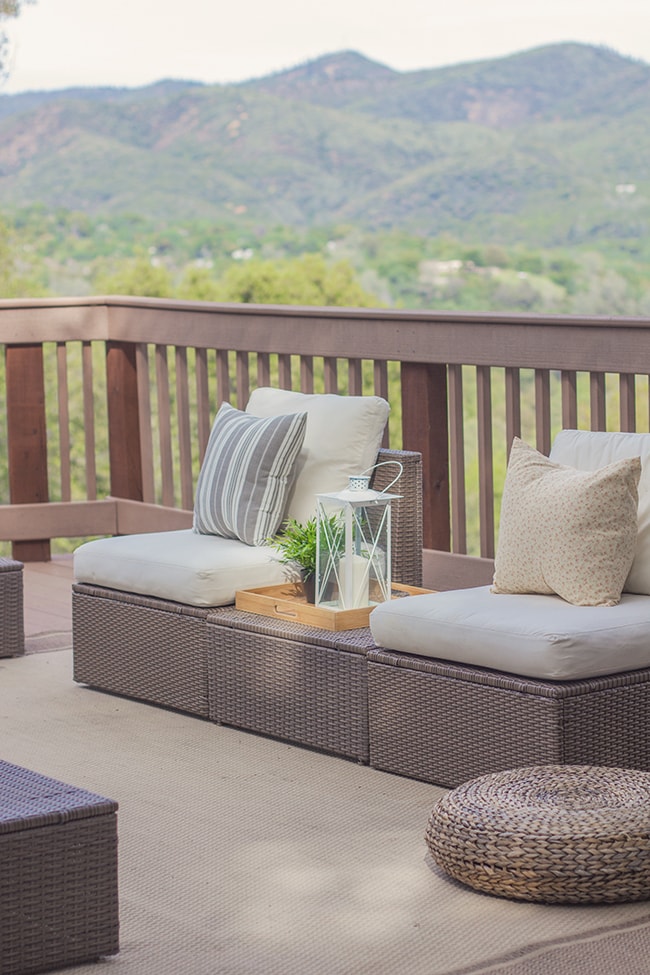 Pin
I even set up our DIY bar cart—lemonade refill, anyone?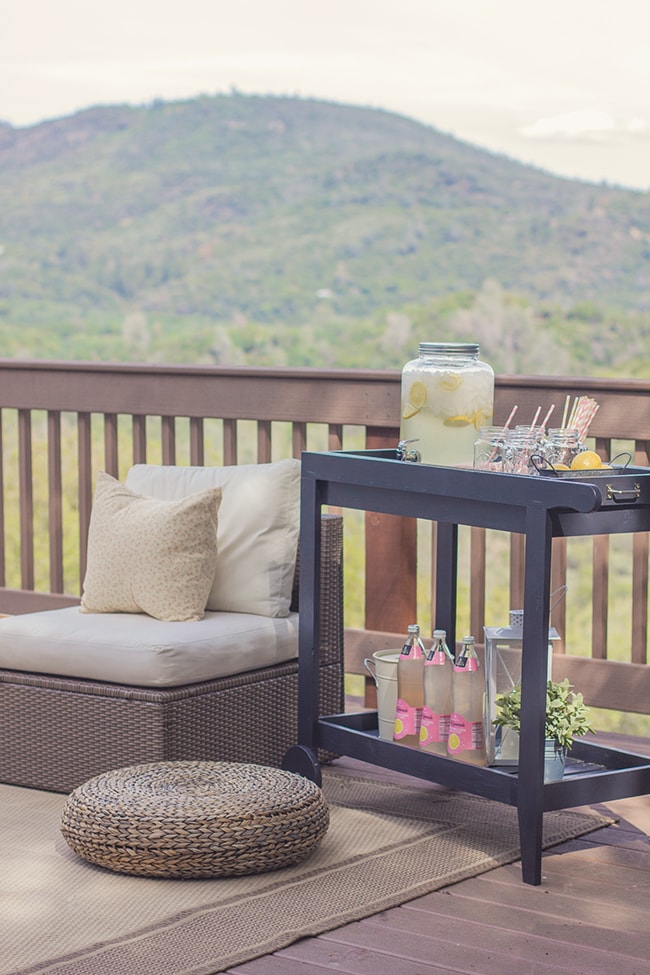 Pin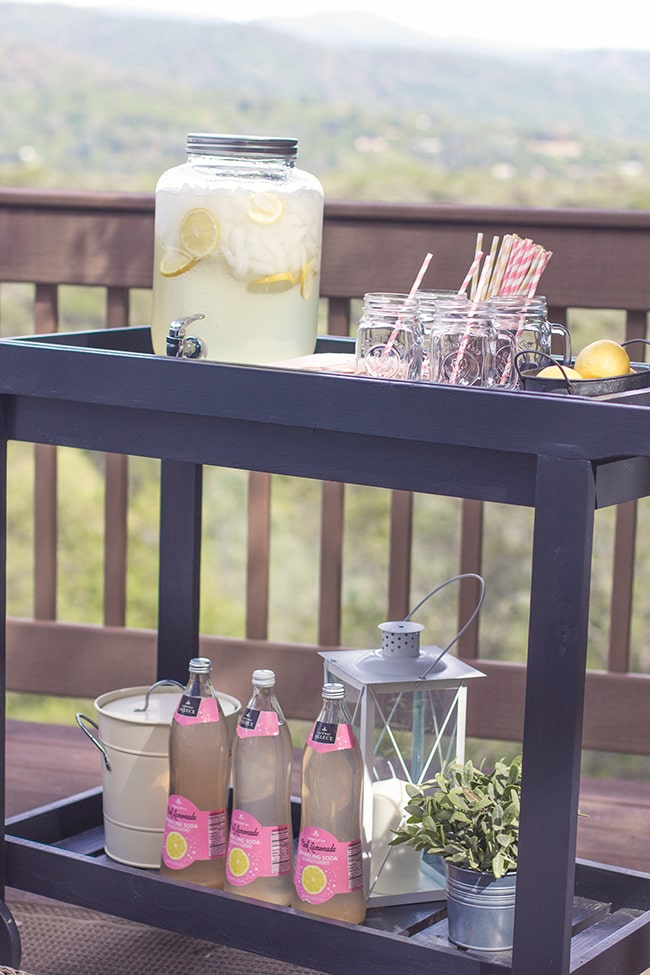 Pin
While we can still technically barbecue and enjoy a movie out here off and on during the winter, I'm so looking forward to warmer weather when we can leave the furniture uncovered and make bbq's and outdoor parties a regular occurrence. And this house was built to entertain, so you'll definitely find us out here often in the coming months.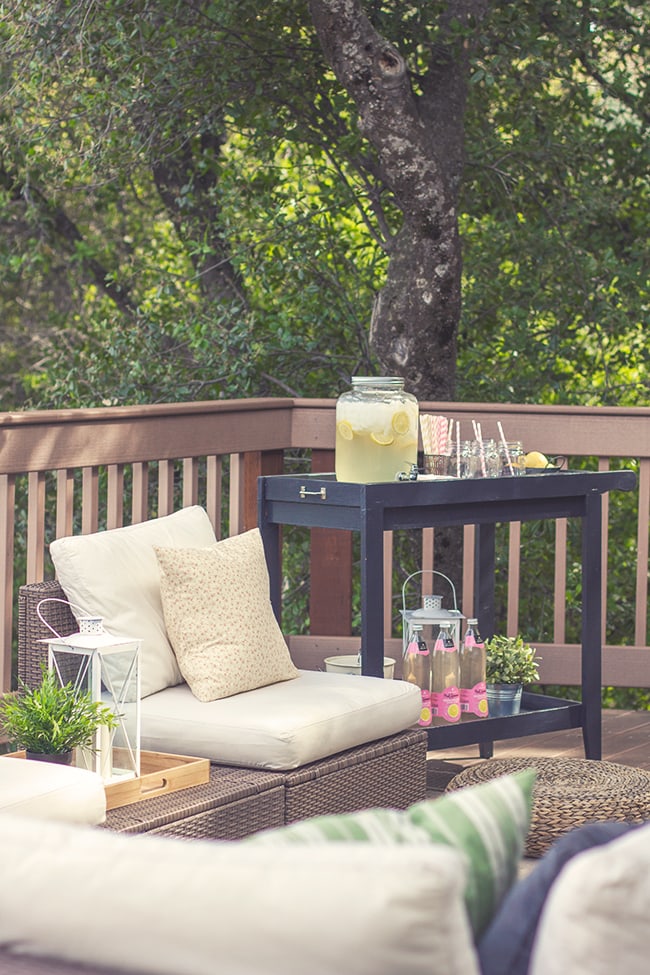 Pin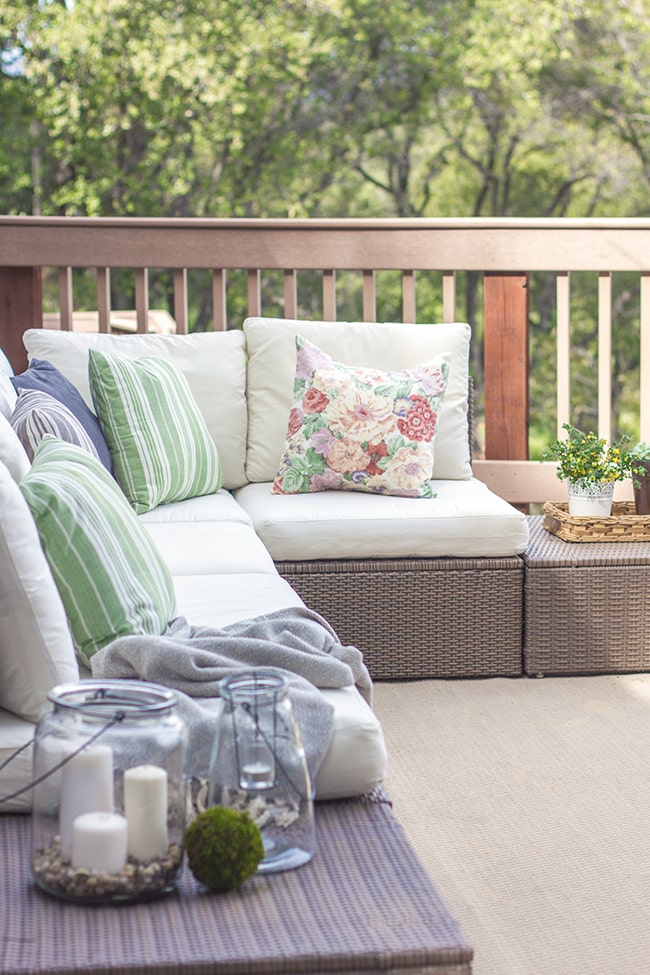 Pin
These large glass lanterns from Kirkland's will be so pretty lit up at night.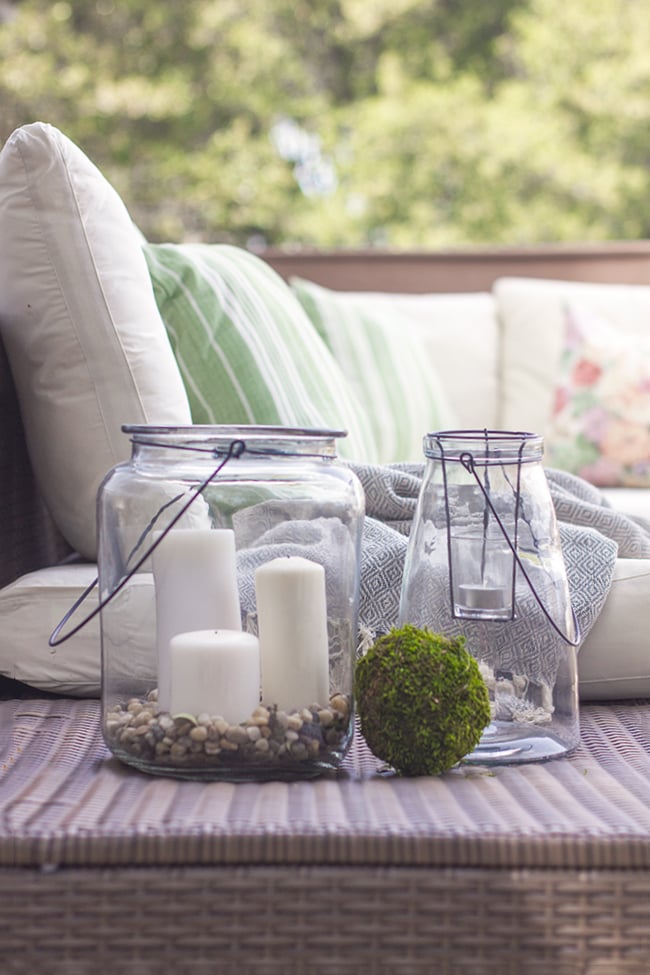 Pin
Ahhh… I can just feel the sun's warmth now. For those of you still suffering from snow, you're formally invited to come visit and crash on our deck 😉
And that wraps up our tour! Susie will walk you out…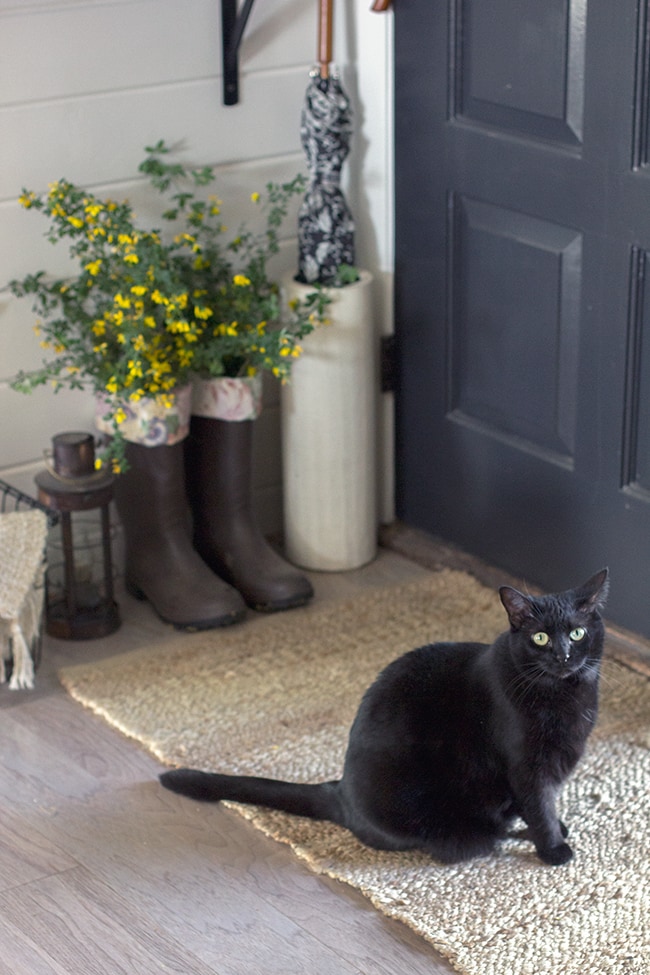 Pin
If you've made it to the end, thanks for sticking around for the entire journey. I hope you leave feeling inspired and catch the spring bug that's been going around this blog hop!
A huge thanks to Jen for inviting me to participate—make sure to check out all the other fabulous bloggers on this tour and don't forget to enter for your chance to win one of THREE $100 Kirkland's gift cards so you can get your own home into shape for spring!
PSA: I have a very important announcement on Wednesday—so mark your calendars… things are about to get crazy around here!