Ok, everyone. The day has finally arrived. I'm especially excited for this reveal because it happens to be October, and it's finally cooled off here in Northern California enough to actually feel like fall… which means I got to have some fun with cozy decor (seasonal decorating is my absolute favorite… just wait until December!)
Let's remind ourselves of how this place looked when we first stepped foot inside it one year ago…
Welcome to the 70's…
Okay, that's enough of that. Here it is now:
Let's back up to where you first enter at the top of the staircase (just in front of the foyer, for reference):
This is what you see straight ahead (I relocated the ficus tree downstairs and brought my DIY ladder back in):
This antique cabinet greets you at the bottom of the landing…
I've rearranged this decor on this cabinet yet again (I think this is the third time this month…)
It's just too much fun, I can't help myself. All of the greenery in this room was freshly cut from our property Sunday. There's plenty of variety to go around here in the mountains.
Moving along… you'll find the entrance to downstairs on your left. So glad I painted this door black.
Next to that is the awesome vintage trunk I scored at our flea market.
I just love the character it adds to the space.
And this lamp… 
And then we have our new couch covers!
Couldn't be happier with the white linen. I'll talk more about these next week.
There's the kitchen above, if you were wondering how this all flowed together. It's a two story home but the living room is on it's own "half story" in between.
Our hidden subwoofer table fits perfectly to the left of the couch.
And then there's the fireplace…
I posted tons of photos of this recently so I won't focus on this too much. I did make a couple small styling changes though.
It was chilly enough for a fire yesterday and Susie was all about it.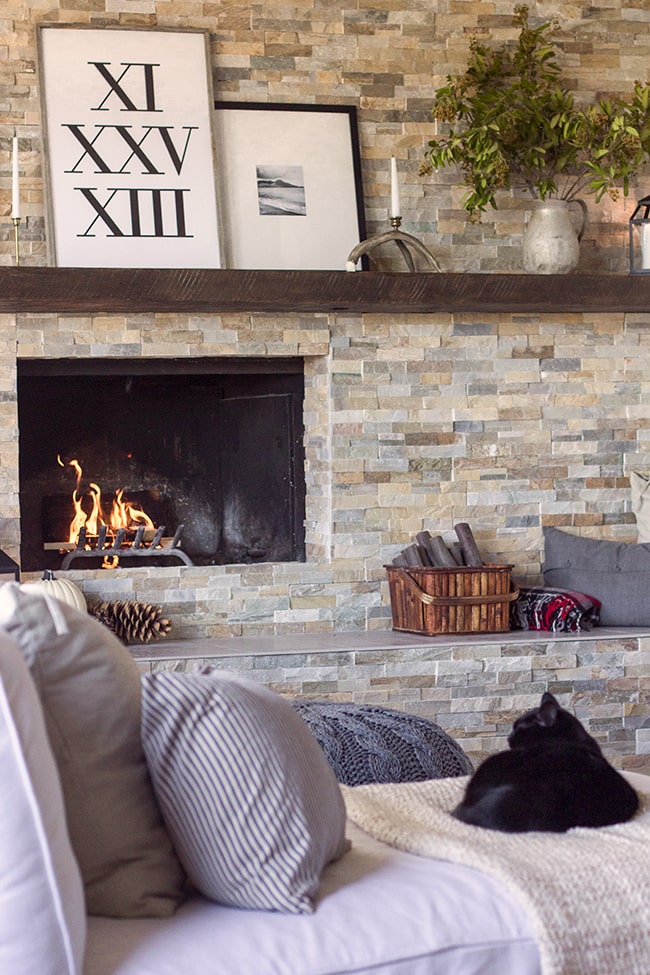 Pin
Can we talk about this cabinet for a minute?
I've decided it's my most favorite thing I've ever built. And the gray color is so dreamy.
I bought a sheet of MDF and some pine boards and had this the next day. Magic.
I'll share all the details on the building process later this week. This might be my favorite "moment" in the room. The frames/photos are from my budget matted frame trick last year. 
Can't own a mountain home without a deer pillow…
And this cable knit pouf… sigh.
Handmade via Etsy and perfect. 
I also just finished this tree stump table yesterday, literally right before these photos. More on that to come.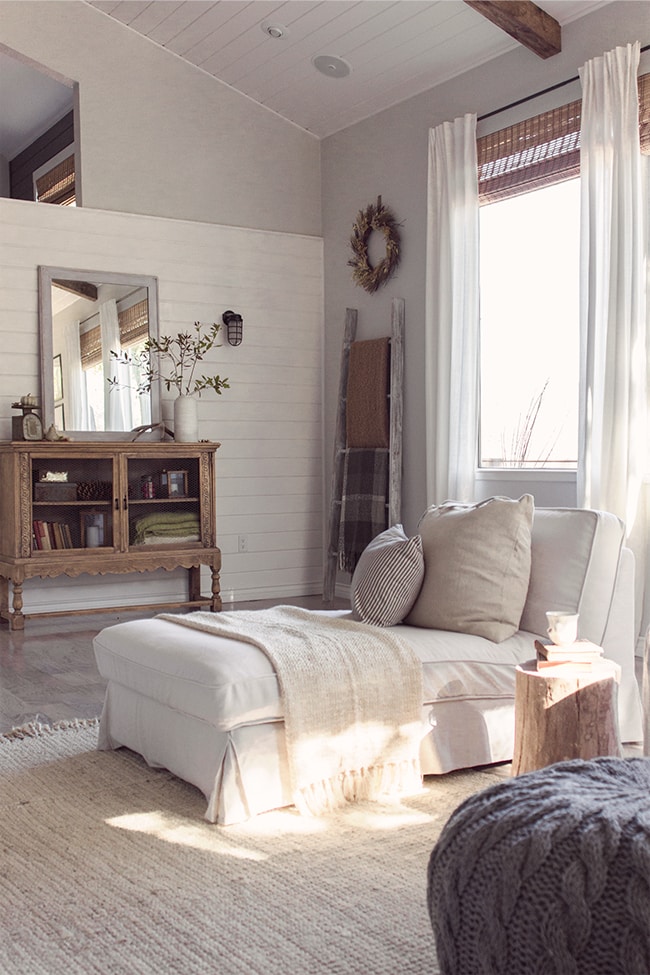 Pin
Susie's new favorite spot.
The large jute rug (in bleached/off-white) is neutral enough for all seasons. This is also my favorite new lounging place.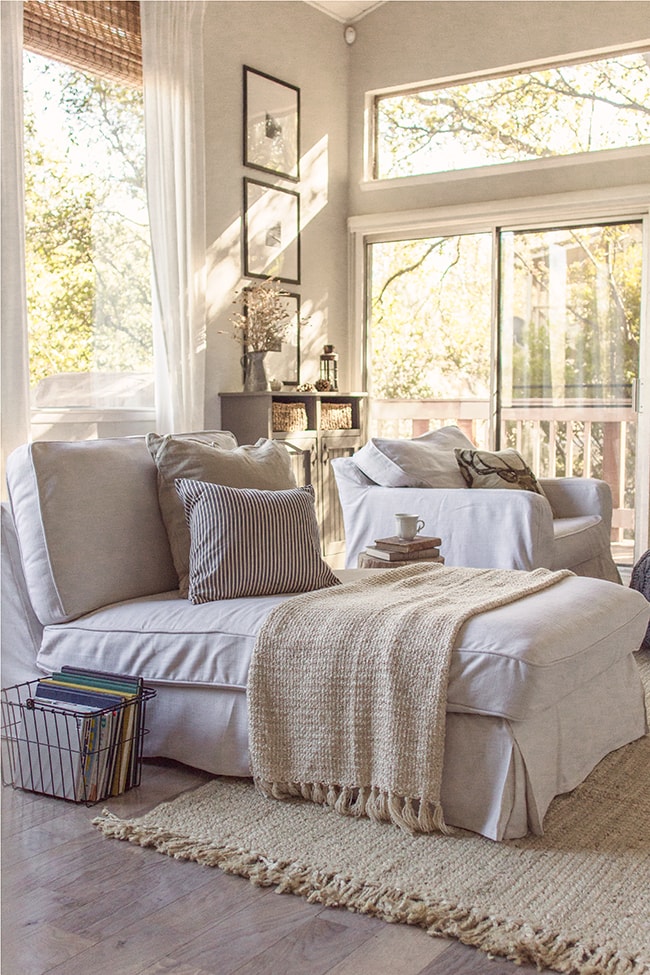 Pin
Especially on the extra cold days, by the fire…
And that concludes the tour! Thanks for coming along and following us on our renovation journey…
You can find links to every source in this post. Cheers to the last week of October!