Well, sort of. Let us explain…
Last week I was browsing Zillow and stumbled upon a house for sale down the street from where our new home is being built. We had driven past this home before but never gave it a second glance because it's on a busy road and not exactly eye catching.
However, the price was hard to ignore, and as soon as I pulled up the photos I had to call Lucas into the room…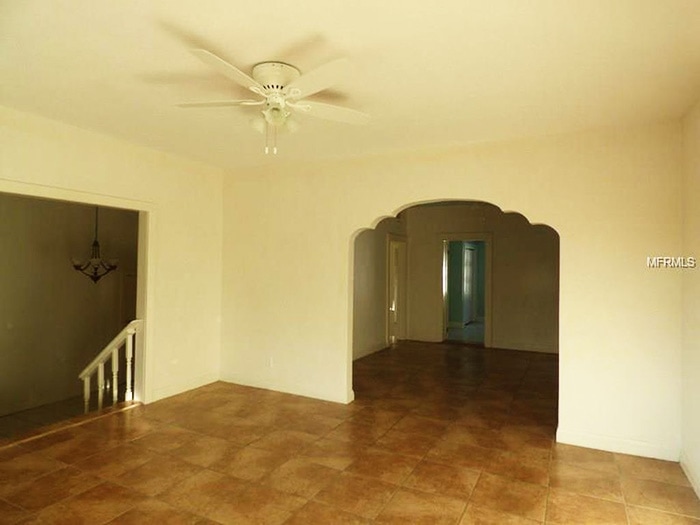 Pin
Well hello there beautiful archway. If you know me well, you know my obsession for arches runs deep. Especially fancy ones like this. But of course, I'm not about to buy a house solely because of an archway, so we continued to do some digging. And we liked what we saw: a brand new roof and A/C, a large backyard, new paint, beautiful original windows, and tons of potential…
Pin
We ran the numbers and did a property evaluation, and it wasn't a home run, but the home had been sitting on the market for months so we knew there was room for negotiation. At very the least, it was worth taking a look!
We called up the agent, who happened to be the owner of the property (a great thing) and met her there that afternoon. She and her husband purchased the property many years ago and own it outright. They are in the process of getting rid of all of their rentals, and they weren't doing much to try and sell this place… it had just been sitting there vacant for months, as if it were an afterthought amongst their massive portfolio.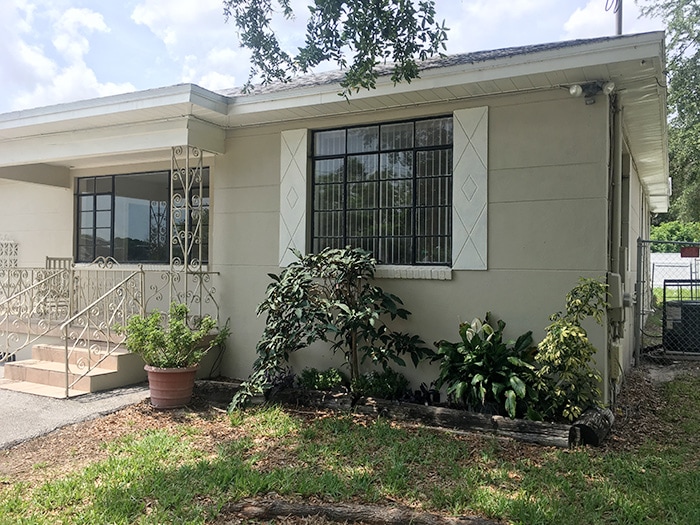 Pin
After leaving the house, Lucas and I both knew we had something here. There was just one small problem: WE HAVE NO MONEY TO BUY IT. Every dollar we've saved is allocated towards building our new home. So… how can we possibly get this place? Time to get creative.
This is where months of reading, listening, and studying real estate pay off. As soon as our new house is built, we'll be able to refinance and pull out a ton of equity (a lot more than we put into it)—but that won't happen until maybe January or February 2019. So we're out of luck until then, right?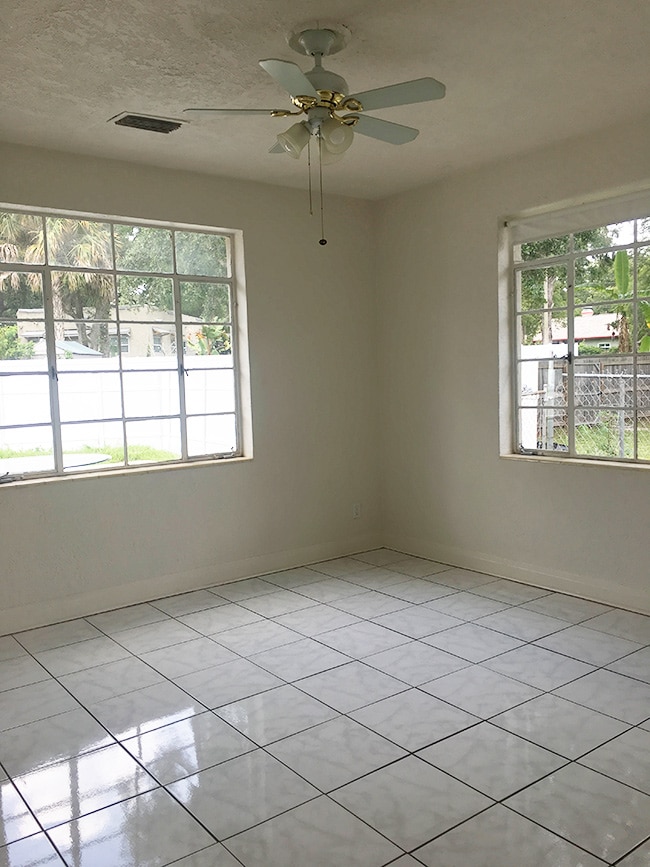 Pin
Enter the lease option agreement. We sign a contract up front agreeing to lease (rent) the property for a period of time, and then we'll have the option to purchase it at a pre-negotiated price. A lease purchase works the same way, except you are committing to purchase rather than simply having the option. We initially proposed a lease purchase agreement, but that leaves the seller at risk of foreclosure so they opted for the lease option instead.
Either way, we are 100% committing to the purchase at the end of our lease since we plan to renovate the property while we're living in it. This is the most exciting part of the whole deal… we'll finally be able to start working on projects again! We can take our time and slowly renovate over the next 6-8 months while our new home is being built, and the current owners are cool with it.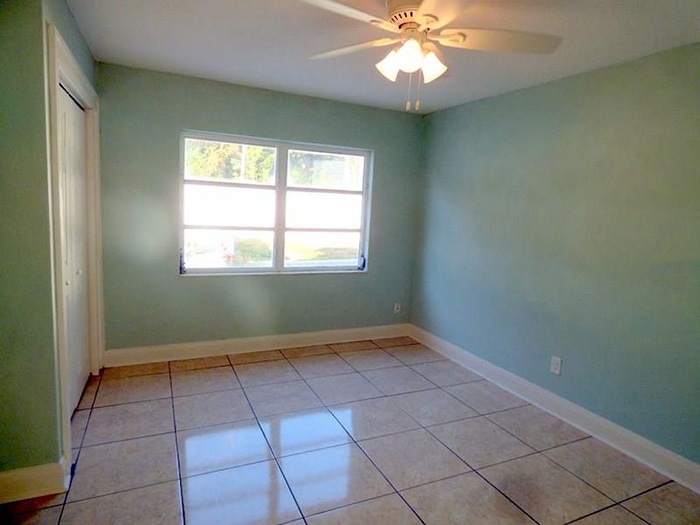 Pin
Since our budget is so limited, this means a ton of DIY. I'll admit, last year I was burned out after years of constant DIY and didn't think I'd ever want to jump back into it. But this new house has reignited the flame and I am so ready to get my hands dirty. It also helps to have a partner who is even more excited and on board with all of my crazy ideas.
The plan is to renovate the home while we're living in it and turn it into an AirBnb as soon as we move into our new house. This requires a different strategy than renovating it to flip or to use as a long term rental—we get to be creative and over the top, which is music to my ears after this long design drought!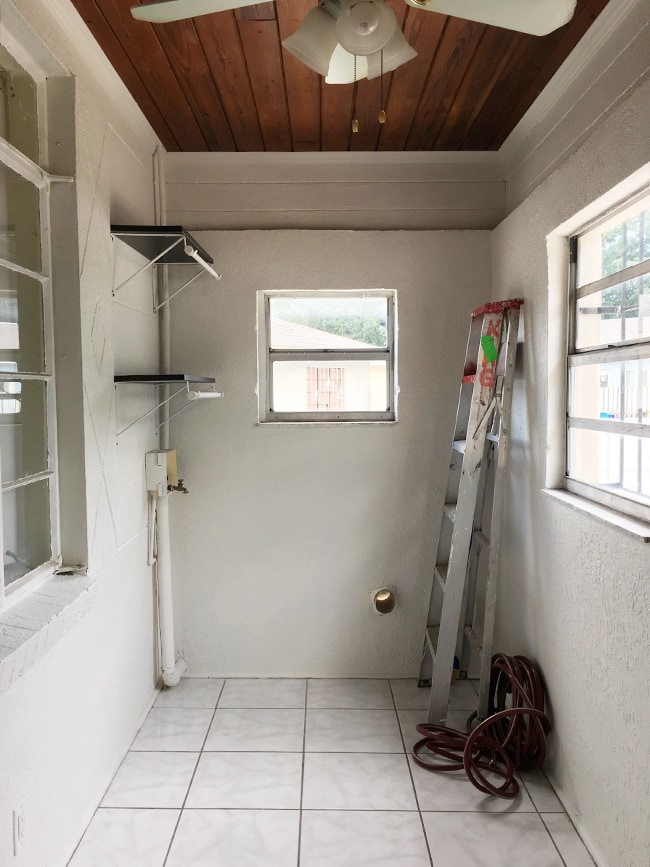 Pin
This came at the perfect time, because our apartment lease is up next month (no more termites!) and we would have had to sign another year lease (no thank you). Now we get to move in and start tackling projects right away. Perhaps the biggest benefit is the homes location—we can walk to our new house and check on the build progress! After spending several months commuting 3.5 hours each way (twice a week) to the Cottage House Flip, I learned that location is the most important factor. It'll also make managing it as an AirBnb rental so much easier. Convenience is everything, and time is money! And speaking of money—even with all the inherent benefits of this house, the numbers still had to work as an investment property. We were able to talk them down 22% off their asking price, which is pretty rare in this market.
Finding this house feels like the missing piece to our puzzle. We've been struggling these past couple months—stuck in limbo with no control over the stalled progress of our two properties, facing another year in this cramped apartment, and no glimmer of light at the end of our tunnel. Now it feels like we're entering a new chapter, one where we finally have some control and can put in the work.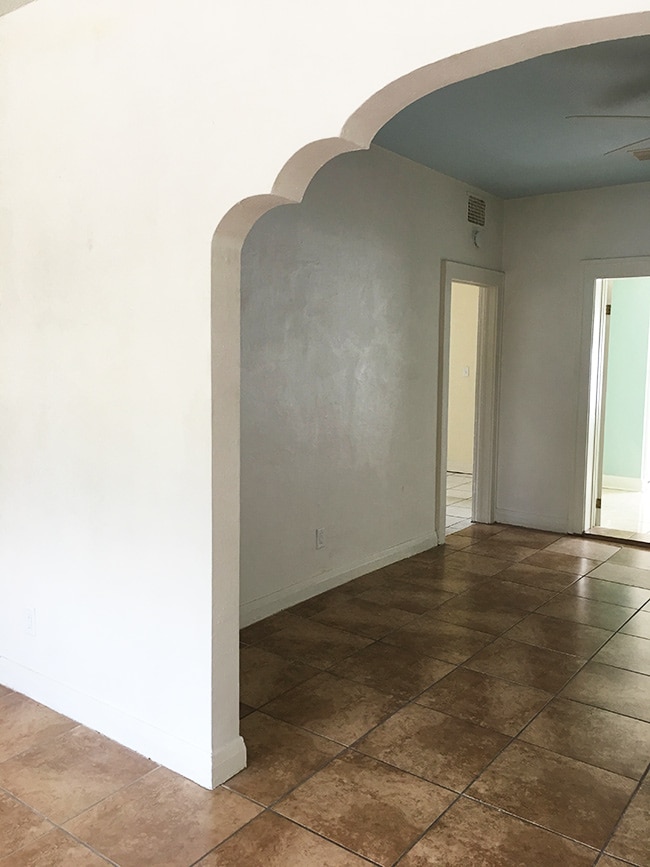 Pin
On that subject—we've been in Tampa for five months now, which has given us enough time to settle in, learn the market, and get a sense of the time commitment and daily operations DreamStone Homes. We've decided that now is the right time for Lucas to get back into his sales career, while I help with project management and focus on my interior design business (which has been growing!) Real estate will always be a priority and we're doing everything we can to make it grow, but with our situation, it just isn't a full time commitment (especially with two of us).
There's much less uncertainty in our lives now, and we finally have a game plan we feel good about. Of course, we're no strangers to the fact that we can only control so much, and life has a way of shaking things up every now and then. We're just along for the ride 🙂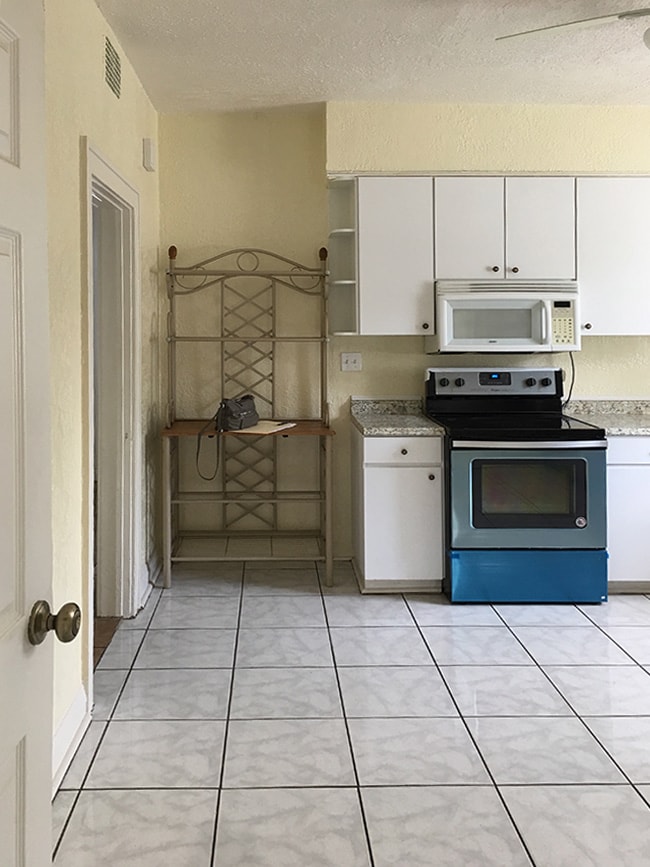 Pin
I have so many ideas to transform this house, and I can't wait to document them here! We'll be moving in mid July, but I'll be sharing a full "Before Tour" + video with all the details shortly. There's so many decisions that need to be made with this place, and we'll need your help!
Can we start with this situation in the backyard? We can't figure out the intended purpose. It's too small for a seating area (and there's already a large seating area to the right). We're thinking maybe filling it with sand and setting up horseshoes? A big slip 'n slide? Mini putt course? Bowling? We want it to serve some sort of game/entertainment purpose. Let's hear your (budget-friendly) ideas!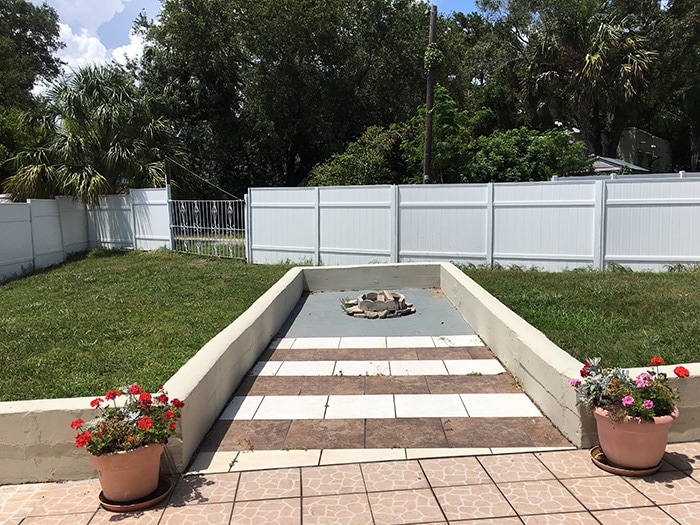 Pin
PS: As of today, there's finally been major progress on the other two properties! Updates on those soon…