It finally happened.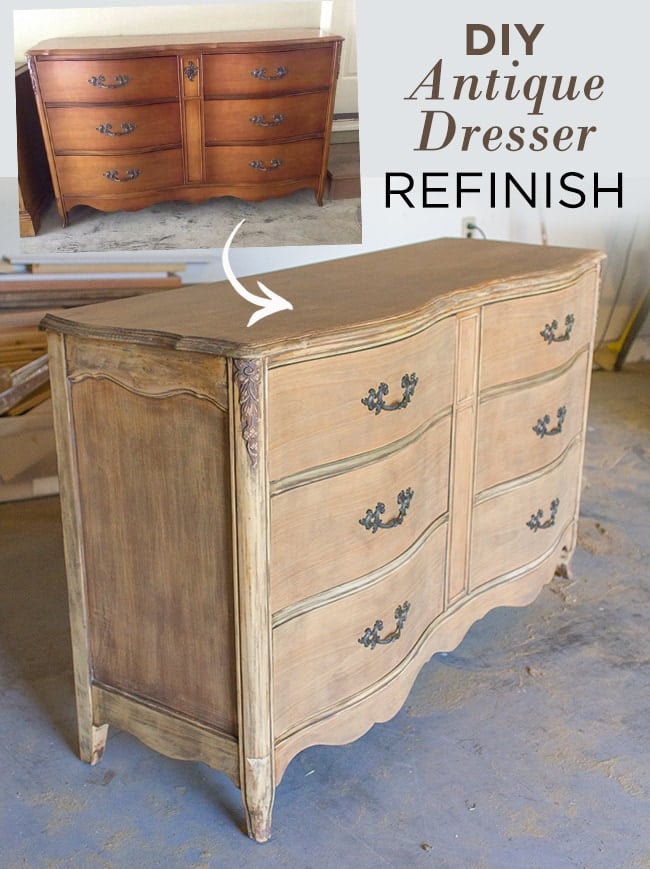 I'd been stalking every local thrift/antique/furniture store and local online sale sites looking for the perfectly sized and shaped unpainted wood vintage dresser to replace this Ikea one in our bedroom…
I've been looking pretty much daily this whole year and had zero luck. I was desperate and willing to pay more than I planned on. And then, last week, it came out of nowhere.
It was just what I had envisioned. And it was only $90! I hit the jackpot. An hour after I spotted it online it was in my garage and disassembly had begun.
While the style/shape/size were perfect, I wasn't a fan of the finish. I don't mind warm wood tones, but this thing was a very outdated shiny reddish-yellow hue that would never work for our style.
So I started gathering inspiration…

As you can see, rustic was the goal. Painting would have been so much easier, but I definitely wanted to keep the wood tones. Our room really needs a more distressed/farmhouse style piece to break up all of the clean, painted woodwork.
FYI—this project was very time consuming + labor intensive, and was completed over the course of a week as I couldn't handle more than a few hours at a time.
The dresser was in pretty decent shape, but there were lots of very obvious scratches: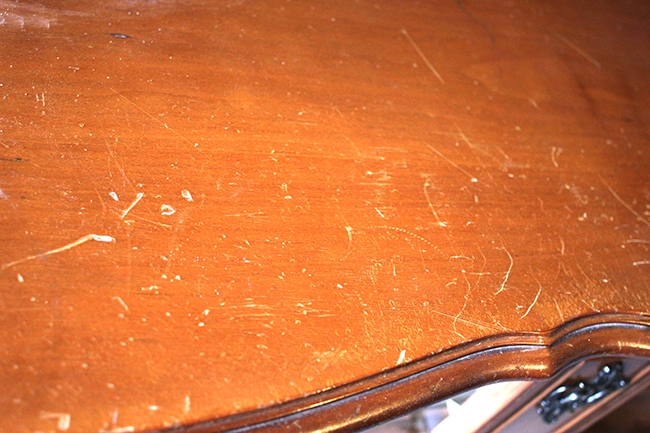 I had planned on sanding it down to the bare wood so this didn't matter at all.
There was a thick layer of varnish so that had to go first. Instead of sanding it away (which would quickly clog up the sandpaper), I grabbed a hand scraper and got to work.
So very tedious.
I finally decided I had enough and busted out the paint stripper. I picked up a new can of liquid stripper (on the right) to try out, and it was worthless. Stick to the paste/gel!
Here's the gel, doin' it's thing…
It makes scraping much easier, but it also doesn't take up as much so I was still left with the reddish stain (whereas the scraper alone could get down to the bare wood).
And the drawers…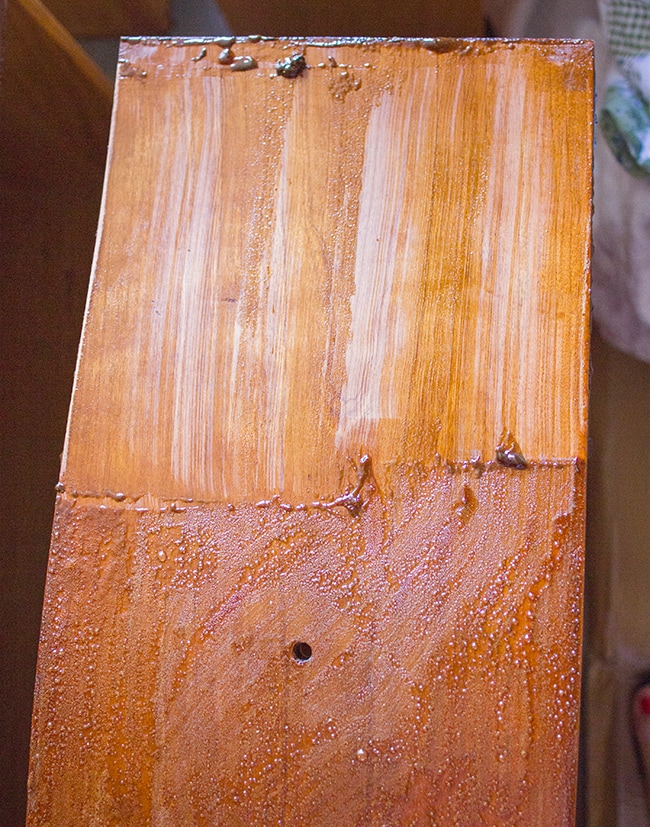 Oh yeah, stripper is probably the messiest stuff you'll ever work with.
Here's all of the drawers, de-varnished.
The sides were a huge pain. The wood
was different than everywhere else and it did not want to let go of the varnish, even after two coats of stripper.
Mid-progress… bear in mind it was also 100° in this garage every afternoon. I had old sticky paint stripper and sawdust stuck all over me the whole time (so glad this project is over).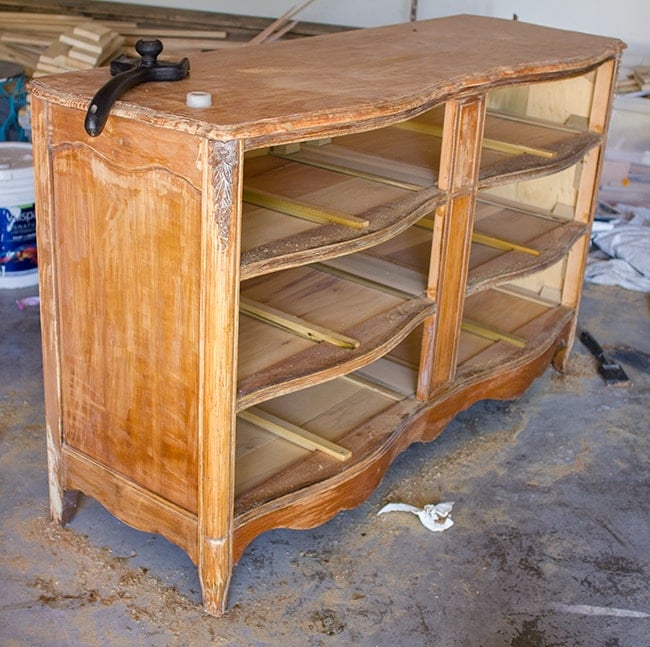 After several days, I had finally all of the varnish removed and it was time to start sanding.
But first I used my scraper to roughen things up a bit and give it that weathered look.
As soon as the sandpaper hit the wood, I started to see the light at the end of the tunnel. It really diminished the old red stain.
Ahh… bare wood!
Looking much better. The legs and trim pieces were different types of wood than the sides, top and drawer fronts so they sanded down to a nice colorless wood, while the rest retained most of its natural red tone, which was a little frustrating.
This one jumped up mid-sanding and rolled around on it for 30 minutes. She's in love.
After I deemed it sufficiently sanded, it was time to stain. I used a concoction of dark walnut, driftwood, and weathered gray and began to apply….
And I was not a fan.
I thought the gray would combat the red tones, but instead it intensified them and made everything pinkish looking. Huge fail.
All I could do was sand all the stain off and try again. I was a few hours into it, and then tragedy struck…
He was working overtime for this project and just couldn't handle the pressure any longer.
So I ran to Lowe's, and my life was forever changed…
Seriously, I'm kicking myself for not getting one of these earlier. It's night and day from the old hand sander—I was blown away at how well it worked, especially for this project where there are so many small crevices and detailed areas where the other sander just couldn't cut it.
Finally things were starting to look up, and I was able to finish sanding all that stain off in no time.
Knowing that any stain I add would bring out the red again, I decided to go au natural and embrace the mostly-bare wood tones.
But I still wanted to seal it somehow… so I picked up this wax, hoping for a coating that wouldn't be visible so I could retain the old weathered look.
Sadly, that wasn't the case.
You see the little orange spot on the corner? That's after buffing out a bit of wax, and it turned it red again. It doesn't look so bad in this photo, but trust me, it was right back to where I started and I didn't want to go down that road again.
So I'm leaving it natural. Any dings and scratches will just add to the character. Amen to farmhouse style.
I reused the original handles as I don't mind them, but I'm open to swapping them out. It might be a little tricky since the drawers are curved though.
Aft
er all the ups and downs of this project, I'm happy with the end result and can't wait to move it in the room to see how it looks! For now it has to stay in the garage, because we're currently in the middle of transforming the wall. Here's a little idea…
We've already ran into an issue which set us back a day, so I don't think it can be completed by Thursday. That means it will be broken up into two parts, and I have a couple more room updates along the way. If you can't wait until then, be sure to check my instagram for real-time progress!
Alright, better get to work…