Today is the day! After almost 9 weeks of hard work (that's it?!) our master bedroom makeover is officially over.
From the very beginning I had a vision for this space. My goal was to create a cozy, relaxing environment that blended my favorite decorating styles into a formula that was a unique representation of my personal taste.
Like any good reveal, we must remember the Before's so we can appreciate the After's.
After ripping out the carpet (and a wide angle lens, it's really not this big):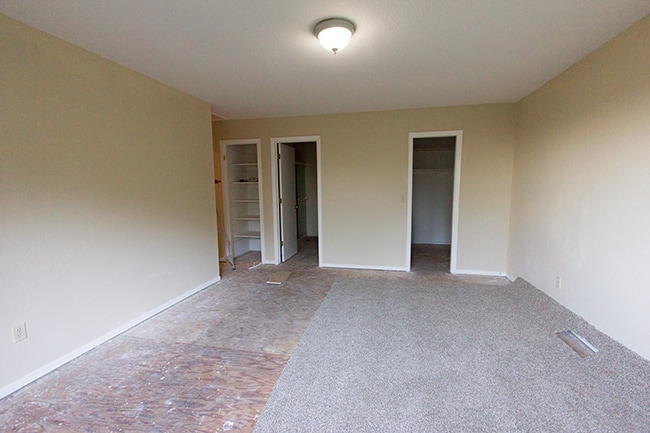 Pin
This is my happy place—the spot I sink into every evening and unwind with a little family cuddle time. My place of calm where I go to recharge. The first glimpse I see in the morning and the last at night. I look forward to spending many hours here in the years to come… it will always be my spot of refuge—the most comforting place in my world. Welcome to our cottage-cabin-farmhouse-rustic-chic hideaway…
Those of you who have been following my journey will notice a few new things… like these sheepskin rugs.
They are heaven on your feet. Love them.
One for each side of the bed…
I also found some new bedding.
I love these simple baskets as an alternative to a traditional side table for which there's no room…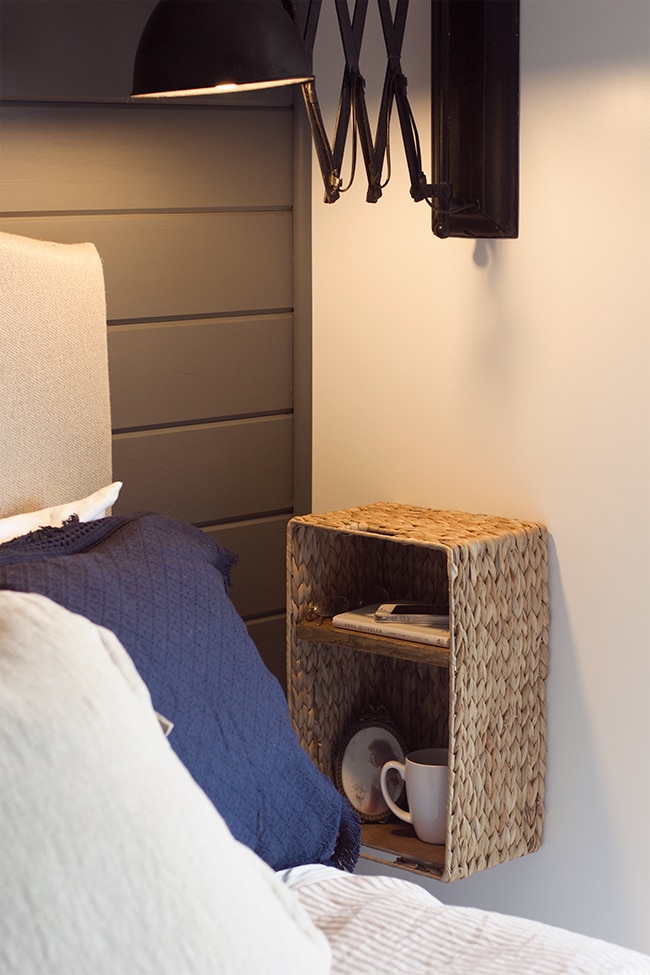 Pin
Beside the bed is a quiet reading spot…
You may also notice a new floor lamp. It was actually the very first thing bought for this room but we've been using it downstairs.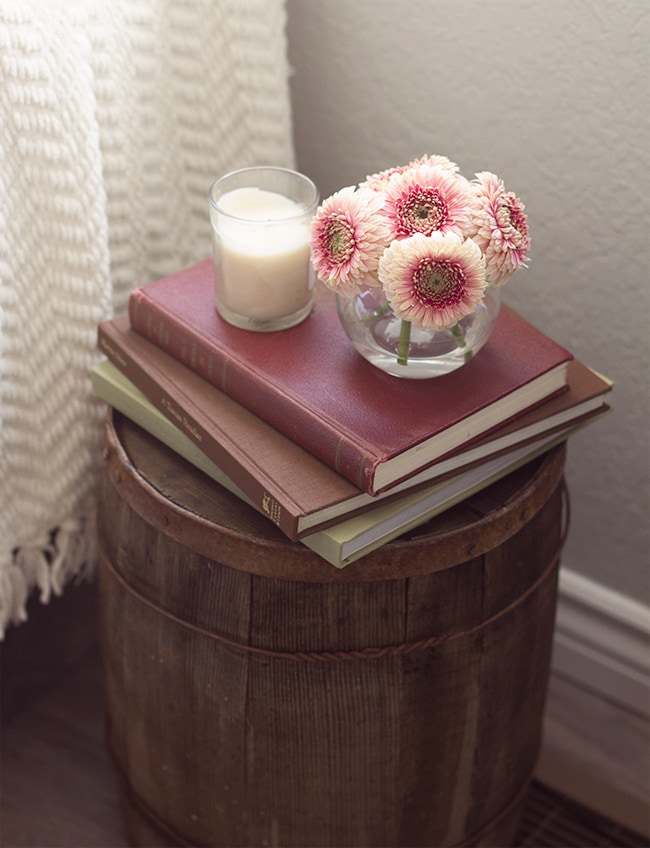 Pin
This is also Susie's hangout spot.
Biscuit has taken over the bed so Susie perches here to watch the bird show every day.
This "vintage" mirror makes me very happy.
What's a romantic cottage french farmhouse bedroom without some candles? I made this holder using leftover wood stained gray and rope.
The view from bed…
Here's a peek inside the newly finished vanity…
There's also a couple entryway updates…
I added hooks for storage with simple printed numbers in vintage frames painted black.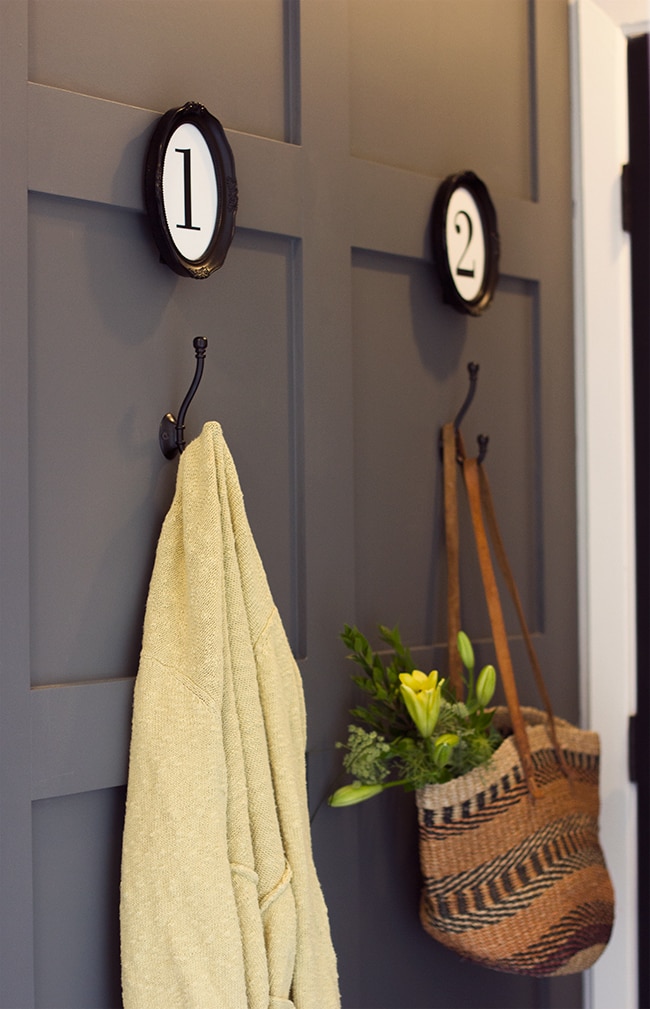 Pin
The mood shifts when the sun starts to set and the lights turn on…
And Susie at a safe distance in hers.
Sources

Dark gray paint: Valspar's Ocean Storm in eggshell
Light gray paint: Valspar's Montpelier Madison White in flat
Trim paint: Kelly Moore's Swiss Coffee
Flooring: Armstrong Engineered Walnut in Shell White
Jute rug: NuLoom
Sheepskin rugs: Amazon
Wardrobes: Customized Ikea Pax 
Headboard: DIY
Navy quilt & pillows: Overstock
White comforter: Amazon
Sheets & throw: Target
Ruffle bedskirt: Similar here
Accordion lamps: Amazon
Woven baskets: The Container Store
Wire baskets: Walmart
Chandelier: DIY
Map chart: DIY
Vintage chair & antler plaque: Flea market/DIY
Dresser: Craigslist + DIY refinish
Metal pitcher: Thrifted
Wire basket/books: Etsy
Floor mirror: Ikea/DIY
Bench seat: Overstock
Side table: Flea market
Floor lamp: Discontinued, similar here
Throw pillow covers: Ikea & Etsy
Woven blinds: justblinds.com (in Tibet Oak)
Curtains: Custom made on Etsy
And in case you missed any of the action, here's the full play-by-play in chronological order over the last two months:
The Master Bedroom Plan
Paint & Pax Wardrobes
Ikea Pax Door Hack
Planked bed wall
Trimming out the window
Beadboard ceiling, lights & speakers
Bedside baskets & accordion lamps
DIY Wood Beams
A chandelier transformation
A rustic vintage dresser redo
DIY paneled wall
Trim, Rug, Dresser & more
DIY Ikea to Vintage floor mirror
DIY Plain to paneled door
New curtains & a $12 DIY curtain rod
DIY map chart, antlers & chair reupholstery
Customized Pax Wardrobe Vanity
Out of all the spaces I've designed, I feel the proudest/happiest/most at home with this one. I've learned to decorate for myself. Don't think you have to stick to just one style of decorating and don't try to please everyone. Not everyone is going to love what you do, and that's a good thing. How uninspiring would it be if we all had the same tastes and ideas and decorated the same way? To me, that's what makes it fun—watching how others interpret a space and adapt it to suit their own needs to create something special just for them. I respect anyone who can do that and would hope others feel the same.
And on that note, things may slow down here for a bit. I'm turning my attention to the living room but  there's things beyond our DIY capabilities and we're going to have to hire out. Still in the planning stages so it may be a few days or a few weeks before I report back with progress (I also have to convince Brad to get on board which may be a challenge). Wish me luck!