But back to decorating. It's time to get serious about our living room.
Before I talk about the specifics, here's what I've been pinning for inspiration…
Get the idea? A mix of rustic, cottage & farmhouse, open & airy, casual, calm, and most importantly, cozy. Just like the rest of the house, basically.
This is the current state of affairs…
I posted this photo a few weeks ago to ask for opinions on a slipcover solution. I listened to all of your suggestions and ended up making my final decision.
To keep costs down, I'm going to stick with the arm chair instead of getting another Kivik lounge. And nope, I'm not going to rearrange the furniture—after going through every possible combination, this layout still works best for us.
However, I'm ditching the footstool in favor of a large cable knit pouf, similar to this:
That way I won't have to worry about the chairs not matching because they will be intentionally different. The white slipcovers will pull everything together.
I also changed my mind about the gray slipcover on the loveseat—that will be white as well.
It's a soft natural white in linen so it doesn't look too stark. And of course I'll be layering in patterned pillows, blankets and furniture.
I'm thinking a vintage trunk to the right of the loveseat…
A tree stump or two from our backyard in between the two chairs…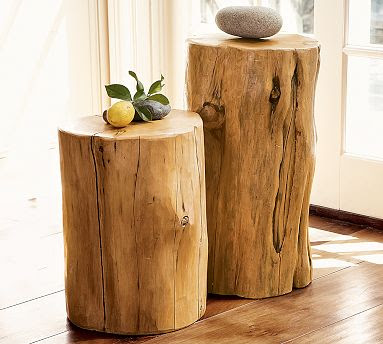 via Pottery Barn
And some light sources which have yet to be determined. It will stay nice and simple to let the real star of the room shine…
The fireplace.
There's not much to look at now, but you just wait. In a few weeks (fingers crossed) you won't even recognize it.
Our handyman (the guy who built our stair railing) is going to cover the brick by building out a base from 2×4's, then a tile guy will cover it with cement board and tile it with stone all the way up to the ceiling. It's going to be a show stopper.
Why not do it ourselves? Well, the ceiling is over 16 feet tall at the highest point and not only am I too chicken to attempt to tile that high, but we don't own scaffolding. Some things are just worth paying for.
We've decided to go with the same quartz ledgestone we used on our bar wall in the kitchen:
The rooms are open to each other so it will be a nice way to tie them together, and it also pulls in the shades of gray and brown throughout the house. And while it's not cheap ($8/sf), our fireplace is in view as soon as you walk through the door and the intention is to make it the focal point + heart of our home, so I'm willing to invest some cash to give it that extra "wow" factor.
And of course, no fireplace is complete without a mantel. I pretty much hit the jackpot with this one. Because we live in a tiny mountain town, logging and sawmills are everywhere, so a few days ago I took the truck out to one of them in hopes of finding "the one" (if you follow me on instagram, you saw the live update):
Acres of every type/shape/size of wood you can imagine. Piles upon piles of reclaimed wood… it was a DIY'ers heaven.
The owner quickly helped me locate the perfect timber (already the correct dimensions—12″ deep x 4″ thick—he just had to cut the length to 9'6″ to fit our fireplace width):
And it was only $70. I'll definitely be back here for more.
Here it is back in the garage:
The raw wood was really rough and splintery…
I used my Mouse sander with some 50 grit paper and went over it as best as I could. Since it's not your normal piece of treated wood, there's no way to sand it smooth—I basically just took the furry parts off.
This made the color much lighter…
so I picked up some dark brown stain to give it a nice rich contrast against the light tile.
I used Minwax's "Provincial" stain (the dark walnut I had turned it black) mixed with a tiny bit of weathered gray to lighten it a bit (this type of raw wood really grabs the stain so you have to go lighter).
Because the grooves were so deep, a bristle brush was the only thing that could penetrate the surface (normally I just wipe on using a cloth).
Here it is ready to be sealed!
It has to dry for 8 hours, then I plan to use a few coats of this matte poly:
So the mantel will be ready to hang next week. Now I just have to wait for our guys to do their thing.
But wait, there's more!
This ceiling is getting the full tongue and groove + wood beam treatment as well…
When we were house hunting, a tall living room with beams was my number one request (aside from a killer view). I'm not letting go of my vision so now's the time to do it. It's going to be just like the kitchen (same materials, paint, etc), except with just two beams evenly spaced (8′ apart, the room is almost 24′ wide).
Here's a shot of the kitchen from the living room, to see how they will look side by side:
It only seemed fitting to continue it into the living room.
Plus, we need to add recessed lighting and speakers (it's so dark in there at night!) and there's limited attic access above the ceiling because it's vaulted, so the only way to do that is to cut out pieces of the ceiling from below to run the wiring. Now we'll be able to just cover right over it with the wood planks and not worry about replacing drywall or patching—so it solves that problem.
Oh, and of course we're not doing this part ourselves either. We'll prep and cut the planks and construct the beams, but our handyman will be doing the install.
We also have to relocate the TV to the fireplace mantel…
Unfortunately, the cable is connected to that outlet and it has to be ran back outside and then inside to the fireplace somehow—Brad's figuring that part out. However, because there's an outdoor TV right on the other side of that wall, the cable box and receiver needs to remain there, so I'll need to find/build a small console table to place under the frames (and I'll have to convince Brad to move the outlet over so there aren't ugly wires running across the wall…)
And finally, I'm giving this sideboard an update:
It's a little too shiny and new looking for me right now—I see some farmhouse style in the future for this one.
Alright, that's a lot of information crammed into one post, but now that it's all out in the open I look forward to getting started! Timeline for completion is anticipated to be 5-6 weeks. I can't commit to a posting schedule (partly because we're relying on other people) but I will update as often as I can. Hope you can follow along and enjoy our newest transformation!