Today is officially the first day of summer! It already feels like the middle of the season with the warm weather we've been getting, but at least we can enjoy the extra sunshine on the longest day of the year.
Warm weather calls for outdoor entertaining, and of all the Wayfair projects I've done over the past two months, I was most excited about this one. It's also the last of the video series! Watch here: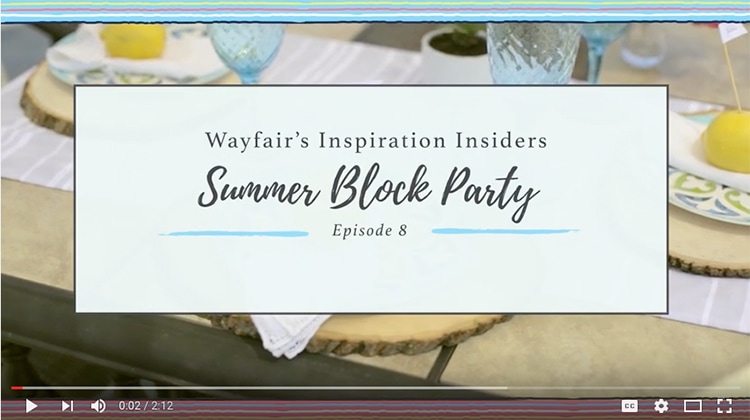 Pin
I was asked to show a summer block party setup, and instead of using my own home, I decided to switch up the location and use a friends rooftop deck in San Francisco. It was a blank canvas with a stunning view of the city and bay, just begging for some love.
So Memorial Day was the date, and the often cool & cloudy SF weather decided to bless us with beautiful blue skies.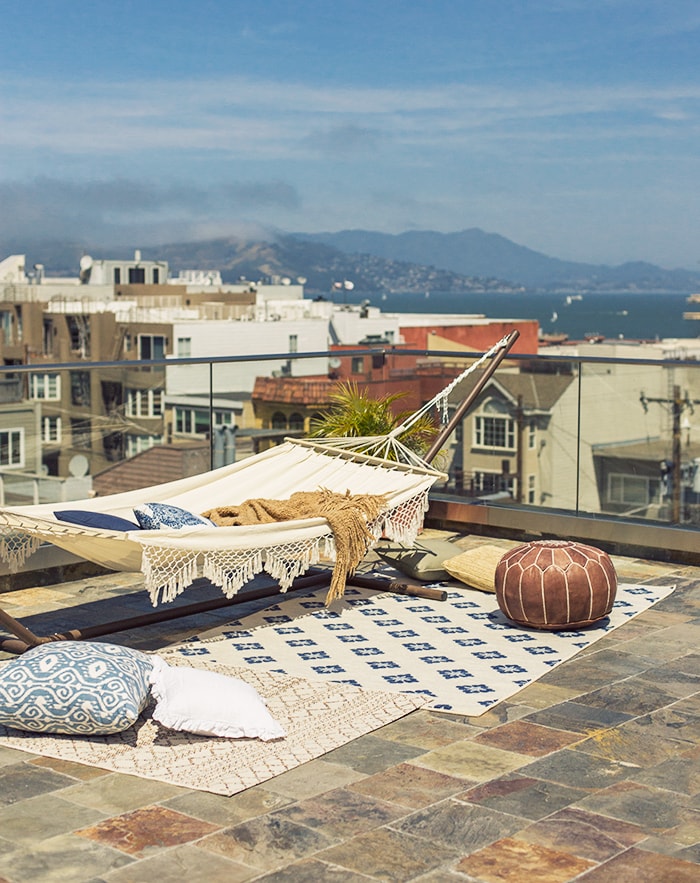 Pin
The deck space is quite roomy so I decided to divided it up into two spaces—lounging and dining. There were already two barbecue grills along with a table and chairs, so I needed to bring in everything else to execute my vision.
First up, the lounge: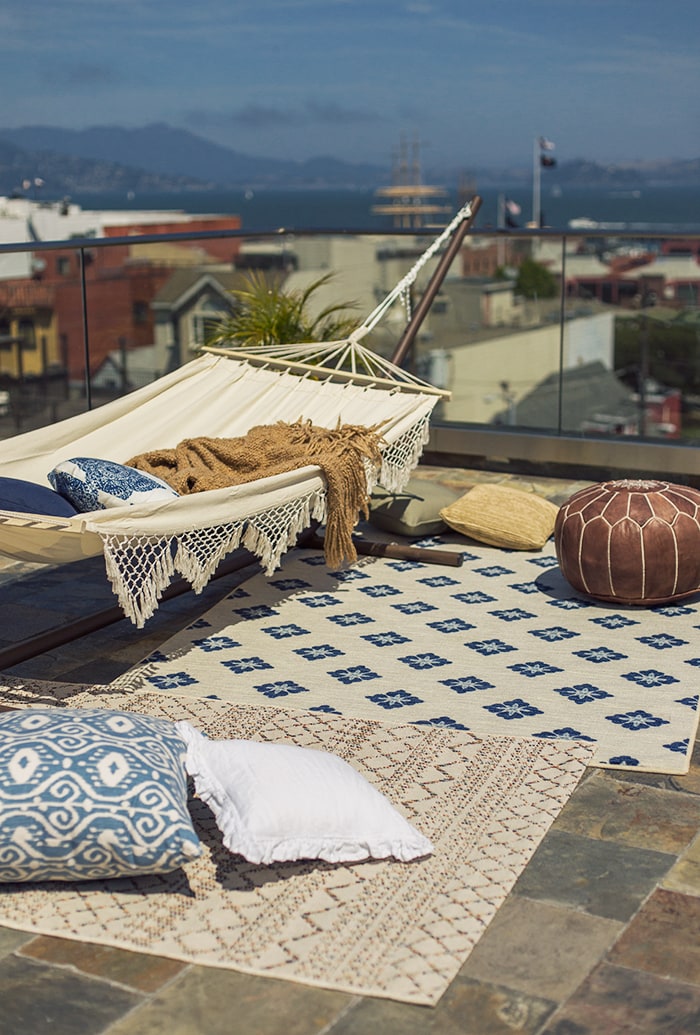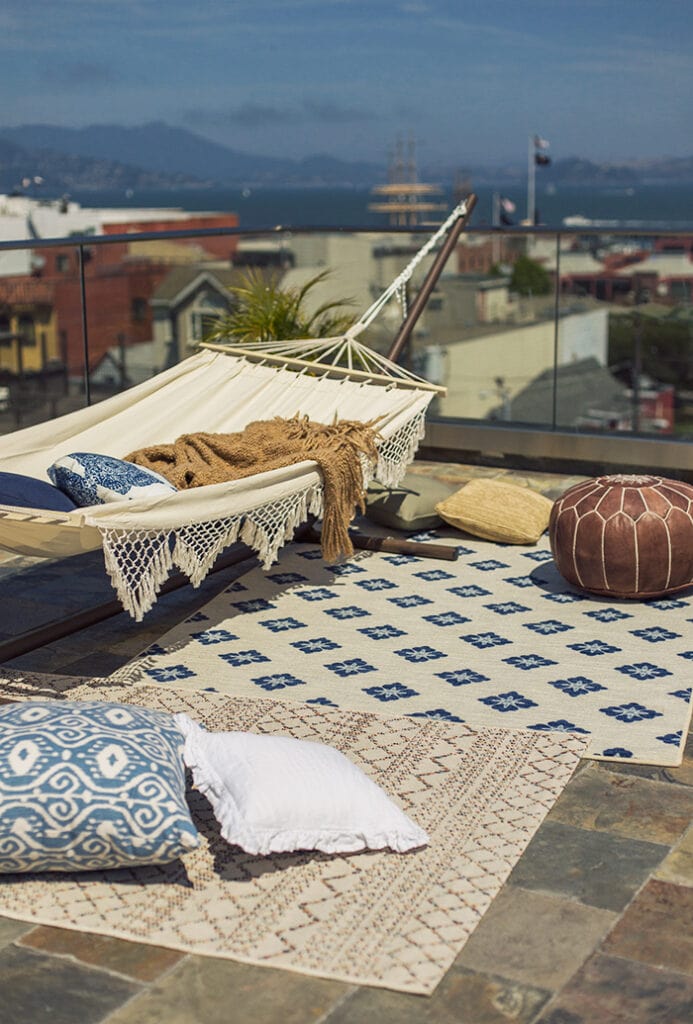 Pin
I fell in love with this hammock when I spotted it on Wayfair months ago, and had it ordered in advance. I think it's the star of the space.
I shopped my own house to bring in other elements, such as the navy & ivory diamond rug, leather pouf, and a few pillows and blankets. I also picked up a 4×6′ outdoor flatwoven rug with a fun pattern: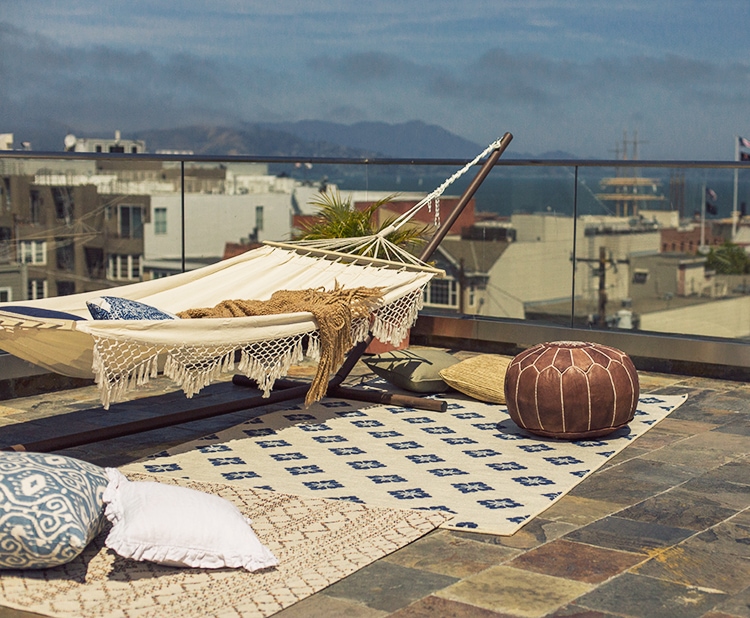 Pin
Cushions were placed on the floor for additional casual seating.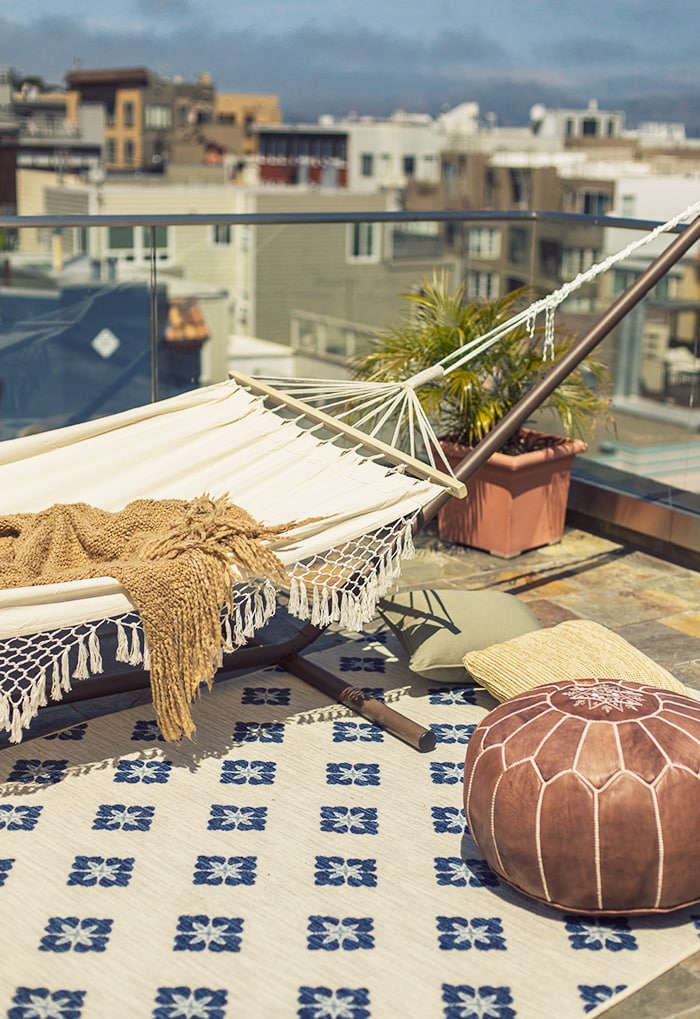 Pin
On the other side, we have the dining table…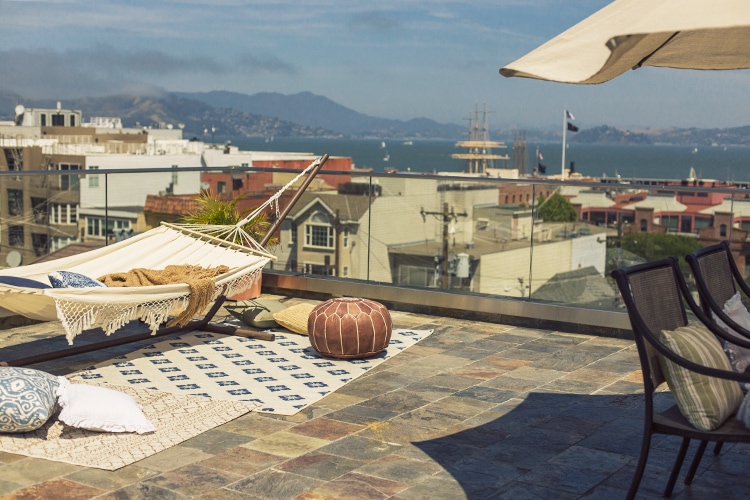 Pin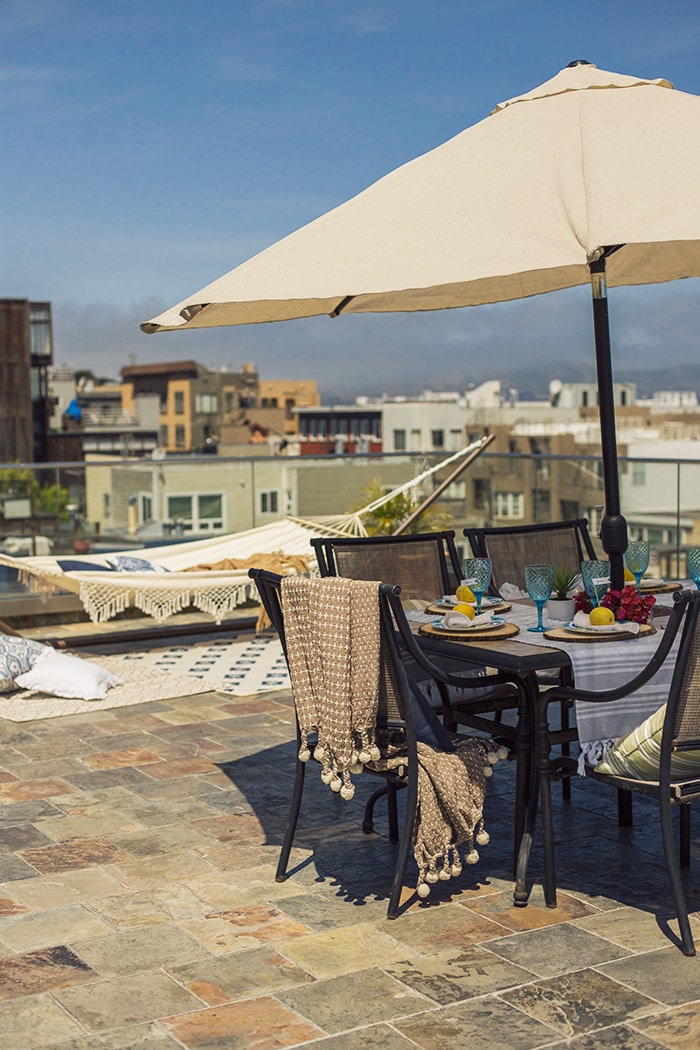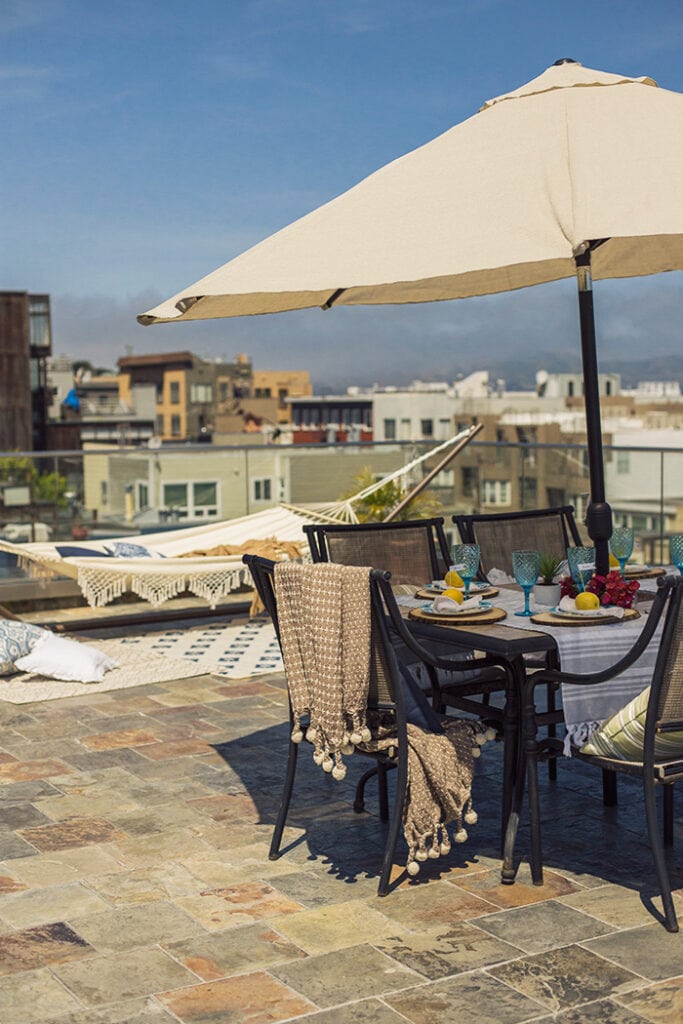 Pin
There was no shade anywhere, so I used an extra large umbrella for sun protection.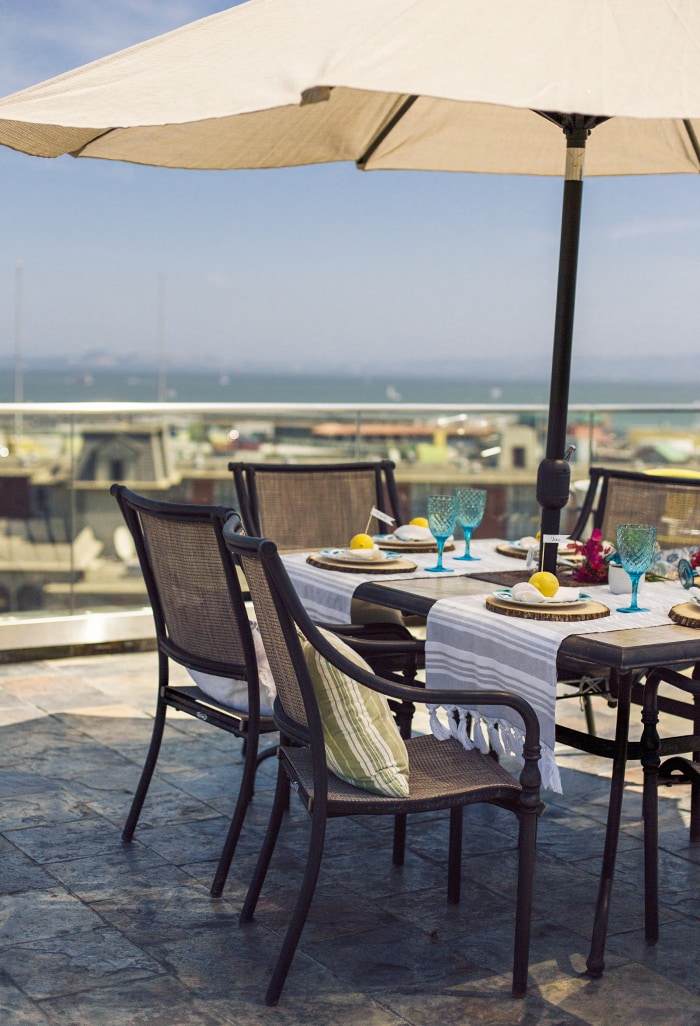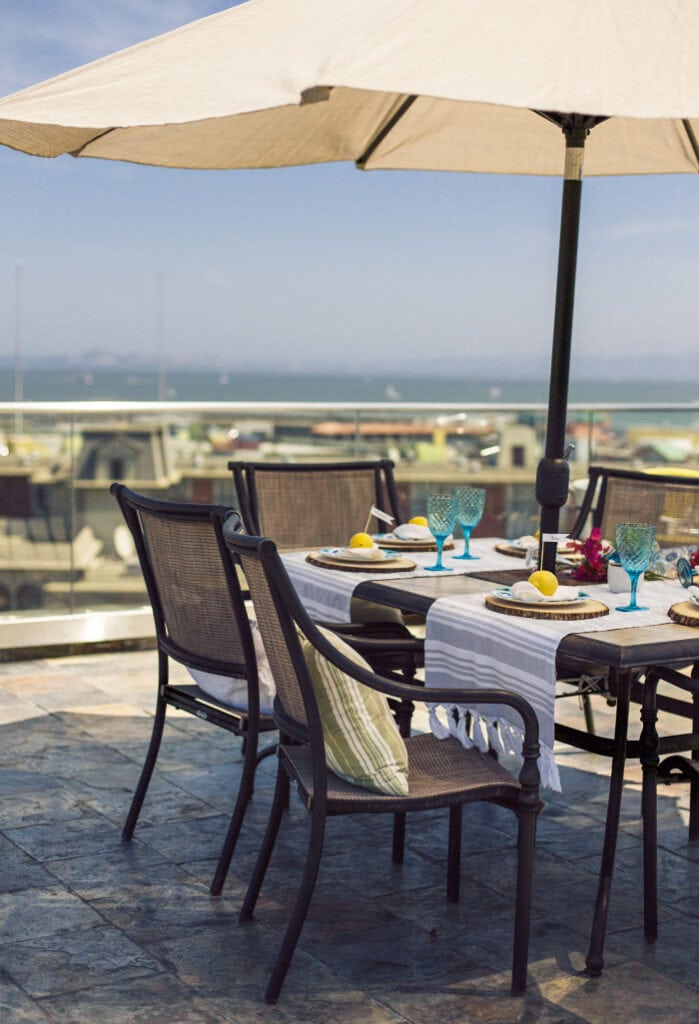 Pin
To give the table some personality, I repurposed items I already owned along with outdoor dishes & glassware.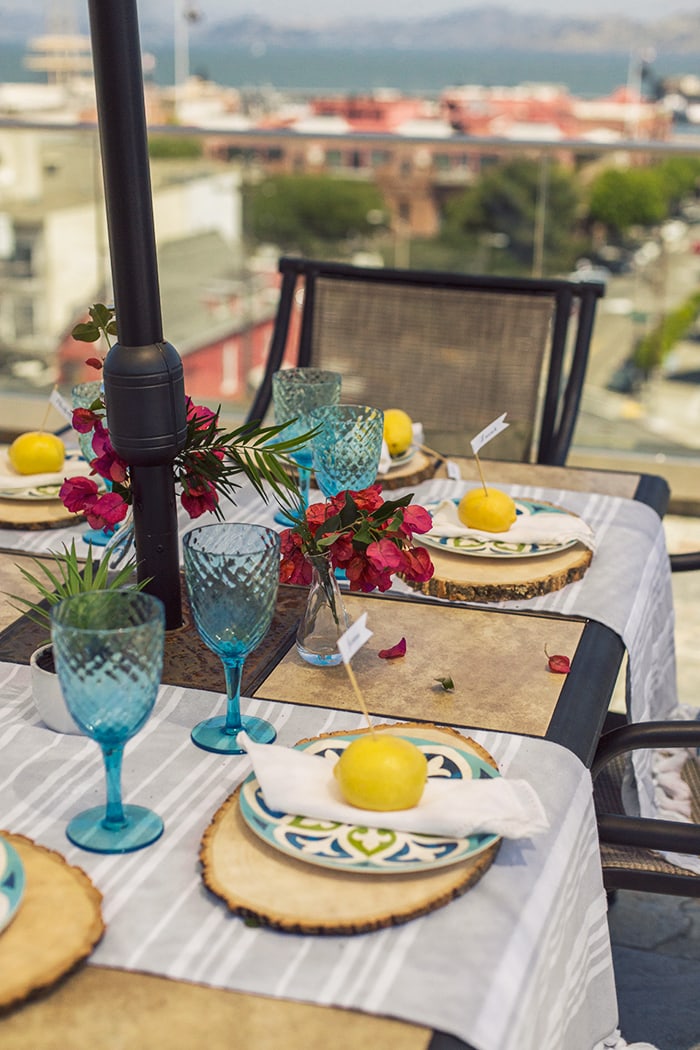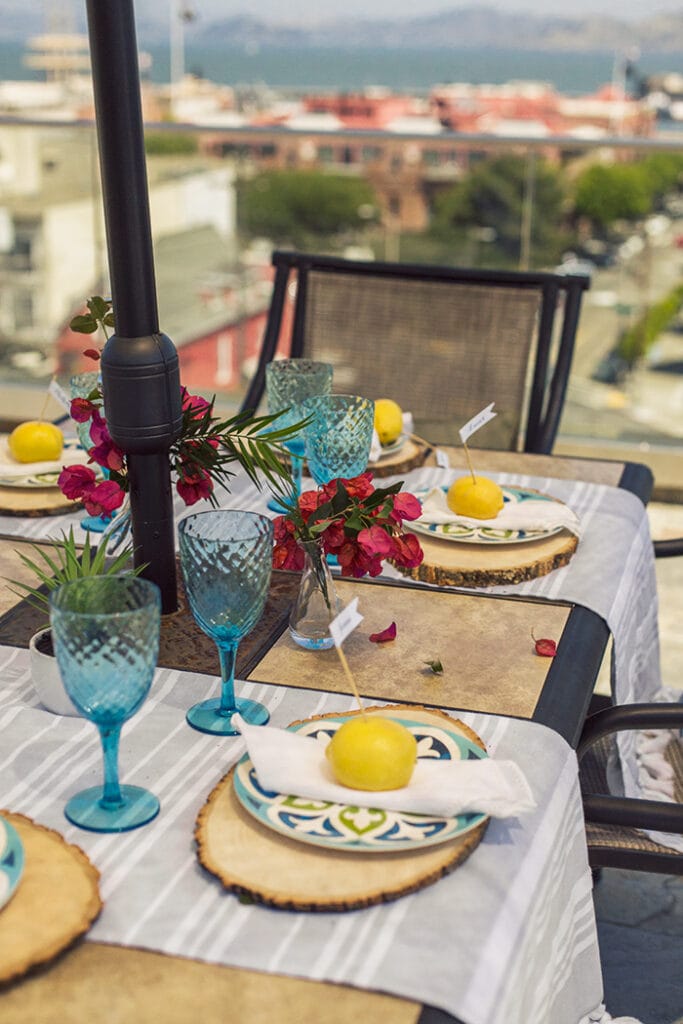 Pin
Turkish towels were used as runners (a great option for outdoor tables where an umbrella is blocking the center) and wood slab plate charges from my spring tablescape were brought in.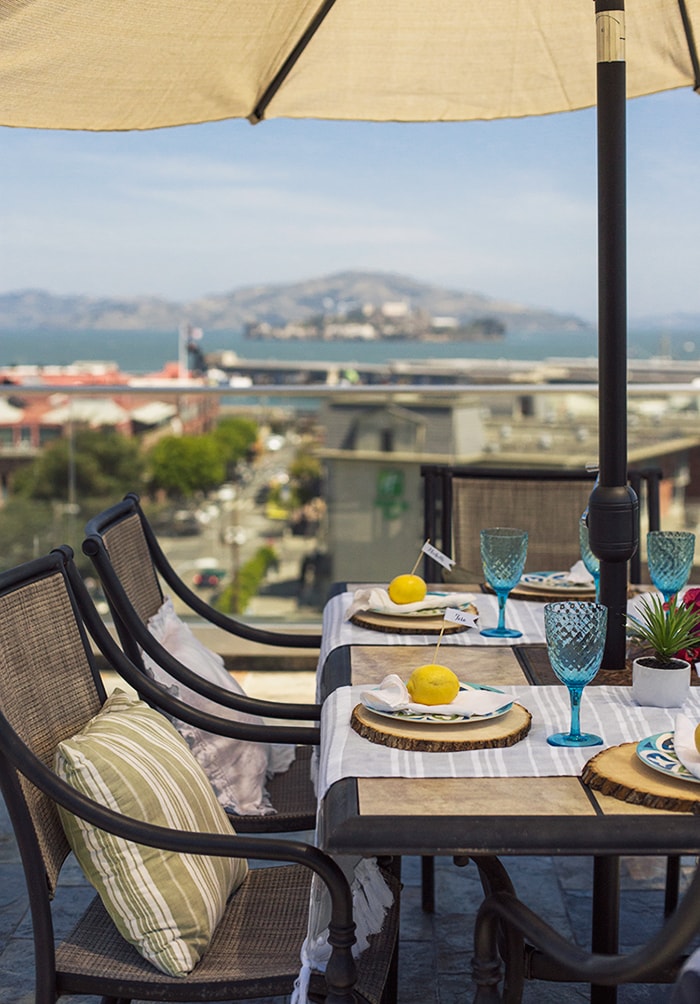 Pin
You can't even tell these aqua goblets are plastic from afar! Non-breakable items like these are perfect for easy cleanup and stress free entertaining.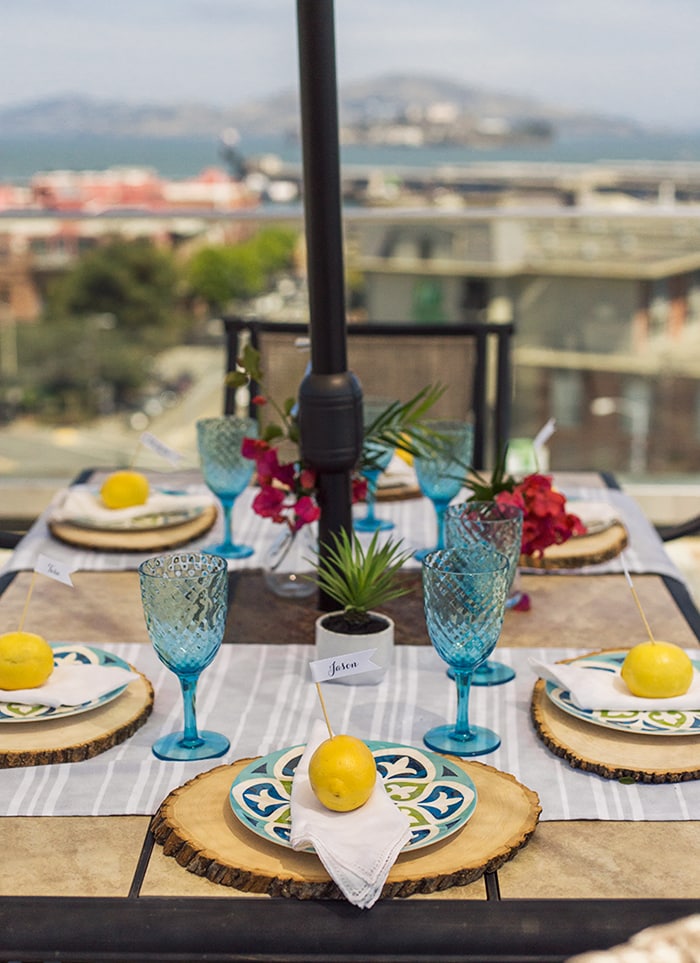 Pin
I coordinated them with these fun melamine plates with a hand painted look. I don't normally decorate with aqua but thought it tied in nicely with the blue water in the background.
Pin
Simple white napkins were used for a clean look, and topped with fruit for a pop of cheerful yellow.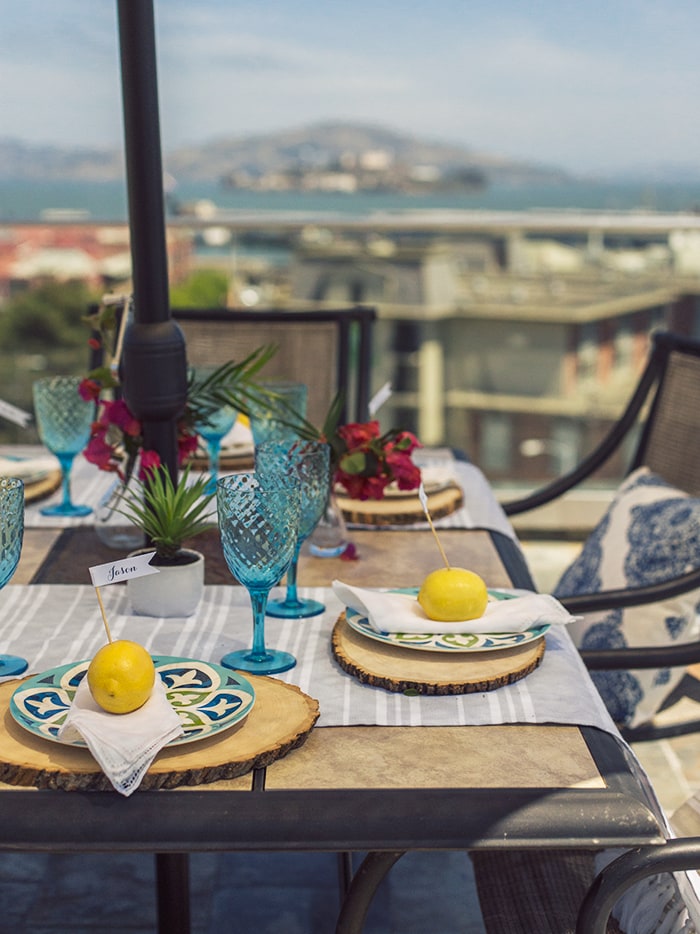 Pin
These lemons serve double duty as napkin weights and name tag placeholders. There are a few restrictions when decorating outside—especially on a windy rooftop deck—so something with a bit of weight was needed!
Pin
For the nametags, I printed out each guests name on paper, cut it into a flag shape, wrapped it around a skewer stick and inserted each into a lemon. Super simple, and emphasizes that refreshing summer feel.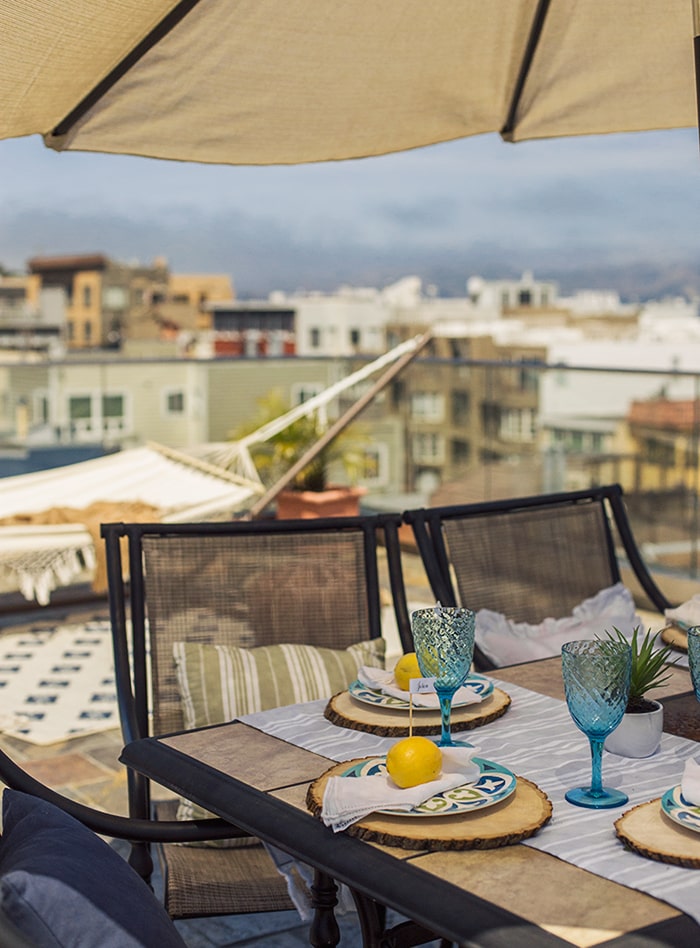 Pin
Extra pillows and blankets to cozy up with when the sun goes down are the final pieces to an inviting outdoor gathering.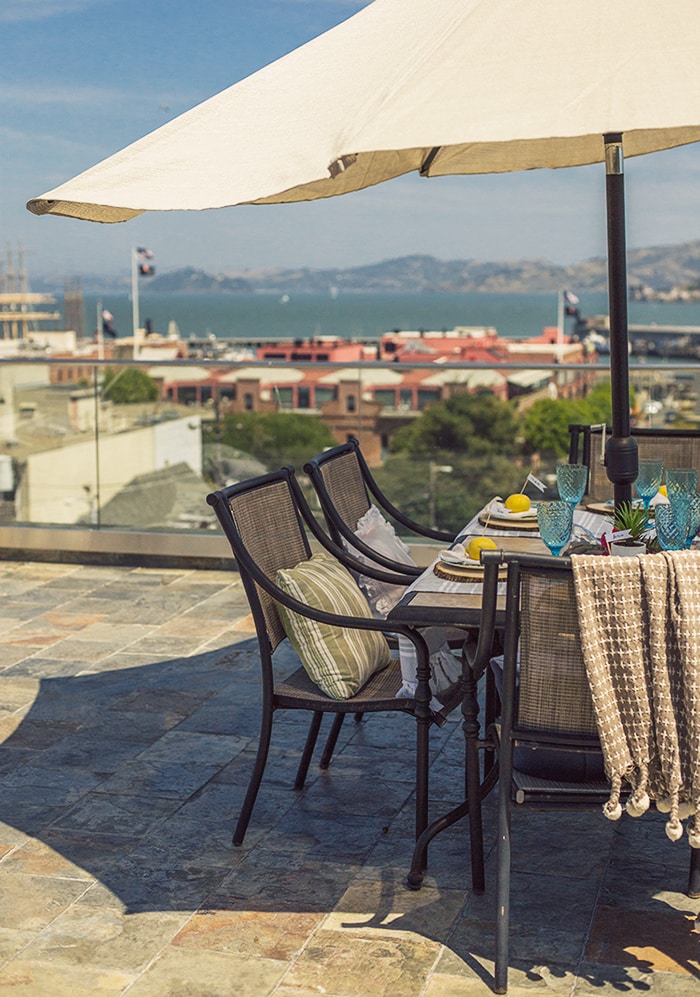 Pin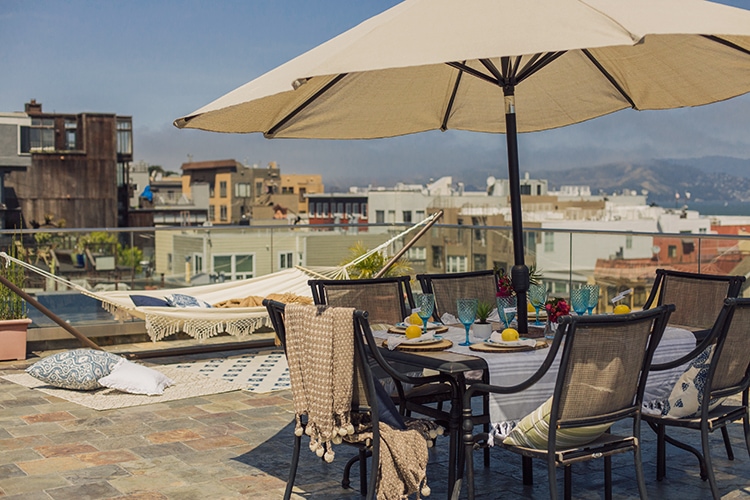 Pin
Although most of the time was spent staring at this view…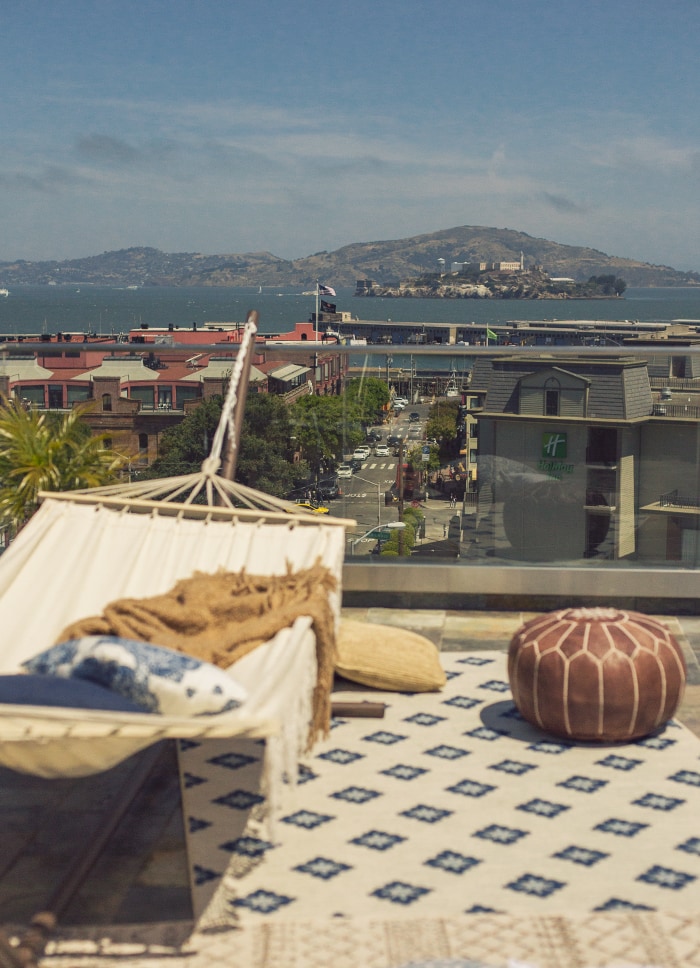 Pin
Here's what I used:
Leather pouf
And that wraps up Wayfair's Inspiration Insiders video series! I'm so thankful I had the opportunity to challenge myself and keep those creative juices flowing after completing my own home—and now it's time to focus on packing and preparing for the next opportunity.
In last week's vlog I shared that the official move out date was July 1st, which is only 10 days from now (eek!) so I'm anticipating many long days and nights ahead. Still working on some important videos, posts and news to share during this time, so make sure to follow along on snapchat @ jennasuedesign, instagram and facebook so you don't miss any announcements. I'll take all the support I can get!
Happy Monday and see you in a couple days for Vlog 22: Bachelorette Party edition 🙂