Major exciting news today—my favorite rug brand Loloi and designer Amber Lewis collaborated and just released a new collection of affordable vintage-inspired rugs—and to say I'm obsessed is an understatement.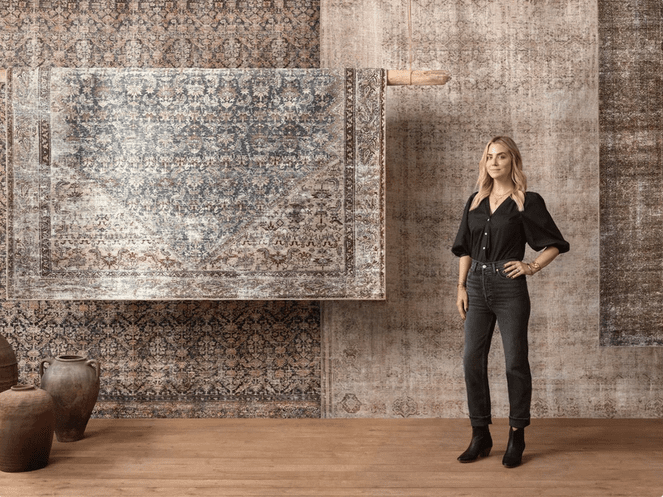 You can only imagine my excitement when Loloi reached out months ago and asked if I wanted to choose a rug to review. I knew immediately that I'd want one for the future living room at the Hacienda Hideaway—but we don't even have our floors installed there yet, so for the next few months we get to enjoy it in our living room…
I also shared a comprehensive video + photo review in my Instagram stories, so you'll definitely want to go back and watch the story highlight to help you decide!
The Billie Rug
It was a tough decision, but I chose the Billie rug in ink/salmon (8'6″ x 11'6″ size). It has that authentic vintage look, it's durable, stain-resistant and kid-friendly just like their hugely popular Layla rugs. Here you can see the two side by side (unedited iPhone photo):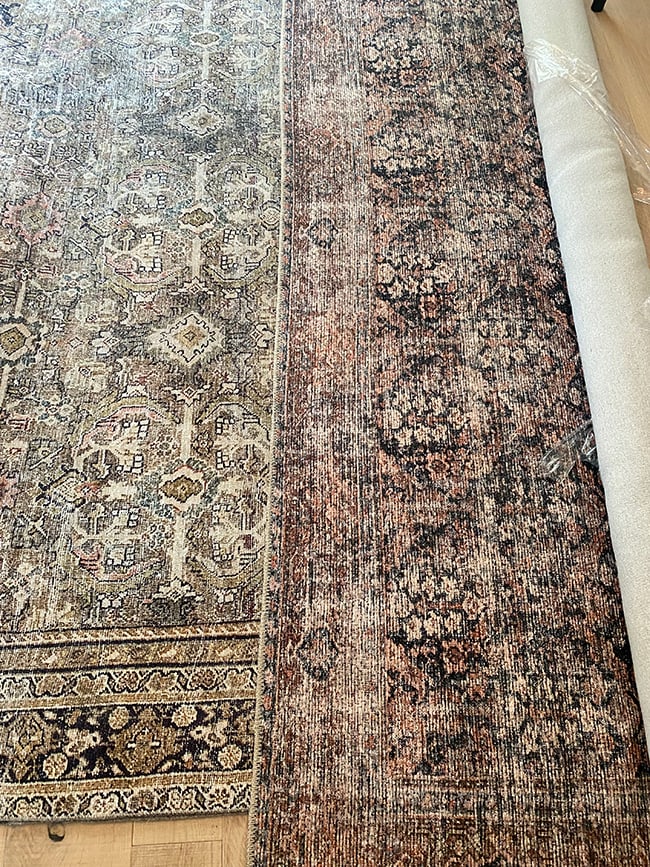 Material
Unlike the smooth printed design of the Layla, the Billie is woven and has some texture to it. It's still quite thin though, so you'll definitely want to use a thicker rug pad on hard surfaces (I use and highly recommend this one). The material is pretty soft to the touch, and very stain resistant (also hides EVERYTHING).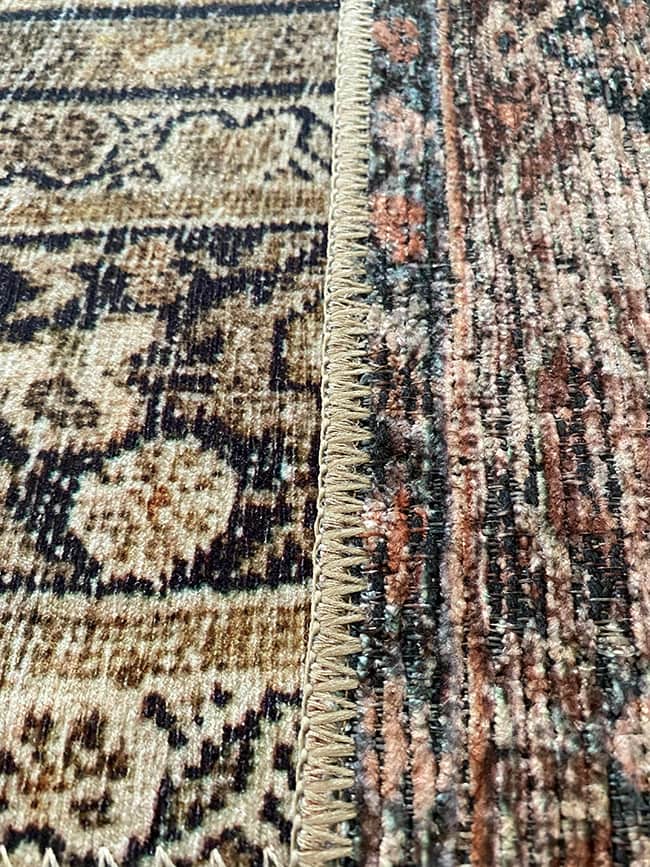 Color
The primary colors are a deep, indigo blue and shades of peach and rust, mixed with beige and golden tones. Depending on the angle and lighting, the rug can pull more of the inky tones or the salmon…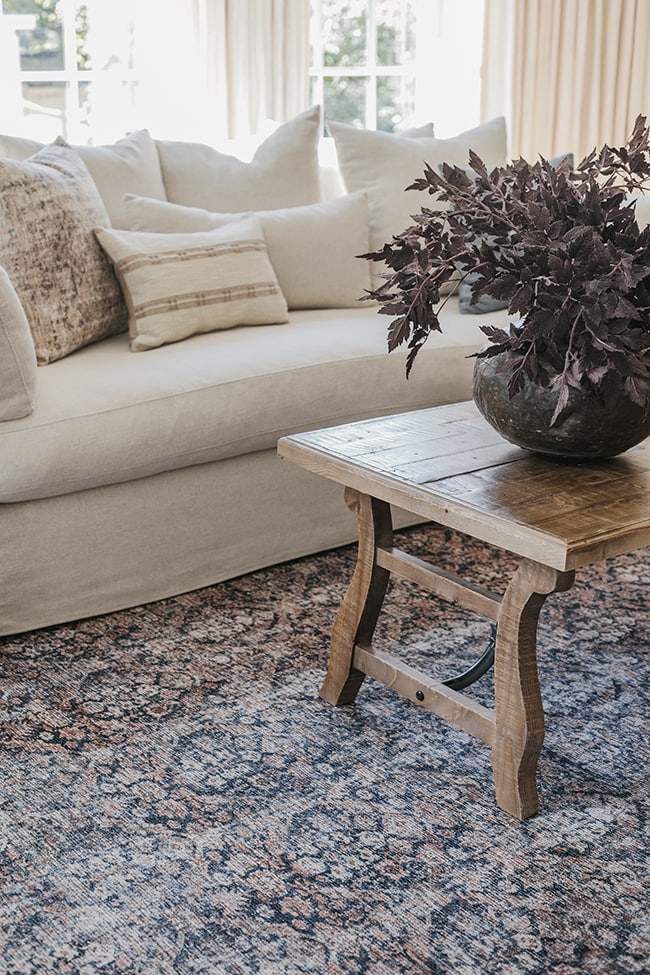 I think it's a pretty even mix of both colors. Loloi does mention that with the manufacturing process of the Billie rugs, you can expect up to a 30% color variance from rug to rug, and no two are identical.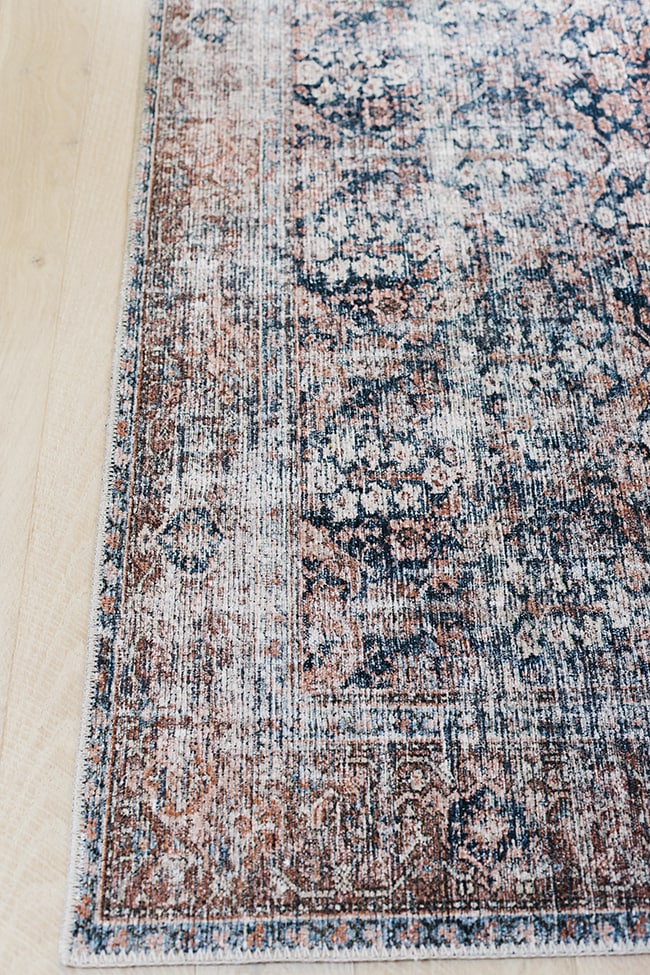 Price
This rug looks just like the authentic vintage rugs Amber uses in her designs, and even up close you'd never know it wasn't the real deal. She sells those rugs in her Shoppe for upwards of $15k, for so while the Billie collection is slightly pricier than the Layla, it's still a fraction of the cost of vintage (and still an incredible deal for a rug that will last years, IMO).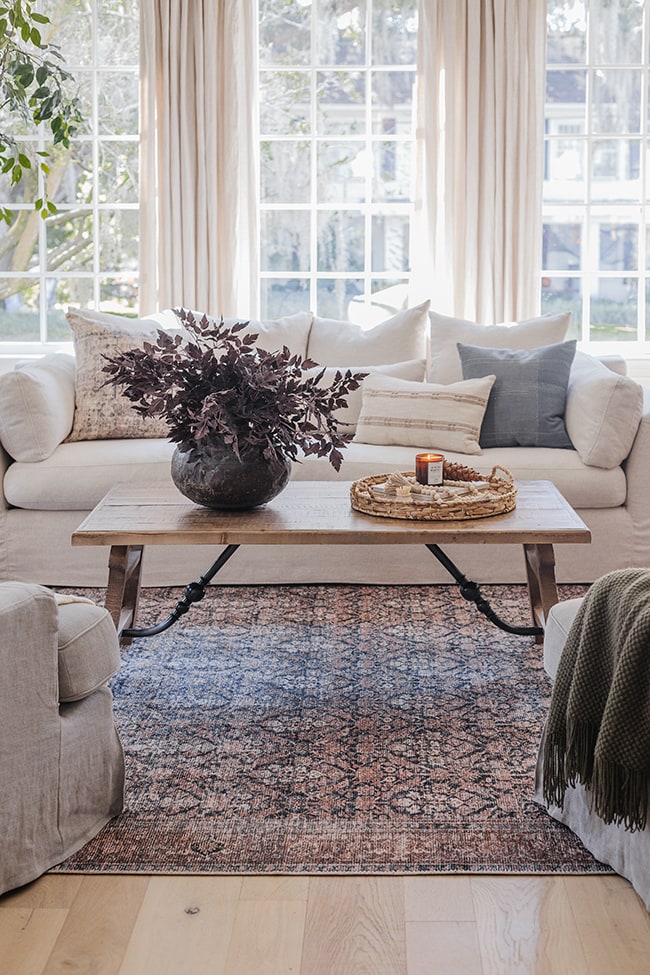 The rugs are currently sold at the following stores online at various price points: Amazon, Rugs Direct, Wayfair & Shoppe. I was told we can expect the prices to fluctuate, especially in the beginning (around $40-$700 depending on size) but eventually Amazon should adjust to have the lowest prices. Readers have warned me about horrible experiences trying to return rugs from Rugs Direct, so I'm linking to Amazon based on their price/easy return policy.
I still love my Layla olive/charcoal but I'm excited to switch things up for a little while and keep this rug around for the holidays. I'm already planning my color scheme around it!
But wait…. there's more! I asked Loloi if they could send a few extra rugs because I couldn't pick a favorite and I was dying to see more of them in person. I'm sure you're curious too, especially because rug shopping is so tricky online and multiple sources/opinions/photos are always a good idea.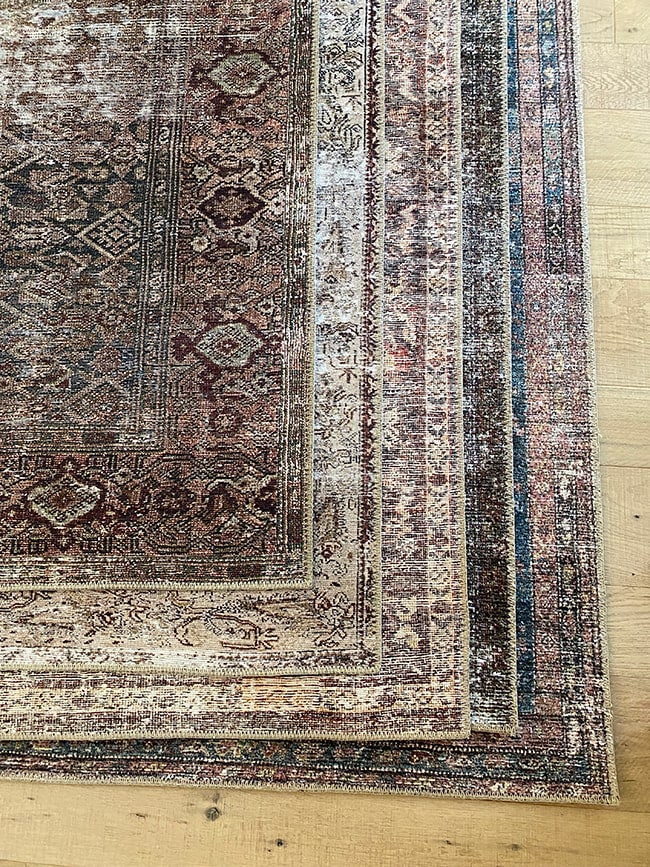 They let me choose five more of my favorites (this post isn't sponsored, btw) and for these, I selected the smaller 5×7′ size to model in our kitchen. Let's roll em out!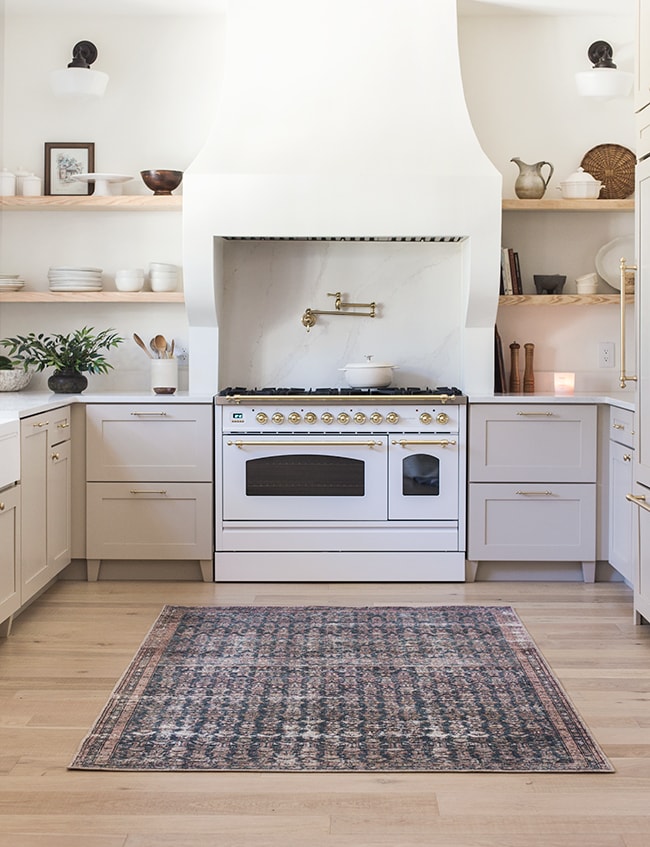 This one has a similar pattern and colors as the Billie ink/salmon, and of course the same woven texture and vintage look.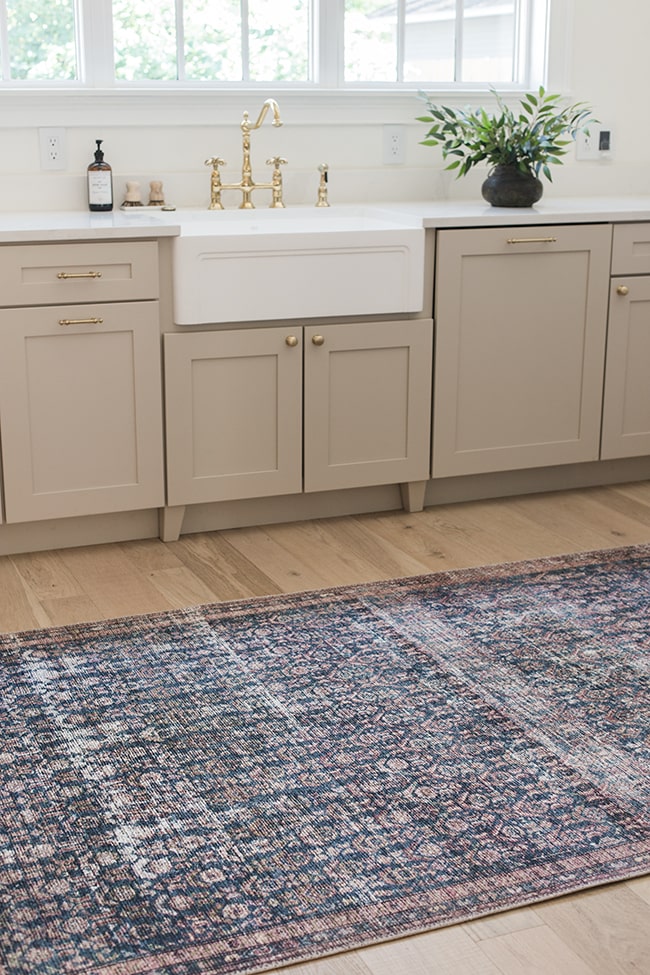 It does, however, have a lot more blue compared to the warm peach tones, and the blue is more saturated. Here's a close-up unedited iPhone shot to compare (remember, these will look different from different angles/lighting and each rug can vary in color up to 30%!)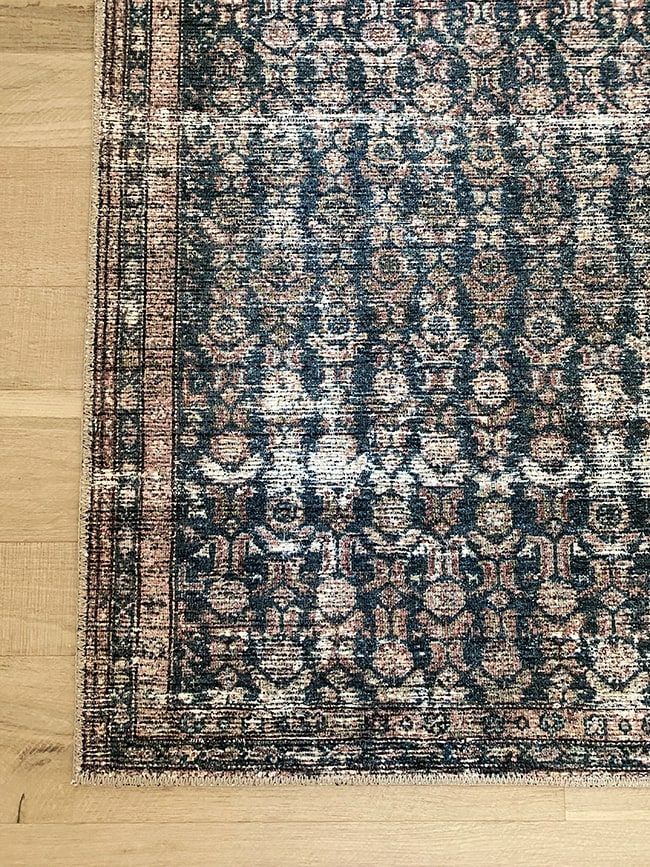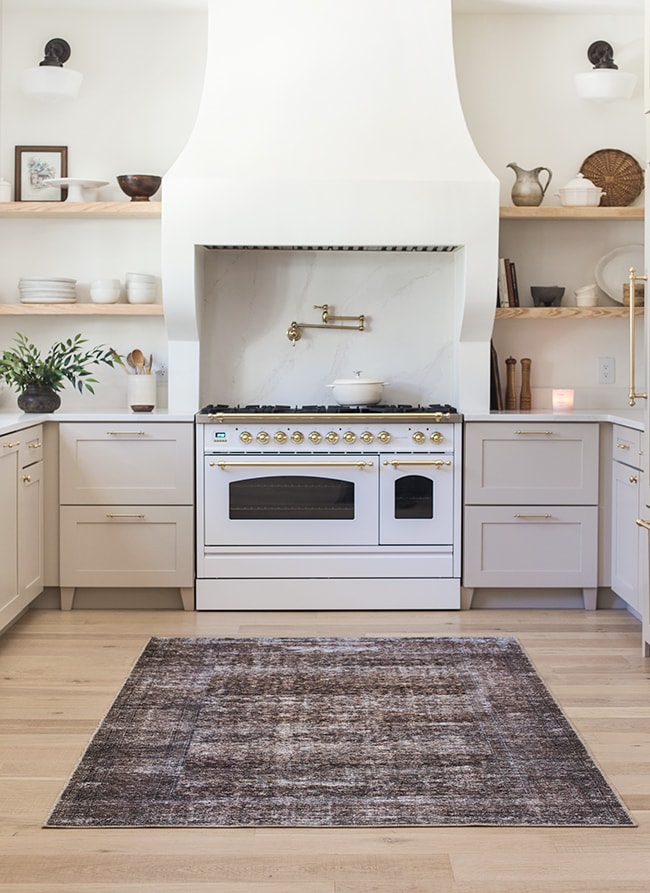 This design has more of an overall faded/vintage look, rather than a clear pattern like the others.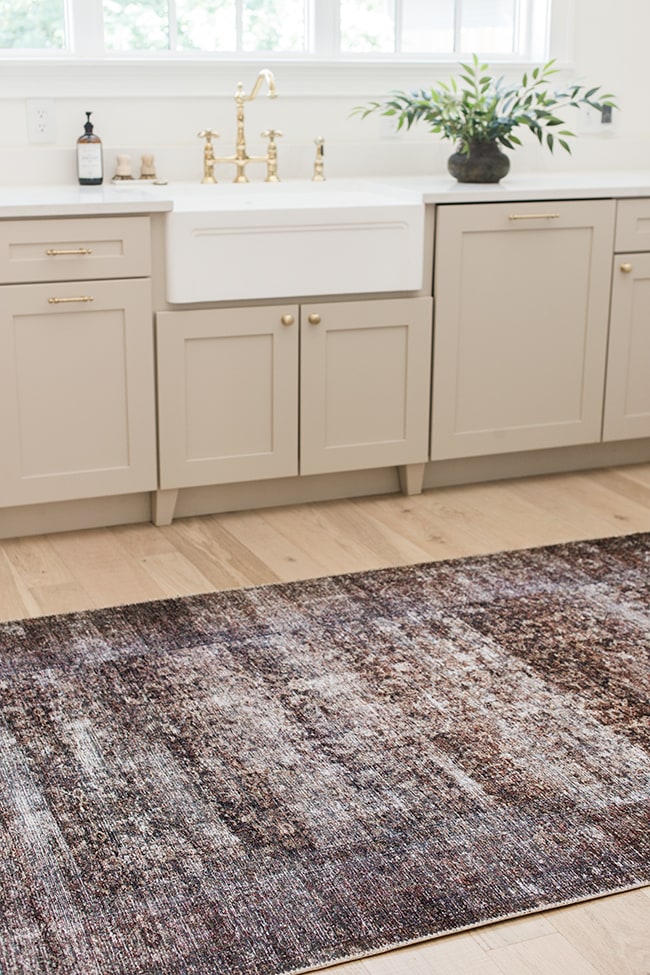 It's one of the more neutral rugs with lots of color variation—mostly reddish-browns, charcoal gray and ivory. I just love the look of this one. Unedited iPhone shot: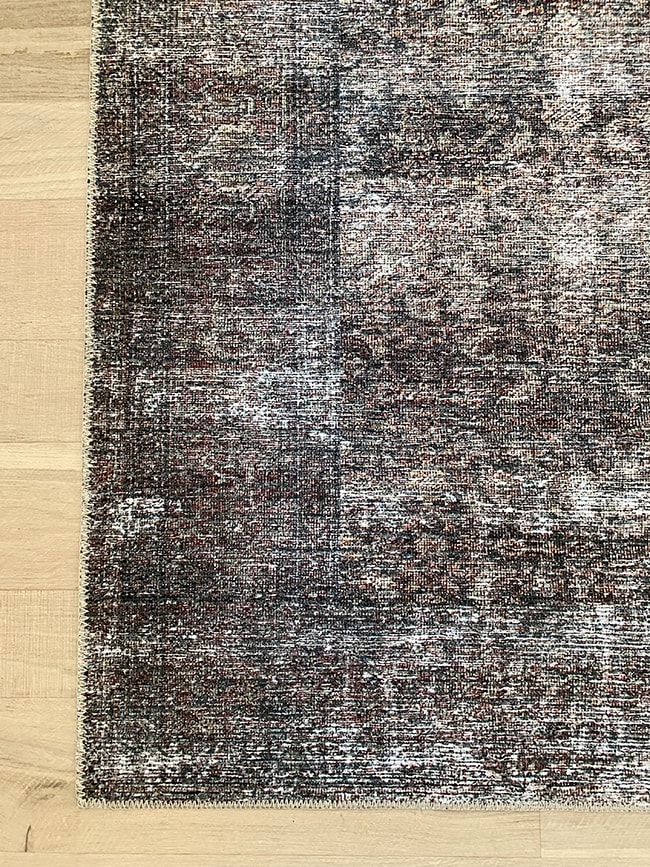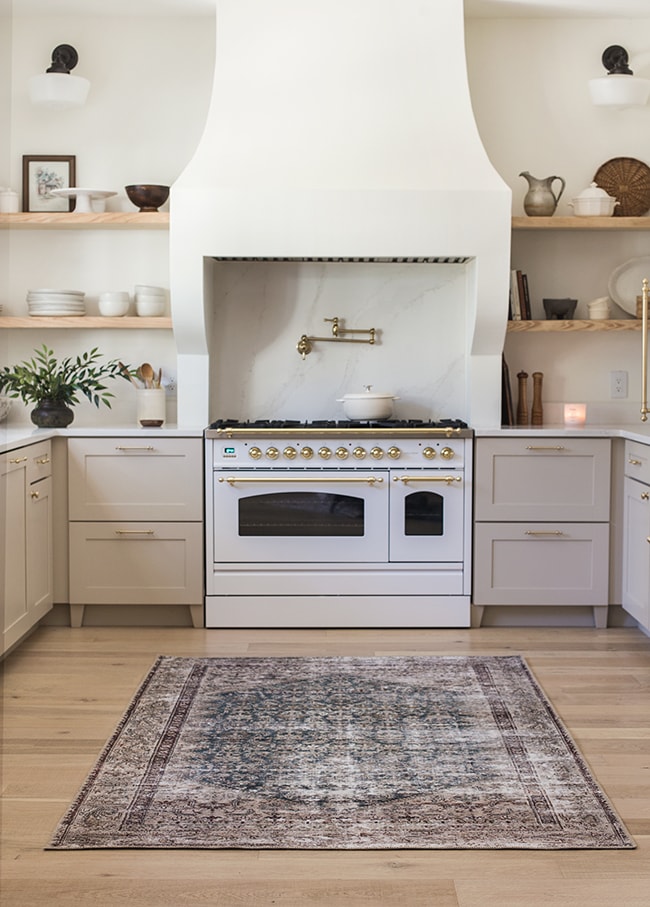 The Georgie collection has more of a smooth, flat weave compared to the textured Billie—but it still has the same authentic vintage look. This particular design feels the most classic and traditional. The main colors are ivory-beige, a deep wine red and blue which look more like a denim than a teal to me.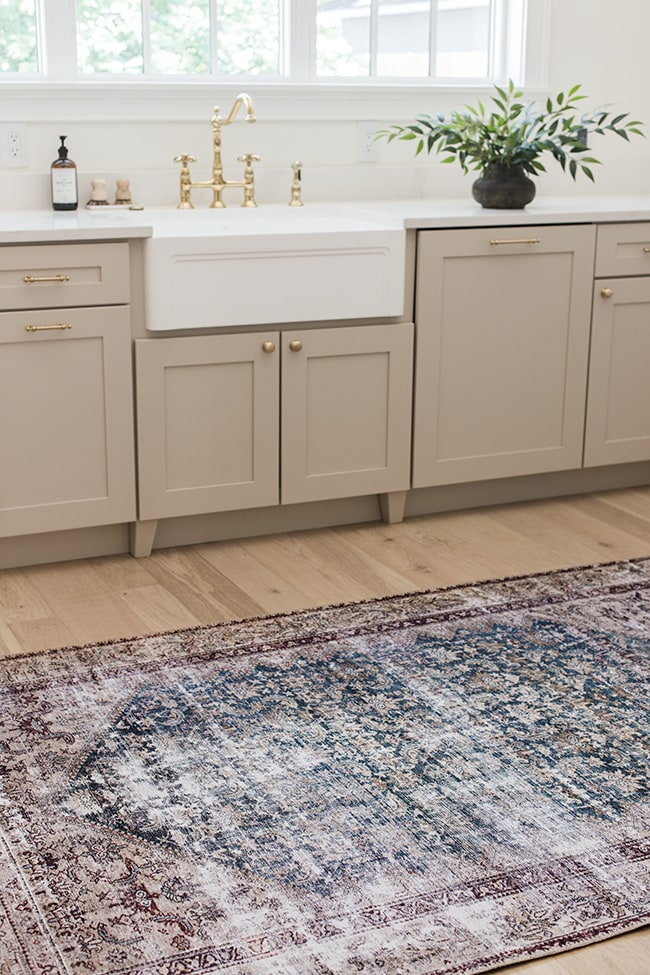 Unedited phone closeup: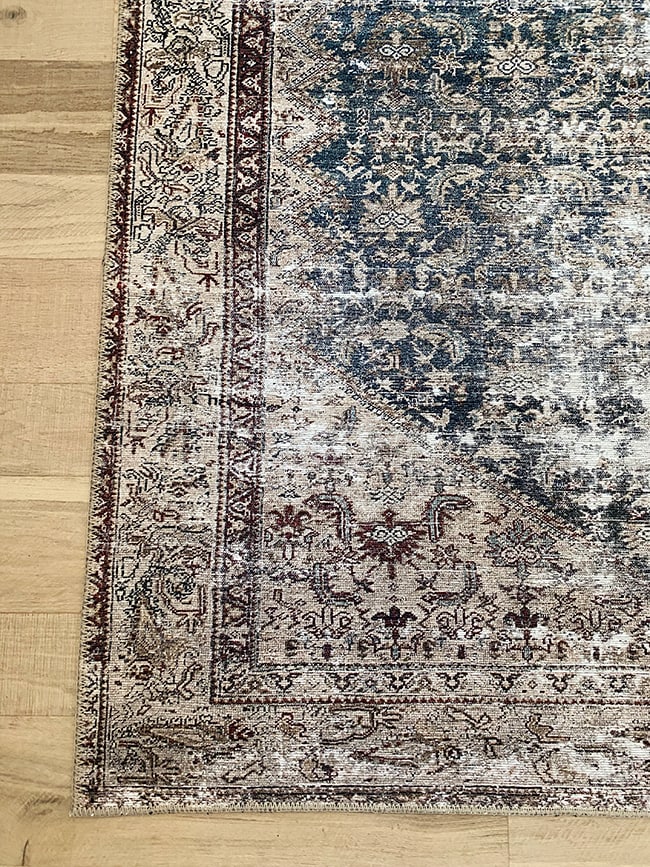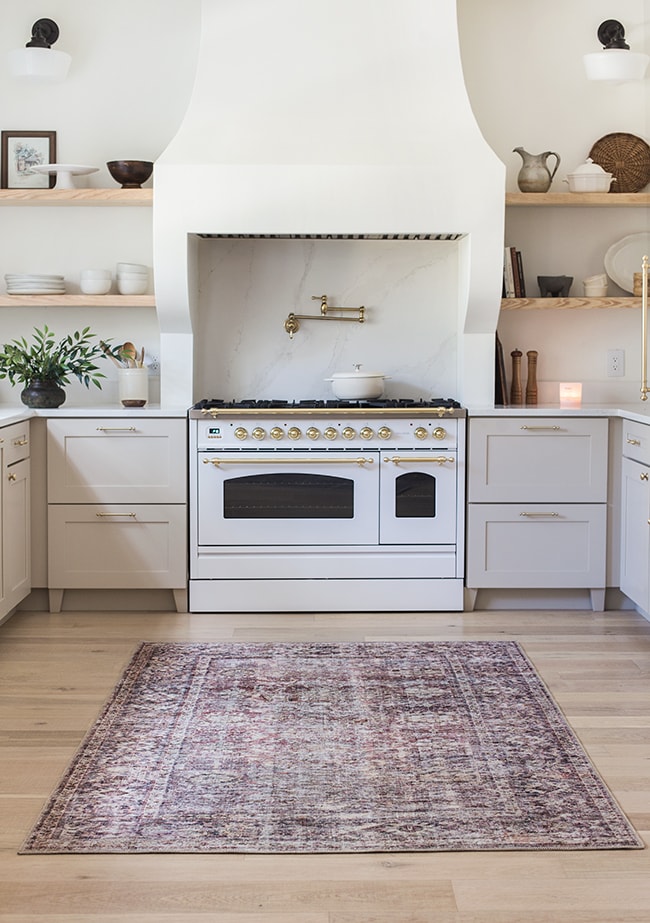 This one had me at hello. The deep, desaturated red and ivory tones and the subtle pattern—so dreamy: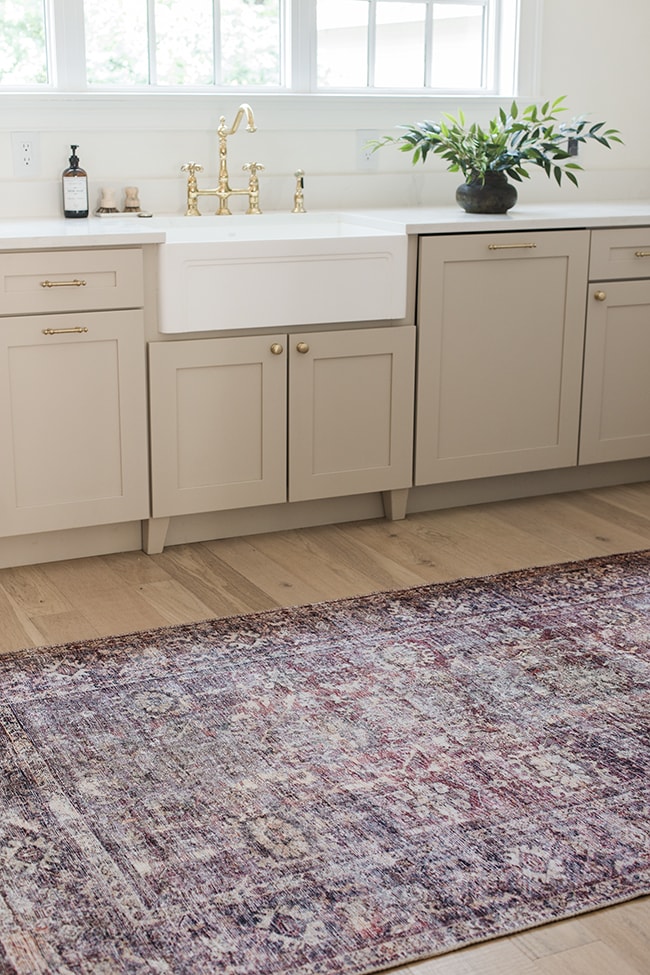 It feels perfectly worn and vintage to me, and the colors are perfect for fall and the holidays. I wasn't supposed to keep these rugs for myself, but I don't think I can send this one back! Here it is next to the Layla cinnamon/sage (on the right) that I normally keep in our kitchen—which one is your favorite?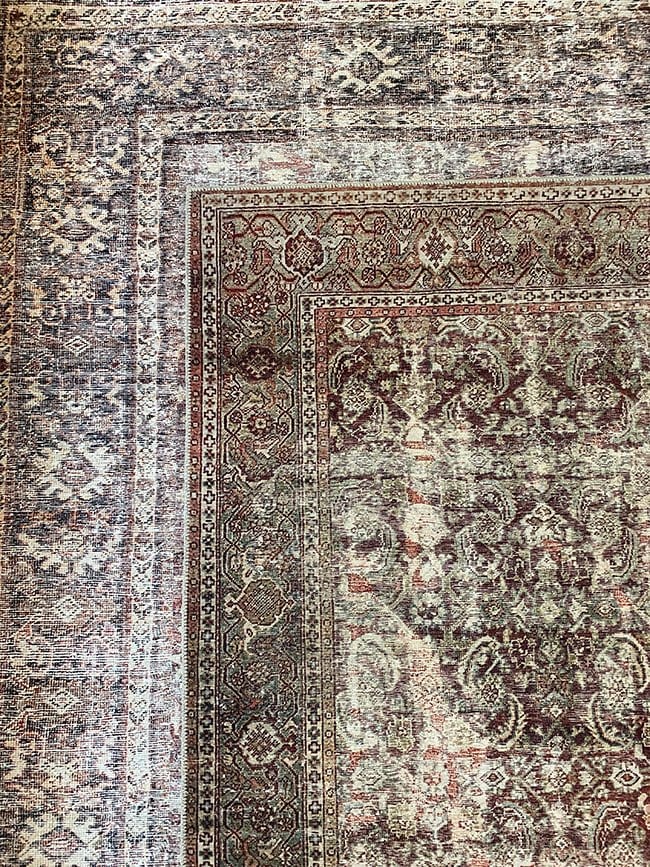 Honestly I love both, but I might ask Loloi to let me keep the Georgie to use during the holidays. You can never have too many rugs, right? 😉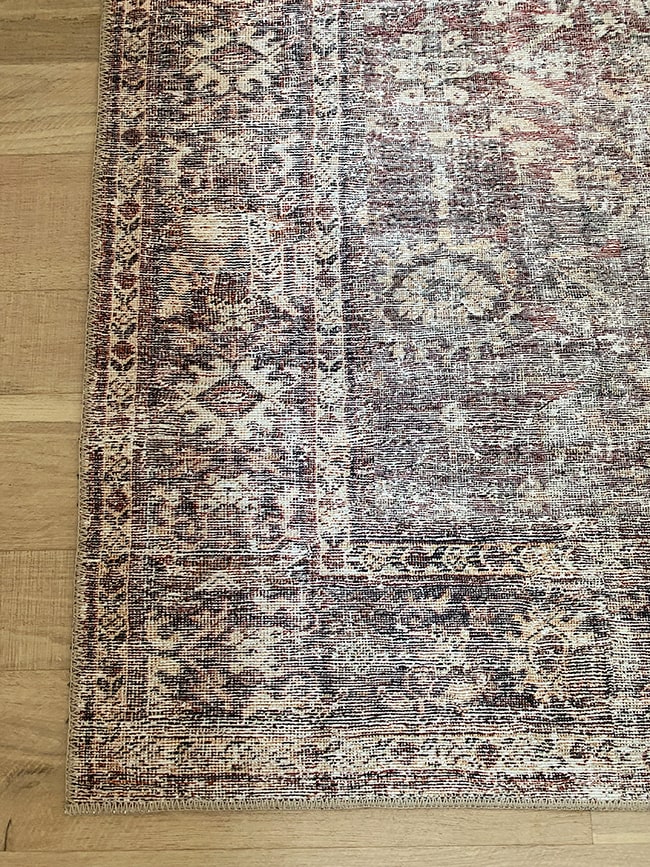 One noteworthy detail to mention about this collection—the edges aren't a perfectly straight line, which really goes a long way to make it feel more like a real vintage rug.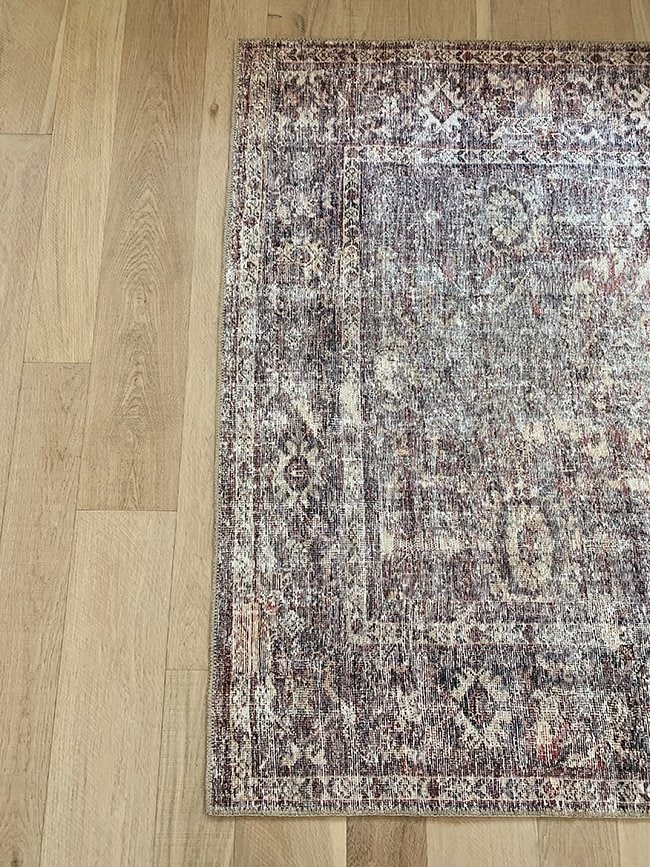 Last but not least! I'd say this one has the most color variation, and is the darkest of the bunch (although the Billie tobacco/rust is close). Deep bordeaux red, peach/salmon, dark charcoal and inky blue, mixed with lots of mossy/olive green and ivory.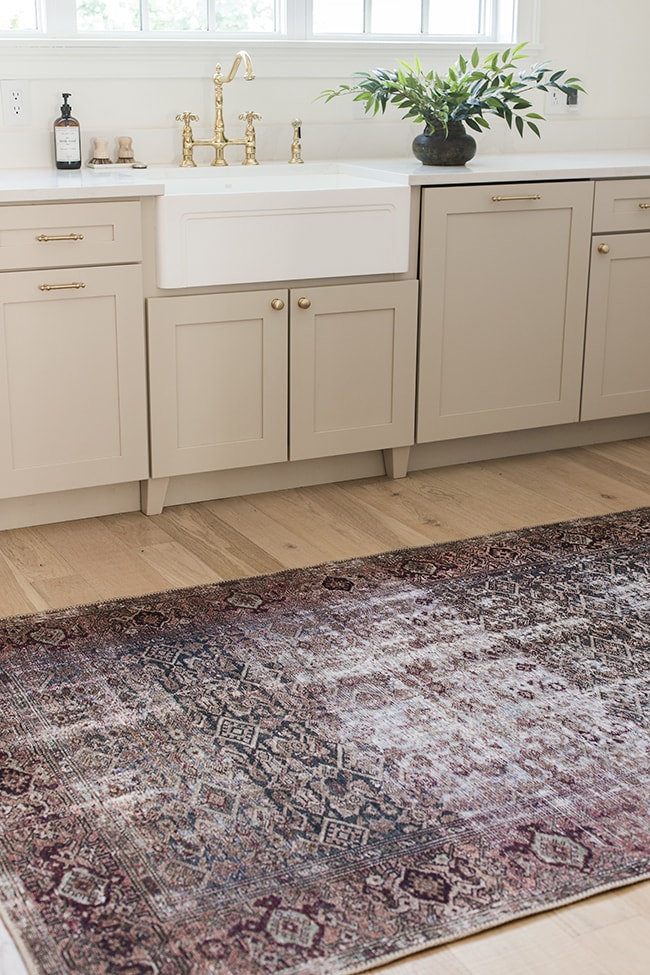 It also has a pronounced pattern, and noticeable faded/worn areas. I love the richness drama of this one, and would recommend it for a moodier vibe—and it's the most affordable rug option!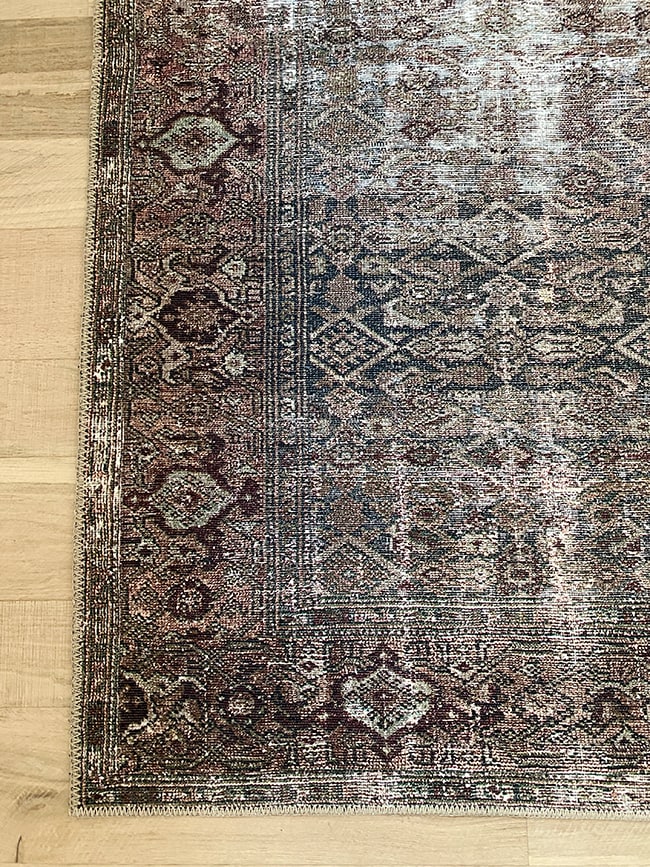 FYI—I use this rug tape to keep our kitchen rug in place, and it works wonders (over carpet too!)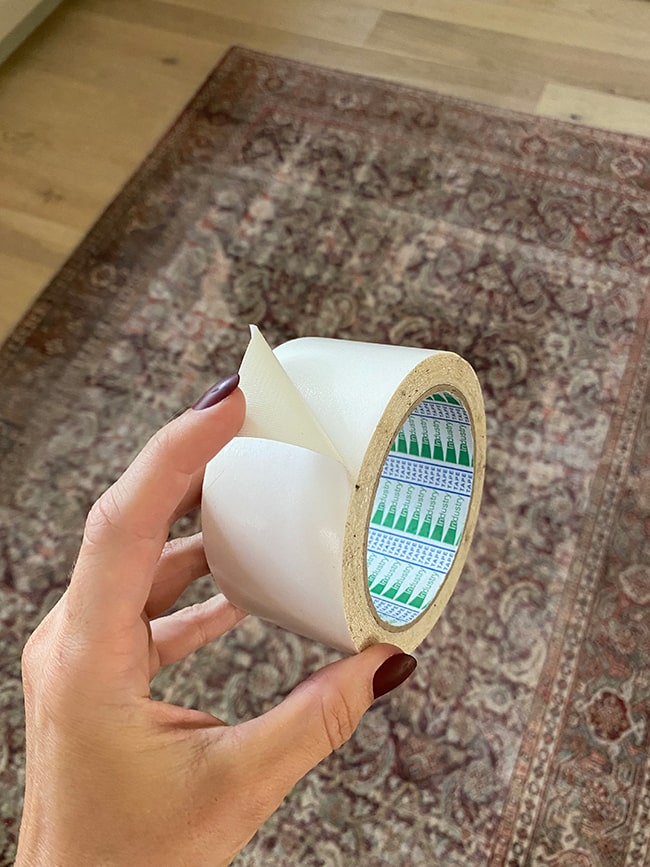 In addition to a line of rugs, the collaboration includes other textiles like throws, pillows and framed art. I asked them to let me choose five of my favorite throw pillows to share (also impossible to pick favorites—I'd gladly take all of them!)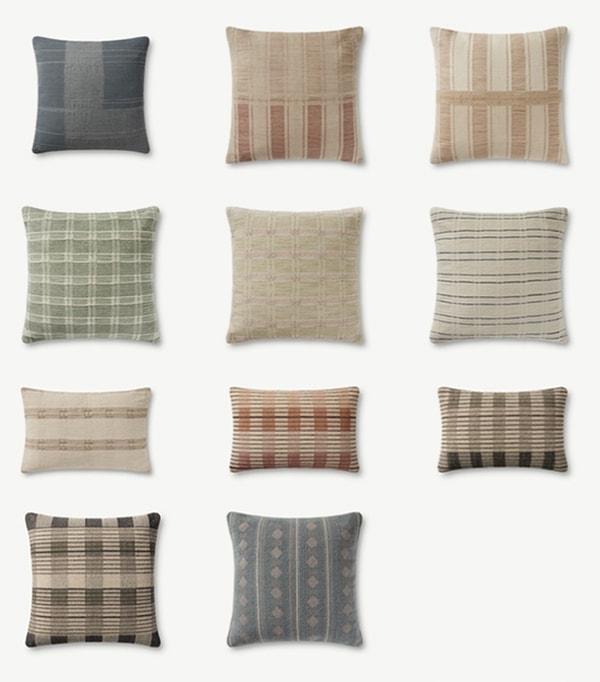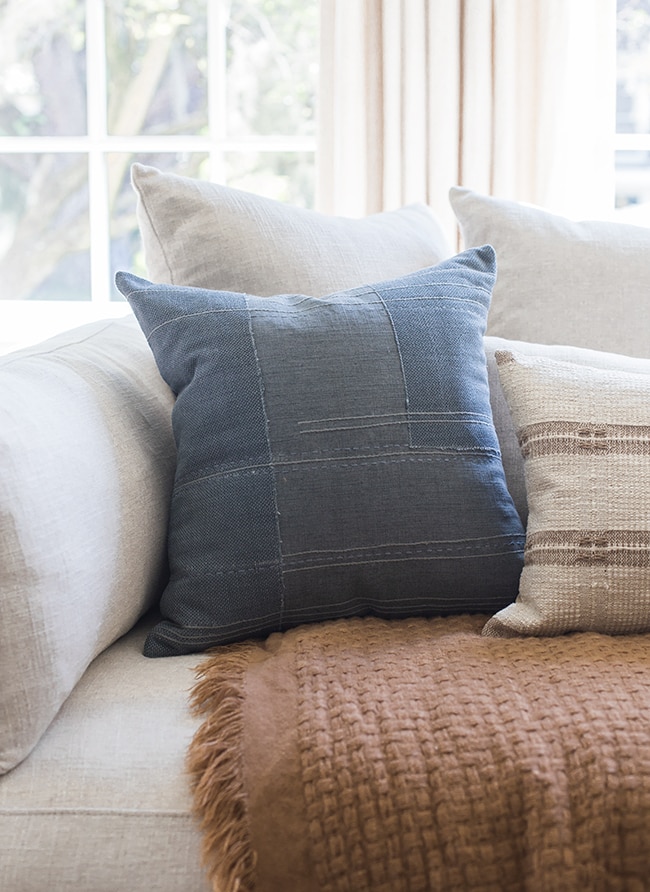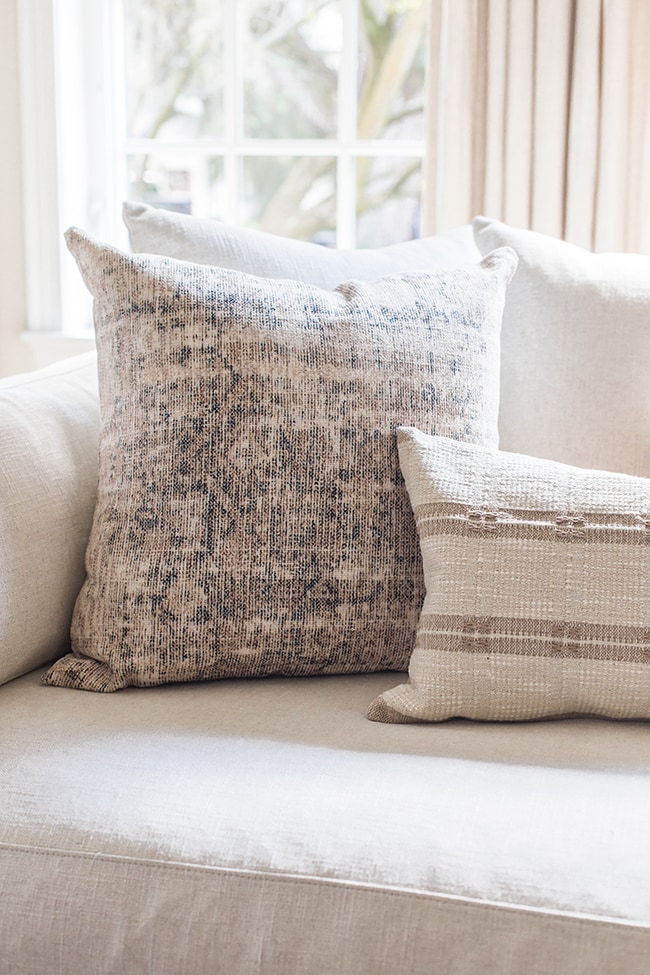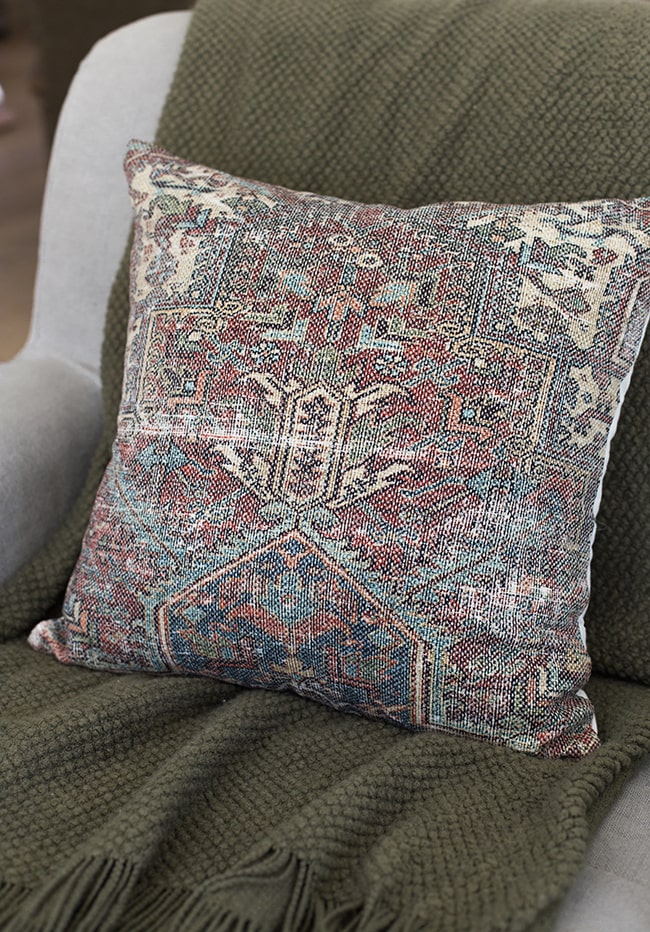 And there you have it! Six of my favorite rugs and five pillows from the collaboration of the year, AmberLewisxLoloi. Do you have a favorite? I'm eyeing a few for the bedrooms at the Hacienda Hideaway, so this won't be the last time you'll see these rugs from me.
I hope this review was helpful if you're rug shopping, and don't forget to watch my IG stories with even more closeups + details.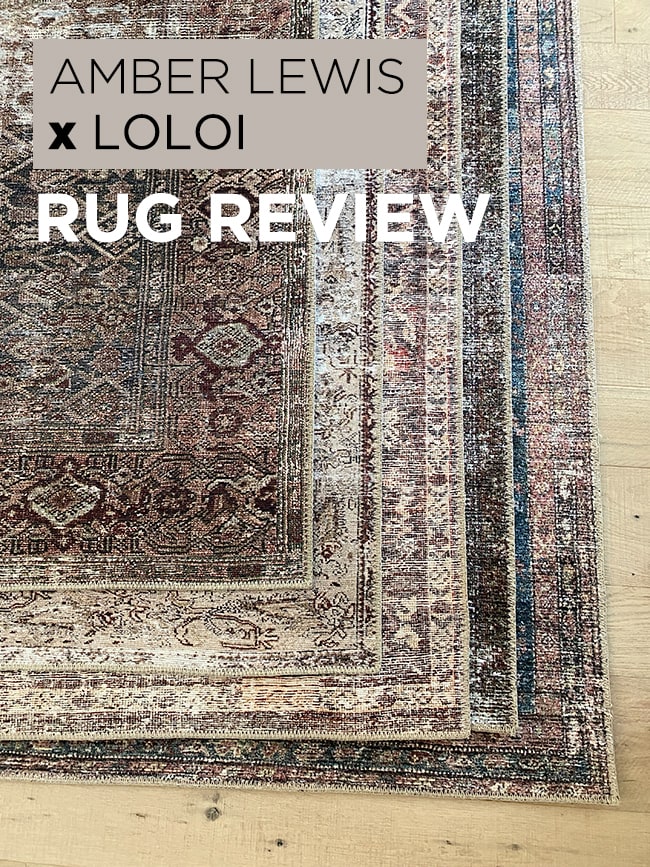 Next up this week: a spoooooky Halloween at the Heights House…