Last year we had the bats—this year I bring you birds, branches and bones for a Spooky Chic Halloween…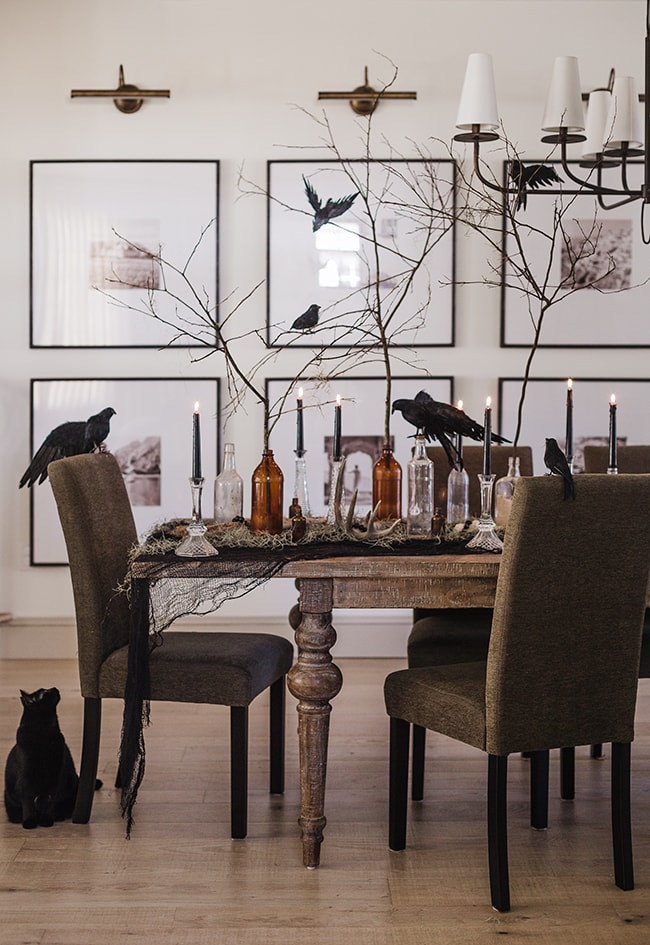 In last week's Halloween decorating ideas post, I shared the inspiration behind this year's theme and a roundup of my top designer-approved products. I was late to the decorating game this year and needed something quick, easy and budget-friendly. I put together these simple vignettes in one morning with a mix of old and new items.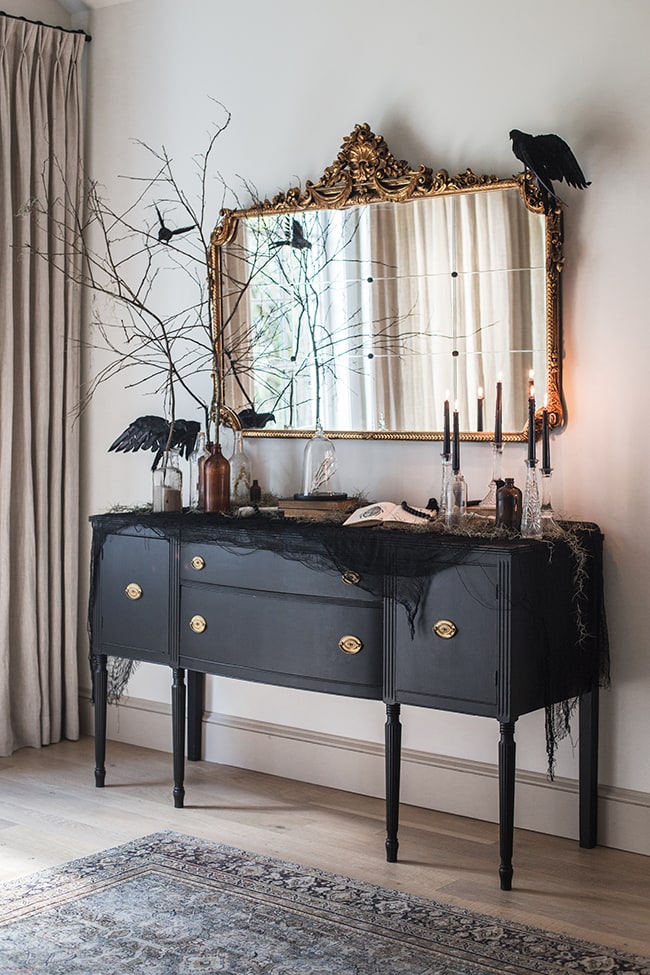 Less is more when it comes to holiday décor, but I think you can bend the 'rules' and have a little fun for Halloween. The centerpiece for these vignettes is simply branches cut from the yard and placed into vintage glass bottles (thrifted years ago).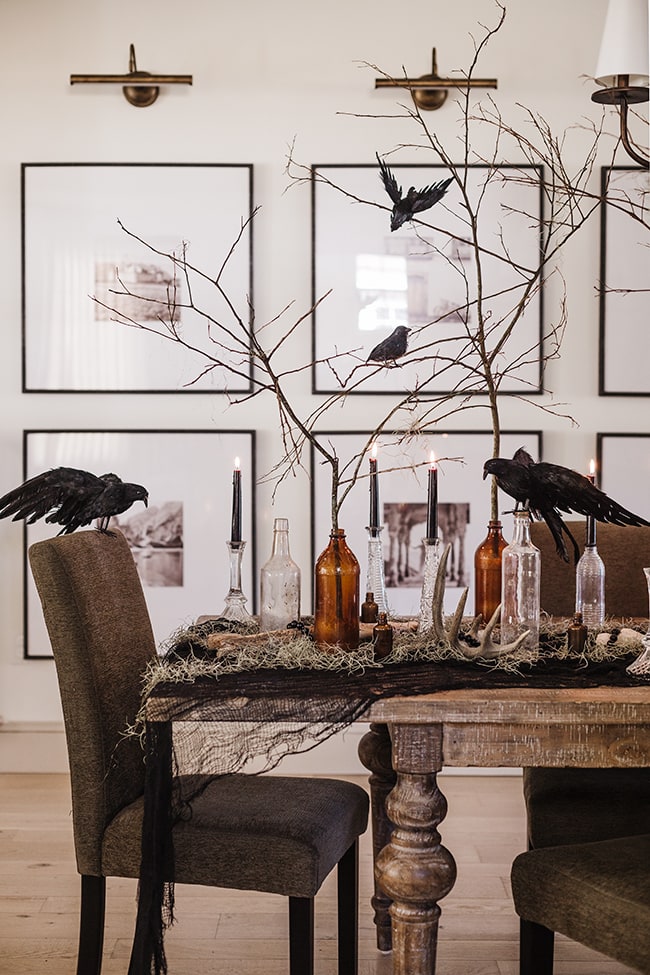 I picked up an extra set of smaller amber glass bottles to add to my collection, and gave them a dusting of spray paint + dirt to make them look like old bottles of potions and elixirs.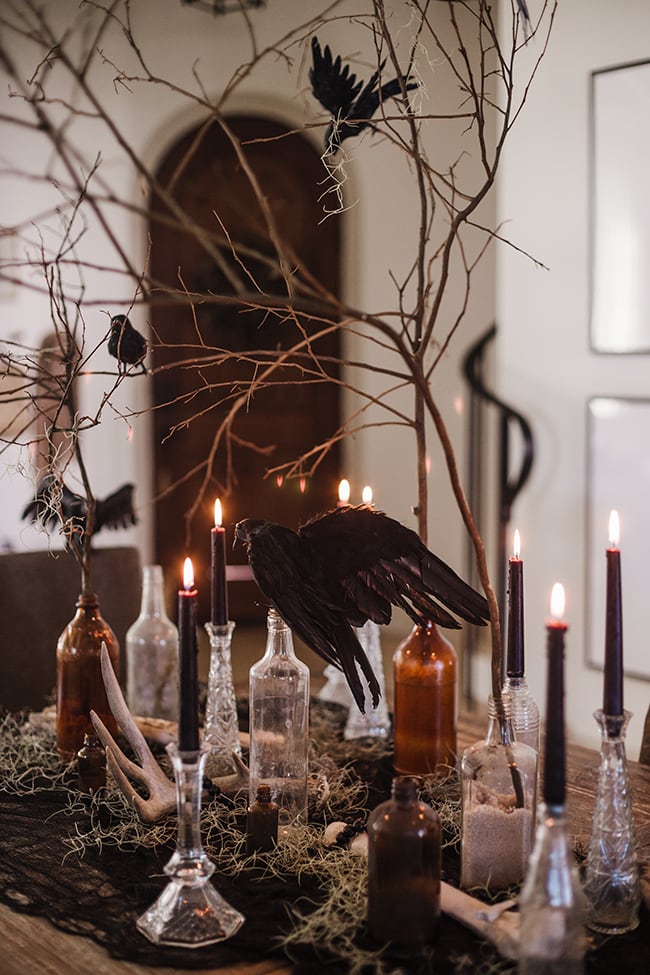 Black taper candles were placed inside vintage glass candle holders (also from my collection) and I burned down the sides to make them drippy: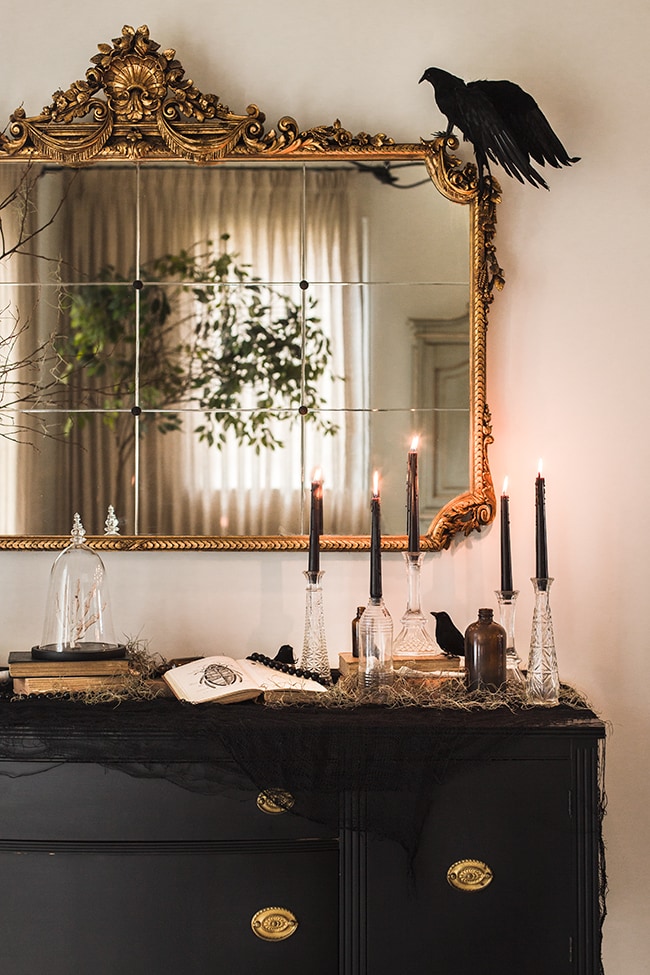 I love the idea of using black creepy cloth as a table runner. A little less expected than your traditional white, and definitely spookier.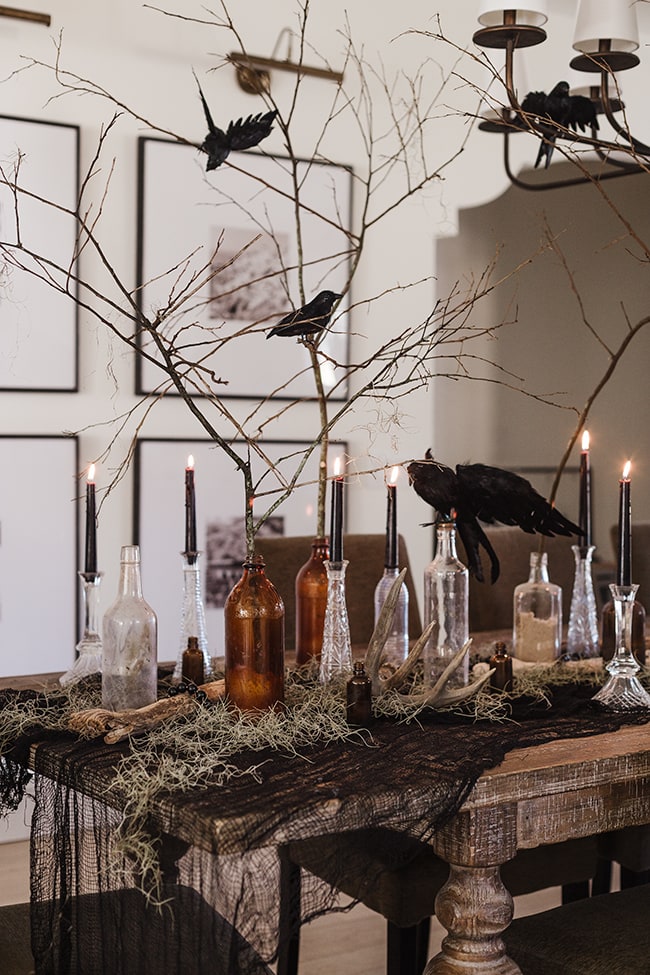 To tie into the 'birds nest' theme, I scattered Spanish moss from our trees over the table cloth, and layered an assortment of old branches and bones.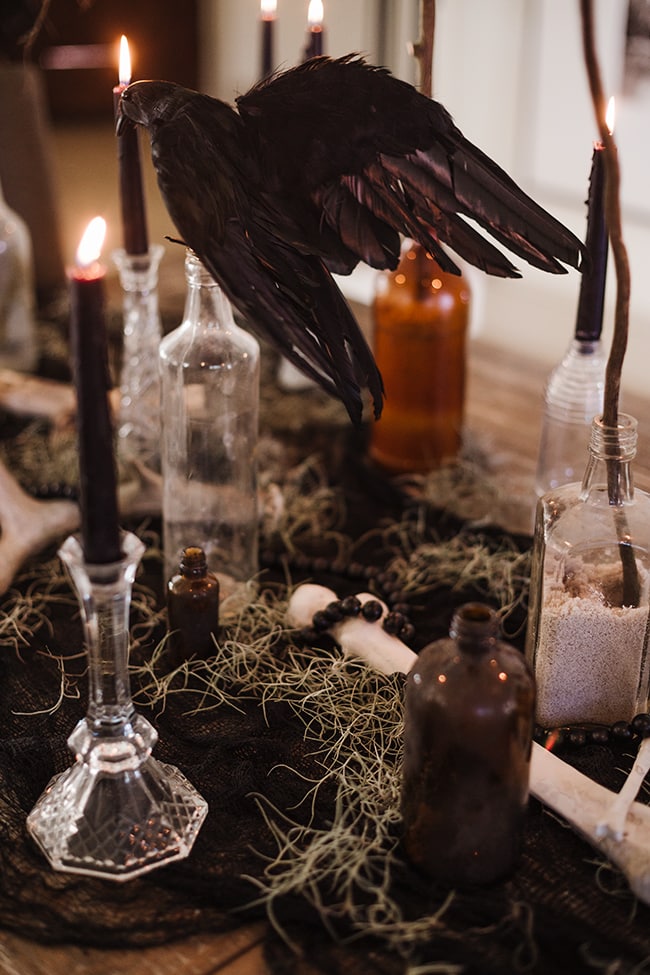 Perhaps my favorite part of this look are these black crows (I bought two sets in "Medium").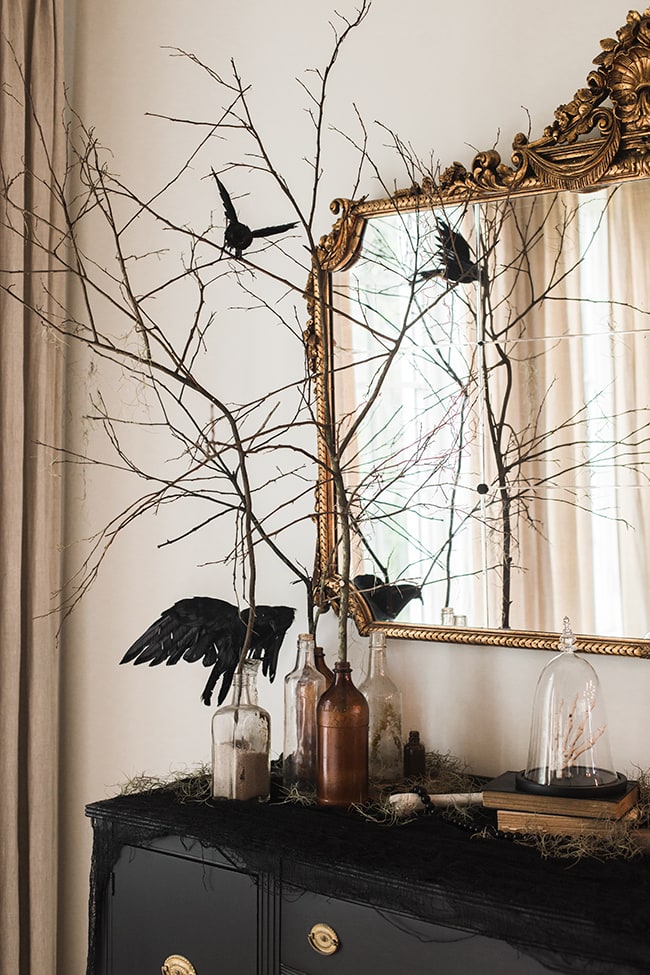 They look pretty convincing and I love the variation in size and posture. They have wire at the bottom of the feet you can use to wrap around branches (I added more floral wire to wrap around the top of the bottle).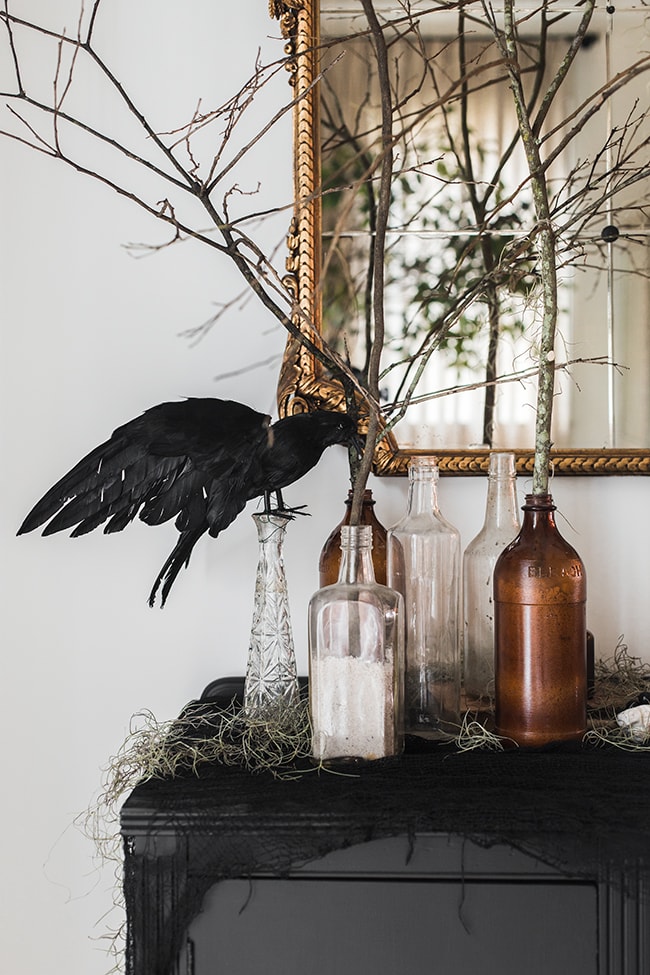 I'm also really into this 'Beauty and the Beast' inspired glass cloche… inside I displayed a hand from my skeleton bag of bones (they keep selling out/raising the price—this bag of bones looks like the best deal currently, and this one is a popular choice too).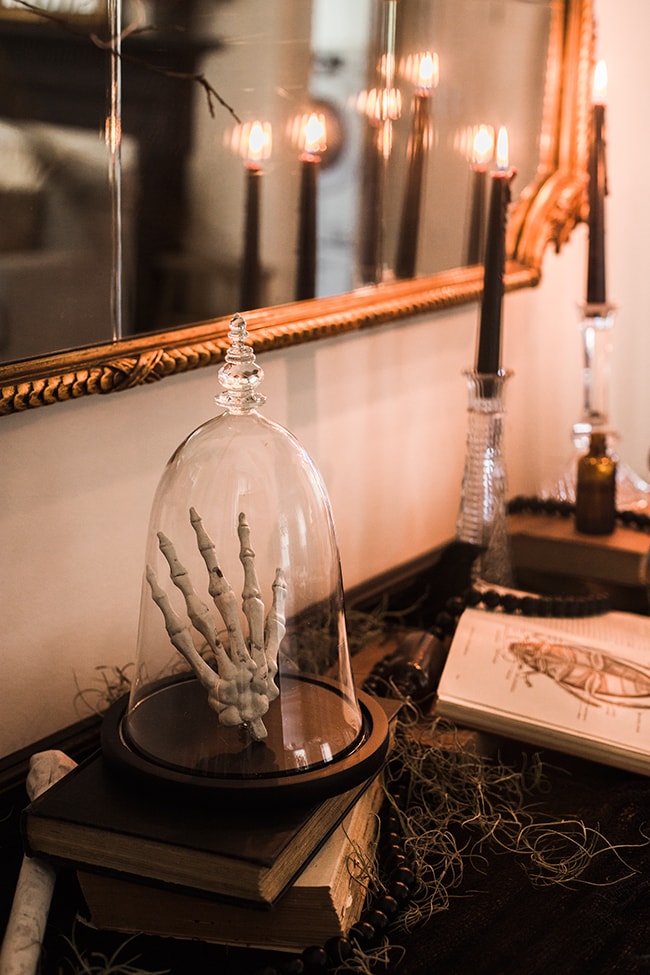 Having a large collection of vintage books also comes in handy throughout the year, and the black bead garland is icing on the cake: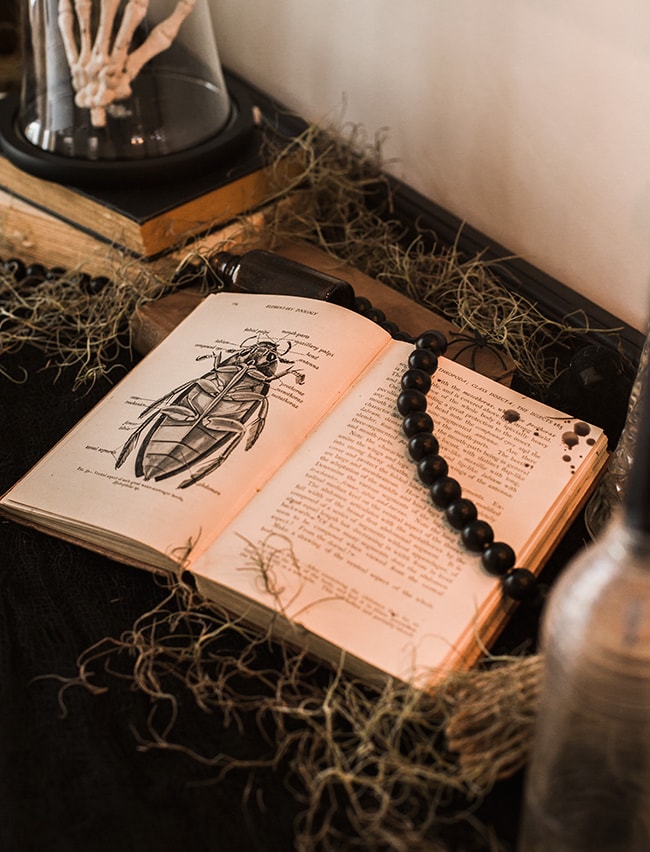 I was originally planning to use white creepy cloth on the credenza, but decided the subtle tone-on-tone look was more elegant.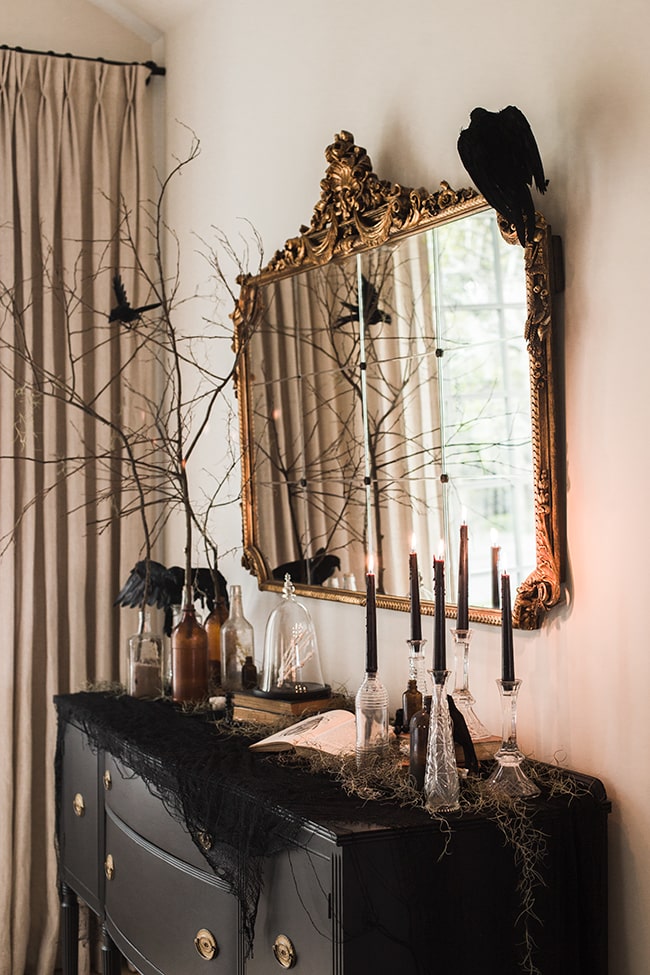 So glad I didn't skip out on Halloween decorating this year—I played spooky music throughout the house, got Esmé involved in the festivities and it was truly the most creative fun I've had decorating in a long time.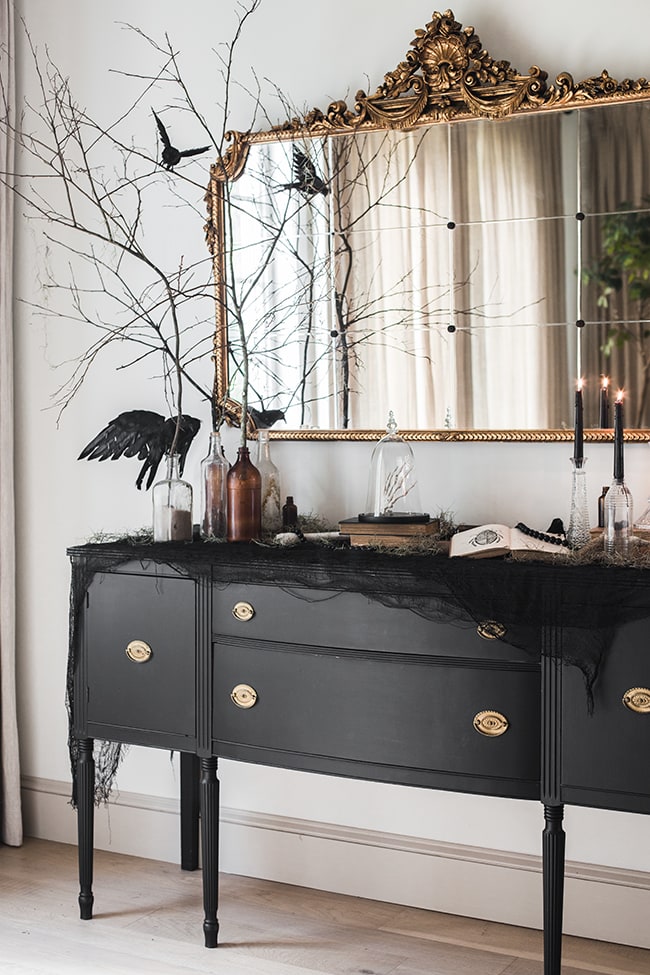 I hope she grows up cherishing our holiday decorating rituals, just like I do from my childhood. These traditions are really where the best memories are made.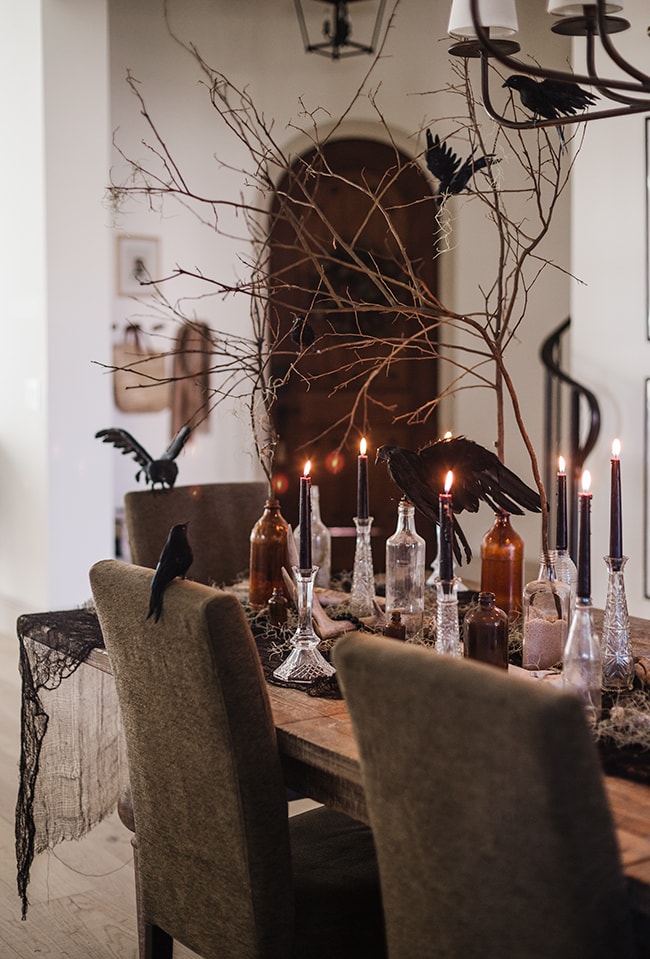 Anyone get over-the-top excited about holidays? I LIVE for them. This is just the warm up for the next two months…
Now that that's out of the way, time to start planning our Thanksgiving and Christmas decor! Everything is happening earlier this year due to the ongoing supply chain issues, so I'll be back next week with holiday entertaining ideas and inspiration. Until then…