Holiday entertaining (especially, planning and setting up the décor) is one thing I look forward to most every year. One of the highlights of last year was coming up with this 'Harvest Chic' theme for Thanksgiving…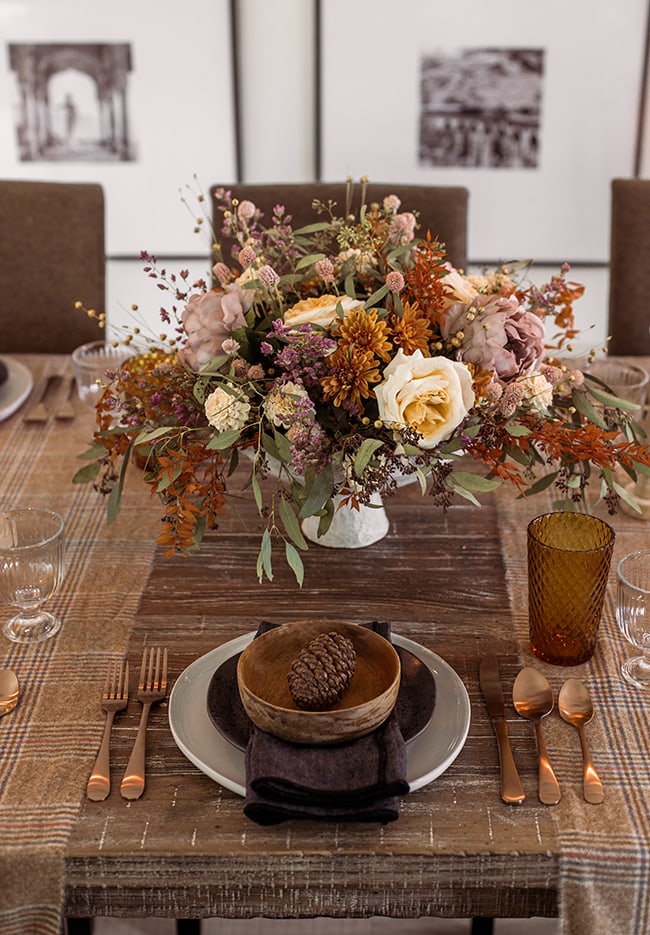 Each year I like to challenge myself to try different colors/styles, and this time around I decided to design a tablescape that would work throughout the entire holiday season—fall through winter. I dug into my Pinterest archives and put together my plan—landing on a palette of rich burgundy, ivory, sage green, mercury glass, wood and warm gold: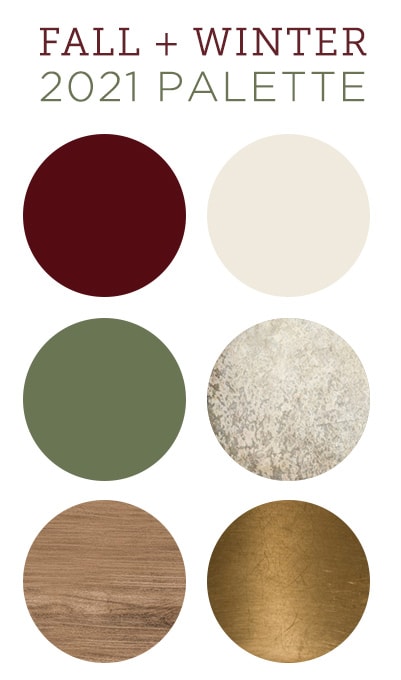 With my color and material choices guiding the way, I scoured the internet looking for budget-friendly finds to curate a beautiful and attainable table display anyone can recreate. I've rounded up this year's top picks below, along with a few of my favorite entertaining essentials *(the asterisk indicates the products I own/purchased this year).
Click/tap on any item to shop directly: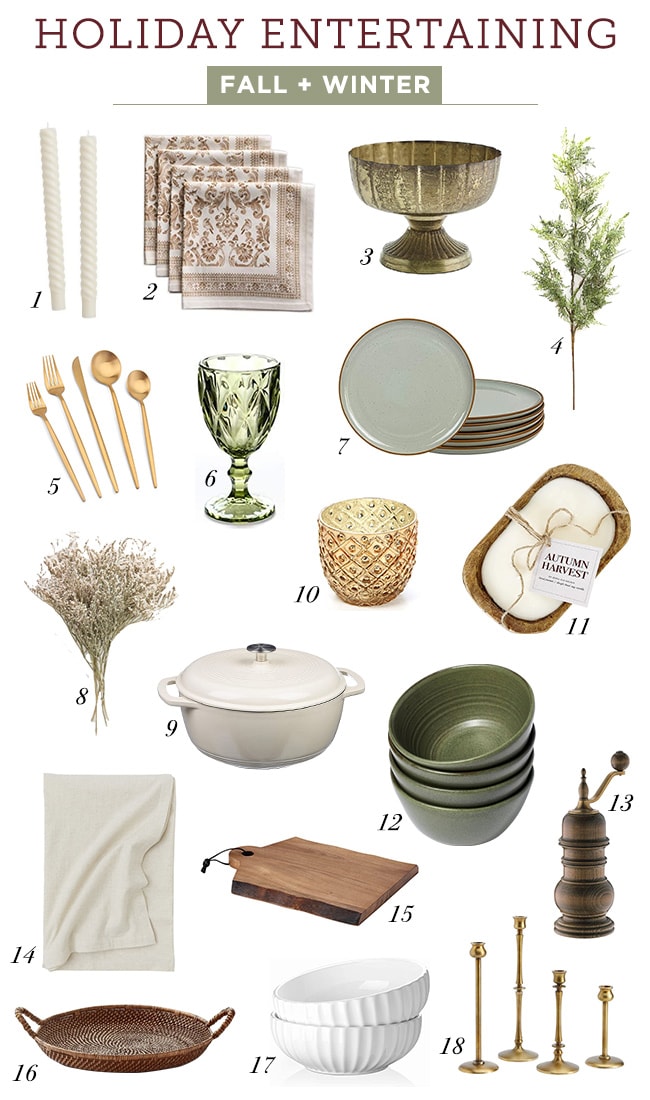 1. Ivory rope candles // 2. *Floral printed napkins // 3. Gold metal compote bowl // 4. *Fern leaf branch // 5. *Gold flatware // 6. *Green glass goblets // 7. *Earl gray ceramic plates // 8. *Dried German statice // 9. *Cast iron dutch oven // 10. *Mercury glass votive holders // 11. *Autumn Harvest dough bowl candle // 12. Green stoneware salad bowls // 13. Wood pepper mill // 14. Linen-blend tablecloth // 15. *Acacia wood cutting/serving board // 16. Woven serving tray // 17. Fluted ceramic bowls // 18. Brass candlestick holders
I love that this look is neutral enough to be used all season long, but can also be easily adapted for Thanksgiving/fall or Christmas/winter. For Thanksgiving, simply add in amber/rust tones or dried grasses. For Christmas, mix in bright whites and pine needles.
At the last minute I decided to use this burgundy gauze fabric as a table runner for a more romantic look, and I can't wait to show you how it all turns out over the next couple weeks! I'll share a few closeups of some of these products today in my Instagram stories.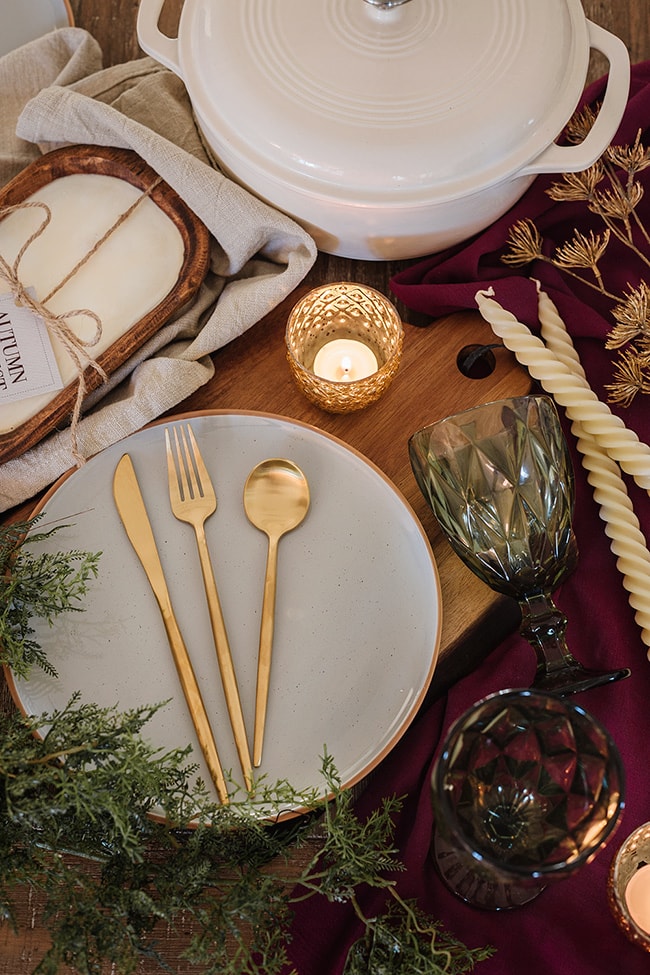 Speaking of inspiration, I wanted to share a few images that caught my eye and inspired the look this year—maybe they'll give you a few ideas, too! Pro tip: search Pinterest using terms like 'fall wedding tables' or 'holiday wedding tablescape' for the top-notch design inspiration—these wedding planners/floral designers deliver with the dreamiest ambiance!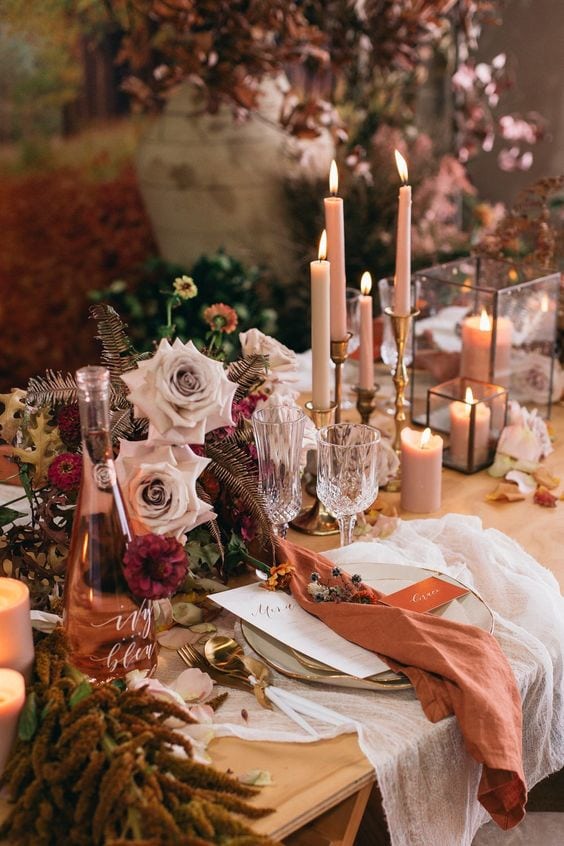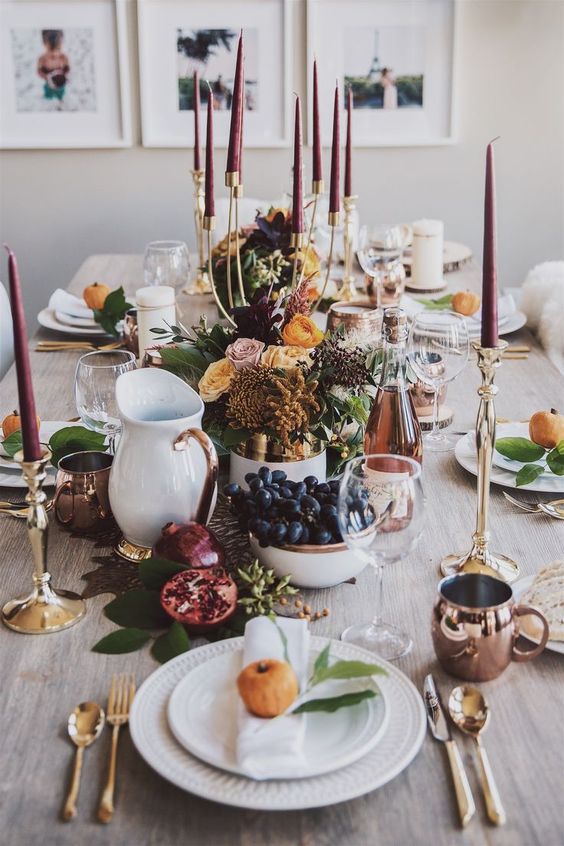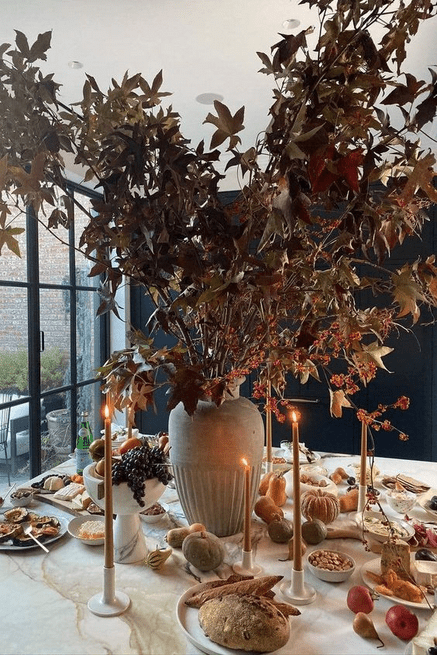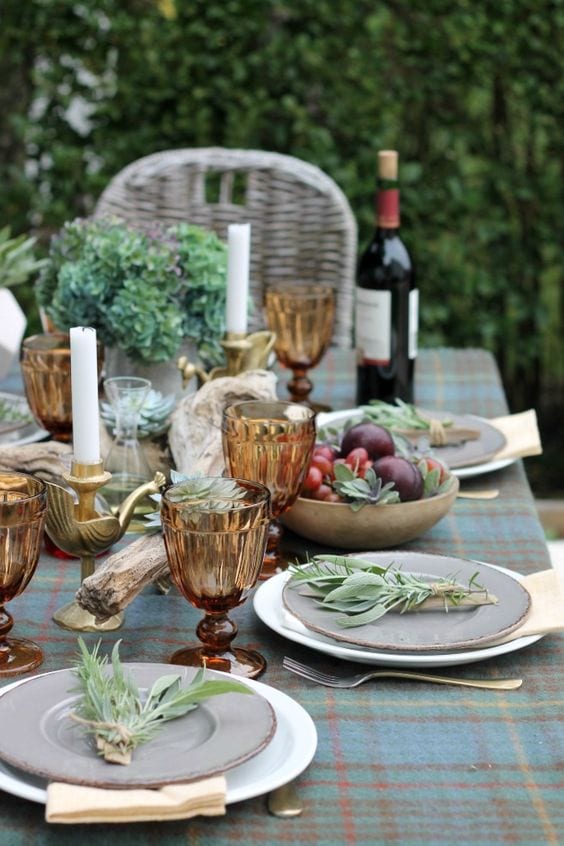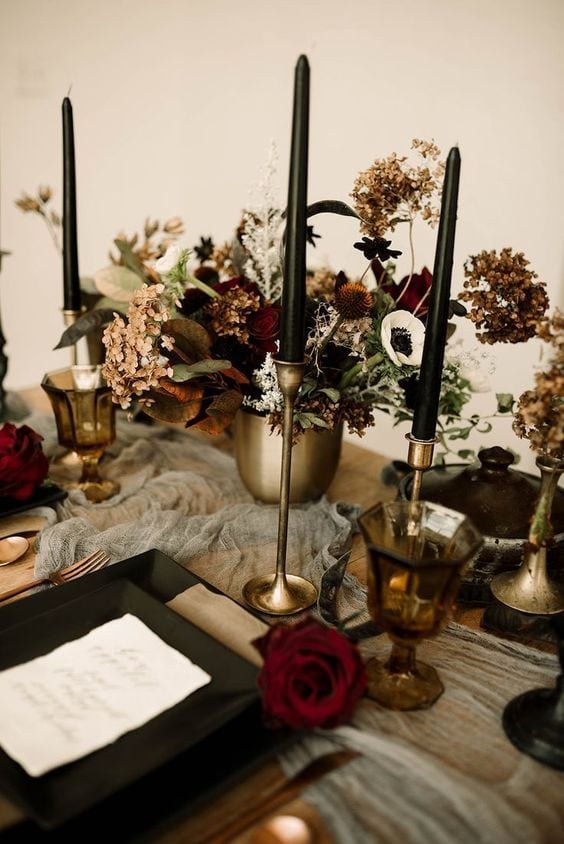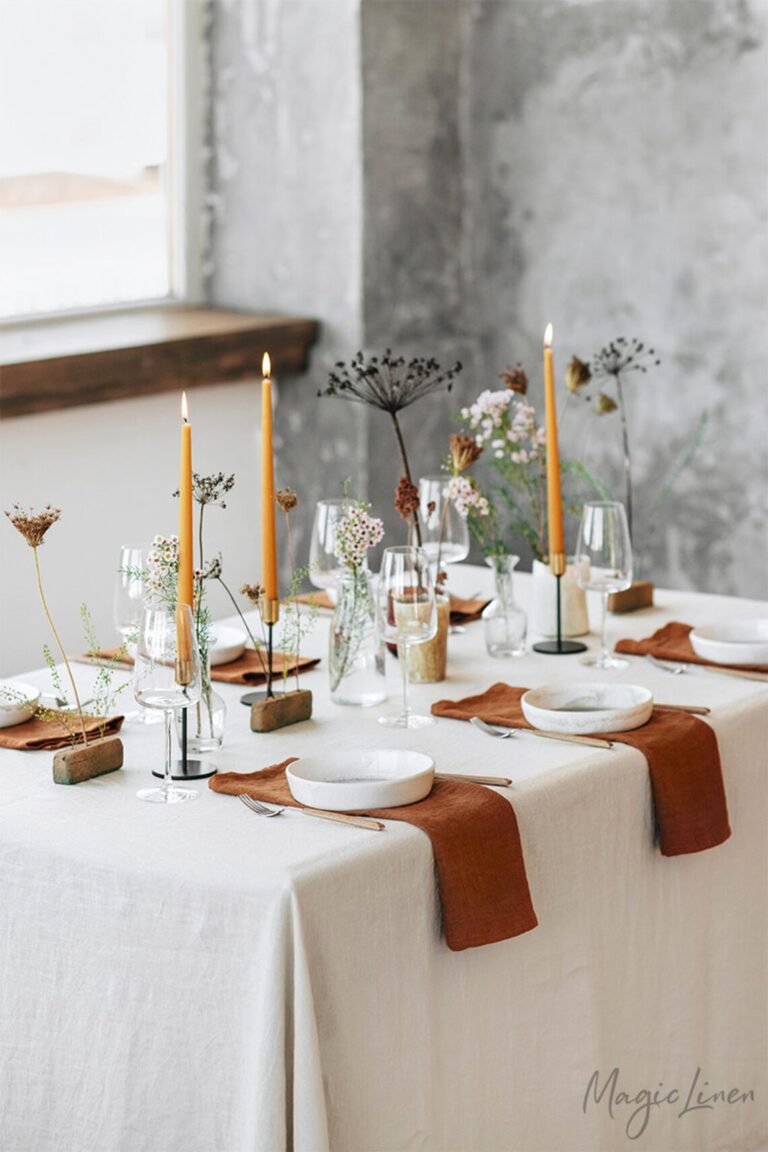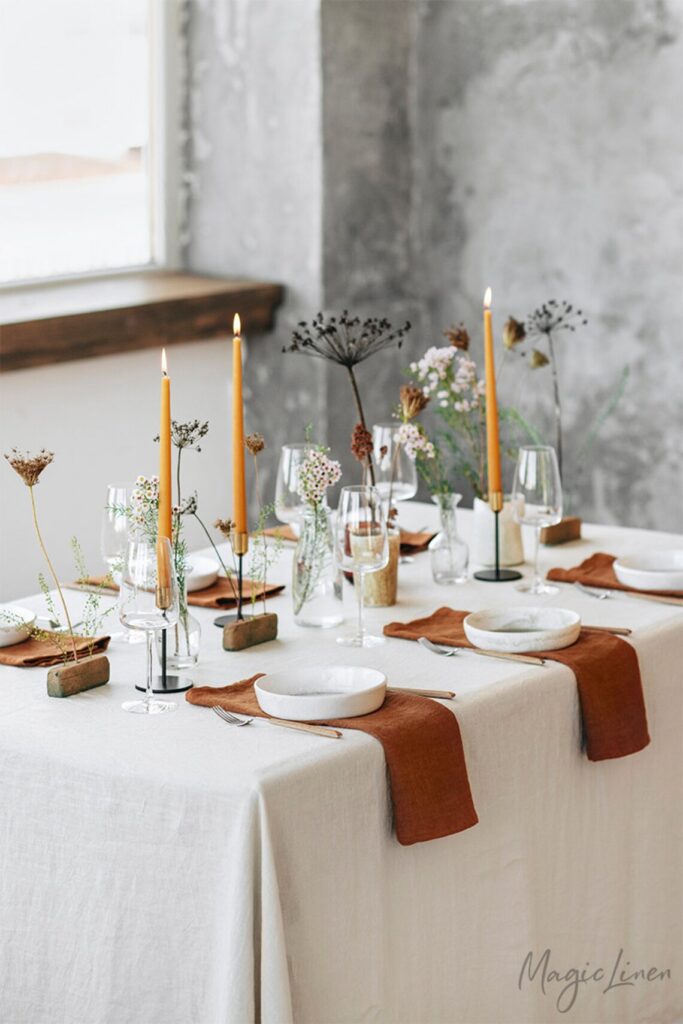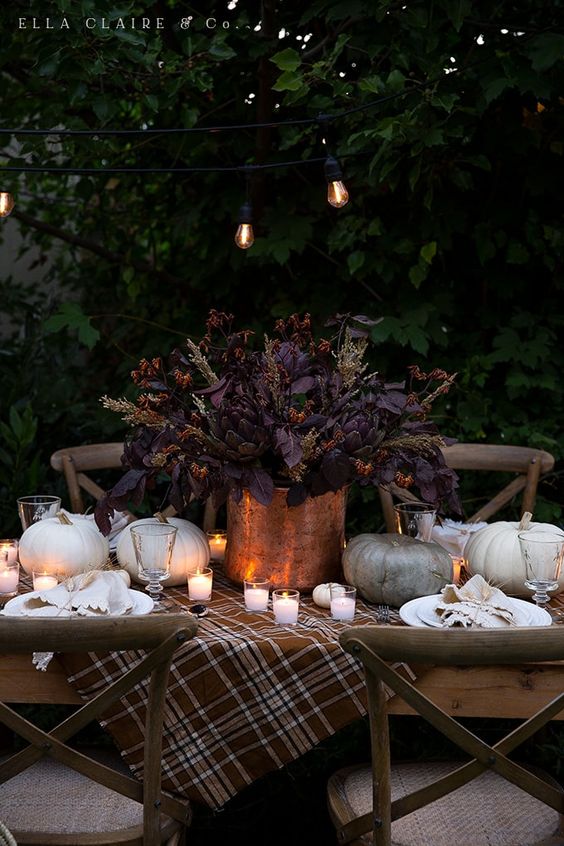 Are you hosting any gatherings over the next few months? I hope this post sparked some ideas or helped with your holiday entertaining ( I can't believe the holidays are almost upon us again!) You can find more inspiration in my Tablescapes folder on Pinterest.
Floral centerpiece tutorial—coming next week!