Like many of you, our Thanksgiving will be smaller this year (only six family members) but that shouldn't stop us from making it extra special! In fact, I'm putting more intention behind decorating for the holidays and making our celebrations memorable after this challenging year.
Starting with Thanksgiving…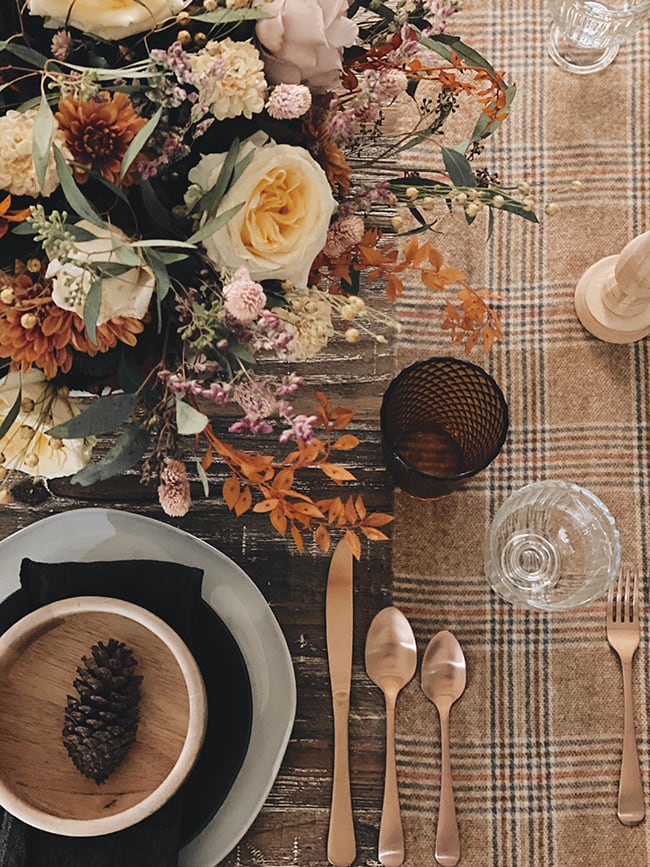 This year I drew inspiration from warm earth tones, organic elements, classic patterns and contrasting textures. I started with two of these plaid scarves I found (less than $10 on Amazon, and my favorite low-budget trick for table settings!)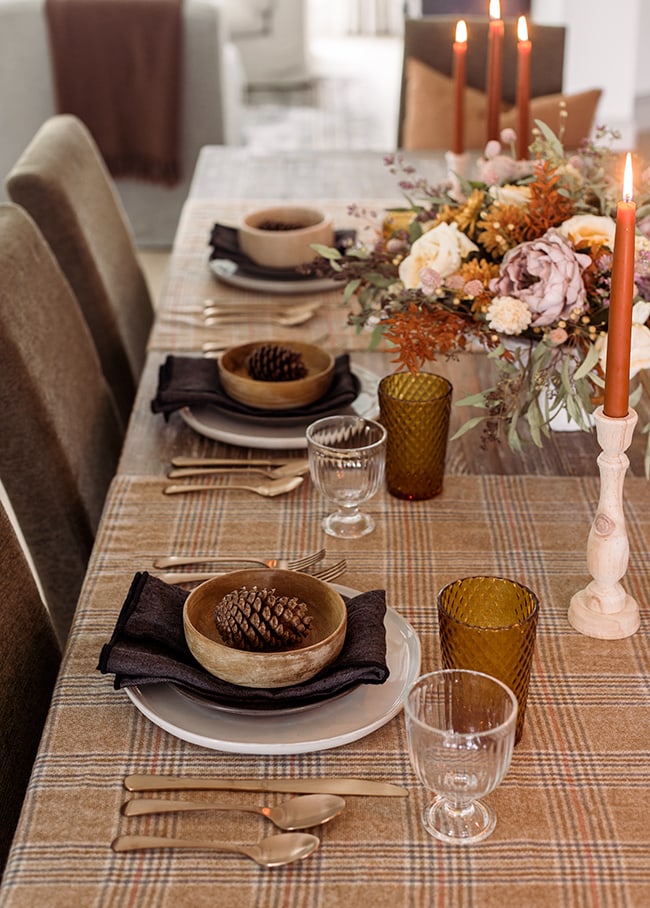 Bonus: the scarves are super soft and cute to wear (or use them for styling around the house!)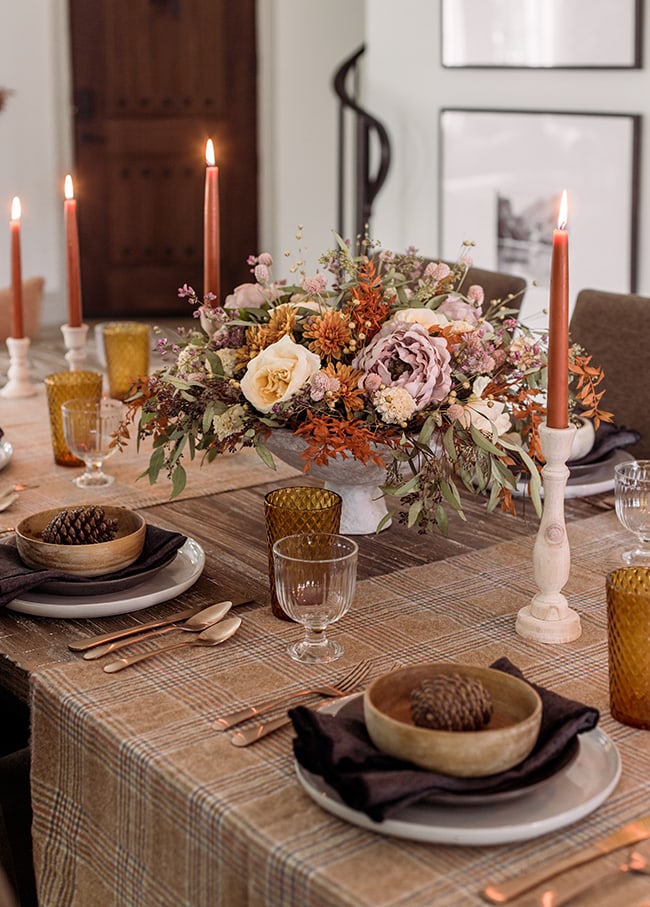 The stoneware dinner plates are our everyday plates from Target I've had for over a year (absolutely love them) and I already owned the black salad plates. The wooden bowls have been collected from thrift stores and the linen napkins are discontinued from Target, but you can find similar here.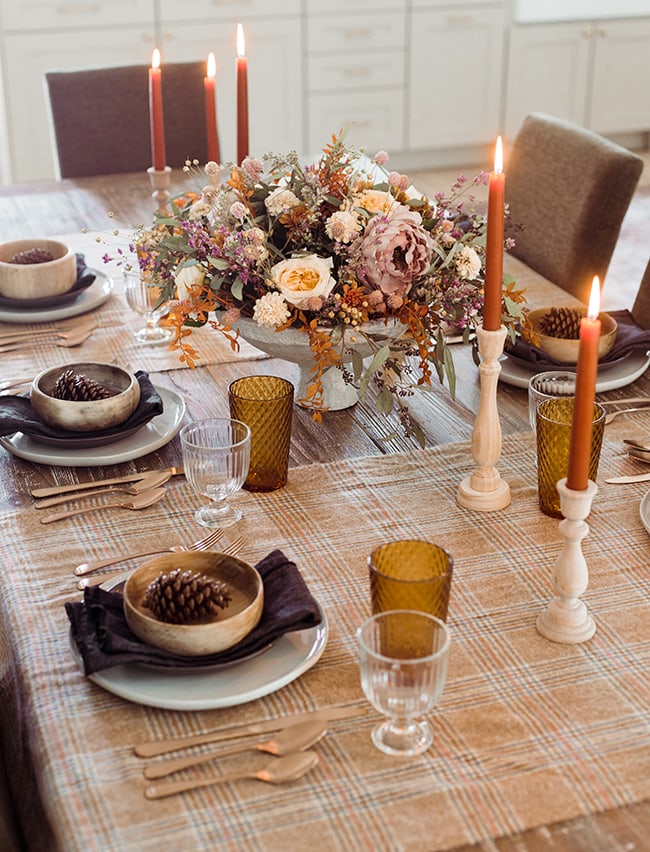 The embossed amber cups were a lucky score from Home Centric (similar here) and wine goblets from Ikea.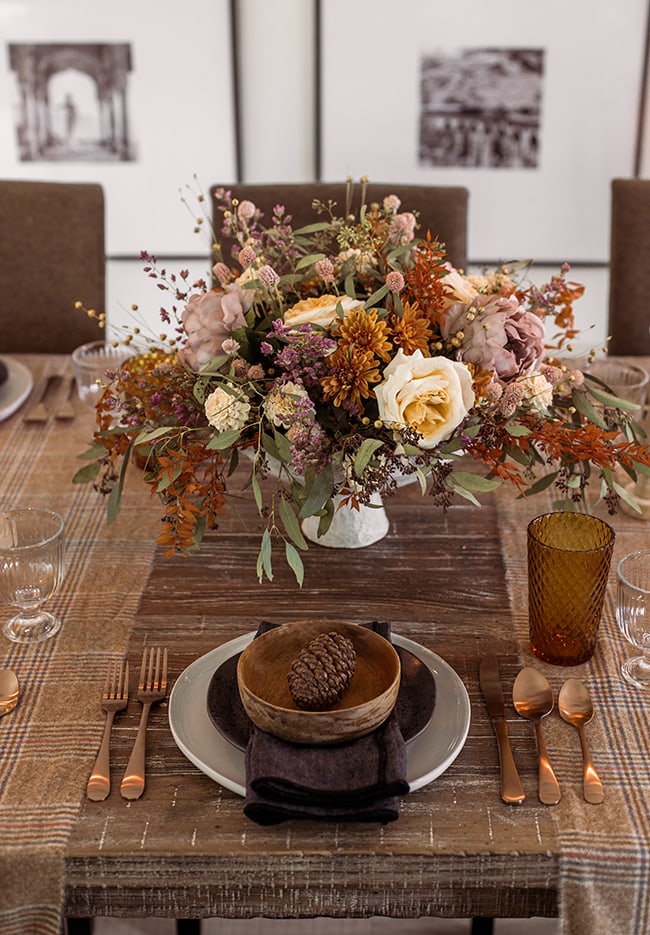 Just last week I found this matte rose gold flatware at a great price and ordered two sets. I'm in love with this color and the way it glows in the candlelight—so romantic!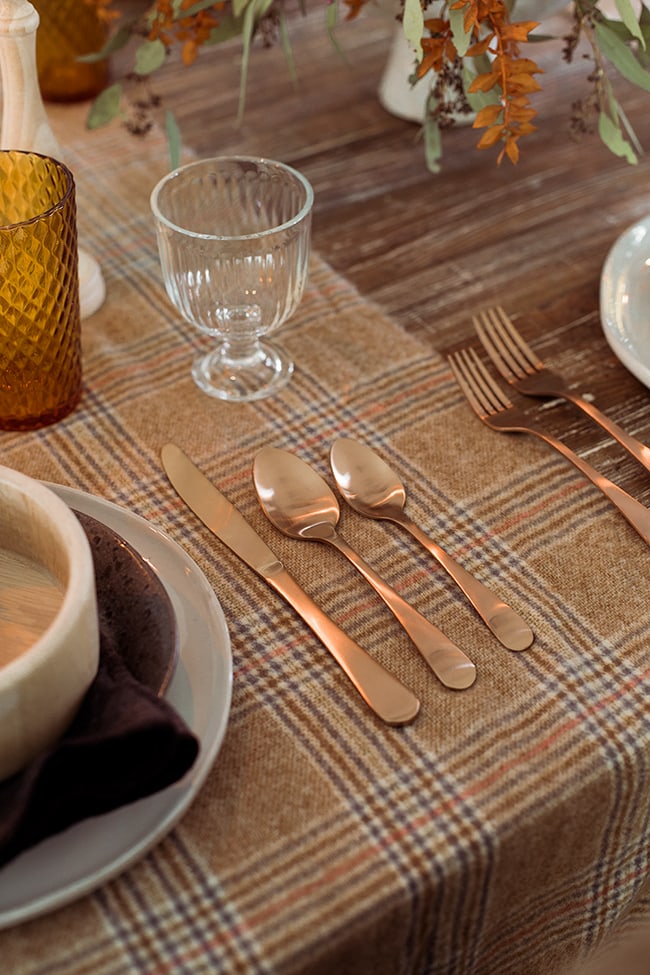 I just love the natural wood candle holders paired with these amber taper candles.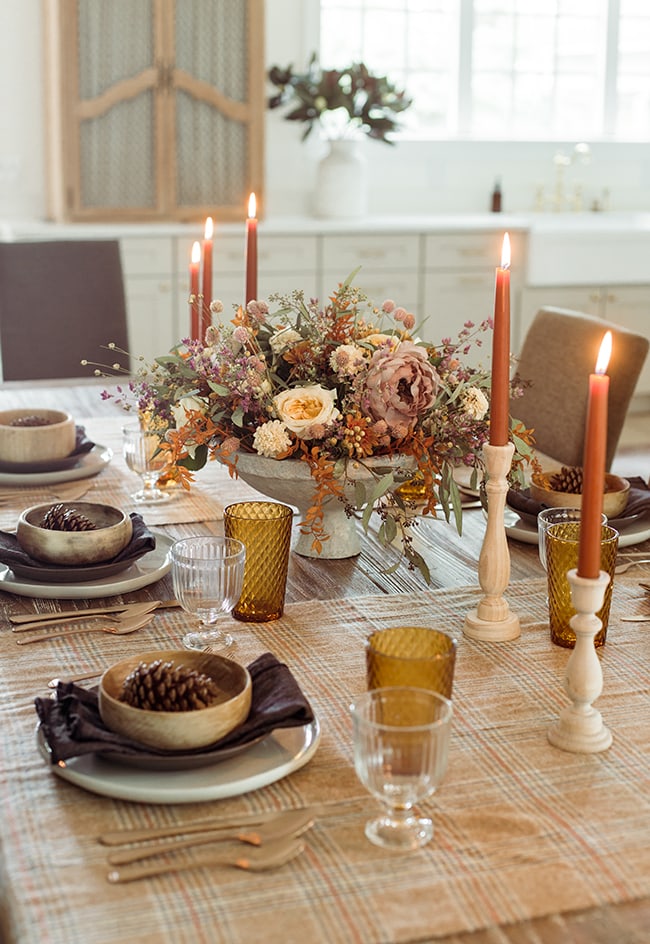 The star of this show, however, is undoubtedly the centerpiece. I put some planning into this one, sourcing a variety of stems and florals to create the perfect woodsy/elegant mix.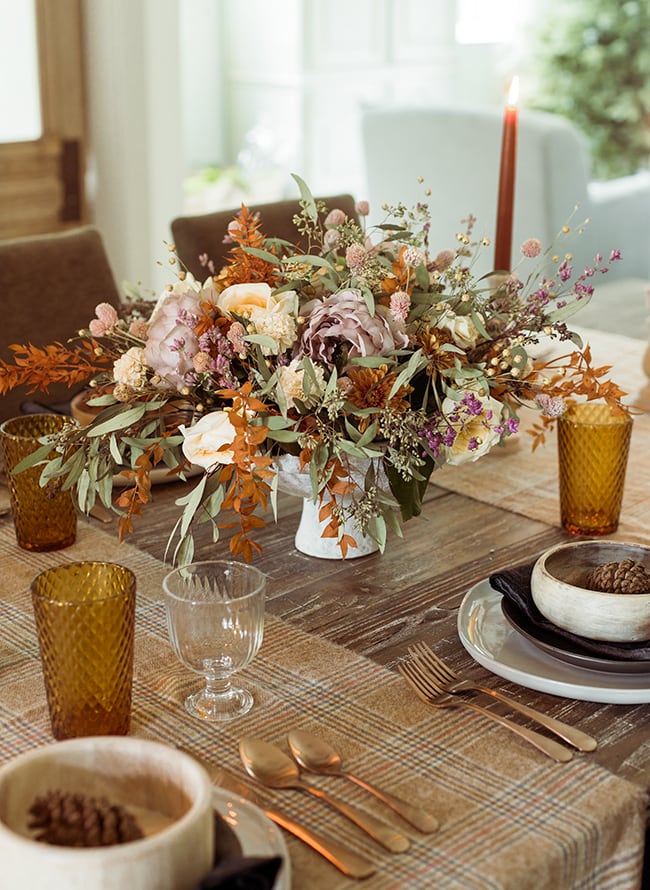 Want to make your own? Here's what you'll need:
Vessel/large bowl (mine was a DIY)
Tape
Scissors/shears
Variety of florals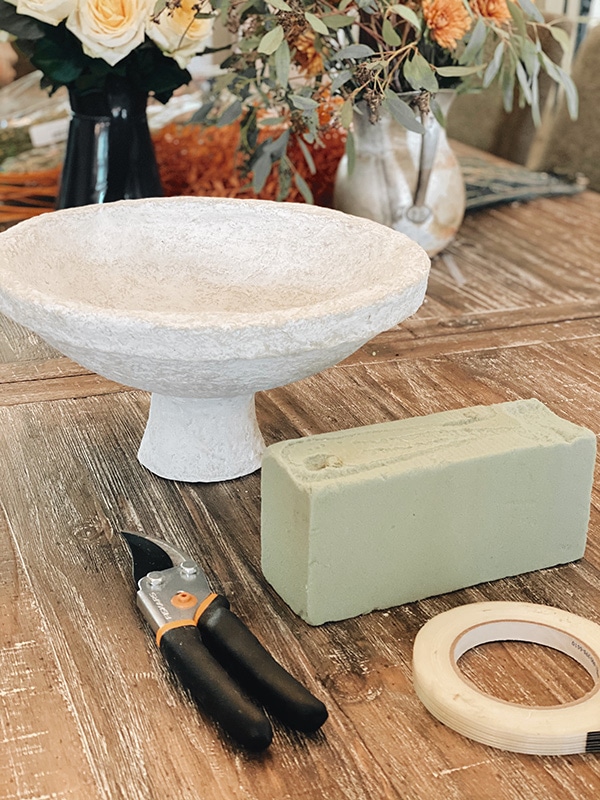 Here are the florals I used:
Live ivory roses from Trader Joe's
Live orange mums from Trader Joe's
Live eucalyptus from Trader Joe's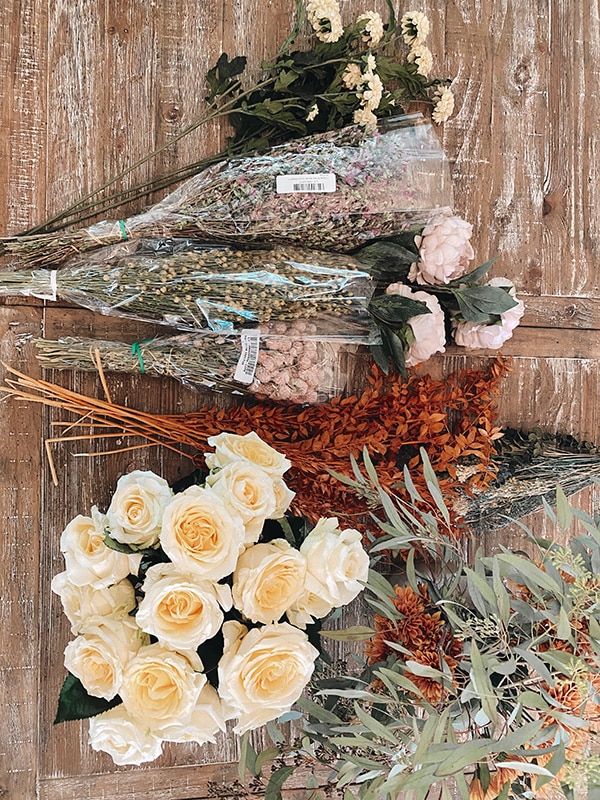 My secret to a stunning centerpiece? Variety! That includes using preserved, artificial and live plants in different colors and species. You can't tell the difference when they're all mixed together, and I was able to source a wider range of products online. Plus I can reuse most of it for future arrangements 🙂
Step 1: Cut the floral foam with a knife and tape it so it's secured to your vessel: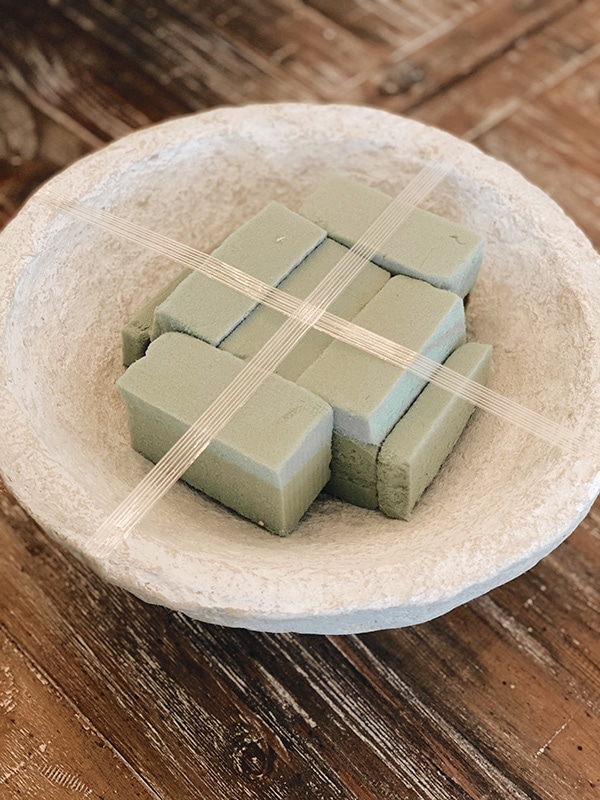 Then start with your longer pieces around the bottom.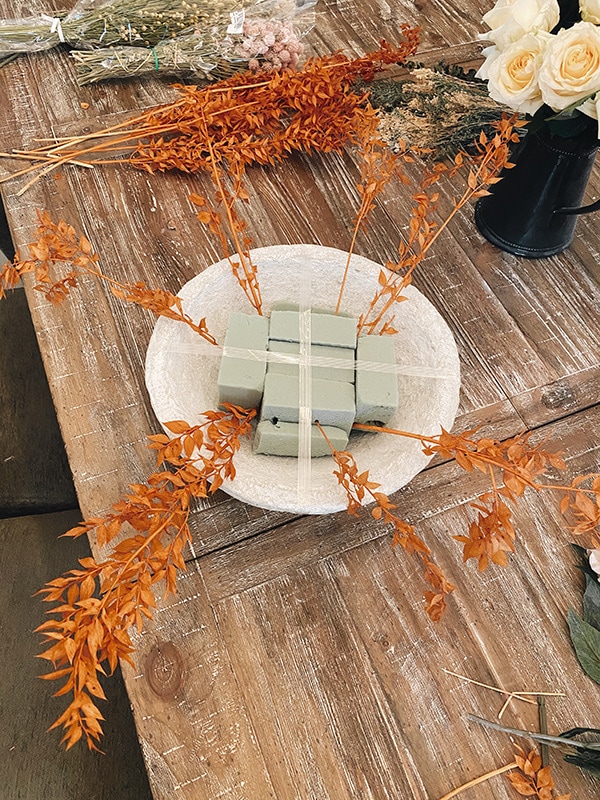 Add your secondary longer pieces (non-flower foliage like eucalyptus are good for this part).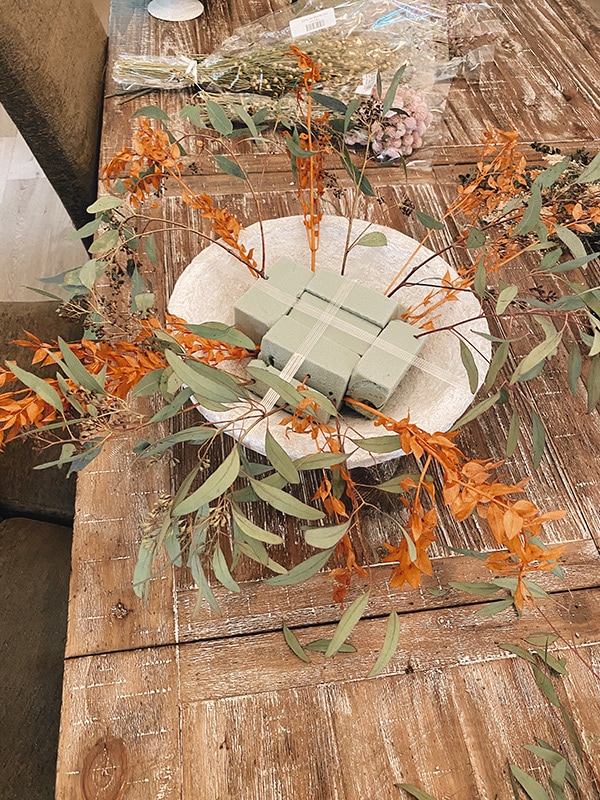 Then I placed my largest flowers, the mauve peonies: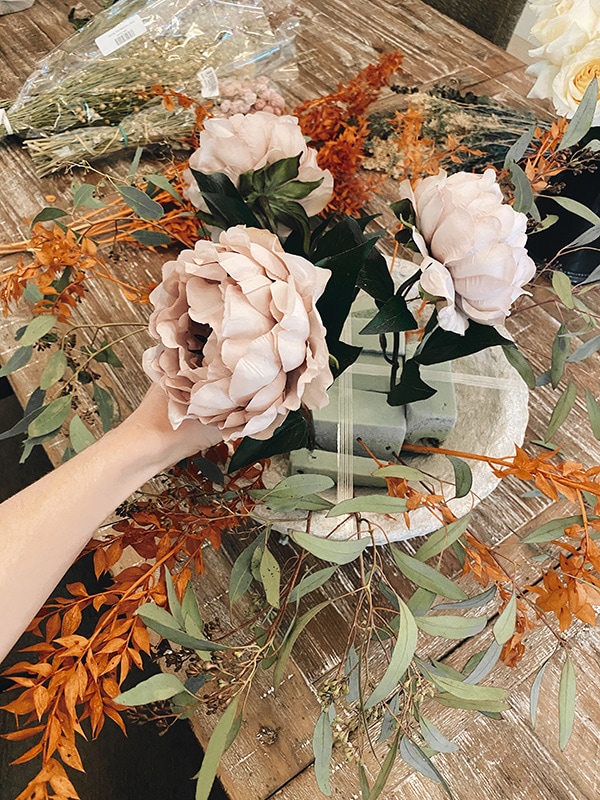 Followed by my second largest flowers, the roses: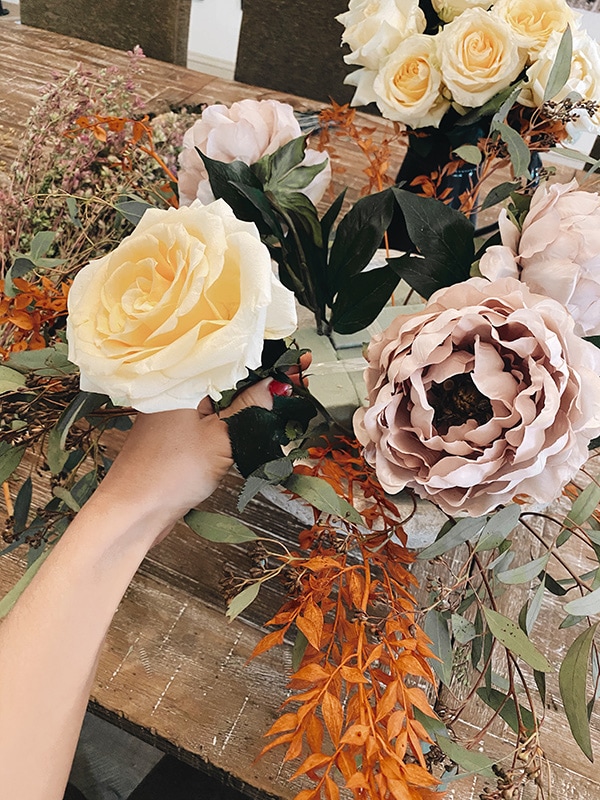 You want the placement to look random, but balanced. Spread them out but don't make the spacing too perfect.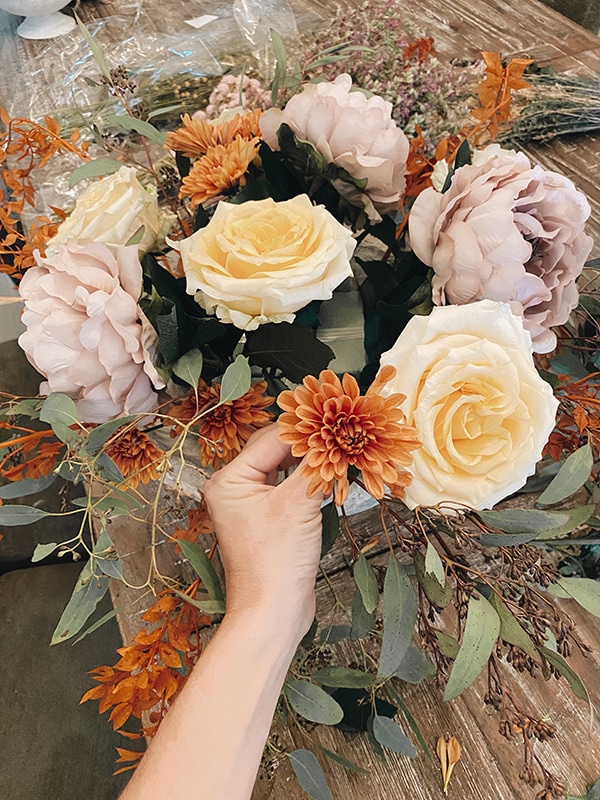 I like to work my way down from largest to smallest flower…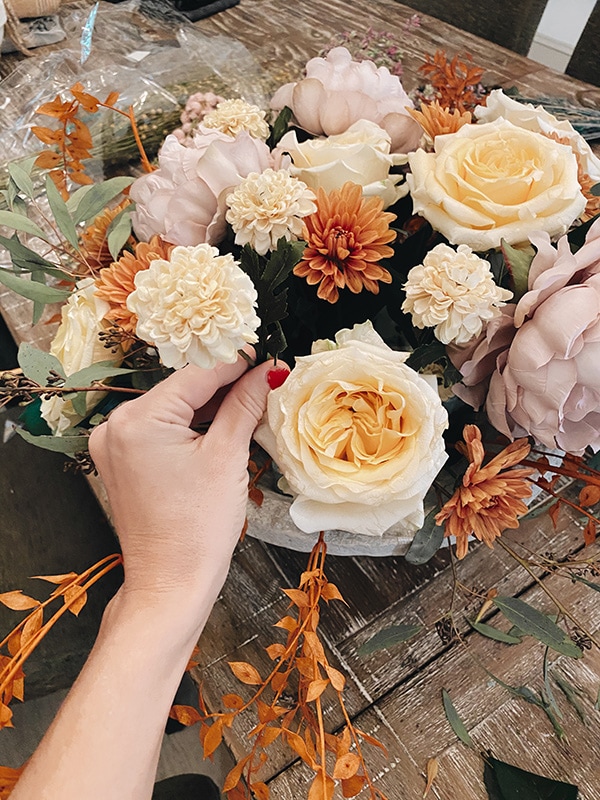 The preserved/dried florals are perfect for autumn.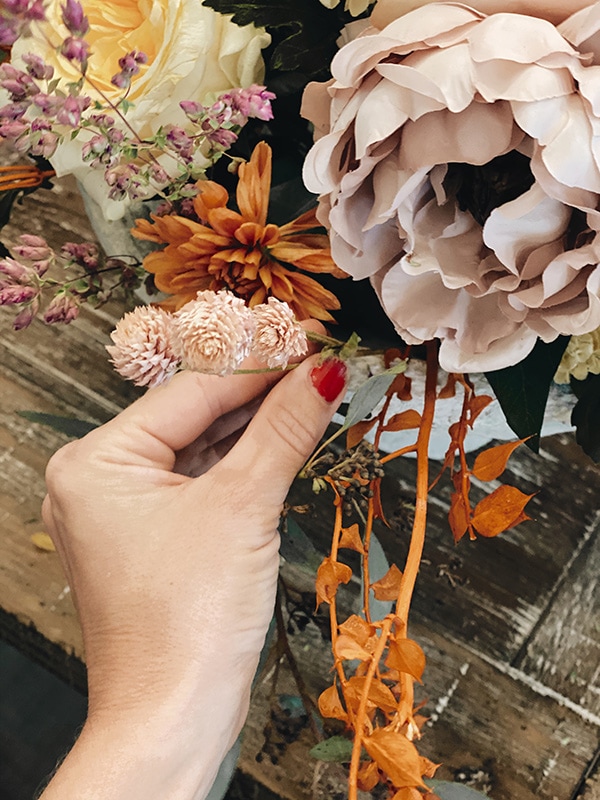 Lilac and golden tones are complementary colors that pair together quite nicely.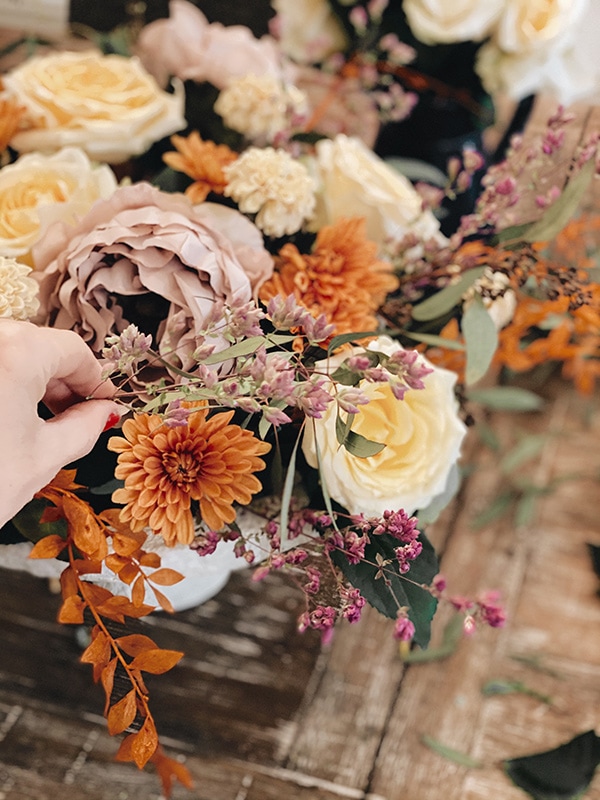 You certainly don't have to use this many different types of flowers or make your arrangement this full, I just wanted to go all out and have fun with it!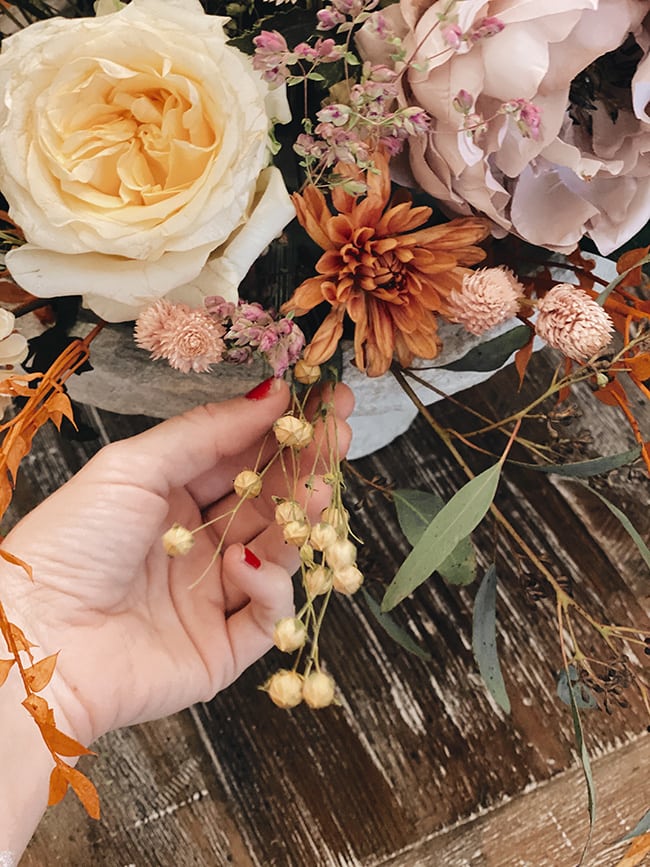 Once all my layers were added, I went back and filled in the center with more ruscus and eucalyptus.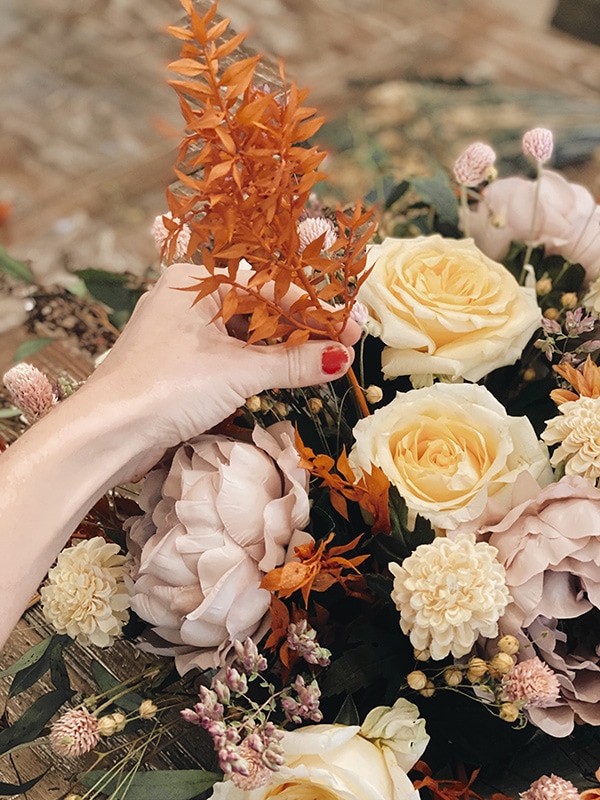 Pretty enough to be a wedding bouquet!
I had a fall wedding, so I'm a little partial to this look.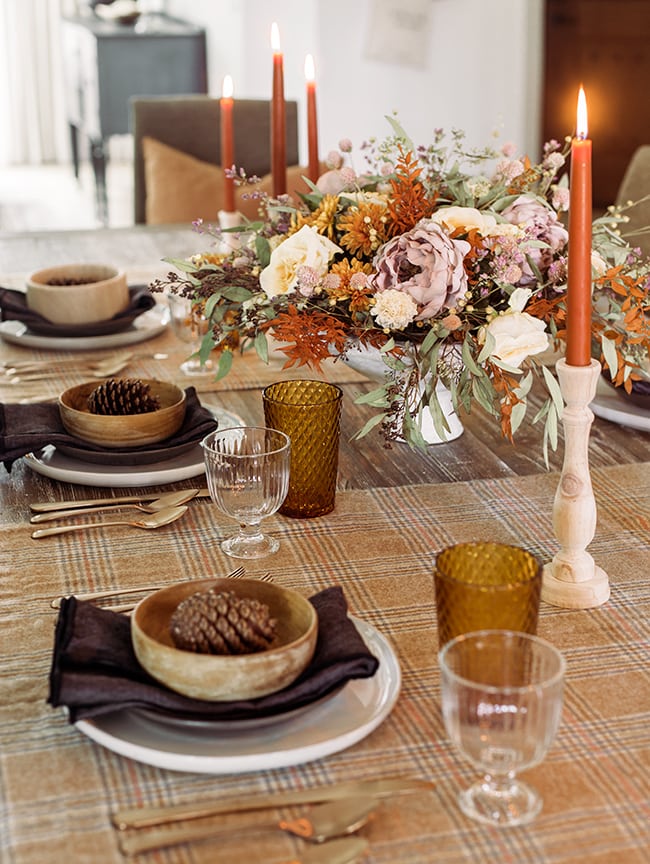 But why can't we make our everyday experience a little more luxurious too?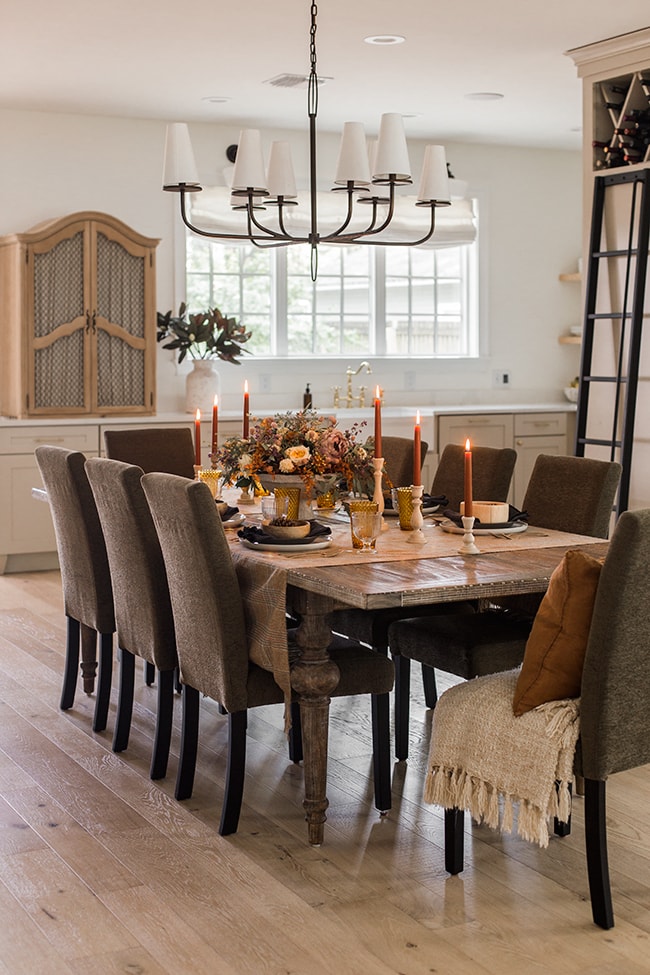 One thing 2020 has taught us is that life is short. Don't wait for a special occasion to use the fancy china—each day is worth celebrating.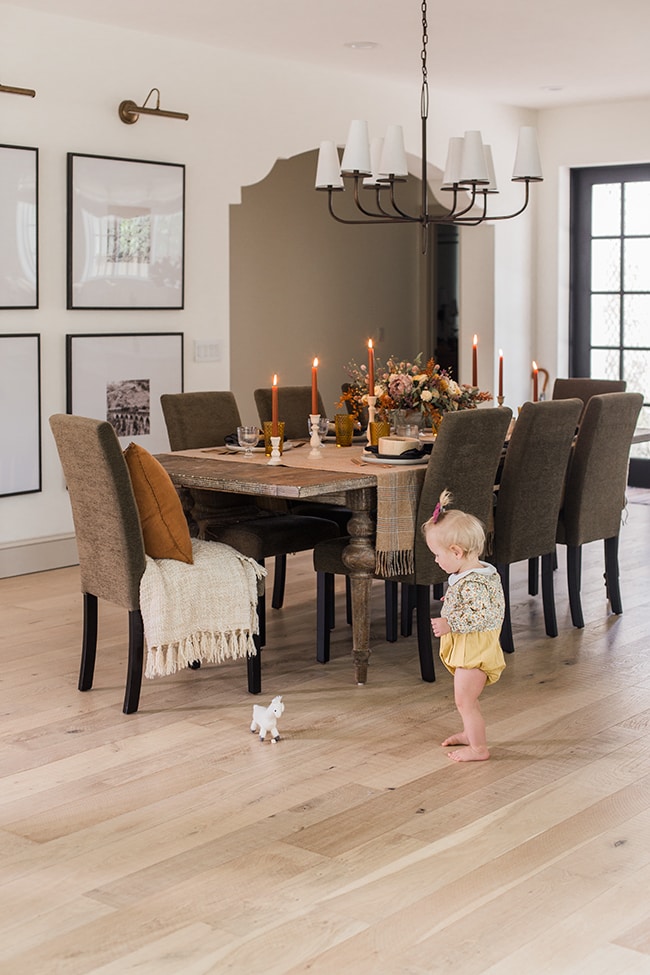 I'm keeping these glasses out so we can use and enjoy them more than once a year!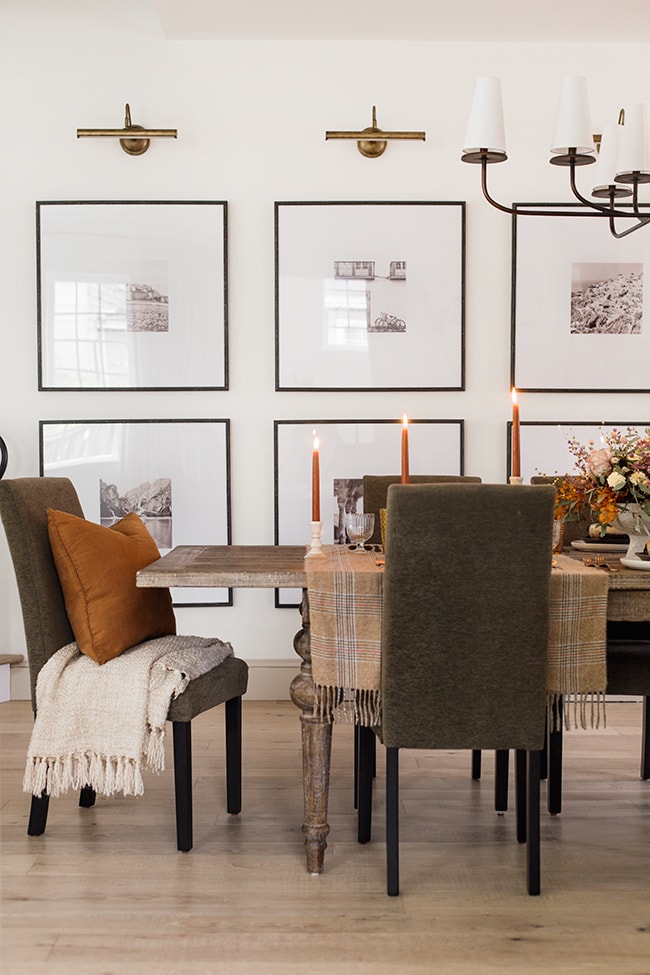 And on that note… let the holiday decorating begin! We put up our tree last week and haven't done anything else yet, but over the next couple weeks I'll be sprinkling touches of Christmas throughout the house.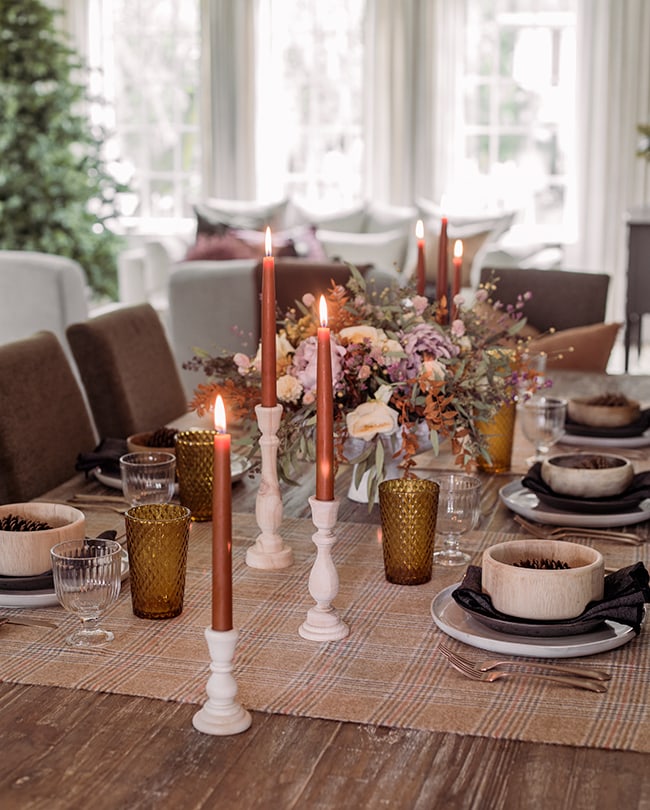 I'm going to take my time and enjoy the process, but I might have the living room ready to share with you next week.
Get the look:
Coming soon: the reveal of our fluted cabinet doors!