Yes it's official—our Spanish BnB has a name! We mulled over all of your suggestions (thank you!) and kept coming back to Hacienda Hideaway, so that's what it will be referred to from here on out (and I had the name engraved onto a cutting board so there's no turning back, hah).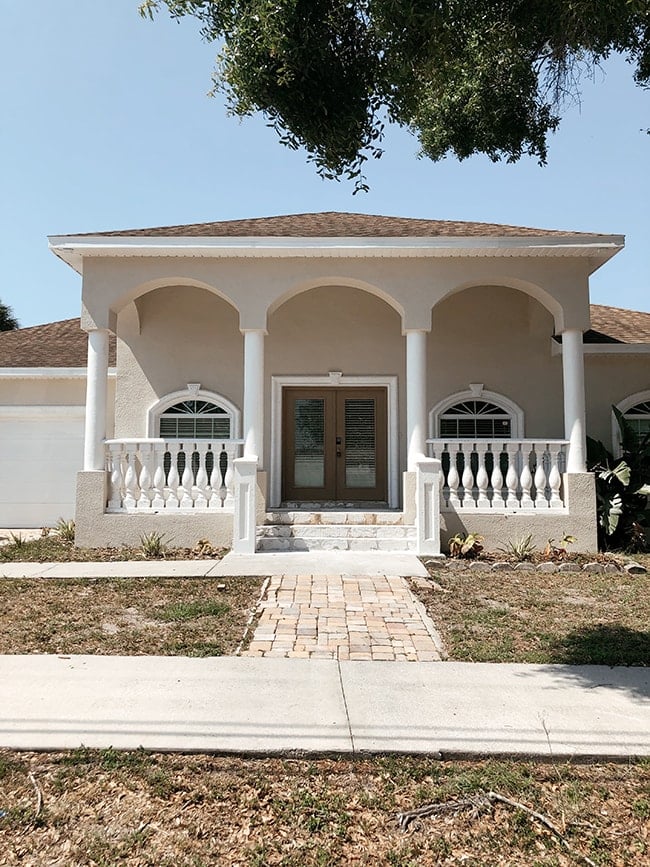 Today, I'm sharing all the details about our grand plans for the backyard. Brace yourself, this one is a lot to digest. We went into this knowing that the majority of our focus and budget would be spent on the backyard, so we've been trying to sort it all out since before we even went under contract in March.
If you've been building or renovating over the last few months, you probably have an understanding of how insane it is out there right now. Prices have skyrocketed, demand is at an all time high and supply is at an all time low. Contractors are too busy to return your calls or they just flat out refuse the work. We've never seen anything like this in our years of renovating. Needless to say, it has been a struggle to get anything in motion and a very frustrating, defeating few months.
I'll explain more about our setbacks/anticipated timeline in just a second, but first, let's talk plans! Starting with the photos of how it looks today…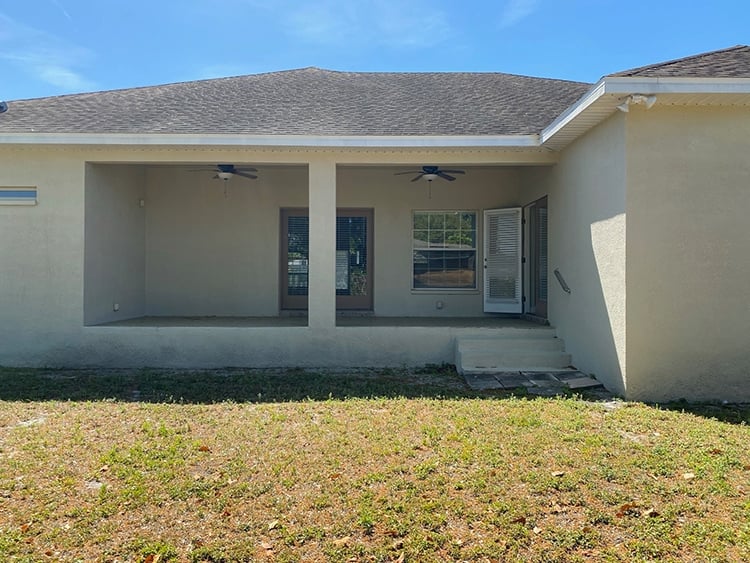 This yard is the perfect size for our needs. Large enough to have a pool, a spot to sunbathe, a large dining area with a grill plus a covered patio—but not so large that it's too much to clean/maintain. Here's the main yard space: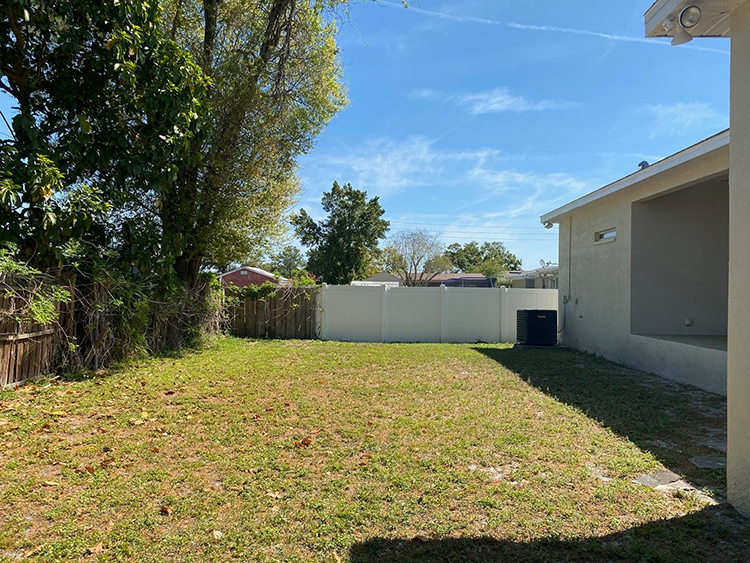 Here's the other side, behind the primary bedroom—this will become the dining area: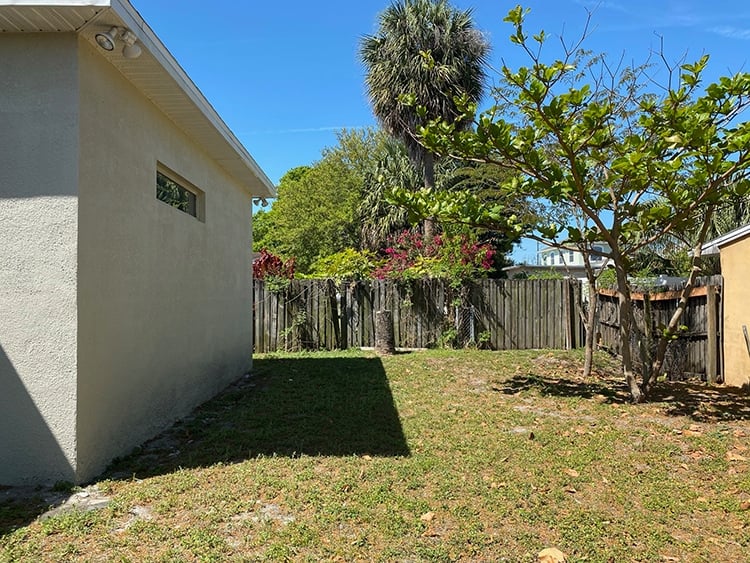 I'm so excited about this covered patio. The double doors on the left are the entrance from the great room/living room, and the open door leads to the primary bedroom.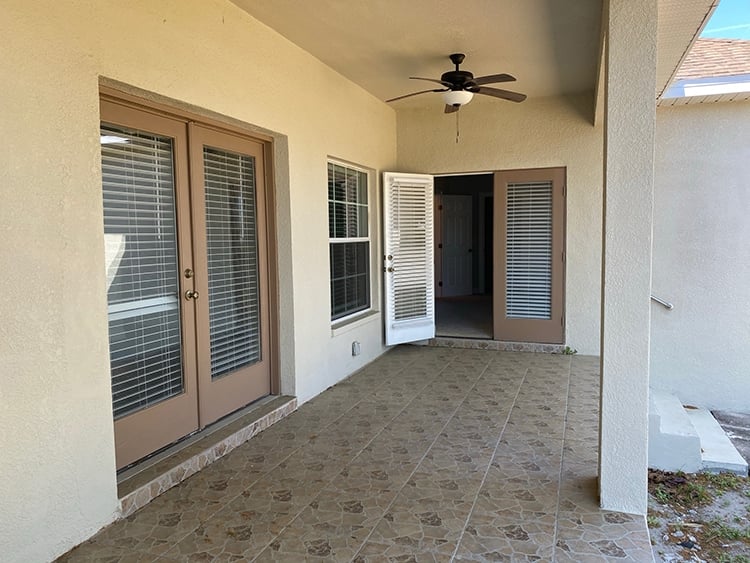 After giving it lots of thought, this is what we came up with: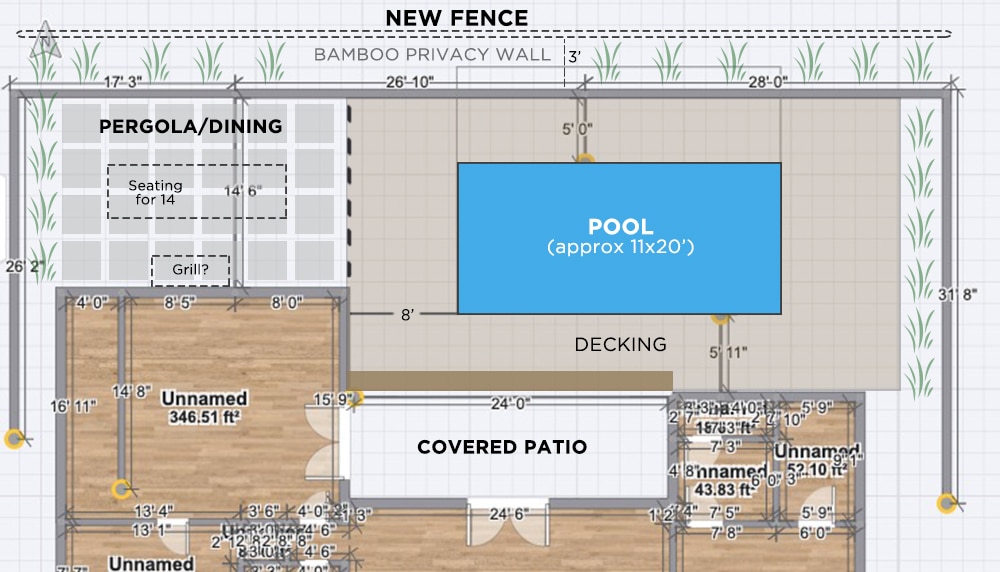 Can you picture it?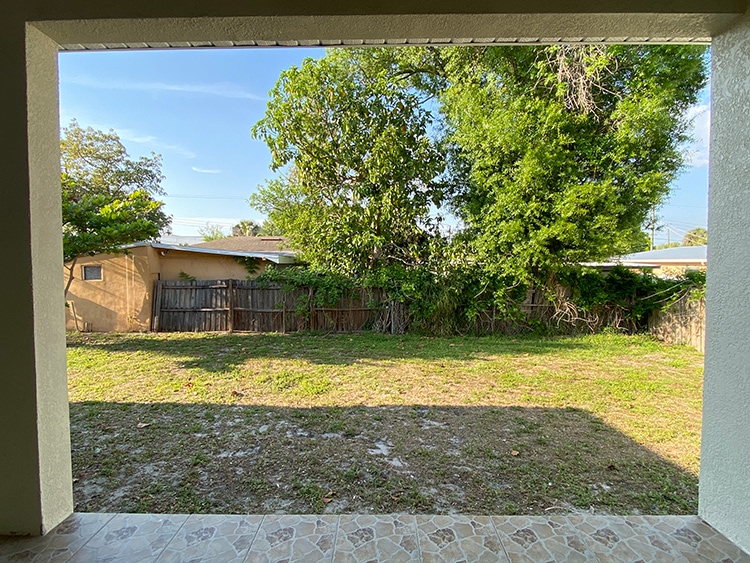 The visualizations in my head only go so far, so I teamed up with Yardzen to bring the space to life through realistic renderings. They offered to create the 3D images (with input from their professional landscape designers) in exchange for sharing about my experience—of course I couldn't pass that up! Now can you picture it?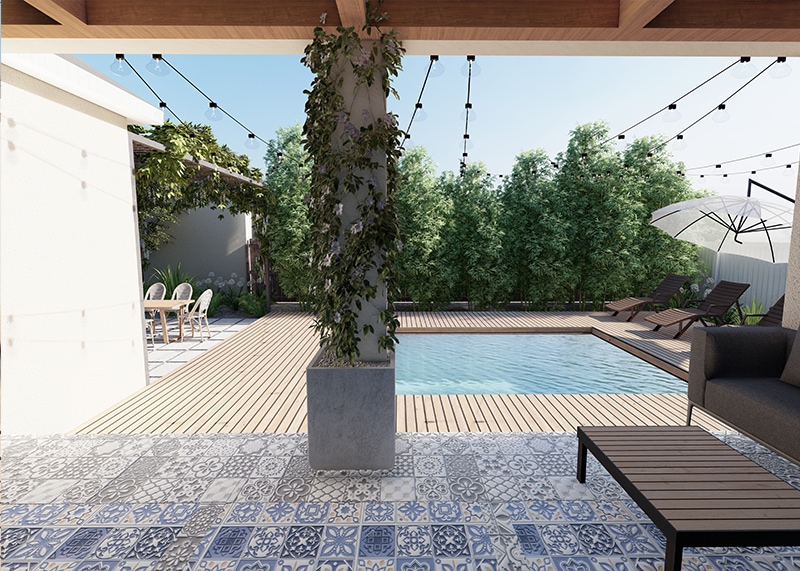 Isn't it amazing to be able to show you exactly what it will look like? Does this make you more excited for the renovation? I'm so pumped—we've never done anything like this before.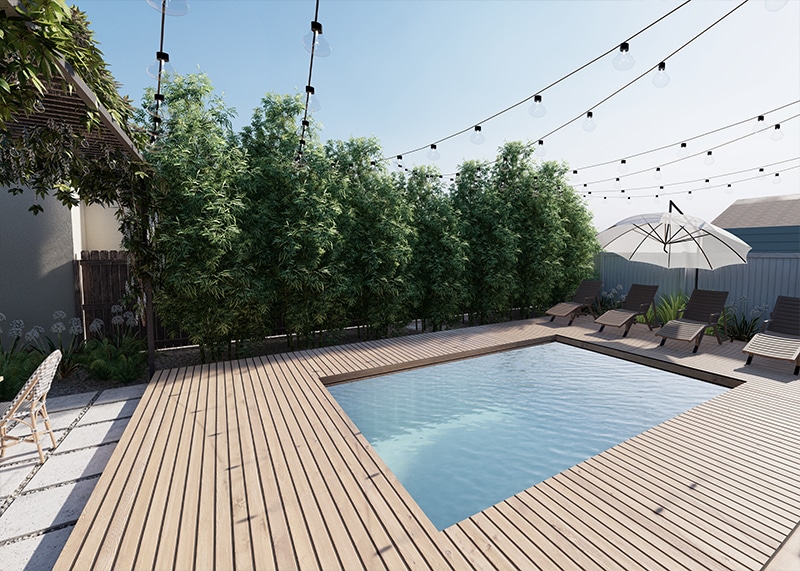 If you're curious about how the process works with Yardzen, it's quite simple. You complete a series of questions about what you want to include in your backyard, your budget, and share inspiration photos. You don't have to have the plans already figured out like I did—they'll come up with a design plan and all of the details (including a list of plants specific to your climate, and links to products within your budget). They can also match you with a contractor in your area to execute the plans.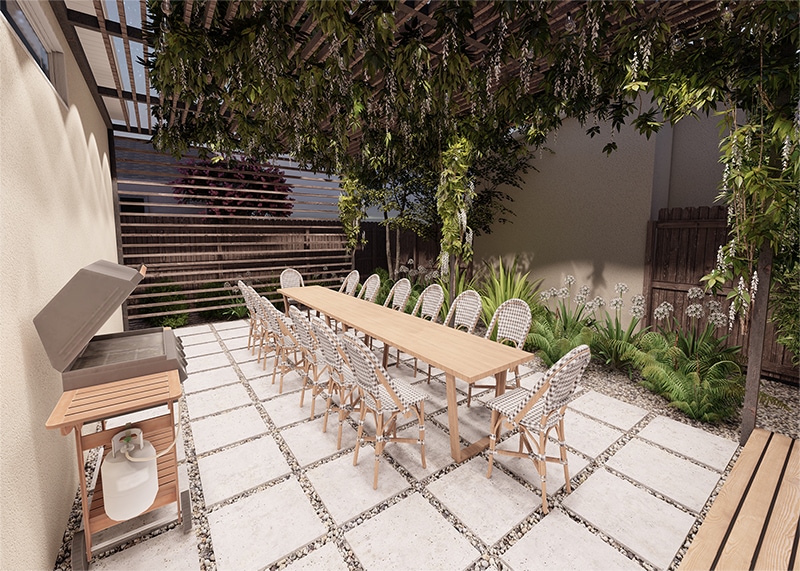 I'll be sourcing all of the materials myself, and potentially enlisting Yardzen's help to find contractors for some of the installations. Here's the aerial view so you can see the entire layout: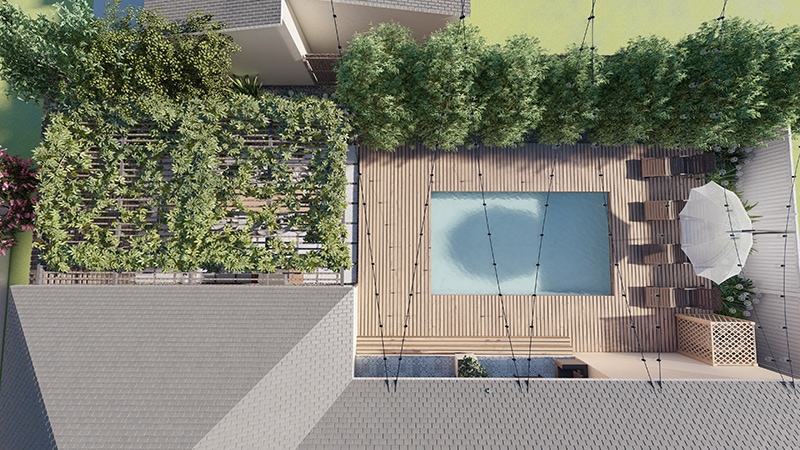 It's going to be a very long process and there's one giant roadblock to get through before we can start on anything else—the pool.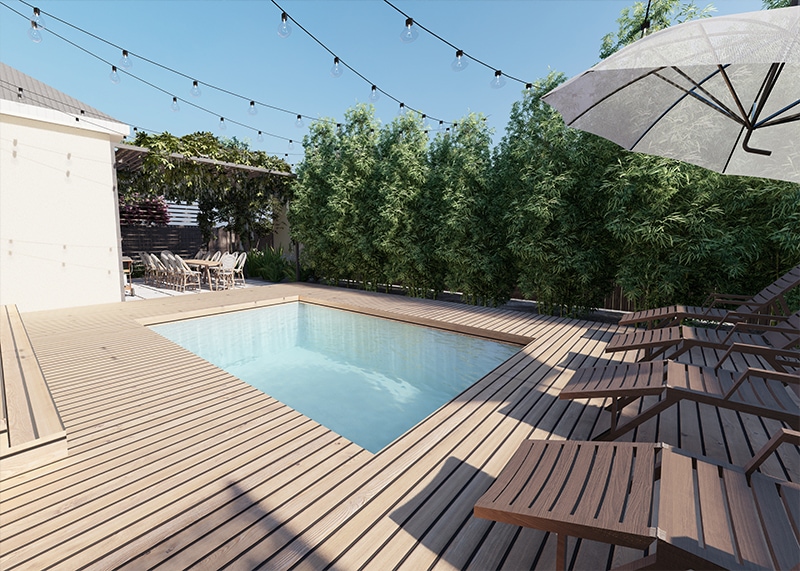 After lots of research, we decided to go with a fiberglass pool. Here's what sold us:
Little to no maintenance
Built to last with a lifetime warranty
Quick installation
Non-abrasive surface
Fiberglass beats vinyl liner and concrete pools across the board, and they typically cost about the same as a concrete pool or slightly higher depending on the model (at least around here). The only downside is that you're limited to whatever options they're available in, but there's plenty of options out there and this is the one we landed on: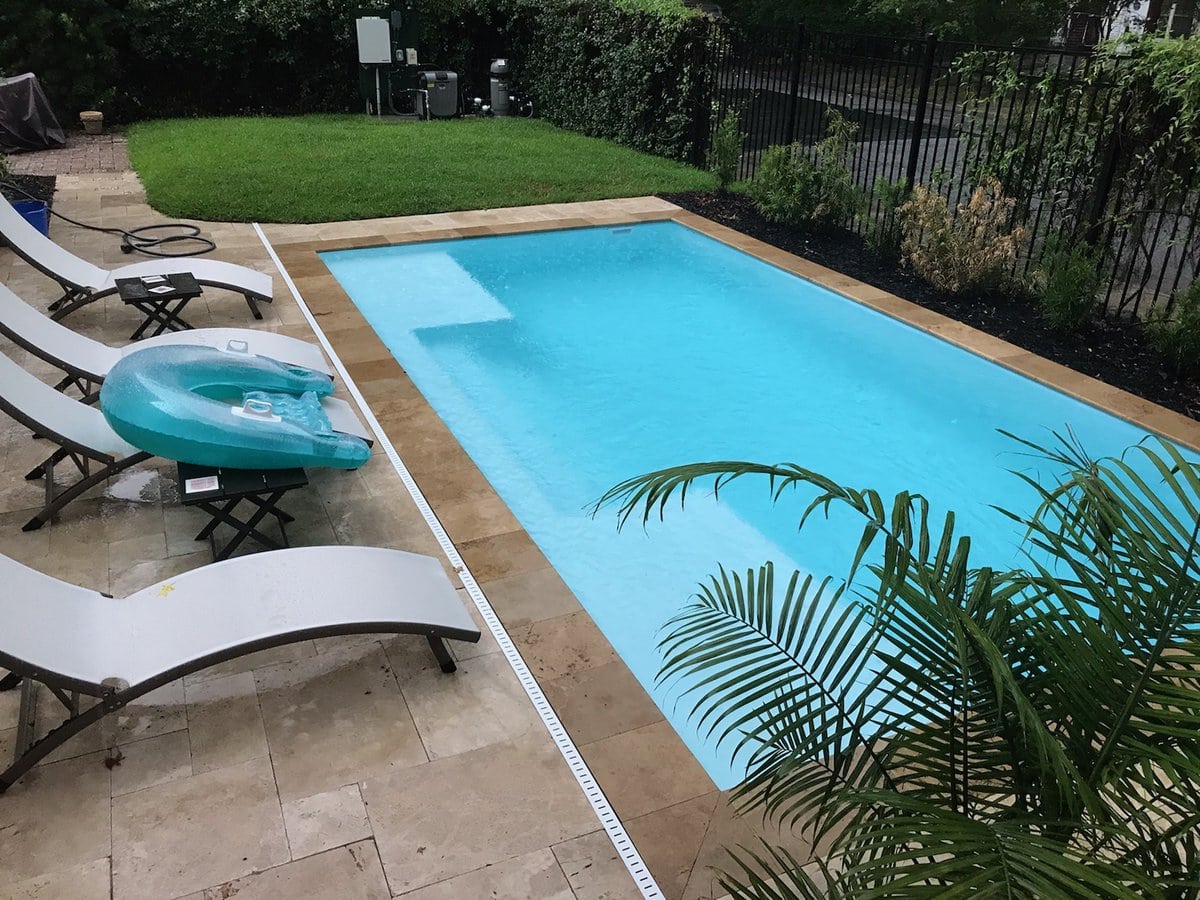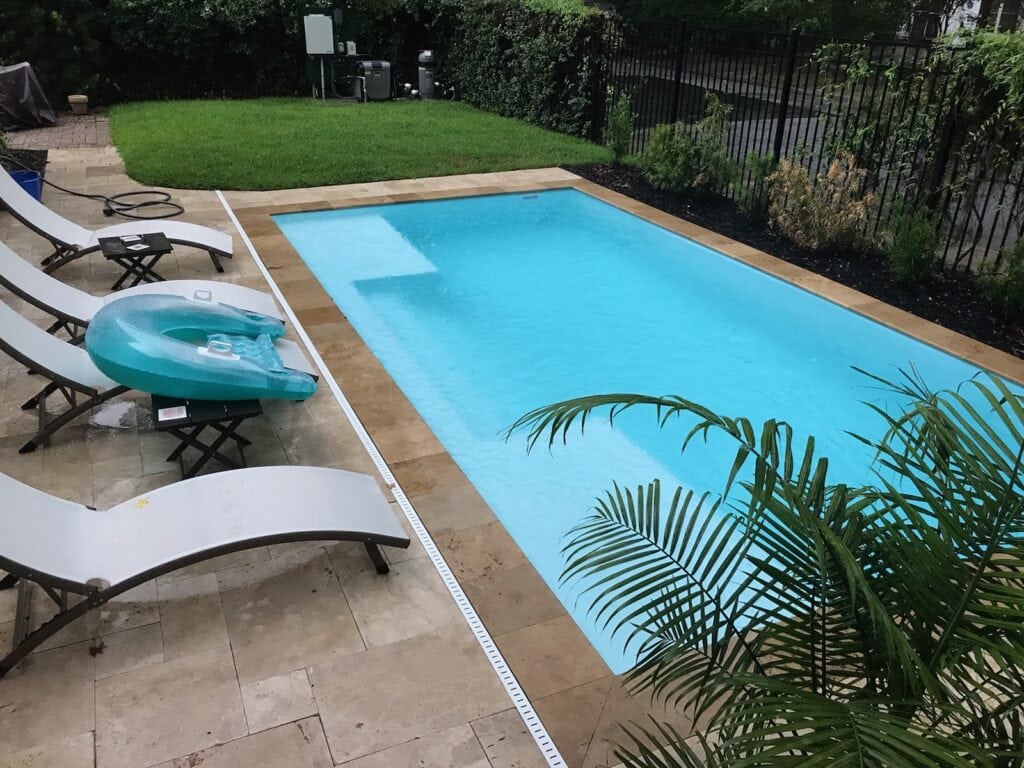 It's the Broadway model by San Juan pools. We needed a pretty specific size to fit our yard and fit code (at least 5′ from the house and property line) and this one was just right at 10'11" by 20″10″. I'm a huge fan of the double tanning ledges and wide steps in the center—it's an ideal setup for sunbathing, swimming and suited for people of all ages.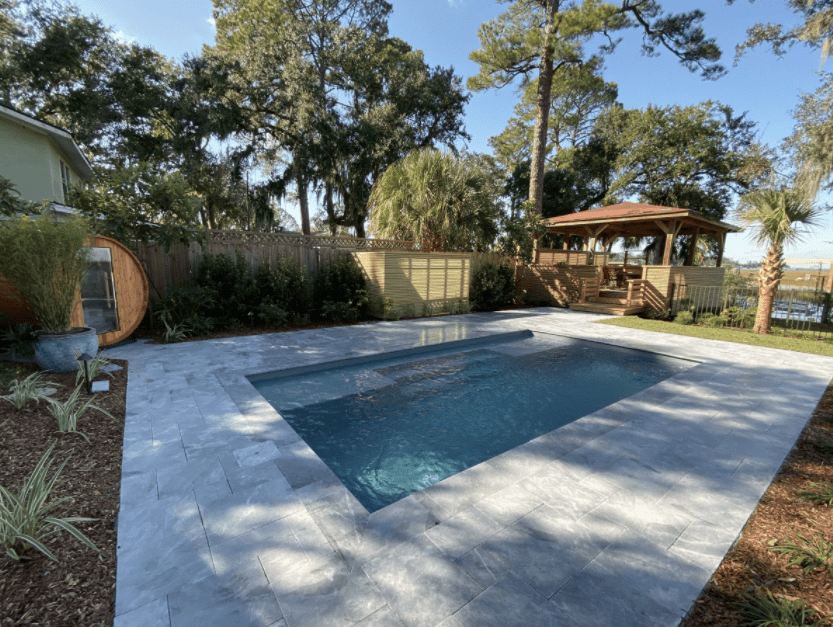 After finding the the perfect pool, we had to find a local installer who carried this model. We were able to find two companies in the area, and in the end, it simply came down to price. Our total cost is expected to come in at around $35k installed (including a few upgrades like deck jets and a darker blue surface, salt water system and city permitting).
However, there's one very big setback. The Texas freeze earlier this year has caused a resin shortage which means there is an unprecedented delay in fiberglass pools. Our installer is not able to provide an ETA on delivery/install, and San Juan can only say the pool will be available "sometime in 2022". For us, it's worth waiting a year or more to get the ideal pool that we'll never have to worry about. We knew this house renovation would take at least a year regardless, so now we'll just spend our time focusing on the inside and tackle the backyard last.
Let's talk more about the design details! The plan is to install decking around the pool (durable and low-maintenance composite wood) to achieve this look:
None of the products have been sourced yet, since we won't be able to start on those until after the pool is installed but I have started exploring options with Fortress BP.
On the left side of the yard, we'll be using concrete pavers + pea gravel underneath the dining area—a cost effective landscaping feature that we'll most likely DIY: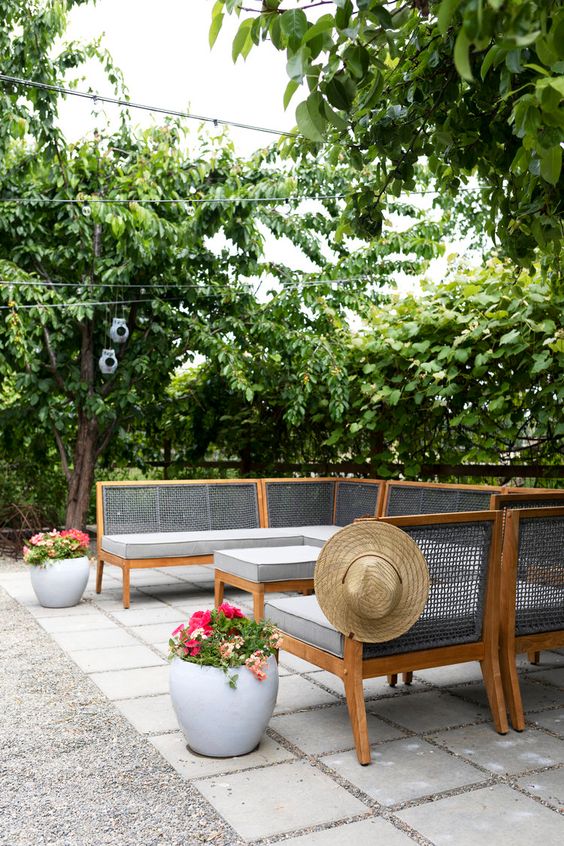 To provide shade and privacy, we'll also construct a pergola over this area with a slat wall on the west side of the property. I'm picturing something similar to this, but ideally at least the main frame would be made from steel to avoid the frequent maintenance of wood: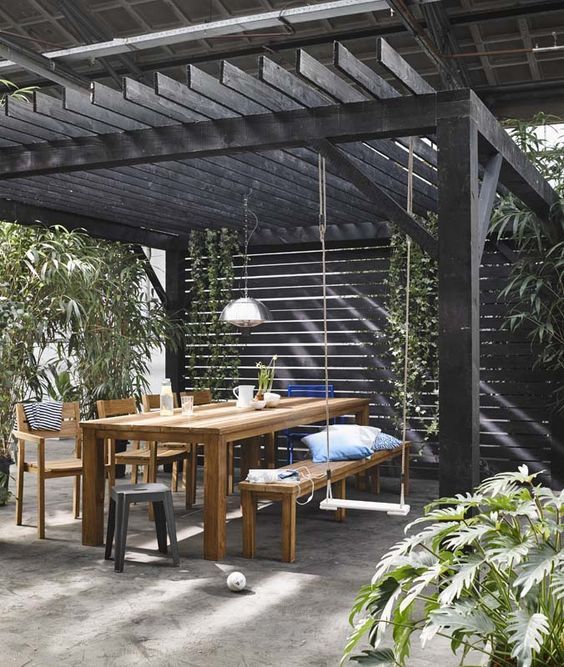 Under the pergola I'd like to have two tables (seating for 12-14) plus a grill, and maybe even a hanging chair or two if there's enough room…
It would also be fun to grow some sort of climbing vines and pretty hanging lights and lanterns…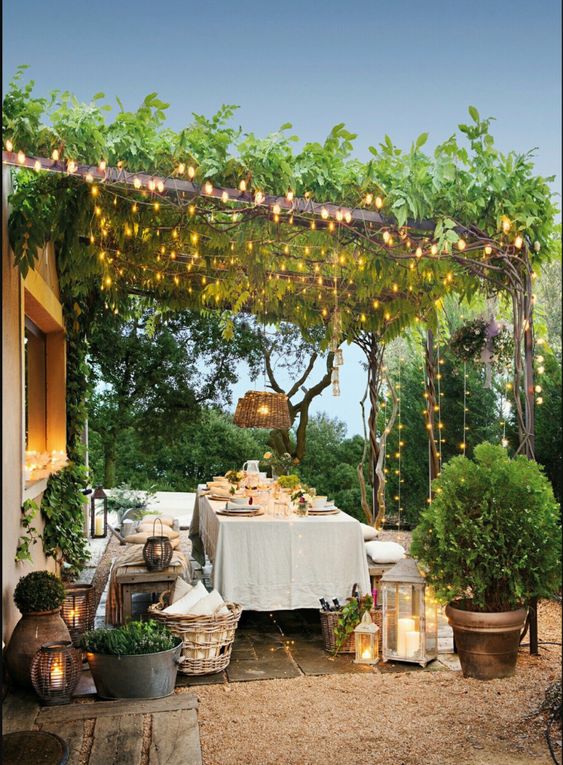 After going through a major backyard renovation for a rental once (and then having to redo it a year later) we've realized how important having a low (or no) maintenance yard is. We can't afford monthly landscaping services so we're being very selective about the plants we use. The best thing we did in our Riverside Retreat backyard was plant fast growing bamboo along the fence, and we plan to do the same here, but around the entire backyard.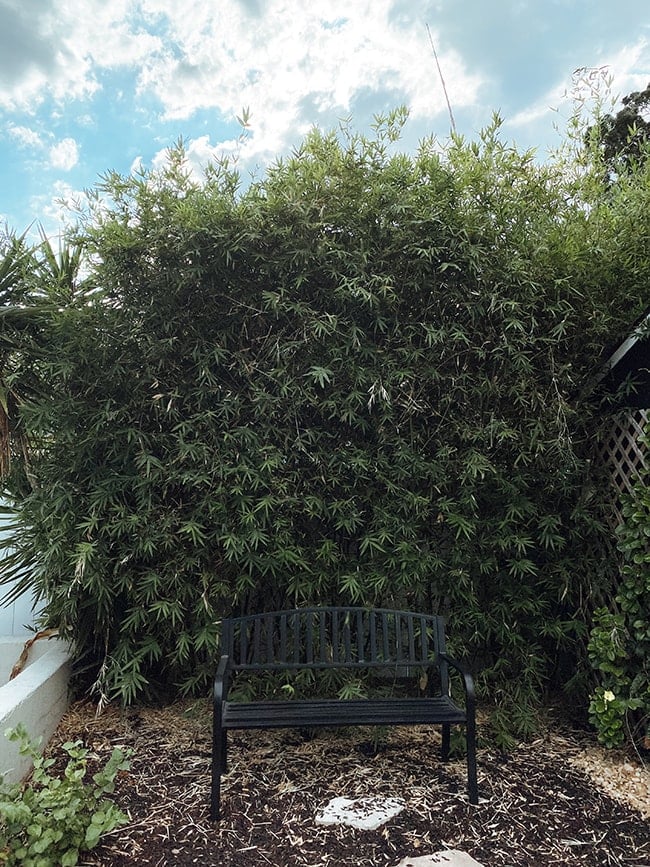 This is a relatively cost-effective way to provide privacy, and a gorgeous lush green backdrop needed for our Spanish-tropical style oasis. The bamboo will become more dense over time and really create that secluded sanctuary feel for our guests (don't worry, we use the non-invasive clumping Seabreeze species!)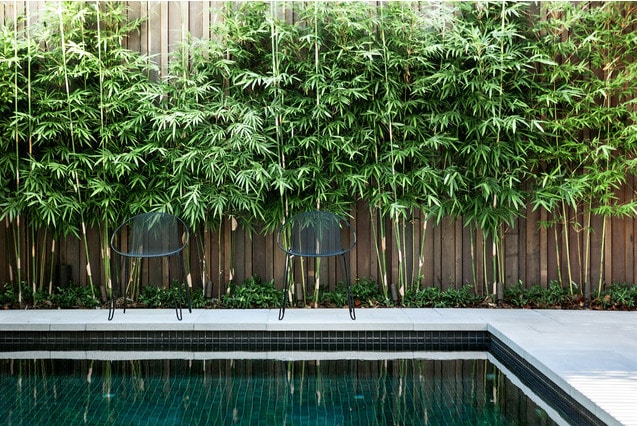 Now that the yard is covered, let's talk about the patio! I've been going back and forth with tile options and honestly still don't have it figured out. The only thing I've finalized is the sectional sofa (as seen in last week's post) but I can't make up my mind on the tile.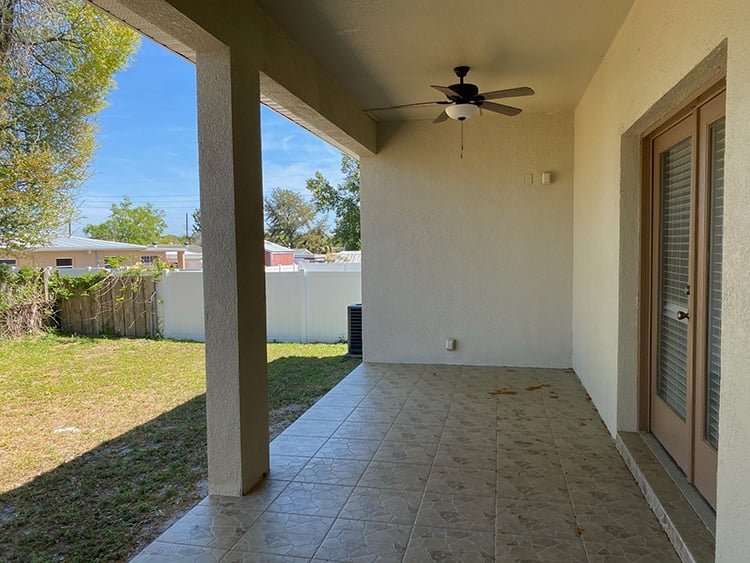 Here are a few favorites that stand out from my Pinterest board… how can you even chose?!
One thing I know for sure: I want the tile to make a statement. Whether that's colorful mosaic Moroccan style or mixed with an accent of Spanish terra-cotta—still undecided. Whatever I choose, I want to repeat the tile on our front porch for cohesiveness, so it needs to work there too.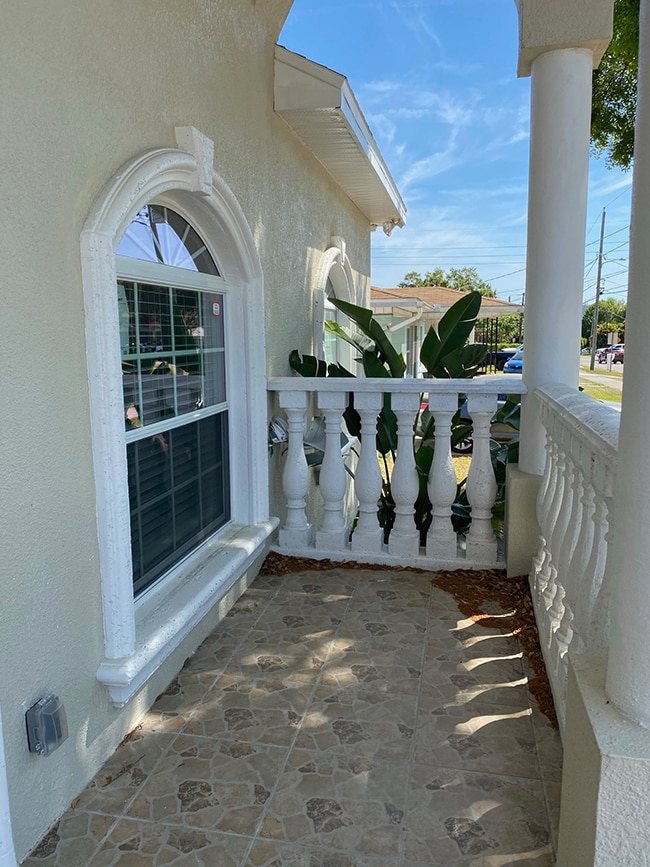 I definitely want blue to be one of the main colors, to tie in with the pool. Here's a traditional blue Spanish tile from the rendering: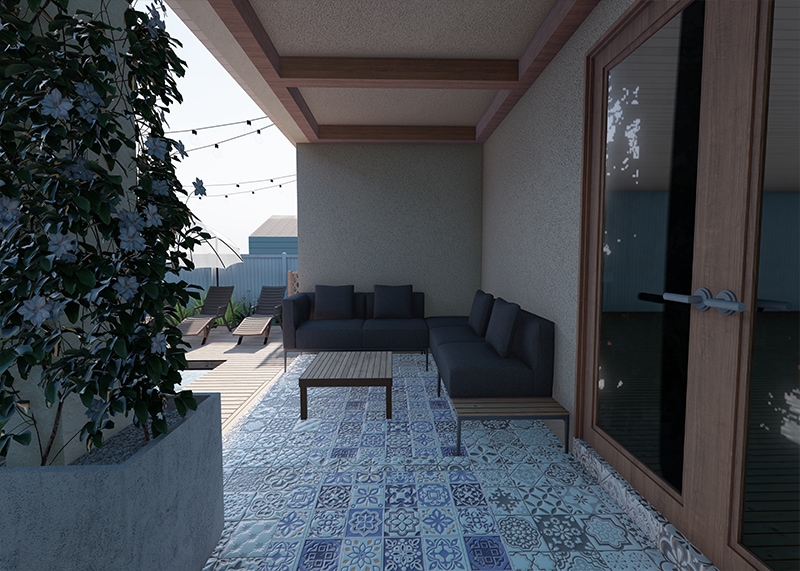 I could use a similar tile, or one of these other options on my short list (click/tap on each for the source):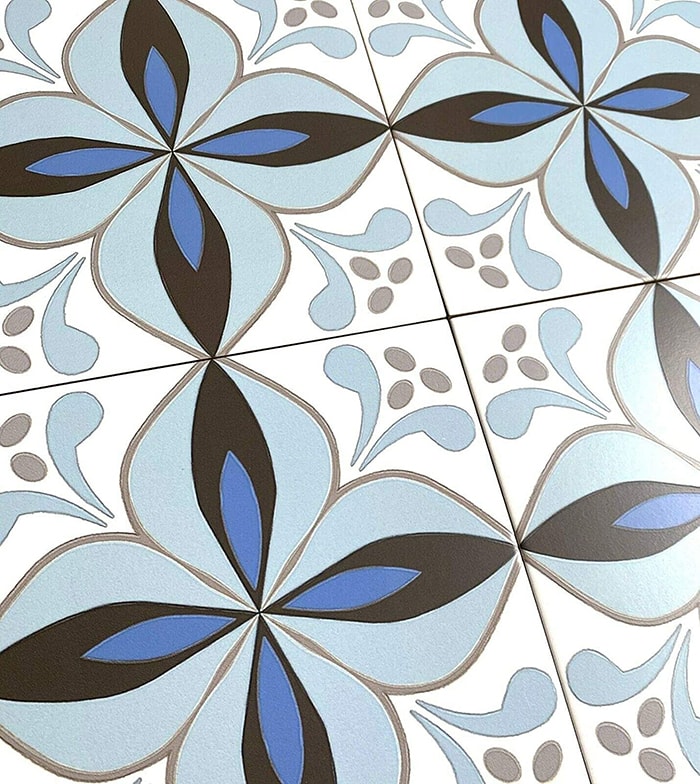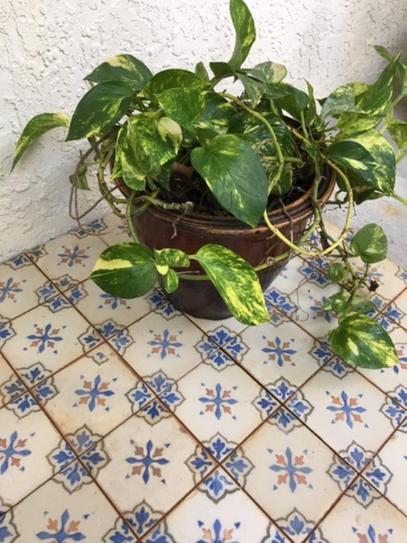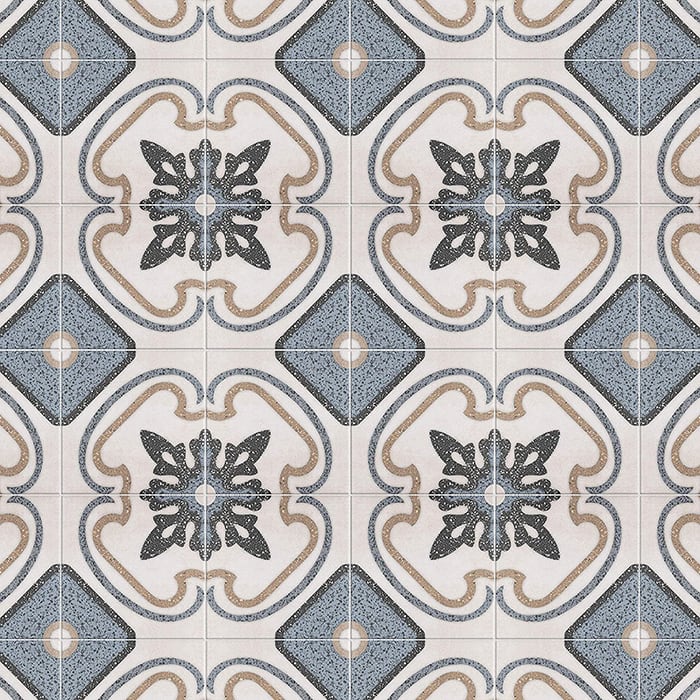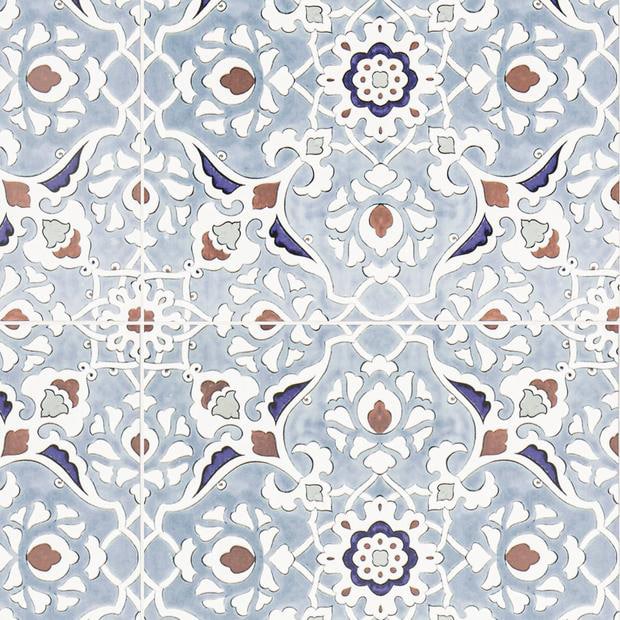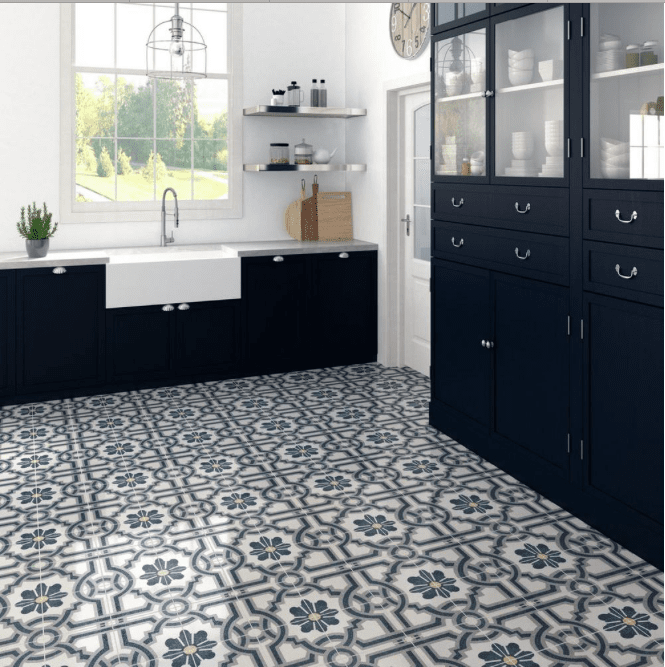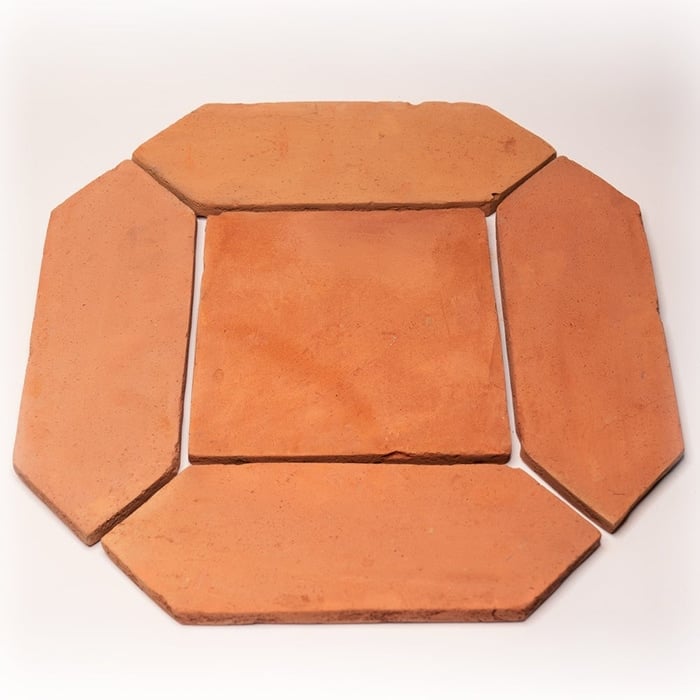 Do you have a favorite, or another blue tile recommendation?
It is proving to be more challenging than I thought finding the perfect tile that's outdoor rated and not crazy expensive (the options are far more limited compared to indoor tile). This is one of the most important choices for the entire house, so I'm not rushing into it.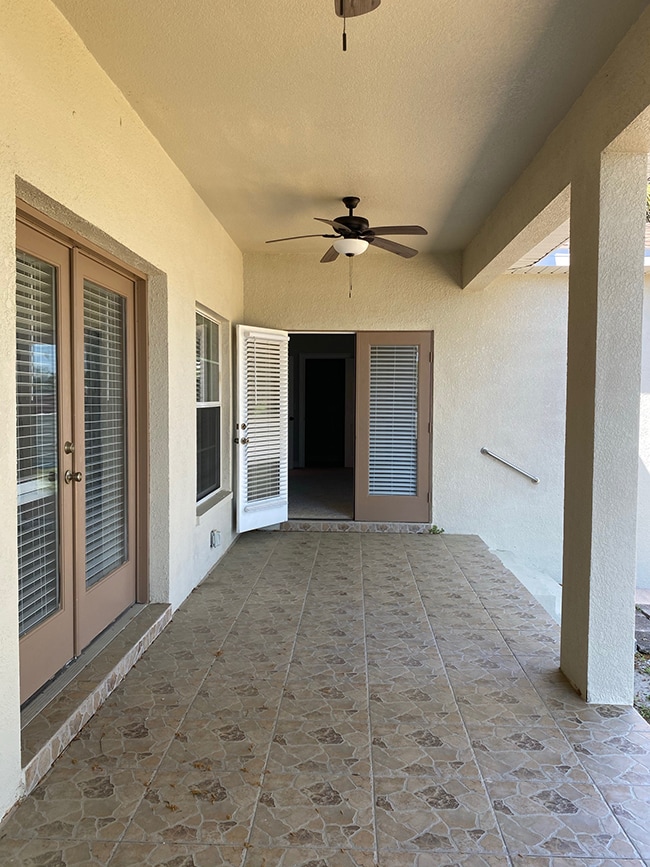 Another decision is what to do with the porch walls. I definitely want to do something unique with those, and tile (at least on the lower portion of the walls) is one option I'm leaning towards. But there's another idea that caught my eye recently—have you heard of treillage?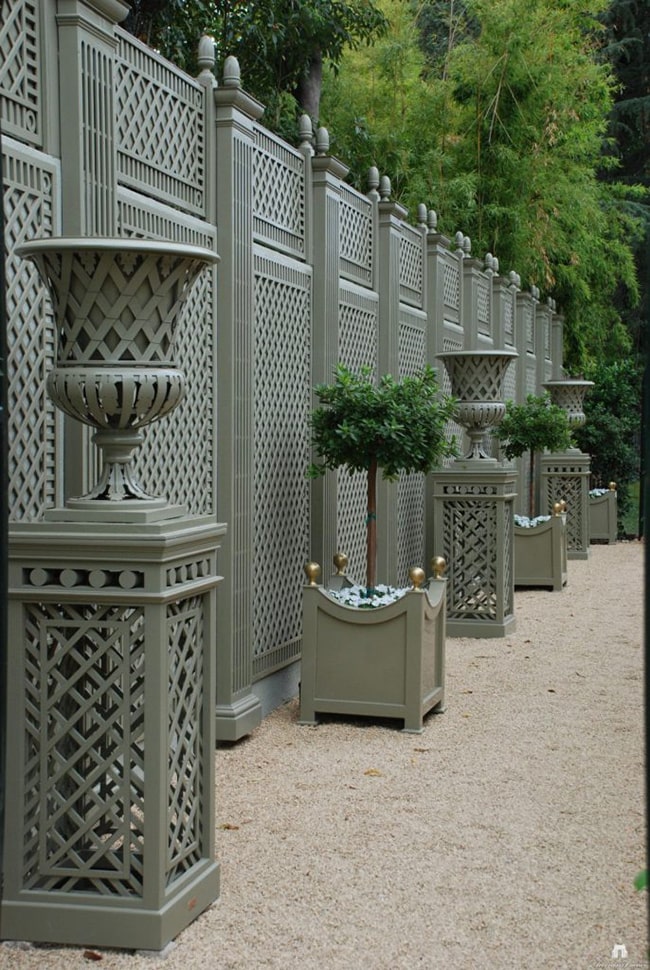 Also known as latticework, it's a French architectural feature dating back to ancient times. You can find these detailed fretwork panels in all shapes and sizes, either freestanding or against a wall. I know it's not traditional Spanish style but I can't get it out of my head, and it seems DIY-able. I'm thinking it could be too much with patterned tile though, so I may have to put my treillage dreams on hold.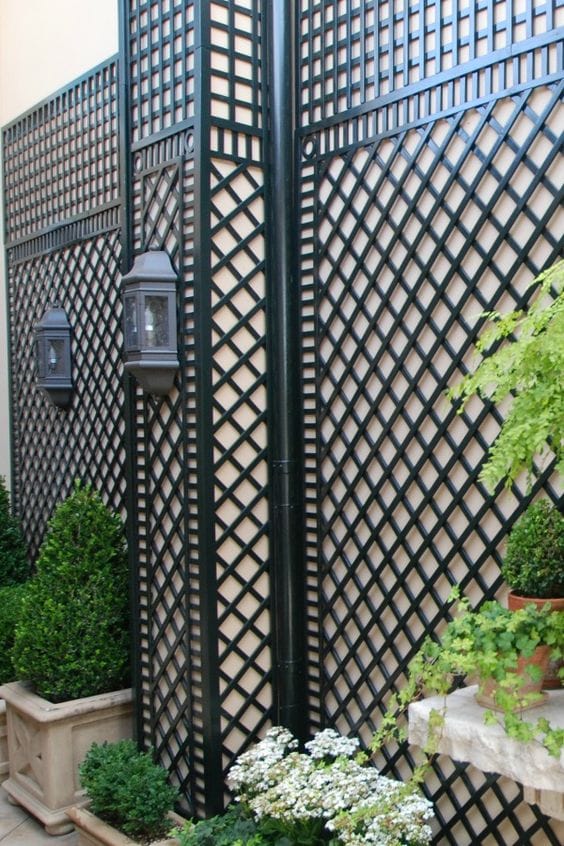 As of now, the order of events for the backyard will go something like this:
Select and install patio tile (and wall treatment)
Install patio ceiling wood beams
Install pool
Install perimeter fence and decking
Install concrete pavers + gravel
Install pergola
Landscaping
Furniture
The first two items are the only things we can do before the pool goes in, which again will be "sometime" in 2022. I wish we could hit the ground running and have lots of exciting backyard updates to share this summer, but delays and waiting have been the theme of this year.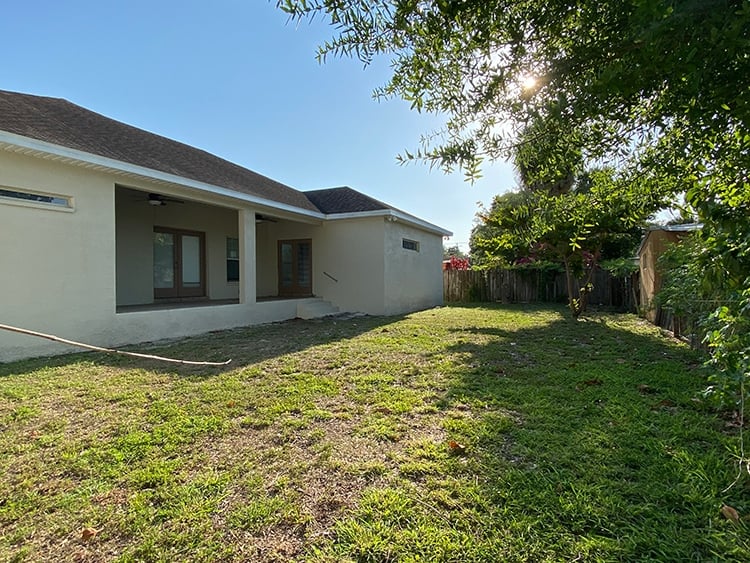 Meanwhile, we're slowwwwly working on the interior and I'll have an update to share with you in a couple weeks. Did I miss any details on our backyard plans or do you have any questions/suggestions so far? Let me know in the comments!