As summer approaches, I have a ritual to transition into the new season—a few new dresses, lighting a seasonal candle, rotating songs on the playlist and freshening up our interior to welcome the warmer months.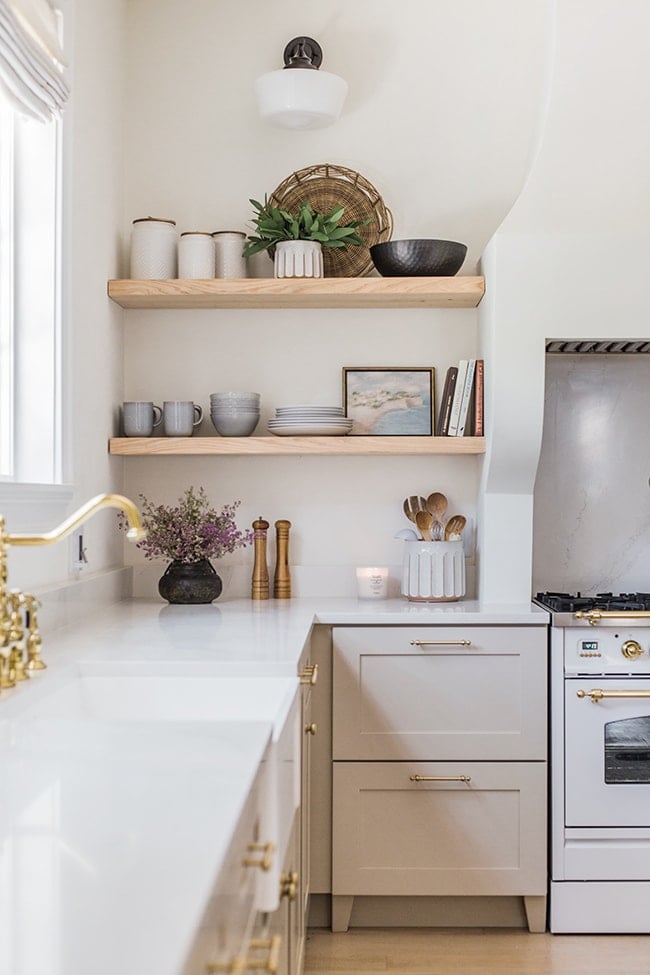 This year, I'm refreshing our kitchen shelves and I've partnered with Better Homes & Gardens at Walmart to bring you their best budget finds, from dinnerware to décor.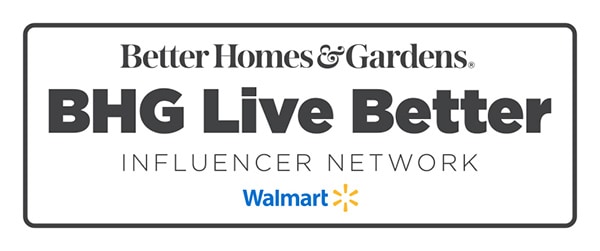 I scoured every page in the kitchen category and beyond, and rounded up my favorites from $3 to $50 (most under $20!). Because the pieces are all neutral, you can mix and match any of them without fear of clashing. To give you some ideas, I've shared my top 3 styling tips along with several different arrangements if your shelves (or dishes) need a refresh!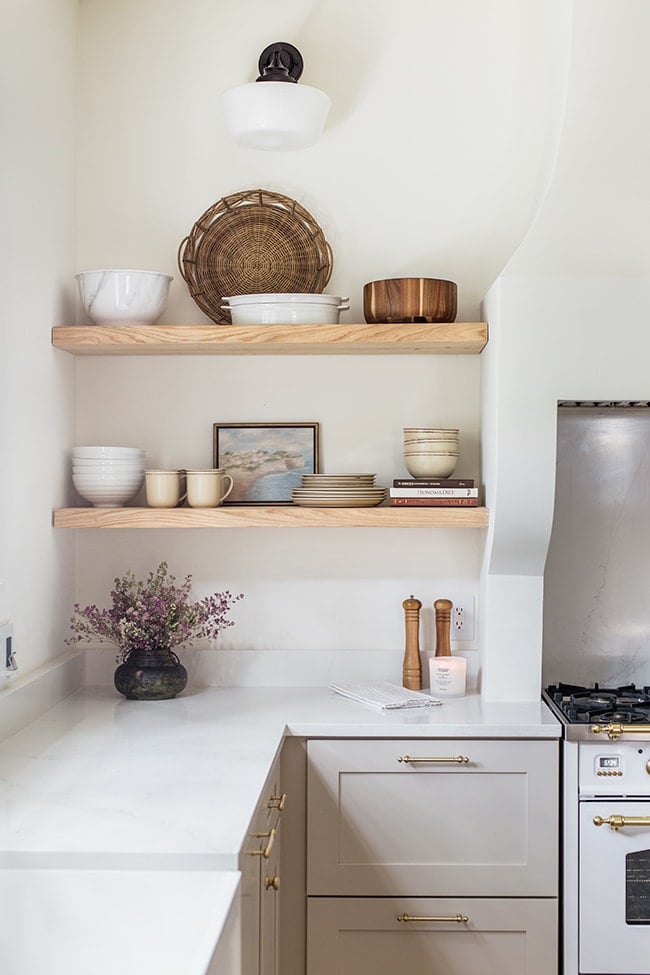 Below are a few simple guidelines to follow when styling open shelving. These are the same 'design rules' I stick to when designing any space, whether it's a shelf or an entire room.
Choose form and function
Our bottom shelf is easily accessible and holds all of the plates and bowls we use daily. We don't have a ton of closed cabinet space, which keeps the unnecessary clutter at a minimum and forces me to choose pieces that are both functional and beautiful. Consider the location and accessibility of your shelves, and if they're best for every day/functional items or seldom used decorative objects.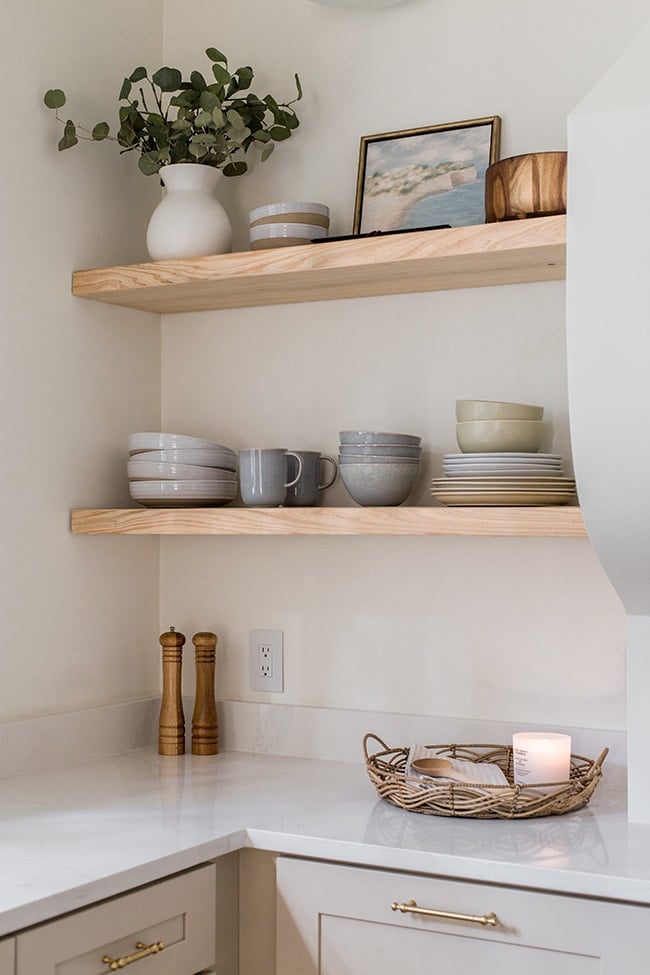 Mix up the materials
Layering different textures is essential to add interest, depth and dimension to any room. Find contrasting materials and overlap them until the arrangement feels balanced. My go-to textures are wood, natural fibers, ceramic, stone and metal. It's all about contrast!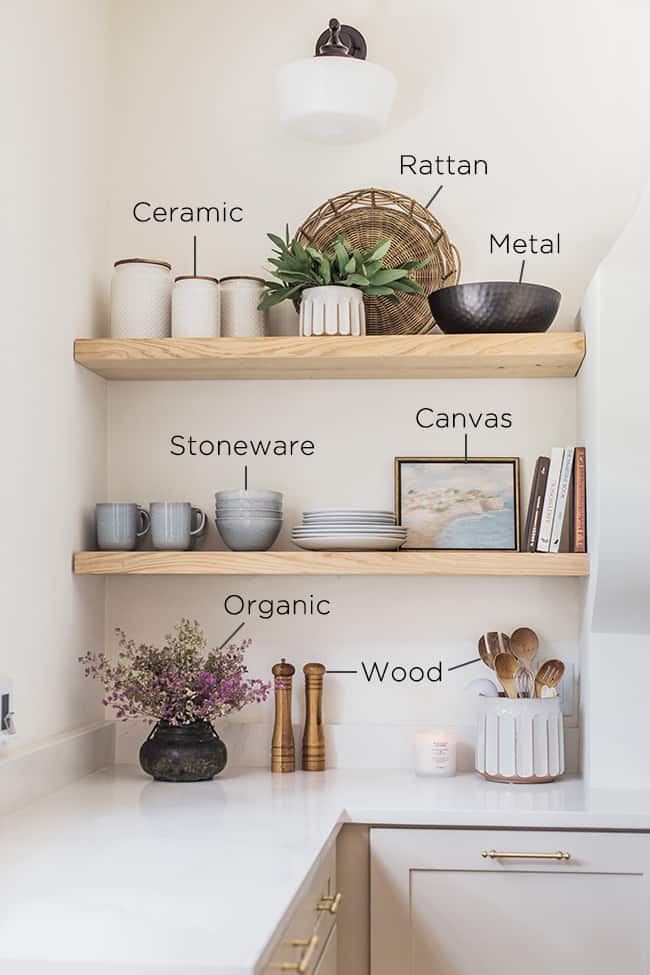 Find your palette inspiration
For a calming and cohesive look, I tend to stick with colors found most often in nature—brown, burgundy, beige, earthy green, blue and every shade of white/ivory. Keep the tones subdued and you can mix and match without it becoming overwhelming or busy. You can't go wrong using one neutral (beige/black/gray), one accent color and lots of white.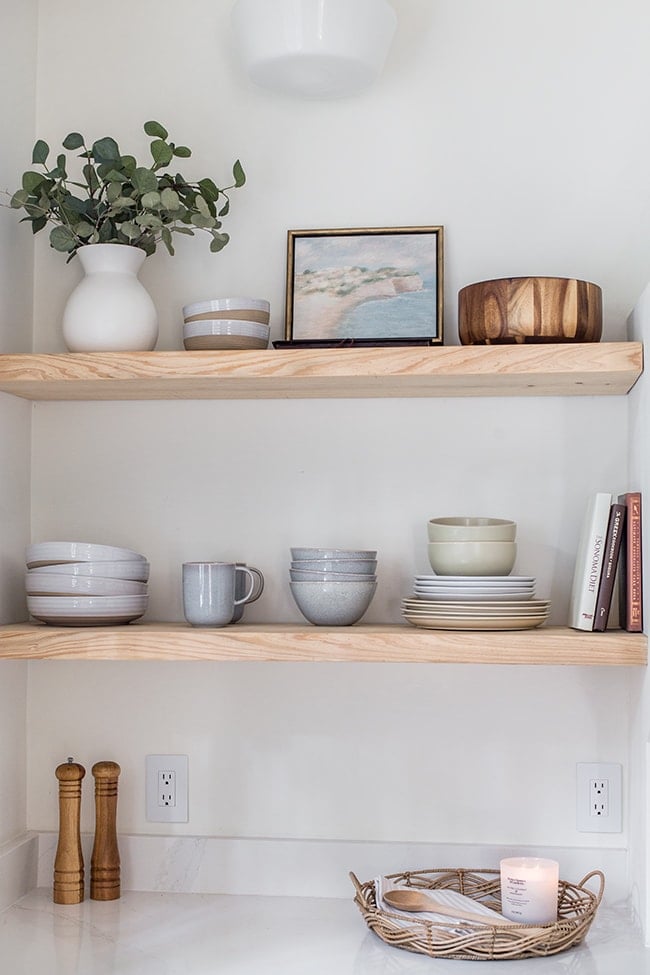 One approach I love is using a piece of art as inspiration, and pulling colors from the piece so everything looks purposeful and cohesive. Case in point: the landscape painting below—I used blue, green, beige, brown and white dishes/accessories which coordinate with the painting for one cohesive 'color story'. Use your inspiration piece as your guide!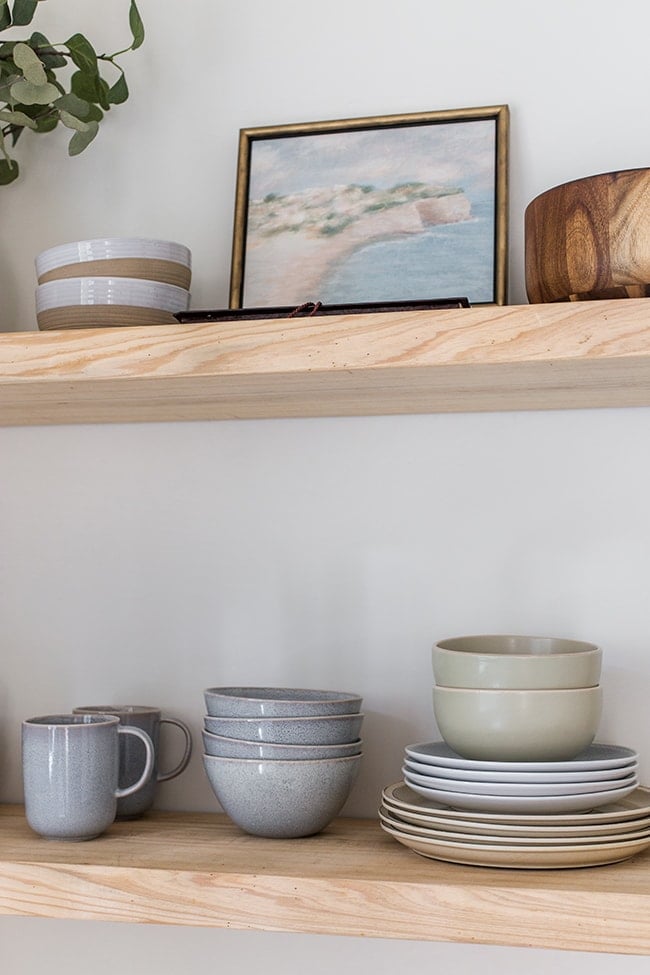 Did you catch the timelapse of this DIY painting on my Instagram stories on Monday? I transformed an 80 cent thrifted frame into a 'vintage' style landscape painting using this DIY trick. The art was inspired by a photo I took a few years ago of the Algarve coast in Portugal. It was one of our favorite traveling memories, and something beautiful to be reminded of now when I glance over at it.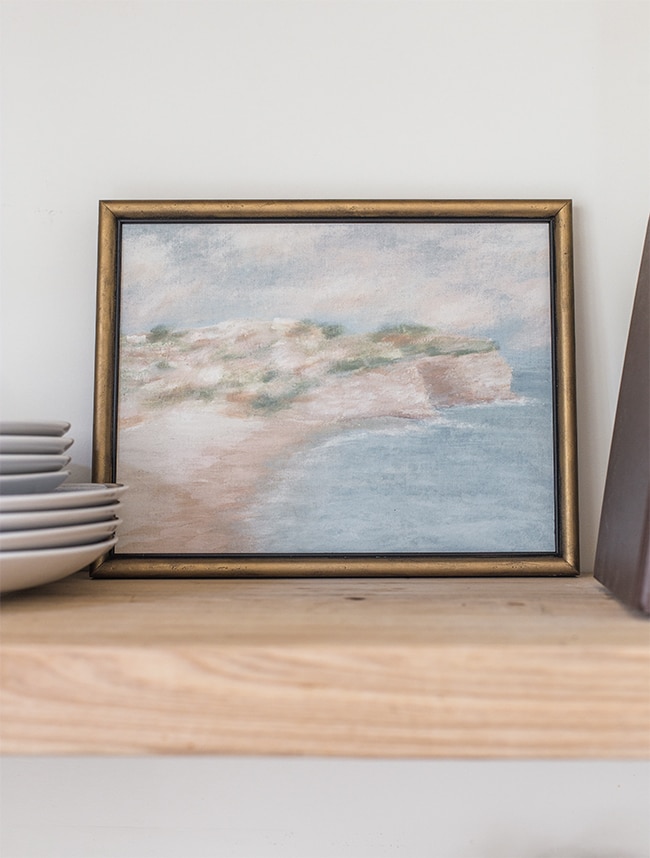 Incorporating blue is my way of transitioning our home to "summer mode", and this stoneware set might just be my favorite find of the bunch.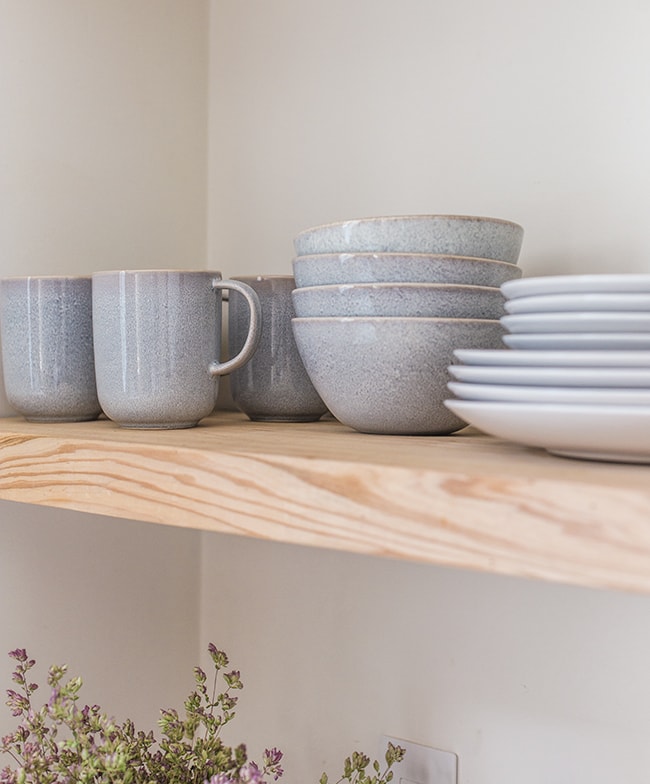 Each piece is unique, with a reactive glaze blue finish that reminds me of sand and the ocean. These are solid, high quality and beautiful in person.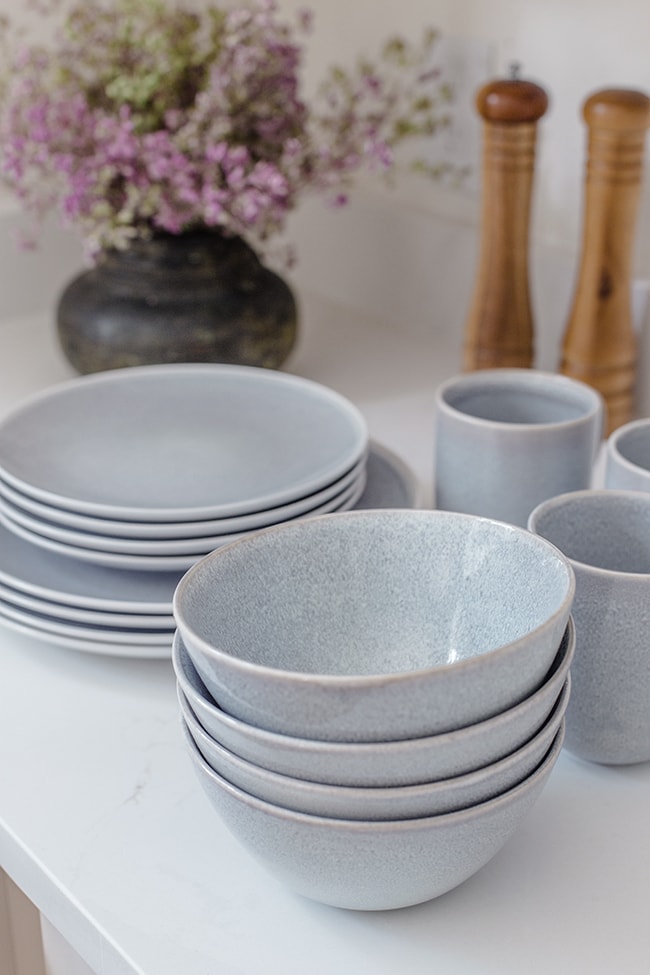 Another set that caught my eye was the matte finish pistachio green dinnerware (top left):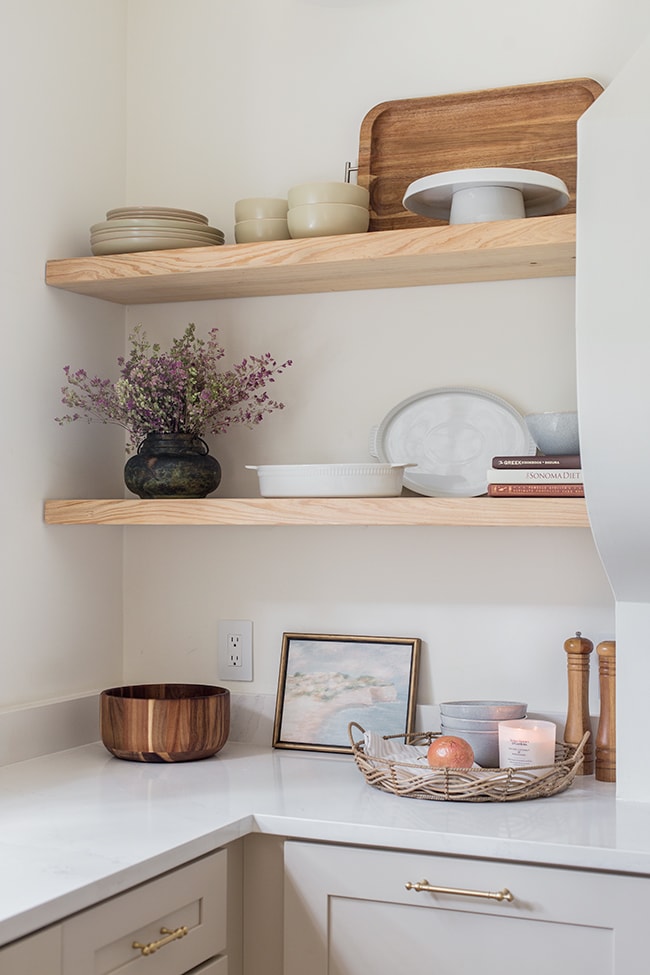 The green is muted and can act as a neutral, pairing well with many other colors. The bowls and plates are a generous size and very thick, and microwave & dishwasher friendly for every day use.
Another find are these two-toned exposed clay stoneware bowls and plates. These are the heaviest of the bunch, and have a speckled stone texture on top with a contrasting matte clay on the bottom. Another set that feels much more expensive than it looks.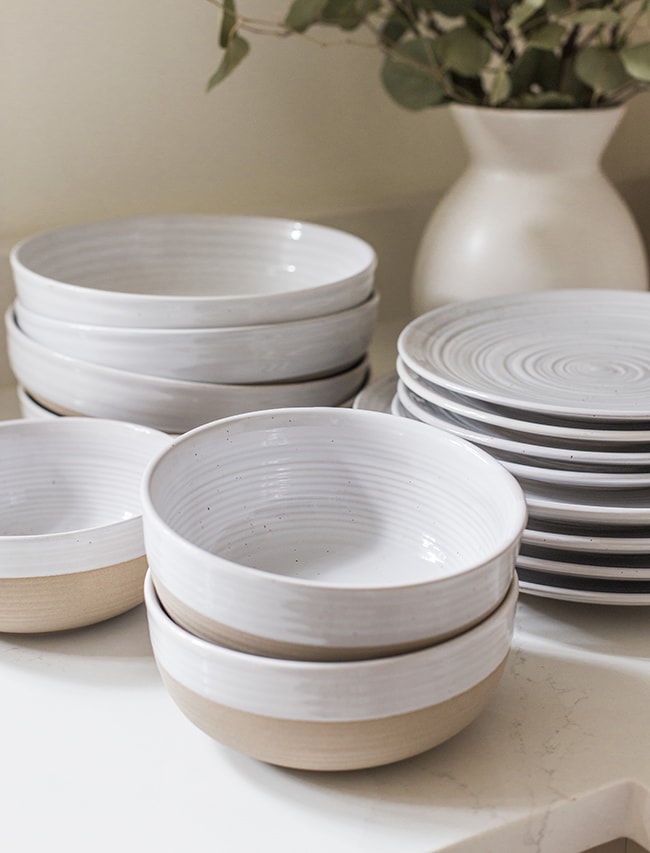 I ordered the dinner plates, salad plates, dinner bowls and cereal bowls separately, but you can also purchase the entire set with mugs here. Personally, I like mixing sets to keep things interesting!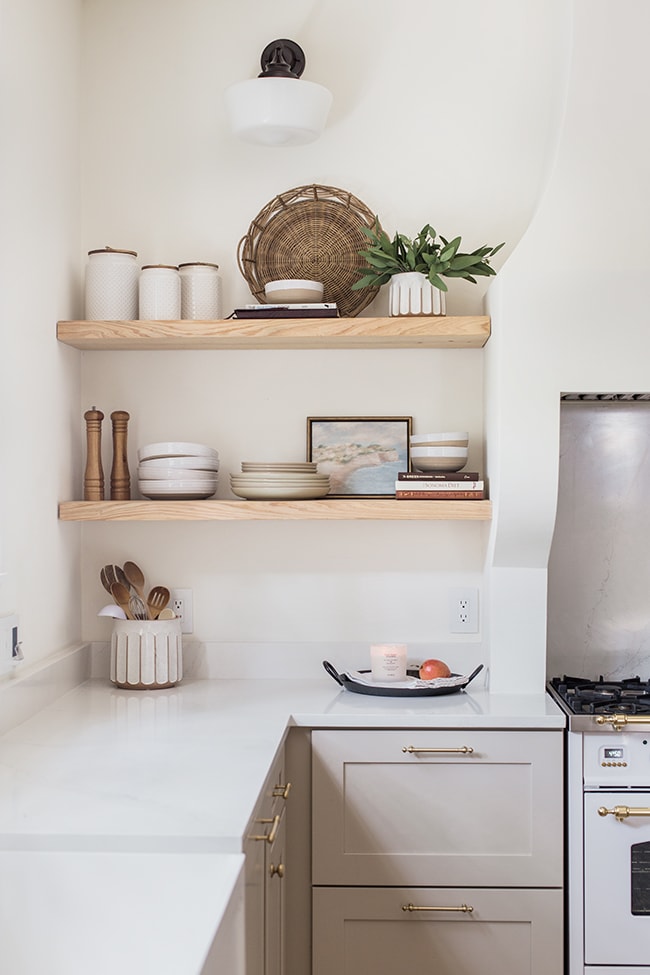 There's one more dinnerware set I had to test out, if anyone out there is looking for a good non-white neutral. Check out this classic cream stoneware set with a rustic edge detail: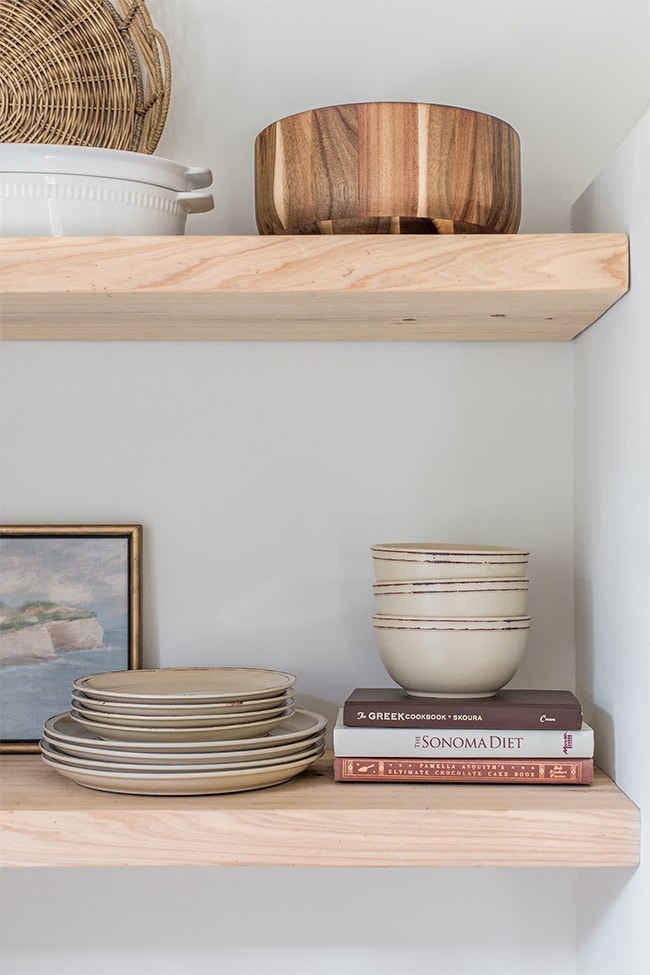 These are lighter weight and slightly smaller than the other sets, and also work well as dishwasher/microwave safe every-day dinnerware.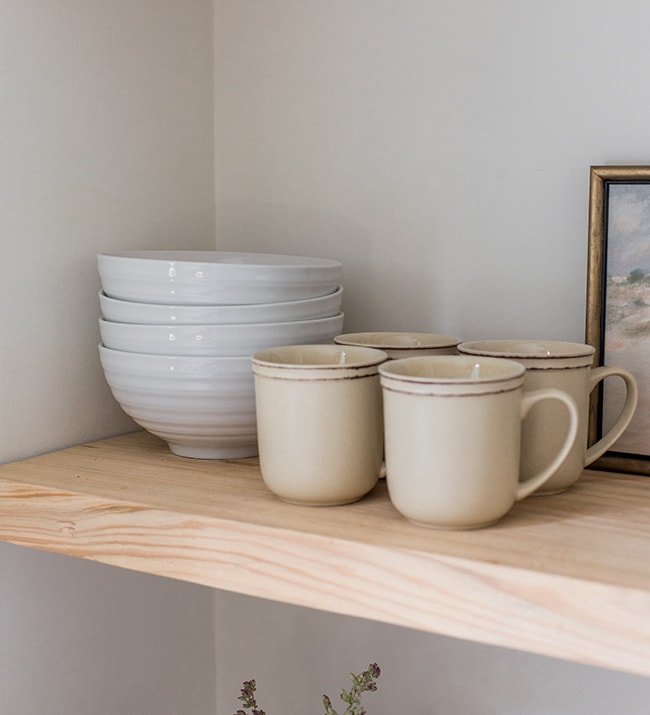 If you're on the hunt for extra large dinner bowls (or small serve bowls) check out these ribbed white porcelain bowls.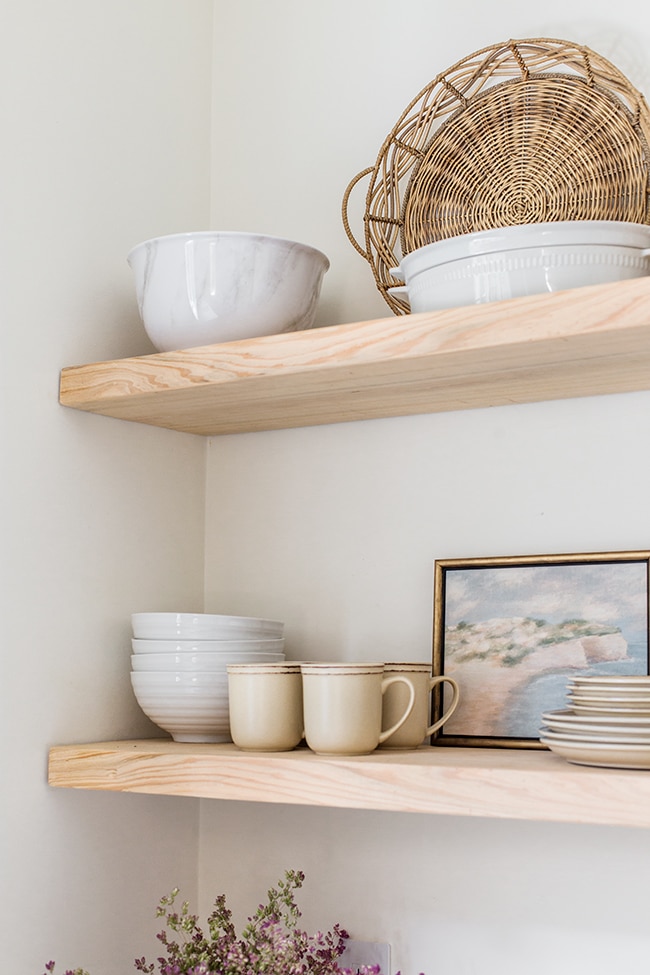 See the marble serving bowl up top? Surprise—it's actually melamine! It's a set of three serving/mixing bowls with lids for under $15. I snagged these for our Hacienda Hideaway (unbreakable, inexpensive and rental-friendly is the way to go).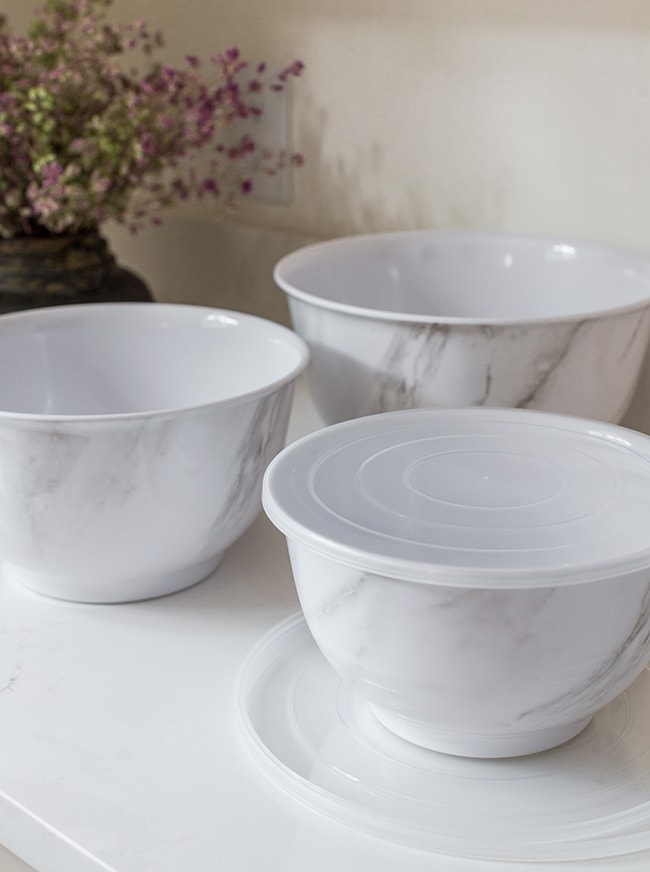 I've had a set of thrifted white lidded ceramic canisters displayed in my kitchen for ten years. They're one of my favorite and oldest kitchen possessions, and these sweet hobnail canisters have a similar vintage vibe: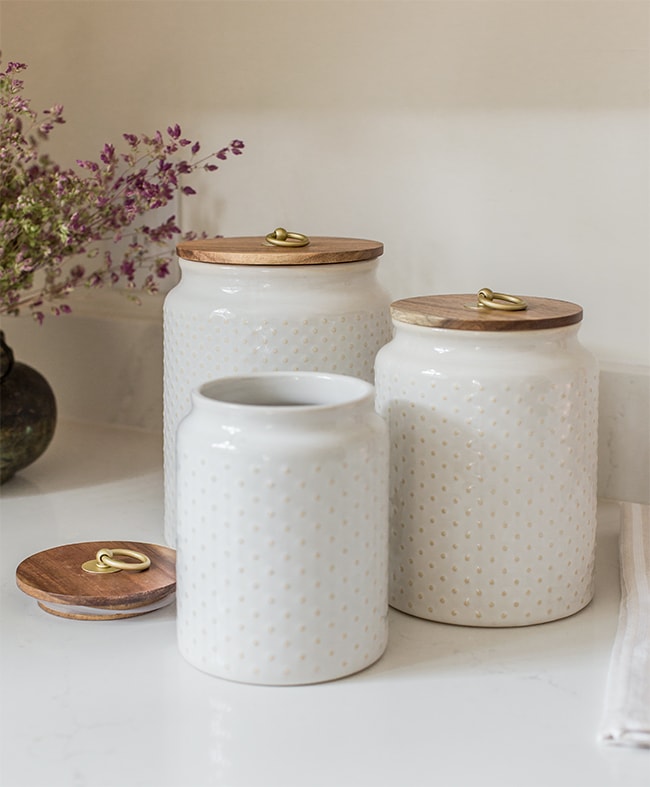 They're available in small, medium in large (and there's also a matching utensil holder). Speaking of utensil holders… you can get creative with this one! Planters are an inexpensive way to contain a variety of objects, utensils included. I love the ribbed detail of this ceramic white + brown set.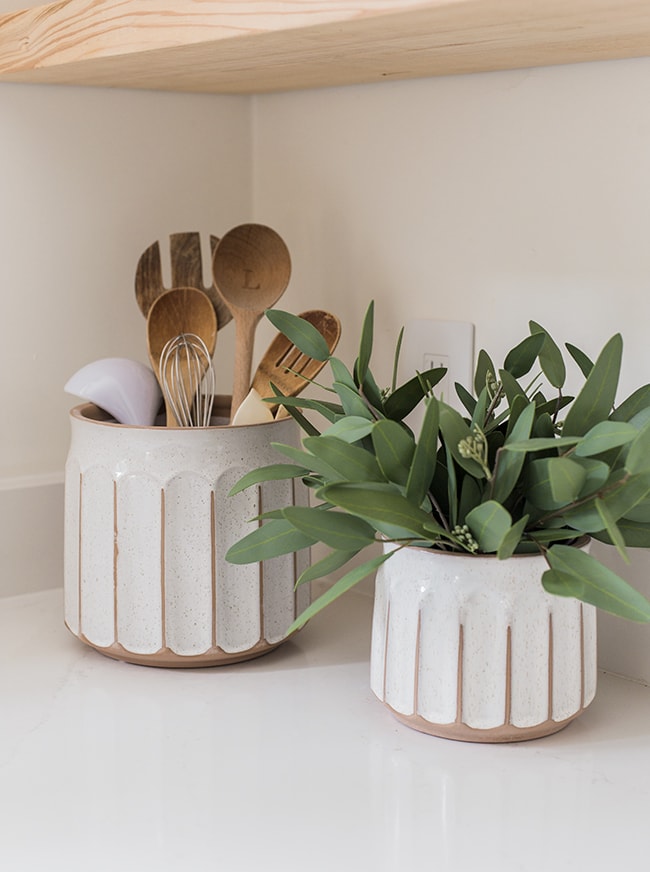 I'm always on the hunt for simple and budget-friendly vases for my growing collection. This one is under $10 and classic look will never go out of style.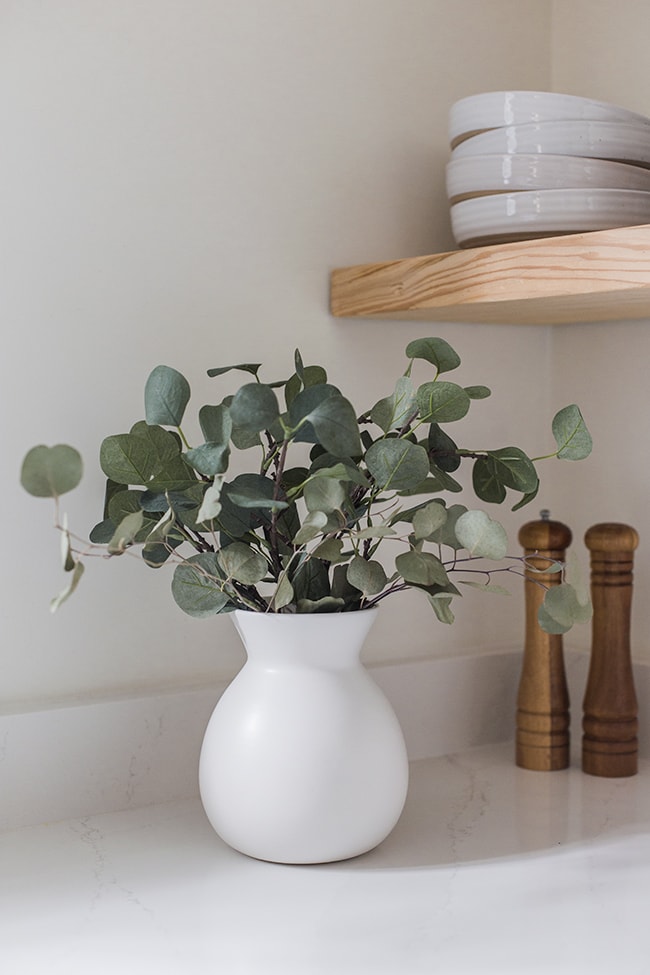 I mentioned that wood is one of my favorite materials to use around the home, and for me it's really the key component when decorating. I've had this large acacia wood tray for a while and recently picked up this acacia wood serving bowl as well.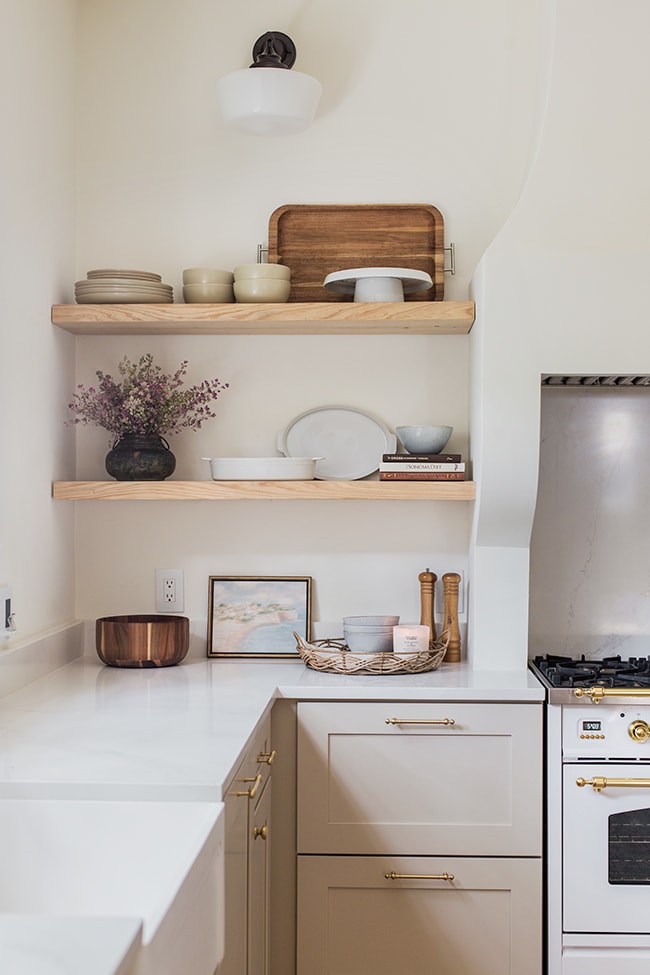 It's large enough to hold fruits and veggies on the counter, also ideal for serving salads. I'm a big fan of the varied tones and grain of this wood (also available in a small size or tapered shape, if you can catch them in stock!)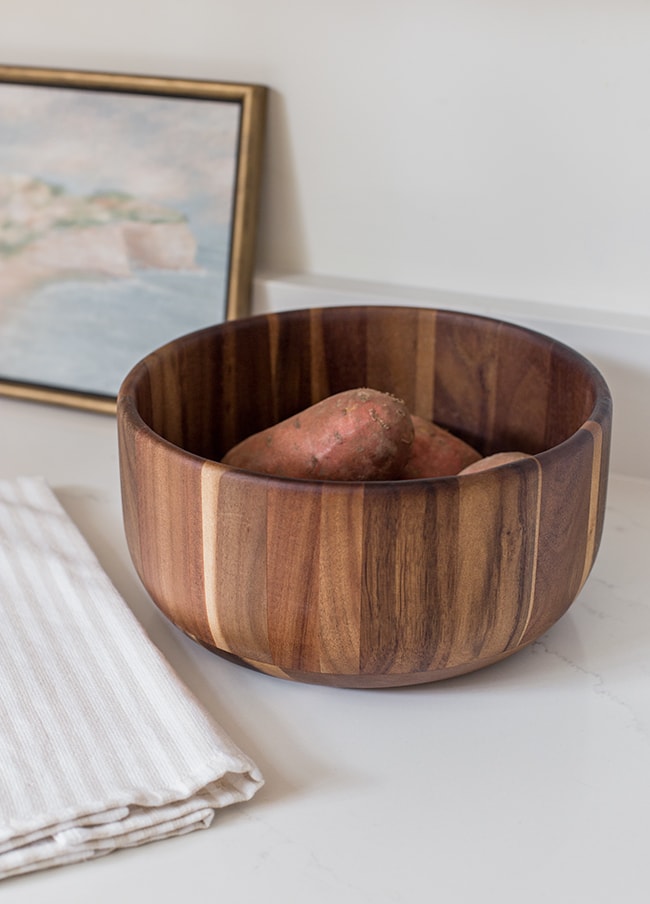 Here's a closer look at the white dishes on the bottom shelf. It's a two-piece Oven to Table set—you can use the deep dish for baking and the top dish for serving.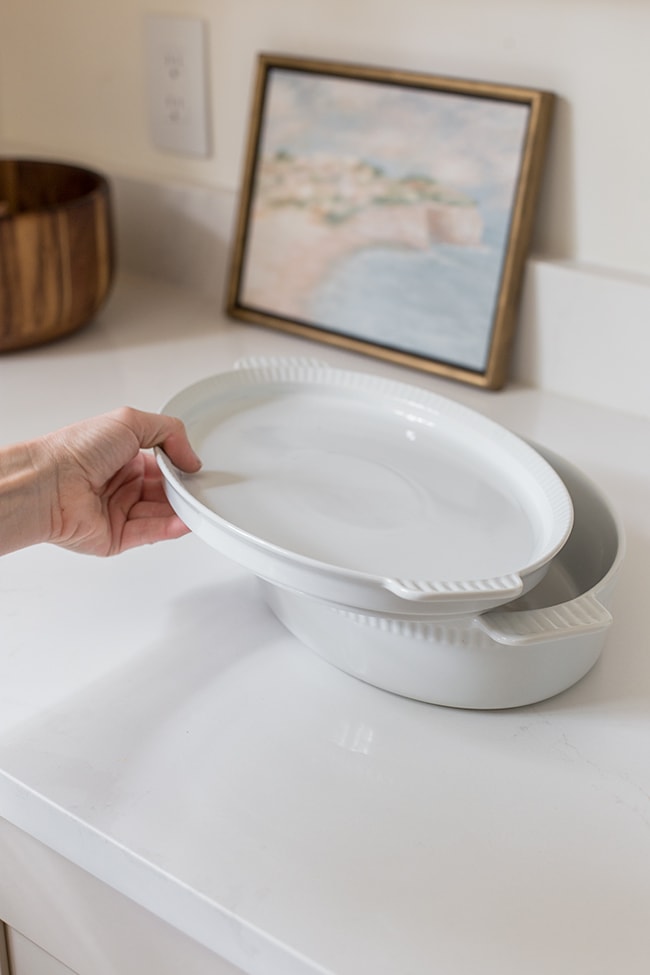 It's too pretty to hide inside a cabinet—you'll want to keep this one on display!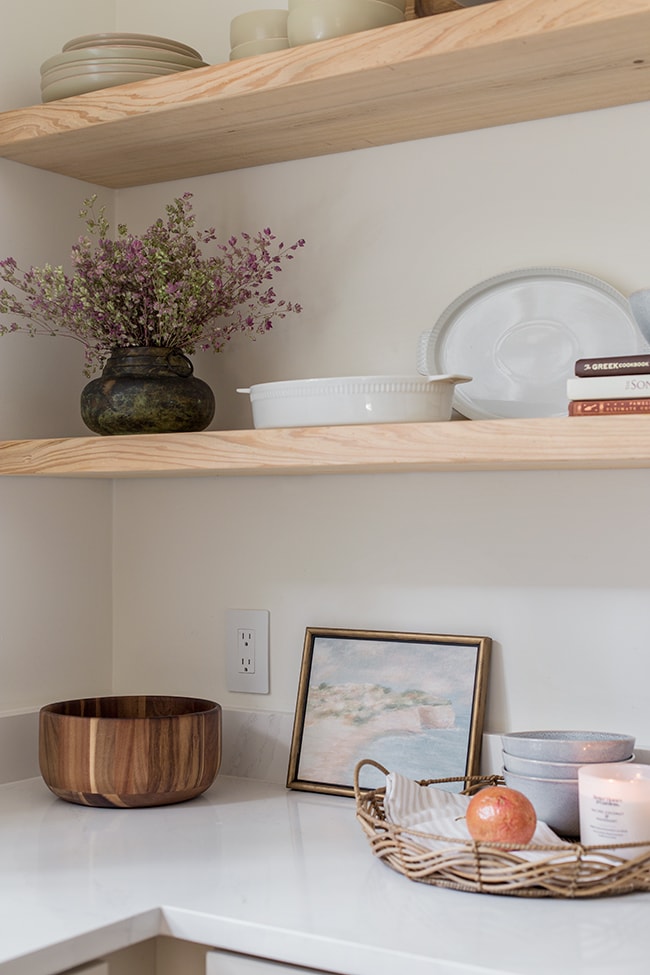 Recognize the rattan tray from a couple weeks ago? It's resin-coated and meant to be used outdoors, but works great indoors too. Such a versatile piece—and under $9! I'm surprised this one hasn't sold out yet.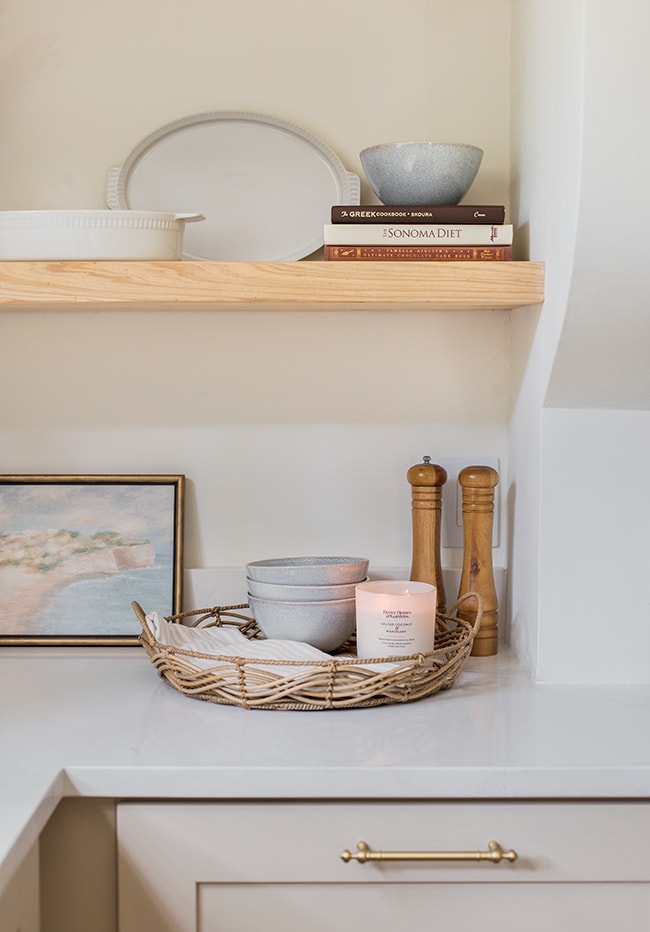 I usually end up with a new Better Homes & Gardens candle every month or so, and like to choose a scent to reflect the season. Salted Coconut & Mahogany seemed like an appropriate choice for summer (and specifically, a kitchen!) with citrus, wood and coconut scents.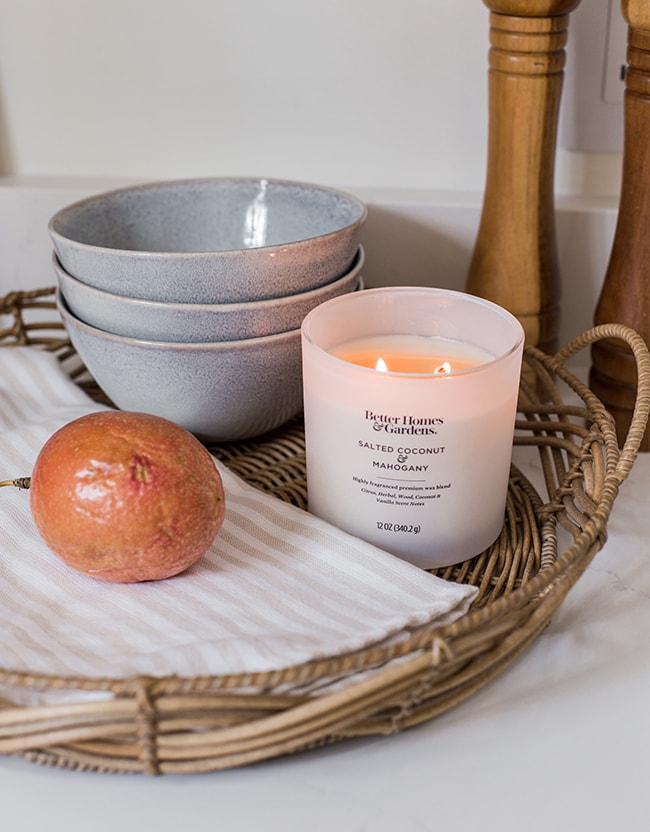 I also took this opportunity to update our kitchen towels, and I'm always a sucker for stripes. This one comes in a set of three (one solid and two striped). It's large, thick and absorbent for dish drying—and under $7 for the trio!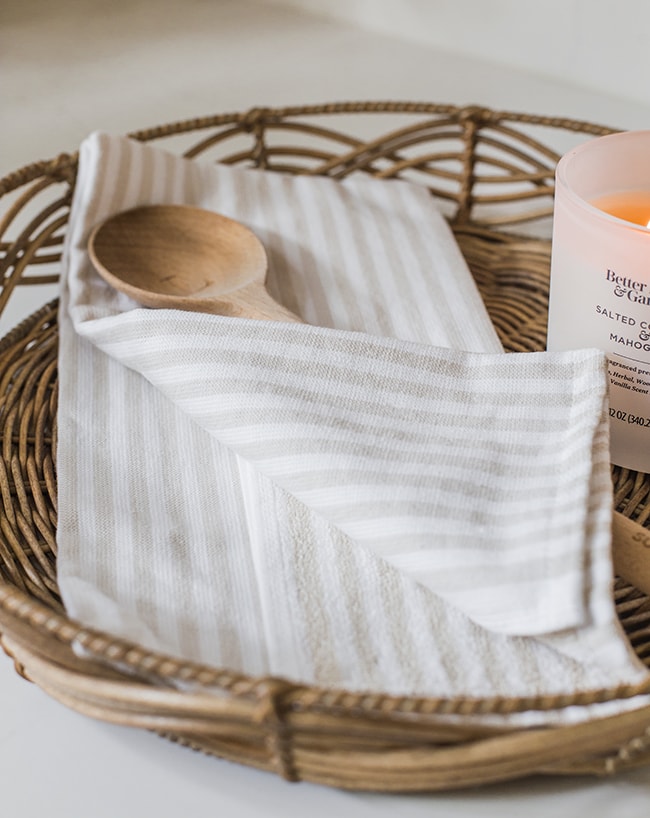 And now for the last material I'm always drawn to—metal. Specifically aged, patina or hammered metal. I couldn't pass up this unique tray and serving bowl…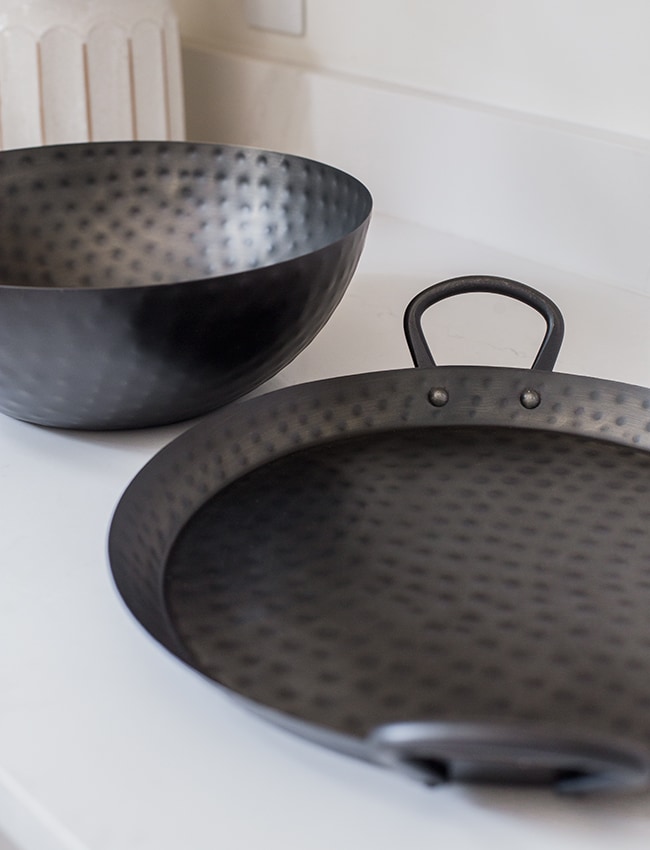 The material is 'hand hammered mild steel' and it's hard to believe they're under $10 each. The serving bowl is quite large and can double as a fruit/veggie holder as well.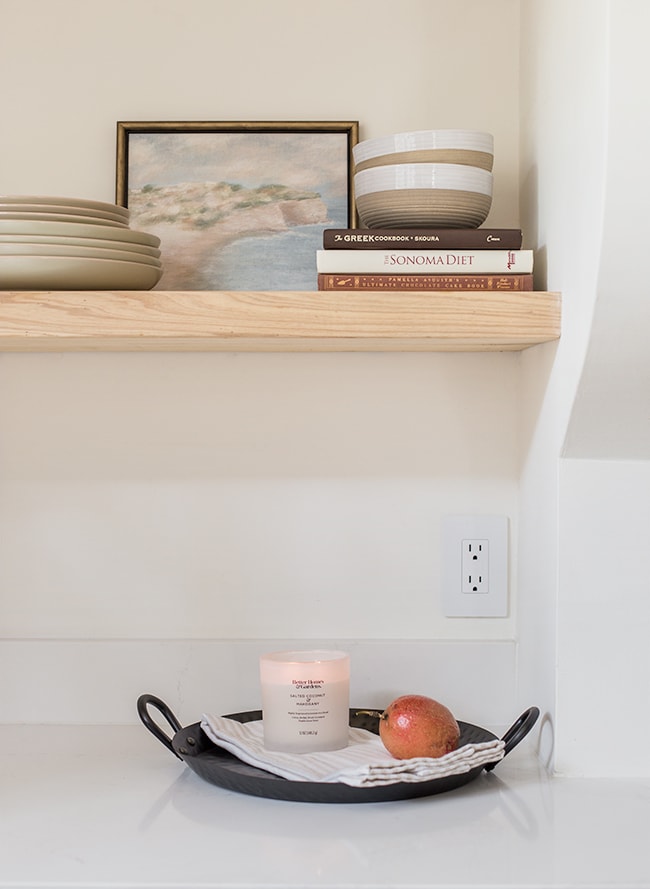 Last but not least, I believe every space should include something vintage/secondhand, and/or handmade. The painting is a sentimental piece I made by hand, the cookbooks are thrifted/collected finds, the wood S&P shakers and metal vase are also thrifted secondhand.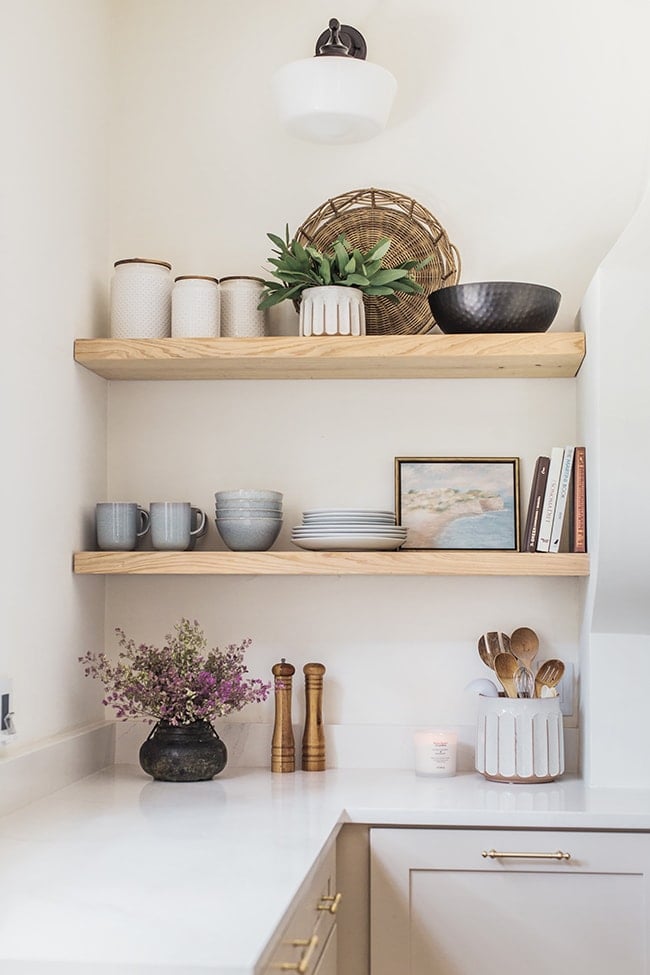 I've always been a fan of the 'collected' look—using a mix of old and new, vintage pieces I've collected over the years, artwork that tells a story, seasonal stems and greenery from the yard. You don't have to sacrifice style or your budget to design a functional space that brings you joy. I hope these suggestions have been helpful!
You can shop everything in this post below:

Need more ideas on what to stock those open kitchen shelves with? You can't go wrong with any of these:
Plates/bowls/mugs/drinkware
Cookbooks
Live plants/herbs/flowers
Serving bowls
Trays/platters
Cake stands
Canisters
Colander
Jars
Baskets
Artwork
Vases
Cutting boards
S+P shakers
Serving utensils
Candles/candlesticks
Vintage trinkets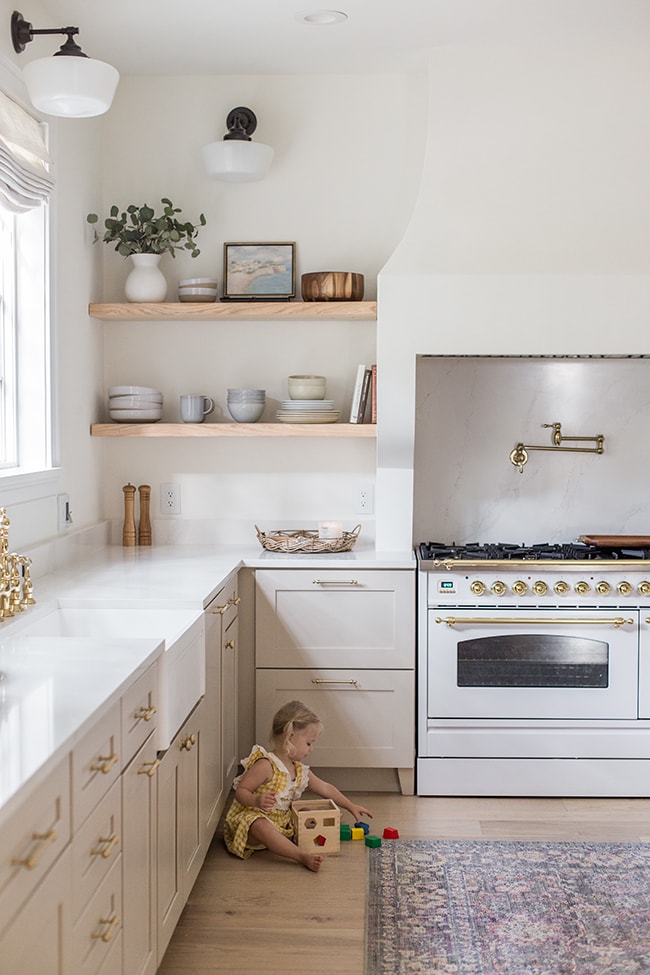 Next week: a Father's Day roundup and Hacienda Hideaway update!