Patio season is shaping up to be bigger this year than ever before, with more of us focusing on our backyard spaces and outdoor entertaining after time apart from family and friends. The selection of affordable outdoor finds has also been amazing this year—our dining set sold out right after I shared it back in March and everything has been hard to get a hold of ever since!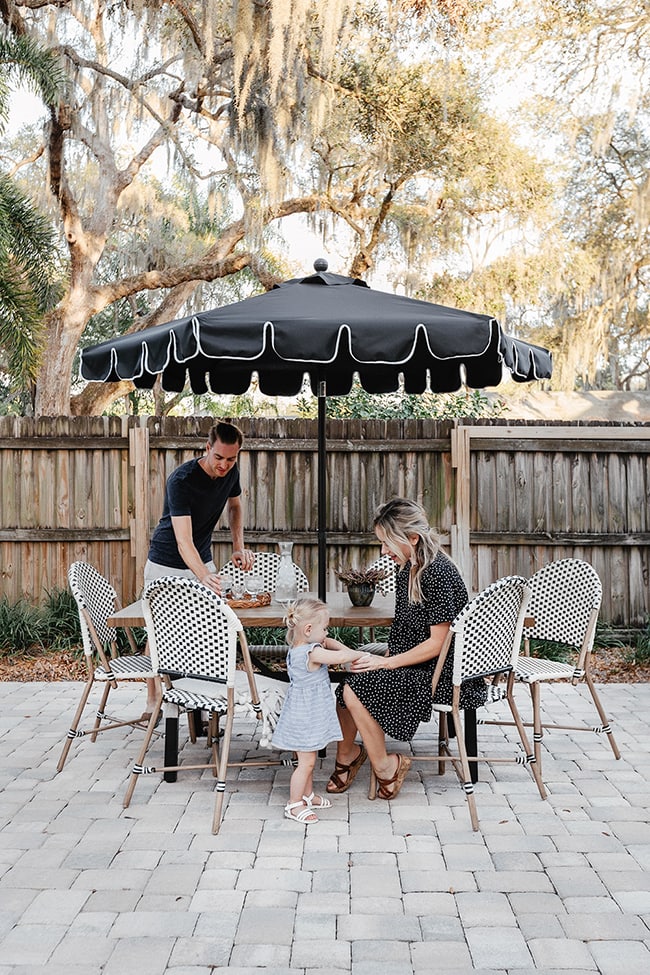 They do come back in stock every now and then (make sure to sign up for the in-stock alert!) and I luckily managed to snag an extra set of chairs and tables for our vacation rentals. You guys have been loving these outdoor finds and fortunately, there are plenty more from Better Homes & Gardens at Walmart. For this month's BHG Live Better challenge, I'm sharing my latest purchases plus a complete roundup of all of my favorites for every style.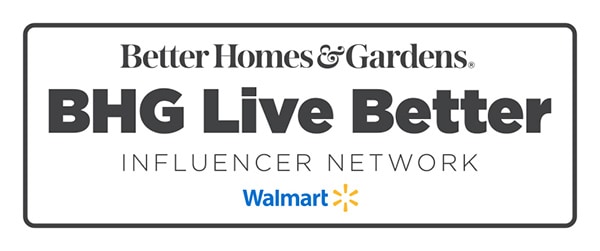 We've been enjoying our conversation and dining set in our backyard, but now there's a new house to focus on and that means another backyard to design—woohooo! While we're still many months out before completion, I always try to get the design plan figured out ASAP so I can keep an eye out for the right pieces. I decided to turn the covered patio into a conversation seating area (it's the only shaded spot in the yard):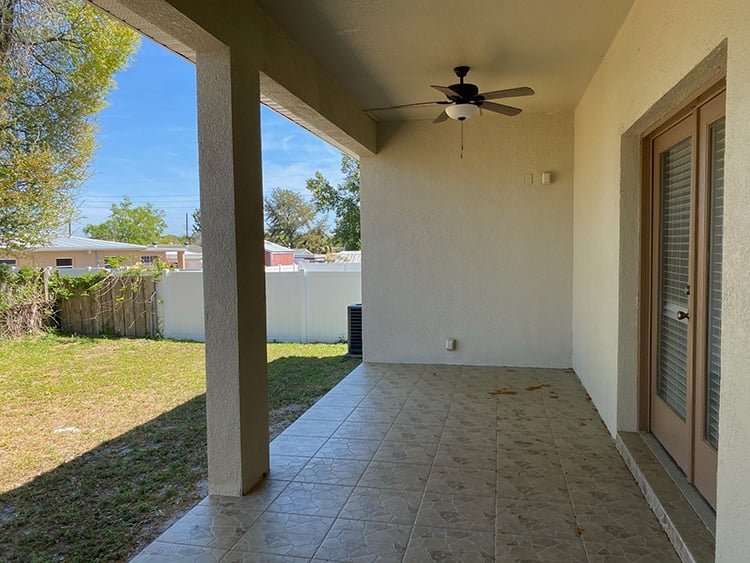 It's not a very large space, as you can see, with the back wall measuring just 8′ wide. The house will sleep 14 and I wanted to maximize the seating capacity, so I had to find something that would fit within the footprint and meet my requirements for style, durability, maintenance and price point.
As soon as I saw this sectional, I knew it was the one.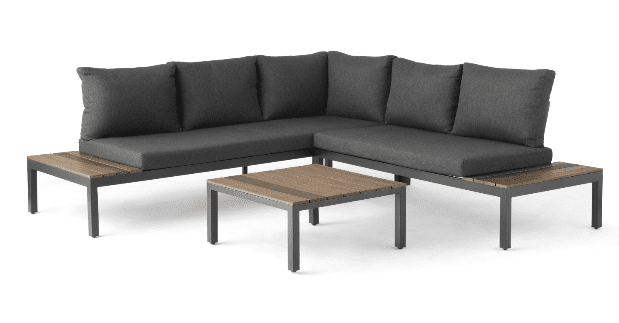 It not only fills that corner perfectly, but it has dark weather-resistant fabric with removable slipcovers (necessary for a rental) and steel + resin construction so it will last a very long time. I just spent thousands replacing the outdoor wood furniture at our other rentals and have learned my lesson—wood does not survive uncovered outside in Florida and cushions will never stay clean! This sofa is the perfect blend of style and low-maintenance durability for a rental—and it was under $600. I'm bummed and can't say I'm surprised that it already sold out (but don't worry, I've got plenty of other good stuff linked below!)
The new house is in no condition for photos or furniture right now, so we assembled the sectional in our own backyard to enjoy this summer. Here's how it looks: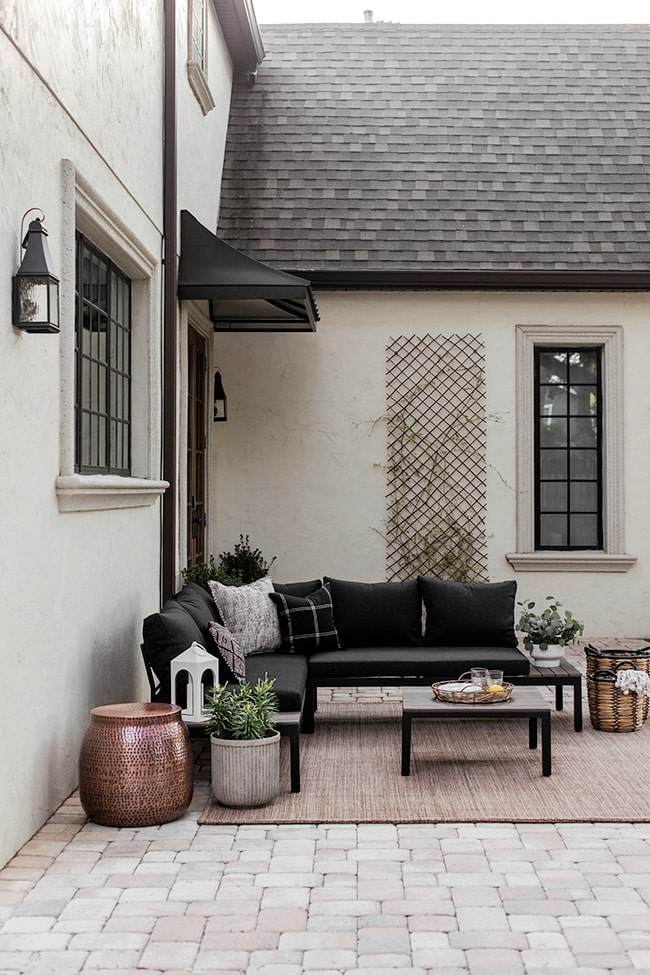 The fabric is a bit darker in person than online, which I love. You all know that black is my jam!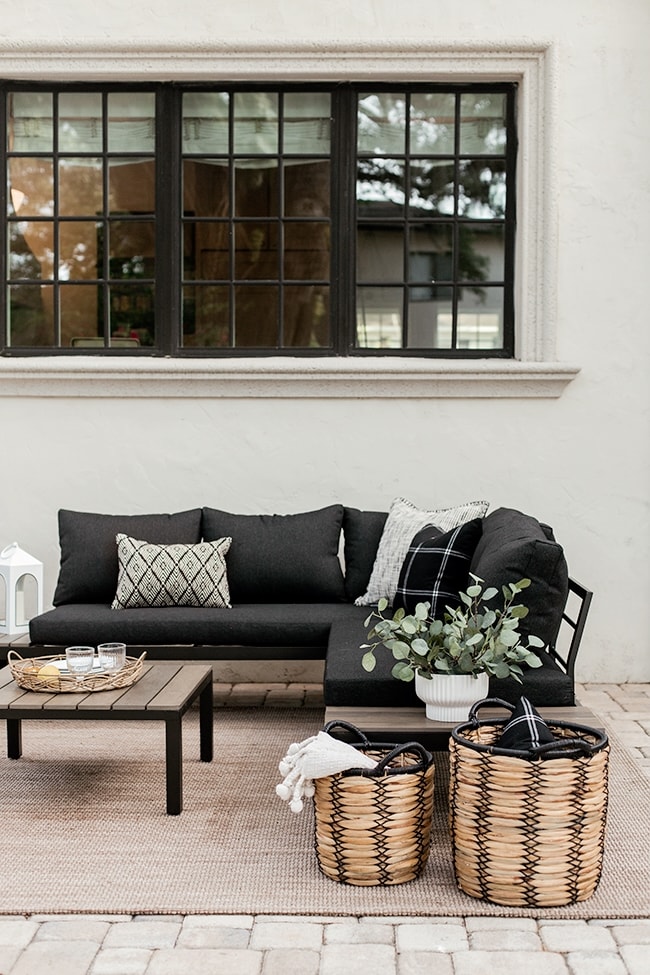 I relocated our outdoor rug over here for the shoot (still going strong) and picked up a few more pieces that caught my eye—like these planter baskets: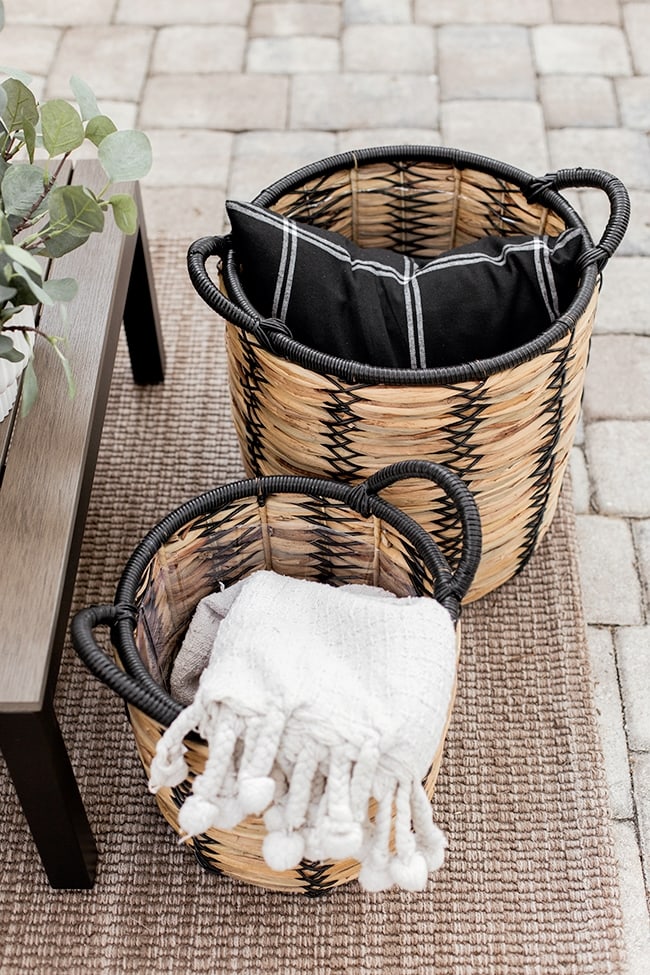 These have a plastic liner so you can use them as a planter for real or faux trees, or keep them around as storage. They come in a few different sizes and have so many uses. Love them!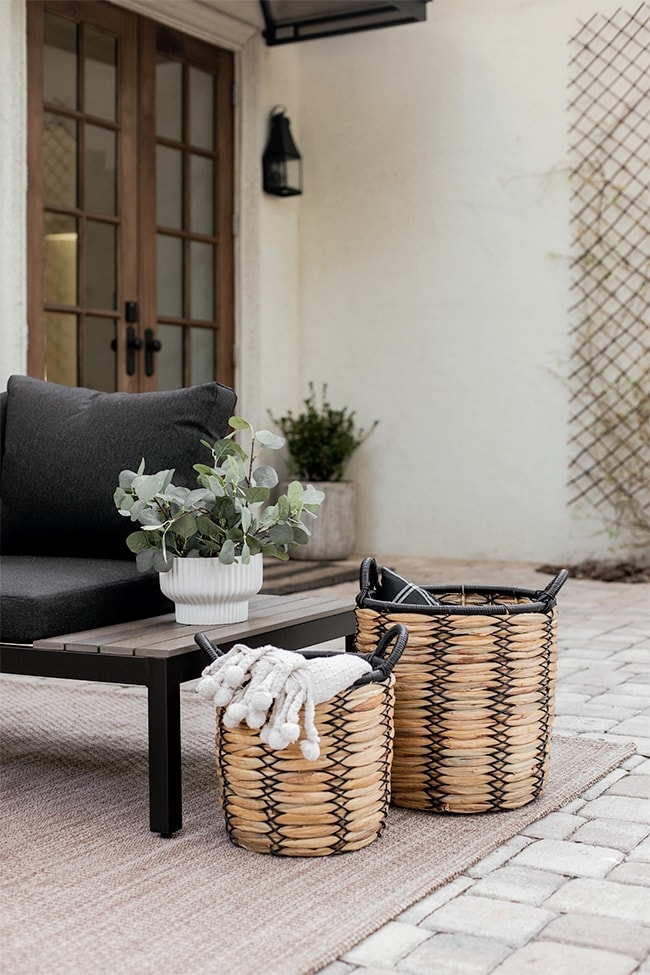 Another multi-purpose favorite is this copper stool/side table/storage container: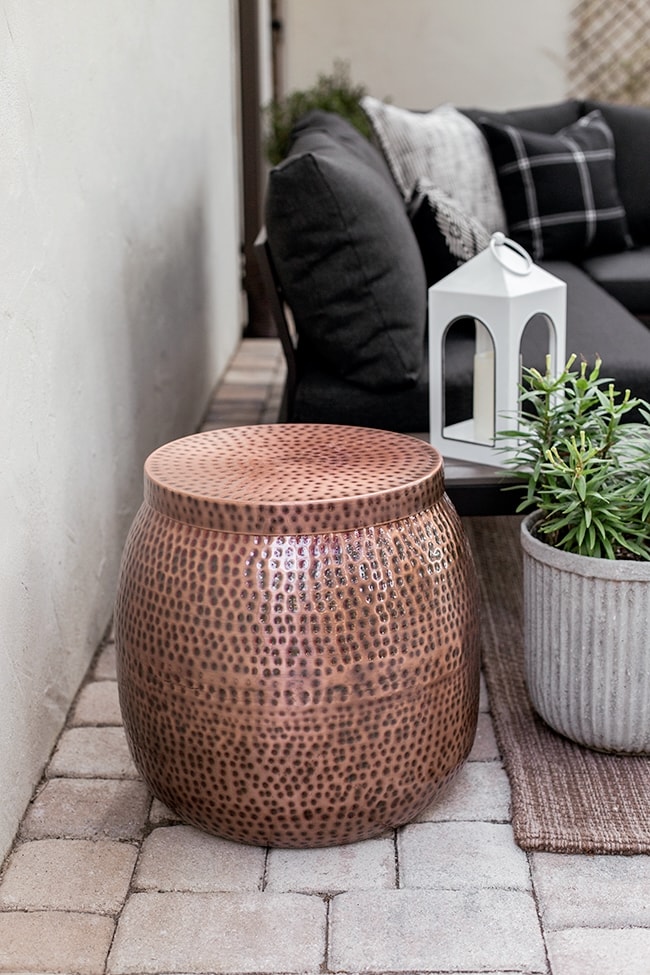 The hand-hammered detail is gorgeous and reminds me of the copper artisans we came across in the streets of Morocco. It will be the perfect outdoor accent for our Spanish-Riad inspired outdoor oasis.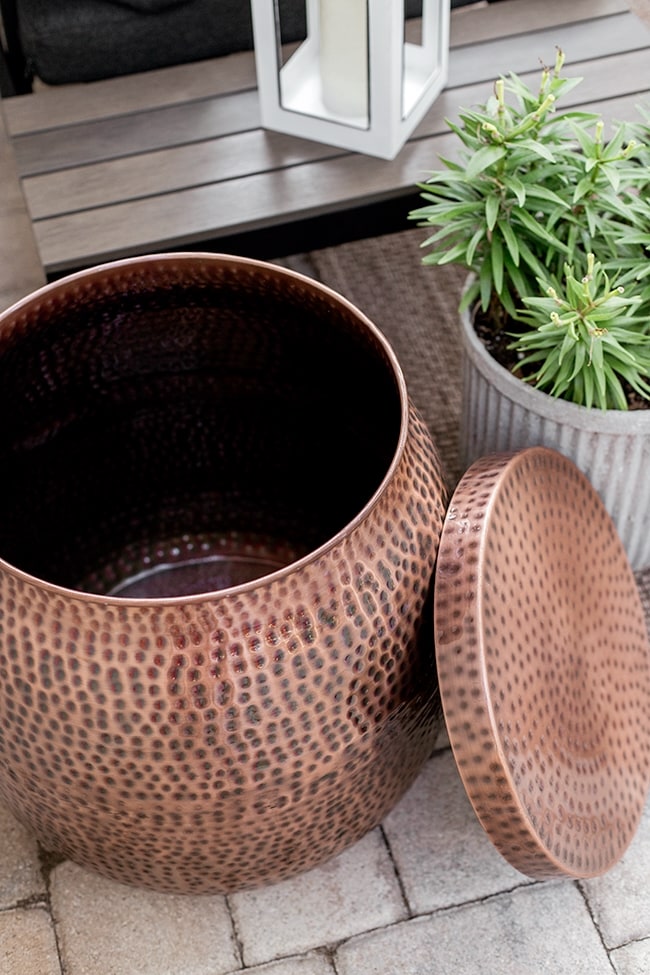 This rattan serving tray was perhaps the best budget find, at under $9!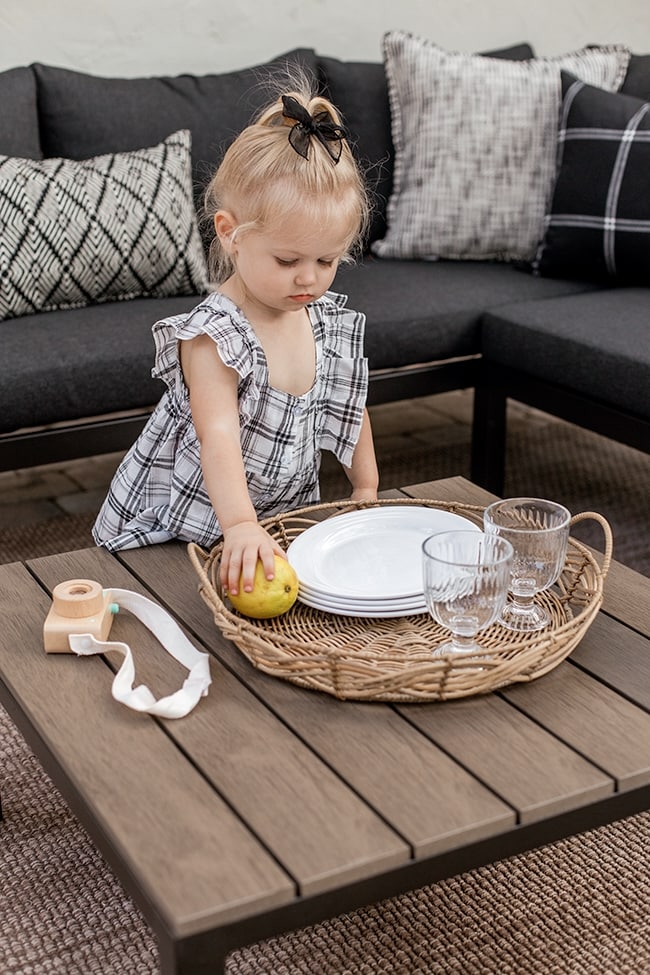 It's coated in resin so it's extra durable and outdoor safe (but I'll use it indoors too!) I still can't get over the price. Esmé approves.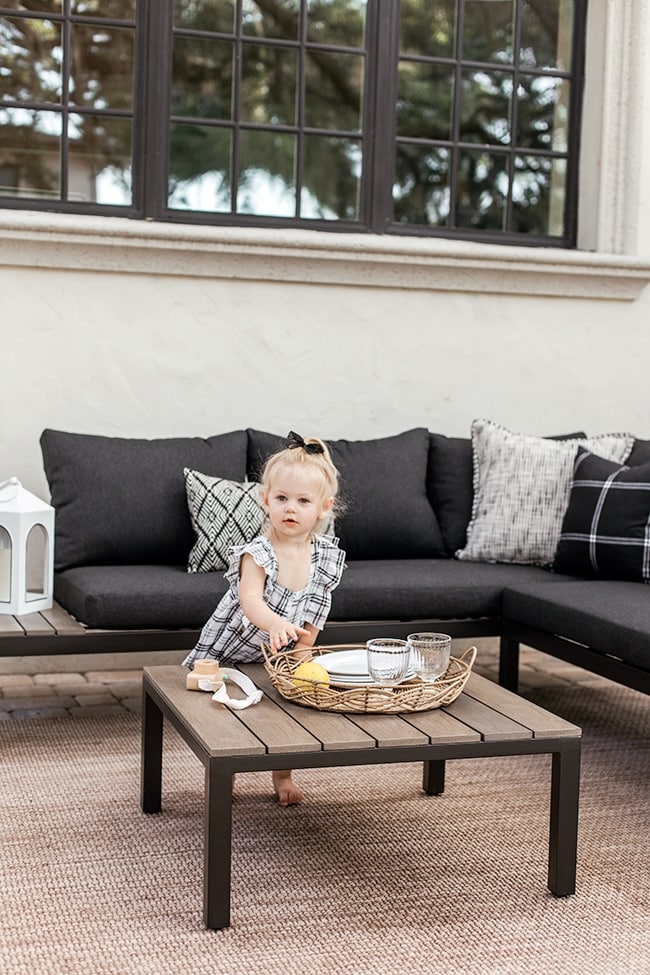 Better Homes & Gardens has also stepped up their pillow game recently—this cute lumbar for under $13 caught my eye: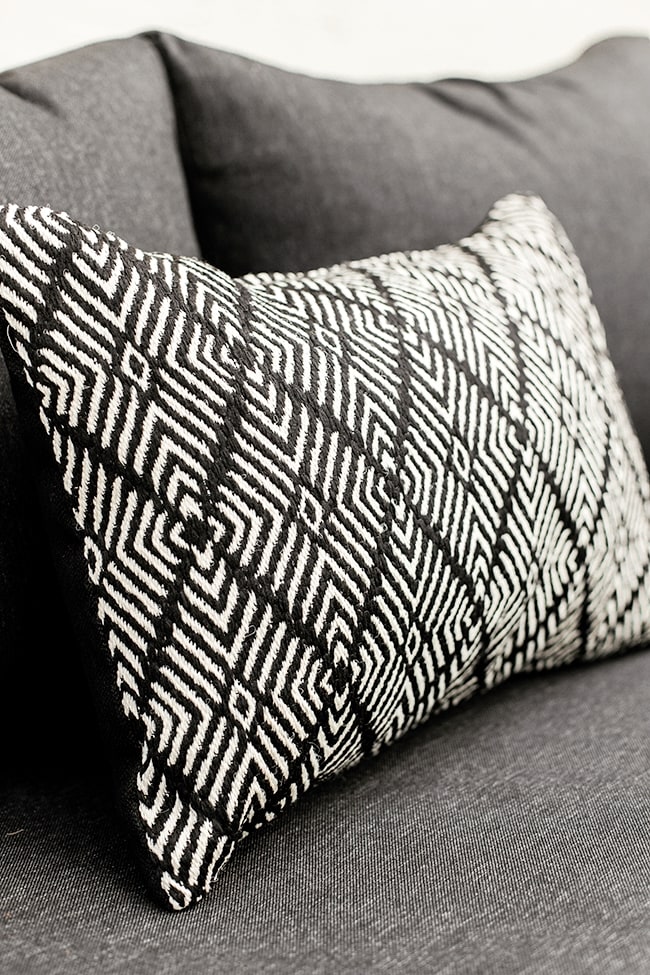 It has a really nice woven texture and it's outdoor rated. I also like using indoor pillows outside though—they're easy to bring inside if needed and you can always throw the covers in the wash.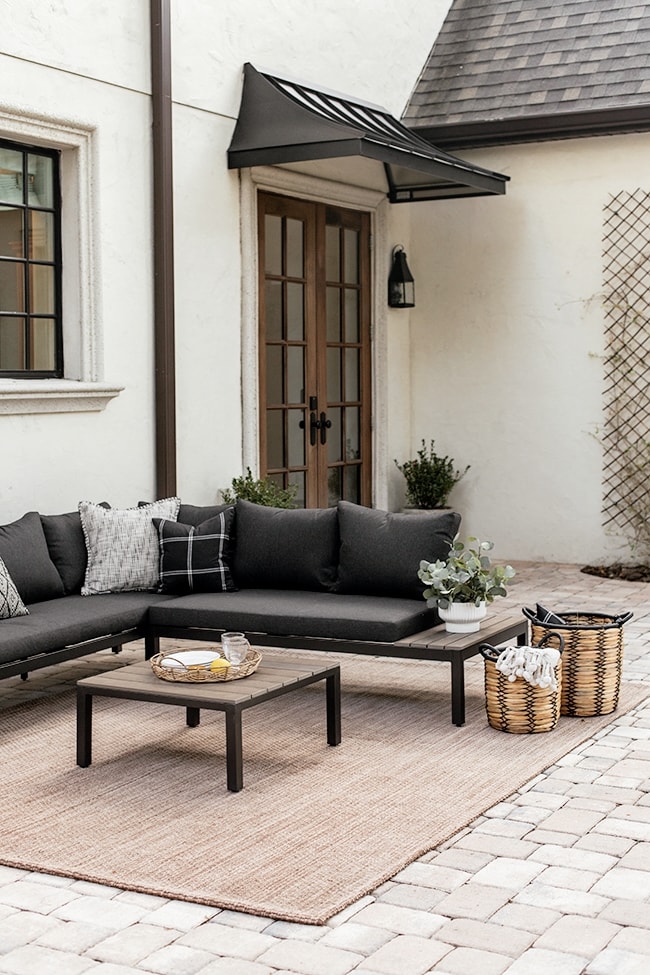 I found this set of black + white window pane zippered covers—under $13 for two! You honestly won't find a better deal anywhere else. It comes in other colors too: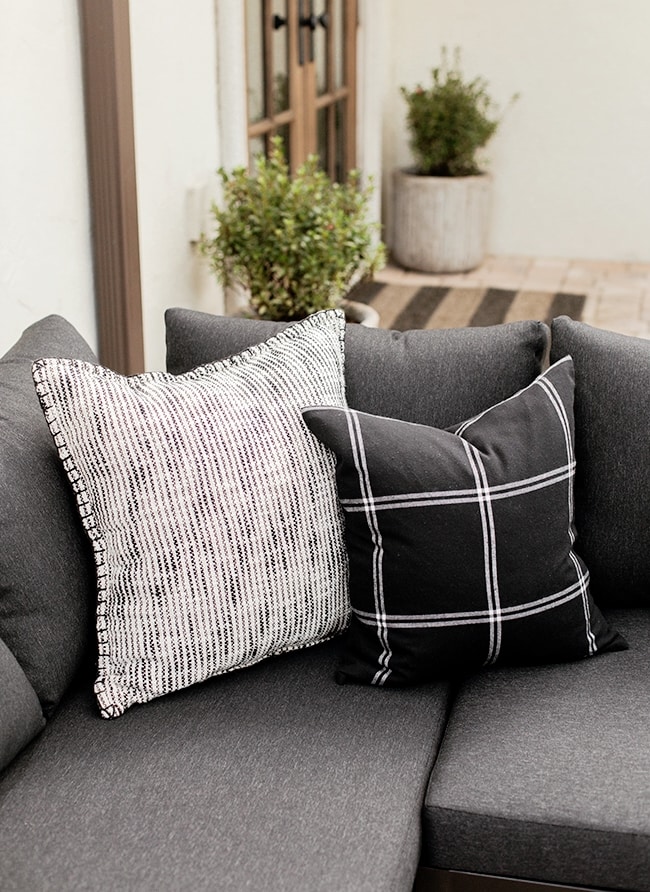 I also couldn't pass up the reversible textured pillow next to it—the neutral woven fabric should hold up great in a rental and will pair nicely with other decorative pillows.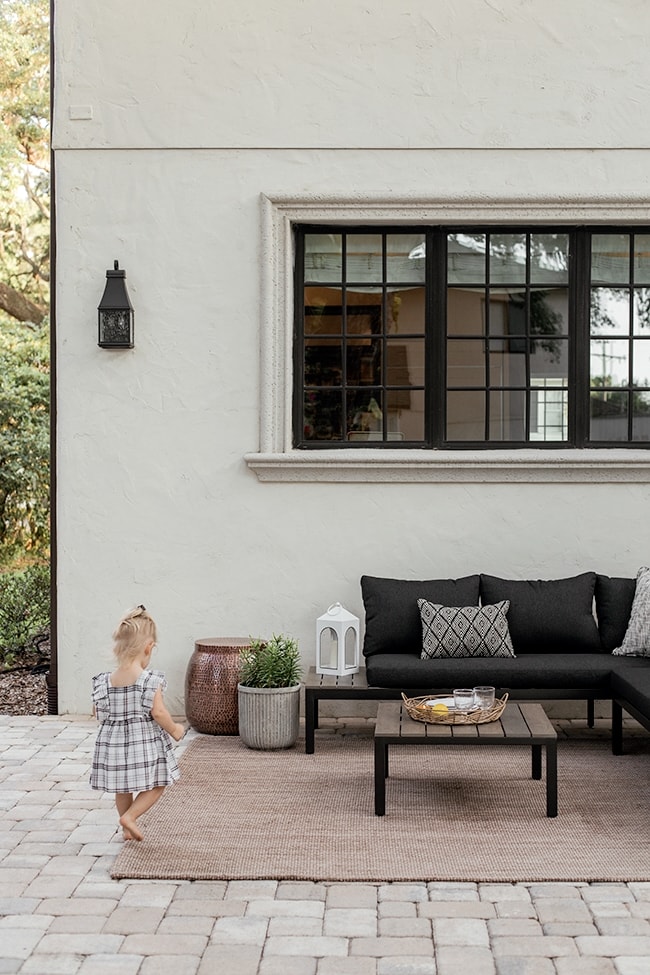 Notice the white lantern and DIY concrete planters from previous posts? I know this furniture is temporary but I'm tempted to keep this whole setup here!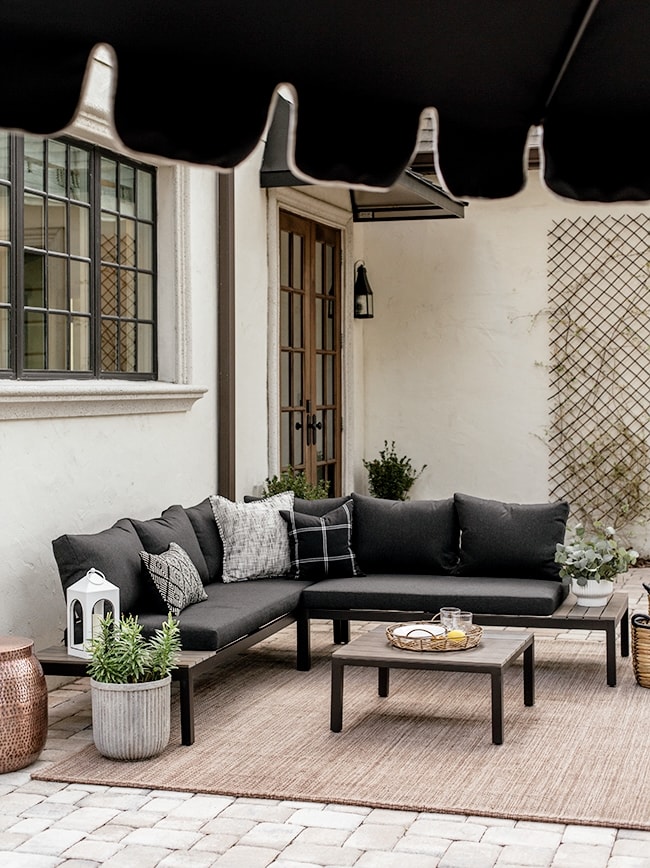 And look at how well it coordinates with our dining set…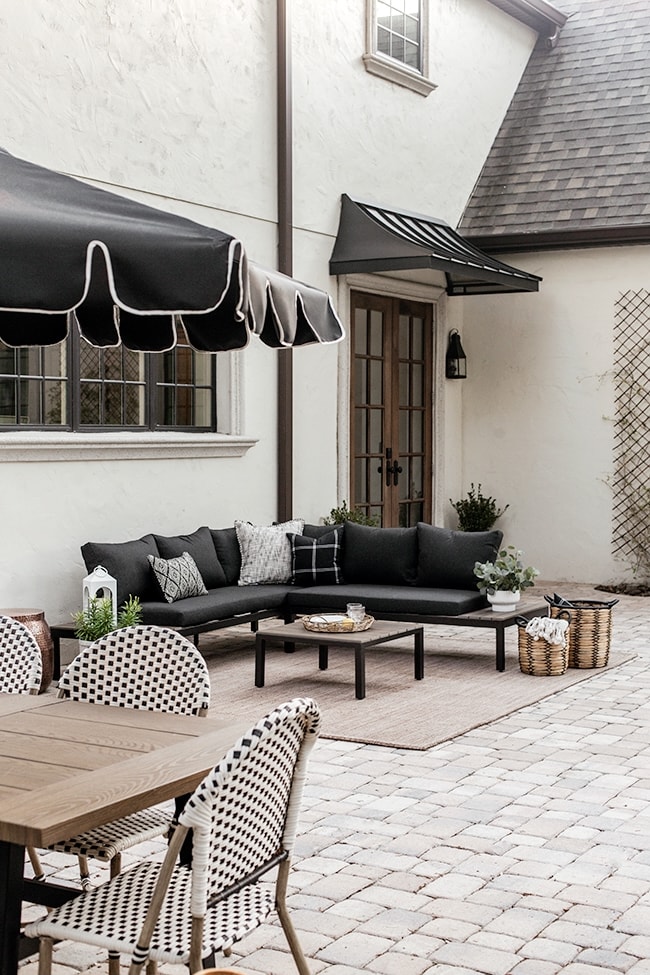 I guess I have a thing for black and white. And Esmé is following in her mama's footsteps 🙂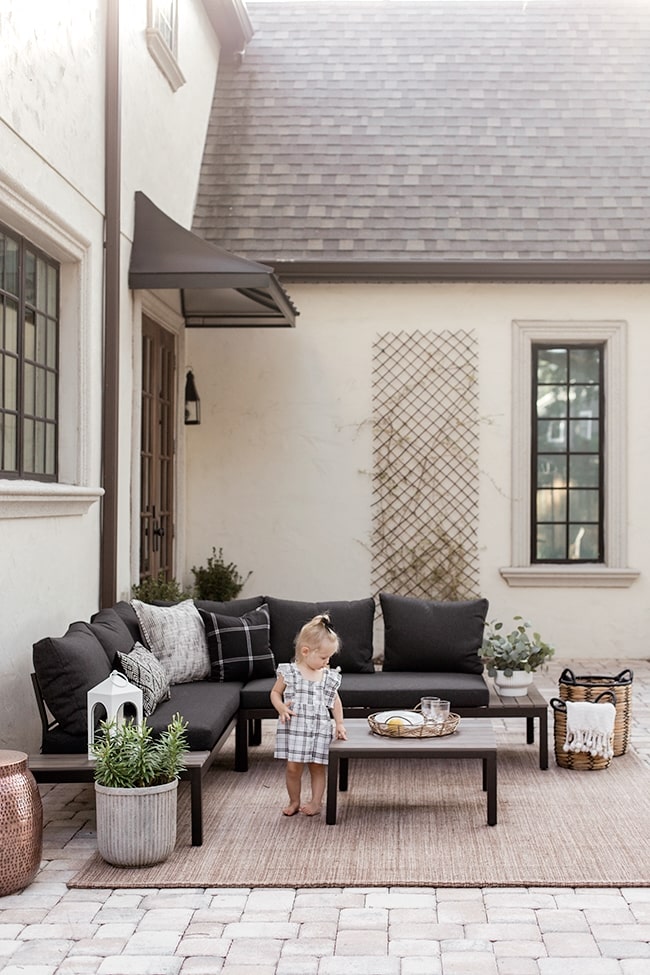 We're thoroughly enjoying these pleasant Spring evenings before Florida summer hits.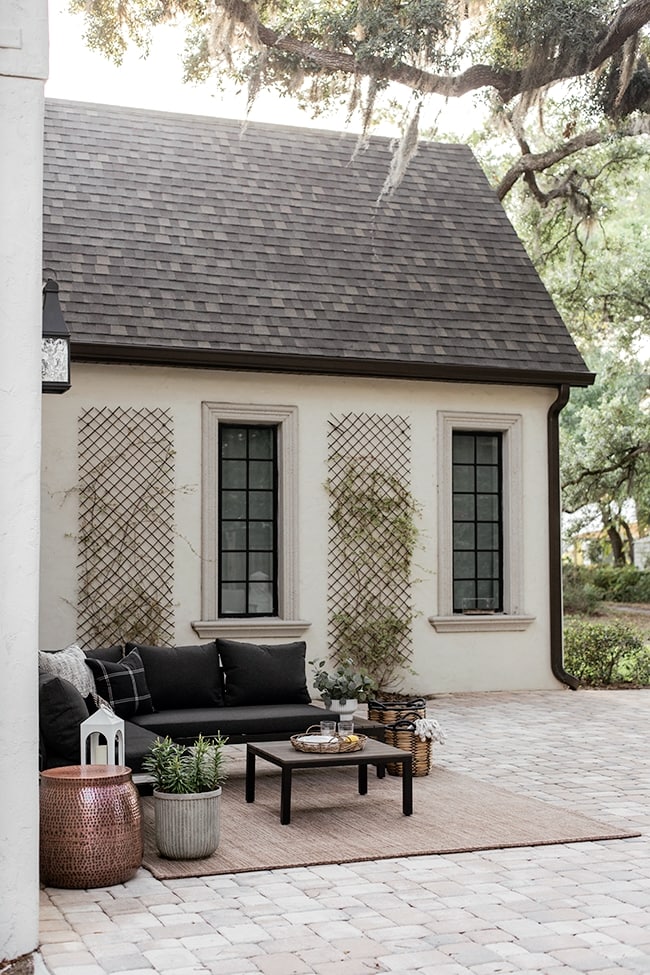 It hasn't rained here in weeks—I'm not sure I'm ready for the humidity but I'm definitely ready for the storms! Bring it on, Mother Nature.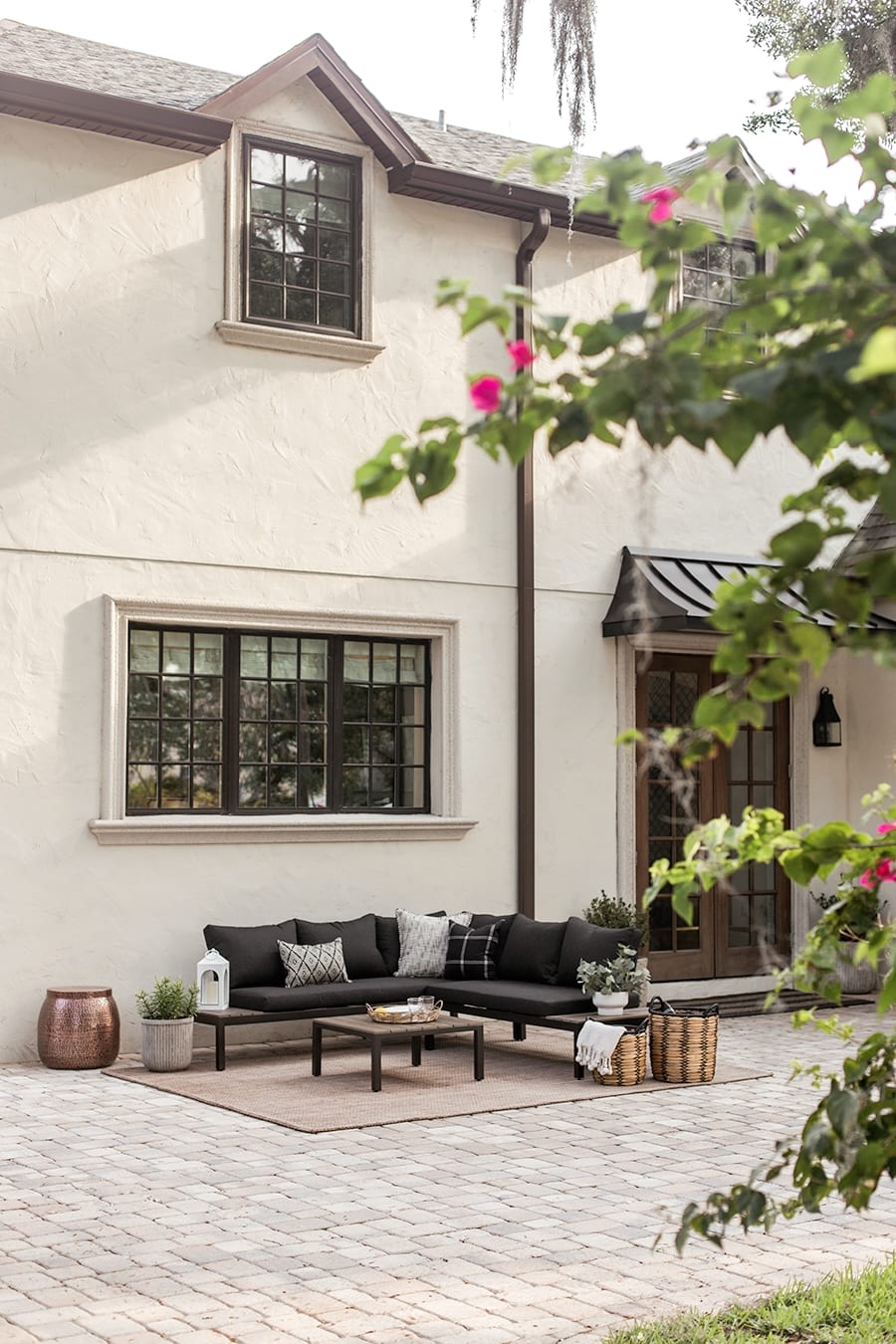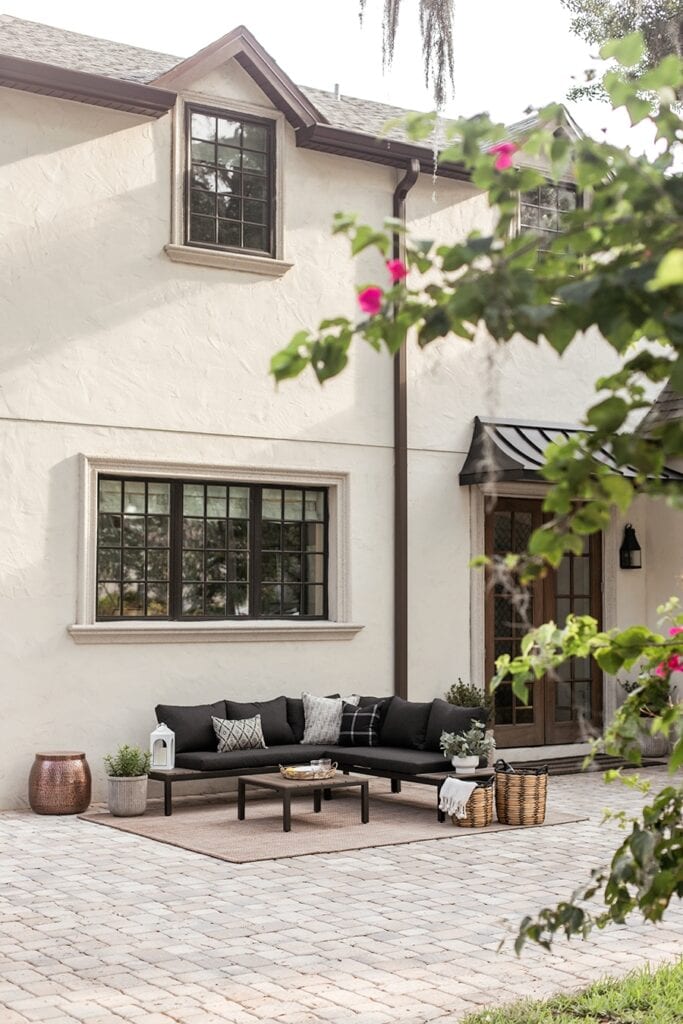 If you're looking for budget-friendly patio pieces to complete your outdoor space, I've rounded up my favorites from Better Homes & Gardens at Walmart and grouped them into three different style categories. Which style speaks to you the most? I'm a little bit of everything! (Click/tap on each item to shop):
Style 1: Classic Modern

---
Style 2: Boho Chic

---
Style 3: Tropical Oasis

---
Next week, I'm hoping to have the backyard plans and renderings for the new house to share with you! We're off to a pretty rocky start with our renovation, so I'll update you with what has been going on there. Hope you enjoy this last week of May and get to do something fun for Memorial Day!