Last month I decided I could no longer ignore my kitchen problem areas, and took the time to plan and reorganize my spice drawer, junk drawers and underneath the sink. I shared the process over in my Instagram stories and turns out you guys loved it too—who doesn't want an aesthetically pleasing, organized kitchen?!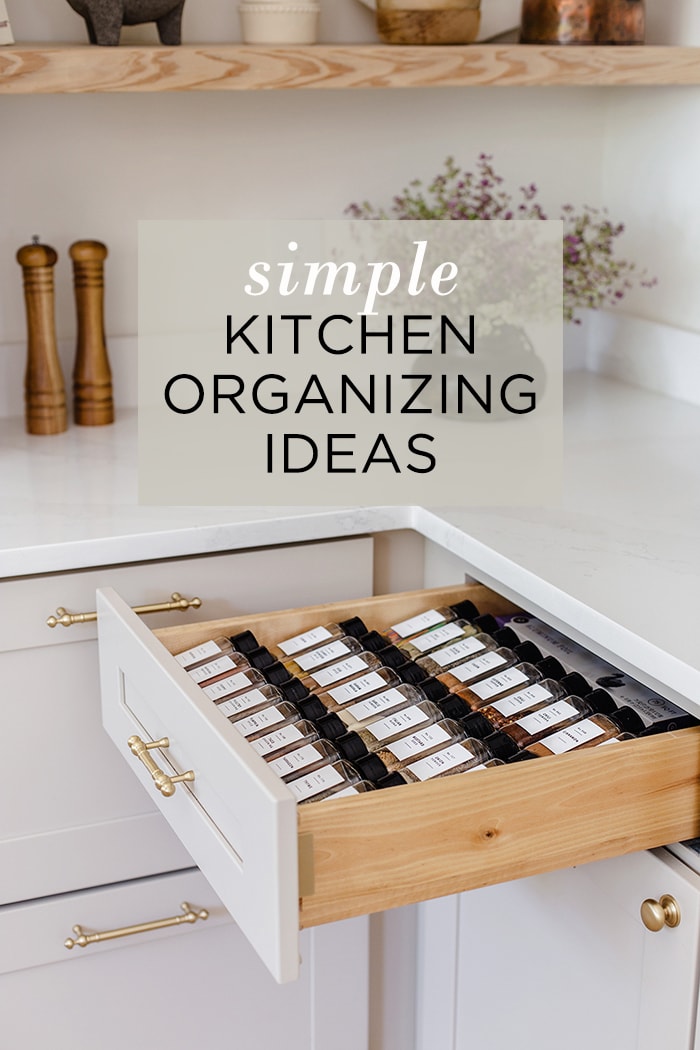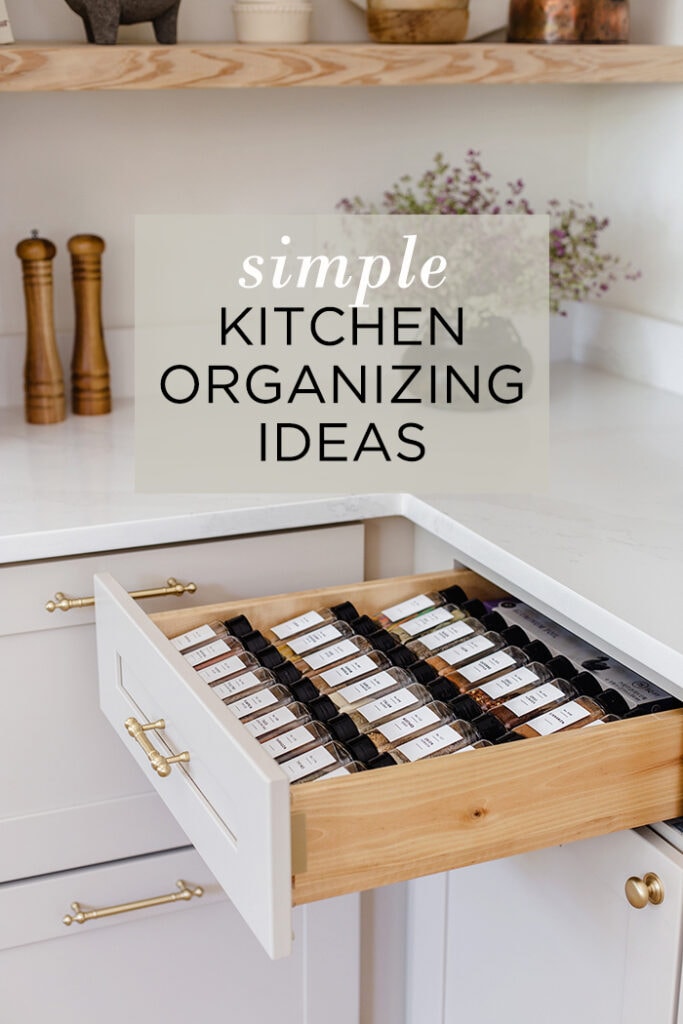 I figured these quick and easy projects deserve their own permanent spot in a blog post, so here they are!
Spice Drawer
Originally, we had planned to use this 16″ drawer for our spices, but somehow those plans got derailed and we ended up with spices and storage bags intermingled between two drawers.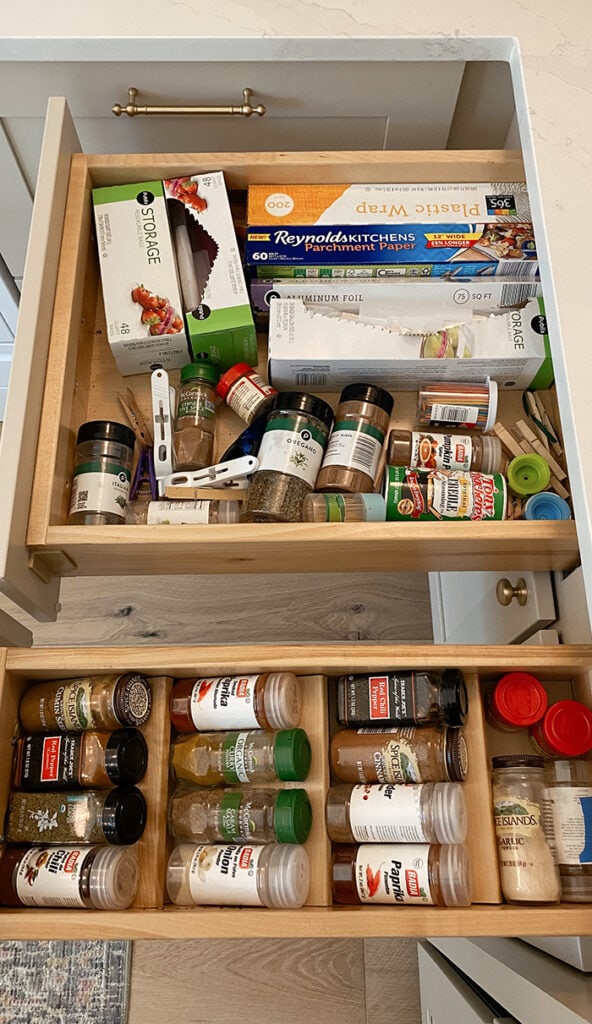 Having all of our spices in one place was important to me, so I decided to give it another shot, and found this tiered maple wood insert designed to fit our 16″ drawer. This is the same brand/product you get when ordering these add-ons for custom kitchen cabinets through Lowe's (our cabinets are Kraftmaid)—but they're a lot cheaper ordering direct through Amazon.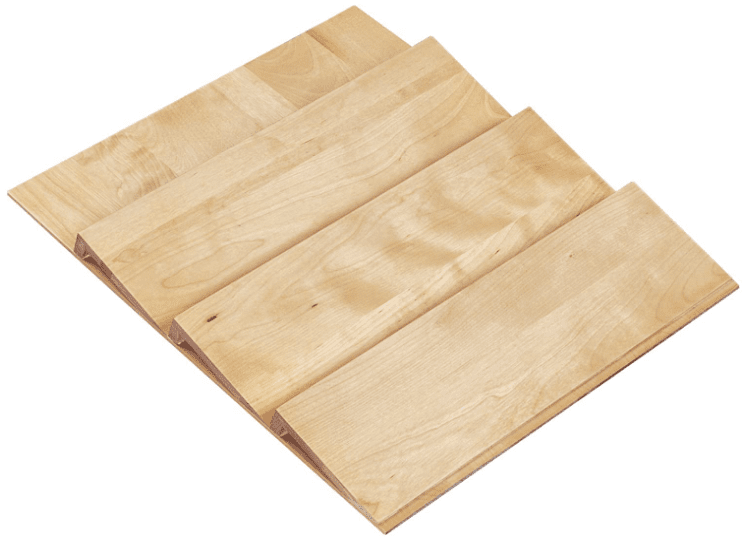 I considered other options like plastic and flat drawer liners, but ultimately decided I preferred the cleaner and more integrated look of the matching maple wood.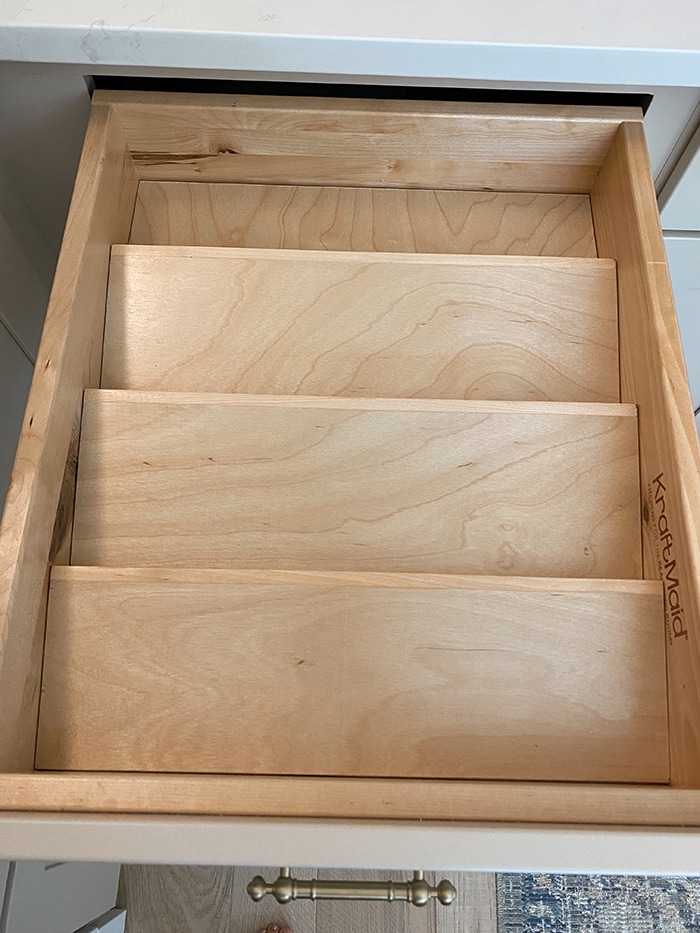 The width was a perfect fit, but we did have to trim the length down a bit which was easy with a table saw (the insert is designed as a "trim to size").
Next, it was time for the fun part! There are quite a few options for spice jars out there, and I eventually settled on these for their functionality and price point. The lids are easy-open with two sides, for shaking and pouring. No rusty metal caps to screw off!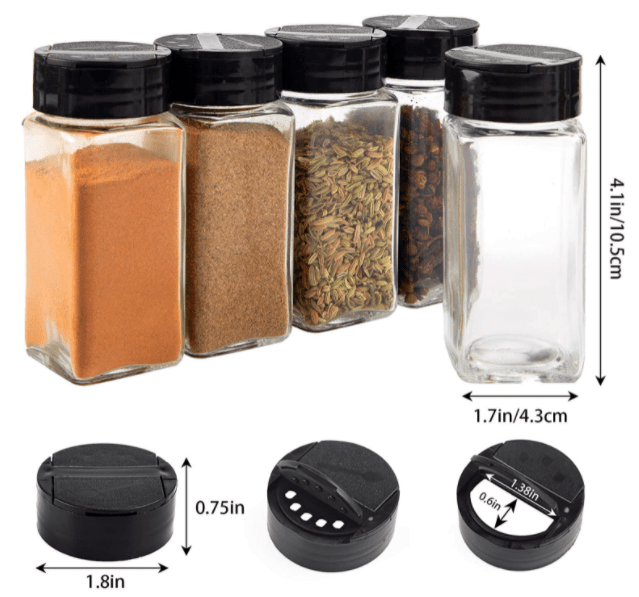 I *almost* ordered these instead because I love the round shape, but they were twice the cost and the lid doesn't pop open for easy pouring: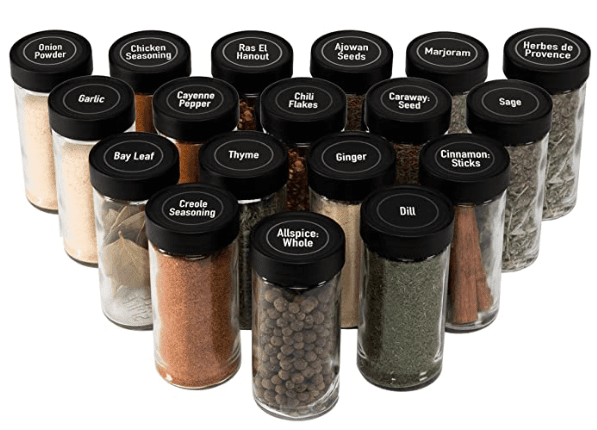 My spice jar kit included two different types of labels, but I found other labels I liked more…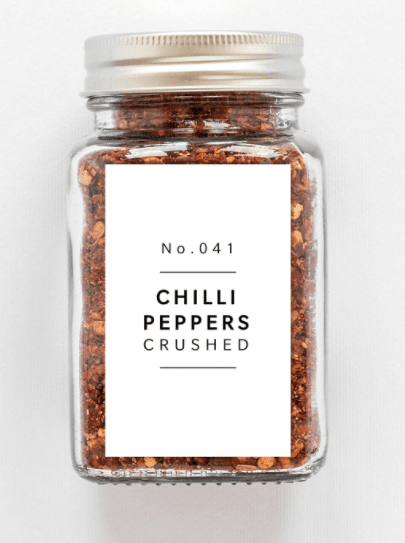 These labels have a beautiful, minimal design and includes 184 pre-printed labels (plus 8 blanks to print/write-in your own).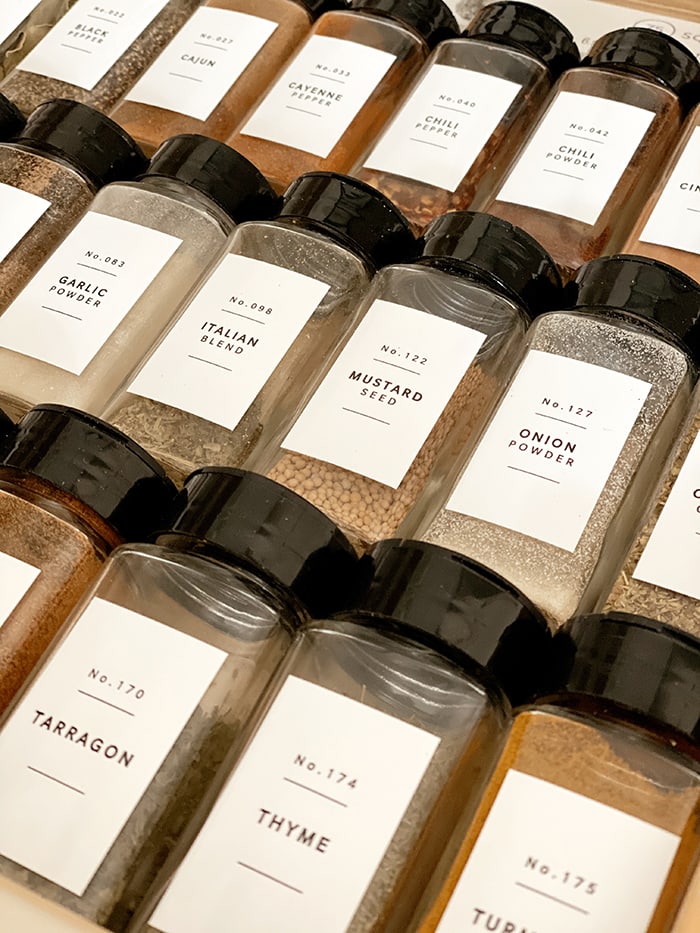 I thoroughly enjoyed transferring my spices and labels and setting everything up in alphabetical order. The process only took a couple hours from start to finish, but what a difference it makes!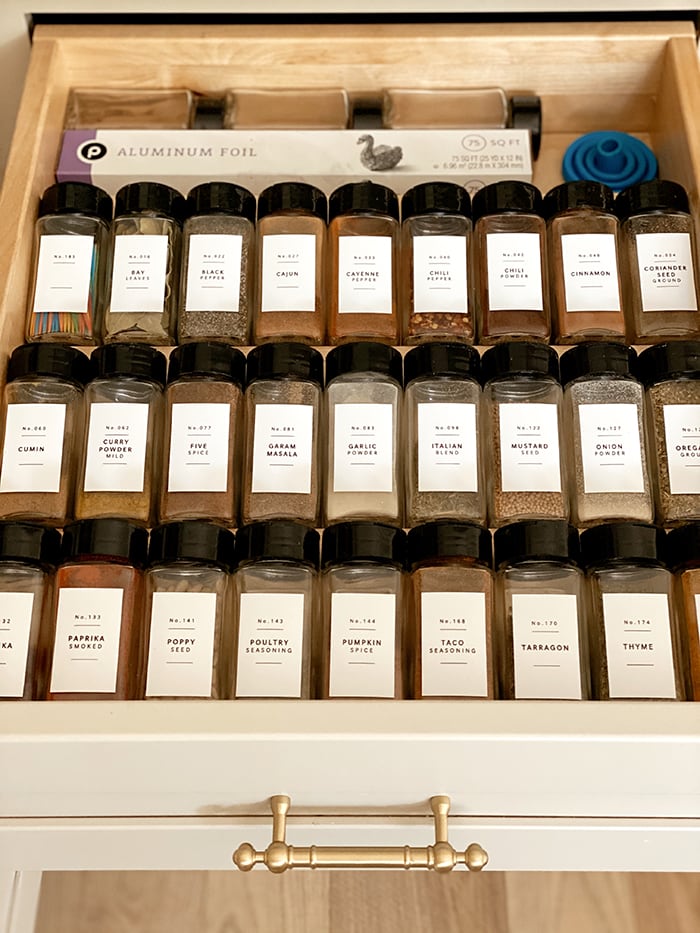 I also consolidated our plastic bags/saran wrap and it's a snug fit, but I managed to make it work. We use tin foil very rarely, and it sits at the back of the spice drawer along with extra empty bottles.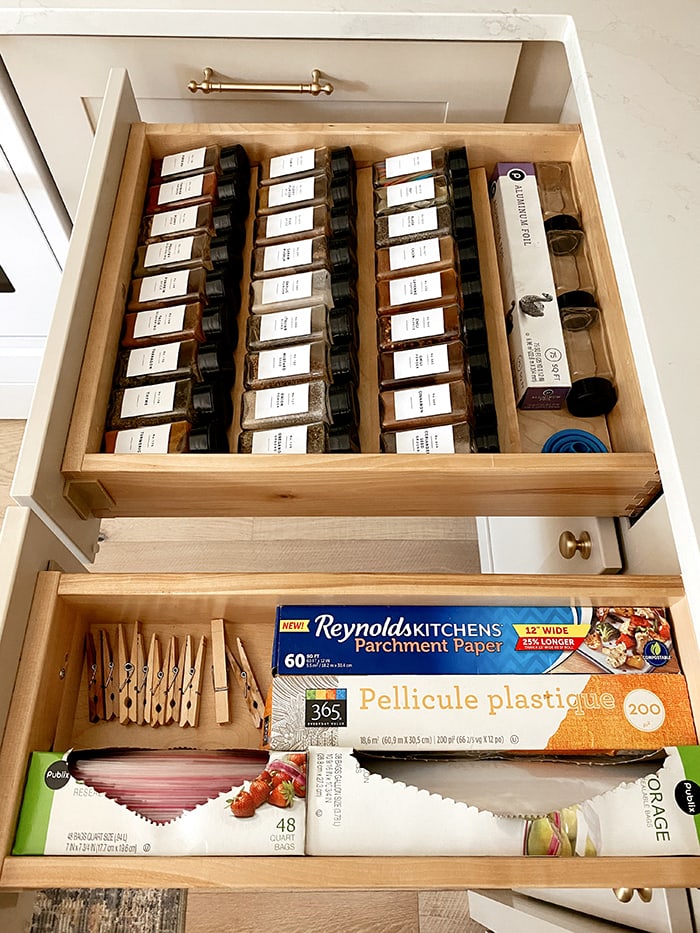 This is one simple project I should have done years ago! It's a little burst of serotonin every time I open the drawer…
Junk Drawers
Our junk drawers (somehow we ended up with two) were the most frustrating part of our kitchen.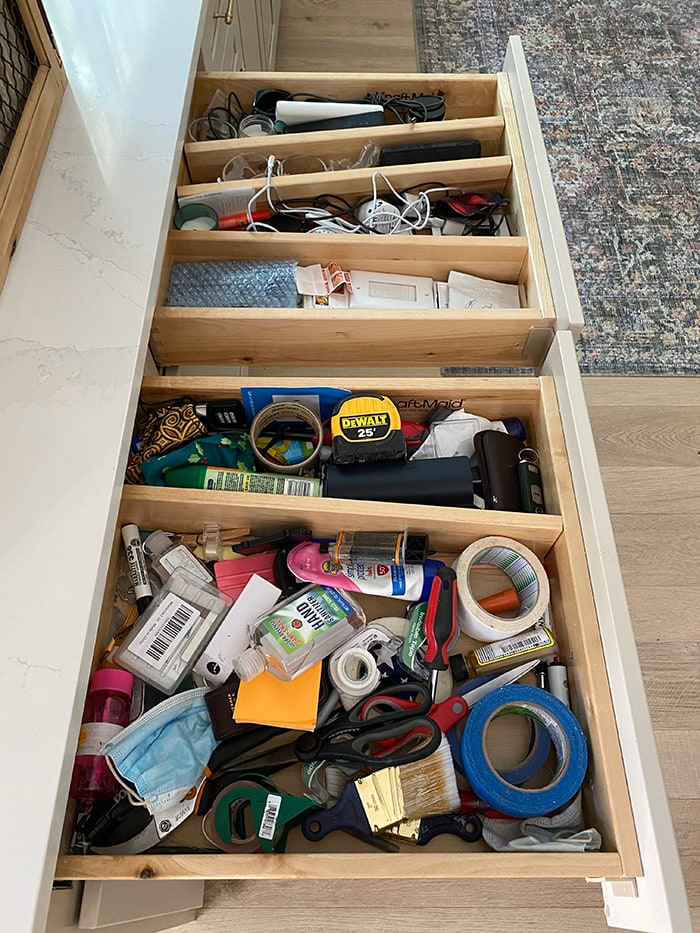 We never had a plan for these, and the wood drawer dividers that came with our cabinets didn't fit snugly so they were absolutely pointless. I spent quite some time researching the best organizing solutions for our drawers, and again landed on wood for a cleaner, more integrated look.
I found this affordable bamboo storage set and liked that there were several configuration options, including removable dividers:
They sold another similar set with a couple different sizes, so I ordered one of each to have multiple options since I wasn't sure how these would be organized.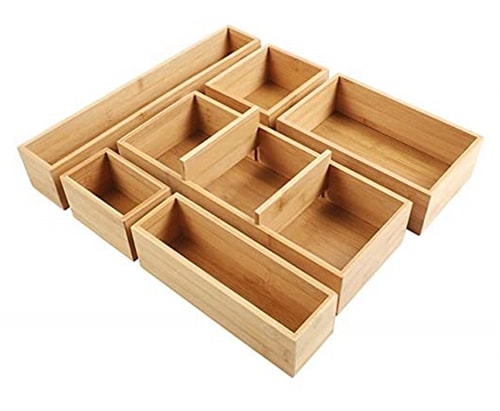 To begin, I emptied both drawers and separated out the items that belonged in the garage, upstairs in the office, and in the trash. From there, I organized everything into smaller piles by category (tools, cables, keys/door openers, tape, batteries, pens, etc). Then, I matched each pile with a box in the appropriate size.
I was then able to arrange the boxes within each drawer, and had space leftover for larger items (like candles and speakers).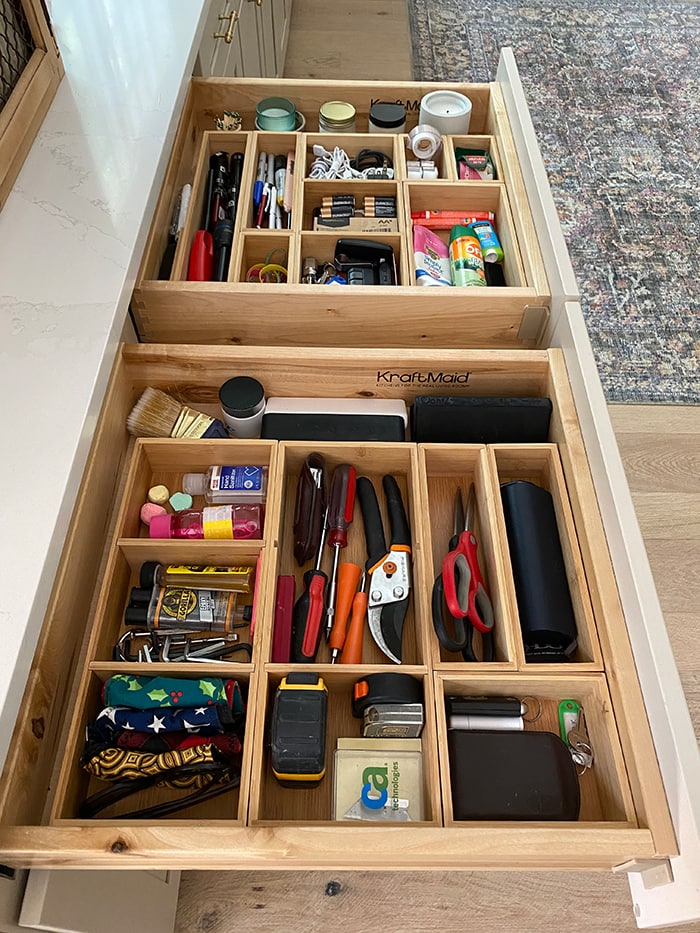 It has only been a couple weeks, but this system has been working great so far! We do need to cut a small block to wedge in the back to keep the boxes from shifting when we open the drawers (or add strips of double sided sticky tape along the bottom to prevent movement).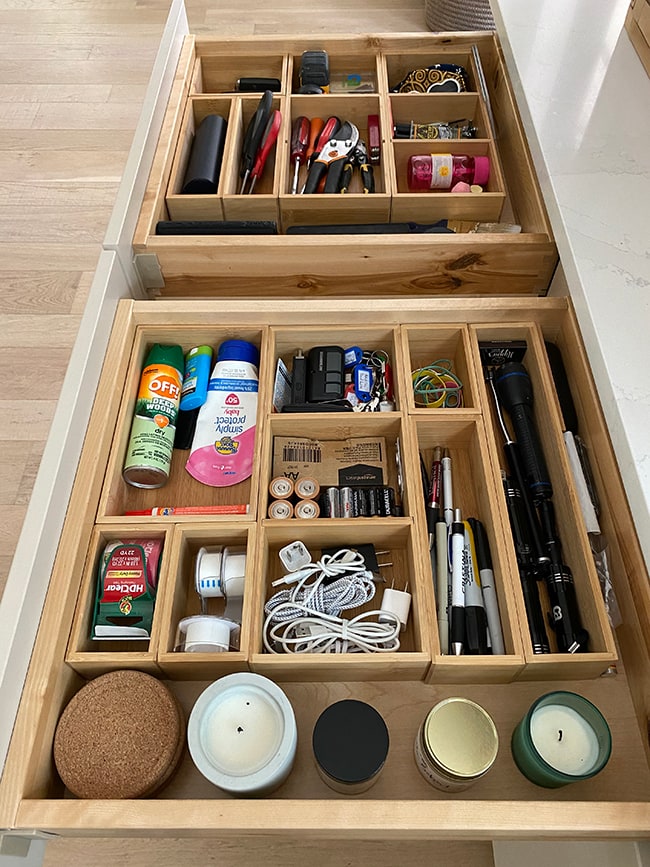 Another quick and easy project that has saved us a lot of time and headaches—no more digging through messy junk drawers and missing items!
Under the Sink
Here's another under-utilized cabinet: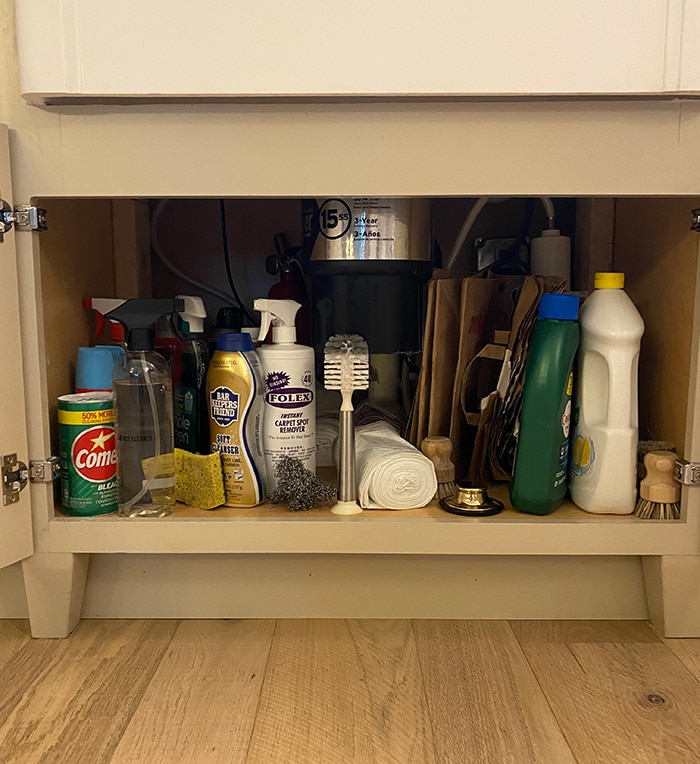 While searching for kitchen organization products, I came across this under the sink storage shelf and thought it was pretty genius: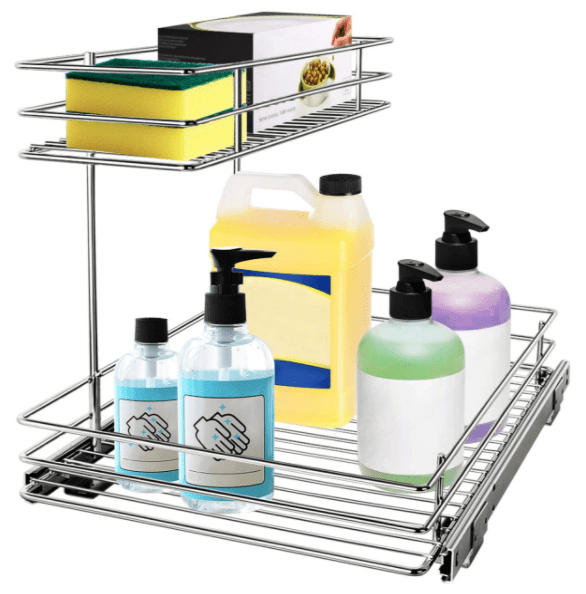 It mounts to the bottom of your sink cabinet and slides out so you can access everything without having to reach in the back. The narrow upper shelf is perfect for storing smaller items like sponges and brushes. These are designed to fit around your sink plumbing and work great for bathroom cabinets too. I ordered two (you can mount them in either direction) and install is quick and easy!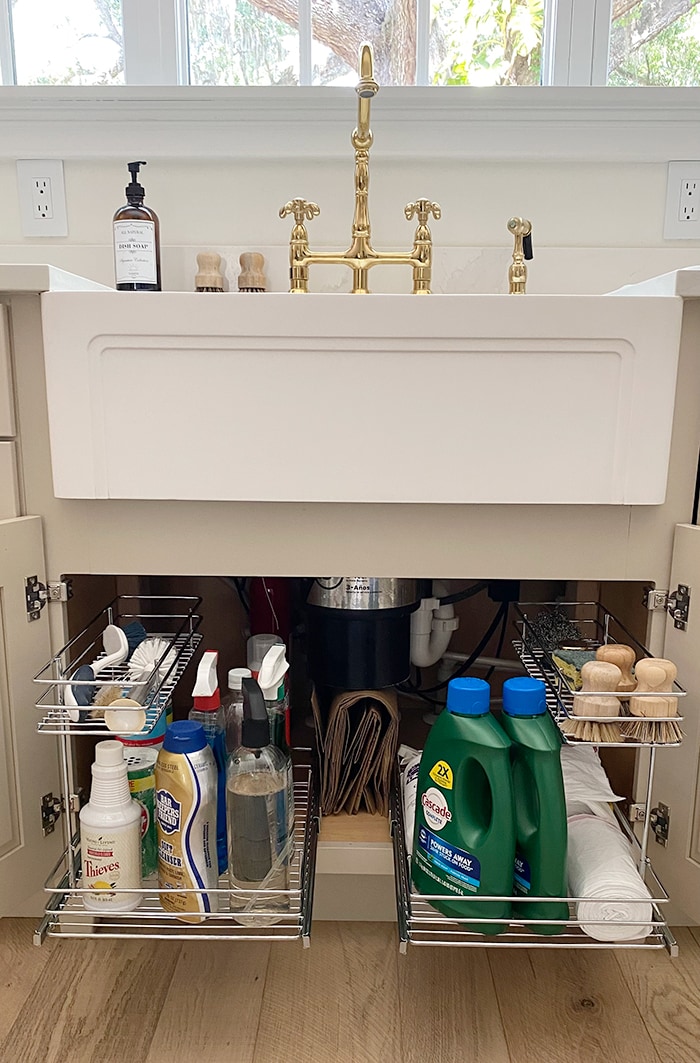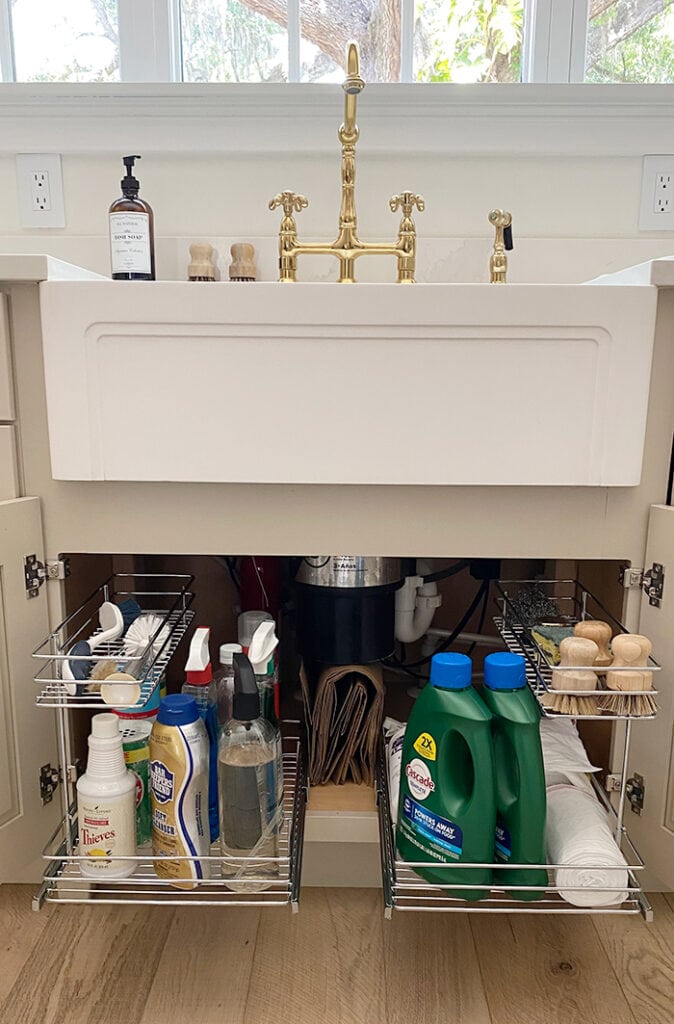 Now we have room to spare, everything has a place and things aren't getting lost somewhere in the back. These are well worth the cost!
Looking for more top rated kitchen organizing solutions? Check out my roundup on Amazon: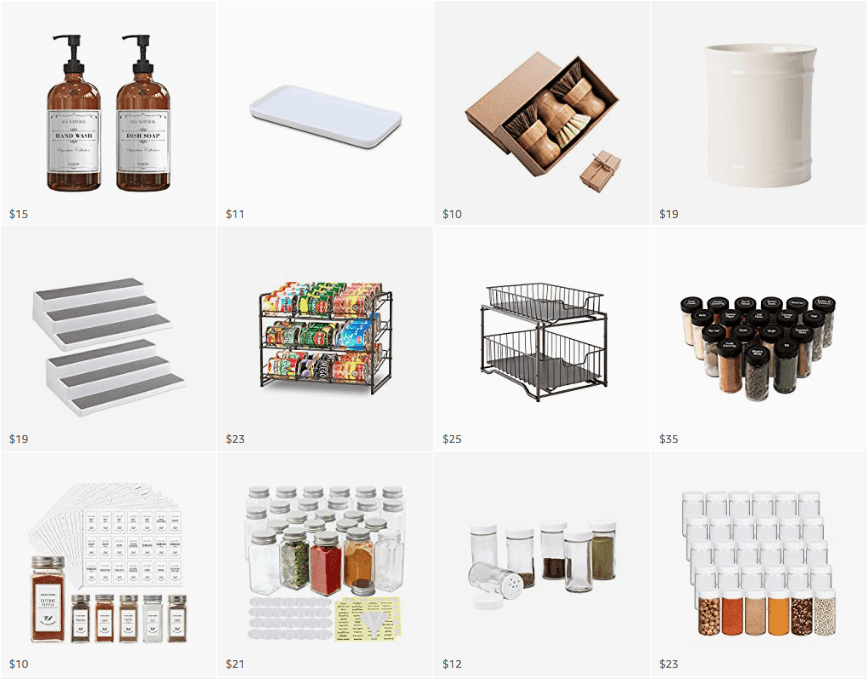 Have you found any great kitchen organization products/ideas lately? We still have one or two cabinets that could use some attention, but for the most part, everything is pretty efficient and runs smoothly. I've noticed that I'm more stressed and less productive when surrounded by clutter and chaos, so these changes have made a difference in my well-being. Organization has to be a priority! Anyone else feel the same?
Next week I'll be sharing a preview of our patio design at the Spanish BnB along with a big budget outdoor roundup—see you next Wednesday!