It's my favorite day in blogland—room reveal day!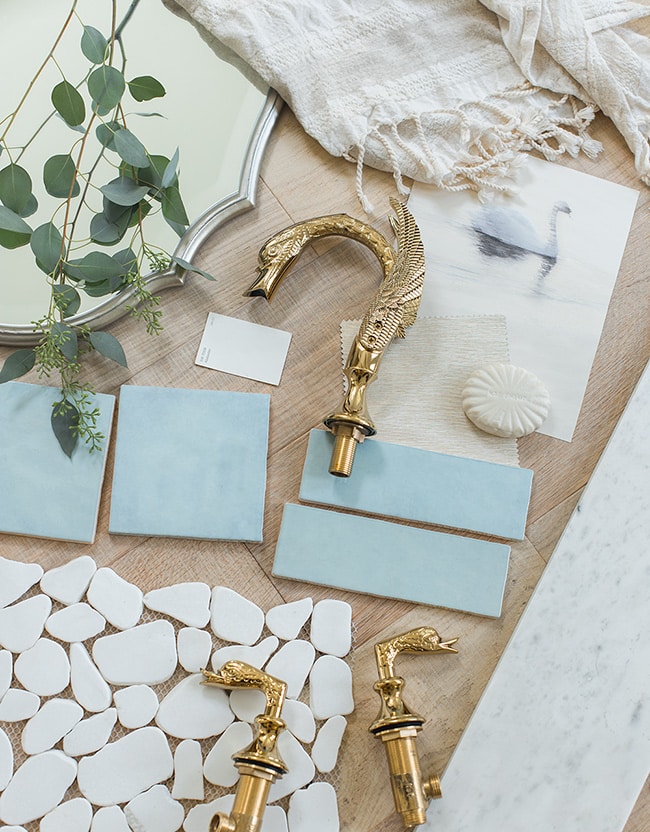 Pin
Back in August I shared the design plan and layout for this room, but this project actually started way back in May, right before we moved into the Heights House. This room didn't exist before—we created it by stealing a few feet from the existing bathroom and adjacent bedroom.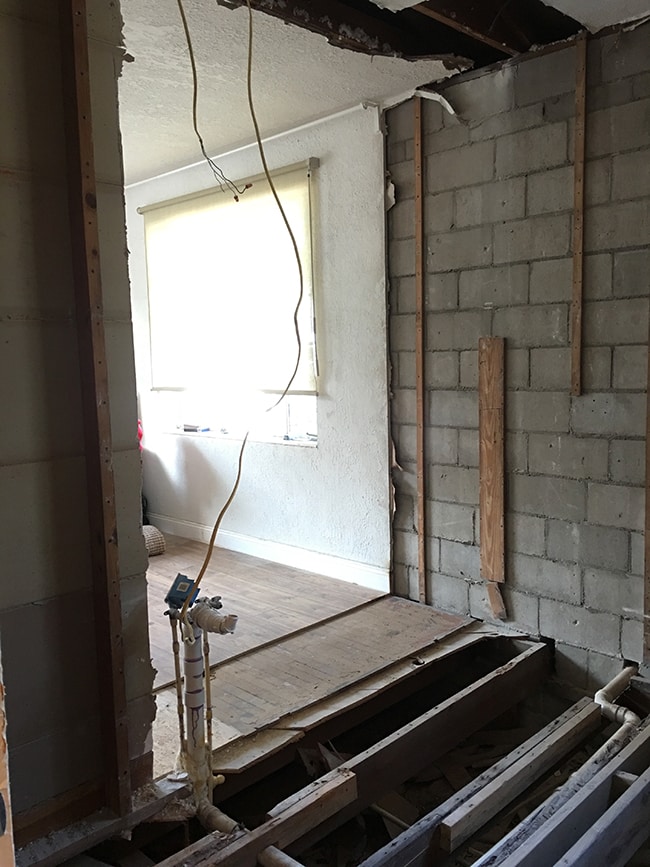 Pin
Building a bathroom from scratch is a major undertaking, from running all new plumbing, electrical and AC to constructing new walls and floors and cutting an opening for a new window. We hired most of it out, but squeezed in a few small DIY tasks where we could (check out the last progress post here).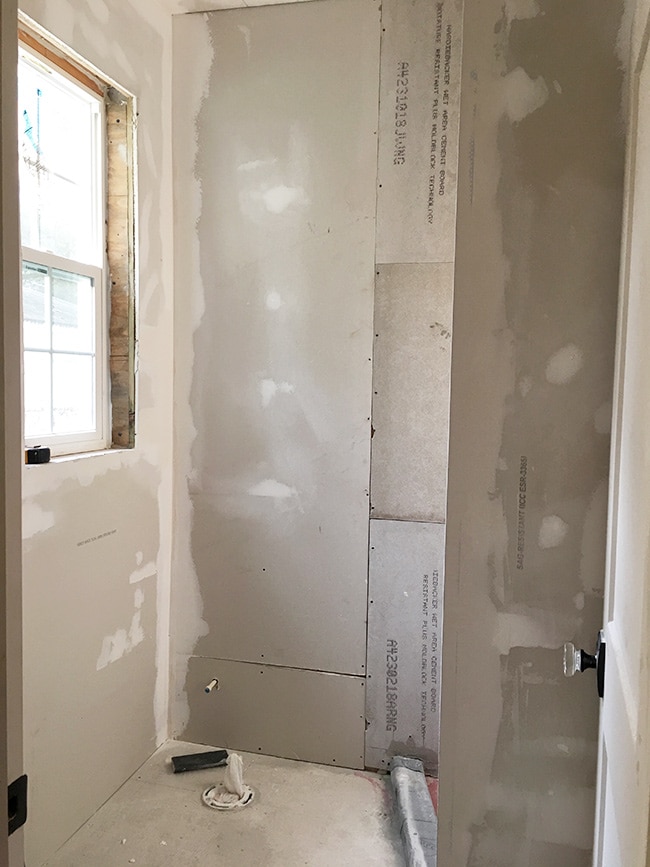 Pin
Measuring a whopping 30 square feet, it was an interesting challenge to find the most efficient layout without feeling too crowded. Because this house will be a vacation rental, our goal is to give each its own unique theme and leave a lasting impression. What this room lacks in size, I think it makes up for in personality. Certainly a departure from my own neutral and more classic decorating style, but taking risks and exploring your creativity is what makes design so much fun!
Welcome to the Blue Lagoon Bathroom…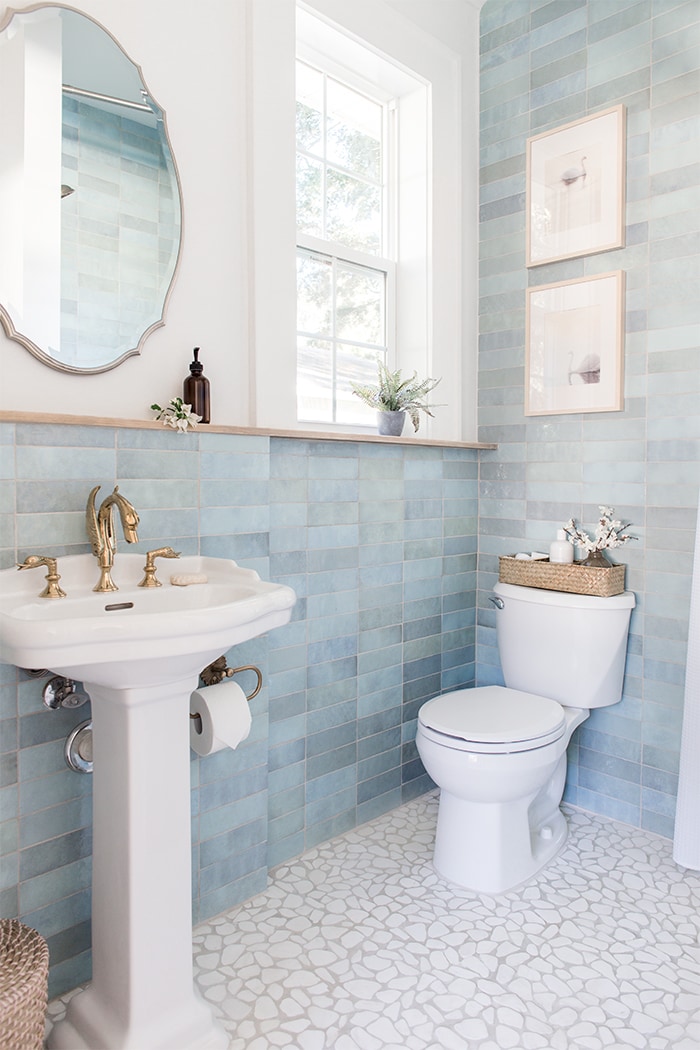 Pin
The star of the show is undoubtedly the Cloe baby blue tile. I knew I wanted to use this line when I saw the samples in person last year, and the glossy watery blue tones are what set the stage for this 'swan lake' inspired design. Speaking of swans…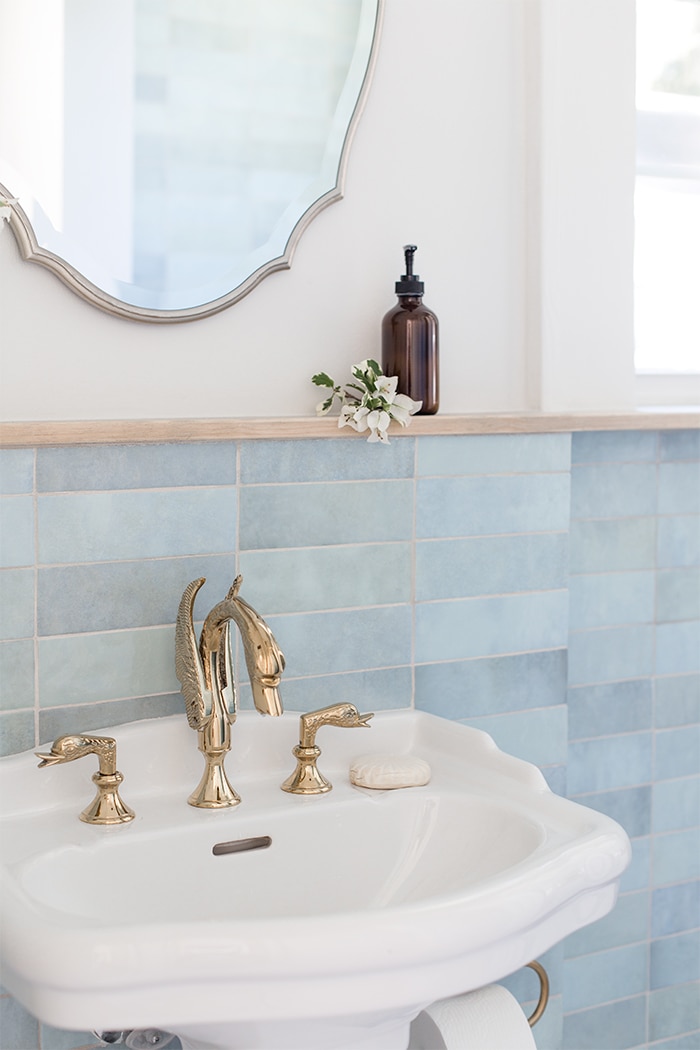 Pin
This faucet is what started it all. When I spotted it on Amazon, I just had to have it (especially for under $100!) and everything else in the room came together afterwards. Not everyone's cup of tea, but I just think it's so funky and unique. Who doesn't love a good swan (or 3?)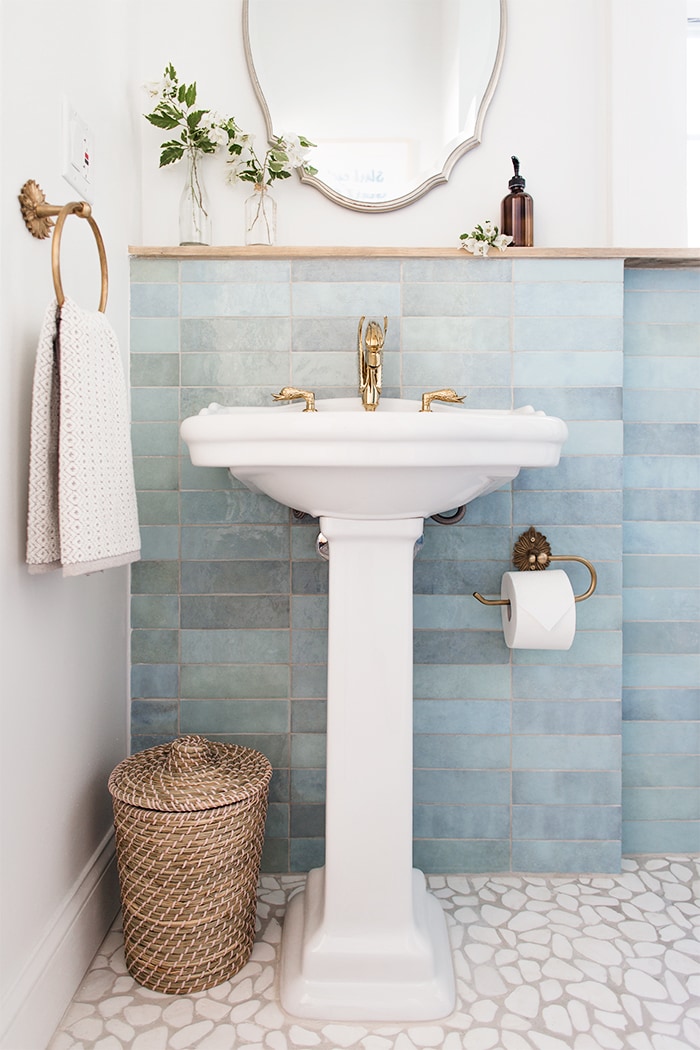 Pin
I spent hours looking for the perfect petite pedestal sink that was stylish, affordable, and the smallest depth possible. This Barclay model from Lowe's checked all the boxes!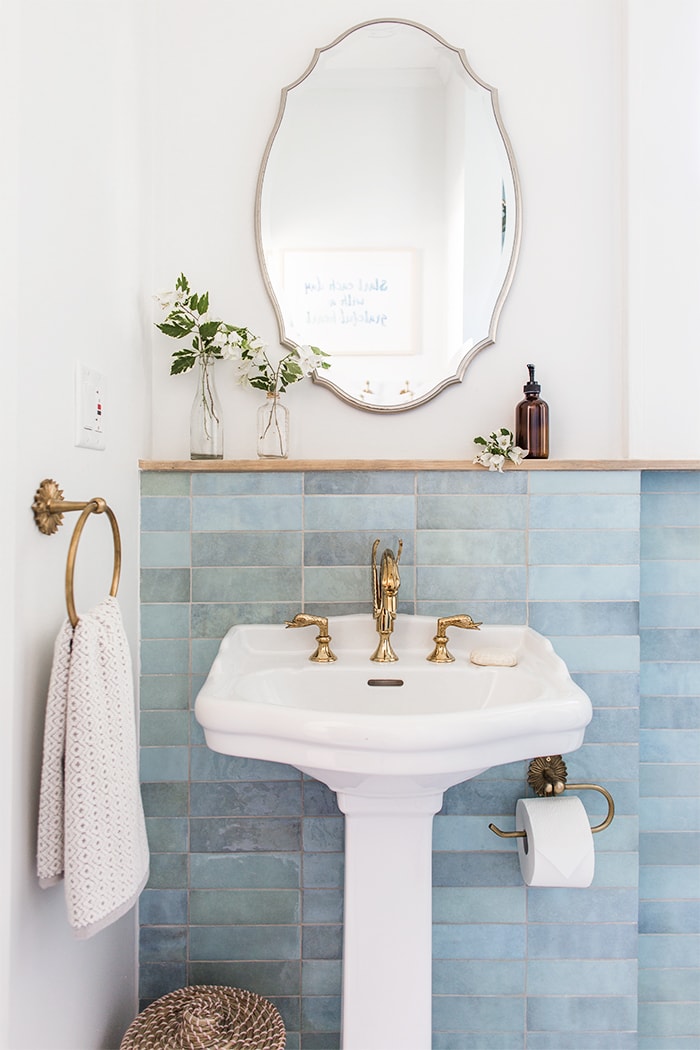 Pin
The mirror was another Lowe's budget find (only $66 and almost sold out!) The scalloped edges mimic the curvature of the sink and is very swan-esque, don't you think?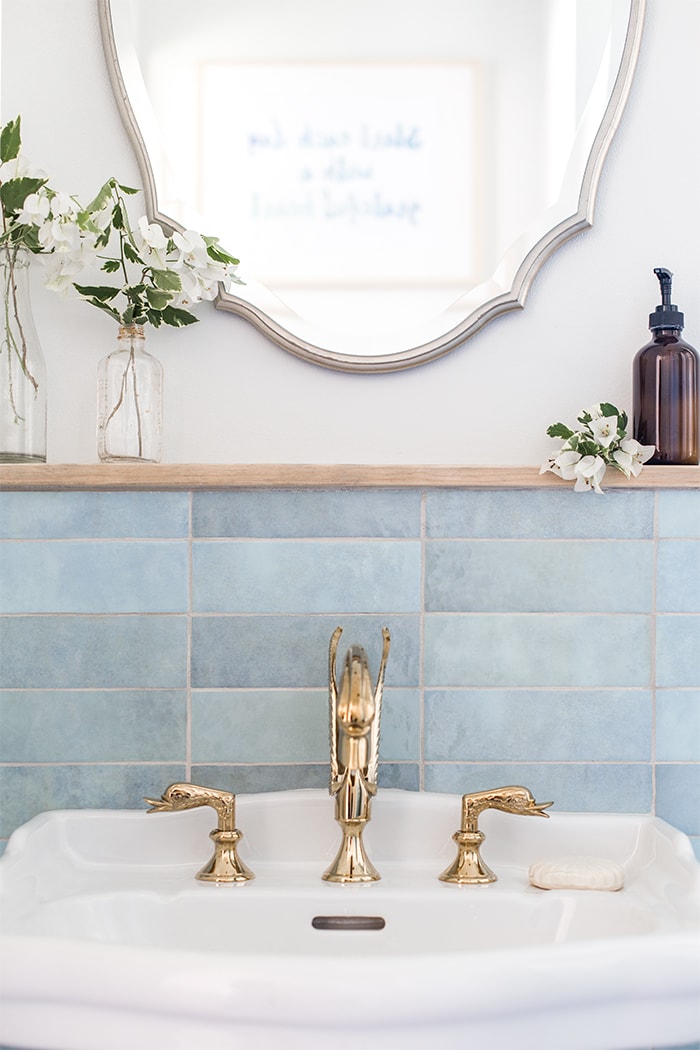 Pin
I use these refillable amber pump bottles in all of our bathrooms. They're so classic and much prettier to look at than regular soap bottles, and you can't beat the $3.50/ea price tag.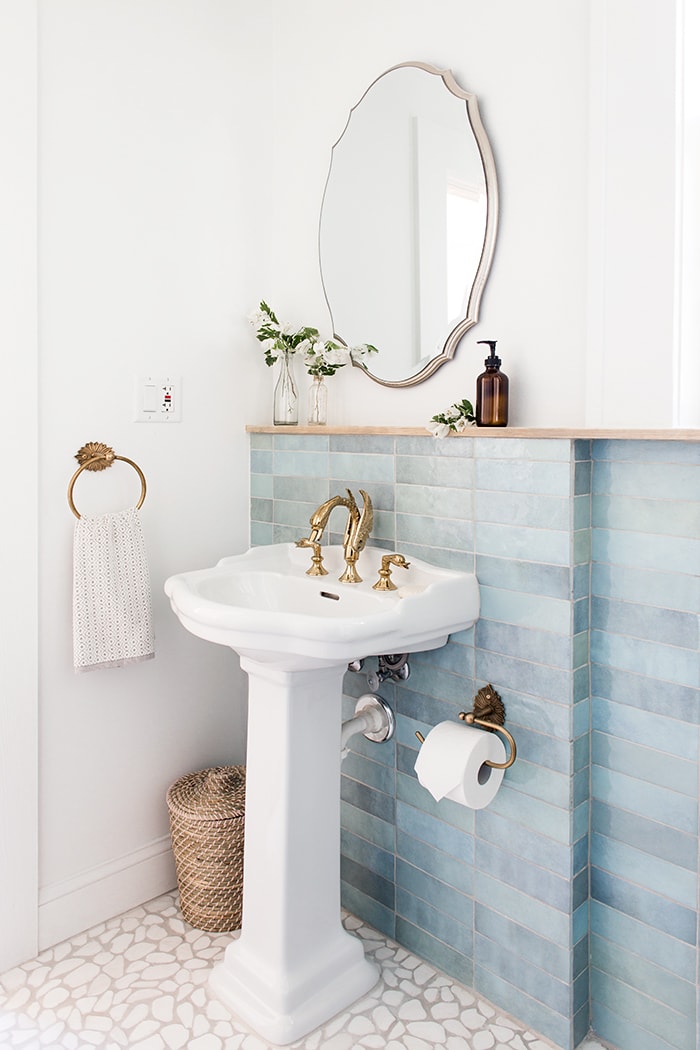 Pin
I'm also a big fan of the layered look achieved by mixing warm gold and silvery metals. I finally caved and got the towel ring and matching tp holder I'd been eyeing for months at Anthro. A small splurge, but worth every penny.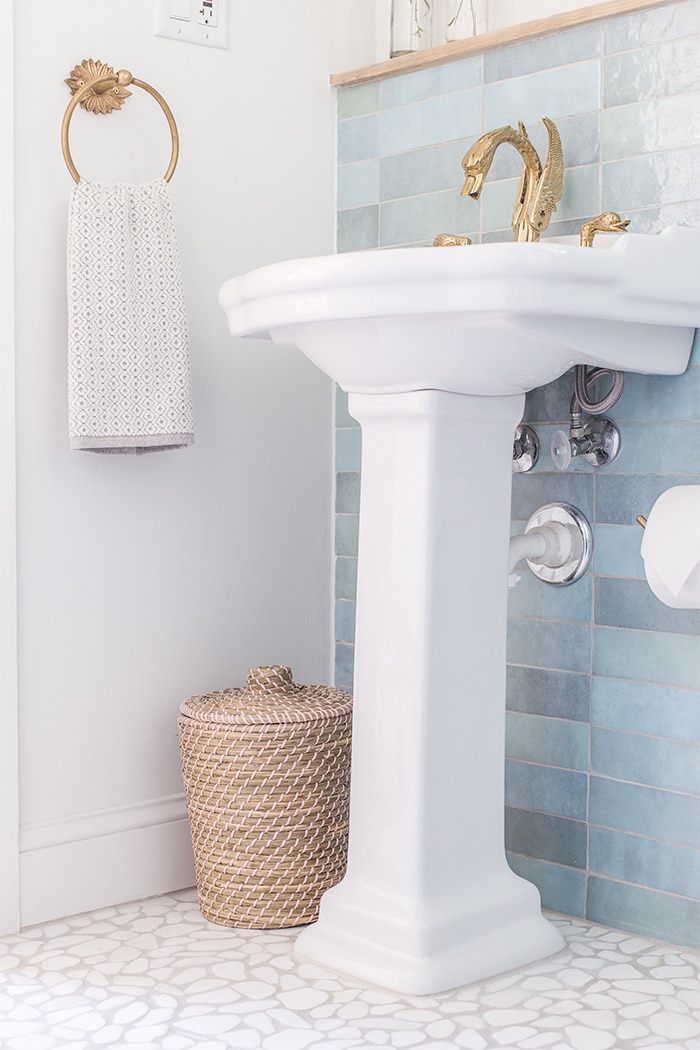 Pin
The seagrass wastebasket and hand towel were both Target finds. They're neutral in color but the woven texture is a nice contrast to the tile. And about that pebble tile…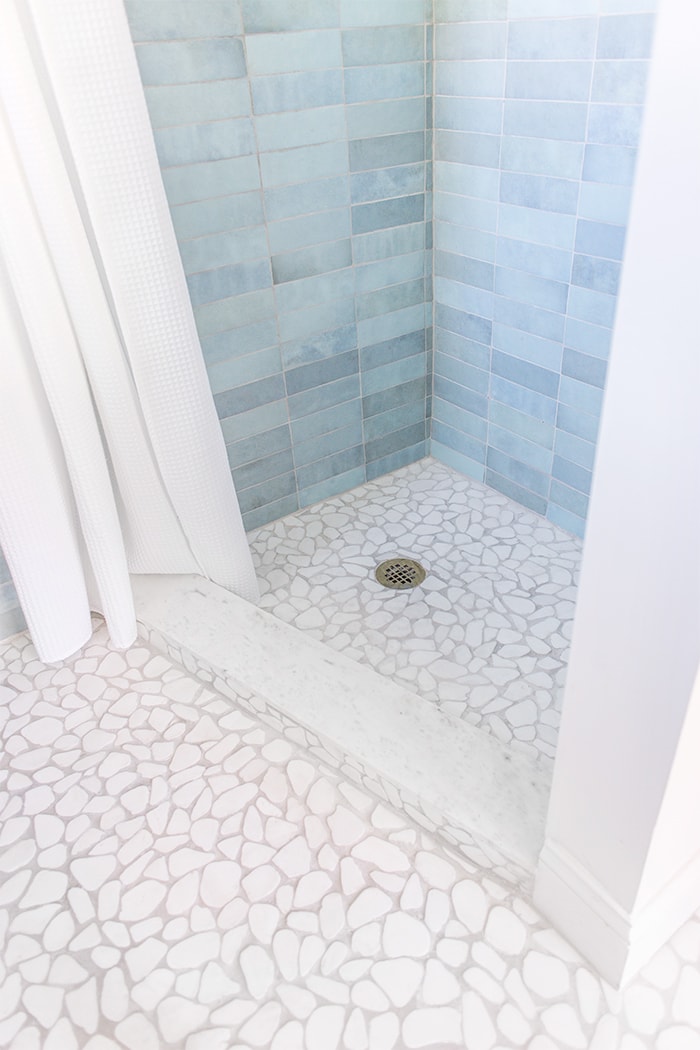 Pin
This was a last minute change of plans when I spotted it at Floor & Decor, originally looking for marble floor tile. The stones were just too perfect for the theme of the room, so I splurged and paid the $13/sf, justifying the cost because the footprint of the room is so small. For the grout I chose Alabaster, which is a warm gray and should be relatively easy to clean (we used the same grout for the Cloe wall tile).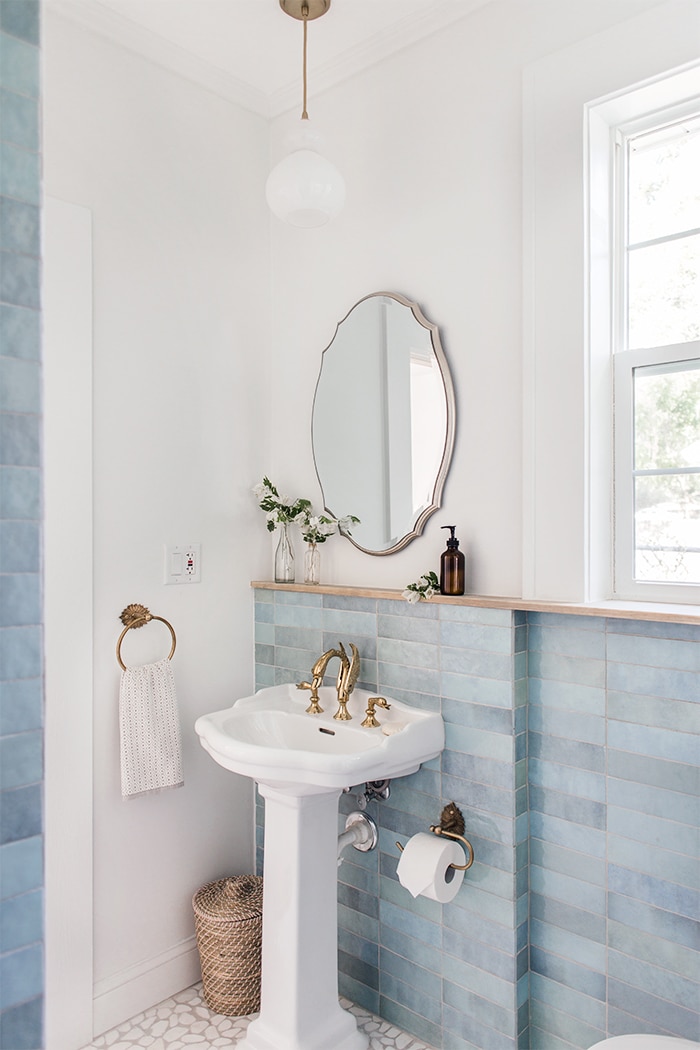 Pin
A simple, elegant brass & white glass pendant (also very swan-esque) hangs above the vanity (and the price is a steal!) The 9′ ceilings certainly help the room feel larger, along with the new 4′ Jeld-Wen window we added. One of my favorite features of this room is the wood ledge that spans across the back wall. Storage space is at a premium, and this was a natural way to incorporate it without hanging bulky shelves that would make the room feel crowded.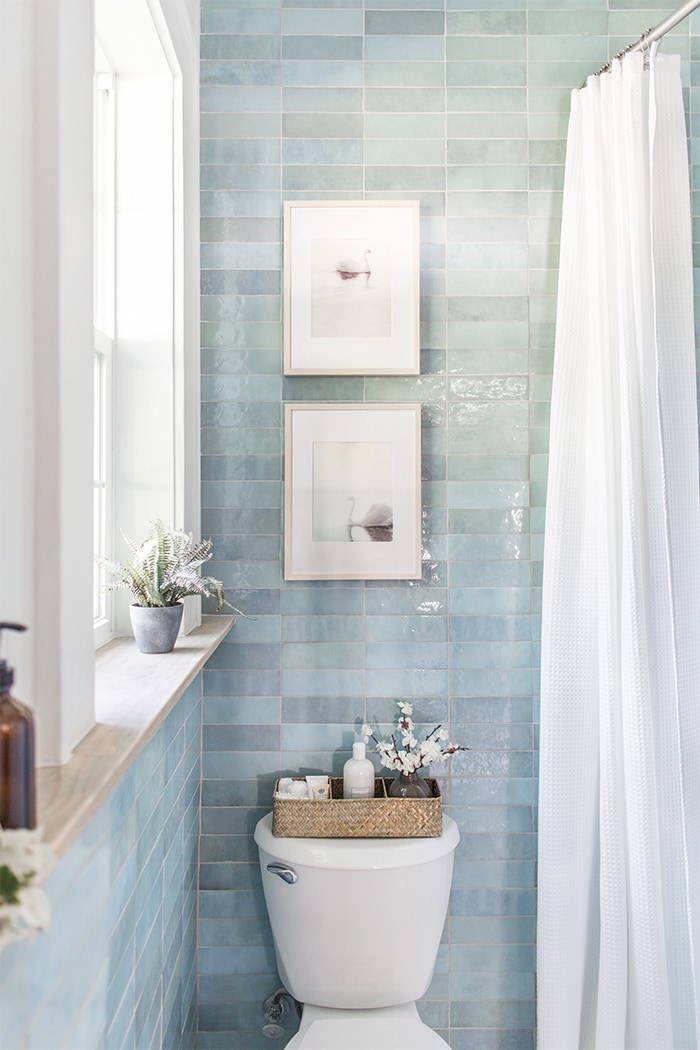 Pin
We used a 1×10″ piece of pine wood, cut it down to size, and I applied a weathered wood stain (I still need to varnish it to protect it from moisture!) Another great storage solution is this $20 seagrass organizer bin I found on Amazon. It's the perfect size for a small toilet tank, and neatly contains toiletries for guests.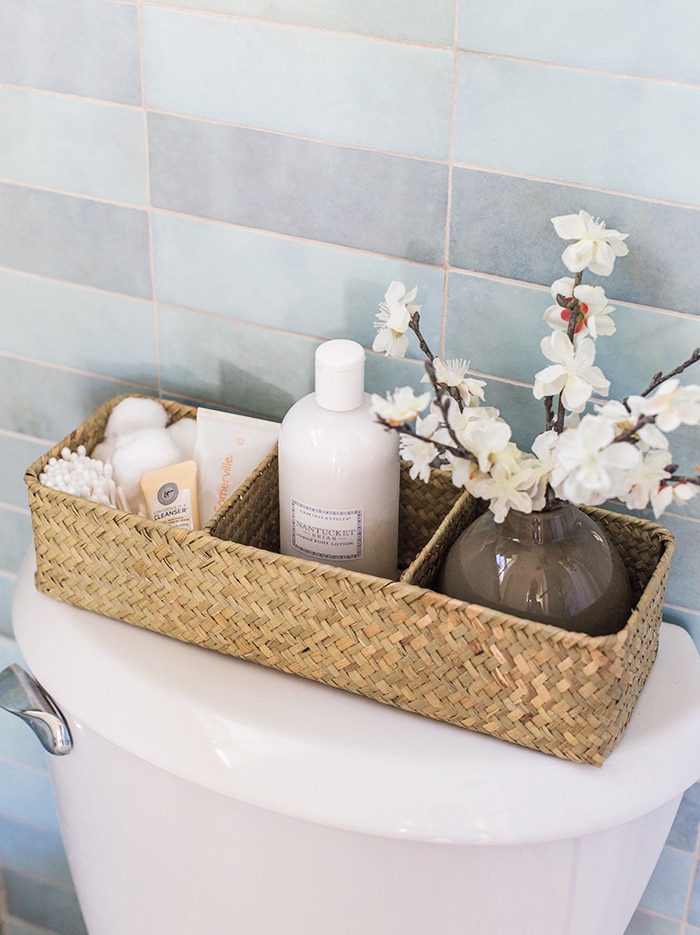 Pin
Above the toilet, I hung these two abstract swan prints I made just for this room in 12×16″ Ikea Hovsta frames. (PS, I take custom orders in my print shop and am happy to make these for you too, just shoot me a message!)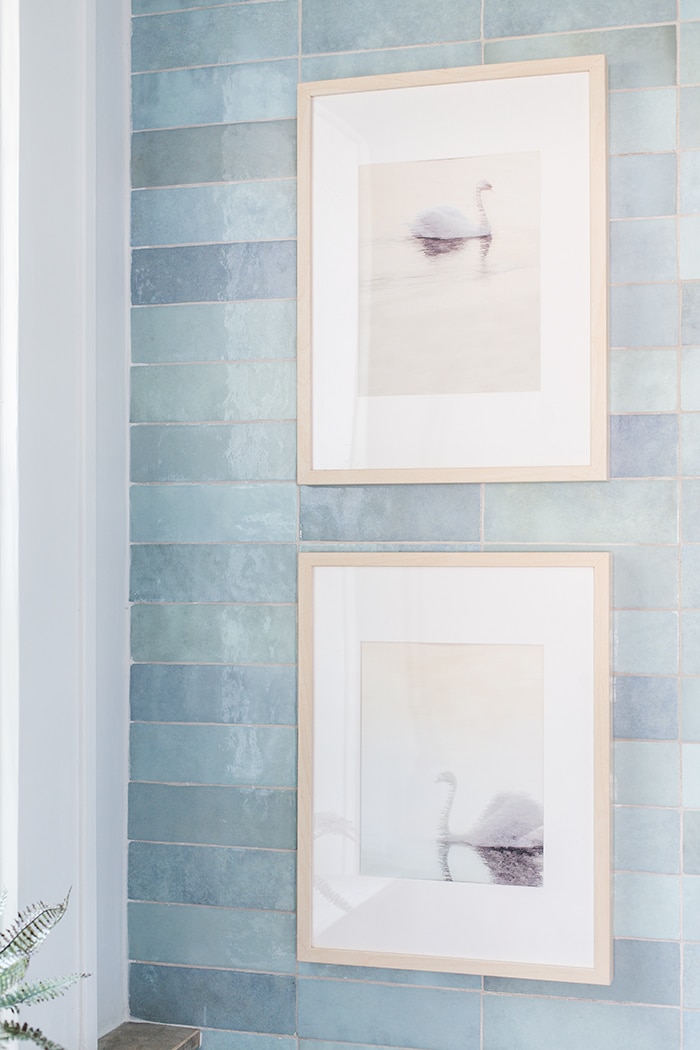 Pin
The potted fern was another Amazon find and it looks very realistic! Definitely worth the $12.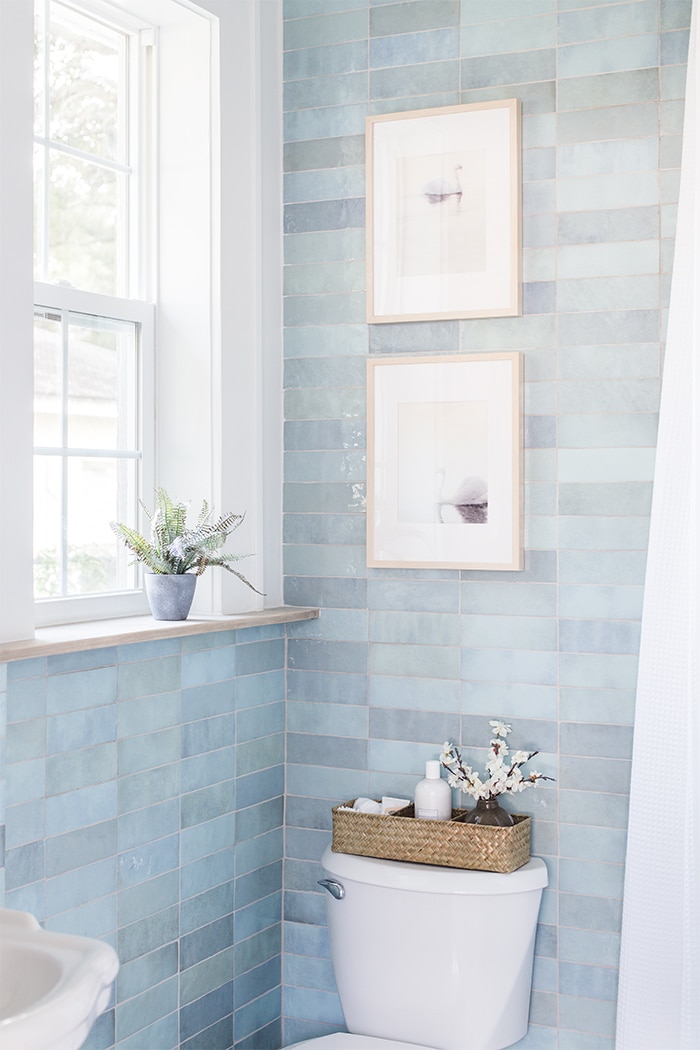 Pin
This 96″ waffle weave shower curtain is one of my best design secrets. There's a serious shortage of quality 8′ long shower curtains in the world, and the only other I'm aware of is this one from Bed Bath & Beyond—but it's double the price of this one and often out of stock.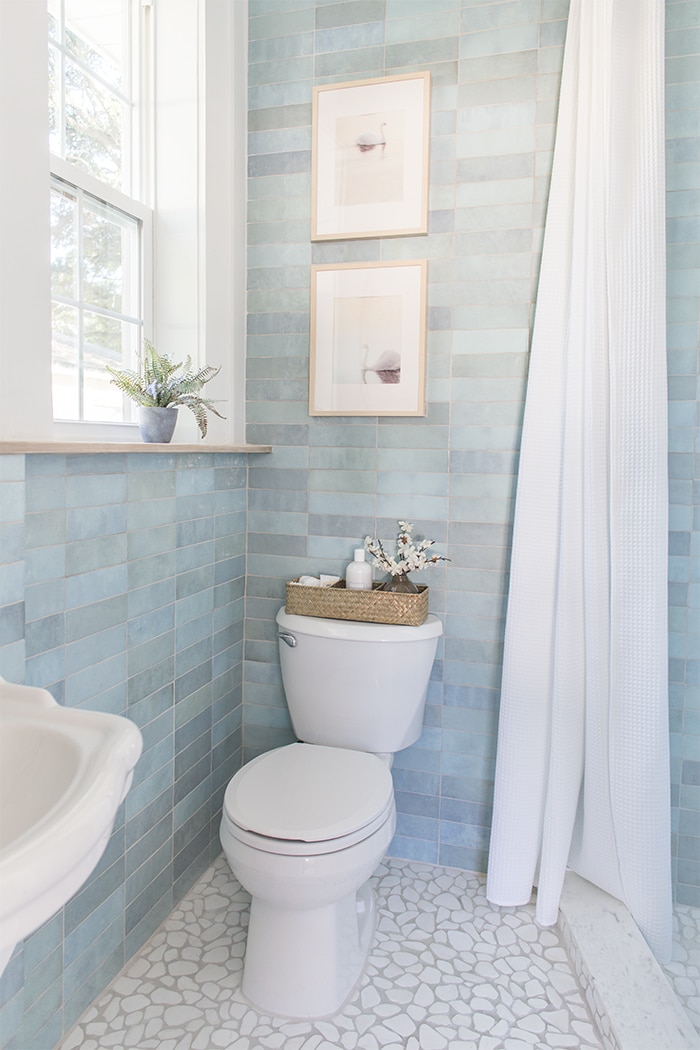 Pin
I found this curtain after searching out of necessity, and was pleasantly surprised at the quality (I used the same one in the main bathroom).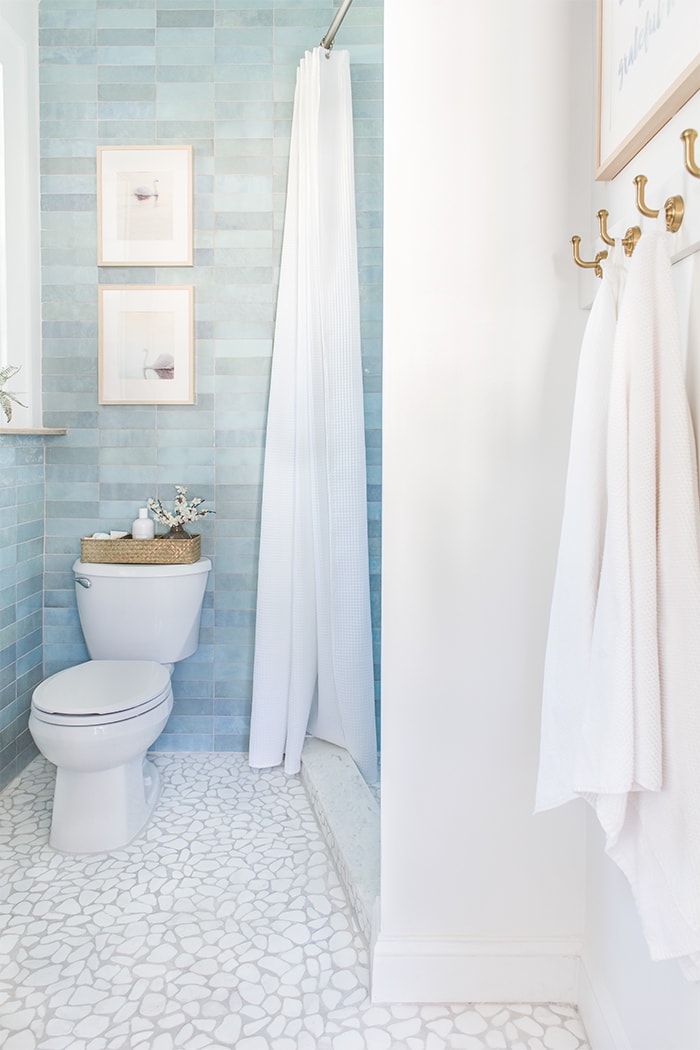 Pin
I also bought this white 96′ liner but we haven't hung it yet. Shower storage was a bit of an afterthought and we forgot to add a built-in niche before it was too late, but I found an alternative solution with this glass corner shelf (secured in the tile with anchors).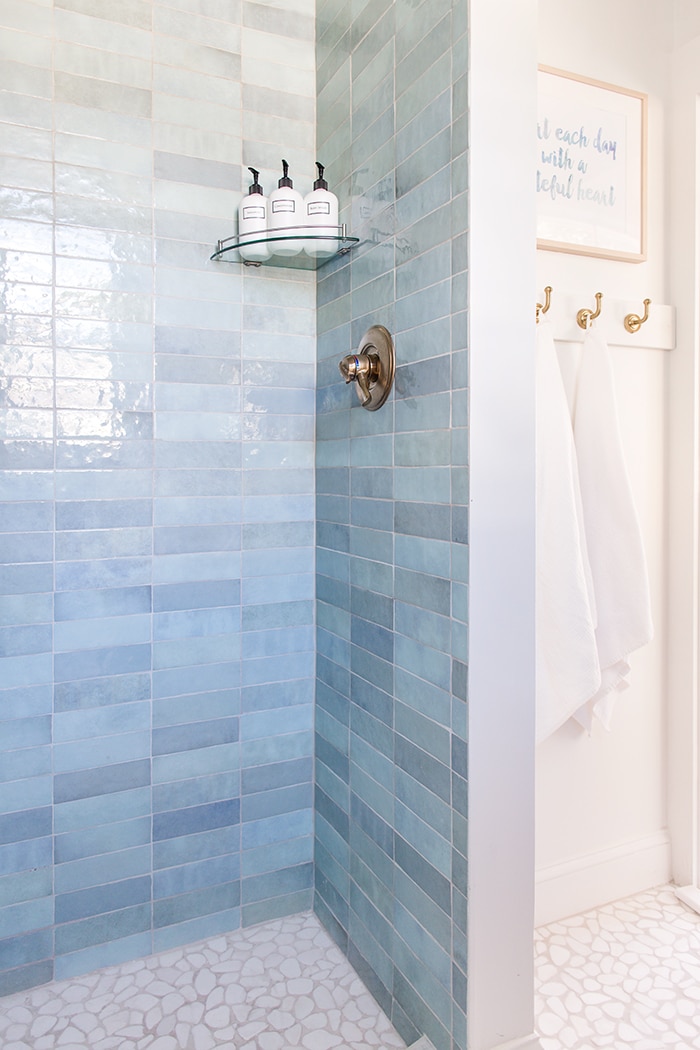 Pin
I'm a huge fan of this refillable shampoo, conditioner and body wash bottle set. It's perfect and cost-effective for a vacation rental, but also a good option in your own shower if you don't like staring at mismatched bottles every day.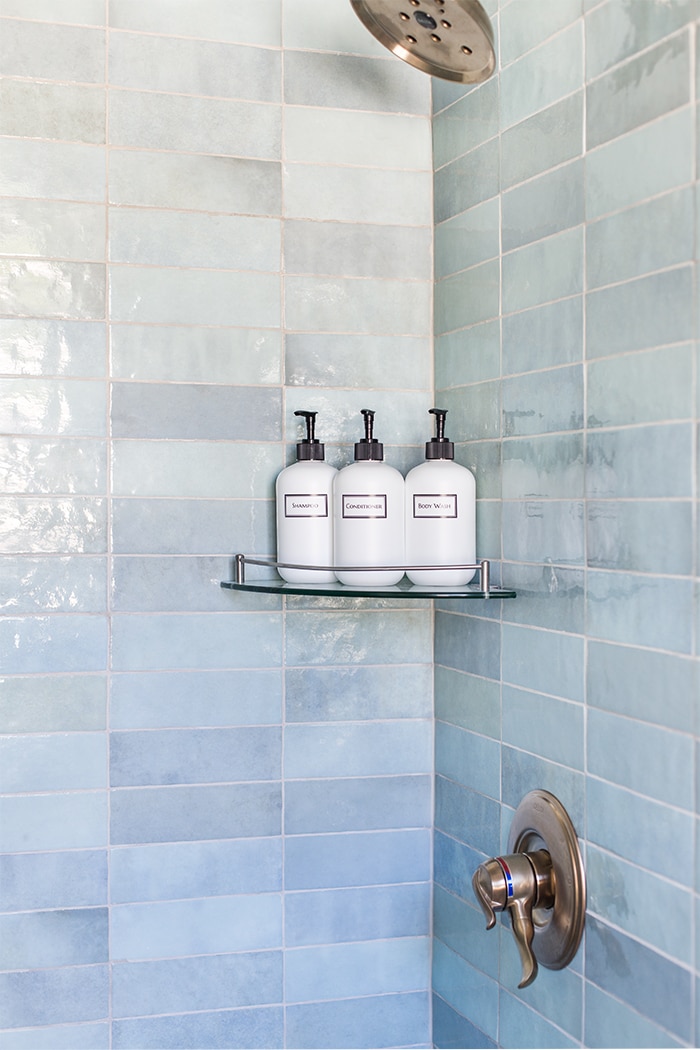 Pin
I used my go-to budget champagne bronze Delta faucet (seriously, you won't find anything else in this color at this price. I've looked!)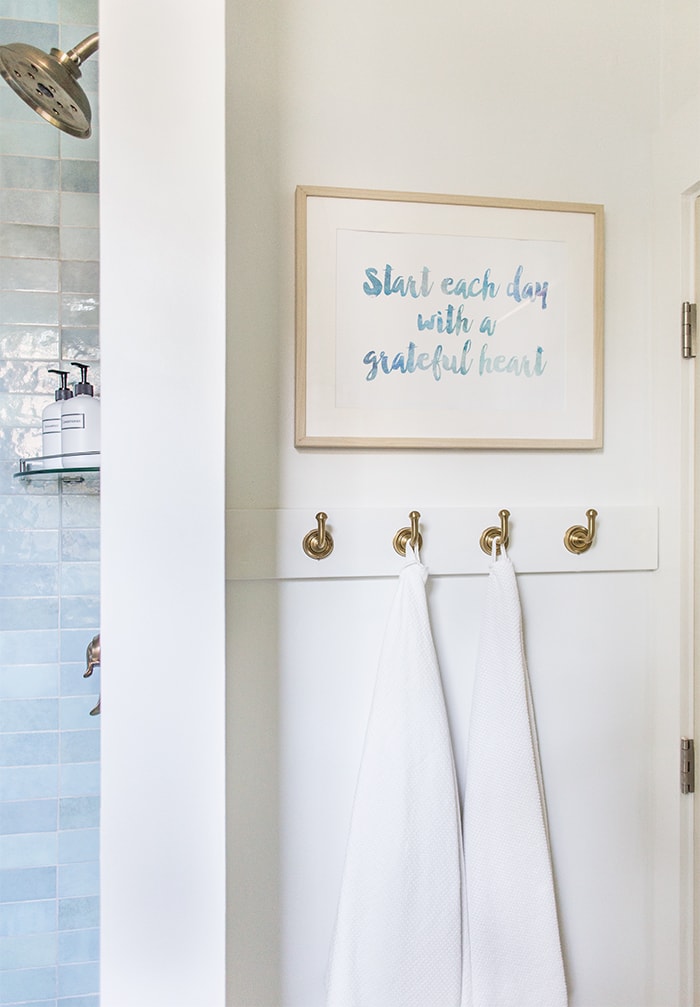 Pin
Behind the door, I utilized the 30″ wall for towel hooks that can easily be reached from the shower. A cheerful message fills the space above, another custom design I printed and hung in a matted Ikea 16×20″ frame.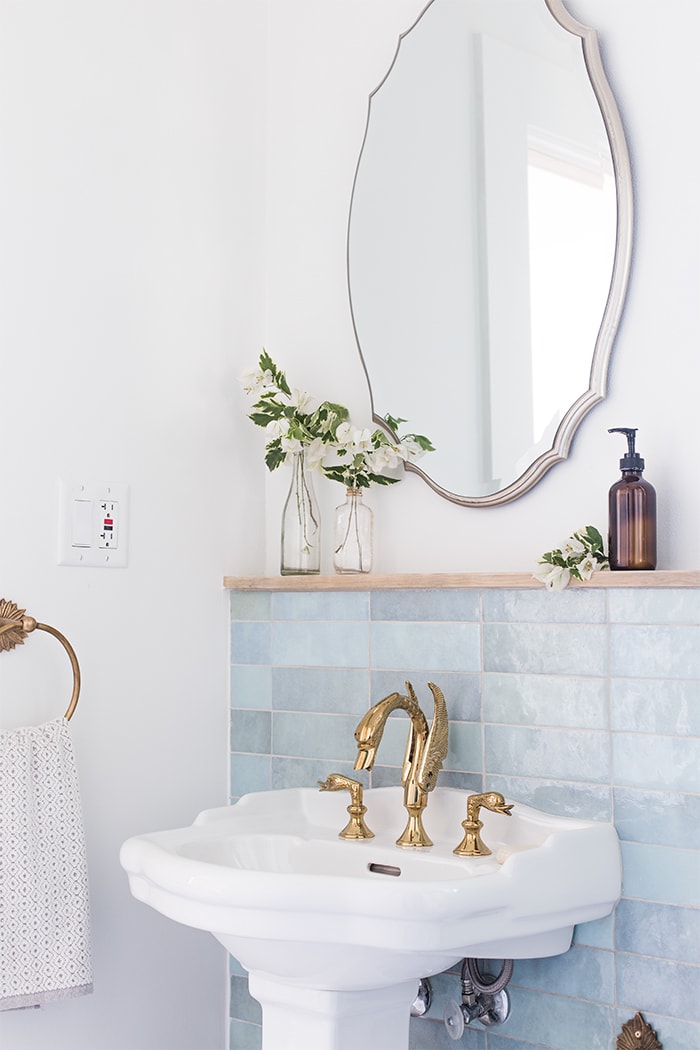 Pin
I think that covers everything! There's still a few things left to do before we can officially call this room done, like varnishing the wood ledge, sealing the floor tile, painting the door and installing the window shade, but we're thrilled to have one more room pretty much crossed off the to-do list.
Pin
Adding a second bathroom to this house was a necessity for a vacation rental, but it has also significantly increased the value and our equity in the property, which is always top of mind as investors. Another successful before & after in the books!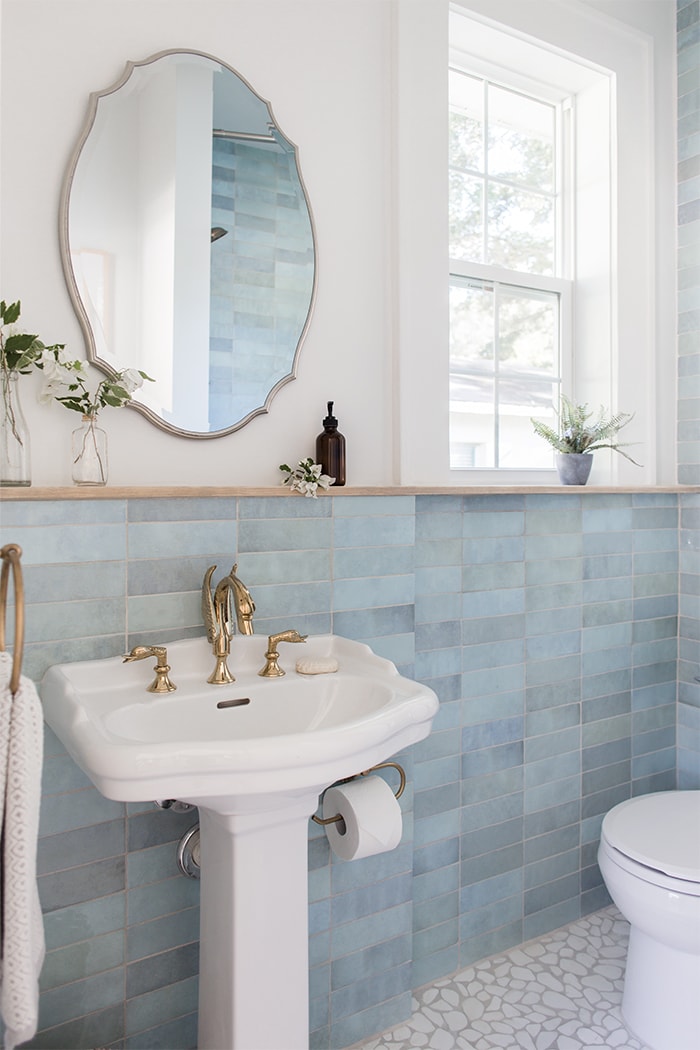 Pin
Sources
Wall & trim color: SW Pure White (eggshell + semigloss)
Seagrass waste basket
Hand towel