Whew… what a year this week has been, am I right?! Has the world been moving in slow motion for everyone else? I suppose more time has been one silver lining in all of this. We're working on a long overdue vlog update for you guys soon with how we've been impacted. But in the meantime, I came up with a quick, fun and free project at the request of many of you who answered my Instagram poll!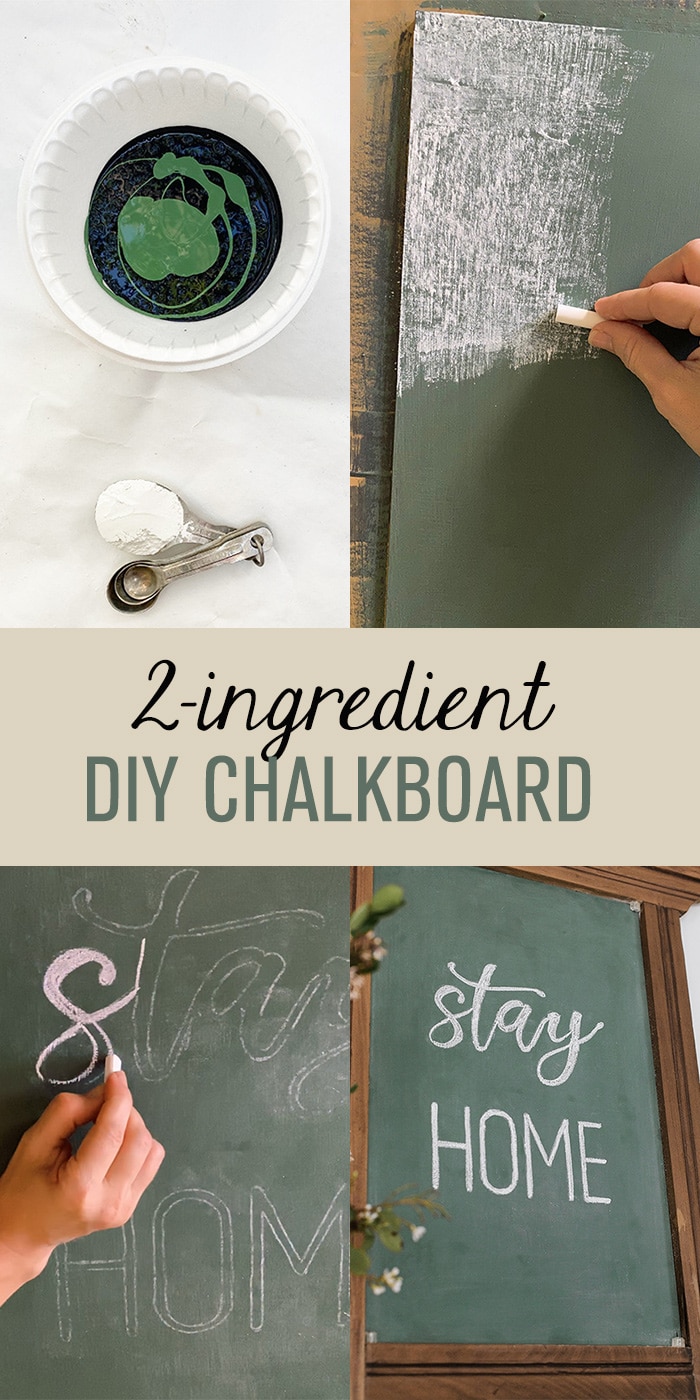 Pin
In your responses, there was a high demand for projects that were quick, easy, and could be done with materials already on hand. This DIY chalkboard meets all of those criteria, and it's one that kiddos could enjoy as well!
Step 1: Look around your house (or attic/garage) and find something that can be repurposed. Picture frames and mirrors in any shape and size are perfect for this. You can also use an old tray, a piece of scrap wood—literally any flat/smooth surface. Get creative! I decided to repurpose this antique mirror I scored secondhand for $15: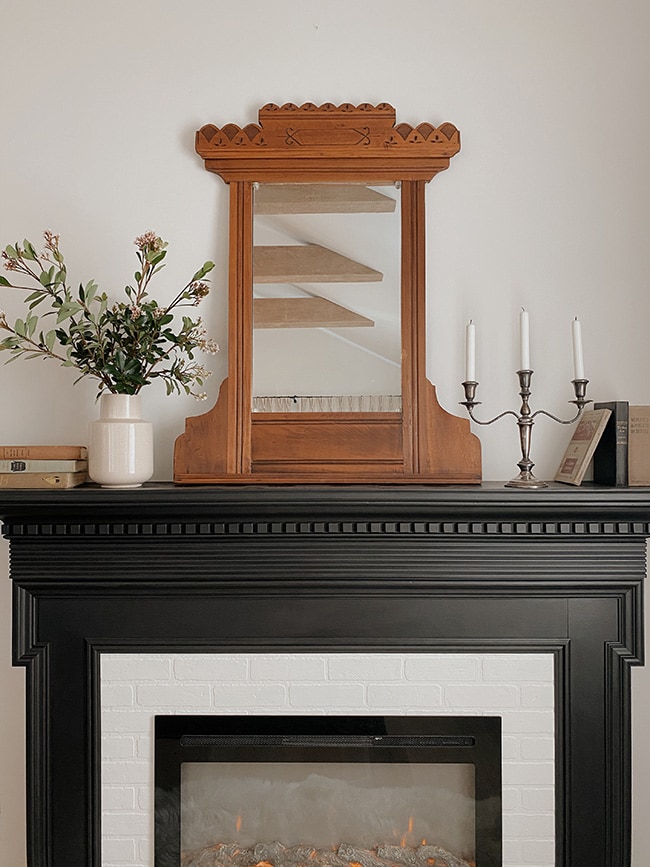 Pin
Step 2: Choose your paint. From my research, this can be any type of water based paint (your typical latex paint or even acrylic craft paint). You don't need much, and I'm sure we all have a little leftover paint somewhere! It can be any color you'd like. I decided to mix a sample pot of a random green Valspar color (in satin) with SW Tricorn Black (eggshell) to make a custom dark green and give it that classic schoolhouse chalkboard look.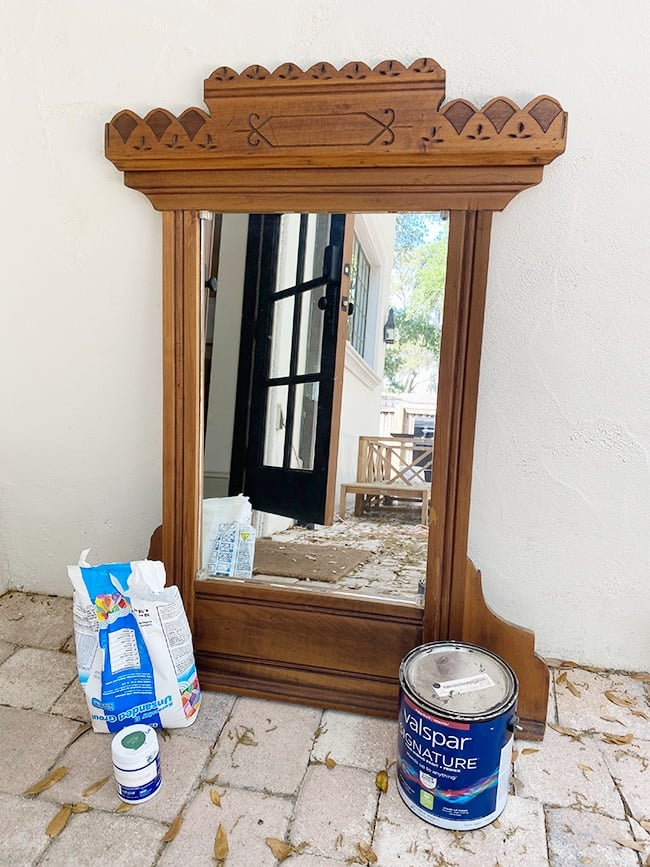 Pin
Step 3: Choose your additive. There's a handful of different ingredients you can use to make chalkboard paint—unsanded grout, baking soda, Plaster of Paris and cornstarch are all tried & tested options. If you only have one of those on hand, try it out! We have bags of leftover grout in our garage and this ingredient seems to be one of the most popular, so that's what I used (the color doesn't matter). The ratio is approximately 1/2 cup paint to 1 tbsp grout (or 1:8 parts).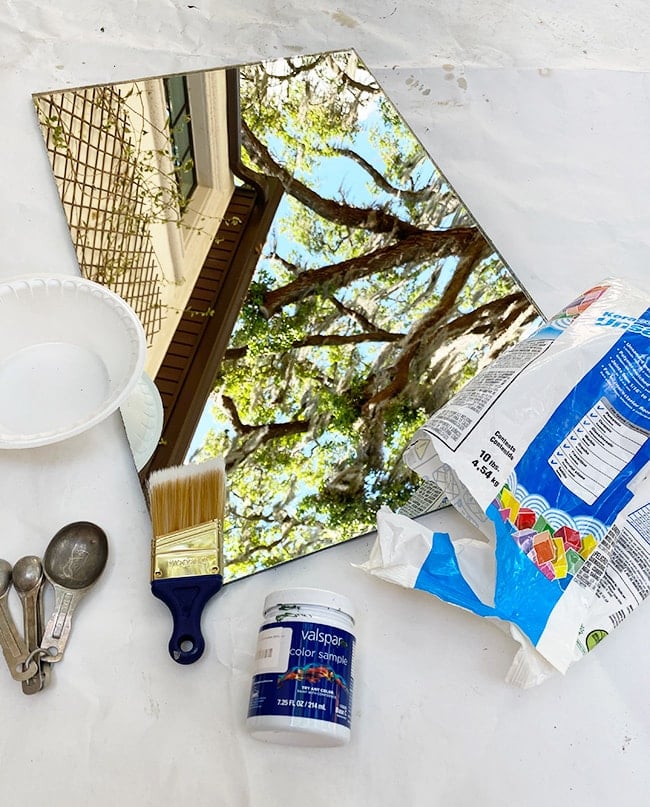 Pin
Step 3: Mix and apply. This isn't baking—it's not an exact science, and there's plenty of flexibility here, so don't worry that you're not doing it perfectly! I didn't want to get paint on my measuring cup so I eyeballed the ratio.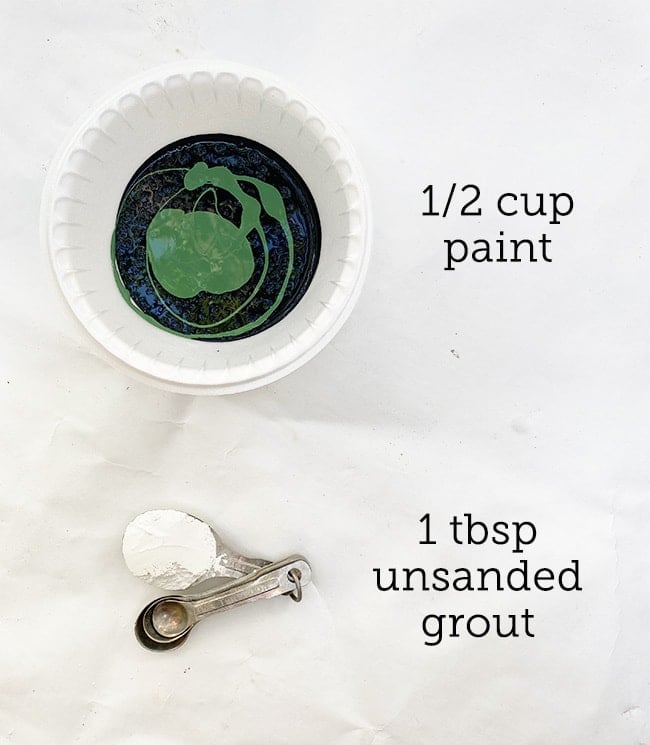 Pin
I mixed the grout directly in with the paint, and 1/2 cup of paint ended up being about 4x more than what I needed to cover my surface. The paint thickens up quickly with the additive, so ideally you only want to mix enough for one coat at a time. I'd also recommend mixing the grout with a little water first, so you don't end up with clumps in the paint.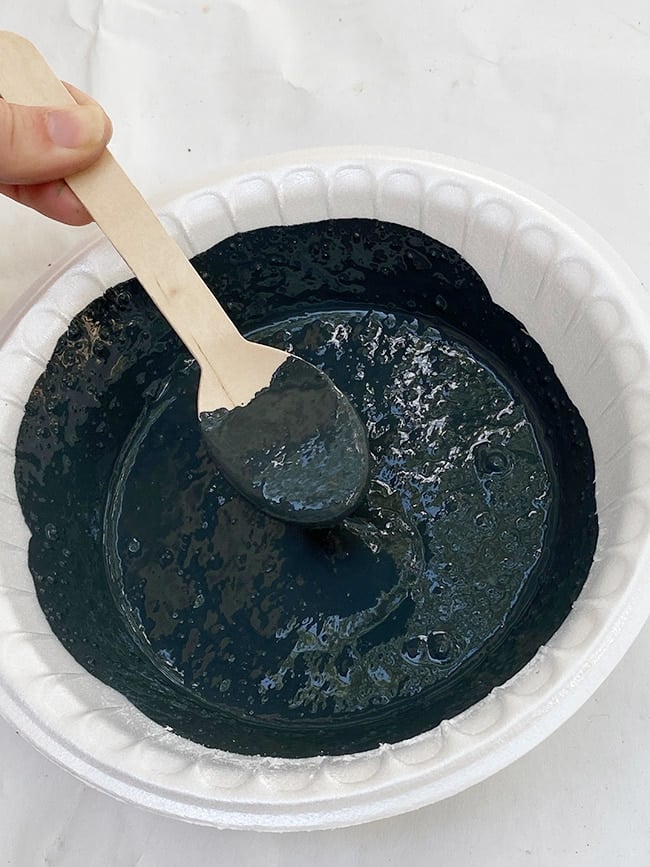 Pin
A timelapse was shared in my Instagram stories of the mixing & painting process. I used my go-to short angle brush and it went on nice and easy. Note: if you're using a mirror or picture frame and there's a flat, solid surface behind the glass, you can also use that instead of painting directly on top of the glass. My mirror frame didn't have that, so I used the mirror as my chalkboard surface.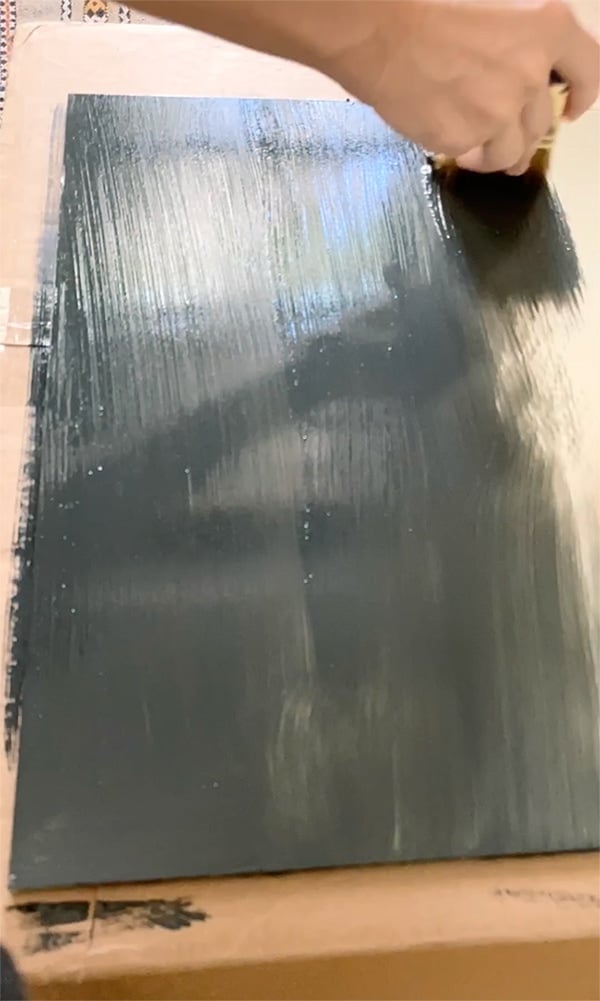 Pin
I applied two coats, letting it dry for a few hours in between, and then decided it was darker than I wanted so I mixed up one more small batch—this time using an 80% green and 20% black mixture.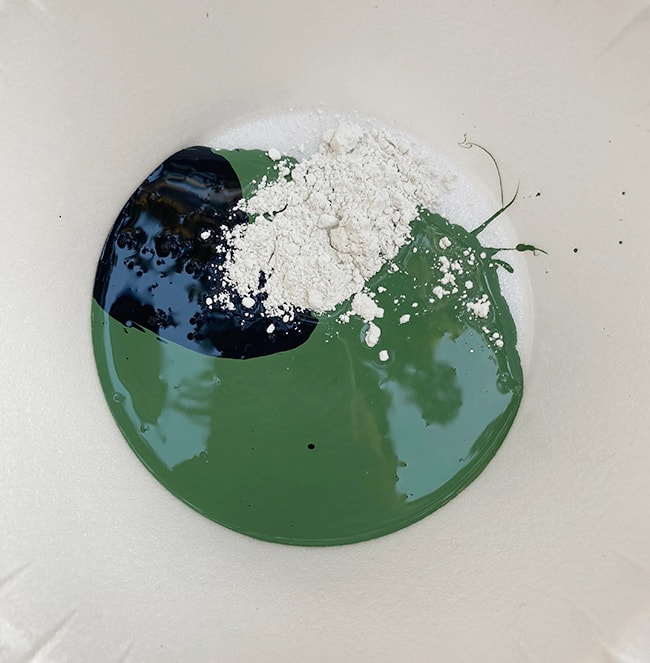 Pin
It was the perfect amount for one more coat, which I applied and let dry for 24 hours.
Step 4: Once your chalkboard paint has had sufficient time to dry and cure, it's time to prime the surface. First I used a fine sanding sponge to smooth out any imperfections, then wiped it clean with a towel. I didn't mind the bit of texture left behind from using a brush, but if that bothers you, use a sponge brush and sand in between coats.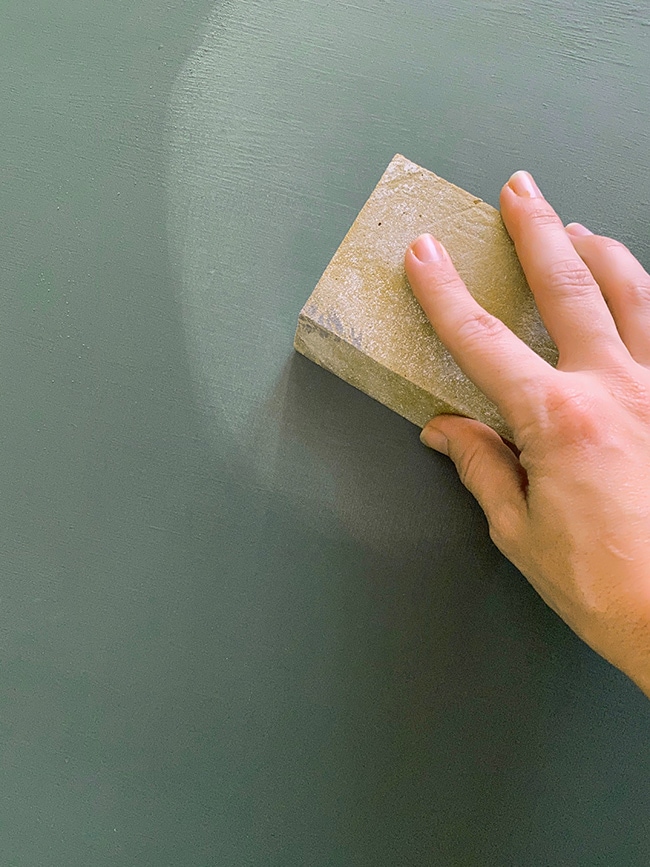 Pin
To prime the surface, lay a piece of chalk on its side and thoroughly rub it across the entire board.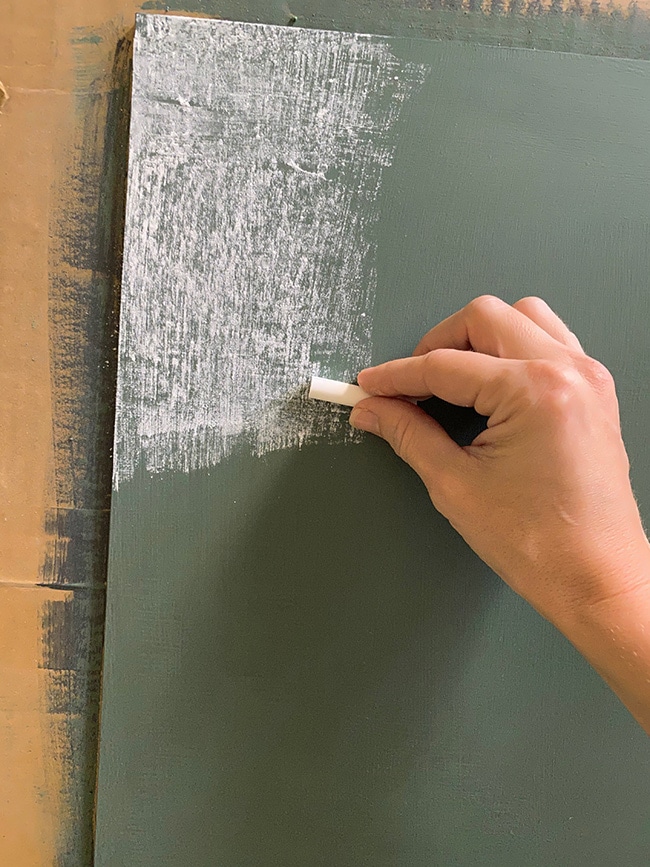 Pin
This is supposed to help seal the paint and prevent any 'ghosting' (permanent marks left behind after erasing).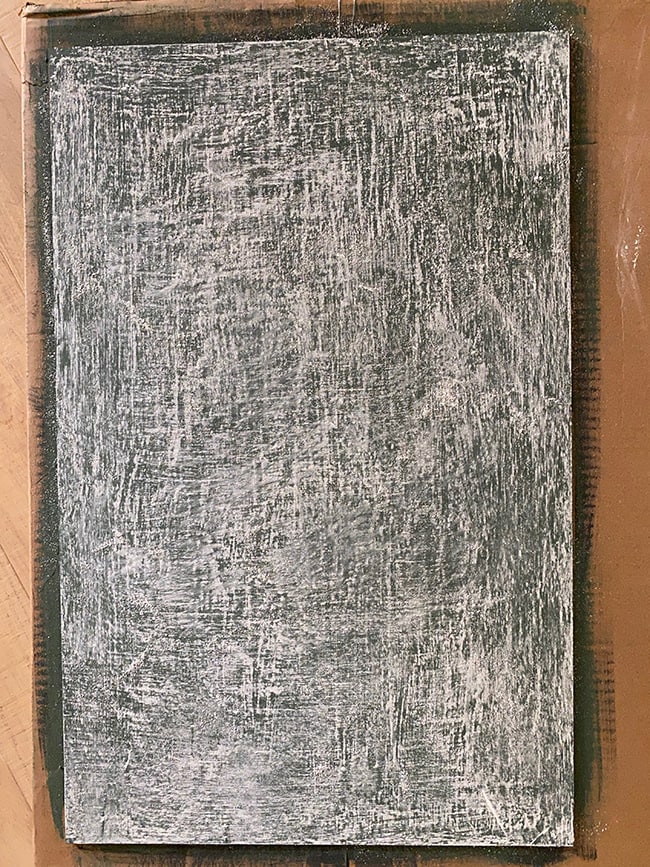 Pin
Wipe clean with a dry (or slightly damp) paper towel and your chalkboard is ready to roll!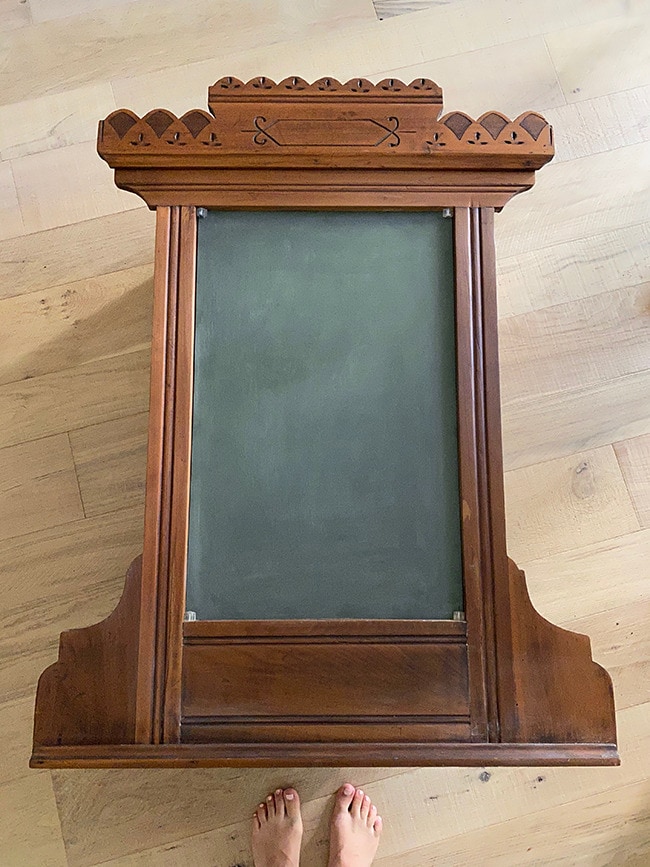 Pin
And now for the moment of truth… eek!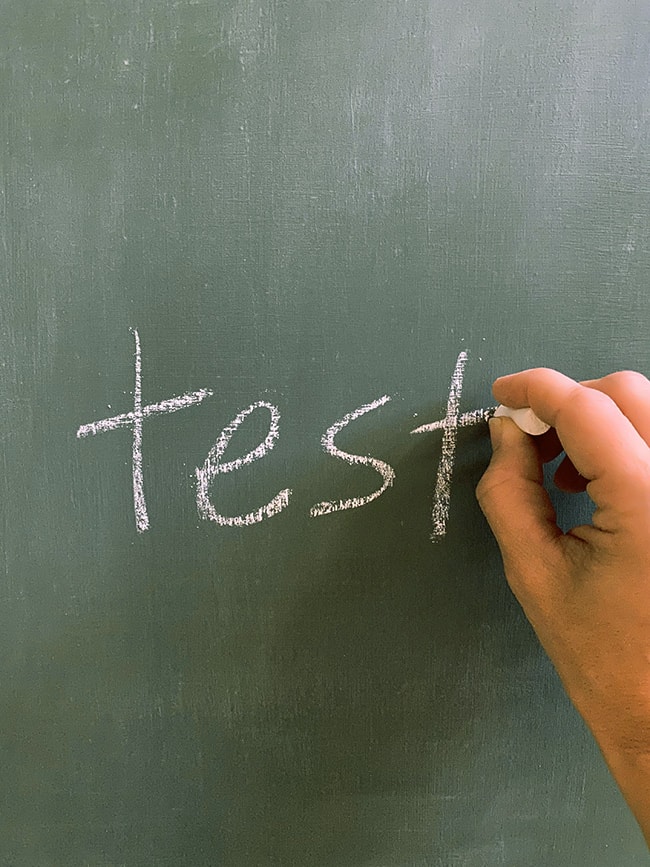 Pin
No ghosting at all—SUCCESS!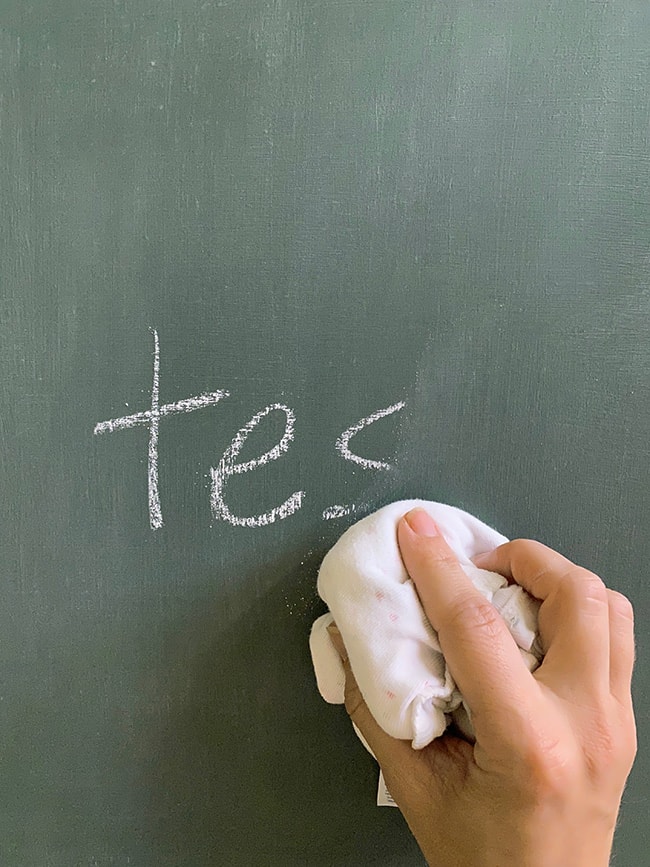 Pin
Now that you're done, feel free to pass your creation off to the kids and let them entertain themselves. Or, you might want to get fancy and do a little professional hand lettering. I vote option 2!
If you've been around this blog for a while, you might remember my easy chalkboard lettering tutorial, and I used that same process here. This time, with a message that is very relevant right now…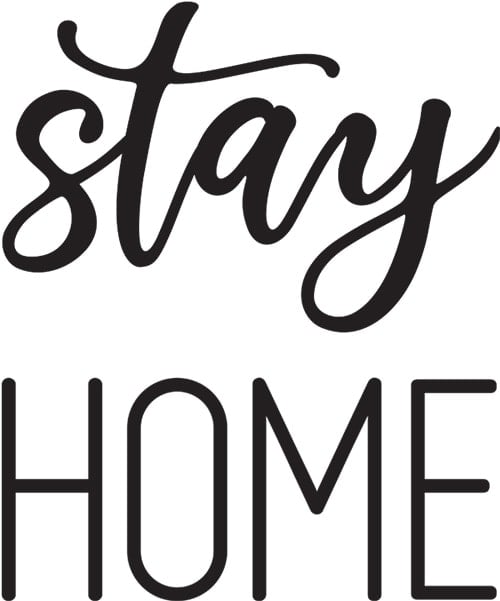 Pin
I printed it out on two sheets of letter sized paper, and made it into a template which you can download here if you'd like.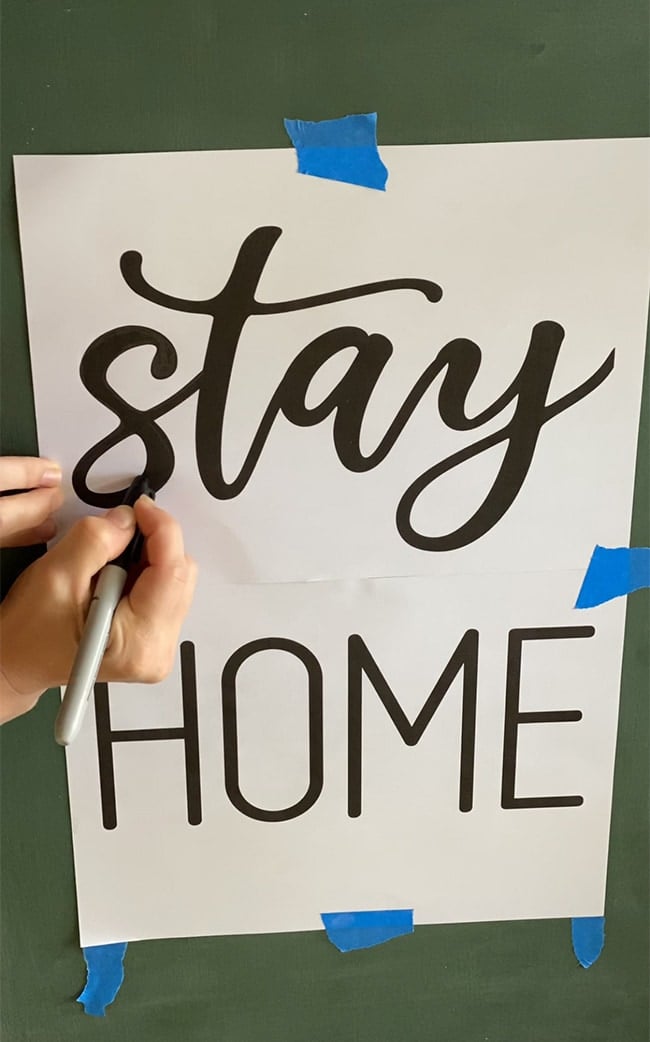 Pin
Check out the full tutorial for all the details, but all you have to do is cover the back of the sheet with chalk, tape it in place, transfer it onto your chalkboard by tracing over it, then fill in the outline.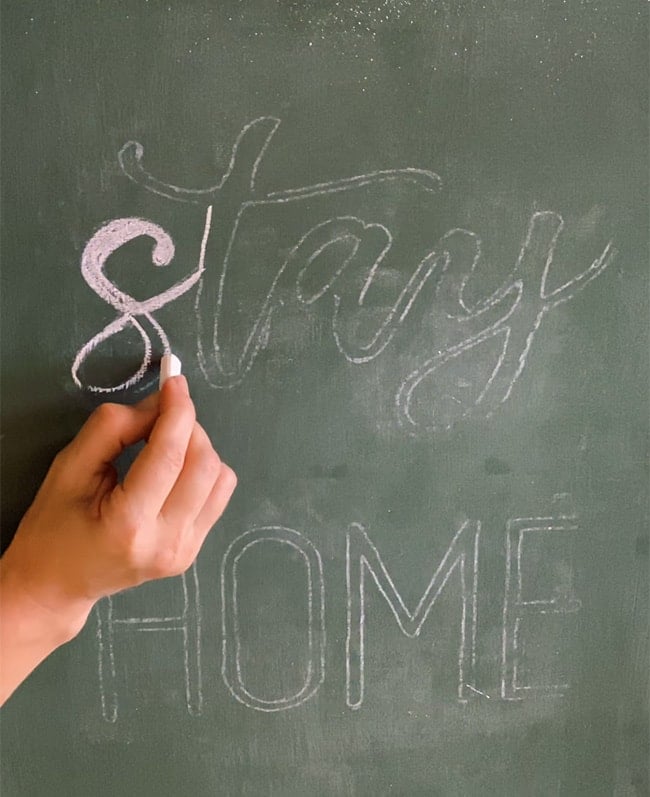 Pin
It's so fast and easy, and enjoyable too! Like a relaxing mini-meditation session. I think we could all use one of those right about now 😉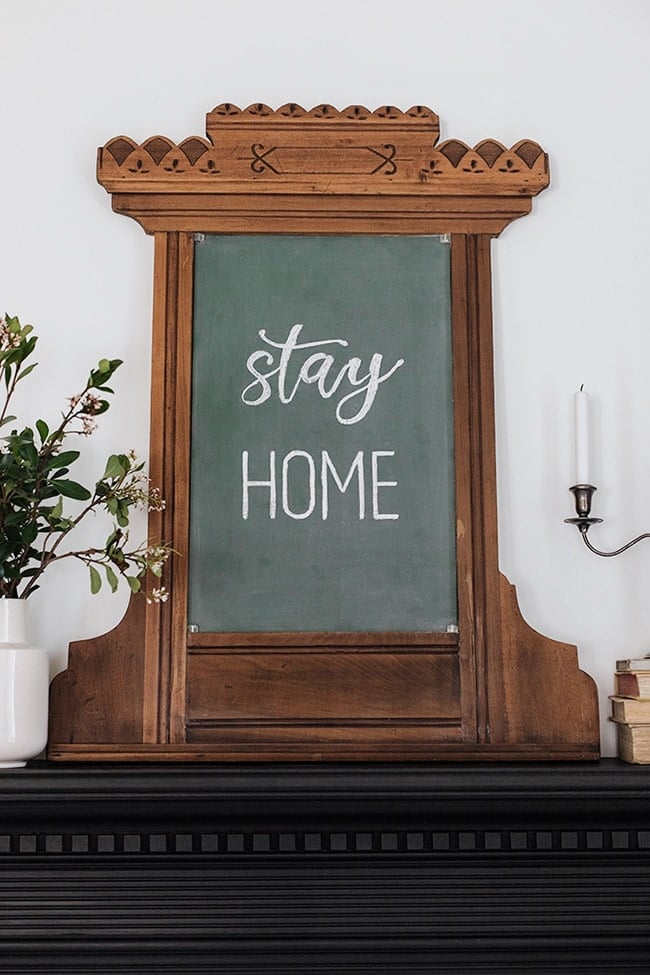 Pin
Eventually, this chalkboard will end up on a wall in the kitchen at the Riverside Retreat and will display the Wifi login info.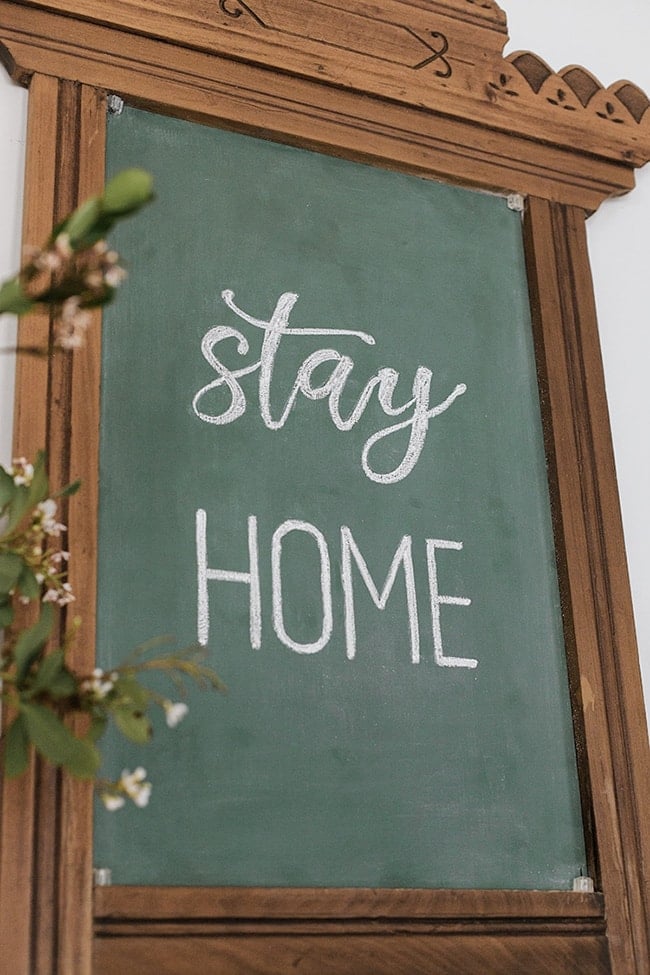 Pin
But for now, it's a nice addition to our Spring fireplace mantel.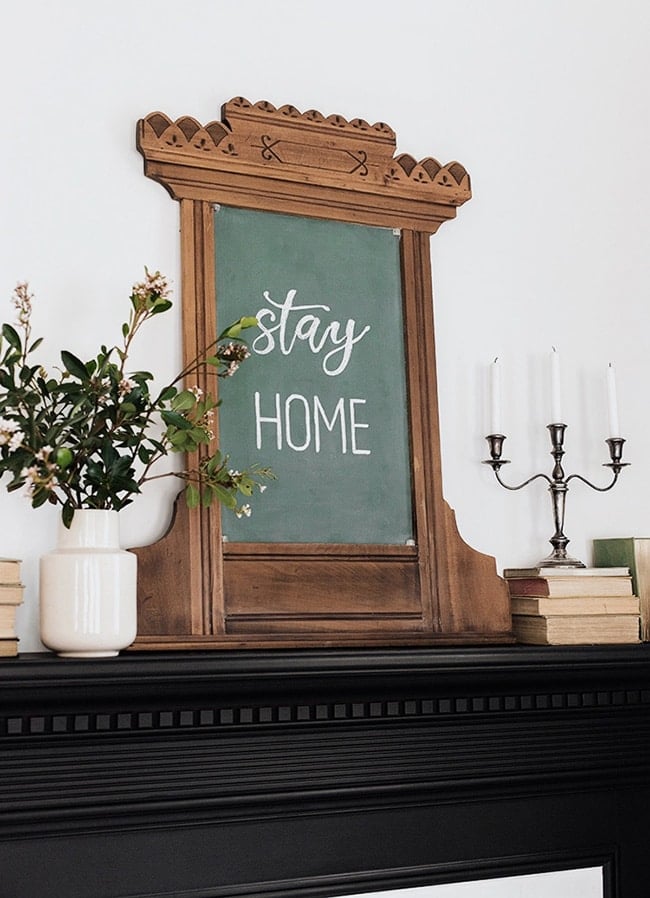 Pin
Our city/state is not on full lockdown (yet?) but we've been limiting our public exposure as much as possible, and enjoying our time together at home. I can think of worse situations than being quarantined with the world's cutest baby ?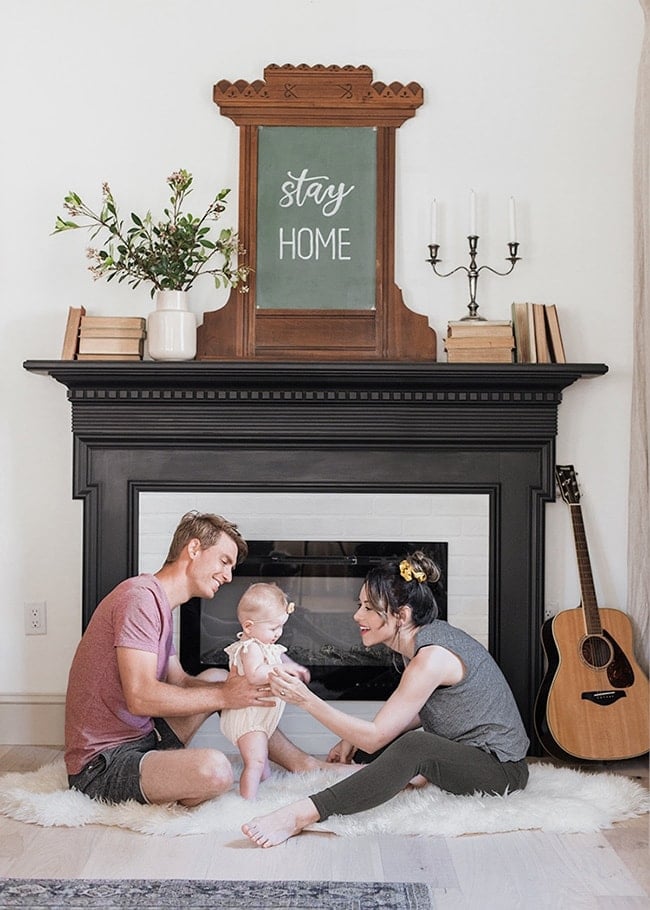 Pin
DIY 2-ingredient Chalkboard
Repurpose materials found around your home to create your own custom chalkboard
Equipment
Paint brush or roller

Fine sanding block
Materials
1

picture frame or mirror

- or any flat smooth surface

1/2

cup

latex paint

- any color

1

tbsp

unsanded grout

- any color

1

piece

chalk
Instructions
Find an old picture frame, mirror, or smooth flat surface

Mix together 1 part latex paint to 8 parts unsanded grout

Apply paint/grout mixture to your surface with a brush or roller

If needed, recoat with another layer of paint (mix a new batch)

Once dry, lightly sand with a fine sanding block

To prime the surface, rub a piece of chalk across the board (on its side) and wipe clean

Enjoy your new chalkboard!
Notes
Learn how to make perfect chalkboard lettering (without any artistic ability!) in this post.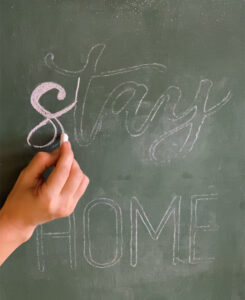 More to come from our little corner of the universe soon… stay safe out there my friends!