Ringing in the new decade with a new kitchen!!! After months of tireless work transforming this space, I'm thrilled to share the results!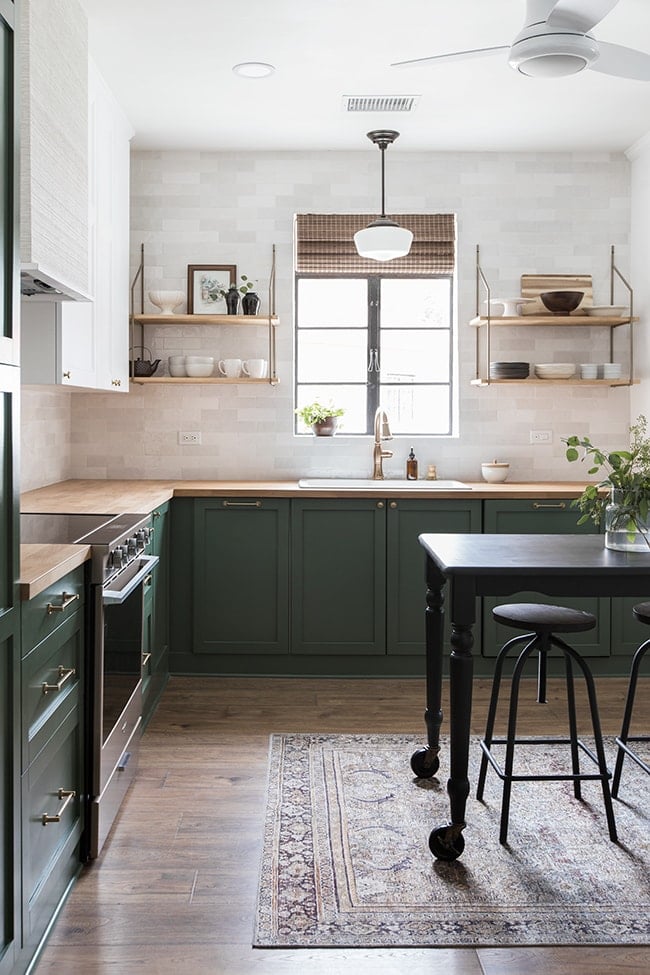 Pin
If you're just joining the party, make sure to get caught up on the whole process with Part 1, Part 2, Part 3 and Part 4. Here's how the kitchen looked before: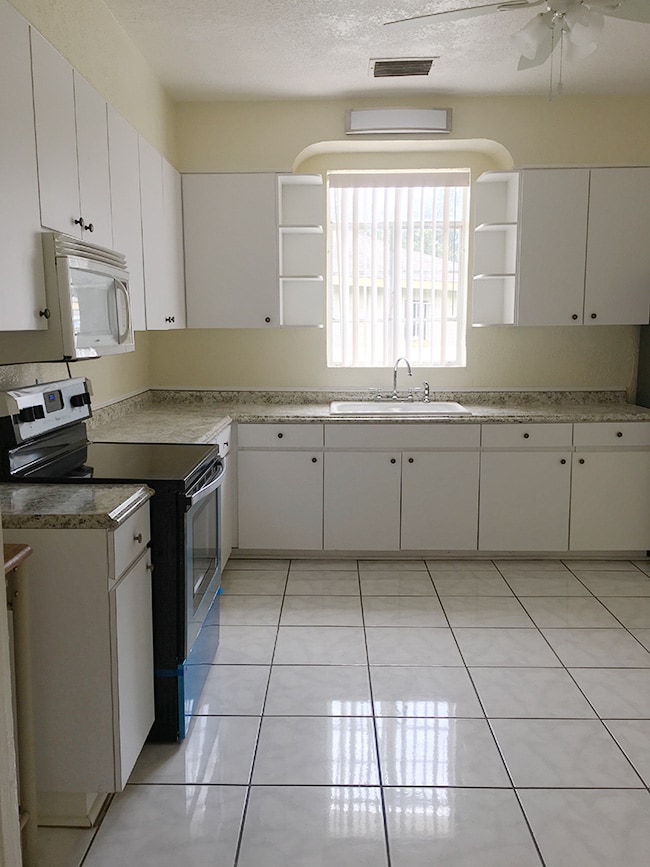 Pin
It's your standard 13×13′ room, L shaped layout.
Pin
There's a doorway leading from the dining room and another to the laundry room.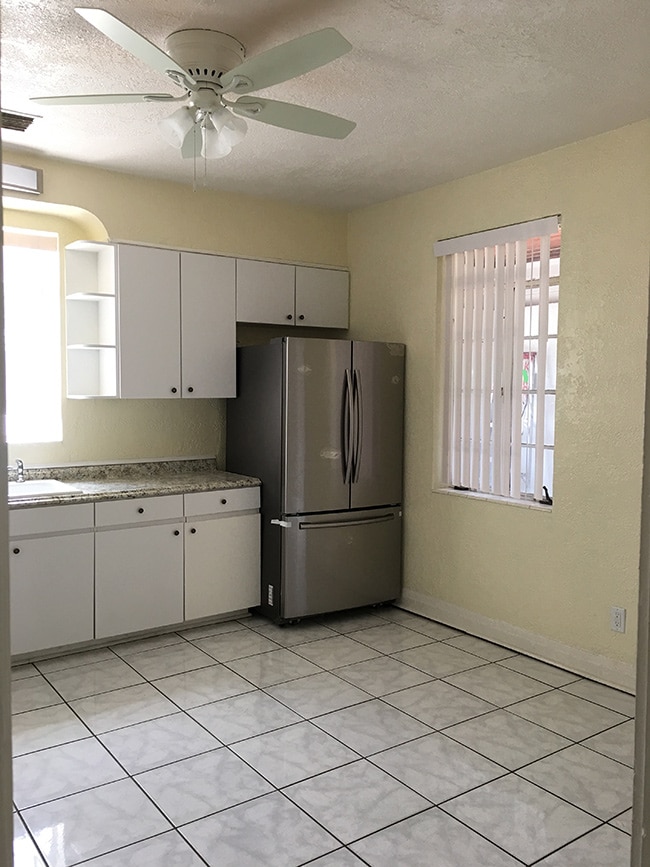 Pin
With the floor plan of the house, we didn't have the option to change or increase the footprint (including widening the main doorway, which borders a bedroom).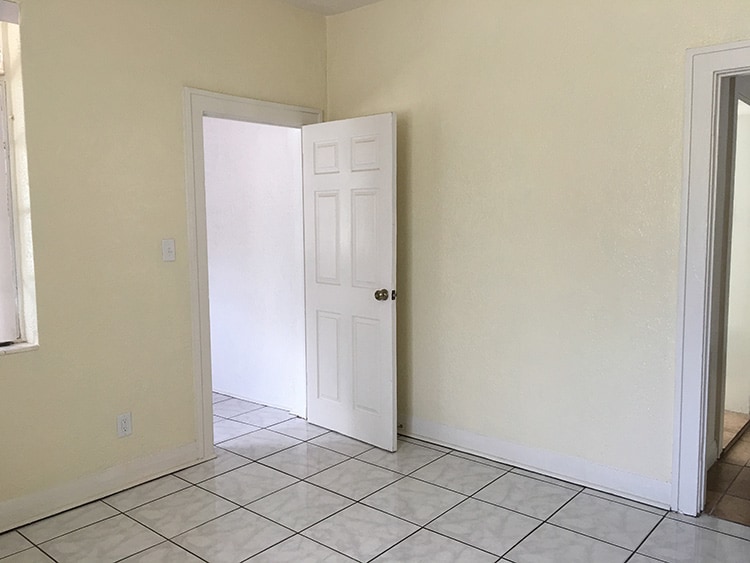 Pin
But even if we did, the goal was to transform this room on a budget—this house will be a vacation rental and as an investment property, we need to minimize our costs.
Pin
For this makeover, that meant choosing inexpensive finishes and lots of DIY! We first replaced the old tile with durable Pergo laminate back in 2018 (currently on sale for only $2.48/sf right now, I highly recommend these for wear/durability!):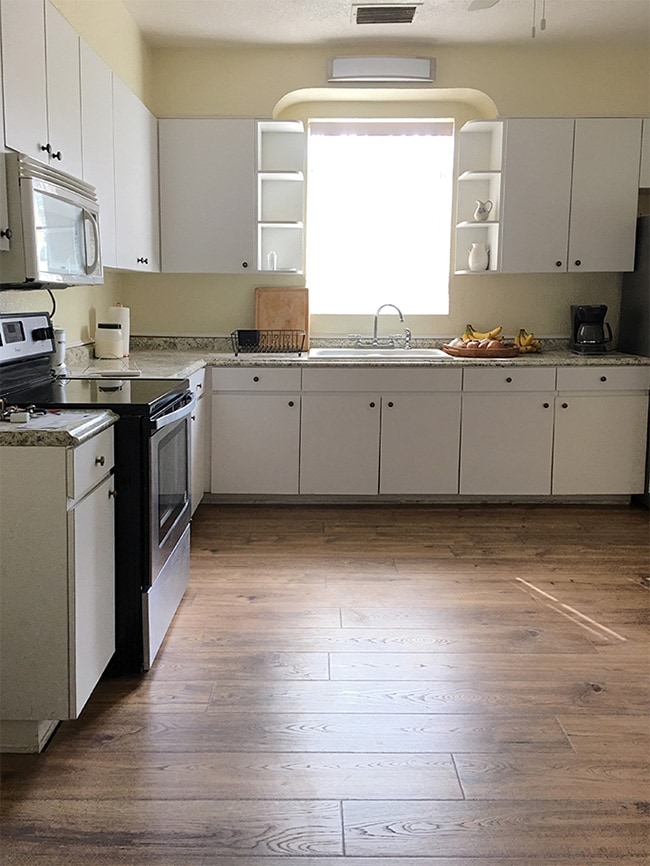 Pin
Over the last summer, we gutted the kitchen, redid some of the rotted joists, ran new plumbing and electric.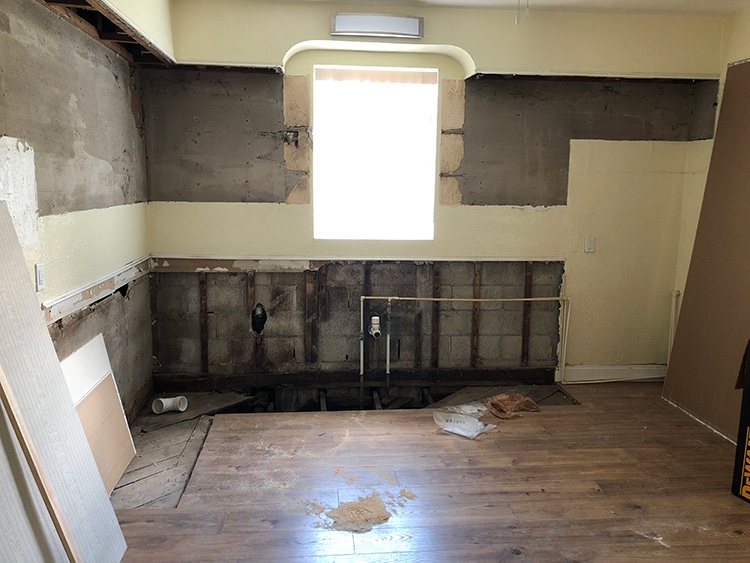 Pin
We also repaired the walls and added smooth drywall to the uneven ceiling.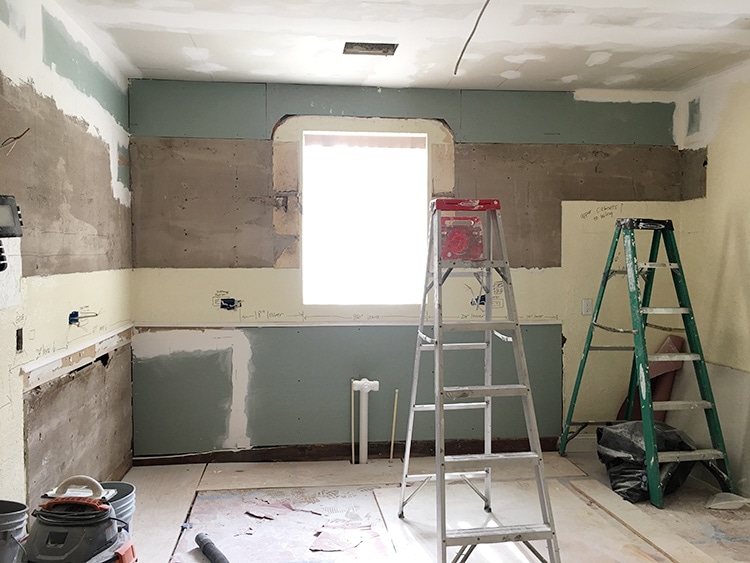 Pin
We waited for Ikea's kitchen sale and purchased all of the cabinets, built-in dishwasher and countertops for around $5800 (more details on that in this post).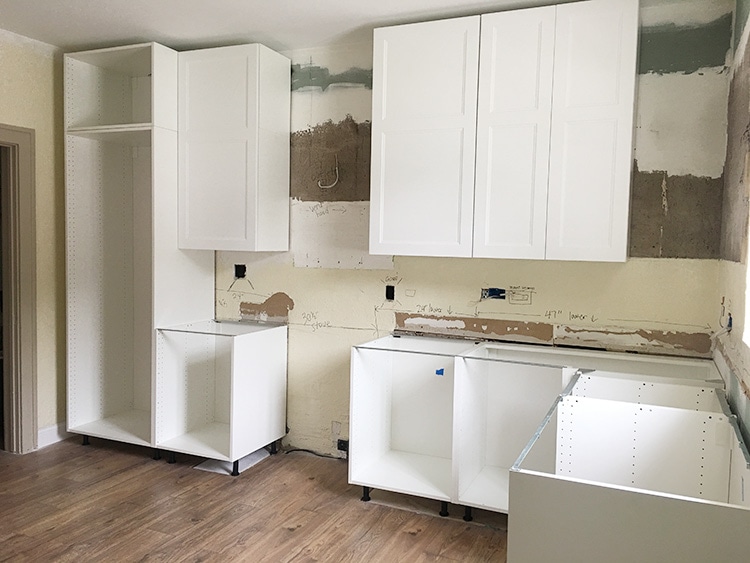 Pin
The backsplash tile was installed (we hired this part out to save time) …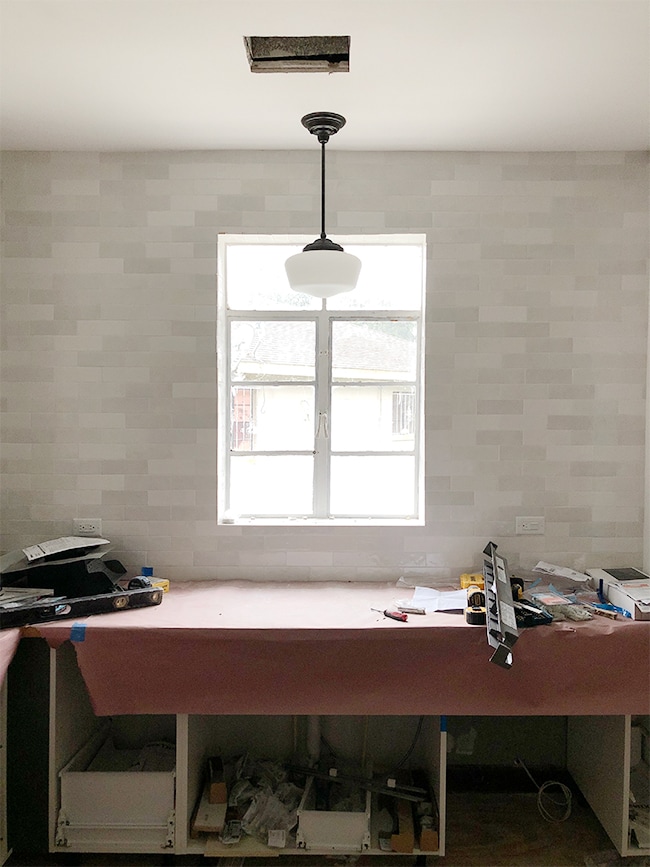 Pin
And then Lucas took over and spent his nights and weekends finishing the rest. So much custom work went into this, like building a custom range hood (which we finished with wallpaper!)…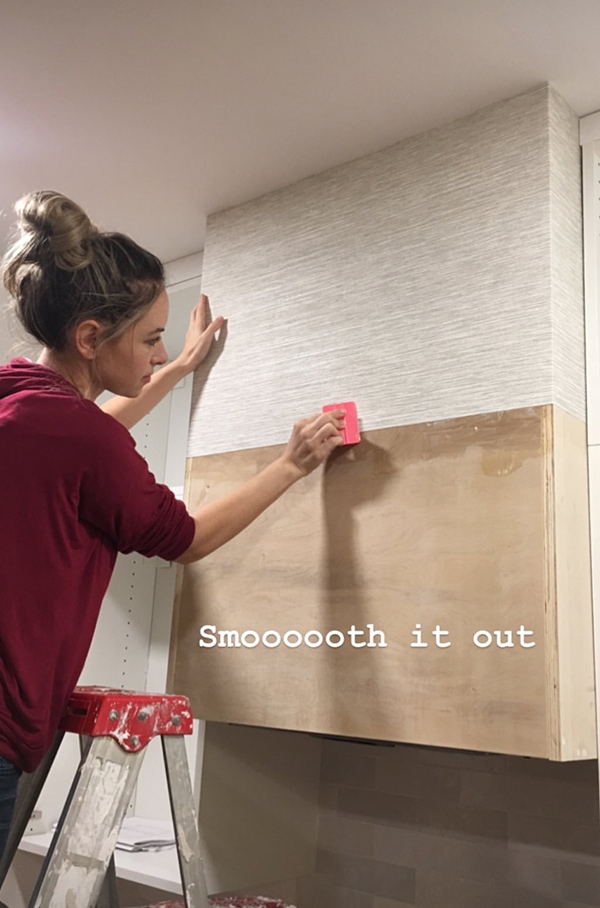 Pin
Custom wood panels around the fridge…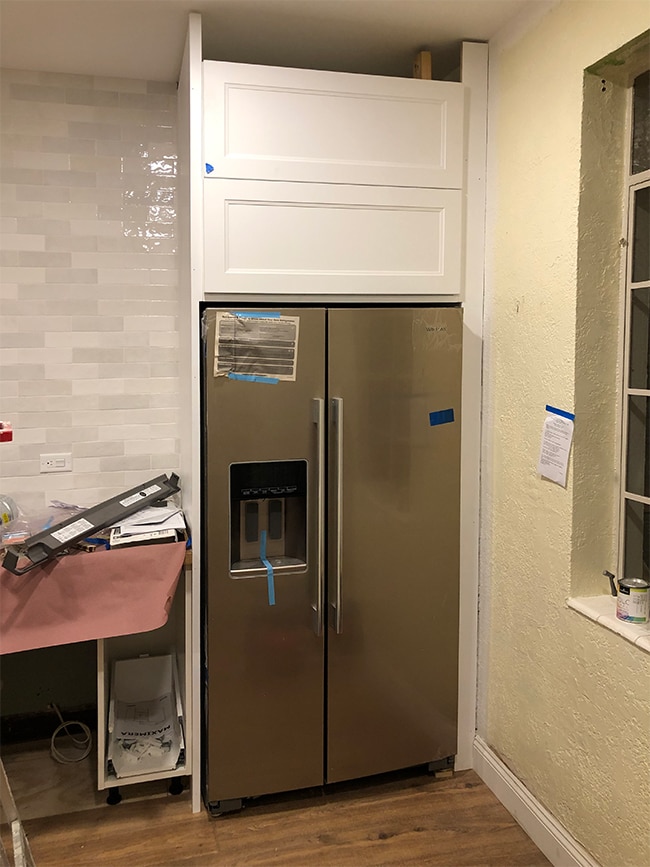 Pin
And around the pantry cabinet…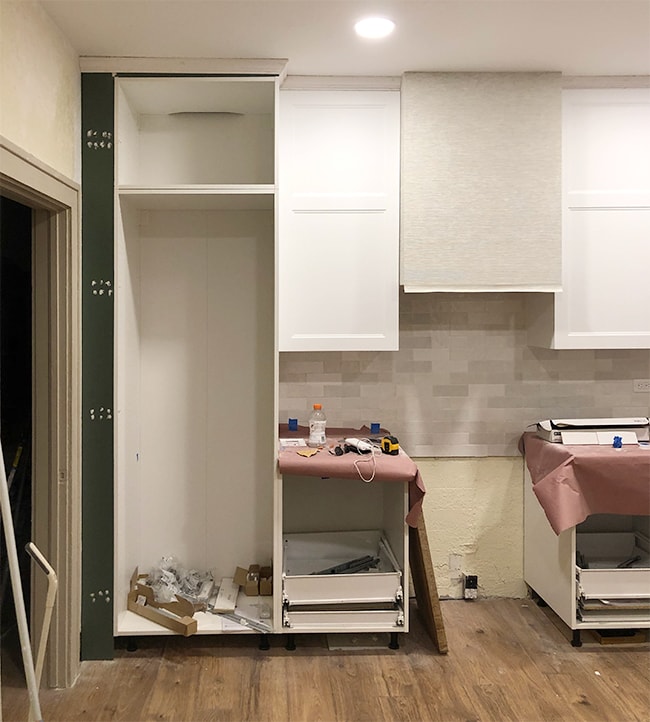 Pin
And of course, the weeks-long process of painting the lower wood cabinets (our first time using a paint gun):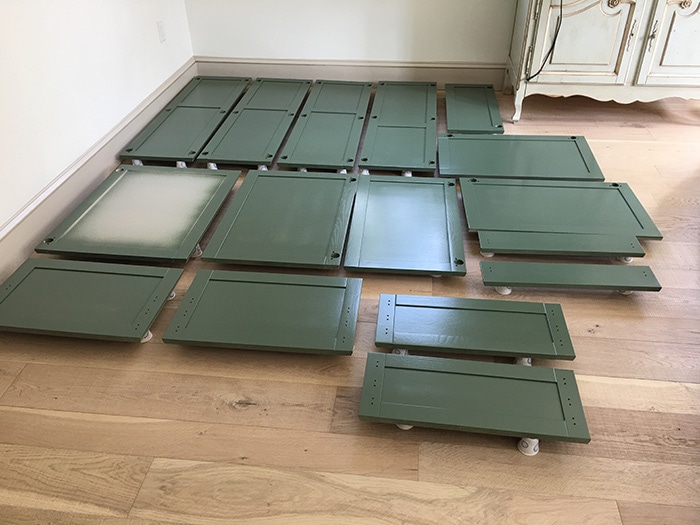 Pin
And all of the custom fit trim and baseboard around the lower cabinets…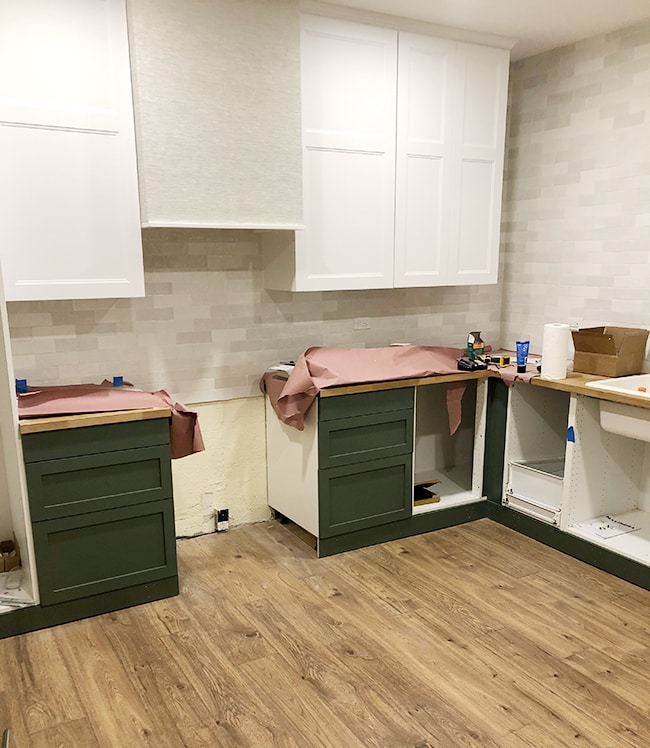 Pin
It was truly a learning experience for Lucas, who did 95% of the work (I wish I could have helped more, but someone's gotta watch the baby!) It was his first time figuring out most of this and I'm so proud of his work ethic and determination to complete this project.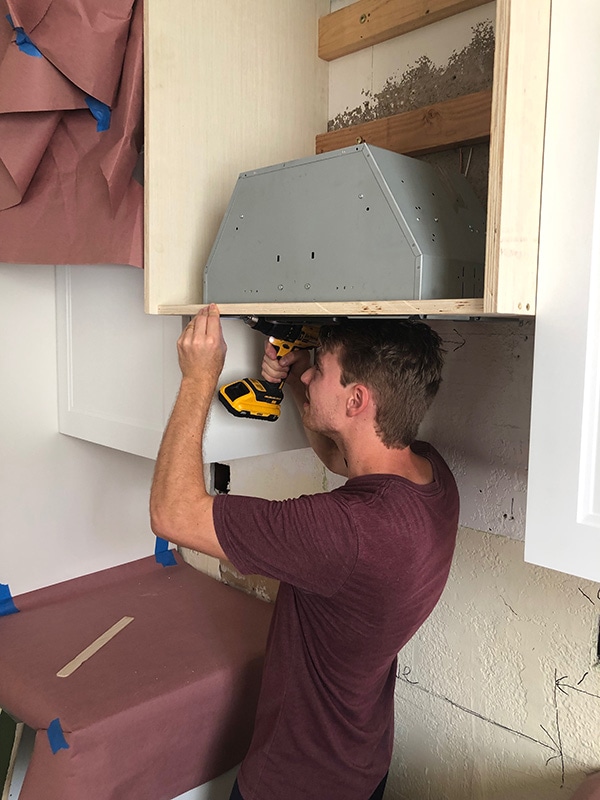 Pin
In the end, it took significantly longer than we had expected/hoped but going into the new year we have a brand new custom kitchen that I think anyone would be happy with!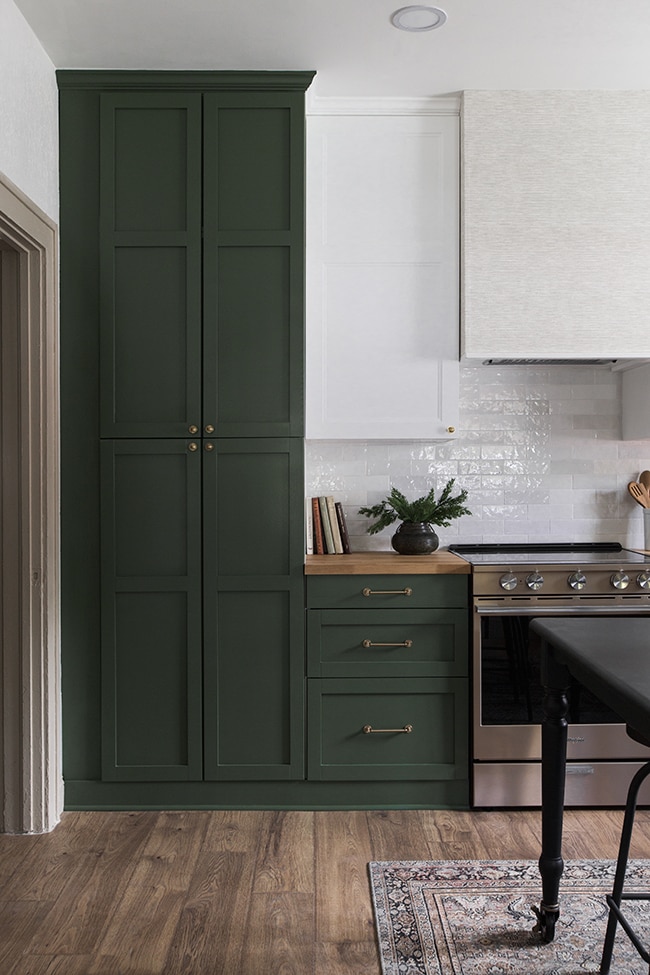 Pin
The star of this show is arguably those rich green cabinets.
Pin
I'm digging the BM Peale Green.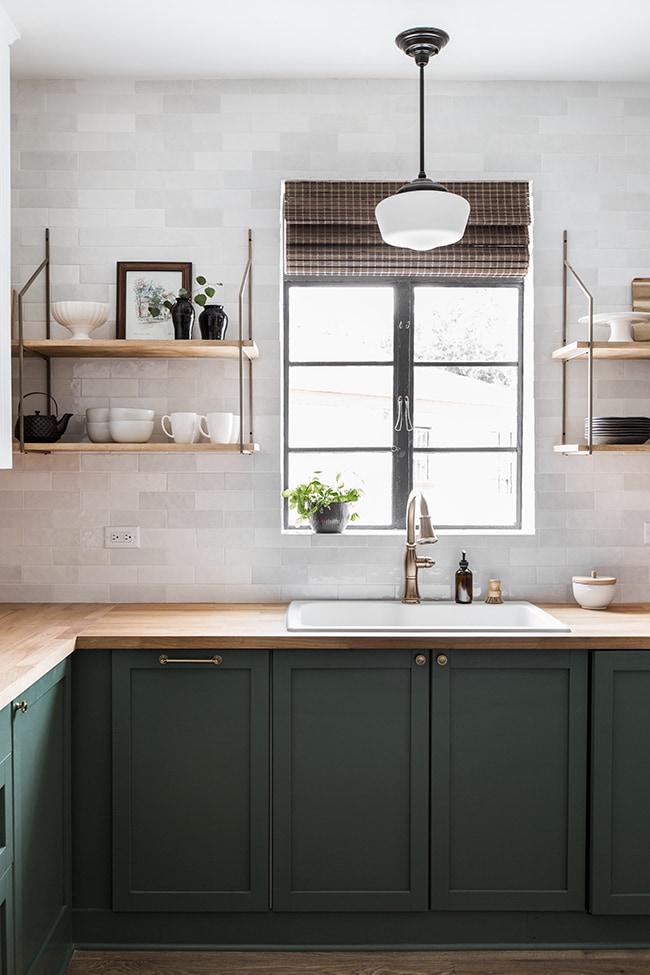 Pin
The warm gold finishes are a really nice compliment and I'm happy with the way they turned out. I used inexpensive pulls and knobs I had been eyeing on Lowe's for a long time, and the finish is close to Delta's champagne bronze faucets (a personal favorite).
Pin
I went with an affordable drop in sink for easy installation, and because the counters are not solid butcher block so we didn't want the cut to be visible.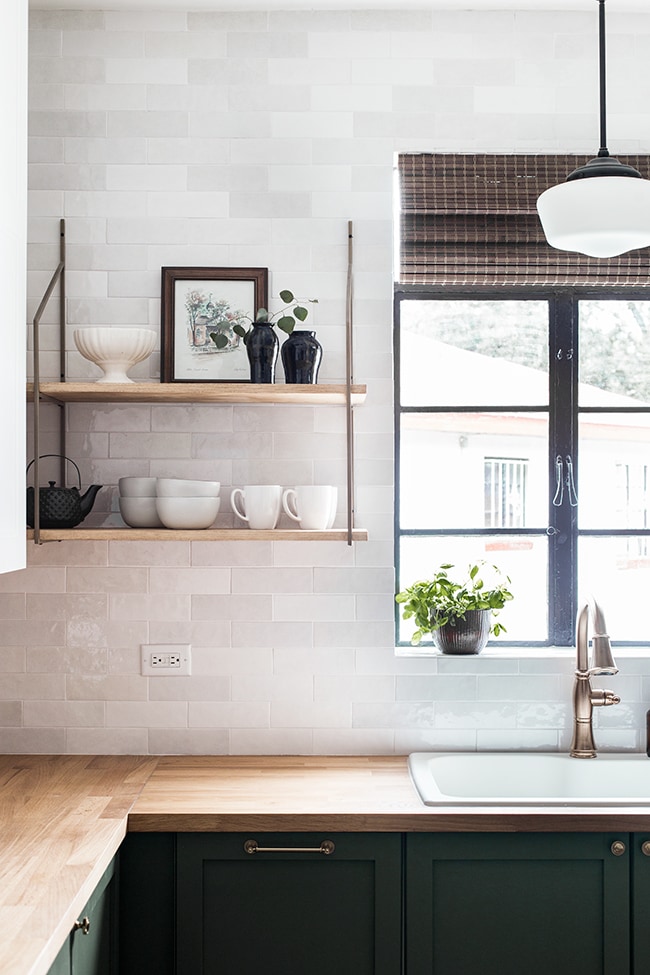 Pin
How neat are these shelves? I knew I wanted open shelving but thought it'd be fun to try something different than the typical floating shelves. I partnered with Shelfology to customize this Verne shelf system to perfectly fit our space.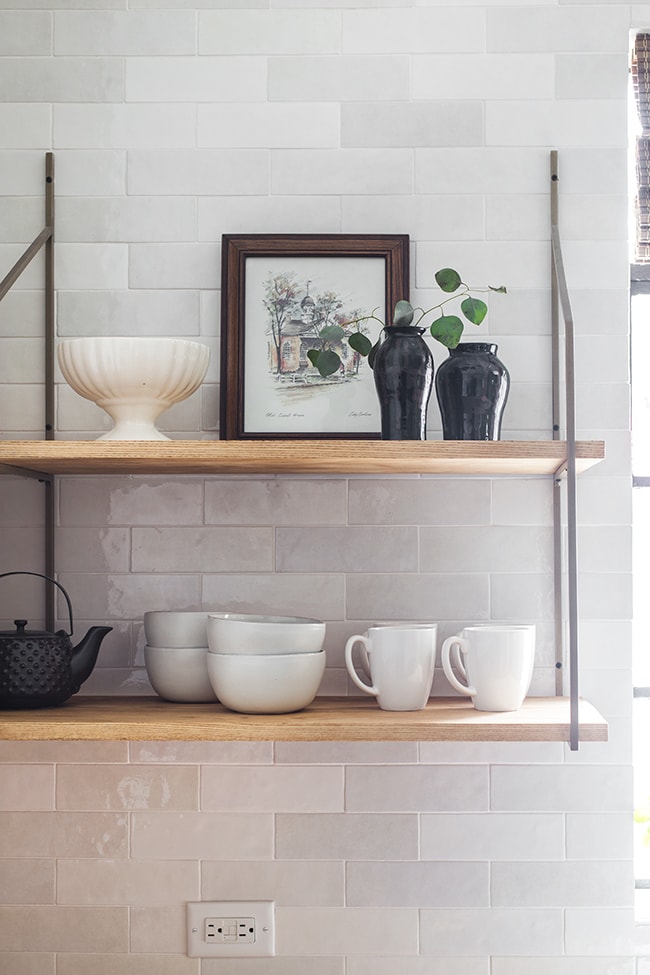 Pin
You can get them in any size with any type of wood (I ordered the 12″d unfinished Ash and we stained them to match our countertops). They're installed using 3 screws & anchors in each bracket—much easier than our experiences installing floating shelves!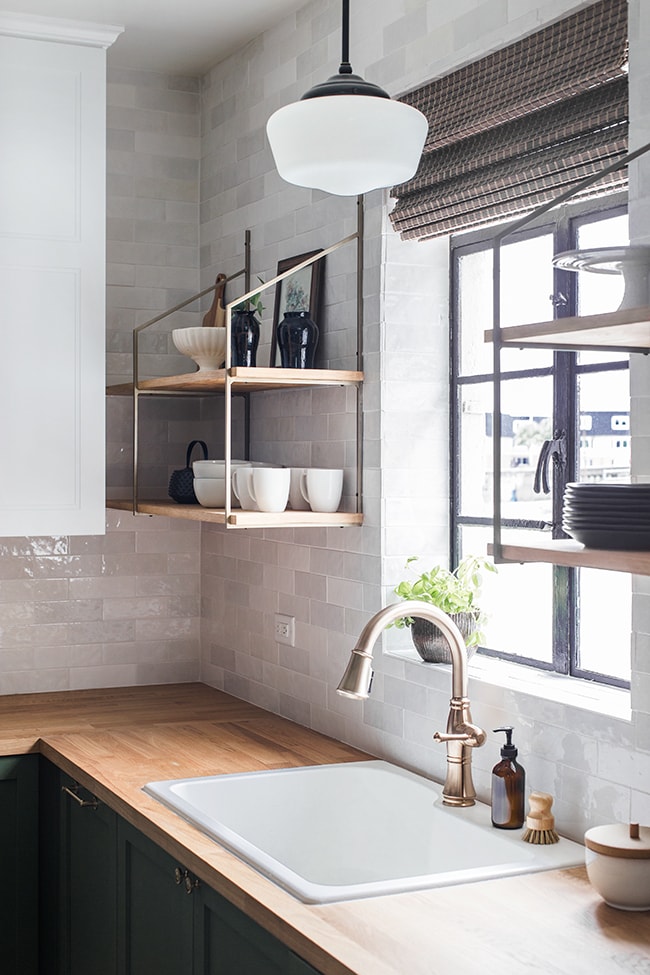 Pin
My favorite part is that you can make the brackets any color you want. They offer custom powder coating in hundreds of colors, so I was able to choose a metallic gold that matched our faucet. Can you tell how much I love these shelves? 🙂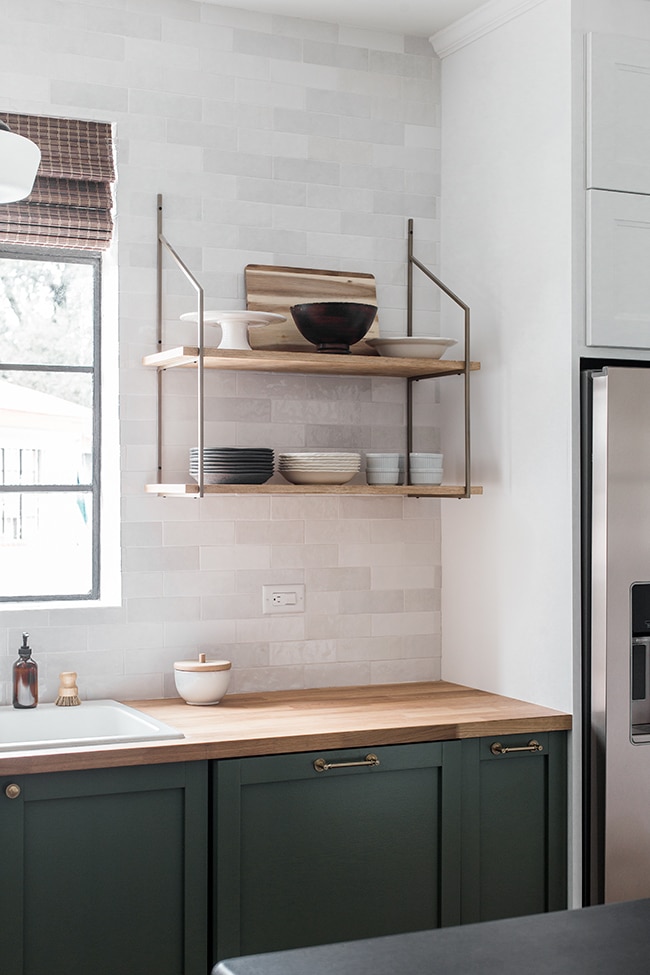 Pin
And can we take a moment of appreciation for this Cloe tile? I knew it would be lovely (we installed it in baby blue in the Blue Lagoon Bathroom) but man, it's pretty in white too.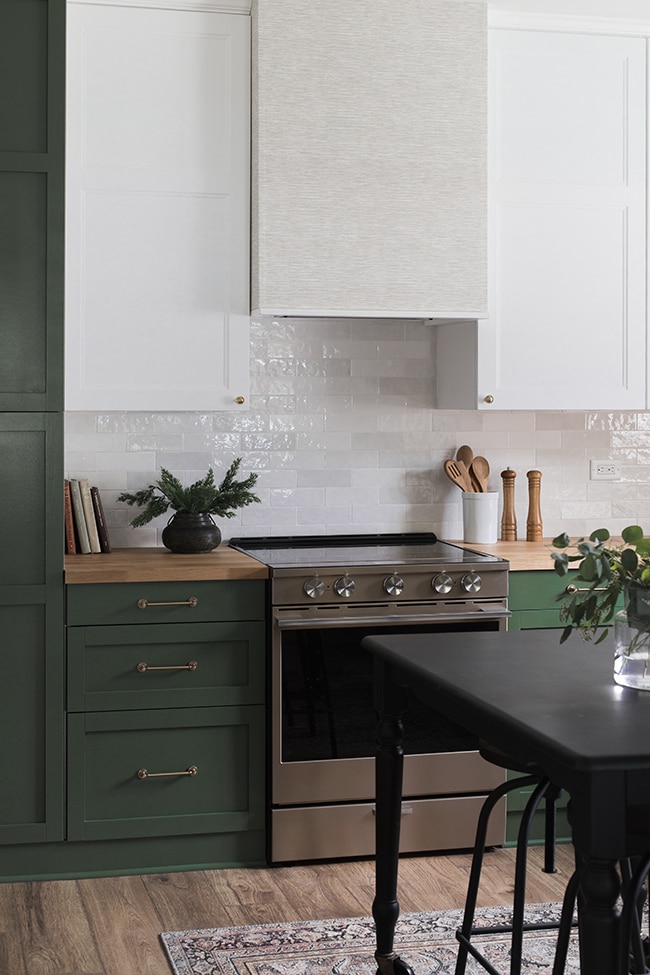 Pin
It adds such a nice iridescent texture to the room.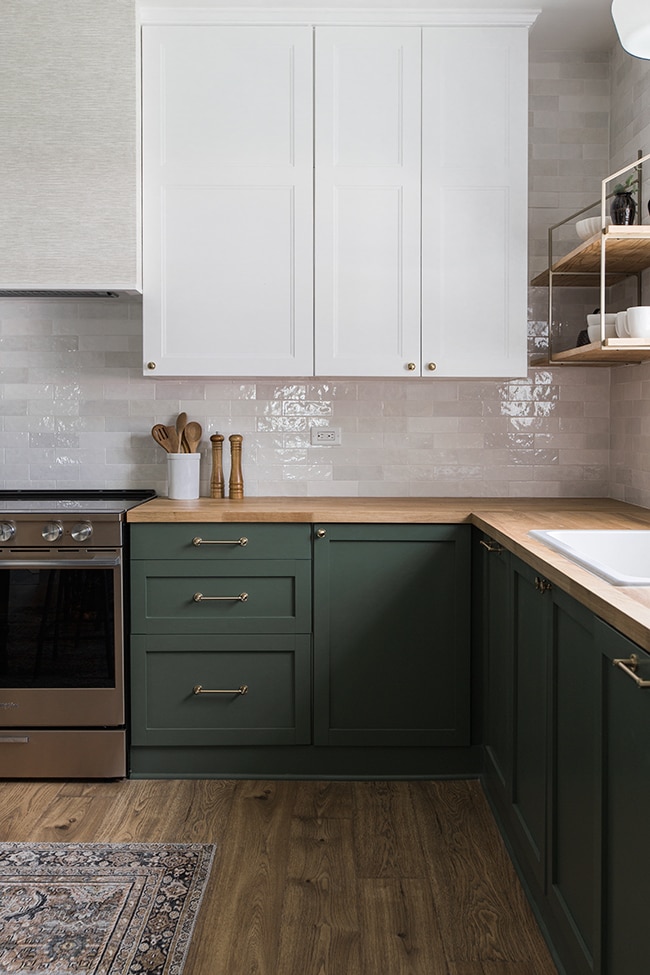 Pin
Speaking of shiny things… did you notice the appliances?! I was nervous about ordering these without seeing them in person (and very little photos of them 'in the wild' online) but I have to say, I'm a big fan of the Whirlpool Sunset Bronze…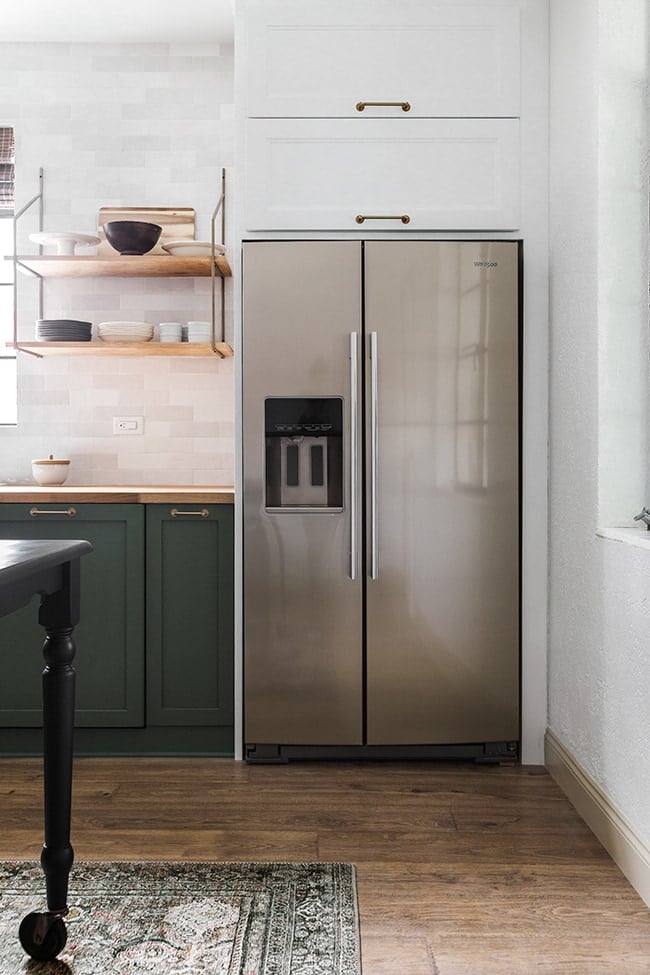 Pin
We ordered the counter-depth fridge (10% off right now!) with the ice/water dispenser—very convenient for a rental! The inside is still covered in plastic but so far, so good 🙂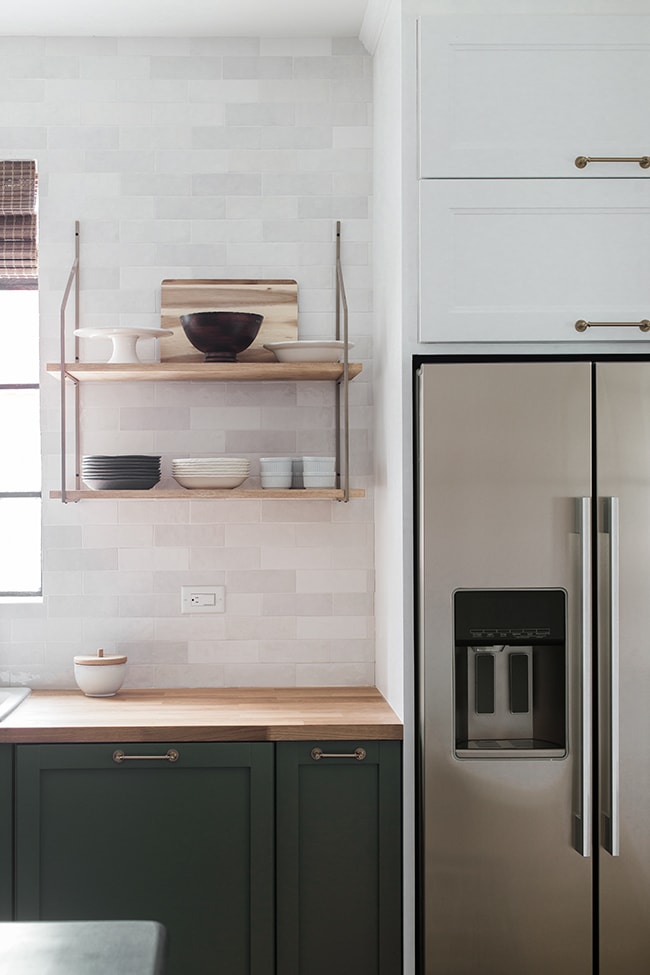 Pin
The matching stove is my favorite, though. It's a touch screen with smart technology and the most high tech appliance I've ever owned.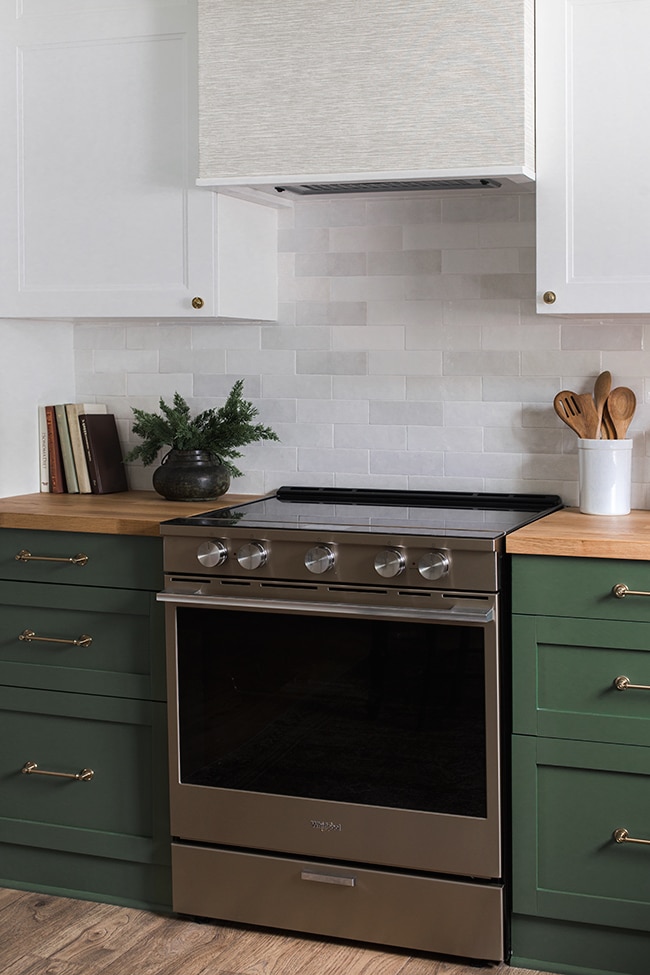 Pin
We'll be able to connect it to our smart app and monitor/control it via phone if needed, which could come in handy later on.
Pin
As for the dishwasher, we opted for the Ikea Spolad to fit with the Torhamn door for a built-in look. Haven't ran a cycle yet so I can't speak on the quality, but we don't love the fact that it isn't flush with the rest of the doors. Live and learn…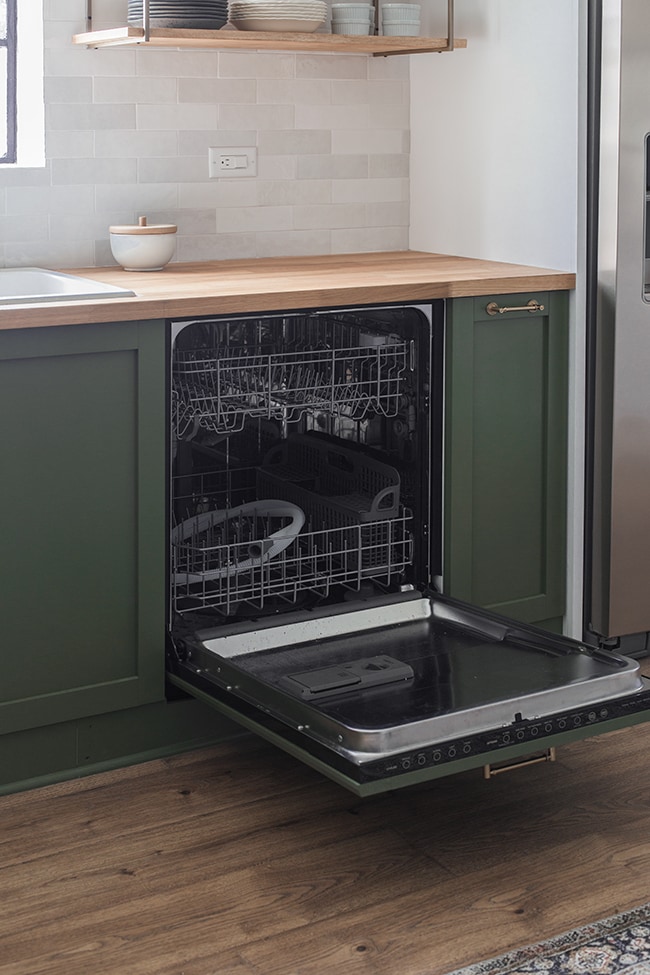 Pin
The "island" is a $50 table I refinished (Maison Blanche's Wrought Iron) and put on 4″ casters.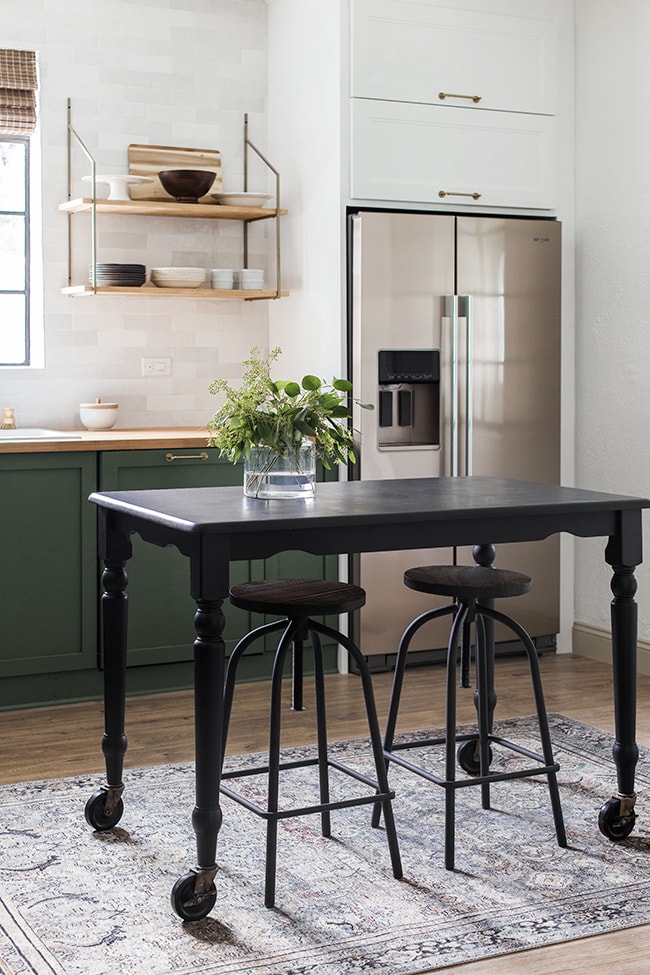 Pin
There isn't a lot of counter space in this kitchen so this is an easy fix for that, and the bar stools provide the added bonus of seating.
Pin
You barely notice the low profile ceiling fan, but it was a necessity in this room that can quickly turn into a greenhouse with west facing single pane windows and heat from the oven and stovetop.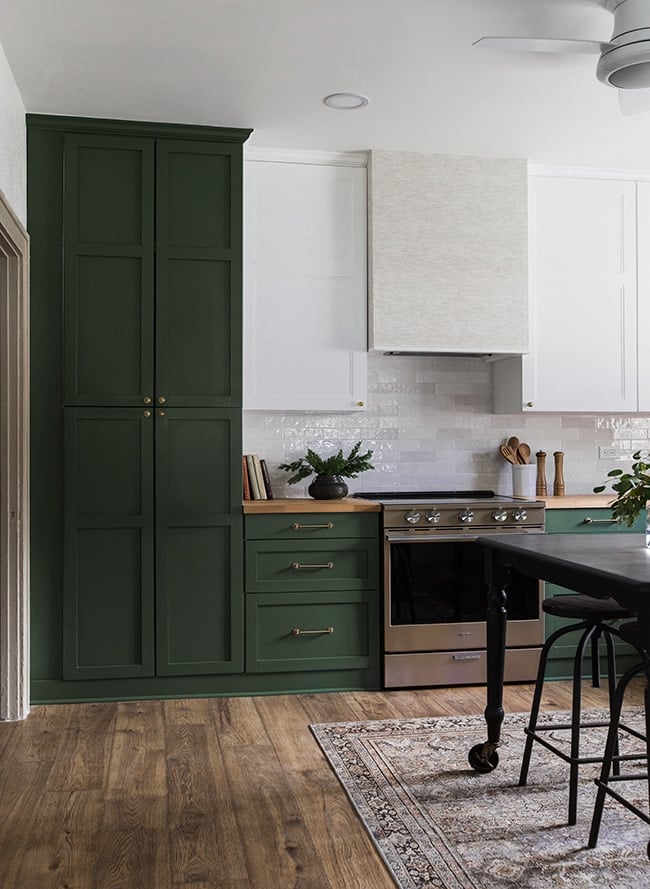 Pin
Does the rug look familiar to you? It's the same rug we have in our living room (my favorite rug of all time)! I loved it so much I had to get one for this house. It looks brownish in photos but in person it has a lot of deep green in it—a perfect match for our cabinets.
Pin
Using a grasscloth wallpaper treatment on our range hood was an experiment (I've never seen it done before) but I'm glad we took the risk, I think it turned out to be a pretty unique feature (and so simple!)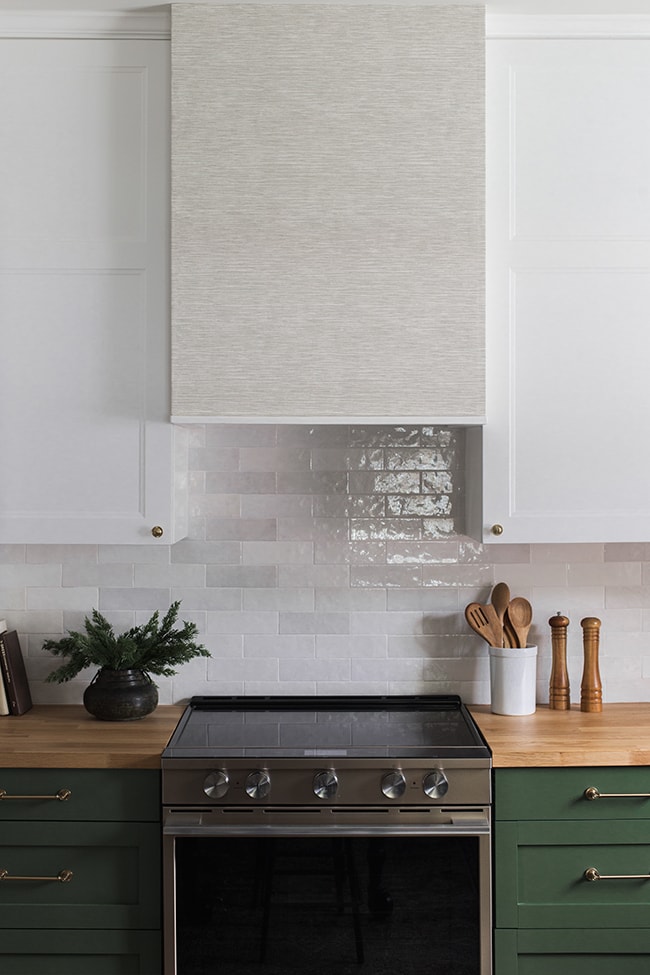 Pin
Side note: I haven't finished stocking the kitchen with vacation rental supplies yet, so some of these photo props were borrowed from our house and won't be staying permanently 😉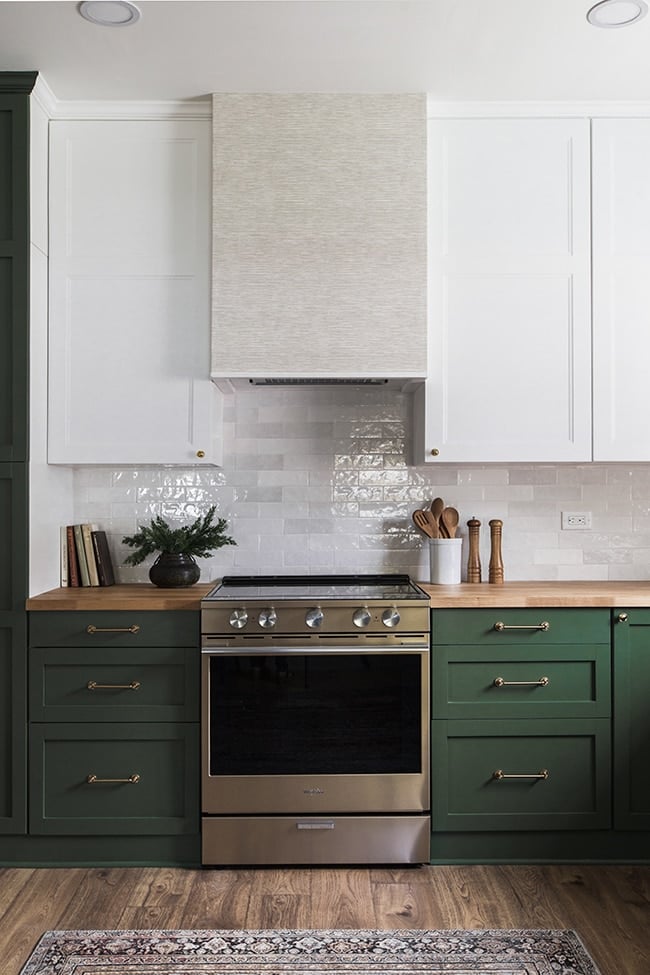 Pin
The tall cabinet on the left will hold the microwave + broom storage. We still need to customize the shelves to make that happen…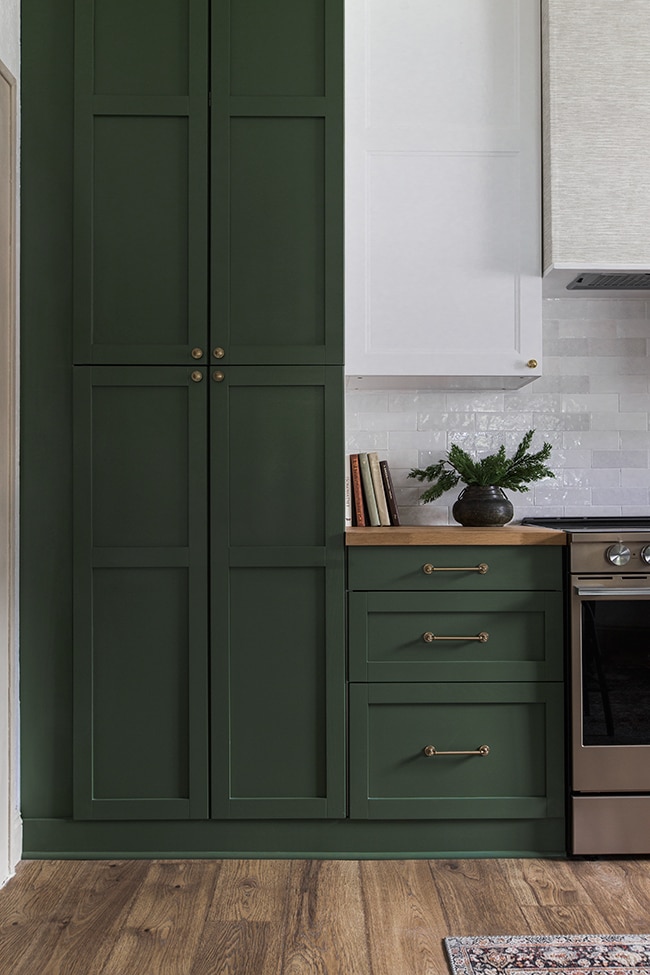 Pin
Since no one is living here full time and we only need the basic necessities, there's an abundance of storage space!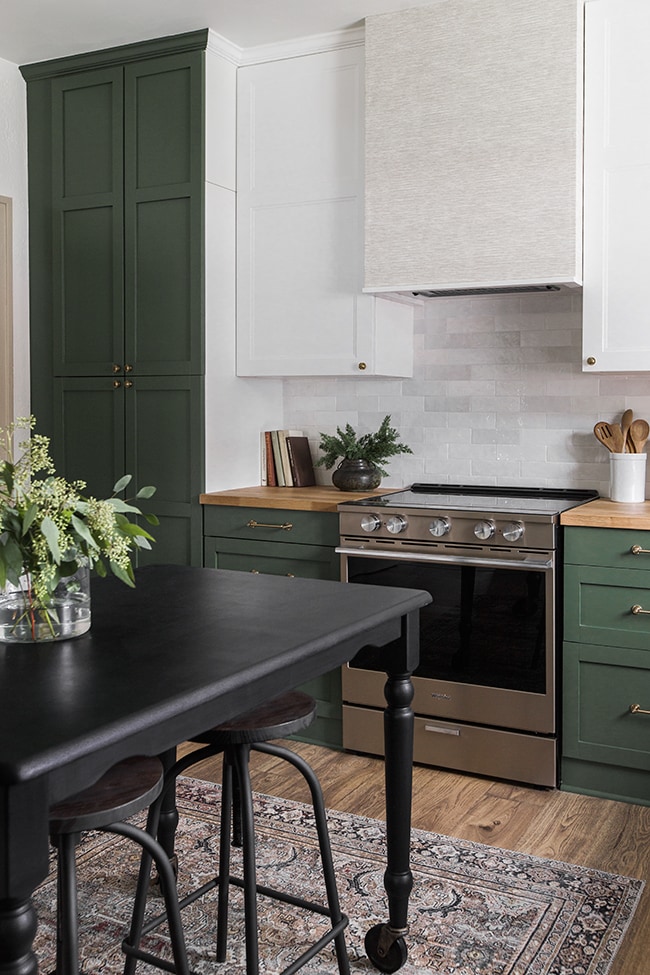 Pin
Painting the metal windows black was a quick and easy way to make them pop.
Pin
And you can never go wrong with a classic schoolhouse pendant light and inexpensive woven shade.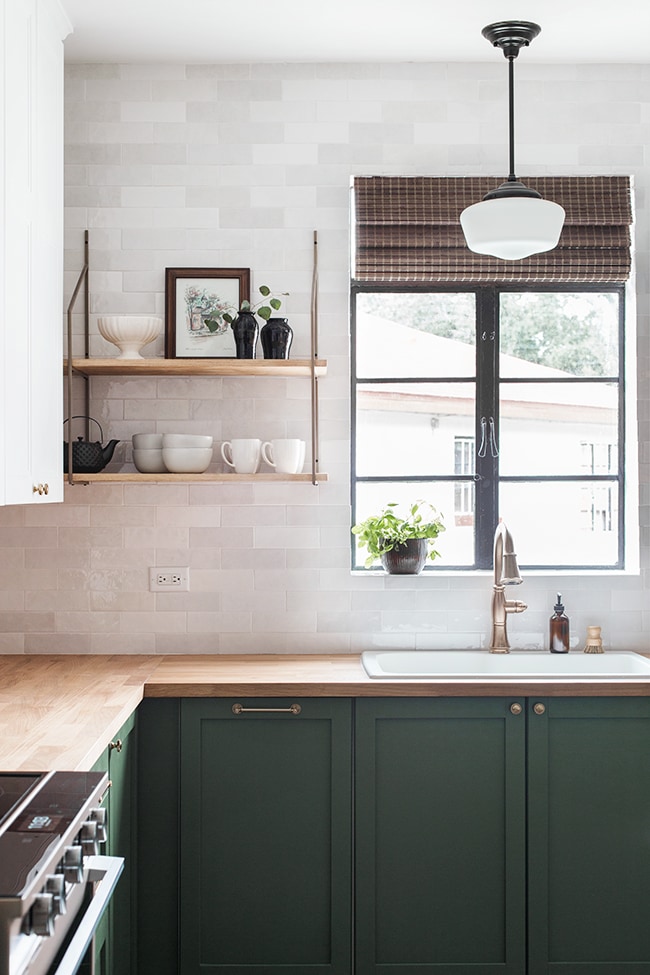 Pin
We can just imagine all the families that will soon get to enjoy this kitchen and make memories here!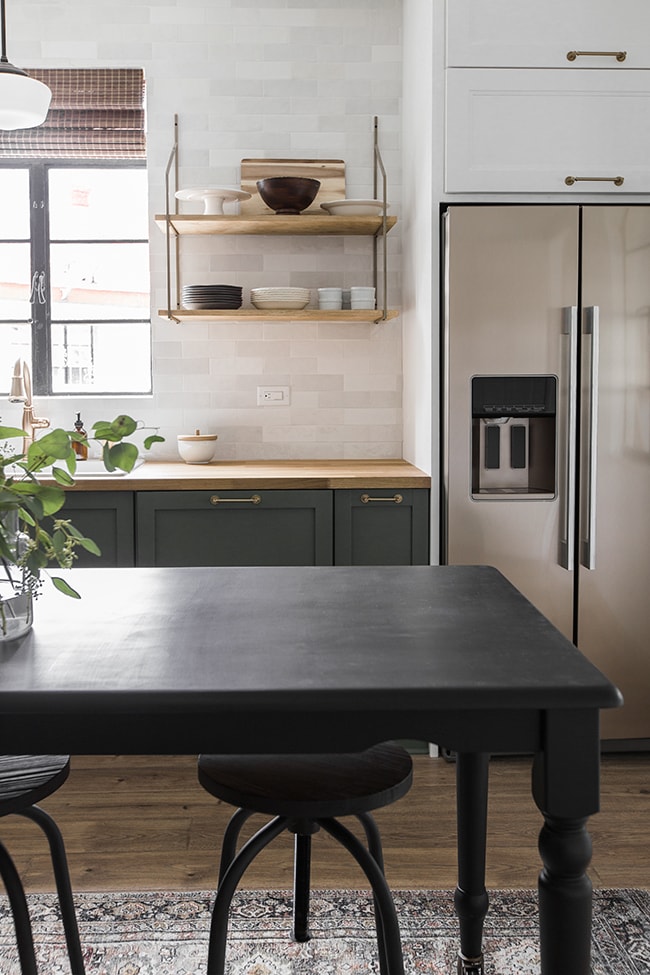 Pin
A lot of love and time went into every detail, and we hope it shows.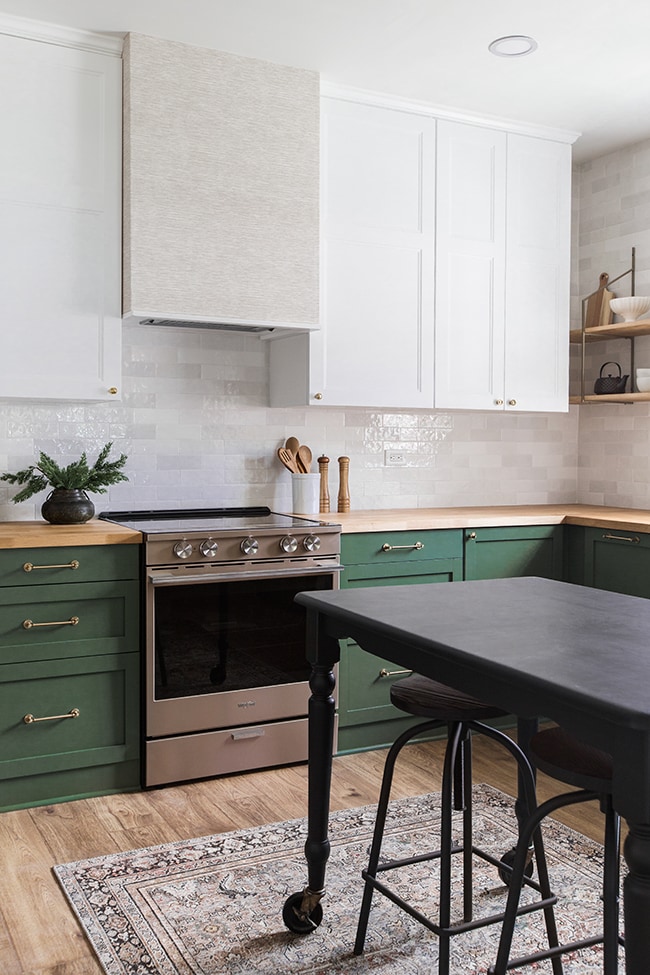 Pin
The kitchen isn't 100% finished though, we still have to swap out the laundry room door and build a large chalkboard for the back wall (between the two doorways).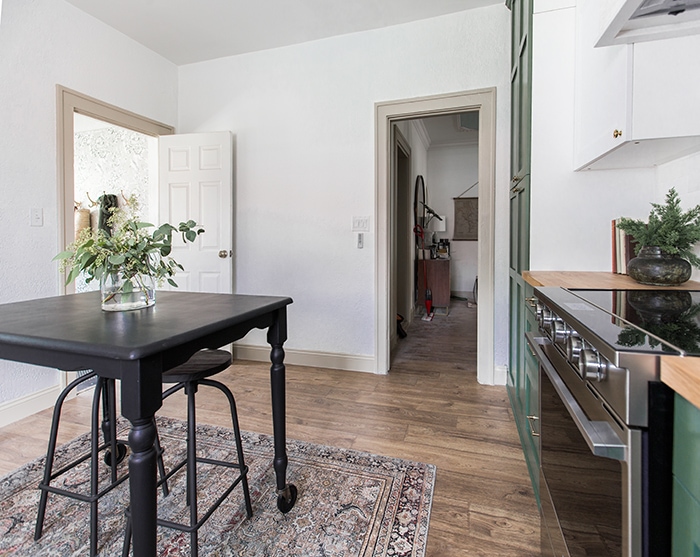 Pin
The other side of the room is clearly not as exciting…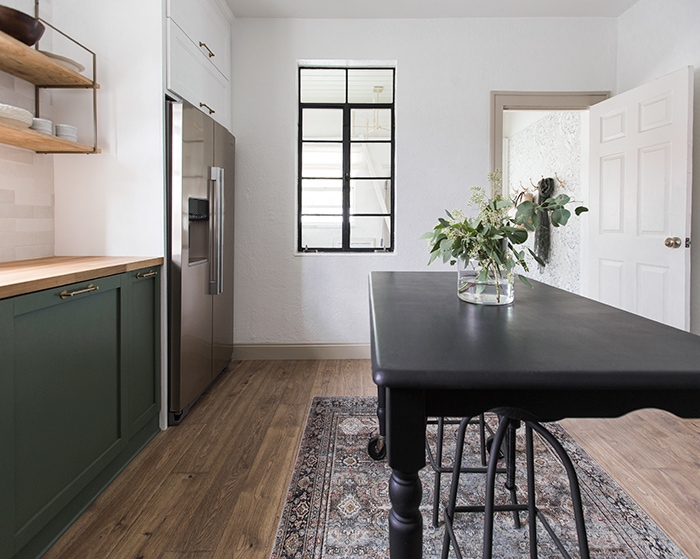 Pin
Ahh, this view is better…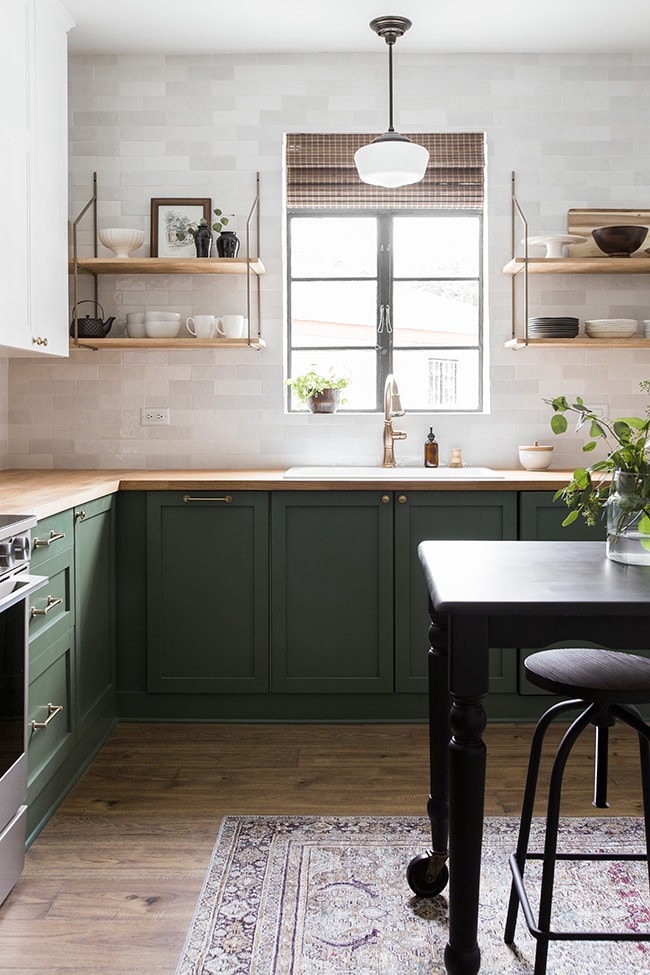 Pin
Sources
Wall color: SW Pure White
Trim color: SW Loggia
Cabinets: Ikea Axstad uppers, Torhamn lowers (painted BM Peale Green)
Ikea Karlby countertops
Whirlpool Sunset Bronze Fridge
Cabinet pulls (in 4″, 5″ and 6″)
Grasscloth wallpaper (for range hood)
A huge thank you to Lowe's for partnering with me on this project, along with Bedrosians, Shelfology and Loloi! These have been a few of my favorite brands/products to work with over the years and they've really helped make this kitchen something special.
A couple side by side transformation shots, just for fun…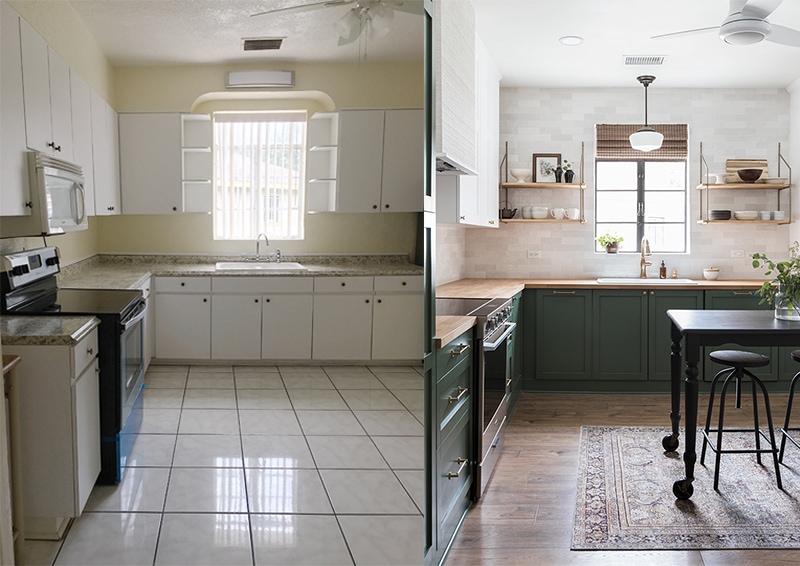 Pin
Pin
Ahh, so satisfying! Cheers to a clean slate in 2020—more big changes at the Riverside Retreat, coming up next!