The last major project for my boy's budget bedroom makeover is complete! I had no idea how this would turn out since I wasn't following a specific tutorial, but it's now my favorite thing in the room (and I have a feeling Cruz will love it too!).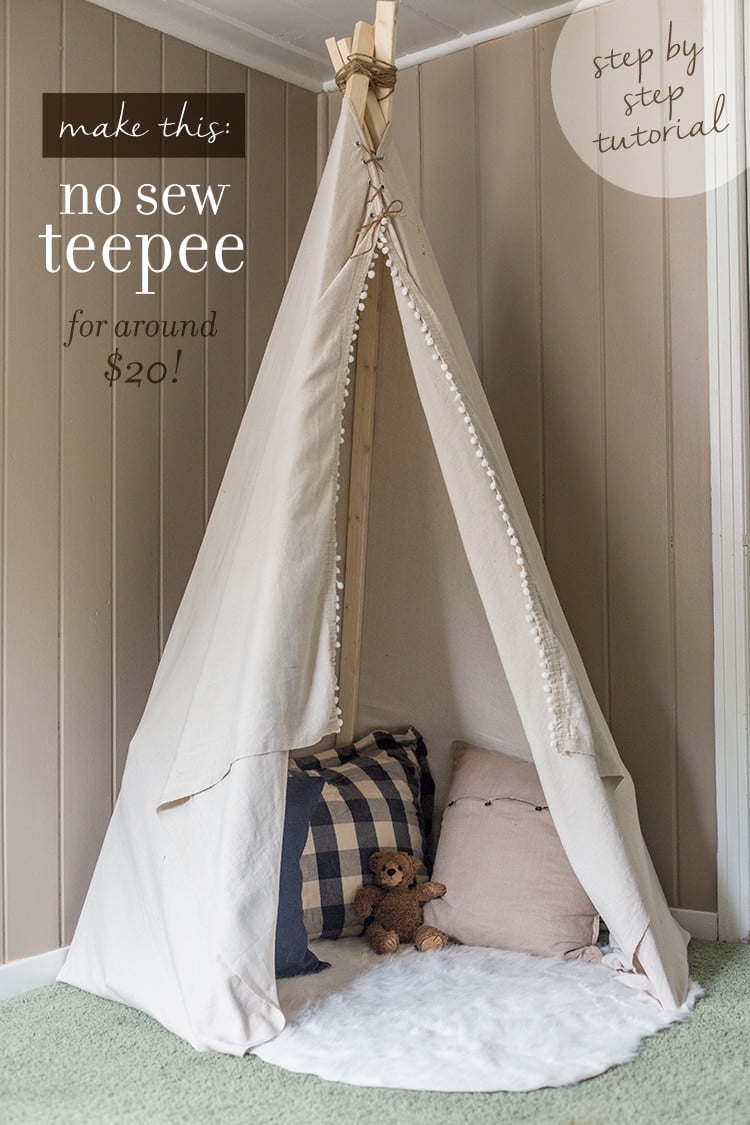 Pin
I've been making forts as long as I can remember—I keep vivid memories of our living room furniture draped in blankets and shadow puppets in the dark with flashlights. There's something very nostalgic about makeshift hideaways and if I could relive my childhood, it would be the first thing I'd want in my room. So when it came time to plan Cruz's woodland/rustic styled space, a teepee just made sense. What five year old boy wouldn't love that?
Of course, this had to be done on the cheap (with a $250 budget for the entire room) so I headed to Pinterest to explore the possibilities. I found a handful of no-sew tutorials using canvas drop cloths, but the other challenge is the small space I was working with. There's only a 36″ clearance from the wall to the door so I had to come up with an arrangement to fit inside these constraints and also maximize the space.
I ended up with five 1x2x8 furring strips ($5.80), a 6×9′ canvas drop cloth ($10.50) and grabbed some twine rope I had lying around (free).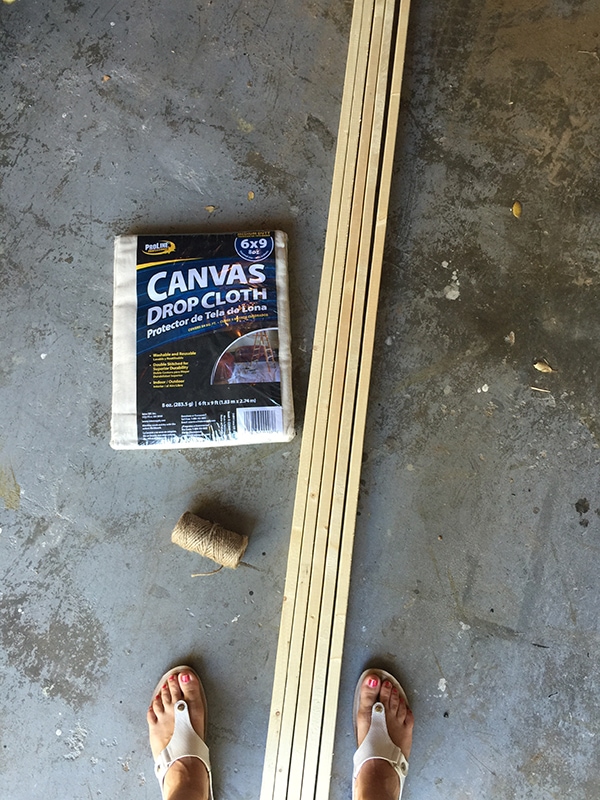 Pin
To add some flair and secure the top, I also picked up a packet of eyelets from Joann's ($4.26, not pictured) bringing the total to just over $20 (I used my Lowe's credit card for 5% off and had a 30% off coupon at Joann's).
The first step was cutting down the furring strips to 6′. You can leave them 8′ if you're making a larger teepee, but I'm also working with 7′ ceilings so cutting them down was a must.
I grabbed my boards and tried arranging them into something that made the most sense. It's a little tough balancing them on your own so I tied my twine around the tops to help hold them together before securing them (this part isn't necessary though).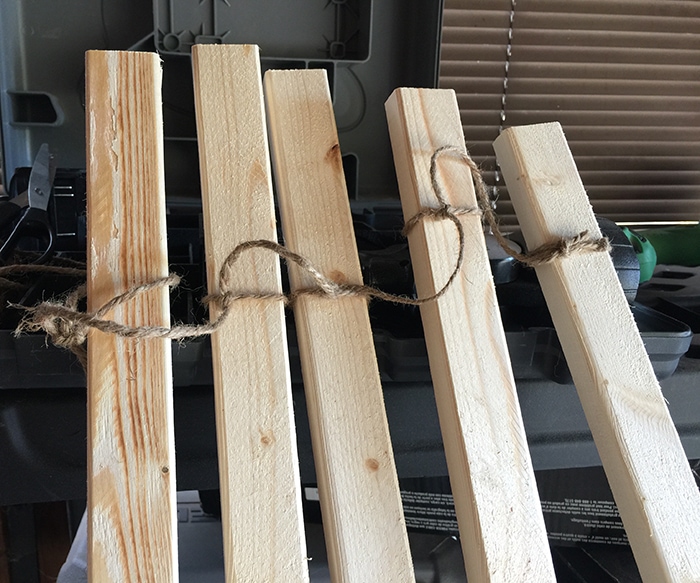 Pin
Using trial and error, I came up with a suitable layout and began tying them all together—looping in and around each board until they could stand on their own.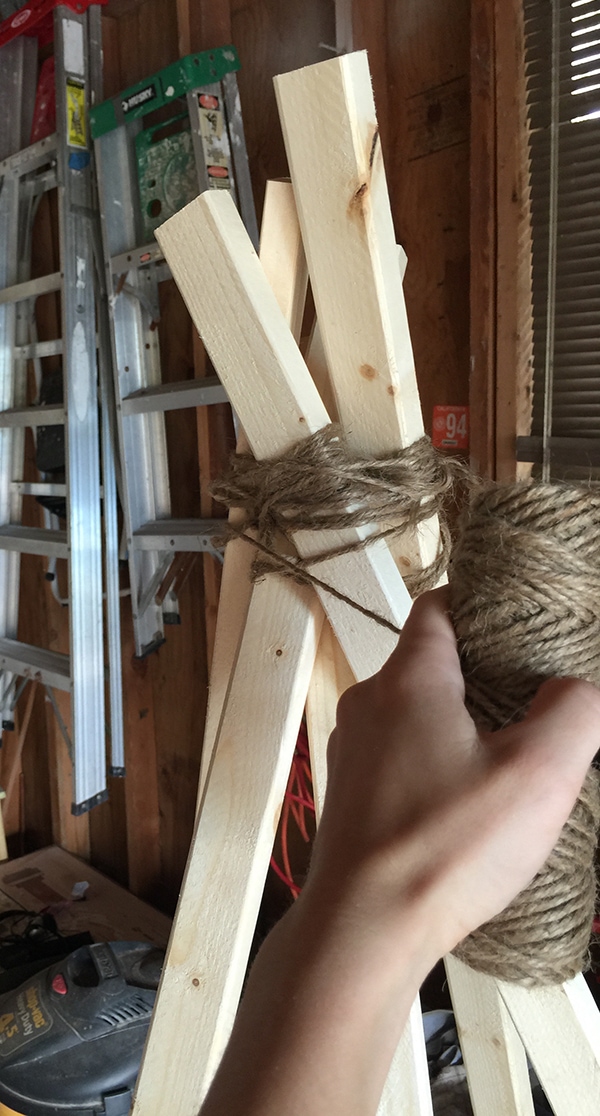 Pin
It's important to note that they aren't going to be 100% secure. This is actually a good thing so that 1) the teepee can be folded up if it ever needs to be moved 2) I could fit it inside my car, and 3) I could arrange the wood correctly once the teepee was in place.
I brought everything inside to a corner of the room I could recreate the layout and finish assembly.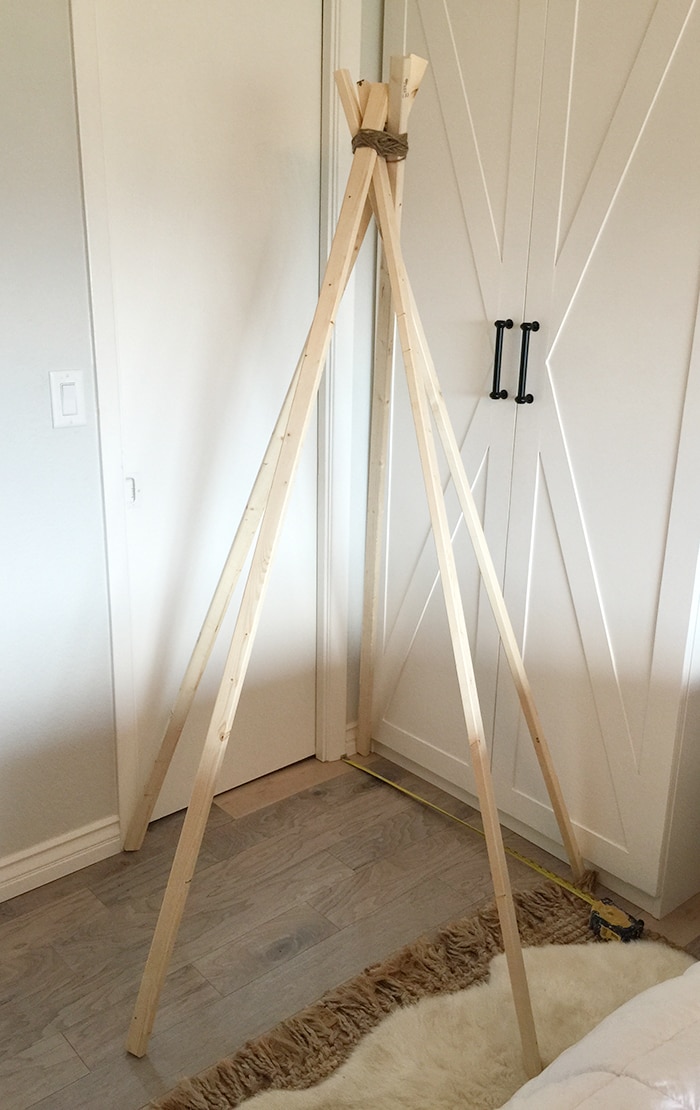 PinAfter washing/drying and ironing the folds out of the drop cloth, I found the horizontal center (there's a vertical seam going down it) and lined it up with the back leg of the teepee. Then I used a hand stapler to staple it in place at the top.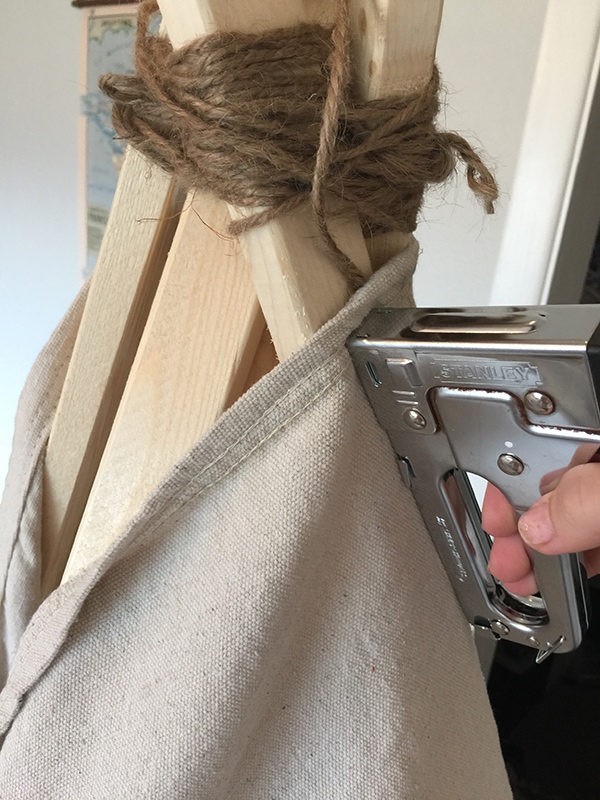 PinOn the same leg, I added another staple in the center and one at the bottom for safety (the staples aren't very visible but this is also the back and won't be seen).
Then I wrapped each side around to the front, securing with a staple at the bottom of the next two legs.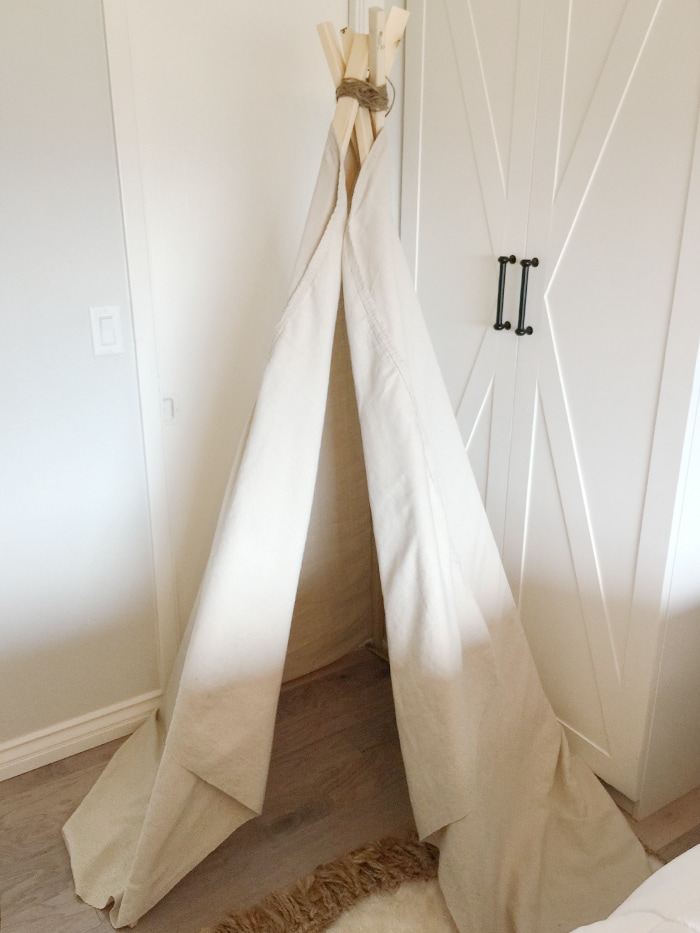 Pin
There will be some extra cloth at the bottom which you can either trim with scissors (at the very end, once it's in place!) or simply tuck underneath. I chose to just fold the excess inside.
Now that the cloth was in position, I folded the teepee back up and began to attach the grommets at the top where the two pieces came together.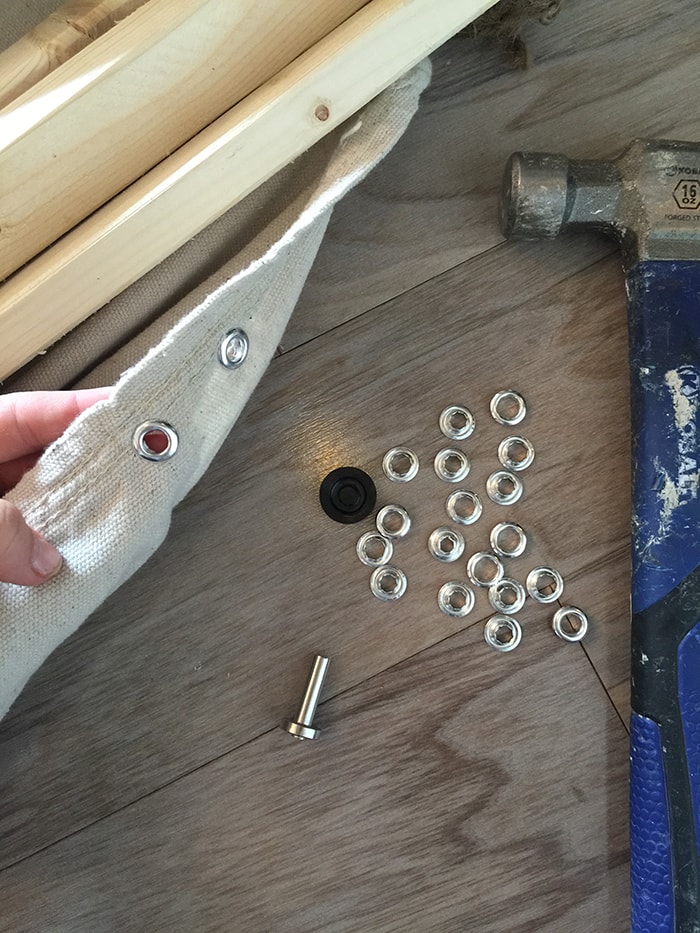 PinI bought the kit that comes with the little attachment tool so I could simply hammer them into place. Easy breezy…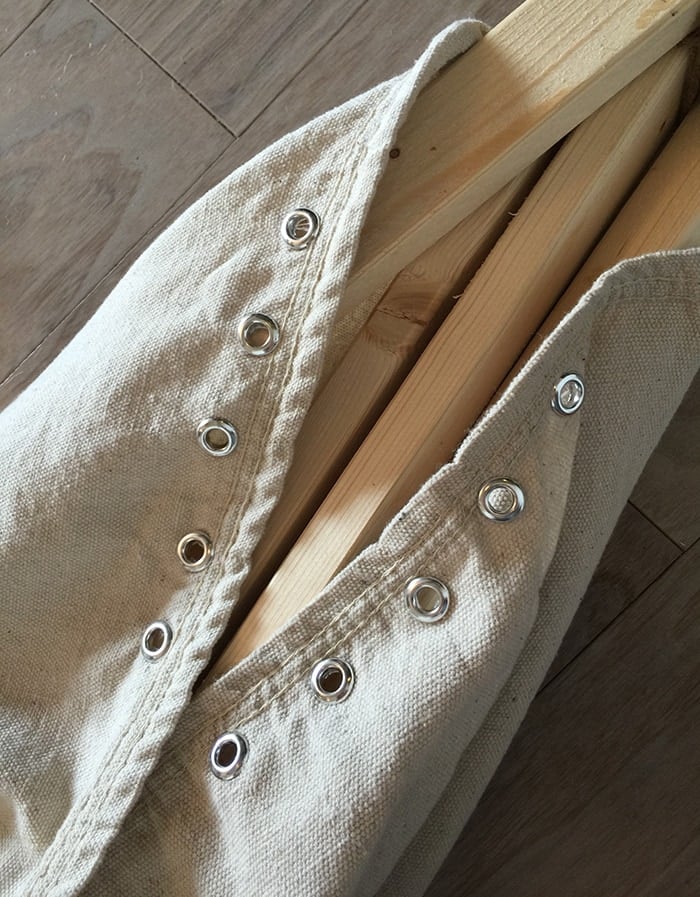 PinThen I lifted it back up into place, repositioned my legs and used twine to tie the top closed.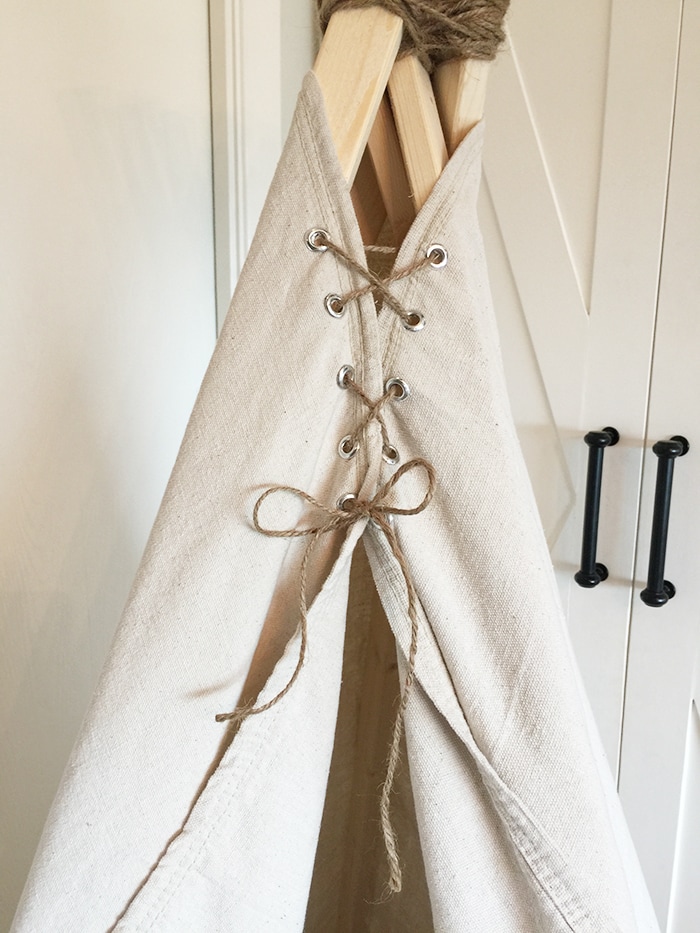 PinCute, right?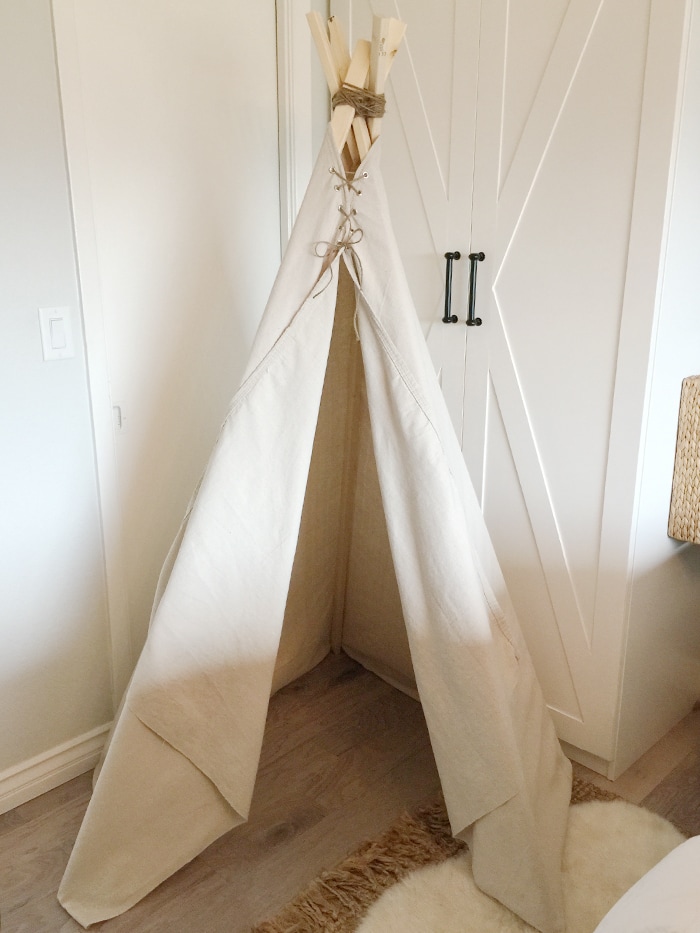 Pin
With everything looking good, I brought the teepee over to Cruz's room for reassembly. Once the legs were in the proper position, I added a couple more staples at the bottom of the remaining two legs.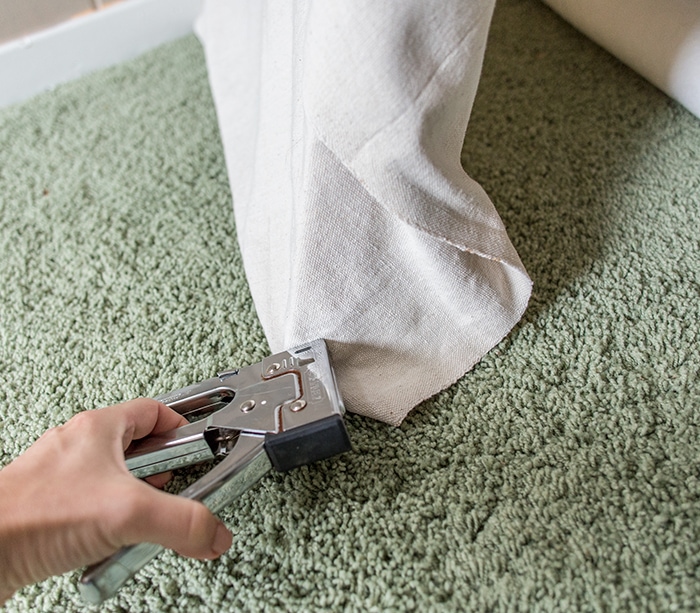 Pin
I also brought some extra pom pom trim I had lying around and secured it to the opening with liquid stitch.
PinAnother fun DIY project, in the bag…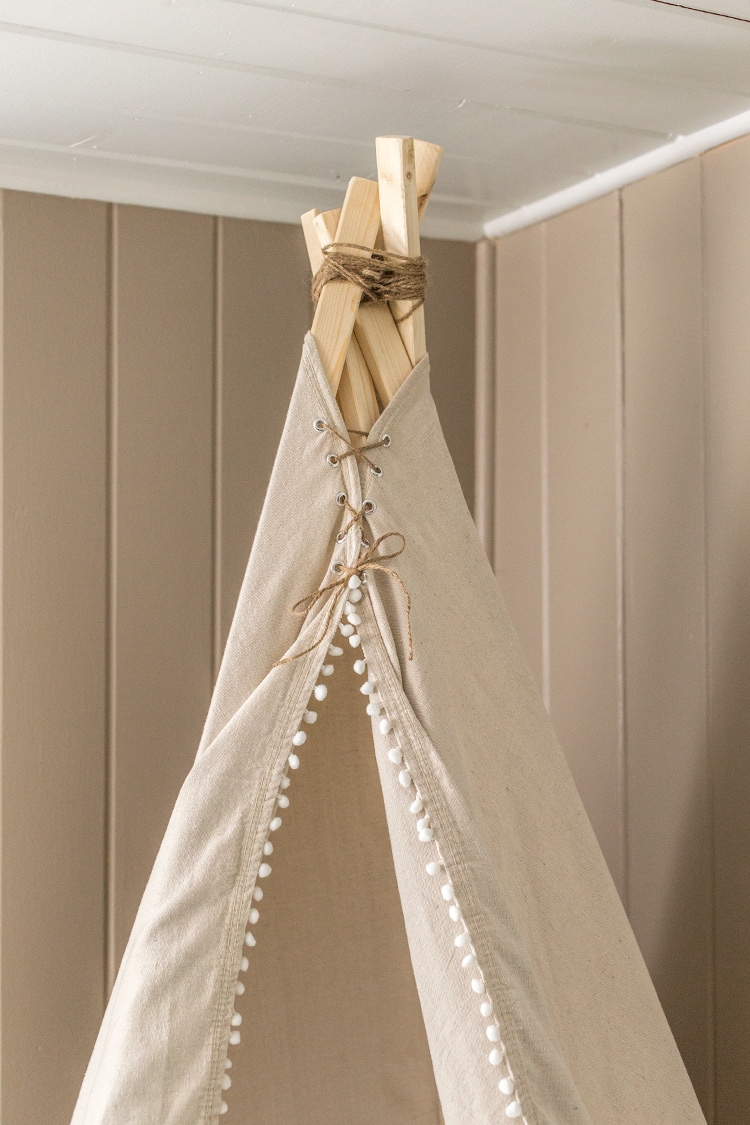 Pin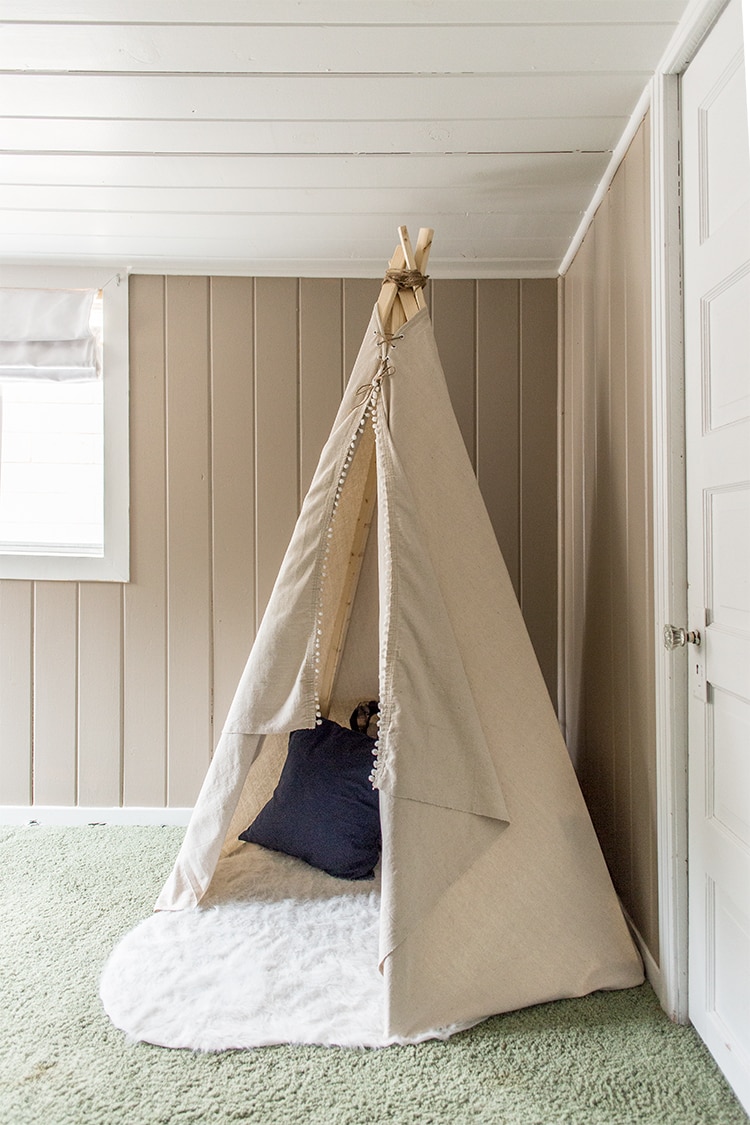 Pin
I found my makeshift sheepskin "rug" (cut from fluffy fabric, used underneath our Christmas tree last year) and thought it would be perfect inside the teepee.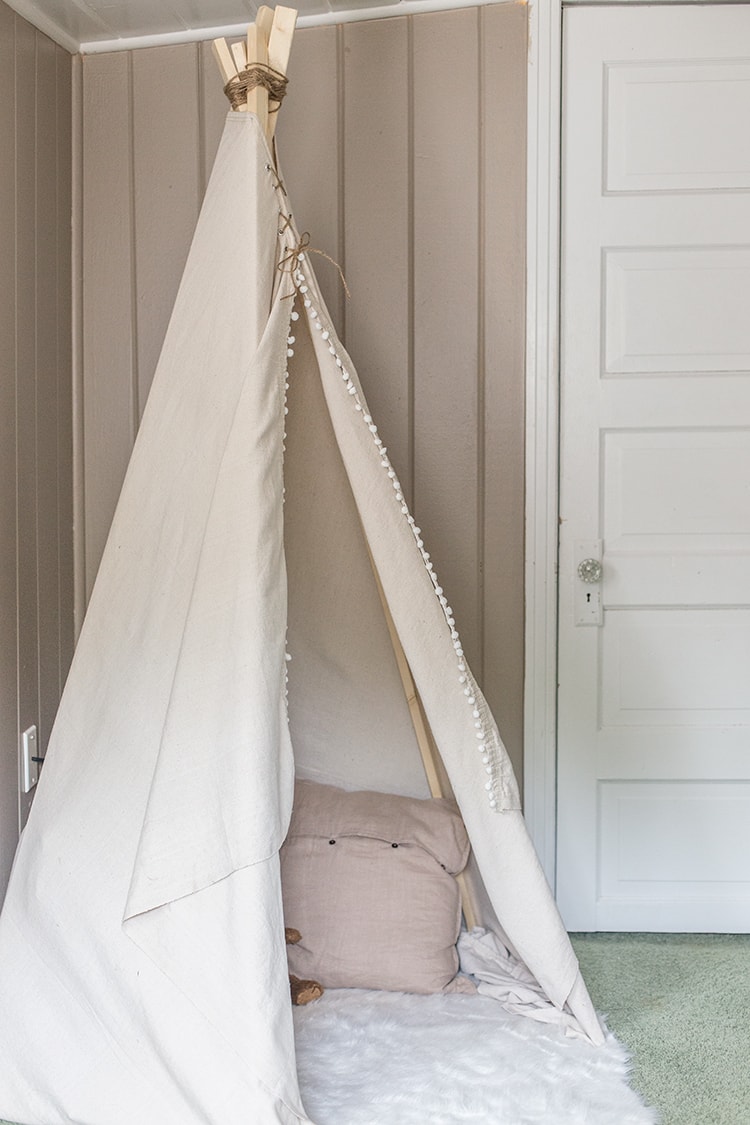 PinCruz won't see it until Monday… and I'll be there with my camera to capture his reaction. I can't wait!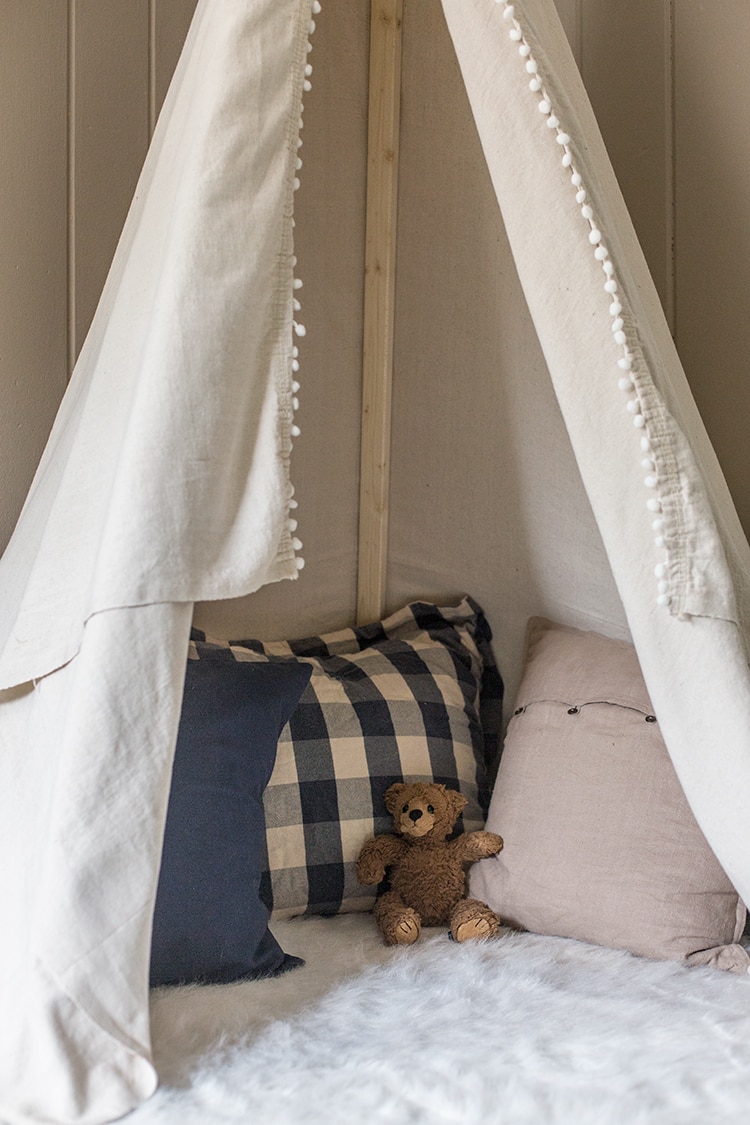 Pin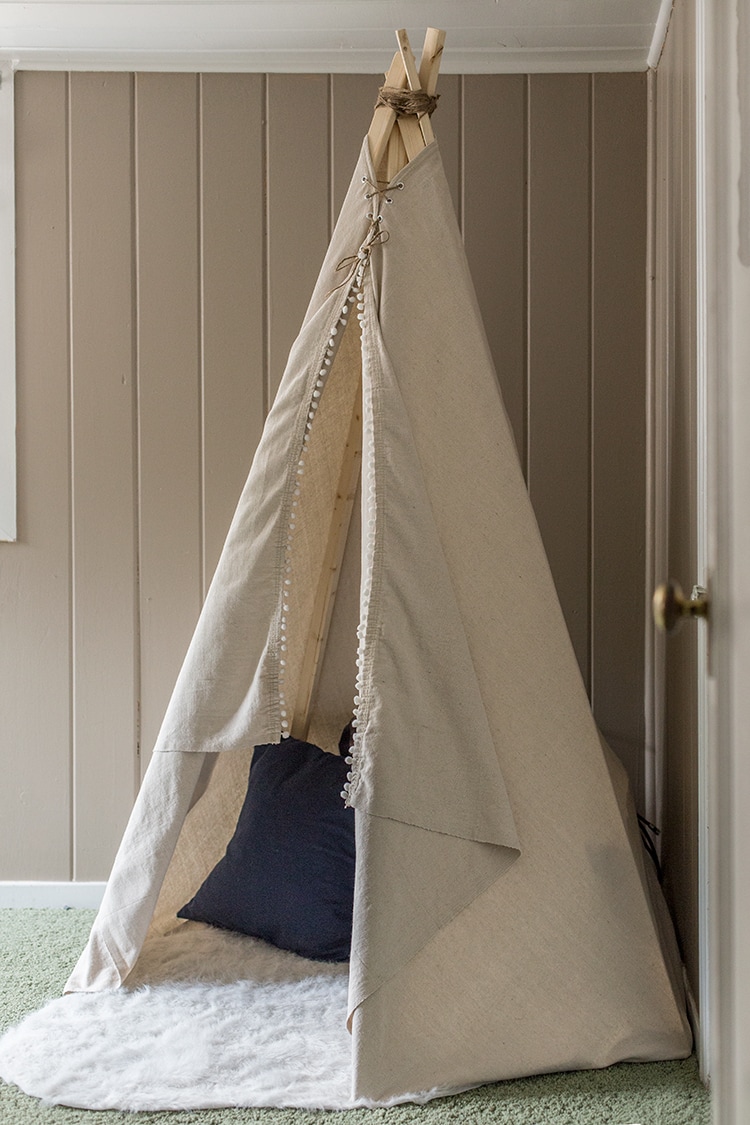 Pin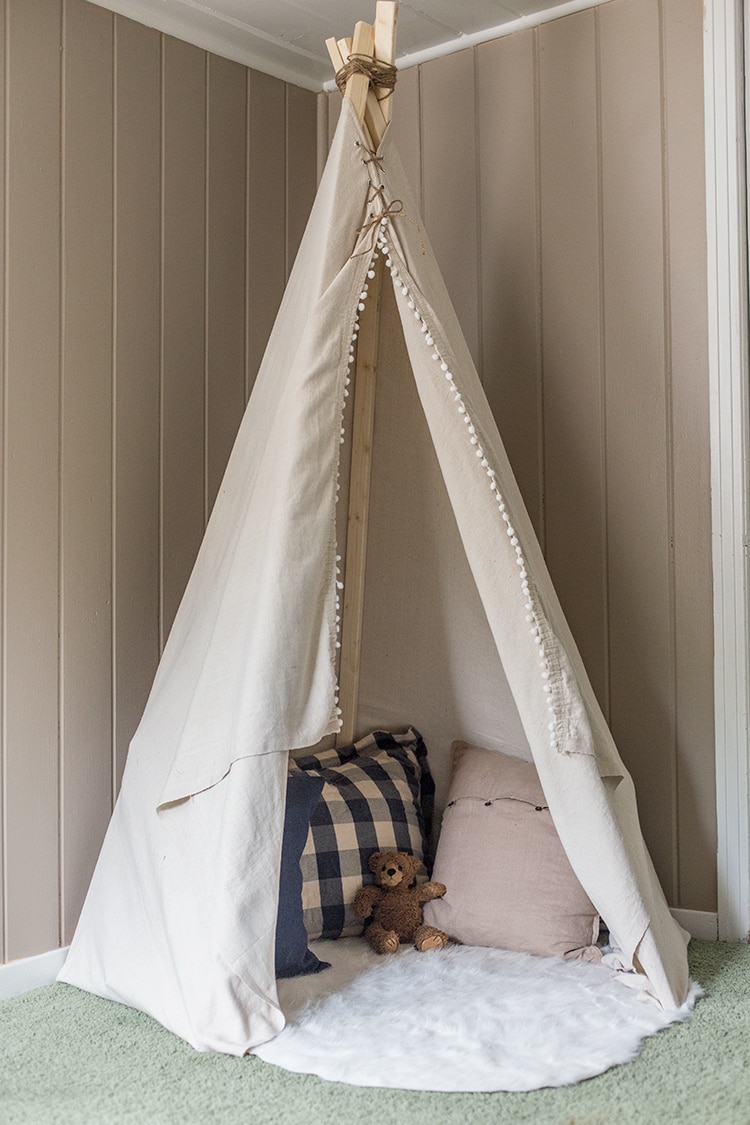 Pin
Now it's all about the finishing touches. I have a few small projects in the works and plan to finish setting everything up Monday before Cruz sees it. Hopefully I'll pop in Tuesday with one more quick and easy DIY before the big reveal Wednesday. And now that everything has been bought, I'm happy to report that I came in way under budget. Can you believe it? I thought for sure we'd go over. I'm looking forward revealing the price breakdown on Wednesday to show you how a little creativity can go a long way.
Have a fabulous Friday & weekend! Next week will be jam packed with 4 days of posts, and one week from today I'll be dropping a bomb of an announcement. You definitely won't want to miss it…