$Moving right along on my boy's budget room makeover, this past week I tackled perhaps the biggest project—building a desk and shelving.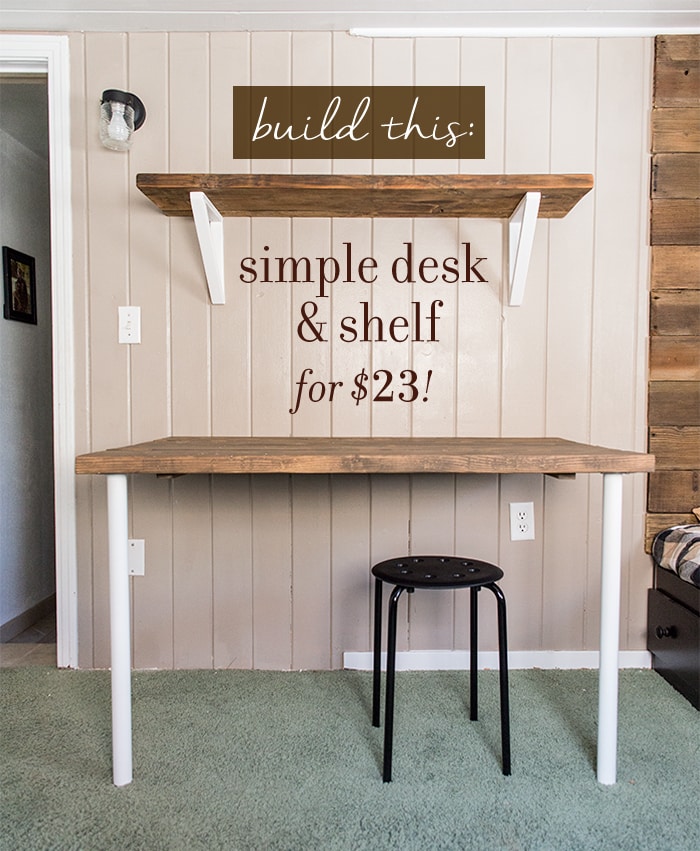 Pin
If you can remember how teeny tiny this room is…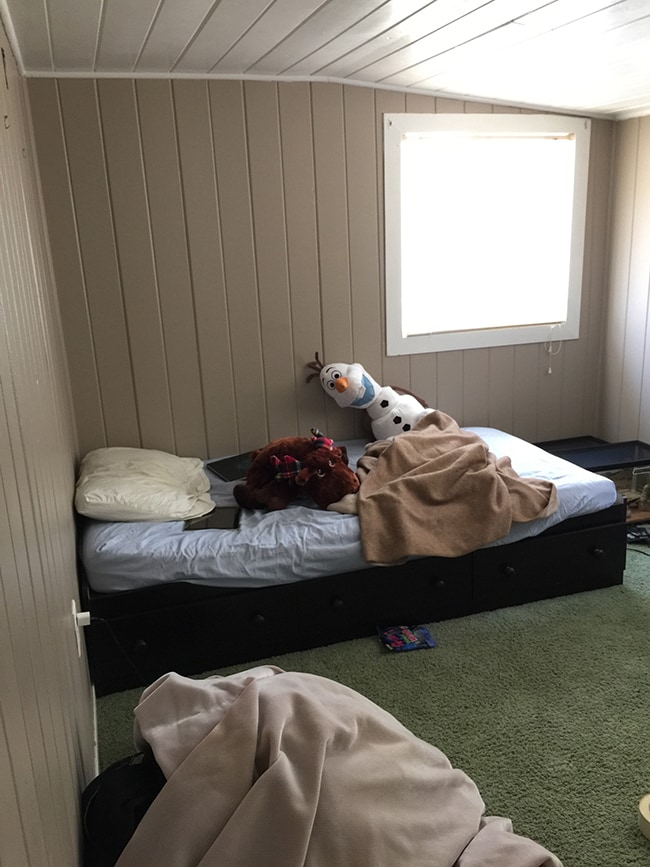 Pin
The only furniture it had was a bed (with storage drawers), as there's not room for much else. But I wanted to take advantage of the empty wall between the door and bed and create a practical space for both storage and for Cruz to play, draw and do homework.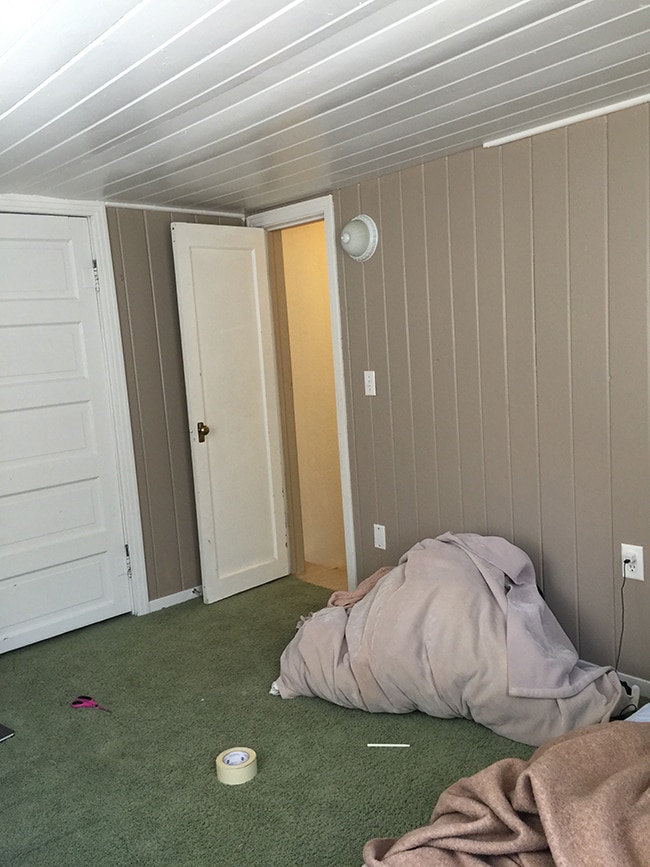 Pin
I had about 4 feet of wall space to work with which I thought would be perfect for a small desk and a couple shelves.
Since budget is the biggest consideration, I couldn't simply go out and buy a desk, shelves and brackets, so I had to get creative. My original plan was to buy an old wood door and cut it down to use as my desk, however the Re-store only had hollow cores and I couldn't find any on Craigslist. Bummer! Plan B was the next most cost effective option—build one from a 2×6″.
Fortunately, my dad had an old 2×12″ board lying around in his yard that I was able to cut in half and use as my shelves: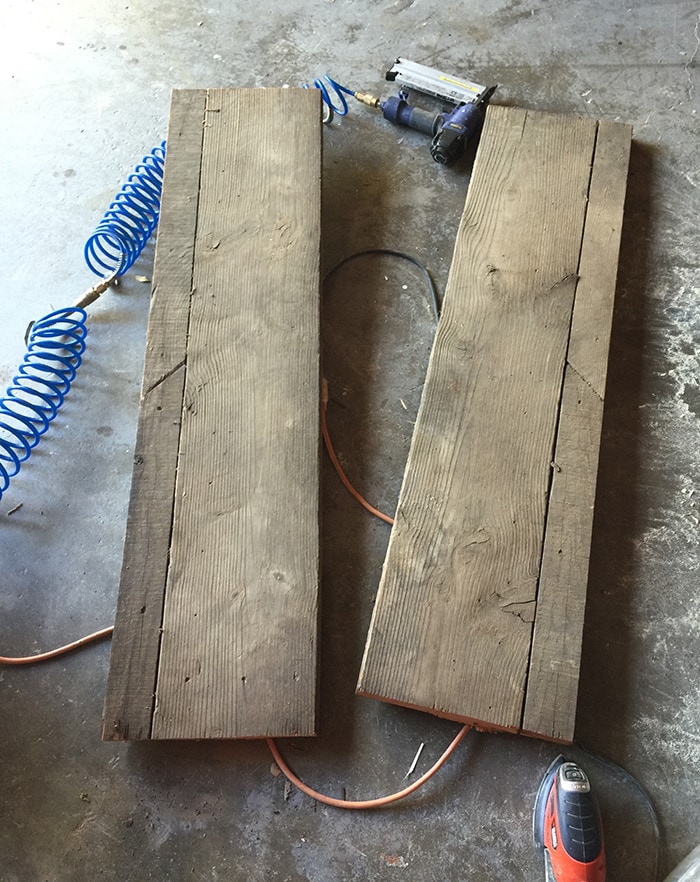 PinThey were pretty rough, but nothing a little sanding couldn't fix.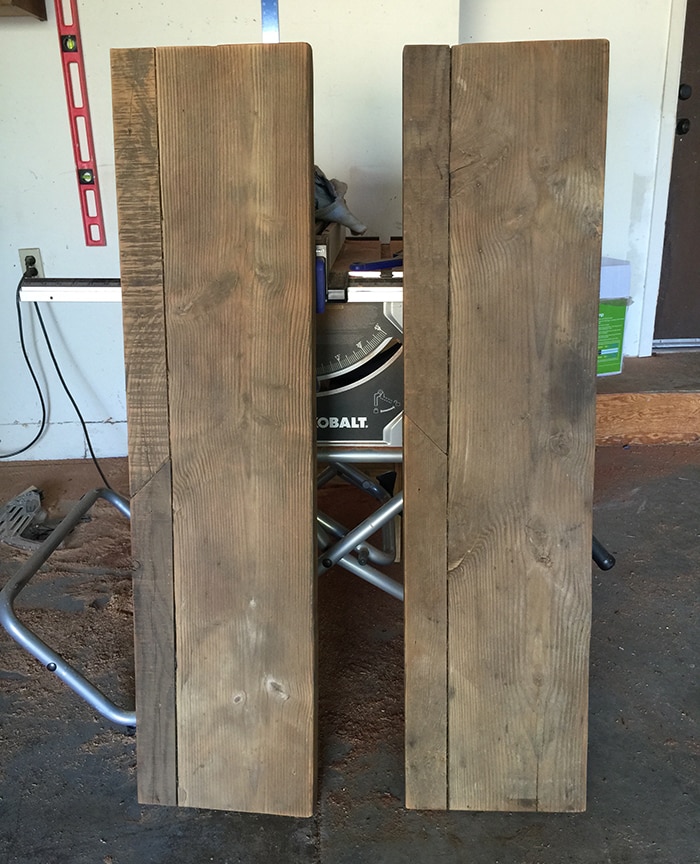 PinWith that part out of the way, it was time to build my desk.
The idea was to use just two desk legs (to save money and for a cleaner look) and build a cleat to mount the back of the desk directly onto the wall. I knew the cheapest place to buy legs was Ikea, at just $3.50/ea (they've since gone up to $4)…

Pin
For the desk wood, the most cost effective plan was to buy a 2×6″x16′ and cut it into four pieces, giving me an overall surface area of 48″w x 22″d. I'd then use simple 1×2″ furring strips to attach the pieces from underneath since this part would be hidden. These would also be used to make the cleat and shelf brackets.
Here's my supply list recap:
Total: $22.92
I feared this would be the most expensive part but have to give myself props for resourcefulness… we're now on track to be well under budget for the room!
Alright… time to put this thing together.
First, the desk top. I had Lowe's cut the 2×6 into 48″ lengths to make my life easier (and fit into my car).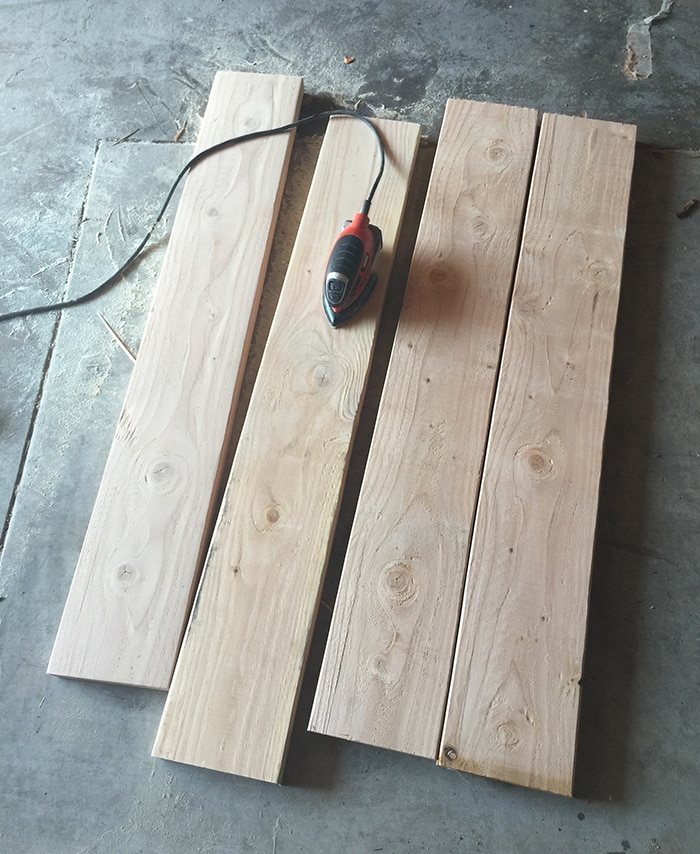 PinAfter sanding the edges and rough spots, I lined them up and flipped them over into position, then cut a couple furring strips, dabbed on some wood glue and screwed it into each board.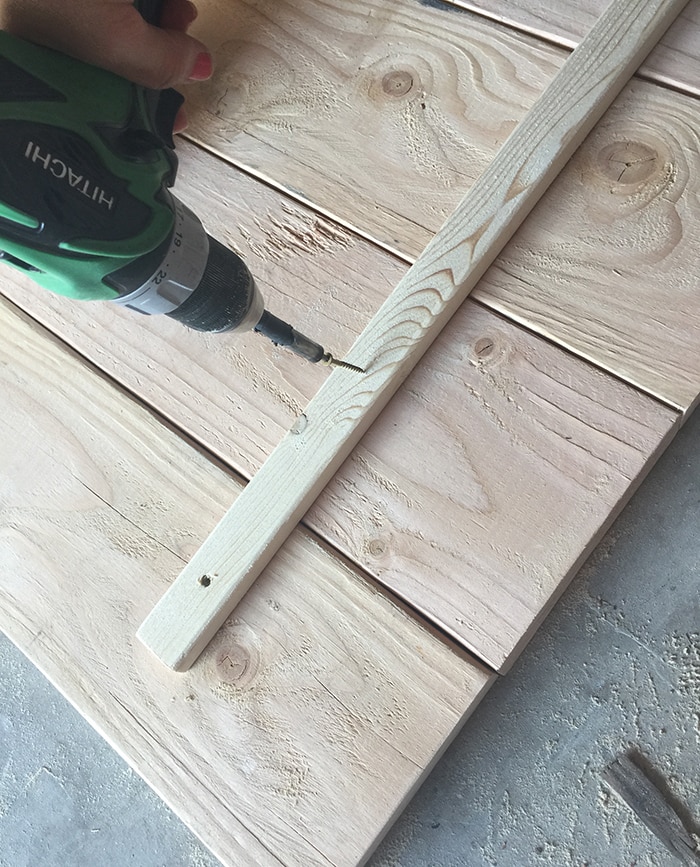 Pin
So simple. Done in minutes.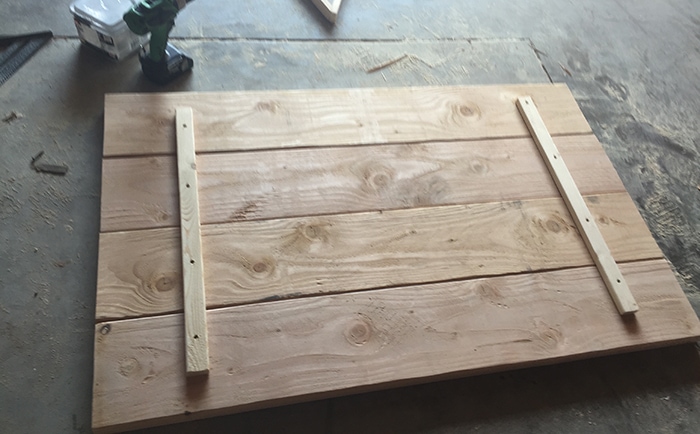 PinI applied a stain to try and match the shelves as best as possible. It's pretty much my go-to color mix nowadays—approx 2/3 Minwax Provincial and 1/3 Rustoleum's weathered gray (sorry, forgot to take a photo of this step apparently!)
Next came the most complicated part of this whole process… which turned out to be not very complicated at all—making brackets.
This was a last minute plan as I was going to buy metal ones, but after realizing the cost ($10) and knowing that I needed four, decided it wasn't in the budget. So I set out to make my own out of wood.
I came up with an approximate size and cut all my pieces. The size you choose doesn't really matter, however I wouldn't go much deeper than this for stability. This is how my numbers worked out: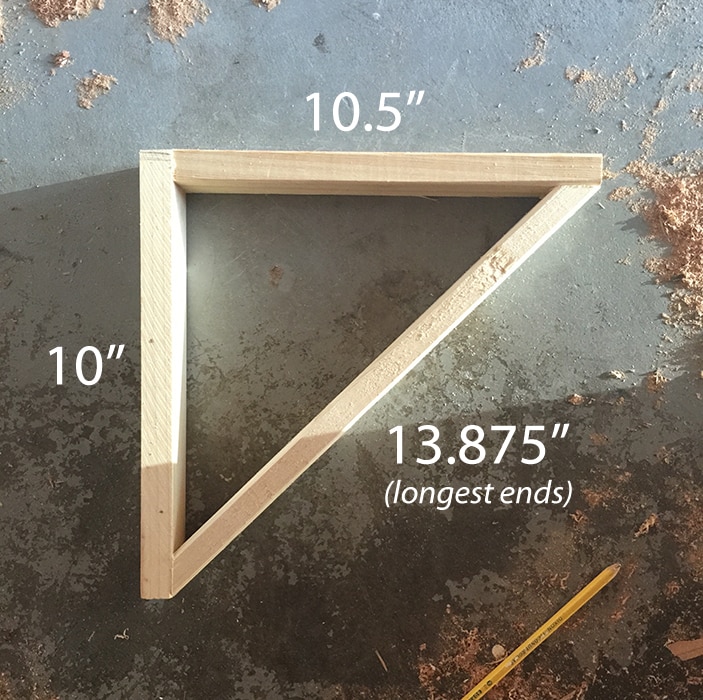 Pin
Once four sets were cut, I sanded down the rough edges…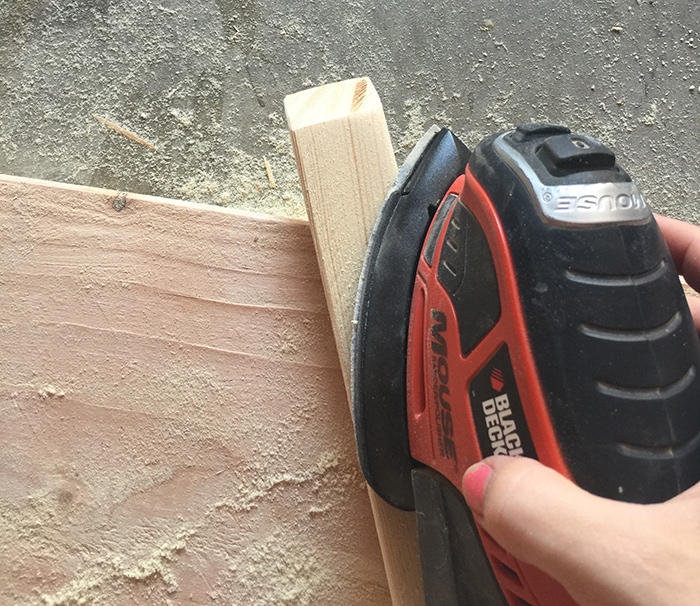 Pin
Then it was time to assemble. Tools needed: a straight edge, wood glue and a nail gun (I used an 18ga brad nailer and 1.5″ nails).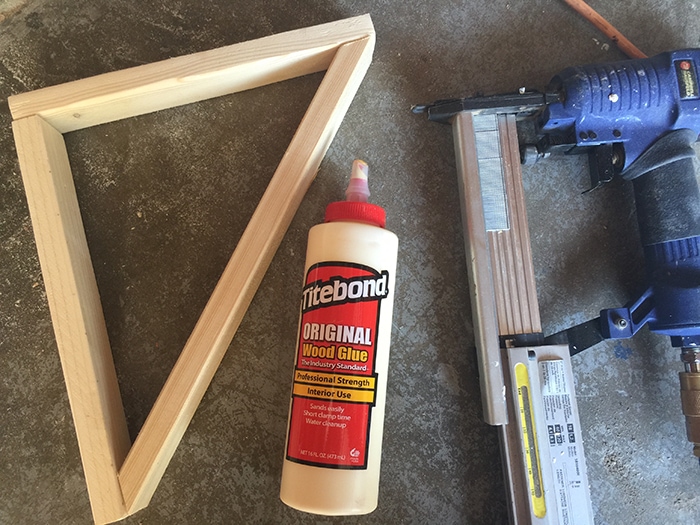 Pin
While aligning my first two pieces with a straight edge, I applied wood glue to the end and secured them with two nails: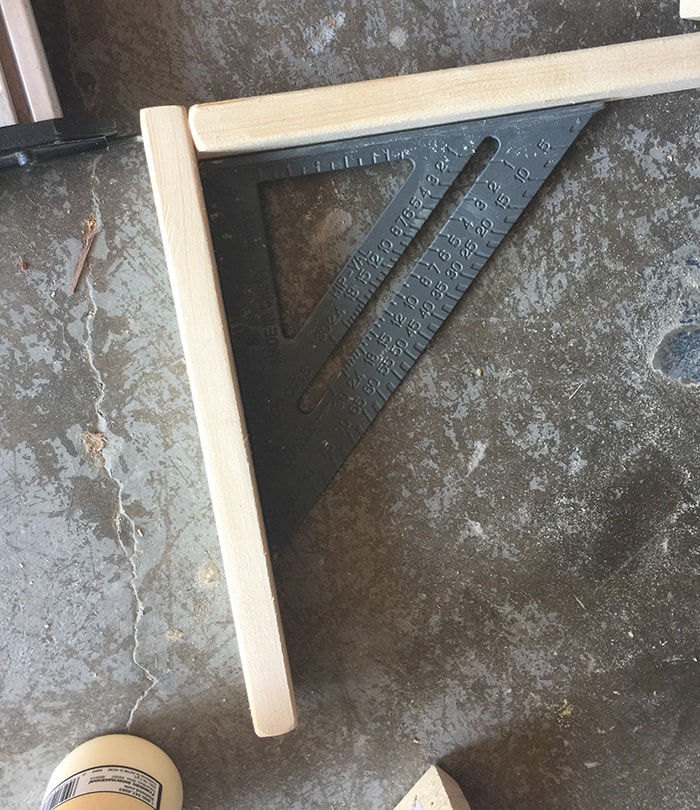 PinThen I set the diagonal piece in place, dabbed wood glue on the ends and secured that the same way: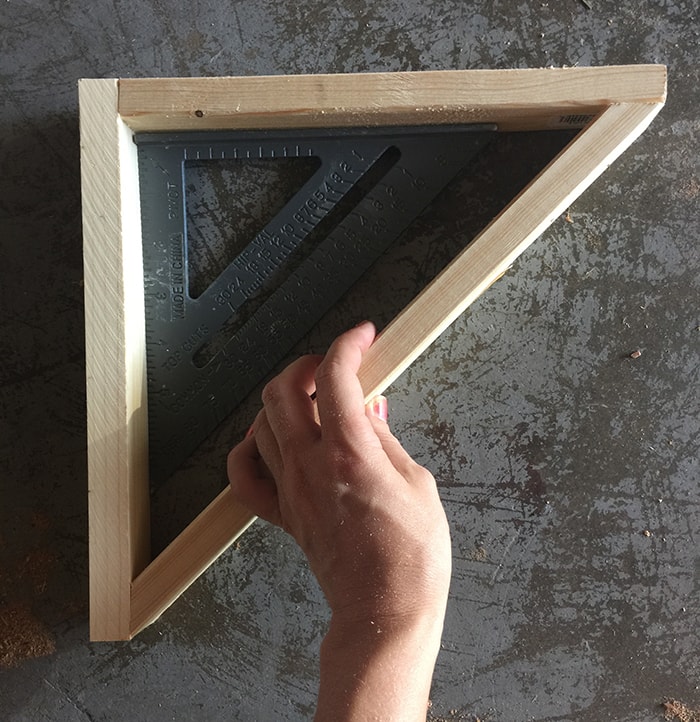 Pin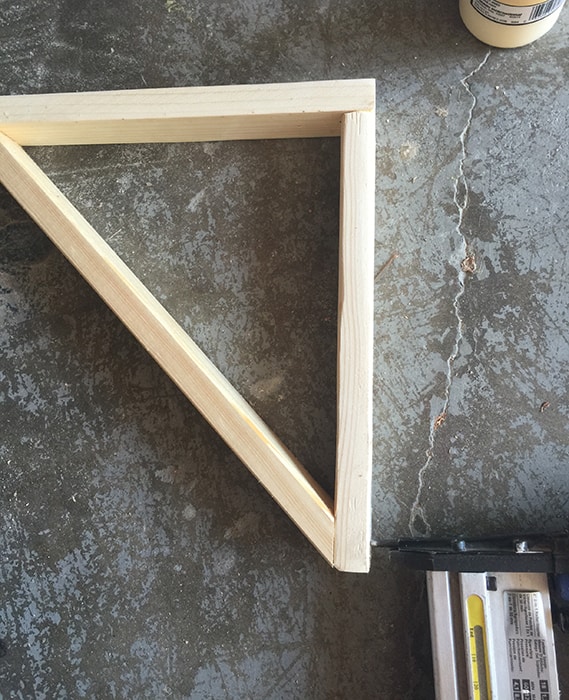 PinEasier than I thought!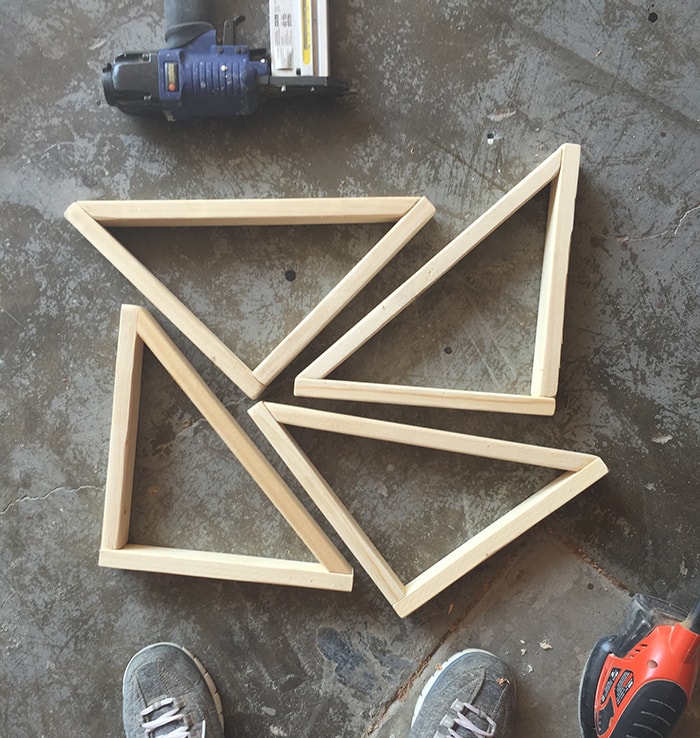 Pin
I couldn't decide what color I wanted them to be yet, so I left them unfinished, assuming I'd end up painting them the wall color to blend in.
Finally it was time to begin installation. First we attached the desk legs, then measured and marked where the desk top would sit on the wall…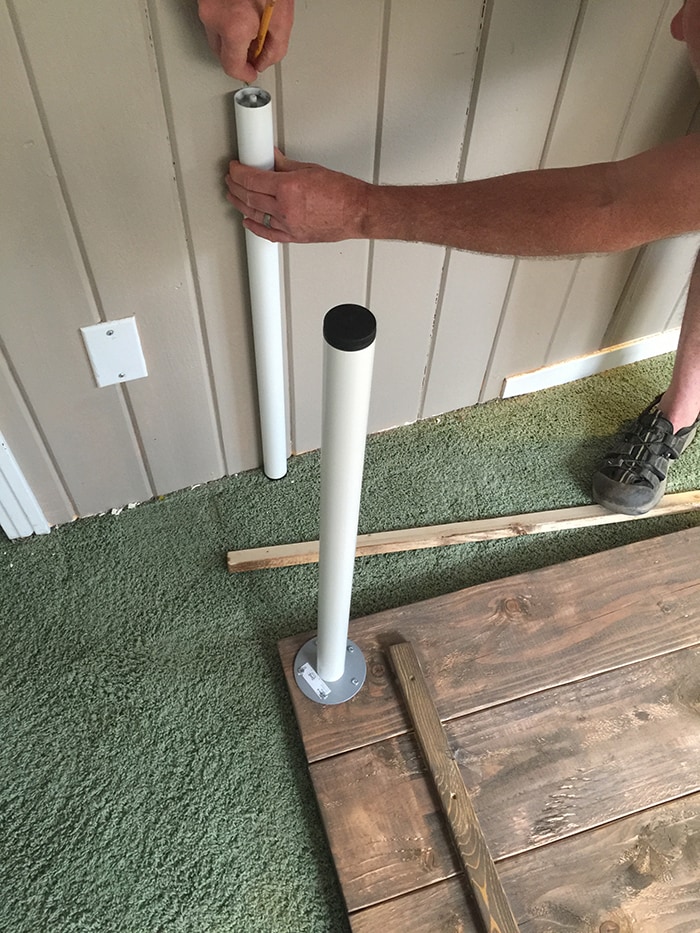 Pin
Then using a level, the cleat was screwed in place.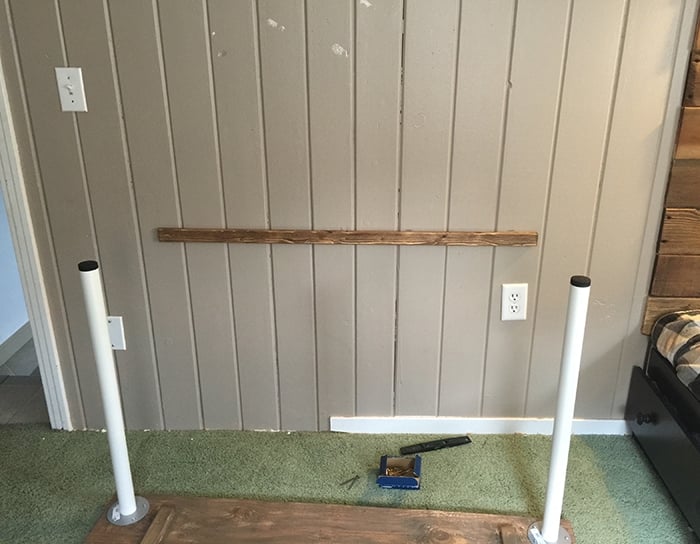 PinNext I moved my focus to the shelves. The plan was always to have two shelves, but I forgot how short the ceiling was and thought it might be too crowded for both once I held the brackets up onto the wall. After some debating, I decided to play it safe and ditch the second shelf, leaving me with just one centered on the wall.
Using 2.5″ wood screws, the brackets were leveled and secured to the wall (the screws had to go in at a bit of an angle as the drill couldn't line up straight).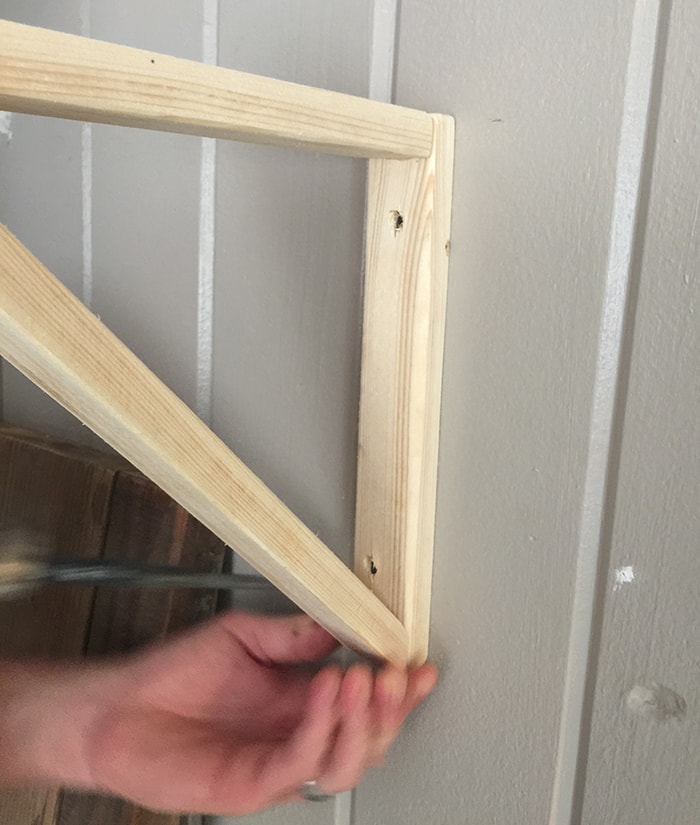 Pin
After both brackets were in, the shelf was set on top and screwed in from underneath. Simple…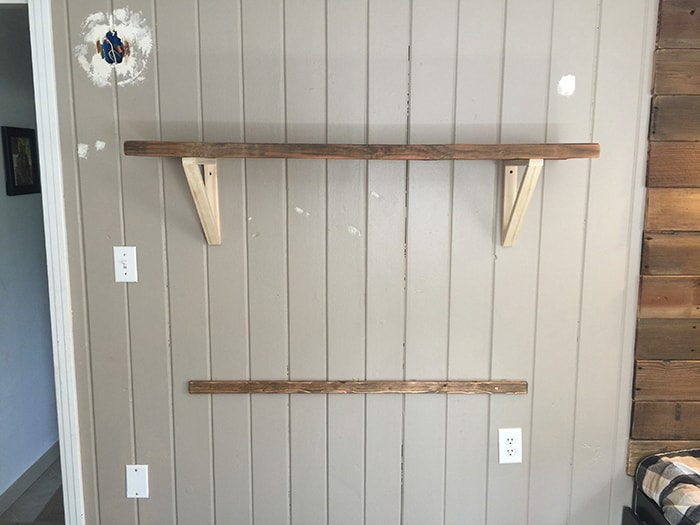 PinFinally, the desk to was flipped over and set atop the cleat.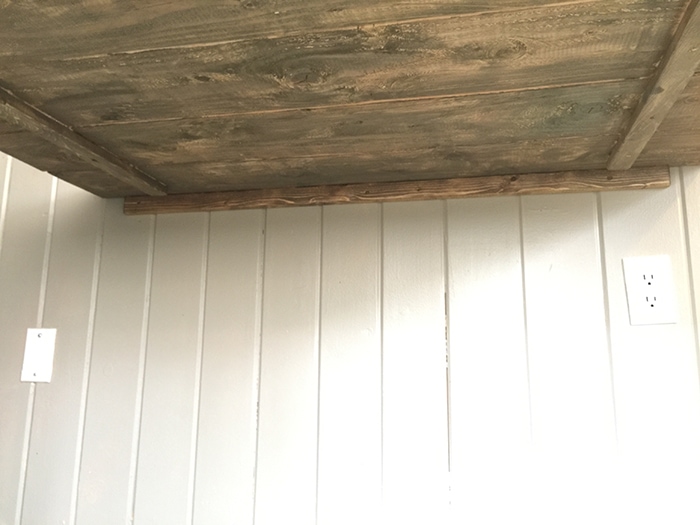 Pin
However, I couldn't drill vertically through the cleat from the bottom, so in order to avoid visible screws from the top, I had to rip down a second piece of wood to 1″. This was mounted it in front of the cleat and screwed into both the cleat and the desk: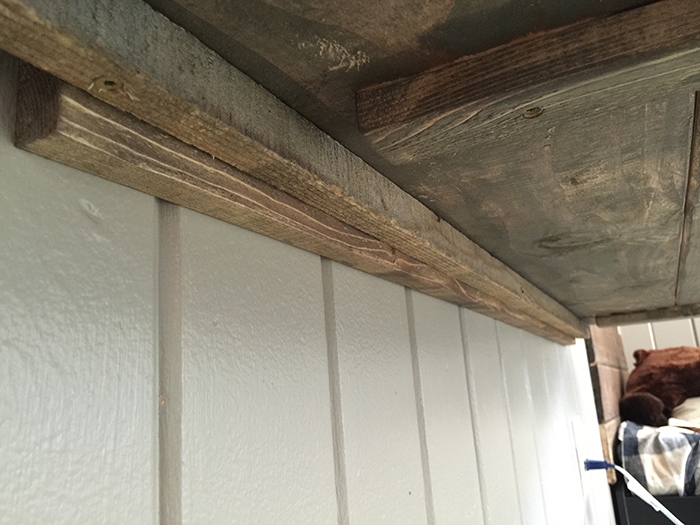 Pin
Finally, everything was in!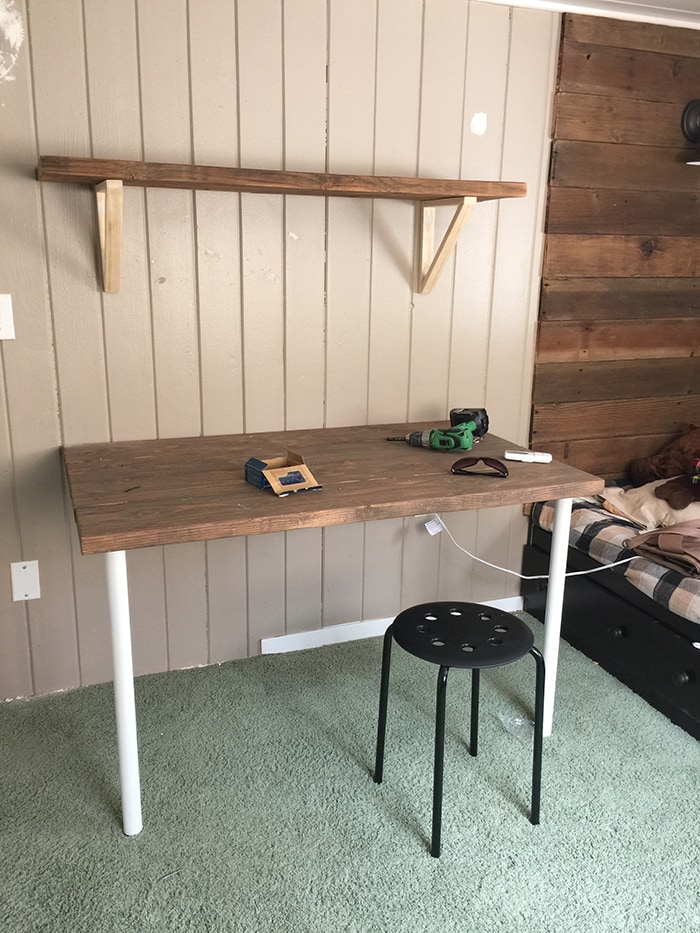 PinI even found this $5 stool at Ikea. Perfect.
I also took time to touch up some issues in the wall and replace the boob light with this $5 outdoor light from Lowe's. And at this point it was clear that the brackets should be white to match the desk legs. It would have made a lot more sense to do this beforehand, but hindsight's 20/20…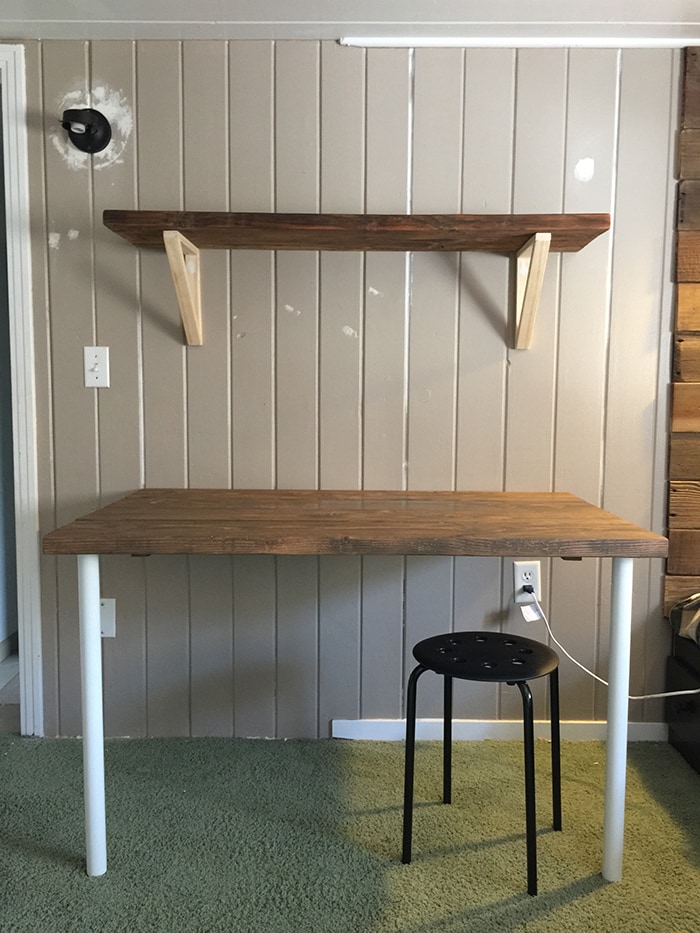 Pin
I also gave the wood a couple coats of Maison Blanche Paint's matte furniture varnish for protection.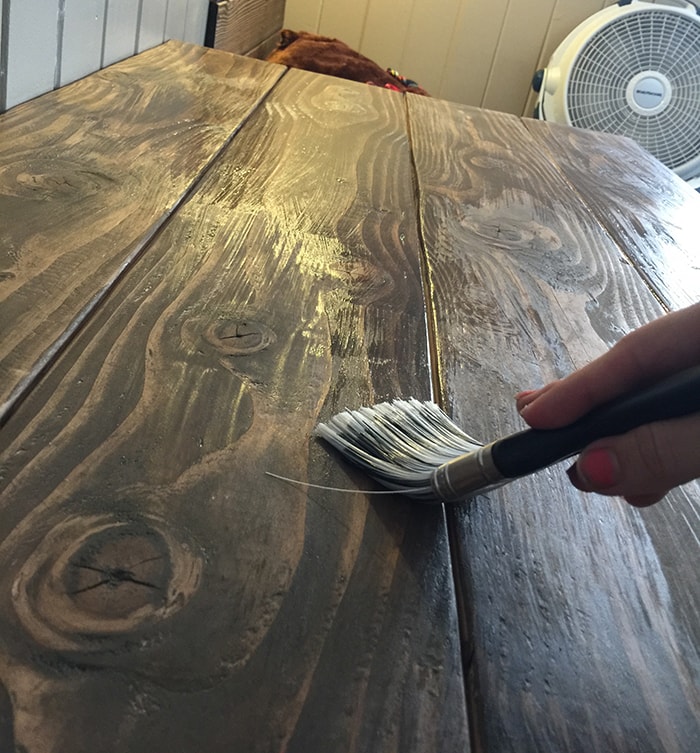 PinYesterday I finished painting the wall and brackets, and now this project is complete!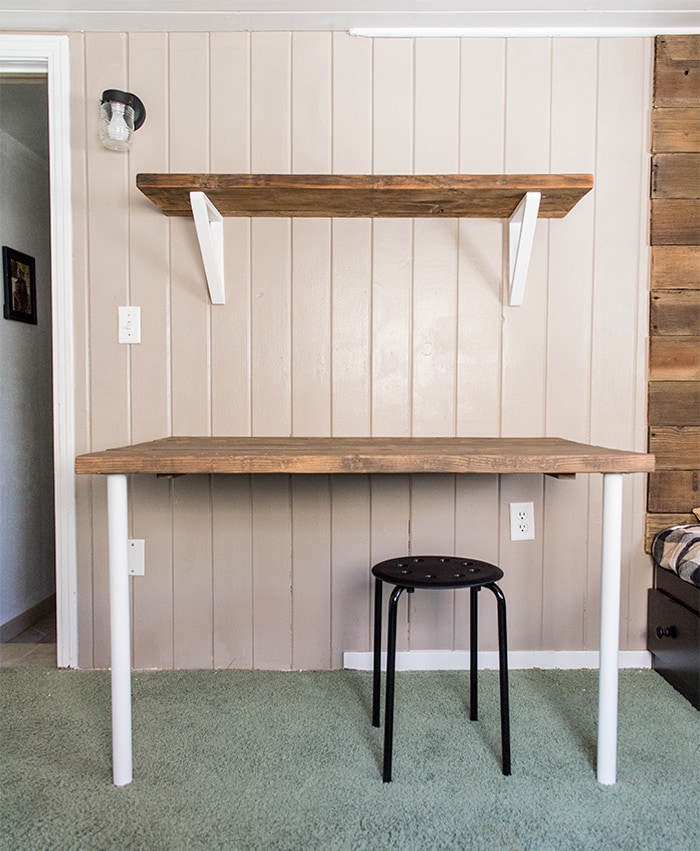 Pin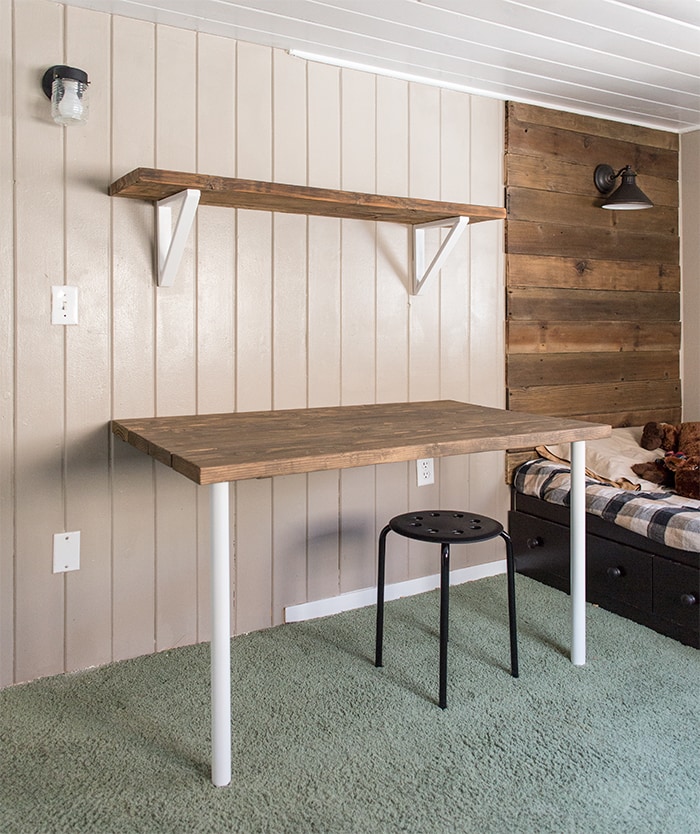 Pin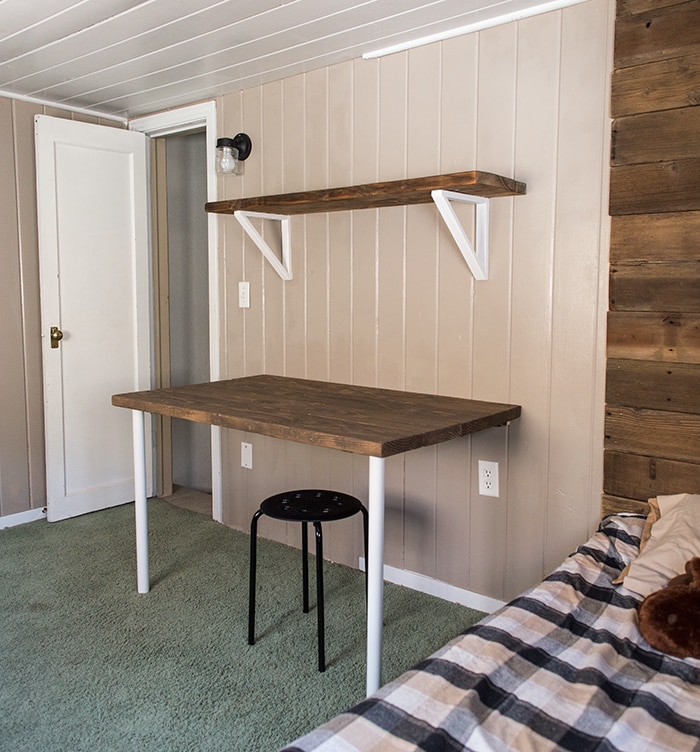 Pin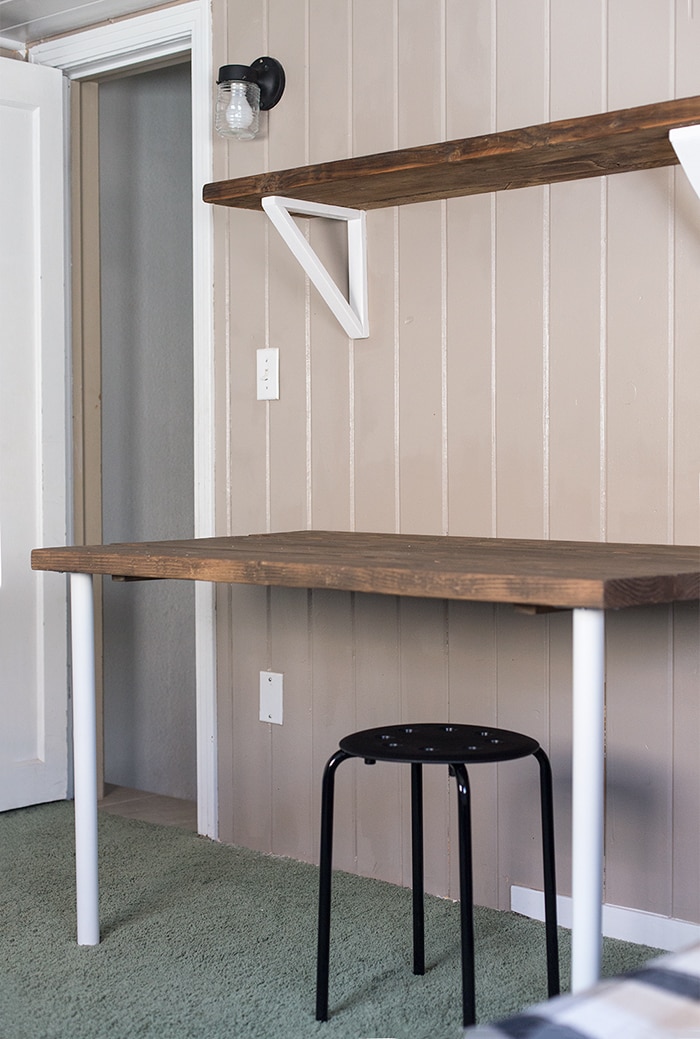 Pin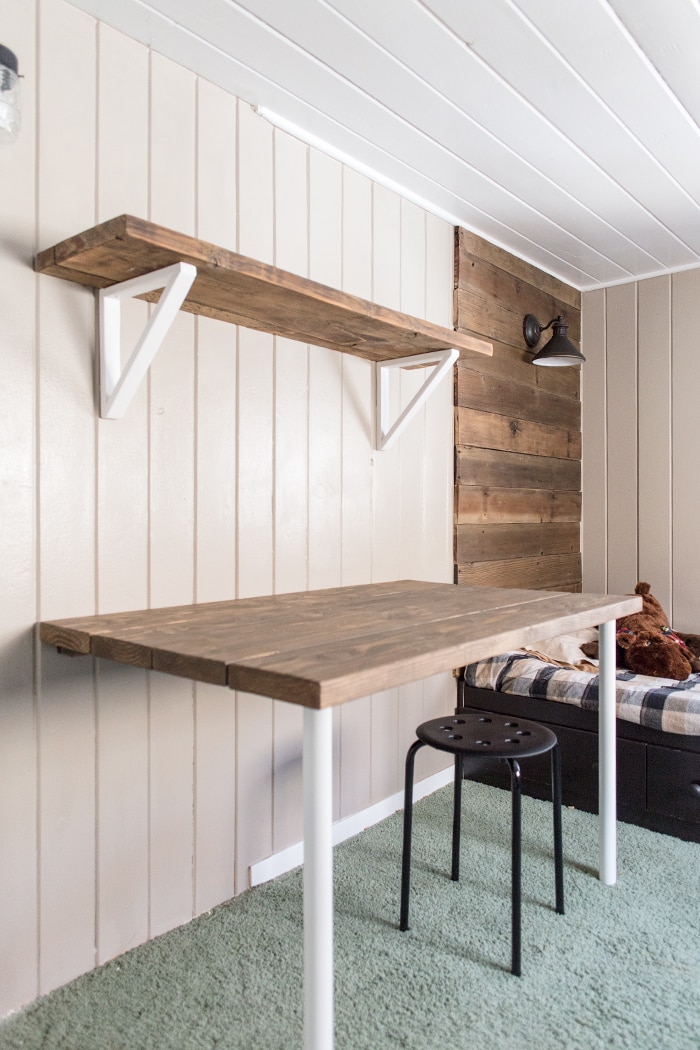 Pin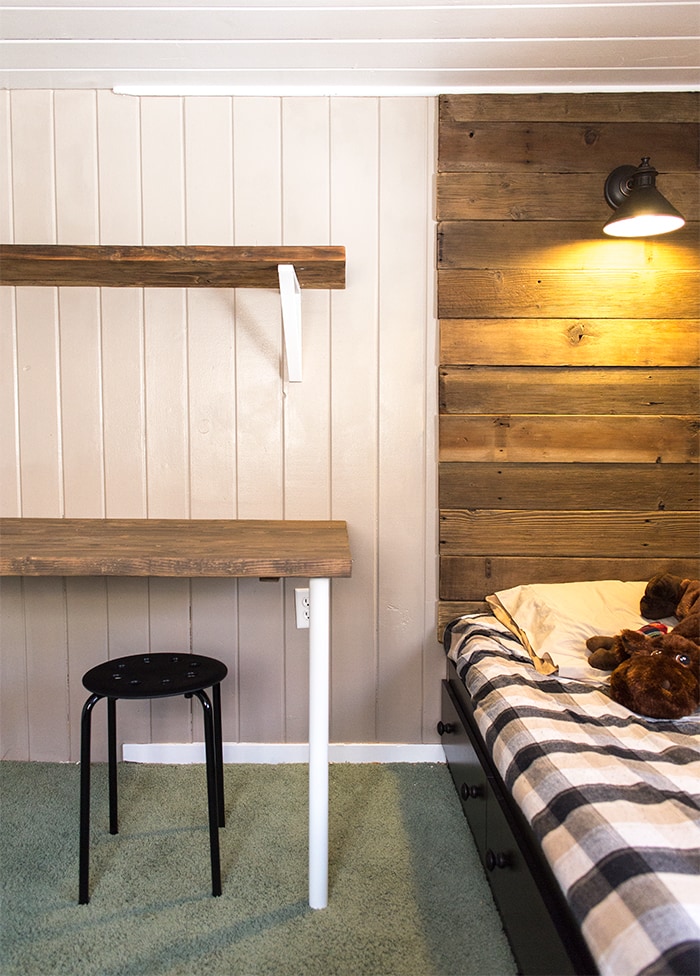 PinWhew, we're almost there! I plan to have the entire room finished a week from today… yikes! Still a lot left to do—build a teepee, make a coat rack, add art, finish up a toy box and a crafty project. All while my sister and family are in town for a wedding in a few days… it's going to be hectic around here. Hopefully I'll be back in a few days with my DIY teepee tutorial first! Stay tuned…